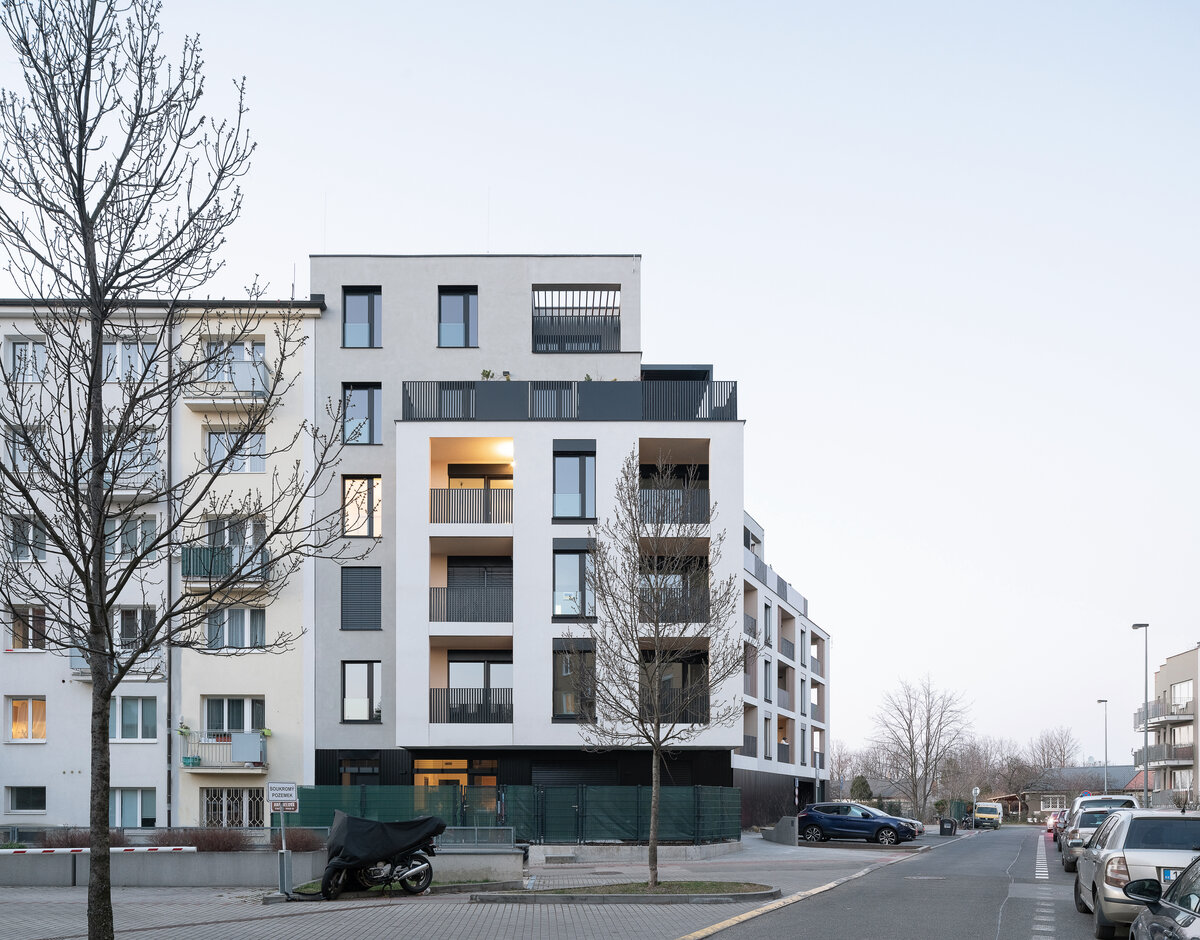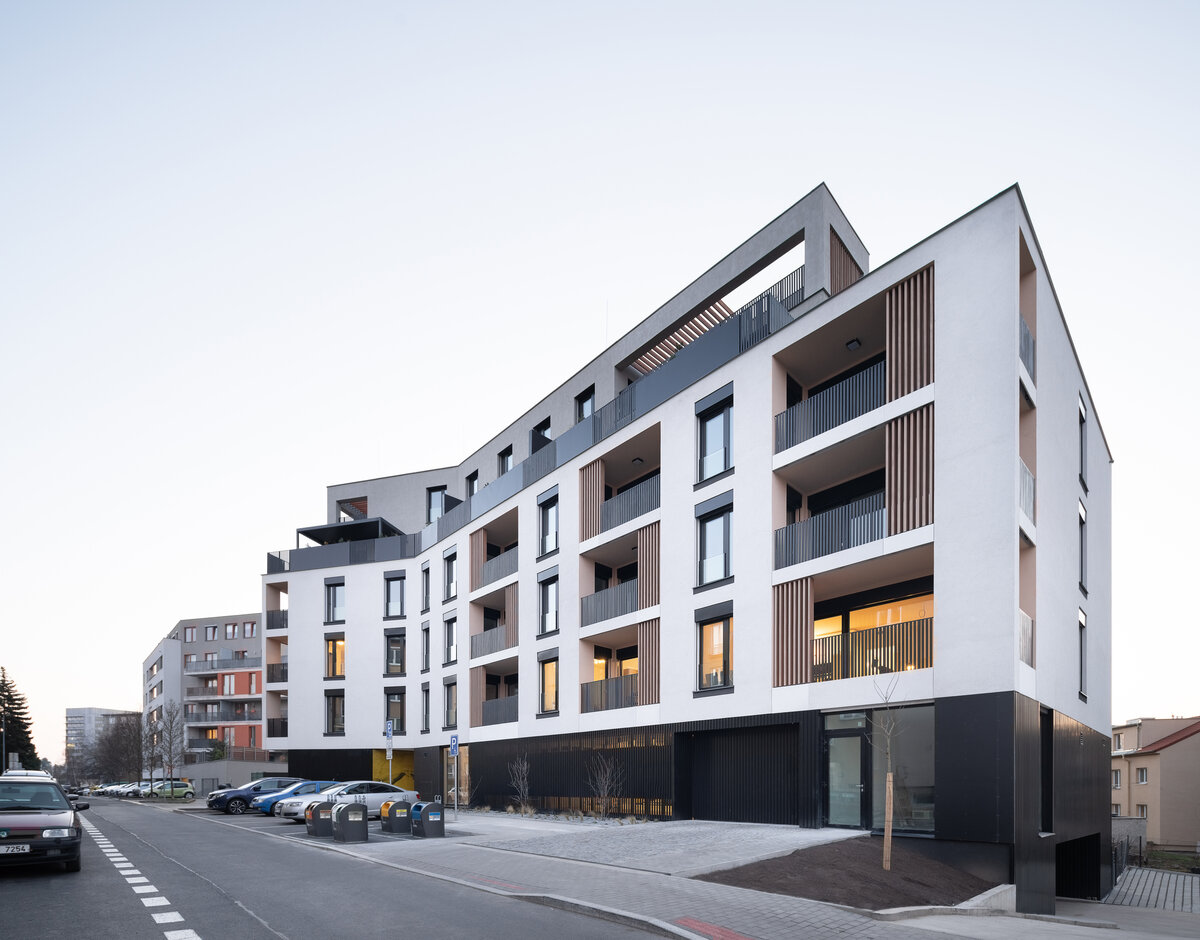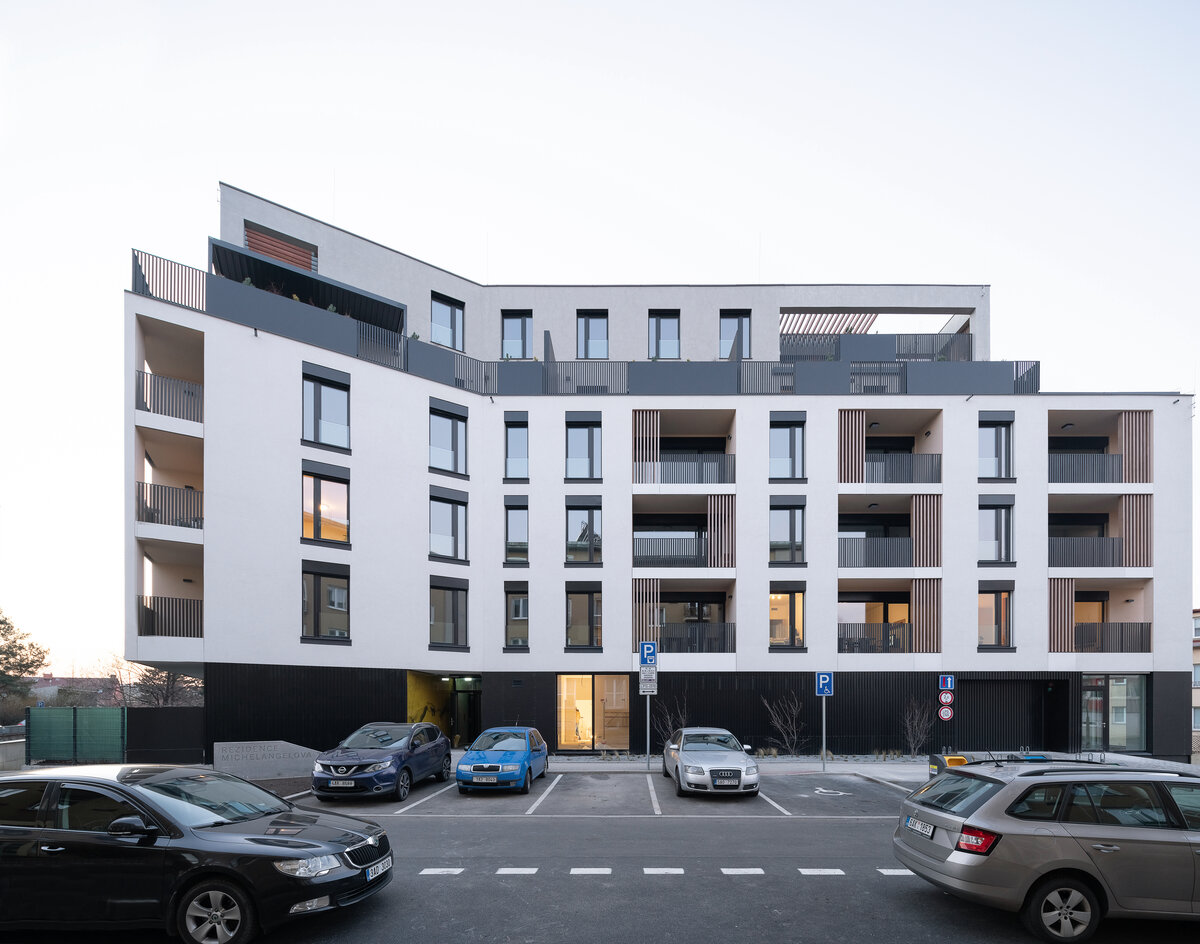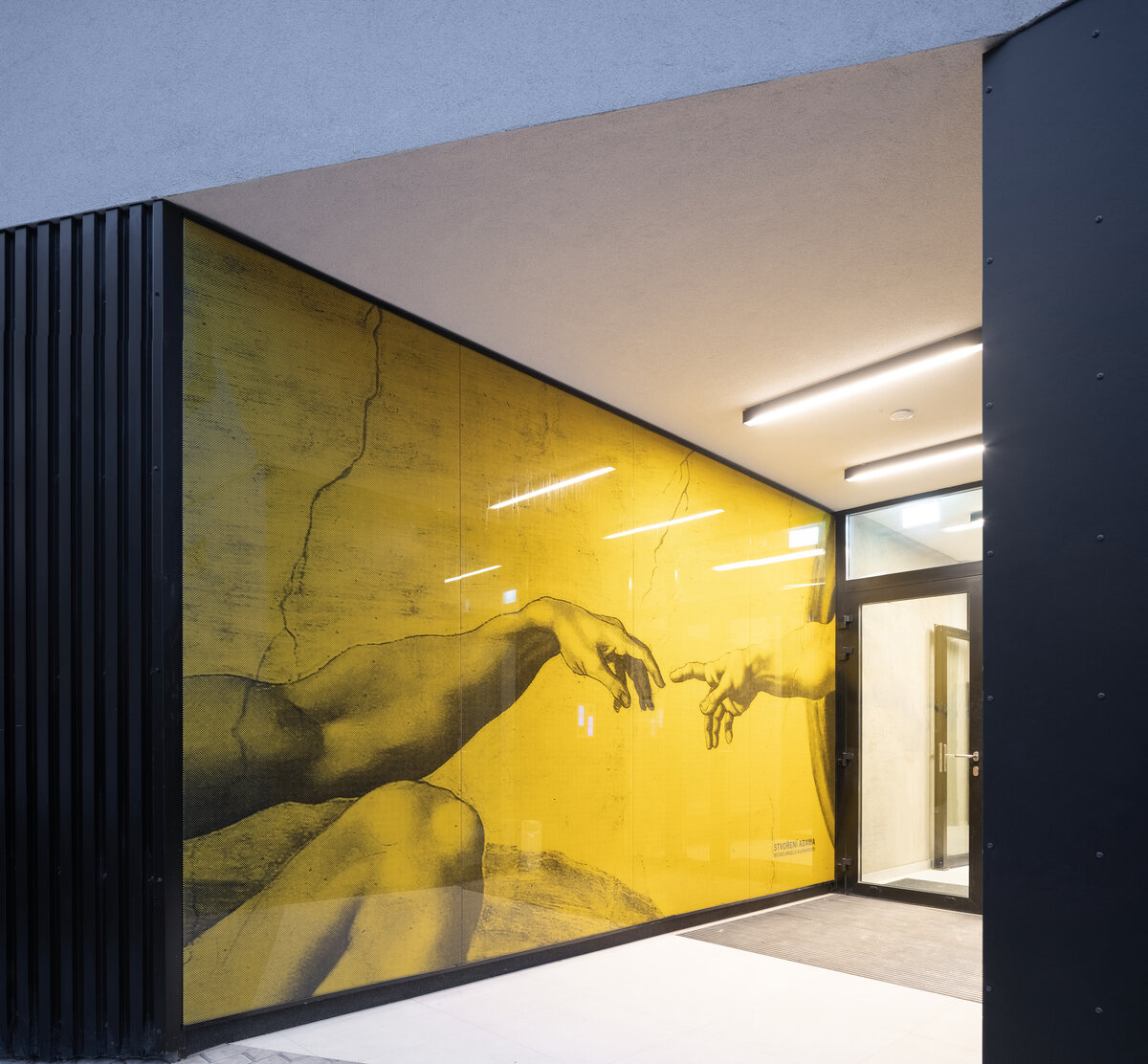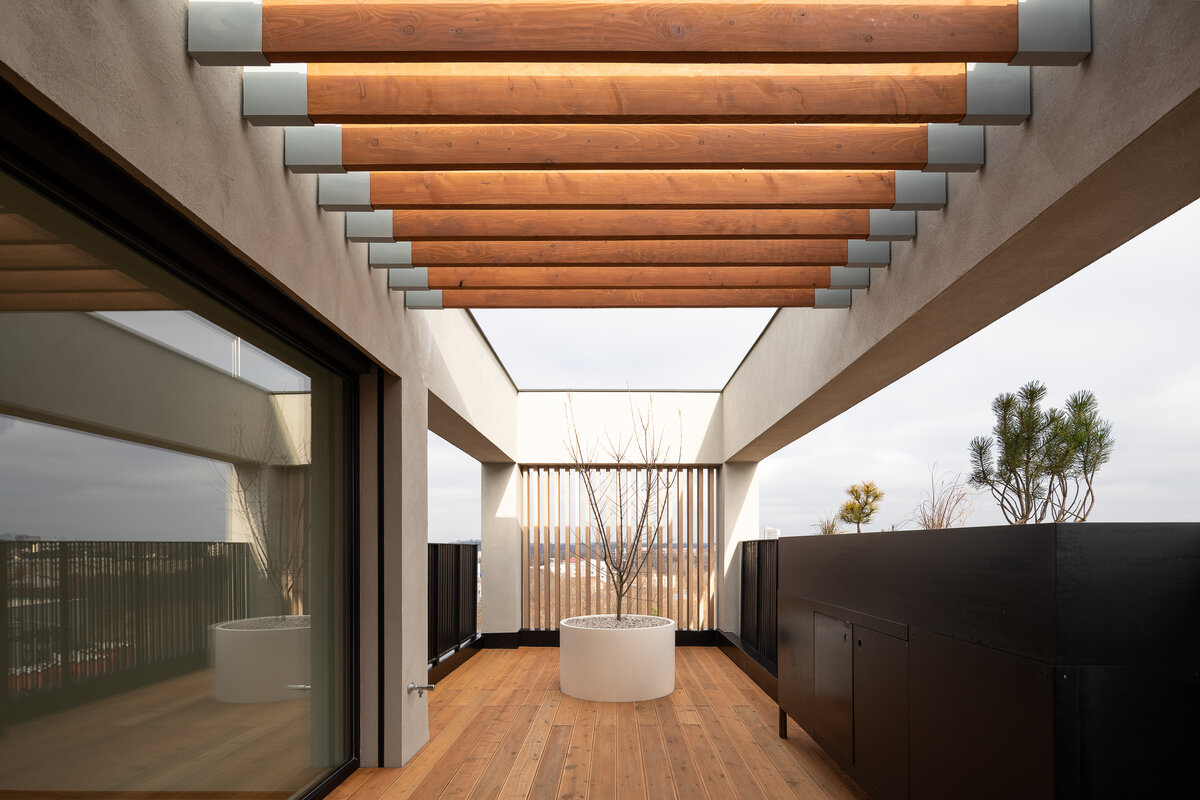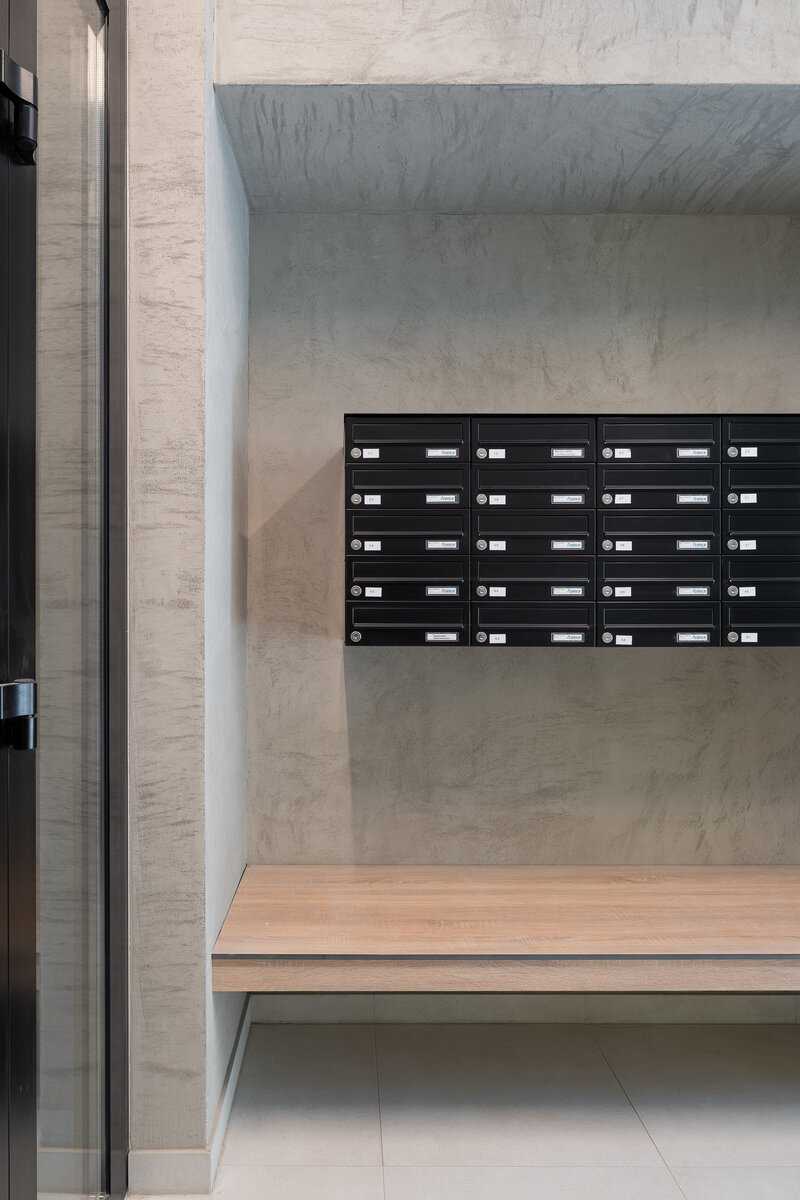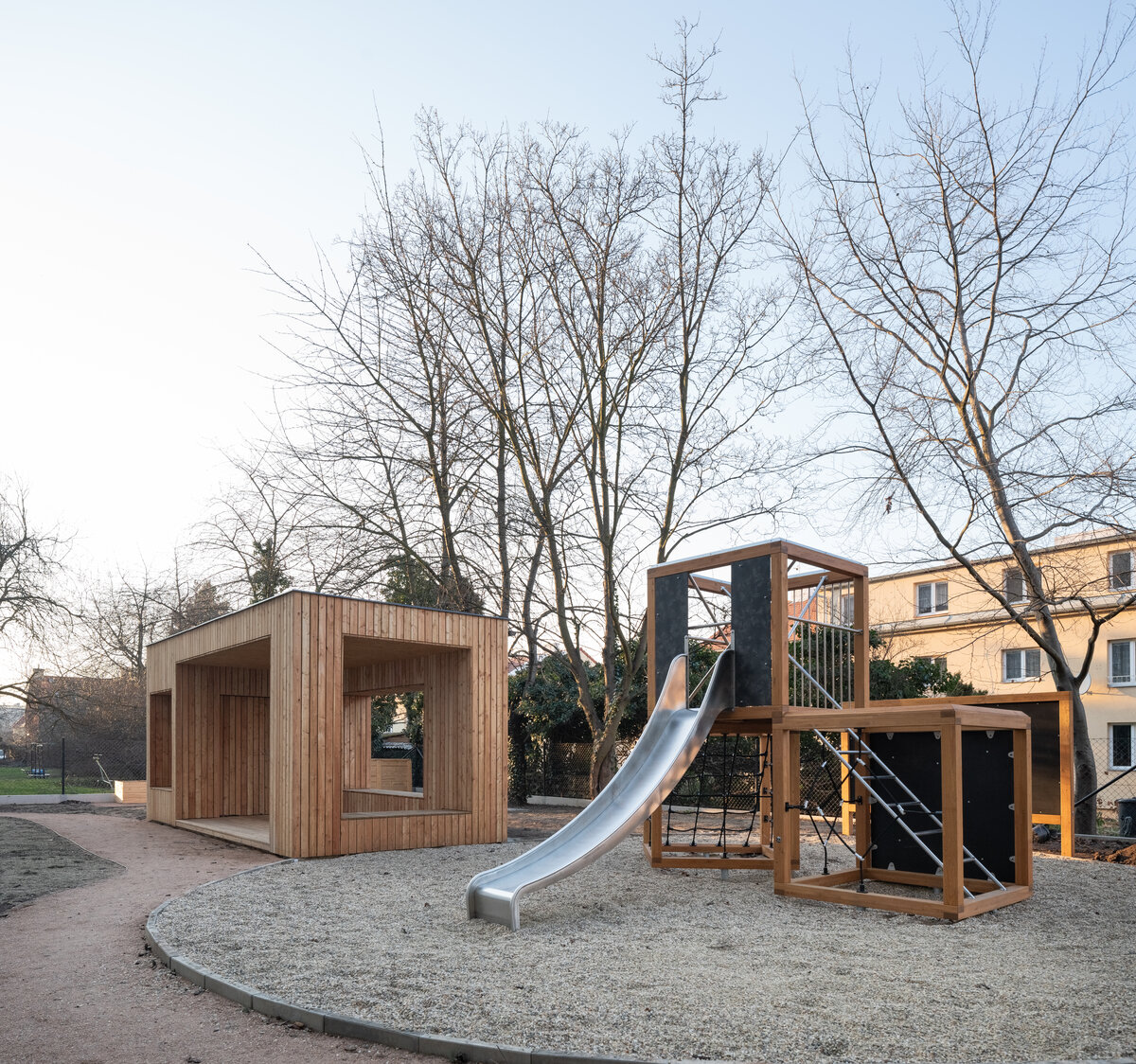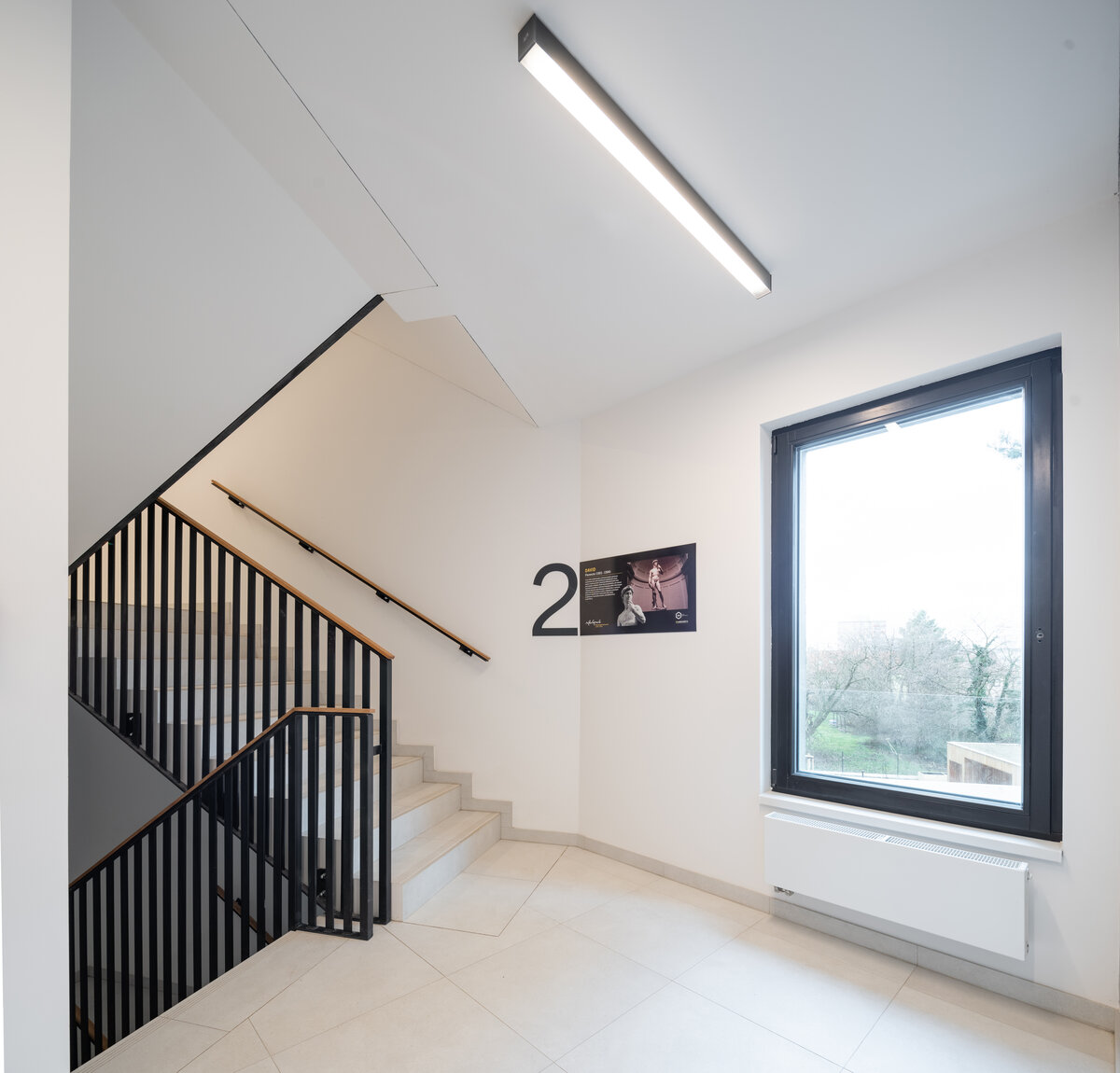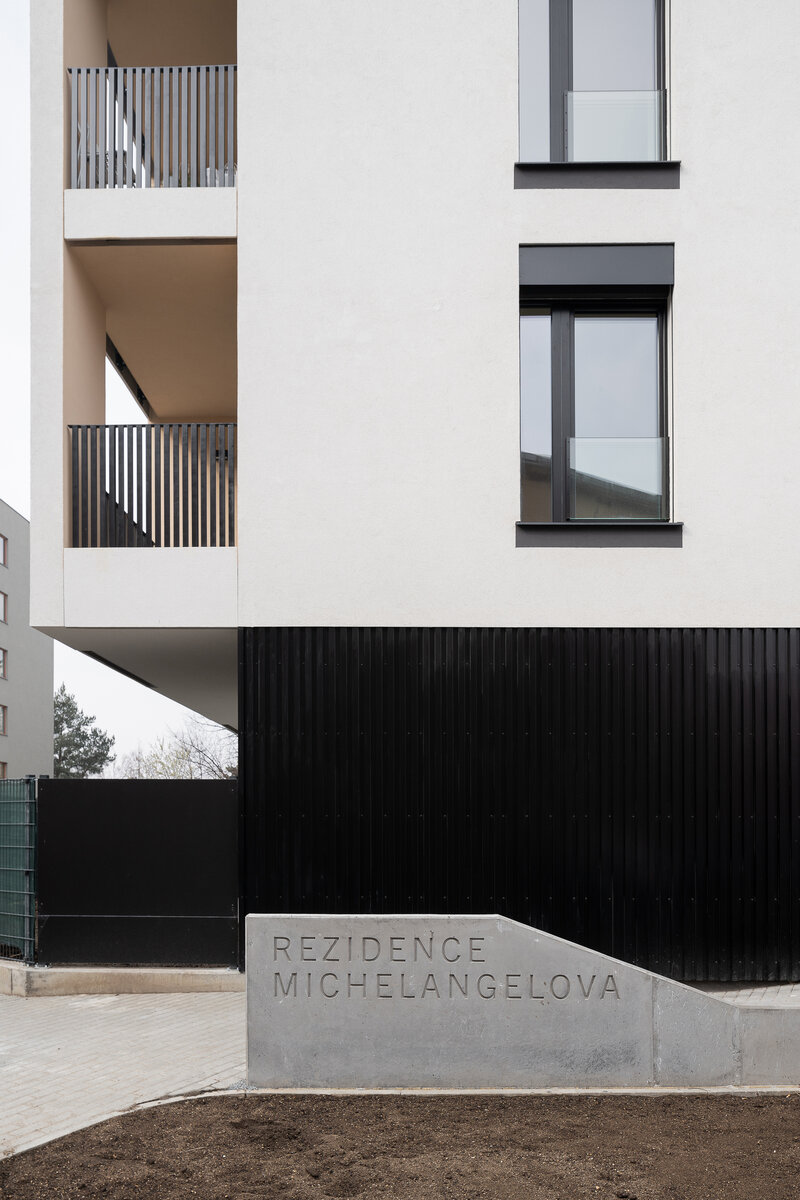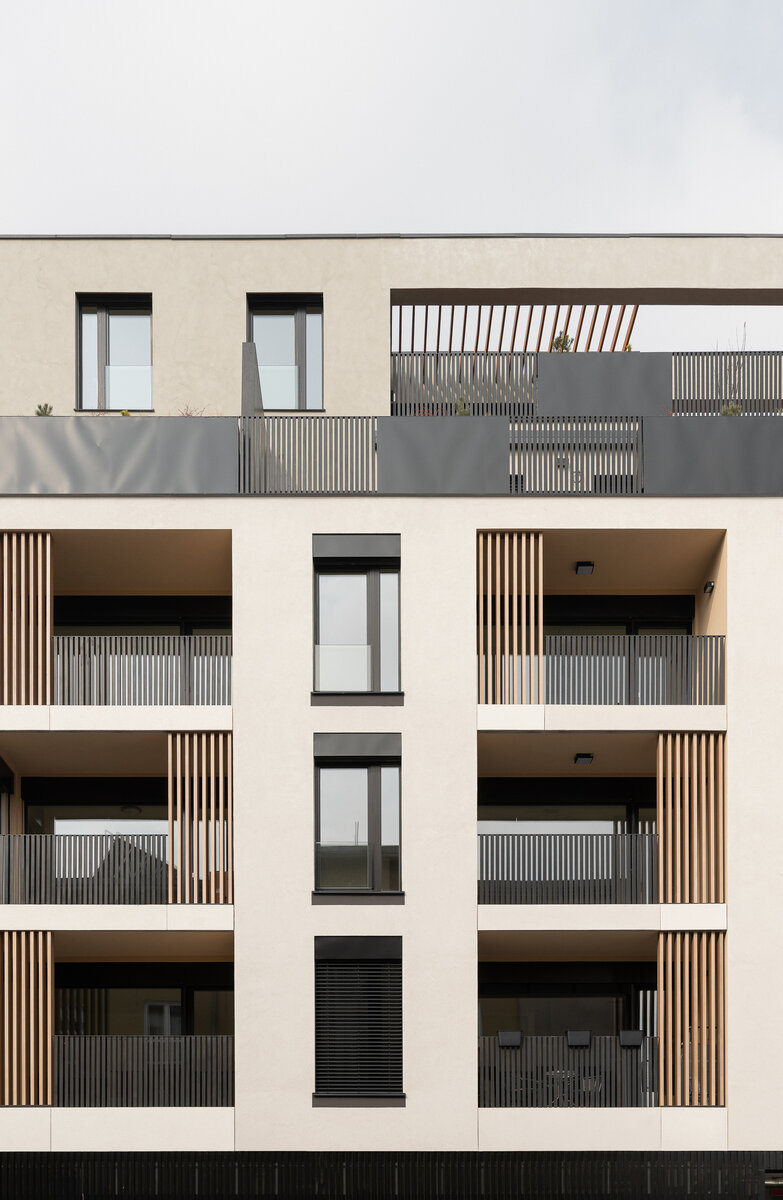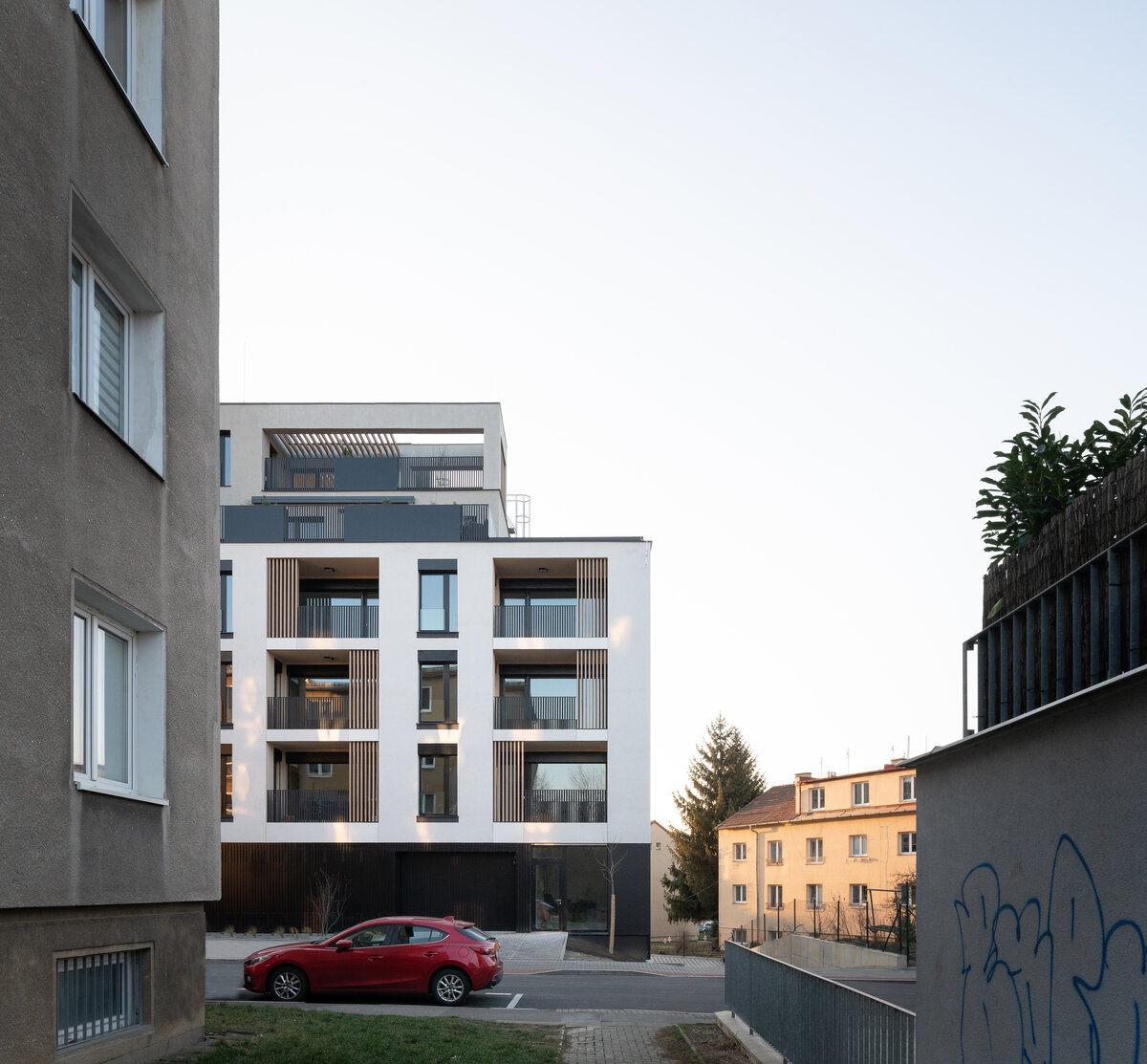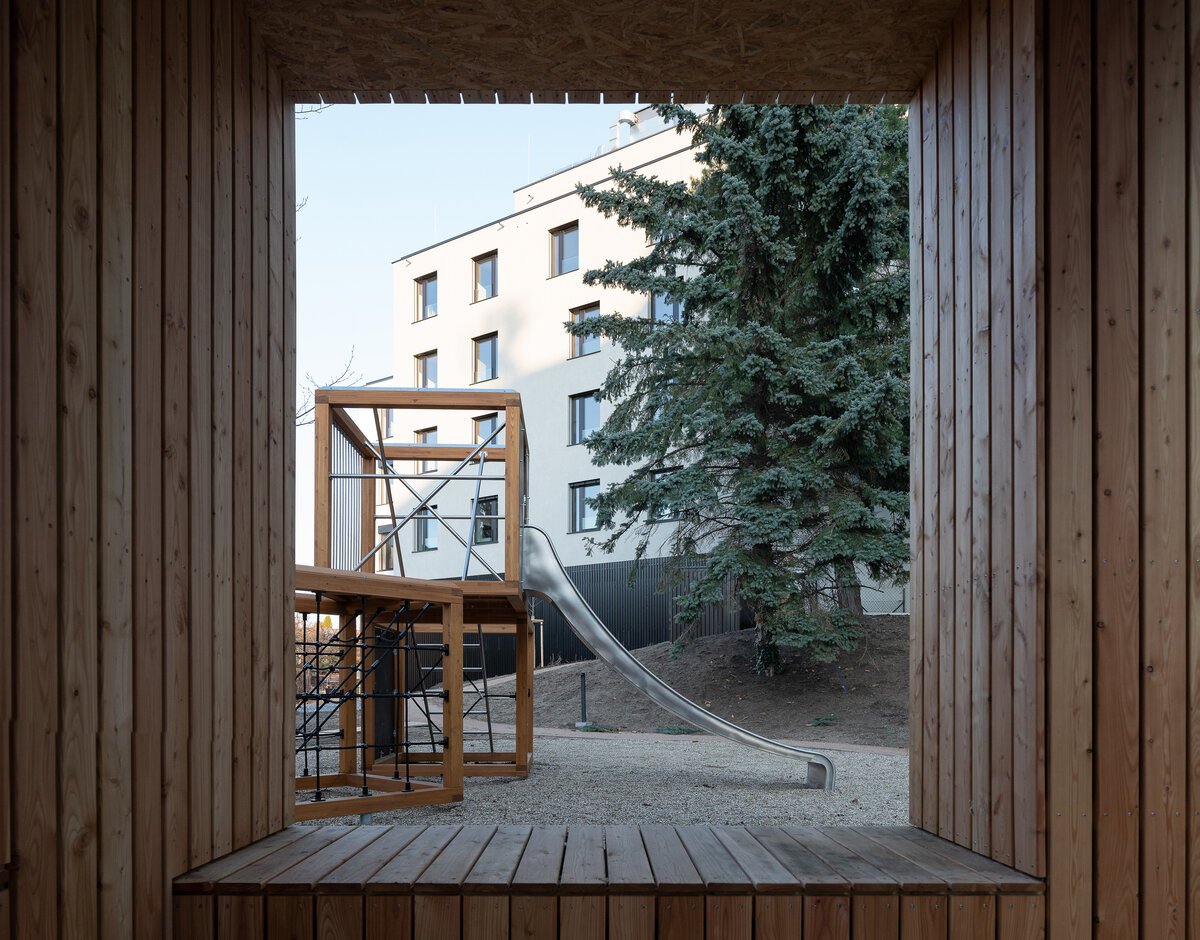 | | |
| --- | --- |
| Author | ing. arch. Luděk Podlipný, ing. Martin Sladký, ing. arch. Pavel Zezula, ing. arch. Markéta Talašová / Podlipný Sladký architekti s.r.o. |
| Studio | |
| Location | Michelangelova ul., Praha 10 |
| Investor | JRD Development s.r.o. |
| Supplier | Neobulider a.s. |
| Date of project approval | November 2021 |
| Fotograf | |
The land is located in the middle of an apartment building from the 60s of the last century. Originally there was a coal-fired boiler room on the plot, which heated the surrounding houses. She later lost her position.
The designed apartment building with 29 apartments and 2 business units has 6 floors above ground and one underground floor. The house adjoins the neighboring apartment building and descends in height towards the lower buildings on the opposite side of the street. Along the road are designed outdoor parking spaces, the ground floor is complemented by trees and ornamental greenery. In the courtyard is designed a park area with a wooden gazebo.
The apartment building is divided into two materials in terms of volume and material. The upper six-storey and the lower four-storey sit on a common ground floor, in which parking and non-residential premises are located. The higher mass tectonically leans towards the surrounding buildings, it acts stably, "heavily", the lower mass, on the other hand, is "lightened" by loggias and larger window openings. A significant element on the 6th floor are the corner terraces complemented by a frame structure with a pergola.
The facades of the house are solved by two types of ground and fine-grained plasters. The railings of loggias and terraces are designed as semi-transparent from steel profiles, supplemented by vertical slats, the railings at the terraces are complemented by sheet metal flower beds. The raster motif of the steel railing is further applied to the facade of the ground floor, which is designed from trapezoidal sheet metal.
The authors of the design were inspired by the work of Michelangelo, its fragments are then used as quotes in the detail of common areas, such as the glass tiling at the main entrance to the building or as a sign of the floors.
The project is conceptually designed and implemented as energy passive. The load-bearing structure of the house is designed in a combination of reinforced concrete and lime-sand masonry. Loggia brackets are made in the form of ISO beams. The envelope of the building is above-standard insulated and equipped with windows with triple glazing. The windows are equipped with window blinds as standard. The apartments have a central system of forced ventilation with heat recovery. The heating of the flats is hot water, the source of heating is the hot water connection. The apartments on the top floors have an autonomous heating and cooling system using a heat pump and photovoltaic panels.
Green building
Environmental certification
| | |
| --- | --- |
| Type and level of certificate | - |
Water management
| | |
| --- | --- |
| Is rainwater used for irrigation? | |
| Is rainwater used for other purposes, e.g. toilet flushing ? | |
| Does the building have a green roof / facade ? | |
| Is reclaimed waste water used, e.g. from showers and sinks ? | |
The quality of the indoor environment
| | |
| --- | --- |
| Is clean air supply automated ? | |
| Is comfortable temperature during summer and winter automated? | |
| Is natural lighting guaranteed in all living areas? | |
| Is artificial lighting automated? | |
| Is acoustic comfort, specifically reverberation time, guaranteed? | |
| Does the layout solution include zoning and ergonomics elements? | |
Principles of circular economics
| | |
| --- | --- |
| Does the project use recycled materials? | |
| Does the project use recyclable materials? | |
| Are materials with a documented Environmental Product Declaration (EPD) promoted in the project? | |
| Are other sustainability certifications used for materials and elements? | |
Energy efficiency
| | |
| --- | --- |
| Energy performance class of the building according to the Energy Performance Certificate of the building | B |
| Is efficient energy management (measurement and regular analysis of consumption data) considered? | |
| Are renewable sources of energy used, e.g. solar system, photovoltaics? | |
Interconnection with surroundings
| | |
| --- | --- |
| Does the project enable the easy use of public transport? | |
| Does the project support the use of alternative modes of transport, e.g cycling, walking etc. ? | |
| Is there access to recreational natural areas, e.g. parks, in the immediate vicinity of the building? | |