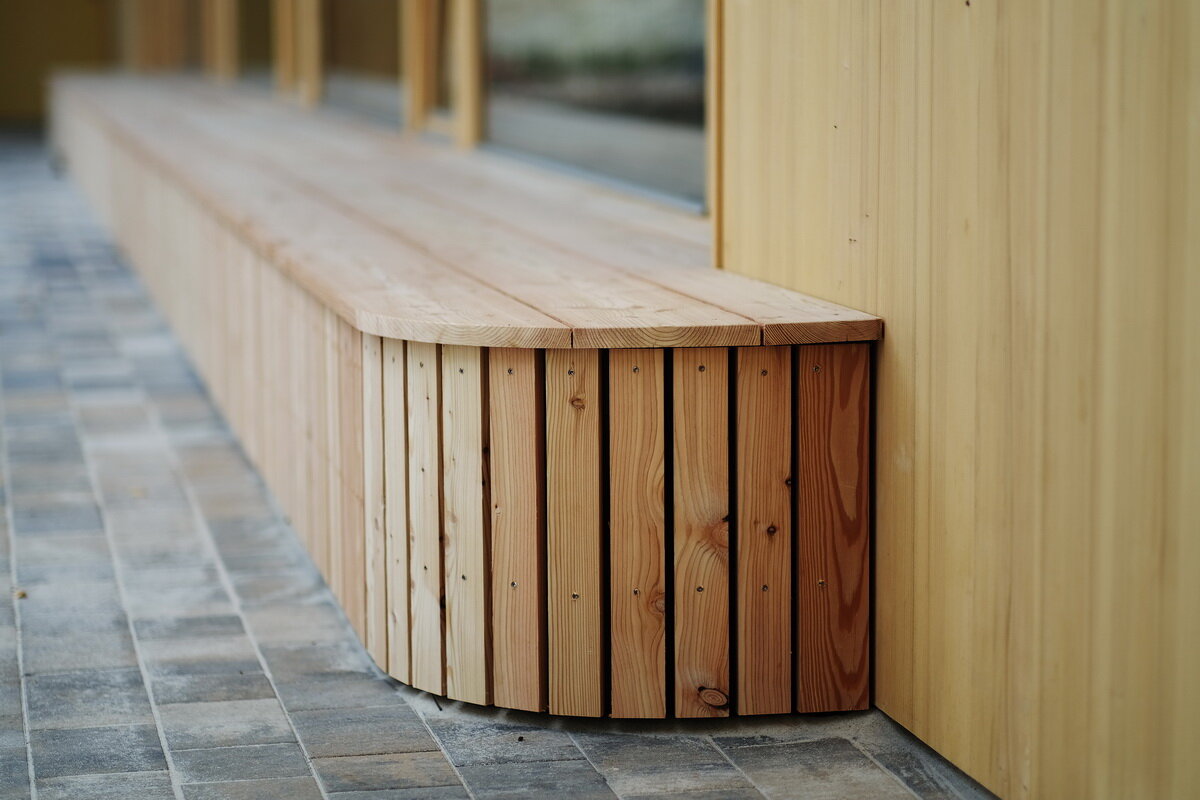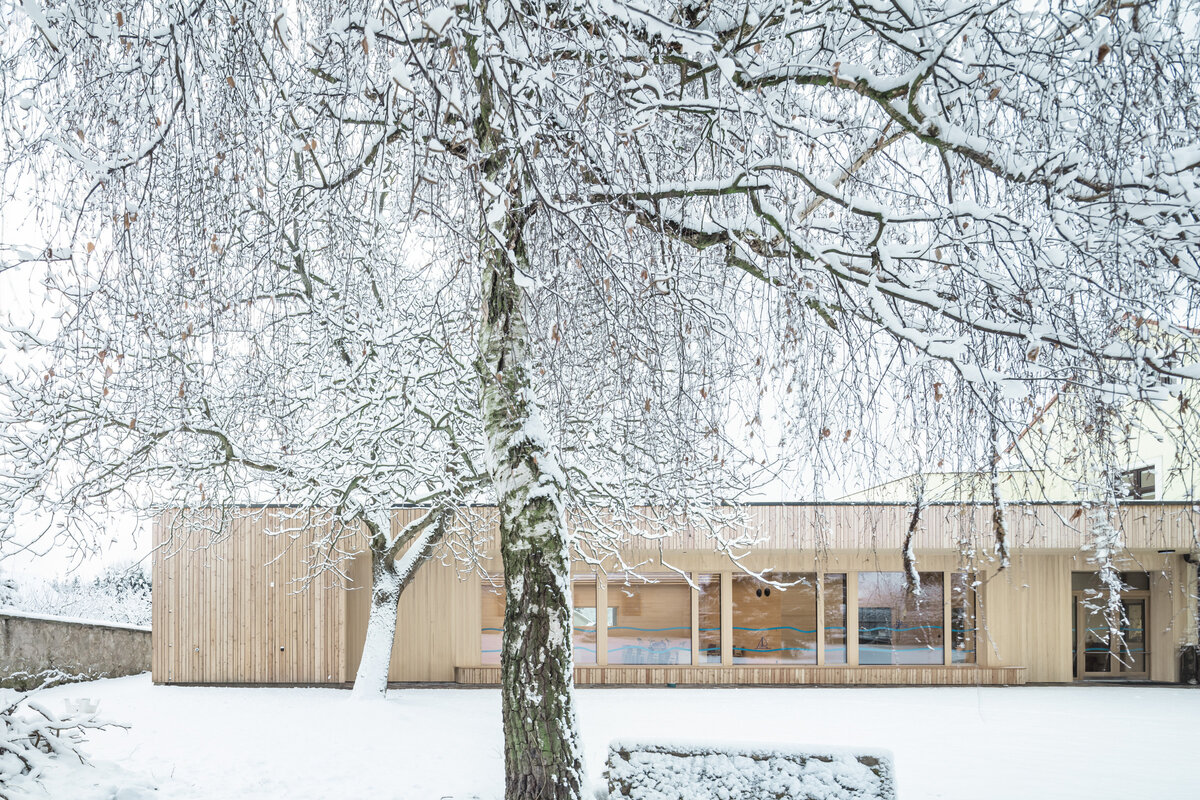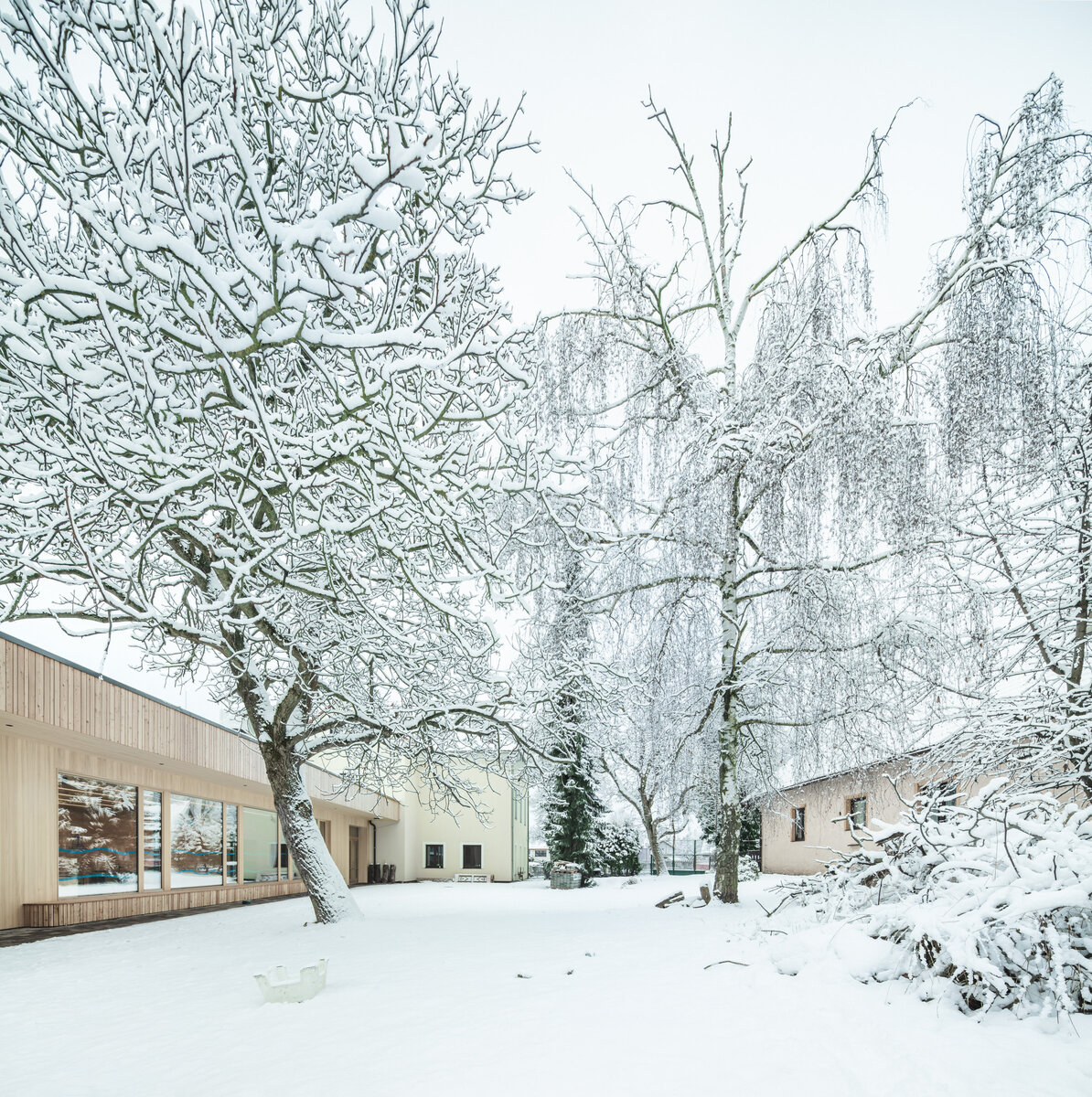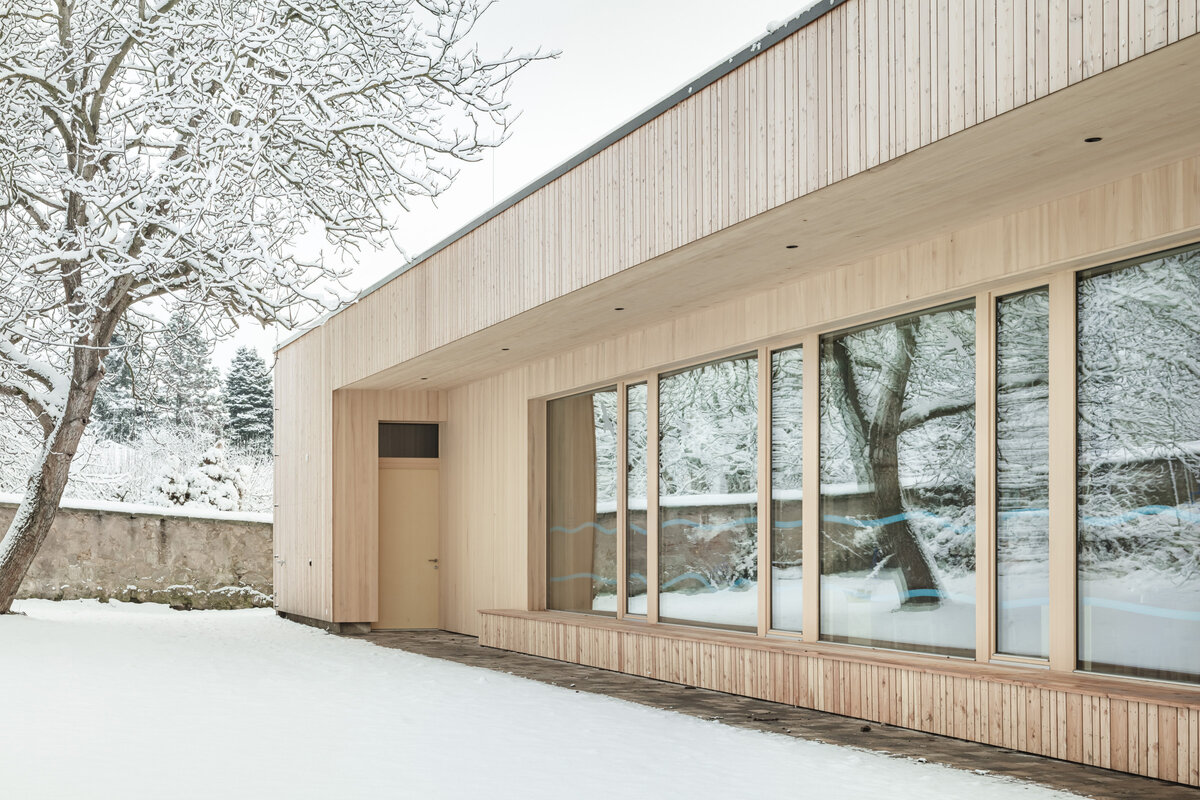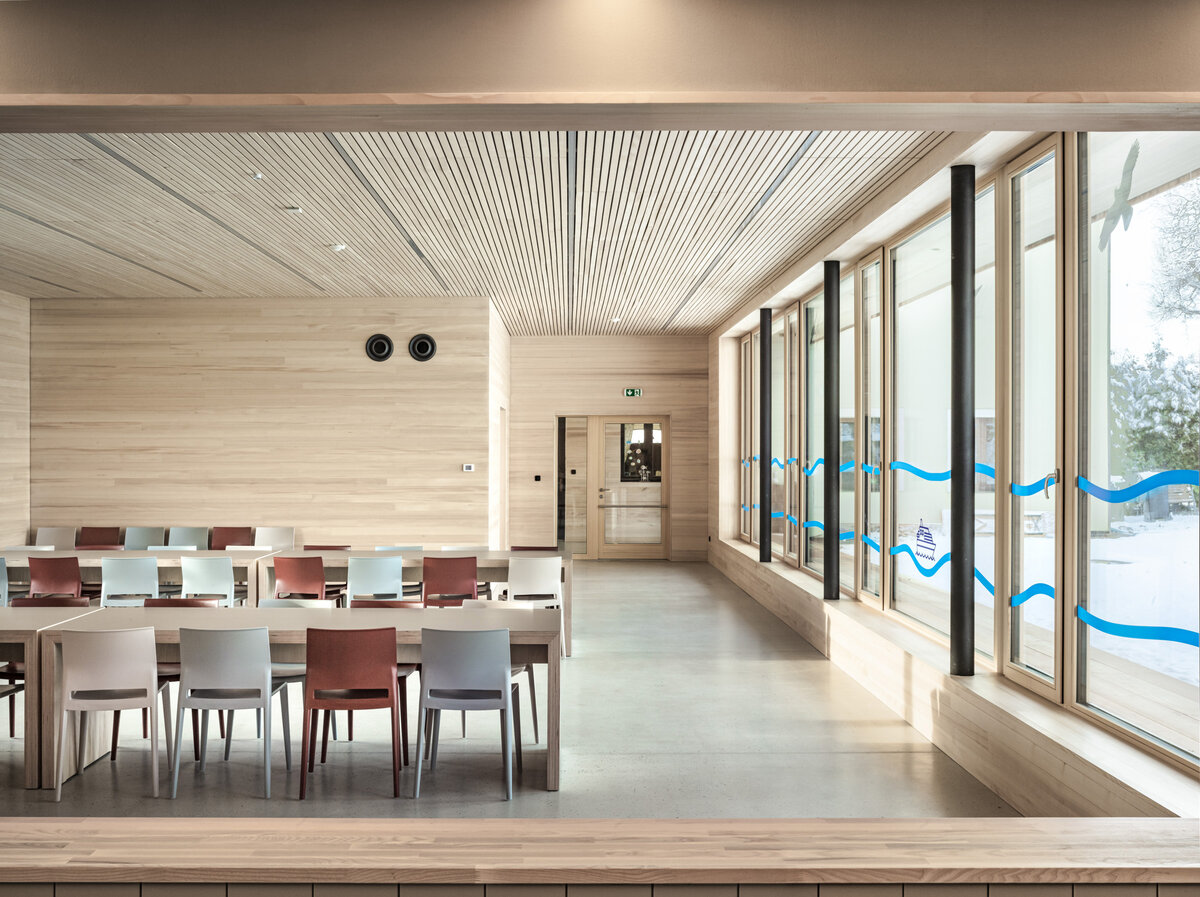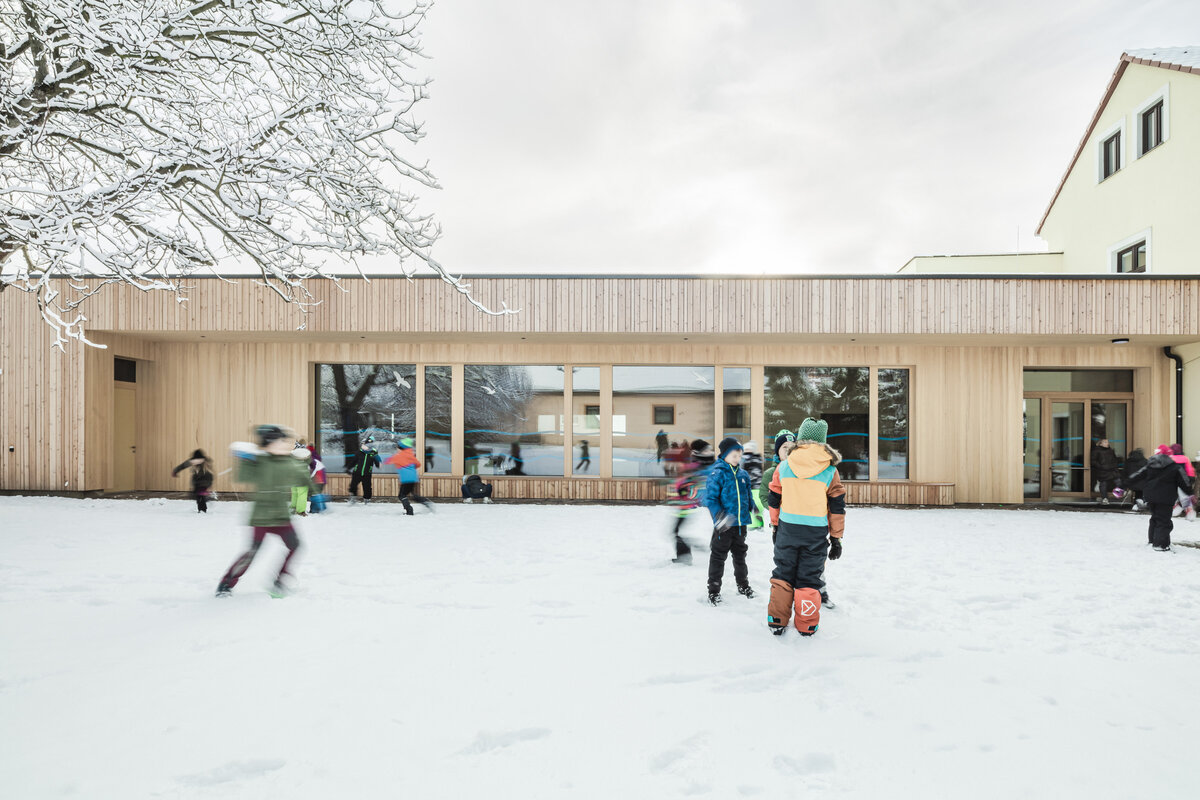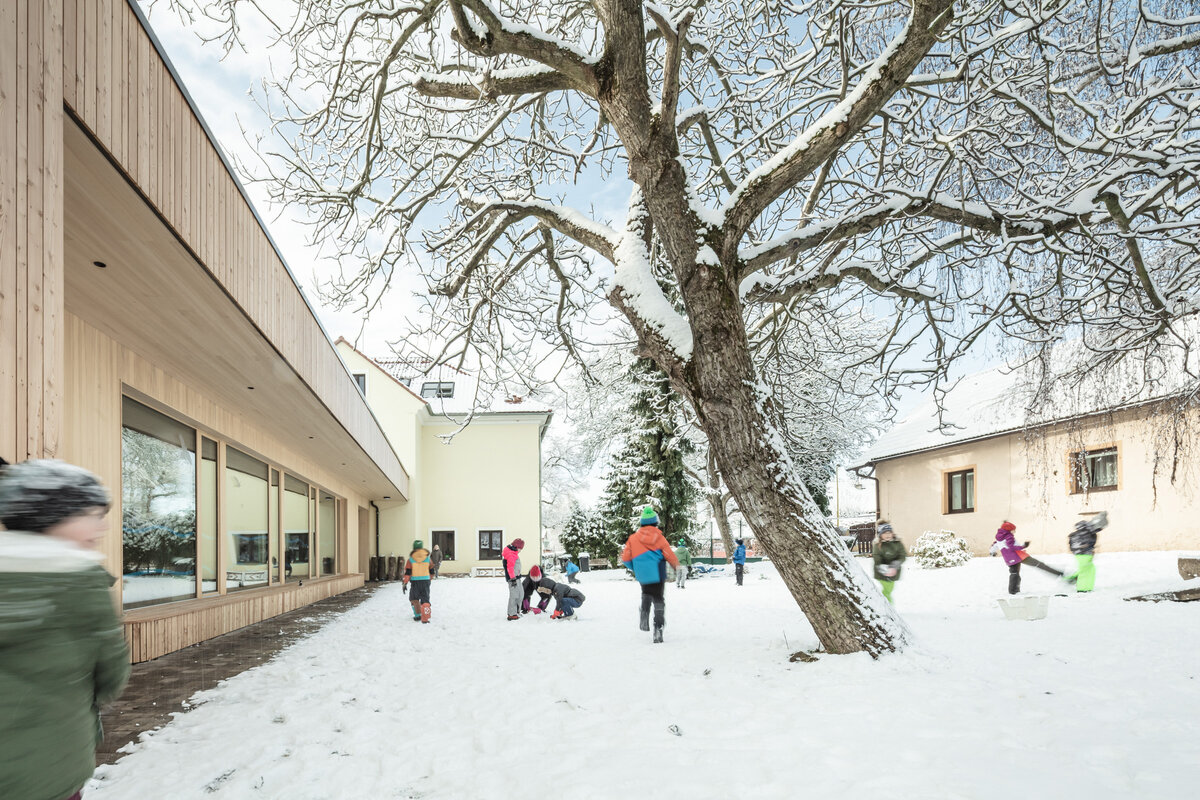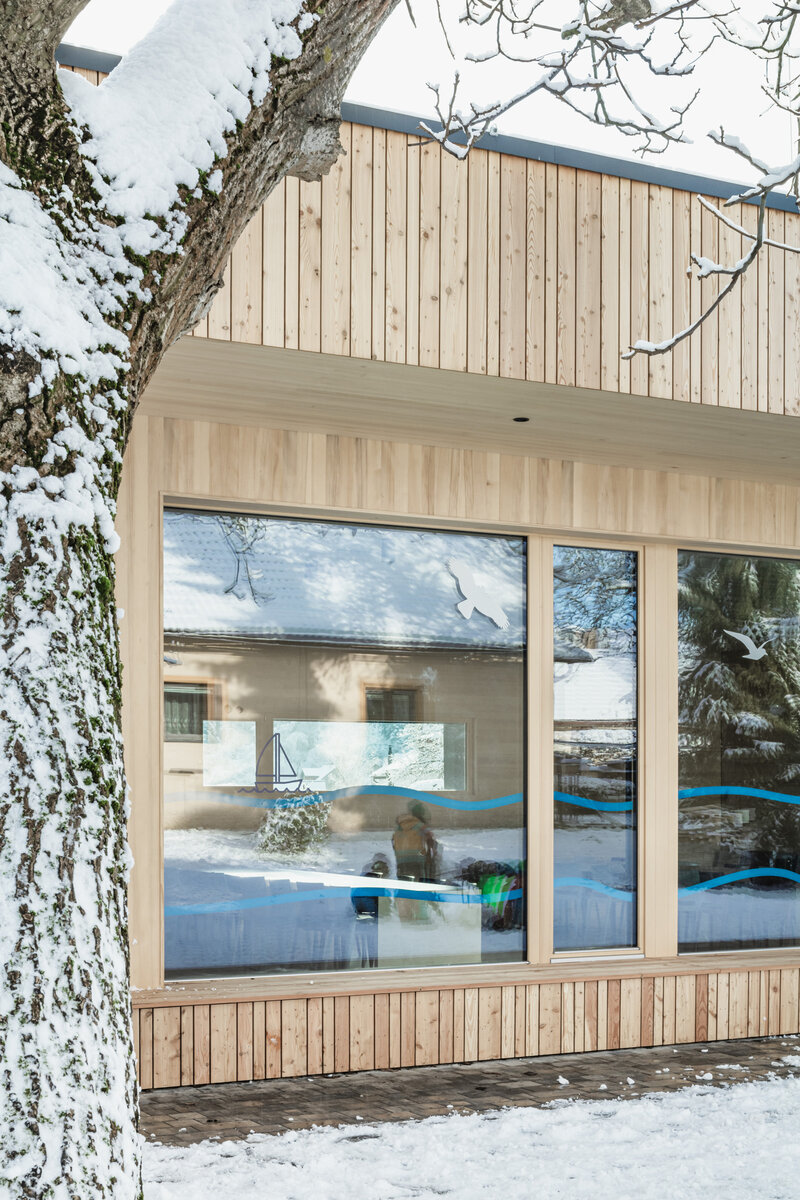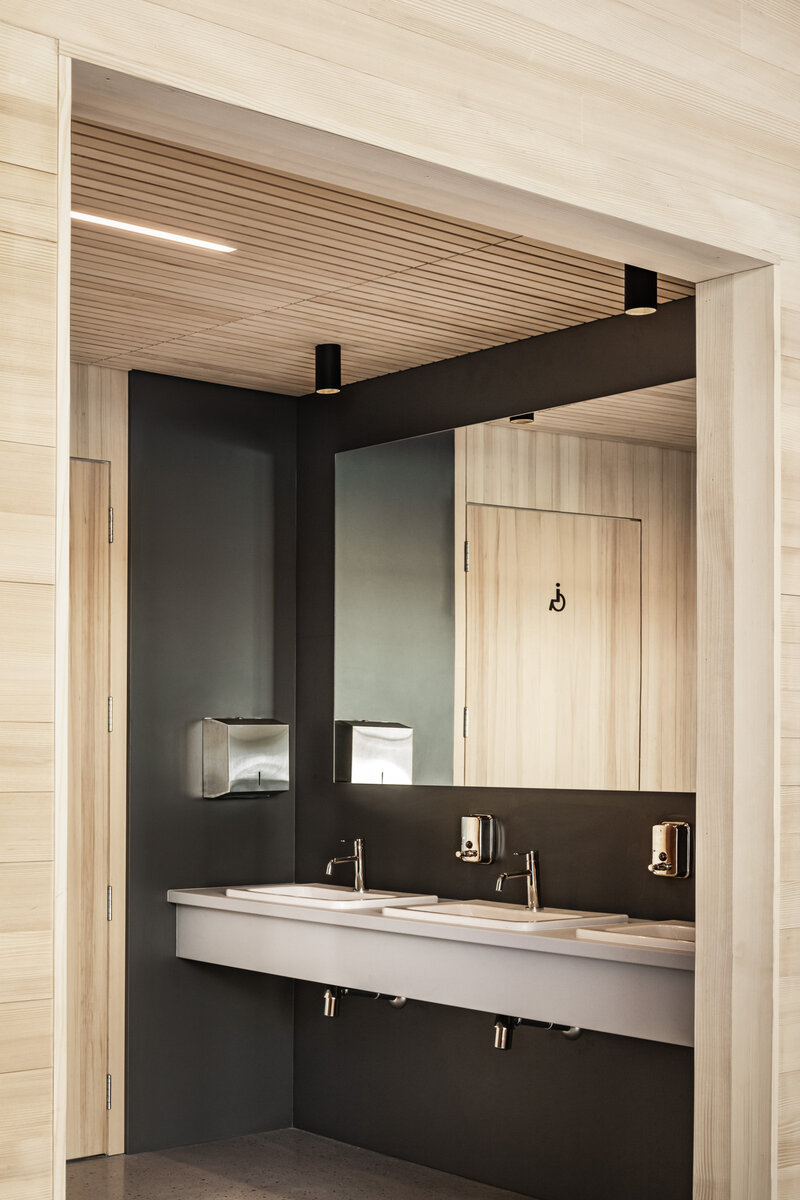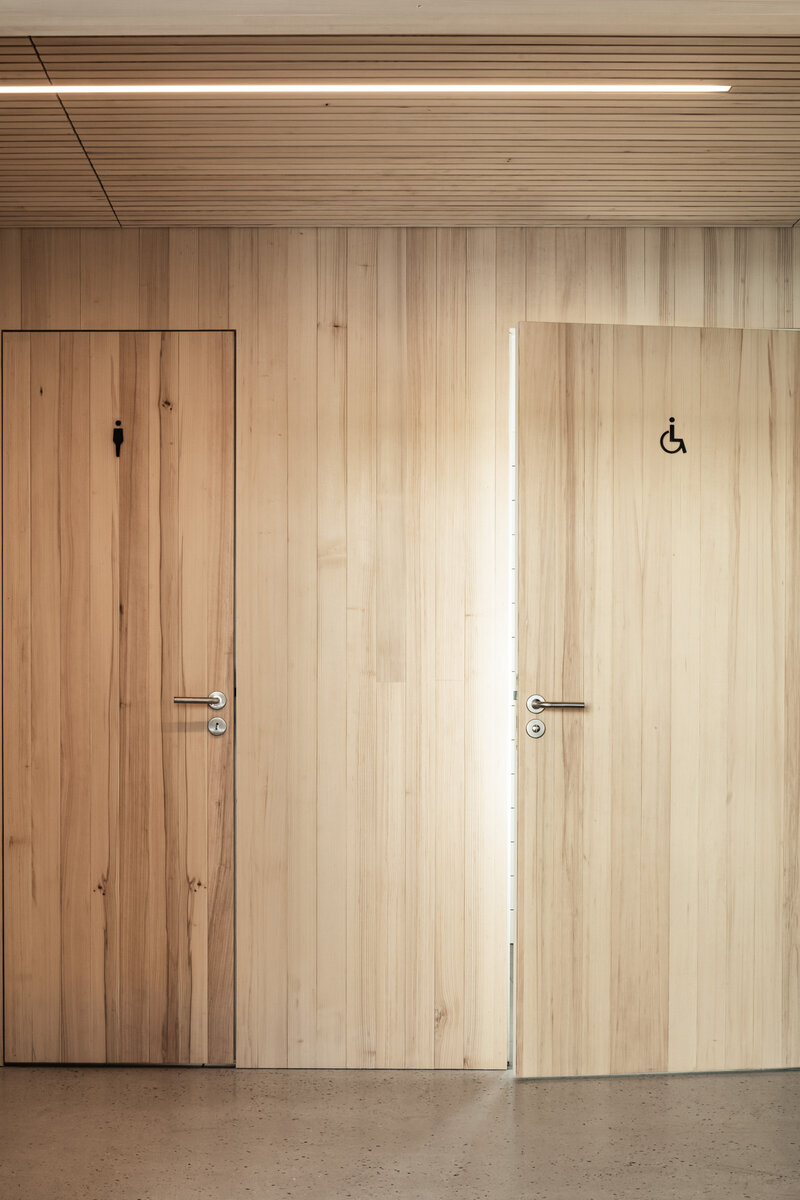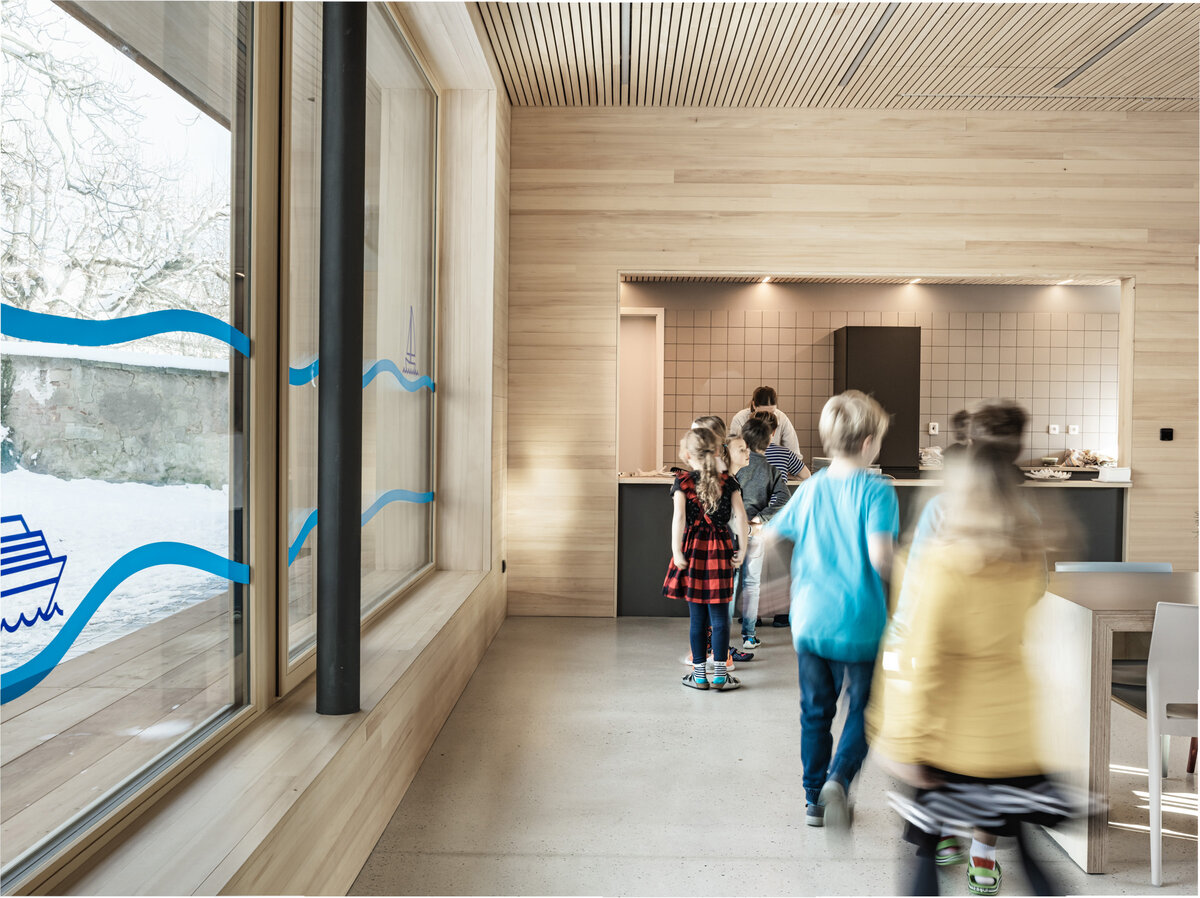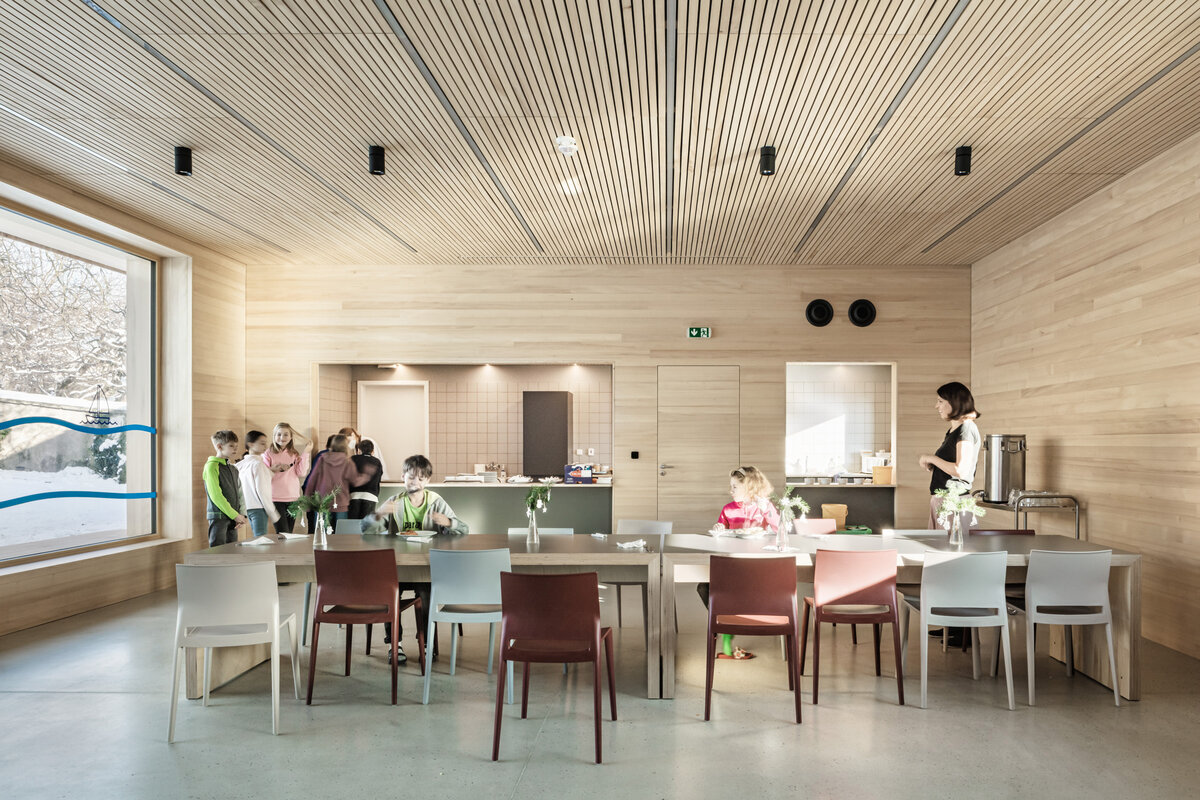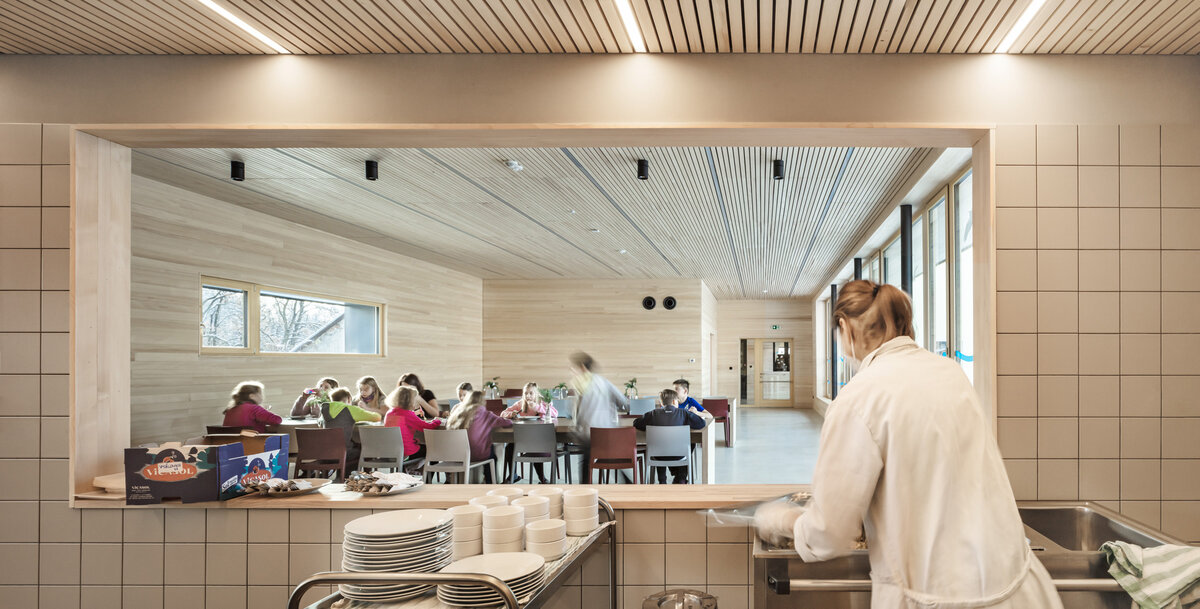 | | |
| --- | --- |
| Author | Nikola Tomková, Chytrý dům s.r.o., Thu Huong Phamová |
| Studio | |
| Location | Na Návsi 57, Vyžlovka |
| Investor | Obec Vyžlovka, Na Návsi 57, Vyžlovka |
| Supplier | Chytrý dům s.r.o., Nad Kazankou 648/45a, Praha 7 Troja |
| Date of project approval | November 2021 |
| Fotograf | |
A few years ago, in the small village of Vyžlovka near Říčany, a historic school building from the 19th century was successfully renovated and a small village school was created. However, the repaired building did not provide space for a school canteen, so the only possibility to provide food for the pupils was the hall of the local hospitality. The motivation to build a dining hall was therefore great, not only for the school management and parents of pupils, but also for the village council. The solution was offered by a newly built multi-purpose space of passive wood construction, which is a perfect example of the fact that even a small municipality can do "big things".

A prerequisite for good solutions is often the enthusiasm of the main actors for the right cause. The people of Vyžlovka certainly did not miss that. After mutual agreement, the decision was made to solve the situation with the missing school canteen by building a new building, which would serve not only for meals for schoolchildren, but also as a place for leisure activities for children and parents, lectures, workshops or, for example, yoga lessons in the afternoon and evening hours.

The project was undertaken by a local resident, designer Nikola Tomková, who was at the birth of the idea to build a small village school in 2016, and at that time she designed the reconstruction of the main building. "I accepted the offer to design the cafeteria for our school without hesitation. Having the opportunity to participate in the development of the place where I live, and also for the children, is fulfilling. The vision was clear - airy space, natural materials, residential comfort."
The municipality would not have been able to make investments in the order of 12 million crowns from its budget, but it managed to obtain the necessary funds from one of the subsidy programs. Fast construction, low operating costs, high comfort of use and a pleasant indoor environment - these were the main requirements that ultimately led to the decision to build an extension to the school as a passive wooden building. The implementation of the construction was then undertaken by the company Chytrý dům, which has extensive experience with this type of construction and proposes tailor-made solutions.
A pleasant, healthy and energy-efficient space
The extension is located in the school yard and is operationally connected to the main building. It is a one-story building with a wooden facade, thanks to which it appears very inconspicuous and will blend in with the surrounding greenery over time. In terms of layout, the building consists of a main room designed for children's meals, which is followed by a food service, two warehouses and the necessary social facilities. The entire main space is beautifully lit and connected to the exterior thanks to a large glass wall facing the outdoor courtyard.
Structurally, it is a wooden building, and wood is also used for interior and exterior wall cladding, acoustic ceilings and thermal insulation. "The goal was to create a building with a welcoming interior environment according to the principles of sustainable construction," says engineer Petr Filip from the Chytrý dům company. What exactly does that mean? Instead of industrially produced glued materials, basic wooden elements are used in the form of beams, planks, boards or pegged solid boards. You won't find products from production halls created with complex technological processes here, because the emphasis is on precise craftsmanship by people right on the spot. "Thanks to this "low-tech" approach, the materials do not contain glues and other chemical pollutants, the interior is purely natural, healthy and beautiful to look at," explains Petr Filip, adding: "An advantage is that in the future the house will be almost completely dismantled into individual elements and then reuse them for another building or another purpose, without burdening the environment." The long-term reliability of the wooden structure is also ensured by the way in which all water and electricity distributions are conducted - in the false ceilings. Therefore, if a pipe bursts or water leaks from the roof, it will not cause degradation of the wooden structure.

High comfort of the indoor environment and at the same time extremely low operating costs are provided by high-quality insulation of the perimeter walls, roof and floor, heating with an air/water heat pump and ventilation with heat recovery
Green building
Environmental certification
| | |
| --- | --- |
| Type and level of certificate | - |
Water management
| | |
| --- | --- |
| Is rainwater used for irrigation? | |
| Is rainwater used for other purposes, e.g. toilet flushing ? | |
| Does the building have a green roof / facade ? | |
| Is reclaimed waste water used, e.g. from showers and sinks ? | |
The quality of the indoor environment
| | |
| --- | --- |
| Is clean air supply automated ? | |
| Is comfortable temperature during summer and winter automated? | |
| Is natural lighting guaranteed in all living areas? | |
| Is artificial lighting automated? | |
| Is acoustic comfort, specifically reverberation time, guaranteed? | |
| Does the layout solution include zoning and ergonomics elements? | |
Principles of circular economics
| | |
| --- | --- |
| Does the project use recycled materials? | |
| Does the project use recyclable materials? | |
| Are materials with a documented Environmental Product Declaration (EPD) promoted in the project? | |
| Are other sustainability certifications used for materials and elements? | |
Energy efficiency
| | |
| --- | --- |
| Energy performance class of the building according to the Energy Performance Certificate of the building | A |
| Is efficient energy management (measurement and regular analysis of consumption data) considered? | |
| Are renewable sources of energy used, e.g. solar system, photovoltaics? | |
Interconnection with surroundings
| | |
| --- | --- |
| Does the project enable the easy use of public transport? | |
| Does the project support the use of alternative modes of transport, e.g cycling, walking etc. ? | |
| Is there access to recreational natural areas, e.g. parks, in the immediate vicinity of the building? | |