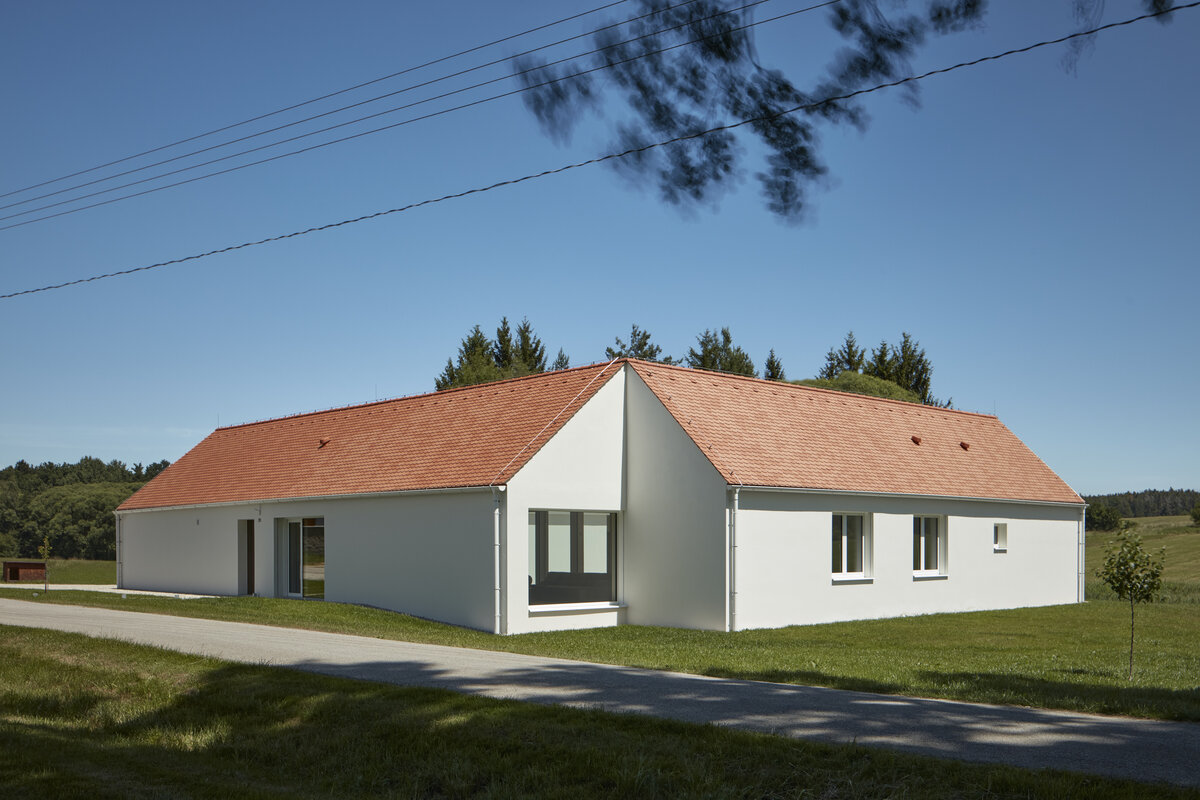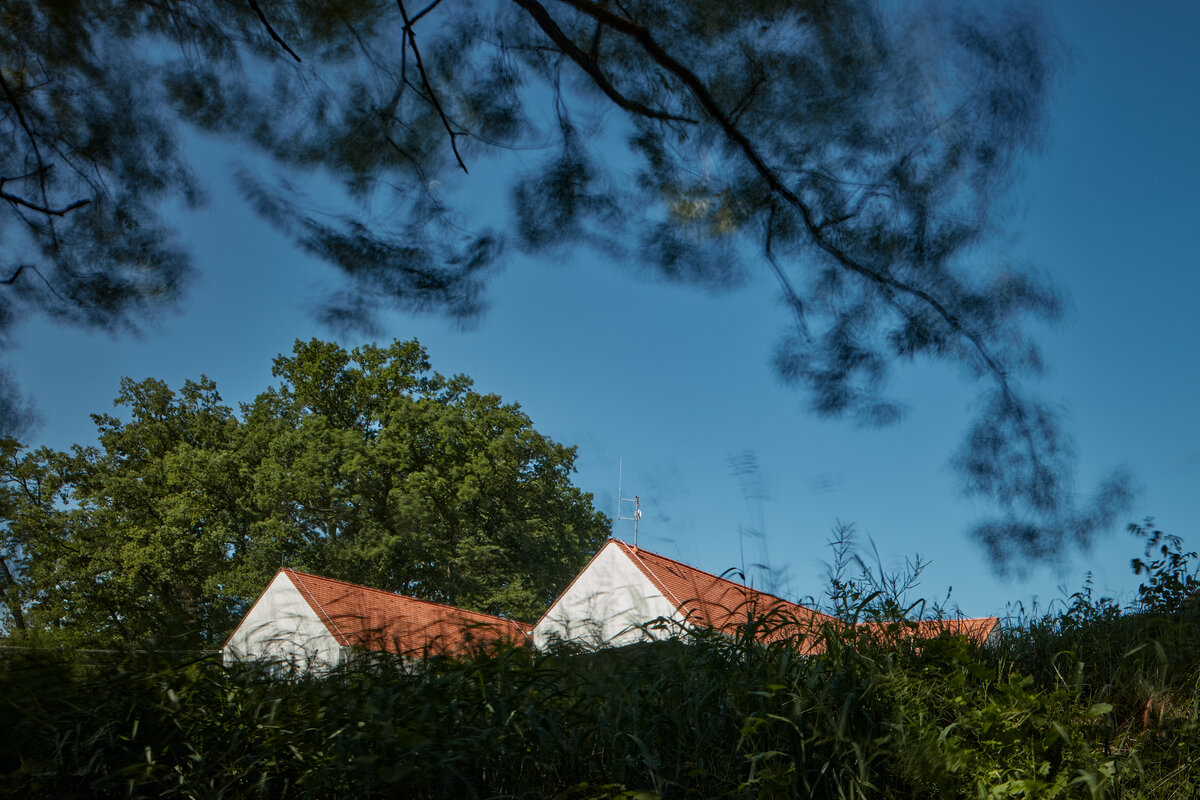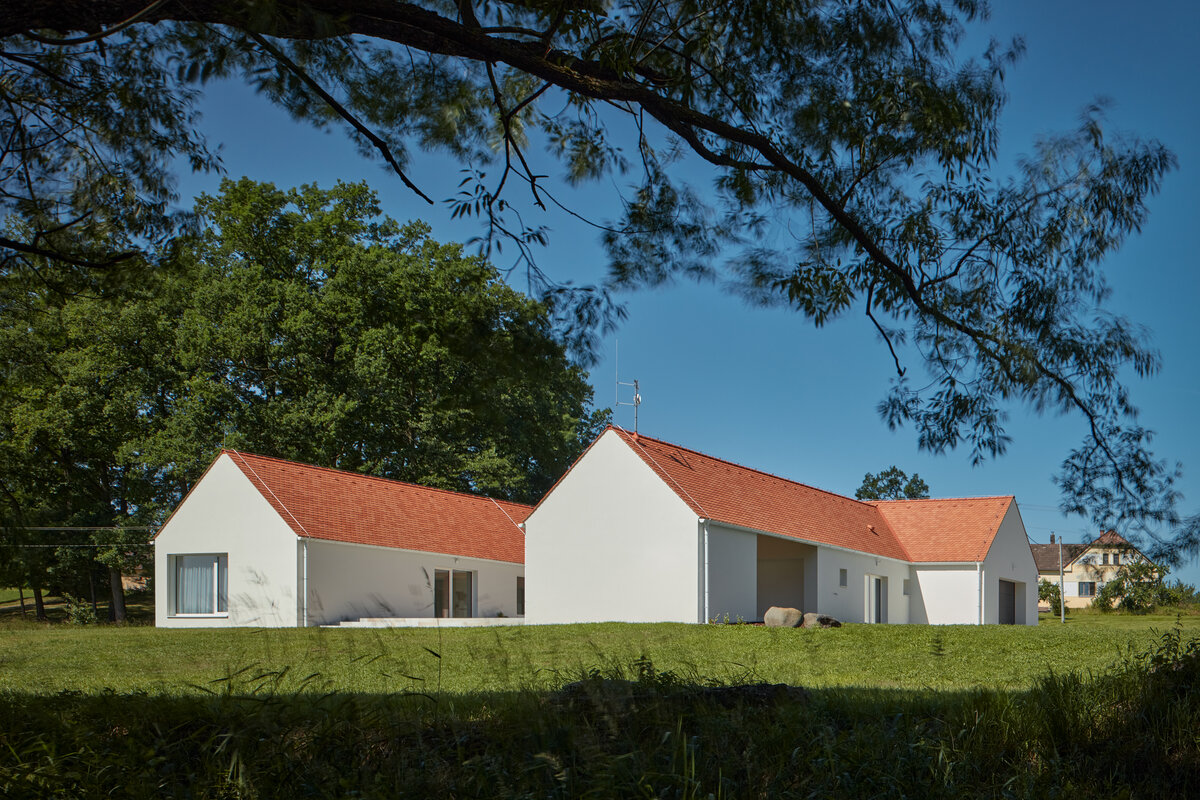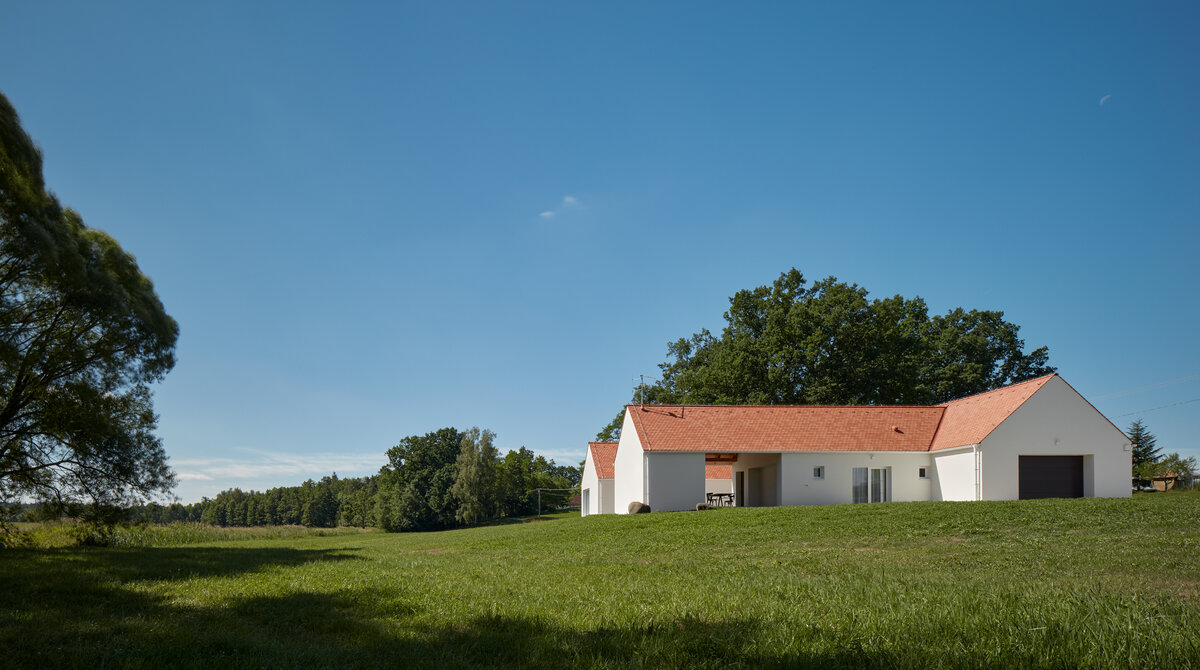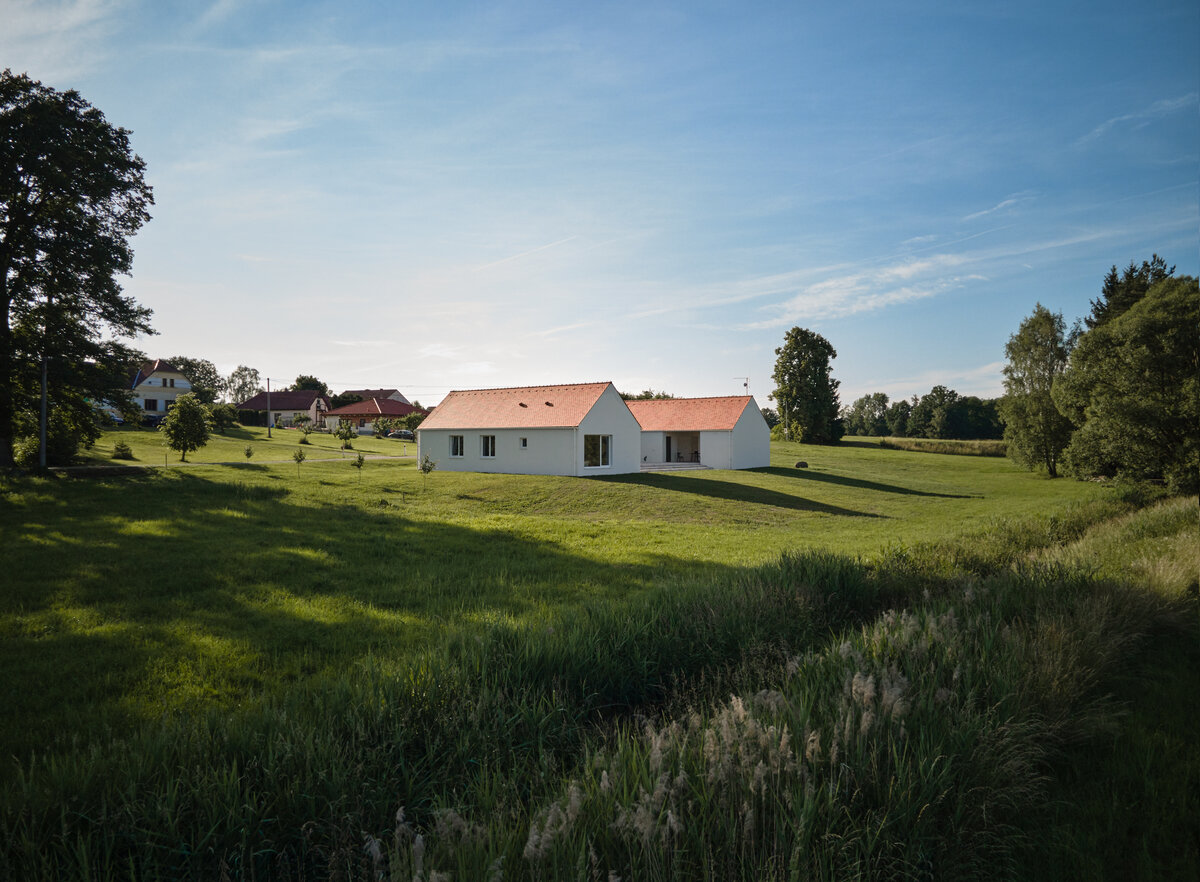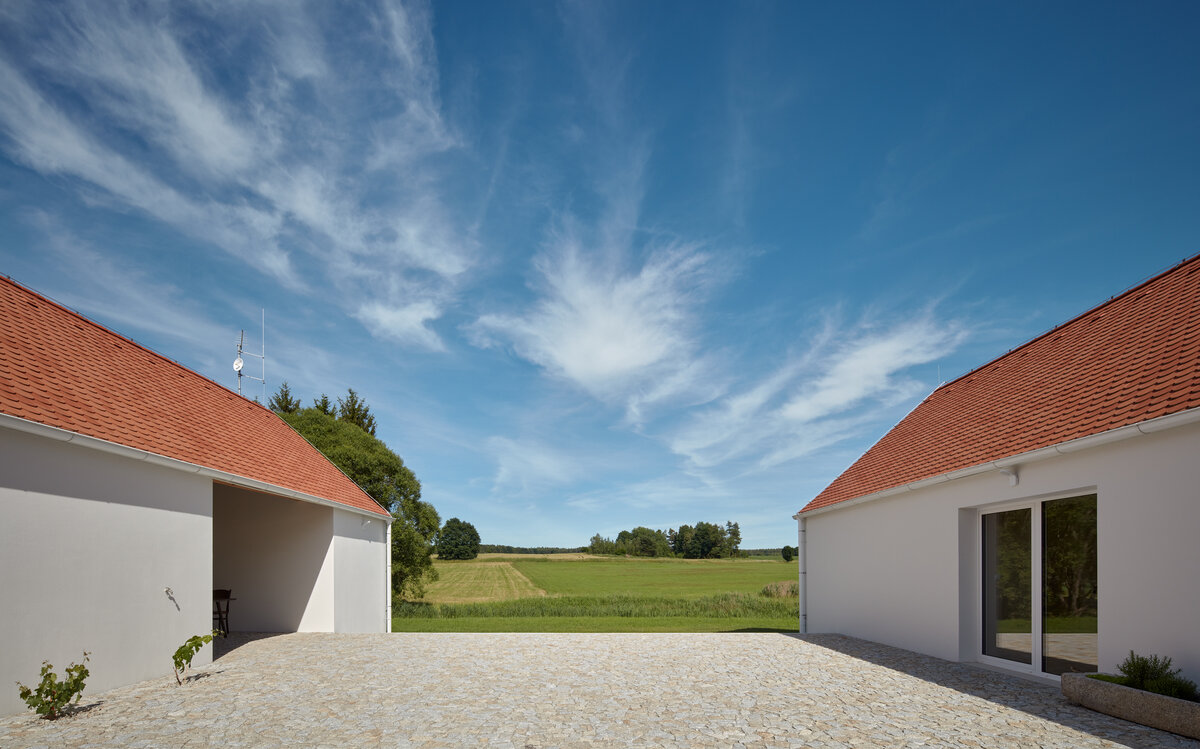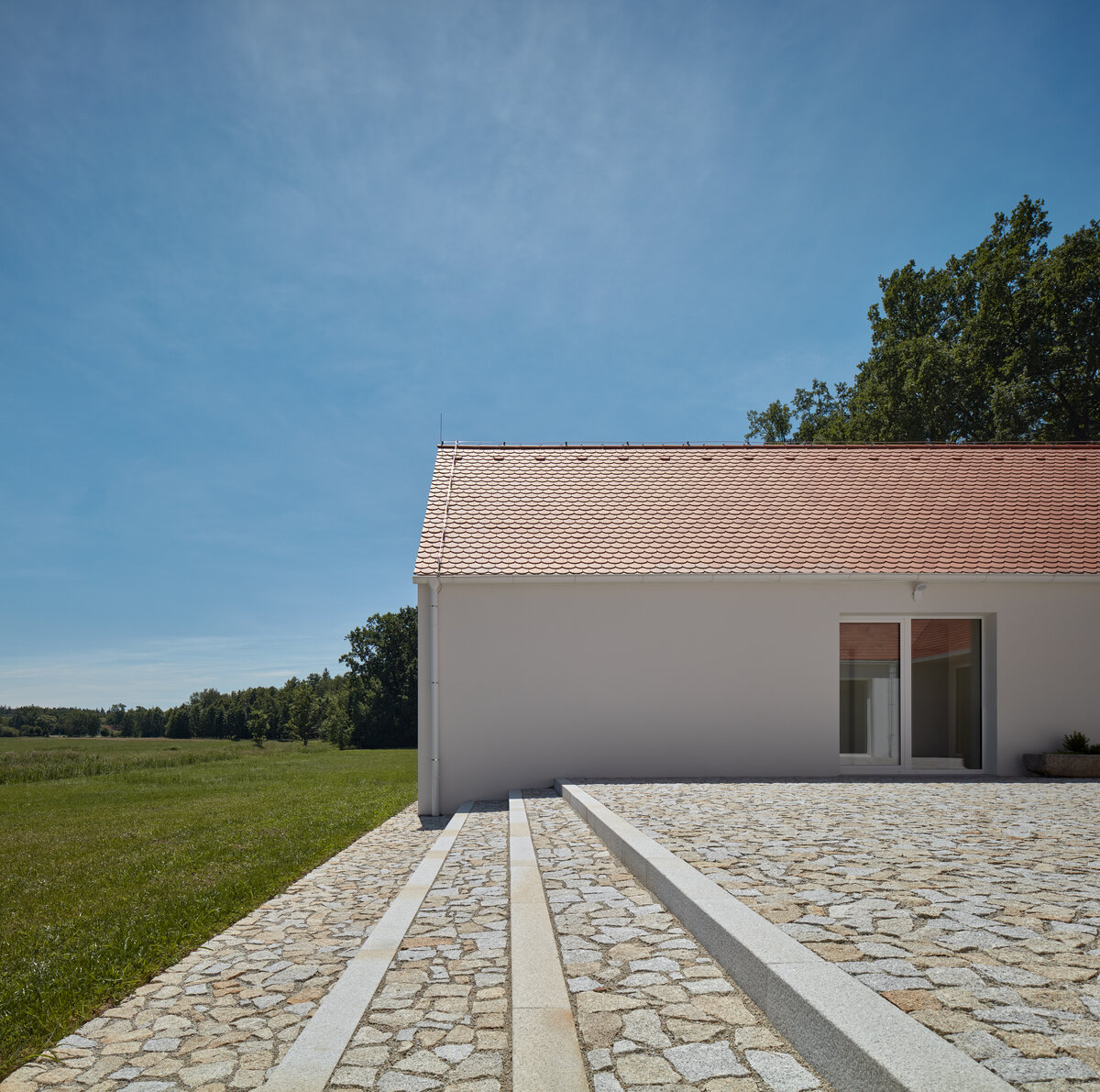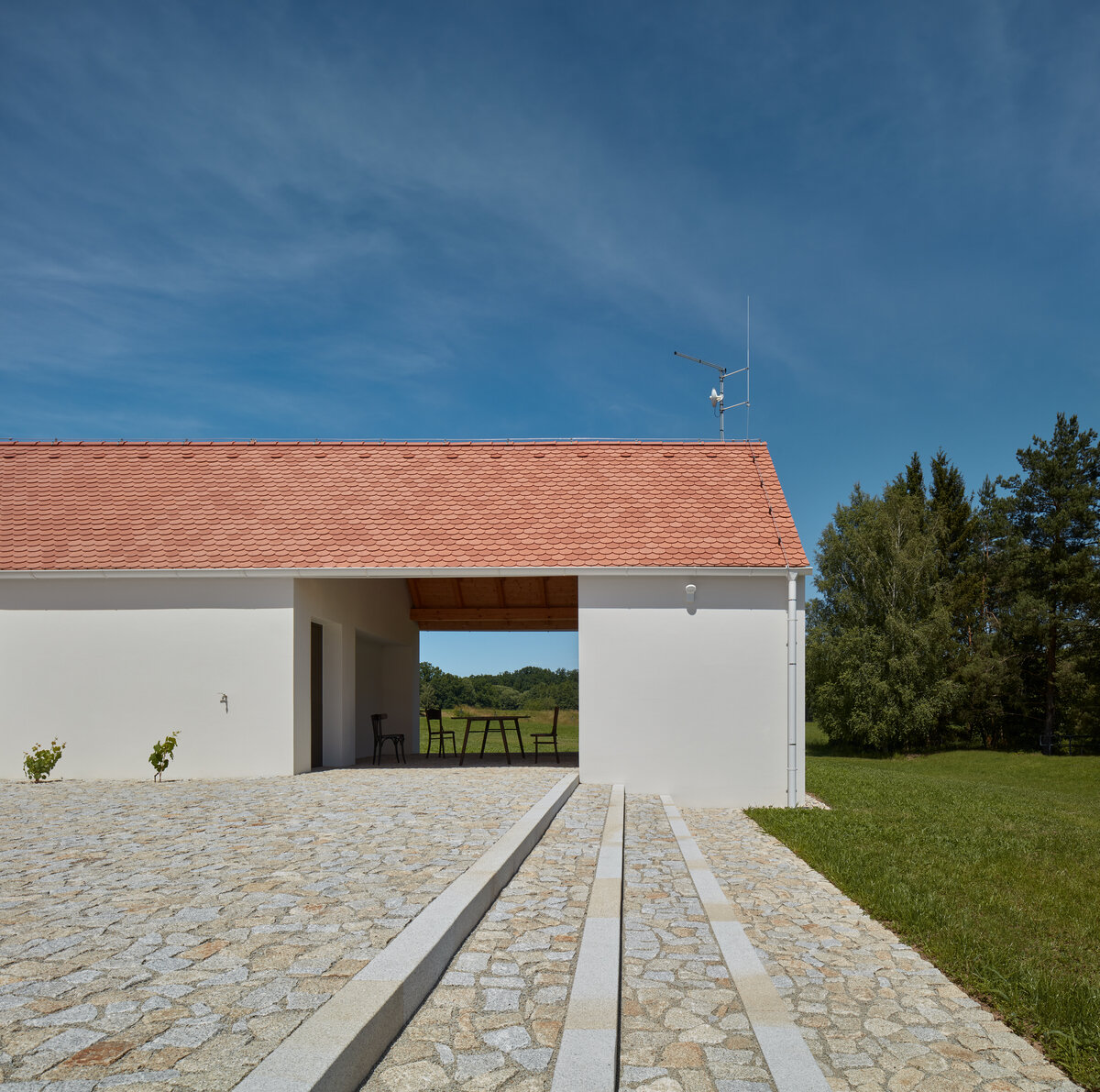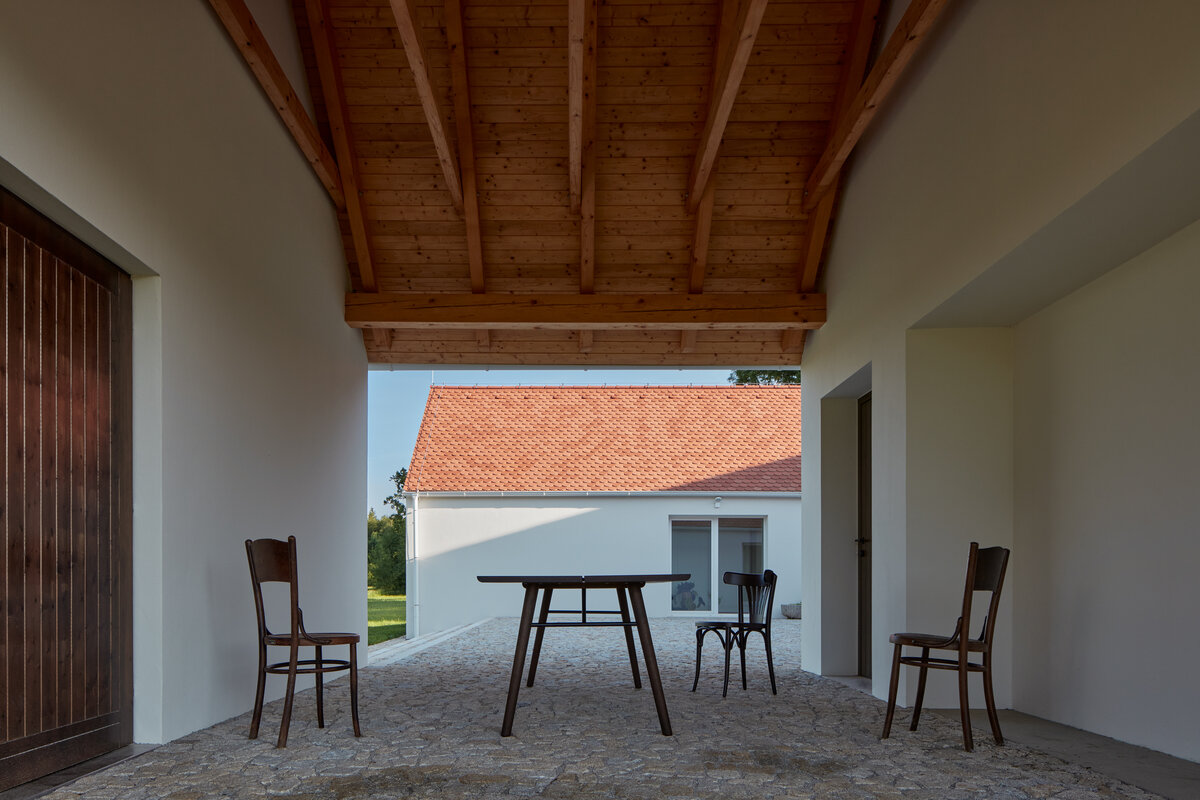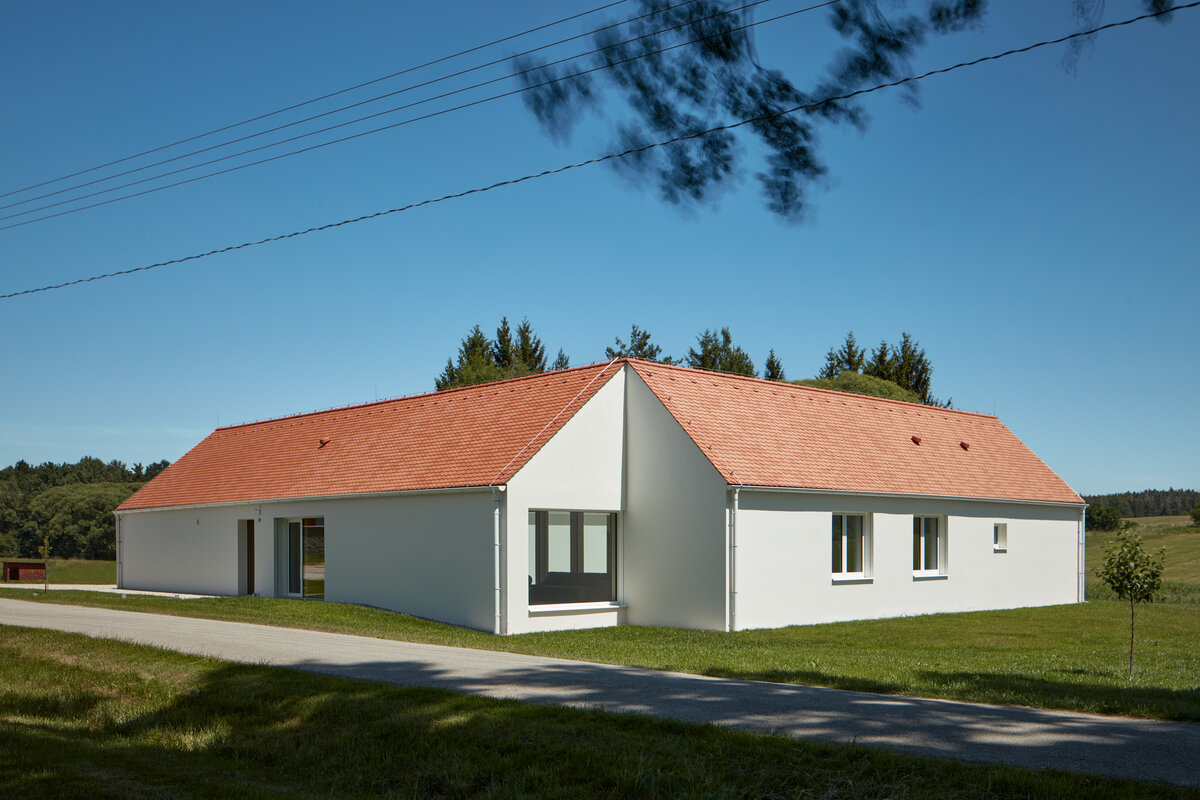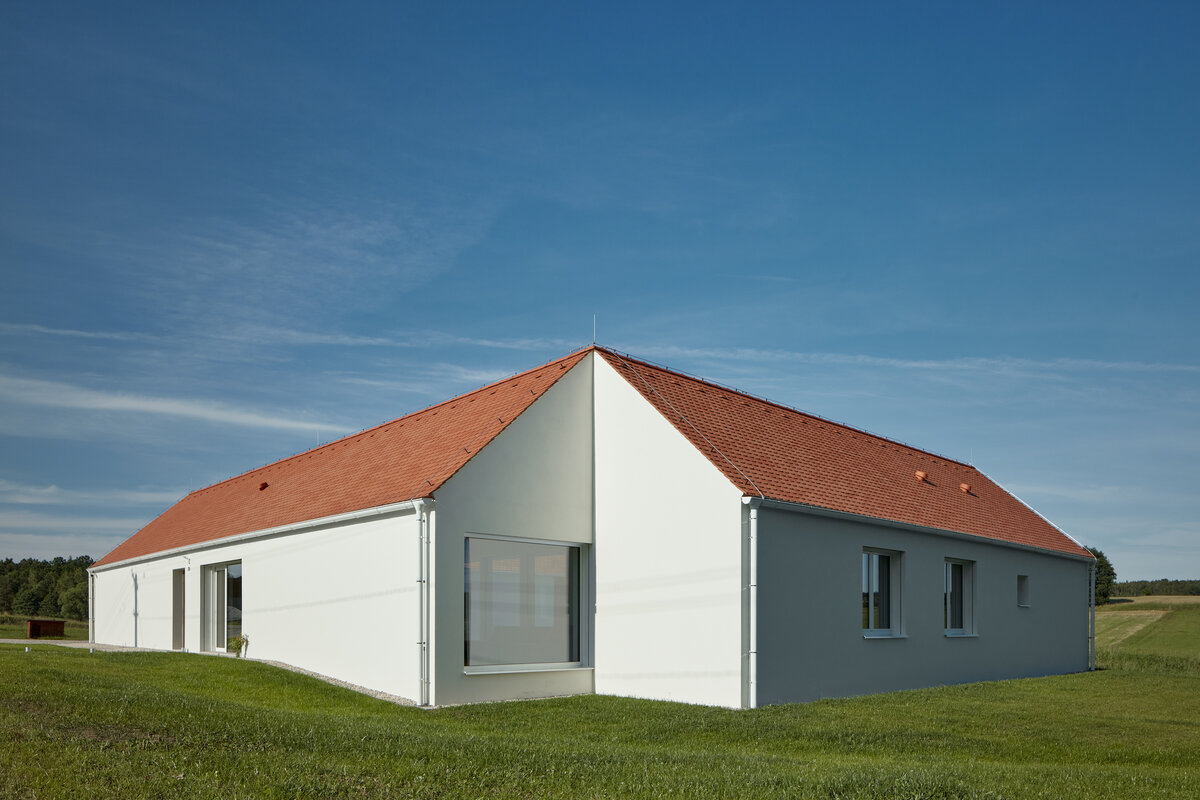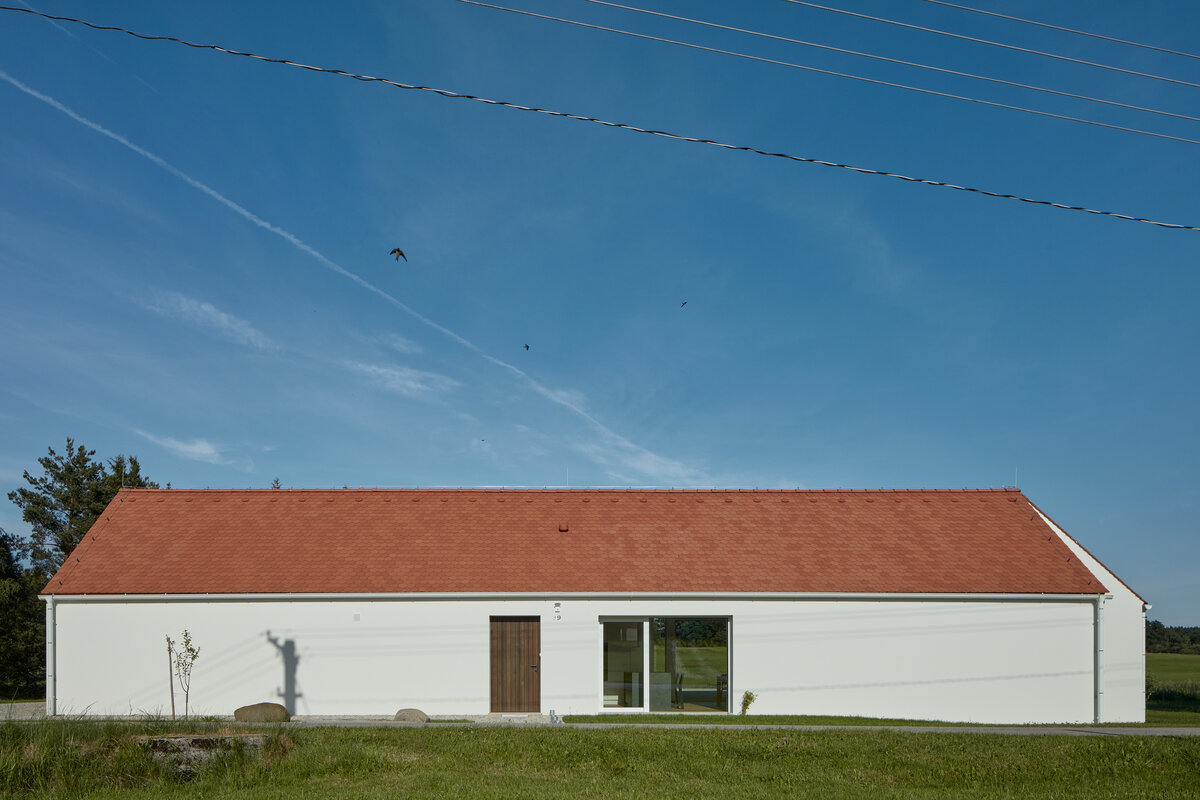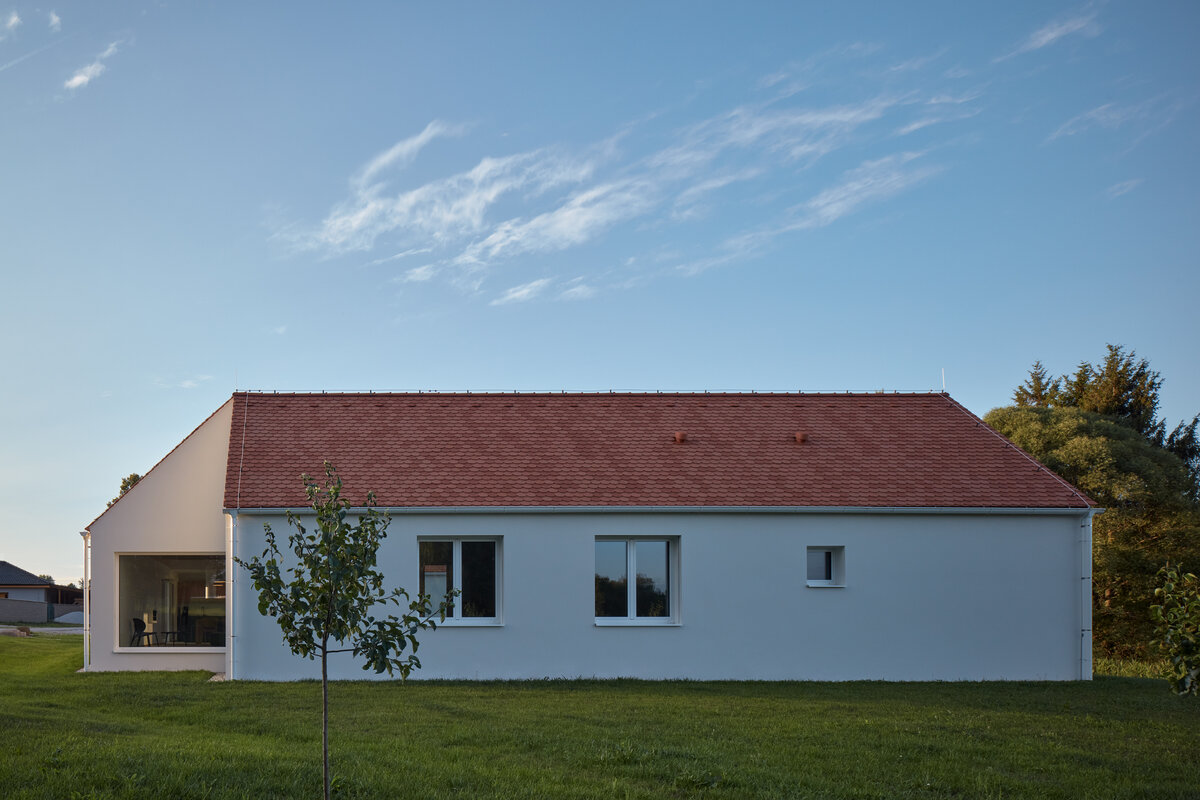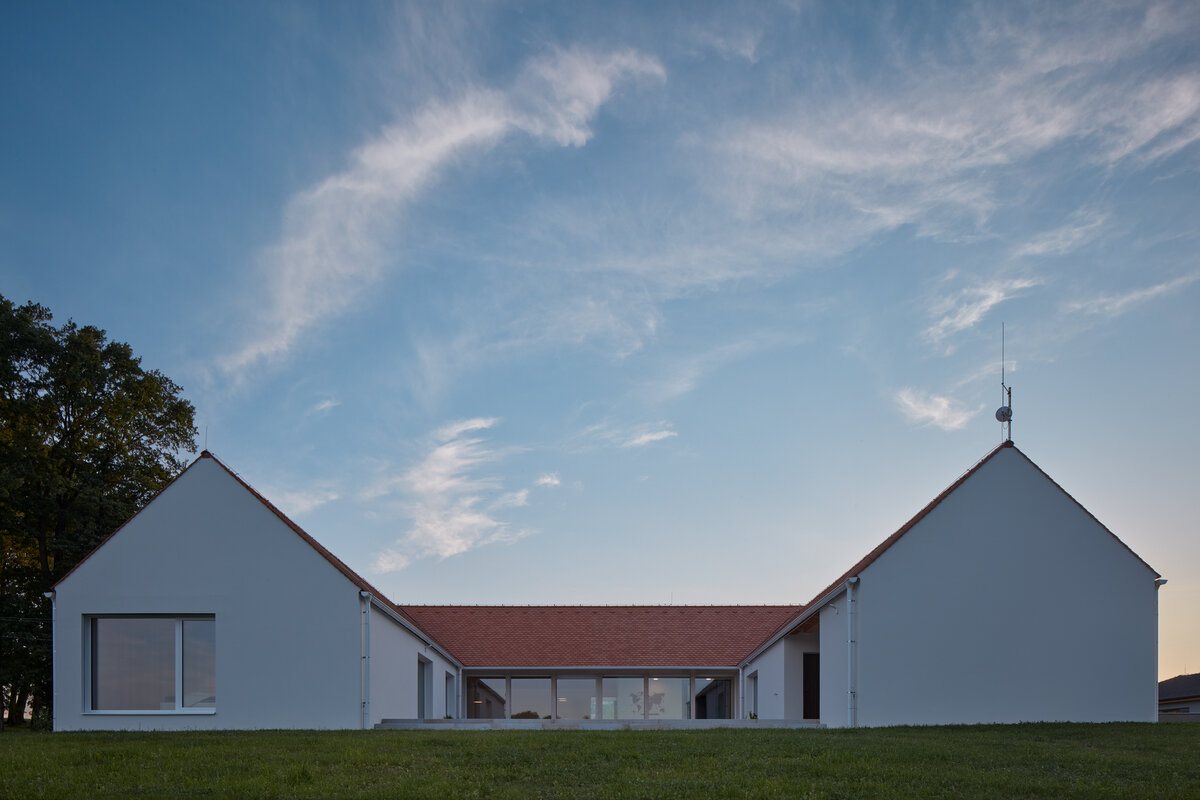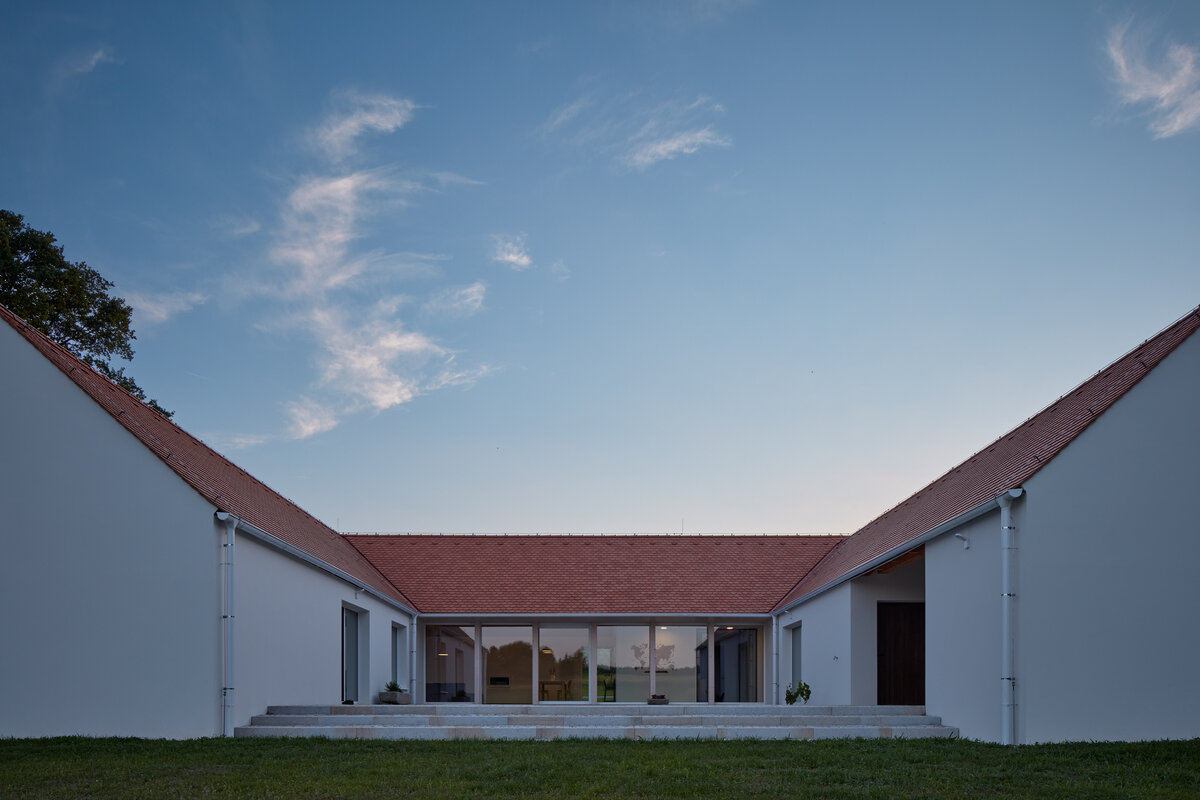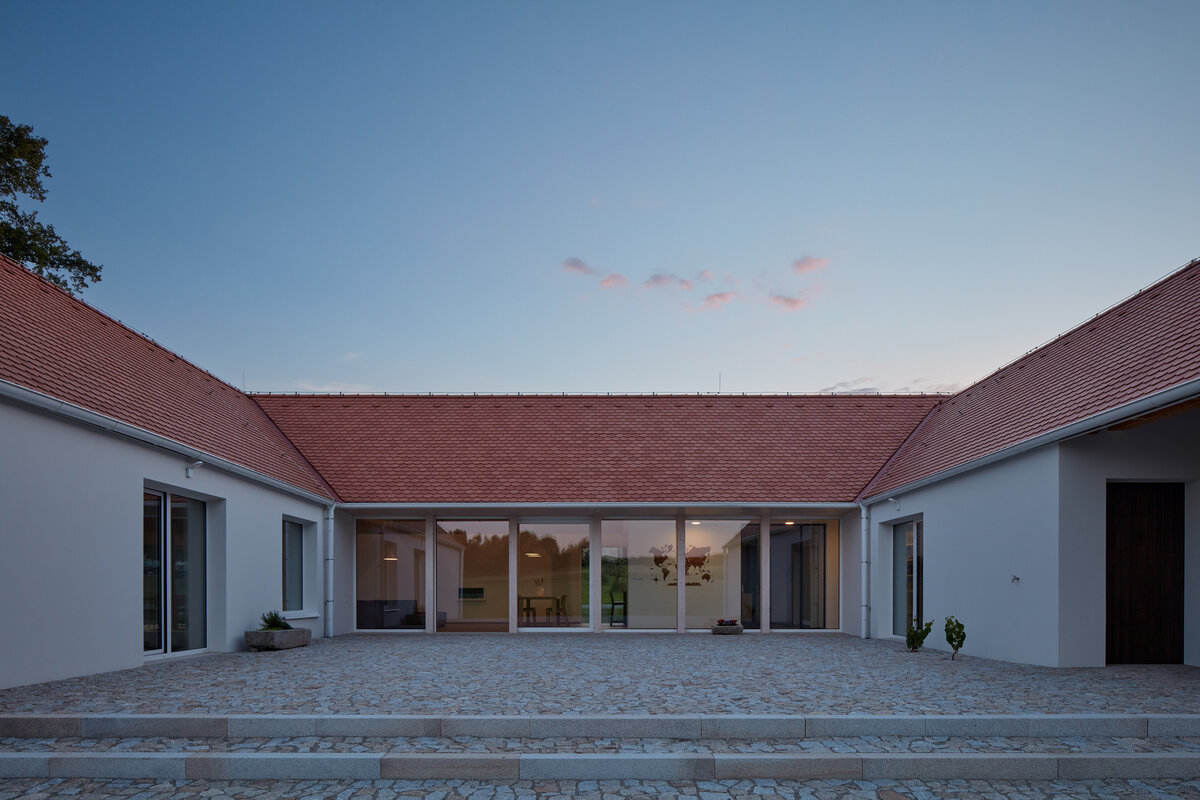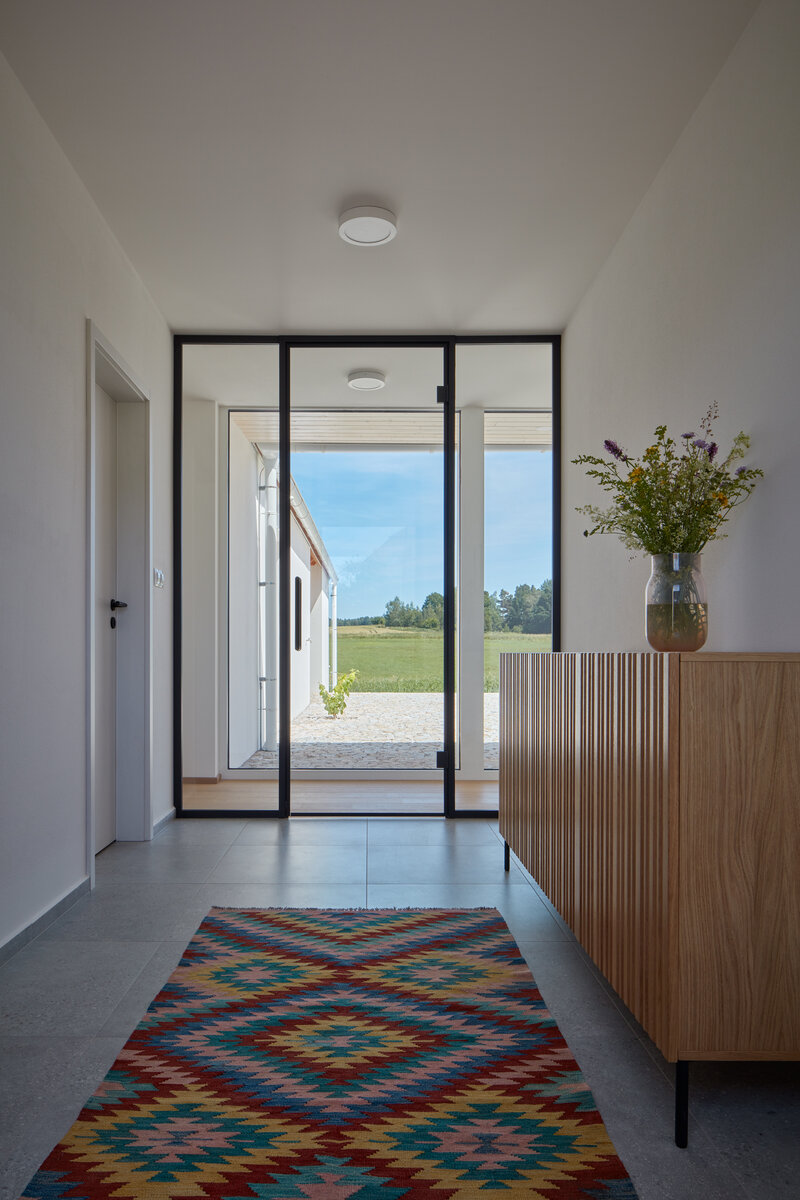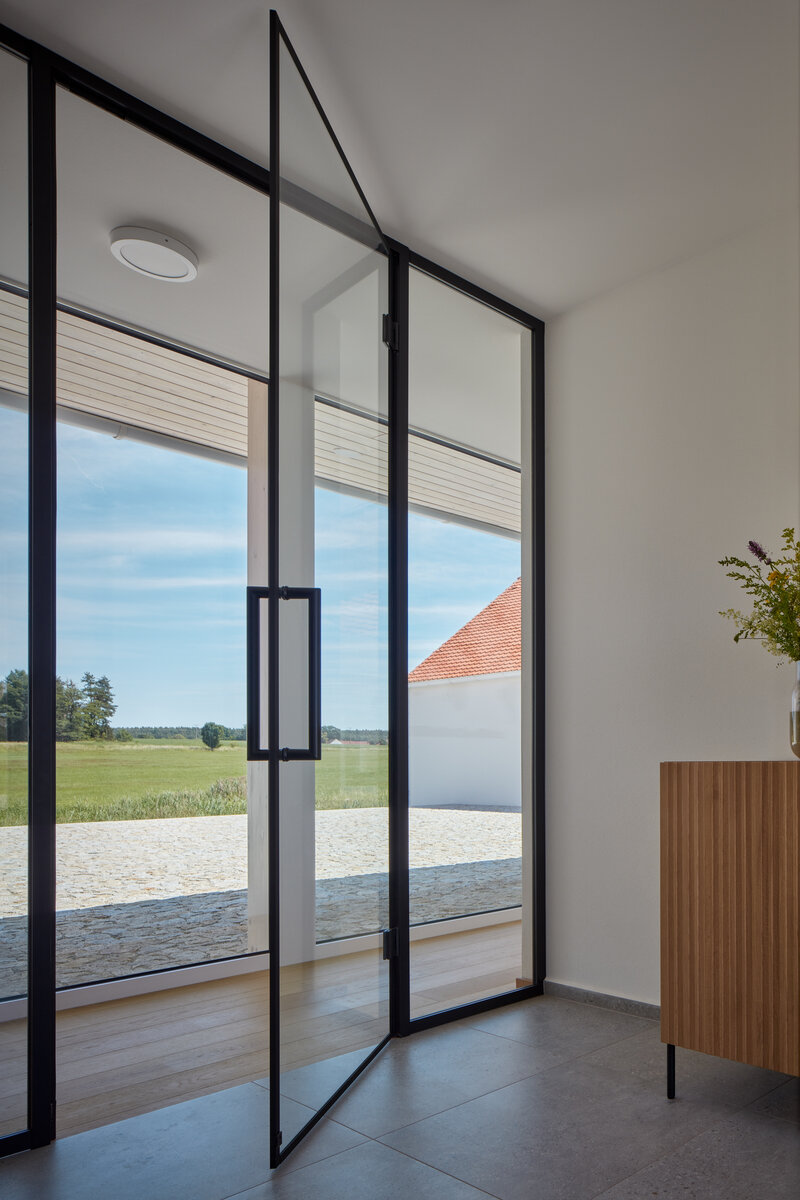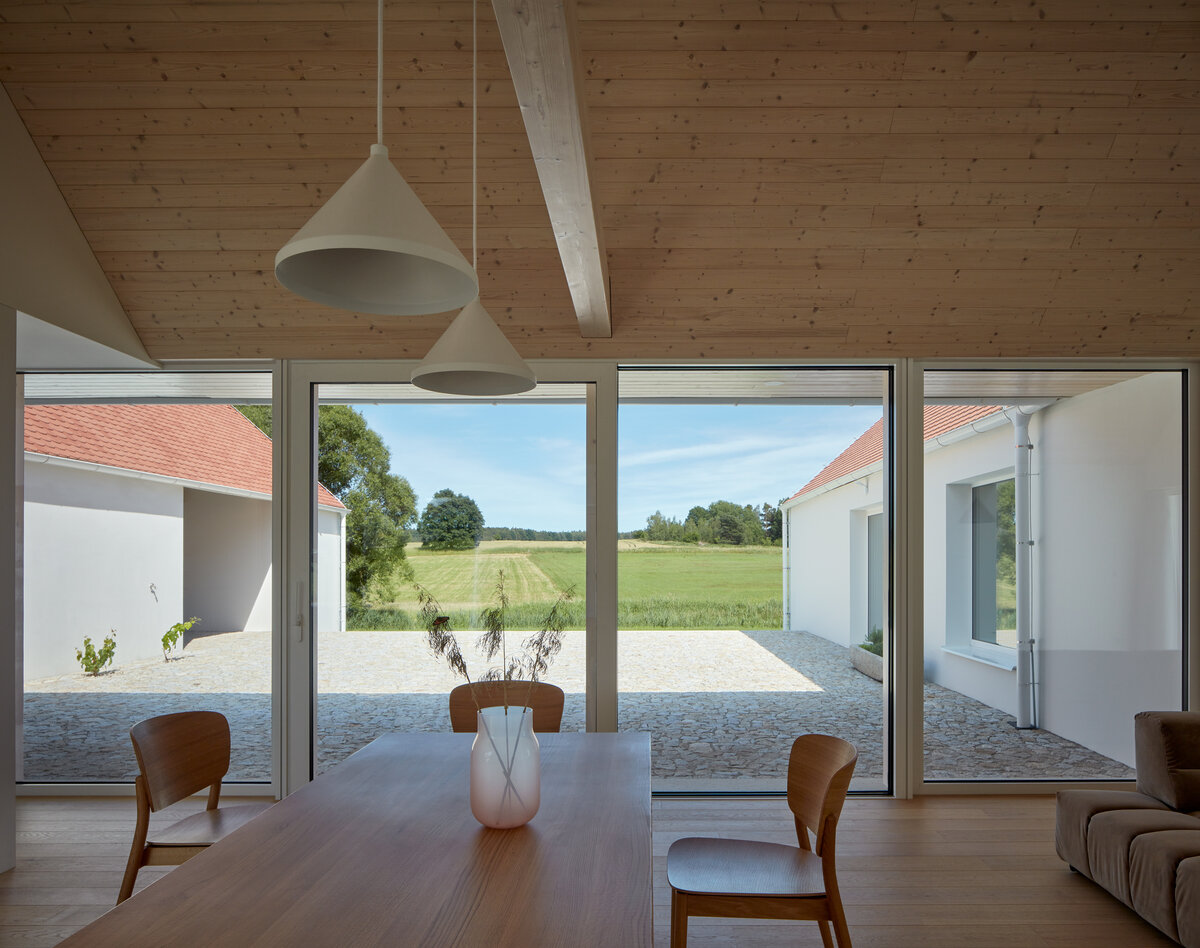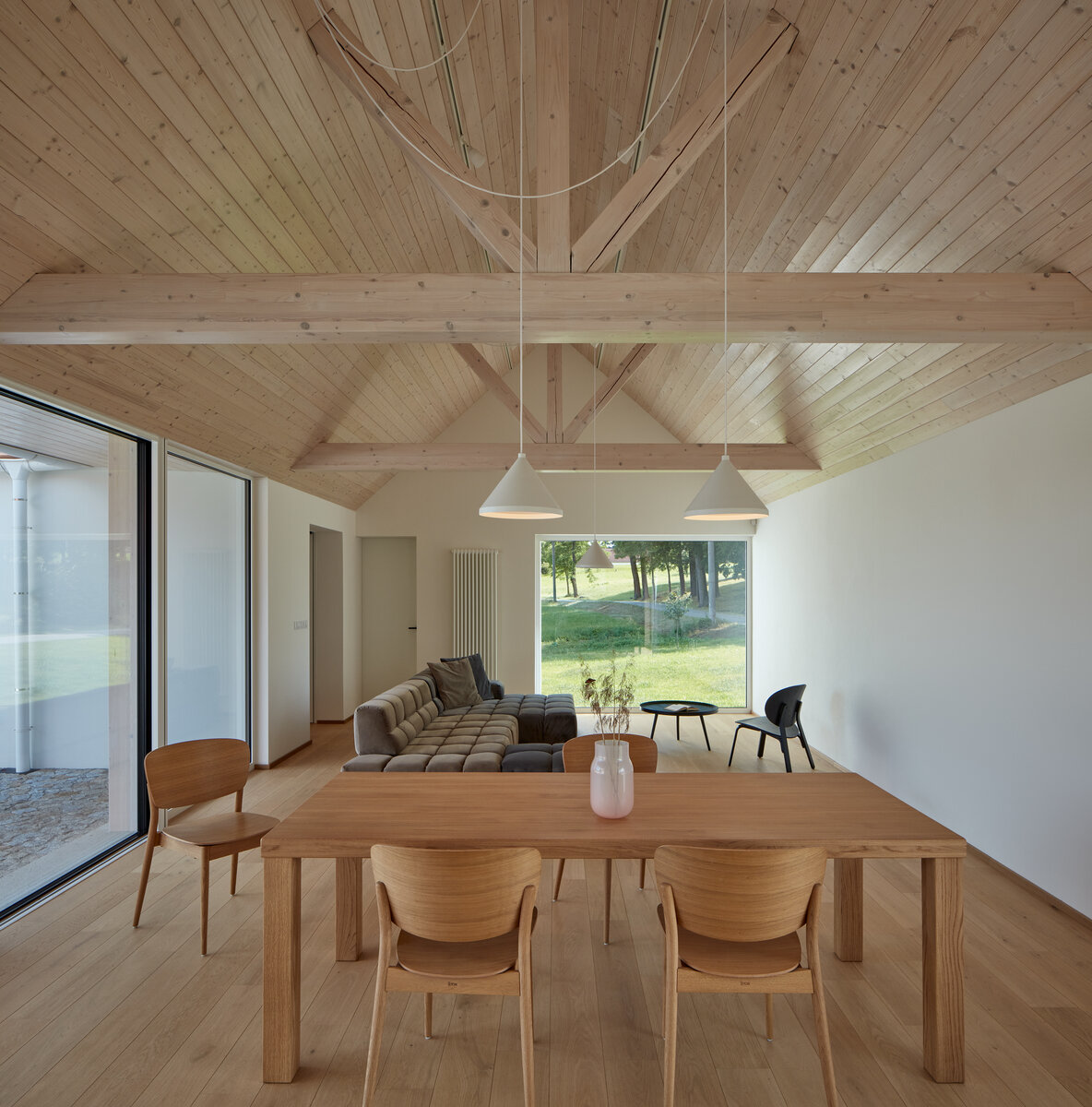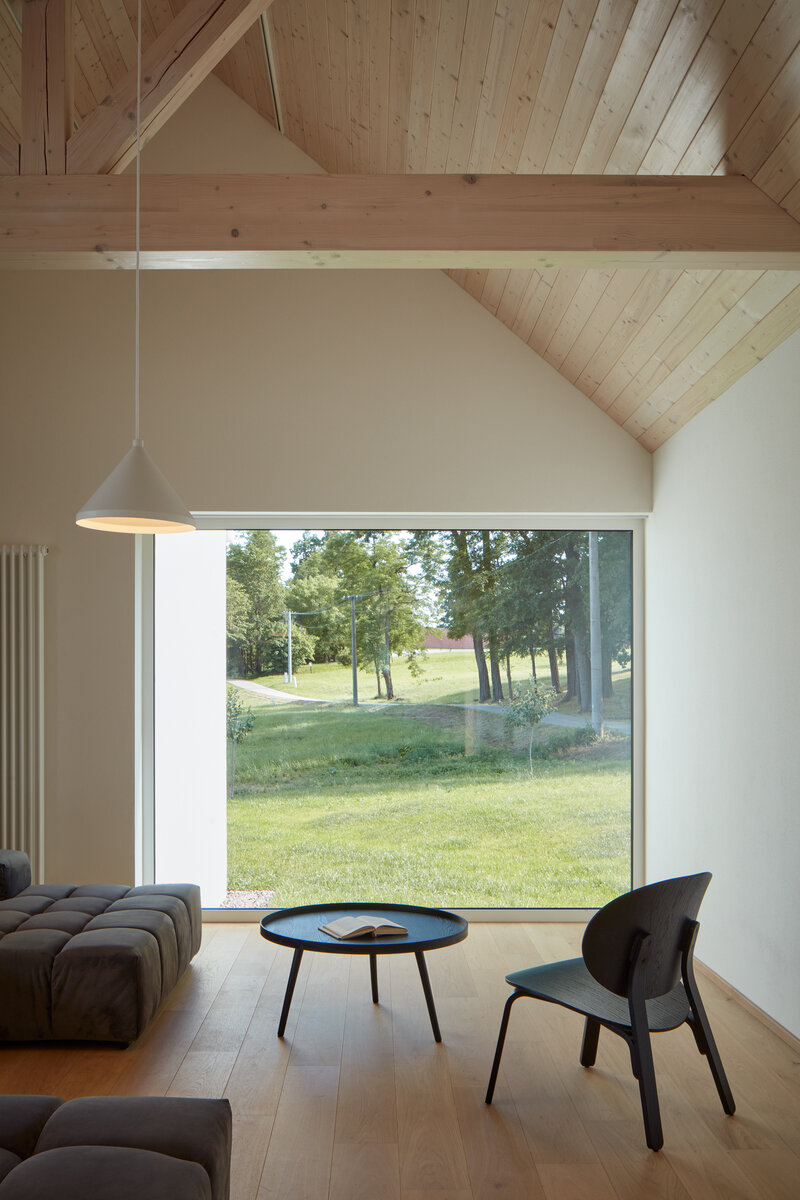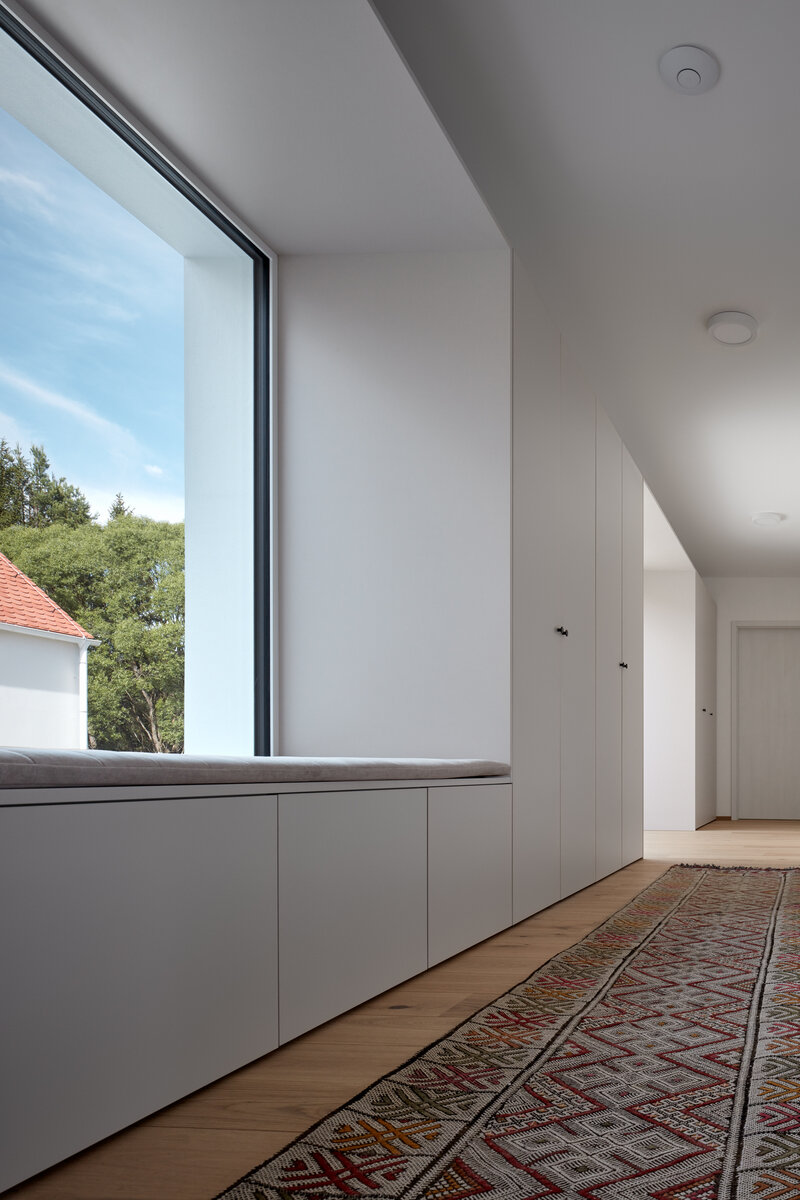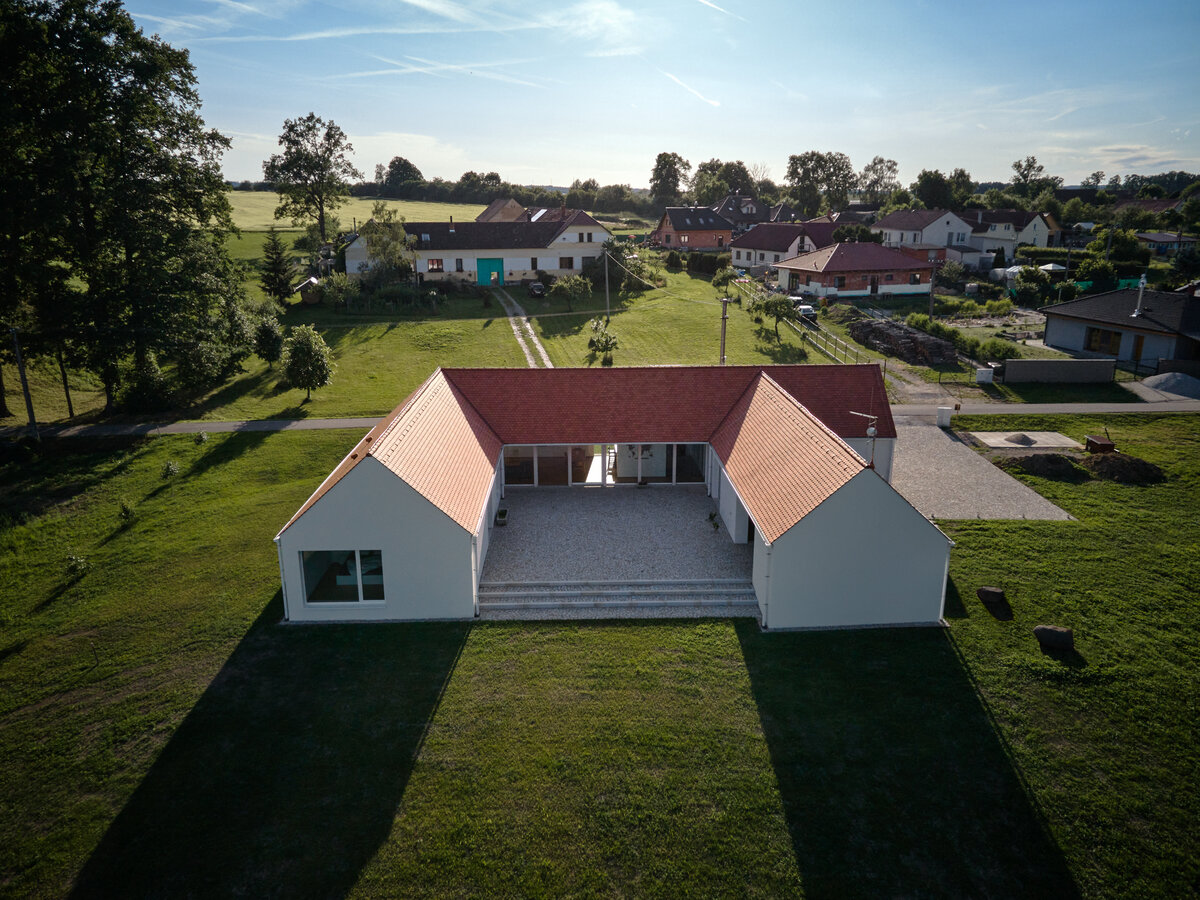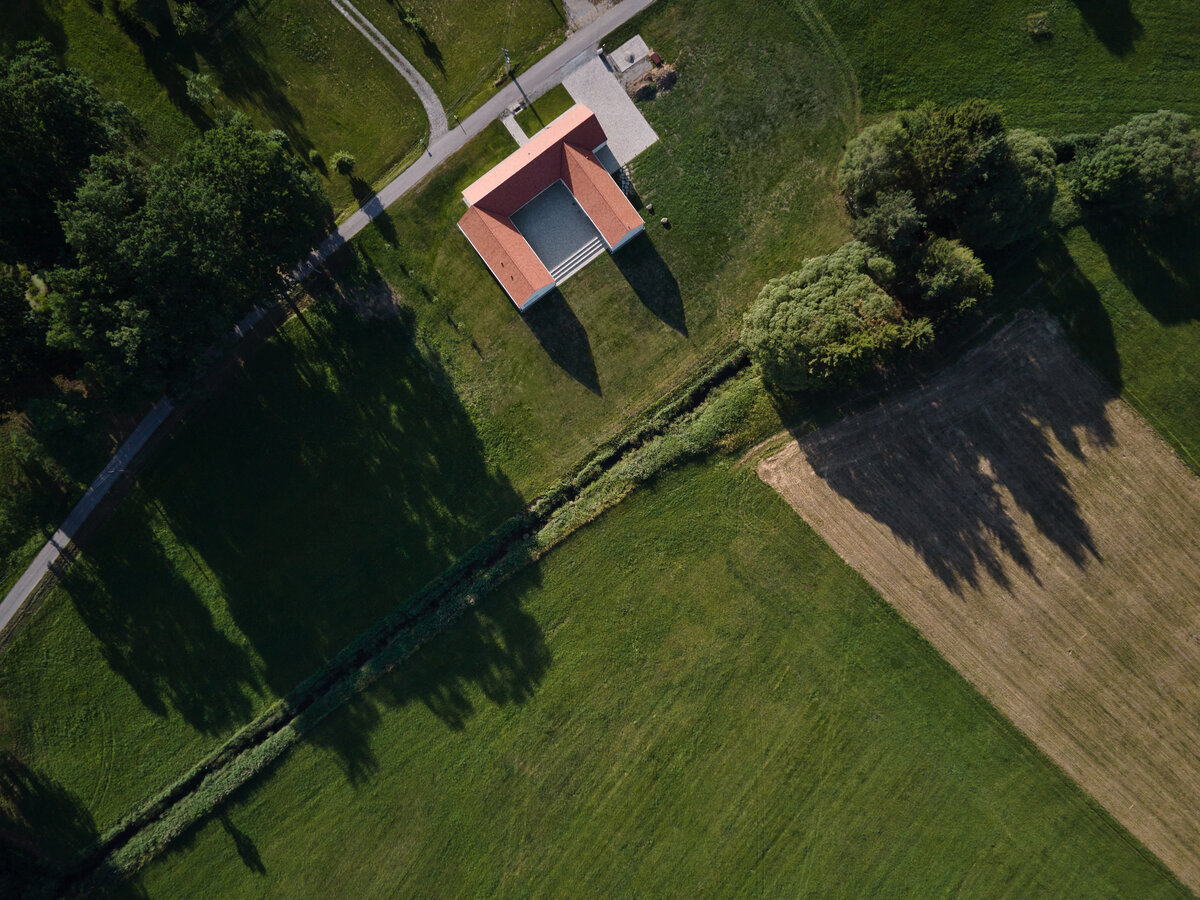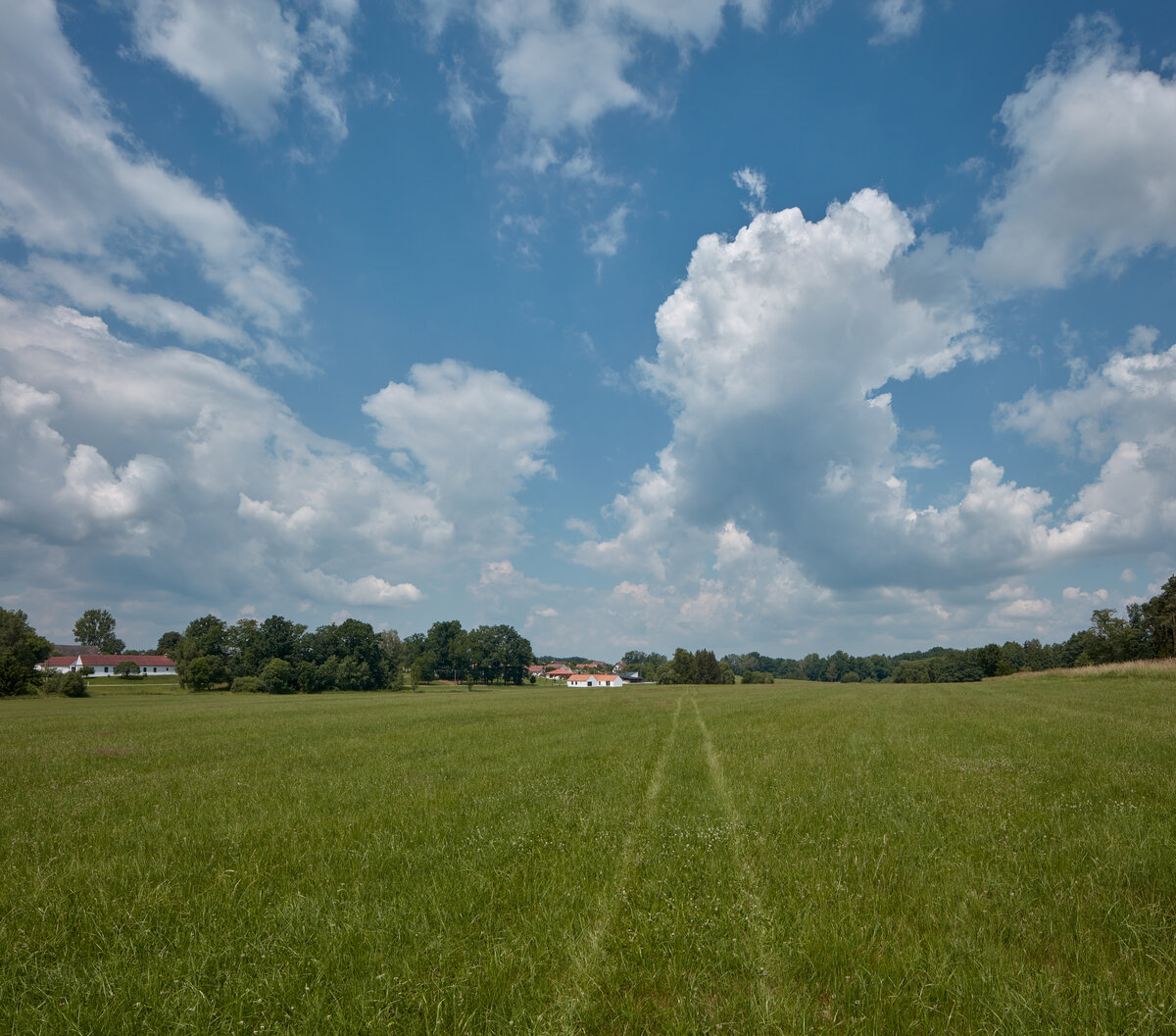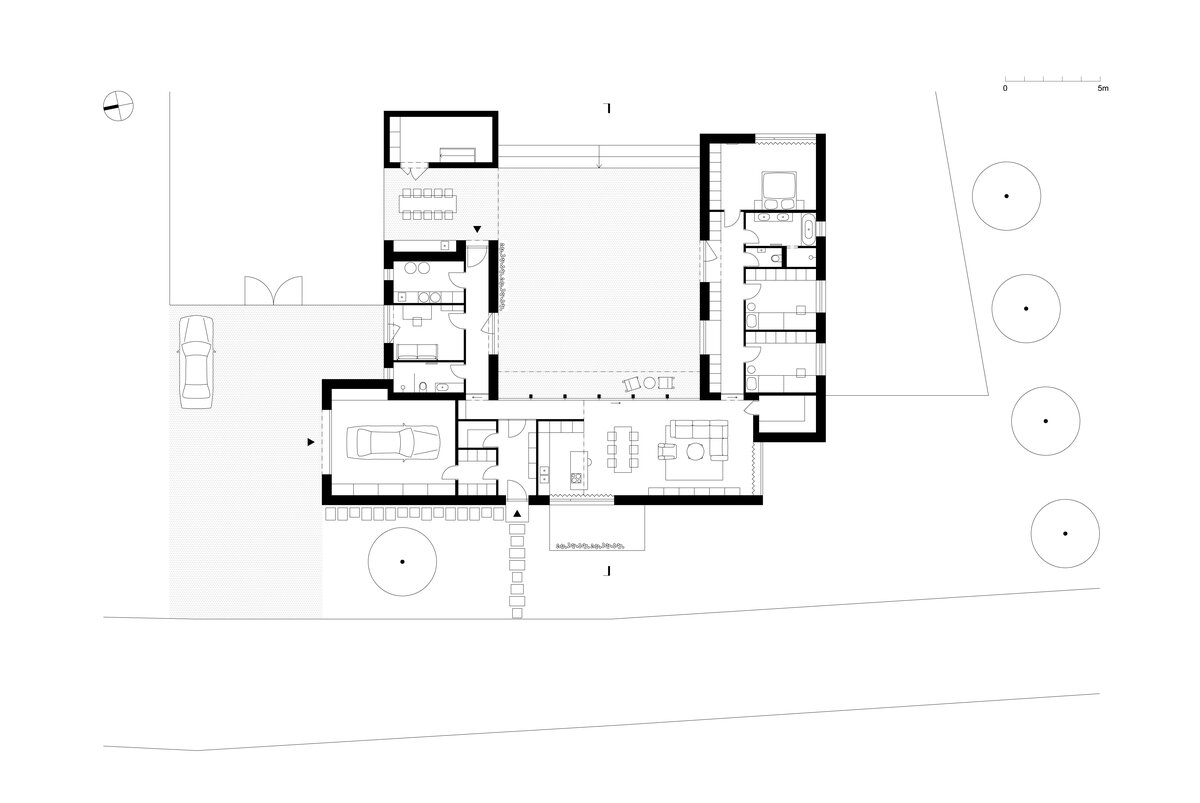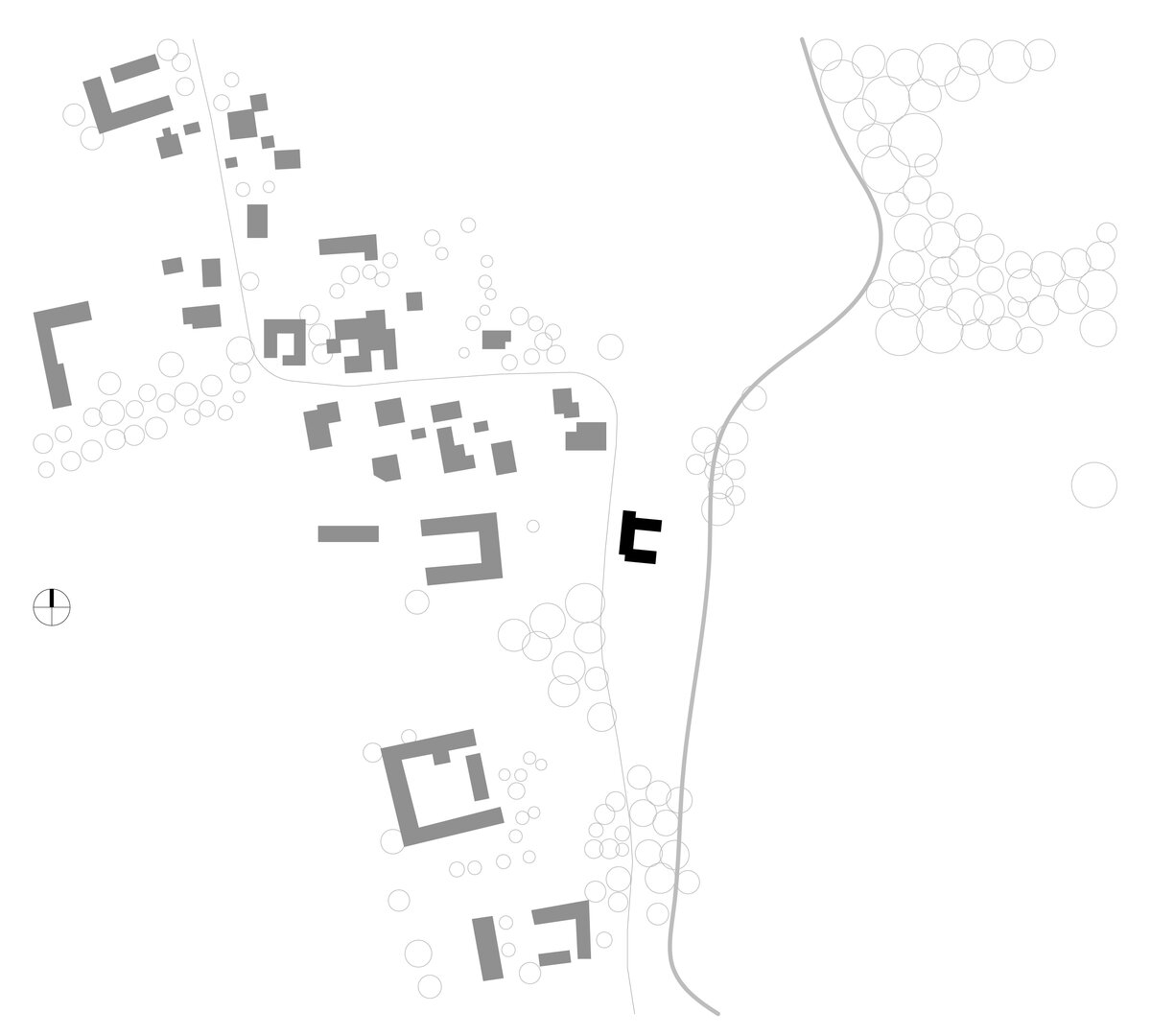 Author
Barbora Weinzettlová, Jiří Weinzettl/ Atelier 111 architekti
Studio
Location
Dolní Miletín 39, 37373 Lišov
Investor
manželé Kovačičovi
Dolní Miletín 39, 37373 Lišov
Supplier
-
Date of project approval
July 2021
Fotograf
How to proceed with the construction of a family house in a South Bohemian village in the usual way? Find the smallest plot of land, ideally in the forecourt of a large estate; Build a small house on it with a square floor plan with a hipped roof and decorate it with a burgundy concrete covering and a blue or green facade; Surround the plot with a chain-type fence; It is desirable to plant along the land, to enjoy a view of the landscape, but finally not to be seen; Finding that the house does not cover all needs; Build a garage, eventually converting it into a double garage; Add a garden house for barbecues and lawnmowers, a shed for wood; Connect everything with interlocking tiles.

During the design of the South Bohemian building in Miletín, we knew from the beginning that we wanted to delimit the above, that we wanted to create a national and unambiguous volume that could accommodate all the contents that the family requires from it. A house that will not need to hide from its surroundings in order to create its own intimacy, because the mass itself determines the yard and frames the surrounding fields and forests. The facade of the house complements the character of the development, not only the hard boundary "mine behind the fence" is created, but around.
One wing of the U-shaped house offers technical facilities, a garage, a study and an outdoor kitchen with covered seating. The second wing, parallel to the access road, occupies the entrance and the main living space raised to the roof. The third wing serves as an intimate bedroom area. You can enter the yard from all parts of the house, the main living space is connected to the yard by a completely glazed wall covered with a rafter.

The family house in Dolní Miletín is our manifesto of living in a village in South Bohemia. Its lapidary mass with a gable roof is based on the archetypal shape of a traditional South Bohemian building.
Materiality also comes from the traditional buildings instead of the usual ones: white plastered walls and red ceramic tiles, imprinting a unique character on the given landscape.
Green building
Environmental certification
| | |
| --- | --- |
| Type and level of certificate | - |
Water management
| | |
| --- | --- |
| Is rainwater used for irrigation? | |
| Is rainwater used for other purposes, e.g. toilet flushing ? | |
| Does the building have a green roof / facade ? | |
| Is reclaimed waste water used, e.g. from showers and sinks ? | |
The quality of the indoor environment
| | |
| --- | --- |
| Is clean air supply automated ? | |
| Is comfortable temperature during summer and winter automated? | |
| Is natural lighting guaranteed in all living areas? | |
| Is artificial lighting automated? | |
| Is acoustic comfort, specifically reverberation time, guaranteed? | |
| Does the layout solution include zoning and ergonomics elements? | |
Principles of circular economics
| | |
| --- | --- |
| Does the project use recycled materials? | |
| Does the project use recyclable materials? | |
| Are materials with a documented Environmental Product Declaration (EPD) promoted in the project? | |
| Are other sustainability certifications used for materials and elements? | |
Energy efficiency
| | |
| --- | --- |
| Energy performance class of the building according to the Energy Performance Certificate of the building | |
| Is efficient energy management (measurement and regular analysis of consumption data) considered? | |
| Are renewable sources of energy used, e.g. solar system, photovoltaics? | |
Interconnection with surroundings
| | |
| --- | --- |
| Does the project enable the easy use of public transport? | |
| Does the project support the use of alternative modes of transport, e.g cycling, walking etc. ? | |
| Is there access to recreational natural areas, e.g. parks, in the immediate vicinity of the building? | |