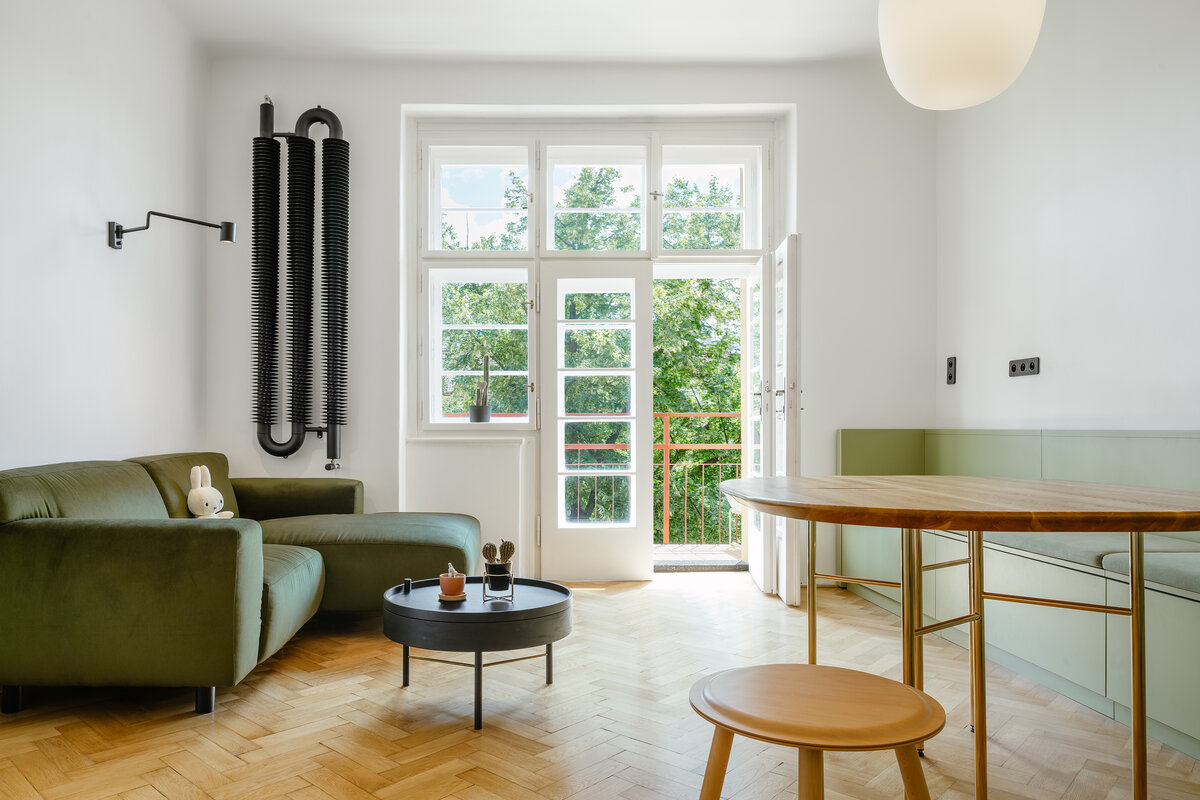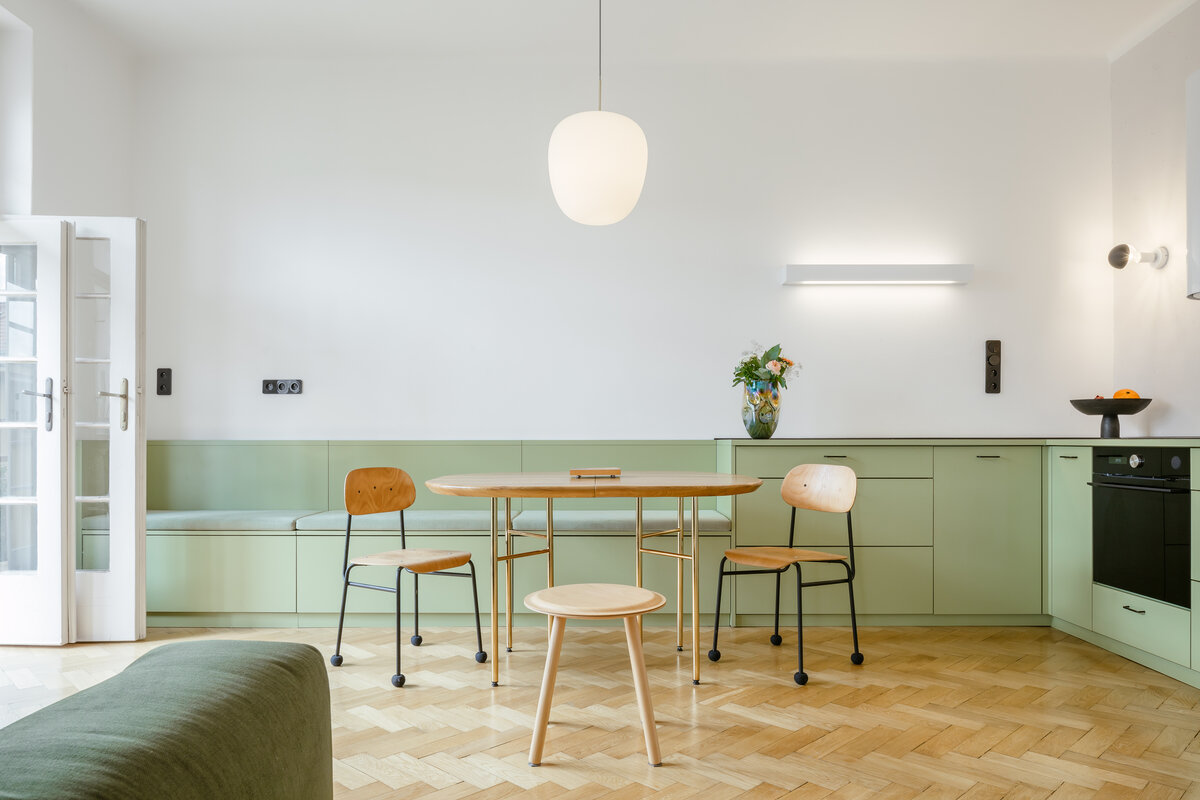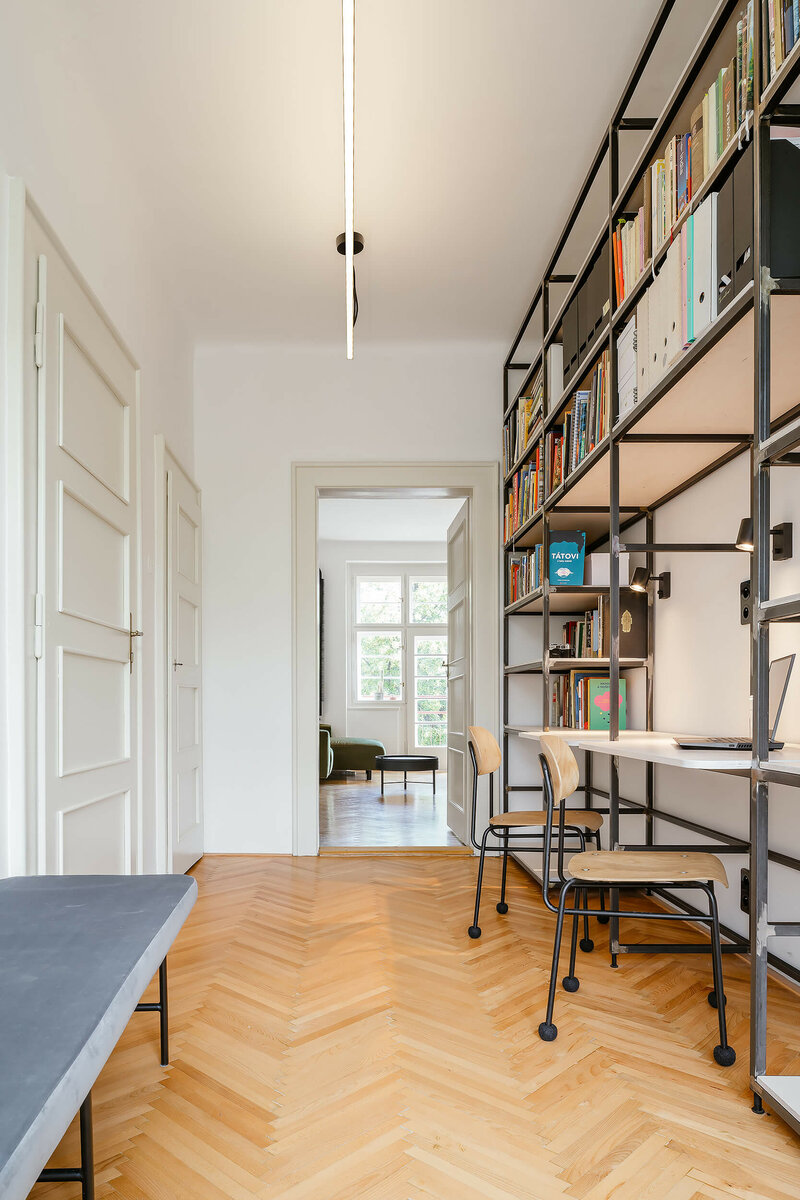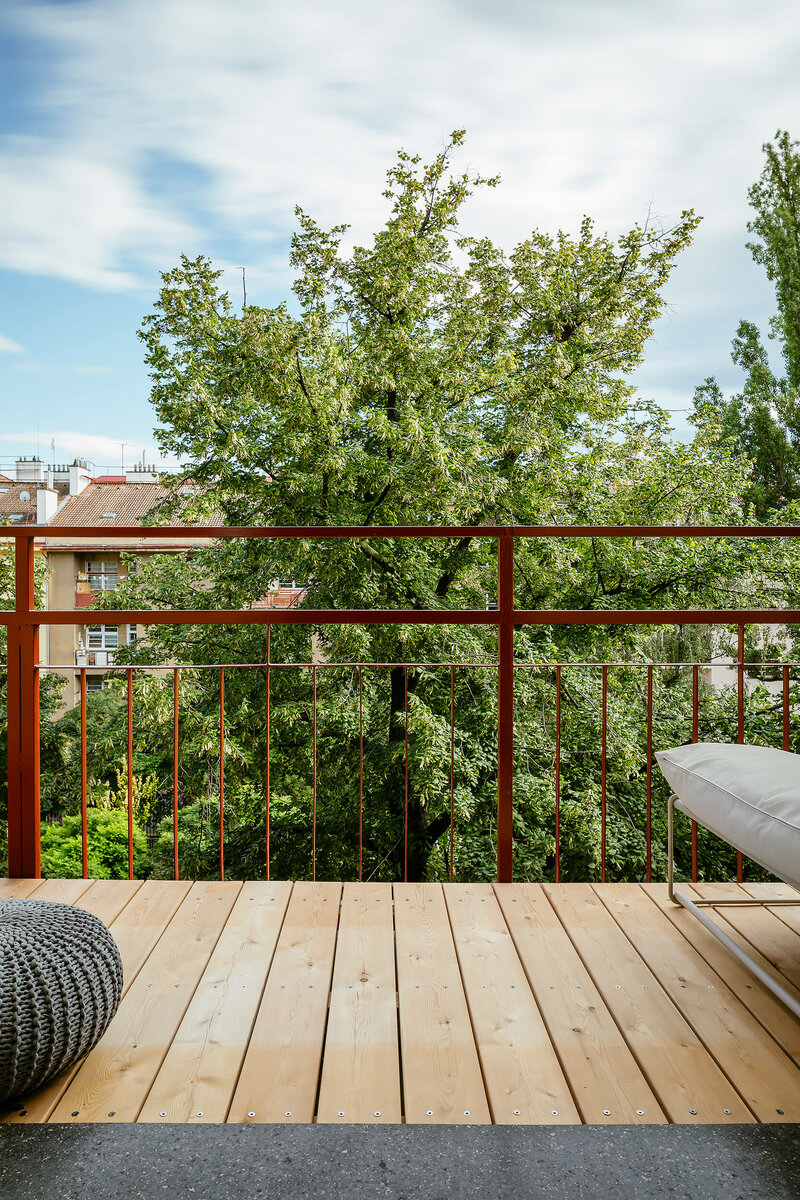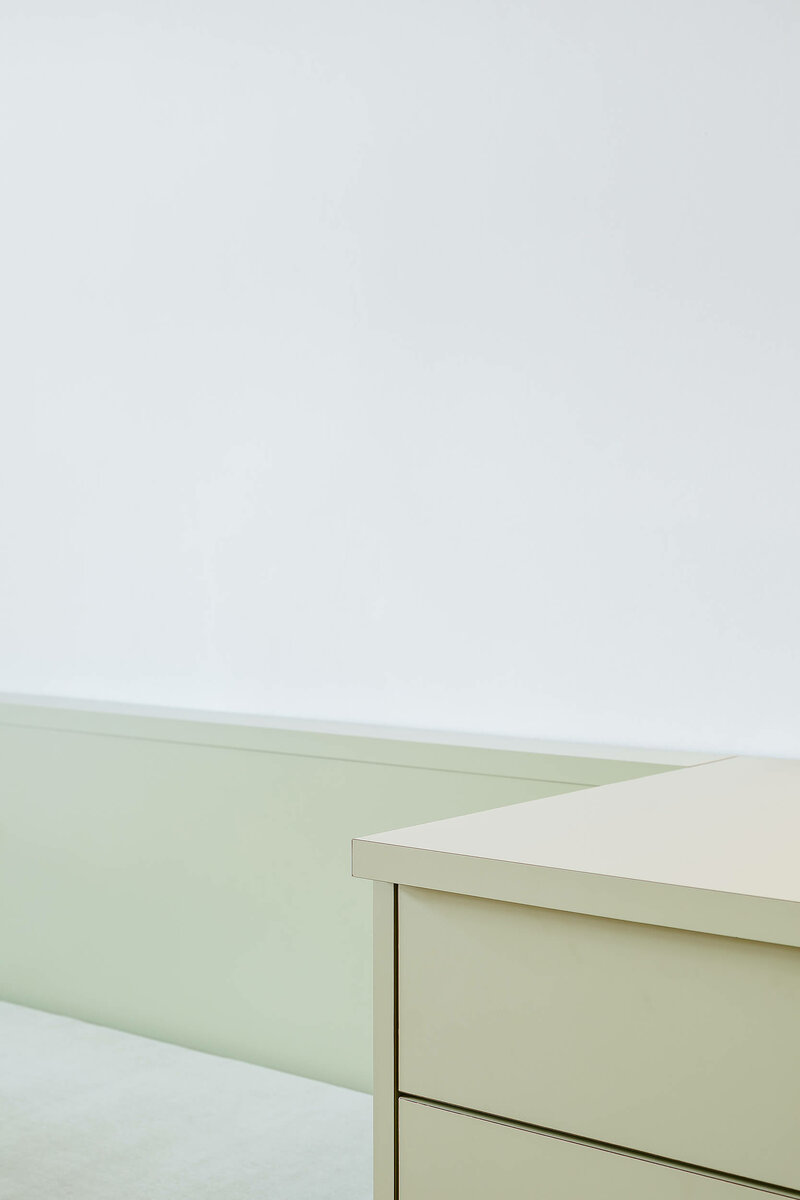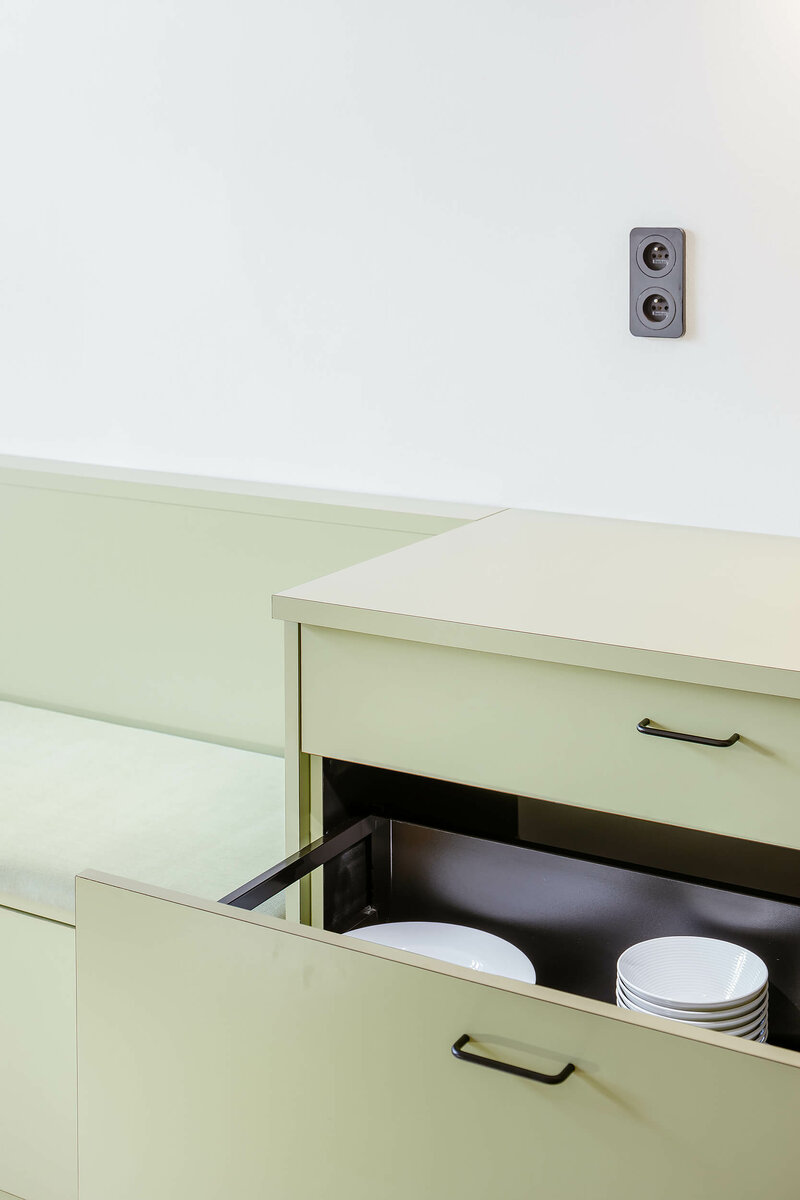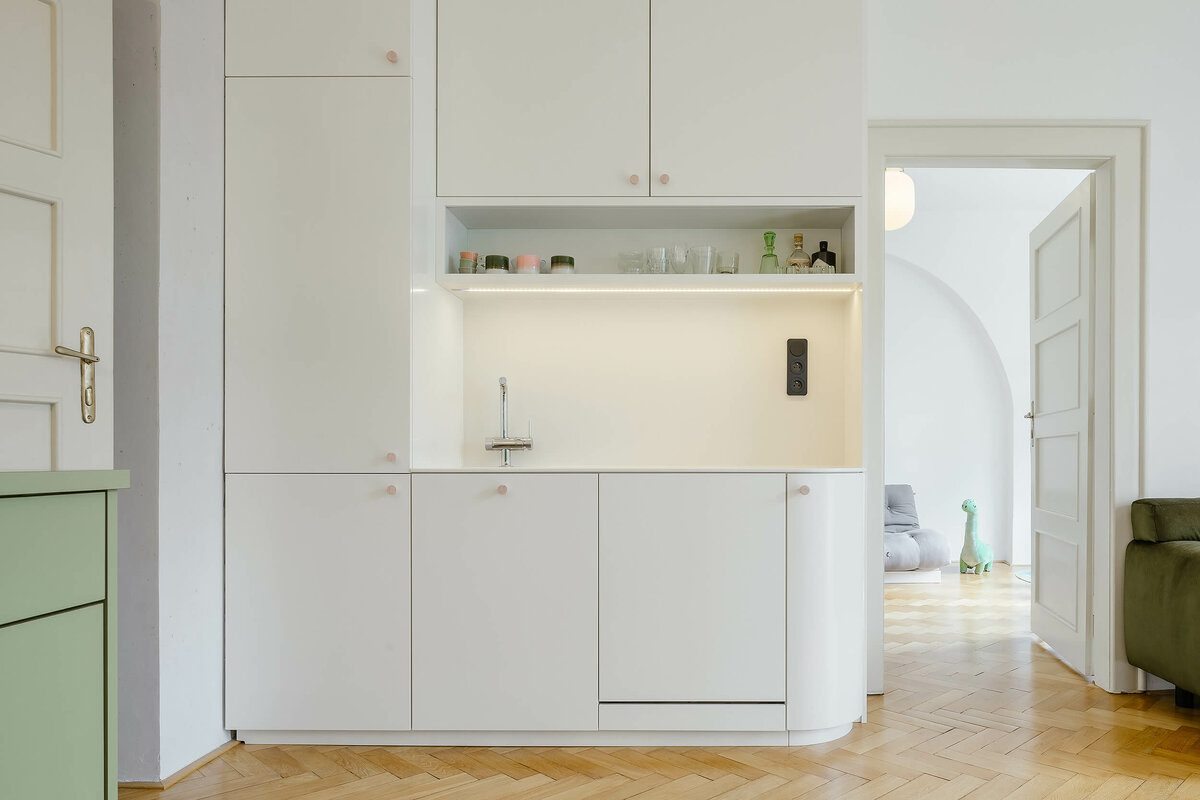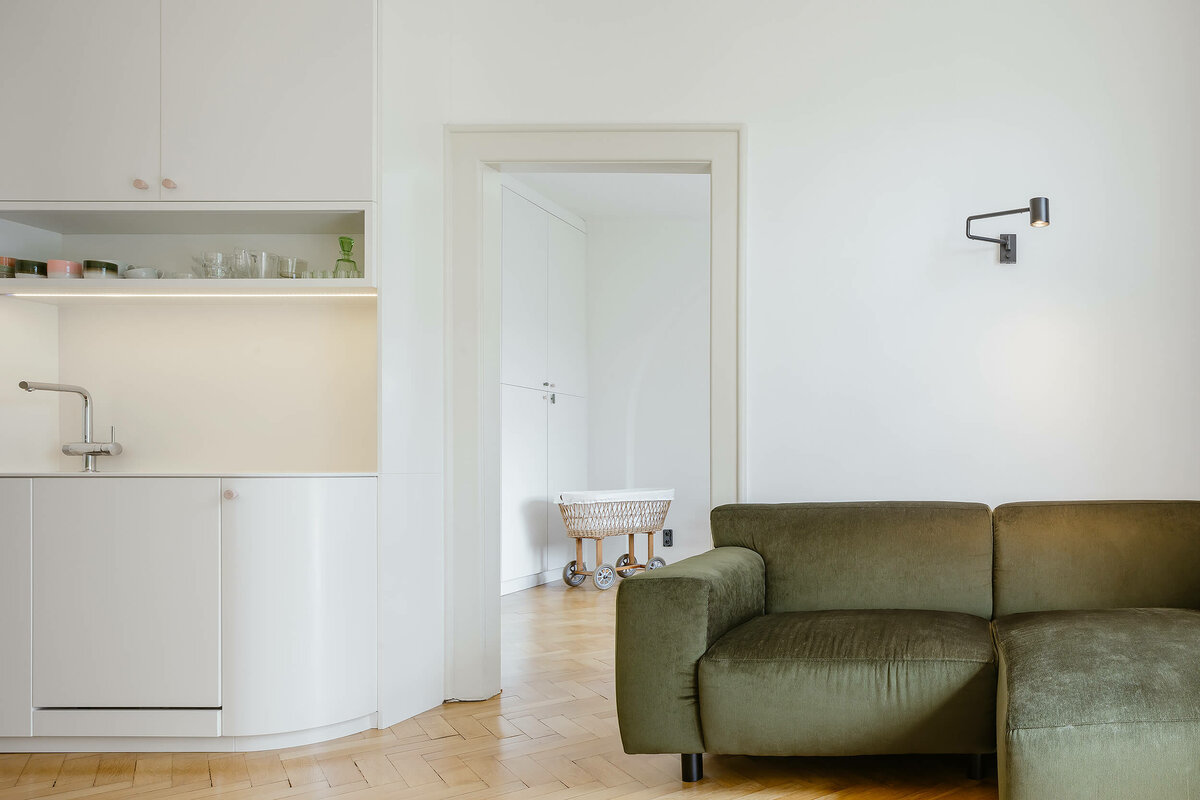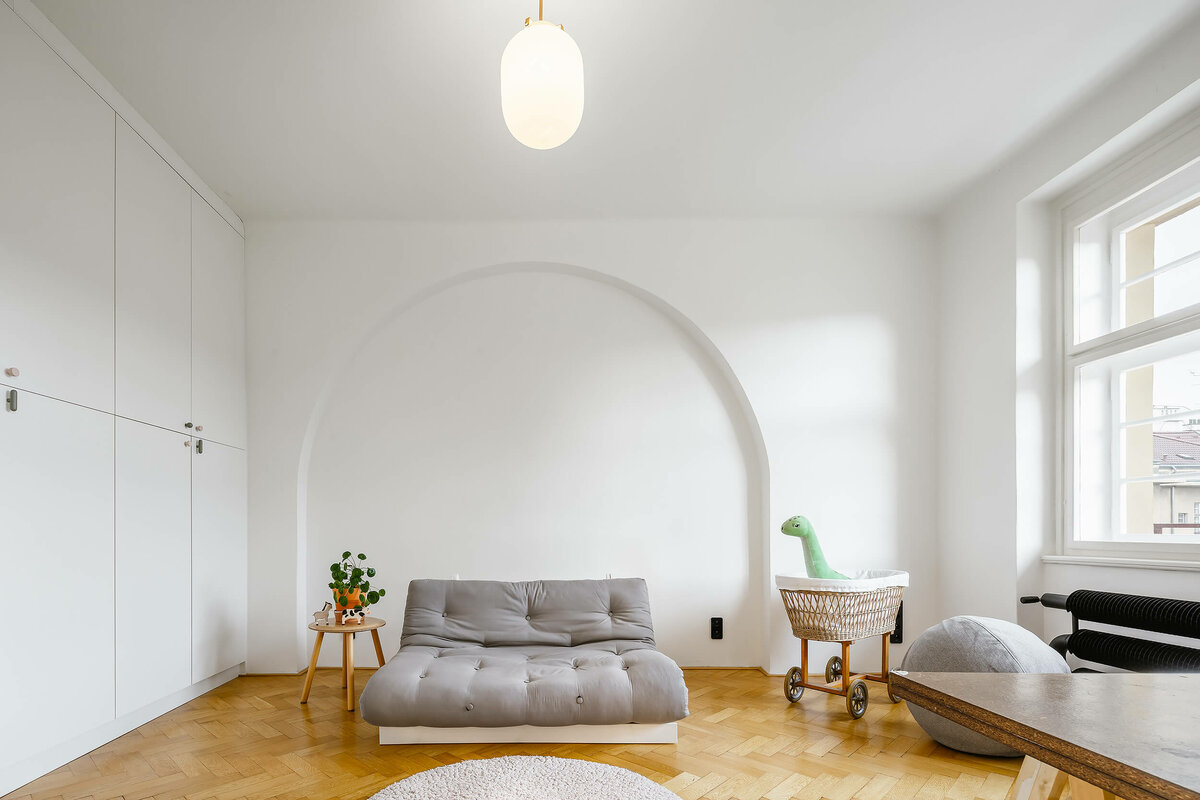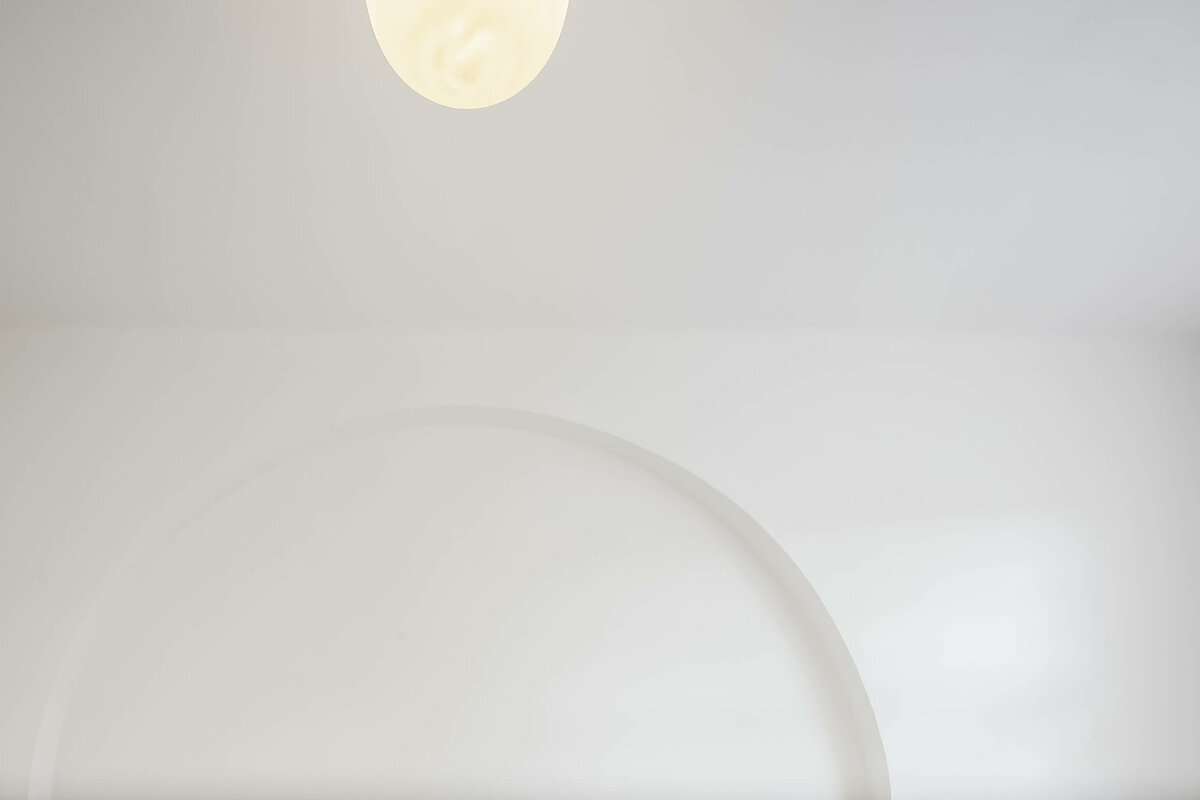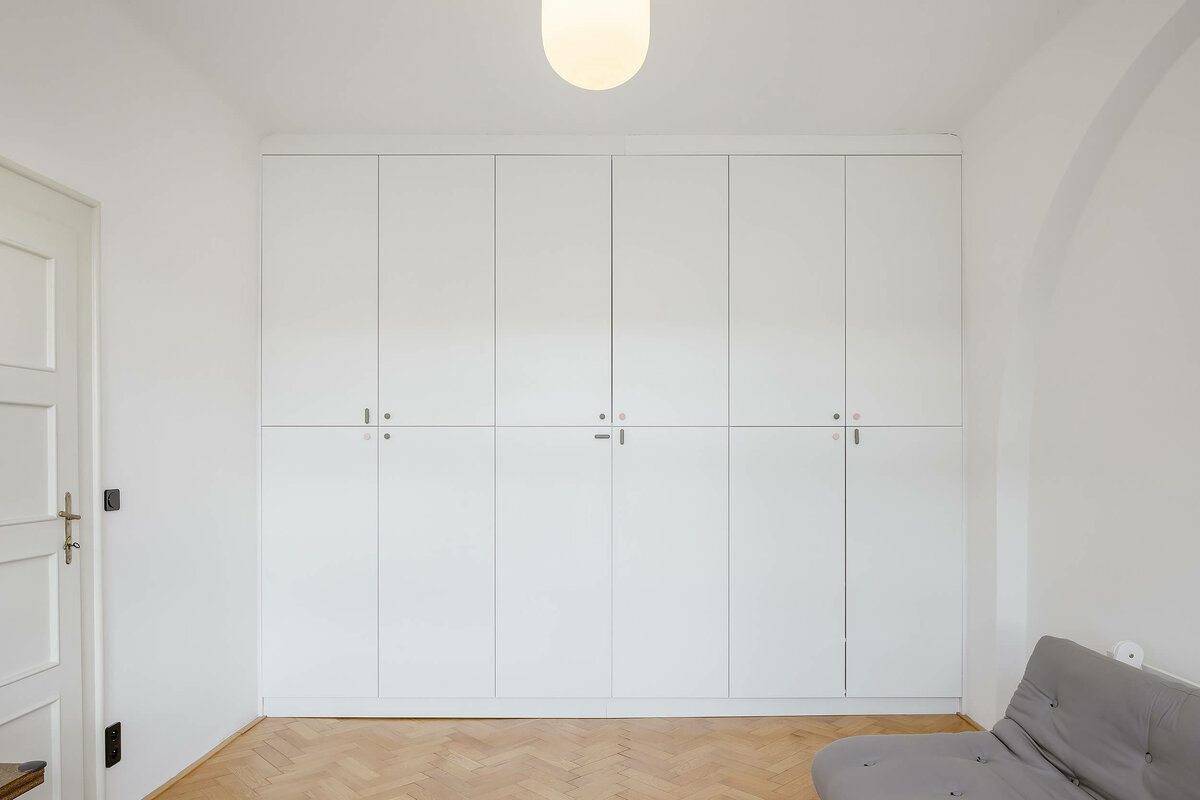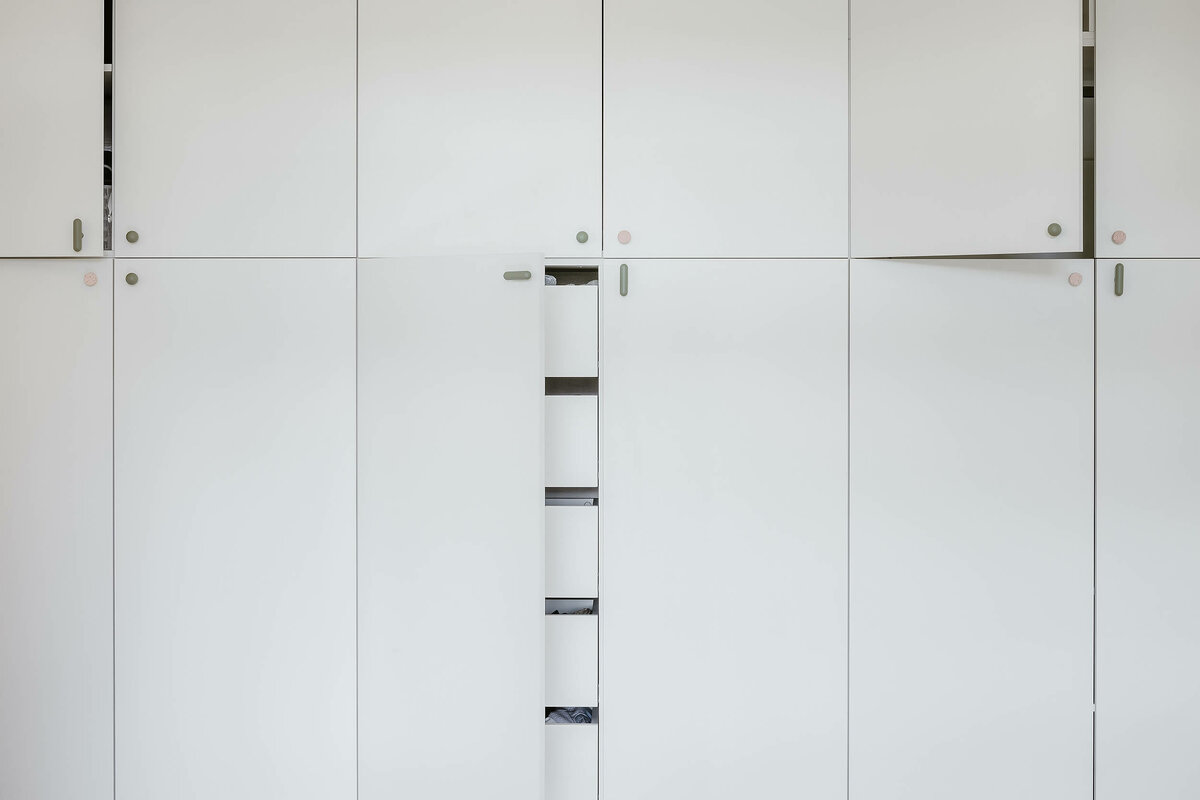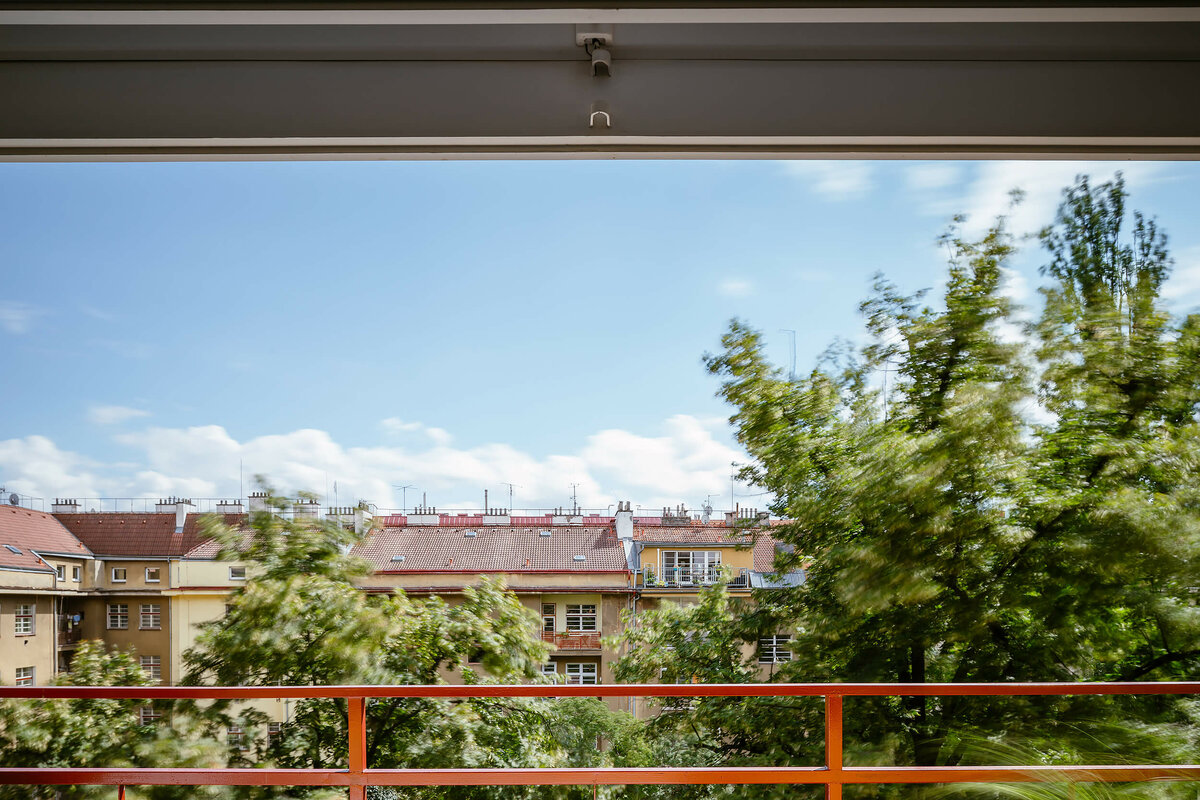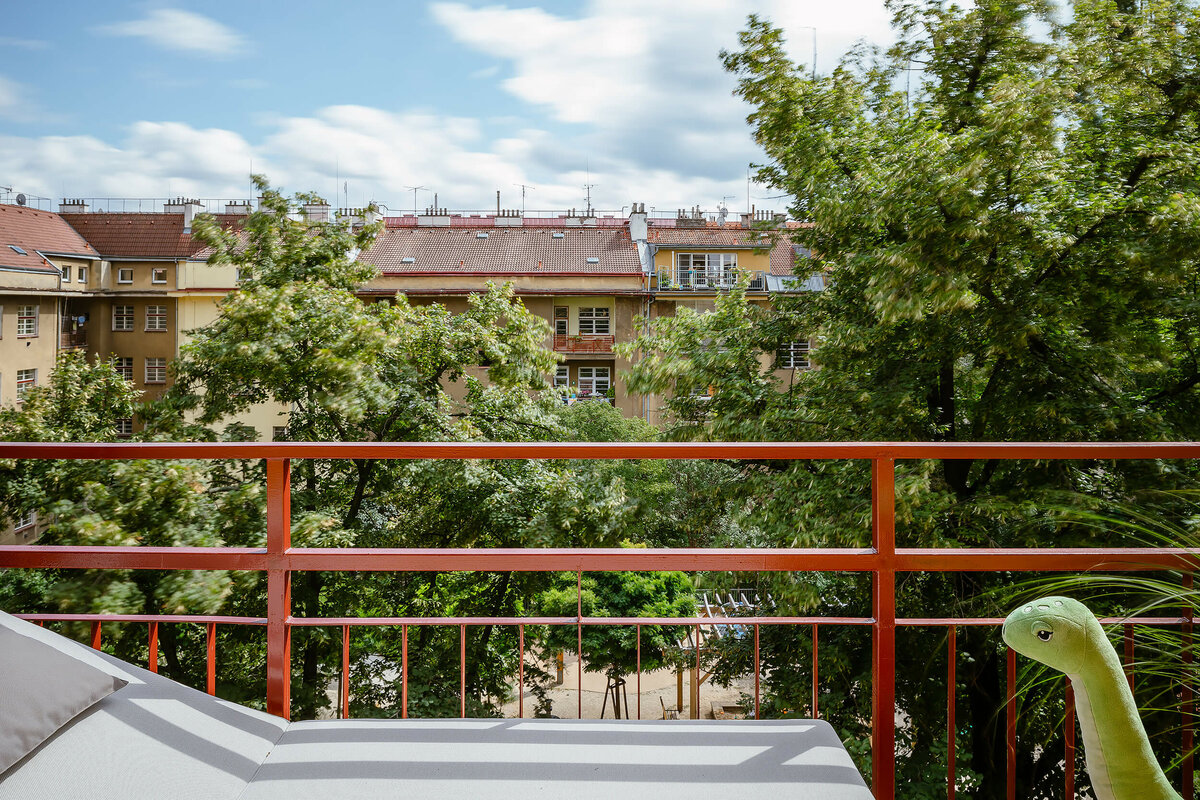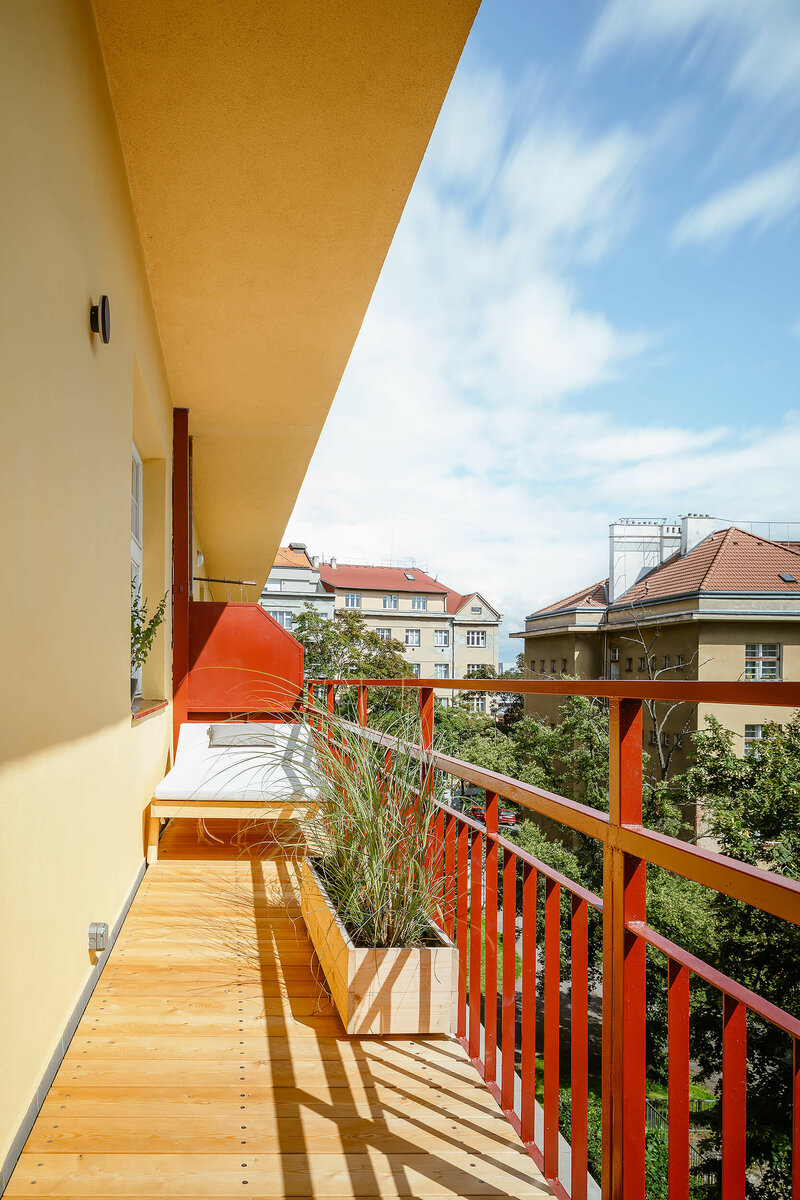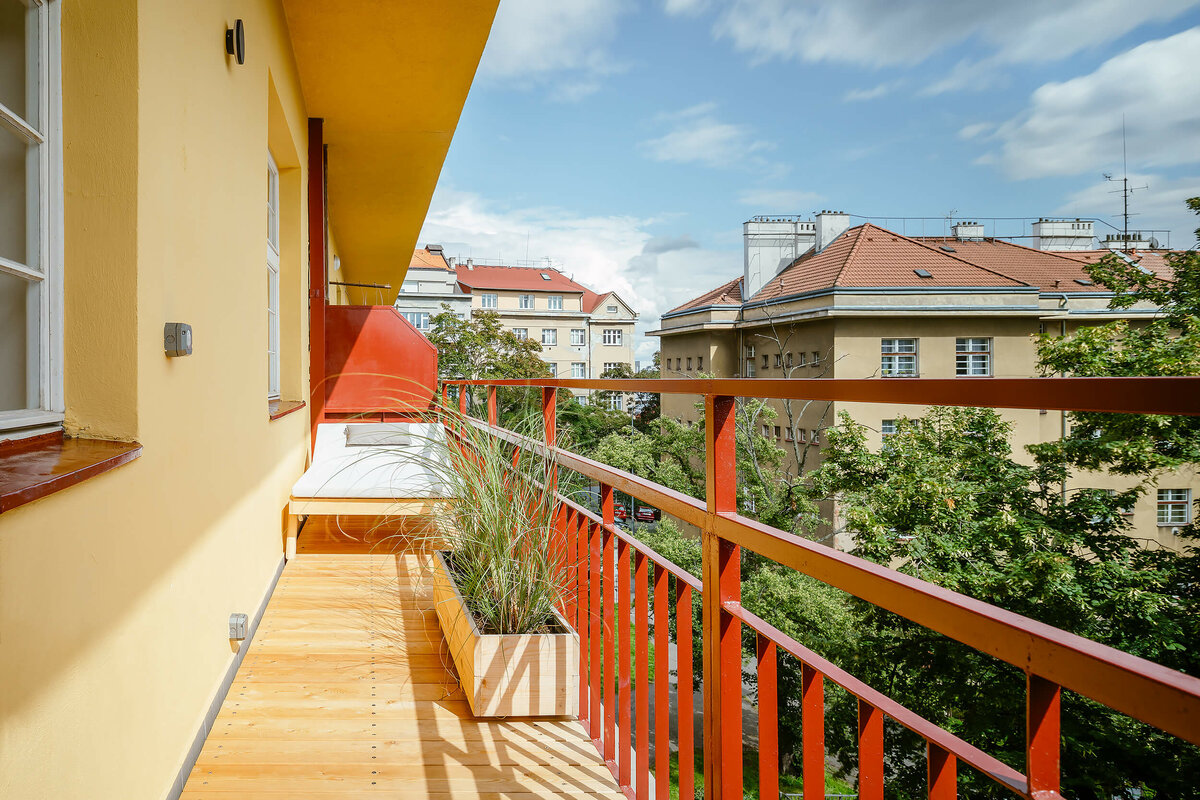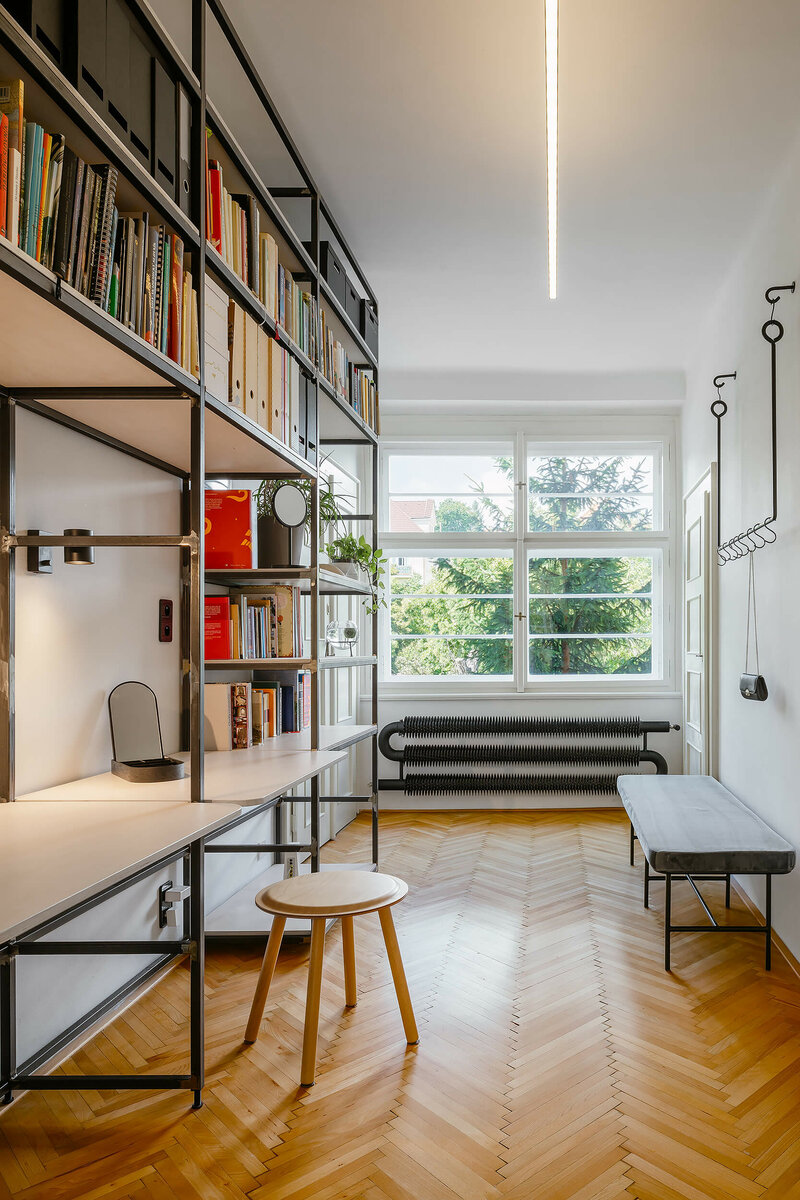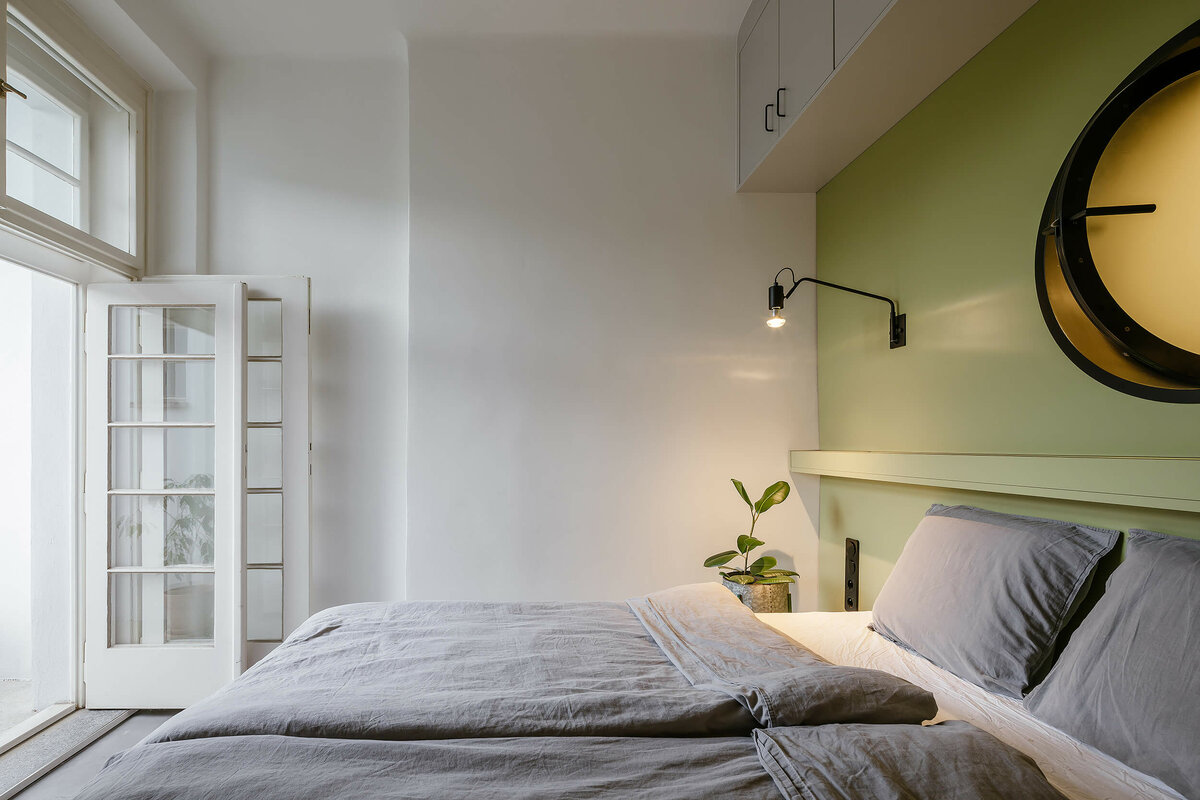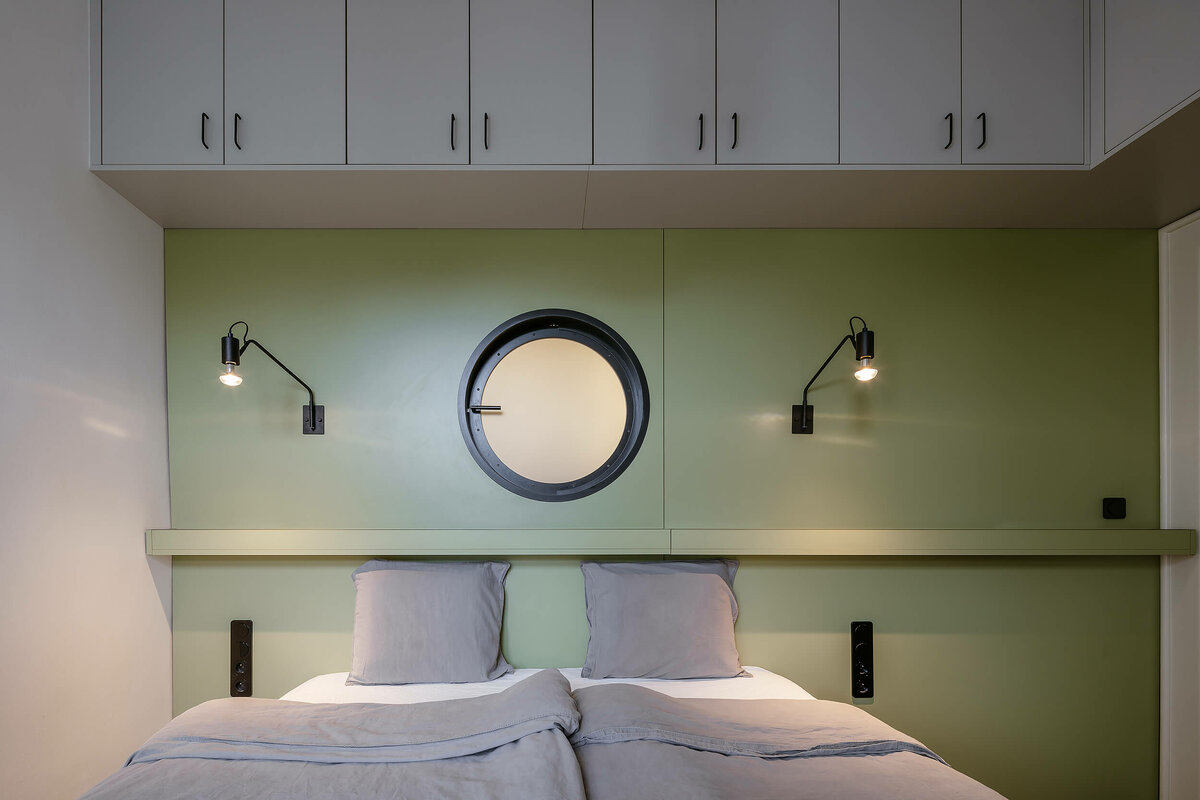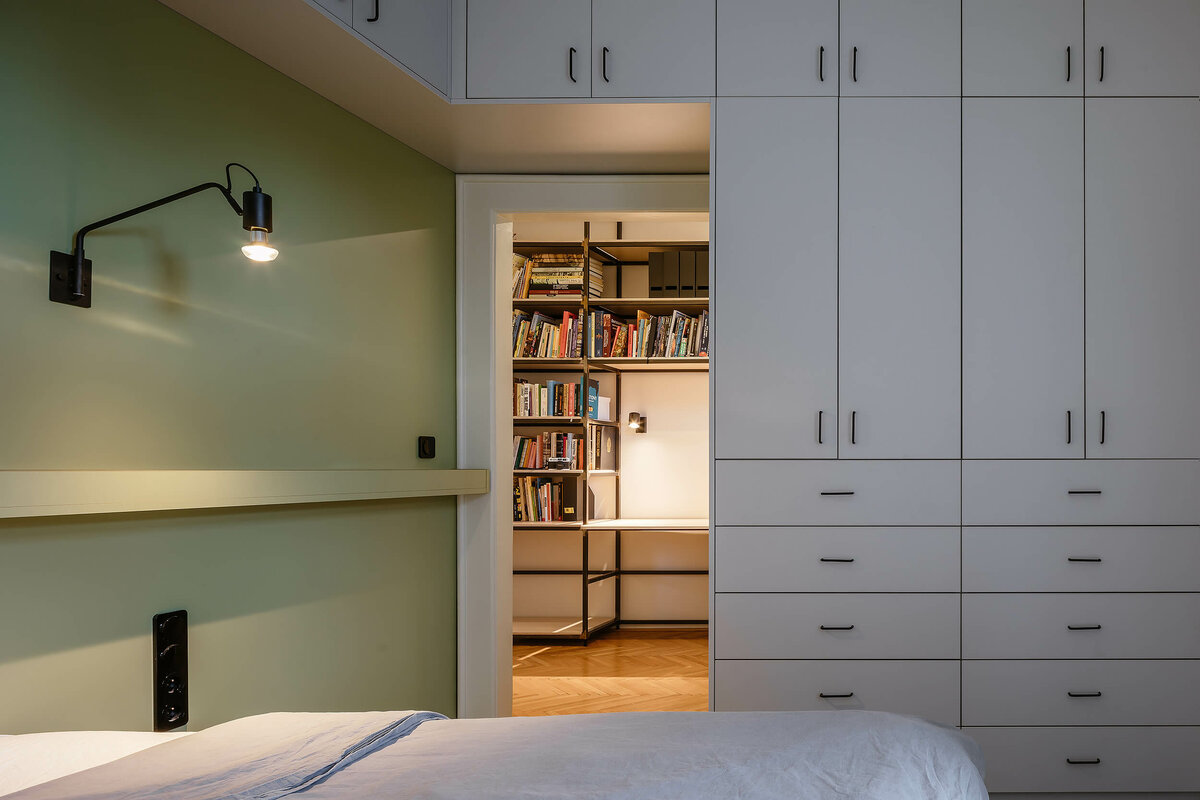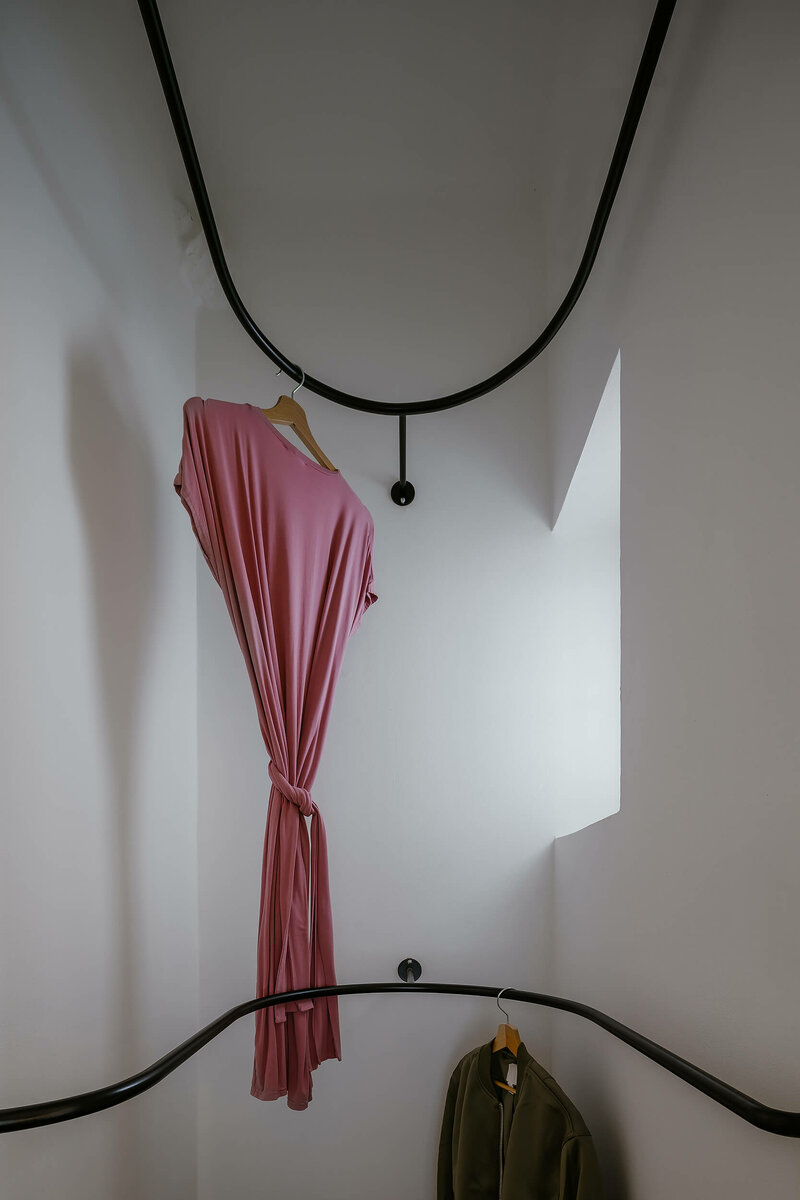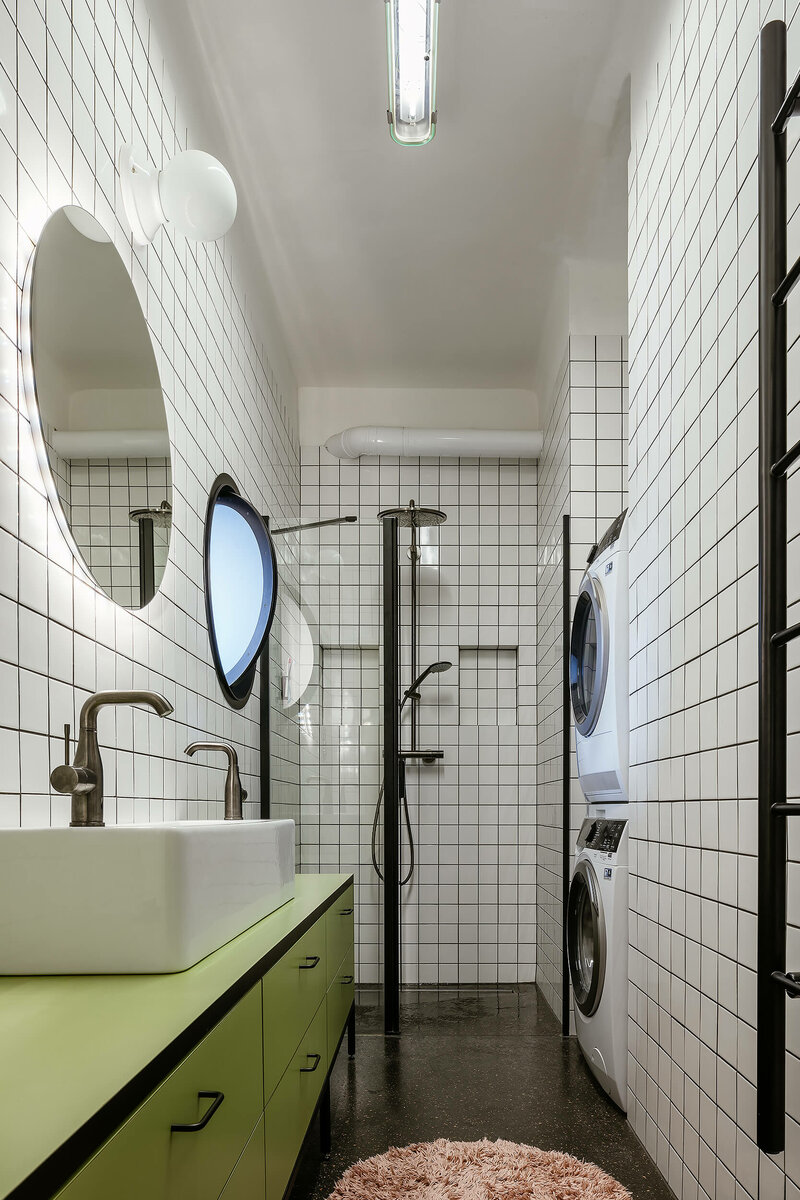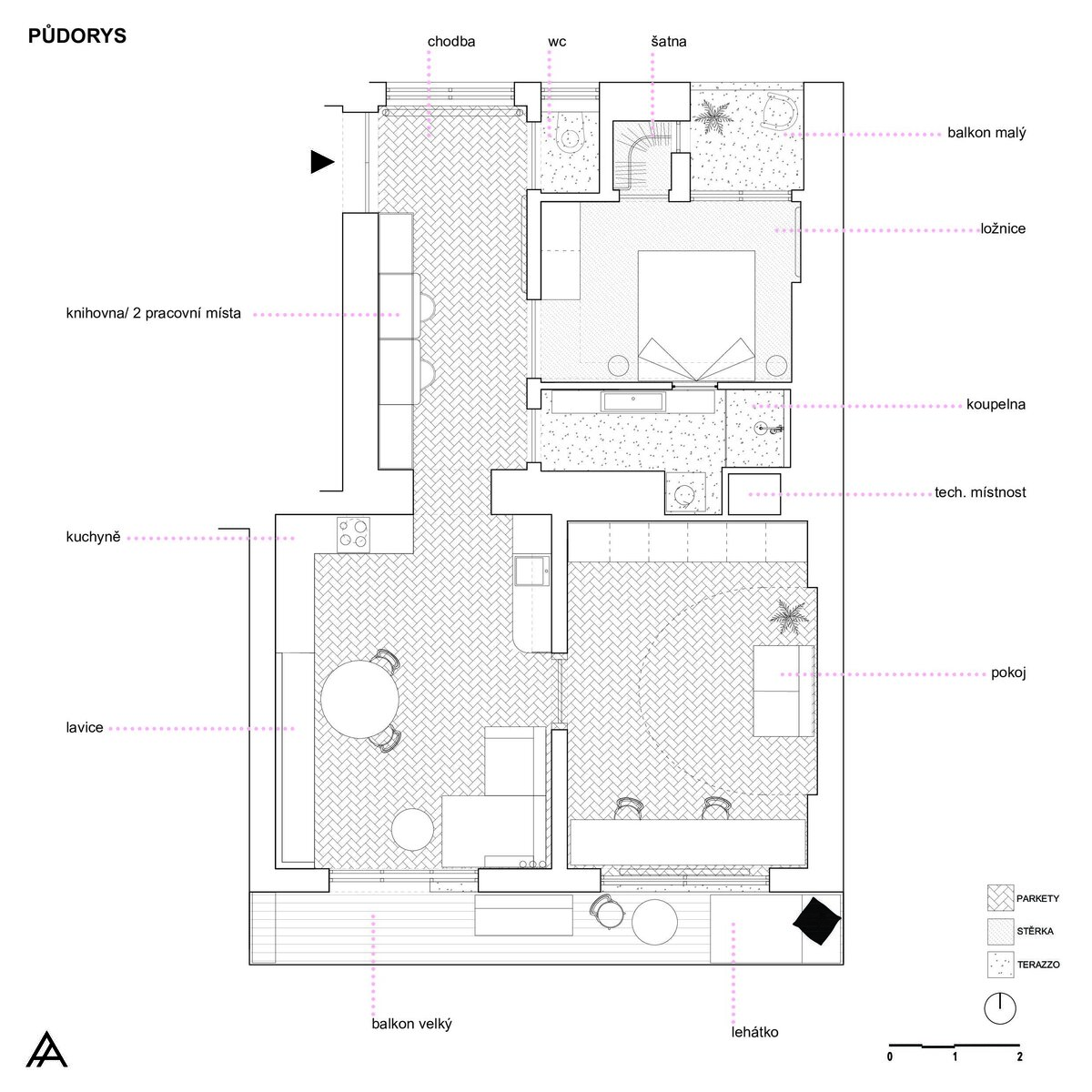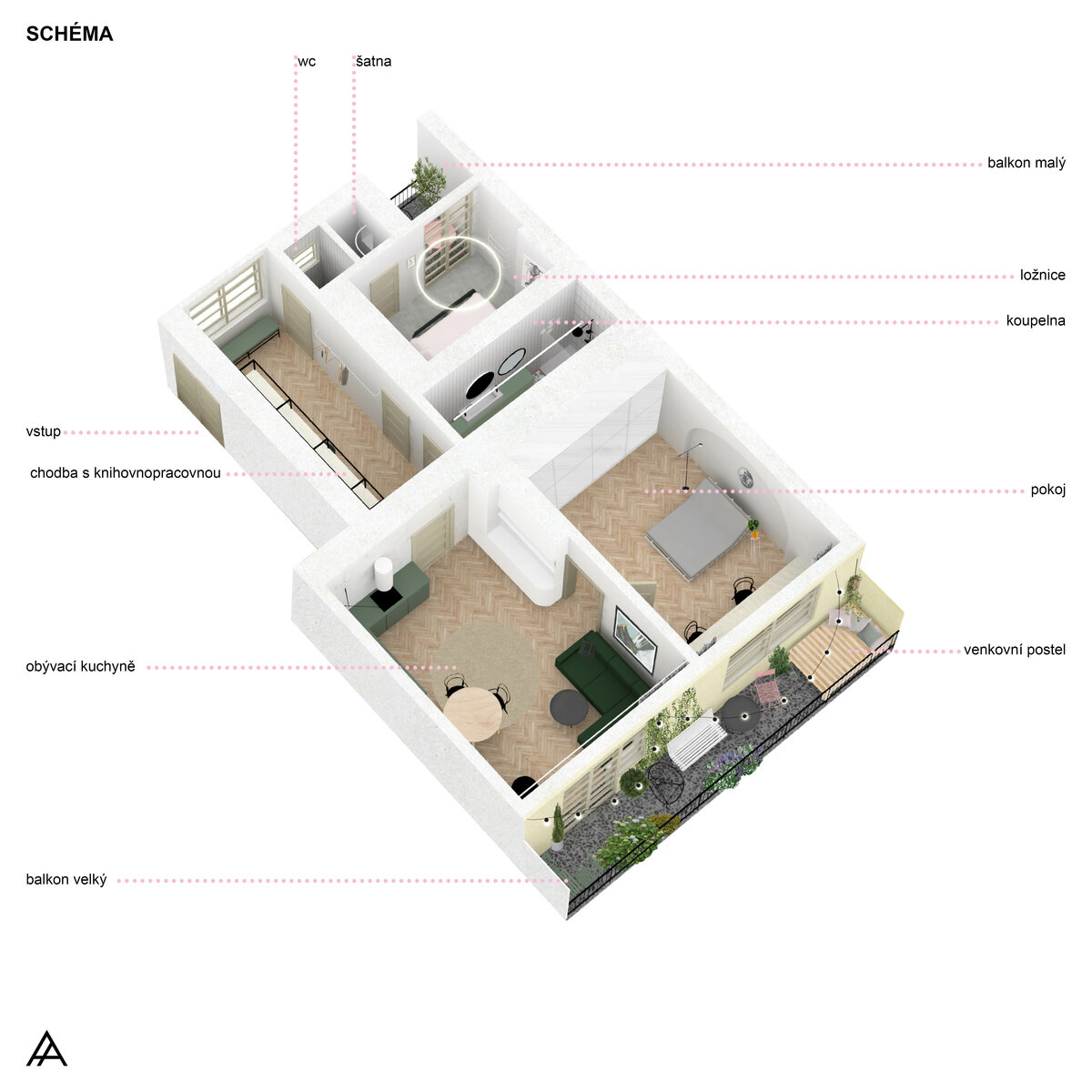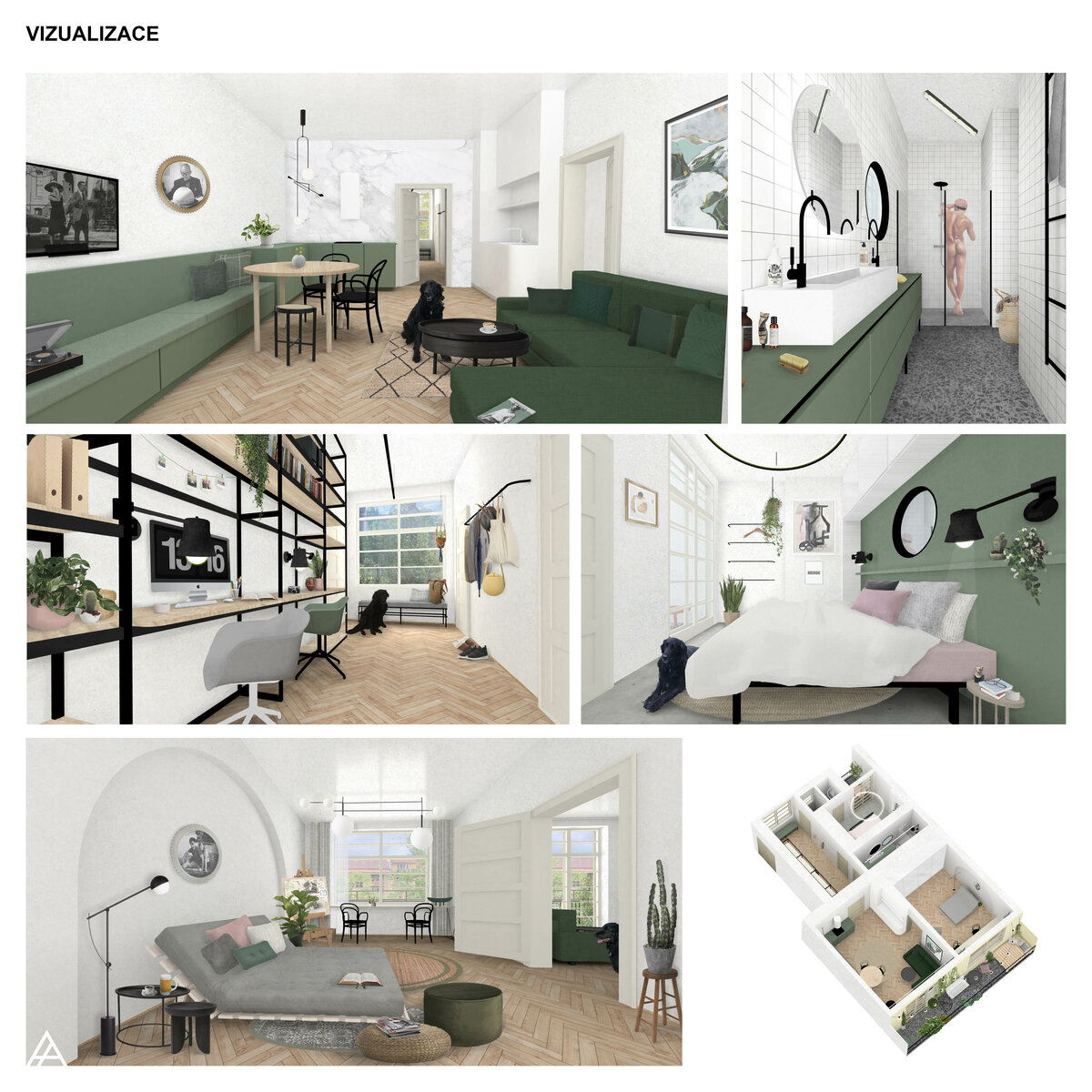 | | |
| --- | --- |
| Author | ANNY architects / Ing. arch. Anna Podroužková, Bc. et Bc. Anna Nižňanská |
| Studio | |
| Location | Praha |
| Investor | přeje si zůstat v anonymitě |
| Supplier | DEMETRIUS INVEST S.R.O. |
| Date of project approval | January 2021 |
| Fotograf | |
It was a challenge to create a modern 75m2 apartment for a young family in a 100 years old building with a very limited budget.

The apartment is situated in a block of houses created by a famous czech architect František Albert Libra. This block of houses is a cultural heritage, unfortunately in a bad condition. However houses were built in a puristic style and the plans are very coherent. In Prague, there is a very complicated cooperation with Department of Conservation and Restoration - they have to approve every single detail and it takes a lot of time to get all the approvals, even if you reconstruct just the interior.

Our proposal was to move kitchen from the smallest room to the biggest one with entrance to a 10m long balcony (where we put an exterior bed) and make it a living kitchen. In the smallest room with north orientation there is a bedroom now. When you enter the apartment, there is a large hall with a huge beautiful window. We decided to use it as a library/workspace. So we achieved to make the apartment from 2+1 to 4+kitchen corner.

The first task during the reconstruction was to get rid of all the layers that were gathered here during those 100 years - pvc floor over beautiful wooden parquette floors covered with OSB desks, carpets, etc. We repaired those parquettes, made terrazzo floors again, we kept as much as possible from the old apartment to preserve the unique atmosphere here such as windows and doors, cavettos under the ceiling, terrazzo floors, round details of corners, window between bathroom and bedroom which we designed as a circle. The owners use it as a lamp and say, that there is a red moon in the evening in their bedroom. We used smart lighting, so there are many possibilities to make an atmosphere you wish for.

As a main color scheme we used a grey-green on highly pressured laminate with powder pink components combined with pure waxed steel and off white semi-glossed lacquered MDF.
Due to an old heating system, it was necessary to rebuild it all. We used a gas boiler which also supplies water for heating, floor heating in bathroom, toilet and bedroom and sink. We chose new retro radiators that are typical for czcech industry instead of old WAW radiators.

The boiler is situated behind secret doors in a wardrobe, which is possible due to a new type of boiler that gets air through a chimney.

We also rebuilt the whole electricity and lighting system. Many lights are custom-made. For example the long black light can shine up or down or both.

It was also necessary to repair all of the wall surfaces, water supply system etc.
Green building
Environmental certification
| | |
| --- | --- |
| Type and level of certificate | - |
Water management
| | |
| --- | --- |
| Is rainwater used for irrigation? | |
| Is rainwater used for other purposes, e.g. toilet flushing ? | |
| Does the building have a green roof / facade ? | |
| Is reclaimed waste water used, e.g. from showers and sinks ? | |
The quality of the indoor environment
| | |
| --- | --- |
| Is clean air supply automated ? | |
| Is comfortable temperature during summer and winter automated? | |
| Is natural lighting guaranteed in all living areas? | |
| Is artificial lighting automated? | |
| Is acoustic comfort, specifically reverberation time, guaranteed? | |
| Does the layout solution include zoning and ergonomics elements? | |
Principles of circular economics
| | |
| --- | --- |
| Does the project use recycled materials? | |
| Does the project use recyclable materials? | |
| Are materials with a documented Environmental Product Declaration (EPD) promoted in the project? | |
| Are other sustainability certifications used for materials and elements? | |
Energy efficiency
| | |
| --- | --- |
| Energy performance class of the building according to the Energy Performance Certificate of the building | E |
| Is efficient energy management (measurement and regular analysis of consumption data) considered? | |
| Are renewable sources of energy used, e.g. solar system, photovoltaics? | |
Interconnection with surroundings
| | |
| --- | --- |
| Does the project enable the easy use of public transport? | |
| Does the project support the use of alternative modes of transport, e.g cycling, walking etc. ? | |
| Is there access to recreational natural areas, e.g. parks, in the immediate vicinity of the building? | |