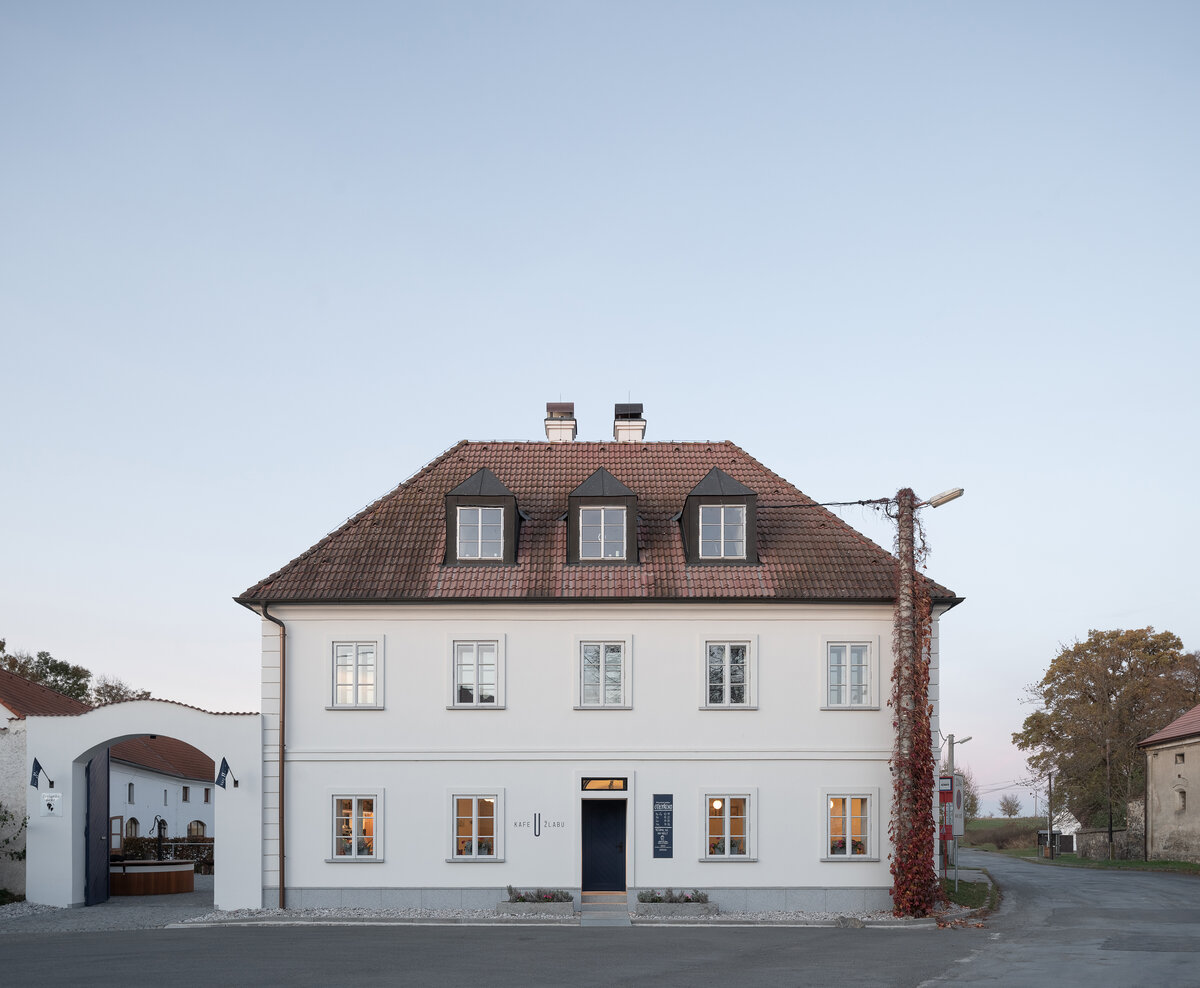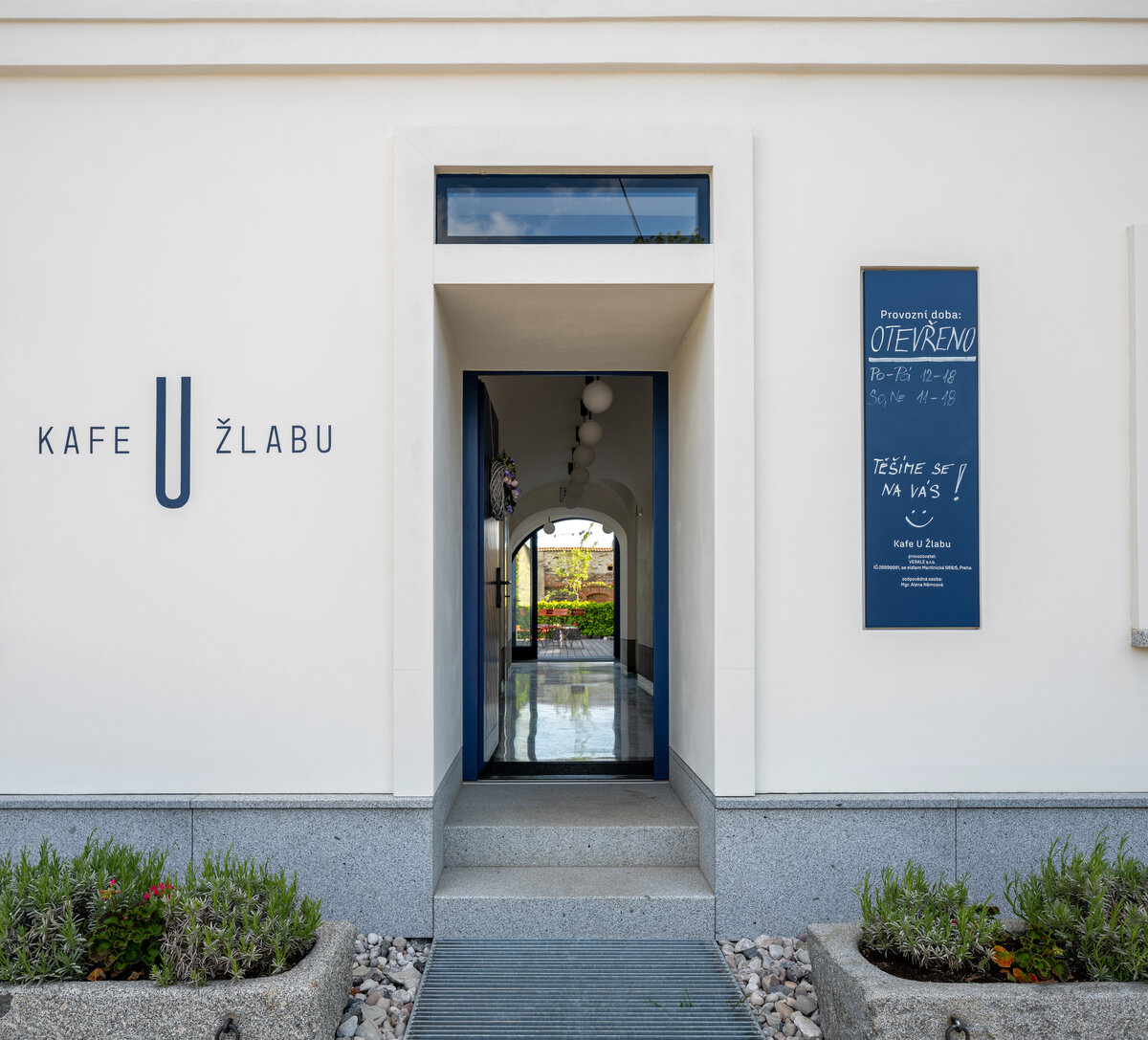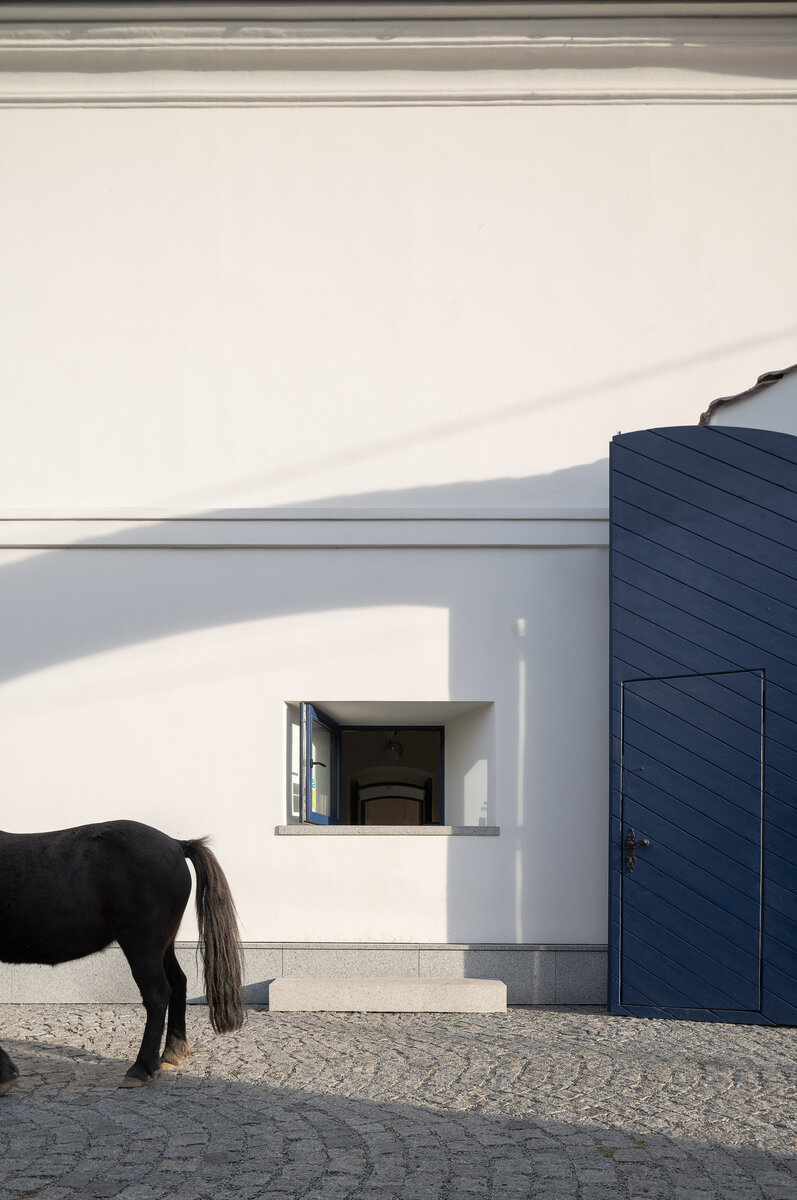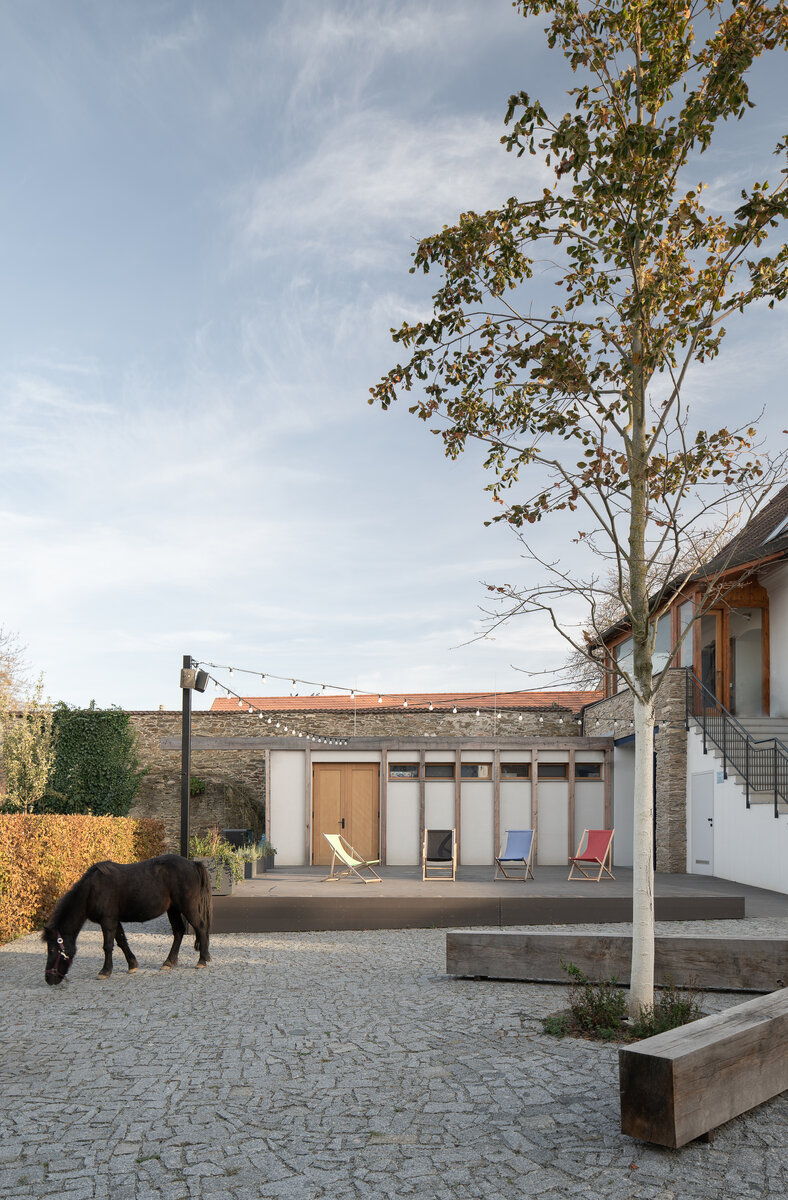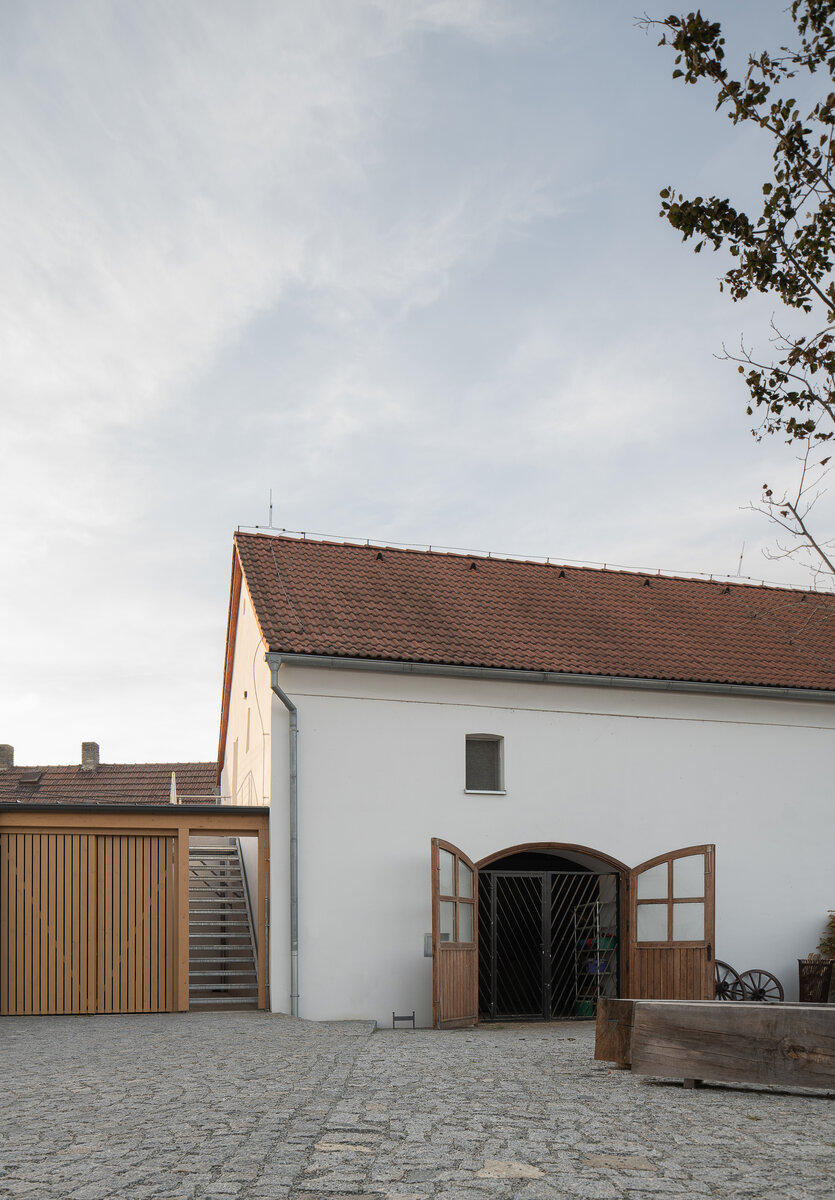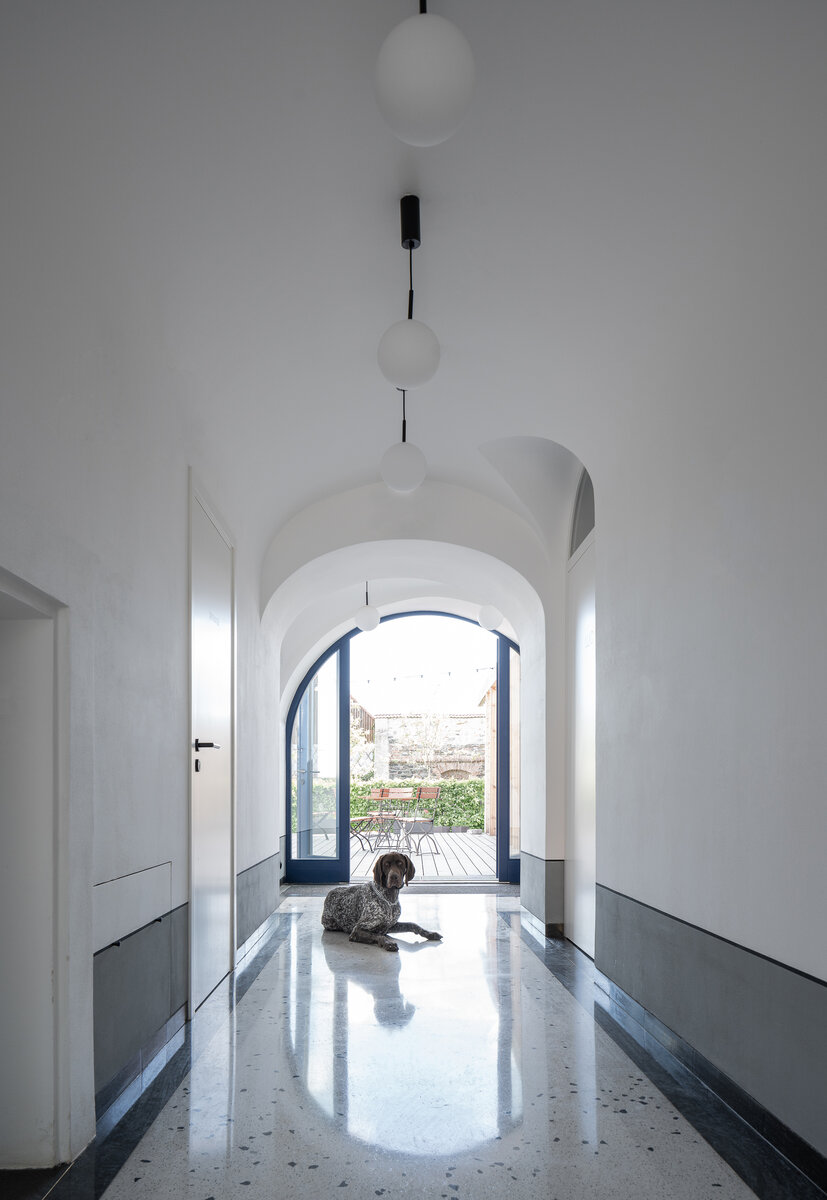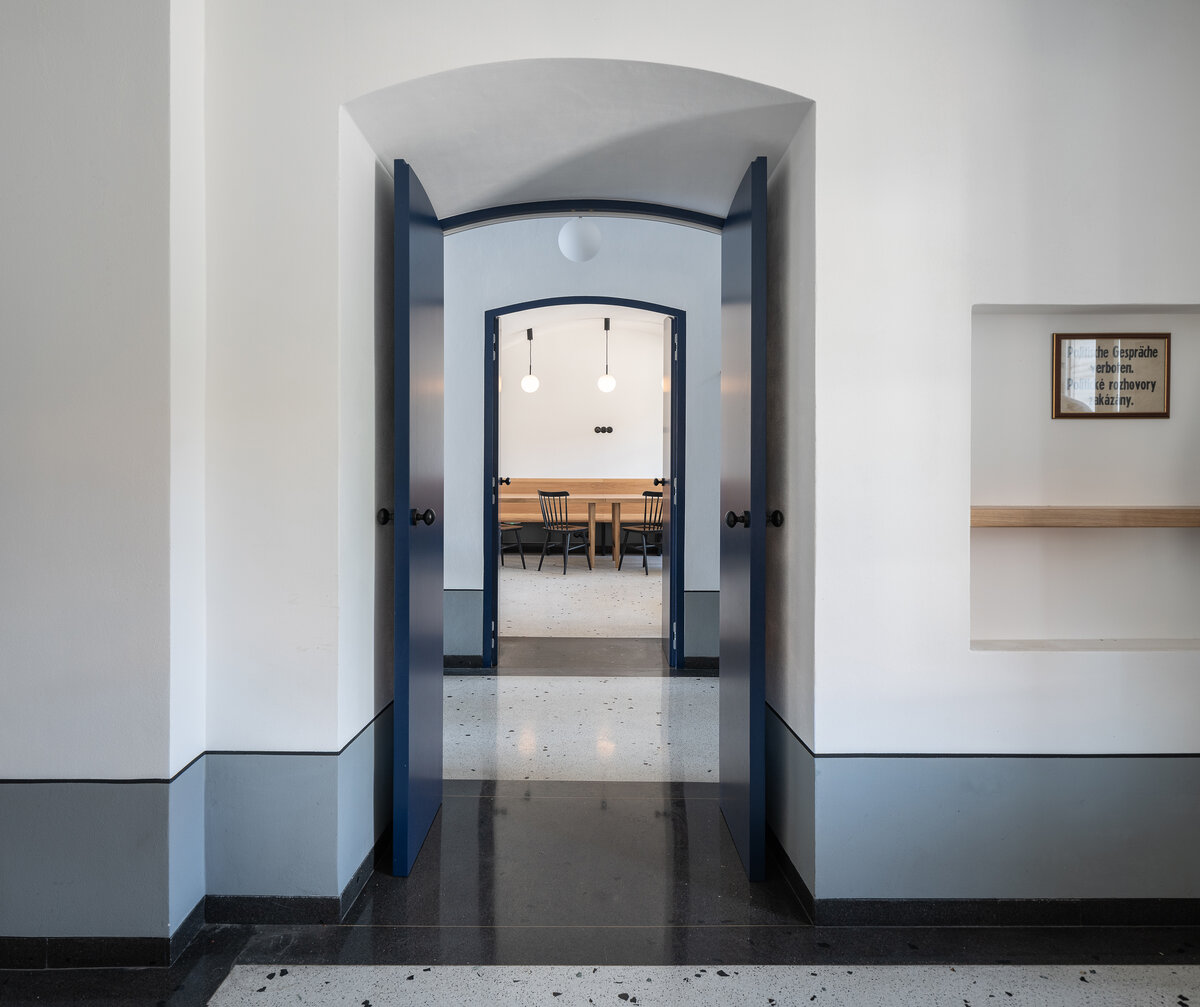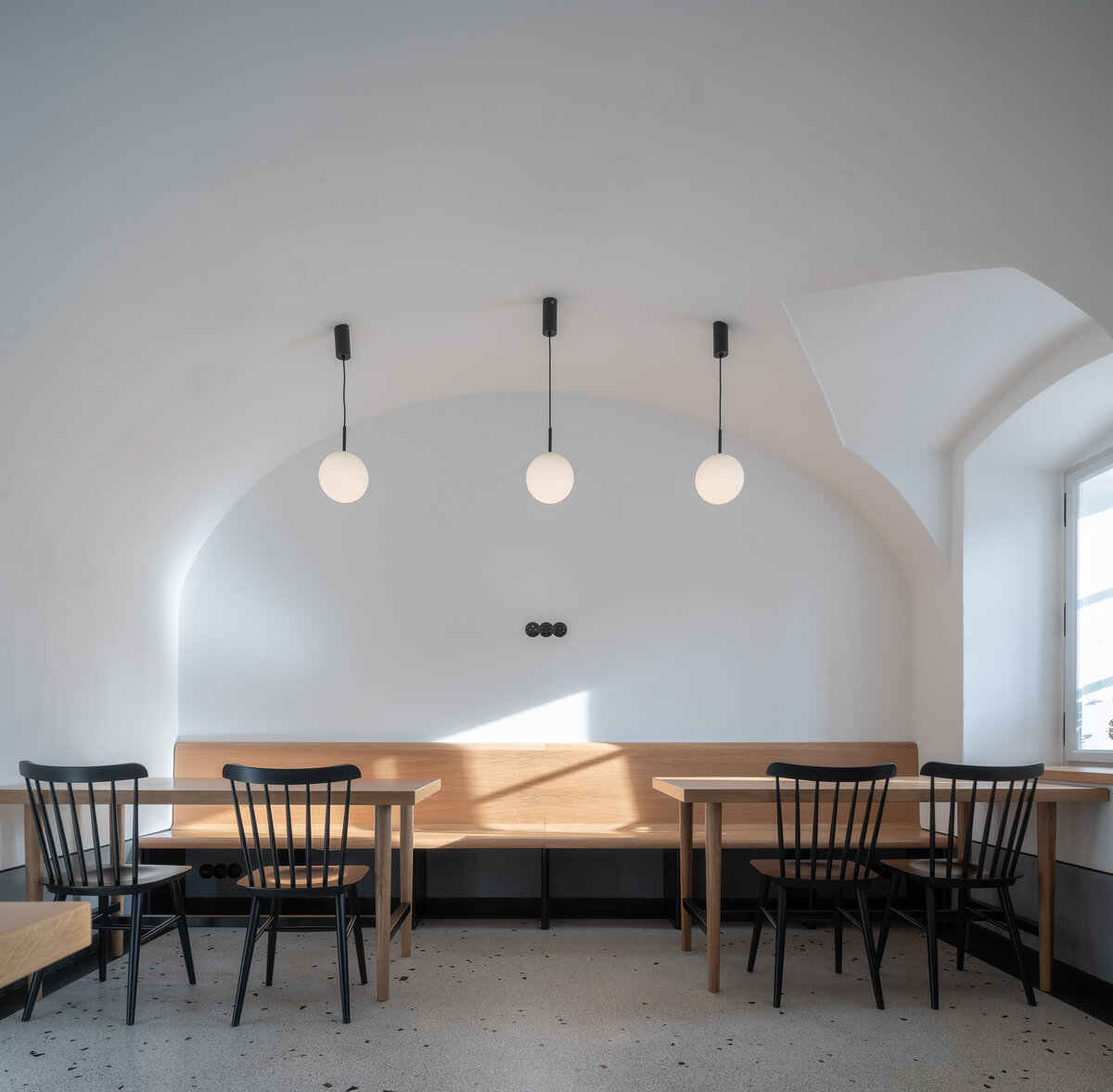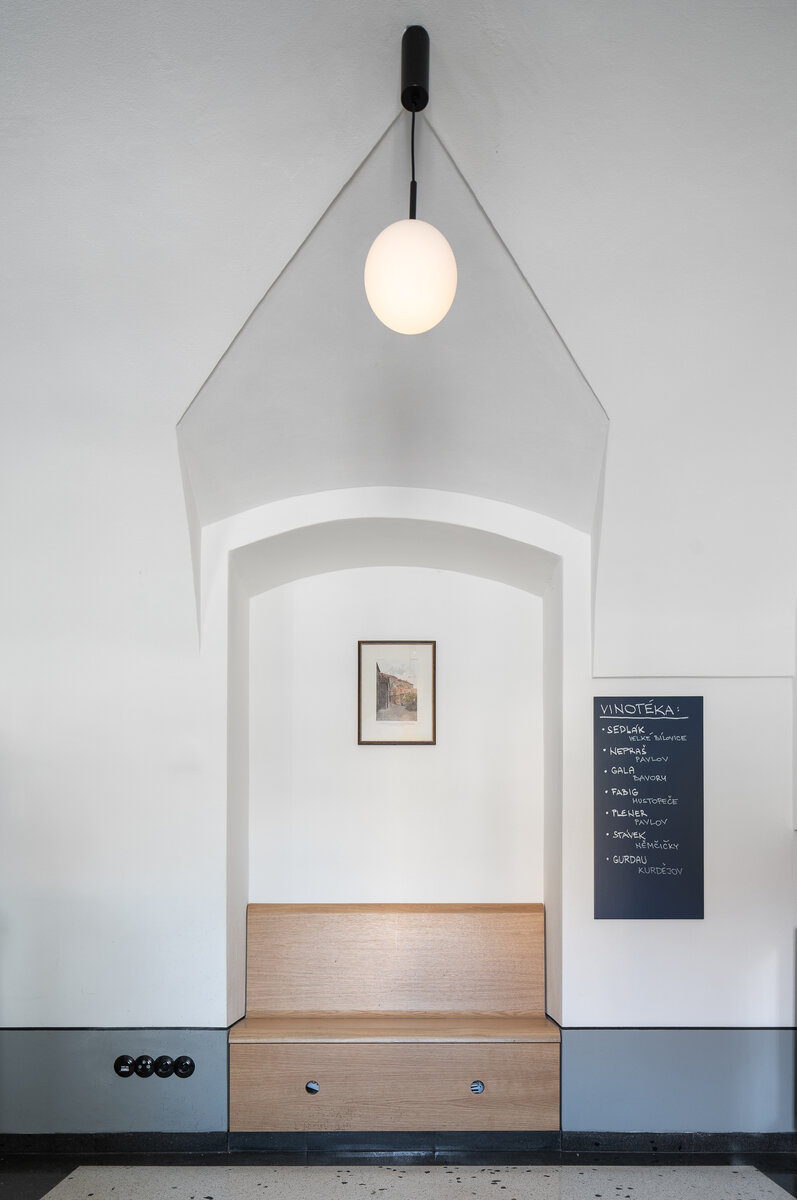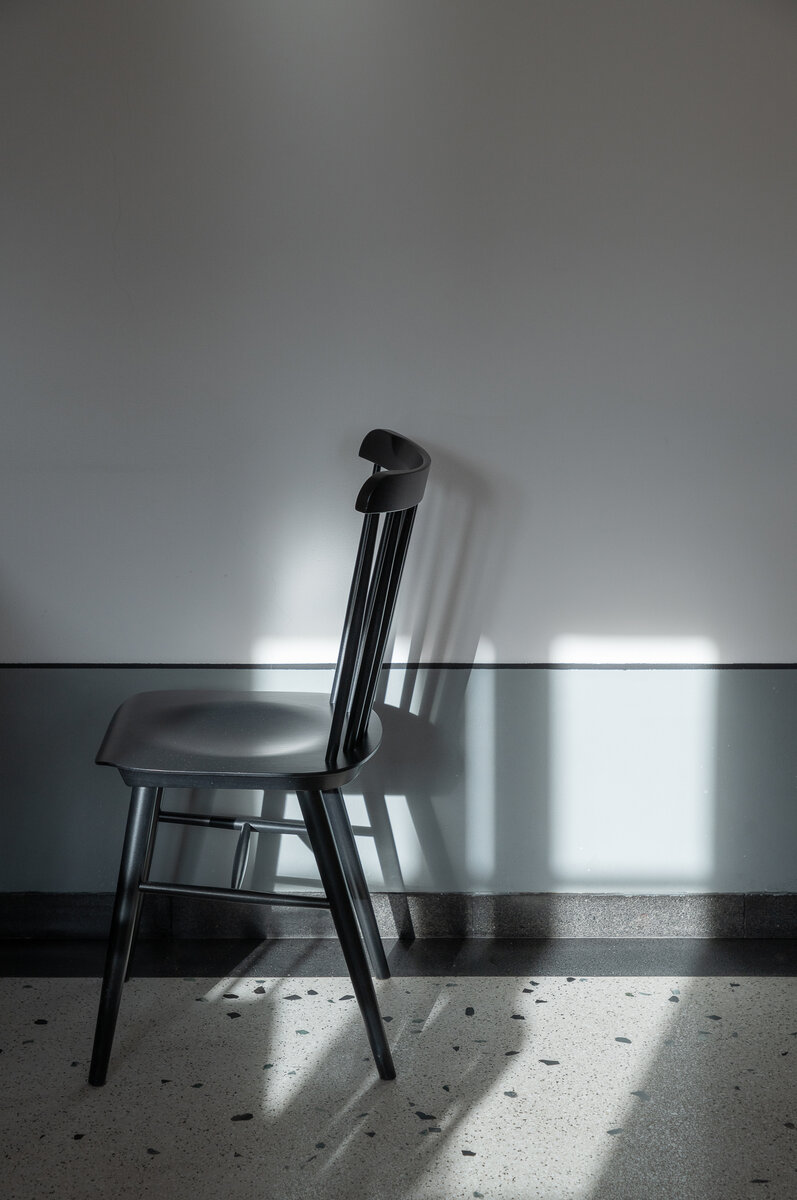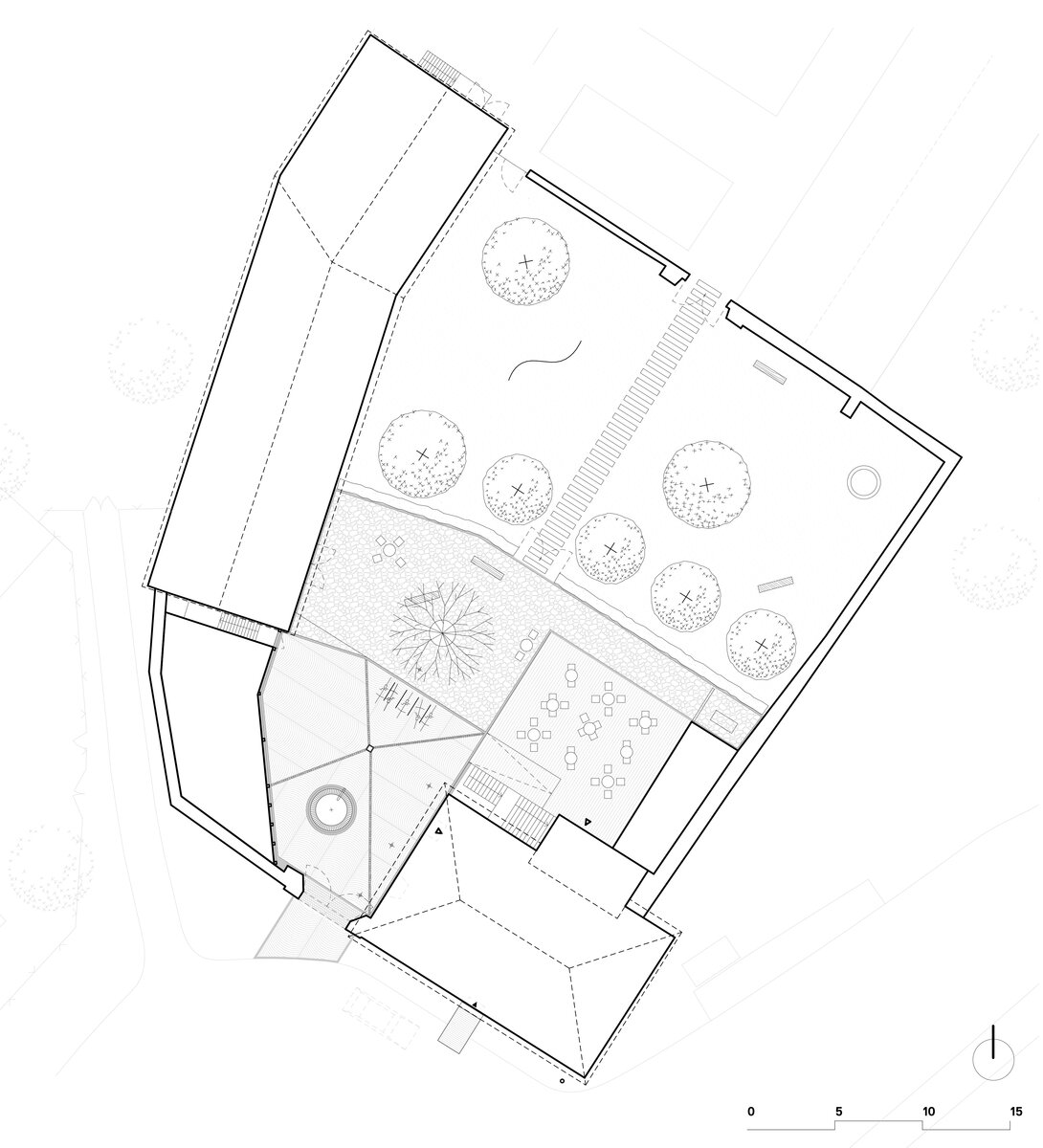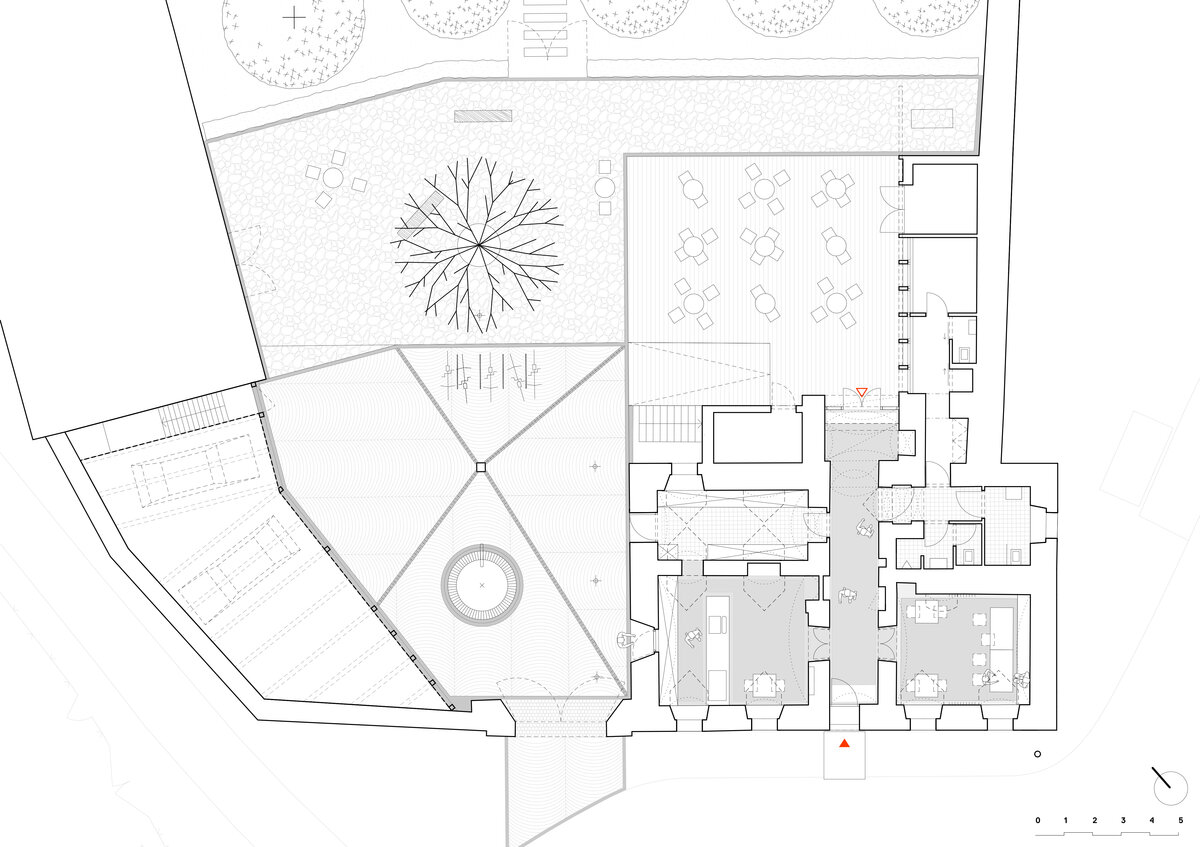 | | |
| --- | --- |
| Author | OBJEKTOR ARCHITEKTI s.r.o. | MgA. Václav Šuba a MgA. Jakub Červenka; MgA. Tereza Scheibová |
| Studio | |
| Location | Noutonice |
| Investor | VERALE s.r.o. |
| Supplier | AFILADERA s.r.o. |
| Date of project approval | February 2021 |
| Fotograf | |
The suburban villages near Prague are becoming part of the city and they are gradually coming to life.
One of them is Noutonice. The close distance of the Okoř Castle, a romantic landscape, but also the accessibility to Prague, are excellent starting conditions for attracting new residents and tourists to the village. For a long time, there was not a place, where you could sit, refresh yourself, stop for a drink. Today, there is the Café U Žlabu, which is the first stop of the colorful architectural future of the village.

The historic farm building was transformed into a café with its own courtyard and it is connected to an adjacent horse stables. The main attraction takes place behind the gates of the old farmhouse, where the courtyard replaces the role of a now dysfunctional village square. The courtyard is marked out by granite paving, in the center of which is a mature linden tree planted. Here, the life of the café takes place. Between the horse stables, that gives you the atmosphere of a country house.
The internal layout has not undergone many changes. Facilities for employees, that could not fit into the existing house, were added. We have cleaned the tectonically impressive spaces from the deposits of time. From the outside we only added one new window that can service the courtyard. When the construction work began, it was discovered that this window was historically there. So we guess everything is as it should be.
Green building
Environmental certification
| | |
| --- | --- |
| Type and level of certificate | - |
Water management
| | |
| --- | --- |
| Is rainwater used for irrigation? | |
| Is rainwater used for other purposes, e.g. toilet flushing ? | |
| Does the building have a green roof / facade ? | |
| Is reclaimed waste water used, e.g. from showers and sinks ? | |
The quality of the indoor environment
| | |
| --- | --- |
| Is clean air supply automated ? | |
| Is comfortable temperature during summer and winter automated? | |
| Is natural lighting guaranteed in all living areas? | |
| Is artificial lighting automated? | |
| Is acoustic comfort, specifically reverberation time, guaranteed? | |
| Does the layout solution include zoning and ergonomics elements? | |
Principles of circular economics
| | |
| --- | --- |
| Does the project use recycled materials? | |
| Does the project use recyclable materials? | |
| Are materials with a documented Environmental Product Declaration (EPD) promoted in the project? | |
| Are other sustainability certifications used for materials and elements? | |
Energy efficiency
| | |
| --- | --- |
| Energy performance class of the building according to the Energy Performance Certificate of the building | |
| Is efficient energy management (measurement and regular analysis of consumption data) considered? | |
| Are renewable sources of energy used, e.g. solar system, photovoltaics? | |
Interconnection with surroundings
| | |
| --- | --- |
| Does the project enable the easy use of public transport? | |
| Does the project support the use of alternative modes of transport, e.g cycling, walking etc. ? | |
| Is there access to recreational natural areas, e.g. parks, in the immediate vicinity of the building? | |