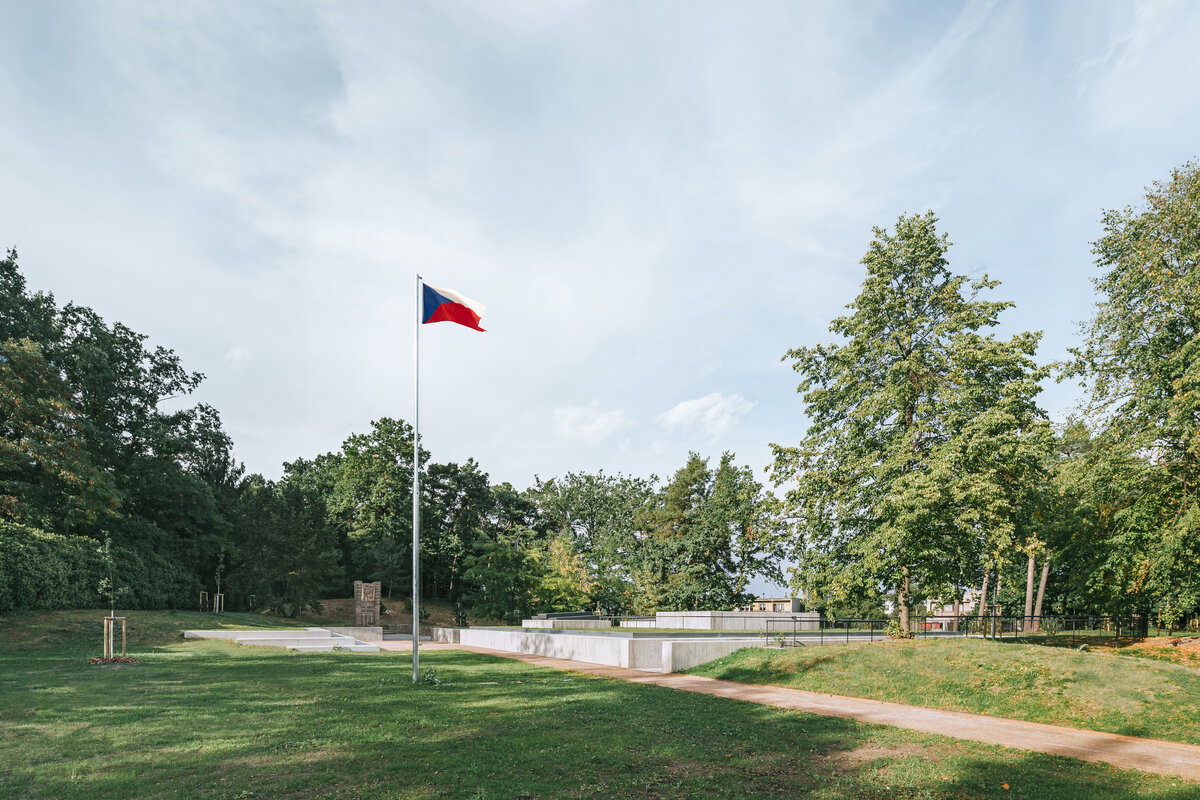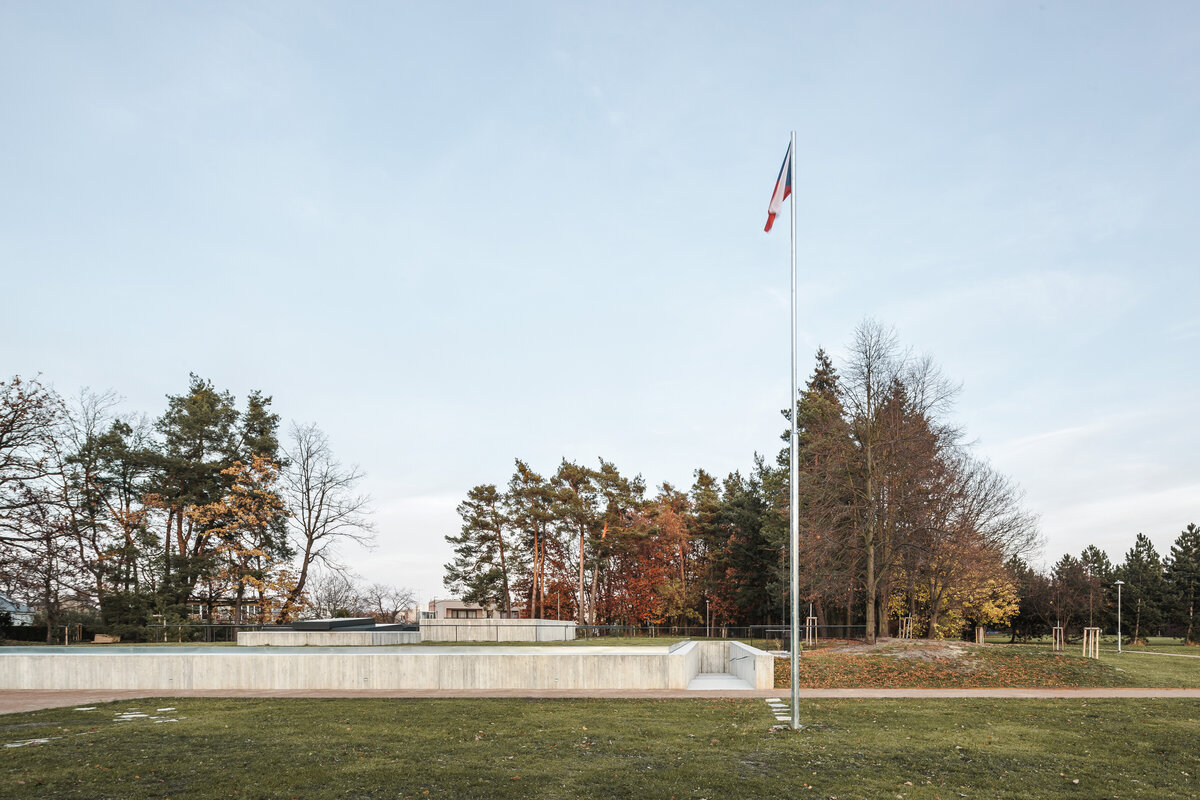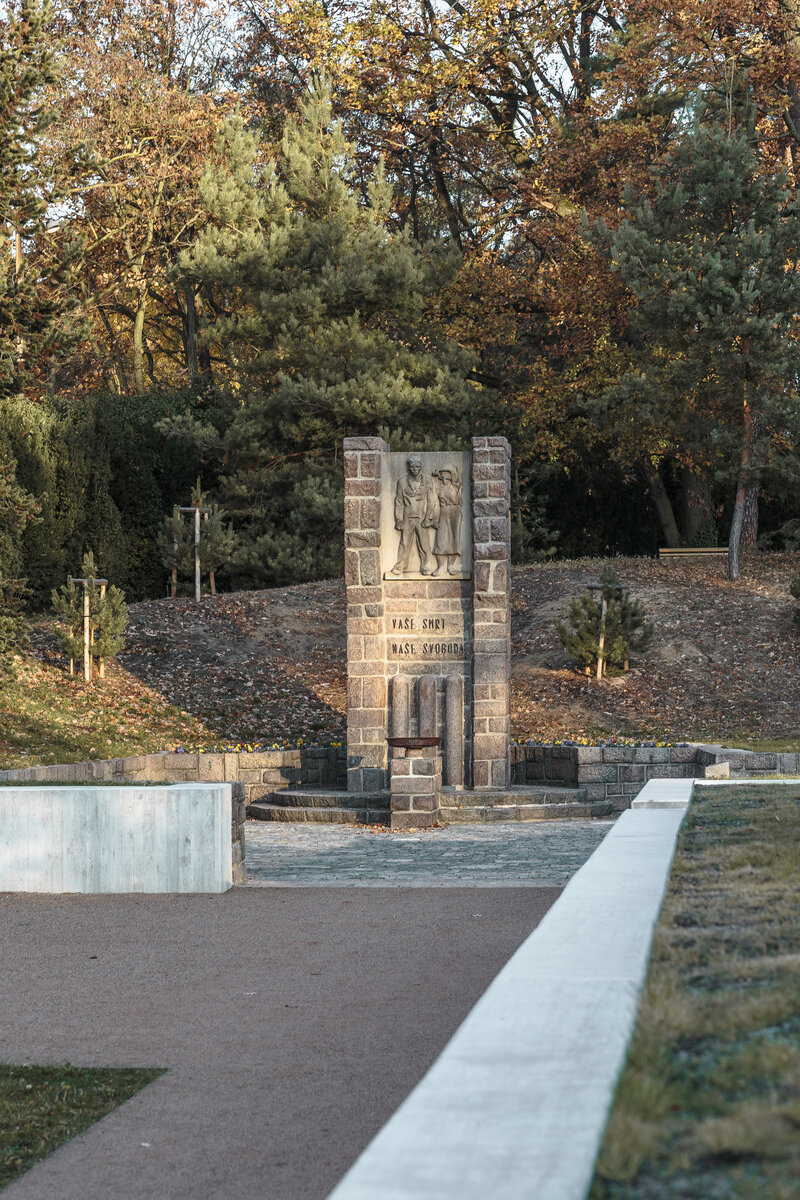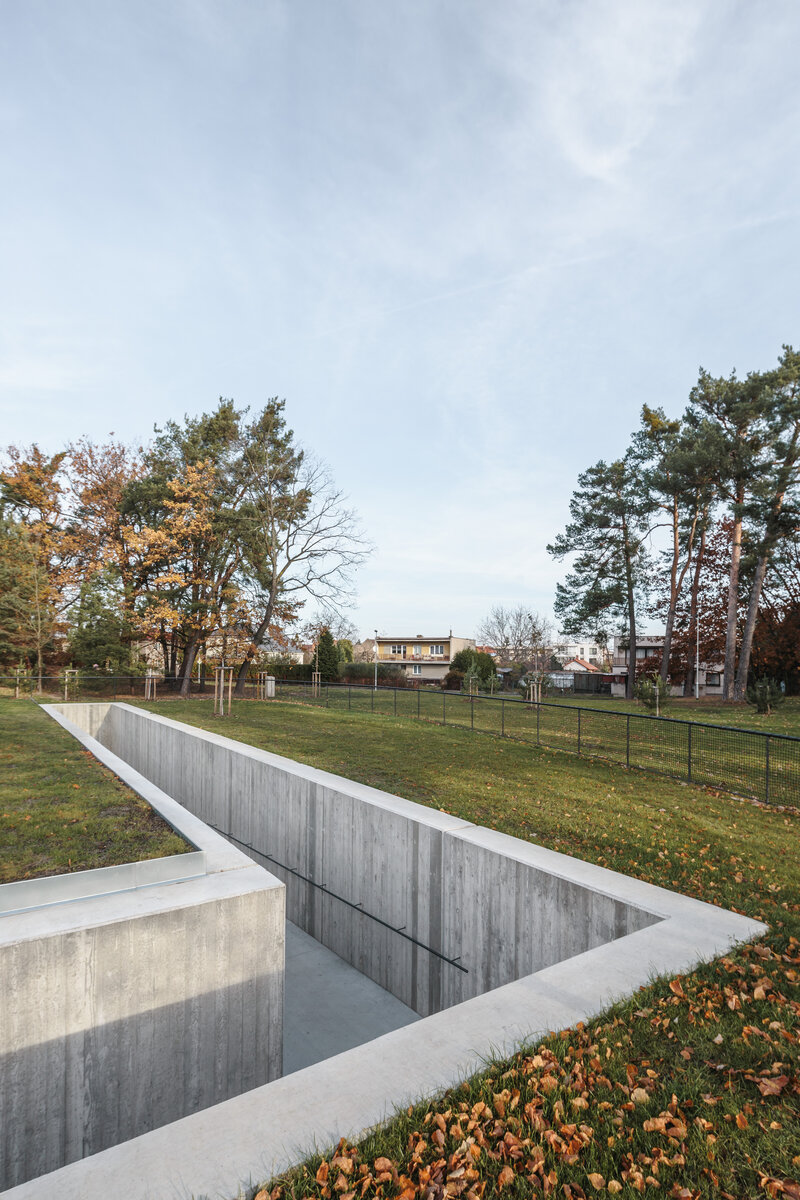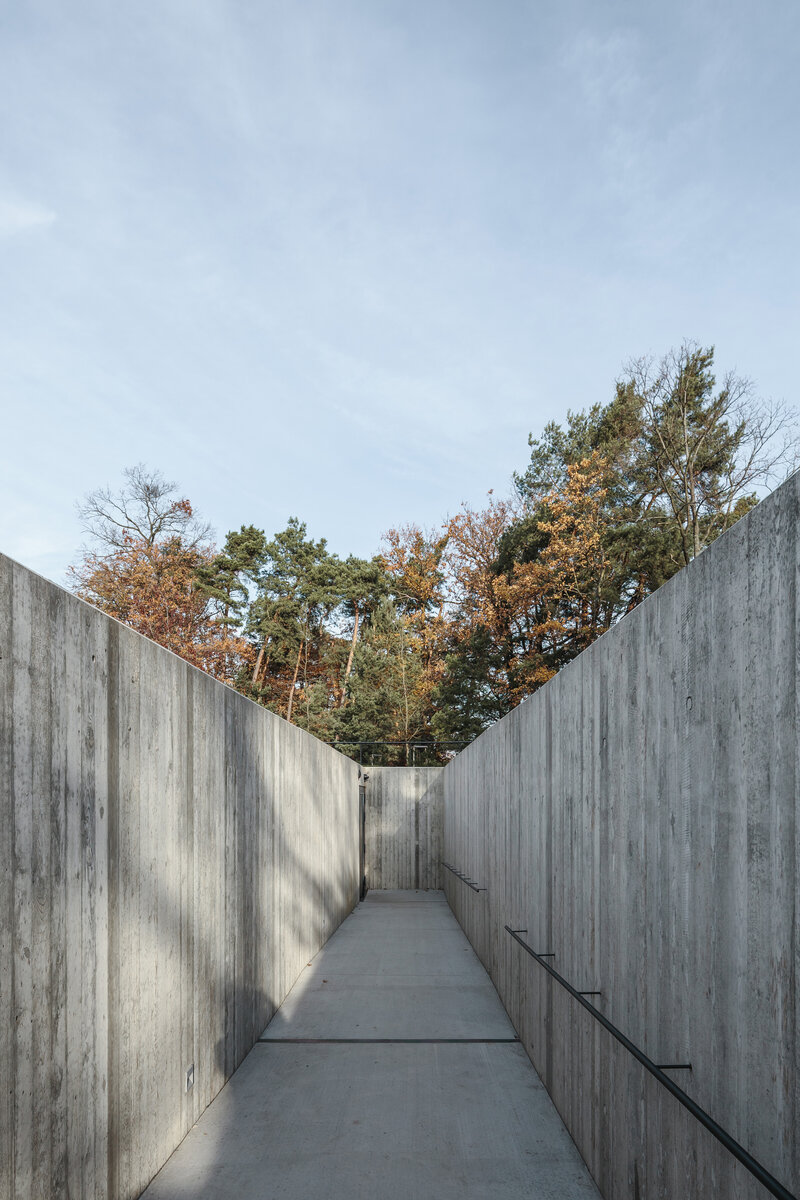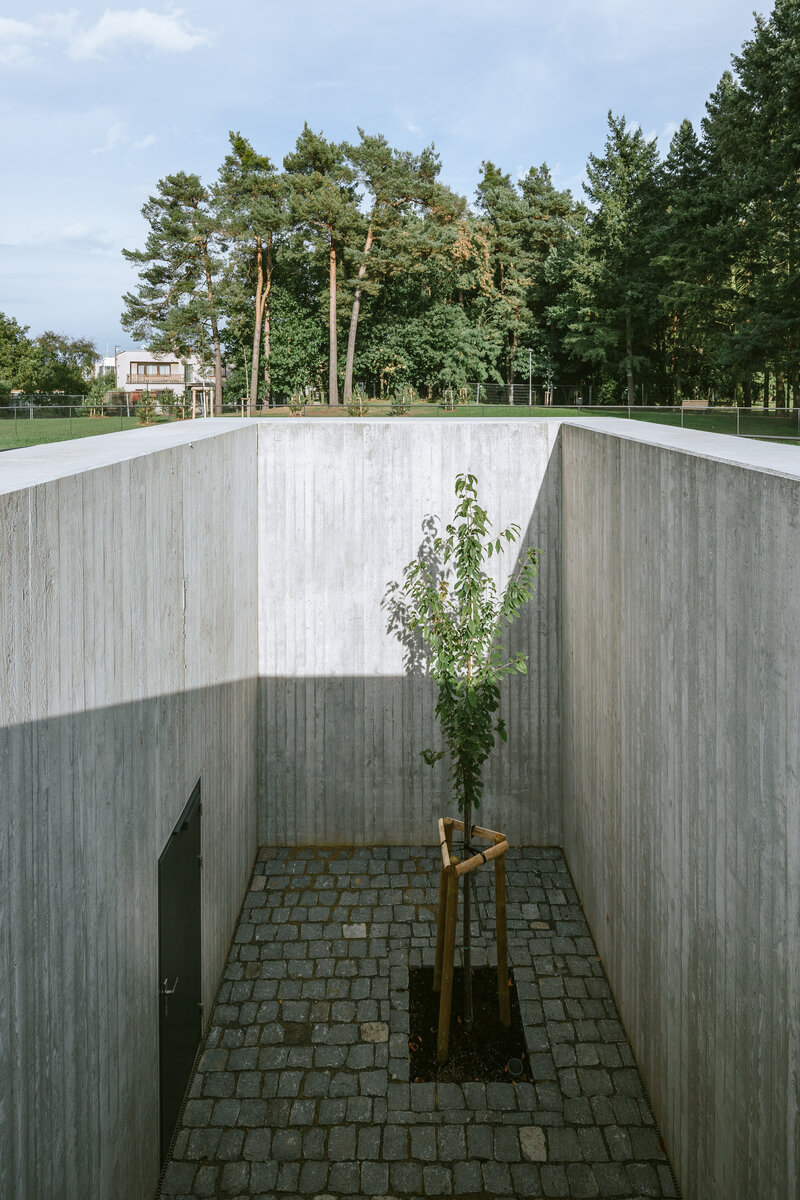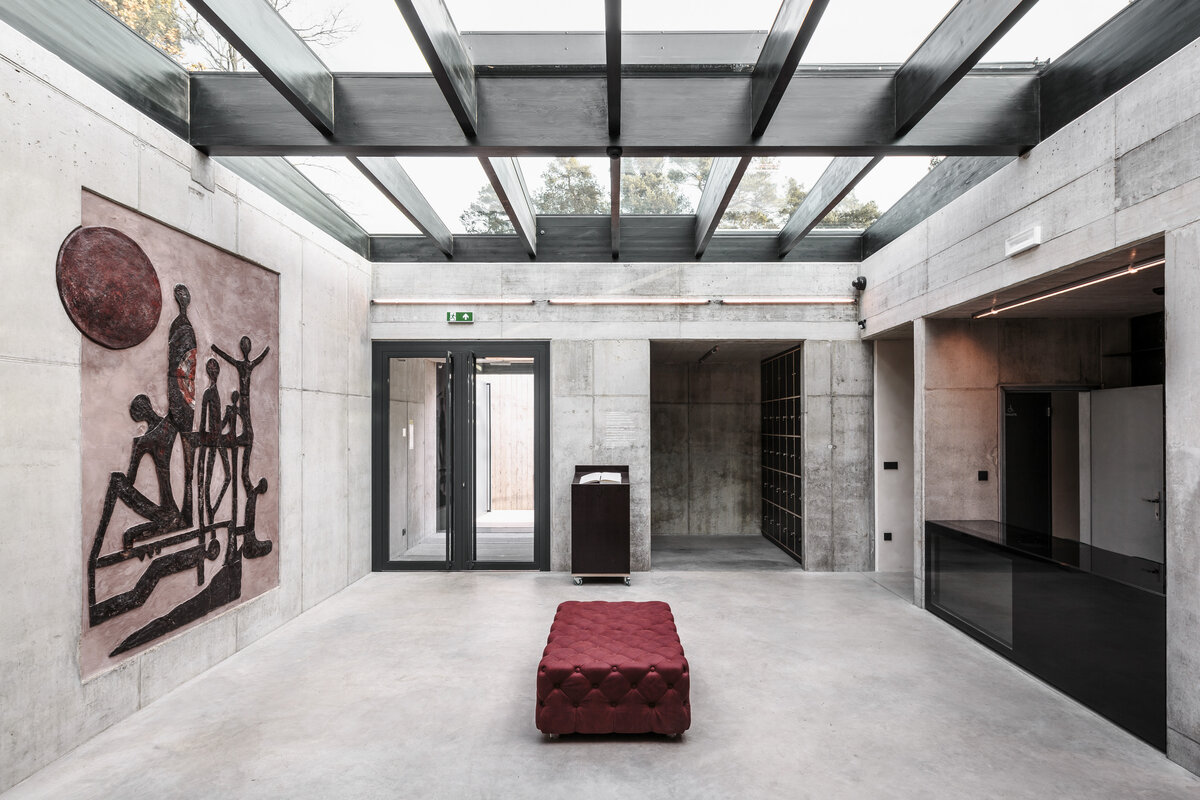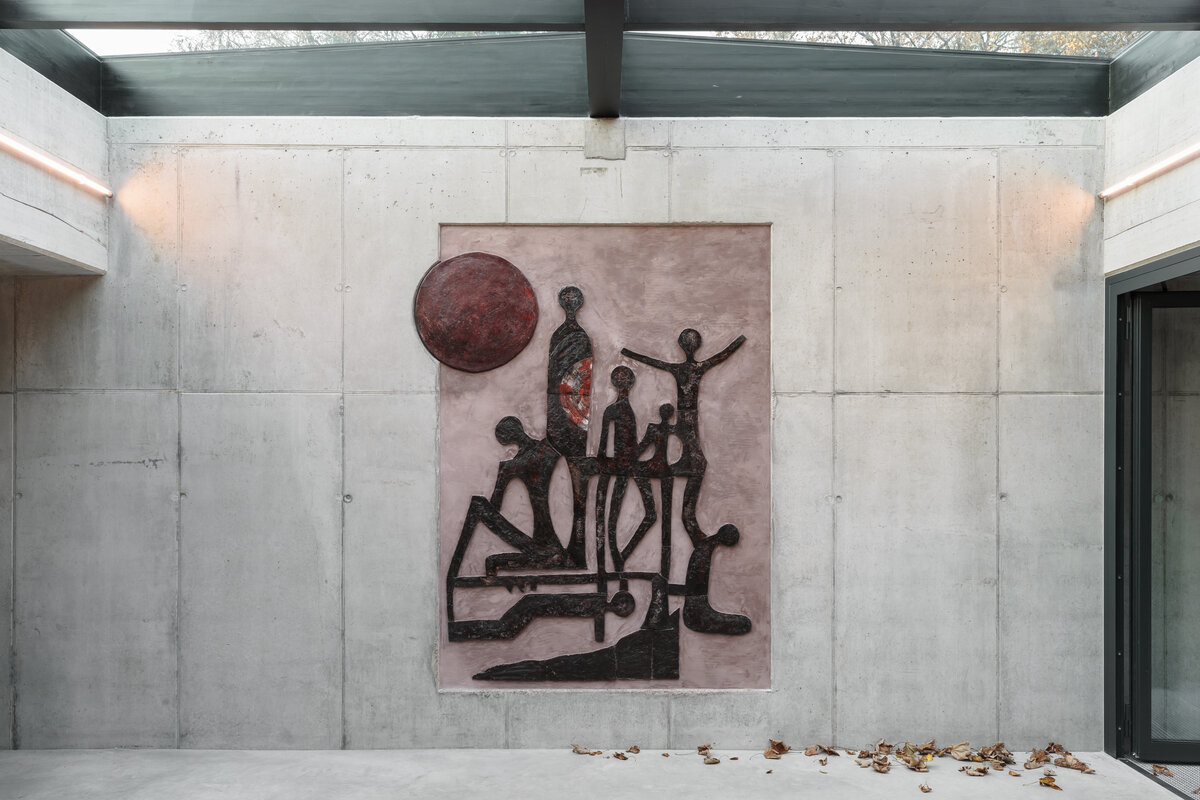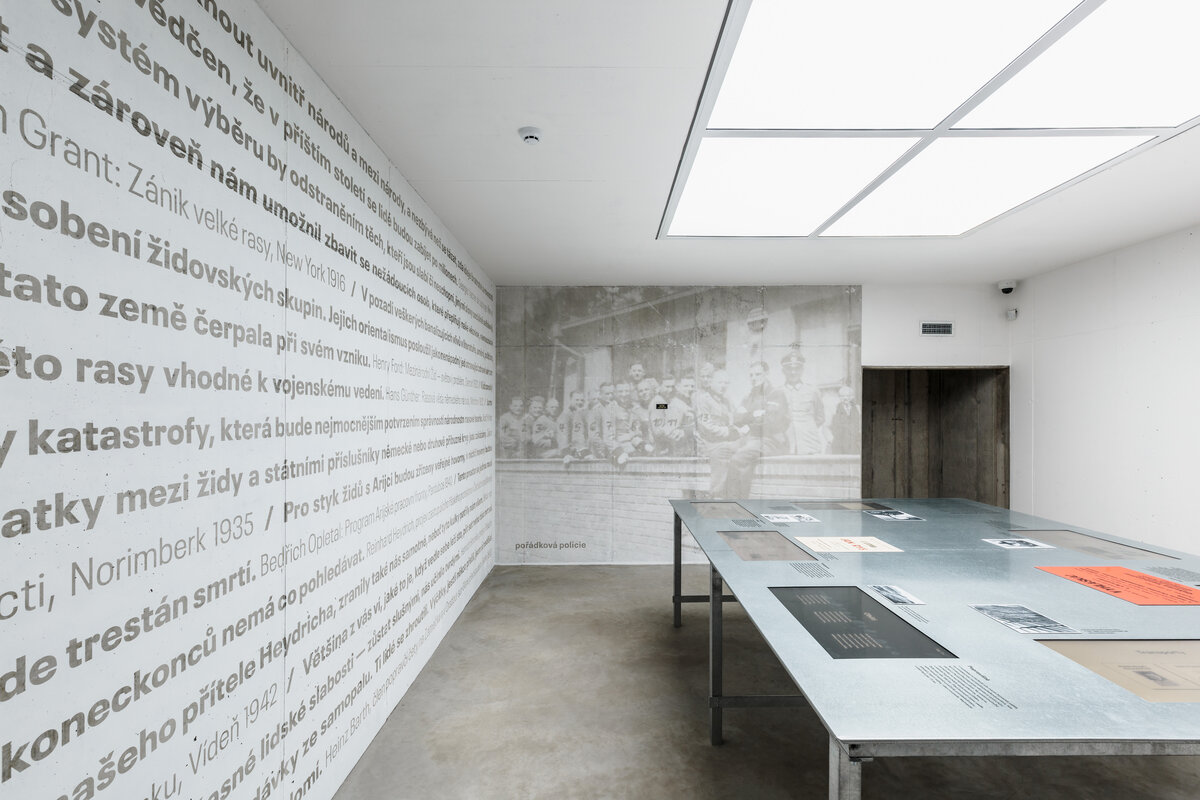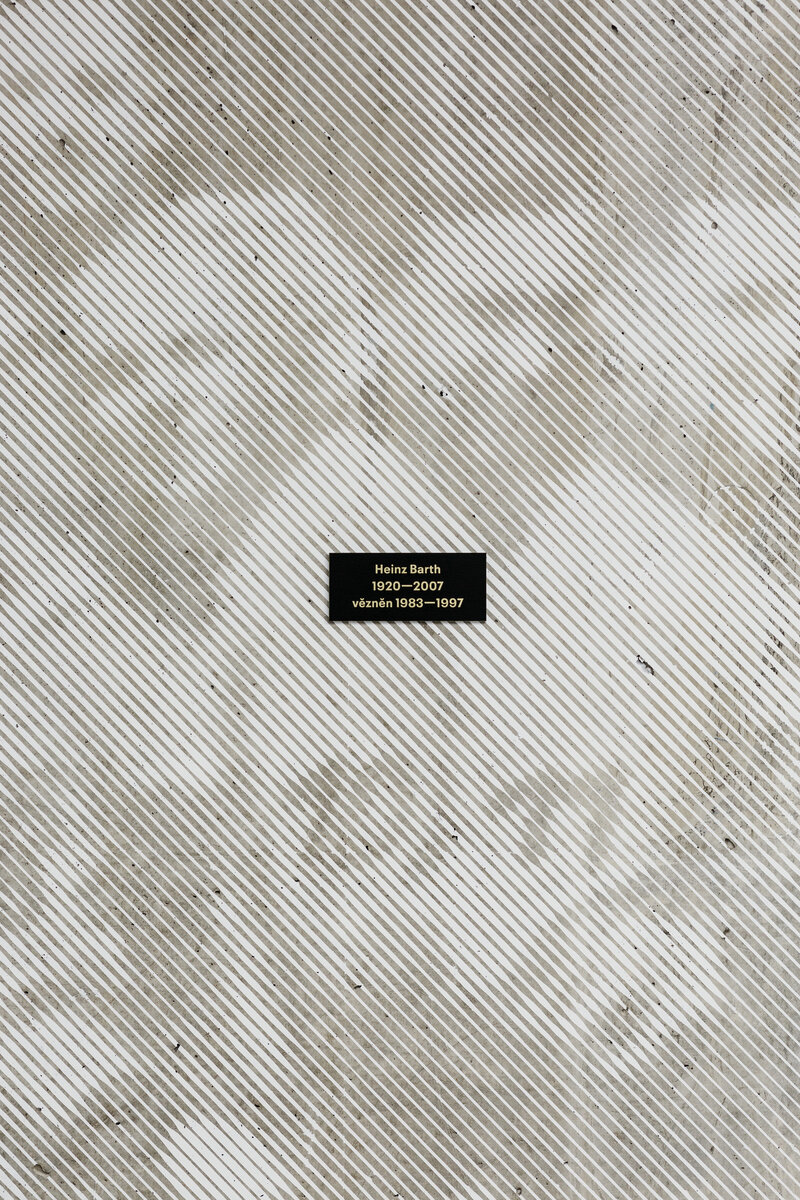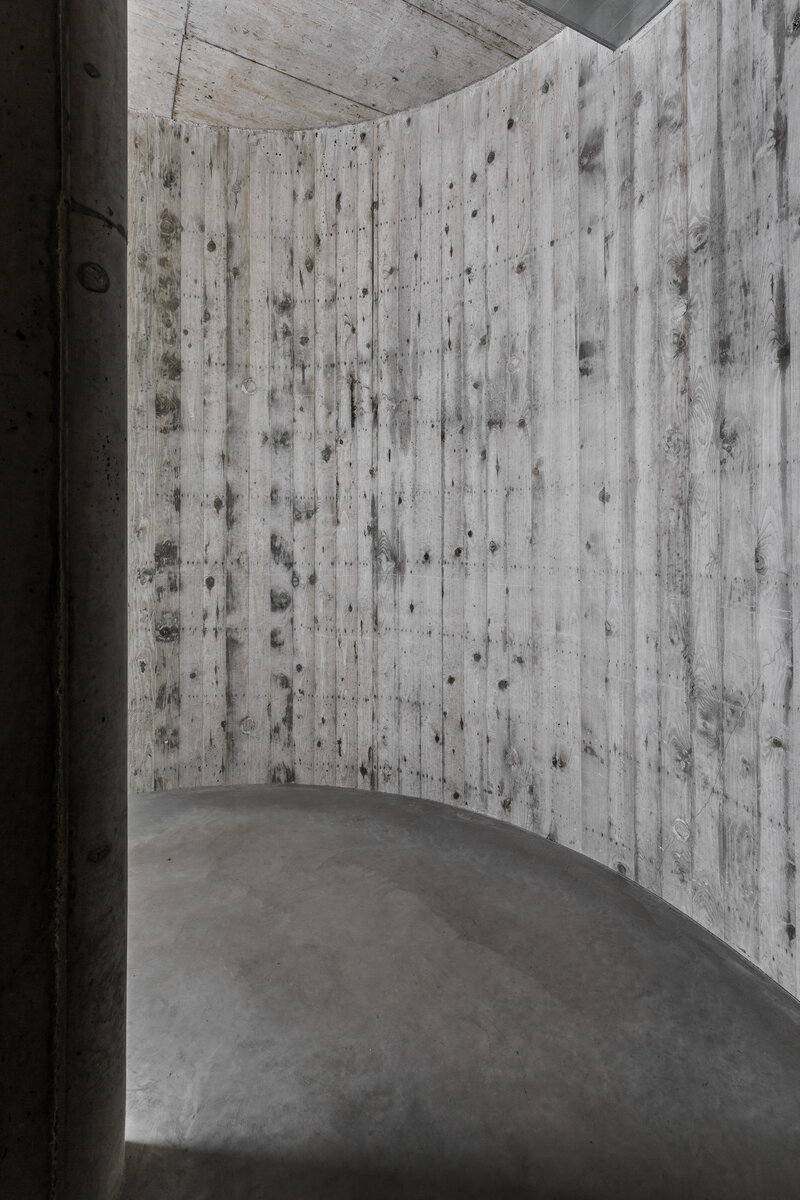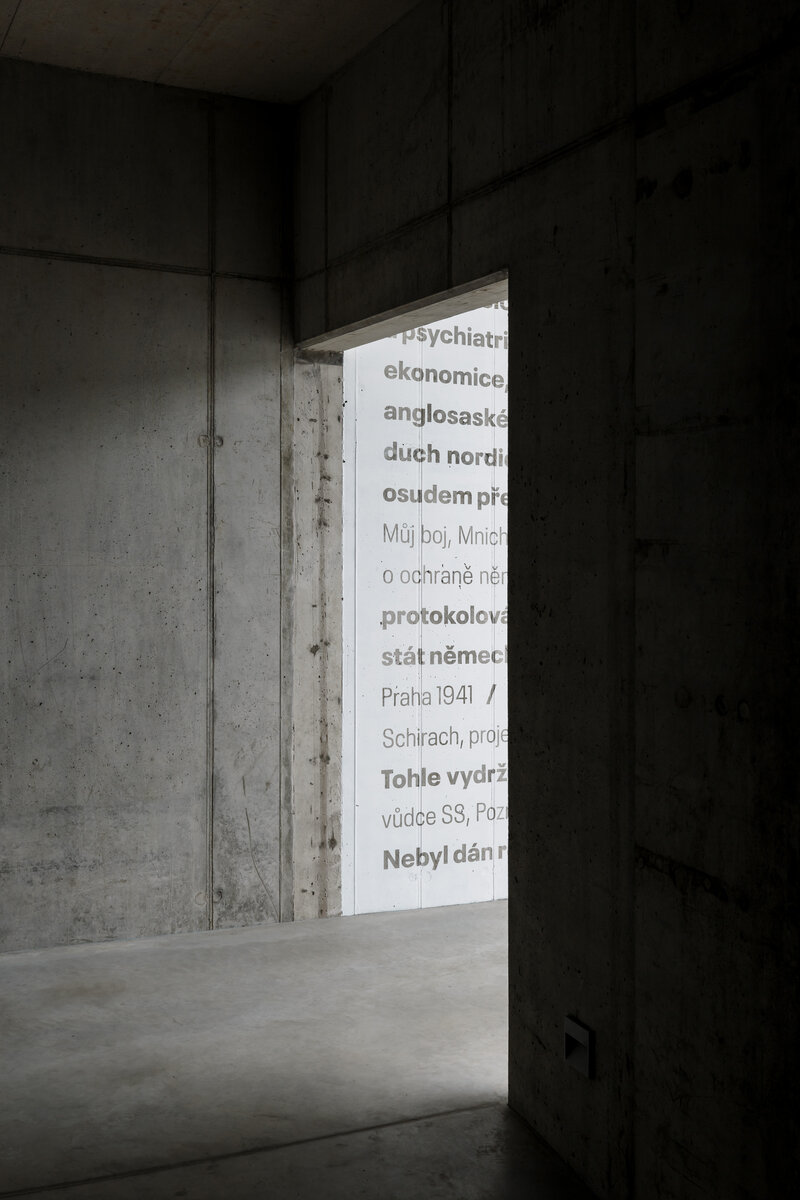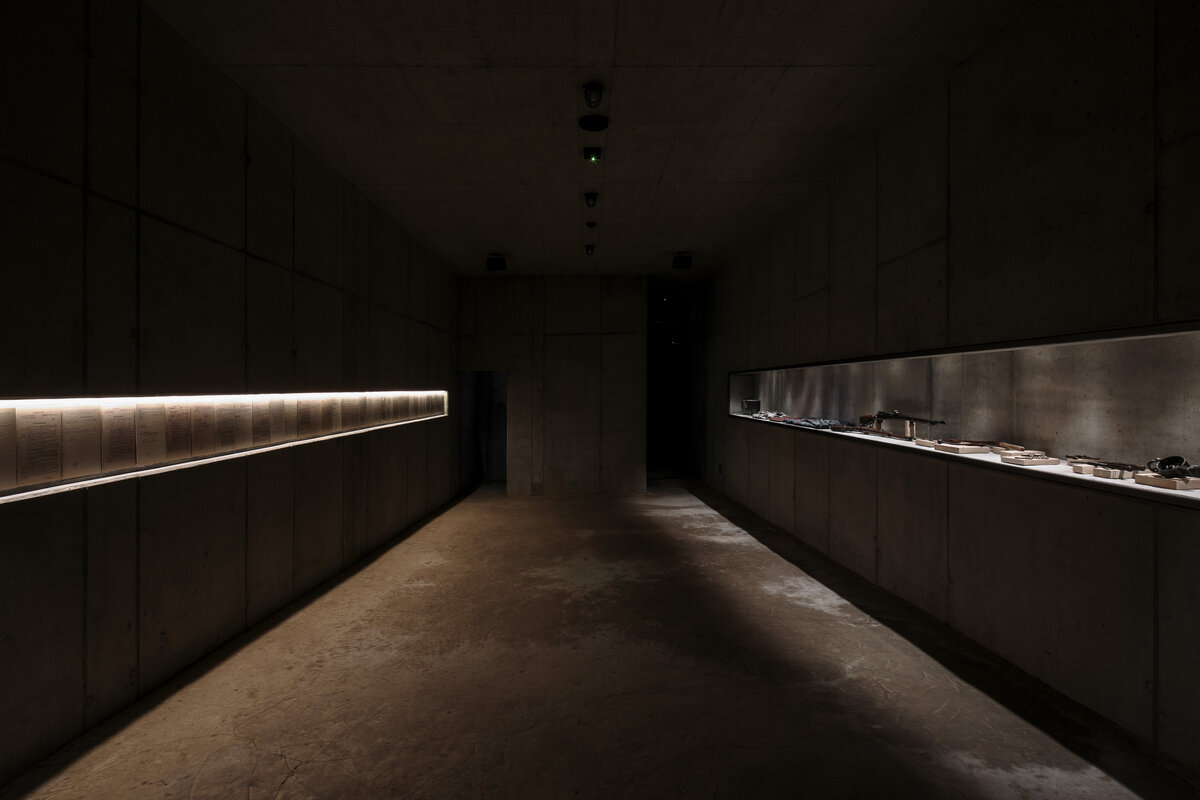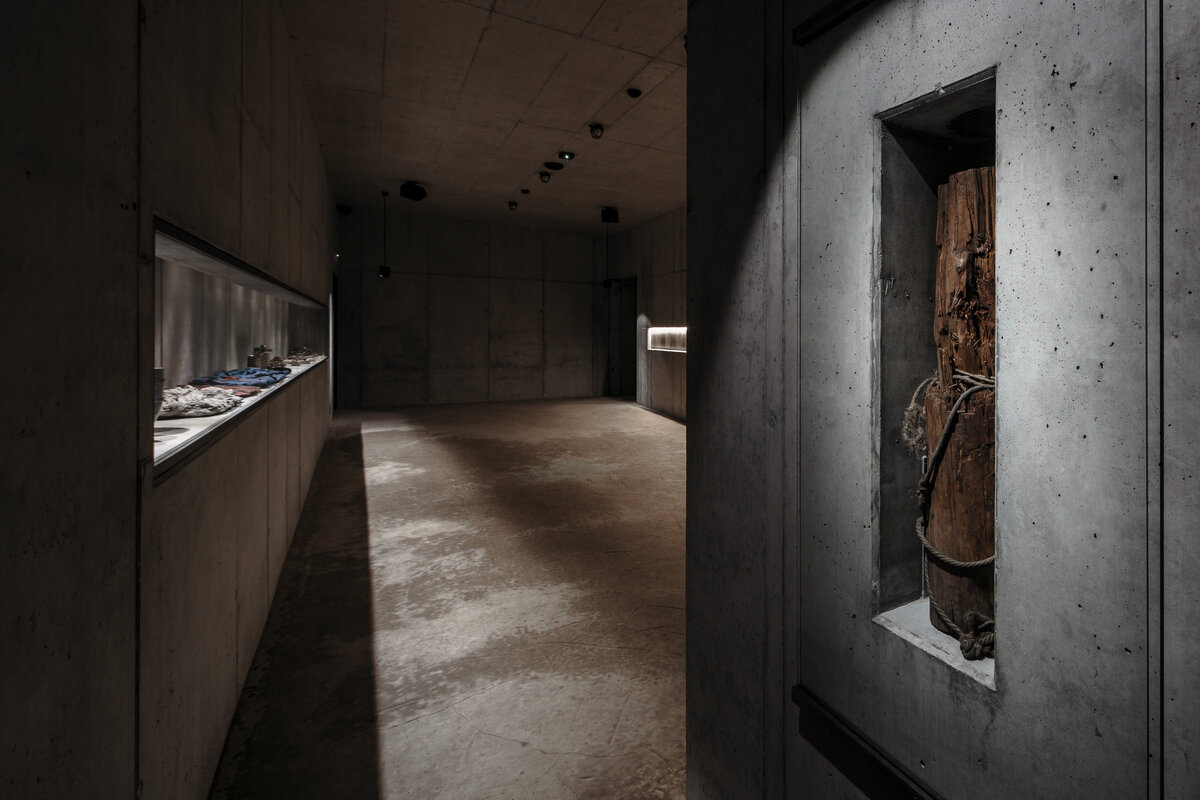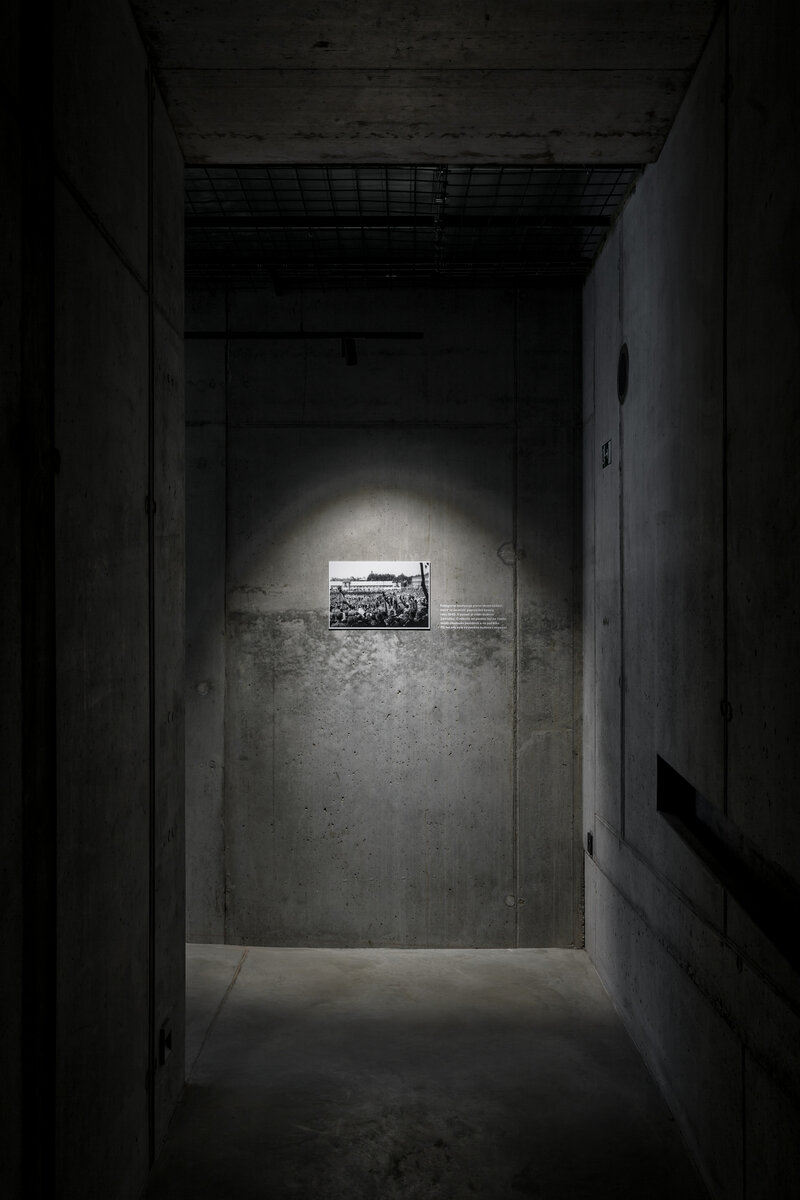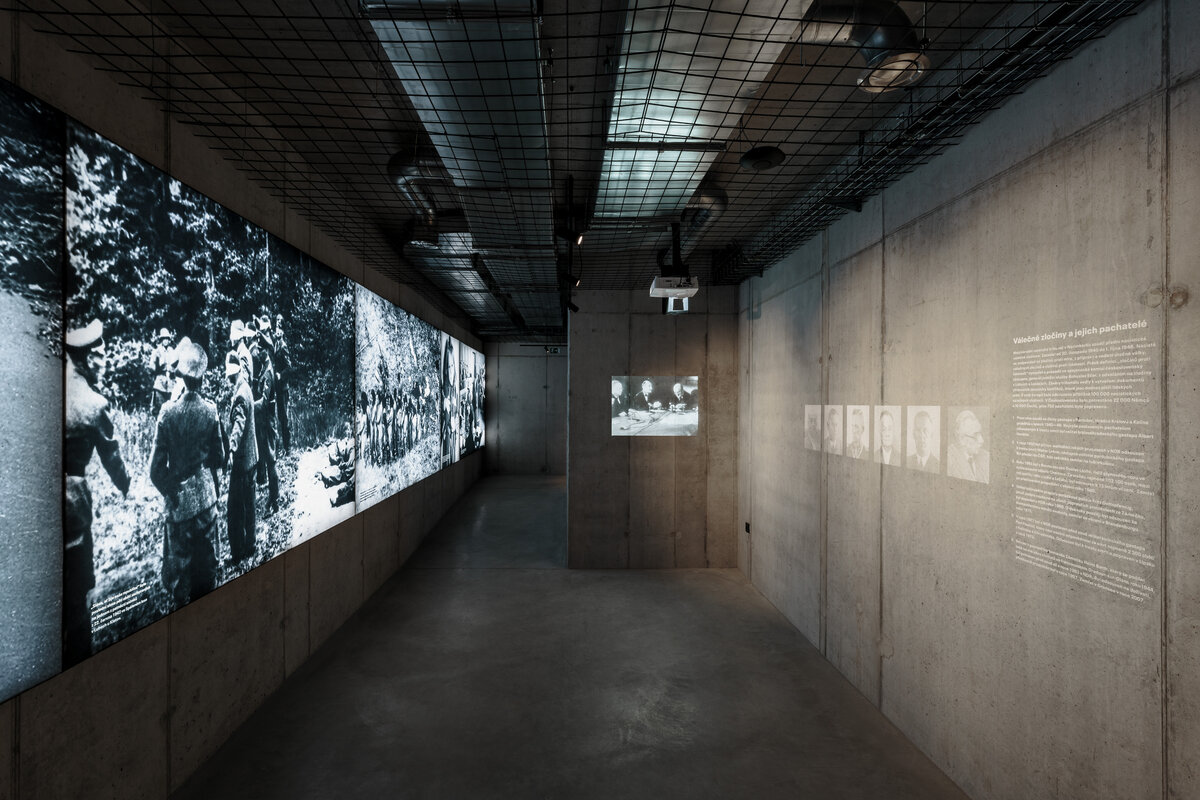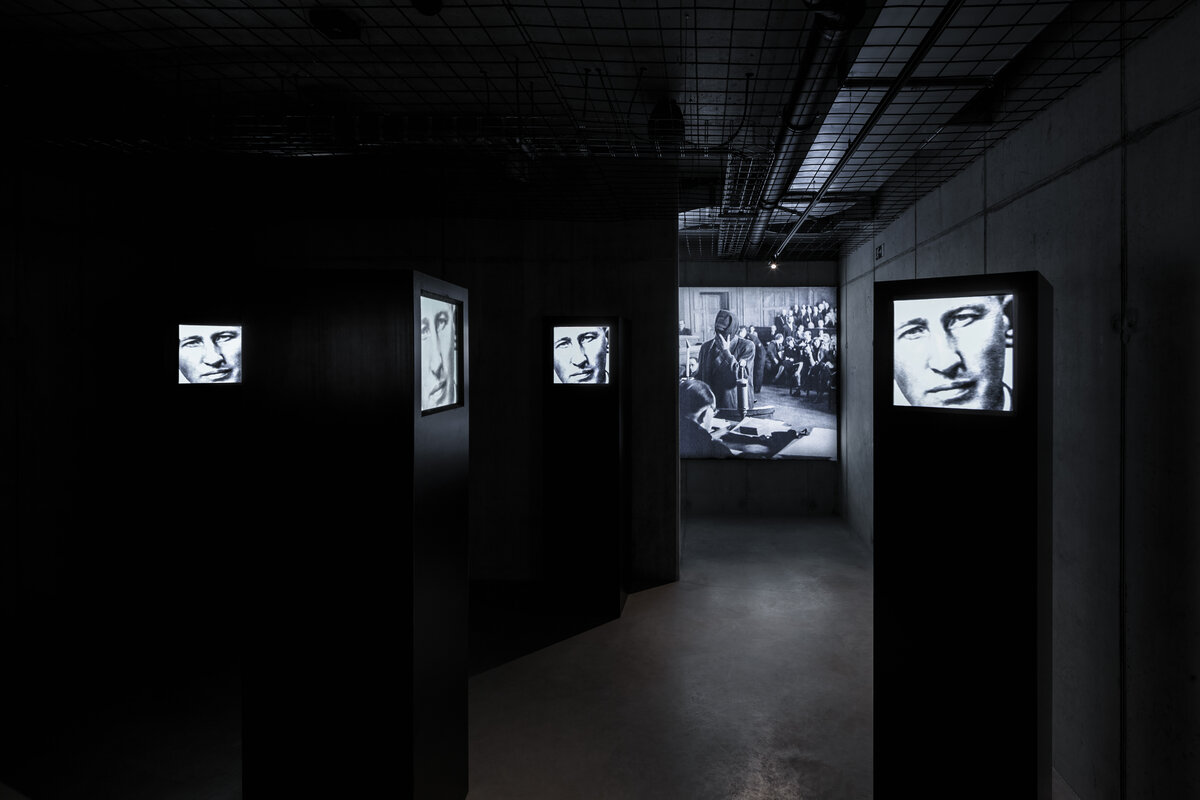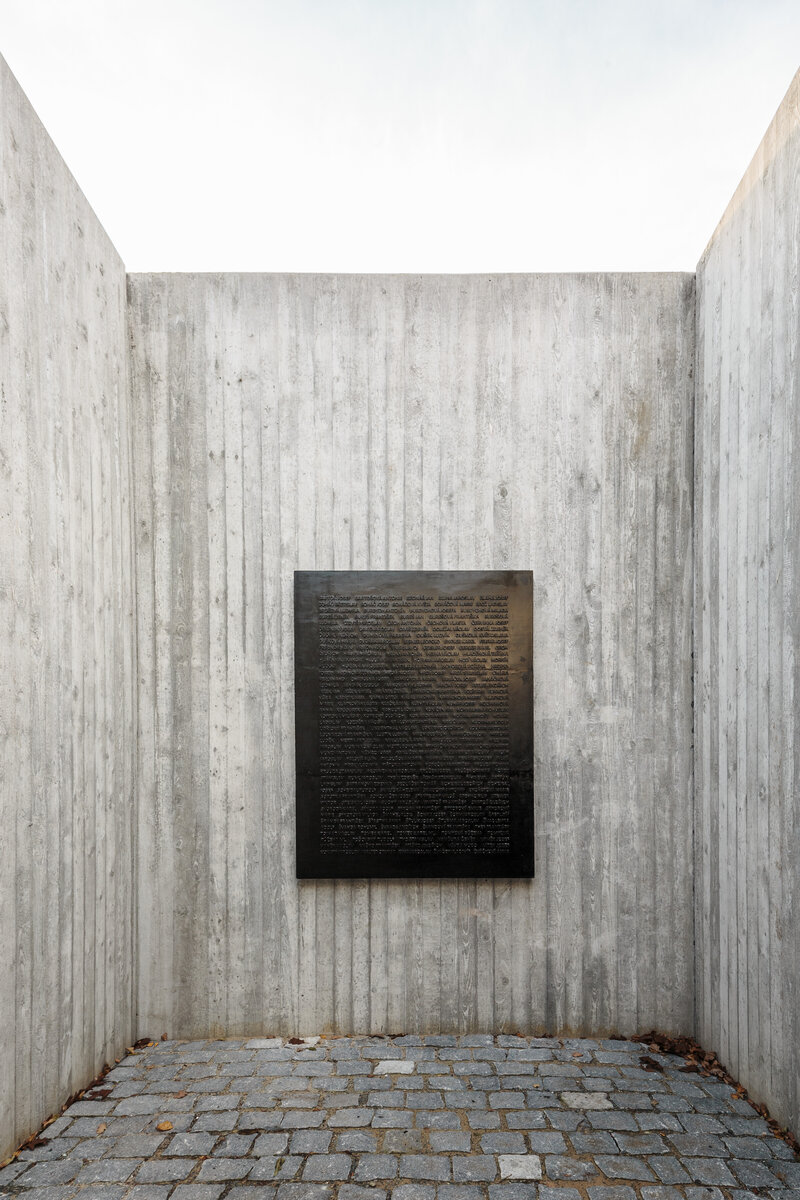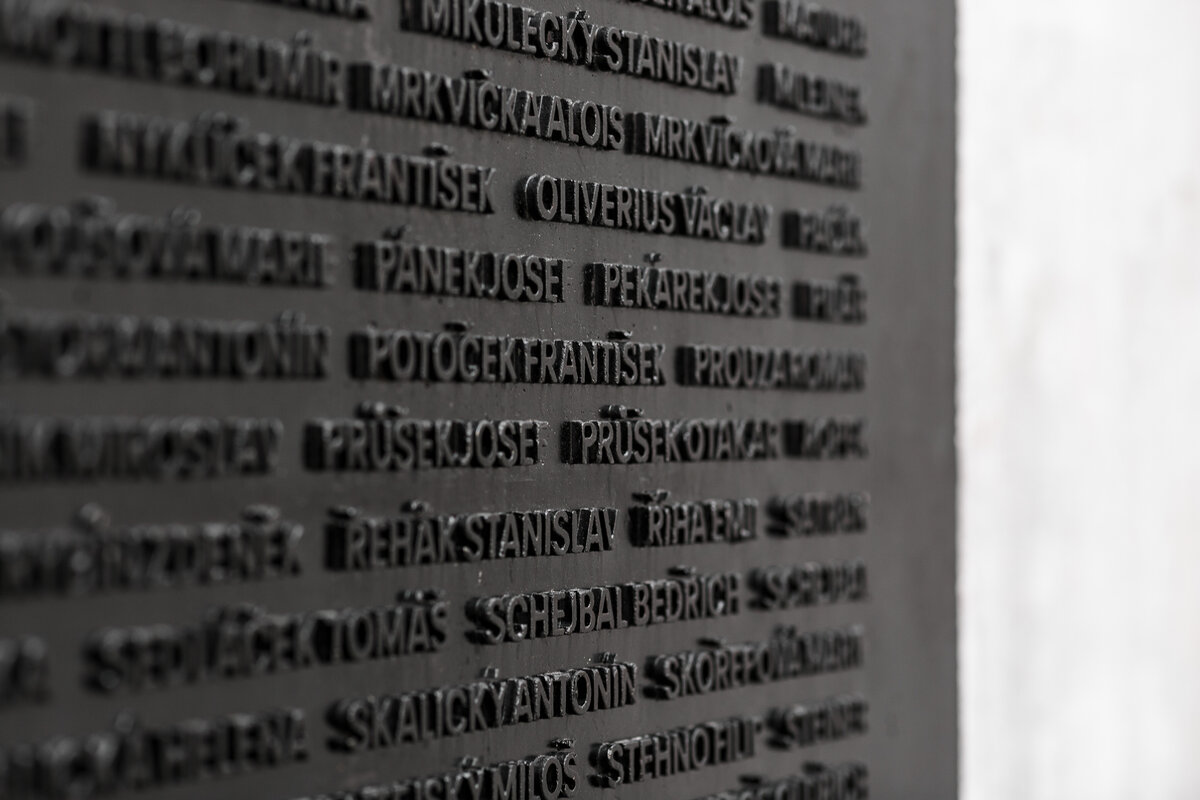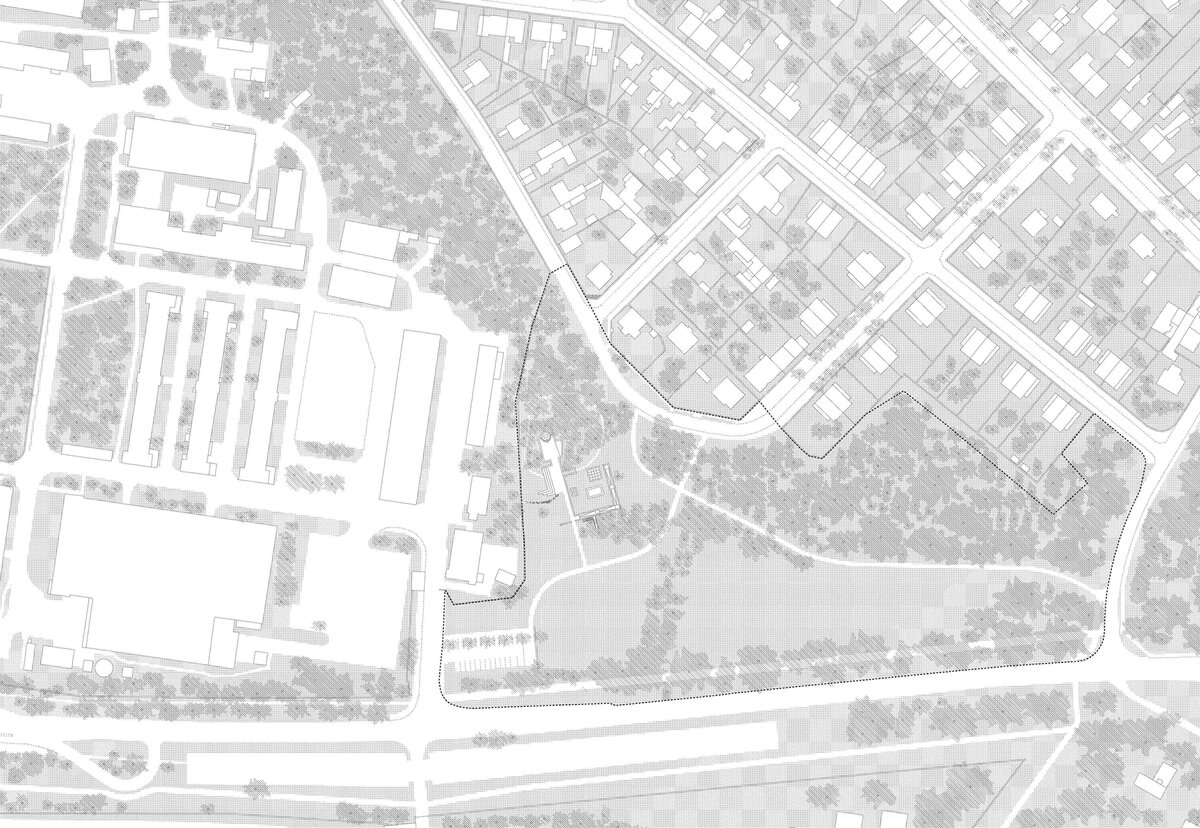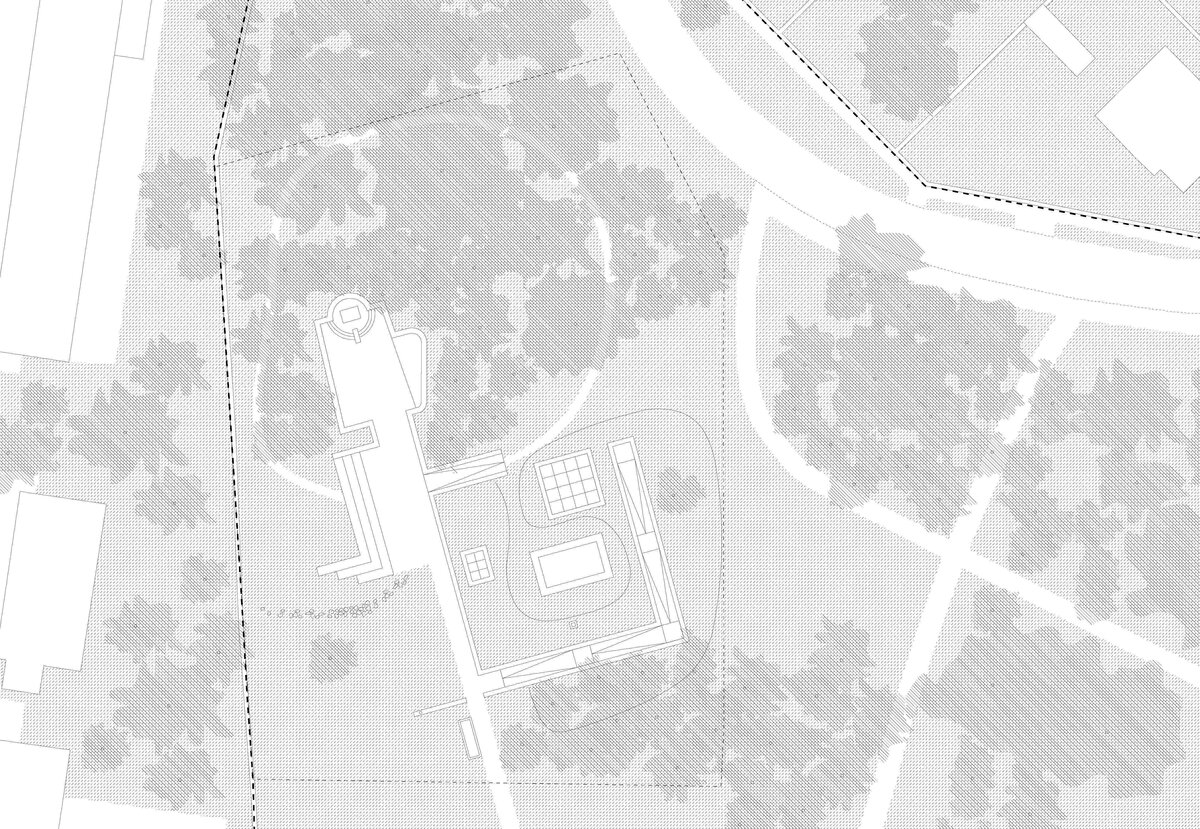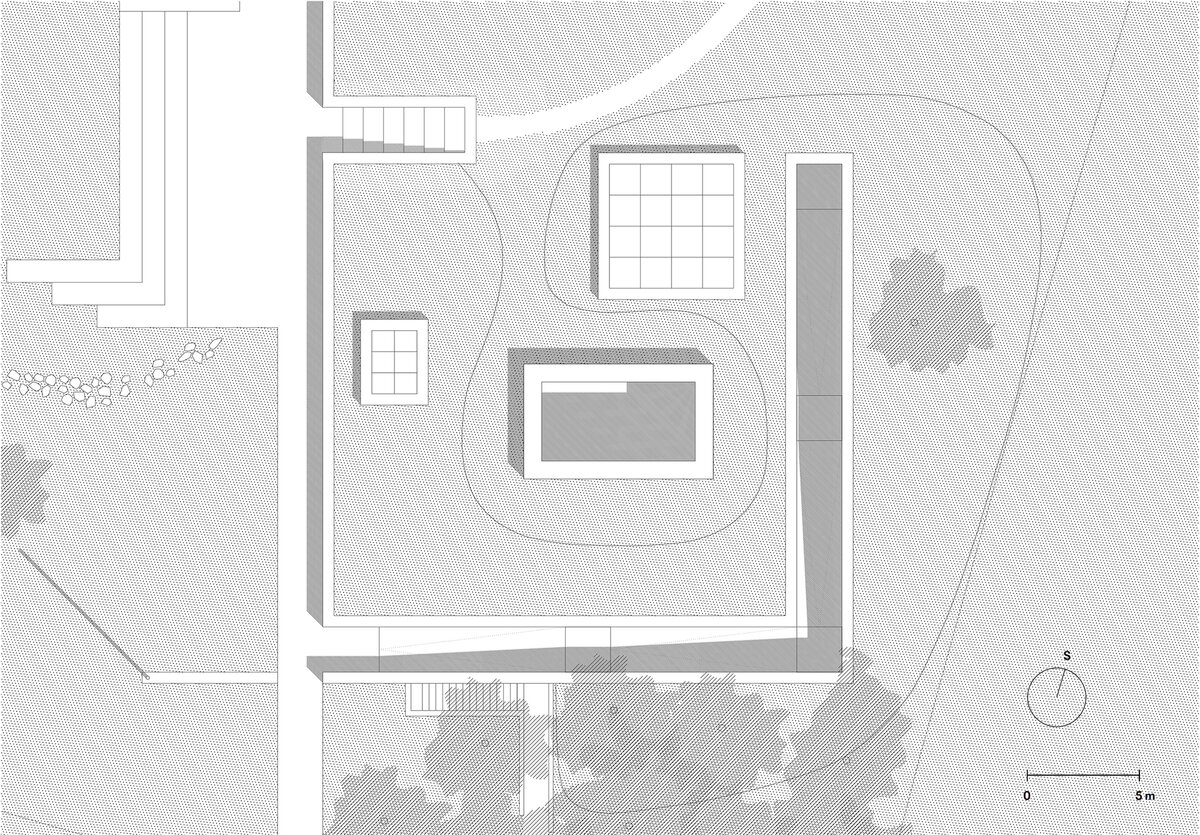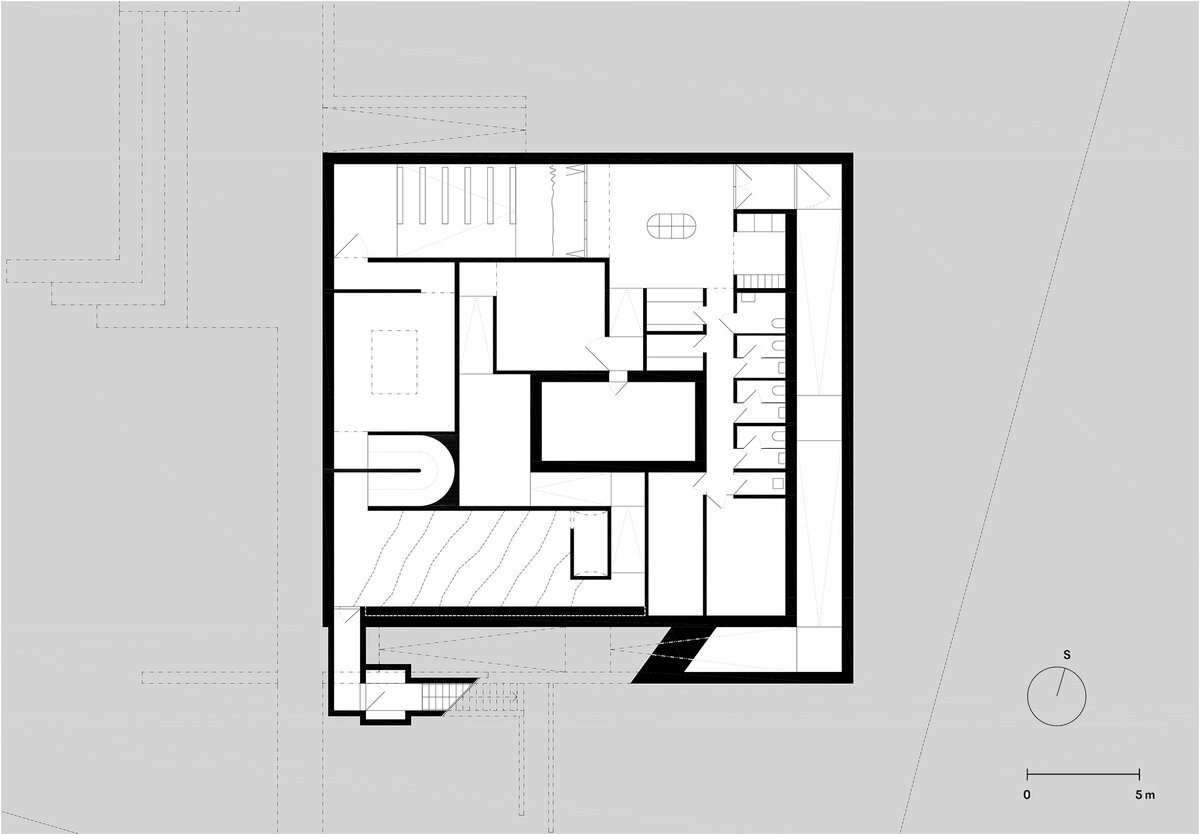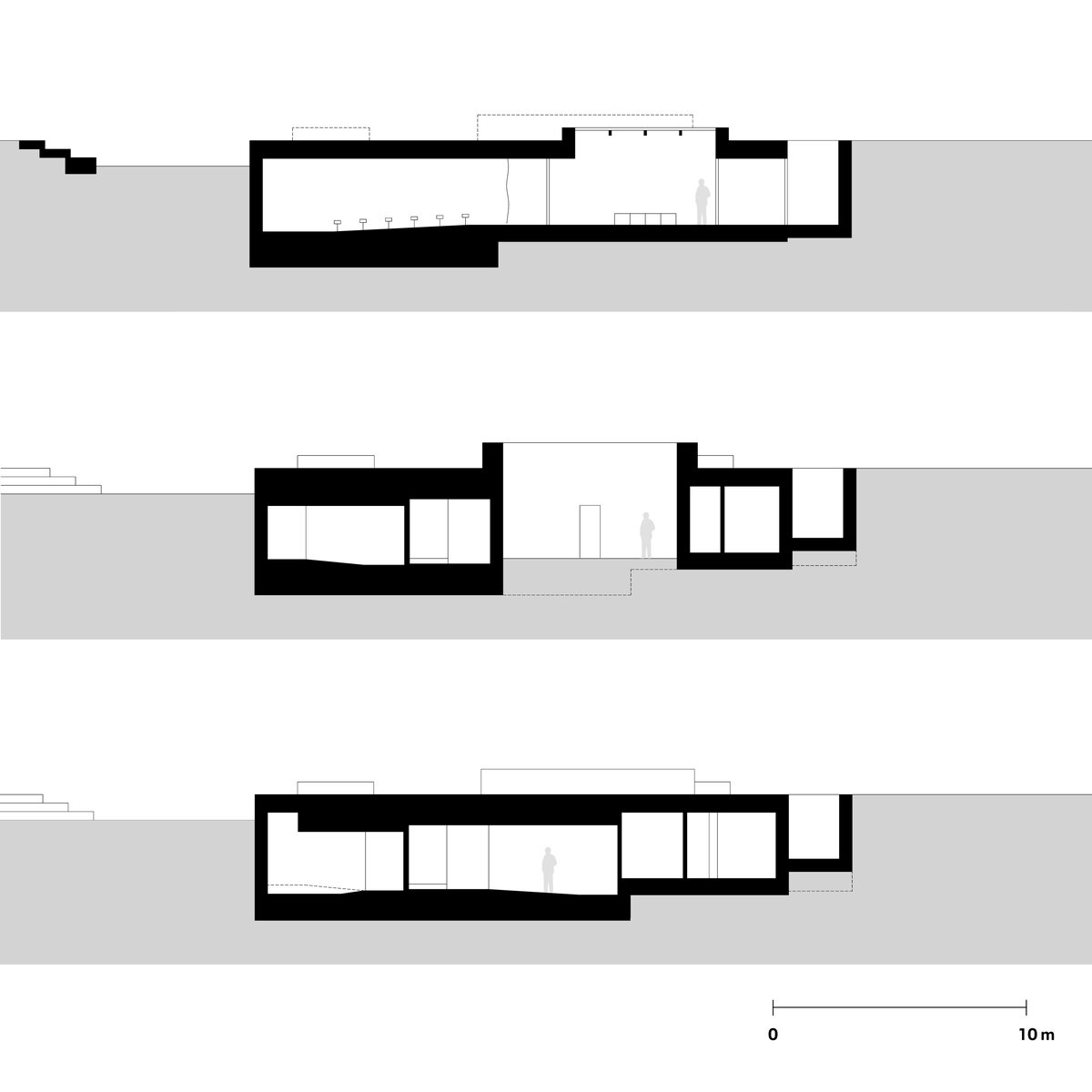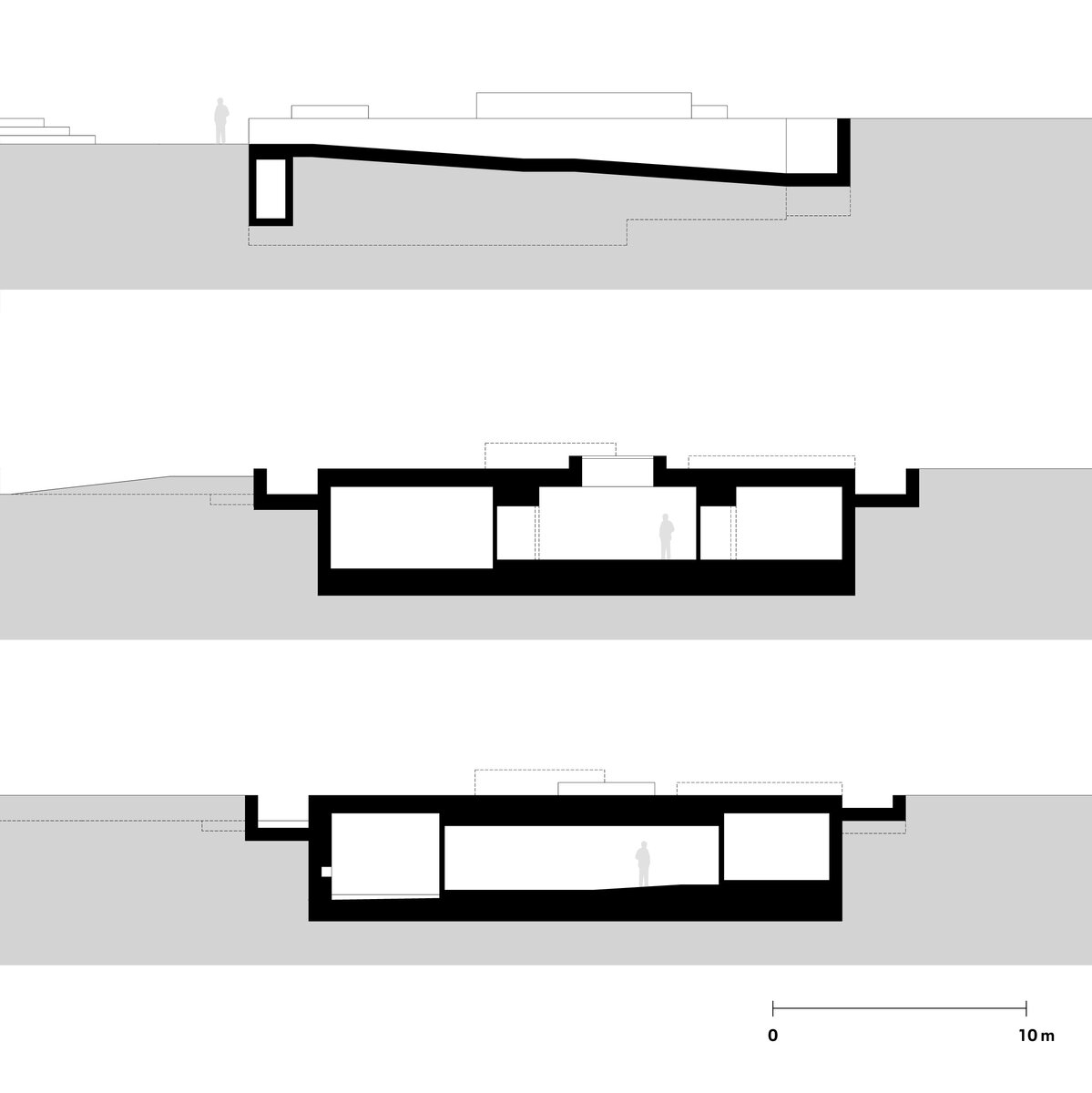 | | |
| --- | --- |
| Author | Vít Podráský, Jan Žalský |
| Studio | |
| Location | Průmyslová 558, 533 01 Pardubice IV |
| Investor | Statutární město Pardubice |
| Supplier | SKOS s.r.o. |
| Date of project approval | September 2021 |
| Fotograf | |
The new museum and associated landscaping of the National Cultural Monument Zámeček - the site of the Nazi execution ground - commemorate the events of the summer of 1942, when 194 people, including the inhabitants of Ležáky settlement, were murdered here during the Heydrichiad.

The reason why the site was created here wasn´t only its position in military area around Larish's villa, where Gestapo set up its local headquarters, or the morphology (sand mound), but also for its remoteness due to the surrounding forests.

However, these specifics were obscured in the post-war era. The site was detached from the villa. The mound had overgrown. The forest was interrupted by 1970´s landscaping. The exposition didn´t match the importance of the site. The context had disappeared. Dignity was lost.

Firstly, the site's fencing was removed. Connection with neighbouring park allowed access by the main axis of area. The mound was remodelled and the forest replanted in places where it had been at the time of the executions.

The 1949 monument then became the start for the new composition. The unifying line, together with it, now integrates both the museum and tribune for commemorative gatherings.

The museum is located in the ground, between the trees. It doesn´t want to compete with the monument. The concrete cast disappears under a green roof transitioning into the surrounding meadow. It becomes a land art rather than a real house.

The individual diverse spaces forms the basis for the exhibition´s thematic units which presents physical exhibits, archival material and audiovisual & multimedia elements.

Exposition libretto: Vojtěch Kyncl, Blanka Zubáková
Graphic design: Jana Jebavá / Studio Datle
Videos: Václav Hron, Viktor Portel, Jan Vidlička
Exposition supplier: PROTVAR, s.r.o.

Photos: Ondřej Bouška
The building is based on a reinforced concrete slab with three levels of elevation, the lowest of which, due to the detected water level, rests on concrete wells.

The façade consists of a sandwich construction (reinforced concrete - thermal insulation - reinforced concrete). Along two sides of the building runs an access ramp with retaining walls that connect to the original monument. The roof is also reinforced concrete, green with a mixture of meadow flowers.

Like the exterior, the interior is made of exposed concrete. The different parts of the exposition, separated by inset corridors with ramps, are emphasized by specific expressive devices such as sturdy steel doors, solid wooden benches, sloping earthen flooring and elements made of steel (vitrines, doors) and waterproof plywood (furniture).

Due to the absence of window openings, the house is ventilated by forced air, only the foyer is ventilated by a large skylight. Due to the character of the physical exhibits, which require constant climatic conditions, the house is equipped with a separate air circuit with the necessary temperature and humidity parameters.

The building is heated by a ground-water heat pump (boreholes) with underfloor distribution. In terms of fire safety, the house has two escape routes - an access ramp and an escape staircase located in the opposite corner, which is designed in the form of an underground tunnel under the access ramp.

The audio-visual and multimedia elements, together with the exhibition lighting and other separate circuits, are controlled via a user interface allowing fully automatic or individual settings.
Green building
Environmental certification
| | |
| --- | --- |
| Type and level of certificate | - |
Water management
| | |
| --- | --- |
| Is rainwater used for irrigation? | |
| Is rainwater used for other purposes, e.g. toilet flushing ? | |
| Does the building have a green roof / facade ? | |
| Is reclaimed waste water used, e.g. from showers and sinks ? | |
The quality of the indoor environment
| | |
| --- | --- |
| Is clean air supply automated ? | |
| Is comfortable temperature during summer and winter automated? | |
| Is natural lighting guaranteed in all living areas? | |
| Is artificial lighting automated? | |
| Is acoustic comfort, specifically reverberation time, guaranteed? | |
| Does the layout solution include zoning and ergonomics elements? | |
Principles of circular economics
| | |
| --- | --- |
| Does the project use recycled materials? | |
| Does the project use recyclable materials? | |
| Are materials with a documented Environmental Product Declaration (EPD) promoted in the project? | |
| Are other sustainability certifications used for materials and elements? | |
Energy efficiency
| | |
| --- | --- |
| Energy performance class of the building according to the Energy Performance Certificate of the building | B |
| Is efficient energy management (measurement and regular analysis of consumption data) considered? | |
| Are renewable sources of energy used, e.g. solar system, photovoltaics? | |
Interconnection with surroundings
| | |
| --- | --- |
| Does the project enable the easy use of public transport? | |
| Does the project support the use of alternative modes of transport, e.g cycling, walking etc. ? | |
| Is there access to recreational natural areas, e.g. parks, in the immediate vicinity of the building? | |