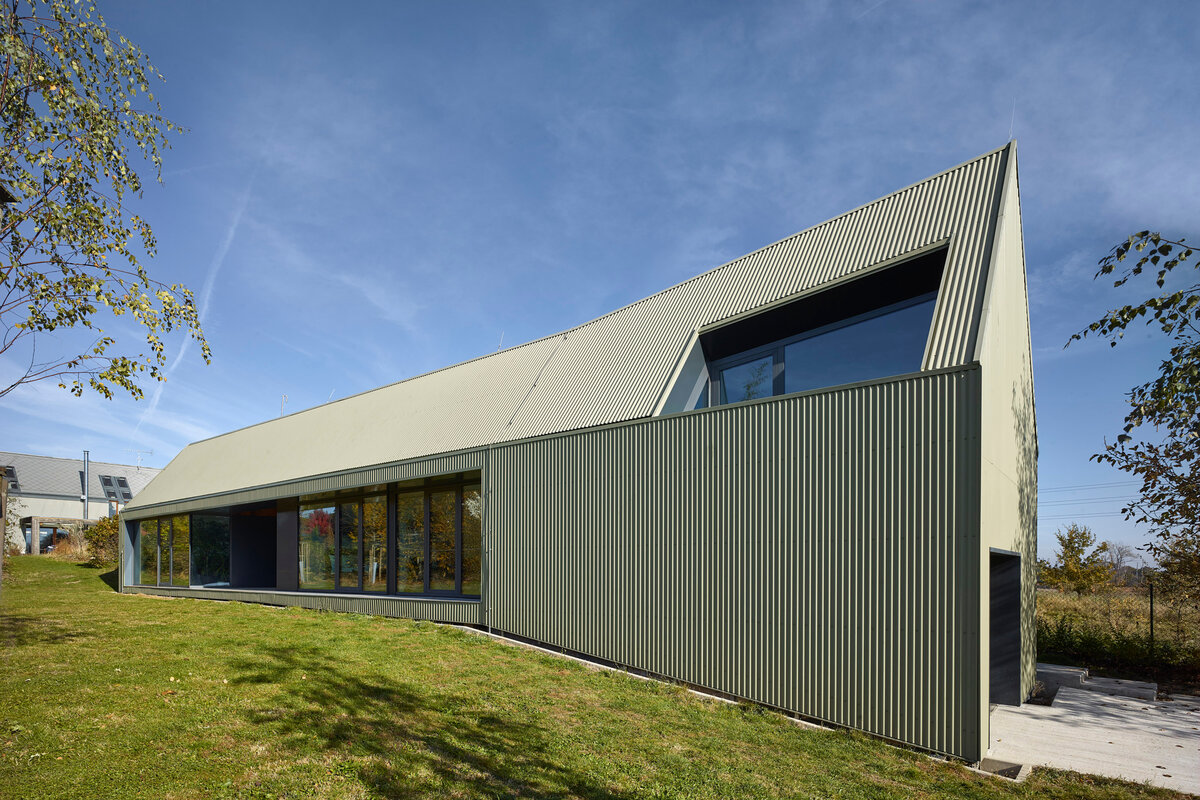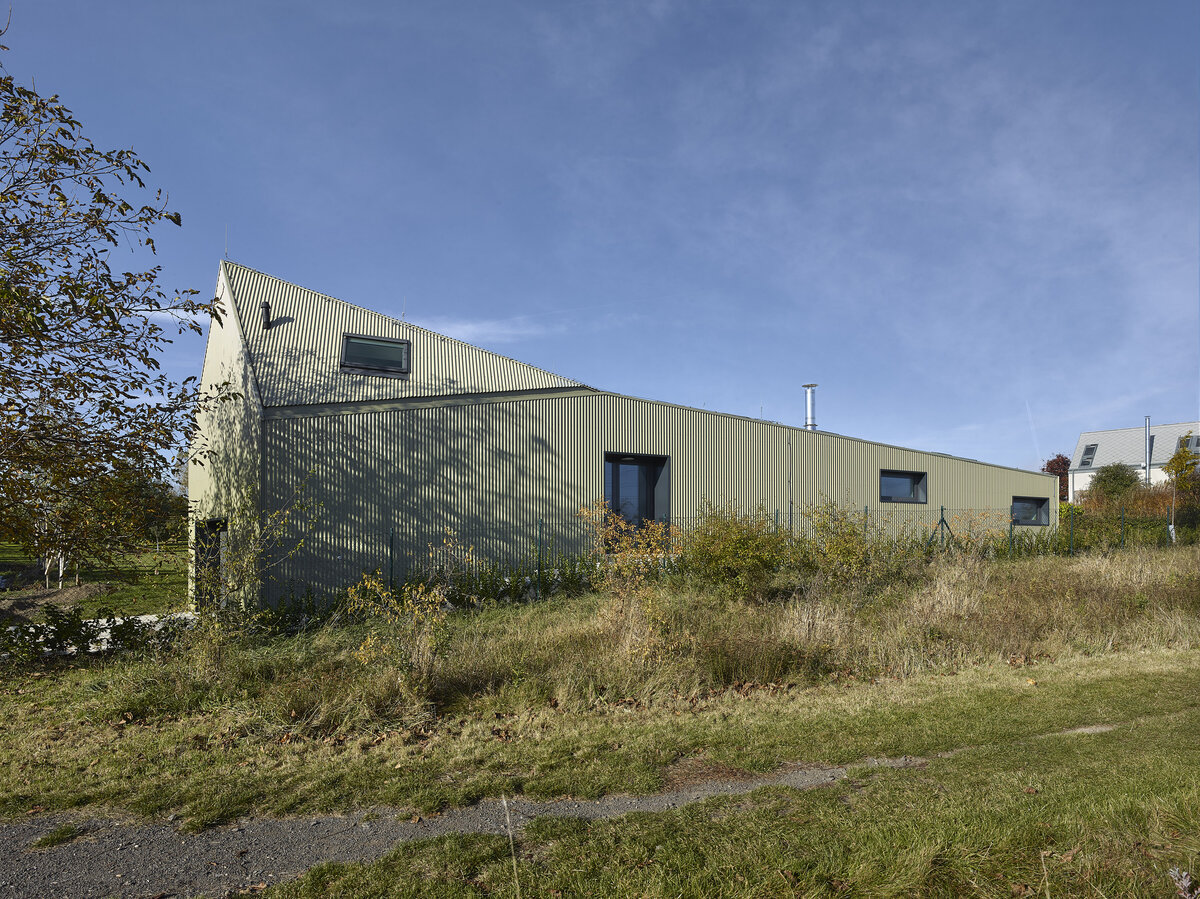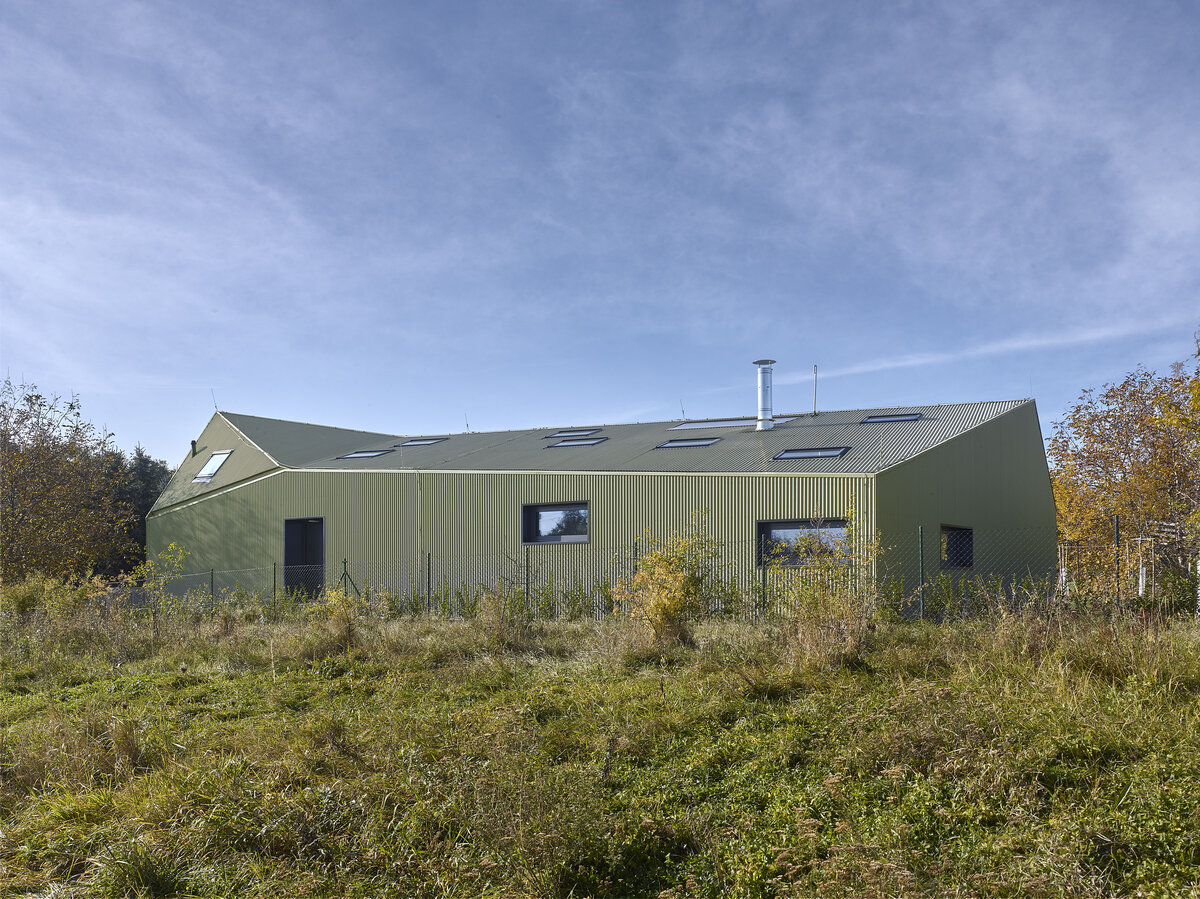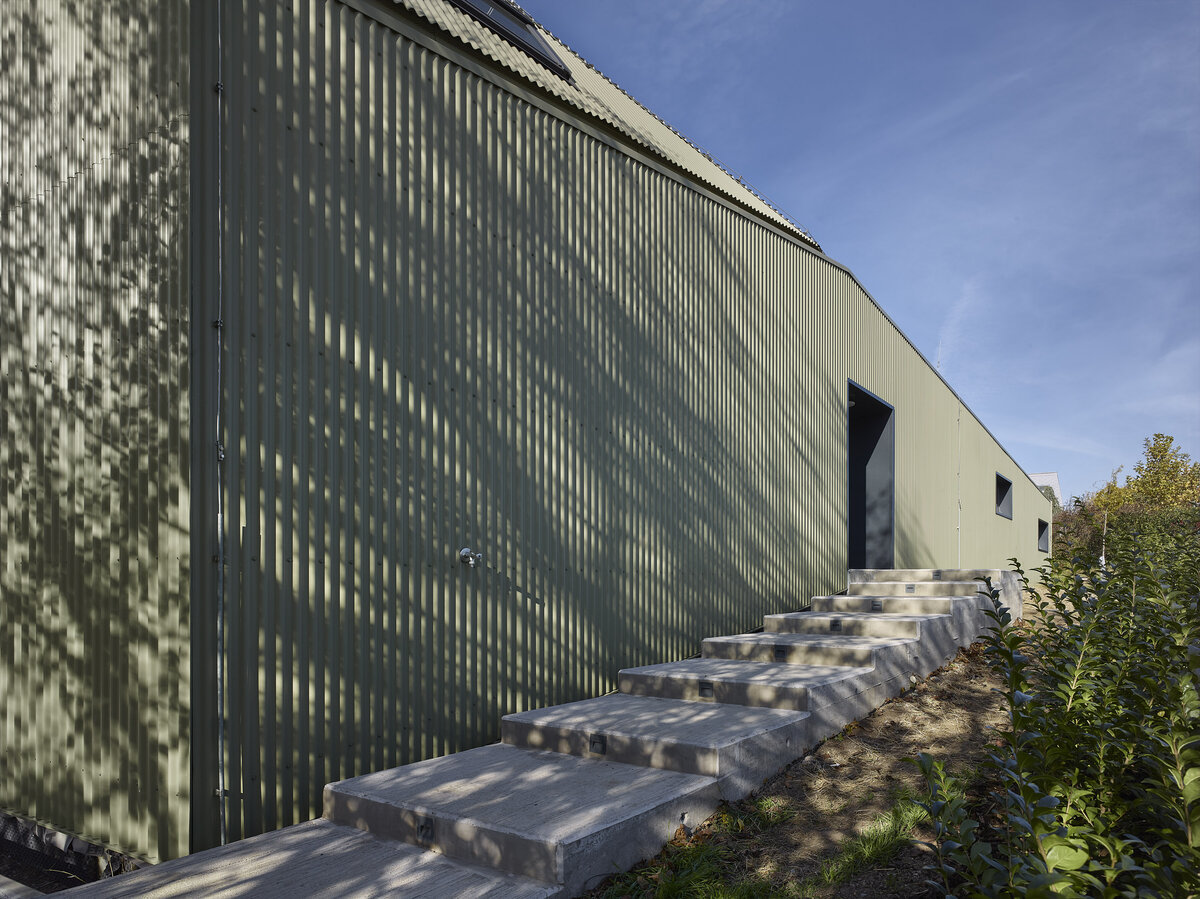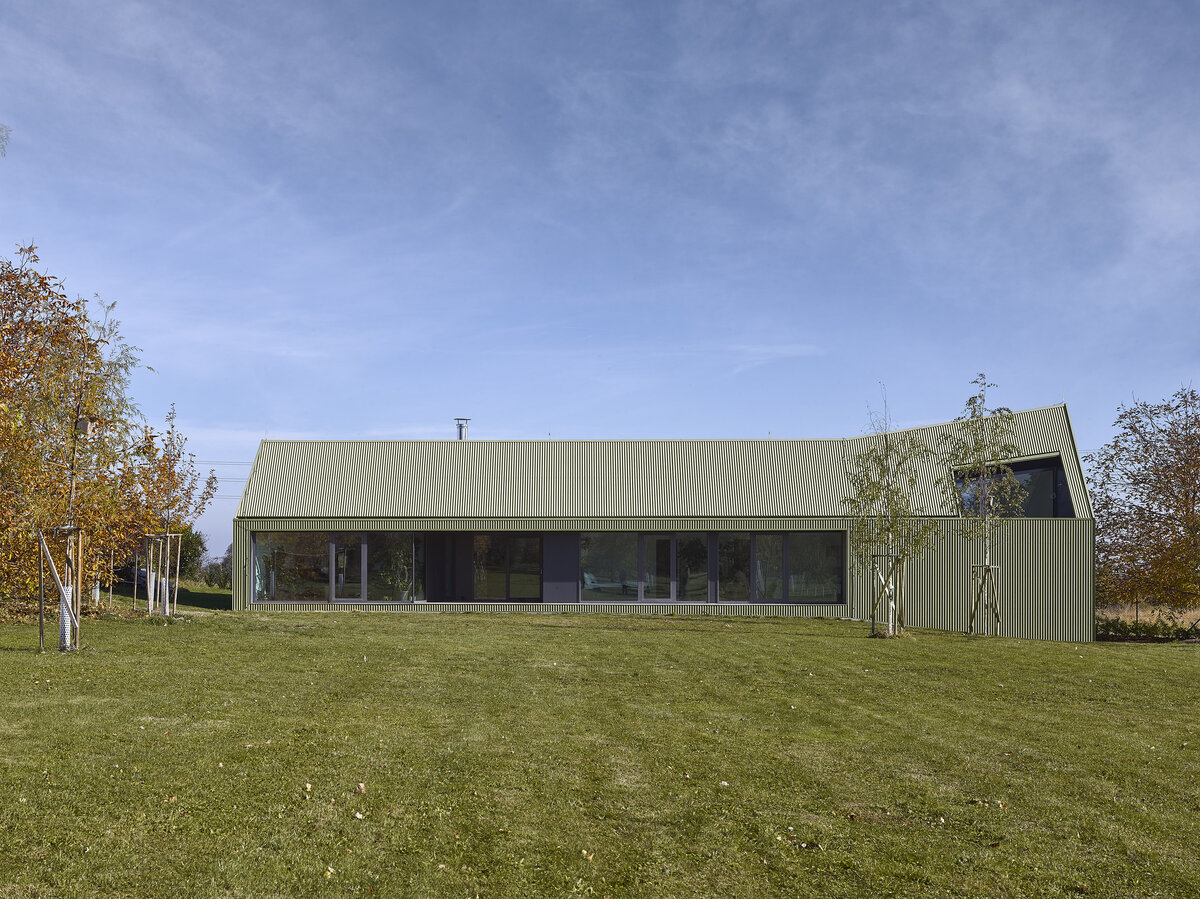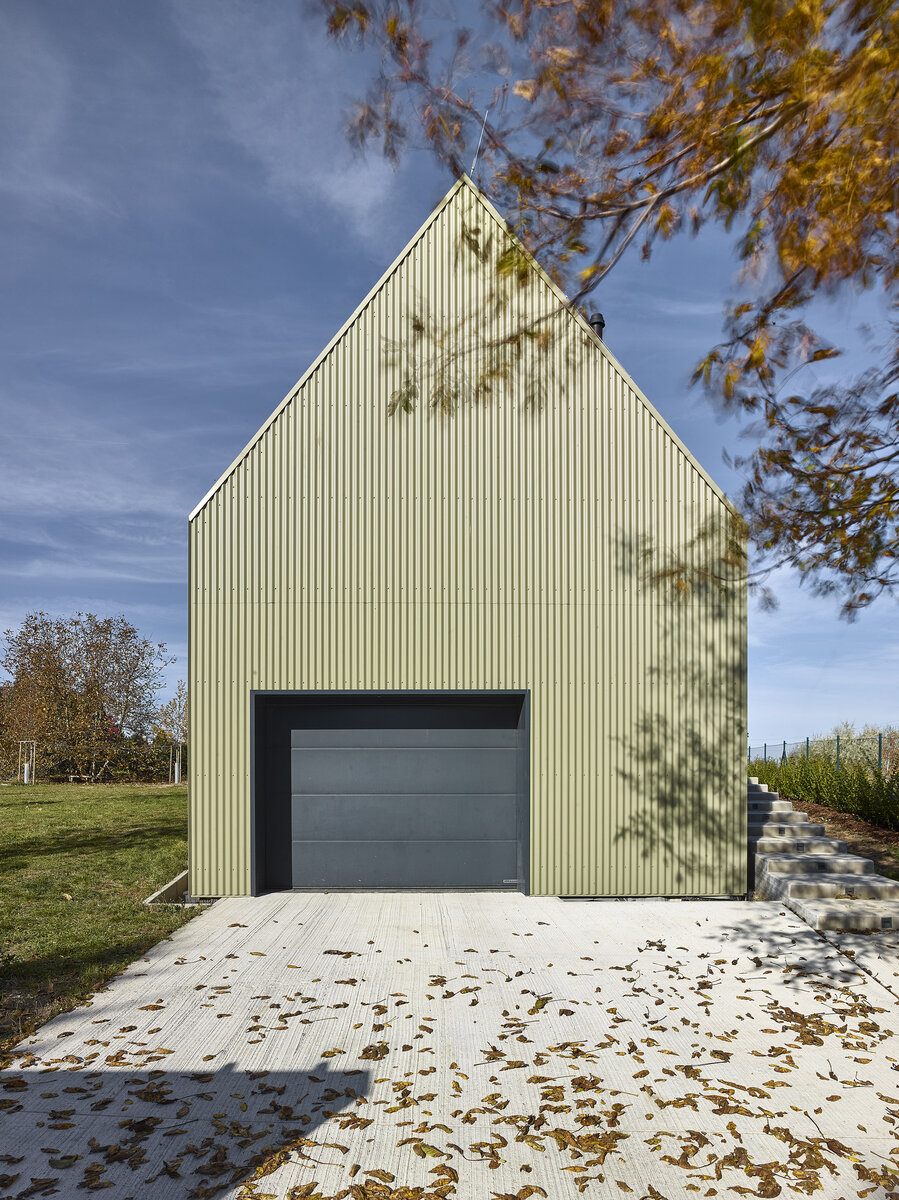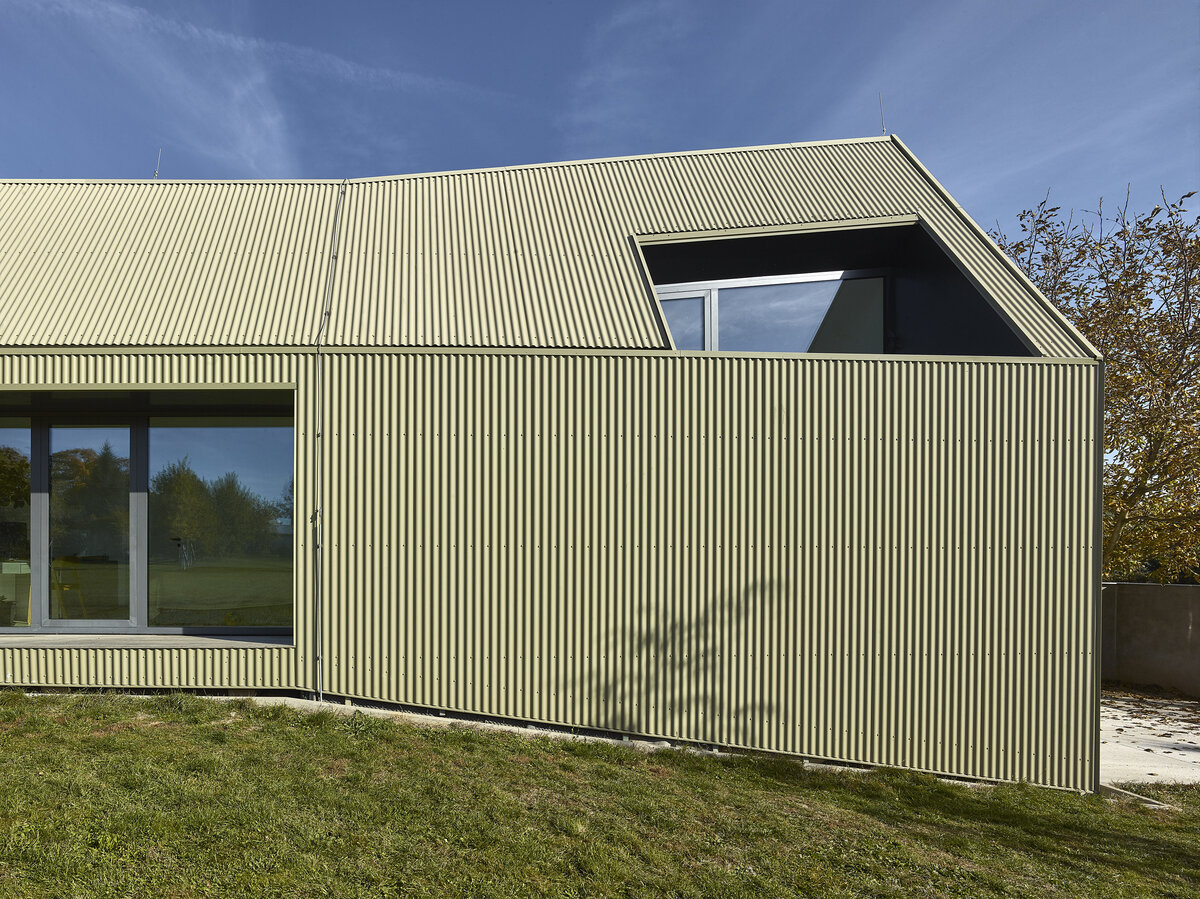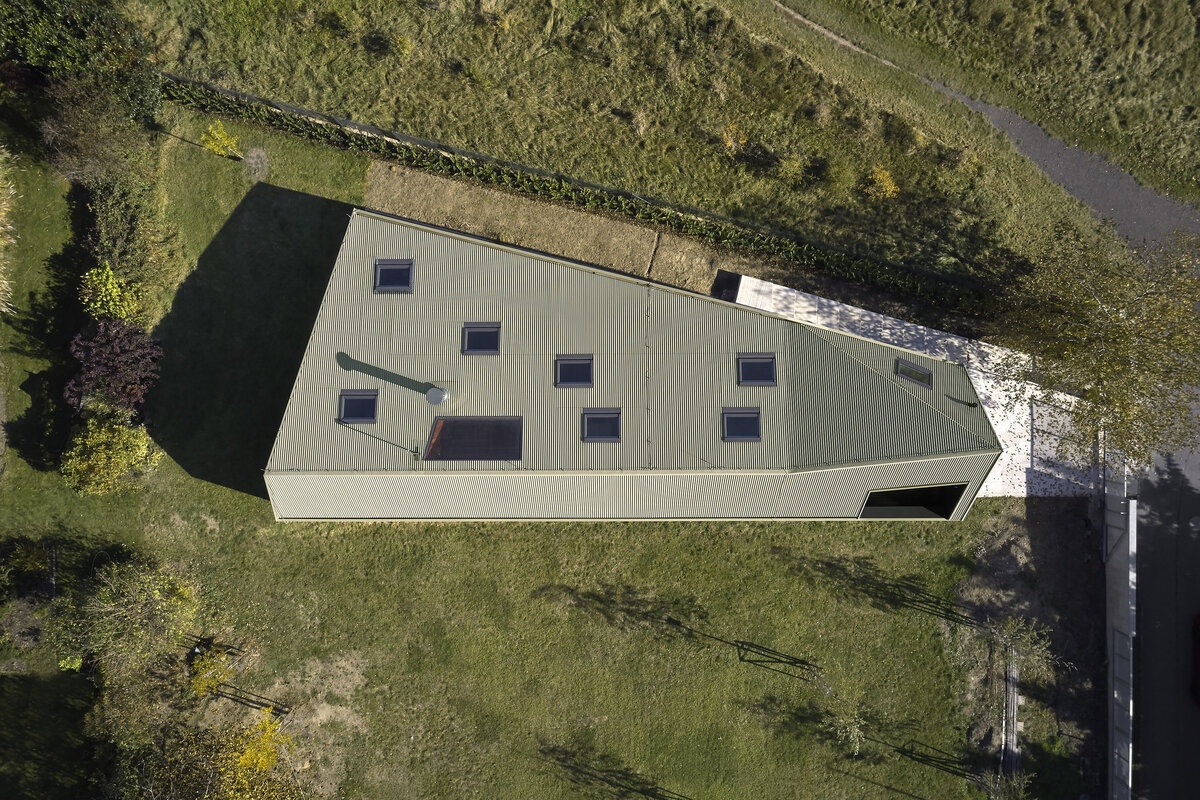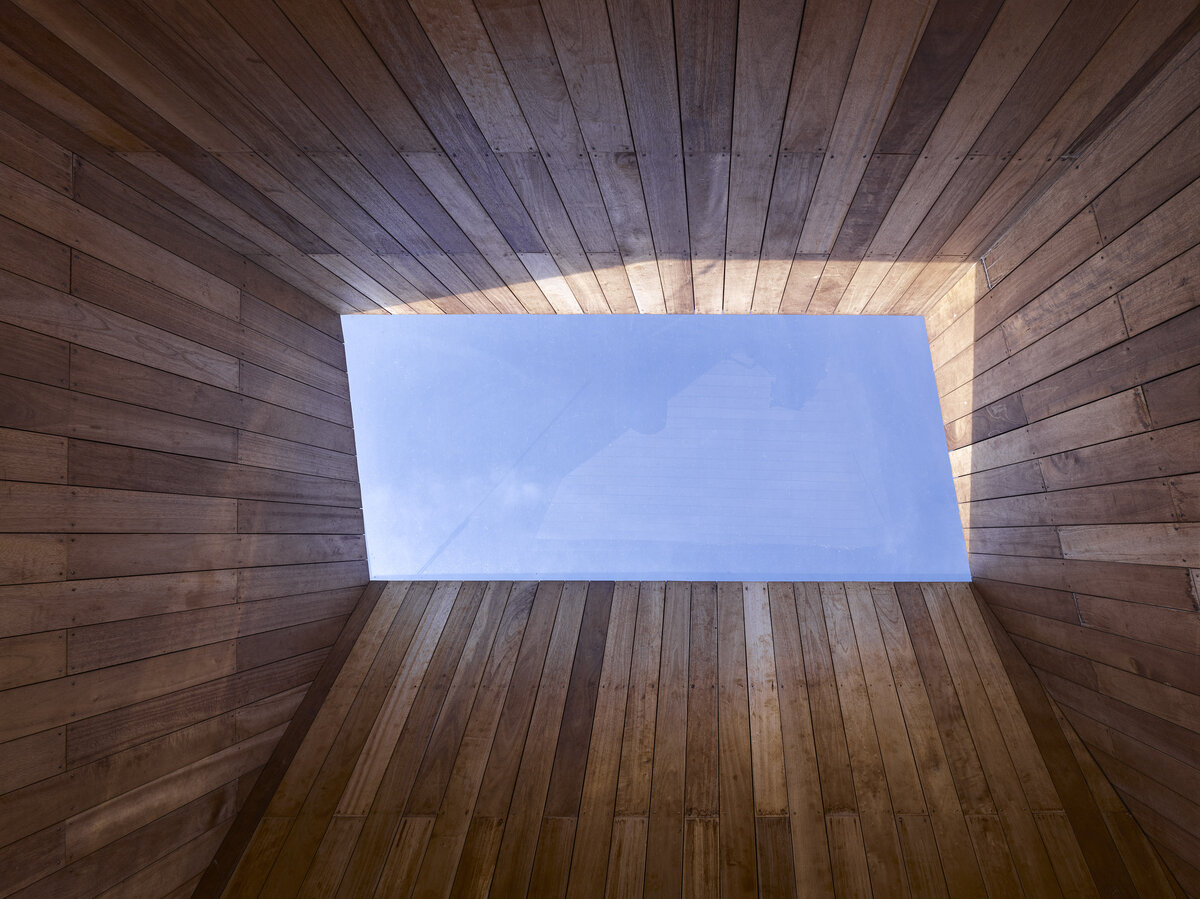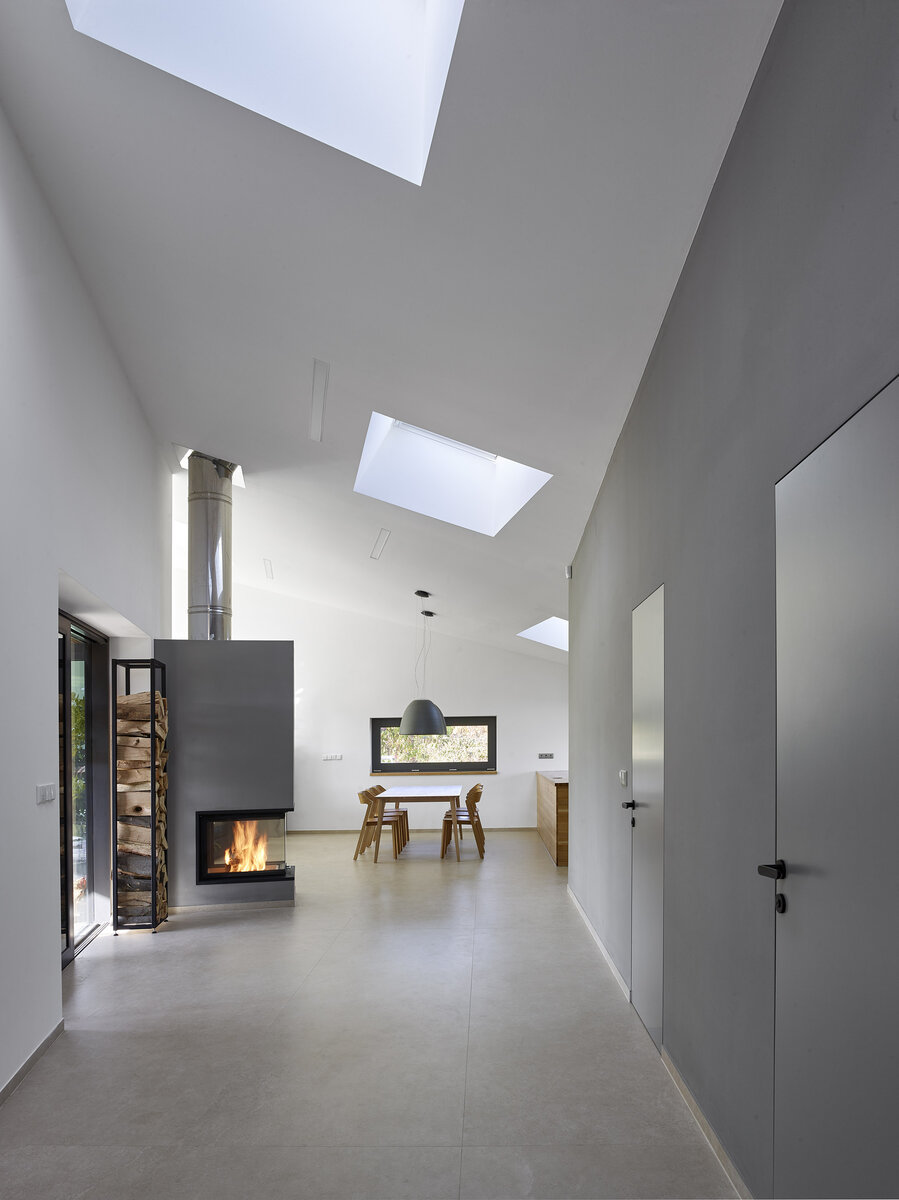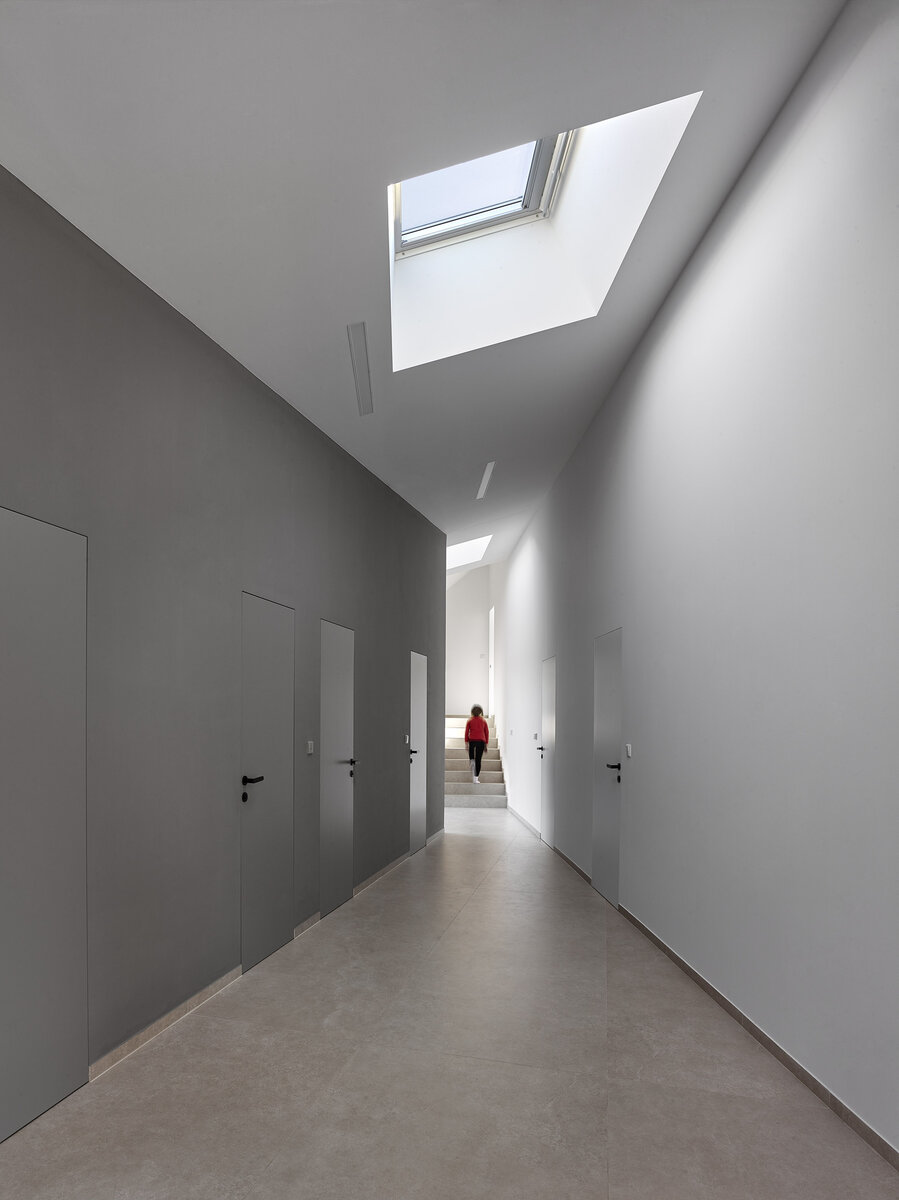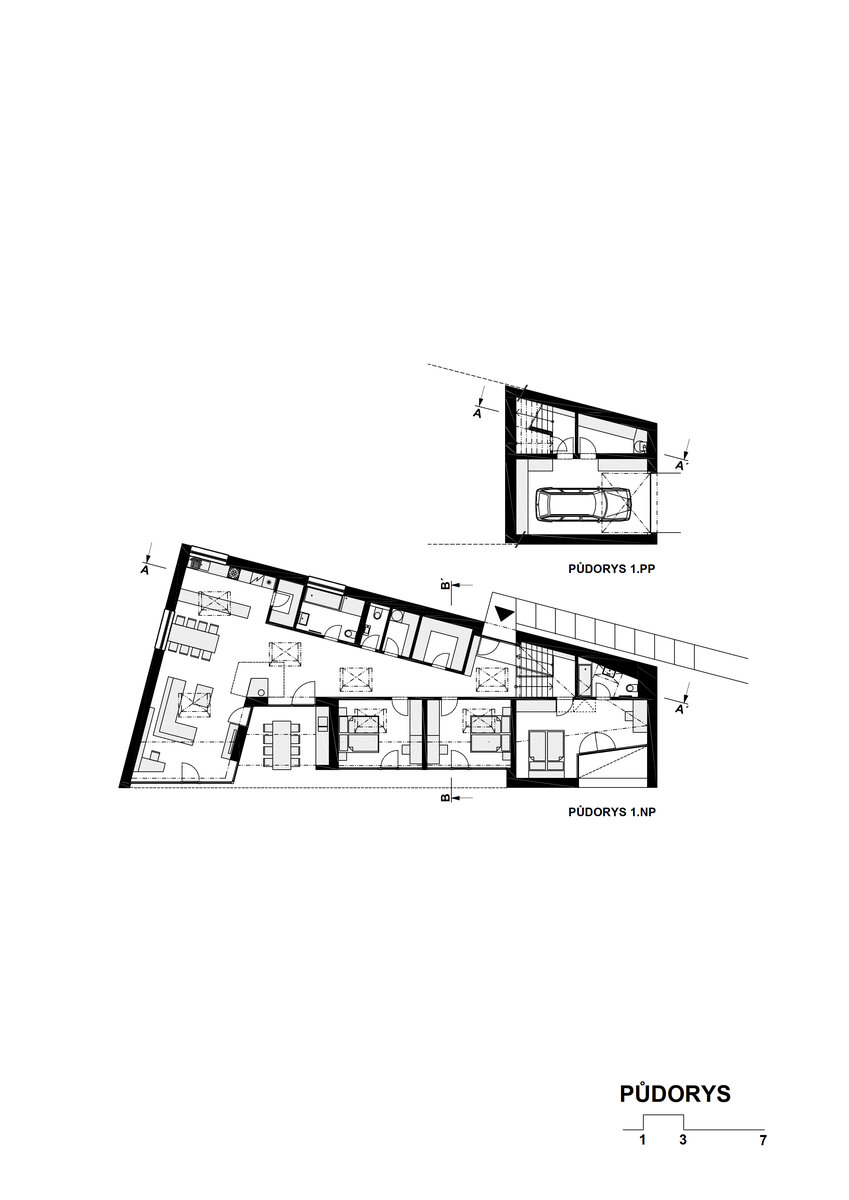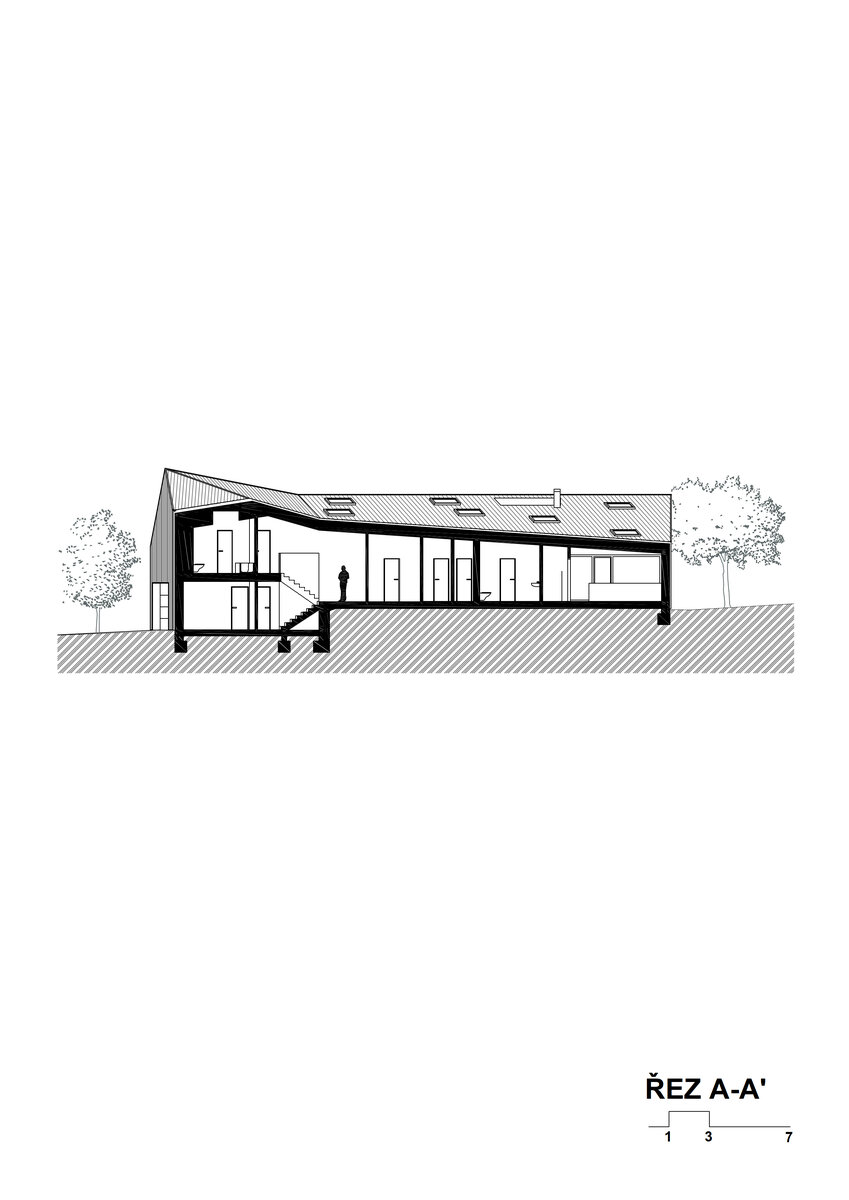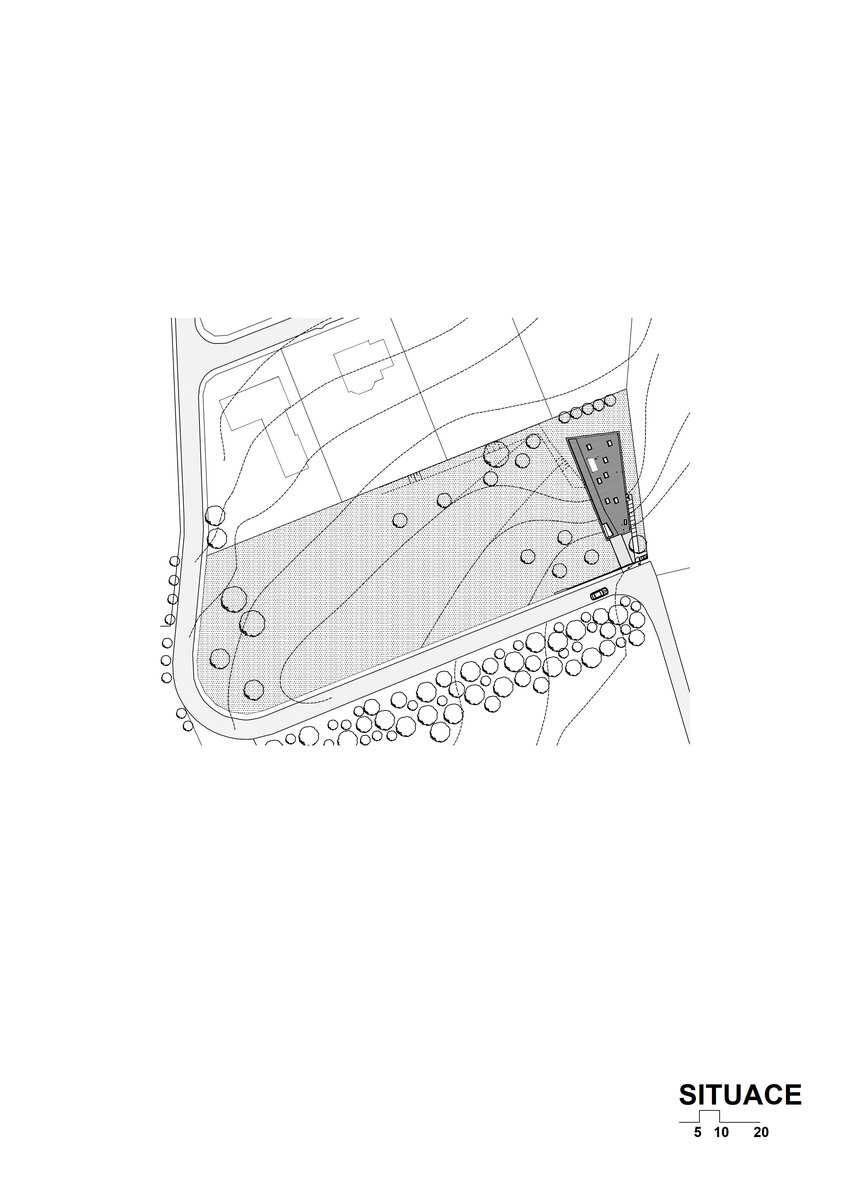 | | |
| --- | --- |
| Author | Ing. arch. Pavel Marek, Ing. arch. Zdeněk Rychtařík, Ing. arch. Kristina Sudreová / 20-20-ARCHITEKTI, VYŠEHRAD atelier |
| Studio | |
| Location | K Potoku, Zeleneč, 250 91 |
| Investor | Soukromý investor |
| Supplier | neuvedeno |
| Date of project approval | October 2021 |
| Fotograf | |
The house on a polygonal floor plan with an asymmetrical gabled roof is shaped in response to the of slope of the land. The house is wide and low in the upper northern part and it narrows and increases to the south. It graduates to the elevated shield. In order to make the shape and the concept maximum legible, the house is threated by a monomaterial – it is covered with corrugated metal. Only several generous openings are cut into it towars the west and south where the house also opens with a view. Small longitudinal windows to the secondary rooms are seemingly randomly thrown around on the opposite sites. Roof windows illuminating the deep layout are located in the same principle on the east side of the roof. The house is dispositionally divided into two parts, a front two-storey part and a rear single-storey part which are offset from each other by half a storey. The building is entered from the east at the staircase. There are a garage and technical facilities in the lower level of the front part. A guest room with a private bathroom are on the first floor. A generous living space with two bedrooms and background are located in the back part. A covered terrace with an outdoor kitchen and a glass roof are wedged in the middle of the living rooms.
Vertical structures are made of brick blocks with contact insulation of mineral wool. The roof is a combination of steel and wooden structure. The whole house is clad in corrugated iron with a ventilated gap including
roof.
Green building
Environmental certification
| | |
| --- | --- |
| Type and level of certificate | - |
Water management
| | |
| --- | --- |
| Is rainwater used for irrigation? | |
| Is rainwater used for other purposes, e.g. toilet flushing ? | |
| Does the building have a green roof / facade ? | |
| Is reclaimed waste water used, e.g. from showers and sinks ? | |
The quality of the indoor environment
| | |
| --- | --- |
| Is clean air supply automated ? | |
| Is comfortable temperature during summer and winter automated? | |
| Is natural lighting guaranteed in all living areas? | |
| Is artificial lighting automated? | |
| Is acoustic comfort, specifically reverberation time, guaranteed? | |
| Does the layout solution include zoning and ergonomics elements? | |
Principles of circular economics
| | |
| --- | --- |
| Does the project use recycled materials? | |
| Does the project use recyclable materials? | |
| Are materials with a documented Environmental Product Declaration (EPD) promoted in the project? | |
| Are other sustainability certifications used for materials and elements? | |
Energy efficiency
| | |
| --- | --- |
| Energy performance class of the building according to the Energy Performance Certificate of the building | B |
| Is efficient energy management (measurement and regular analysis of consumption data) considered? | |
| Are renewable sources of energy used, e.g. solar system, photovoltaics? | |
Interconnection with surroundings
| | |
| --- | --- |
| Does the project enable the easy use of public transport? | |
| Does the project support the use of alternative modes of transport, e.g cycling, walking etc. ? | |
| Is there access to recreational natural areas, e.g. parks, in the immediate vicinity of the building? | |