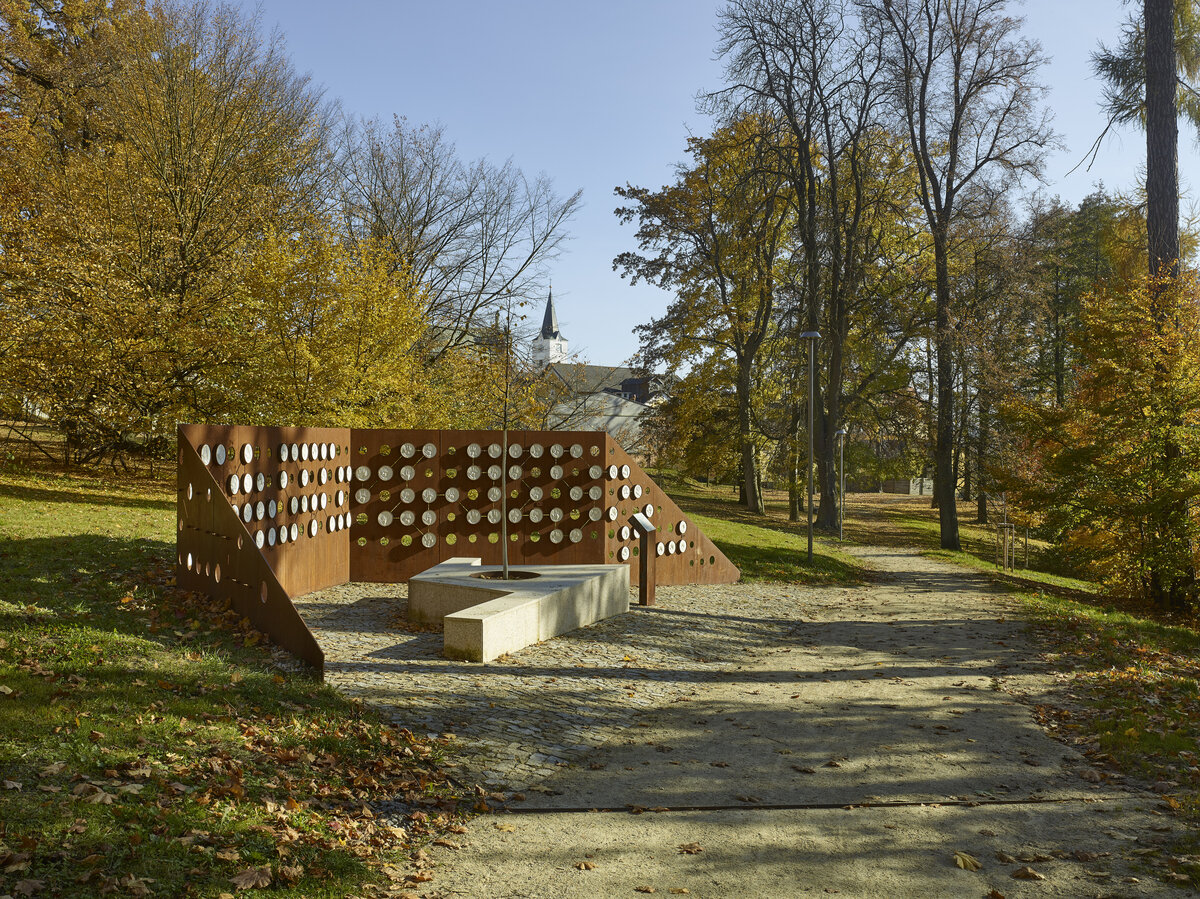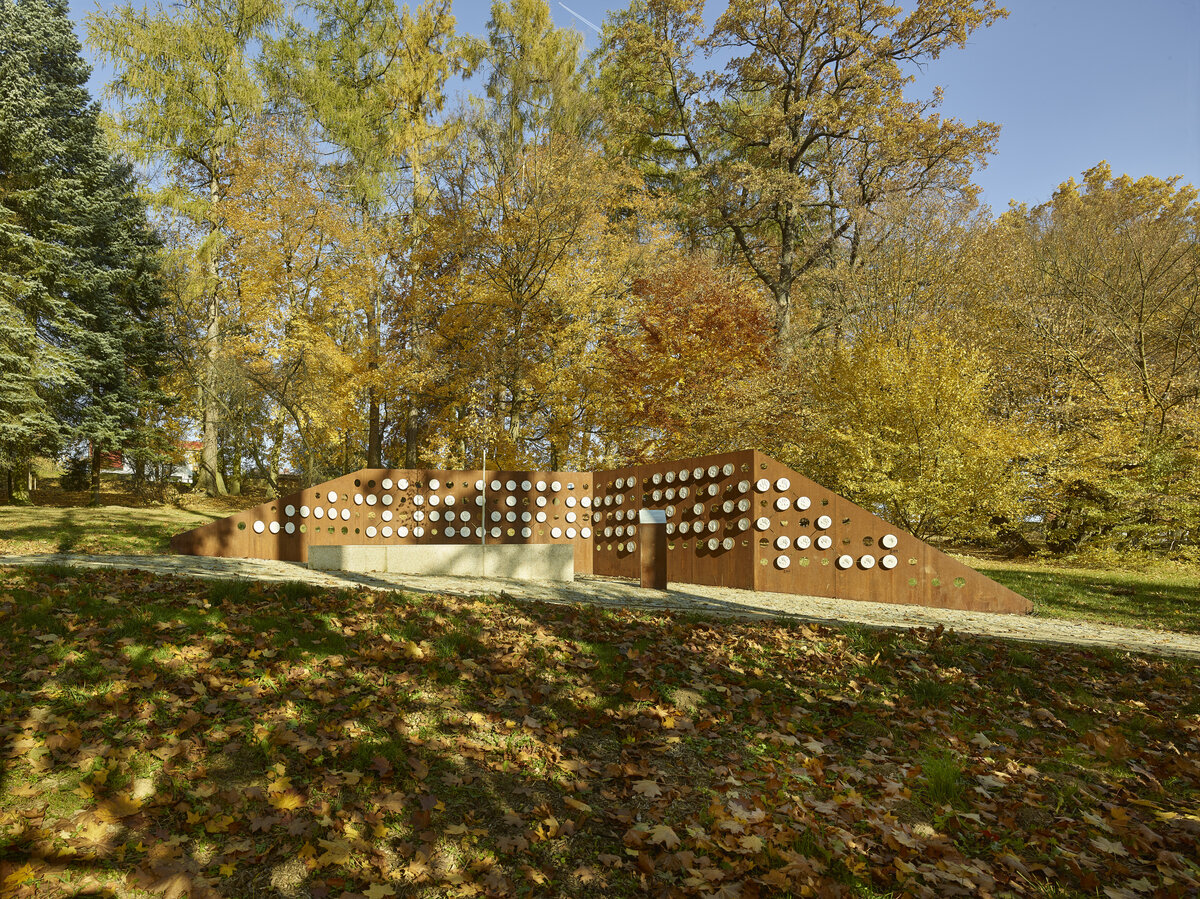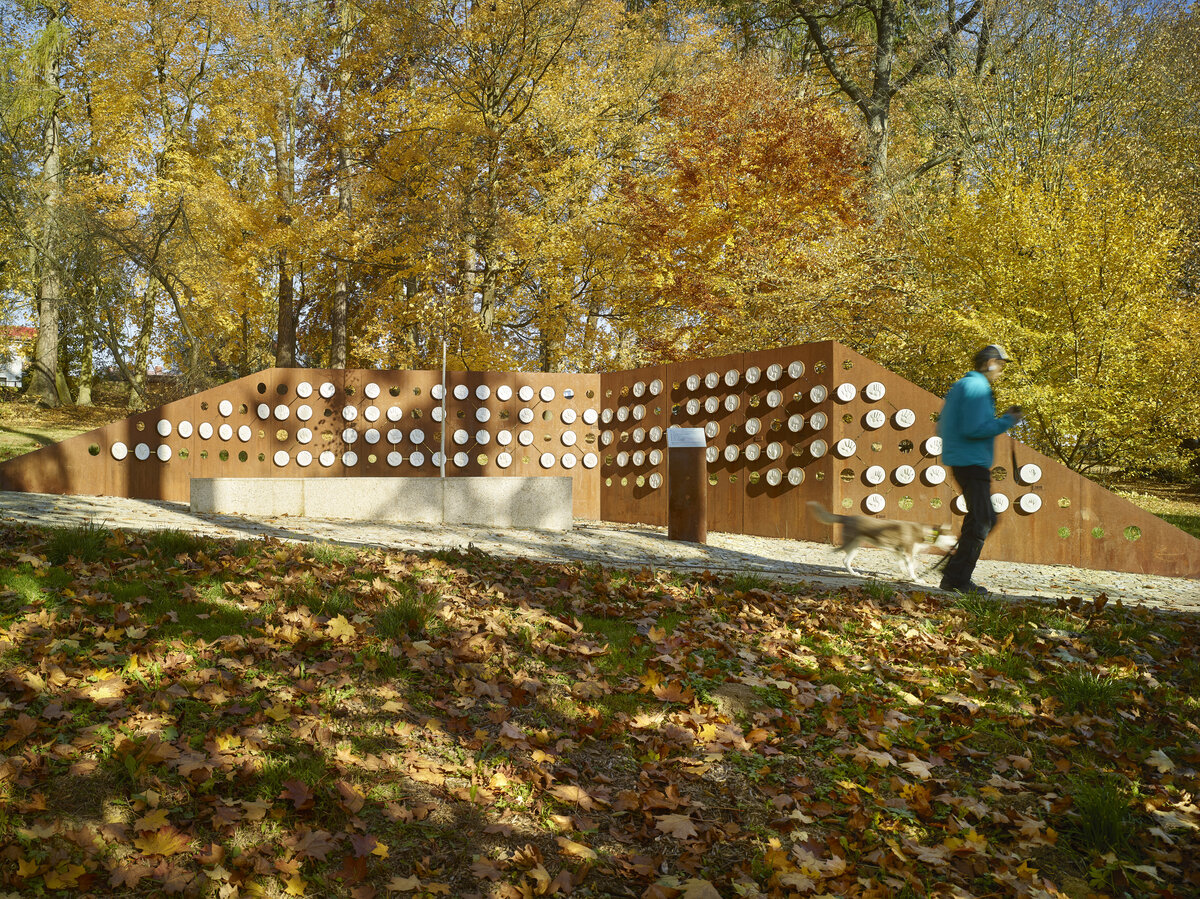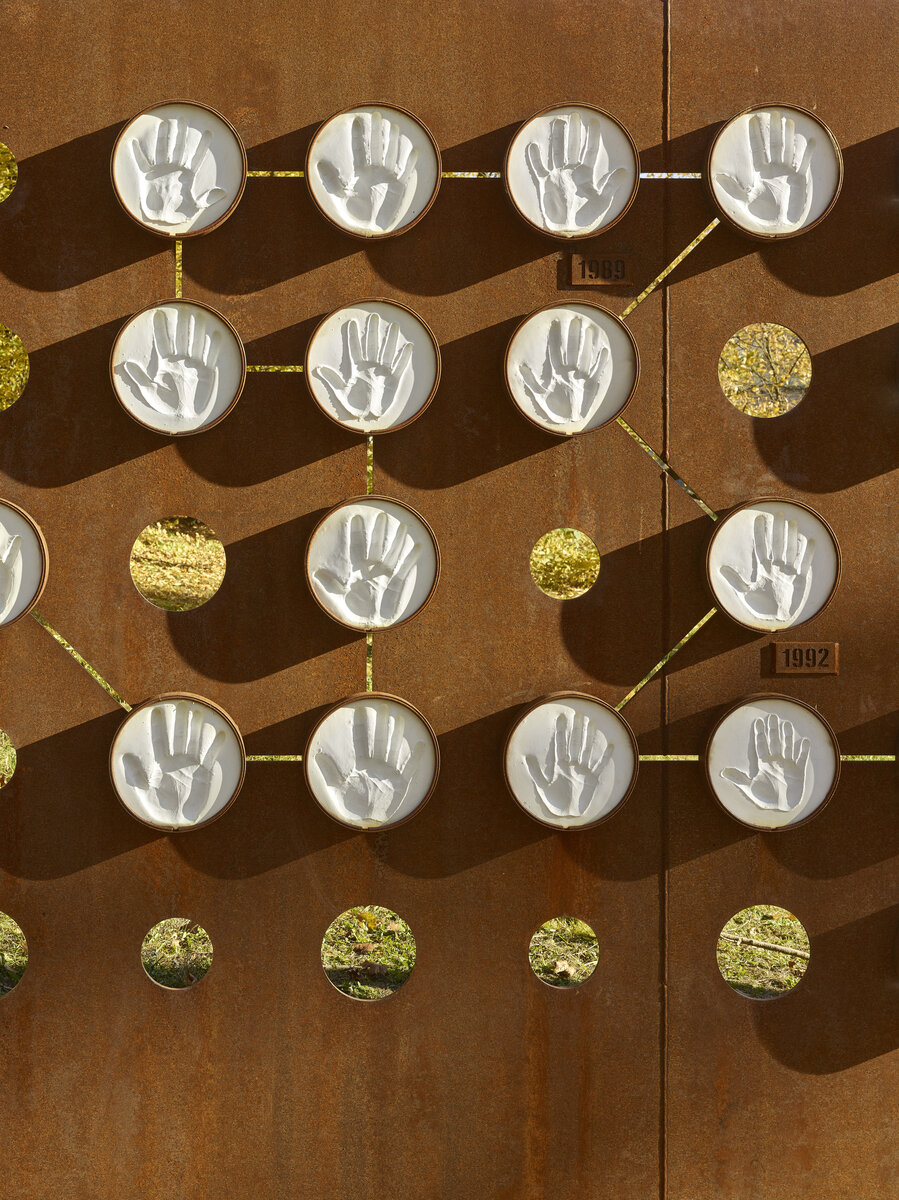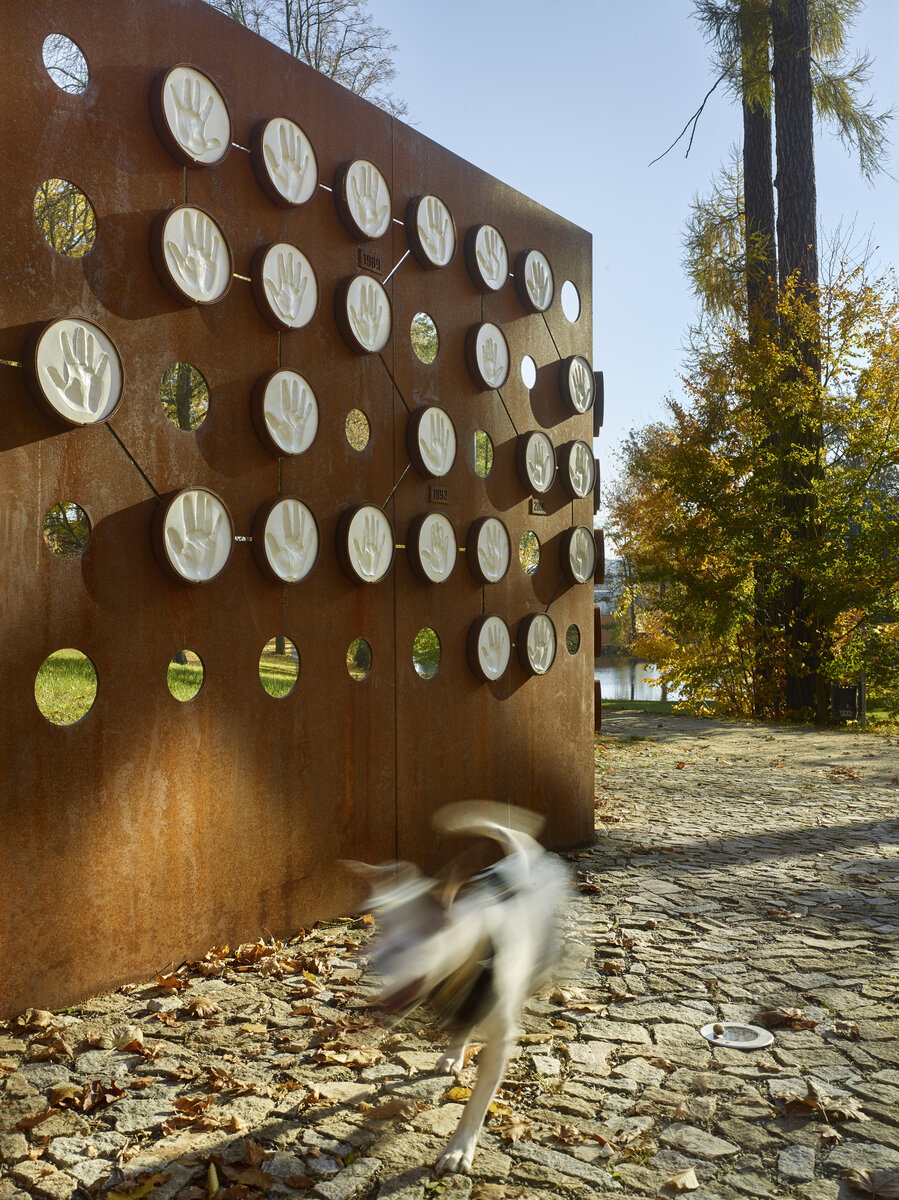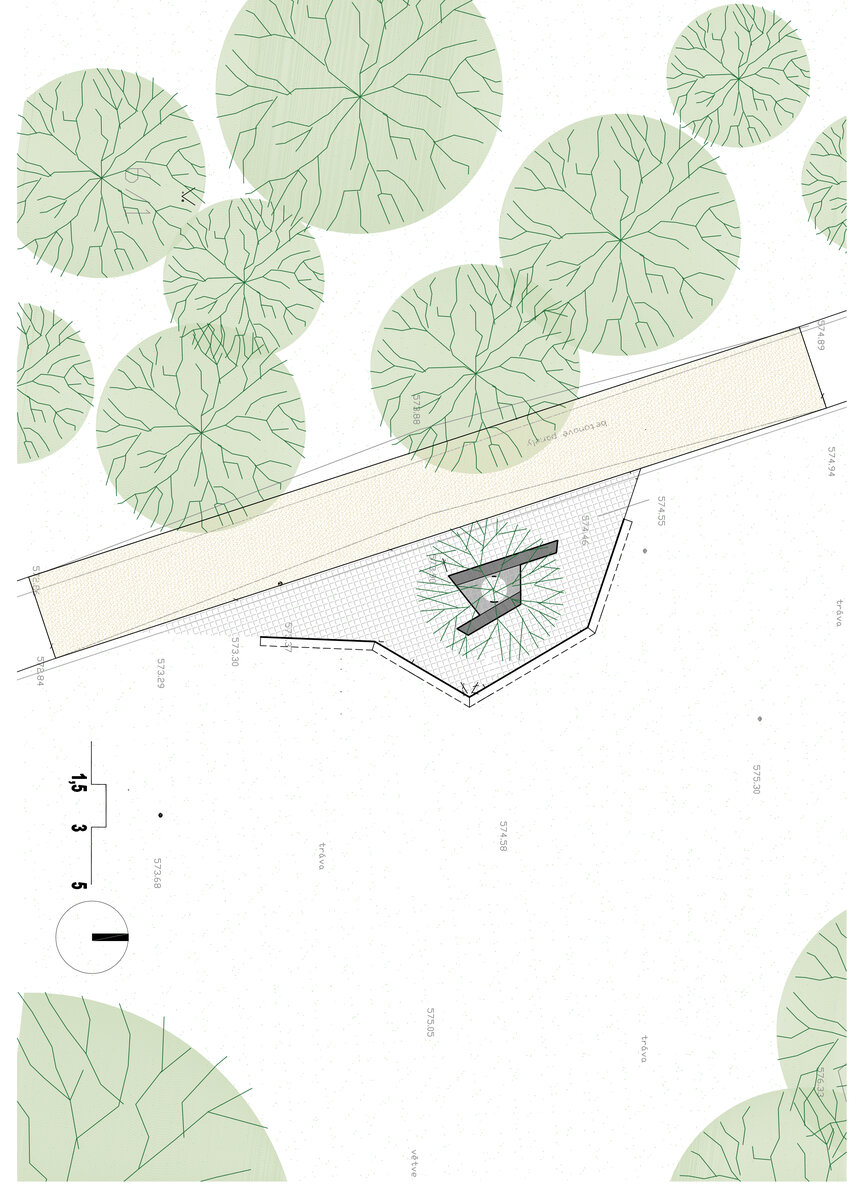 | | |
| --- | --- |
| Author | Ing. arch. Zdeněk Rychtařík, Ing. arch. Tereza Mandíková, Ing. arch. Tomáš Maceška, Markéta Zajícová, Zdeňka Studenovská, Anna Smetanová / 20-20-ARCHITEKTI, VYŠEHRAD atelier |
| Studio | |
| Location | Zámecká zahrada, Pacov |
| Investor | město Pacov |
| Supplier | Bluetech s.r.o., Žižkova 596, 395 01 Pacov |
| Date of project approval | January 2021 |
| Fotograf | |
The basic idea of the "Memorial of the 100th Anniversary of the Republic" realization of which was initiated by the city Pacov, was designed by students of the local perennial secondary grammar school and was closely connected with Pacov and its inhabitants. The essence of the memorial lies in gaining 101 handprints of anonymous people born in the years 1918–2018. The handprints were processed into circular templates which were inserted into the memorial structure. The architects cooperated with the city to find the ideal place in the city which was eventually determined in the castle park. A folded conical wall made of rusty sheet metal is perforated with a timeline into which individual handprints are inserted. The unfilled openings make the memorial lighter and more transparent in the space. There is an atypical concrete bench placed in front of the memorial with a "Linden Tree of the Republic" planted in the middle. Realization of a new threshing path replacing the original panels road became a part of the memorial.
The main material used for the memorial is roughly welded rusty sheet metal and the natural stone of the atypical bench.
Green building
Environmental certification
| | |
| --- | --- |
| Type and level of certificate | - |
Water management
| | |
| --- | --- |
| Is rainwater used for irrigation? | |
| Is rainwater used for other purposes, e.g. toilet flushing ? | |
| Does the building have a green roof / facade ? | |
| Is reclaimed waste water used, e.g. from showers and sinks ? | |
The quality of the indoor environment
| | |
| --- | --- |
| Is clean air supply automated ? | |
| Is comfortable temperature during summer and winter automated? | |
| Is natural lighting guaranteed in all living areas? | |
| Is artificial lighting automated? | |
| Is acoustic comfort, specifically reverberation time, guaranteed? | |
| Does the layout solution include zoning and ergonomics elements? | |
Principles of circular economics
| | |
| --- | --- |
| Does the project use recycled materials? | |
| Does the project use recyclable materials? | |
| Are materials with a documented Environmental Product Declaration (EPD) promoted in the project? | |
| Are other sustainability certifications used for materials and elements? | |
Energy efficiency
| | |
| --- | --- |
| Energy performance class of the building according to the Energy Performance Certificate of the building | |
| Is efficient energy management (measurement and regular analysis of consumption data) considered? | |
| Are renewable sources of energy used, e.g. solar system, photovoltaics? | |
Interconnection with surroundings
| | |
| --- | --- |
| Does the project enable the easy use of public transport? | |
| Does the project support the use of alternative modes of transport, e.g cycling, walking etc. ? | |
| Is there access to recreational natural areas, e.g. parks, in the immediate vicinity of the building? | |