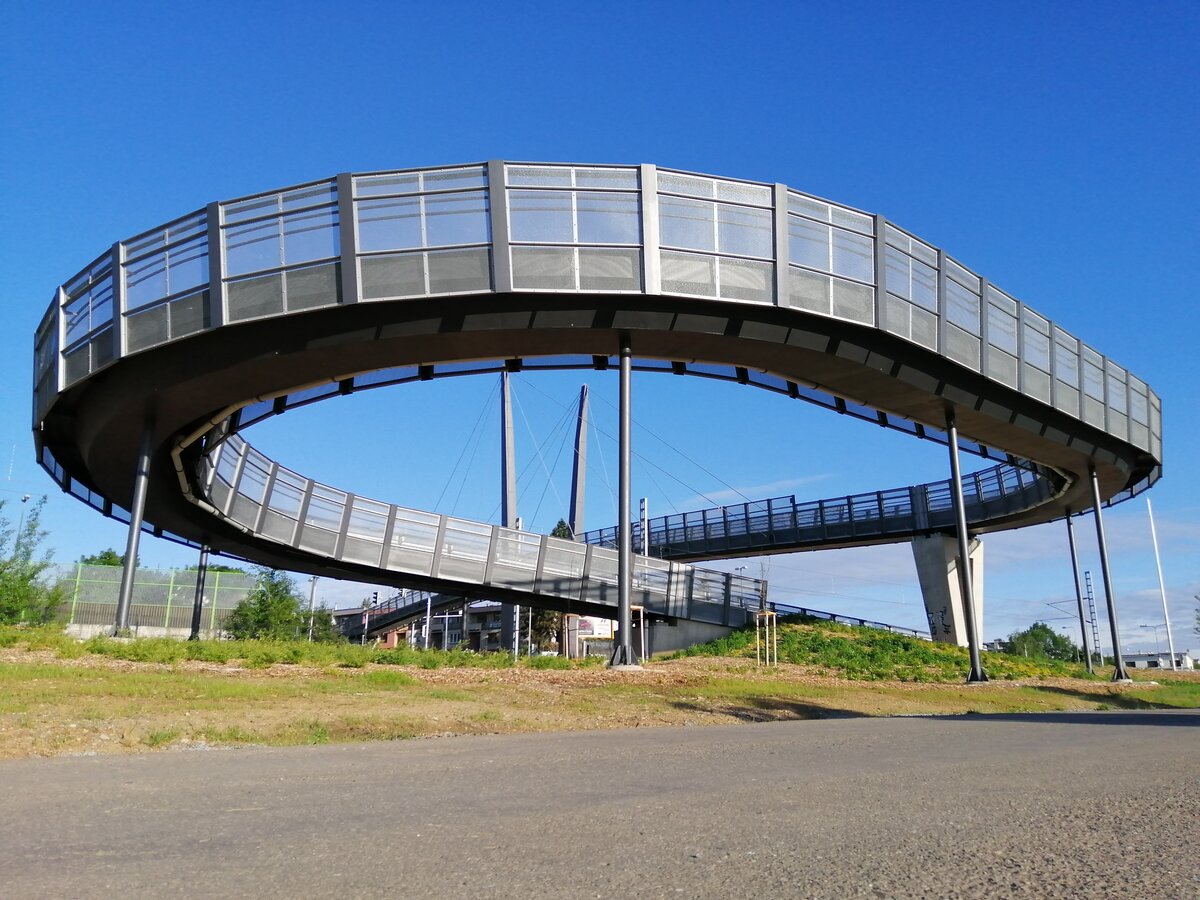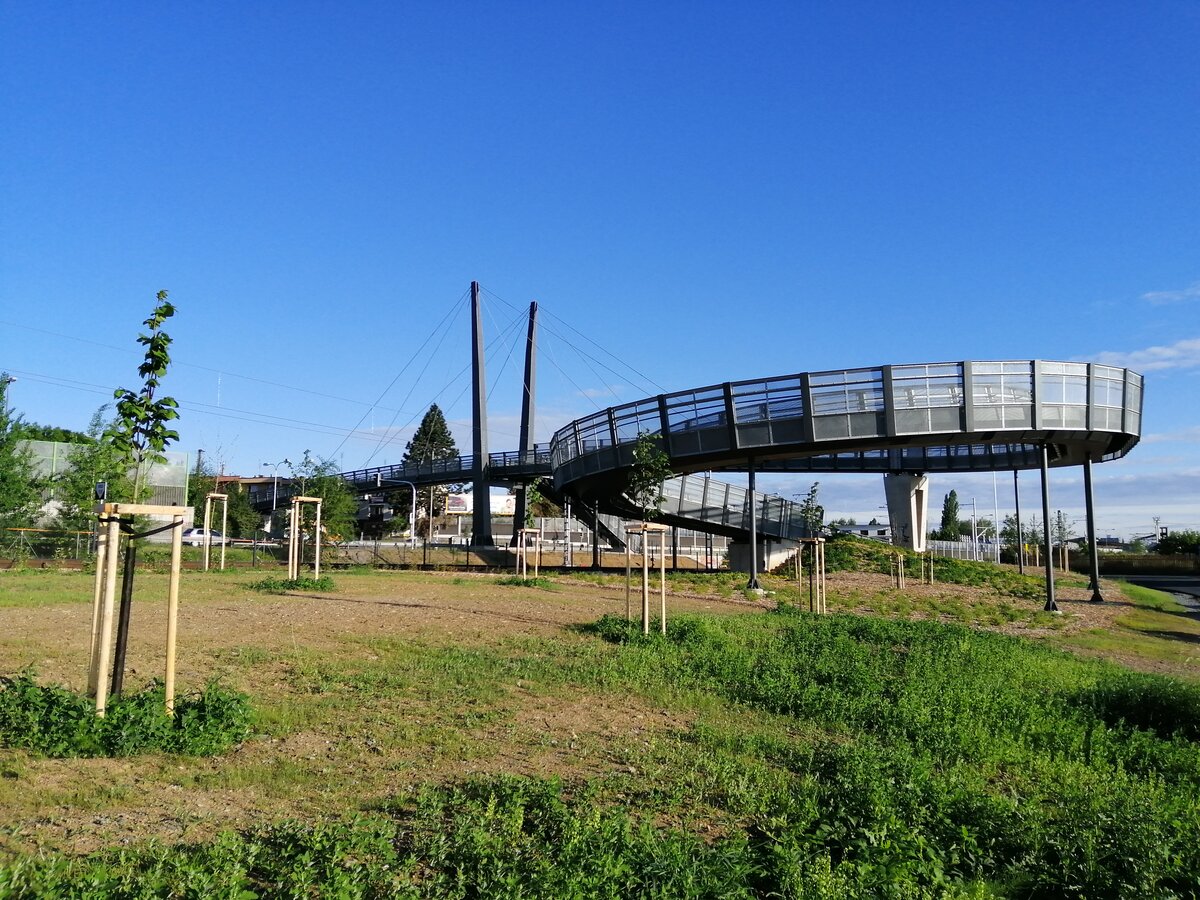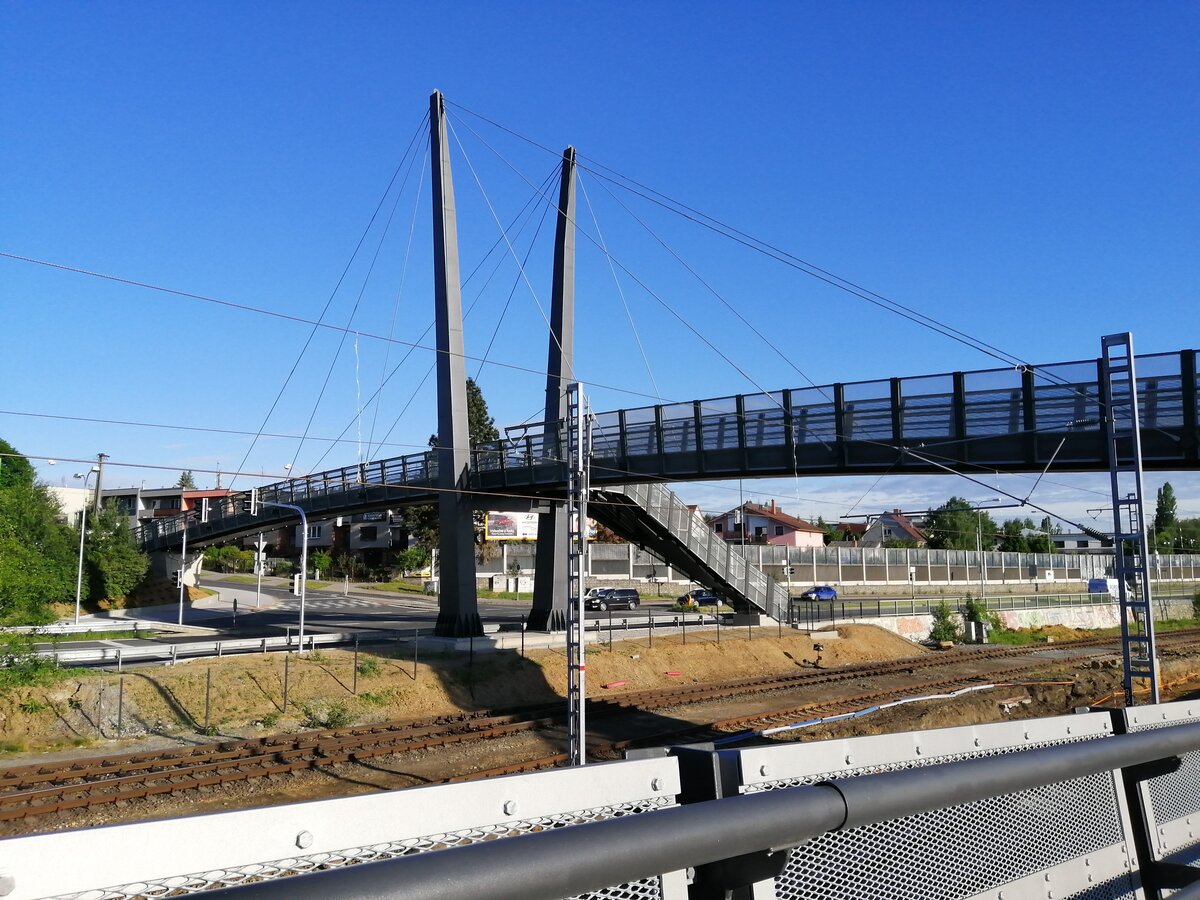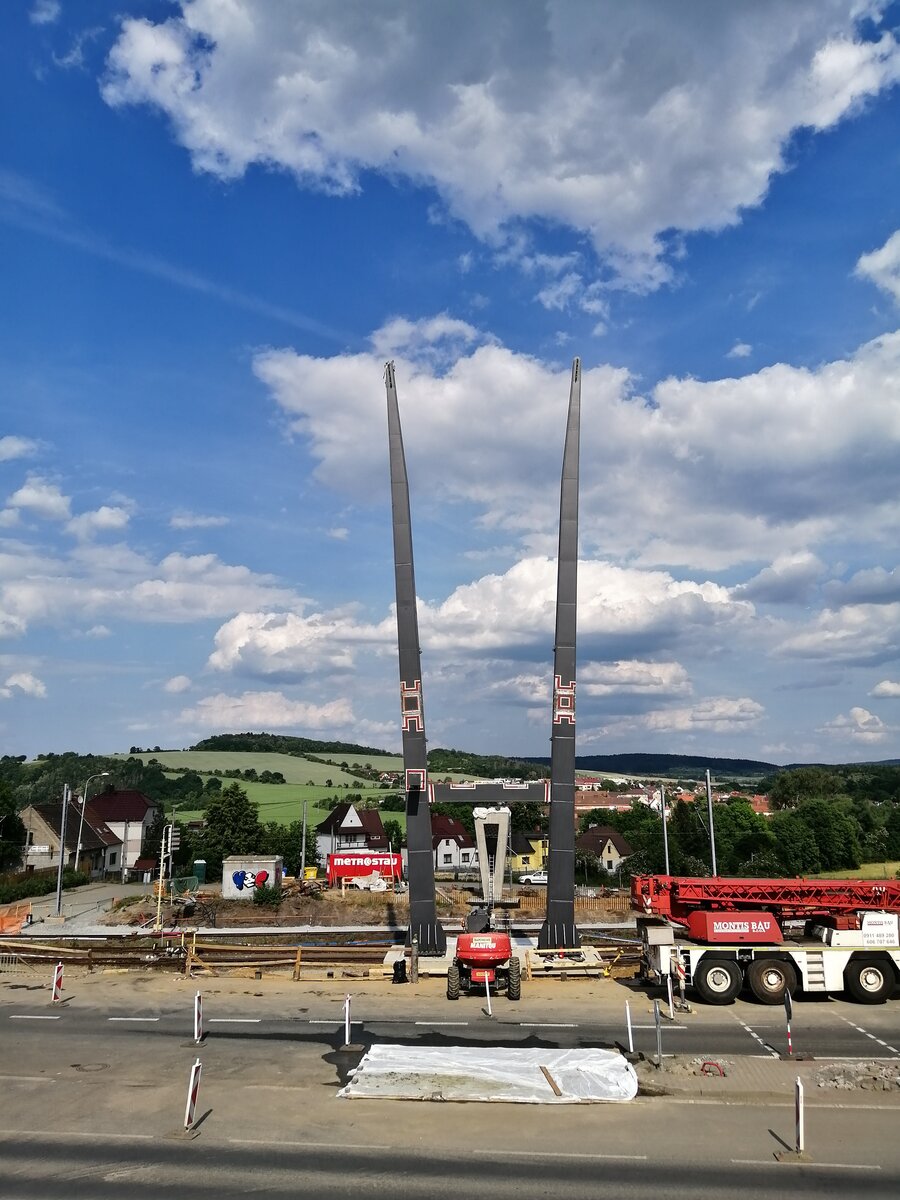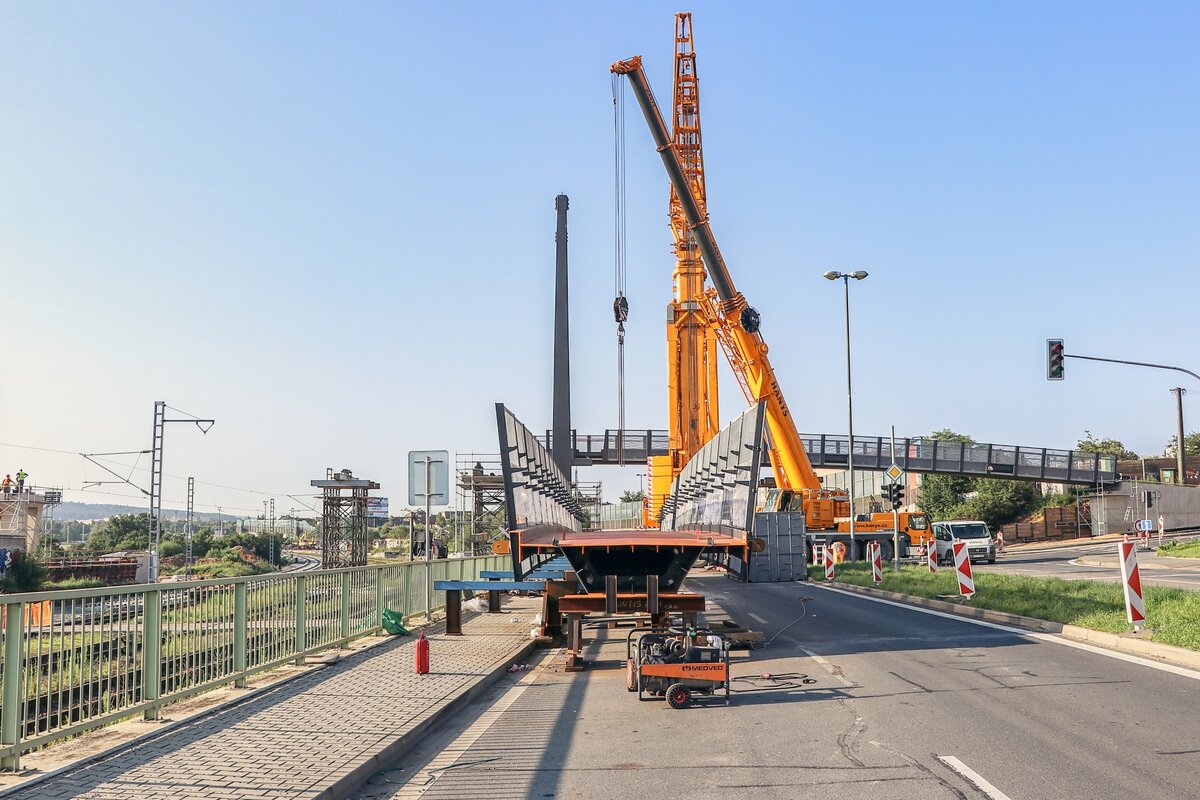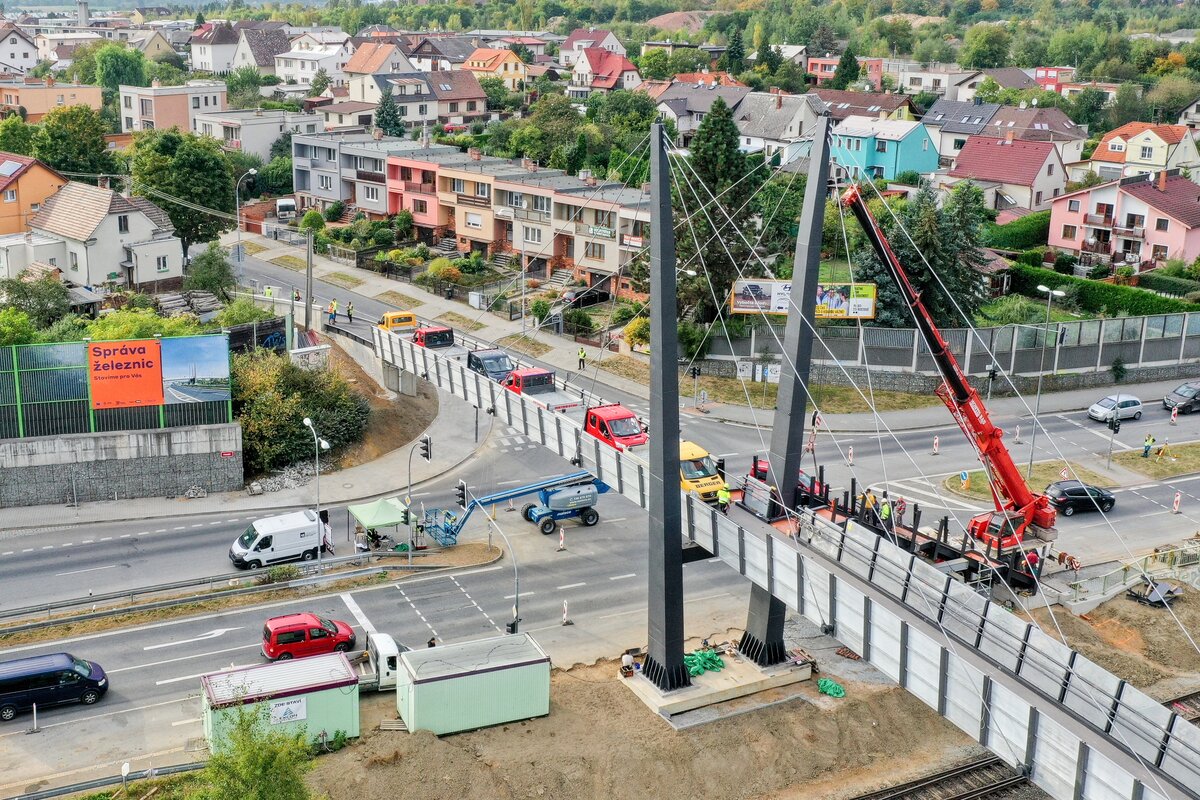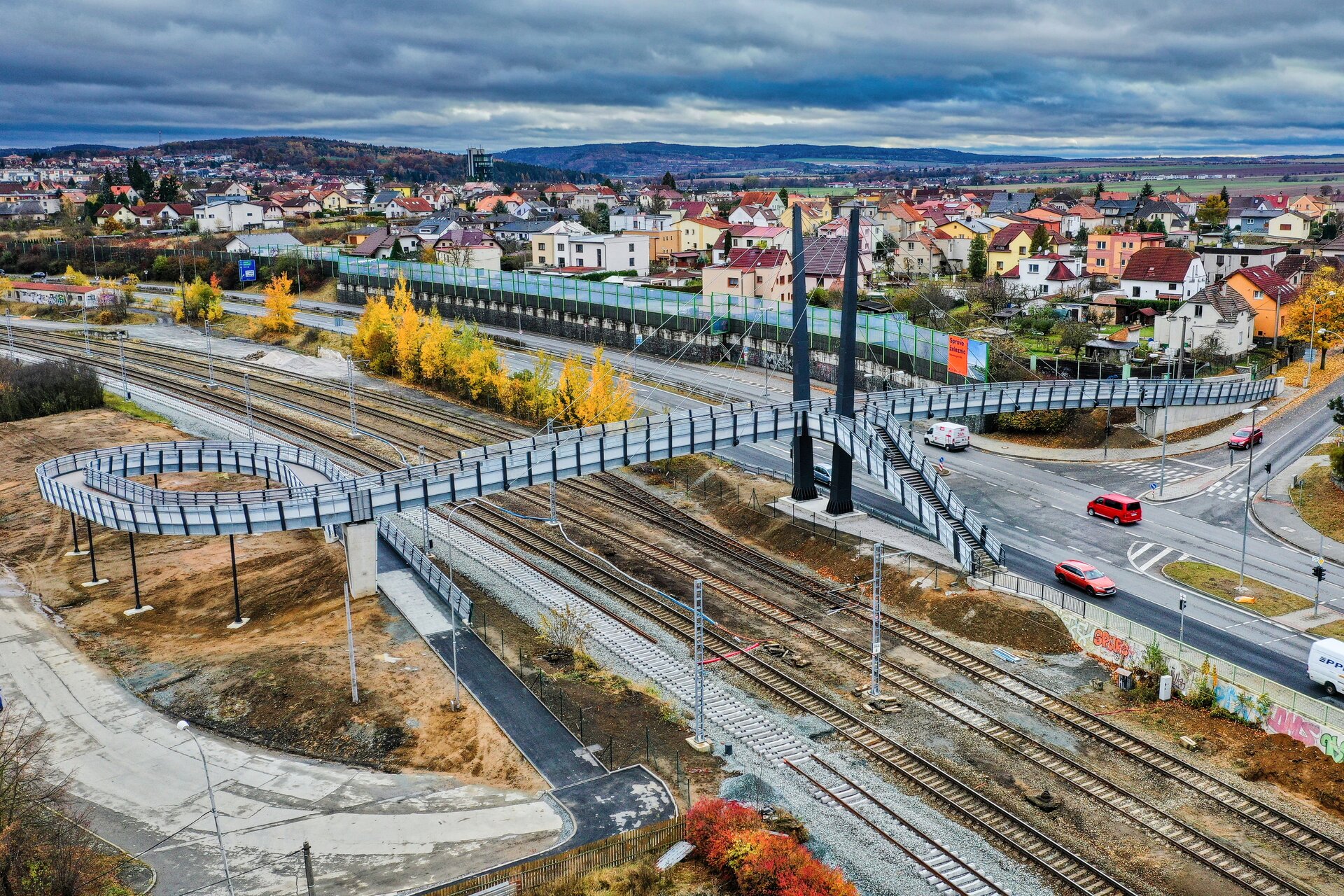 Author
SUDOP PRAHA a.s. / Tomáš Pechman, László Szíkora a kolektiv
Studio
Location
Dílo je součástí stavby "Uzel Plzeň, 5. stavba - Lobzy - Koterov". Mimoúrovňové bezbariérové spojení mezi ulicemi K Dráze a Na Lipce překonává silnici I/20 a dvoukolejnou železniční trať České Budějovice - Plzeň.
Investor
Správa železnic, s. o., statutární město Plzeň. Spoluinvestor Magistrát města Plzně.
Supplier
Přípravná dokumentace a projekt stavby: SUDOP PRAHA, a. s.
Zhotovitel stavby: Sdružení MTS + CHT – Uzel Plzeň, 5. stavba (Metrostav a. s., Chládek & Tintěra a. s.)
Podzhotovitel (ocelová konstrukce): Excon, a.s.
Date of project approval
October 2021
Fotograf
Within the framework of the construction "Plzeň Junction, 5th construction - Lobzy - Koterov" a request was made to cancel the existing railway crossing over the line České Budějovice - Plzeň and the level crossing over the motorway feeder I/20. The out-of-level barrier-free connection between K Dráze and Na Lipce streets was designed with a new footbridge as a suspended continuous 2-span structure with a central H-shaped pylon located between the I/20 road and the double-track railway line. This construction object was co-invested by the Railway Administration, s.o. and the Municipality of Pilsen.
The supporting structure is a steel beam with a chamber cross-section. It is divided into two parts, a suspended structure with a span of 39.5 m + 38.15 m and a plan curved access ramp as a continuous eight-pole beam with a span of 8 m + 6x10 m + 8 m. A staircase was added to the footbridge at a later stage of the design preparation as a separate object placed on the cantilever of the central pylon.
The lower structure consists of two reinforced concrete abutments with parallel wings, a reinforced concrete pier at the junction of the two supporting structures, a steel pylon and steel uprights of the continuous beam.

Bridge length: 153,7 m
Length of footbridge: 202,4 m
Span NK1: 39.5 m + 38.5 m
Span NK2: 8 m + 6x10 m + 8 m
Construction height: 0.74 m
Footbridge height: 9.42 m
Free height above rail top: 7.65 m
Free height above the road: 4.8 + 0.5 m
Pylon height: 25 m
Free width on footbridge: 3.0 m
Width of the footbridge at the bridge axis: 3.89 m
Green building
Environmental certification
| | |
| --- | --- |
| Type and level of certificate | - |
Water management
| | |
| --- | --- |
| Is rainwater used for irrigation? | |
| Is rainwater used for other purposes, e.g. toilet flushing ? | |
| Does the building have a green roof / facade ? | |
| Is reclaimed waste water used, e.g. from showers and sinks ? | |
The quality of the indoor environment
| | |
| --- | --- |
| Is clean air supply automated ? | |
| Is comfortable temperature during summer and winter automated? | |
| Is natural lighting guaranteed in all living areas? | |
| Is artificial lighting automated? | |
| Is acoustic comfort, specifically reverberation time, guaranteed? | |
| Does the layout solution include zoning and ergonomics elements? | |
Principles of circular economics
| | |
| --- | --- |
| Does the project use recycled materials? | |
| Does the project use recyclable materials? | |
| Are materials with a documented Environmental Product Declaration (EPD) promoted in the project? | |
| Are other sustainability certifications used for materials and elements? | |
Energy efficiency
| | |
| --- | --- |
| Energy performance class of the building according to the Energy Performance Certificate of the building | |
| Is efficient energy management (measurement and regular analysis of consumption data) considered? | |
| Are renewable sources of energy used, e.g. solar system, photovoltaics? | |
Interconnection with surroundings
| | |
| --- | --- |
| Does the project enable the easy use of public transport? | |
| Does the project support the use of alternative modes of transport, e.g cycling, walking etc. ? | |
| Is there access to recreational natural areas, e.g. parks, in the immediate vicinity of the building? | |