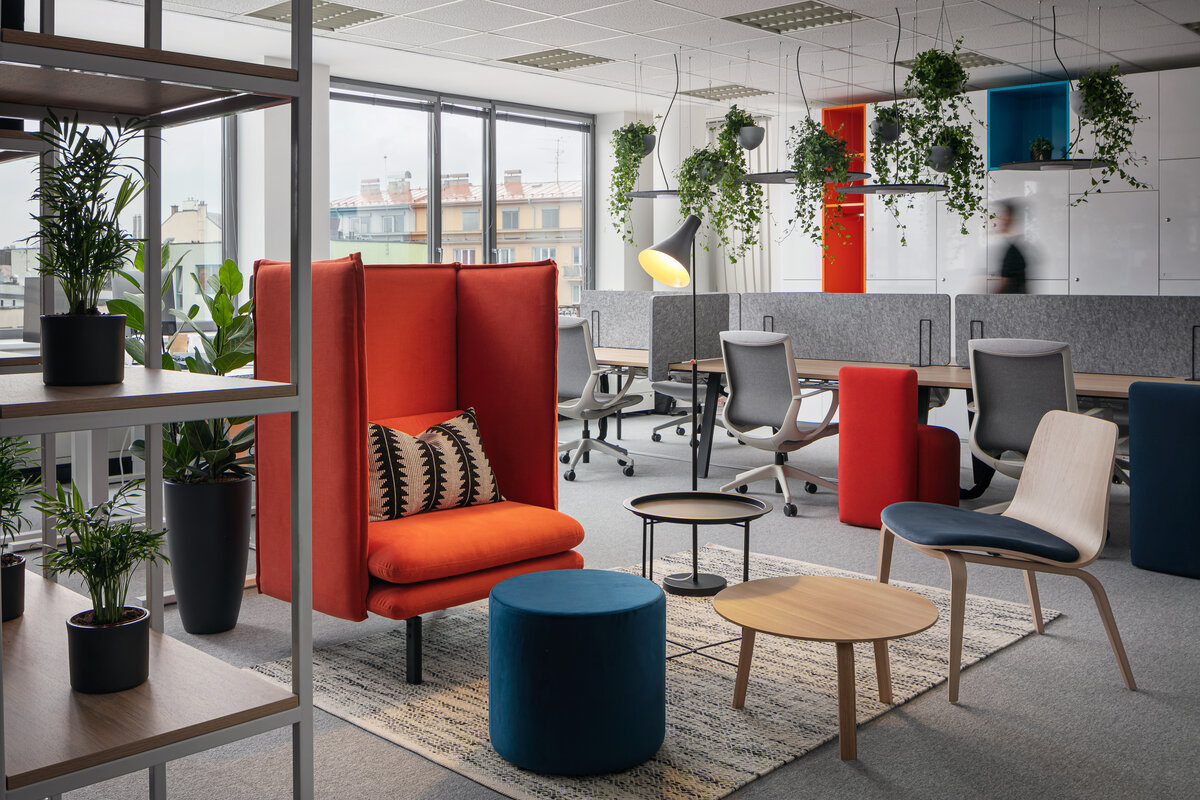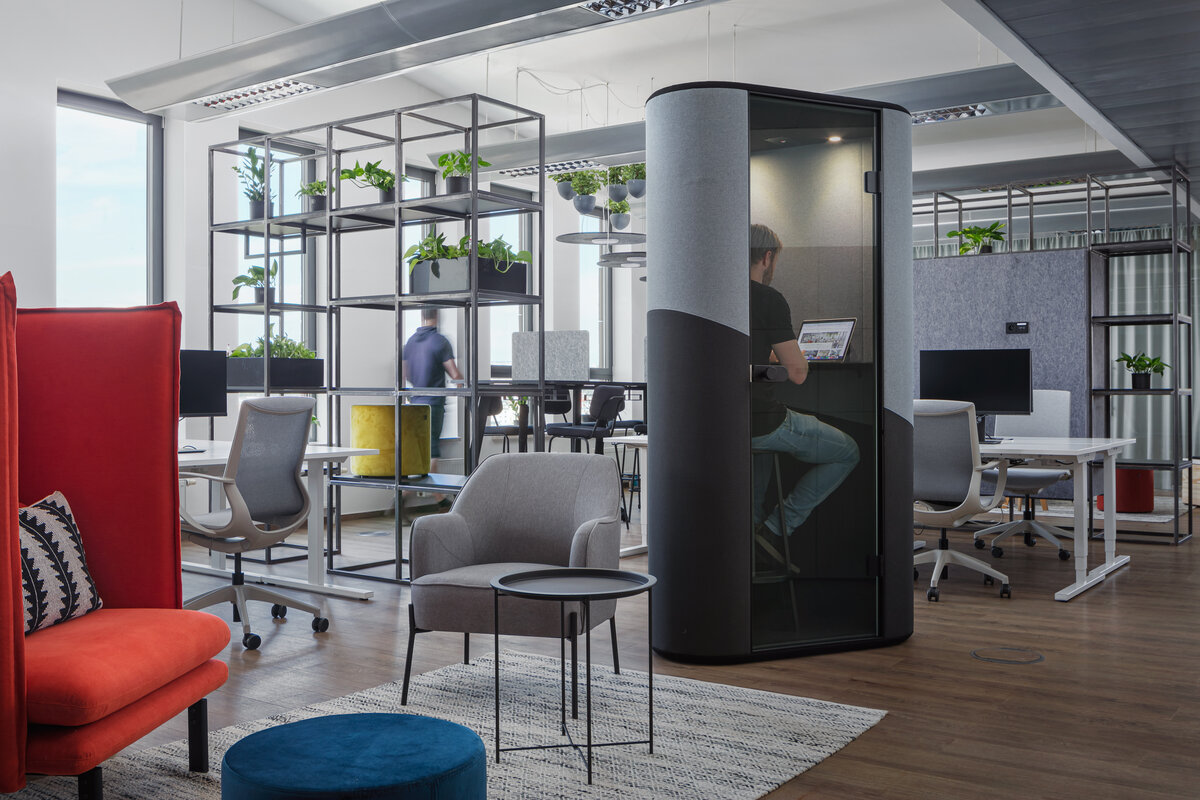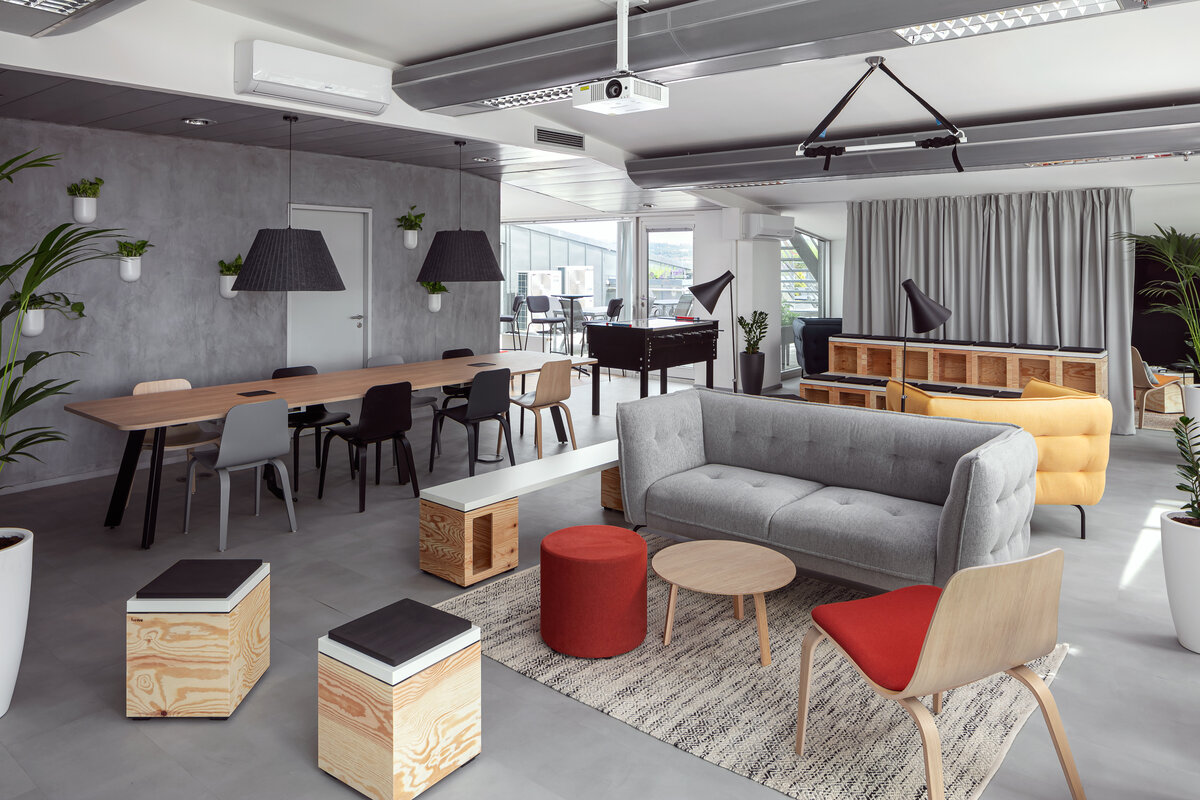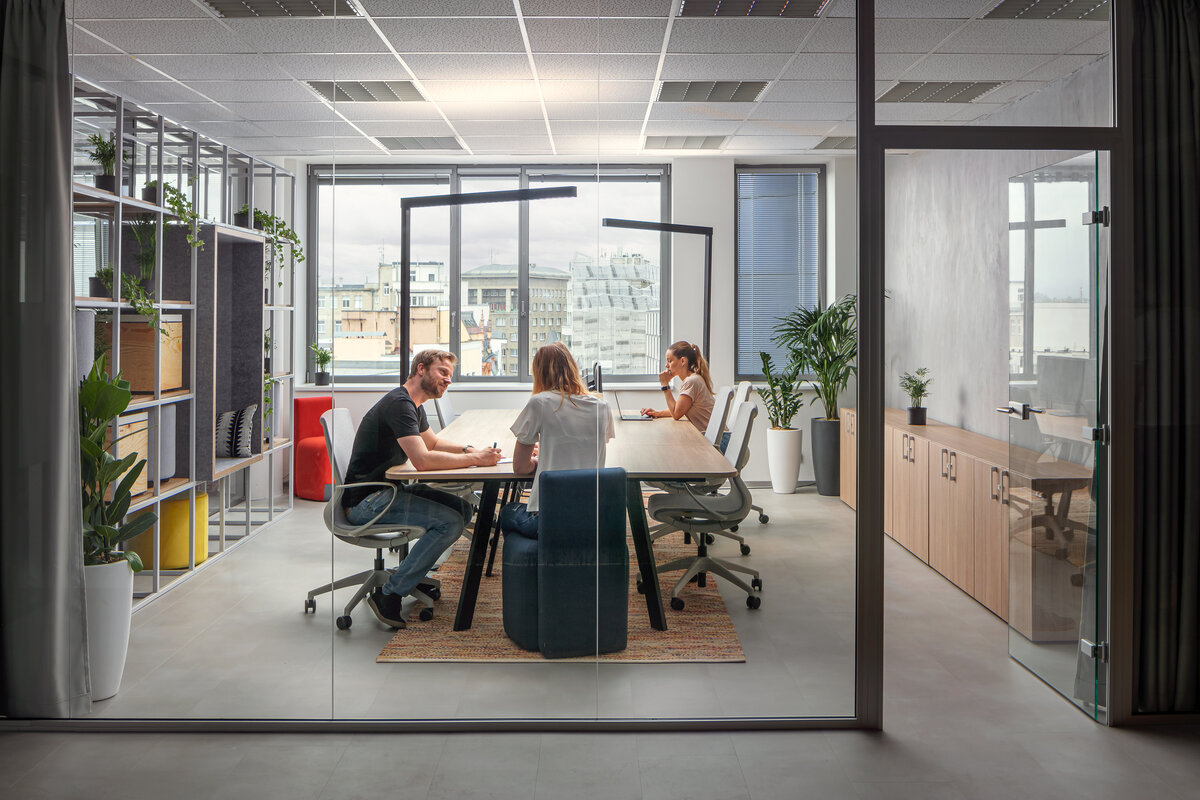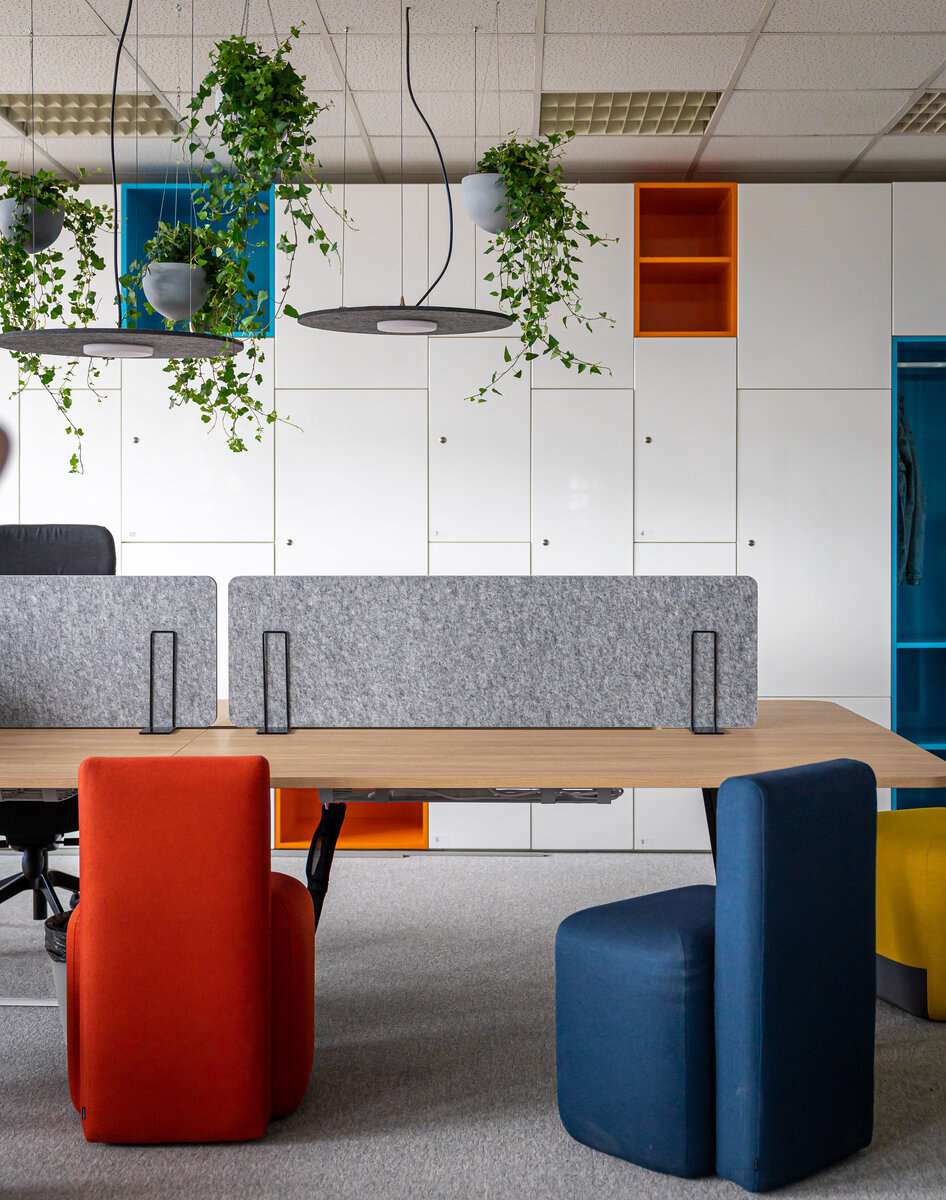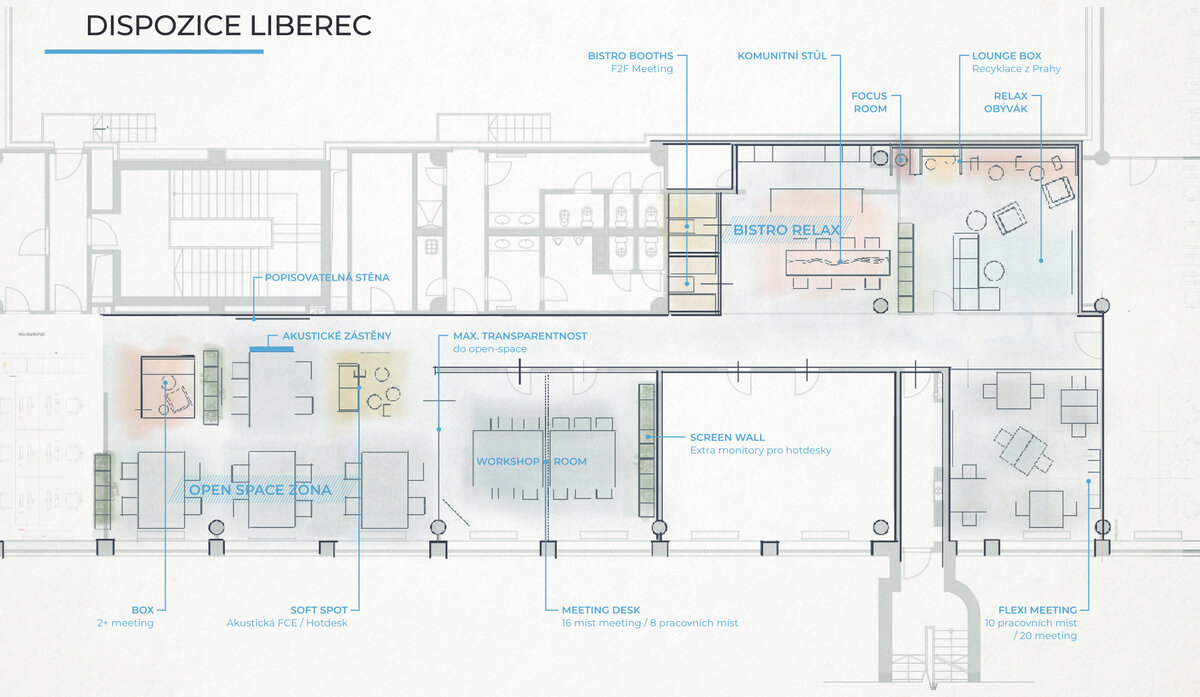 Author
Žofia Baltazár, Ivo Kratochvíl / Hezkey
Studio
Location
Heureka Group a.s.
Palác Syner
Rumunská 655/9
460 01 Liberec 4
Česká republika
Investor
Heureka Group a.s.
Supplier
Hezkey
Date of project approval
June 2021
Fotograf
For Heureka, Hezkey has created new offices in their headquarters in Prague and in their offices in Liberec for their programming teams and redesigned the existing relaxation zones into multifunctional spaces suitable for employee relaxation, collaborative work, a joint workshop, or even a yoga class.

Thanks to flexible and modular furniture and equipment, the space can then be easily converted into a company-wide meeting even though on regular day it is used by only 60% of employees.
The client, Heureka, needed to provide comfortable facilities for 270 people sitting in offices in Prague and Liberec due to the ever-growing number of employees. The offices have about 650m2 total created with hybrid work in mind.

Employees are able choose where to work for the day which helps the work dynamic. In addition, a lot of the work at Heureka is done in teams, so it is important to be able to bring the team together, or create space for a joint workshop or quick "sync".

In addition to open space, two new types of workspaces have been created. The "workshop room" is a room with a community table that can be easily rearranged – this creates a space for a joint workshop or meeting alongside the workstations. The "Flexi meeting" has tables on wheels that can be moved quickly to free up space.

The offices are also full of less formal seating, whether it's bar stools or lounge nooks. The most acoustically pleasing solutions for making phone calls are high acoustic chairs and phone booths.
Green building
Environmental certification
| | |
| --- | --- |
| Type and level of certificate | - |
Water management
| | |
| --- | --- |
| Is rainwater used for irrigation? | |
| Is rainwater used for other purposes, e.g. toilet flushing ? | |
| Does the building have a green roof / facade ? | |
| Is reclaimed waste water used, e.g. from showers and sinks ? | |
The quality of the indoor environment
| | |
| --- | --- |
| Is clean air supply automated ? | |
| Is comfortable temperature during summer and winter automated? | |
| Is natural lighting guaranteed in all living areas? | |
| Is artificial lighting automated? | |
| Is acoustic comfort, specifically reverberation time, guaranteed? | |
| Does the layout solution include zoning and ergonomics elements? | |
Principles of circular economics
| | |
| --- | --- |
| Does the project use recycled materials? | |
| Does the project use recyclable materials? | |
| Are materials with a documented Environmental Product Declaration (EPD) promoted in the project? | |
| Are other sustainability certifications used for materials and elements? | |
Energy efficiency
| | |
| --- | --- |
| Energy performance class of the building according to the Energy Performance Certificate of the building | |
| Is efficient energy management (measurement and regular analysis of consumption data) considered? | |
| Are renewable sources of energy used, e.g. solar system, photovoltaics? | |
Interconnection with surroundings
| | |
| --- | --- |
| Does the project enable the easy use of public transport? | |
| Does the project support the use of alternative modes of transport, e.g cycling, walking etc. ? | |
| Is there access to recreational natural areas, e.g. parks, in the immediate vicinity of the building? | |