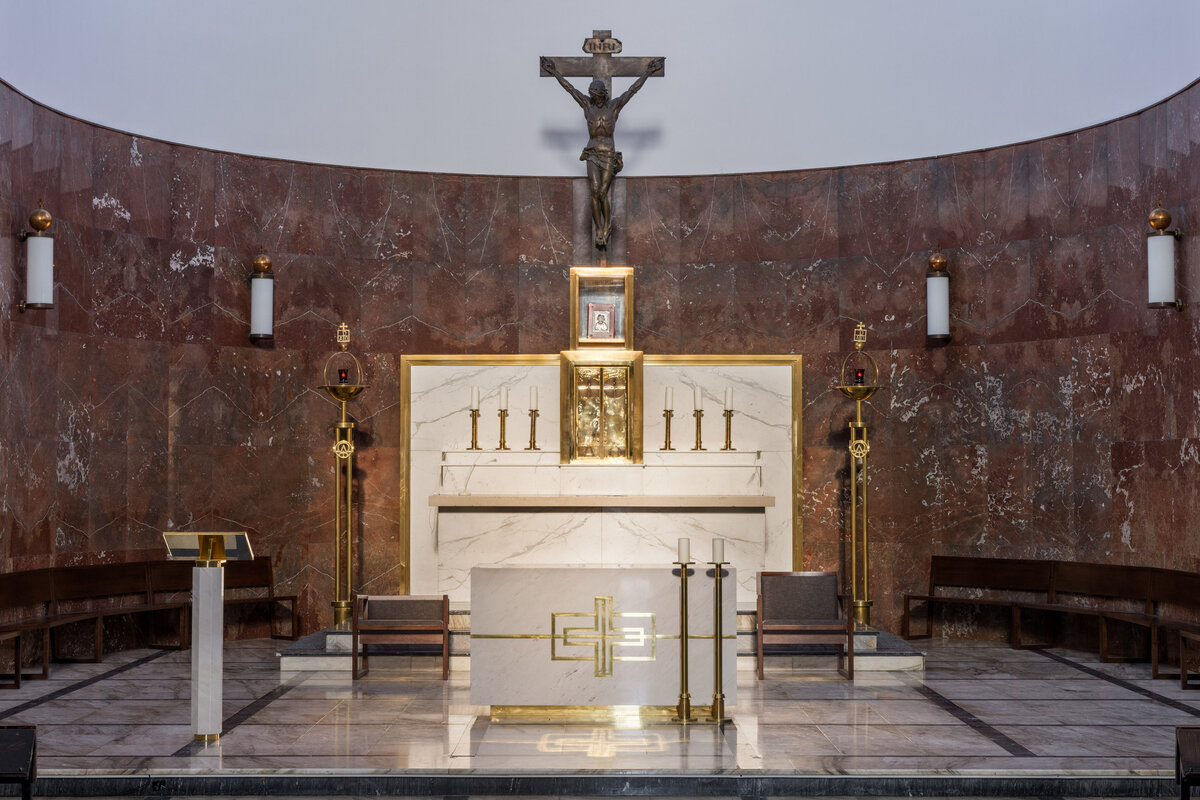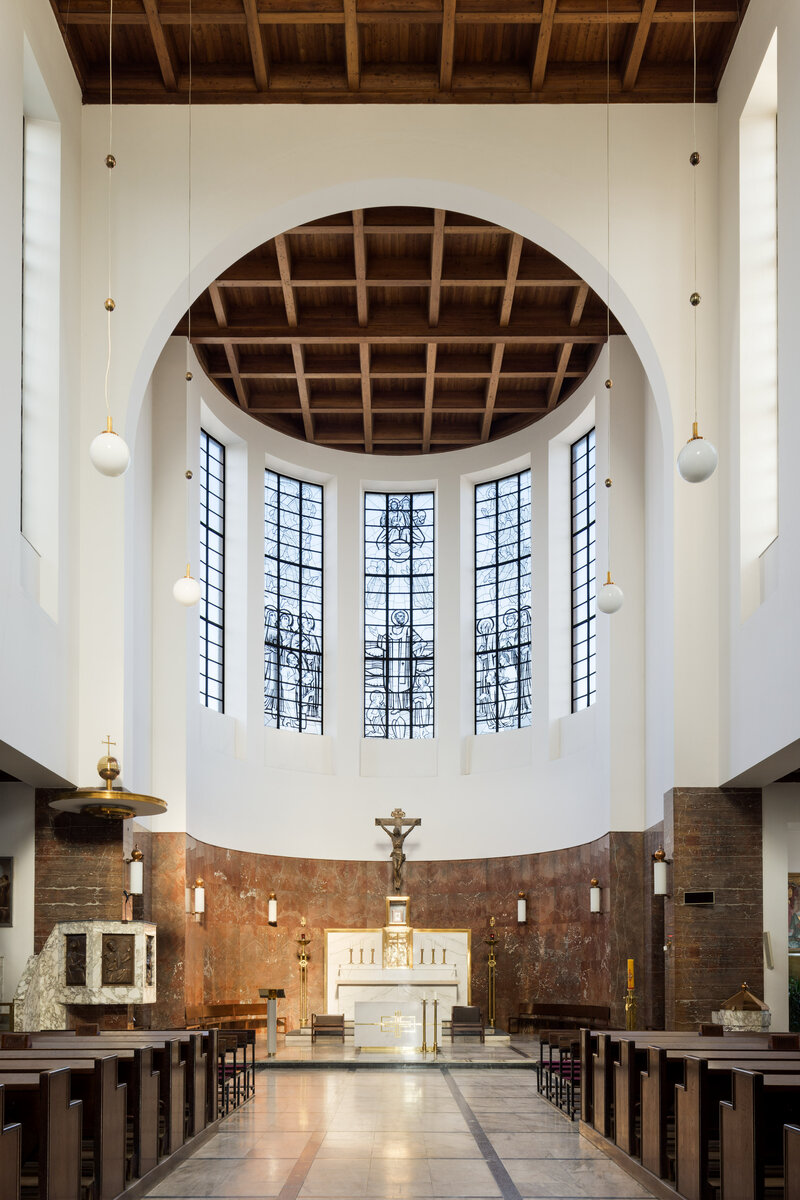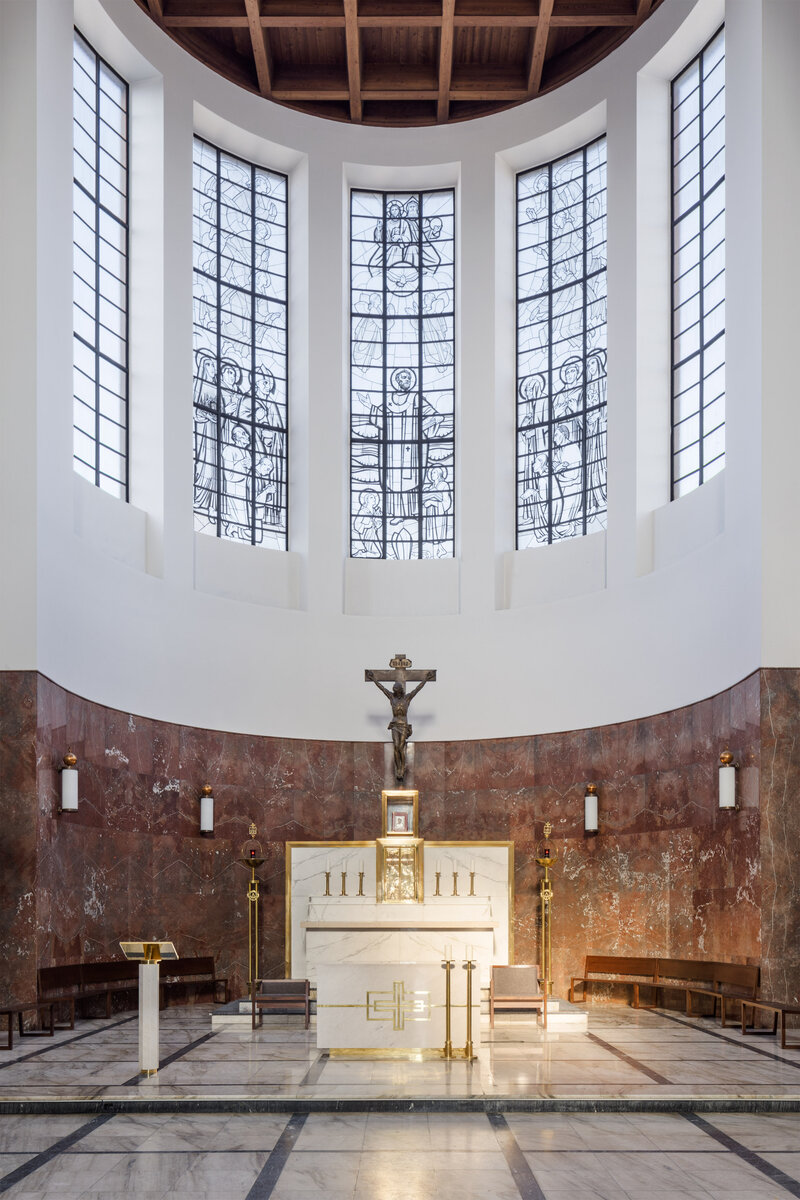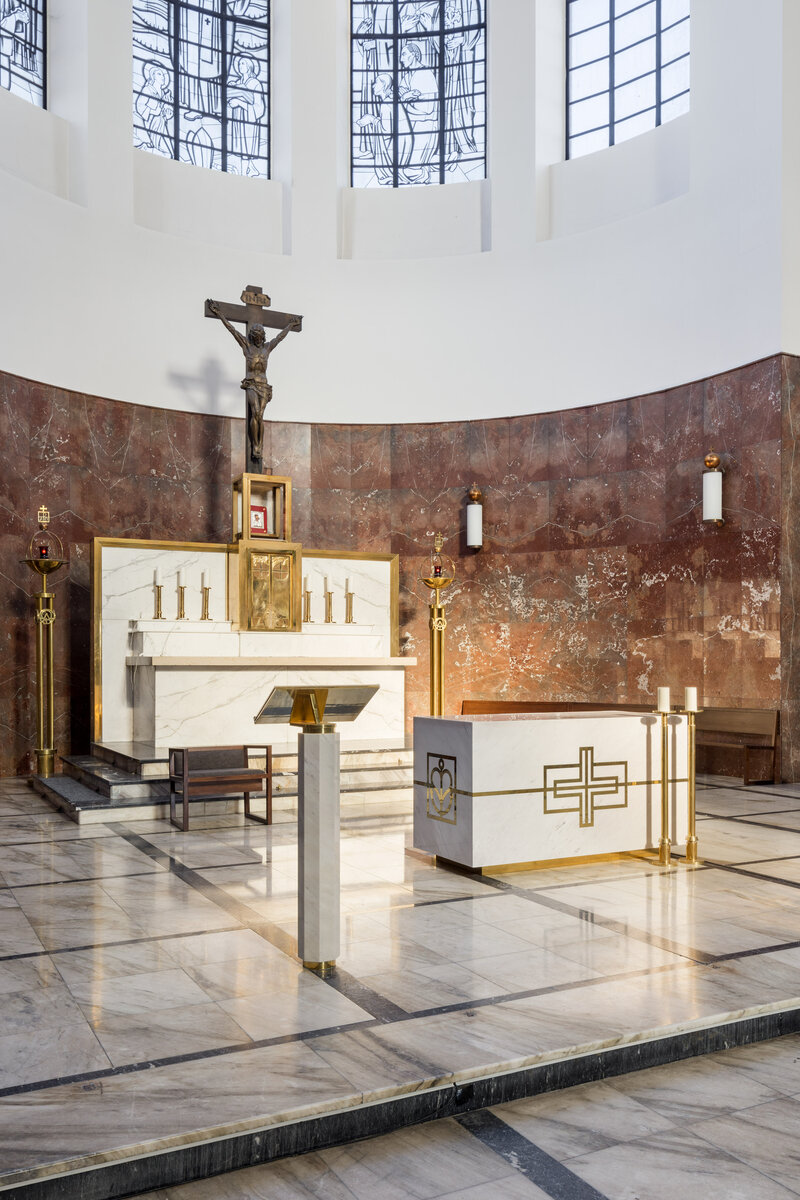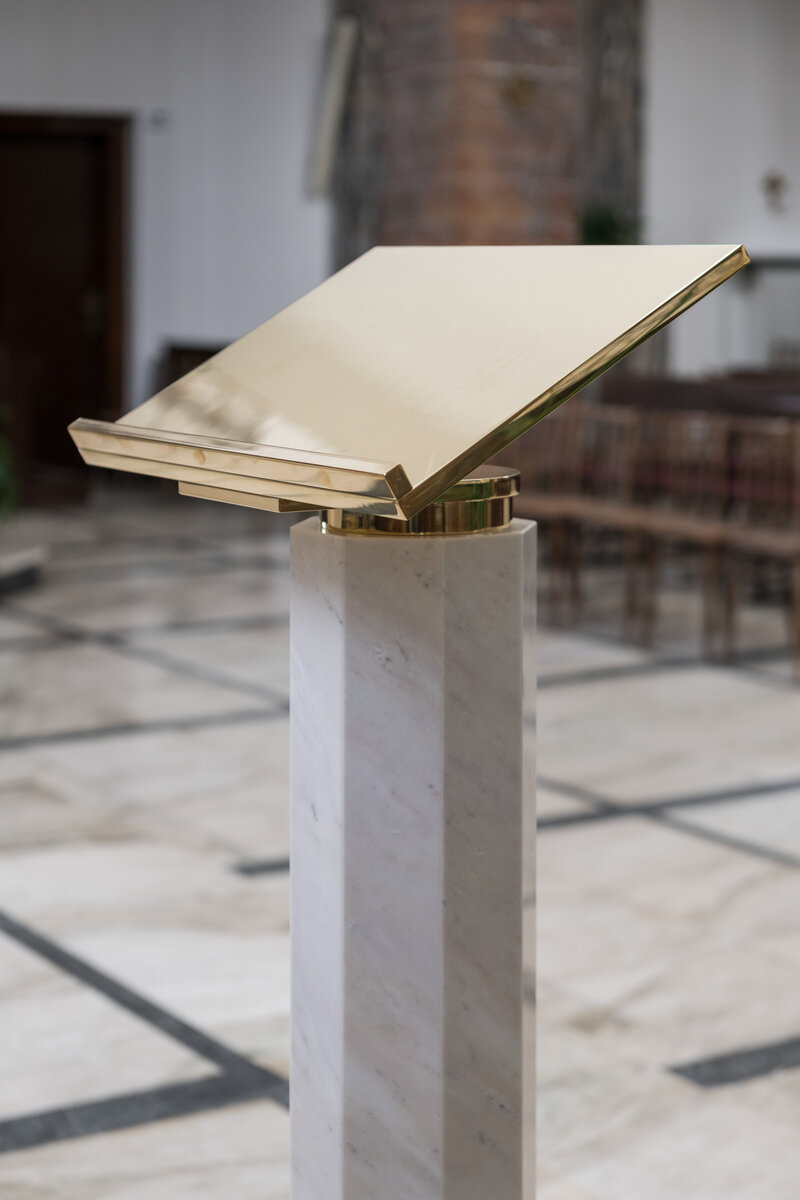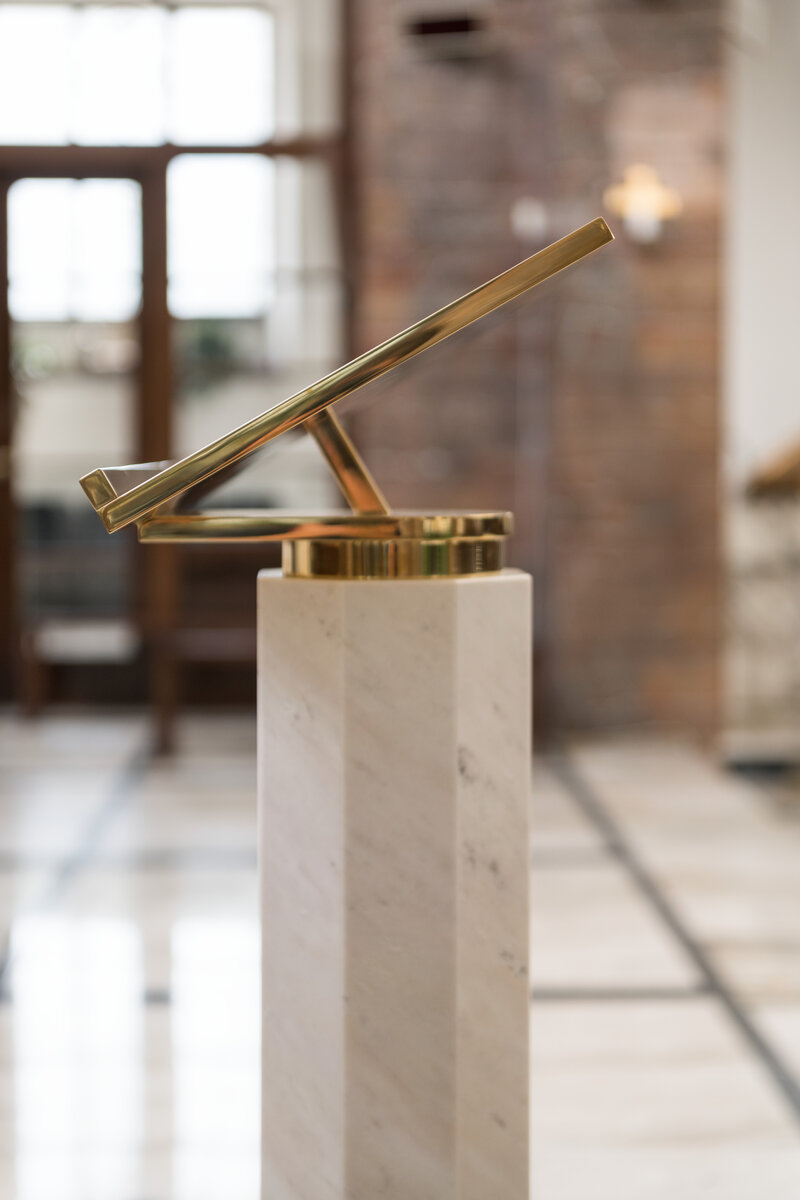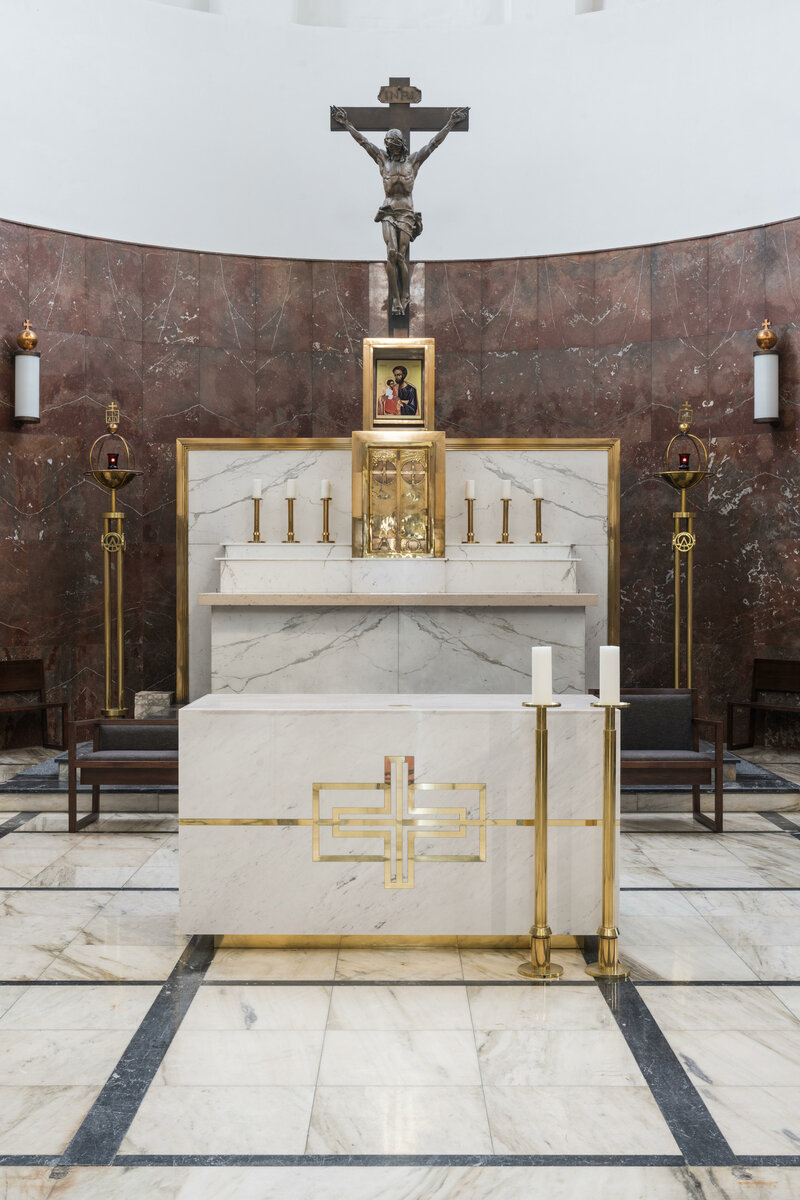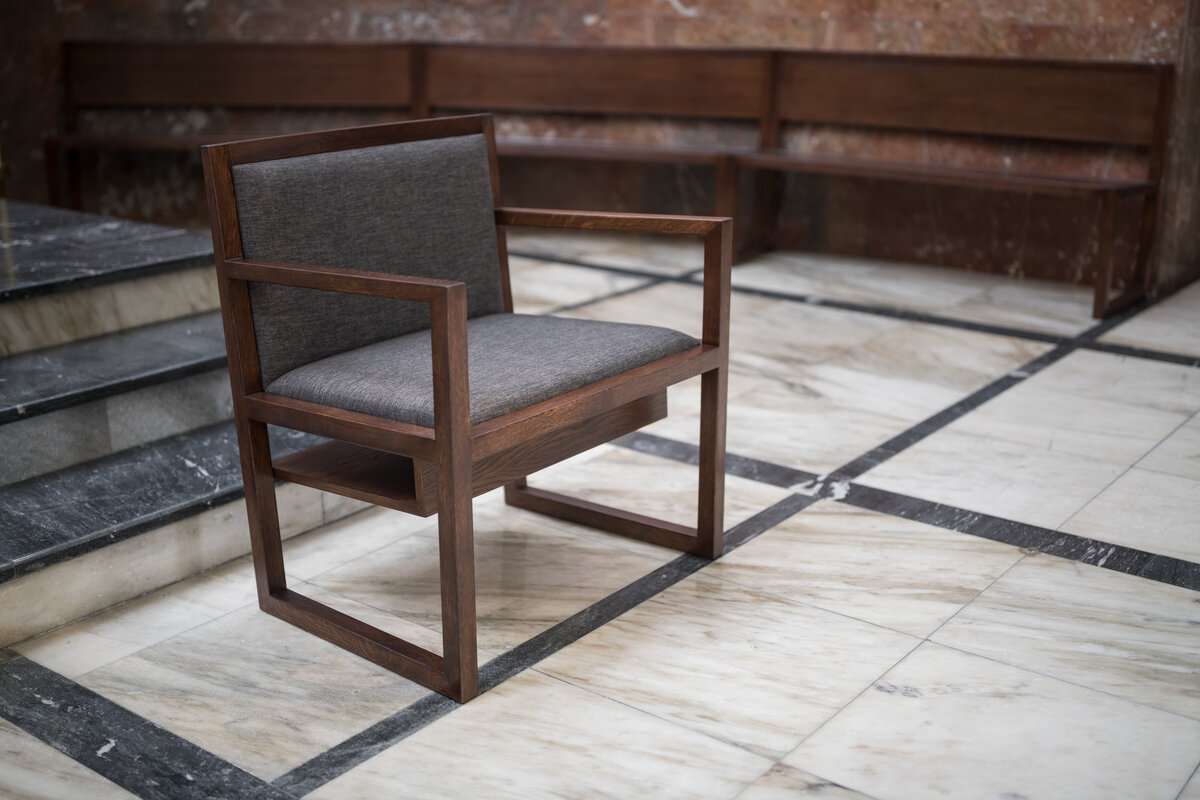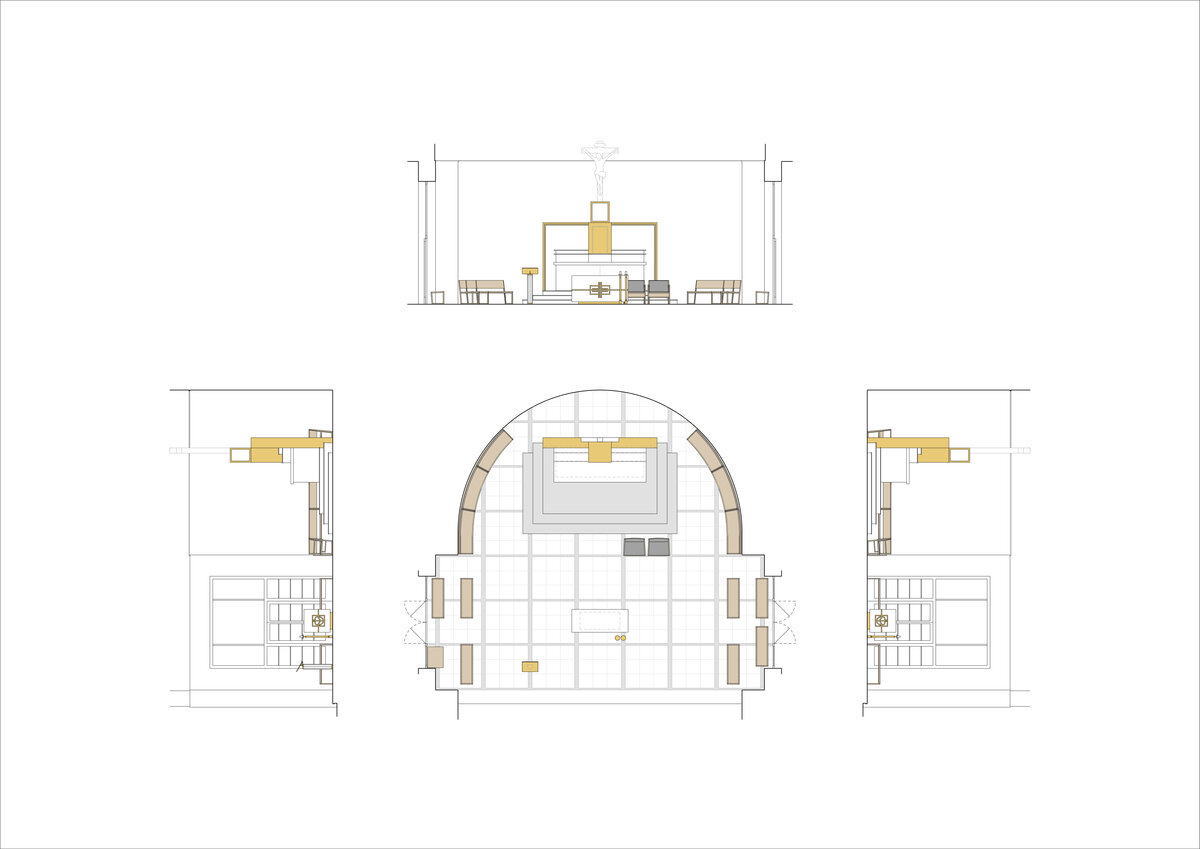 Author
Atelier RAW; Tomáš Rusín, Ivan Wahla, Martin Klaška
Studio
Location
Náměstí Míru 377/7, 602 00 Brno
Investor
Farnost sv. Augustina
Supplier
Kámen – Kamenoprůmysl Komárek Letovice
Mosaz – Pavel Sedláček
Sedací nábytek - Sheraton interier – Richard Vlach
Date of project approval
June 2021
Fotograf
The project deals with the design of the altar, the ambon, the sedes and seating for altar boys in the presbytery of the Church of Saint Augustine on Náměstí Míru in Brno. The aim was to speak with the contemporary language and at the same time non-aggressively and humbly follow the complex work of the architect Vladimír Fischer and supplement it with elements naturally following the original high-quality architectural design.
Vladimír Fischer, the designer of the church, left behind advanced architecture
with a sensitive design of the interior, with an almost "Plečnik" character. These
primarily concern cultivated brass details in combination with dark brown marble
with white veining. A combination of burnished brass belts framing the surface
from white, light grey veined marble was also used on the altar along with a
bronze sculpture of the crucified Christ by Josef Axmann. Another important
aspect of the church is the grid of white paving stones and the dark belts on the
floor of the church. This grid is also evident in the wood larch cladding of the
waffle floor.

When designing the altar, we tried to approximate to the greatest degree
possible the material design used in the church. We also sought out the signs
of the story of the original architect who impacted this sacred space. We were
convinced that we found it in Fischer's original design of the dividing railing. This
consists of the cultivated design of the symbolism of the cross and the sign of
Saint Augustine. These two symbols should be inlaid into the block of marble
in a brass burnished form - a sacrificial table – similar structures and colour
scheme as the altar. A historical line linking the contemporary design with the
original symbolic line designed by the architect of the church would thereby
come about. The block of the table is optically and sensorially lightened by the
pedestal, clad with a burnished brass belt.

The symbol of the cross, by means of which Jesus Christ is embodied in his
holiest sacraments, is situated at the head of the altar. The symbol of Saint Augustine,
making reference to love and hope, is consequently placed on the side
altars. All of this is mutually linked by the brass line symbolizing unity and the
church gathering around one altar.

The design of the ambon is based on the design of the altar. The marble octagon is placed on the brass pedestal. On the top of the octagon is a brass reading desk. The sedes and seating for altar boys are made of a dark wood.
Green building
Environmental certification
| | |
| --- | --- |
| Type and level of certificate | - |
Water management
| | |
| --- | --- |
| Is rainwater used for irrigation? | |
| Is rainwater used for other purposes, e.g. toilet flushing ? | |
| Does the building have a green roof / facade ? | |
| Is reclaimed waste water used, e.g. from showers and sinks ? | |
The quality of the indoor environment
| | |
| --- | --- |
| Is clean air supply automated ? | |
| Is comfortable temperature during summer and winter automated? | |
| Is natural lighting guaranteed in all living areas? | |
| Is artificial lighting automated? | |
| Is acoustic comfort, specifically reverberation time, guaranteed? | |
| Does the layout solution include zoning and ergonomics elements? | |
Principles of circular economics
| | |
| --- | --- |
| Does the project use recycled materials? | |
| Does the project use recyclable materials? | |
| Are materials with a documented Environmental Product Declaration (EPD) promoted in the project? | |
| Are other sustainability certifications used for materials and elements? | |
Energy efficiency
| | |
| --- | --- |
| Energy performance class of the building according to the Energy Performance Certificate of the building | |
| Is efficient energy management (measurement and regular analysis of consumption data) considered? | |
| Are renewable sources of energy used, e.g. solar system, photovoltaics? | |
Interconnection with surroundings
| | |
| --- | --- |
| Does the project enable the easy use of public transport? | |
| Does the project support the use of alternative modes of transport, e.g cycling, walking etc. ? | |
| Is there access to recreational natural areas, e.g. parks, in the immediate vicinity of the building? | |