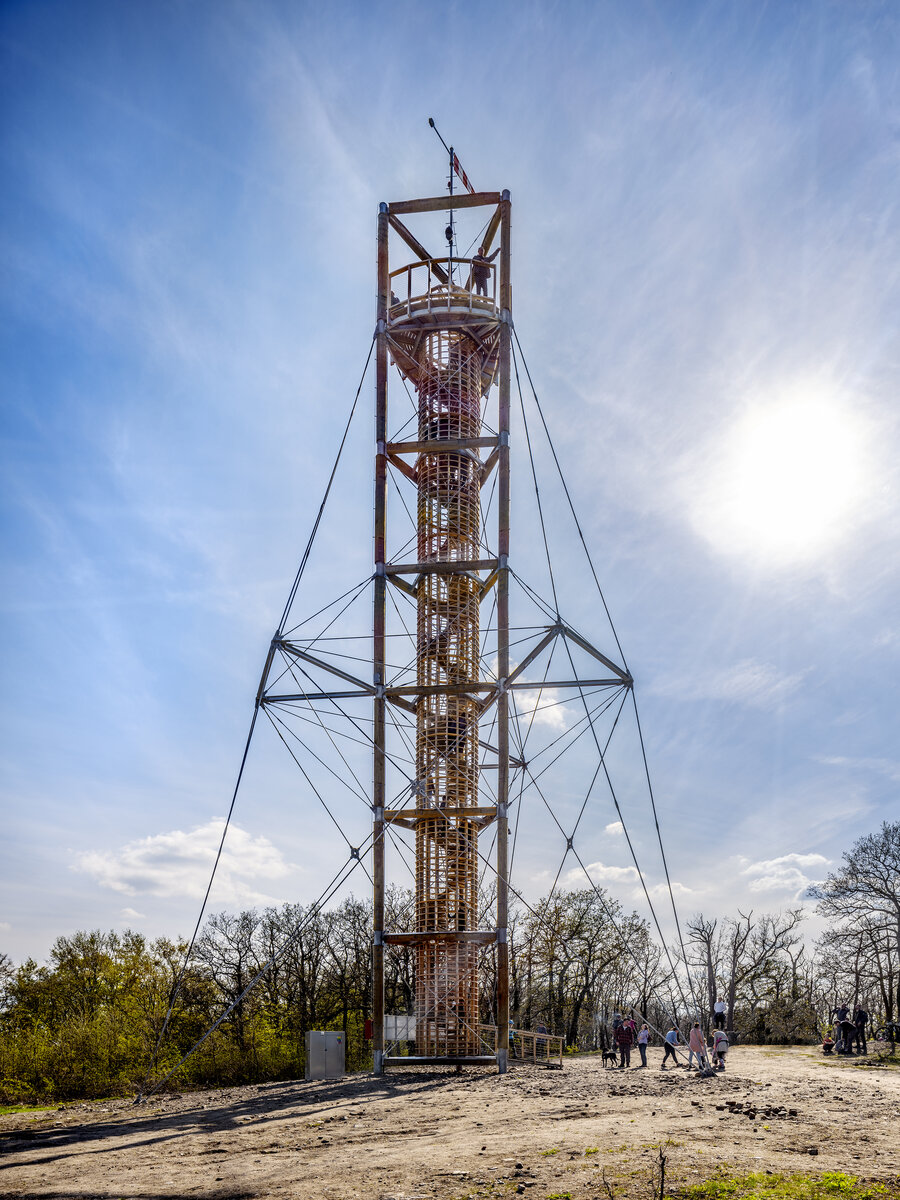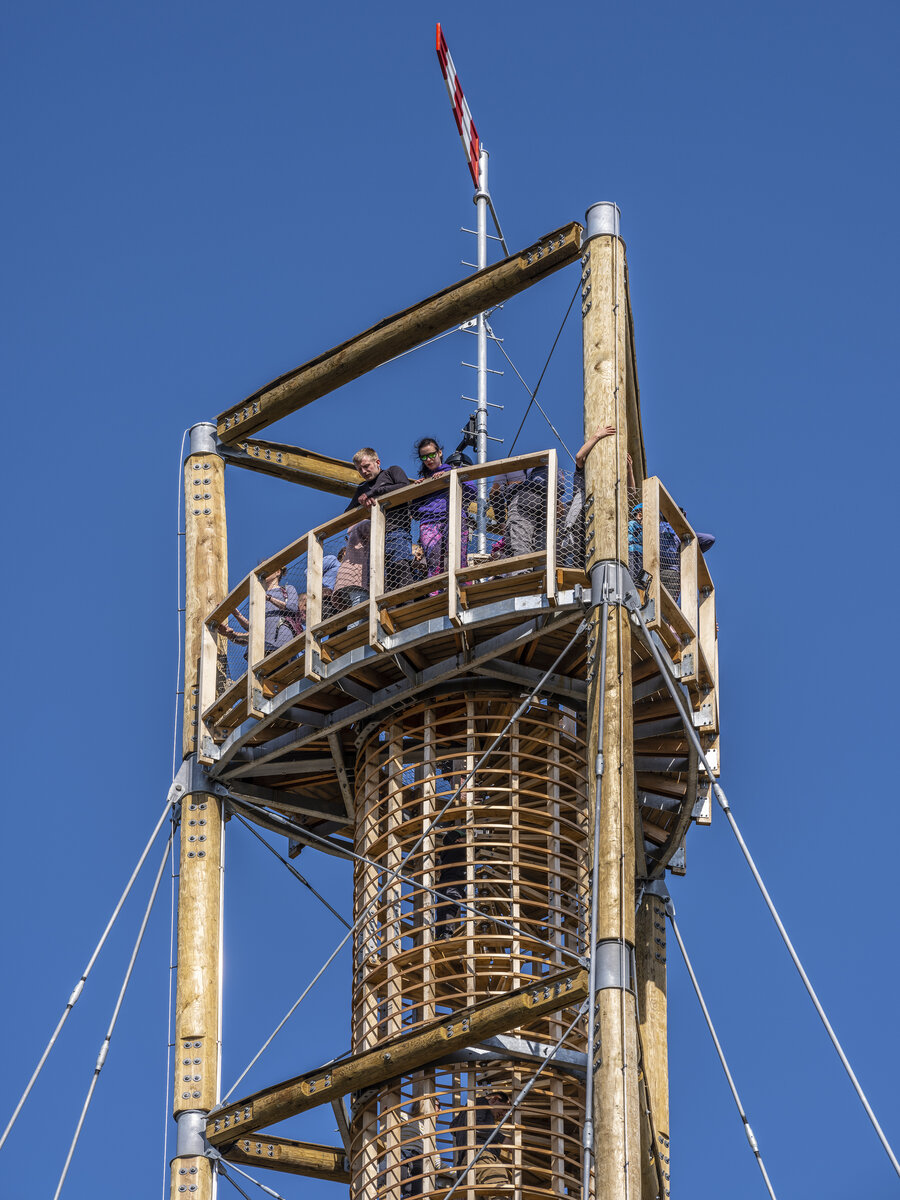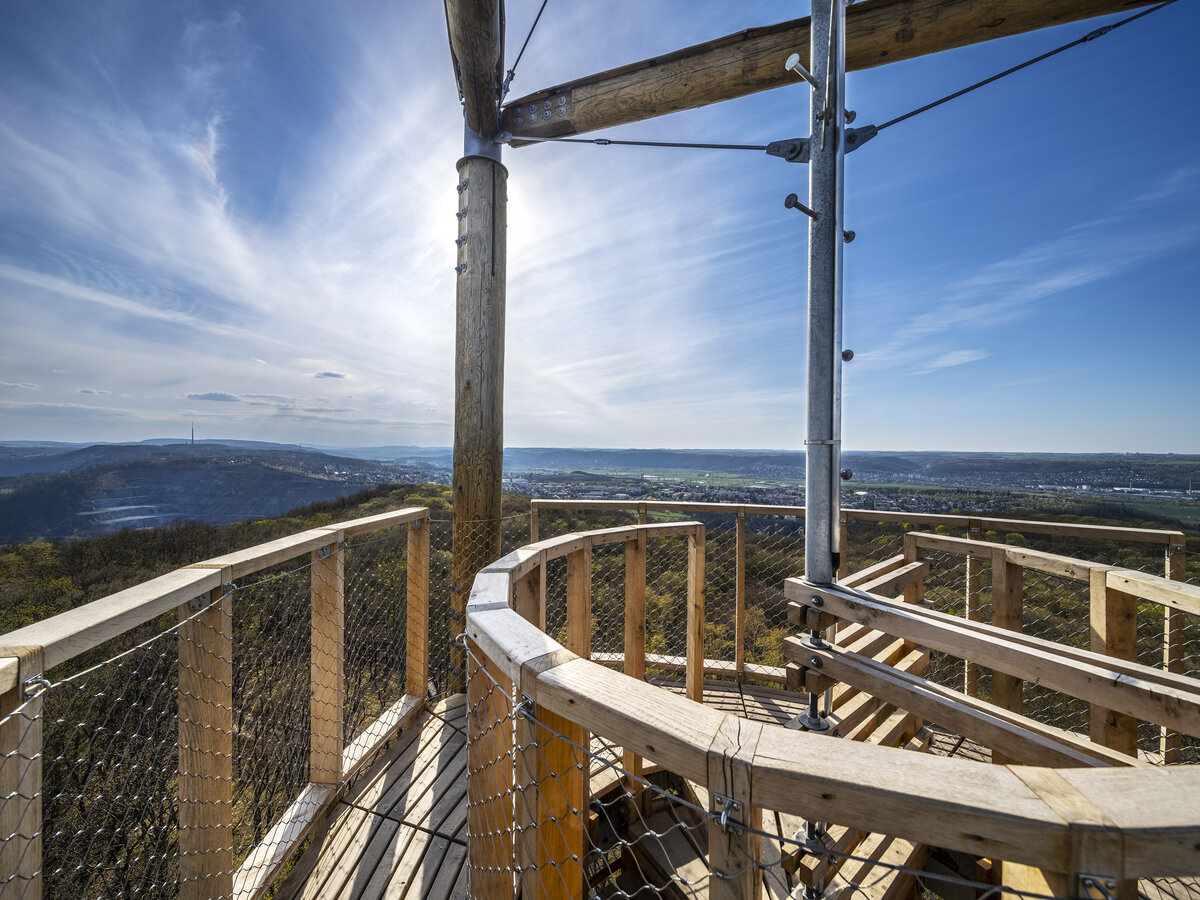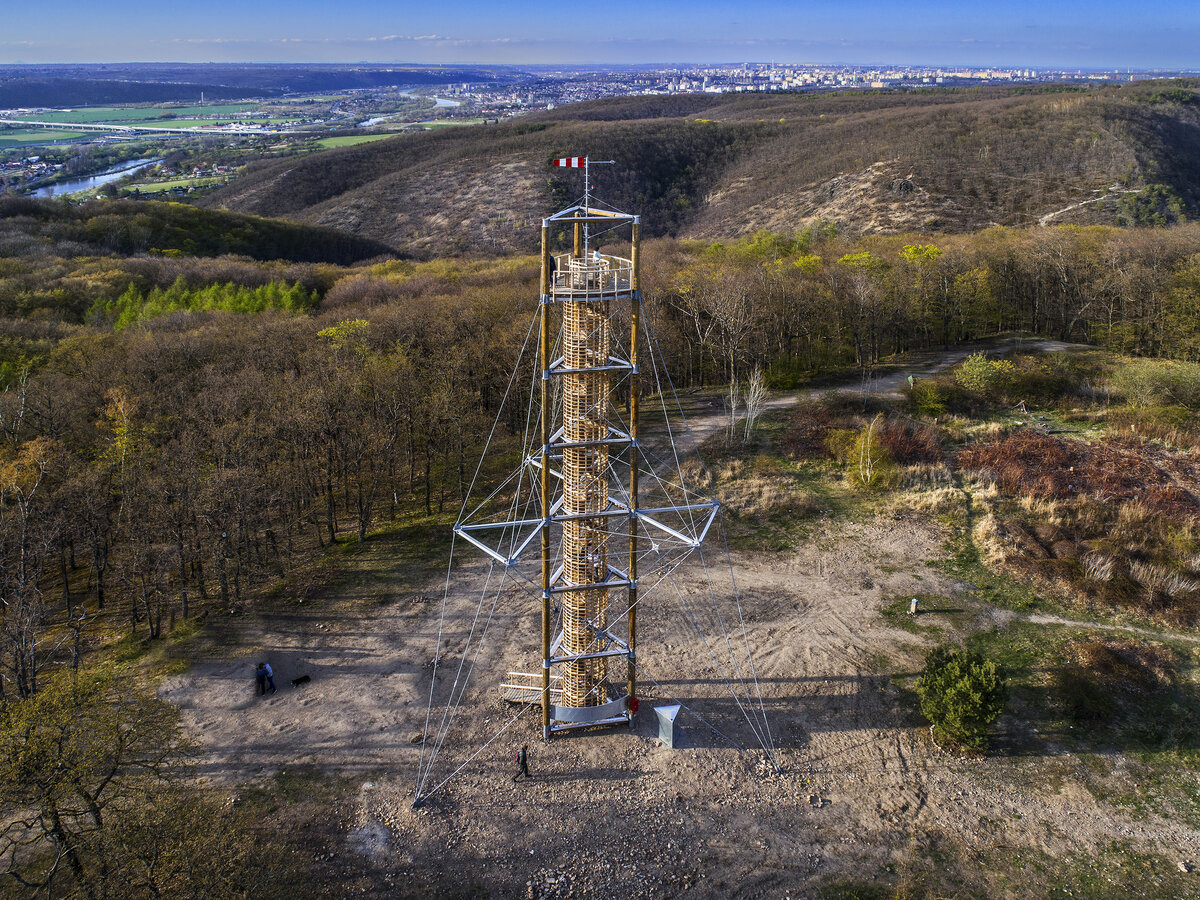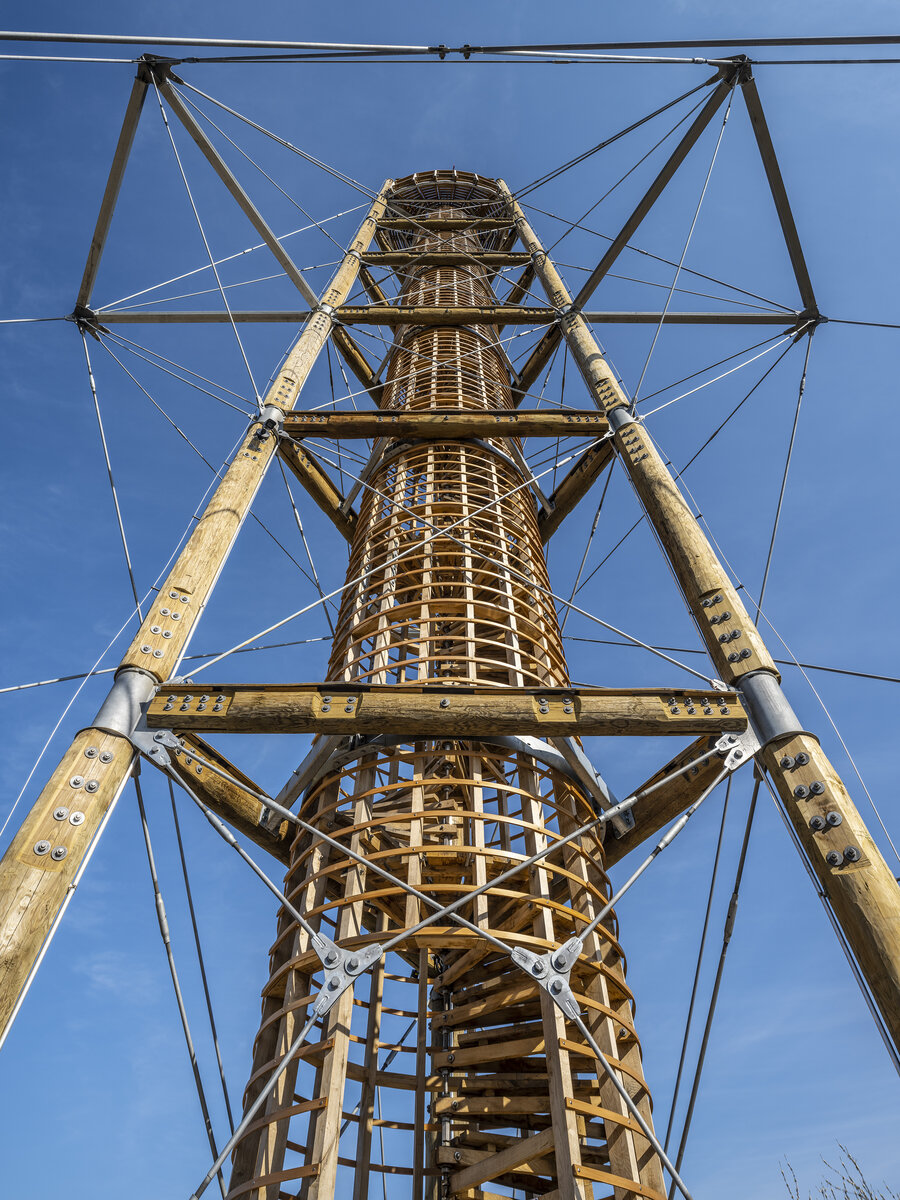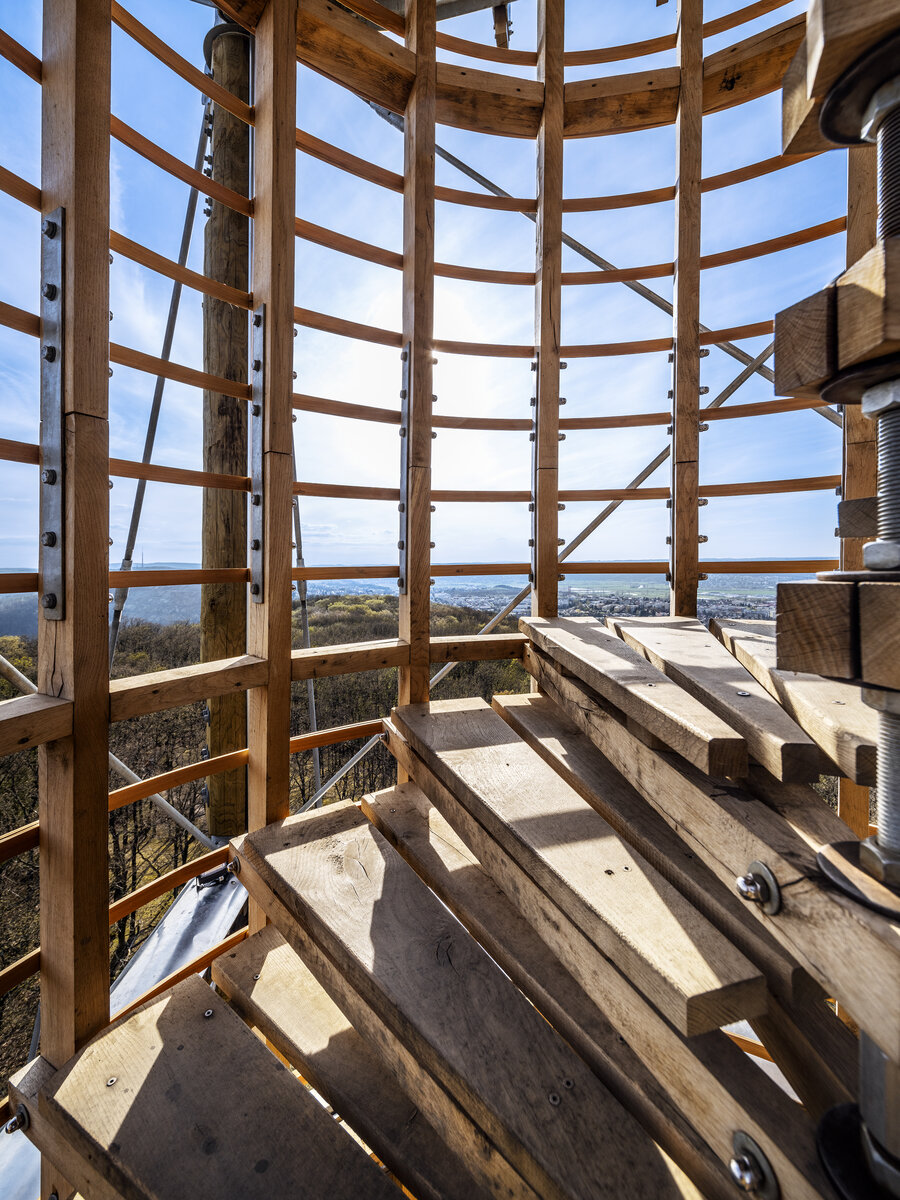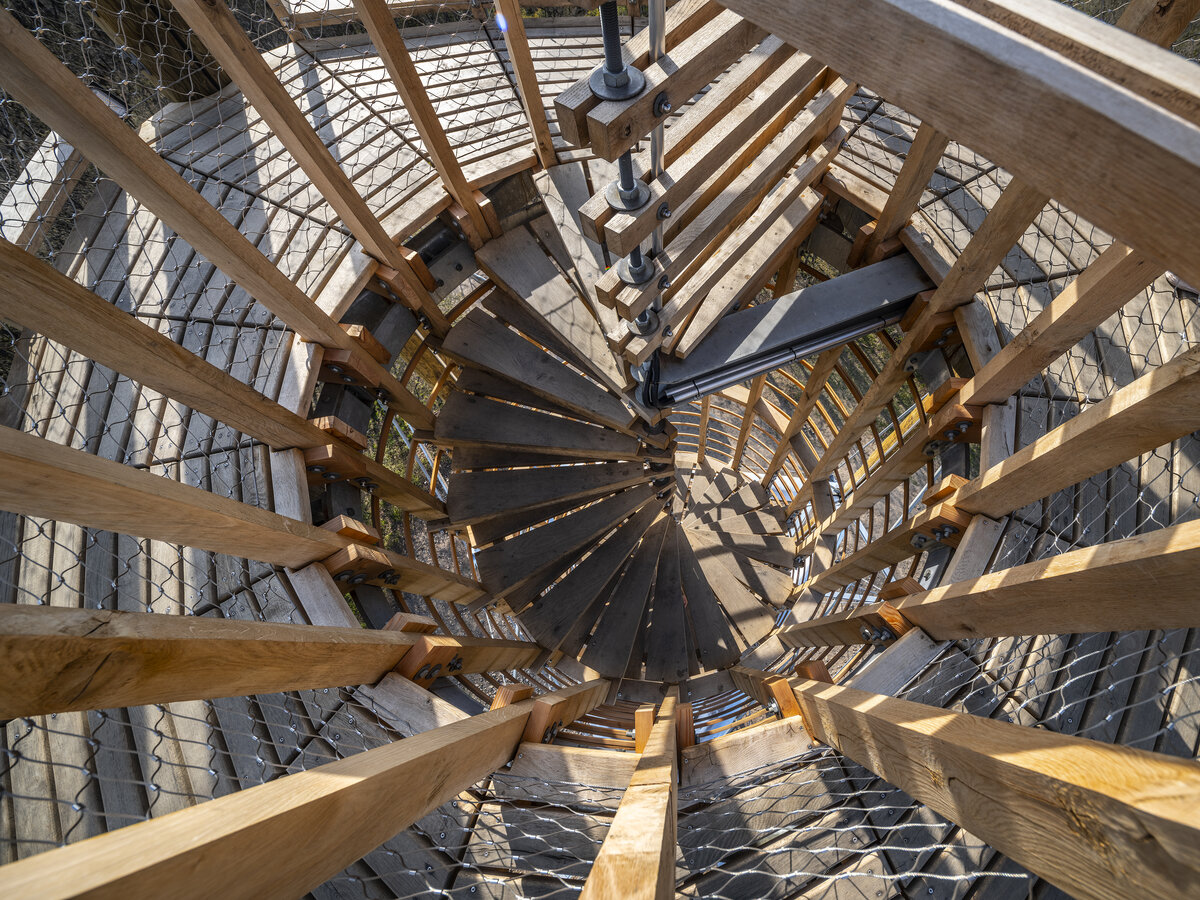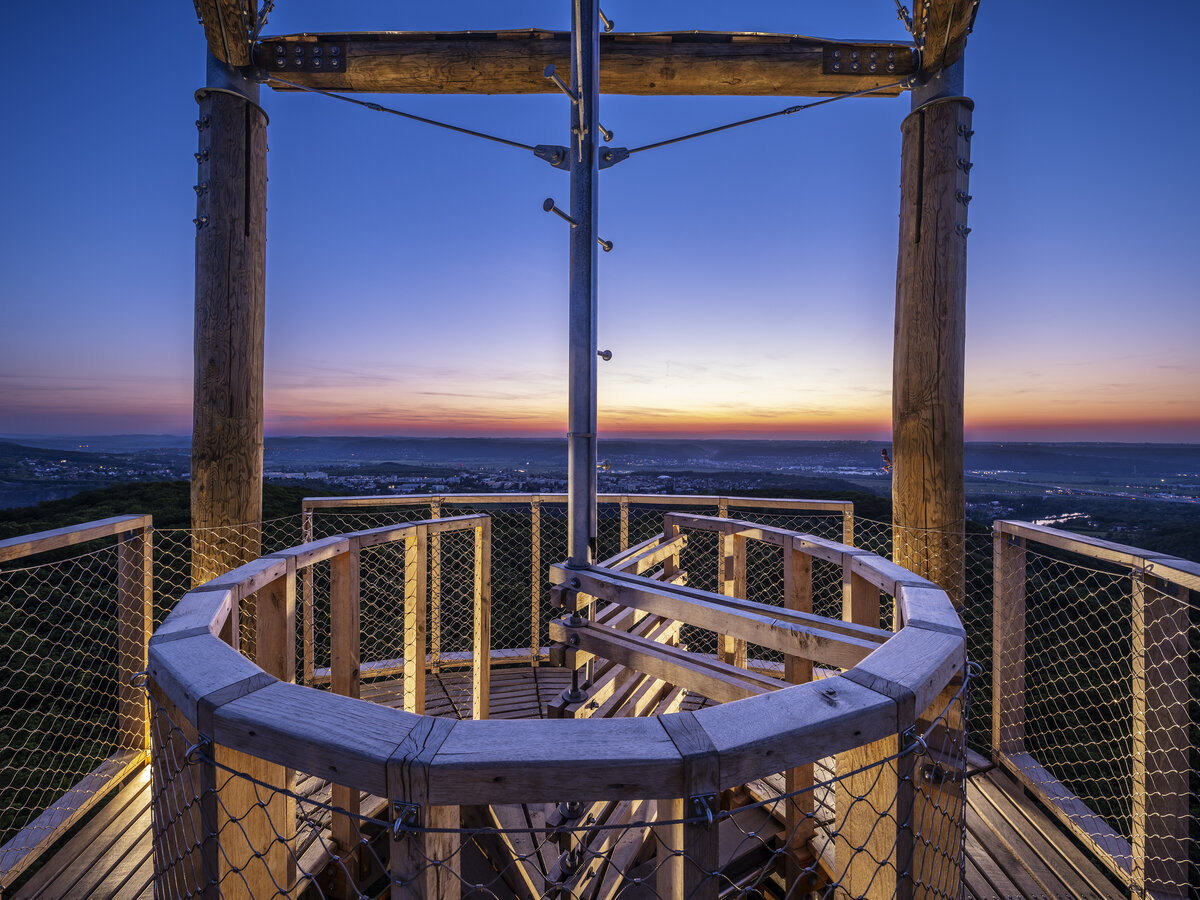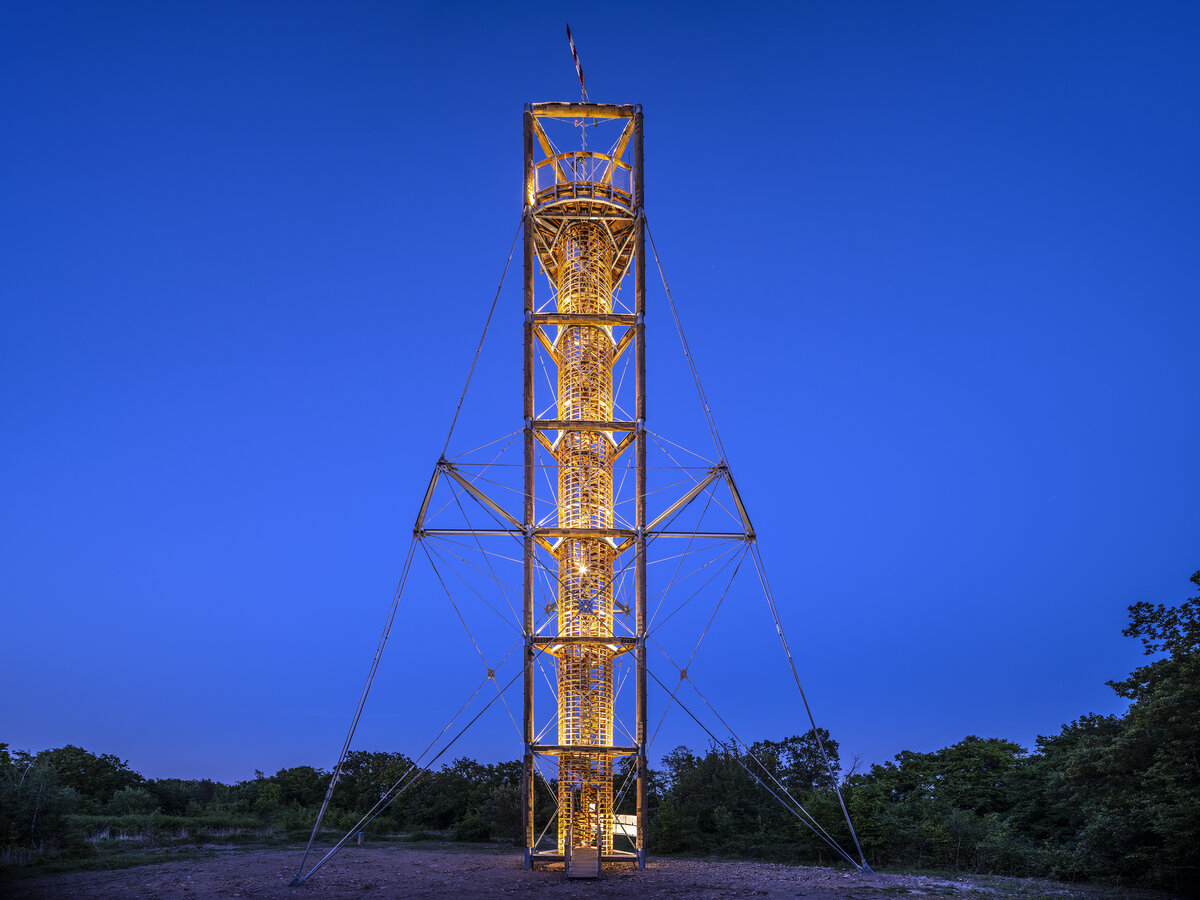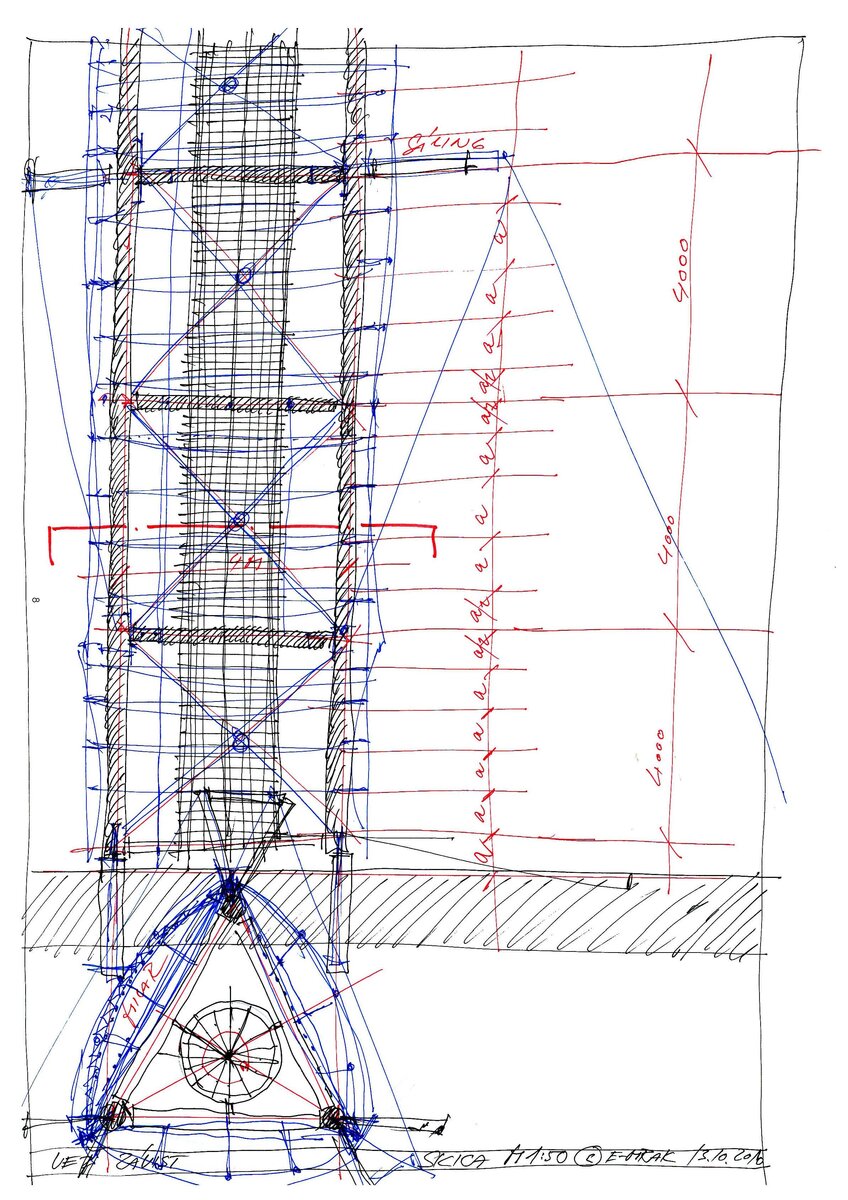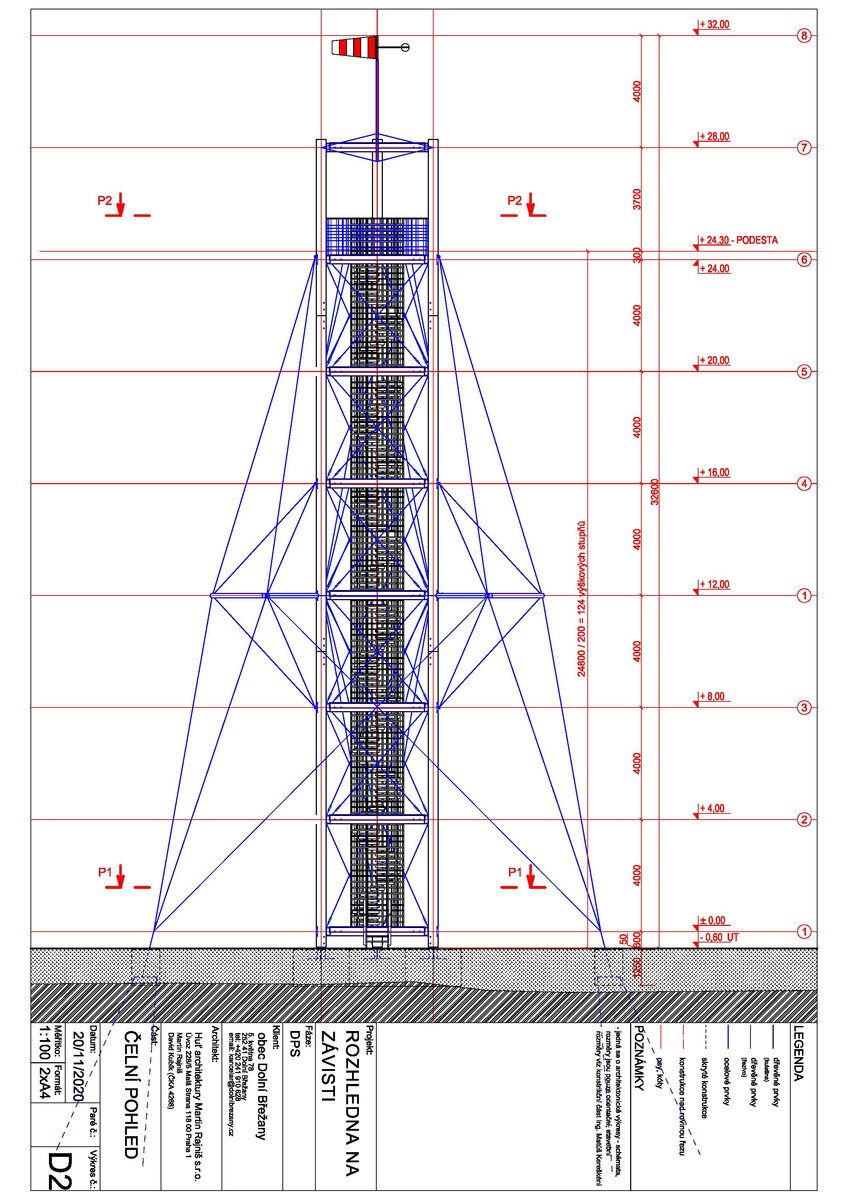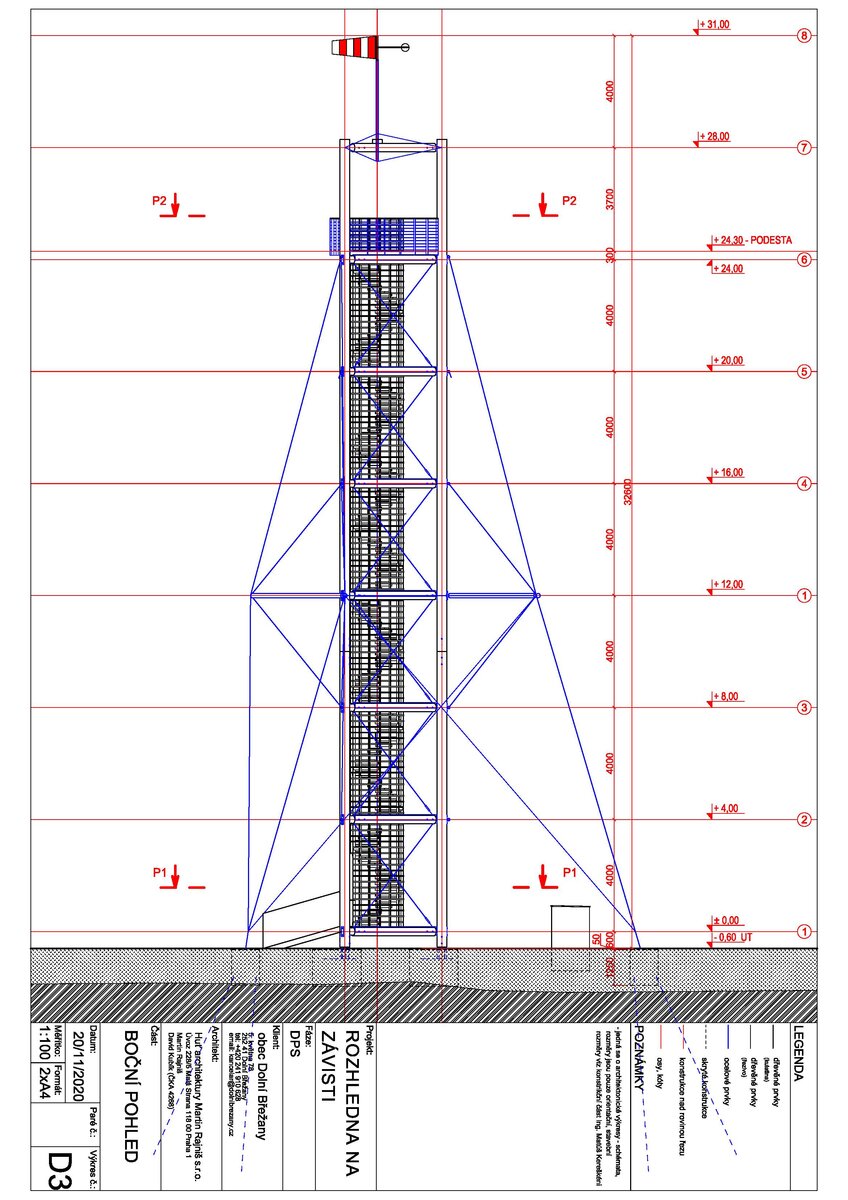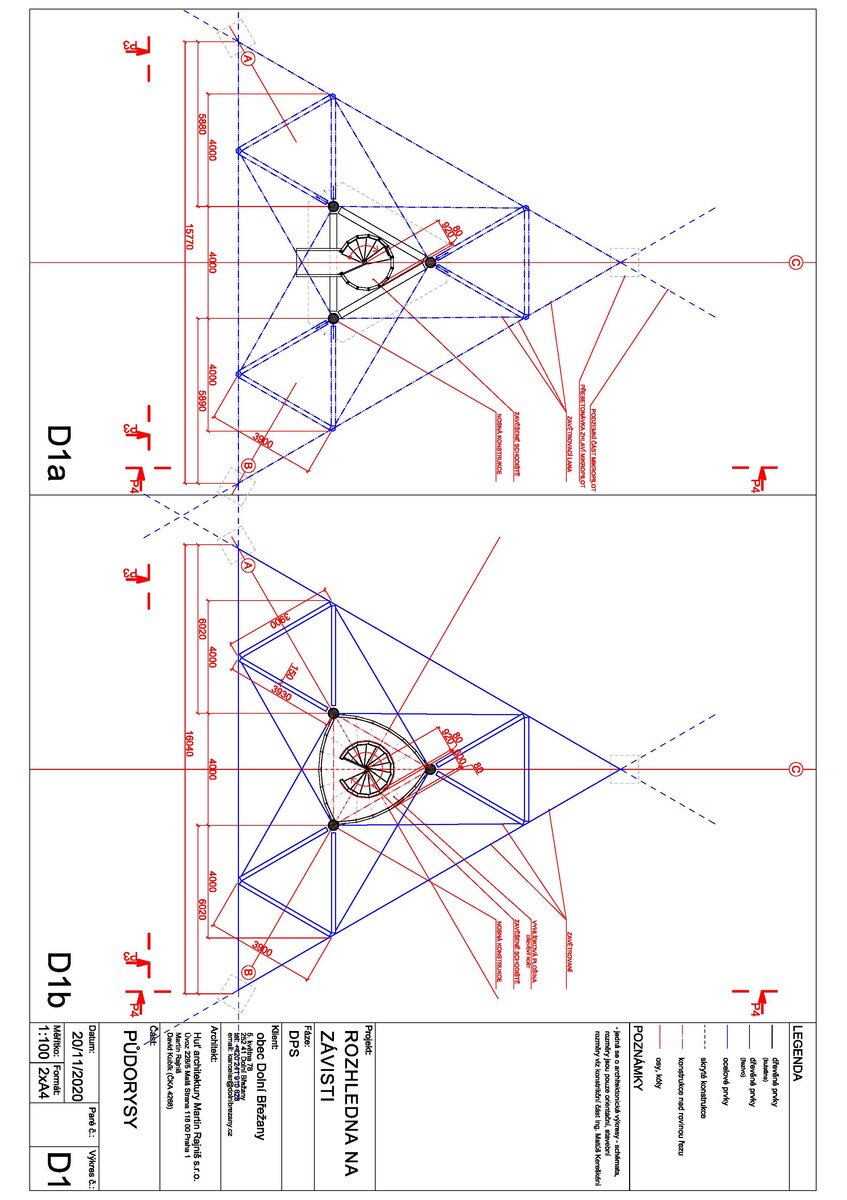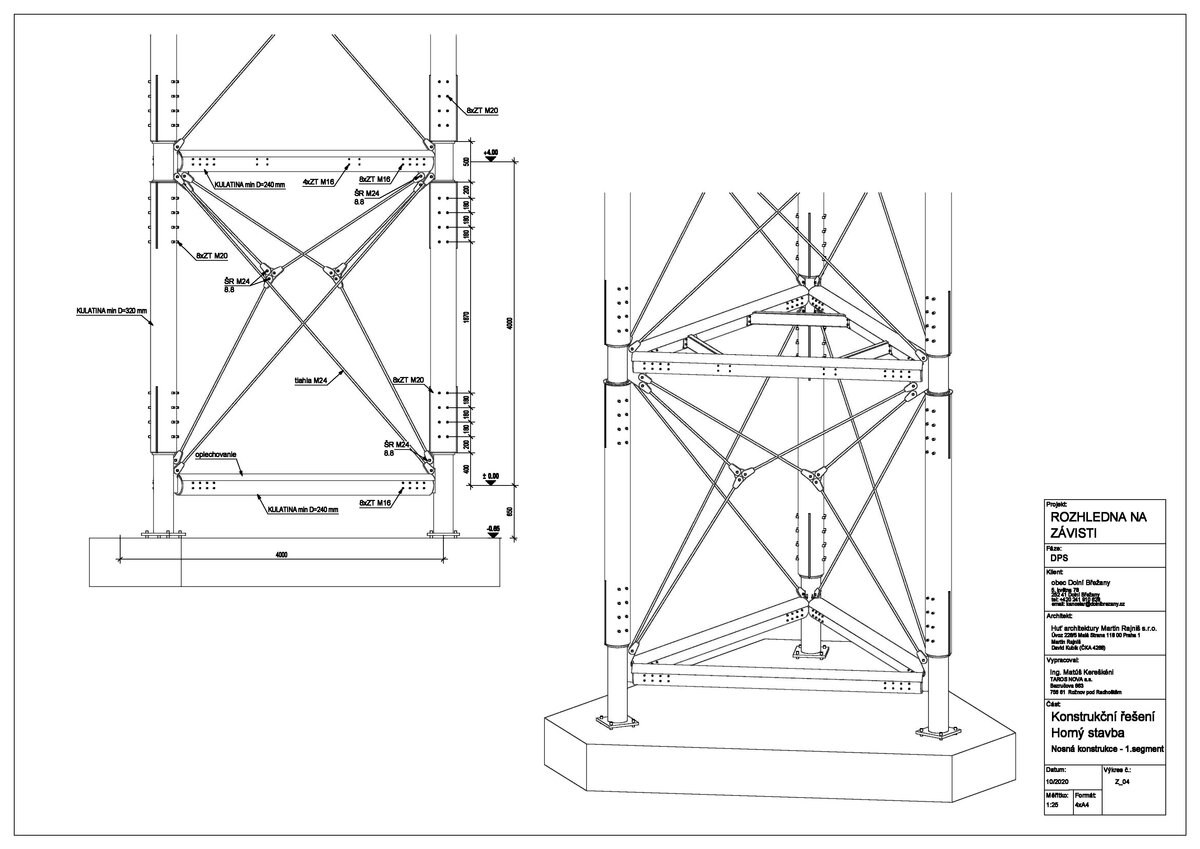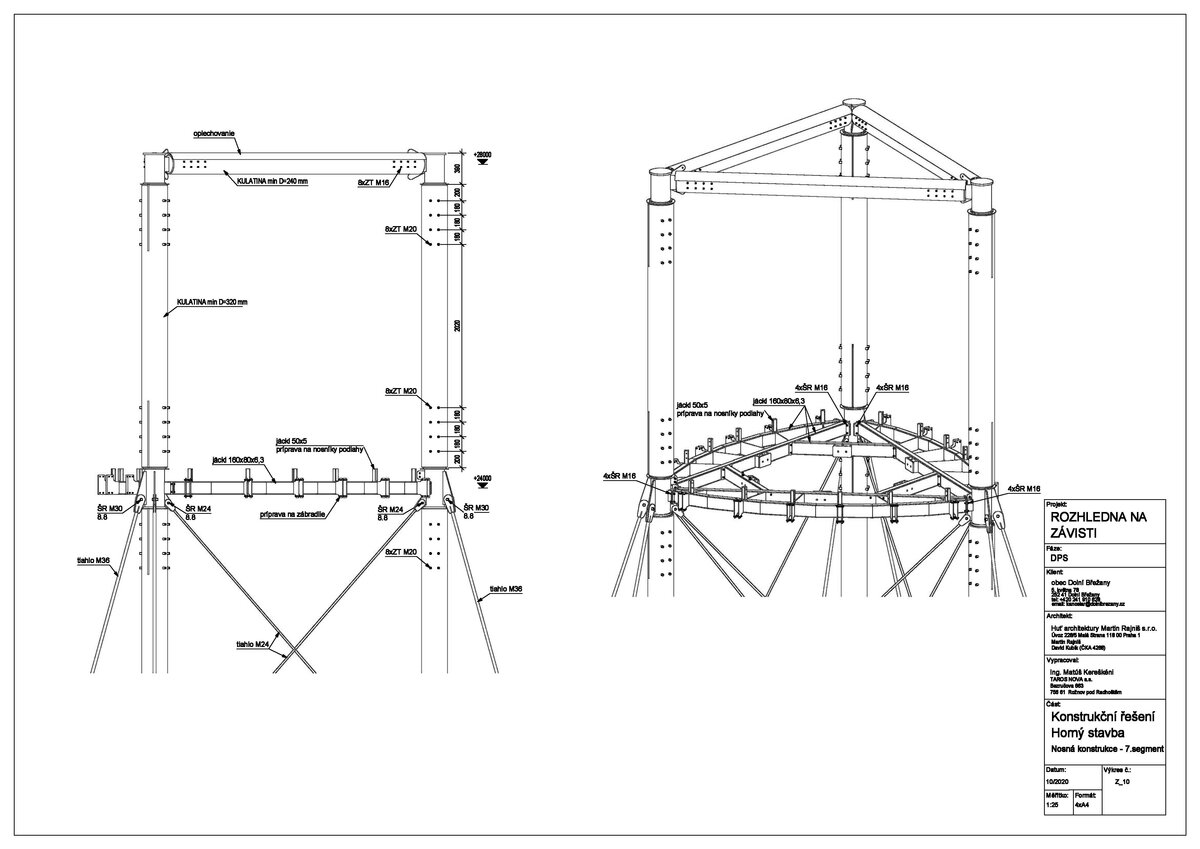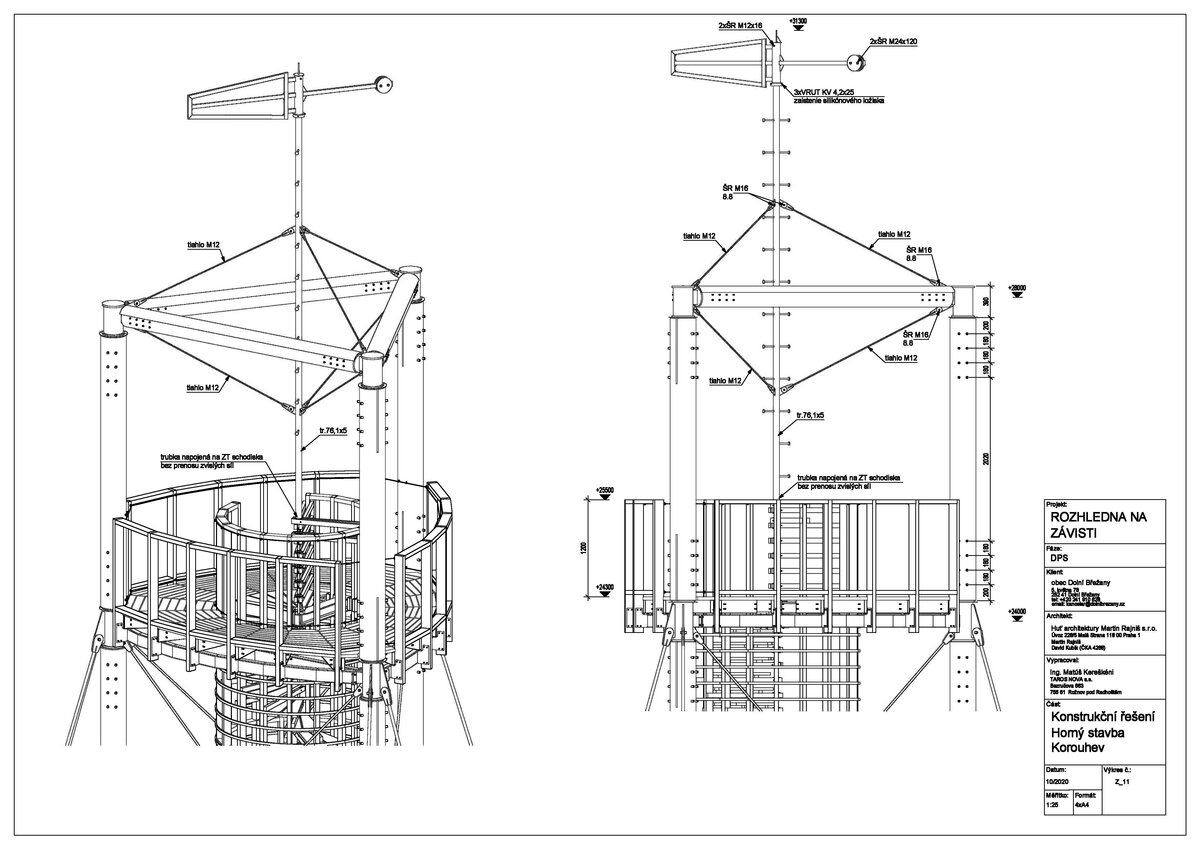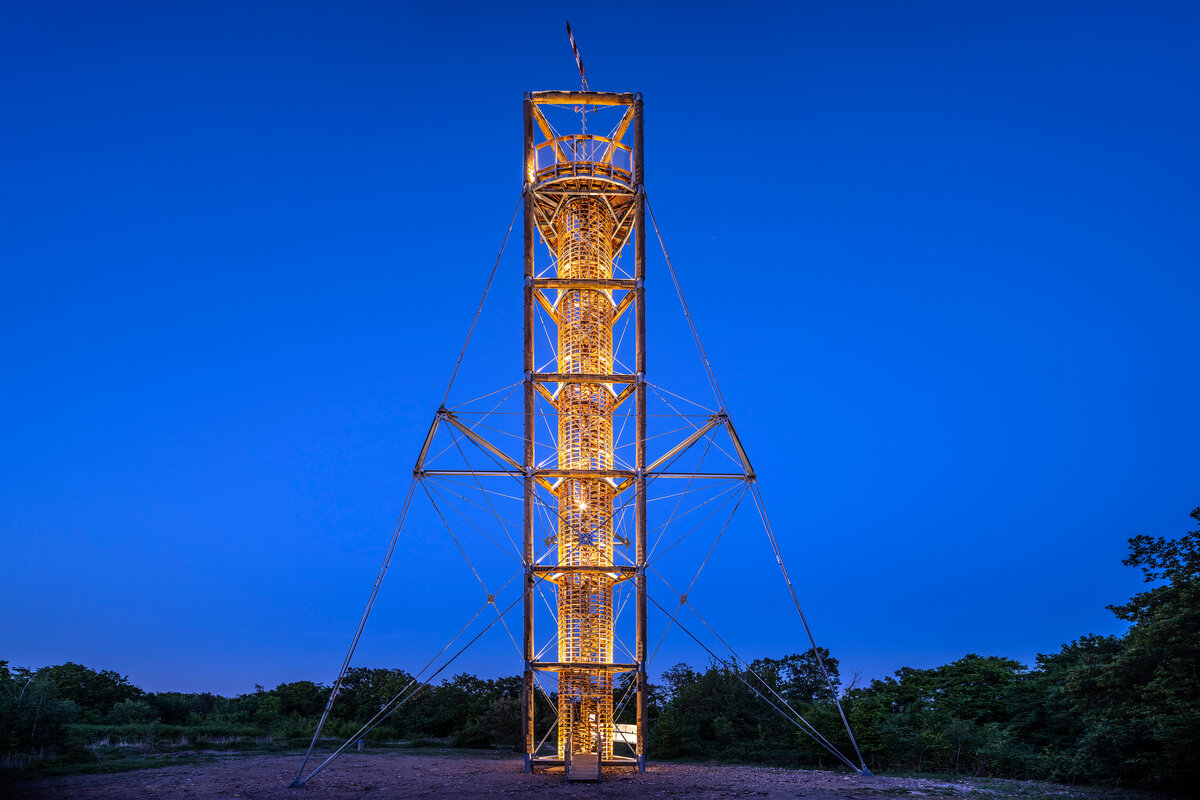 Author
Huť Architektury Martin Rajniš s.r.o., Prof. Ing. arch. Martin Rajniš, Ing. Vojta Pešek, MgA. David Kubík
Studio
Location
místo: Opidum na Závisti
GPS koordináty: 49.9623658N, 14.4082000E
Investor
Obec Dolní Břežany
Supplier
TAROS NOVA a.s.
Date of project approval
March 2022
Fotograf
The building is located on the edge of the former acropolis of the Celtic oppidum on Hradiště hill, which also stretched on the opposite hill of Šance, making it the largest oppidum in Bohemia. The place is a popular destination for hikers from nearby Prague. In the past, the Acropolis was completely explored by archaeologists down to the rock itself, then re-buried. The place has thus lost much of its original attractiveness. The lookout tower should reverse this unfavorable condition.
A rational, simple construction, where there is nothing extra, suits this place. The triangular supporting structure of the lookout tower consists of pressure-impregnated larch logs connected by steel joints. The columns are arranged in a triangle with a side size of 4 m and are interconnected by logs and steel rods so that the whole structure functions as a lattice 28 meter high beam. This is complemented by "sálings" with steel rods, the system stabilizes the tower against wind forces.
In the middle of the tower there is a spiral oak staircase and above the wooden structure there is a mast equipped with a banner and a signal light.
To prolong the life of the structure, the horizontal elements are covered with sheet metal.
The lookout tower structurally develops a number of our towers designed from wooden logs with a typical spiral staircase. The whole world is looking for a way to better reconcile with nature, minimize the carbon footprint and emerge from the deep crisis that architecture is going through. Construction is our answer to many of the questions mentioned.
foundation of the lookout tower: + - 0,0 = 389 m.n.m.
banner: + 419.8 m.n.m.
height of the observation deck: + 24 m
height of wooden structure: + 28 m
banner height: + 32.6 m
floor plan size of the base: 4 m
internal dimensions of the staircase: 0.9 m
number of stairs: 128 (24 m / 128 heights = 0,1875 m)
built-up area: 9 m2
built-up area: 130 m3
Used larch logs: 9 m3 (148 m total length)
Hot-dip galvanized steel 10 t
Oak staircase 6 m3

construction costs: CZK 4.8 million excluding VAT
electrical connection: CZK 0.6 million without VAT
Green building
Environmental certification
| | |
| --- | --- |
| Type and level of certificate | - |
Water management
| | |
| --- | --- |
| Is rainwater used for irrigation? | |
| Is rainwater used for other purposes, e.g. toilet flushing ? | |
| Does the building have a green roof / facade ? | |
| Is reclaimed waste water used, e.g. from showers and sinks ? | |
The quality of the indoor environment
| | |
| --- | --- |
| Is clean air supply automated ? | |
| Is comfortable temperature during summer and winter automated? | |
| Is natural lighting guaranteed in all living areas? | |
| Is artificial lighting automated? | |
| Is acoustic comfort, specifically reverberation time, guaranteed? | |
| Does the layout solution include zoning and ergonomics elements? | |
Principles of circular economics
| | |
| --- | --- |
| Does the project use recycled materials? | |
| Does the project use recyclable materials? | |
| Are materials with a documented Environmental Product Declaration (EPD) promoted in the project? | |
| Are other sustainability certifications used for materials and elements? | |
Energy efficiency
| | |
| --- | --- |
| Energy performance class of the building according to the Energy Performance Certificate of the building | |
| Is efficient energy management (measurement and regular analysis of consumption data) considered? | |
| Are renewable sources of energy used, e.g. solar system, photovoltaics? | |
Interconnection with surroundings
| | |
| --- | --- |
| Does the project enable the easy use of public transport? | |
| Does the project support the use of alternative modes of transport, e.g cycling, walking etc. ? | |
| Is there access to recreational natural areas, e.g. parks, in the immediate vicinity of the building? | |