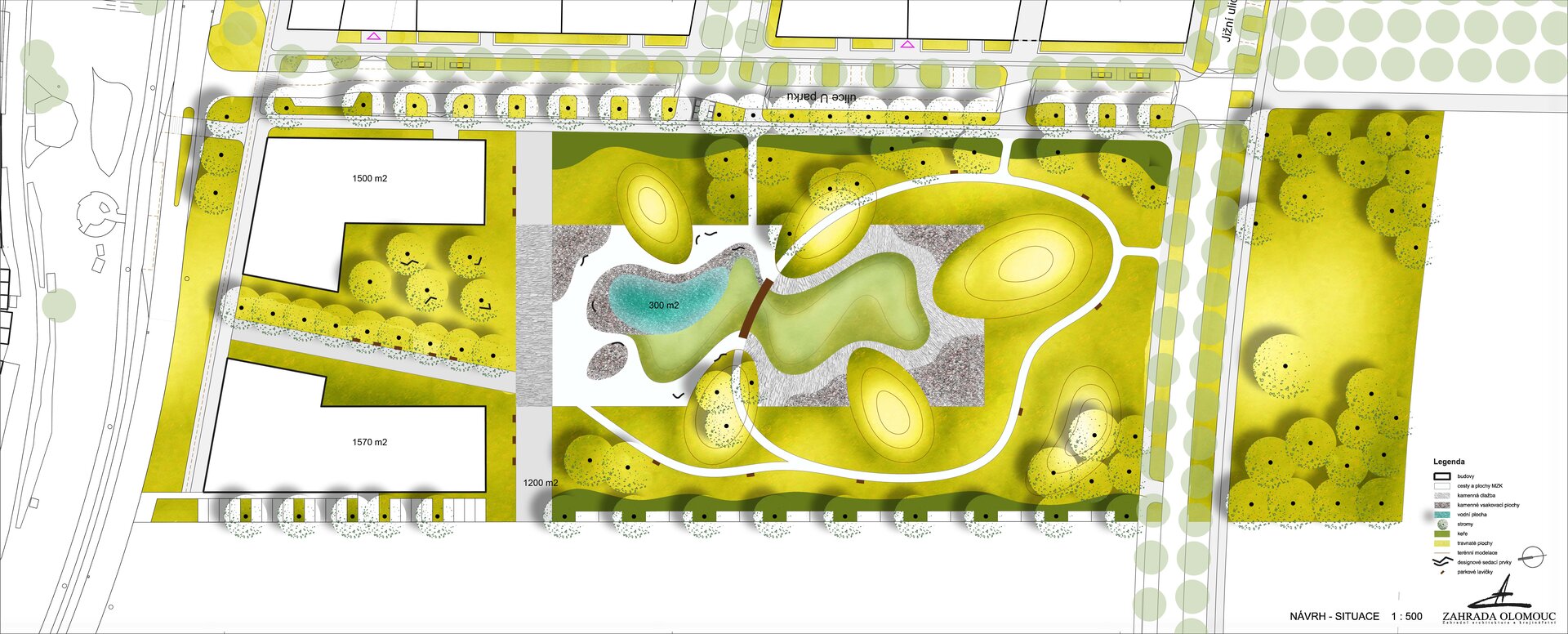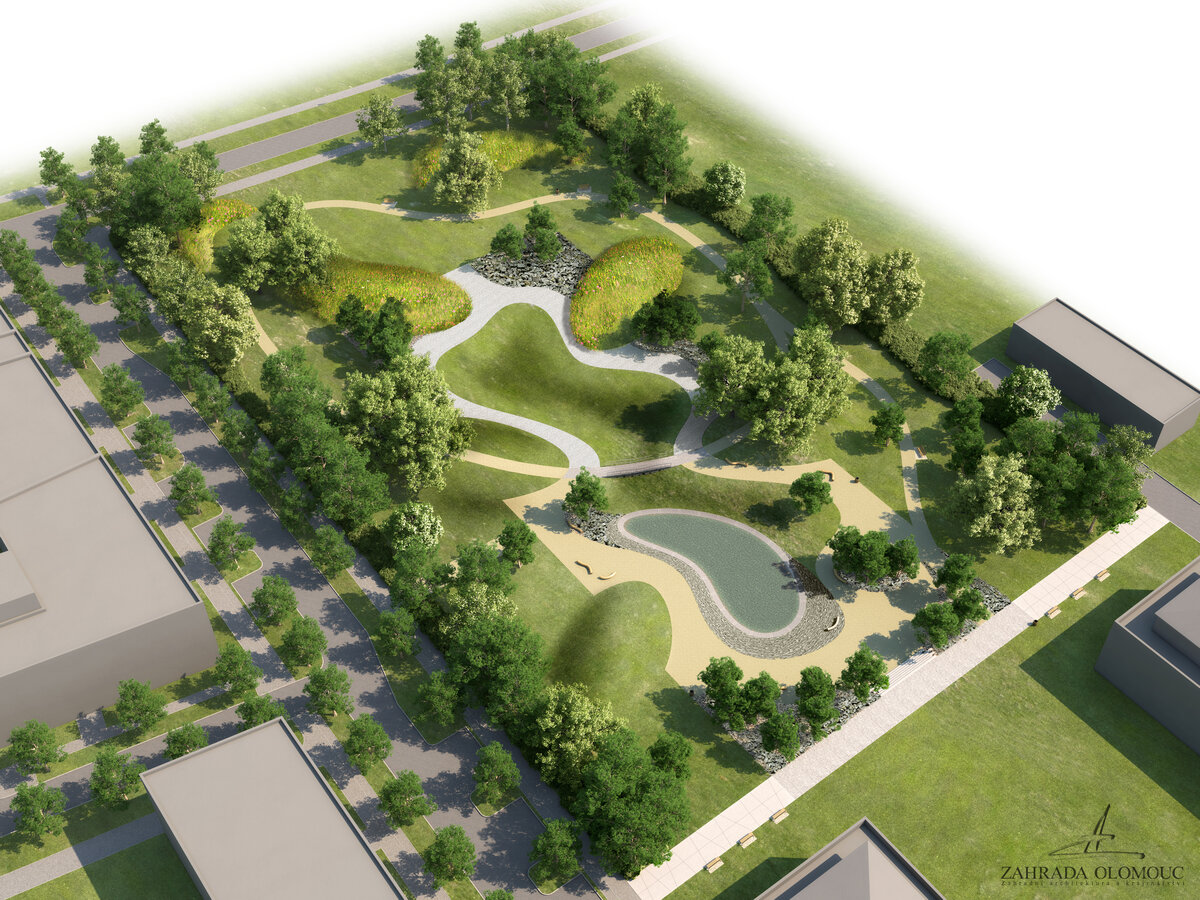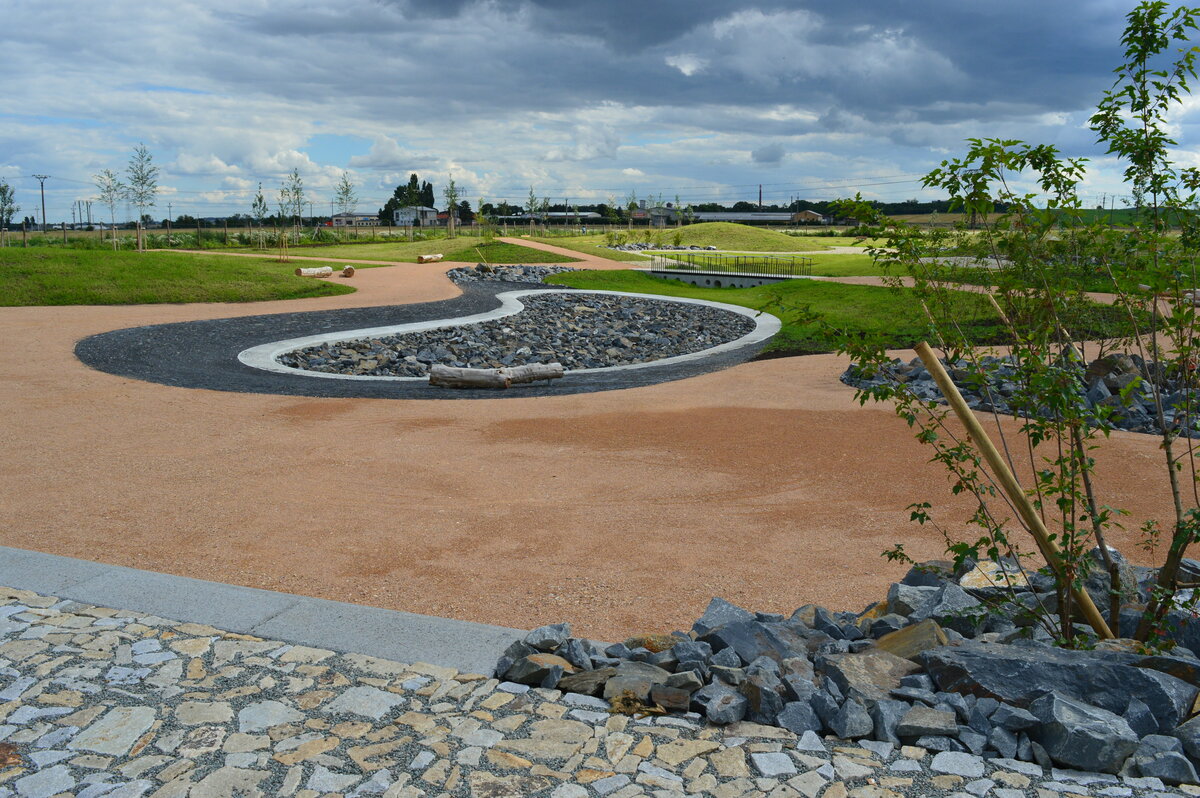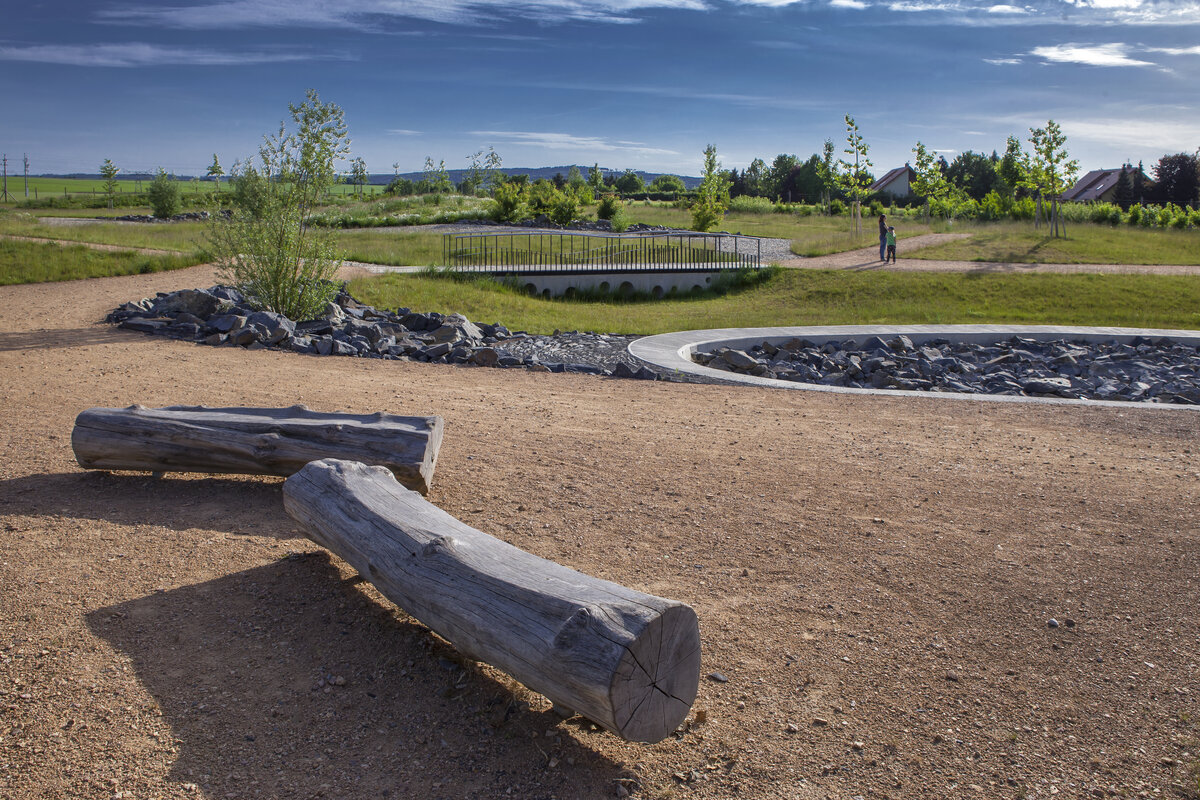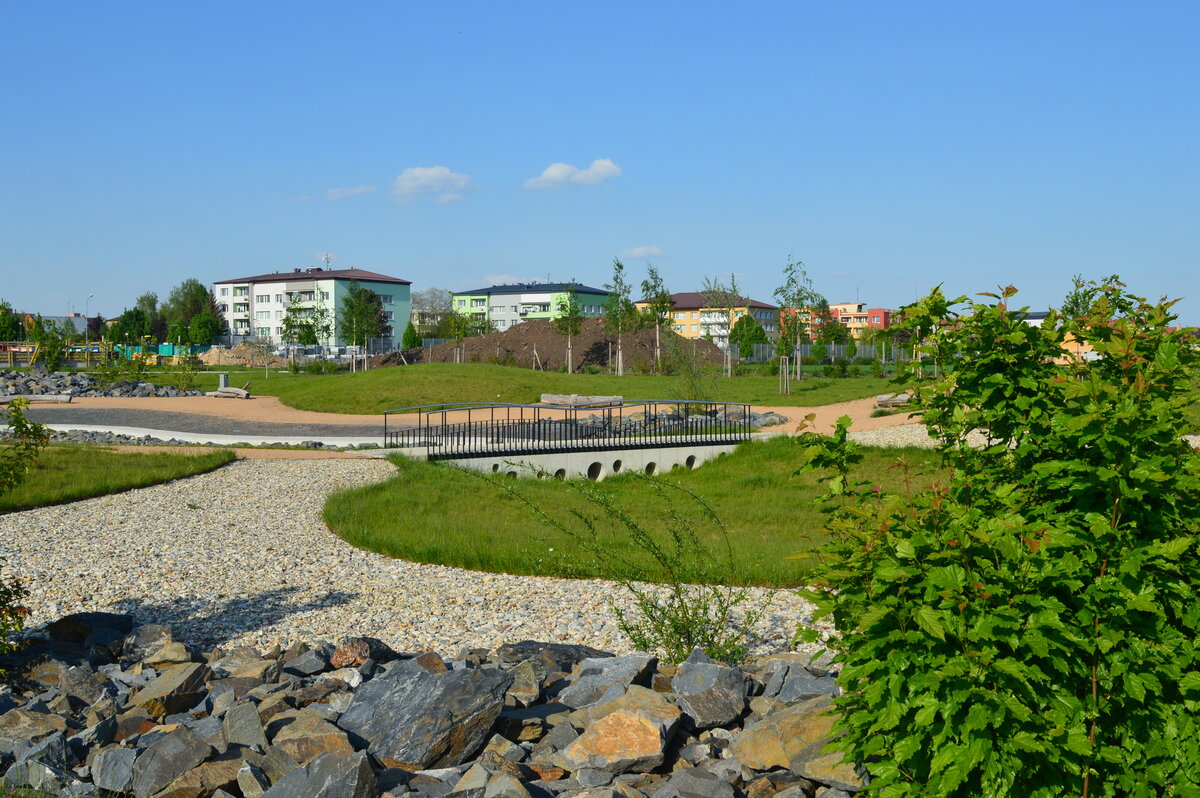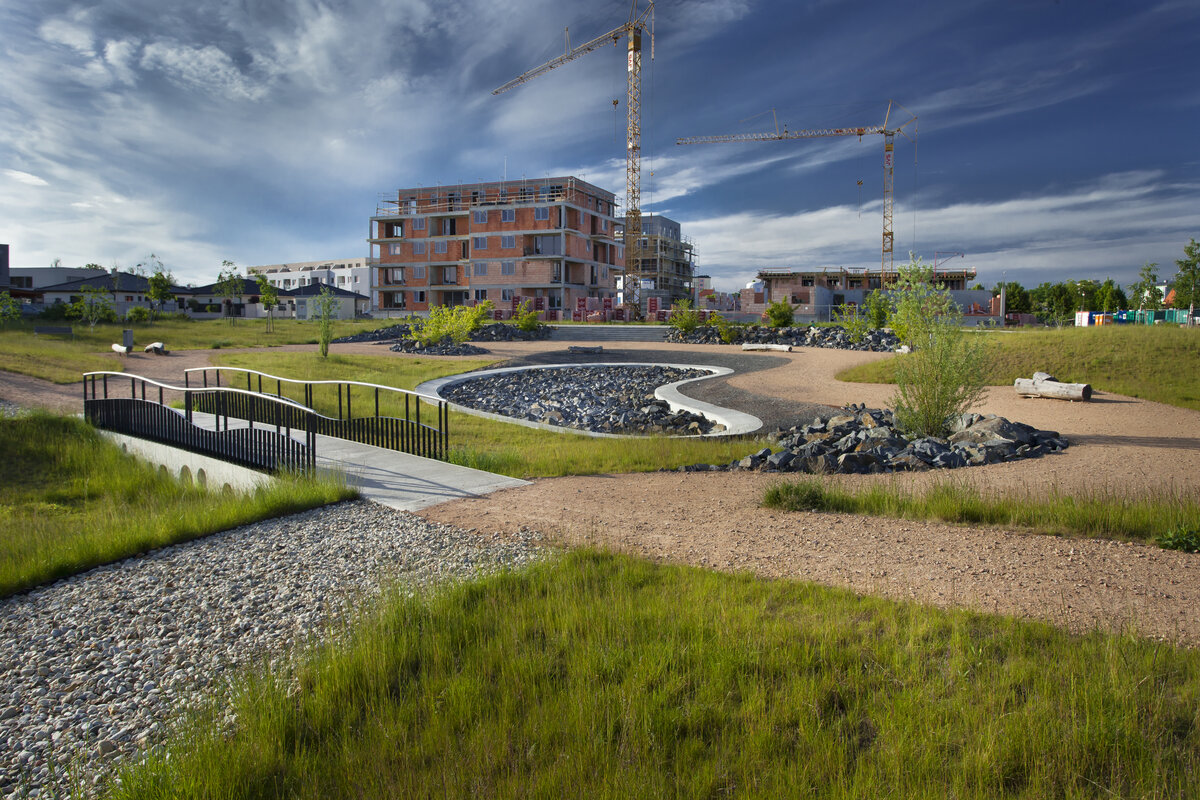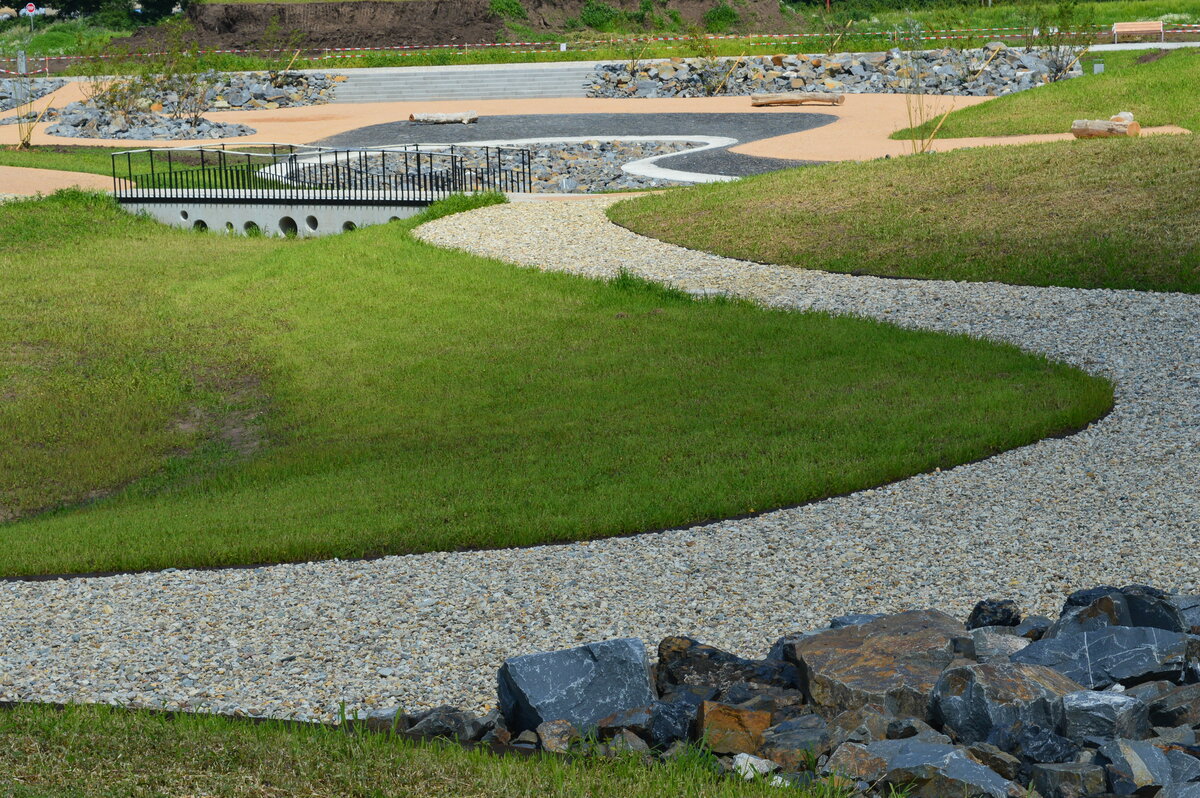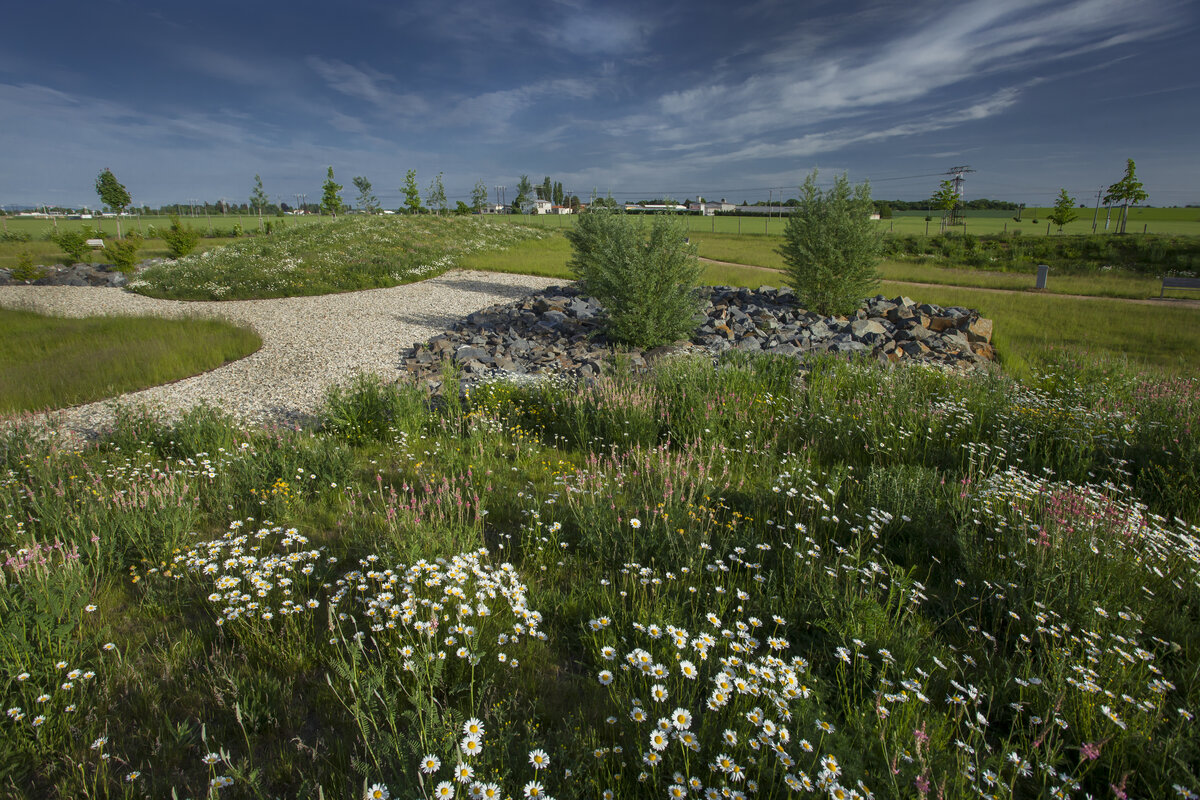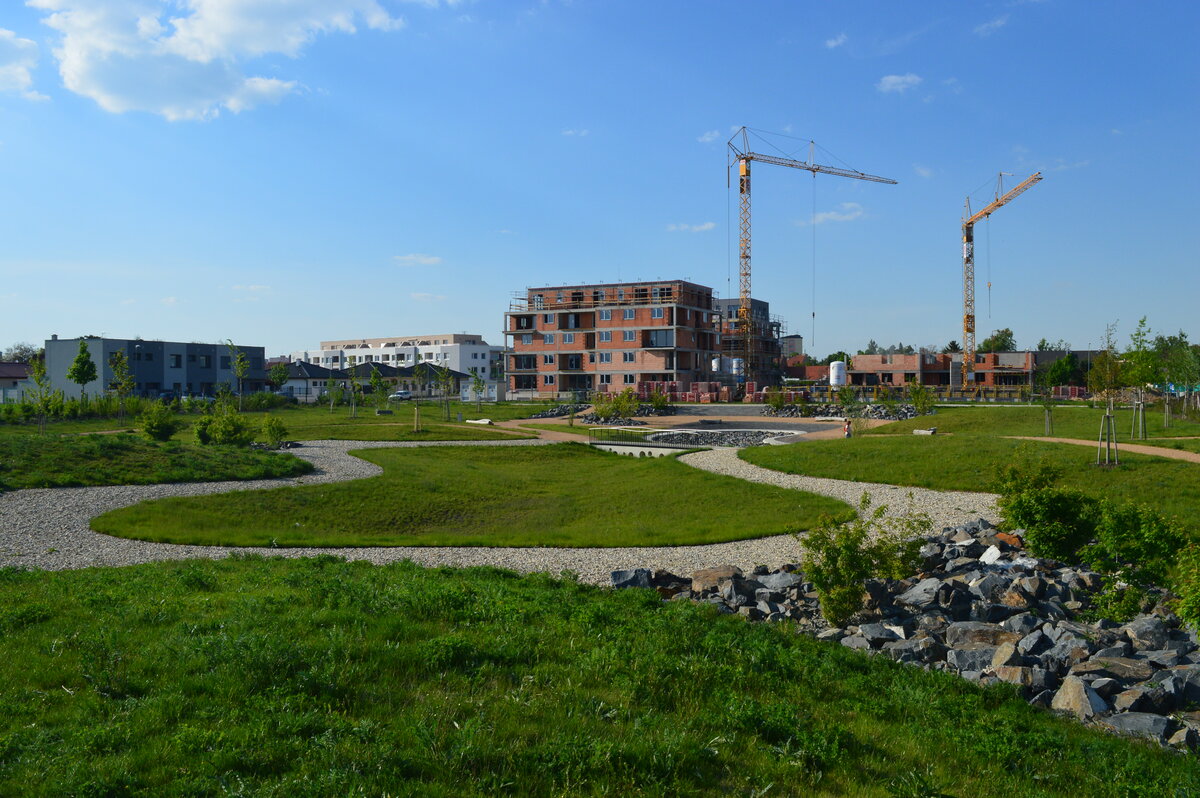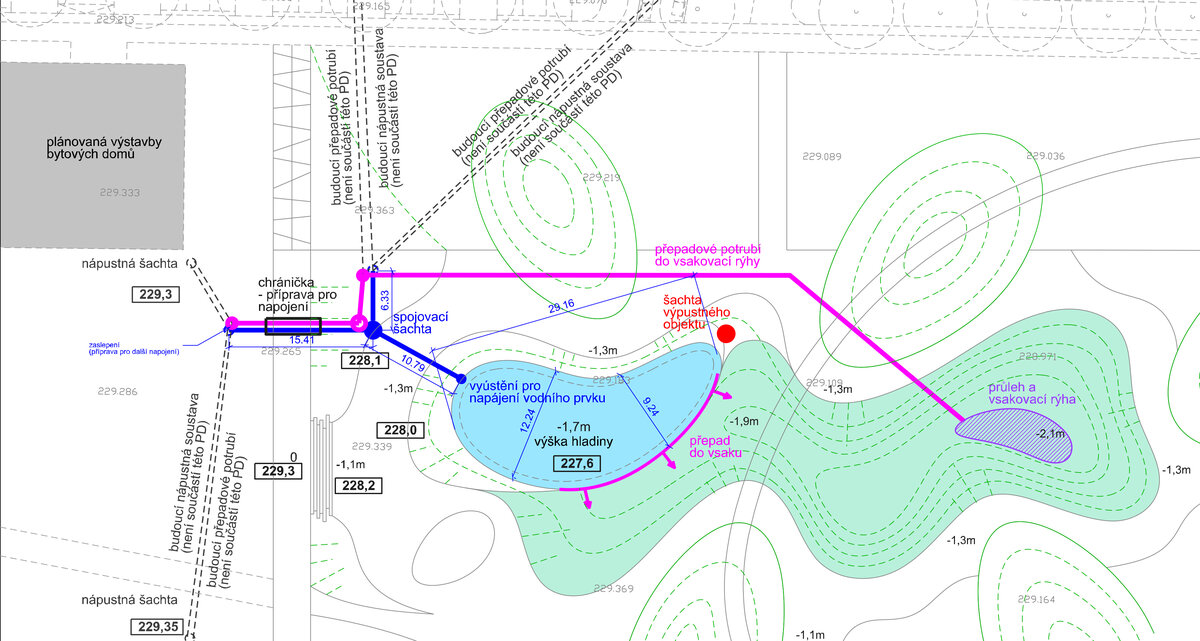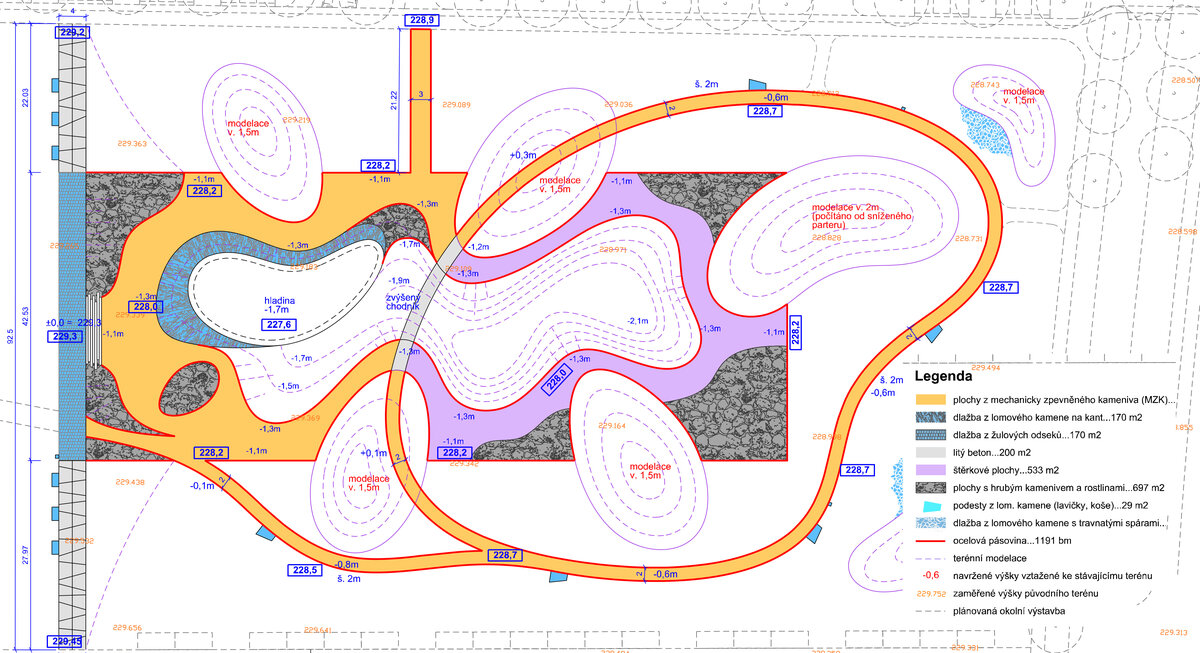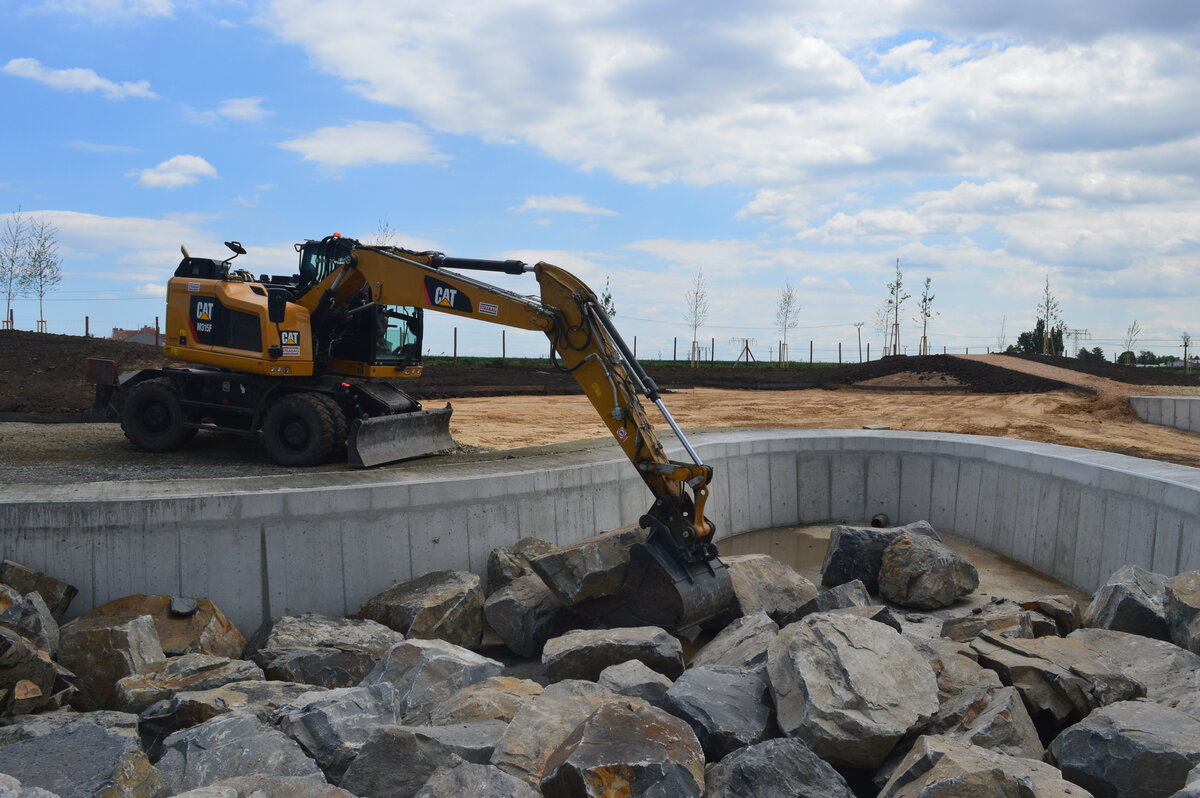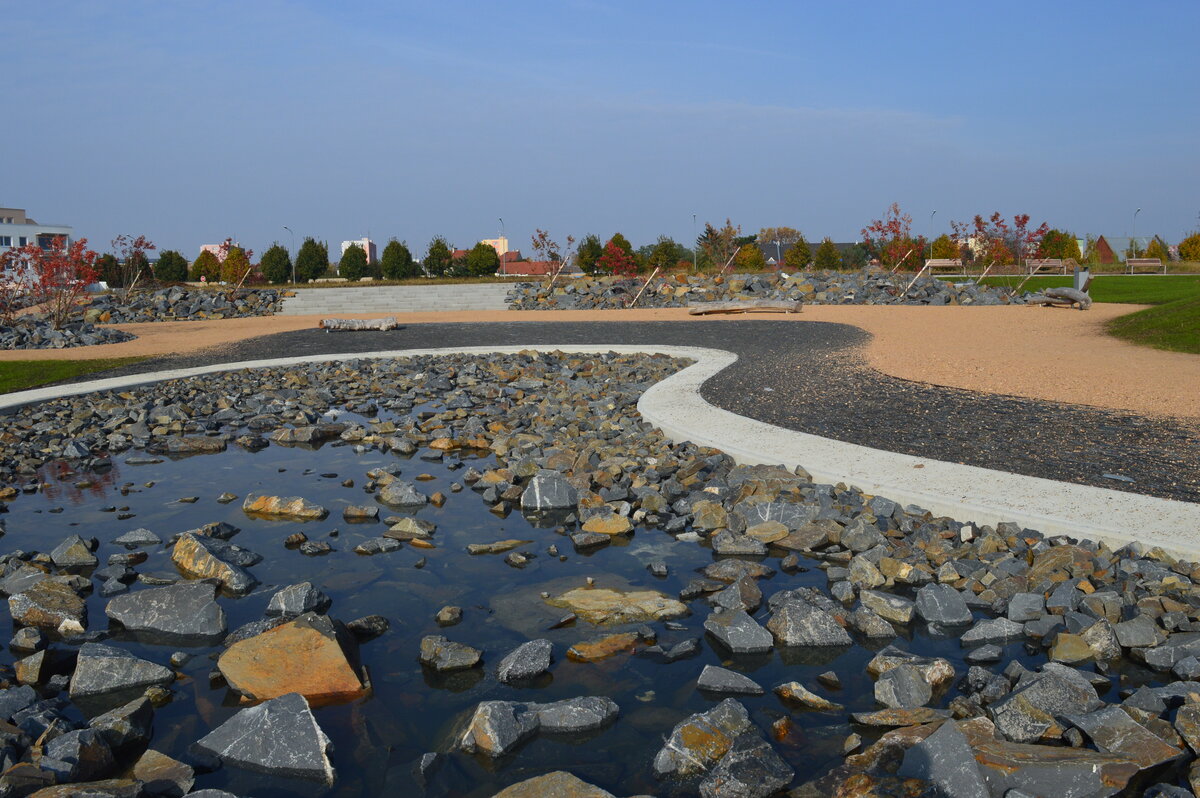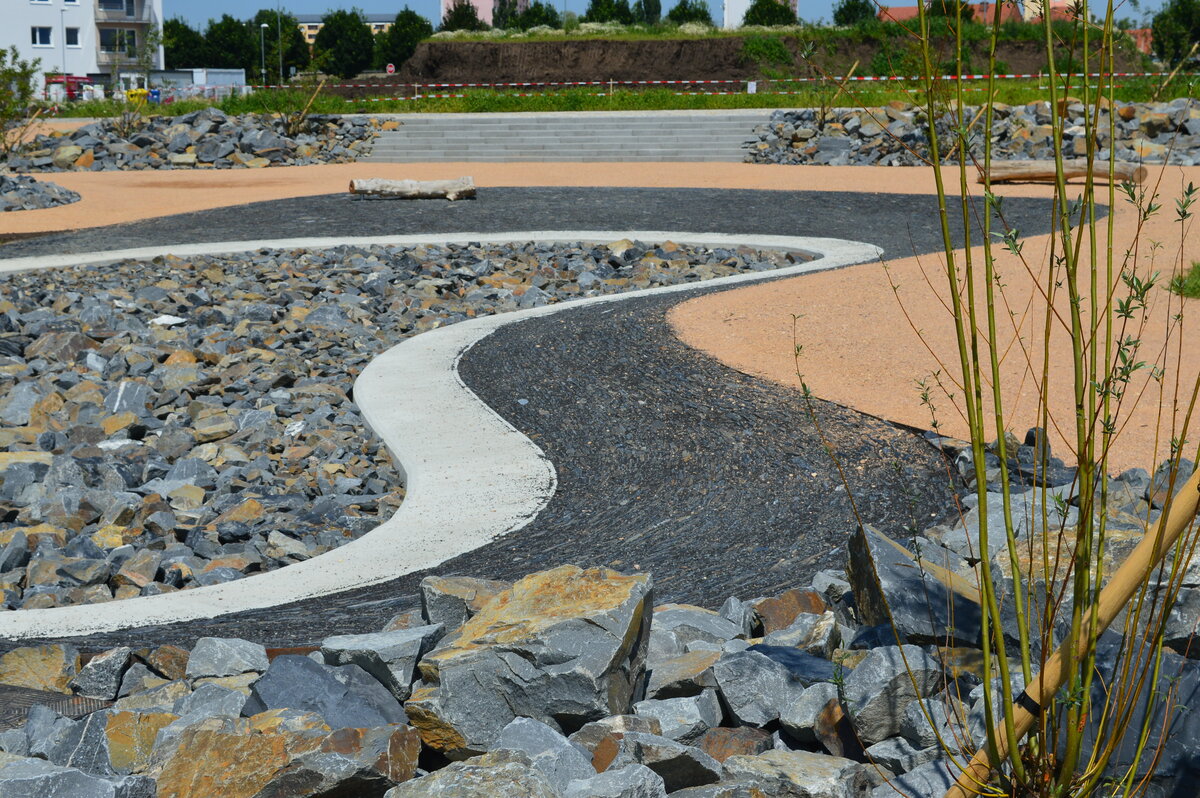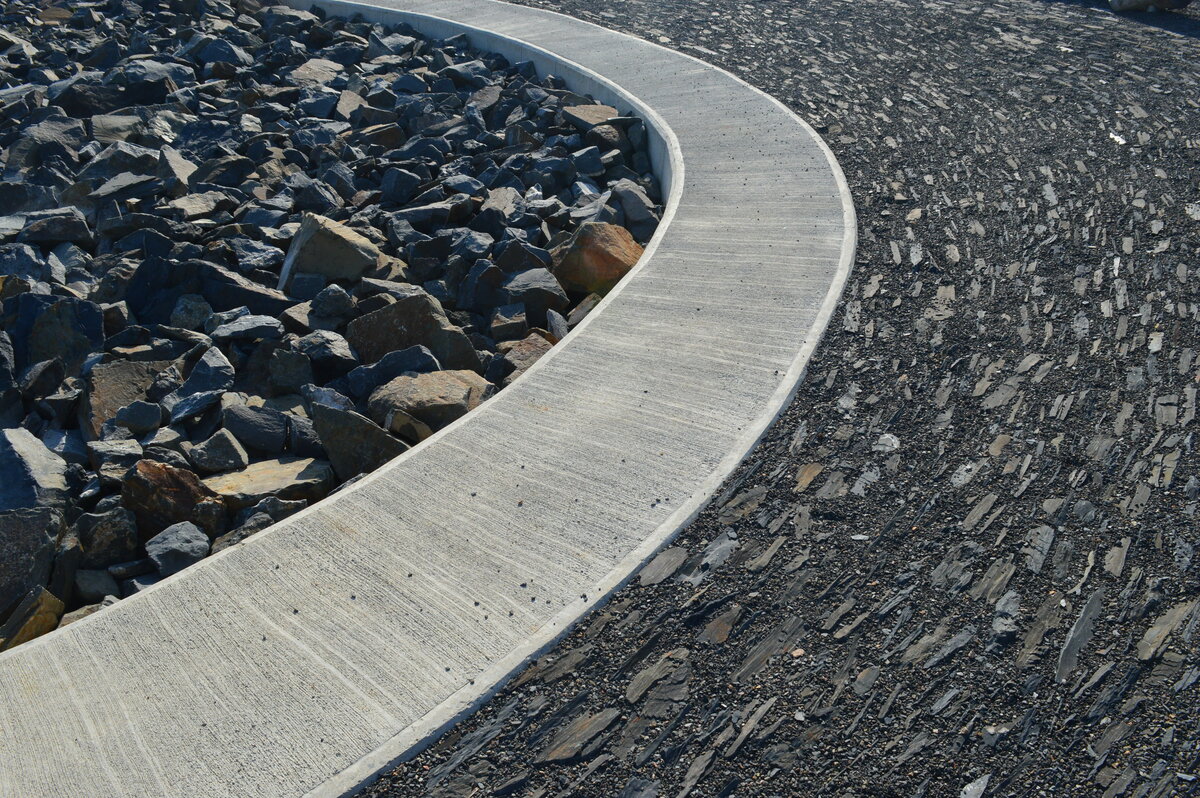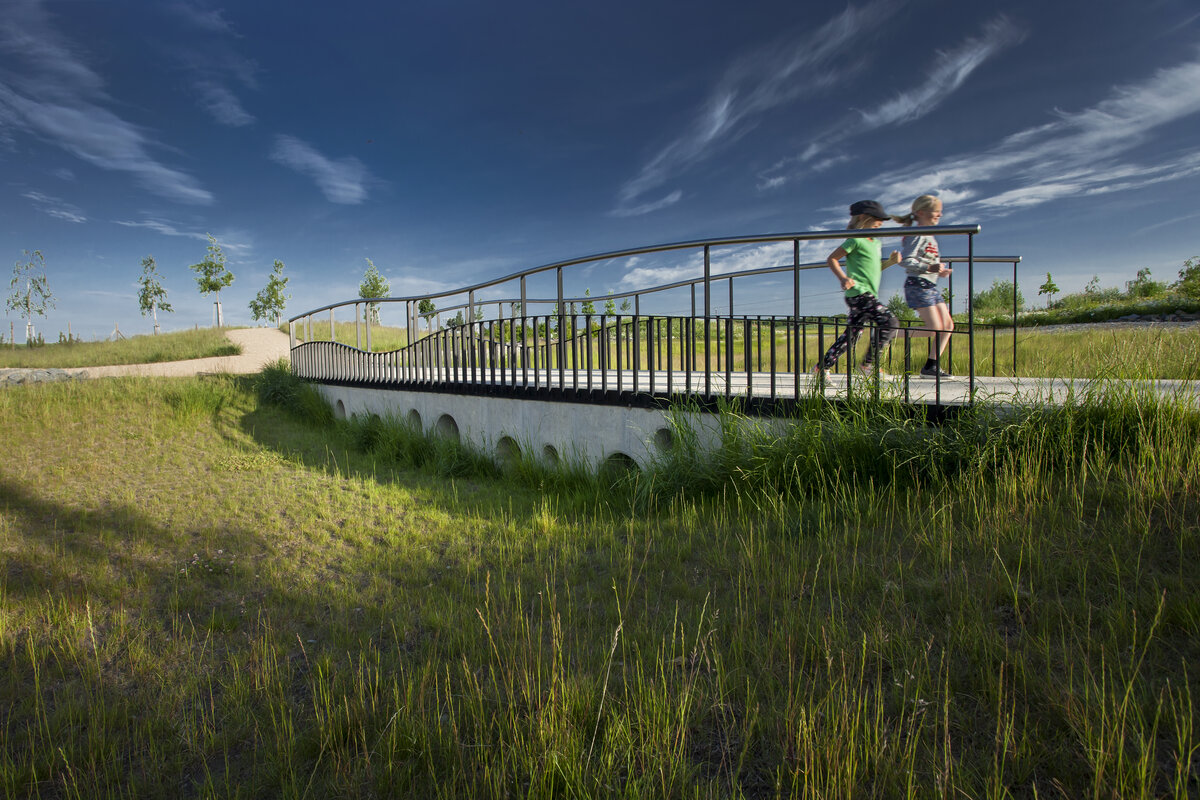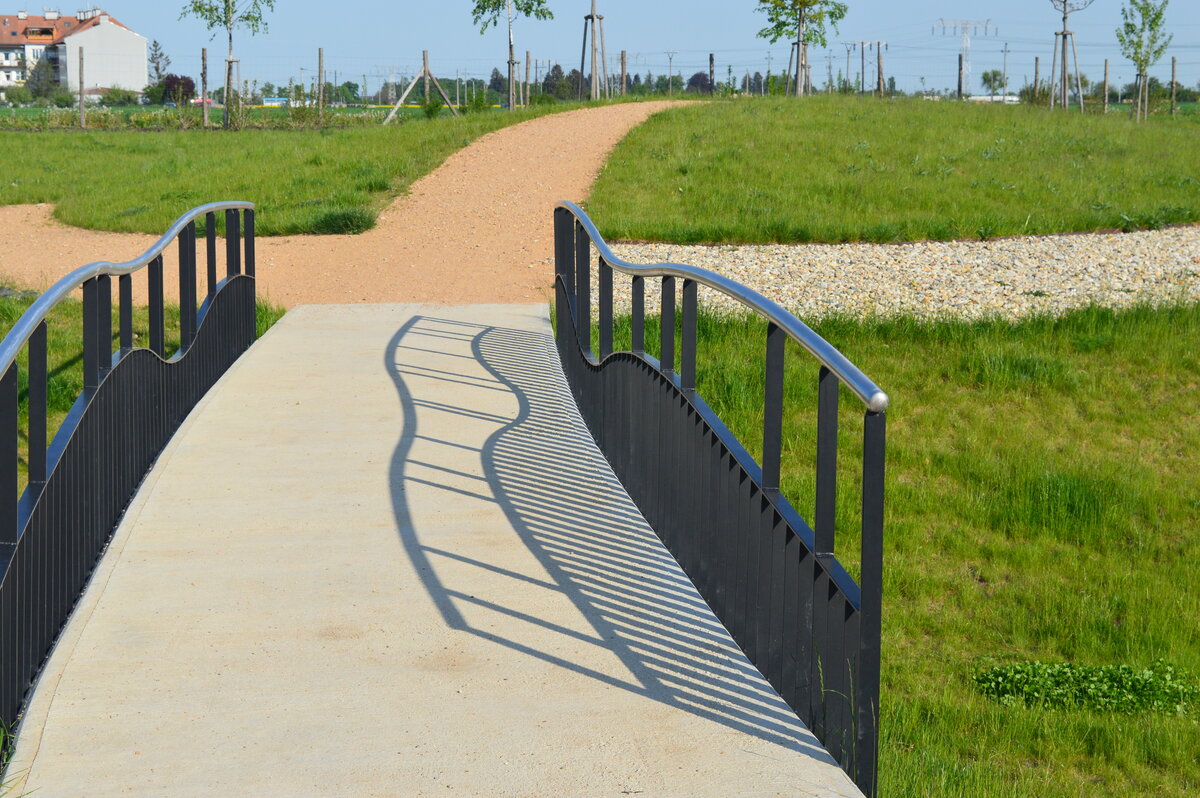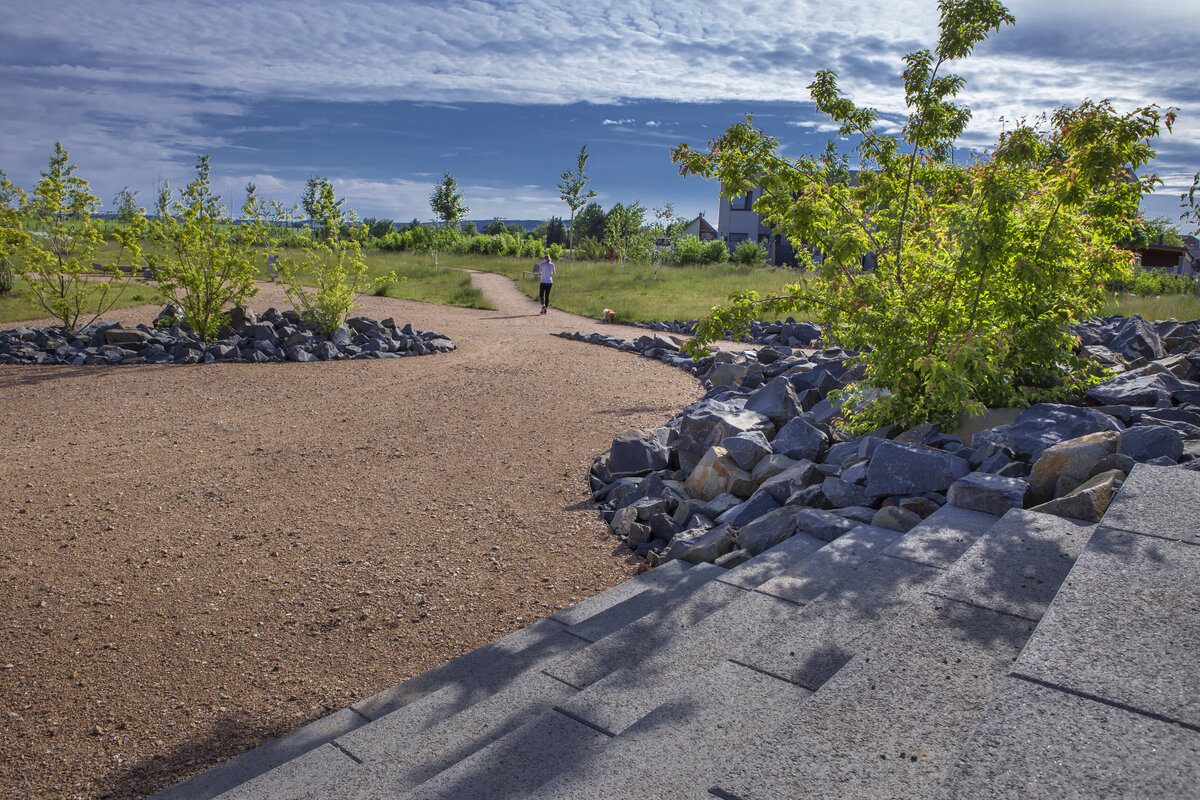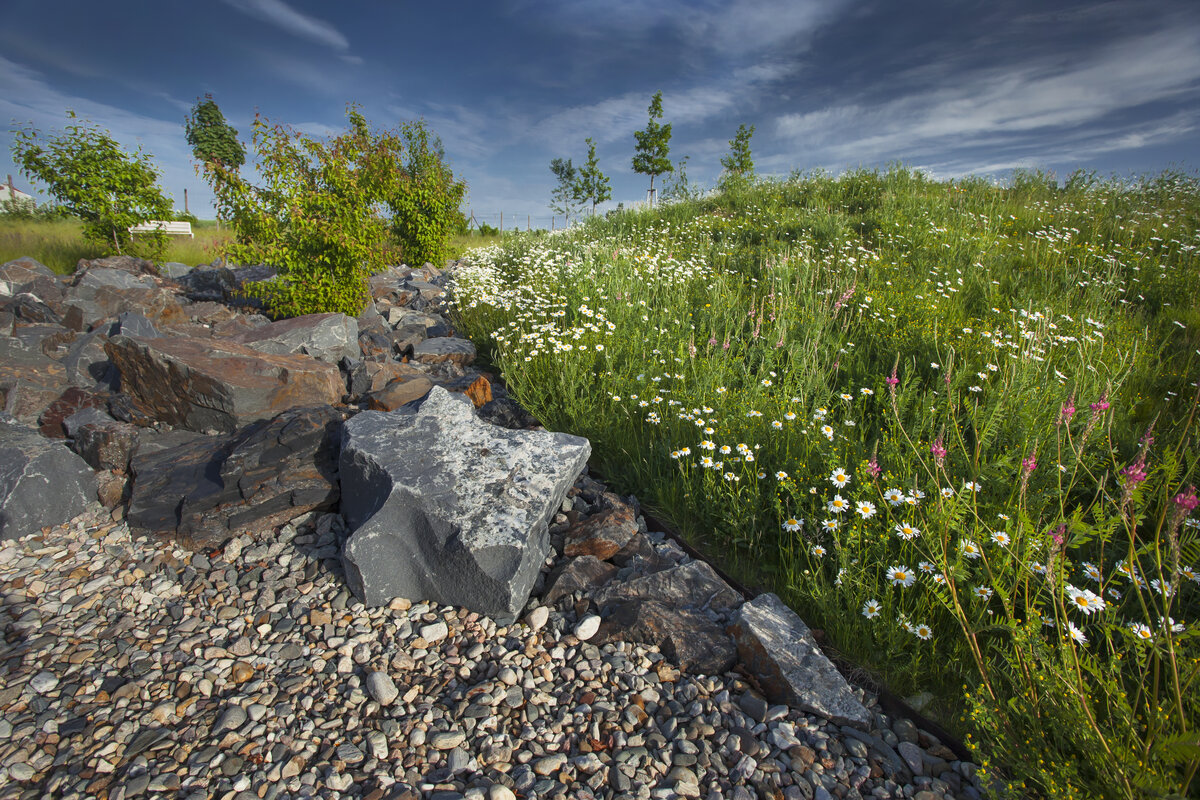 | | |
| --- | --- |
| Author | ZAHRADA Olomouc s.r.o., Ing. Radek Pavlačka, Ing. Lubomír Čech, Ing.arch. Viktor Čehovský |
| Studio | |
| Location | Prostějov, ulice Dr. Plajnera |
| Investor | Magistrát města Prostějova |
| Supplier | STRABAG a.s. |
| Date of project approval | January 2021 |
| Fotograf | |
It is a small park, founded in the idea of the trend of blue-green infrastructure. The garden is implementing before the construction of apartment buildings (currently underway), for which it will form an infiltration and retention area of rainwater. For this purpose, a small water area was designed, which is dimensioned so that even in very light summer precipitation it does not dry out and it is enough to "flush" from the roof capacity. It is a reinforced concrete tub with a high backfill of quarry stone (approx. 1.5 m) to keep the water cool and thus clean, as well as to maintain the effect of the water level and for safety when entering. Water from the water reservoir overflows into the surrounding areas, which have different types of surfaces, from brushed paving to gravel and grass polder, equipped with gravel seepage.
The park is set for a gradual successive development. At the beginning, it is more a work of striking design, which is the intention to suppress the feeling of emptiness at the foundation. Later, as vegetation is designed, the natural process will prevail. Stone rubble fields become willow and maple, gravel areas succulent communities, meadow modeling. The striking architecture will turn gray and age and merge with the vegetation, which will be gradually shaped by the type of surfaces and objects.
The central building of the garden is a reinforced concrete swimming pool, which is connected to the rainwater drainage system from the roofs and adjacent paved areas of the adjacent housing construction. The pool is flushed with rainwater, which overflows over the bridge into the adjacent polder. The two-meter-deep pool is stratified with a quarry stone from a large fraction to a finer one, one and a half meters thick. Half a meter is the water level. This experimental technology will provide a cool, unexposed mass of water, which cools the residue on the surface and should not lead to greening of the water, which is otherwise technologically very expensive. It is also about the safety of the water element. The depth of the water ensures its low temperature, but the amount of stone significantly reduces the need for water. The pool is therefore sufficiently flushed with every small summer rain and the level of 50 cm is again sufficient to keep it up to 3 weeks without rain.
The vegetation is established in contrast to the distinctive architectural appearance of the garden as a basis for successive development. The diversity of bulk materials will support the diversity of more natural communities. The architecture will gradually disappear in the vegetation.
Green building
Environmental certification
| | |
| --- | --- |
| Type and level of certificate | - |
Water management
| | |
| --- | --- |
| Is rainwater used for irrigation? | |
| Is rainwater used for other purposes, e.g. toilet flushing ? | |
| Does the building have a green roof / facade ? | |
| Is reclaimed waste water used, e.g. from showers and sinks ? | |
The quality of the indoor environment
| | |
| --- | --- |
| Is clean air supply automated ? | |
| Is comfortable temperature during summer and winter automated? | |
| Is natural lighting guaranteed in all living areas? | |
| Is artificial lighting automated? | |
| Is acoustic comfort, specifically reverberation time, guaranteed? | |
| Does the layout solution include zoning and ergonomics elements? | |
Principles of circular economics
| | |
| --- | --- |
| Does the project use recycled materials? | |
| Does the project use recyclable materials? | |
| Are materials with a documented Environmental Product Declaration (EPD) promoted in the project? | |
| Are other sustainability certifications used for materials and elements? | |
Energy efficiency
| | |
| --- | --- |
| Energy performance class of the building according to the Energy Performance Certificate of the building | |
| Is efficient energy management (measurement and regular analysis of consumption data) considered? | |
| Are renewable sources of energy used, e.g. solar system, photovoltaics? | |
Interconnection with surroundings
| | |
| --- | --- |
| Does the project enable the easy use of public transport? | |
| Does the project support the use of alternative modes of transport, e.g cycling, walking etc. ? | |
| Is there access to recreational natural areas, e.g. parks, in the immediate vicinity of the building? | |