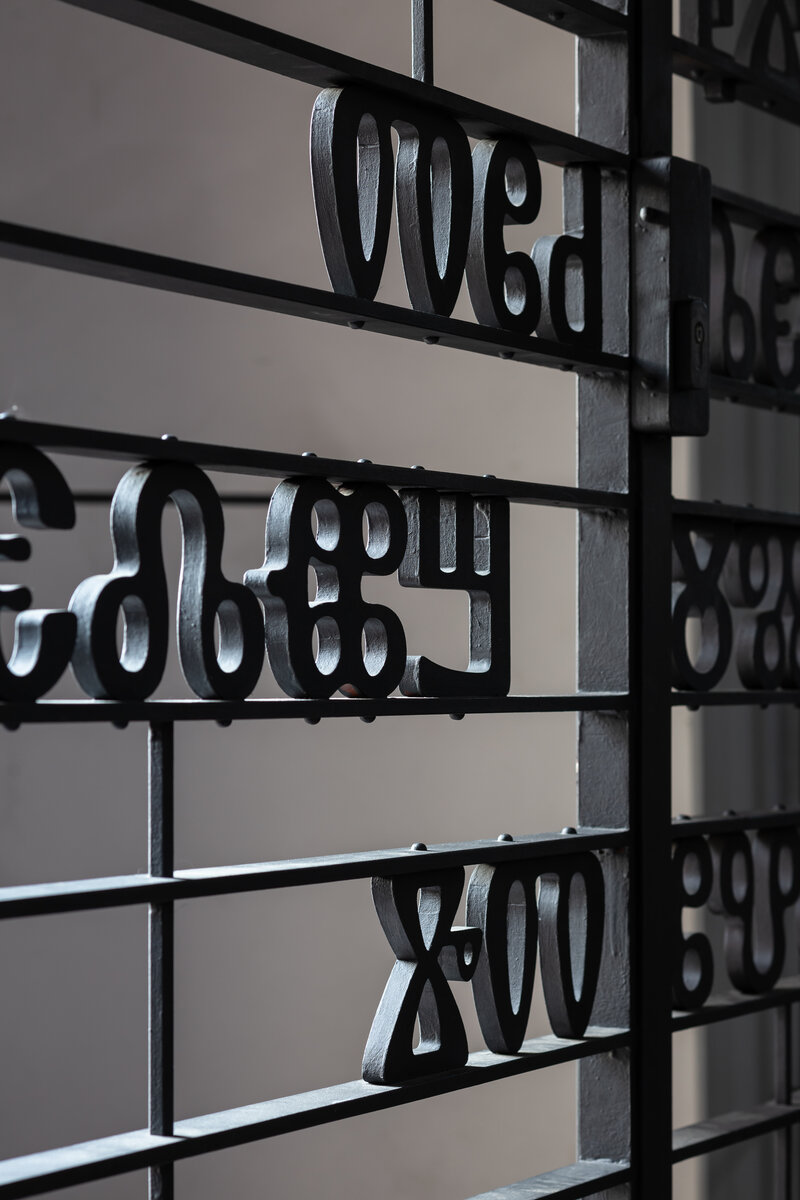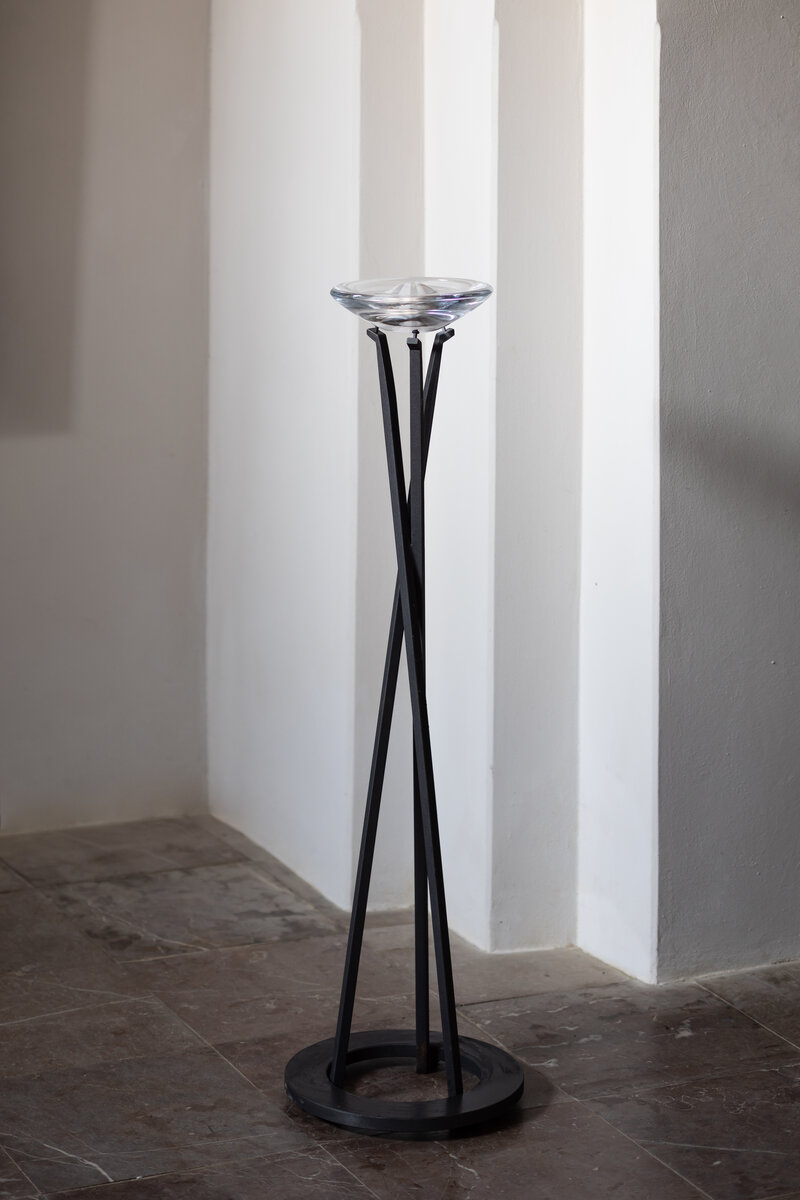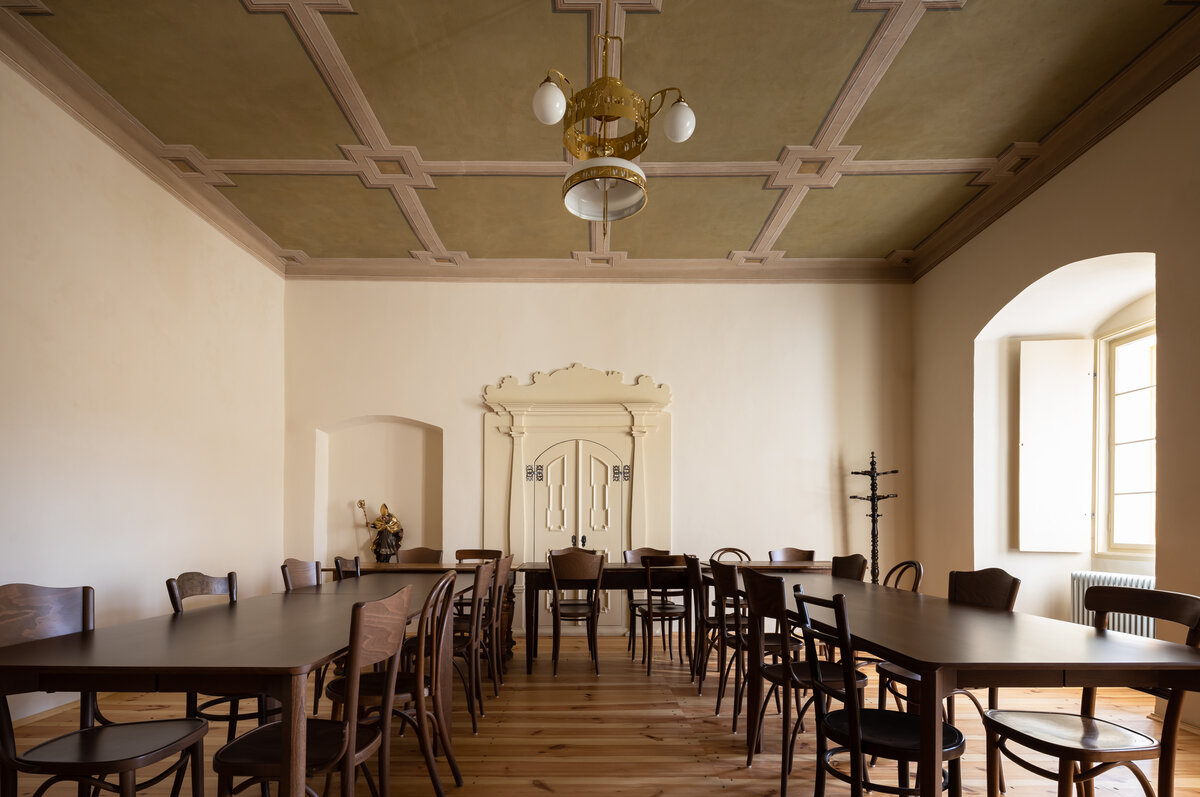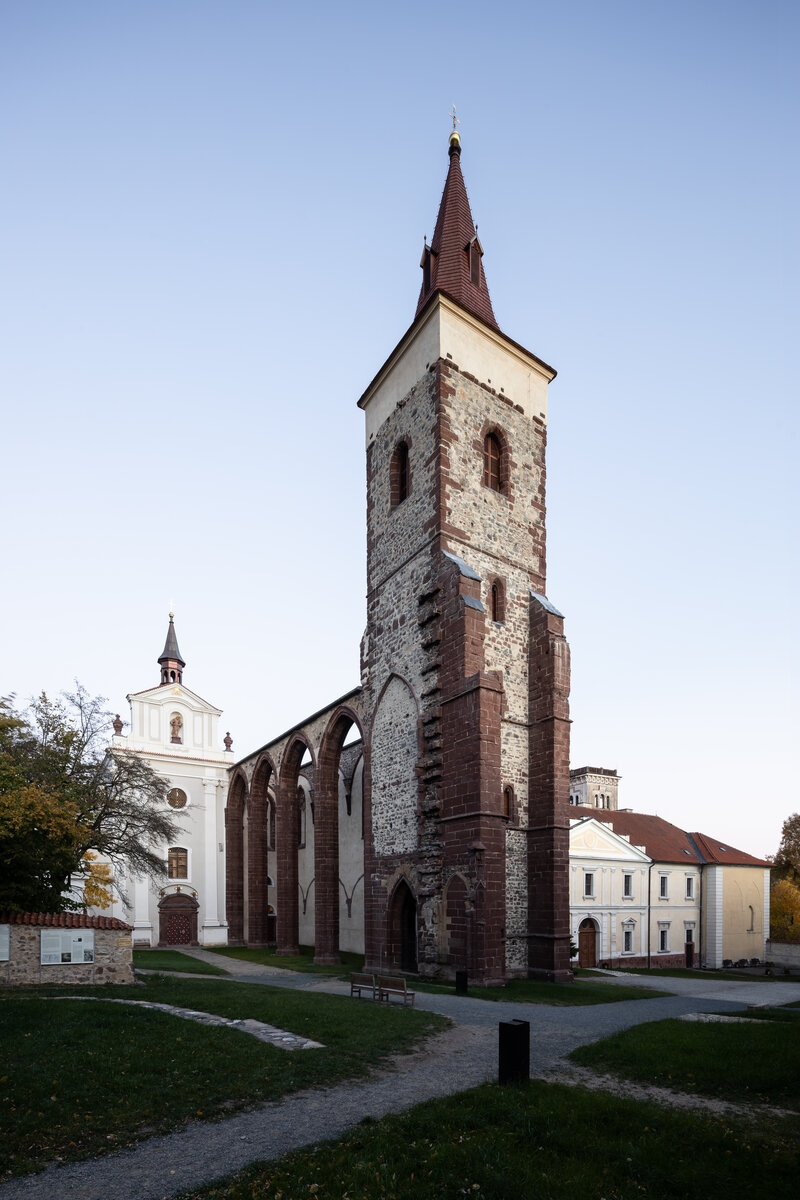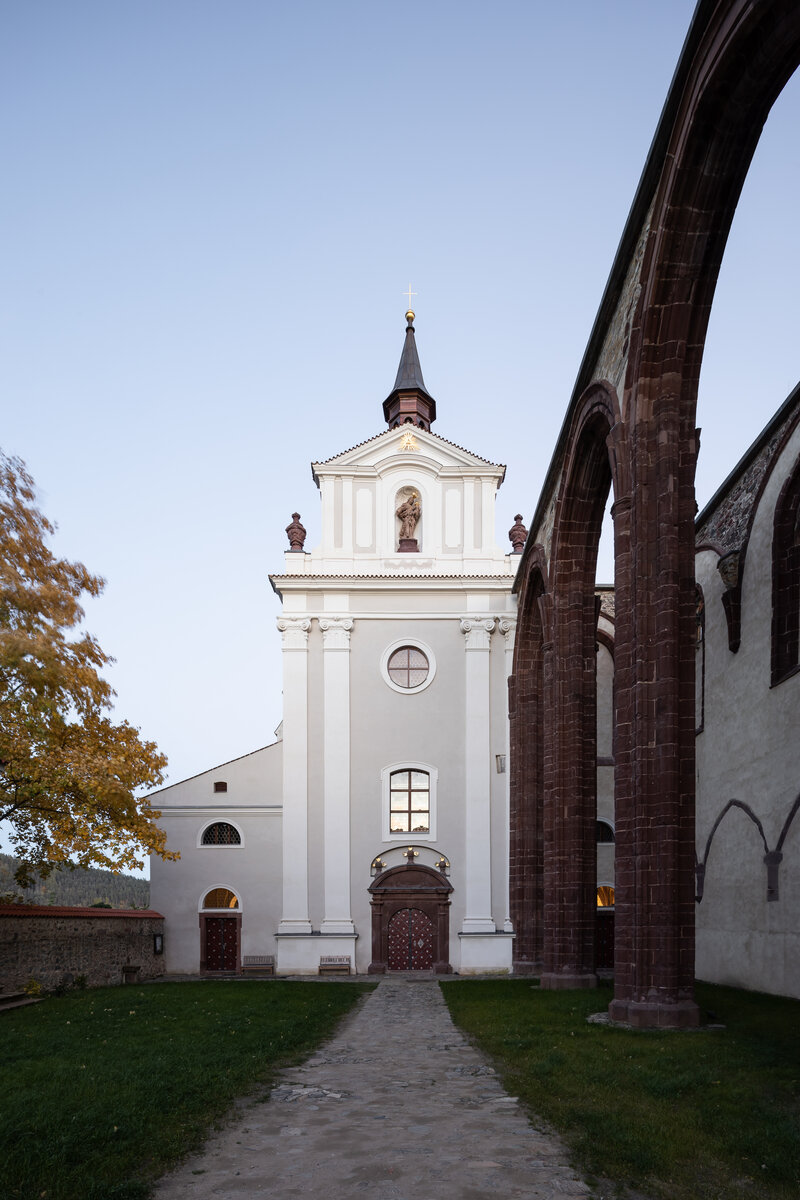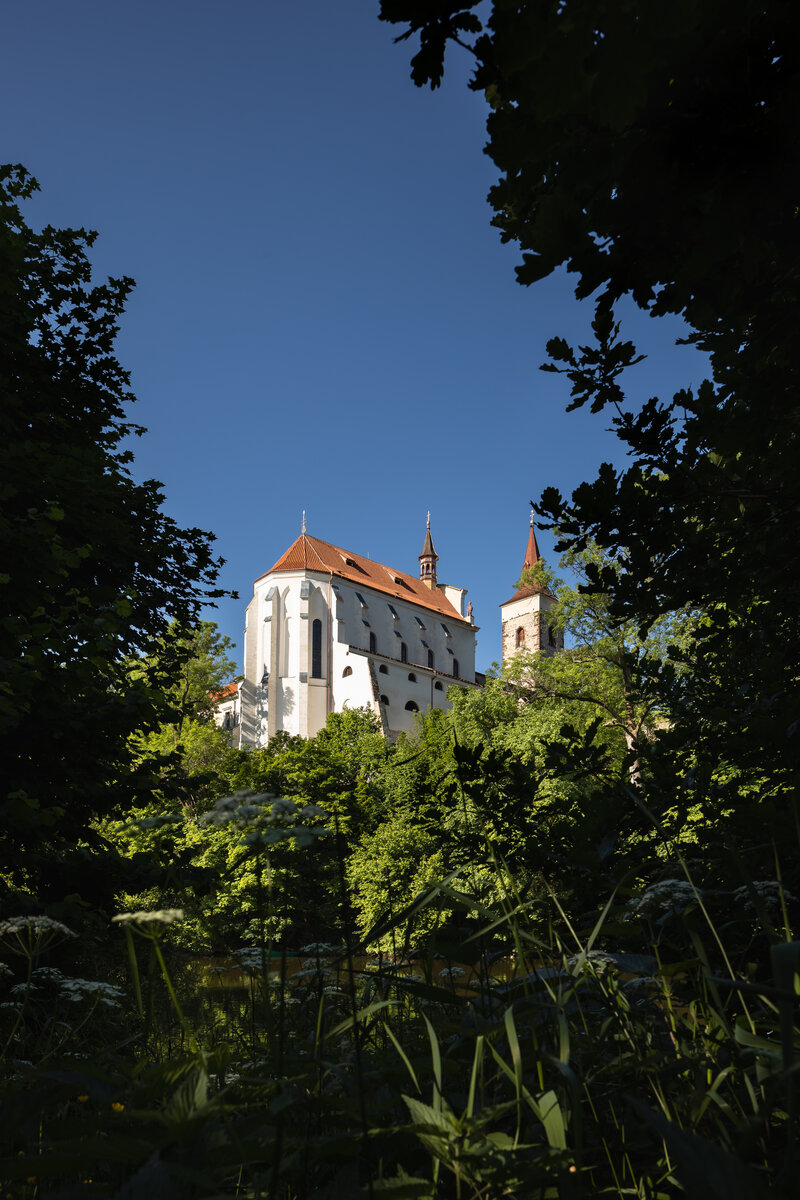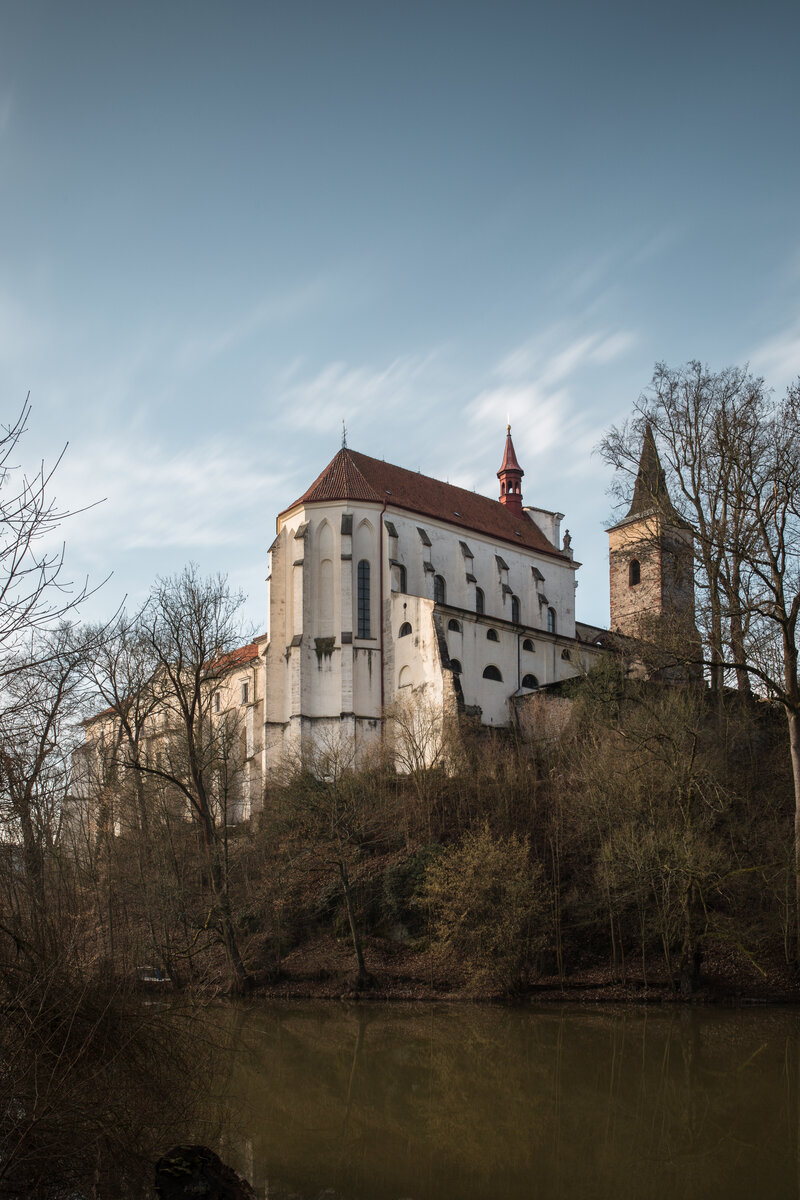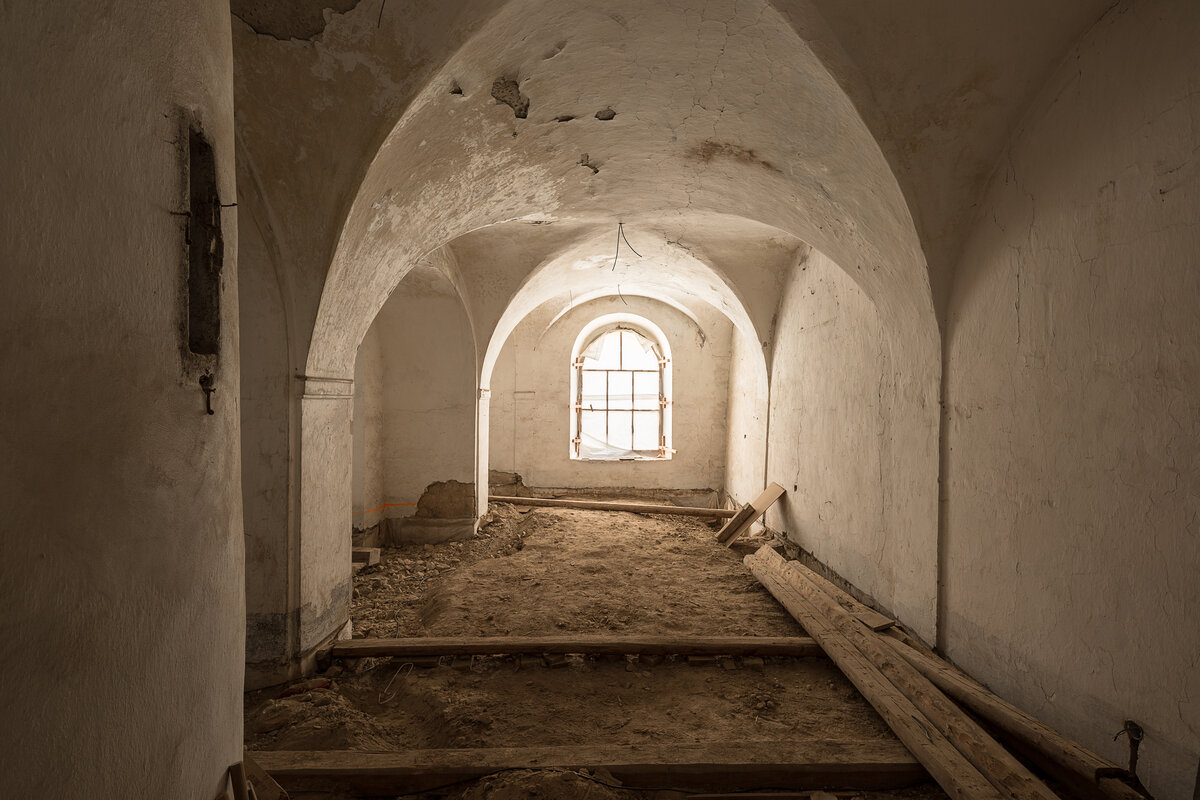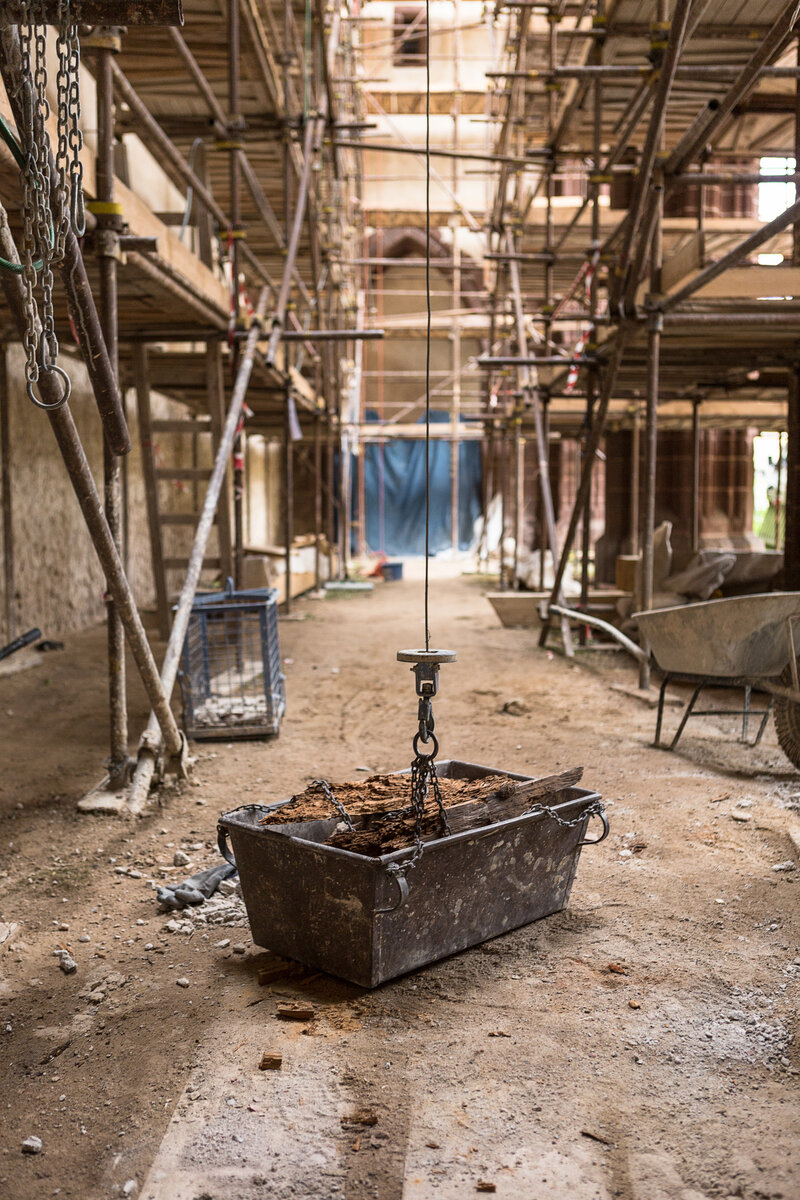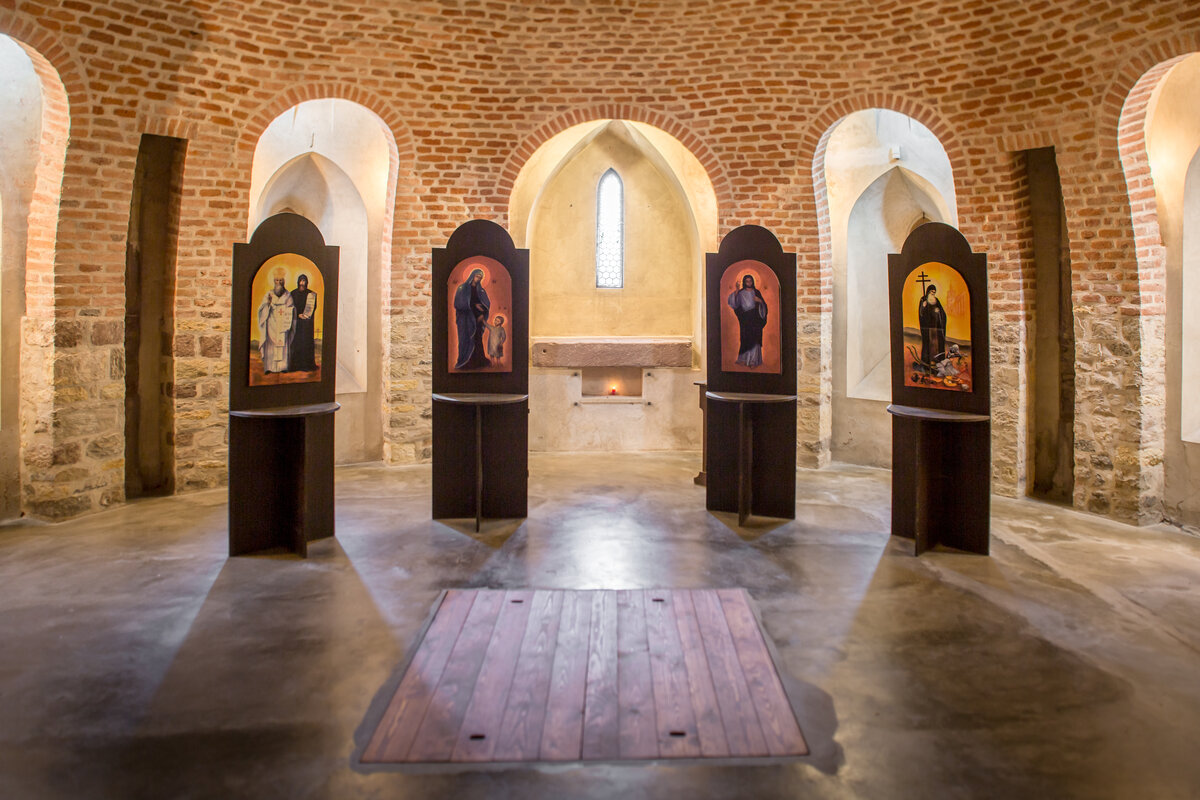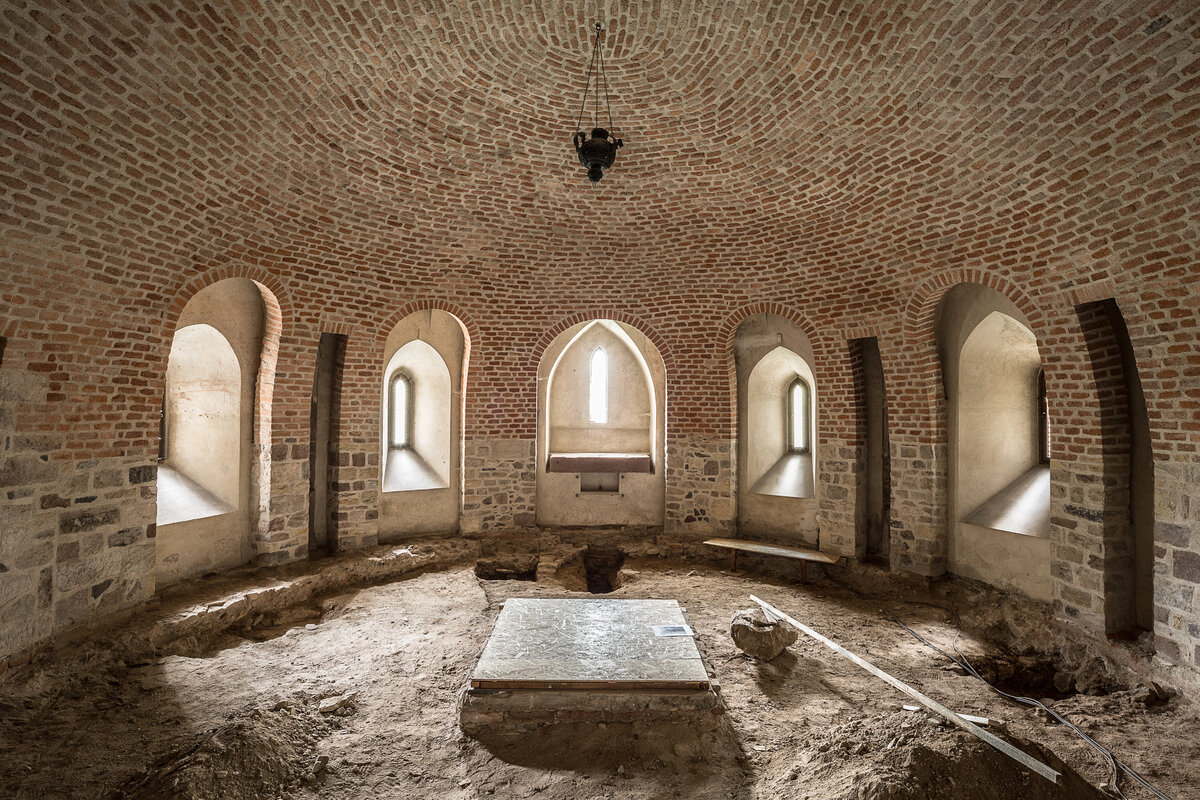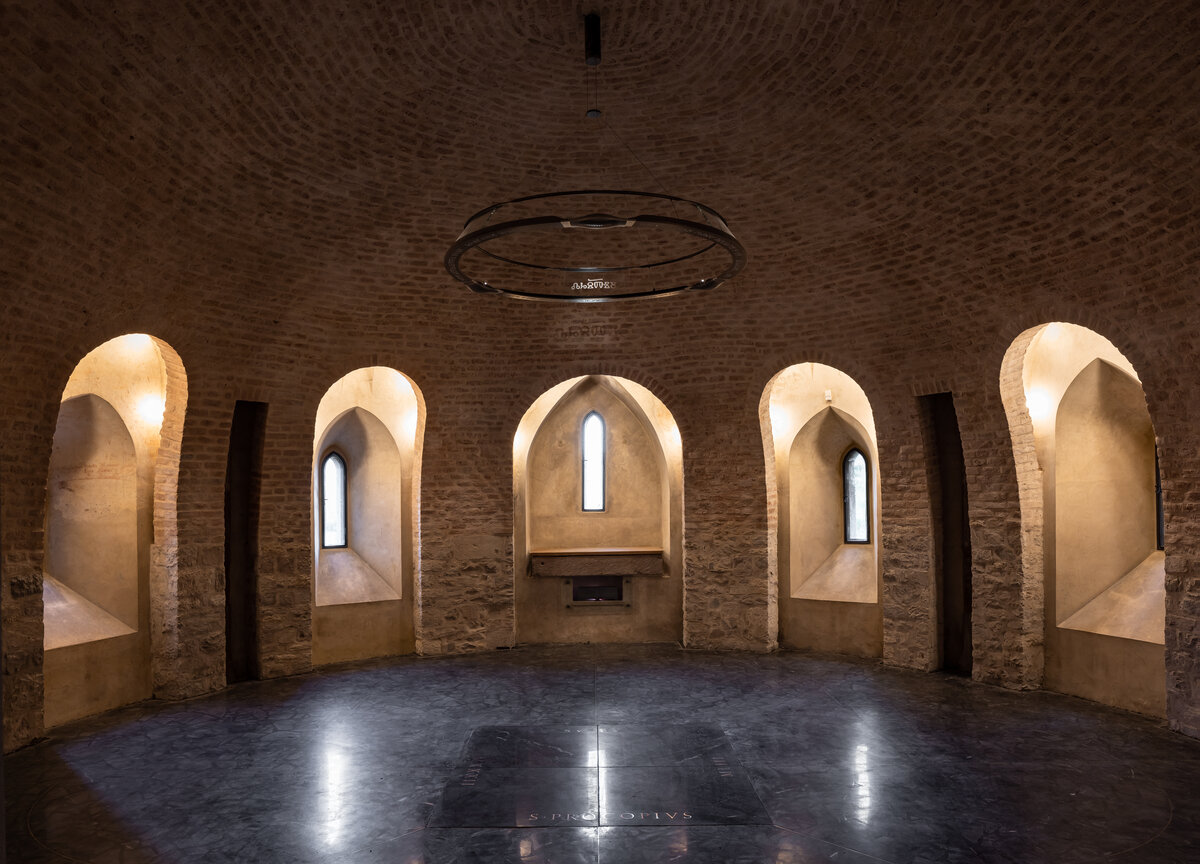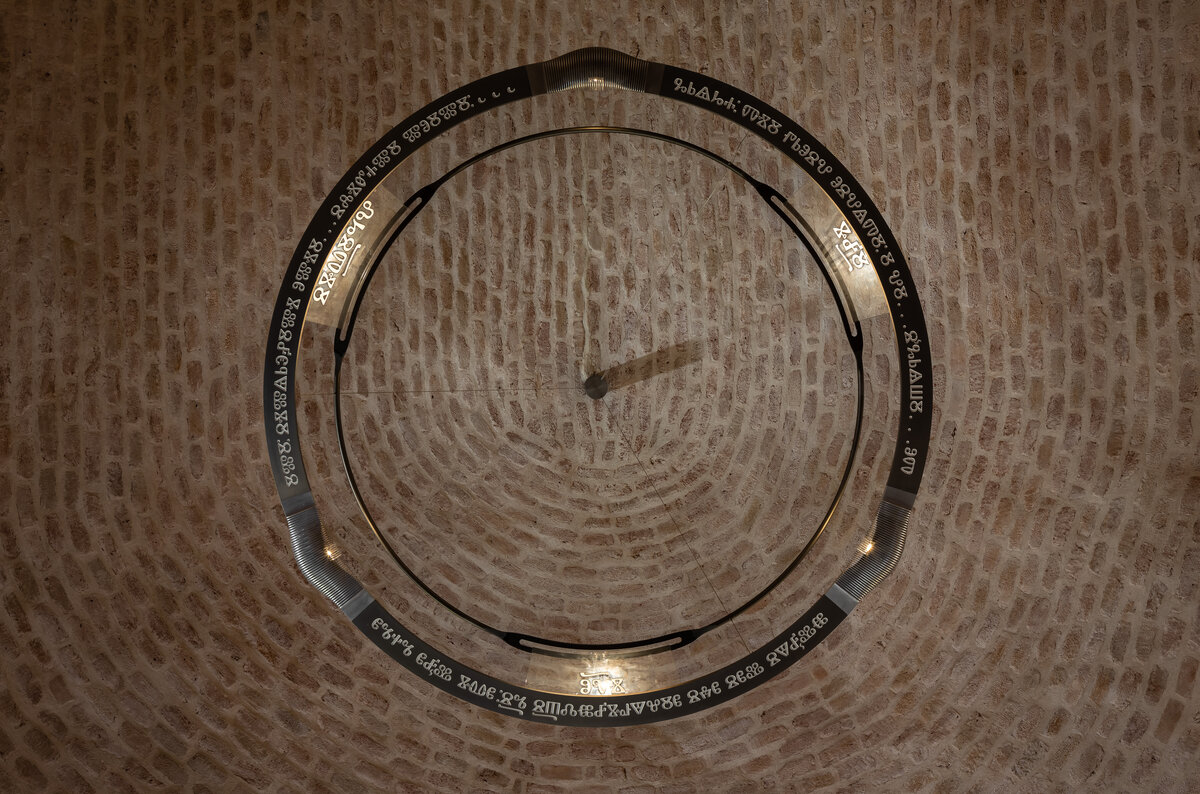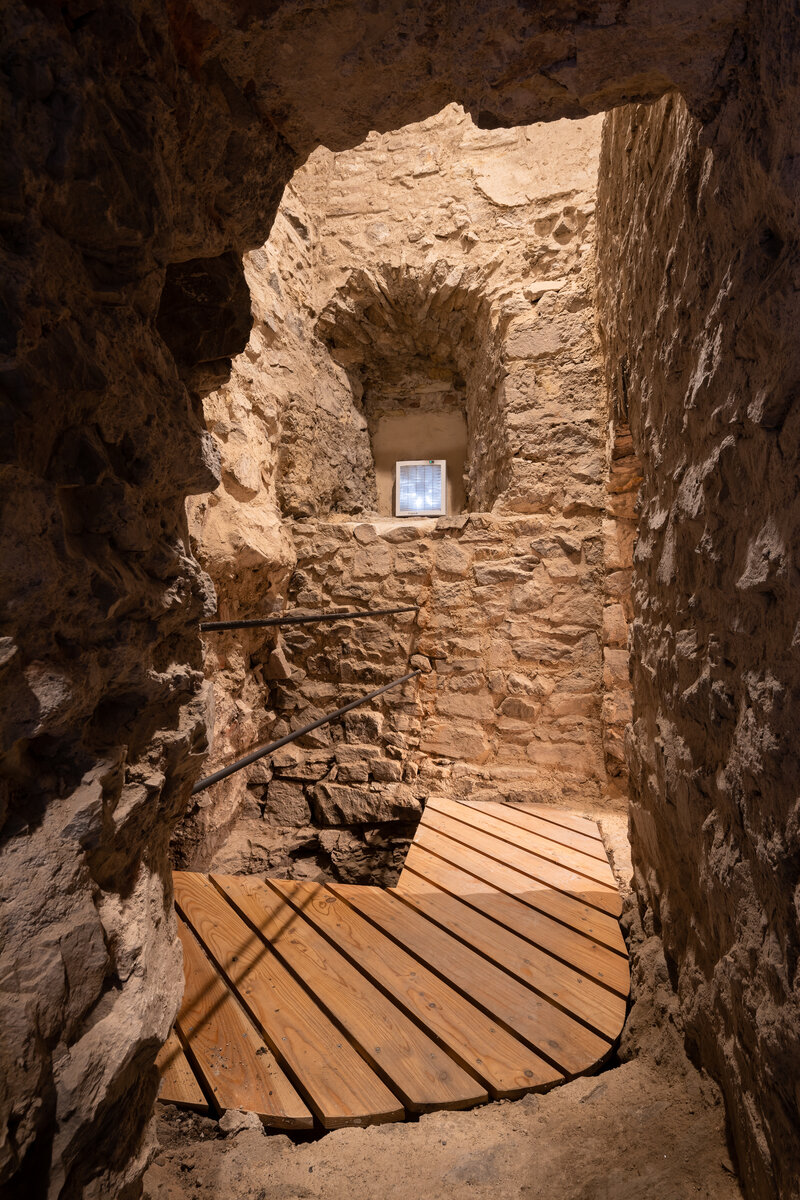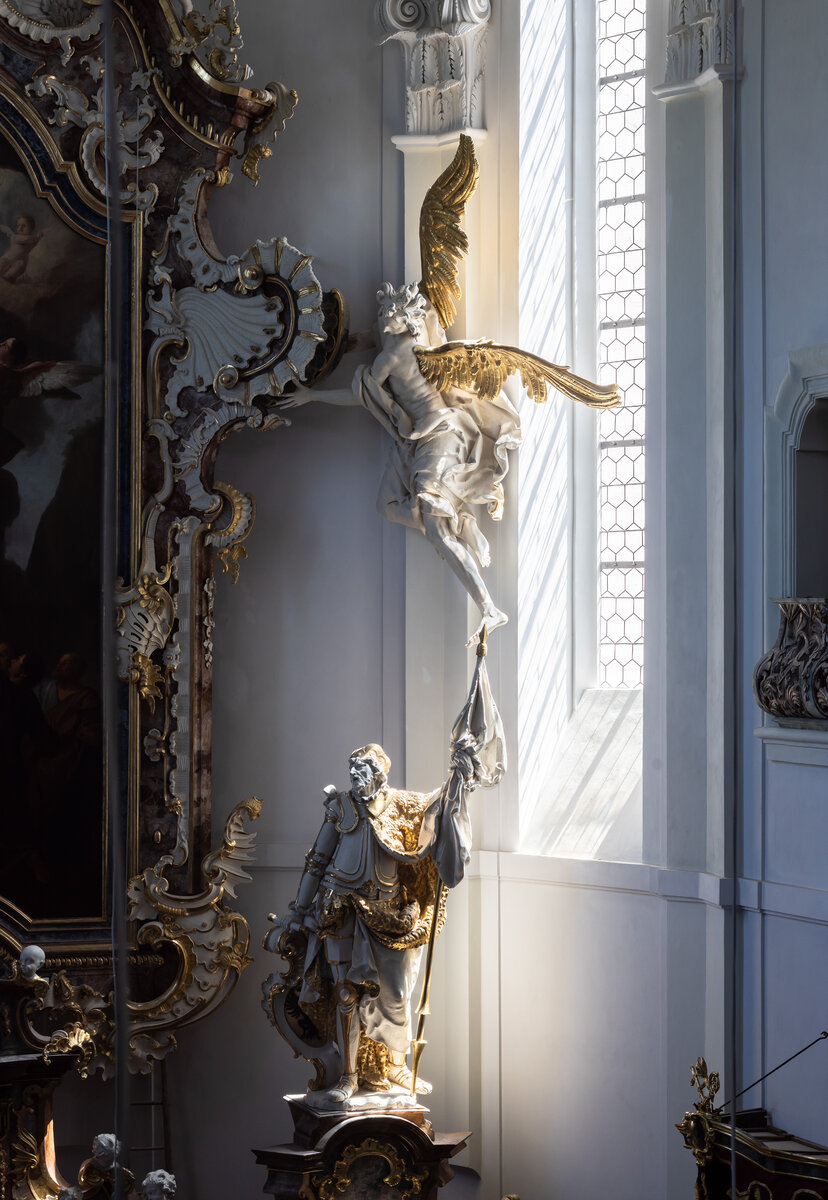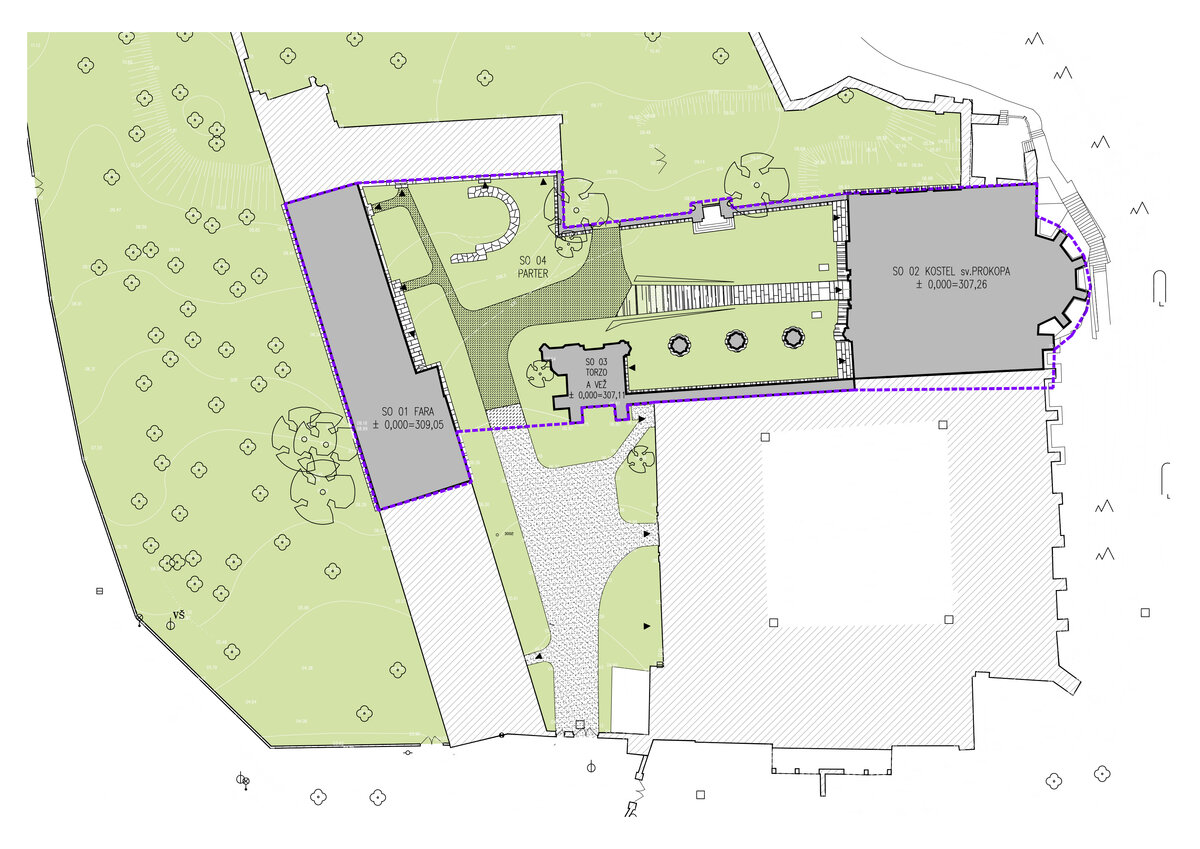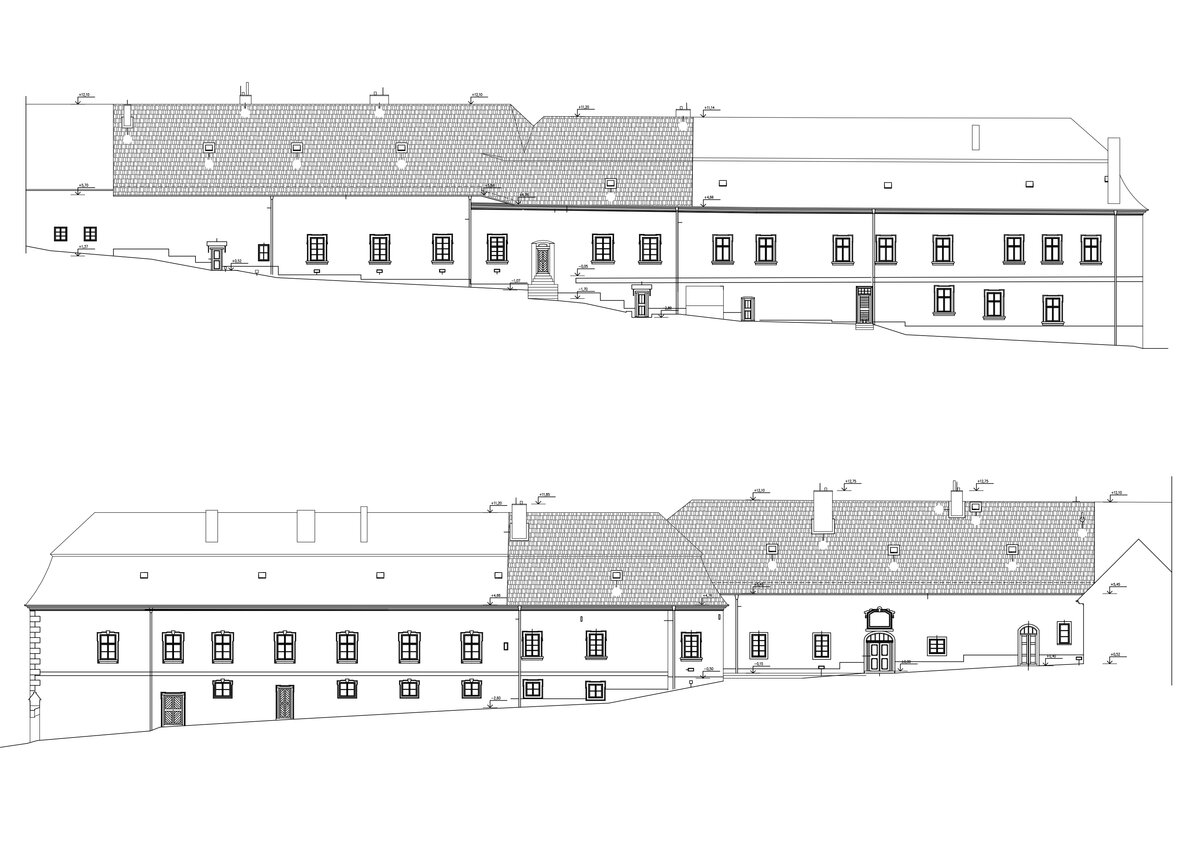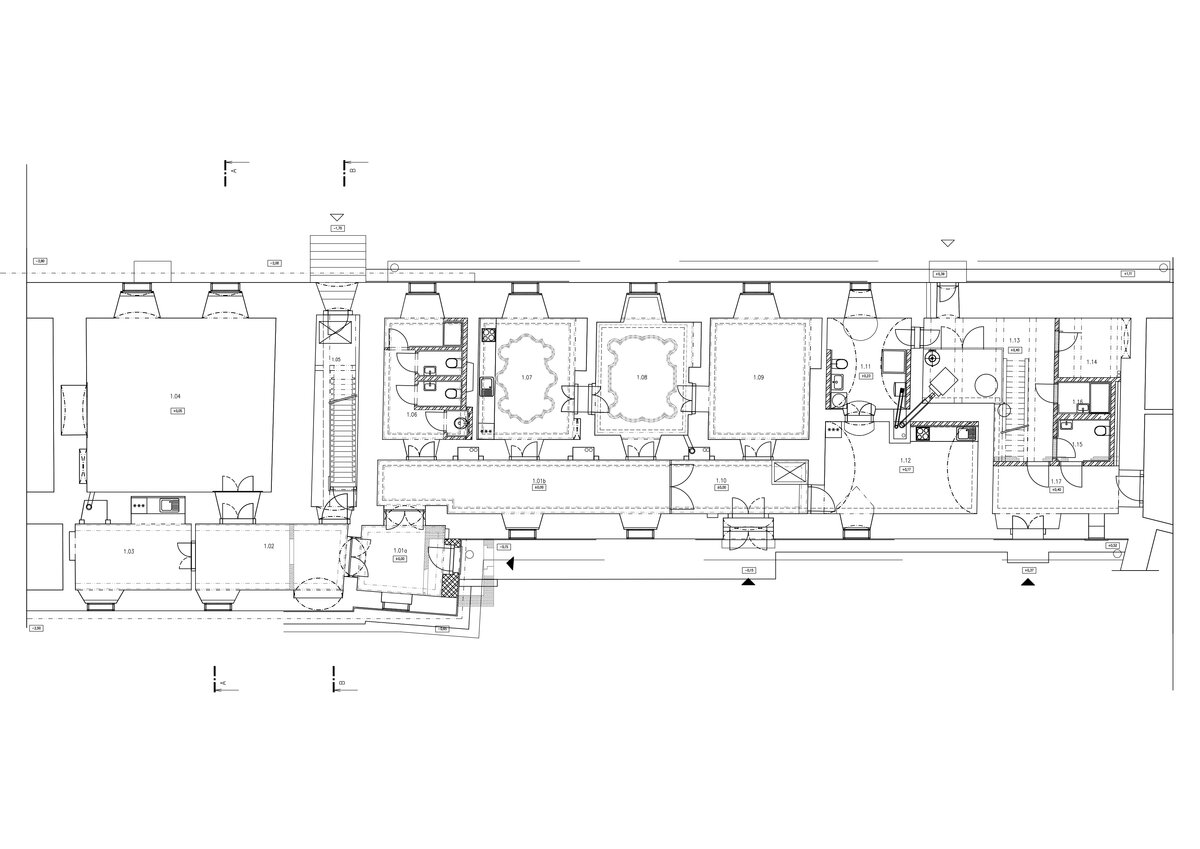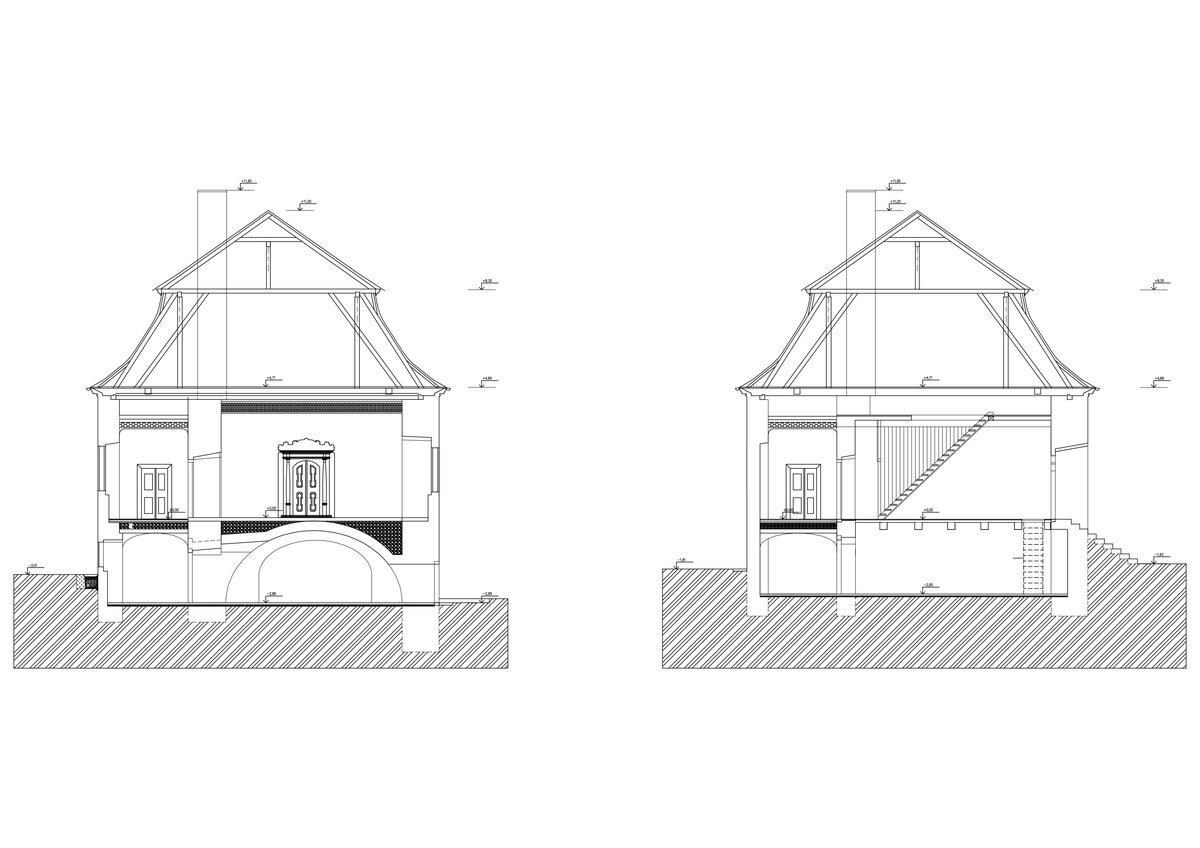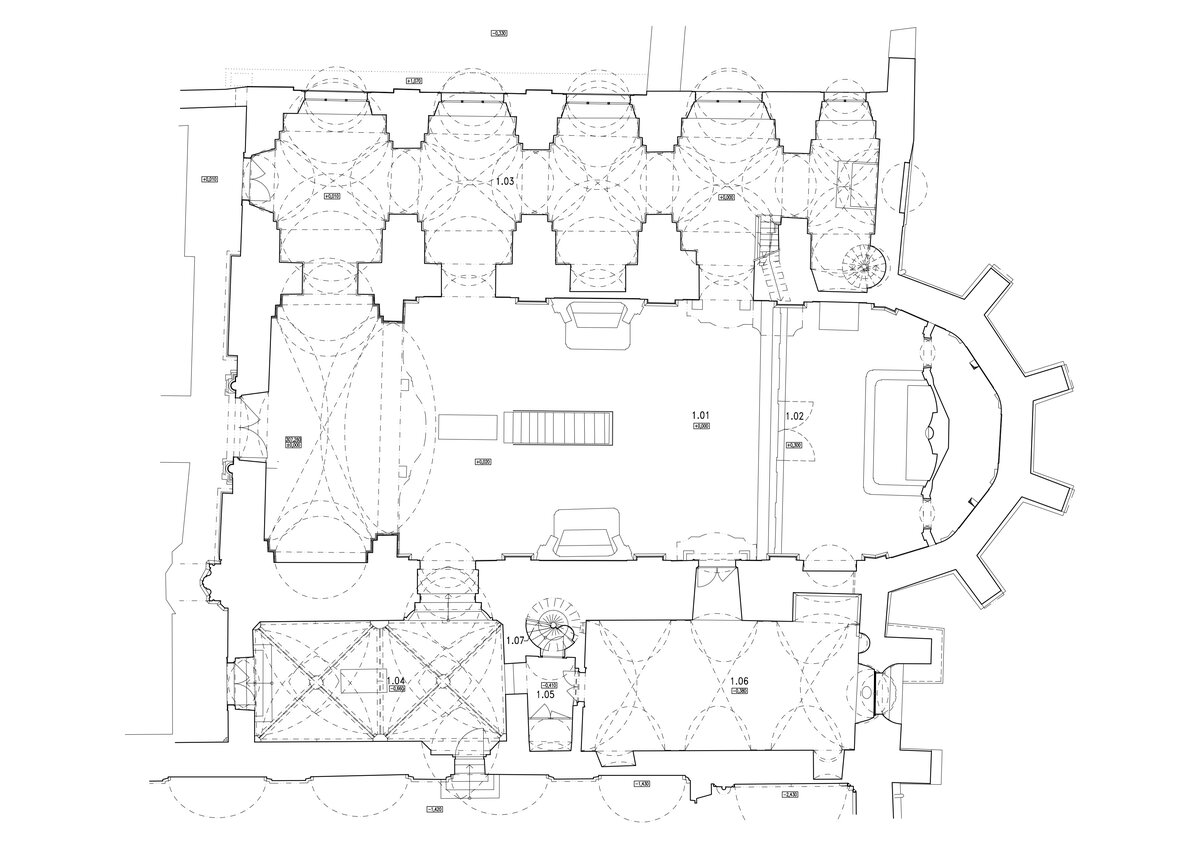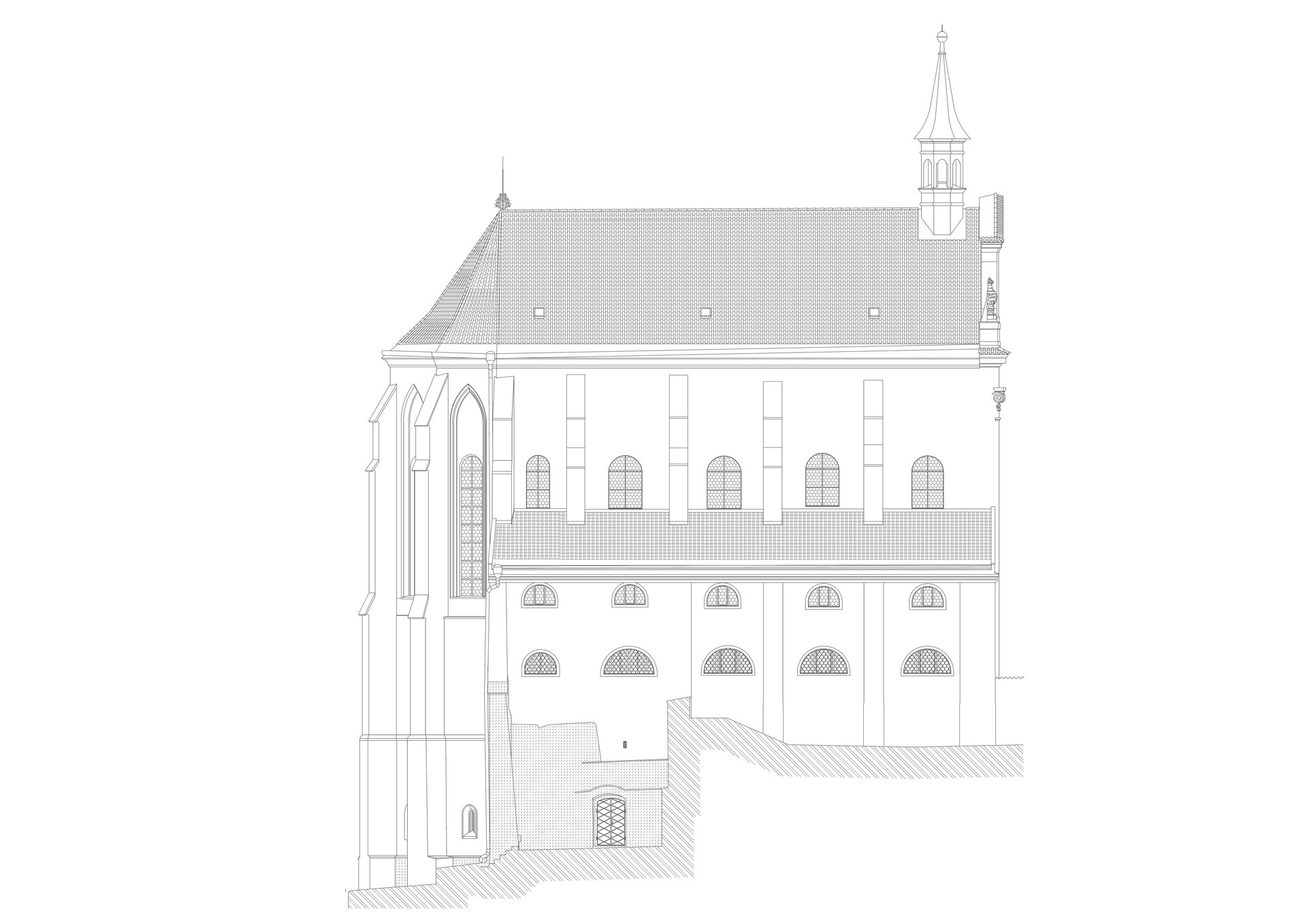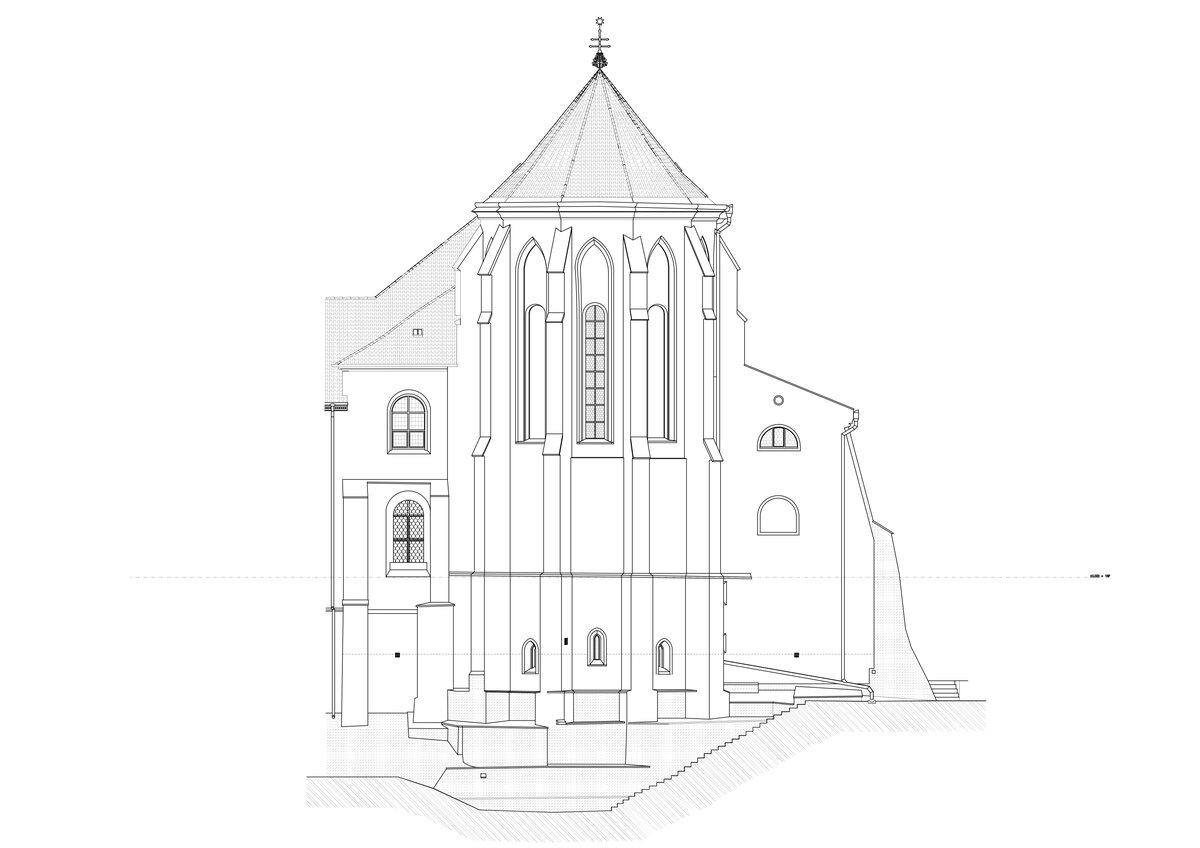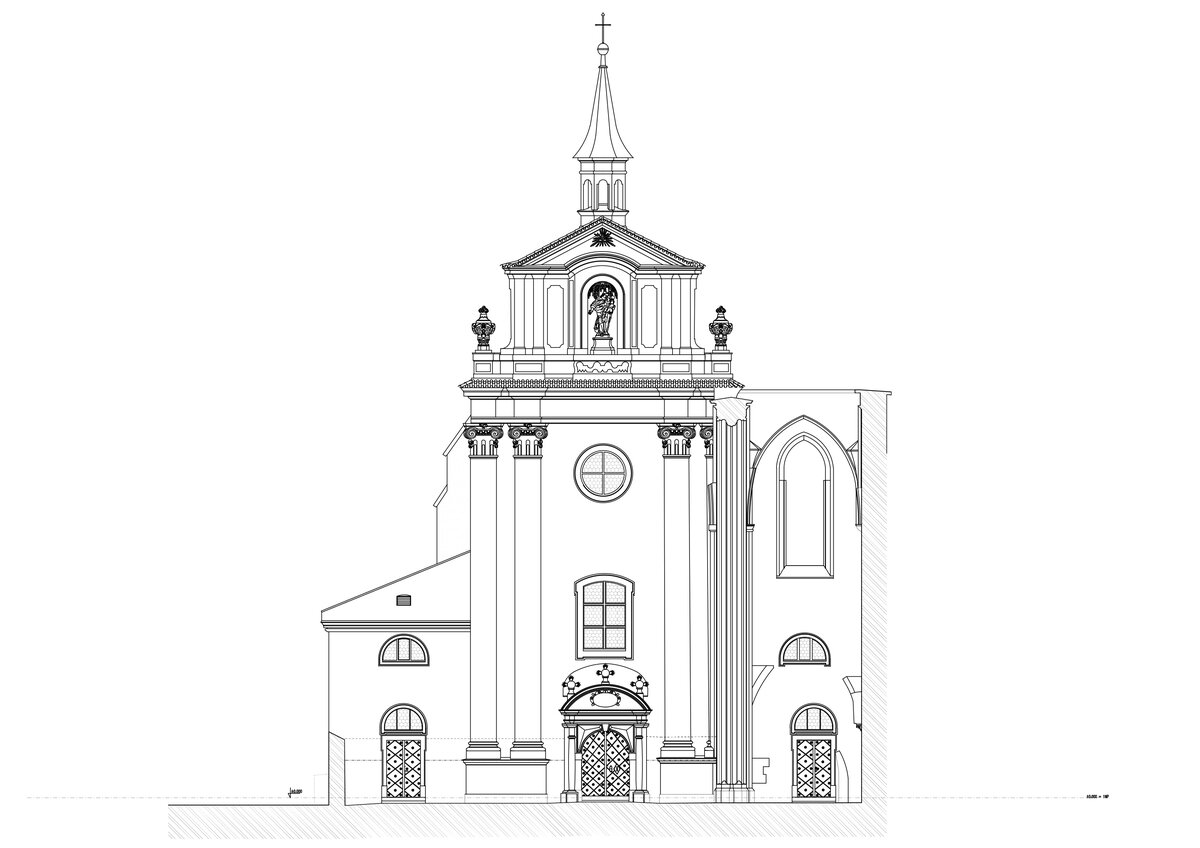 Author
Studio acht; Ing. Václav Hlaváček, Ing. Pavel Jakoubek, Ing. Marek Wollner, Ing. Barbora Janů, Ing. arch. Mikuláš Wittlich, Ing. arch. Petr Dostál, Vojtěch Hlaváček, Michaela Doležalová
Studio
Location
Zámecká 72, 285 06 Sázava
Investor
Římskokatolická farnost Sázava - Černé Budy
Zámecká 75, 285 06 Sázava
Supplier
Gema art Group, a.s.
Haštalská 760/27, 110 00 Praha 1
Date of project approval
June 2021
Fotograf
The renewal of an essential part of the Sázava Monastery complex included the restoration of the Baroque Church of St. Prokop, the tower and the Gothic triple nave, the completion and making accessible of the crypt, the construction of a community and information center in the rectory building and the overall restoration of the church forecourt.

The lattice in the entrance portal of the Church of St. Prokop is one of the three contemporary elements that have been sensitively designed by Studio acht with respect to the history and purpose of the place. The entrance is further complemented by new holy water fonts. The underground crypt has undergone the largest contemporary interventions. The author's aim of the new architectural elements was to underline the Old Slavic roots of the Sázava Monastery, in whose scriptorium were Glagolitic fragments probably originated.

"Architects from Studio acht have many years of experience with the reconstruction of monuments and church buildings, but we consider the Sázava Monastery to be our most important renovation to date, which we have approached with due respect. We are grateful that we were able to participate in a project of the similar size and importance, "concludes chief architect Václav Hlaváček.
In the case of the rectory building, it was an adjustment for the rectory community and residential purposes of the parish administrator. The restoration of the church and the torso with the tower consisted mainly in an extensive renovation and restoration work both indoors and outdoors in order to ensure a longer life of these buildings without significantly affecting the way they are used for. The architectural concept of the church involve the addition of exhibition spaces in the emporium and the overall rehabilitation of the crypt under the presbytery. In the parter we tried to design a completely new conceptual treatise in terms of terrain elevation, access road management and surface solution. The open space in front of the chuch has been restored and adapted for outdoor church services. The torso of the side Gothic nave, the only realized part of the unfinished triple-nave church, was also made available.
Green building
Environmental certification
| | |
| --- | --- |
| Type and level of certificate | - |
Water management
| | |
| --- | --- |
| Is rainwater used for irrigation? | |
| Is rainwater used for other purposes, e.g. toilet flushing ? | |
| Does the building have a green roof / facade ? | |
| Is reclaimed waste water used, e.g. from showers and sinks ? | |
The quality of the indoor environment
| | |
| --- | --- |
| Is clean air supply automated ? | |
| Is comfortable temperature during summer and winter automated? | |
| Is natural lighting guaranteed in all living areas? | |
| Is artificial lighting automated? | |
| Is acoustic comfort, specifically reverberation time, guaranteed? | |
| Does the layout solution include zoning and ergonomics elements? | |
Principles of circular economics
| | |
| --- | --- |
| Does the project use recycled materials? | |
| Does the project use recyclable materials? | |
| Are materials with a documented Environmental Product Declaration (EPD) promoted in the project? | |
| Are other sustainability certifications used for materials and elements? | |
Energy efficiency
| | |
| --- | --- |
| Energy performance class of the building according to the Energy Performance Certificate of the building | G |
| Is efficient energy management (measurement and regular analysis of consumption data) considered? | |
| Are renewable sources of energy used, e.g. solar system, photovoltaics? | |
Interconnection with surroundings
| | |
| --- | --- |
| Does the project enable the easy use of public transport? | |
| Does the project support the use of alternative modes of transport, e.g cycling, walking etc. ? | |
| Is there access to recreational natural areas, e.g. parks, in the immediate vicinity of the building? | |