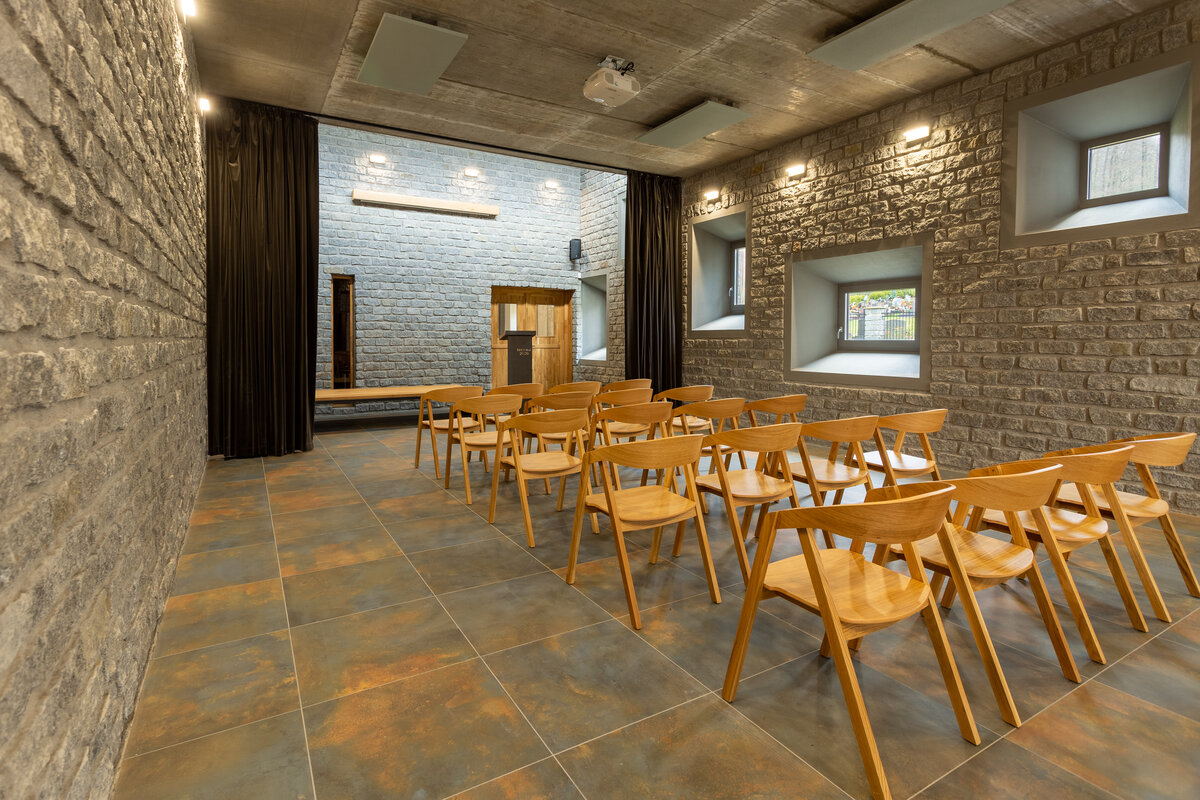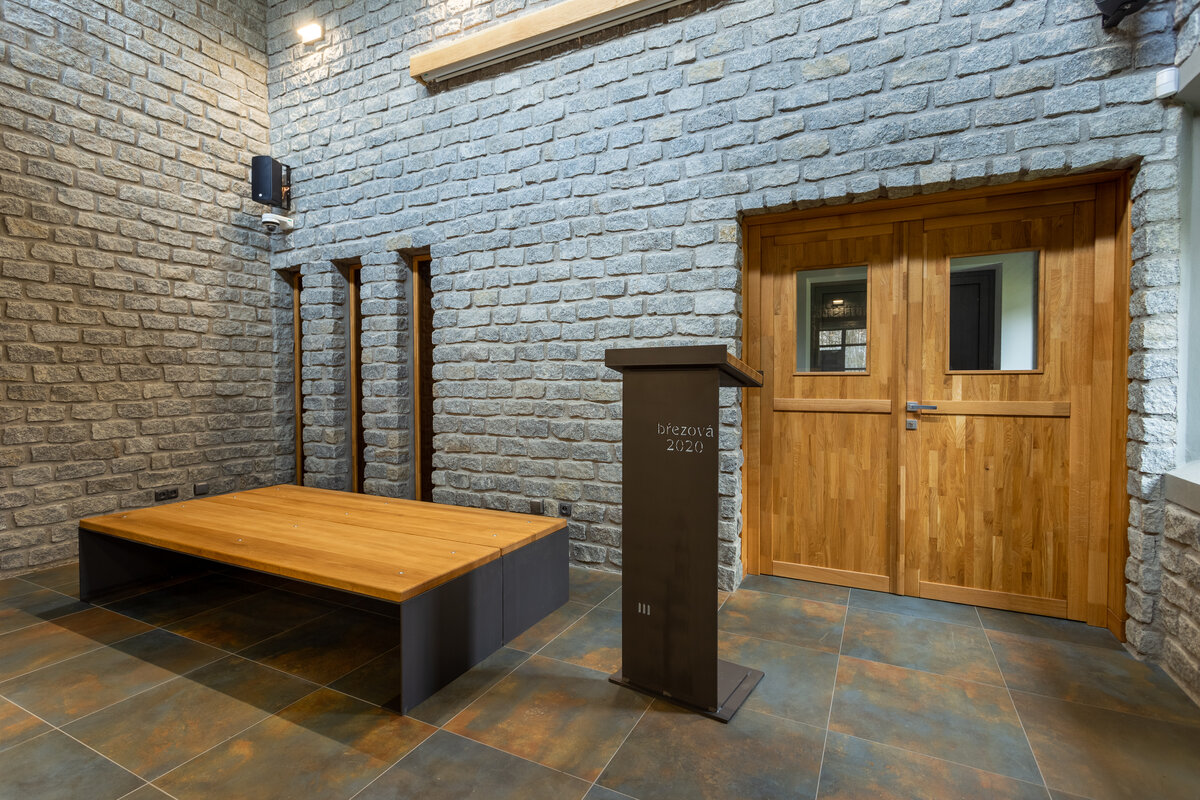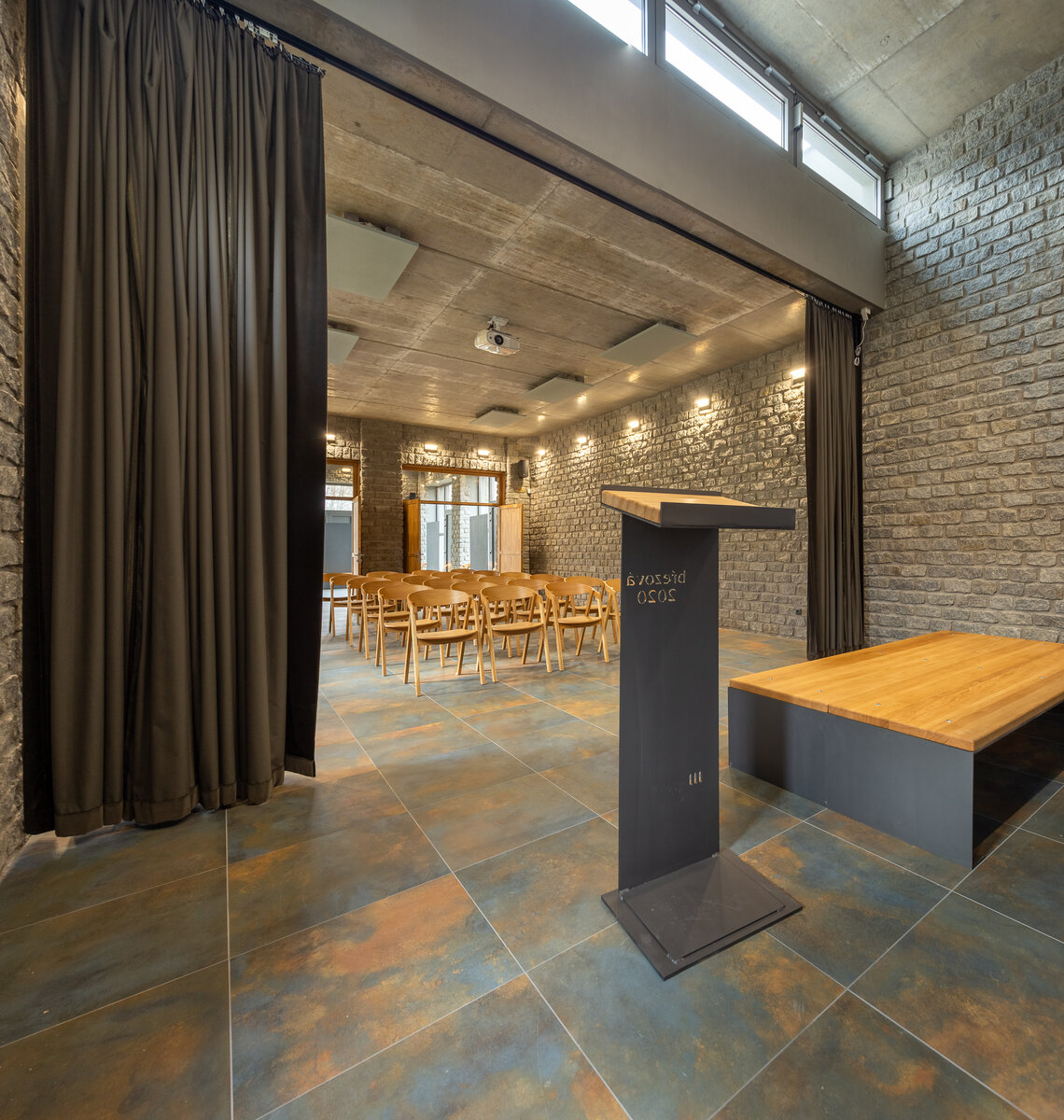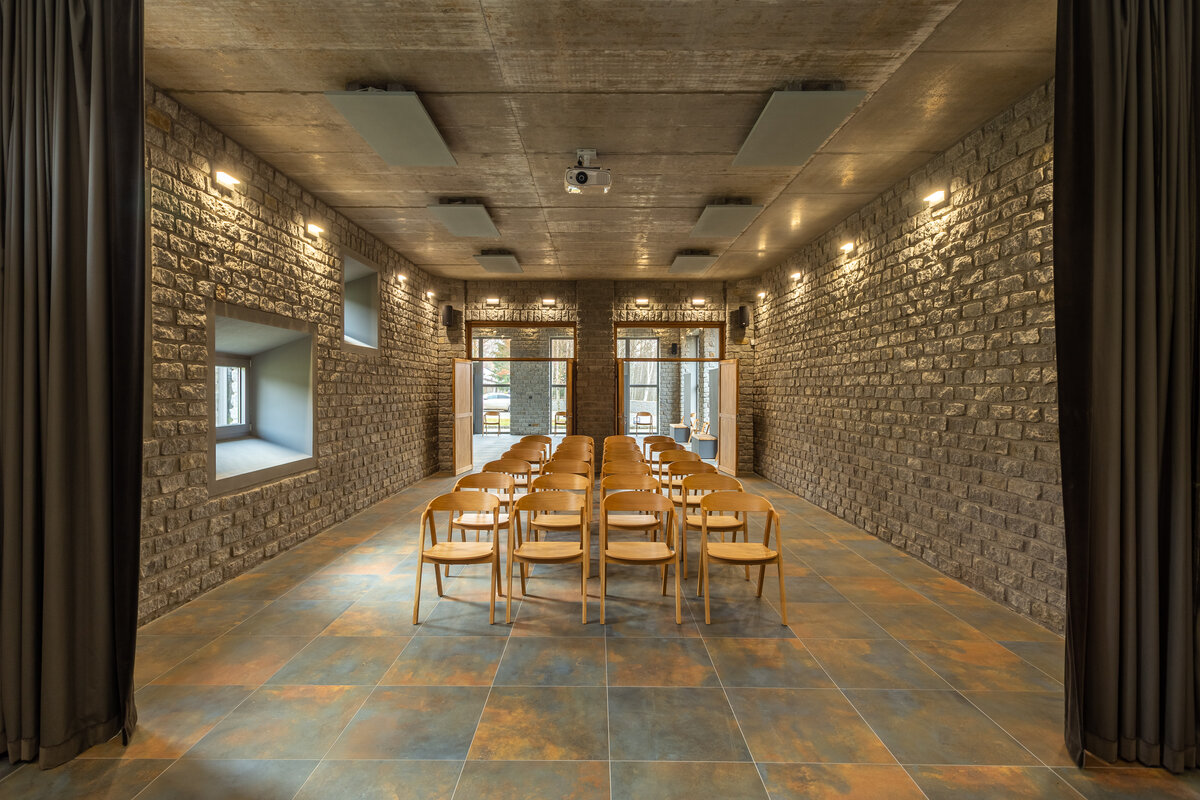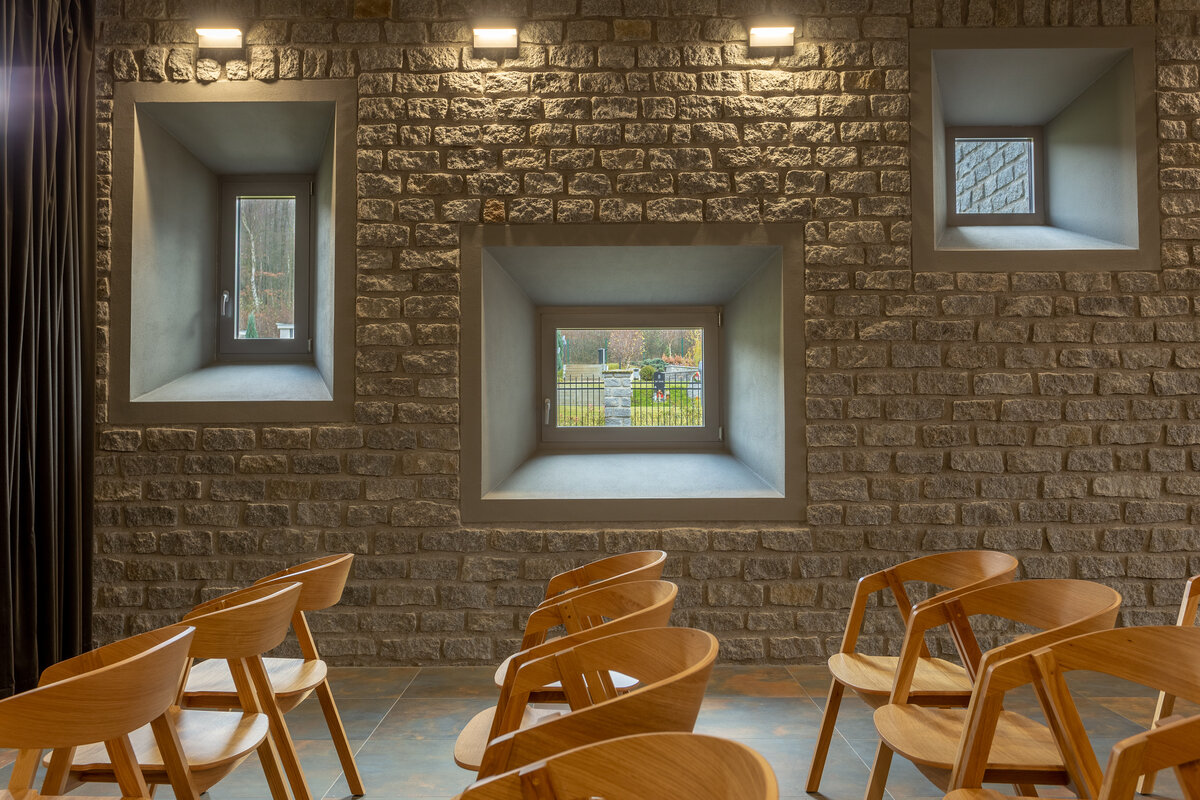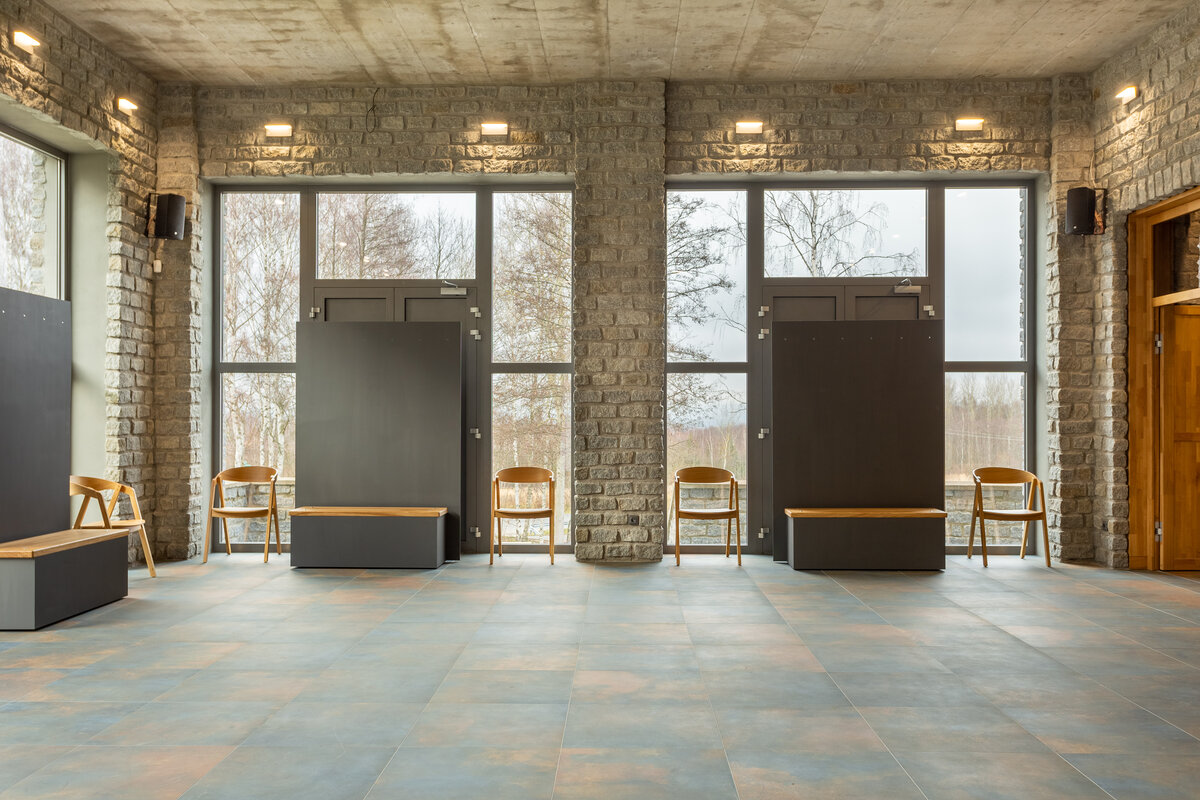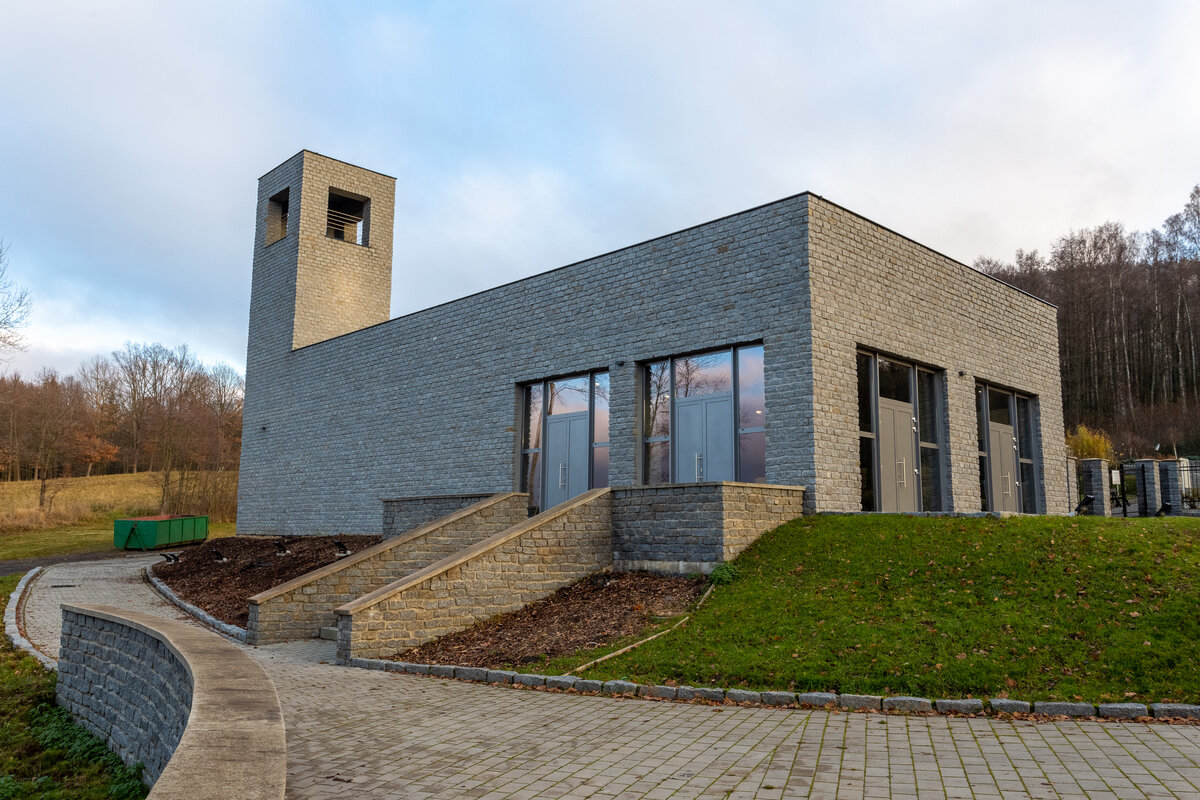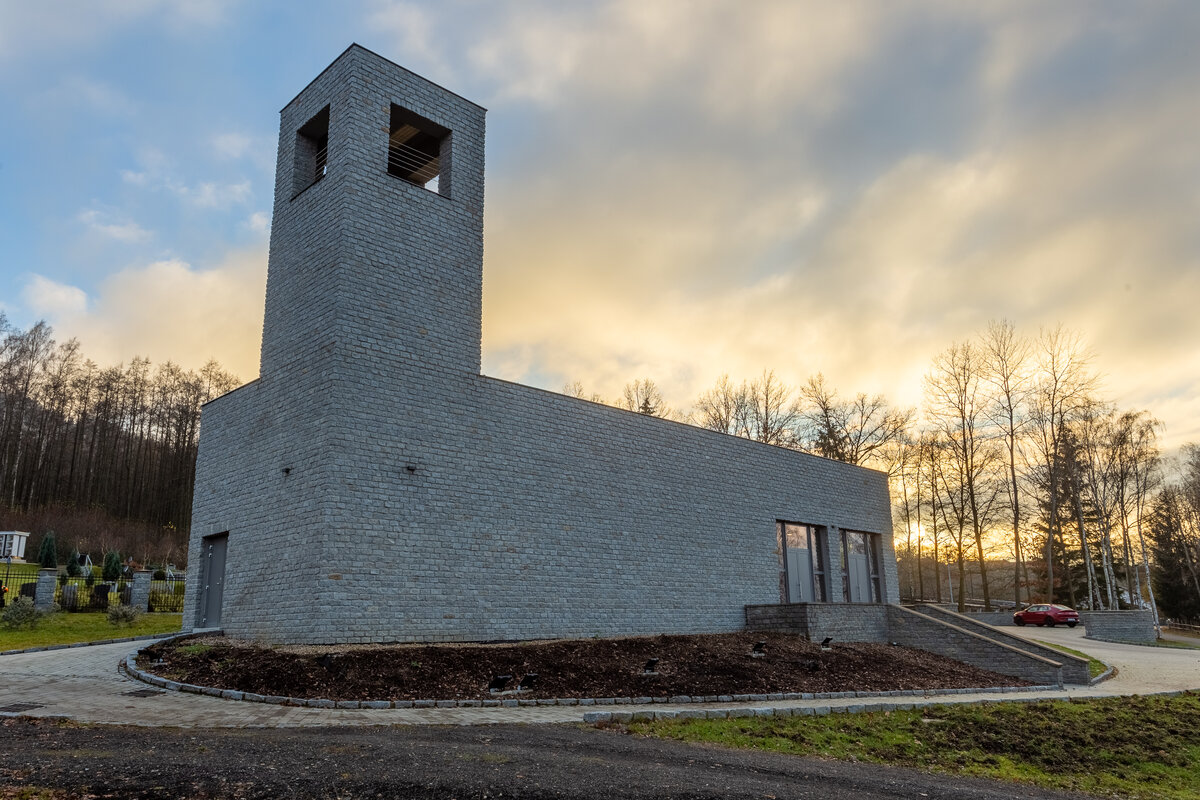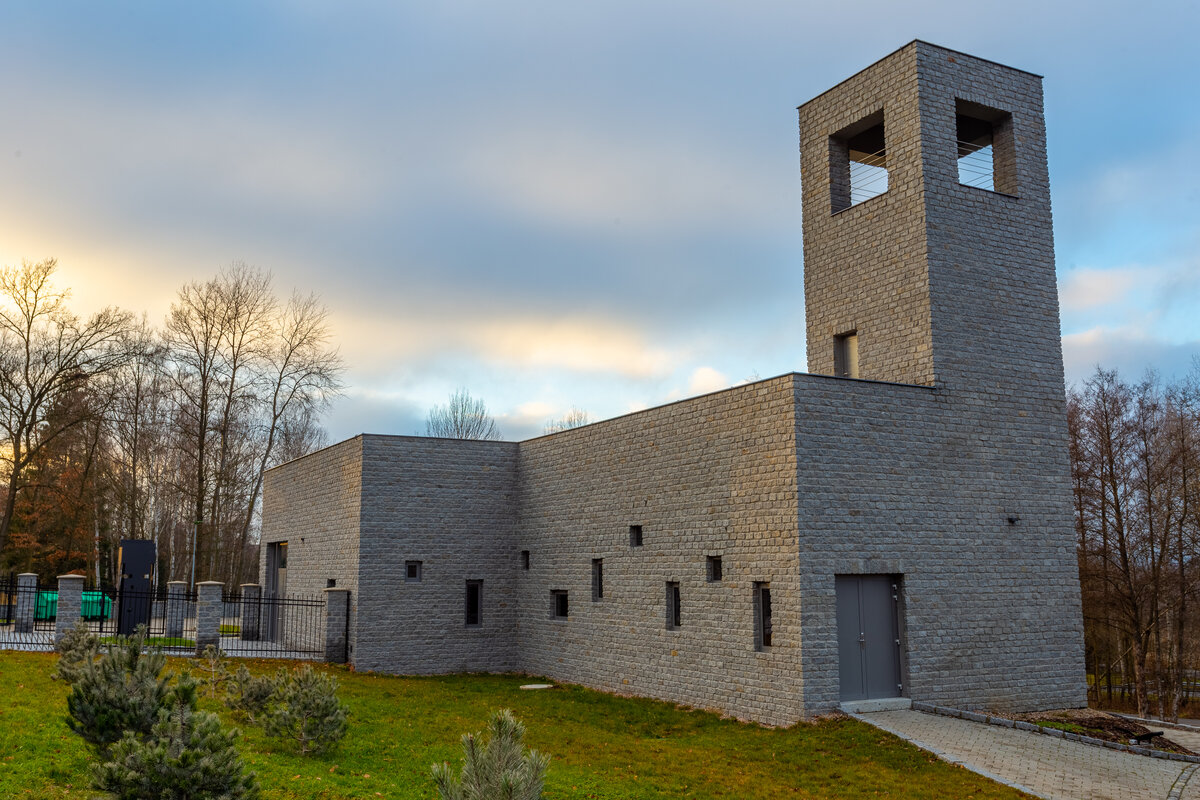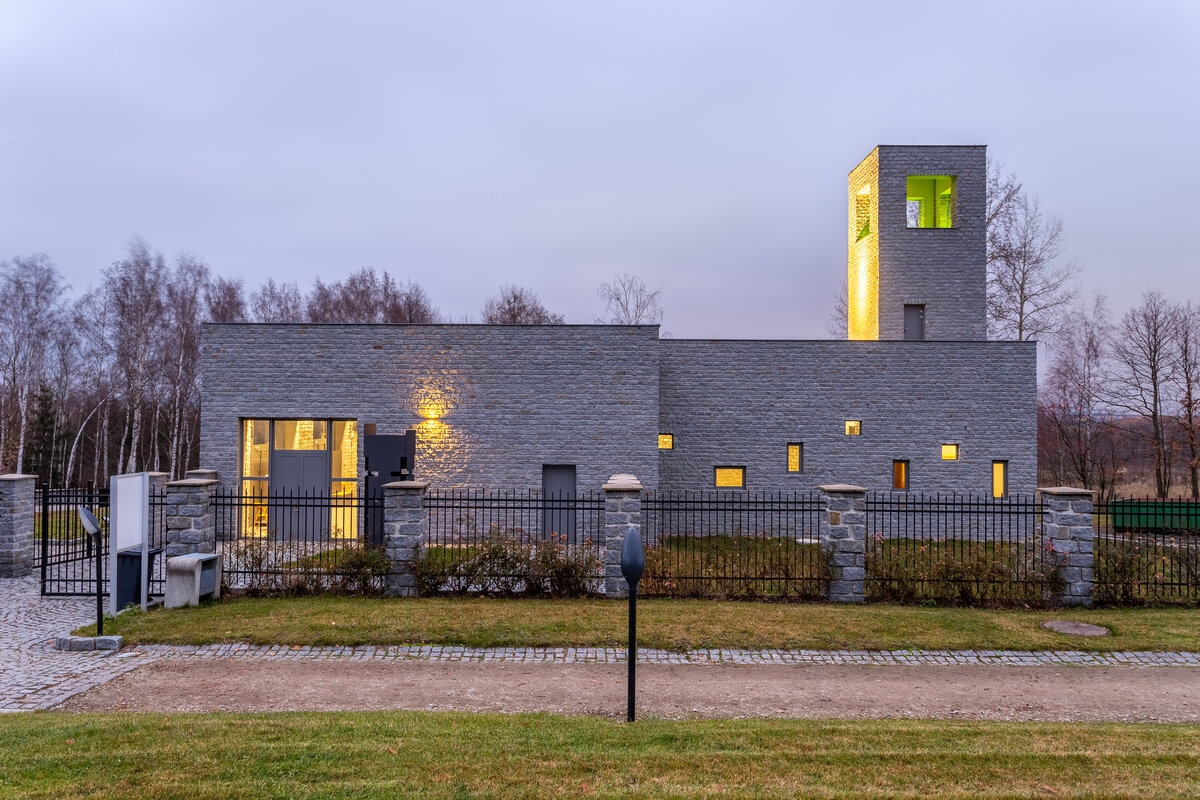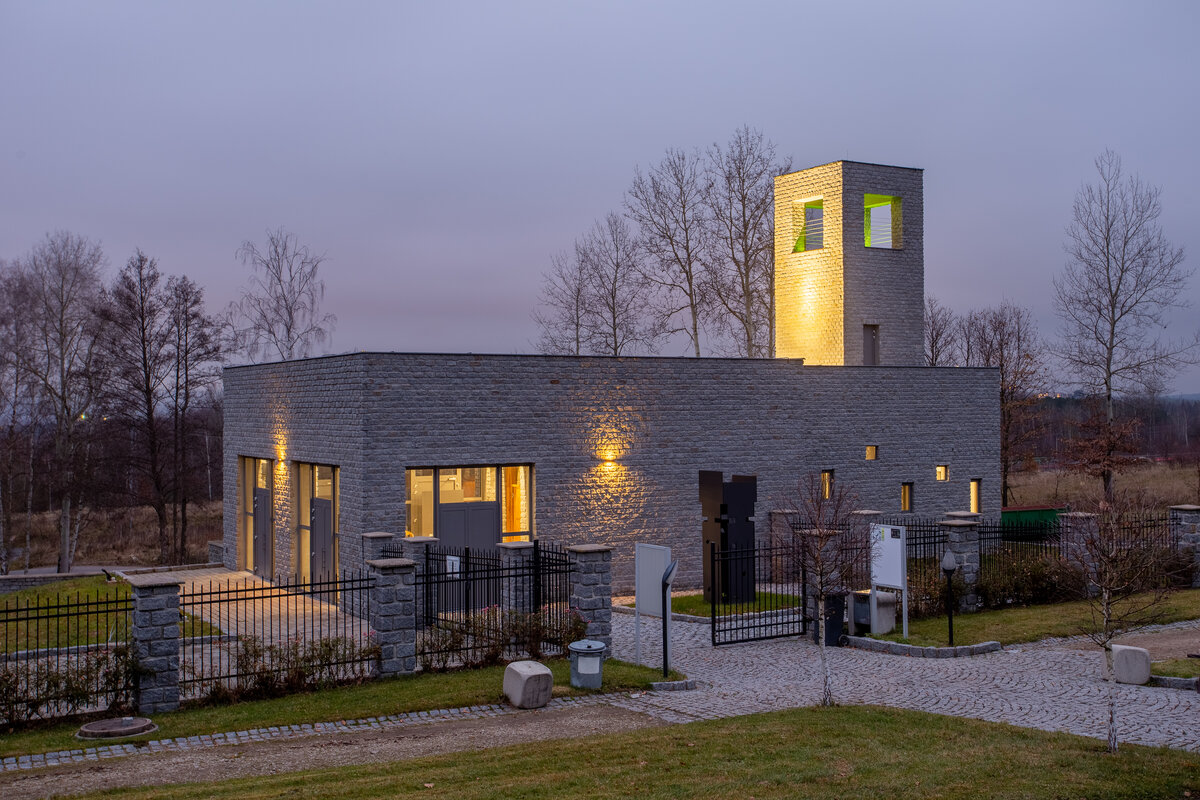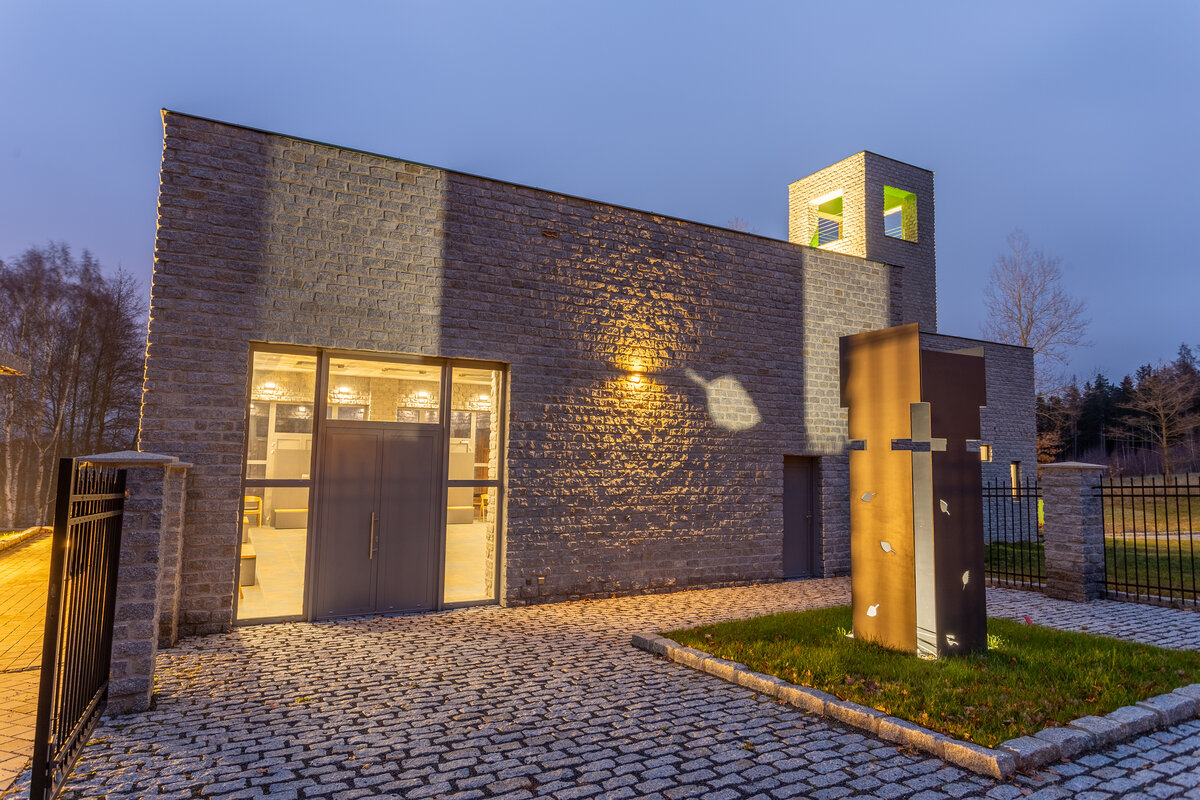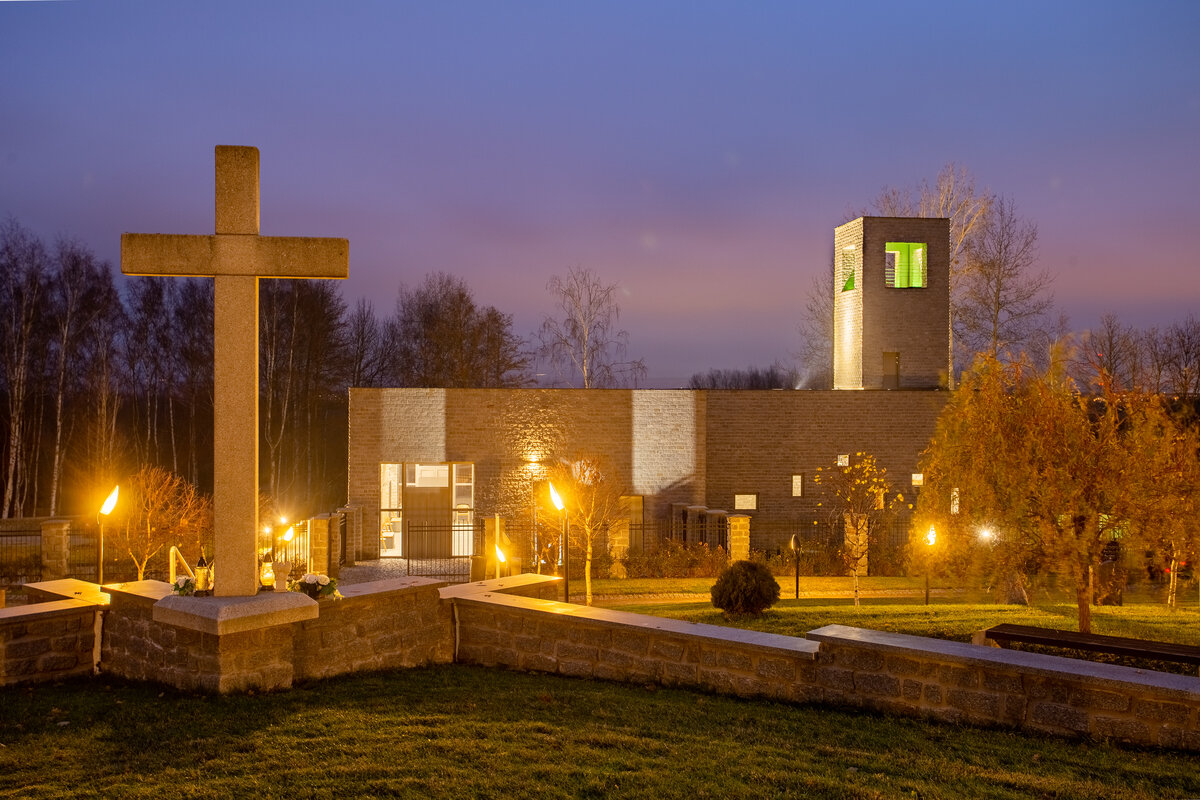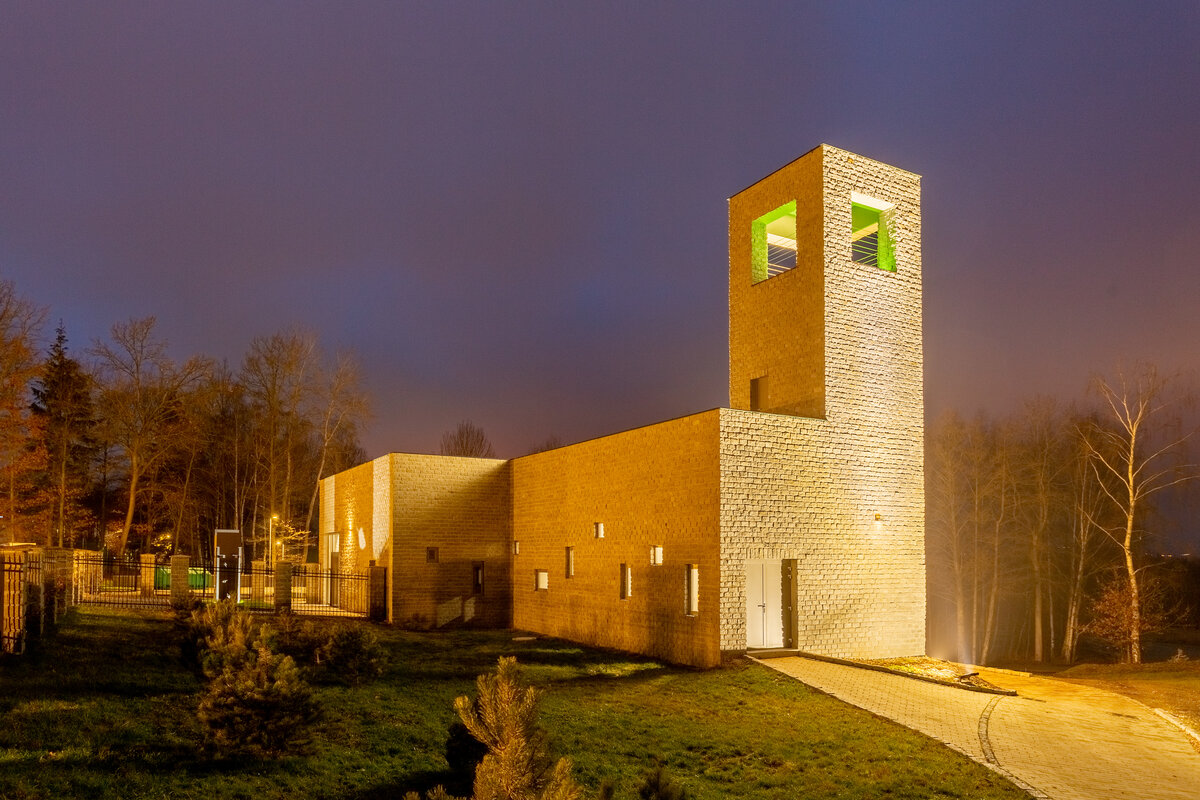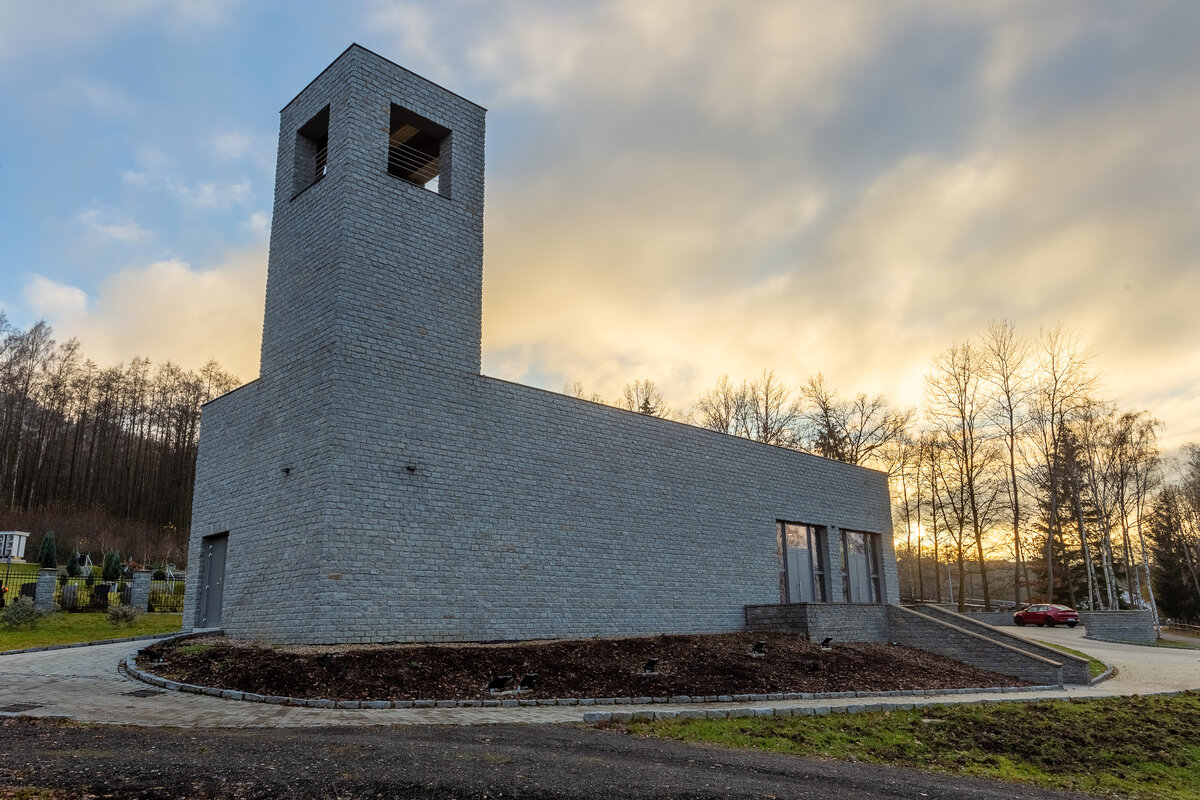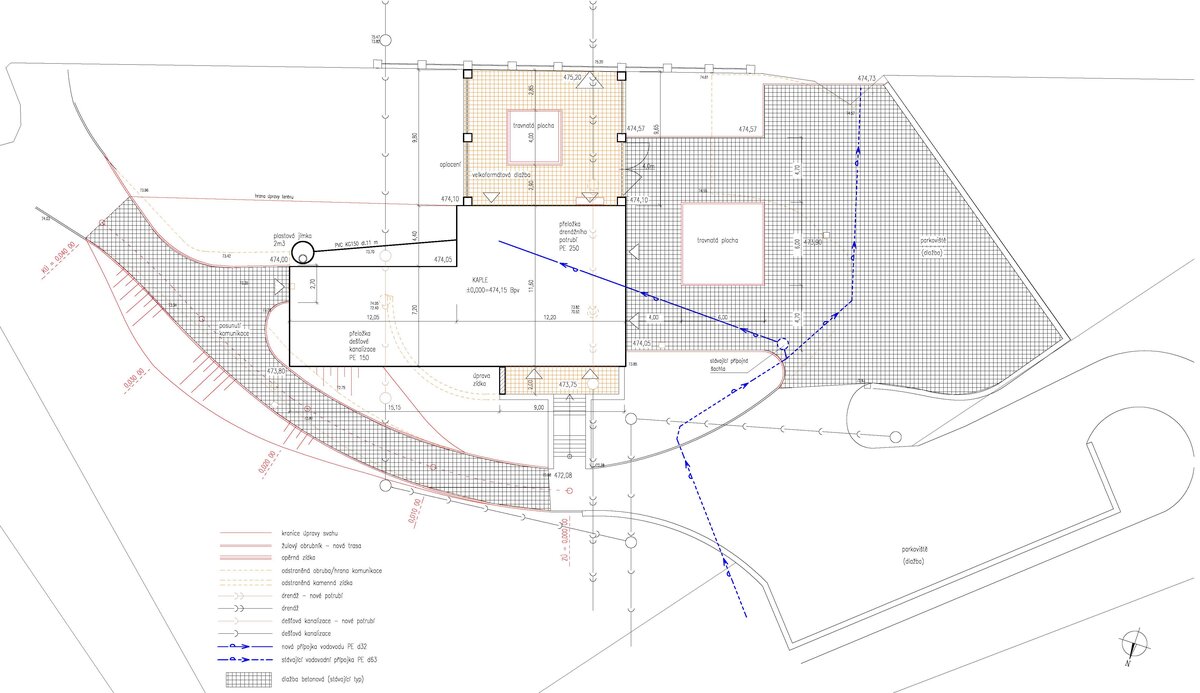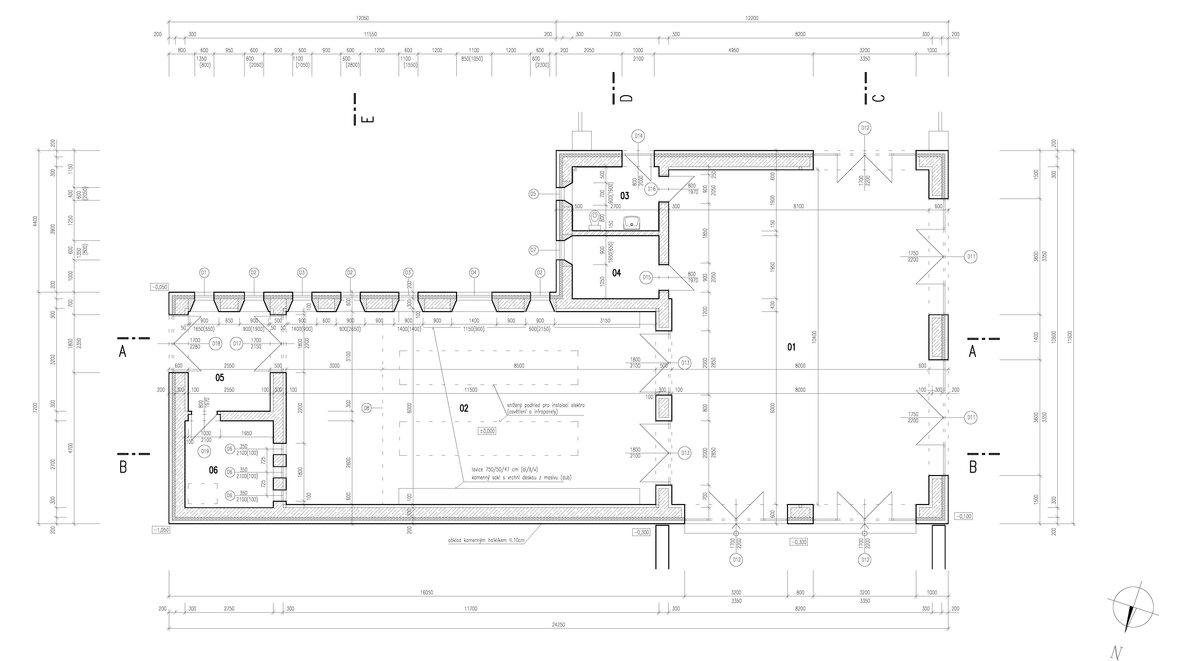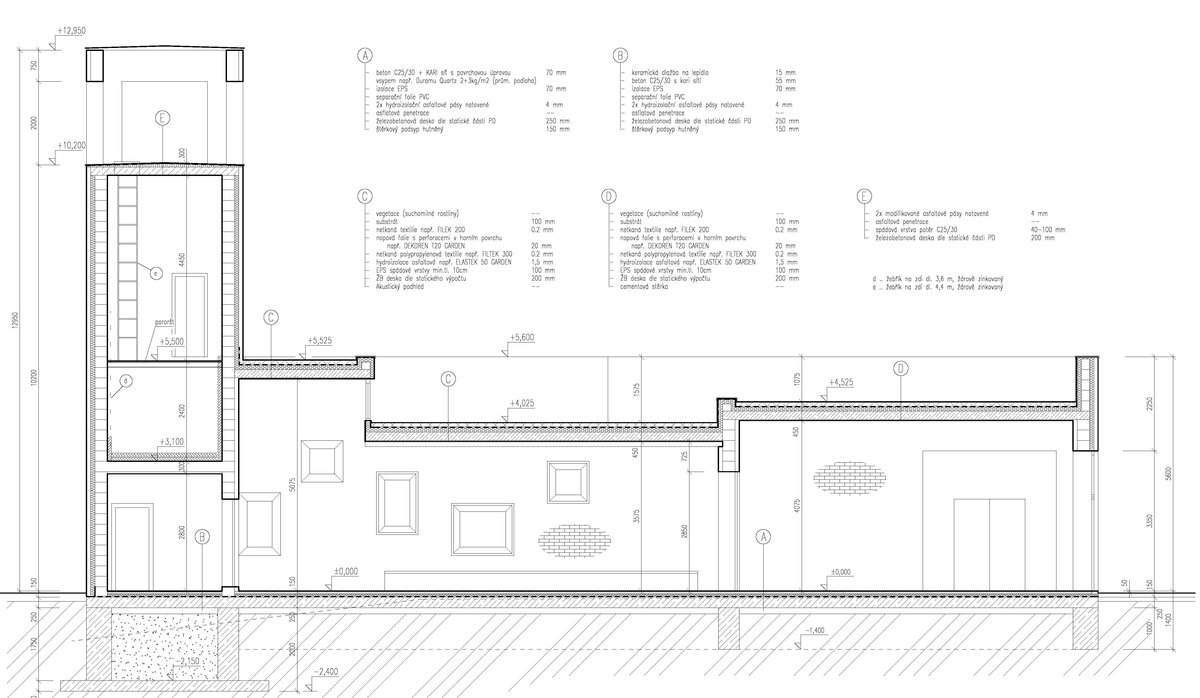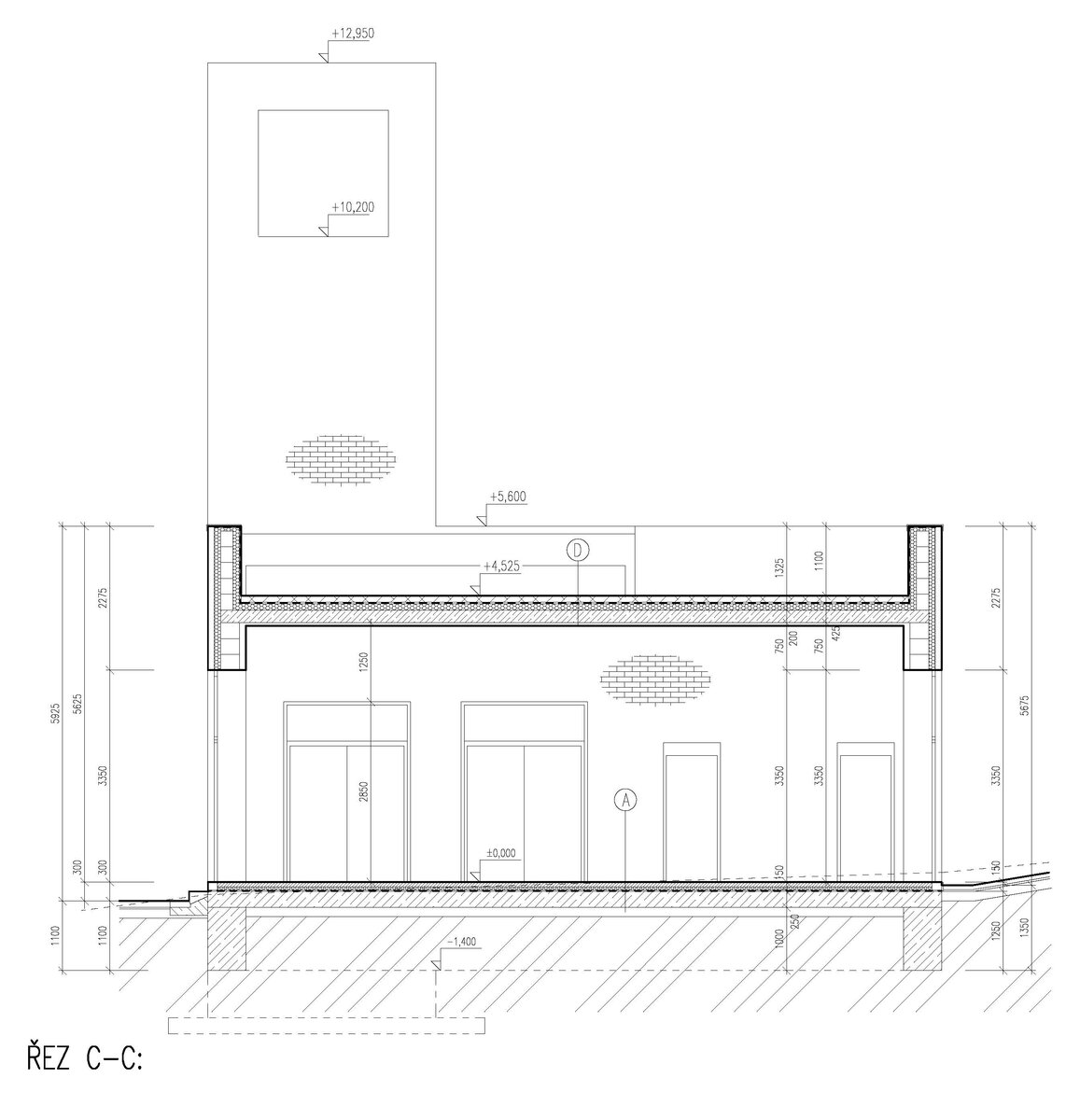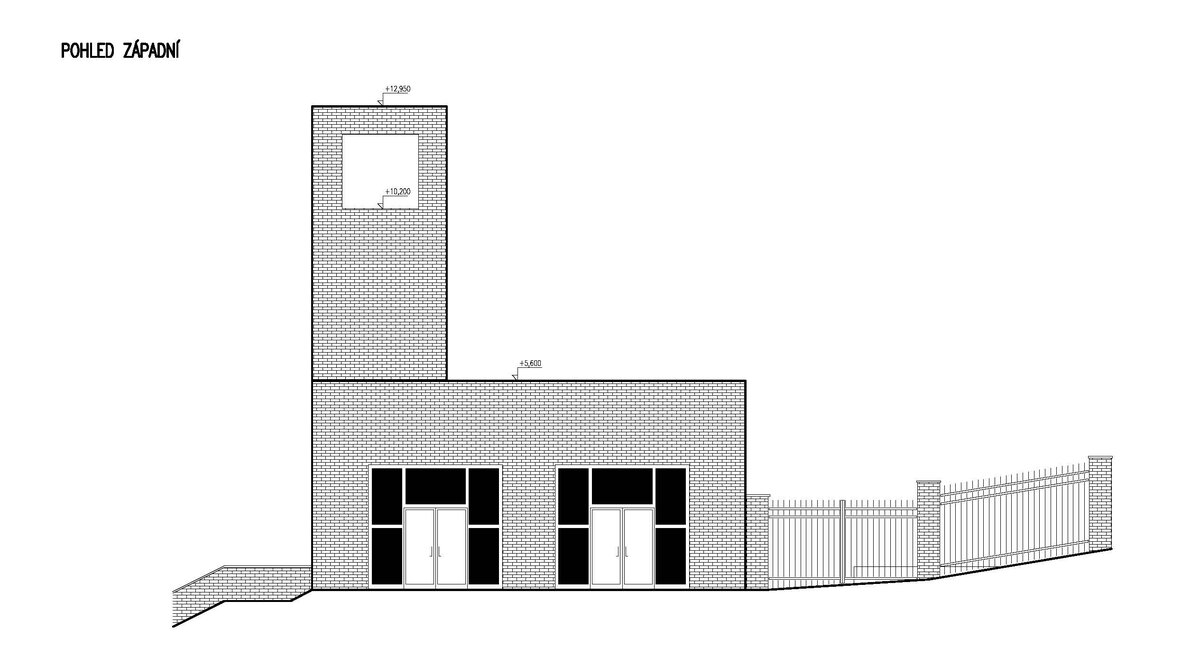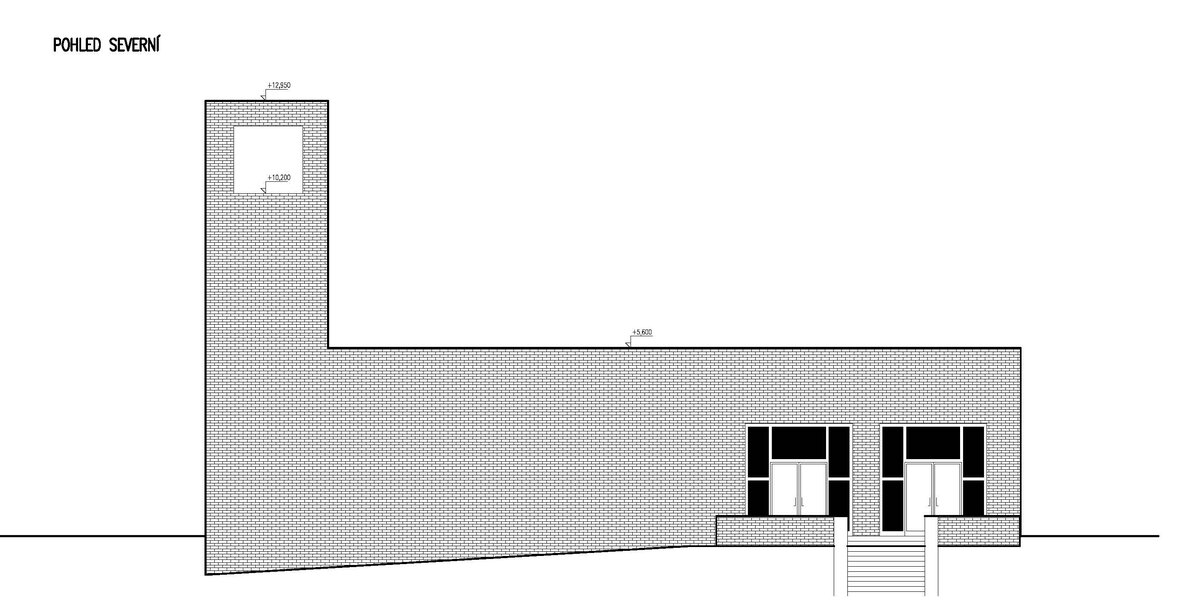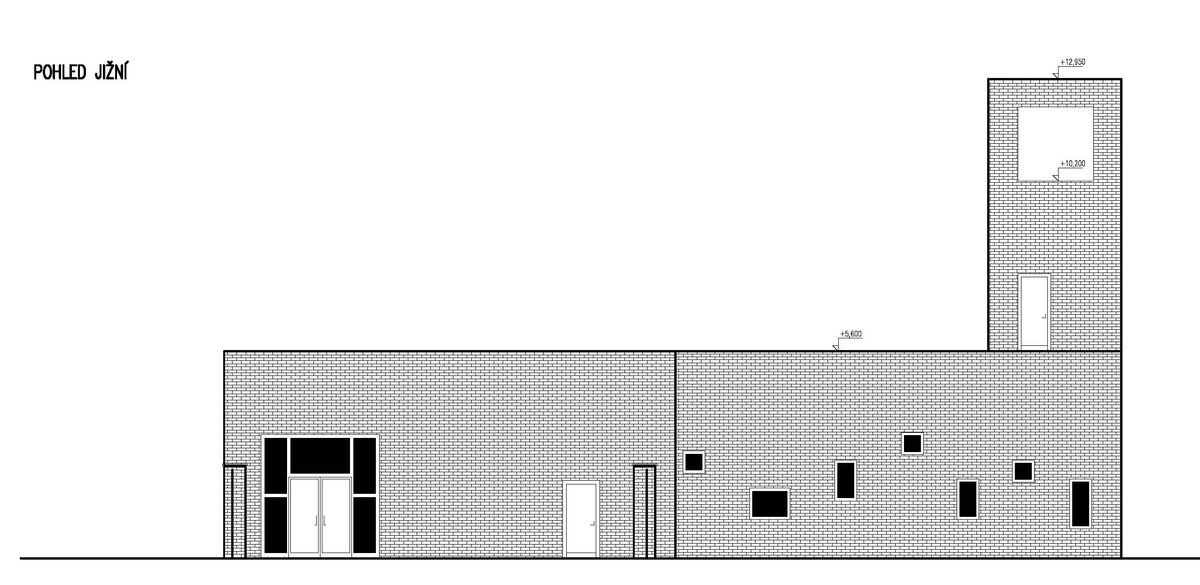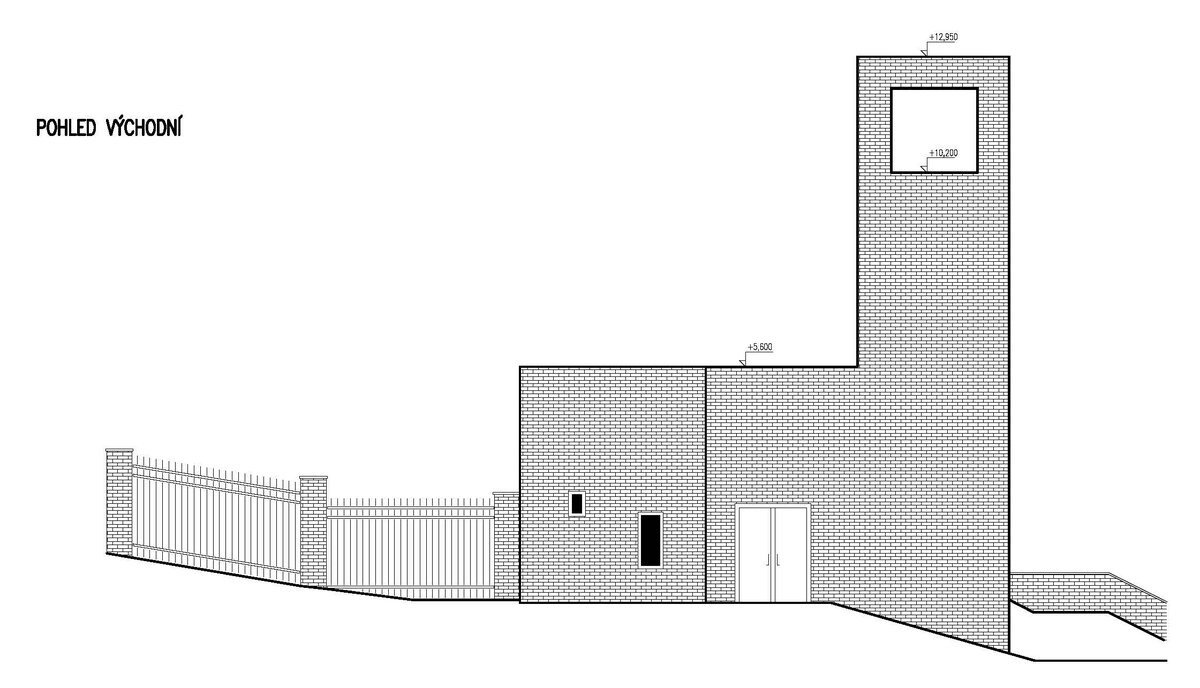 | | |
| --- | --- |
| Author | Václav Zůna/Archeb |
| Studio | |
| Location | Březová |
| Investor | Město Březová |
| Supplier | Bauport s.r.o, 155, Smetanova, 356 01 Březová |
| Date of project approval | March 2021 |
| Fotograf | |
With its shape and material solution, the building fits into the overall concept of the cemetery's public space. The shape of the chapel is based on the modern geometric division of the cemetery area, only the bell tower protrudes from the basic uniform mass of the mourning room, which in accordance with the whole building is designed as a prism with a square base in the northeast corner of the building.The façade of the entire outer part is designed from granite hooks (local quarry) from the same quarry, from which all existing masonry retaining walls and fencing posts are already. Stone masonry refers to the permanence and eternity of salvation.The interior space is divided into two masses, an exhibition and gathering space and a farewell room, which grades towards the hearse. The entrance gathering area is open and welcomes the visitor with large glass entrances. The space of the farewell room, on the other hand, is closed, with one exception, towards the cemetery, where three-story windows are installed. The interior design worked mainly with clean lines, which do not compete with the brutality of the inner stone walls. Adjacent to the Chapel is the area of the entrance to the cemetery, where you walk around the Memorial of Defunct Villages in the Březov Region. The memorial consists of 4 sheets of rusty steel, which are of different heights, a place is omitted in the corners and a strip is cut at different heights so that a negative cross is visible when viewed, which is amplified in the evening when it is illuminated from the center of the memorial. The plates are complemented by carved falling birch leaves, which draw attention to the temporality of life in the local and at the same time refer to the name of the village Březová.

It is a building made of local durable materials, which is connected to local energy. It is unheated, ie. its operation does not burden the surroundings.
It is a reinforced concrete monolith, lined with hook masonry.
Green building
Environmental certification
| | |
| --- | --- |
| Type and level of certificate | - |
Water management
| | |
| --- | --- |
| Is rainwater used for irrigation? | |
| Is rainwater used for other purposes, e.g. toilet flushing ? | |
| Does the building have a green roof / facade ? | |
| Is reclaimed waste water used, e.g. from showers and sinks ? | |
The quality of the indoor environment
| | |
| --- | --- |
| Is clean air supply automated ? | |
| Is comfortable temperature during summer and winter automated? | |
| Is natural lighting guaranteed in all living areas? | |
| Is artificial lighting automated? | |
| Is acoustic comfort, specifically reverberation time, guaranteed? | |
| Does the layout solution include zoning and ergonomics elements? | |
Principles of circular economics
| | |
| --- | --- |
| Does the project use recycled materials? | |
| Does the project use recyclable materials? | |
| Are materials with a documented Environmental Product Declaration (EPD) promoted in the project? | |
| Are other sustainability certifications used for materials and elements? | |
Energy efficiency
| | |
| --- | --- |
| Energy performance class of the building according to the Energy Performance Certificate of the building | G |
| Is efficient energy management (measurement and regular analysis of consumption data) considered? | |
| Are renewable sources of energy used, e.g. solar system, photovoltaics? | |
Interconnection with surroundings
| | |
| --- | --- |
| Does the project enable the easy use of public transport? | |
| Does the project support the use of alternative modes of transport, e.g cycling, walking etc. ? | |
| Is there access to recreational natural areas, e.g. parks, in the immediate vicinity of the building? | |