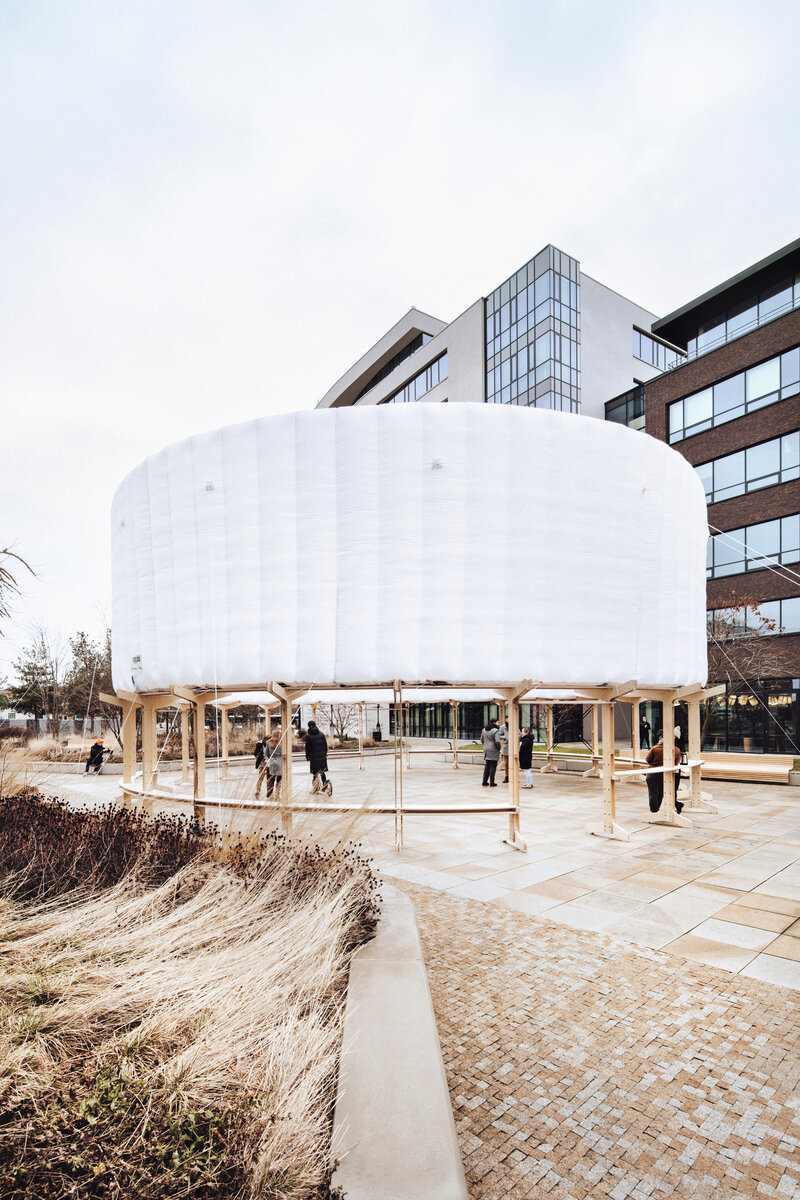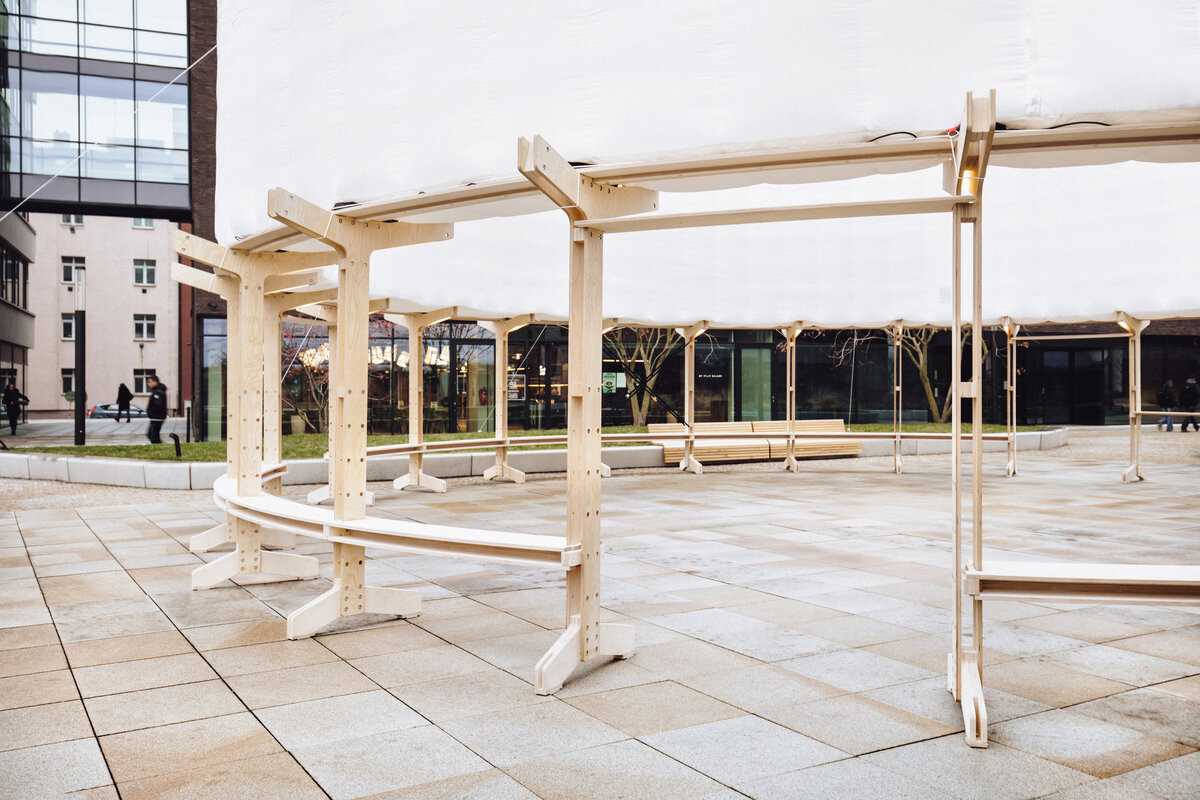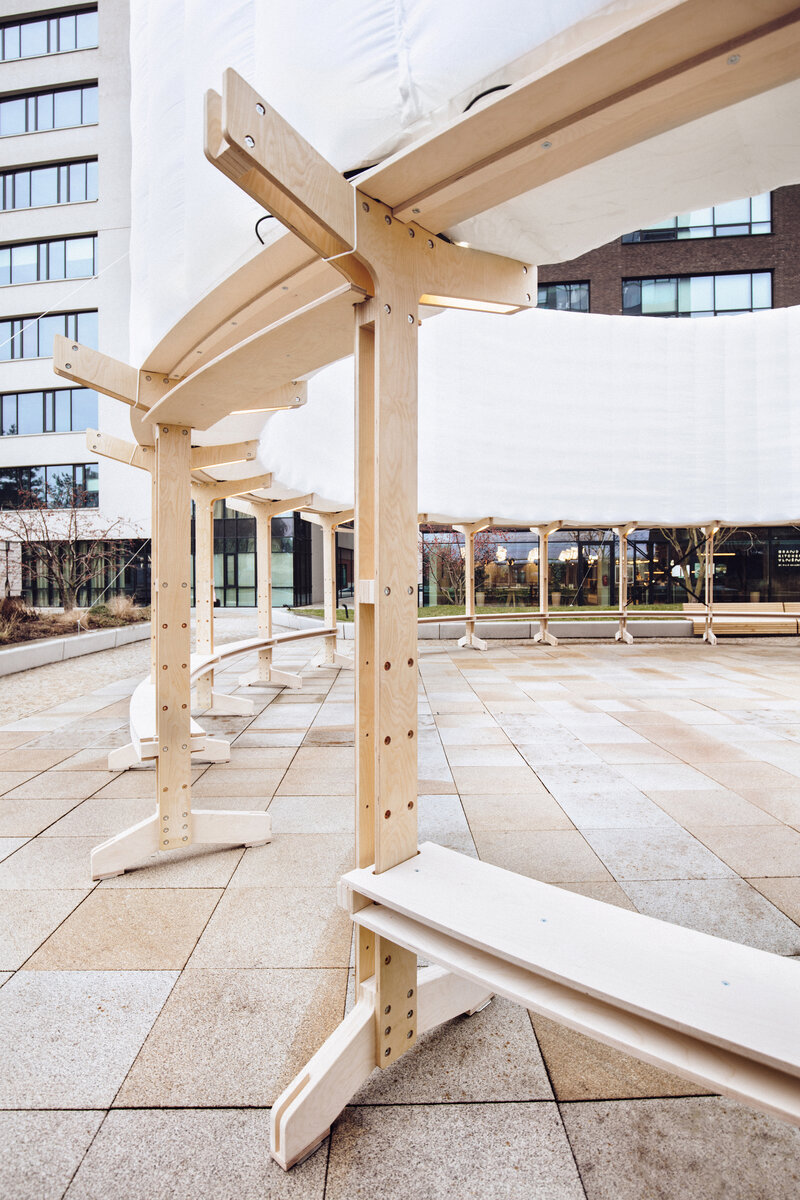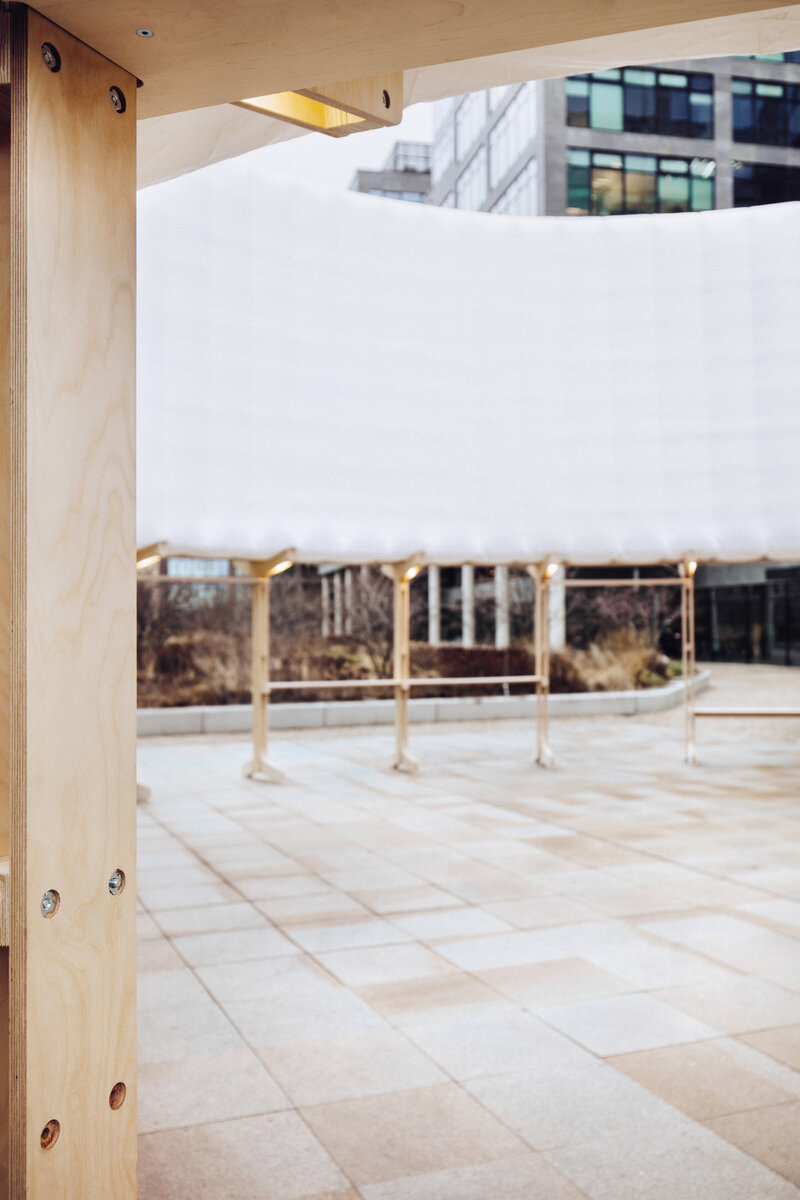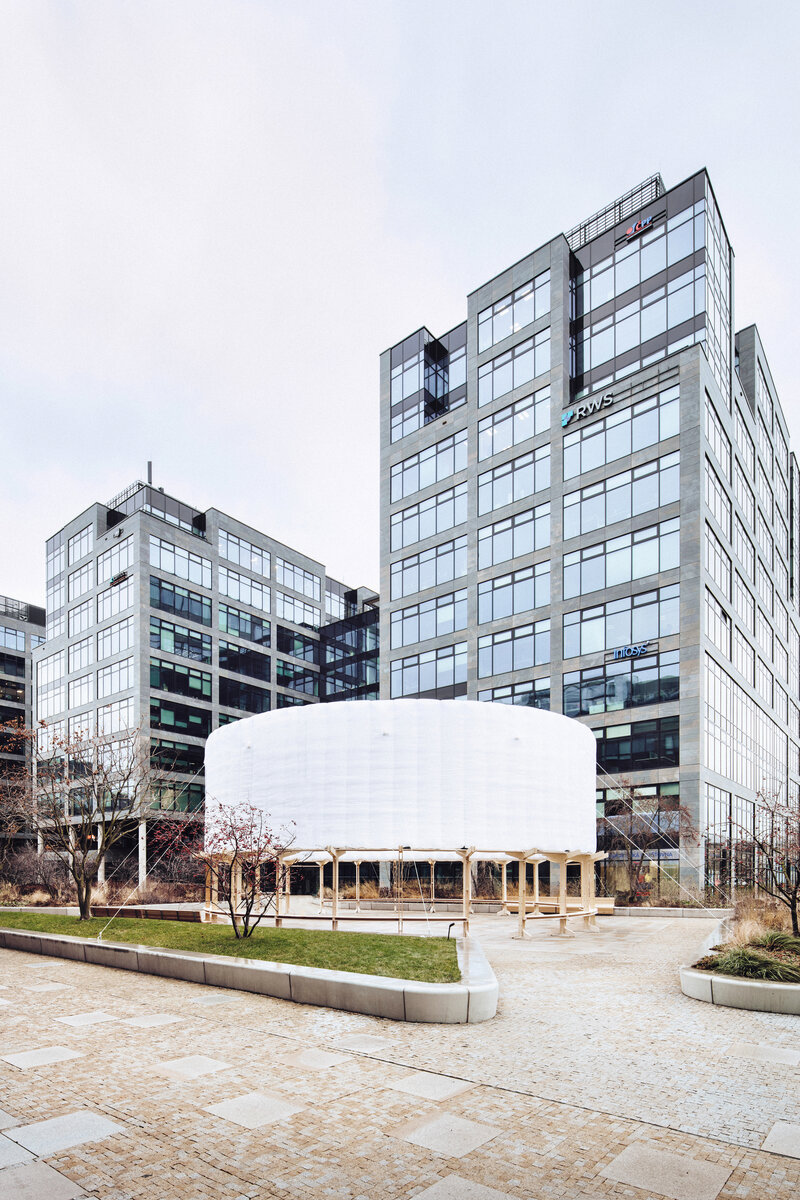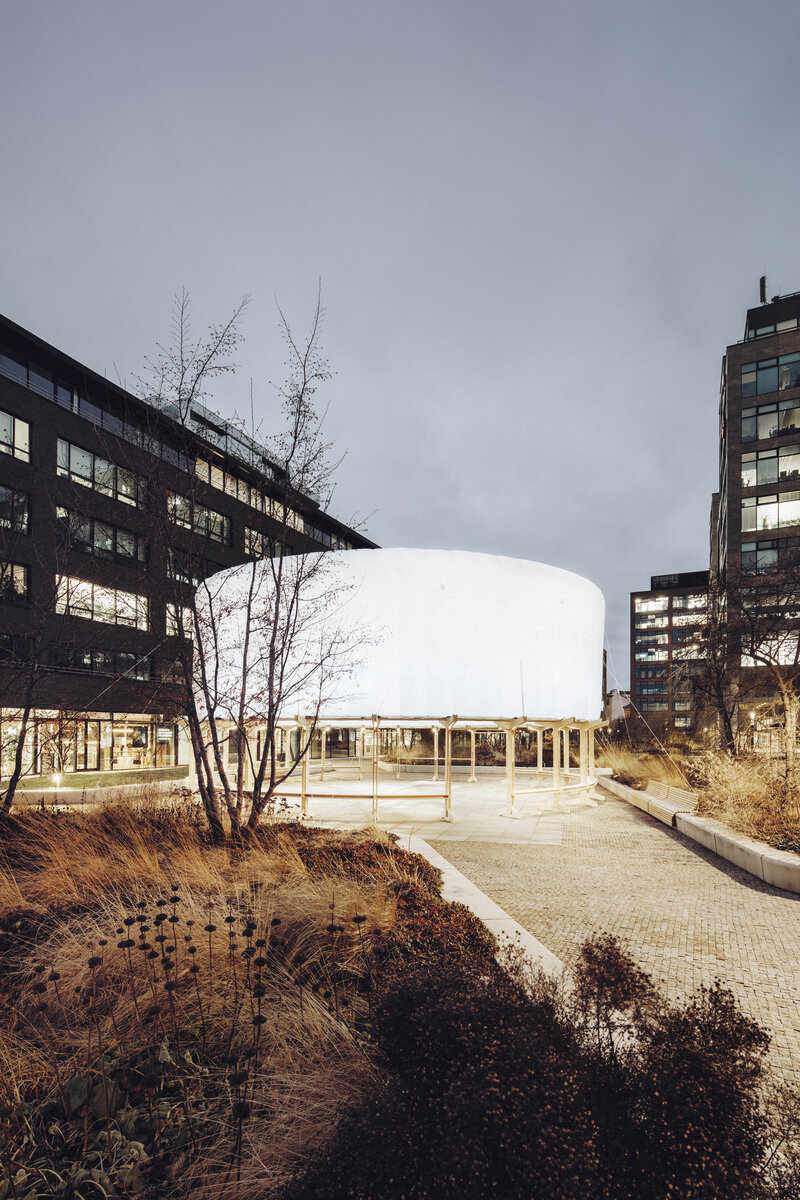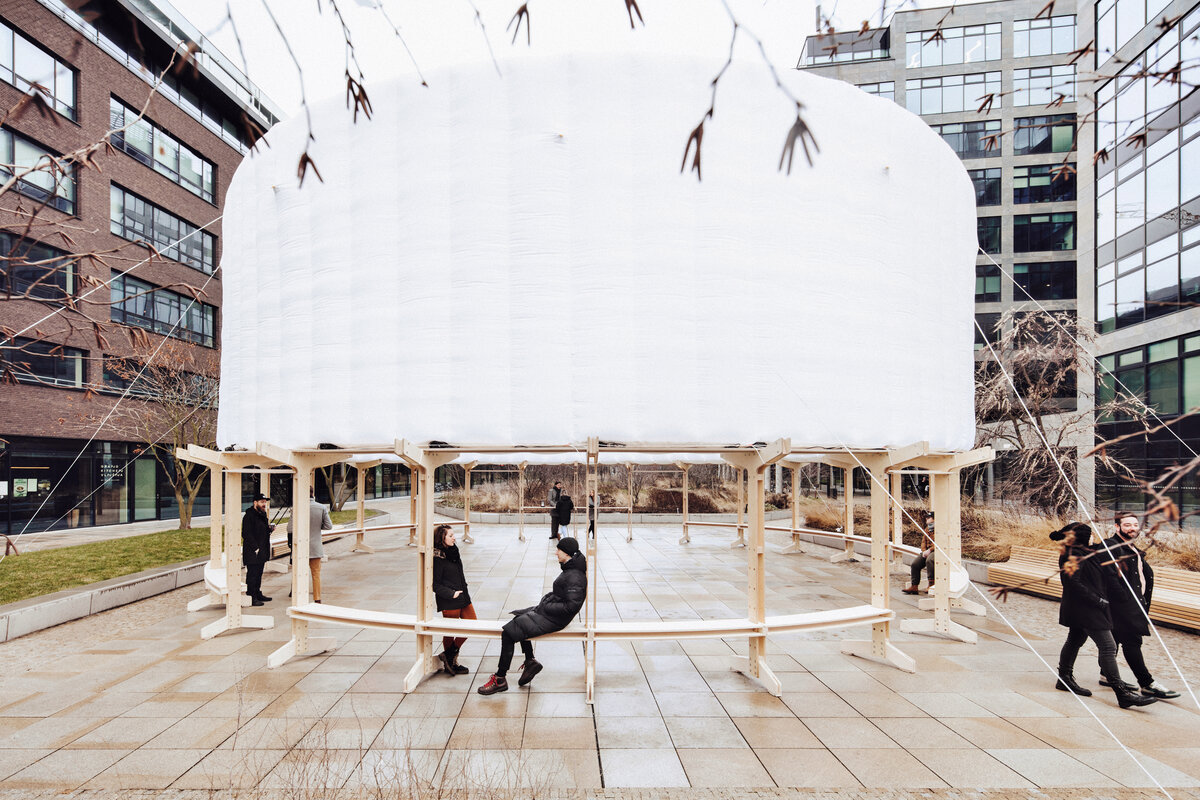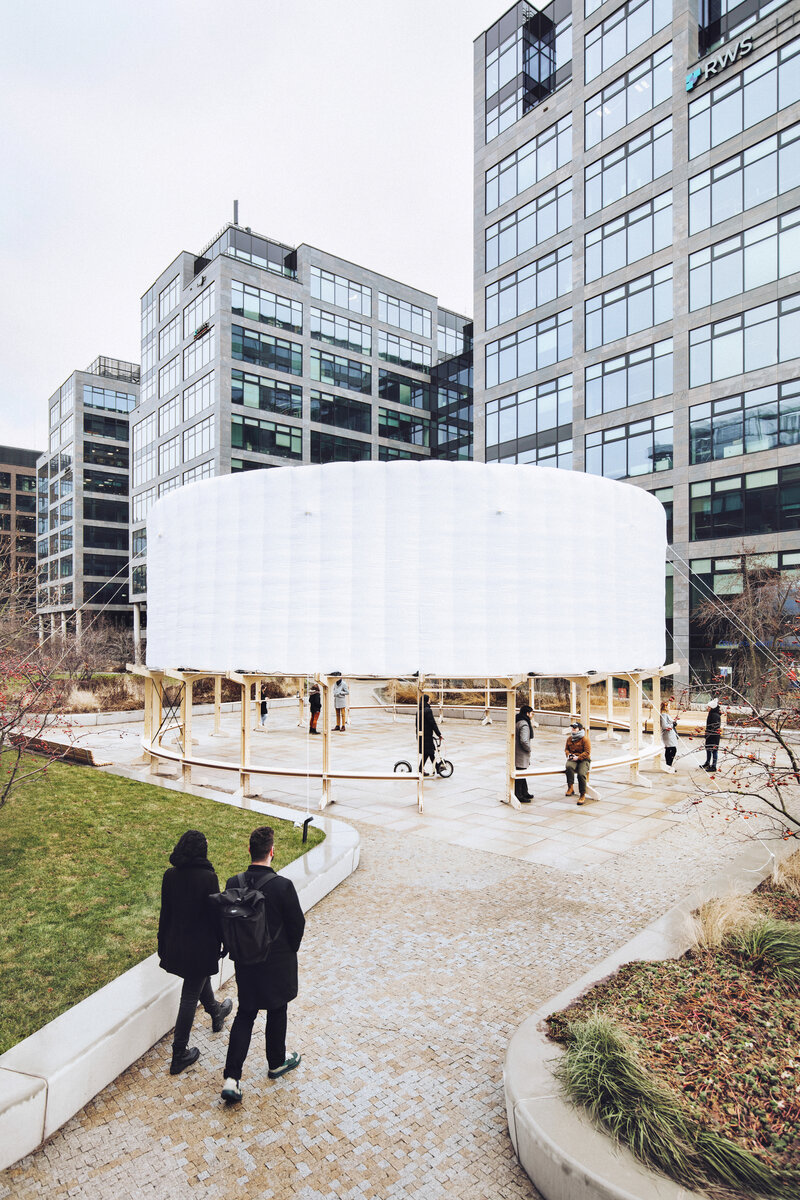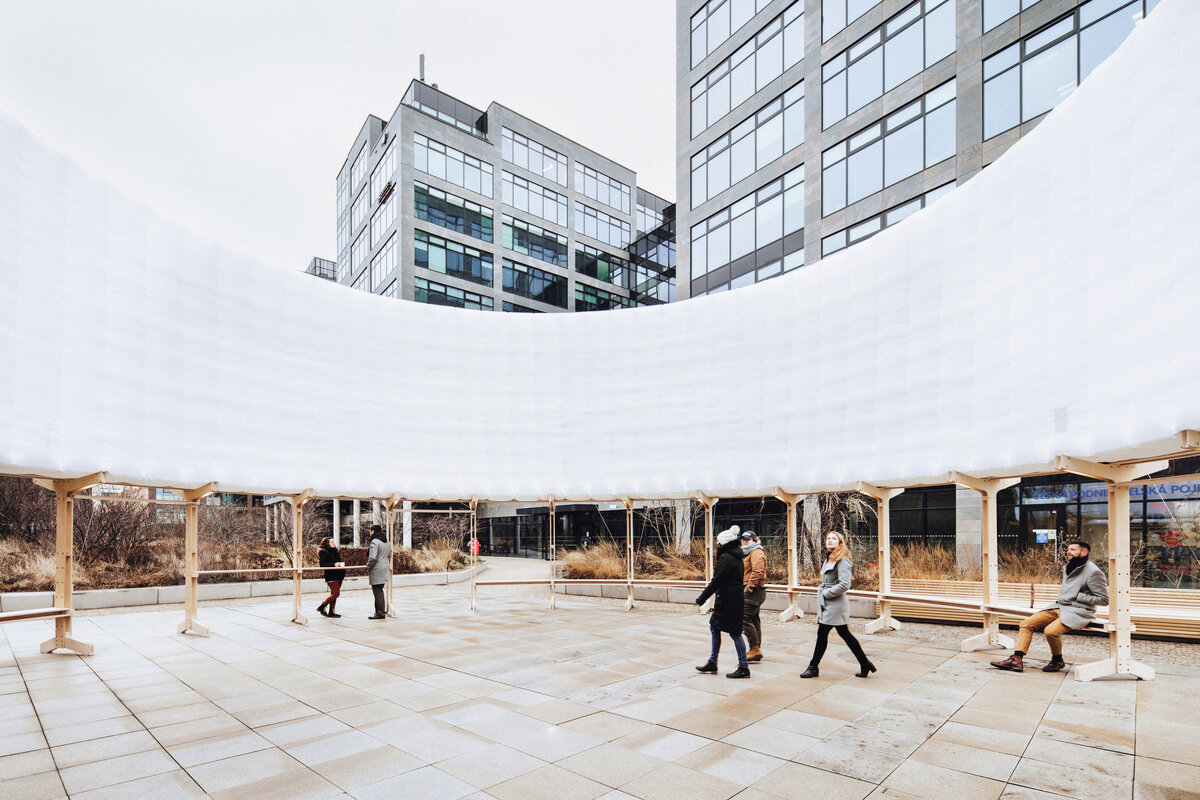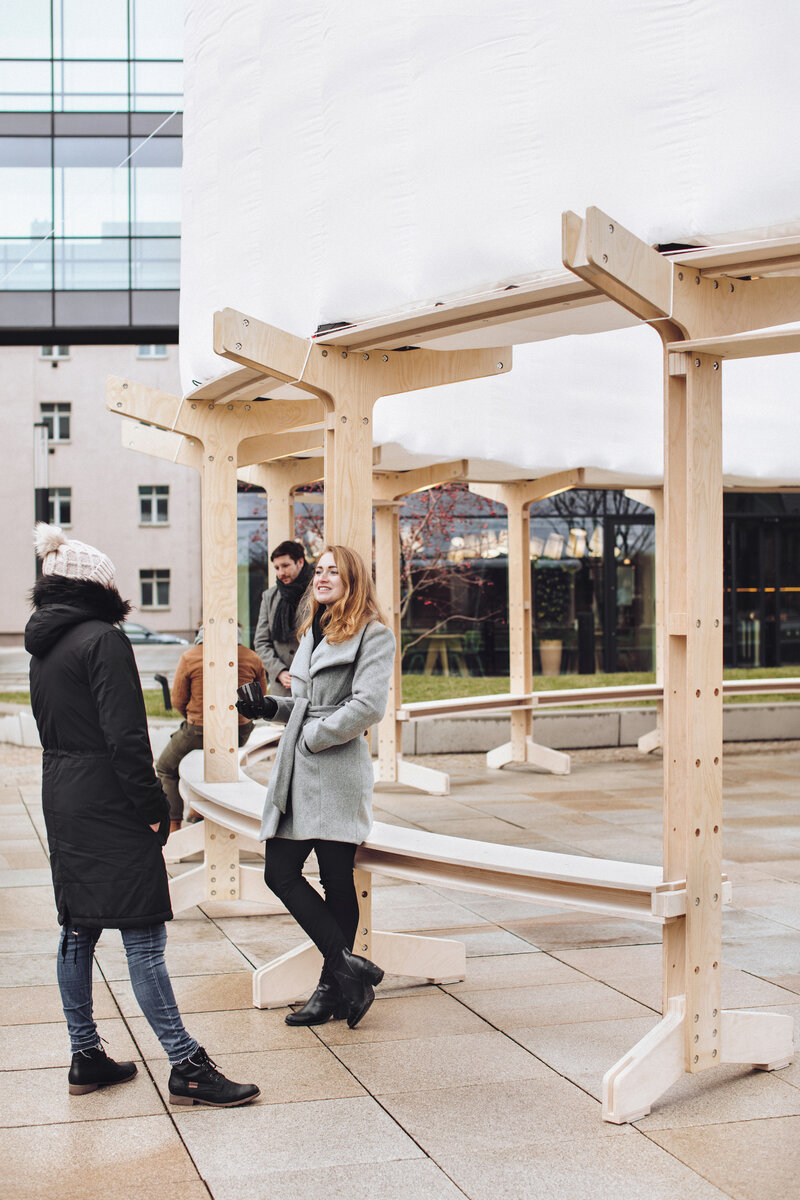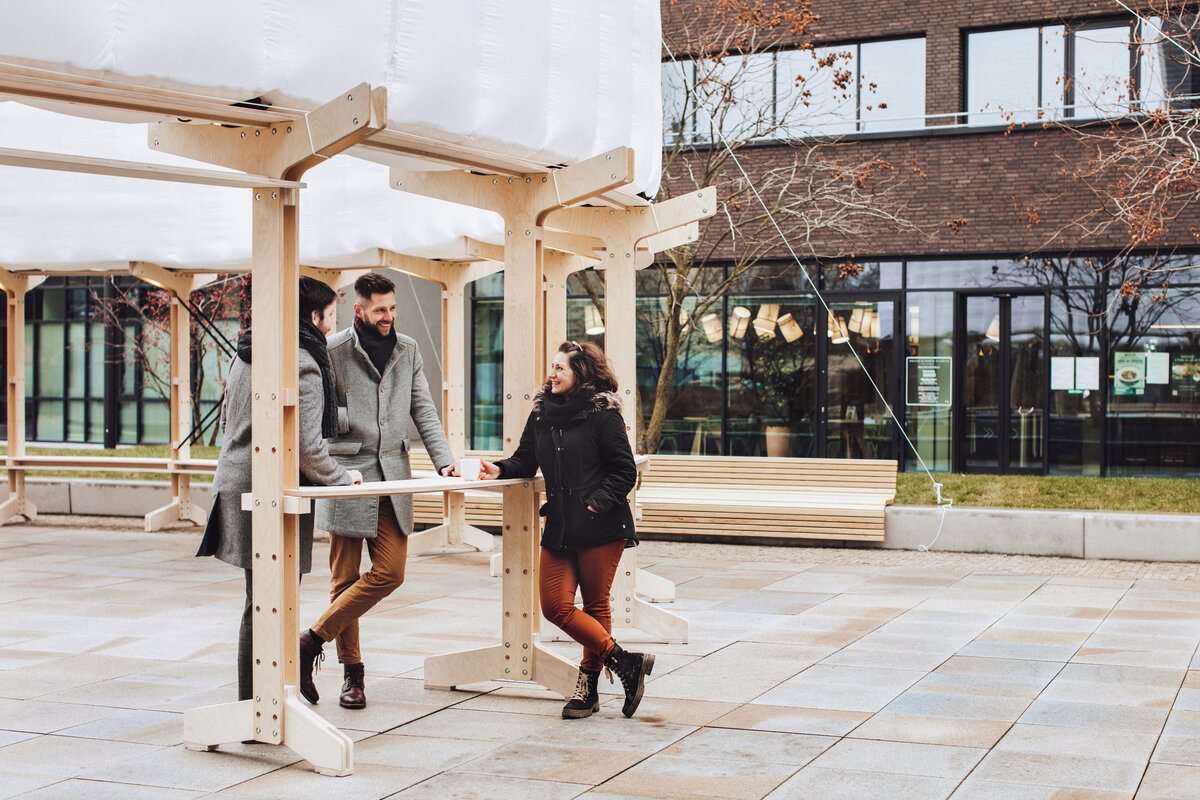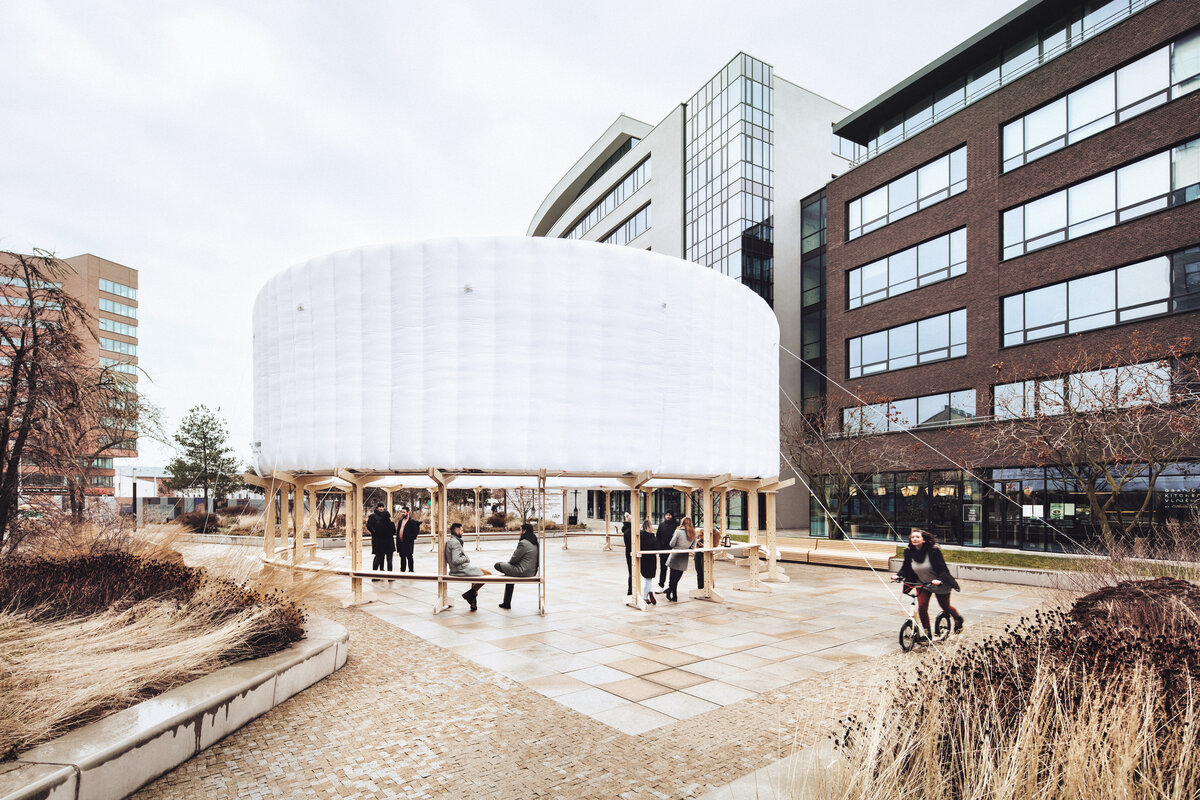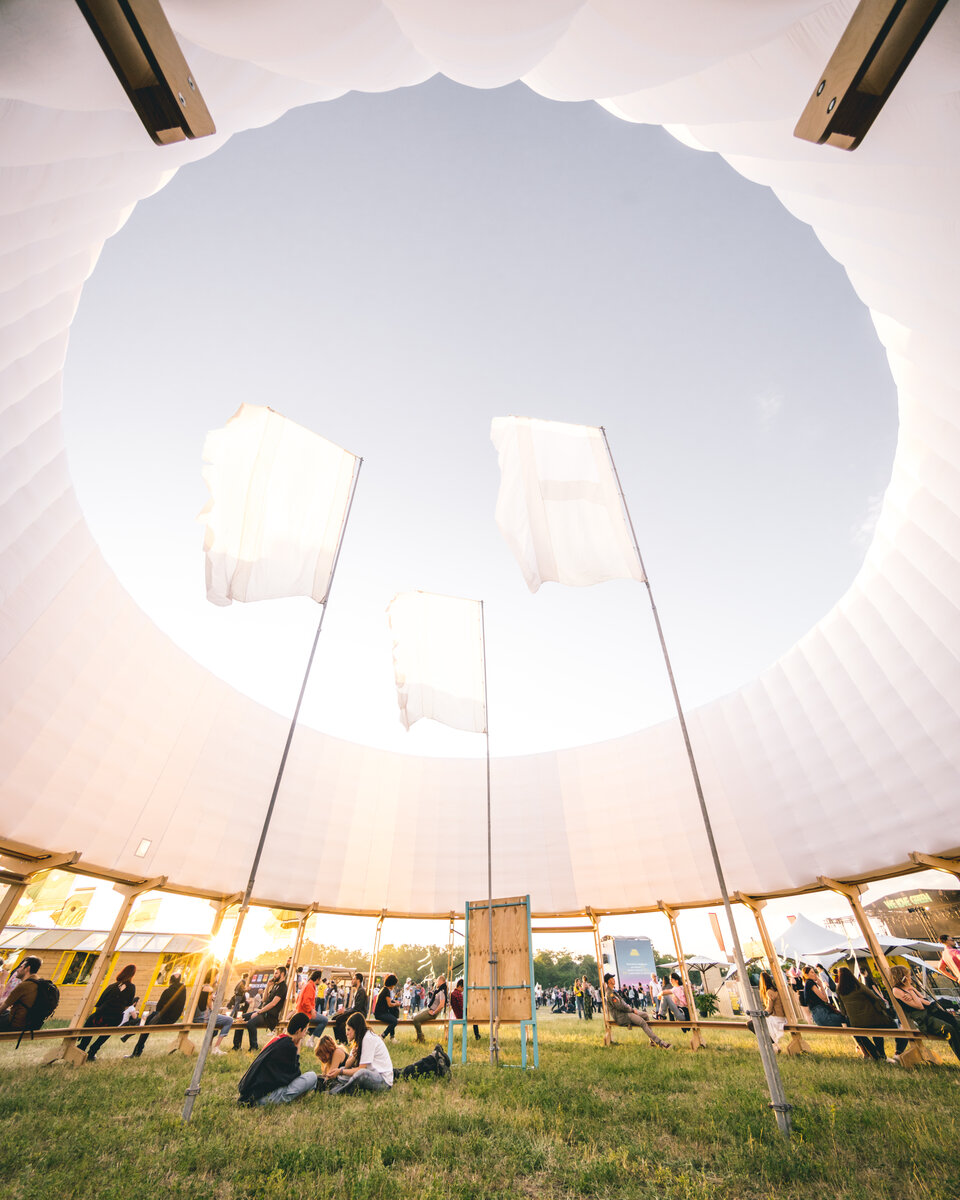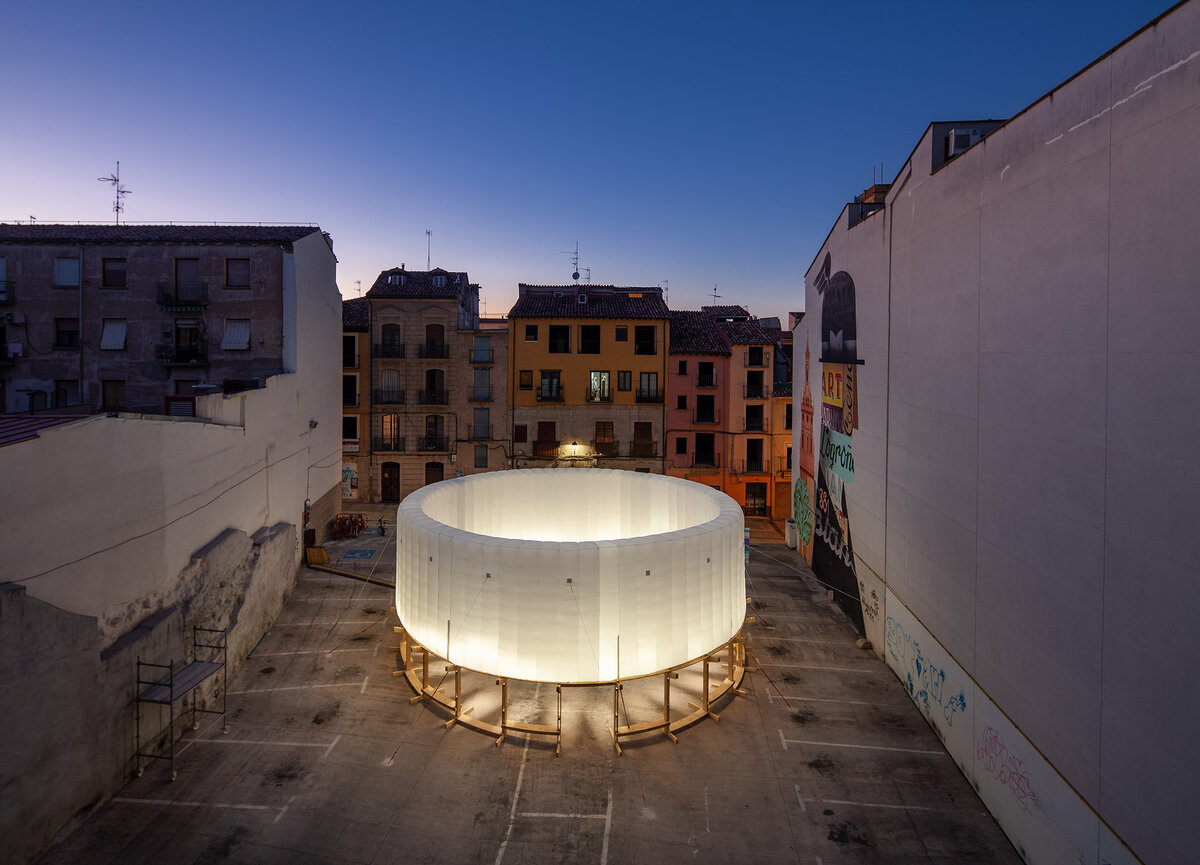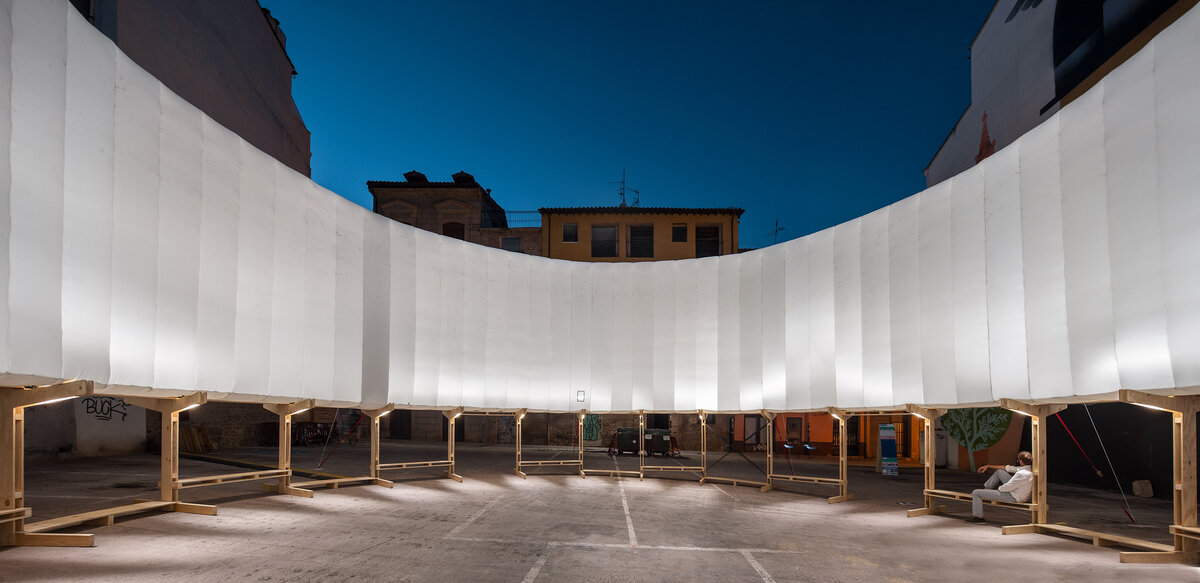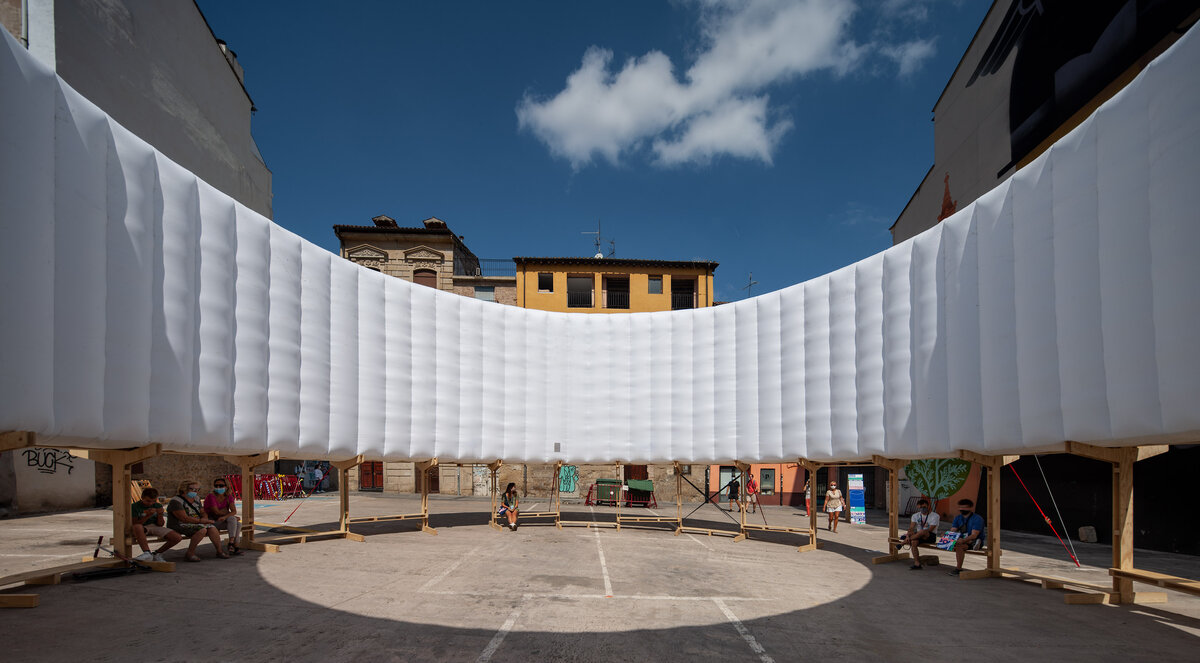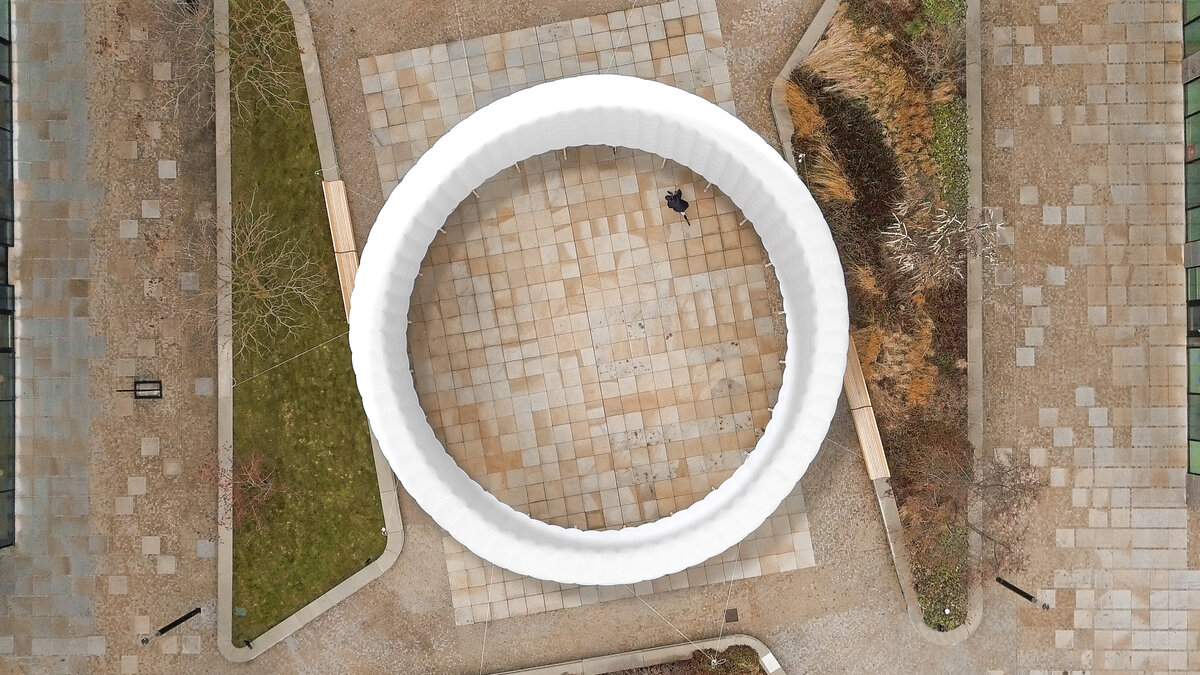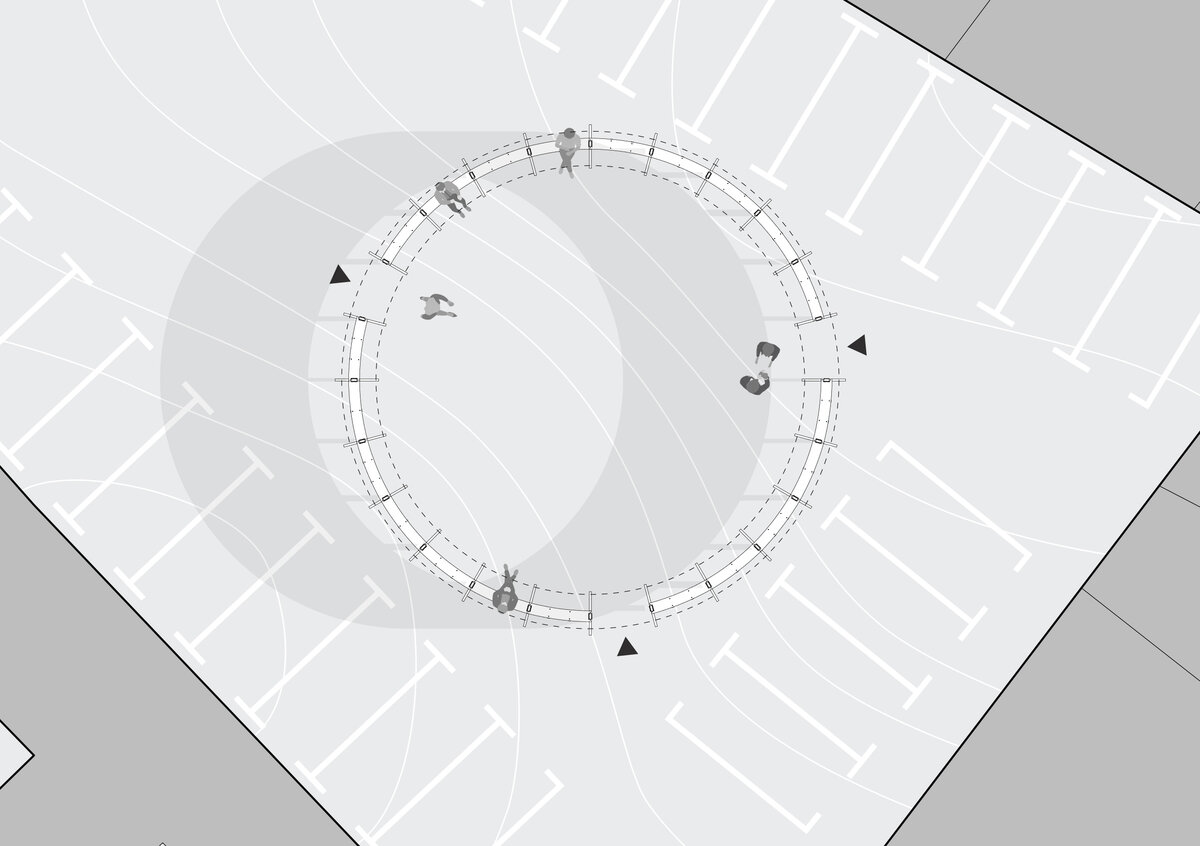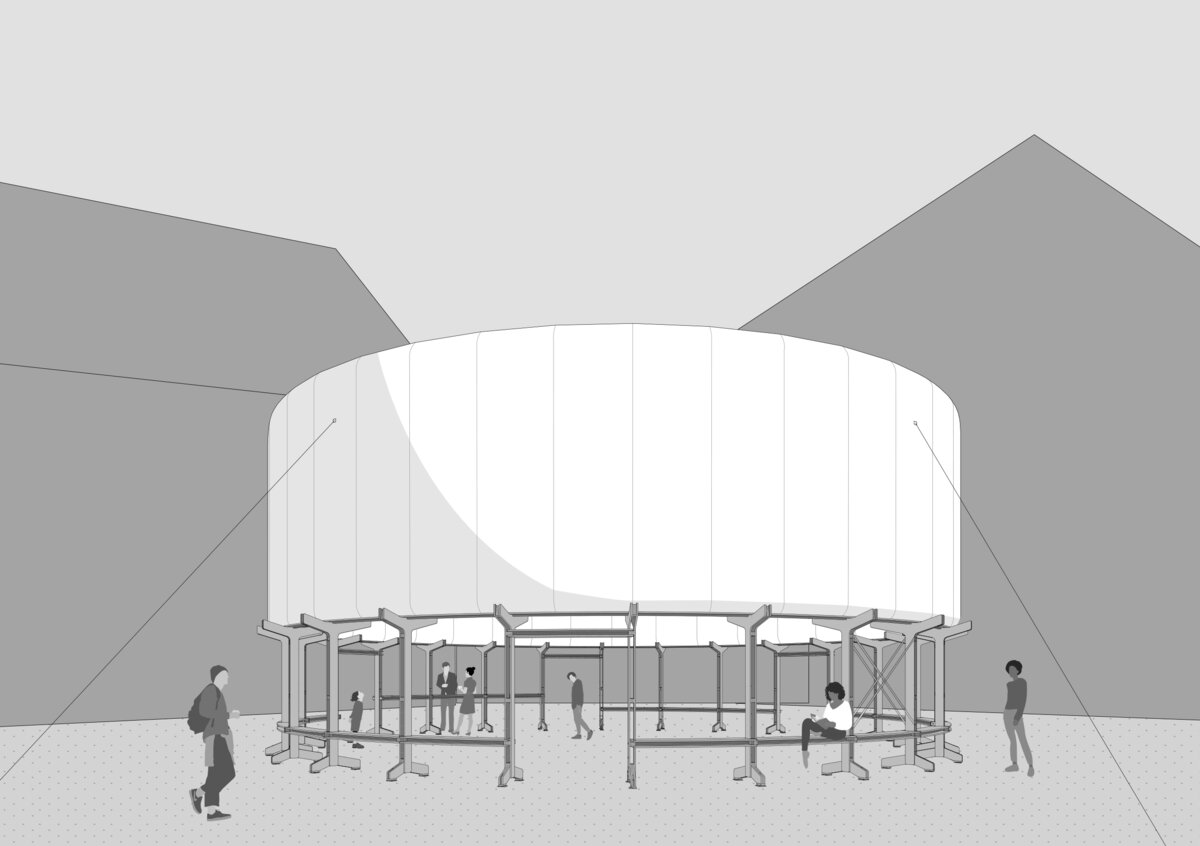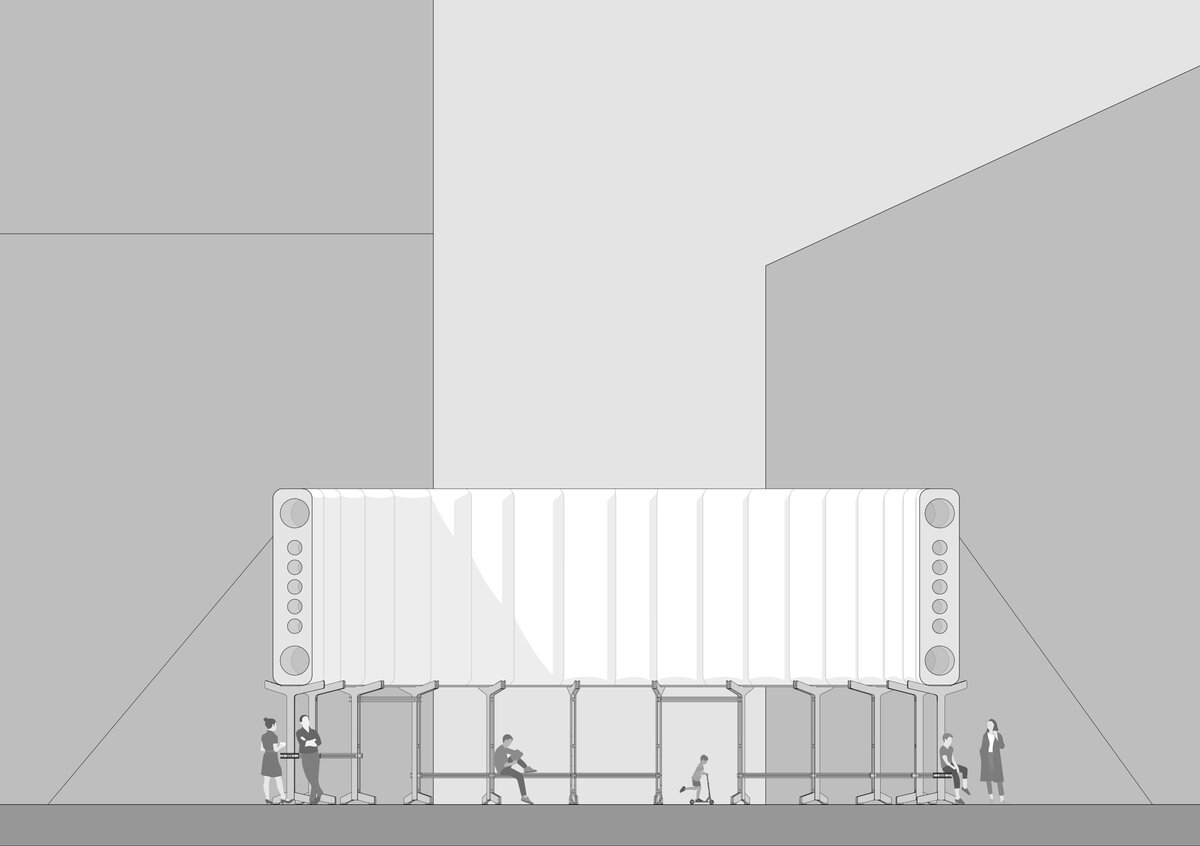 | | |
| --- | --- |
| Author | KOGAA |
| Studio | |
| Location | Instalace je jednoduše rozložitelná a opět složitelná a lze ji poslat a realizovat kdekoliv. |
| Investor | KOGAA + Kubíček Visionair |
| Supplier | Kubíček Visionair |
| Date of project approval | November 2021 |
| Fotograf | |
AIR SQUARE is a transportable venue that activates underused urban spaces by bringing them purpose and a vibrant public life. It responds to the need to alleviate climate change issues by tackling overexposed heat islands and lack of green and livable public spaces. The upper ring is designed as a large shading system that mitigates, cools, and delivers refuge from heat. At night it provides illumination to dark and less safe urban corners.

It is a placemaker improving the quality of the urban environment in a punctuated manner and contributes to building a resilient blue-green city, consequently bringing spatial quality, living environment, health, biodiversity, and property value. Finally, it raises awareness of climate change adaptation, facilitating and accelerating the further implementation of lengthy climate adaptation measures, such as changes in spatial development, infrastructure, construction, services, public space, and residents' safety.

INCLUSIVE: Built for diversity and equality, ensures barrier-free access and permeability within the city flow.

MODULAR, DURABLE, REUSABLE: Made of CNC cut plywood planks with minimum waste in cut-outs, the foundation is designed as a modular system composed of vertical legs and horizontal benches. Components are bolted together to form a circular load bearing structure providing stability to the body.

ADAPTABLE: Positionable benches enable for multiple functions and programs such as public functions, performances, farmers markets, or serving as an all-in-one public furniture with seating, lighting, and shading in one AIR SQUARE creates a space that boosts the quality of life in our cities and ensure more fulfilling ways of living together.

Architecture practice KOGAA together with inflatables producers Kubicek Visionair teamed up to design a new public space that invites in, embraces, surprises, and challenges visitors. The singular synergy between the two companies bring innovative urban solutions on one hand and new technologies and research on the other.
The body combines two main parts: a structural foundation at the base, and an inflatable
component at the top, measuring altogether 14 mt in diameter and 6 mt in height. Separate components are packed and ready to go, together with most hardware and assembly instructions to assist the construction process.

Made of cnc cut plywood planks with the minimum waste in cut-outs, the foundation is designed as a modular system composed of one vertical leg element and one horizontal arm. Those two components interlock together to build the circular load bearing structure of the ring, which provides stability to the body. The circular shape was chosen because of its intrinsic ability to regulate contrary forces within itself and therefore making it the most self-stabilising of the elementary geometric shapes. The dynamicity of the continuous circle can withstand any load and therefore only needs one contra-force to reinforce it, which is provided through the textile belt cross.

Also, the base functions as the anchor between the upper ring and the ground, through a fastening system that makes it attached during wind flutters. Lastly, it is raised at a height for people to pass through it, making it accessible and permeable within the city flow.

The upper ring is designed as a shading system for public spaces. In response to the issue of overheating cities around the globe, the ring generates a large surface to hide from the sun, cooling down urban areas. The vertical and open shader avoids issues related with having a roof (underblow, heat accumulation, structural issues), and in order to create a large urban surface to shade, a light material was used that can be easy to build and unbuild, its light, it can resist strong weather conditions. Also, the circular shape allows for a bigger reach of shading compared to a straight wall, making it a sun-protected space.

Through the dark hours the inflatable switches function and become a light diffuser, providing illumination to dark areas of the city which often feel unsafe to walk through. This generates a sense of care and belonging to the space, leading to improved security on the location.
Green building
Environmental certification
| | |
| --- | --- |
| Type and level of certificate | - |
Water management
| | |
| --- | --- |
| Is rainwater used for irrigation? | |
| Is rainwater used for other purposes, e.g. toilet flushing ? | |
| Does the building have a green roof / facade ? | |
| Is reclaimed waste water used, e.g. from showers and sinks ? | |
The quality of the indoor environment
| | |
| --- | --- |
| Is clean air supply automated ? | |
| Is comfortable temperature during summer and winter automated? | |
| Is natural lighting guaranteed in all living areas? | |
| Is artificial lighting automated? | |
| Is acoustic comfort, specifically reverberation time, guaranteed? | |
| Does the layout solution include zoning and ergonomics elements? | |
Principles of circular economics
| | |
| --- | --- |
| Does the project use recycled materials? | |
| Does the project use recyclable materials? | |
| Are materials with a documented Environmental Product Declaration (EPD) promoted in the project? | |
| Are other sustainability certifications used for materials and elements? | |
Energy efficiency
| | |
| --- | --- |
| Energy performance class of the building according to the Energy Performance Certificate of the building | |
| Is efficient energy management (measurement and regular analysis of consumption data) considered? | |
| Are renewable sources of energy used, e.g. solar system, photovoltaics? | |
Interconnection with surroundings
| | |
| --- | --- |
| Does the project enable the easy use of public transport? | |
| Does the project support the use of alternative modes of transport, e.g cycling, walking etc. ? | |
| Is there access to recreational natural areas, e.g. parks, in the immediate vicinity of the building? | |