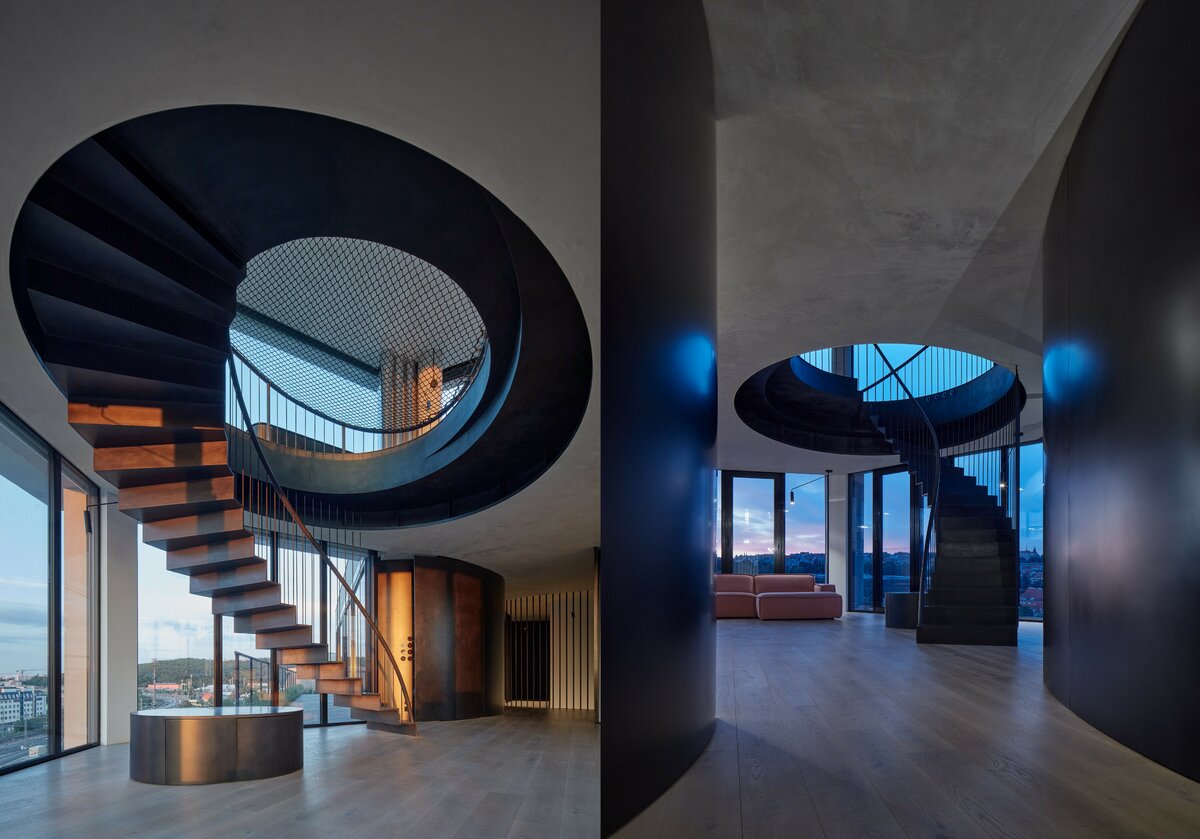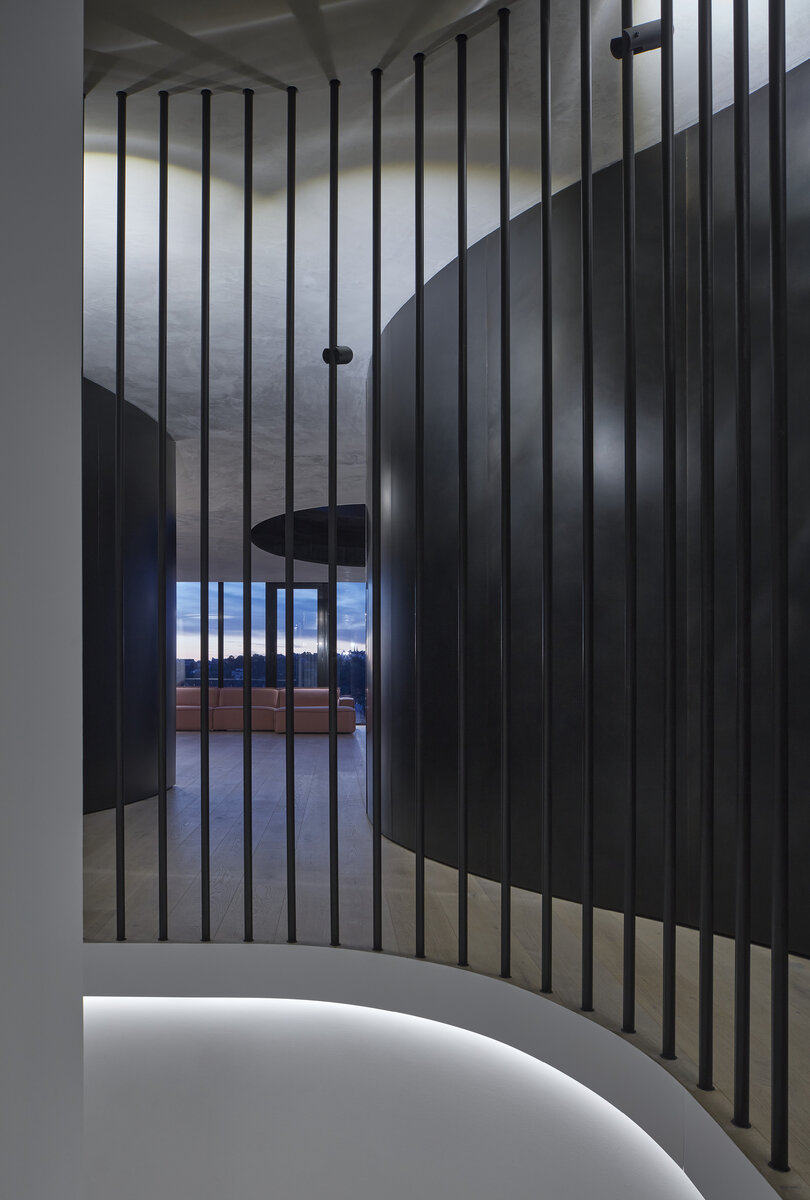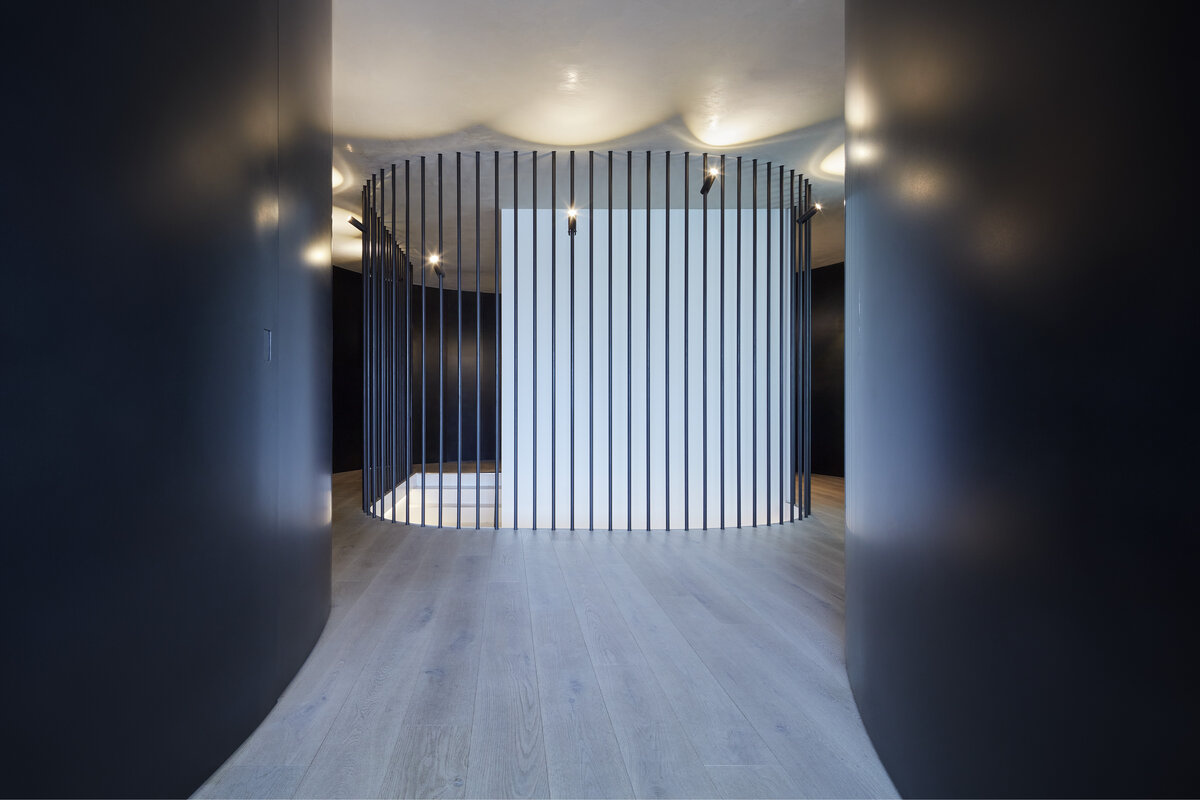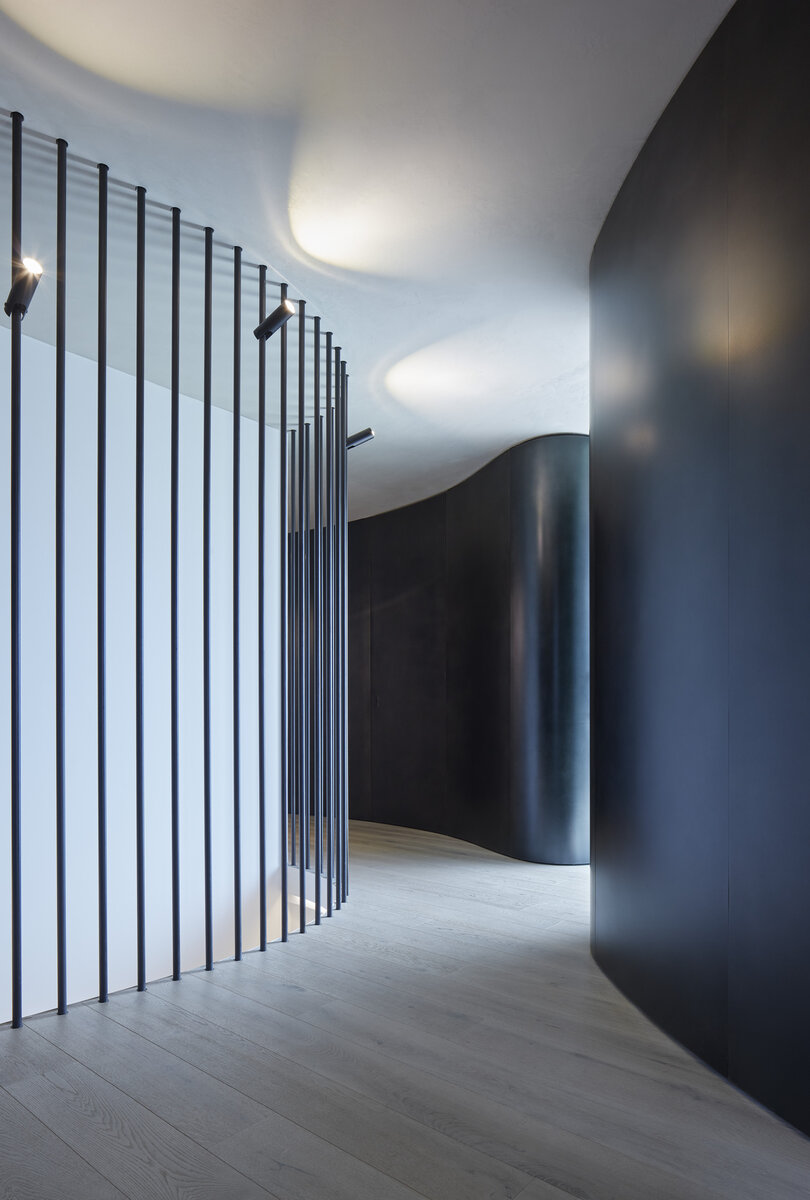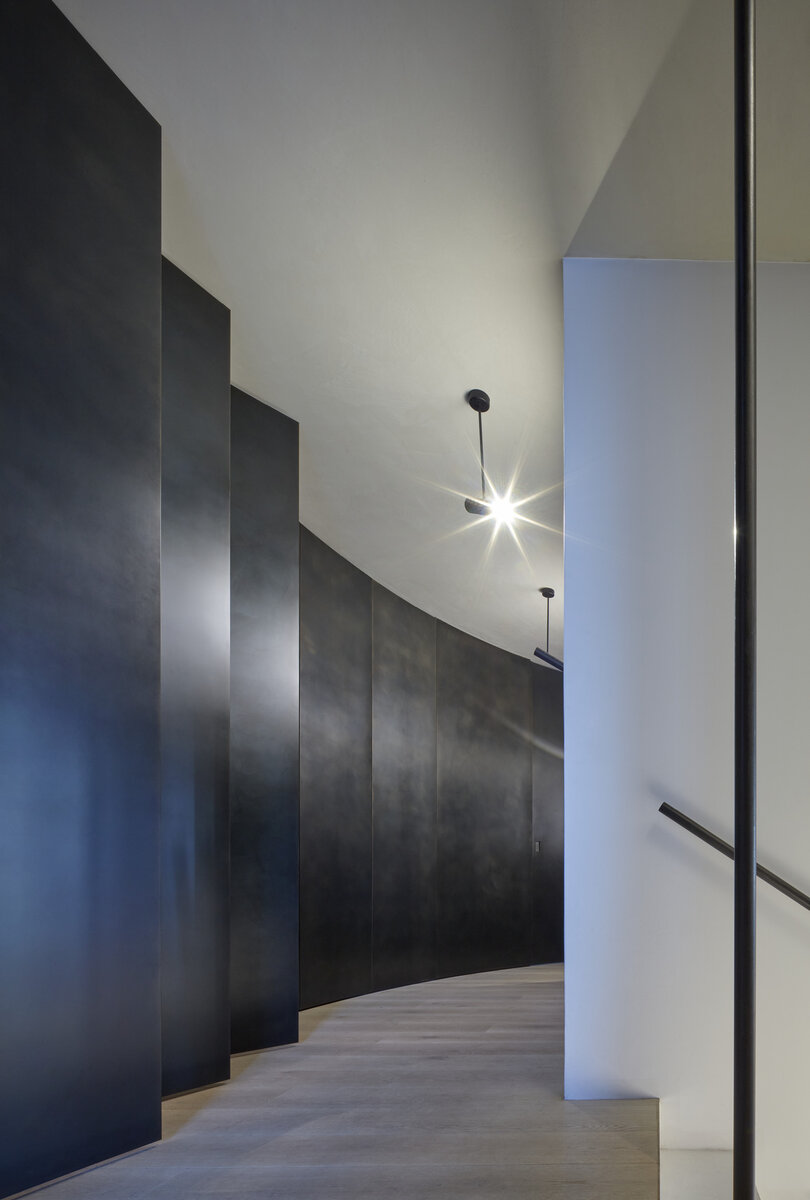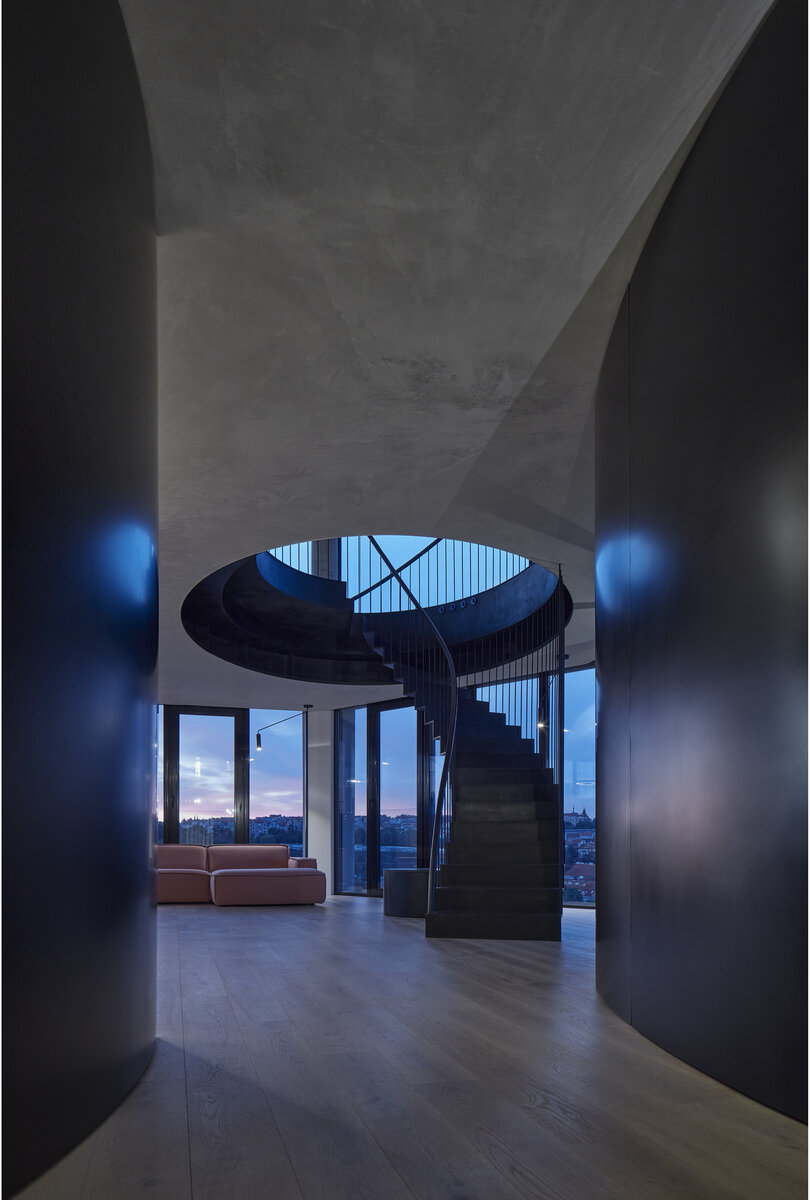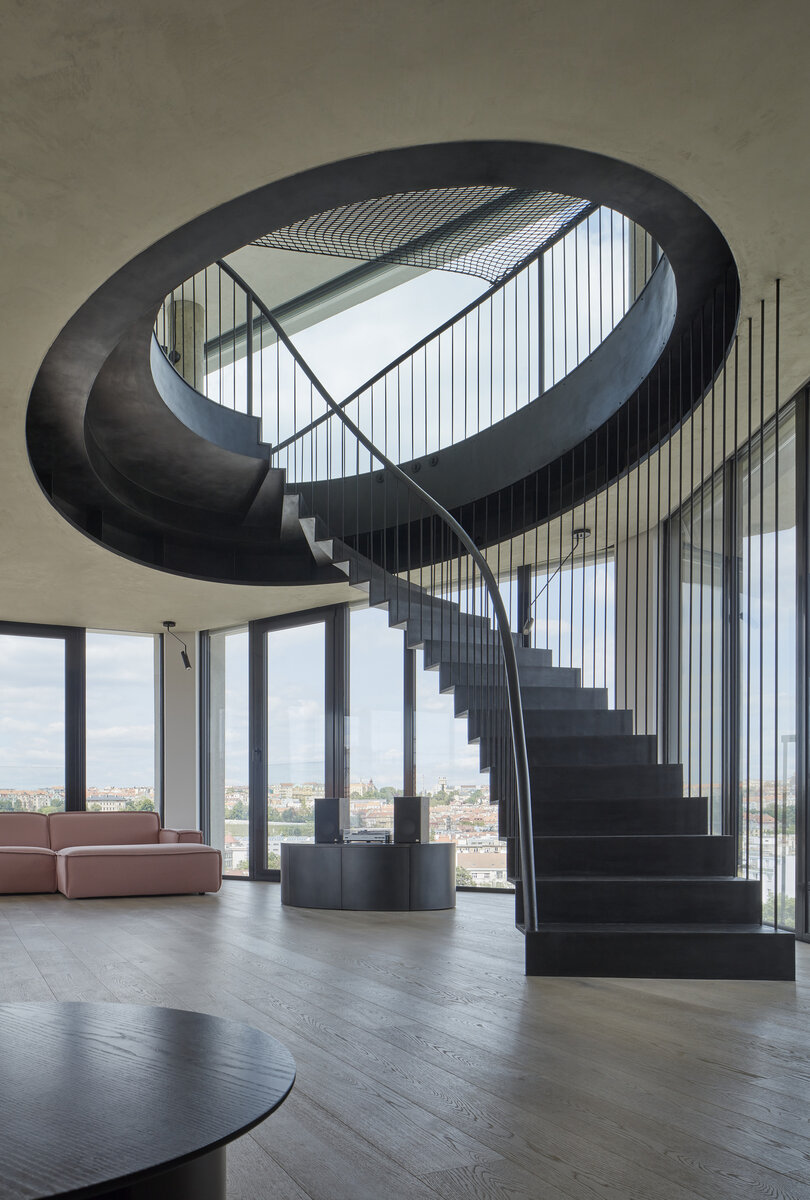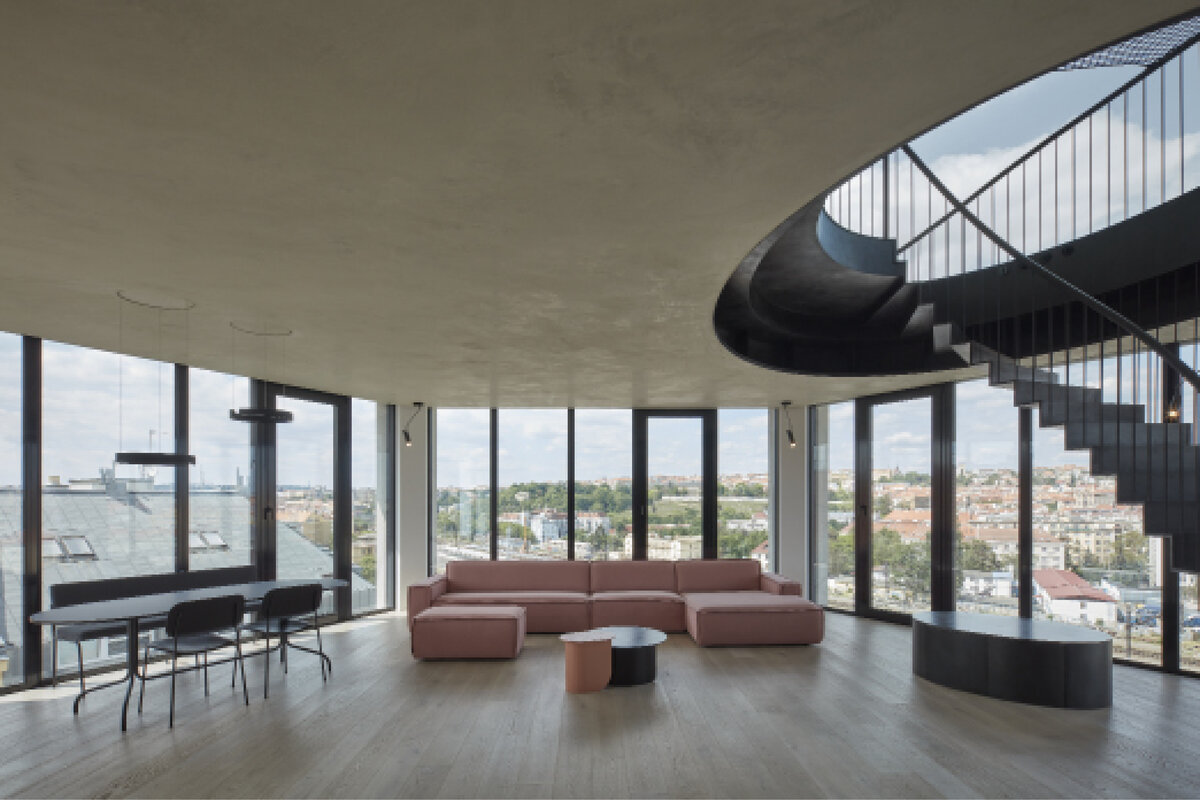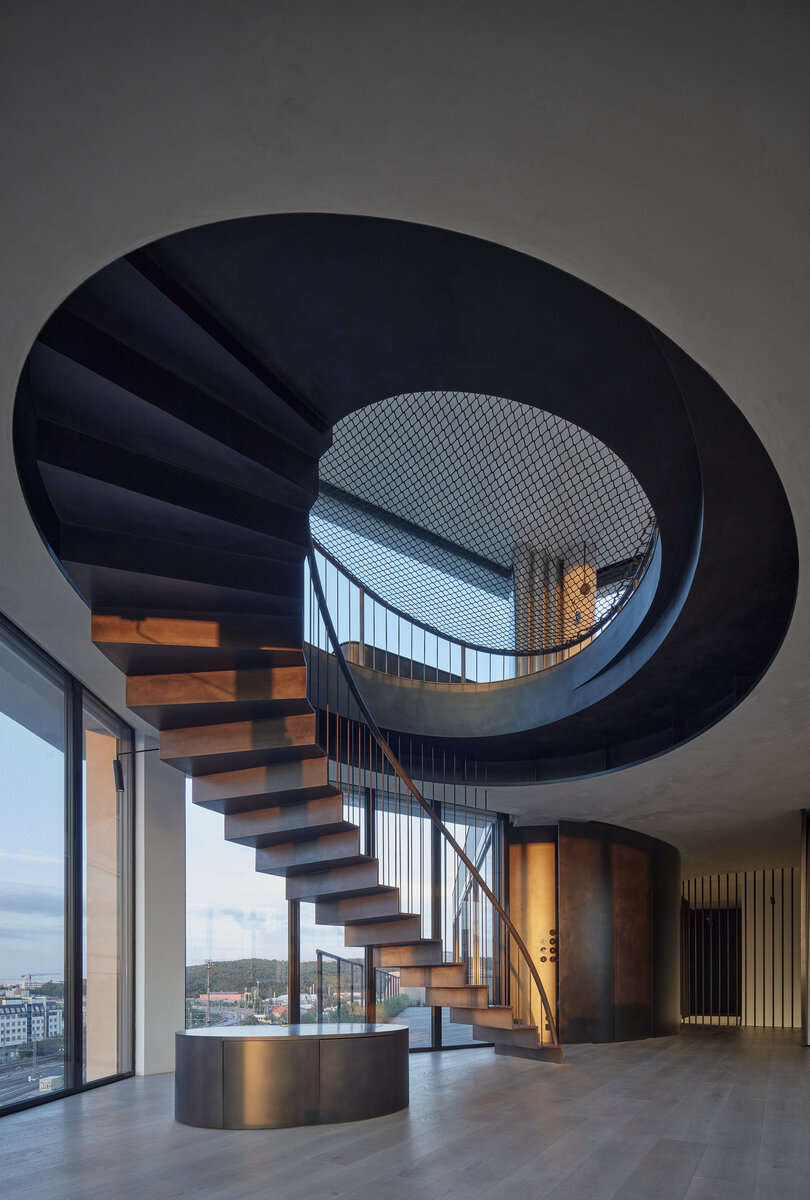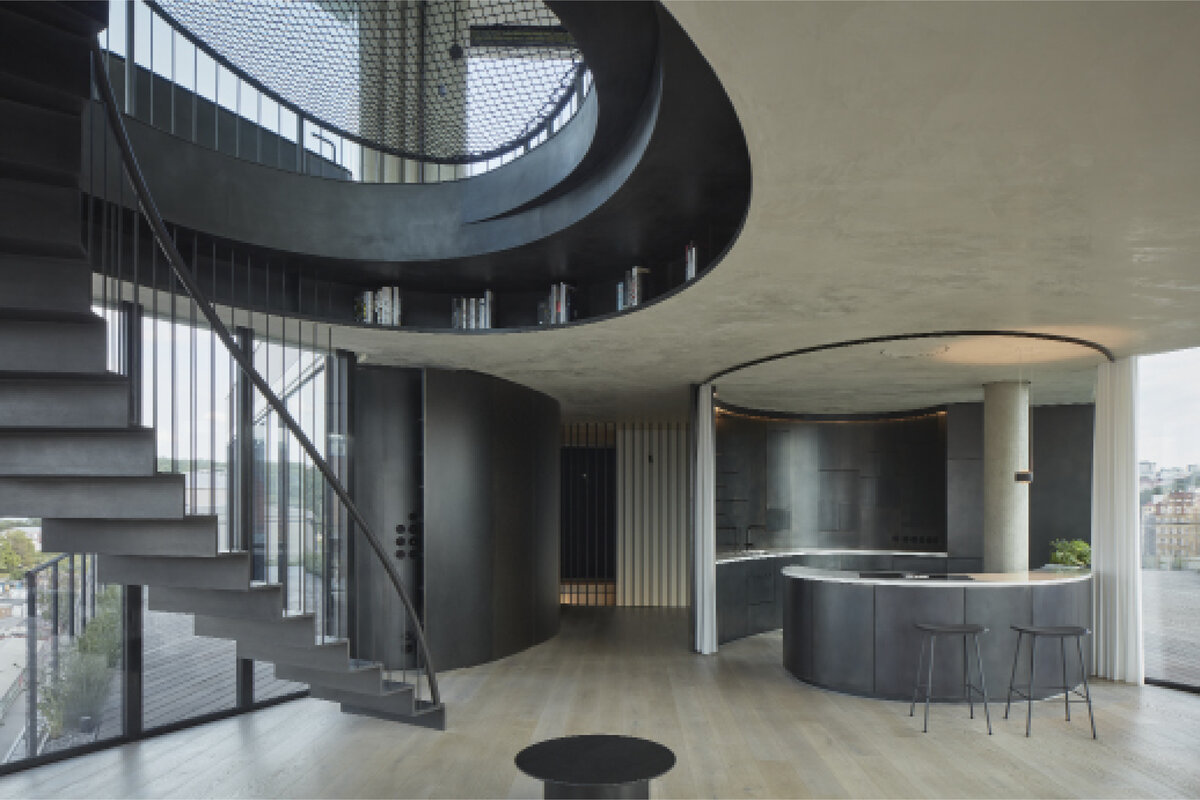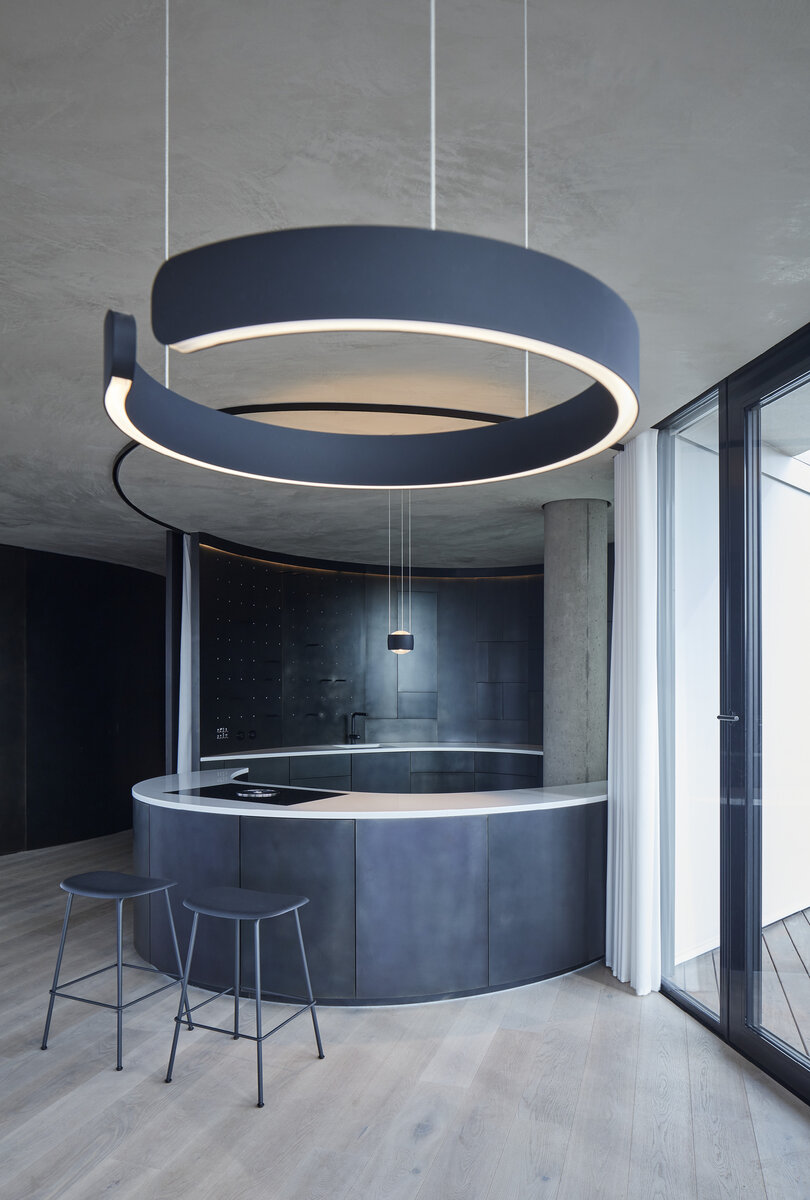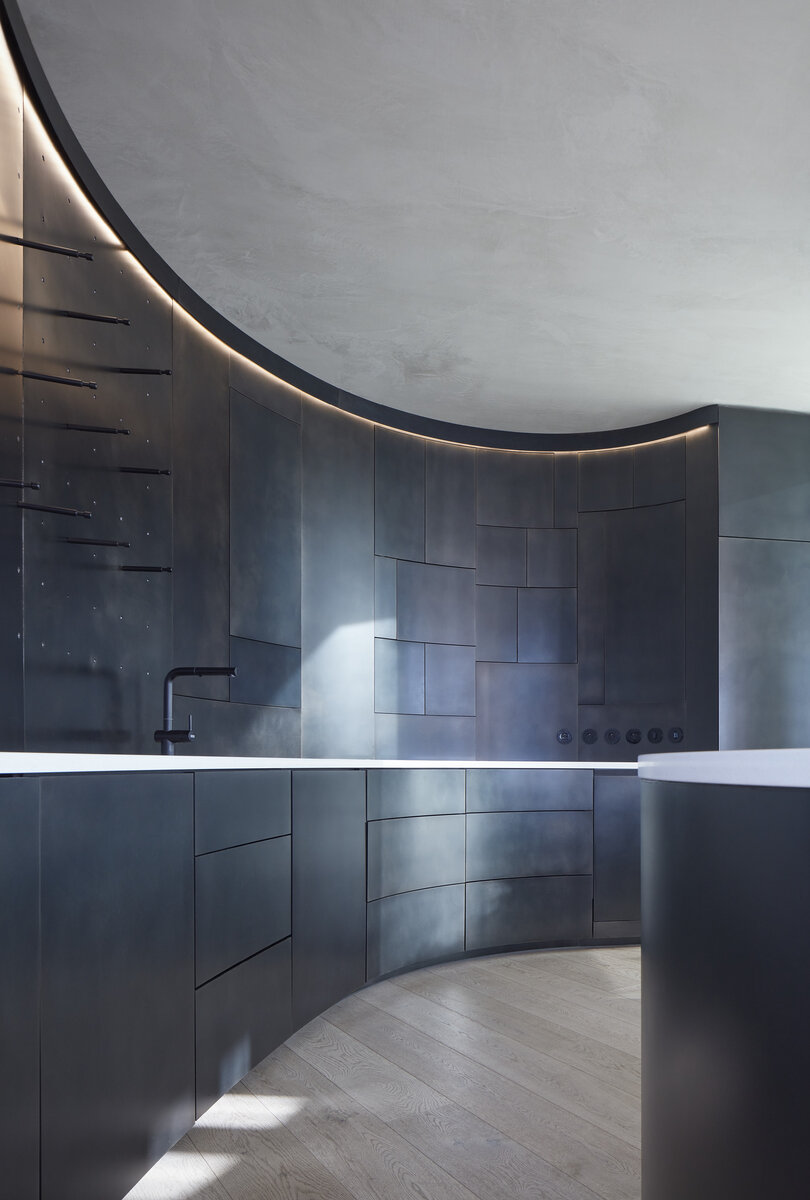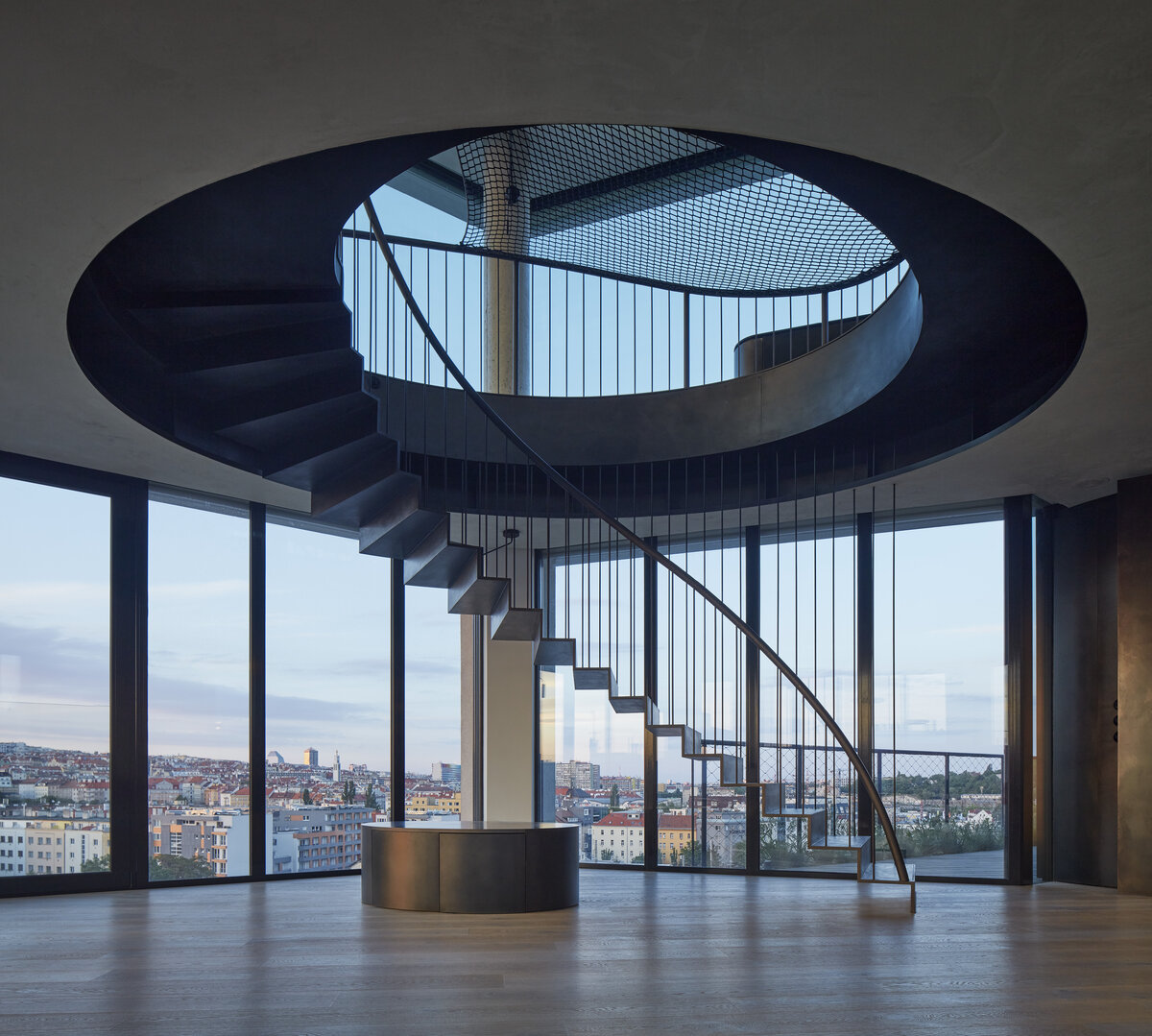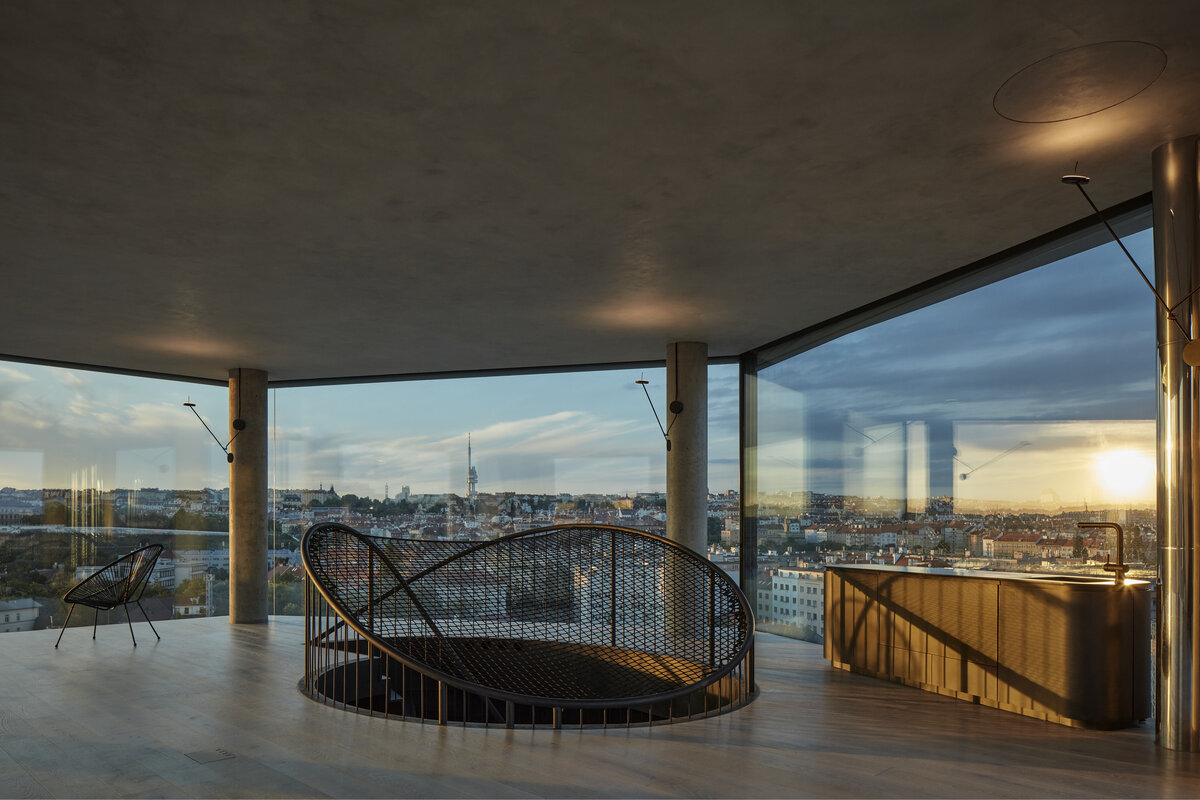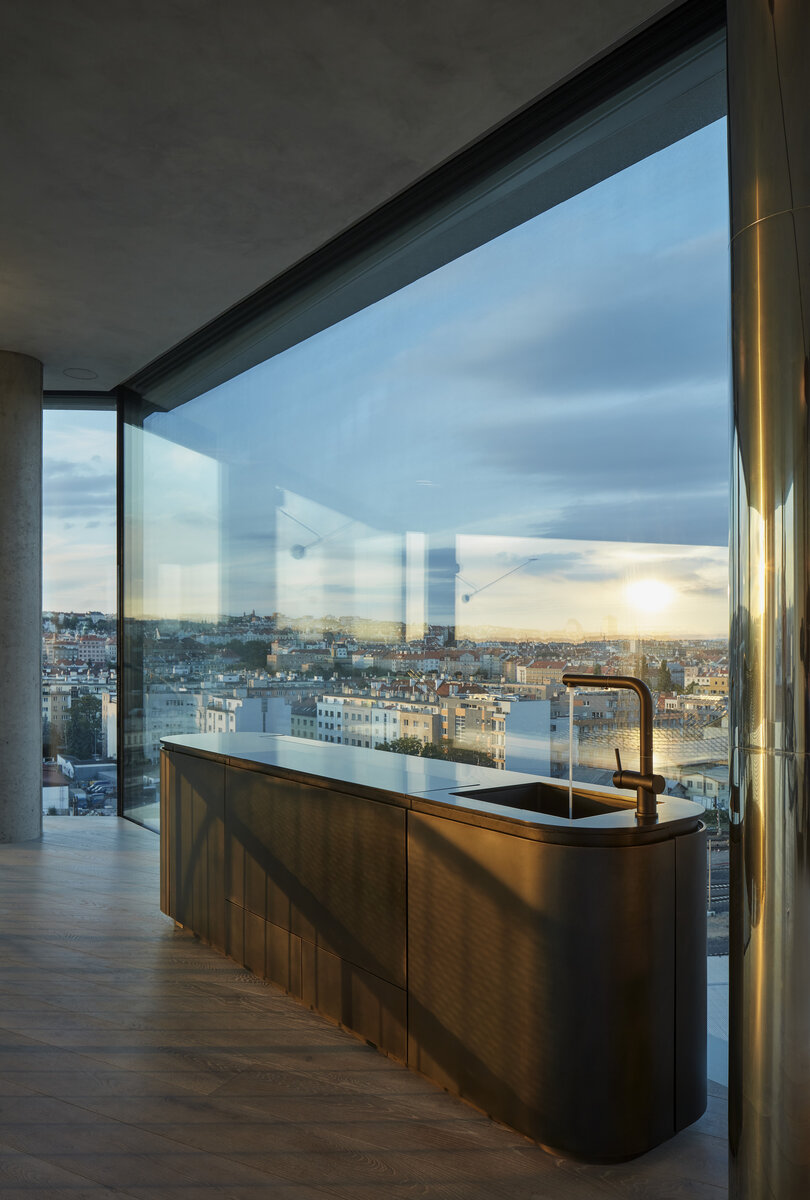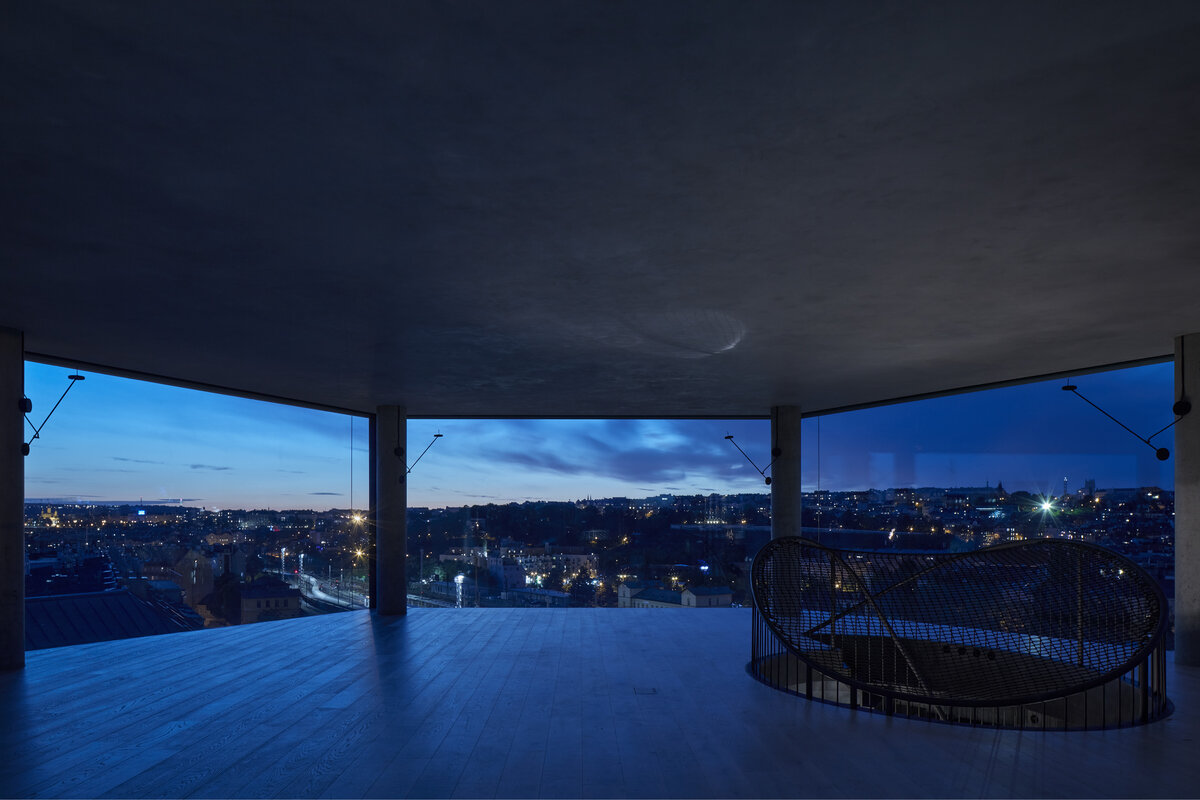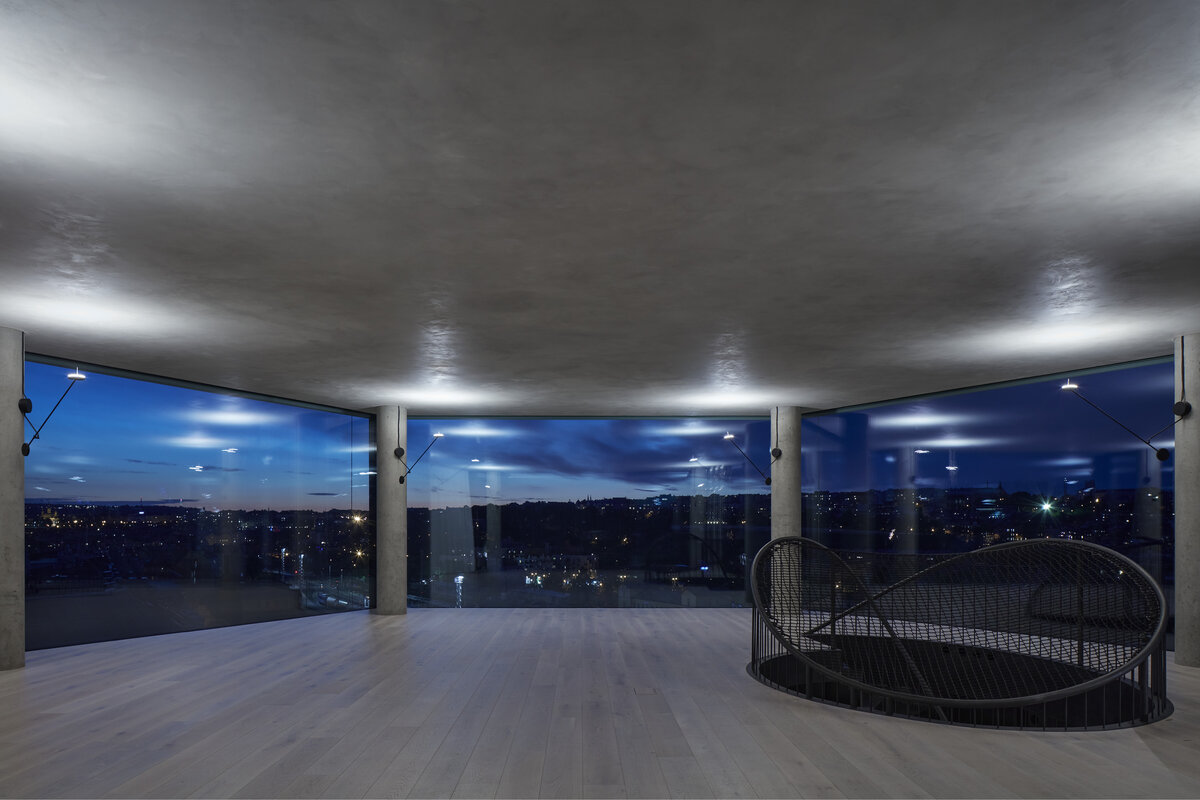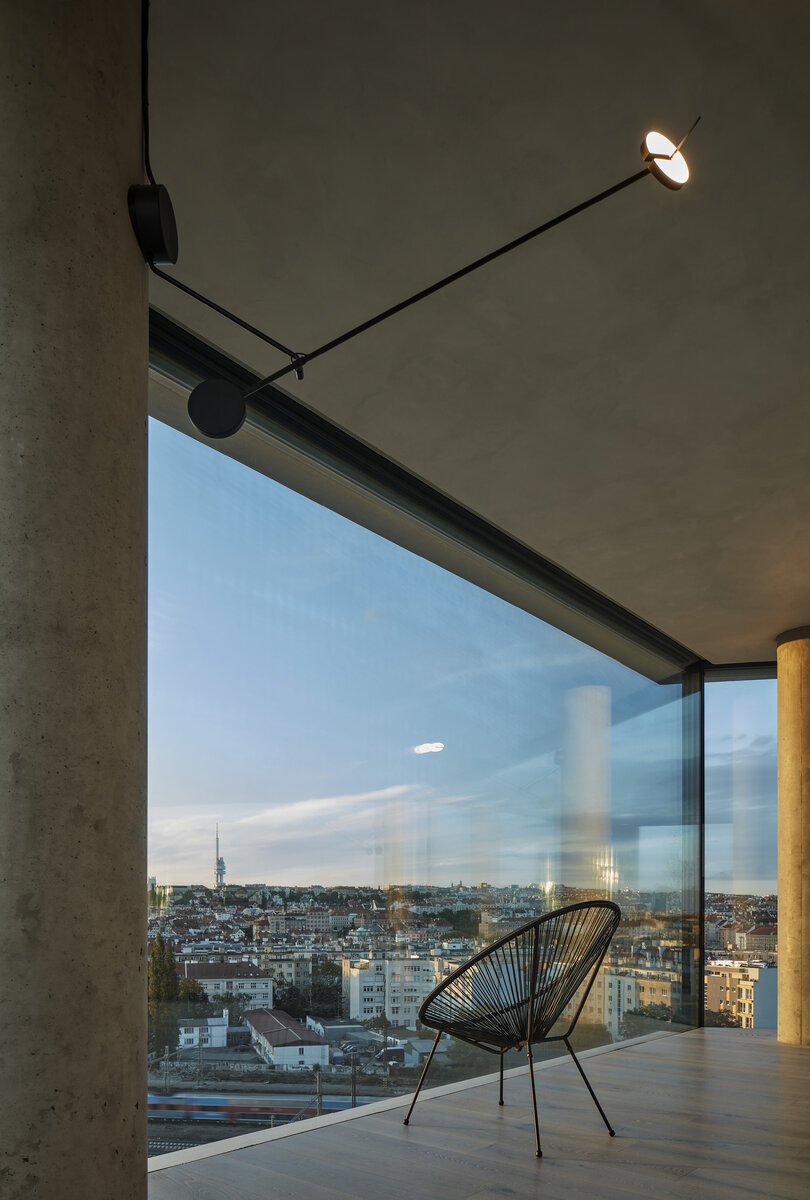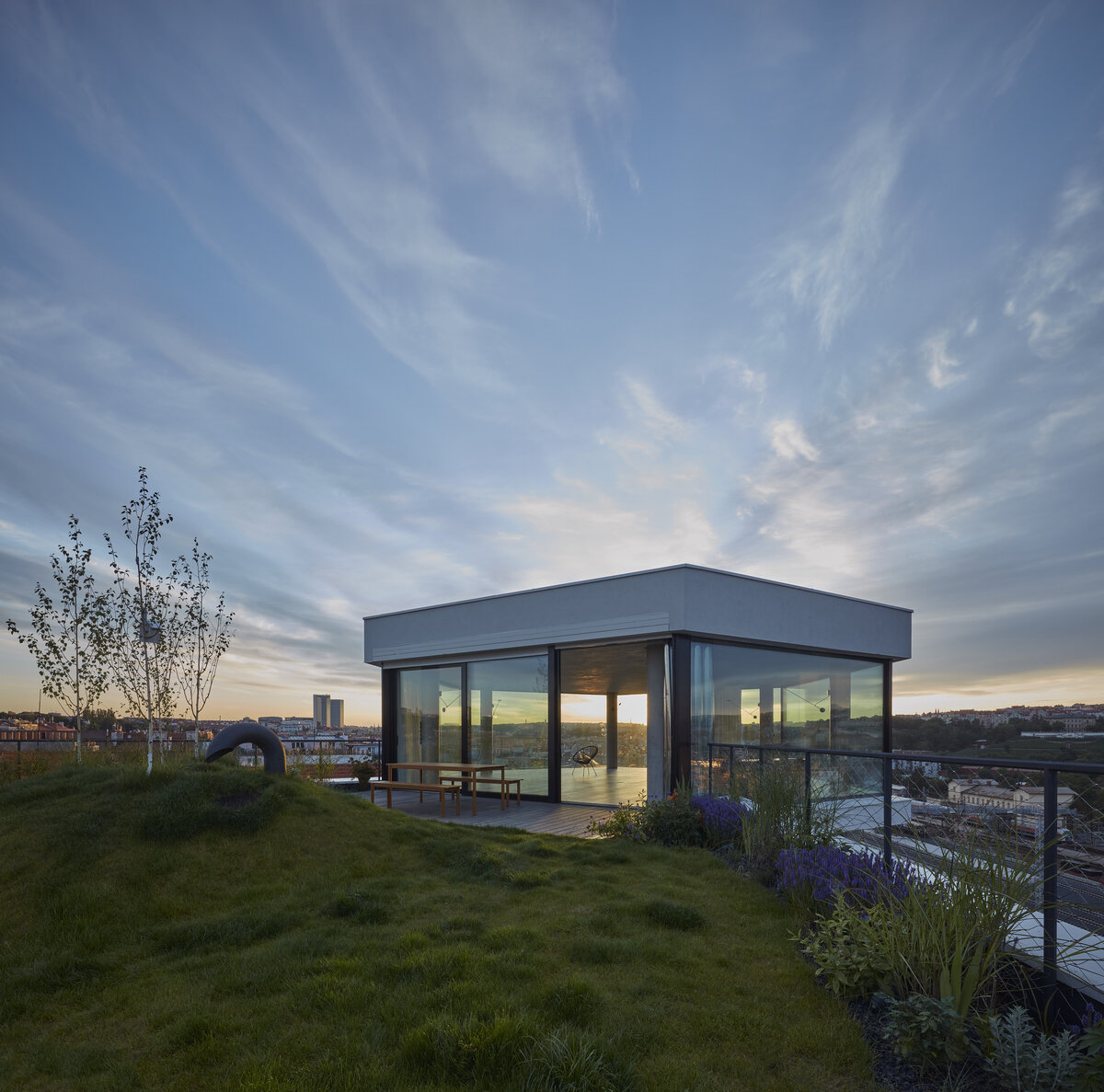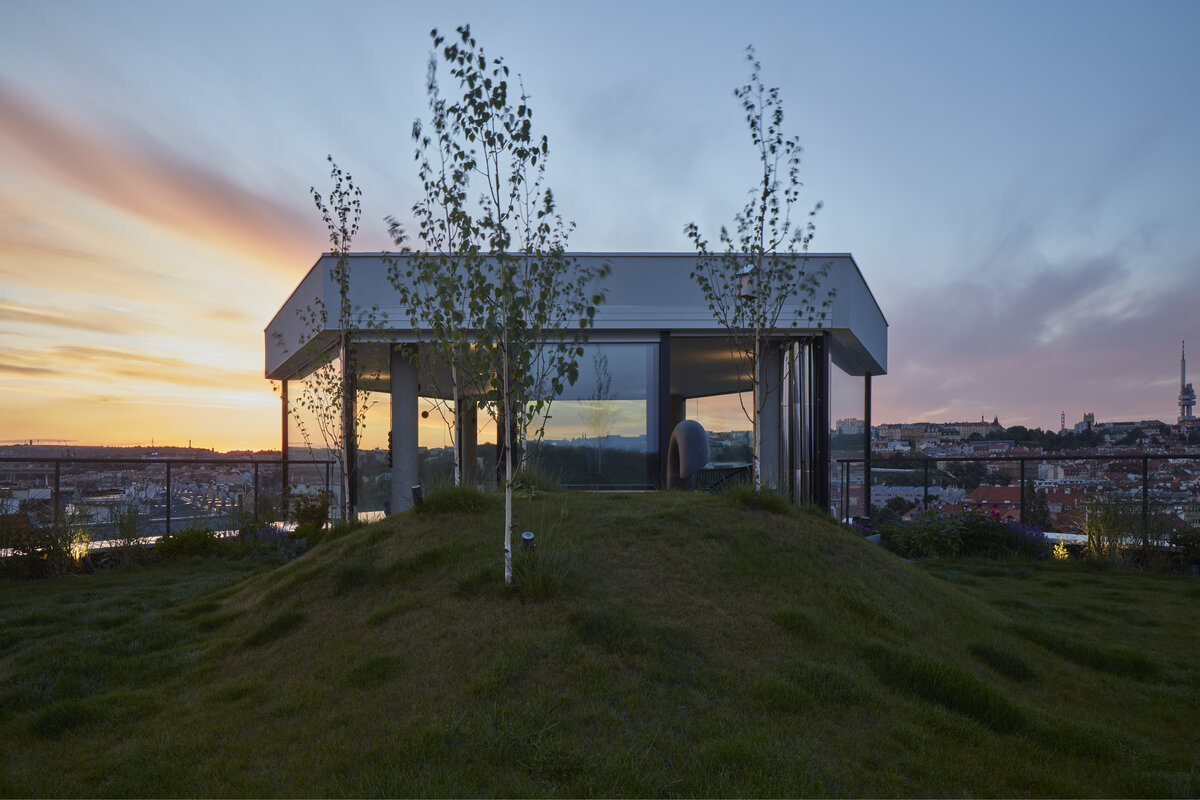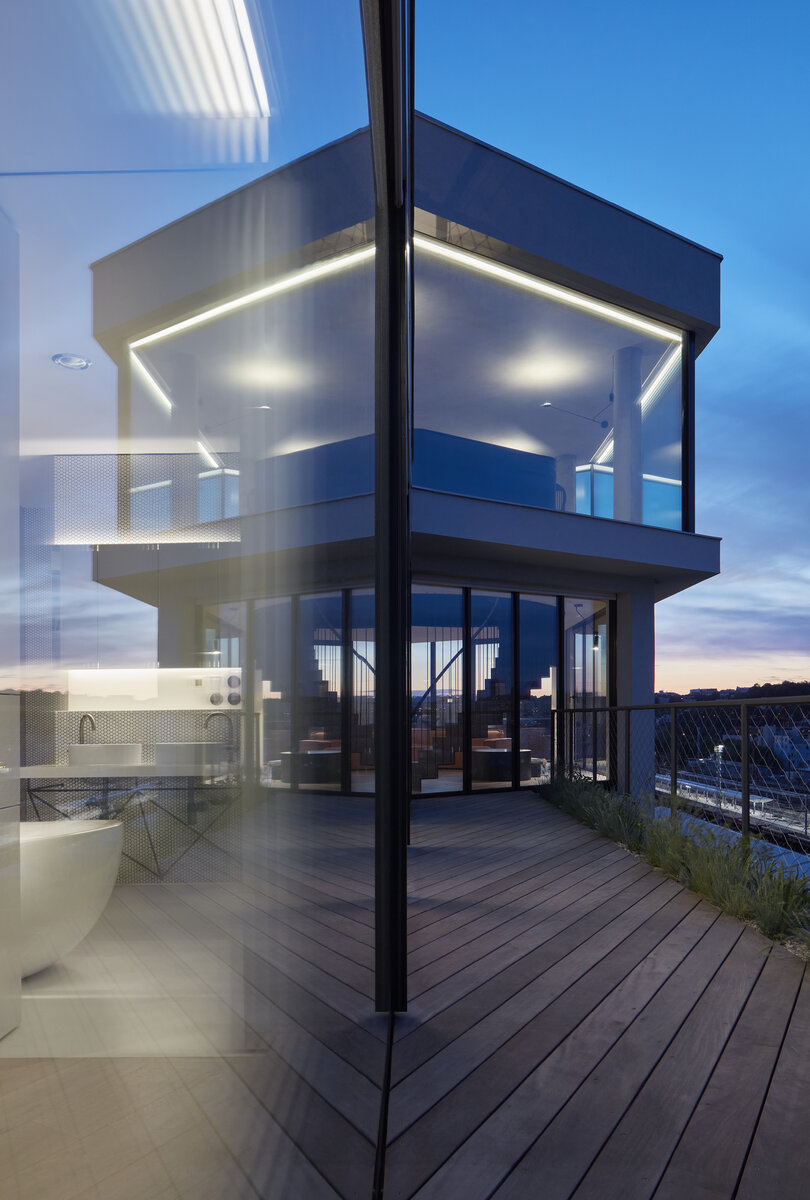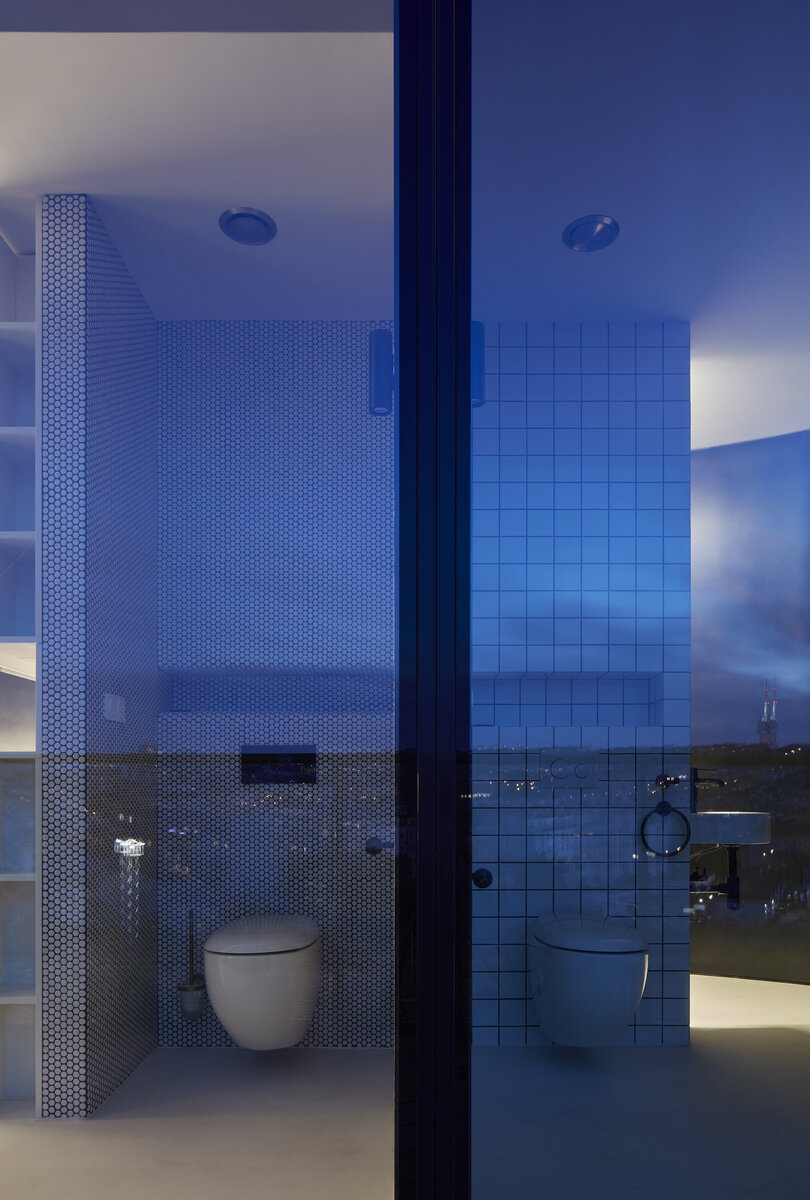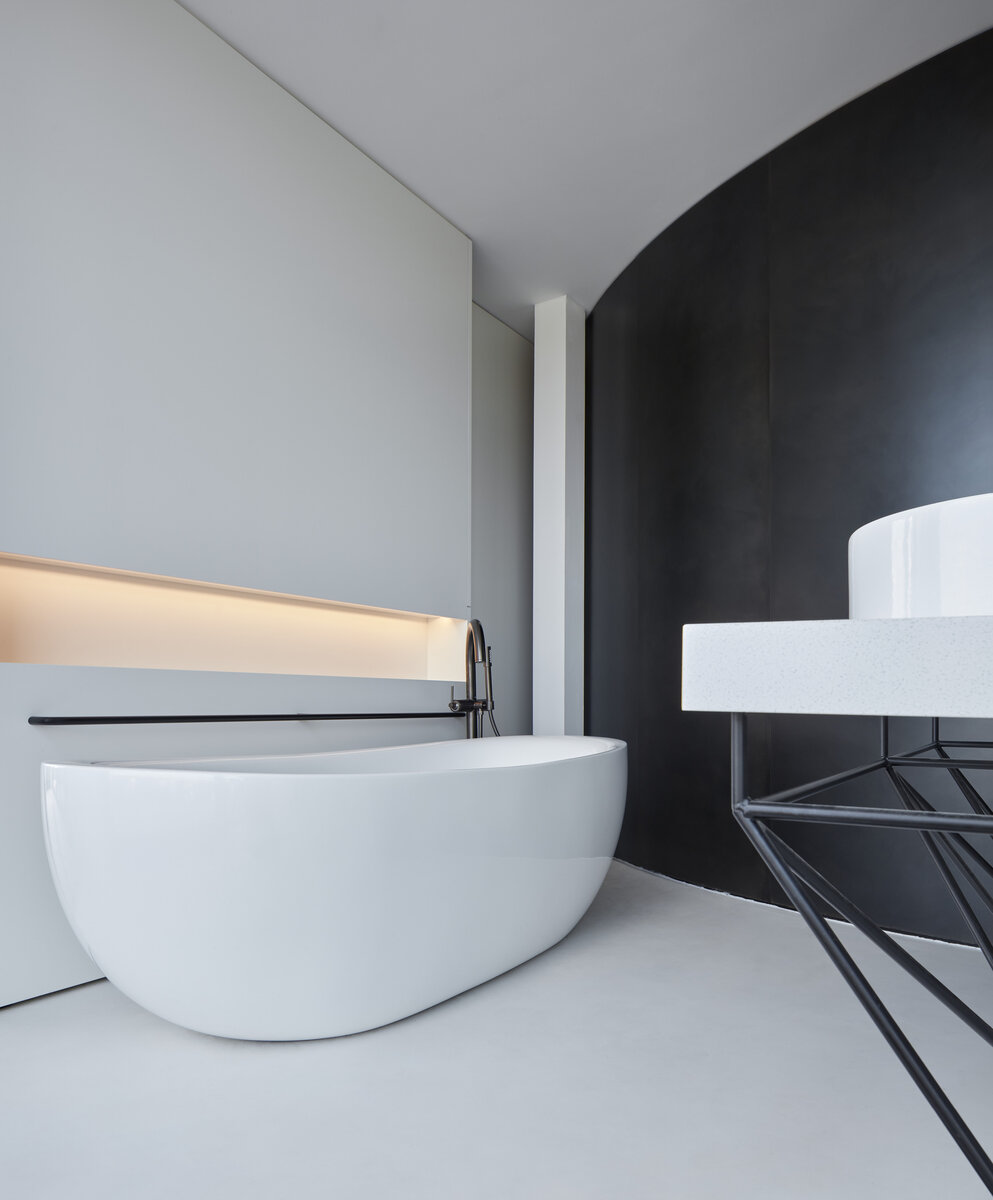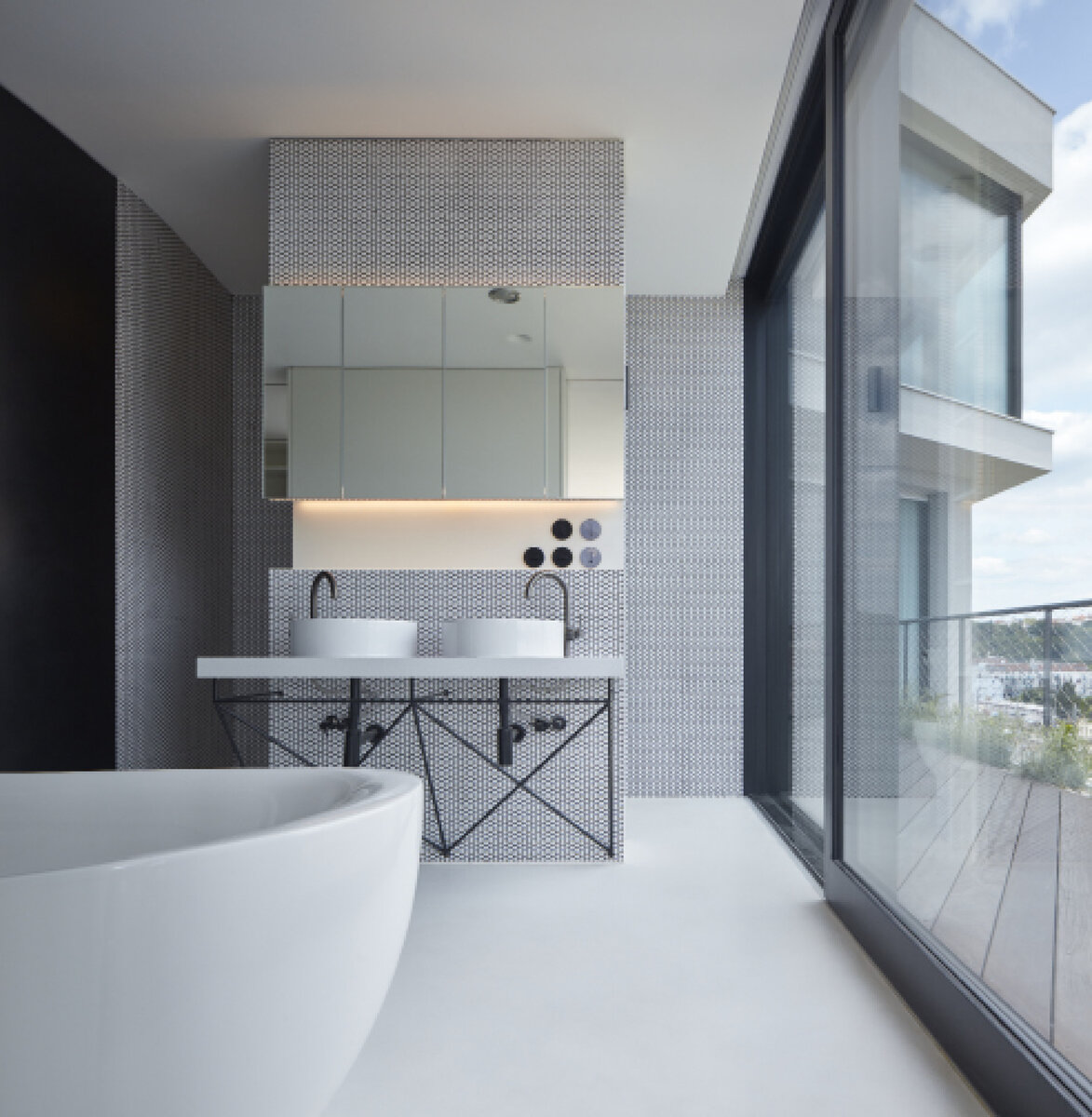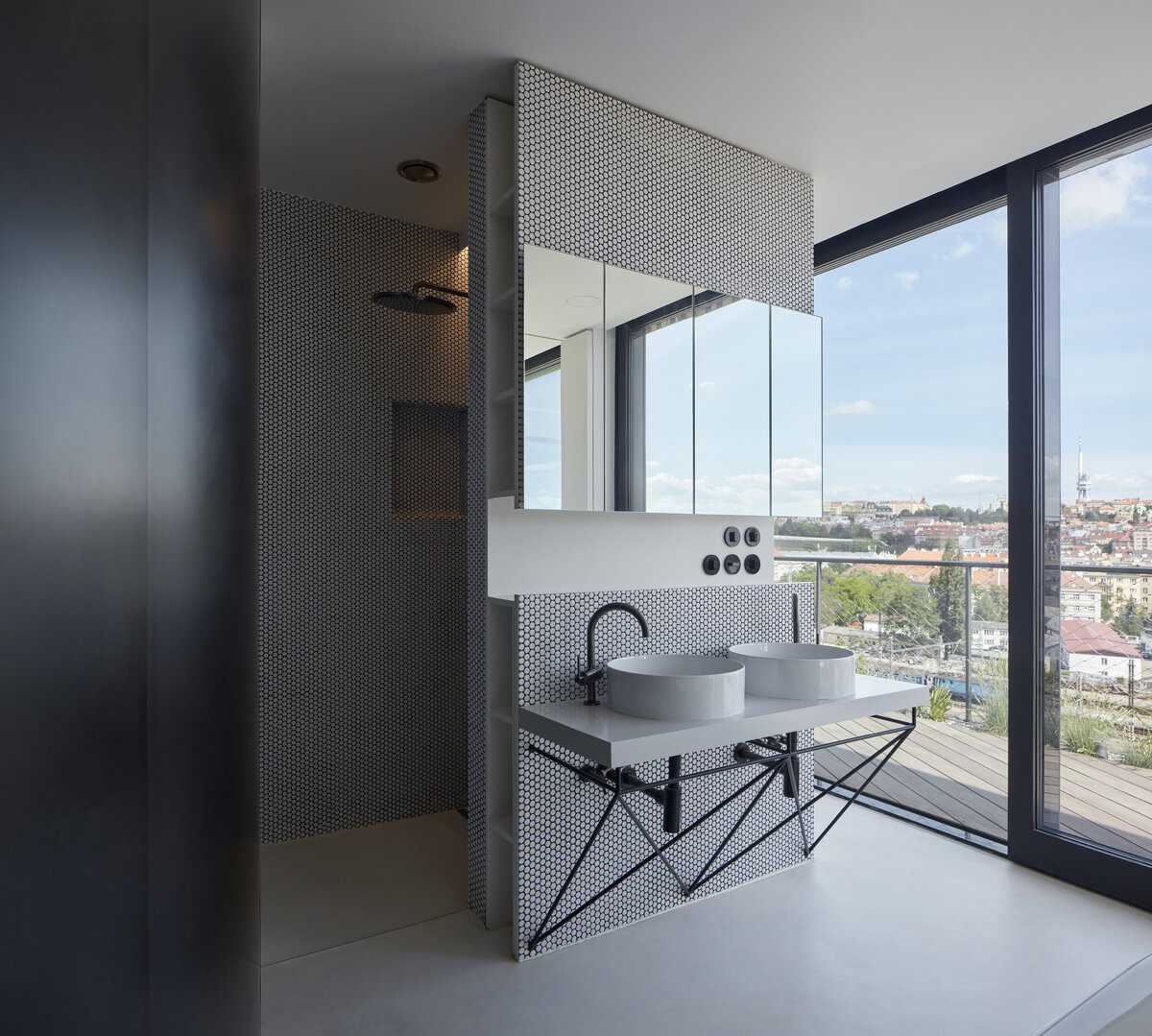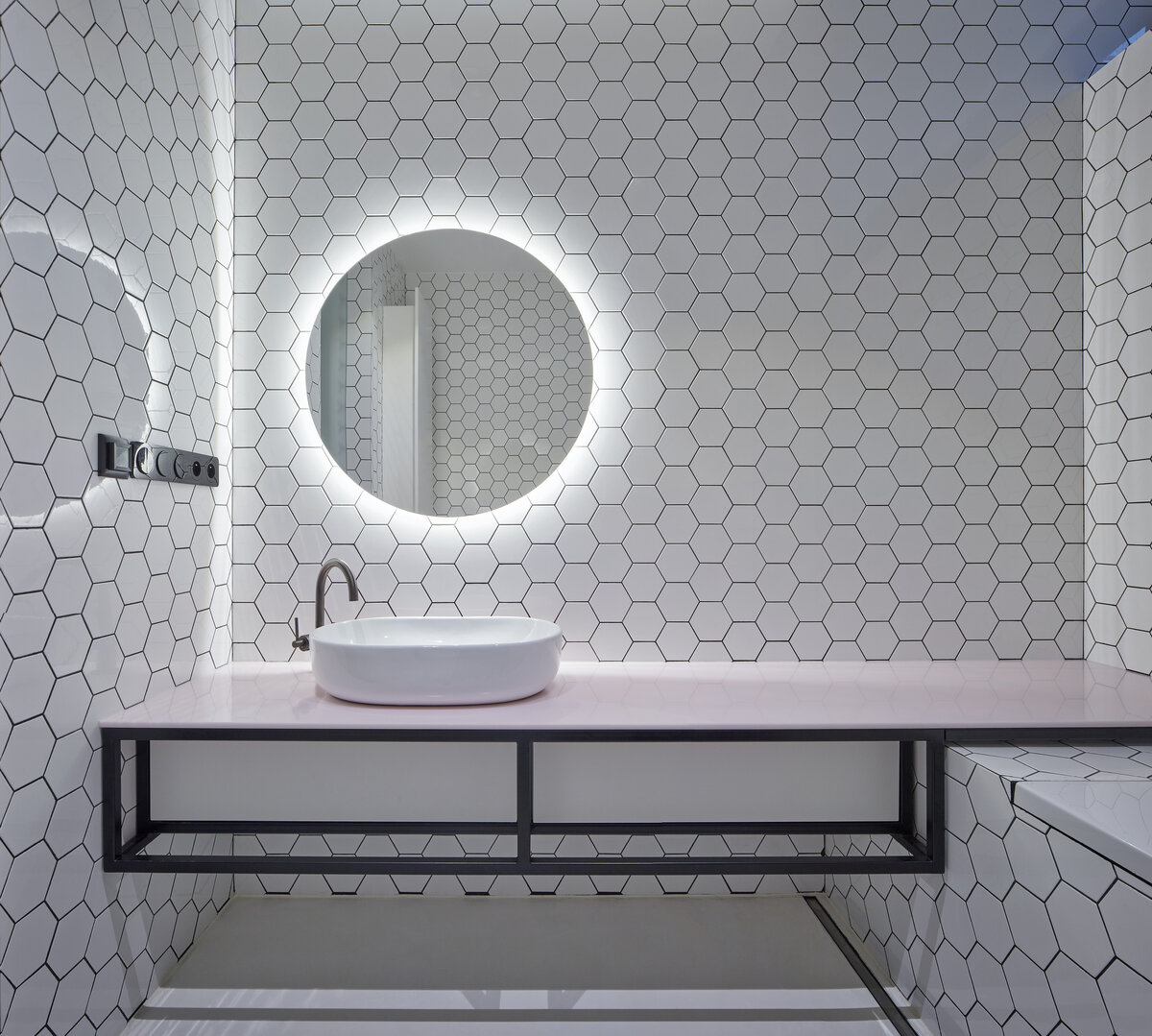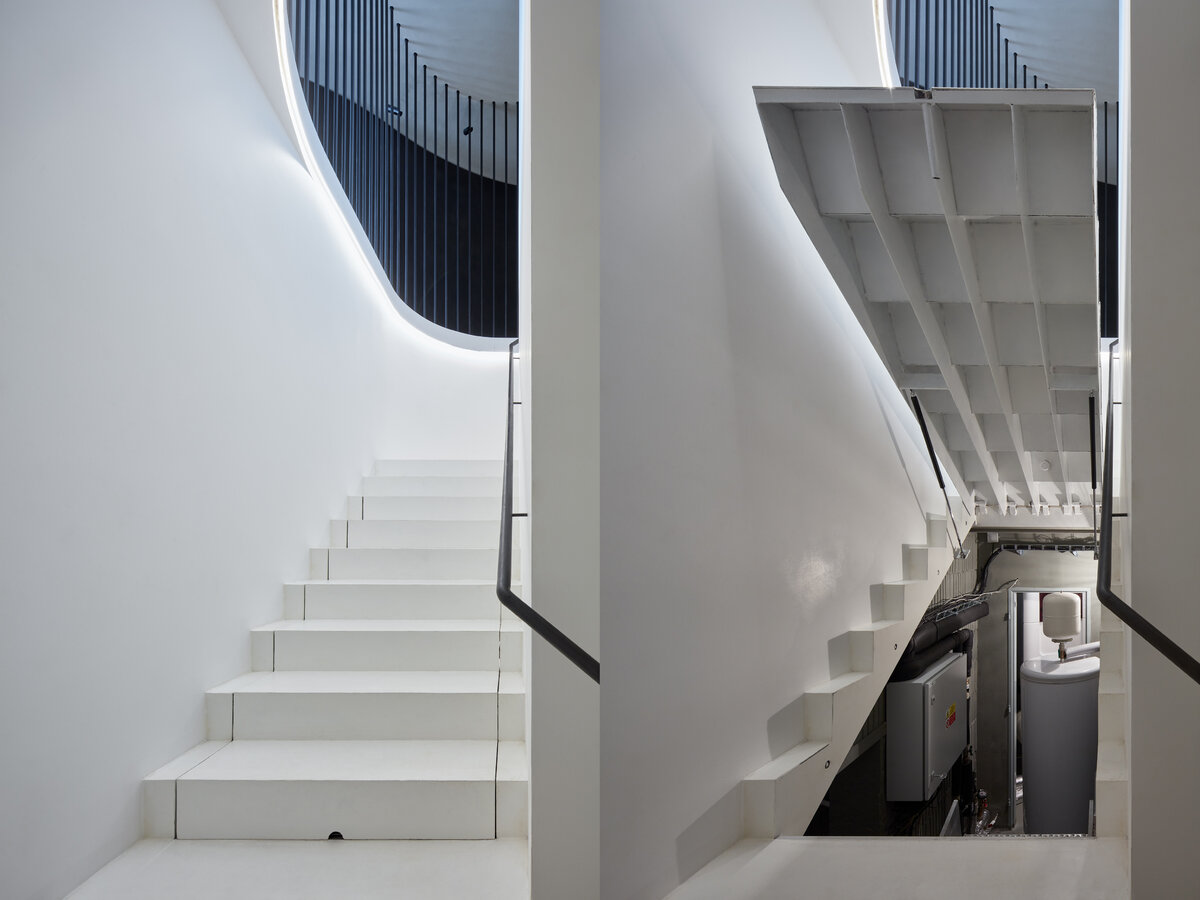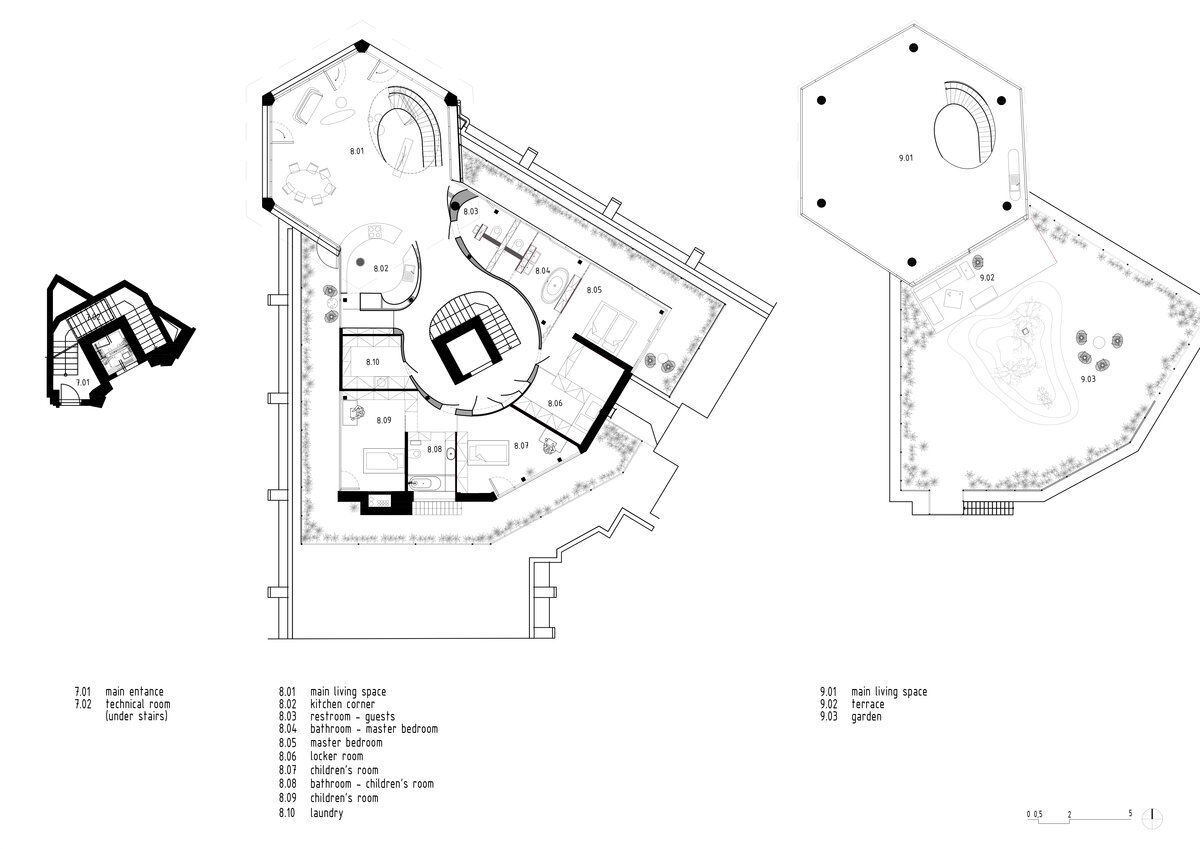 | | |
| --- | --- |
| Author | petrjanda / brainwork |
| Studio | |
| Location | Praha |
| Investor | nepřeje si být uveden |
| Supplier | Interiérové vestavby: GIGA LINE s.r.o., EFF, spol. s r.o. Zasklení: OBSIDIAN a.s. Ocelová schodiště a zábradlí: Kurel s.r.o. Podlahy: EMPIRI Wood Design s.r.o Cementoepoxidové stěrky: Domus Aurea a.s. Omítky, oplechování: SALKOMA s.r.o. Vytápění a vzducho |
| Date of project approval | January 2021 |
| Fotograf | |
The main idea is to blur the boundaries of the apartment and emotionally draw the city into its interior. The space of the apartment is not limited within the physical layout; the city surrounding the building becomes part of it. The superposition of the penthouse - a house on a house - uses a panoramic view through large frameless quadruple-pane glass. The layout divides private and social zones by balancing the full and empty spaces. They are separated by the steel membrane behind which all of the private rooms, with their own perimeter terrace, are hidden. The tension between the entrance bay and the two-storey social space orbiting the entrance staircase becomes the basis of the natural dramaturgy of movement in the apartment. Although it is primarily extroverted, it can be modulated into an introverted space by drawing the screens and curtains. The leitmotif is the free and continuous flow of the interior throughout the space and its endless continuation into the surrounding city.
The project works with a high-end technological solution corresponding to the most progressive standard currently achievable. At the same time, the technologies are intentionally concealed, and therefore, practically invisible, and remain a hidden force in the apartment's background. The heating and cooling are imperceptibly transmitted through ceilings and floors, the exchange of air through the gaps between the floor and the perimeter glass. The primary energy source is an air-to-air heat pump hidden in an acoustically separated shaft on the terrace. The maximally open façade is complemented with large exterior screens in white that shade sunlight and remain transparent from the inside, even when closed, to maintain contact with the city. The roof garden is designed around a central hill covering the elevator shaft with grassy areas and flower beds formed by an ornamental and commercial vegetation with edible fruits.
Green building
Environmental certification
| | |
| --- | --- |
| Type and level of certificate | - |
Water management
| | |
| --- | --- |
| Is rainwater used for irrigation? | |
| Is rainwater used for other purposes, e.g. toilet flushing ? | |
| Does the building have a green roof / facade ? | |
| Is reclaimed waste water used, e.g. from showers and sinks ? | |
The quality of the indoor environment
| | |
| --- | --- |
| Is clean air supply automated ? | |
| Is comfortable temperature during summer and winter automated? | |
| Is natural lighting guaranteed in all living areas? | |
| Is artificial lighting automated? | |
| Is acoustic comfort, specifically reverberation time, guaranteed? | |
| Does the layout solution include zoning and ergonomics elements? | |
Principles of circular economics
| | |
| --- | --- |
| Does the project use recycled materials? | |
| Does the project use recyclable materials? | |
| Are materials with a documented Environmental Product Declaration (EPD) promoted in the project? | |
| Are other sustainability certifications used for materials and elements? | |
Energy efficiency
| | |
| --- | --- |
| Energy performance class of the building according to the Energy Performance Certificate of the building | A |
| Is efficient energy management (measurement and regular analysis of consumption data) considered? | |
| Are renewable sources of energy used, e.g. solar system, photovoltaics? | |
Interconnection with surroundings
| | |
| --- | --- |
| Does the project enable the easy use of public transport? | |
| Does the project support the use of alternative modes of transport, e.g cycling, walking etc. ? | |
| Is there access to recreational natural areas, e.g. parks, in the immediate vicinity of the building? | |