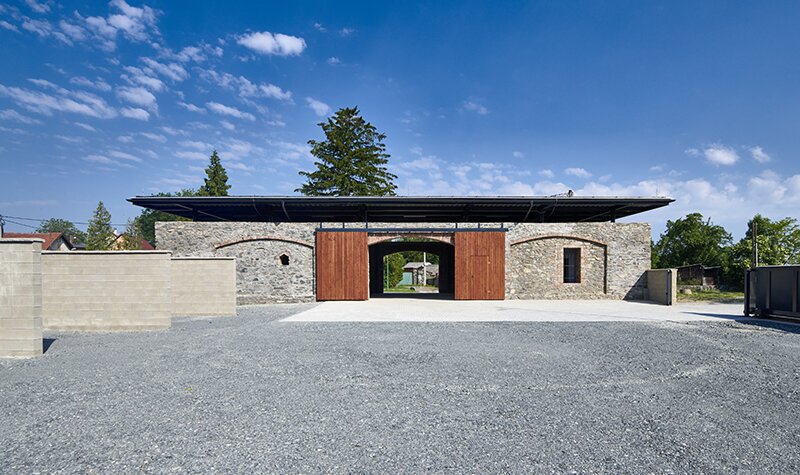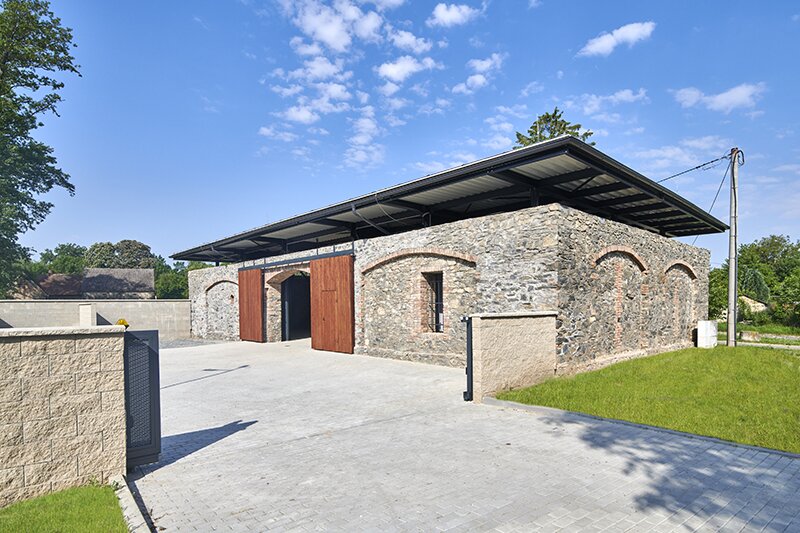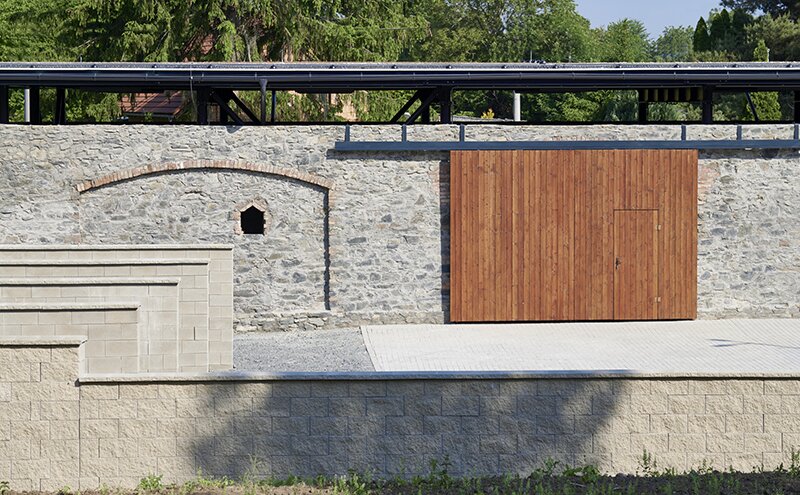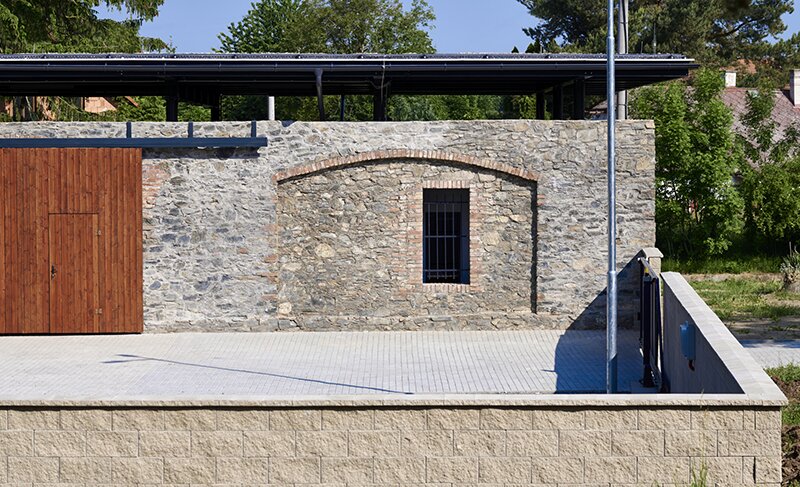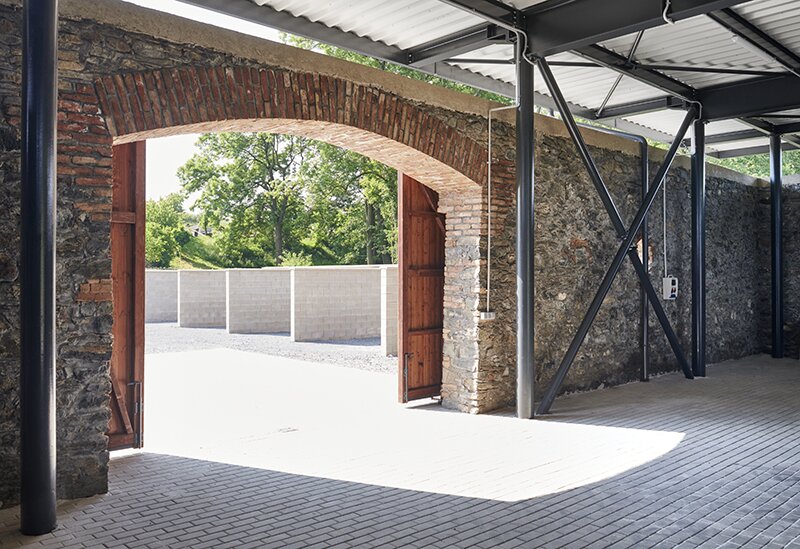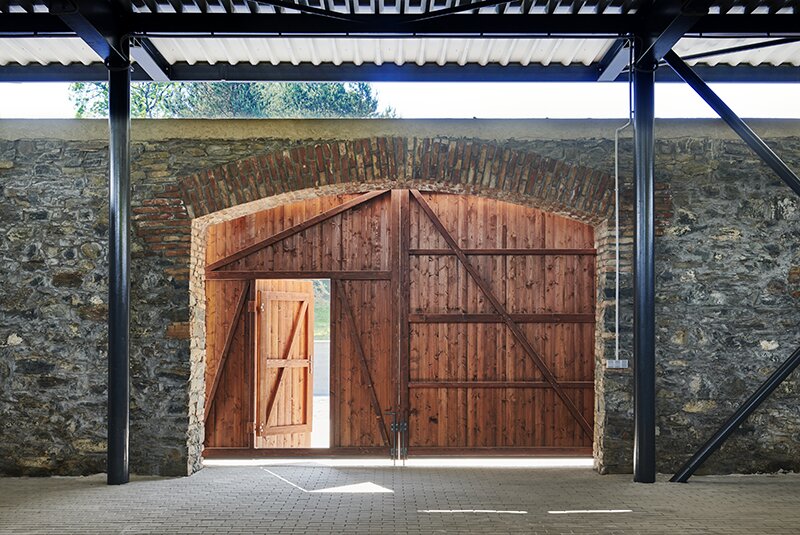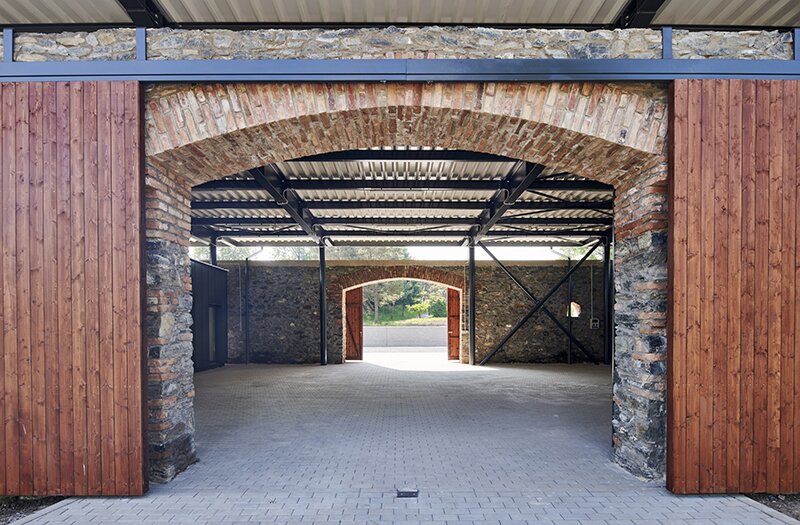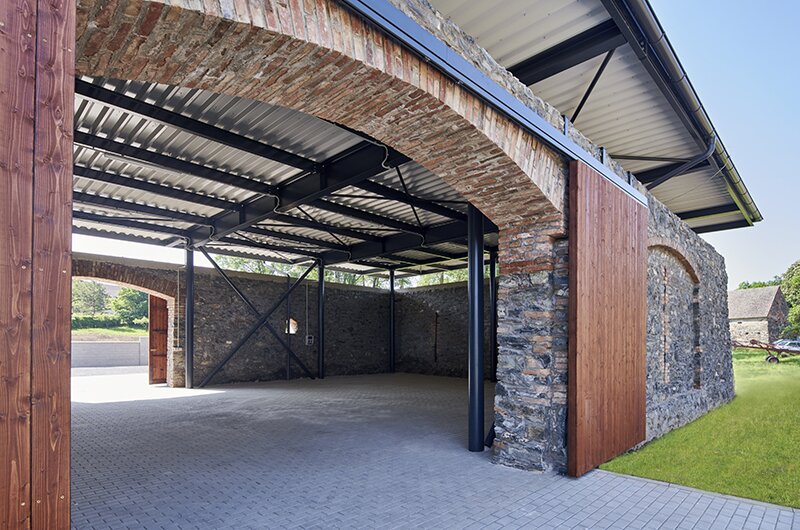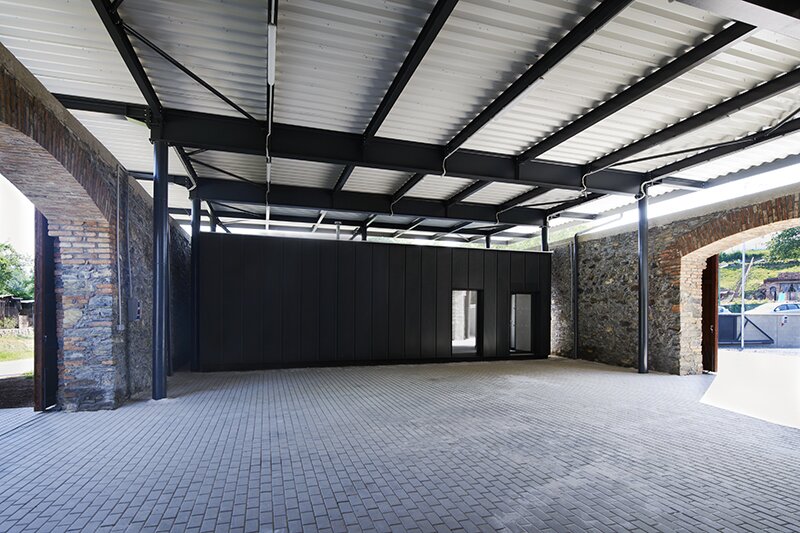 | | |
| --- | --- |
| Author | DOMYJINAK architekti / Petr ŠIKOLA, Václav DVOŘÁK, Jan ČERNOCH, Hana KLAPALOVÁ, Aneta STROUHALOVÁ |
| Studio | |
| Location | Třebešice, parc. č. 22/2, 286 01 Třebešice |
| Investor | Obec Třebešice |
| Supplier | PKbau s.r.o. |
| Date of project approval | March 2021 |
| Fotograf | |
The idea of our design is to revitalize the fragment of the former barn, which is situated in the southern area of the village. Its new main function is to serve as a technical background of a small village, acting as a "modern barn". Old stone walls of the barn were rebuilt in the original height. New subtle steel structure supports a lightweight hovering roof. The barn is merged with its natural surroundings. A box with sanitary facilities and office is inserted inside, rest of the space is used as a parking place for machinery. A service yard is connected to the municipal road through the building. The original stonework with brick vaults and black steel is used as the main material for the building. The sliding entrance gate is designed as a contrasting wooden structure. The office box is cladded with expanded metal. Pedestrian and roads surfaces are paved with grey concrete pavers.
The walls of the barn are consisted of stonework and brickwork. New vaults above the entrances are made from bricks. The roof is designed as a steel self-supporting structure, consisting of columns, beams and bracing. The edge of the roof is approximately at a height of 5 m and laps over the wall for about 1 m, which is protecting the hall from weather conditions. The pair of entrance gates is designed as manually sliding double-leaf. Inside the building, there is a small brick building of the operator with a size of about 10 x 4 m, height about 3.5 m, cladded with expanded metal. Hall except the operator's facilities is open and ventilated. The facility building is insulated and tempered. The building is connected to the technical infrastructure from the adjacent road.
Green building
Environmental certification
| | |
| --- | --- |
| Type and level of certificate | - |
Water management
| | |
| --- | --- |
| Is rainwater used for irrigation? | |
| Is rainwater used for other purposes, e.g. toilet flushing ? | |
| Does the building have a green roof / facade ? | |
| Is reclaimed waste water used, e.g. from showers and sinks ? | |
The quality of the indoor environment
| | |
| --- | --- |
| Is clean air supply automated ? | |
| Is comfortable temperature during summer and winter automated? | |
| Is natural lighting guaranteed in all living areas? | |
| Is artificial lighting automated? | |
| Is acoustic comfort, specifically reverberation time, guaranteed? | |
| Does the layout solution include zoning and ergonomics elements? | |
Principles of circular economics
| | |
| --- | --- |
| Does the project use recycled materials? | |
| Does the project use recyclable materials? | |
| Are materials with a documented Environmental Product Declaration (EPD) promoted in the project? | |
| Are other sustainability certifications used for materials and elements? | |
Energy efficiency
| | |
| --- | --- |
| Energy performance class of the building according to the Energy Performance Certificate of the building | |
| Is efficient energy management (measurement and regular analysis of consumption data) considered? | |
| Are renewable sources of energy used, e.g. solar system, photovoltaics? | |
Interconnection with surroundings
| | |
| --- | --- |
| Does the project enable the easy use of public transport? | |
| Does the project support the use of alternative modes of transport, e.g cycling, walking etc. ? | |
| Is there access to recreational natural areas, e.g. parks, in the immediate vicinity of the building? | |