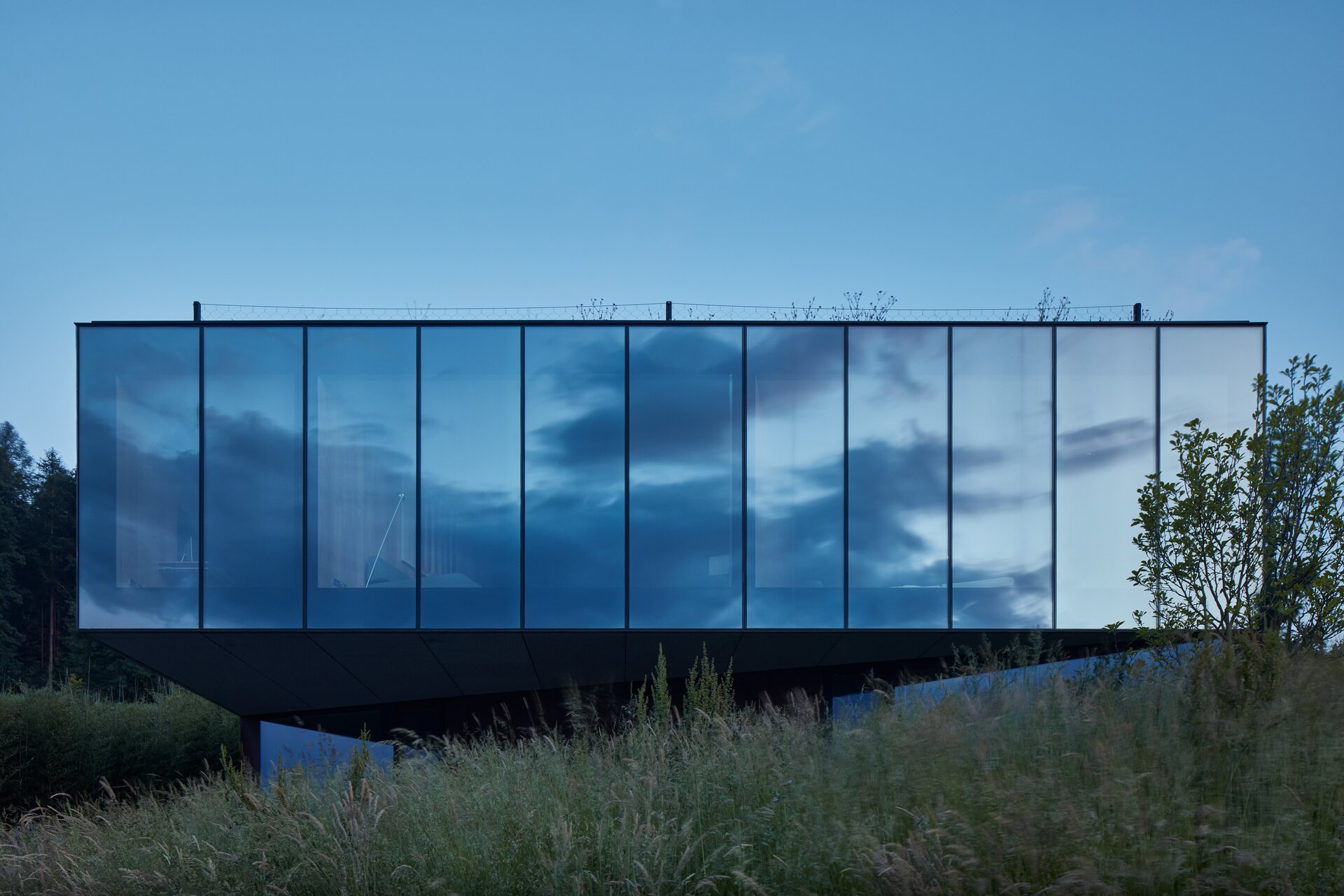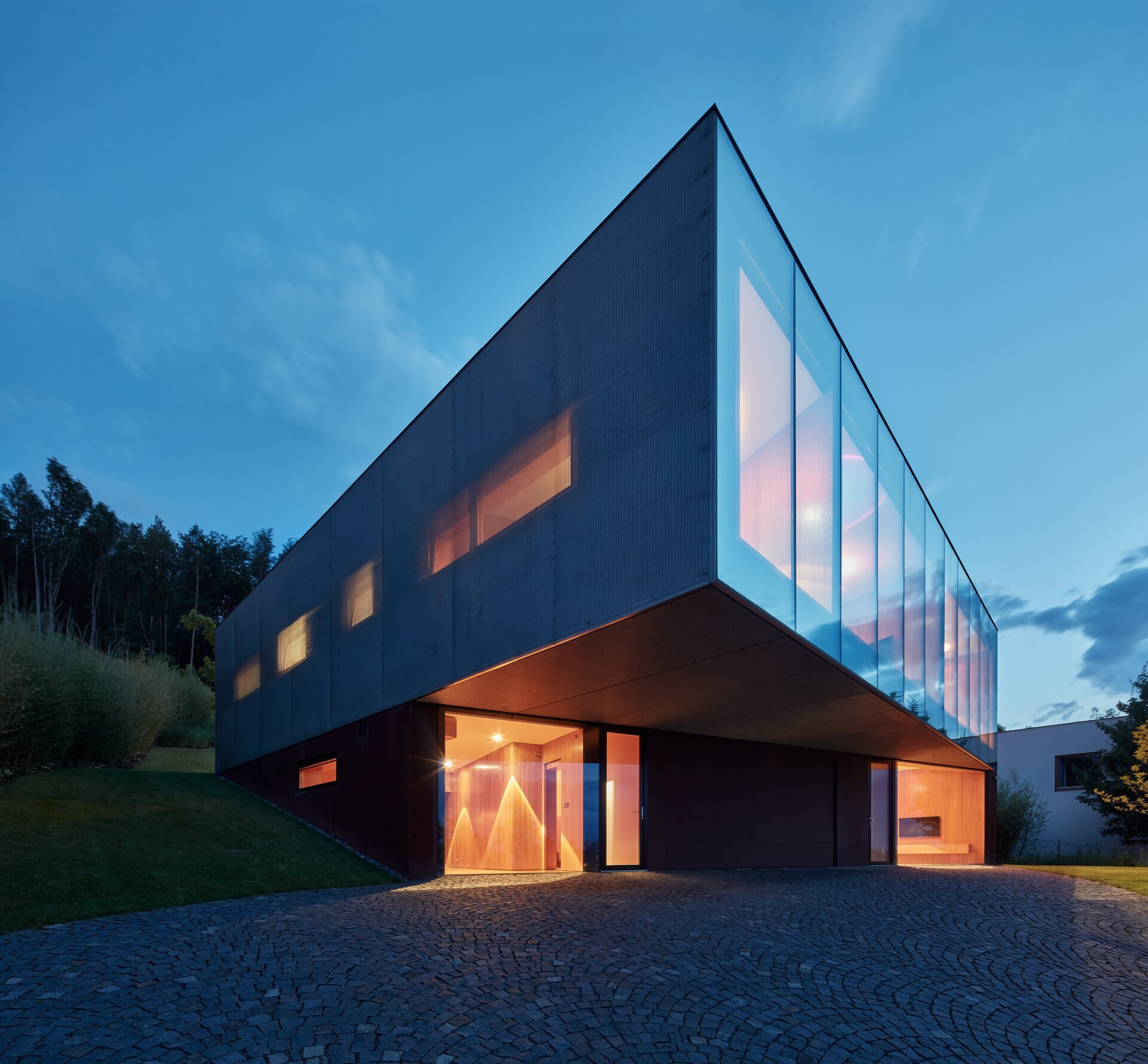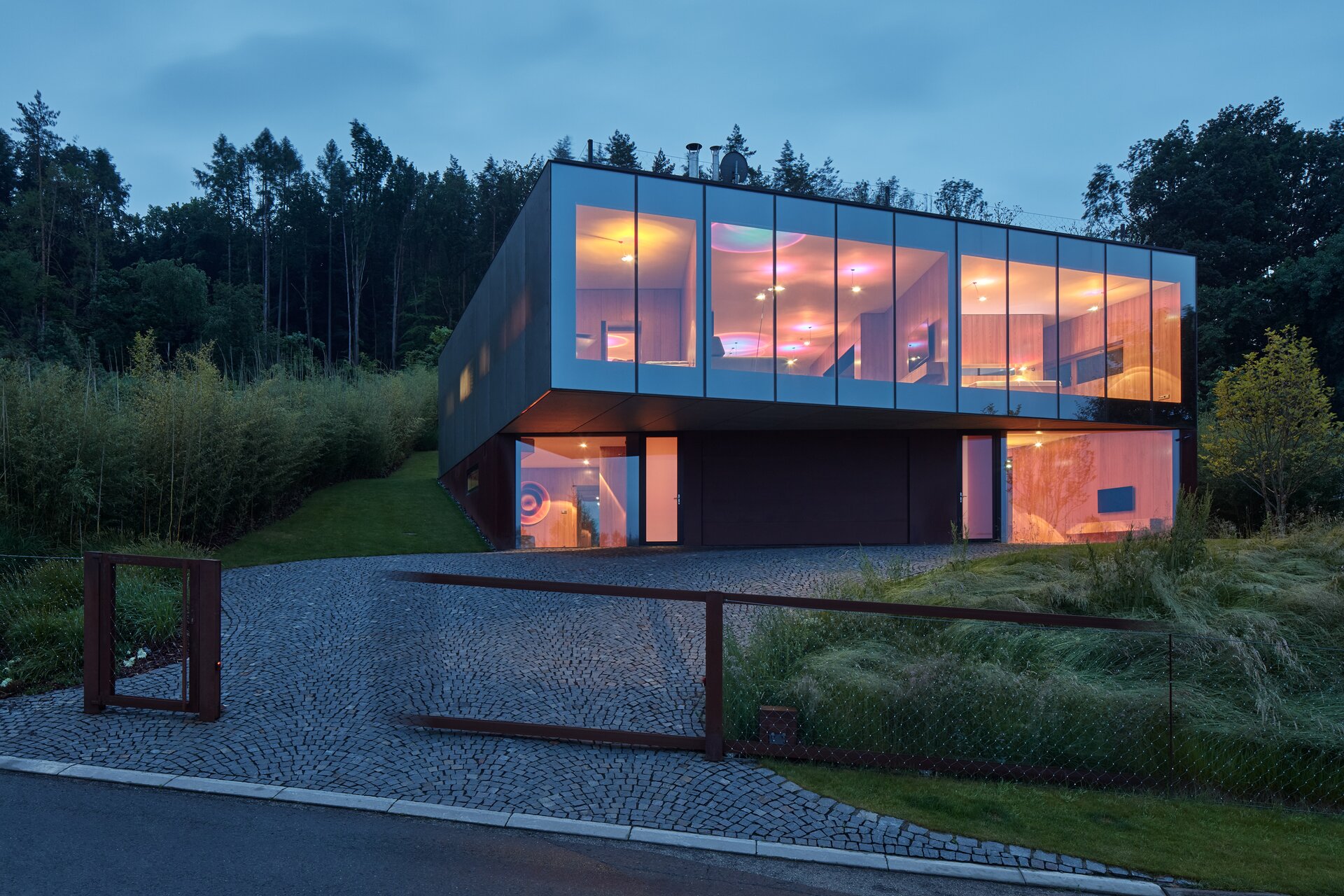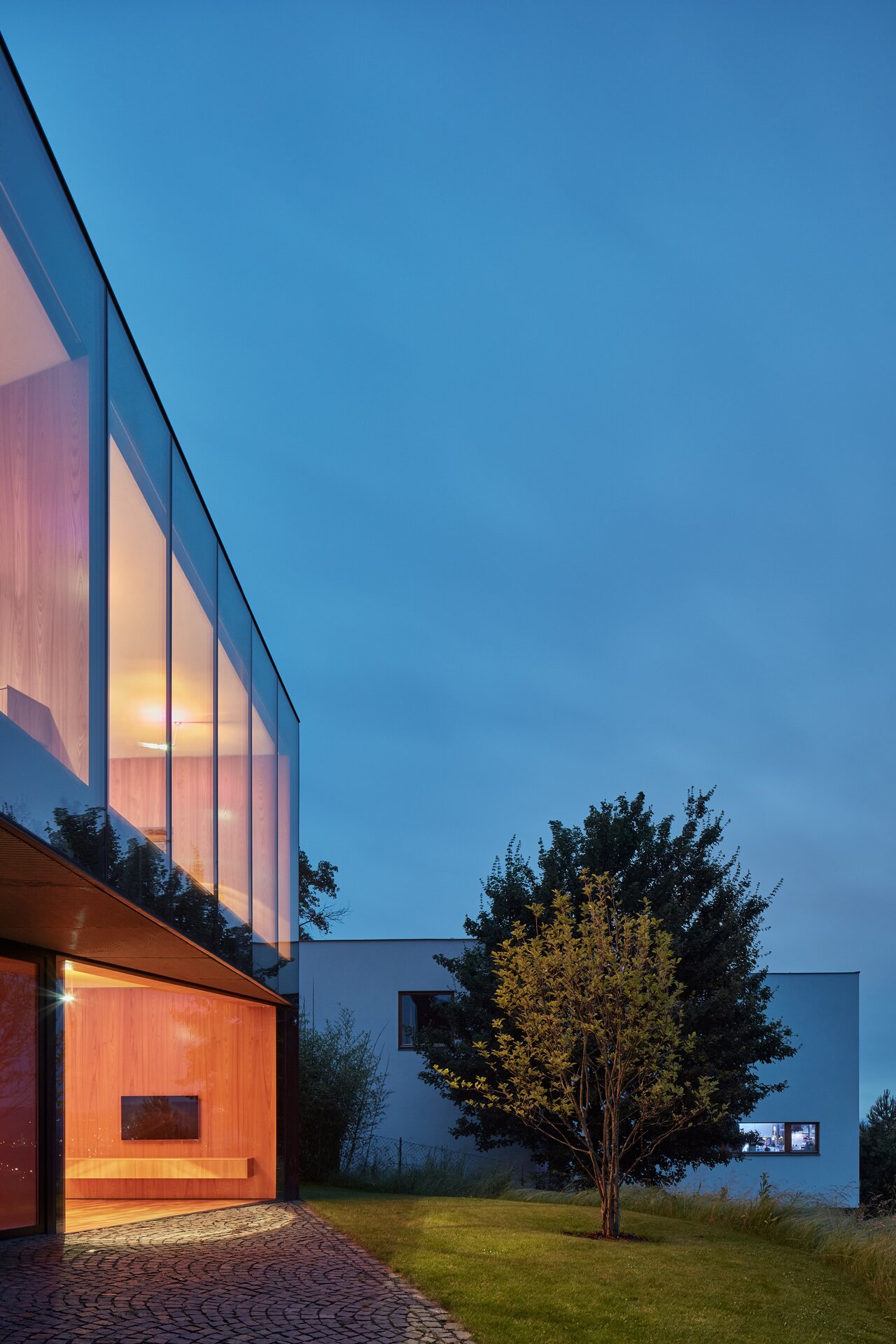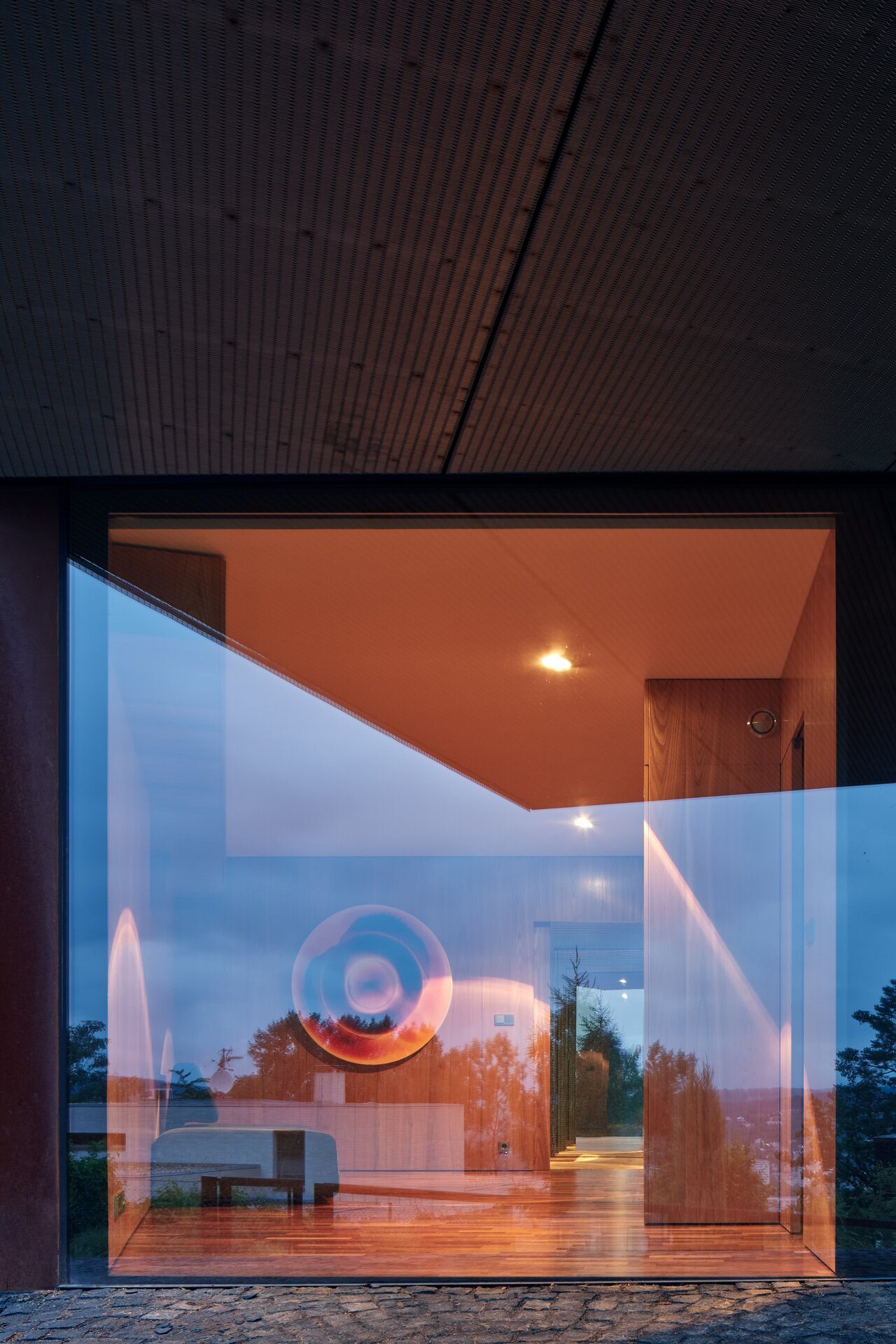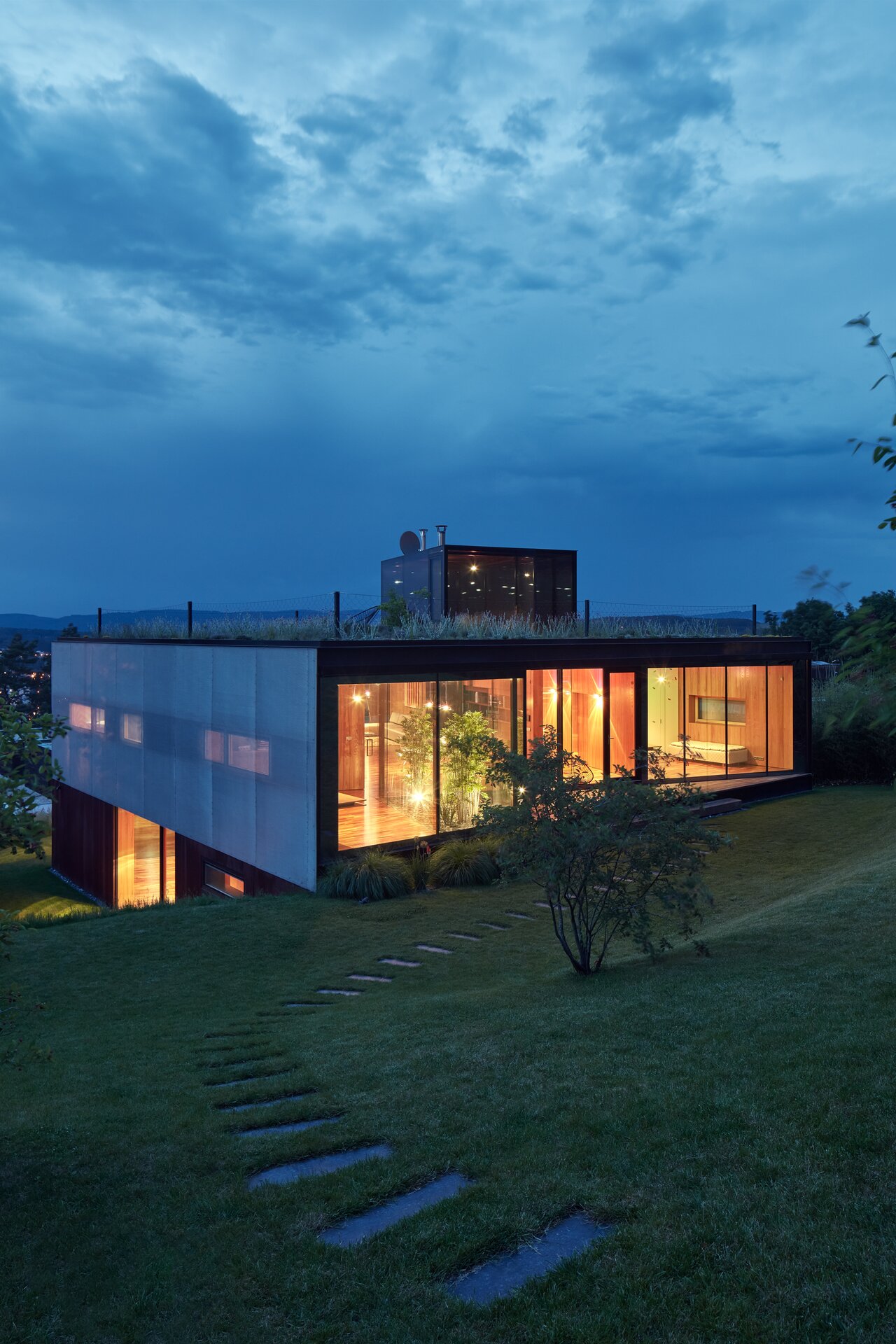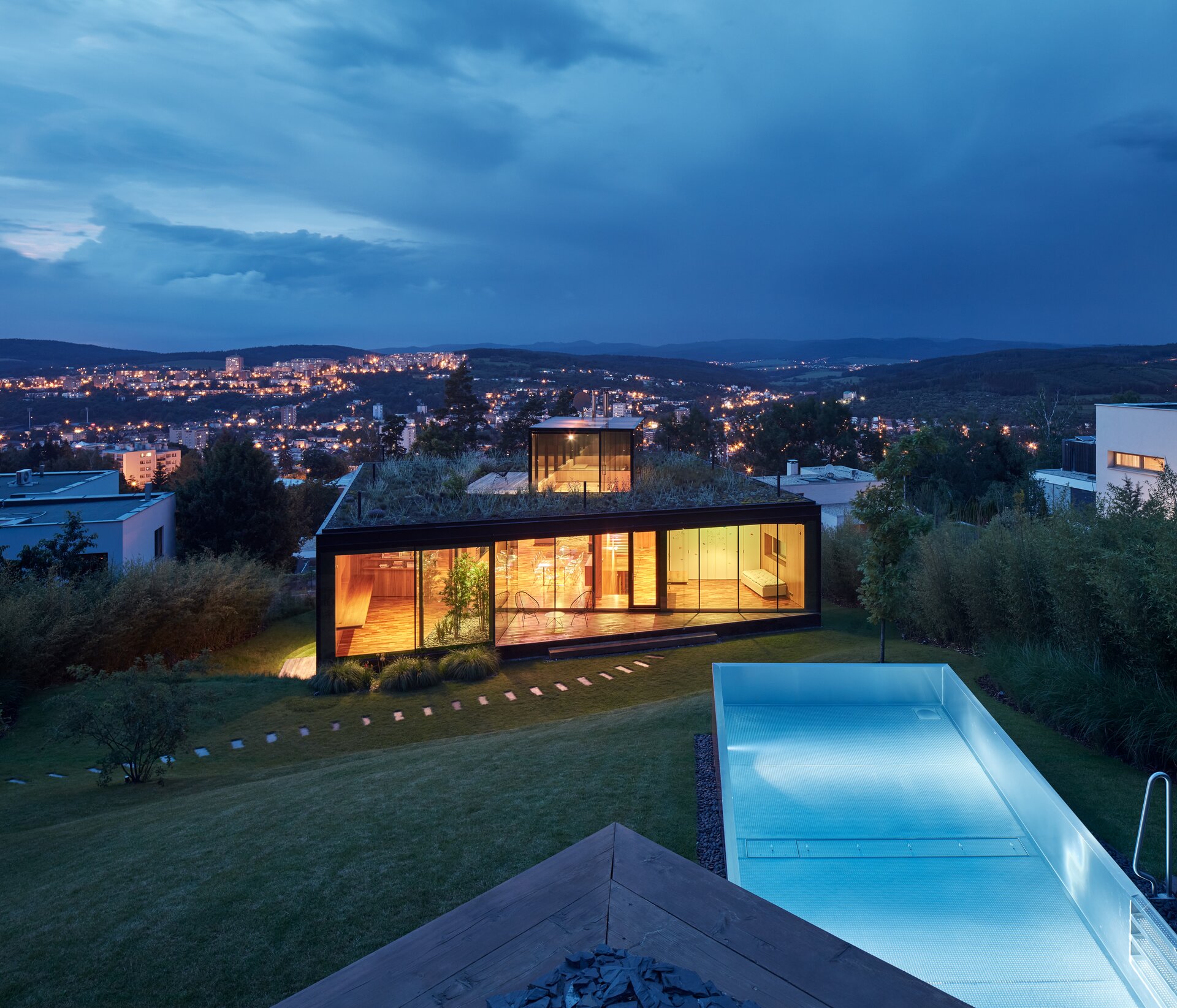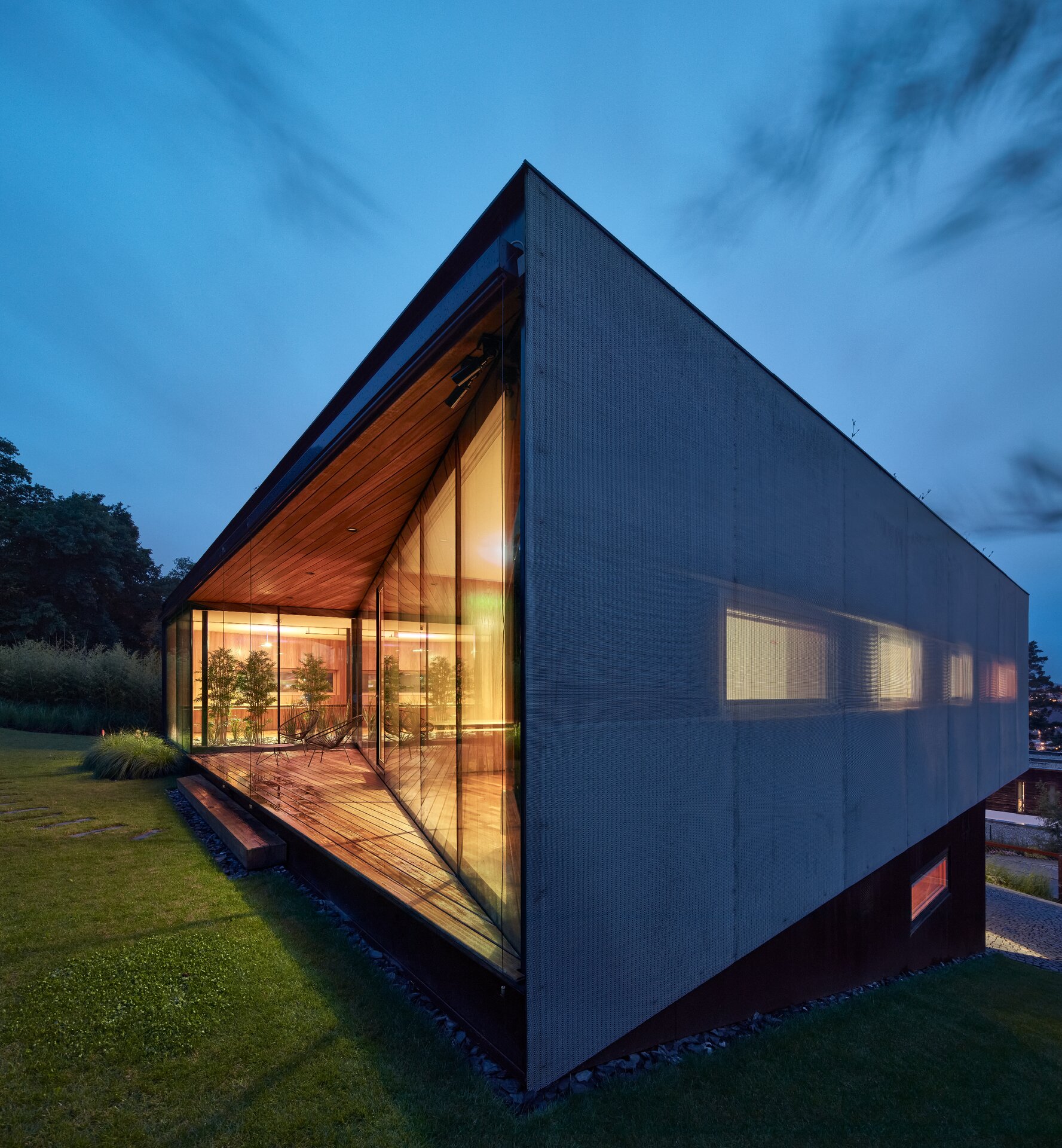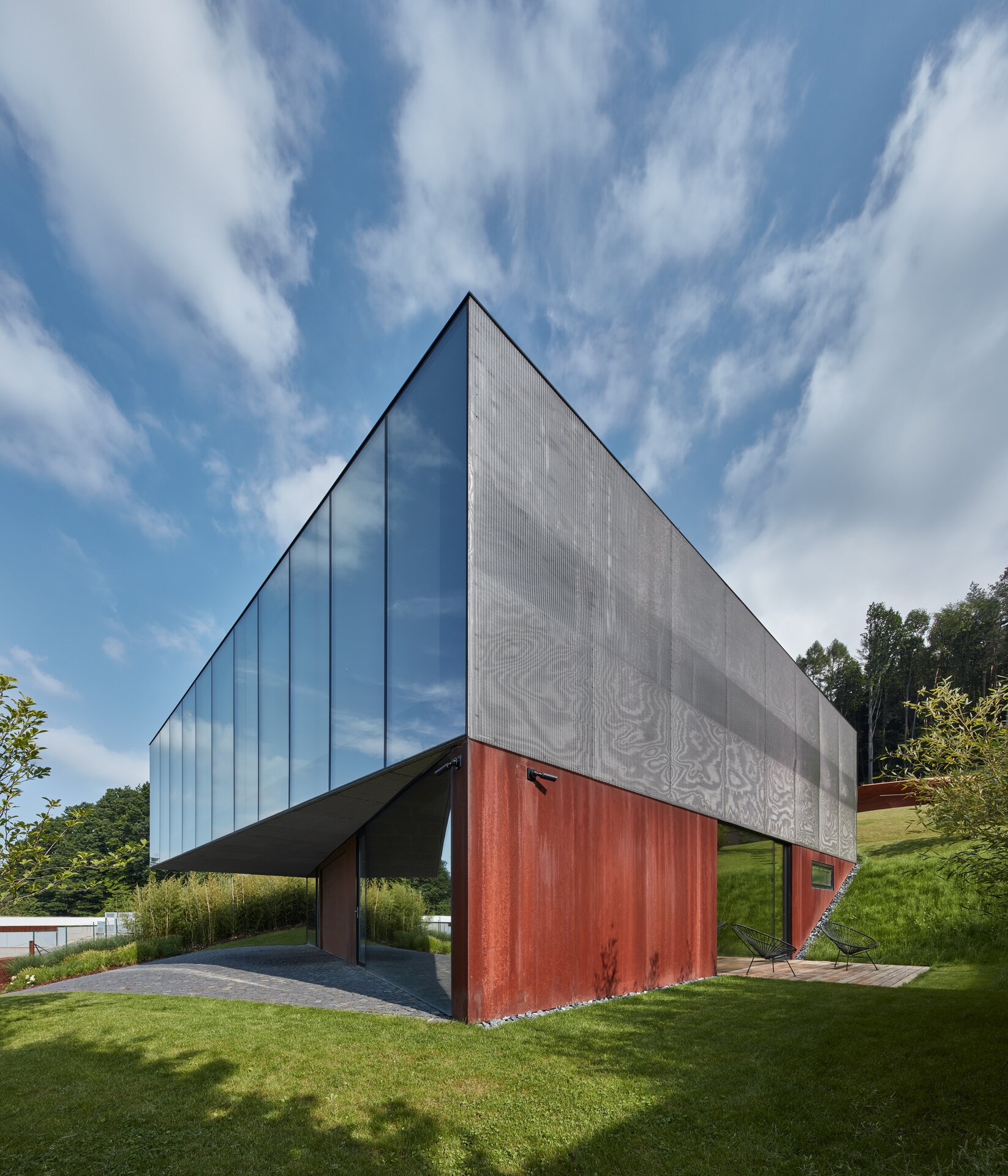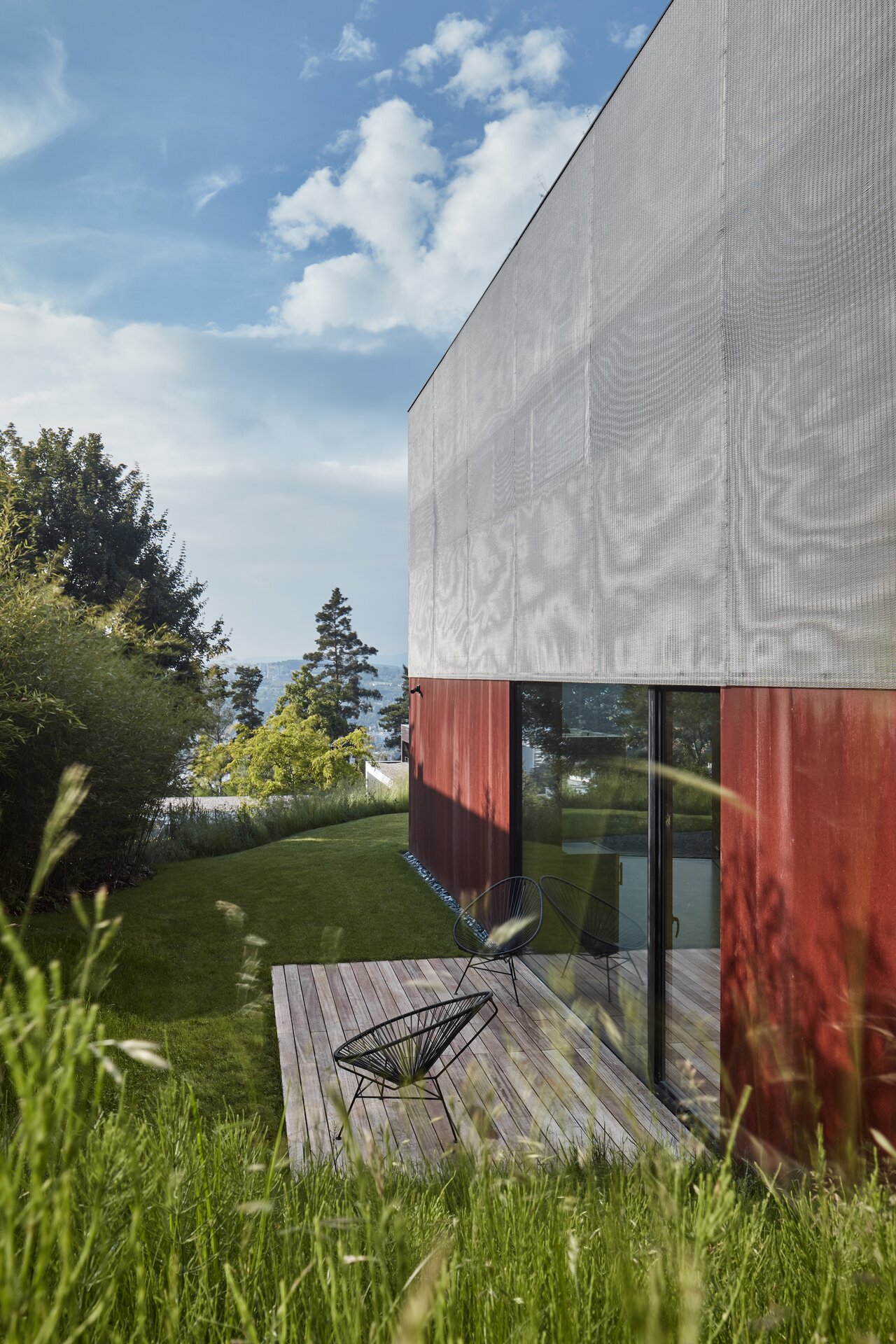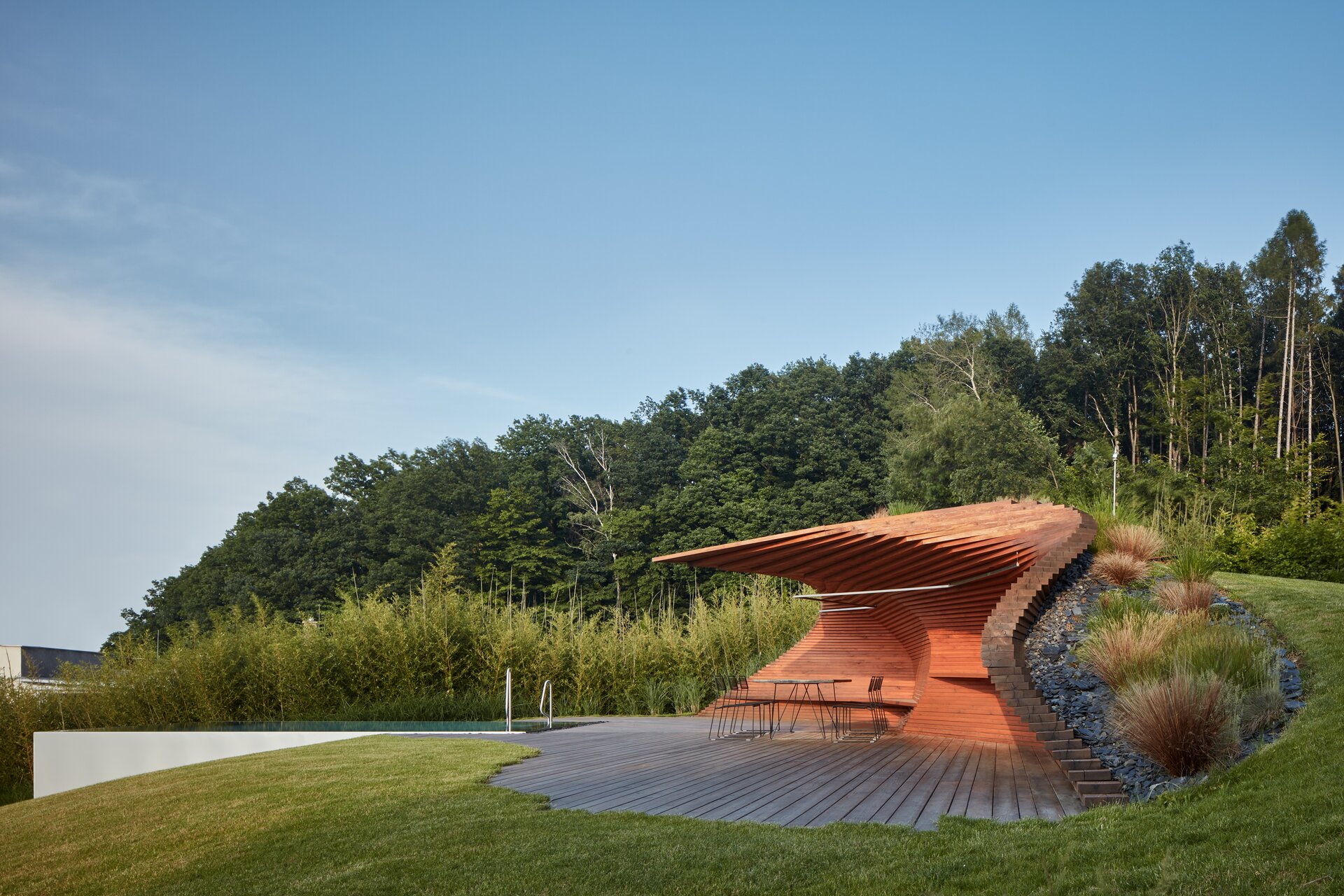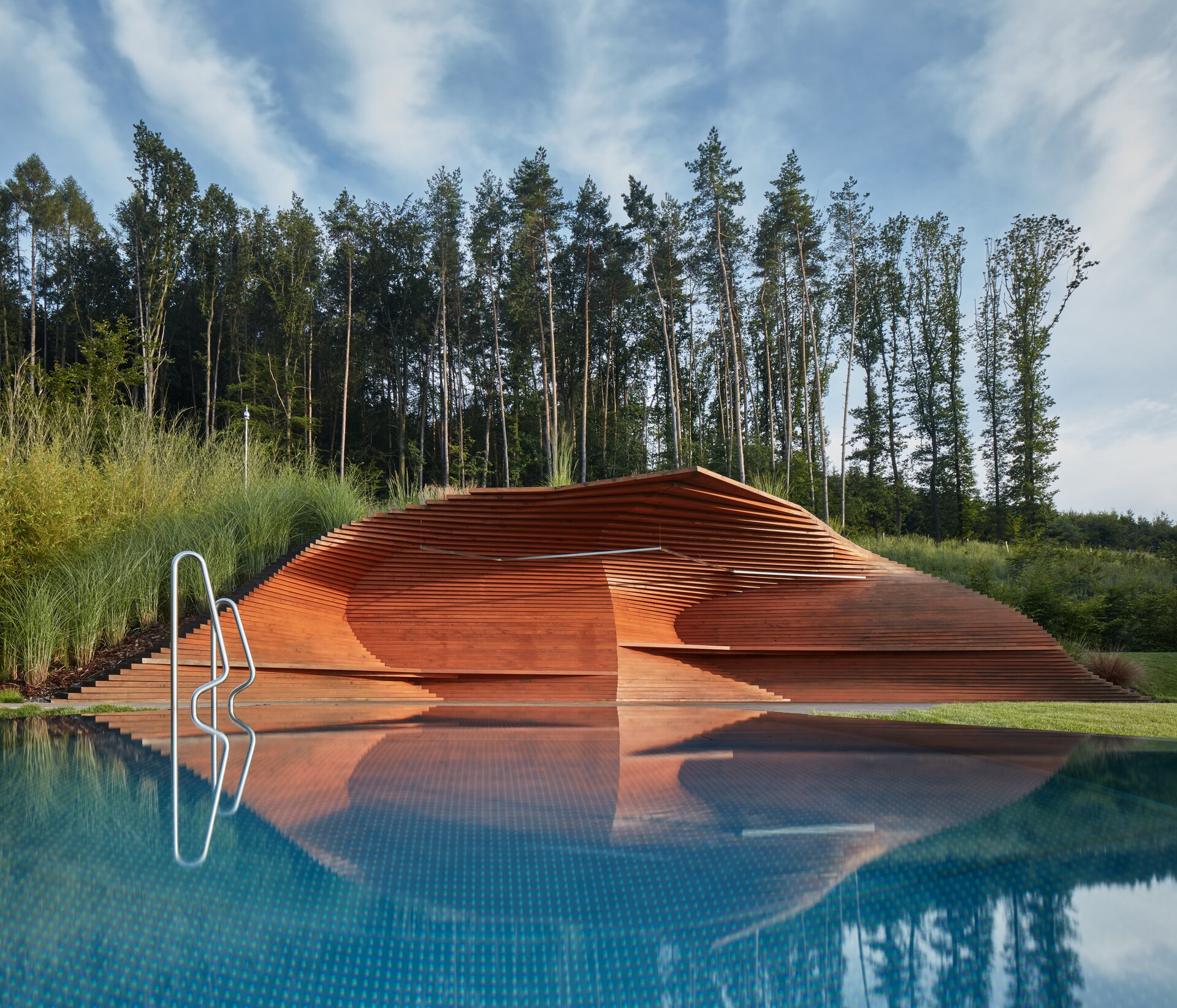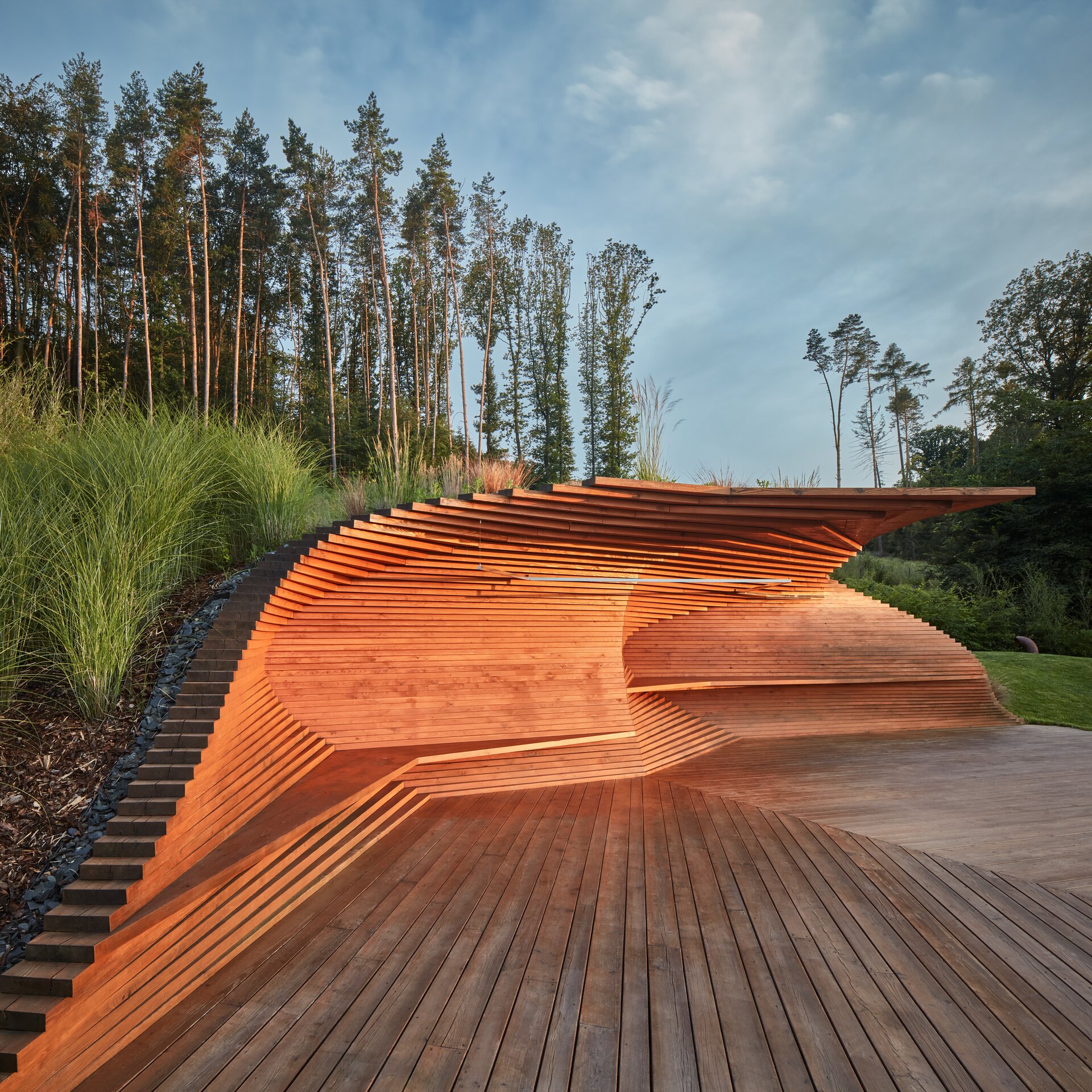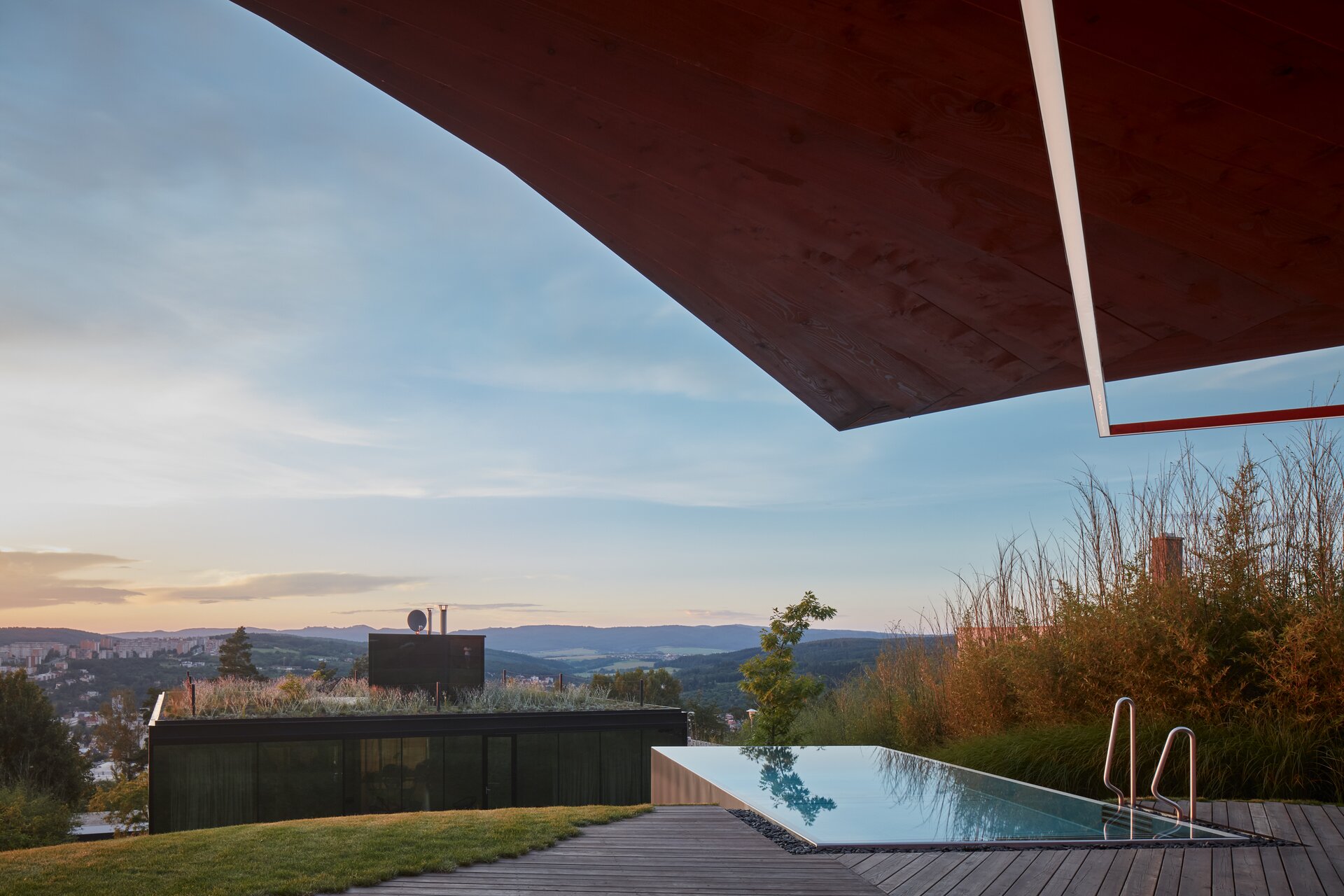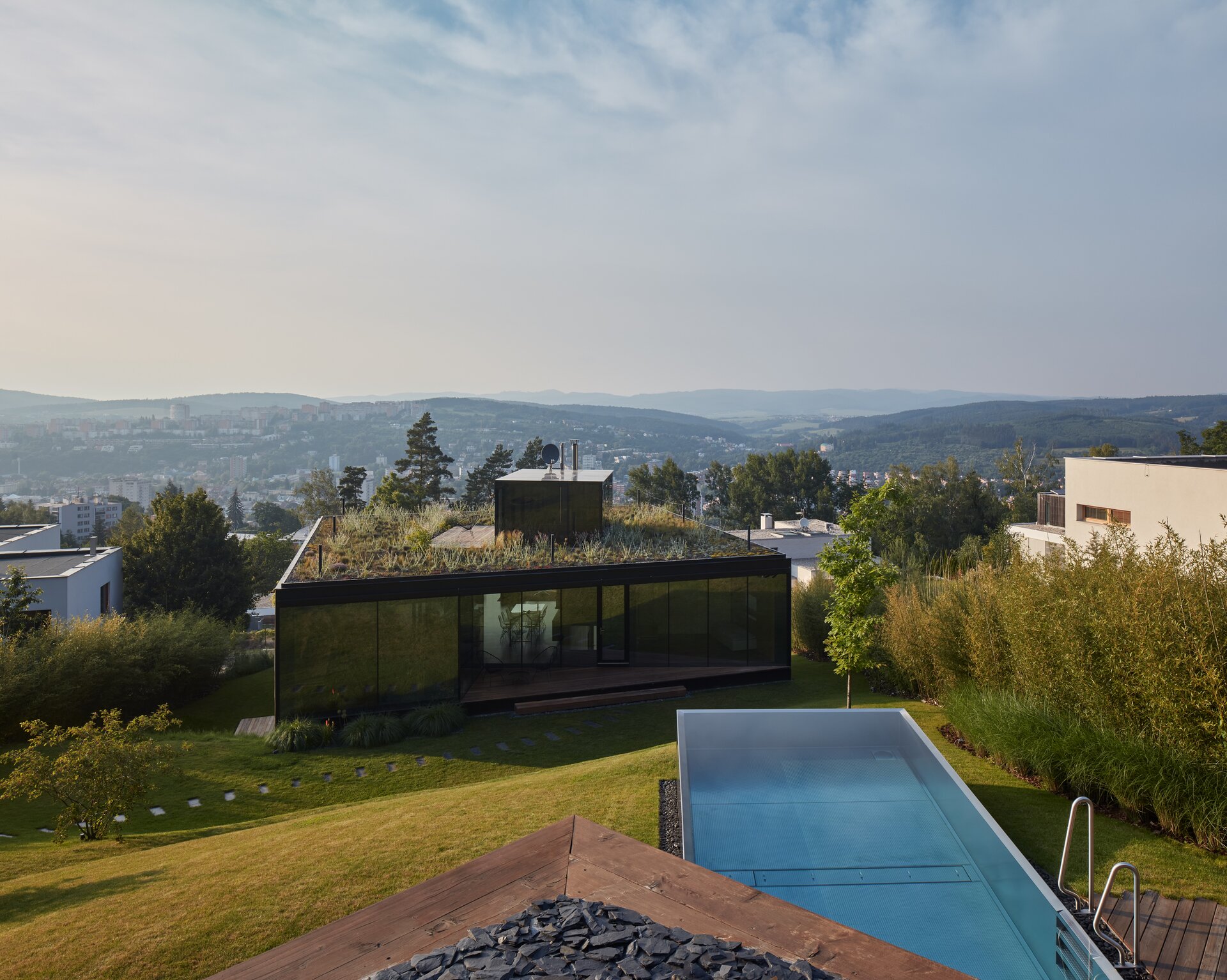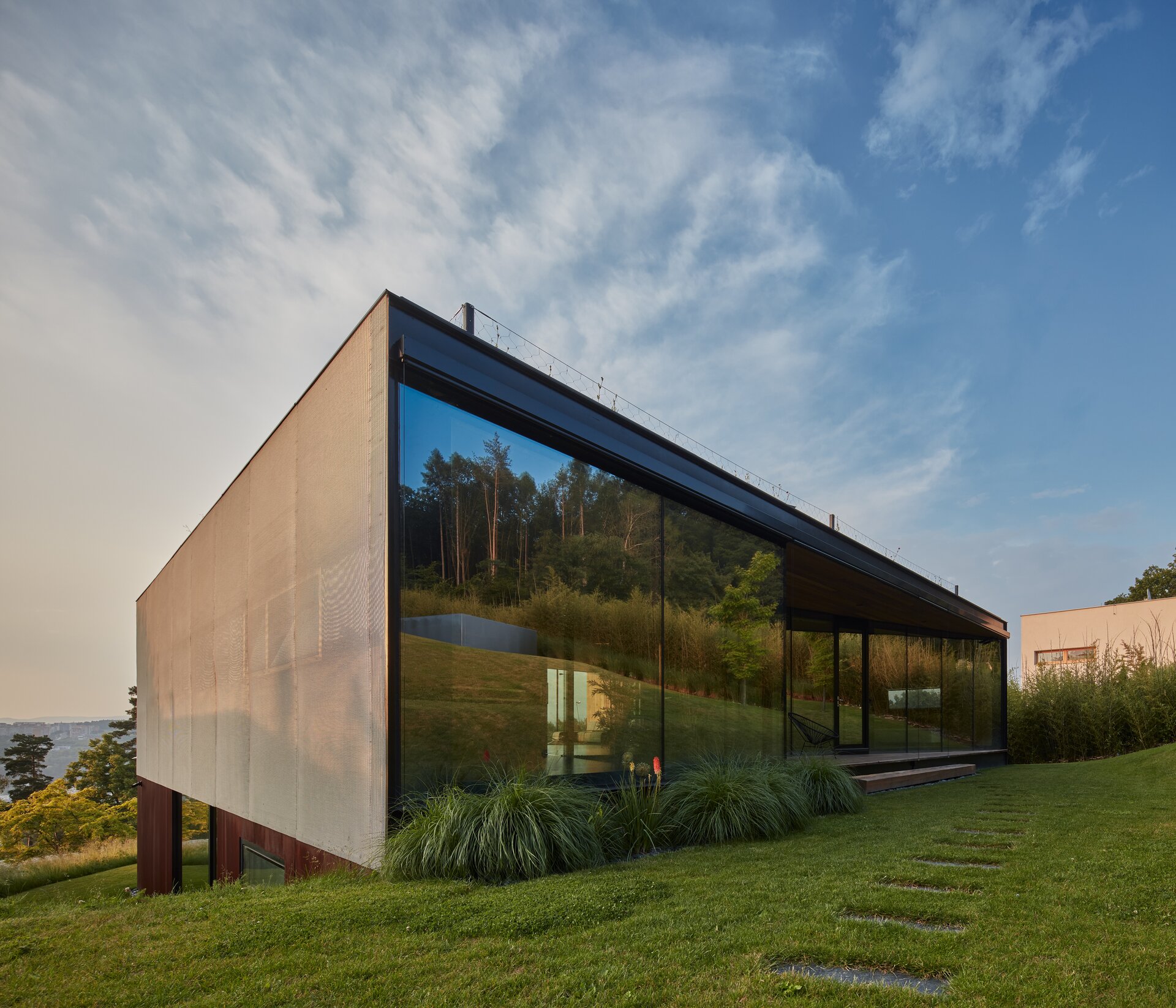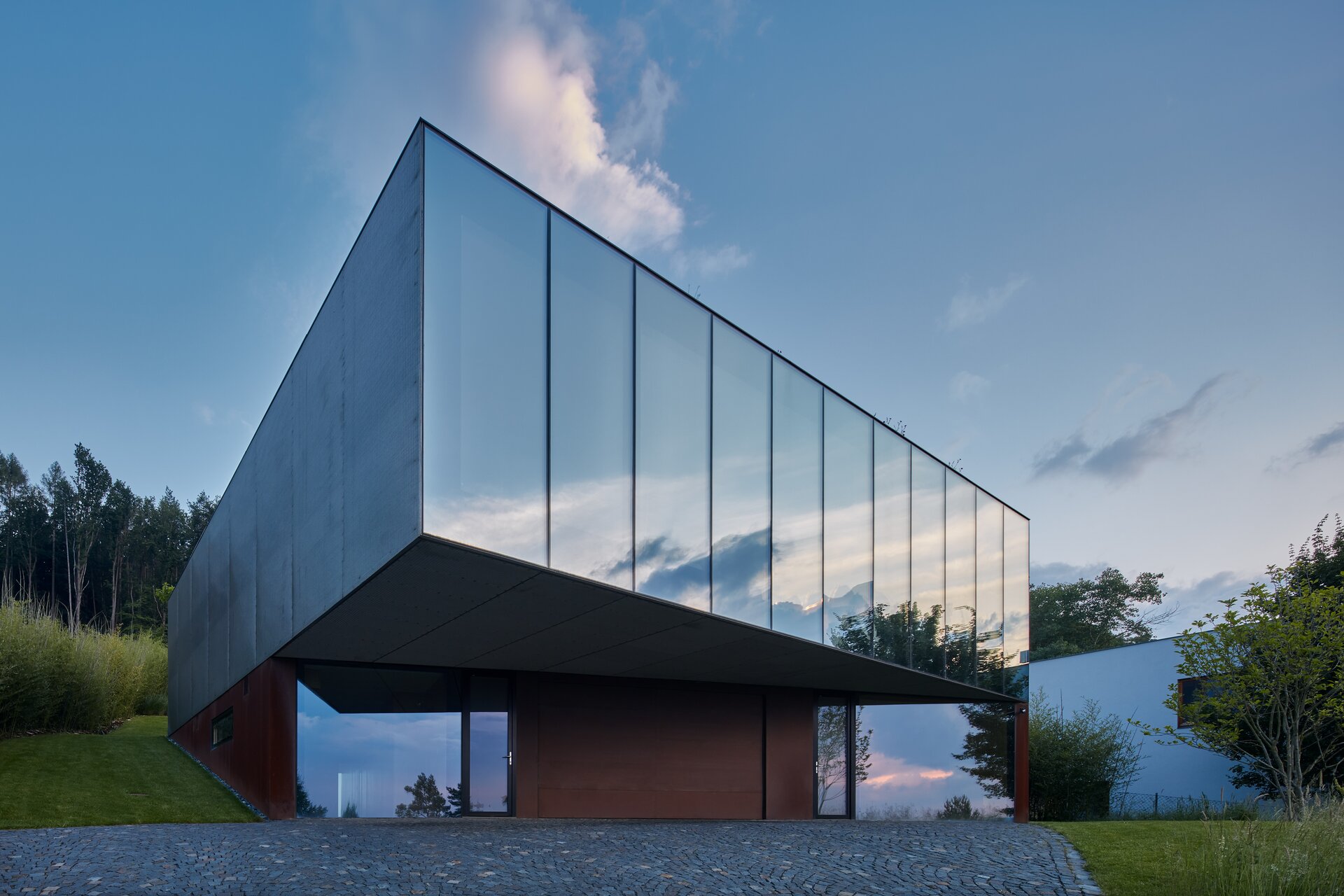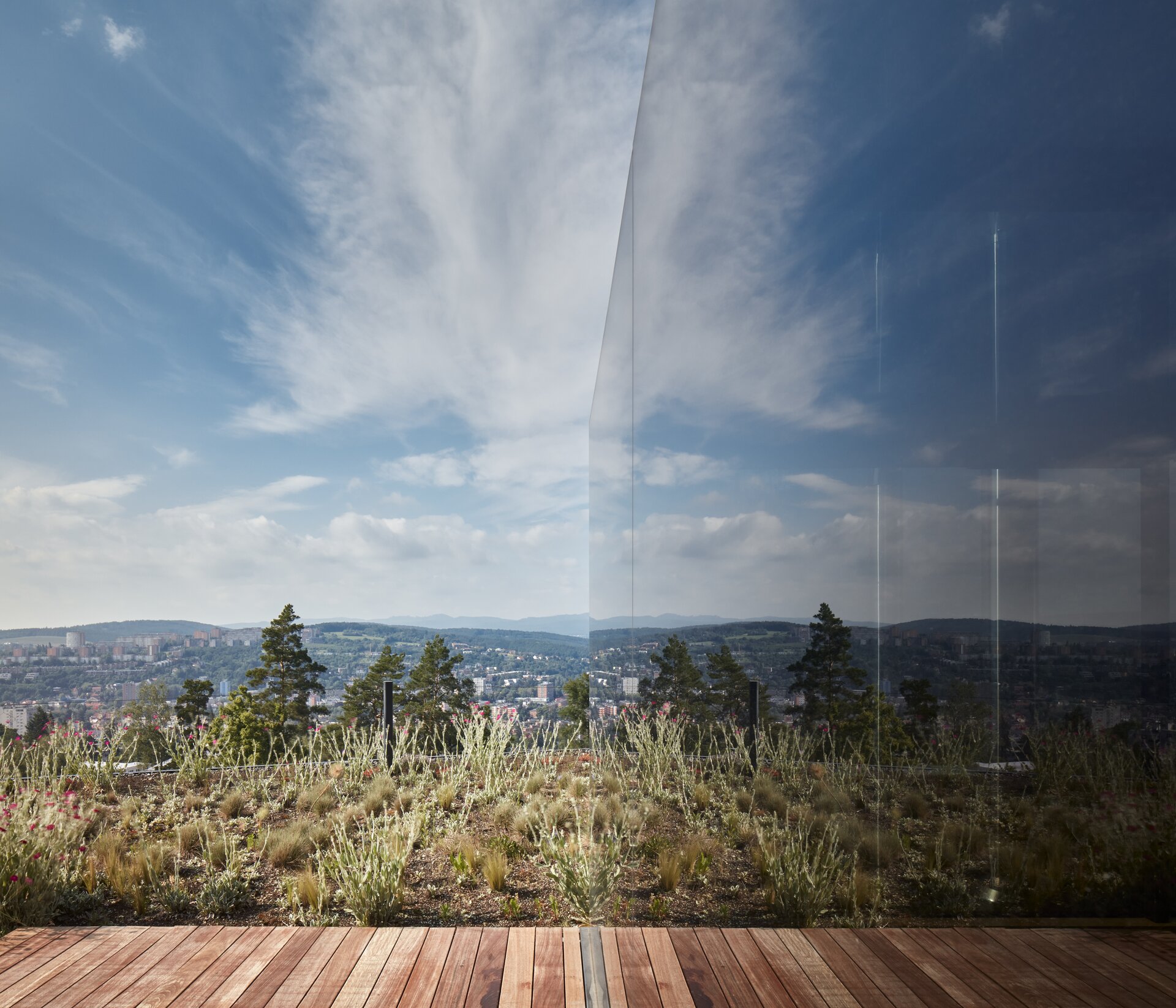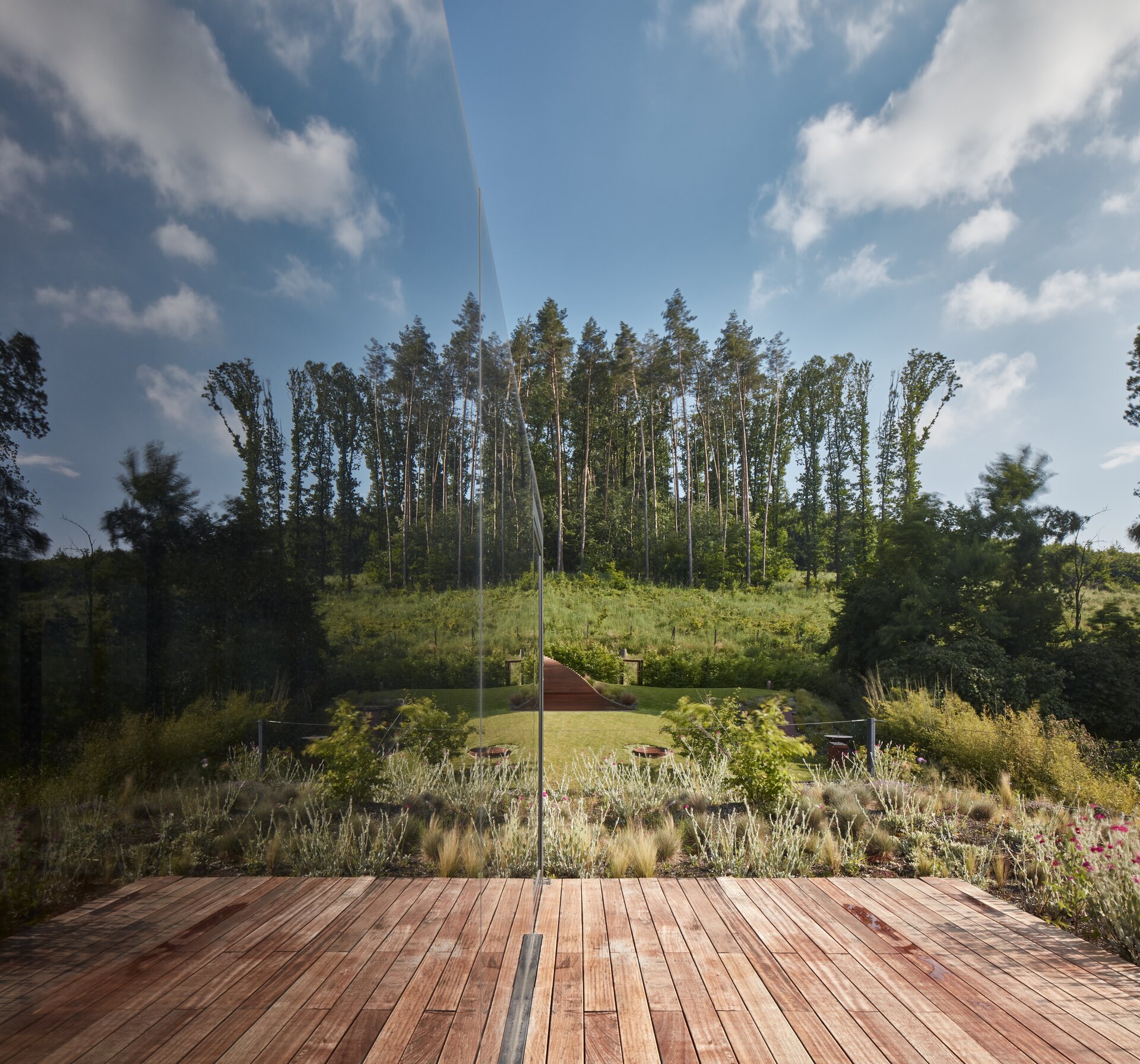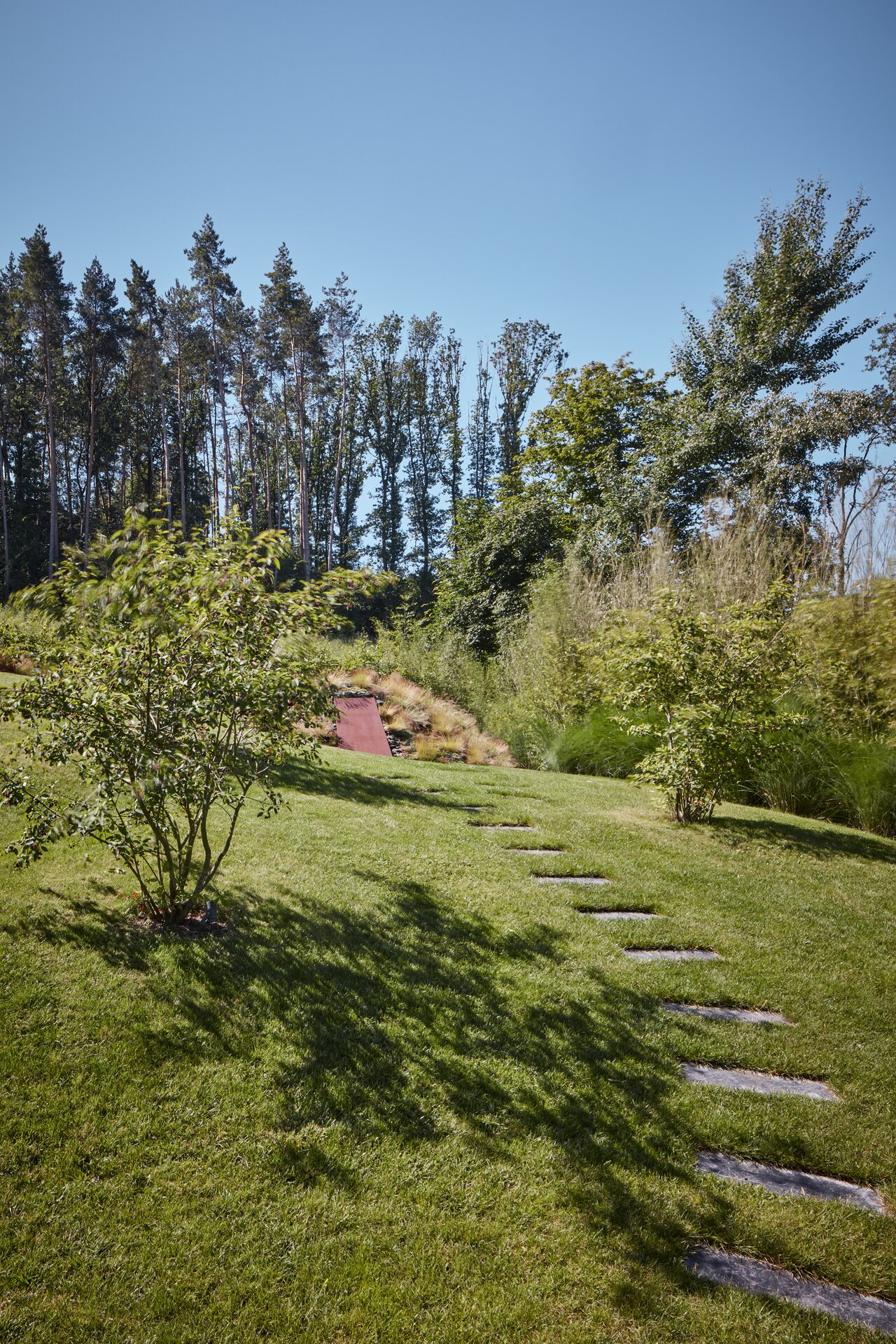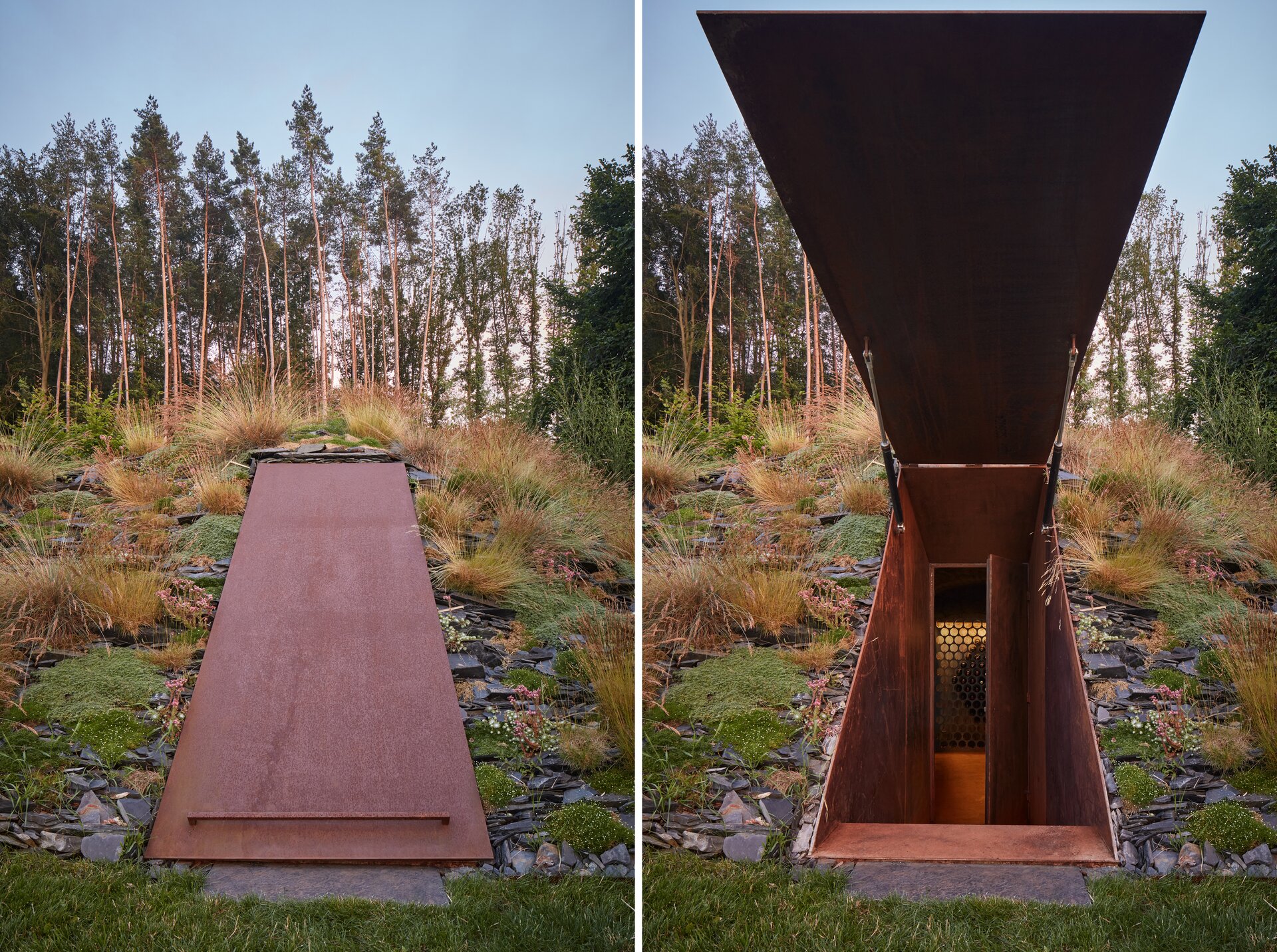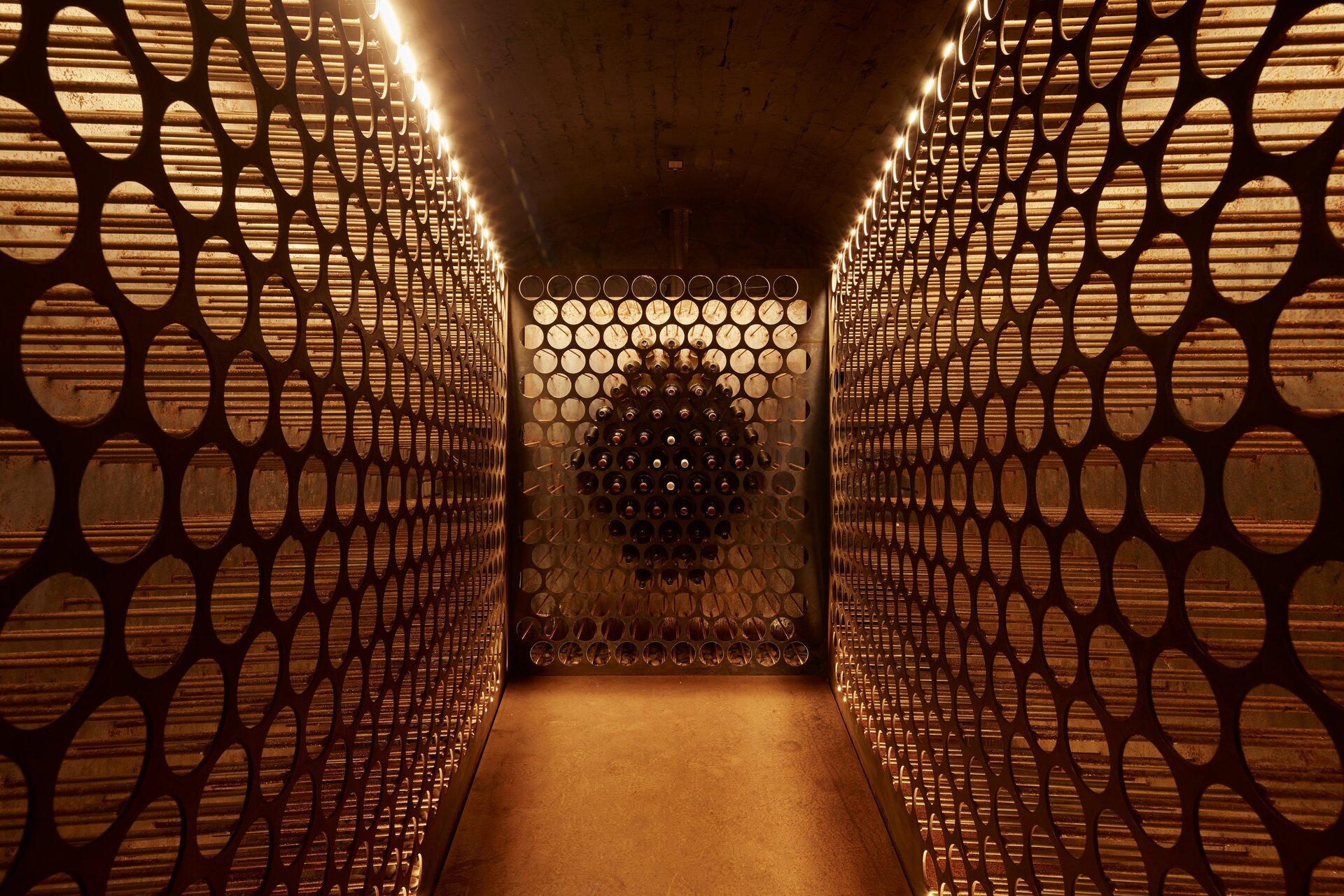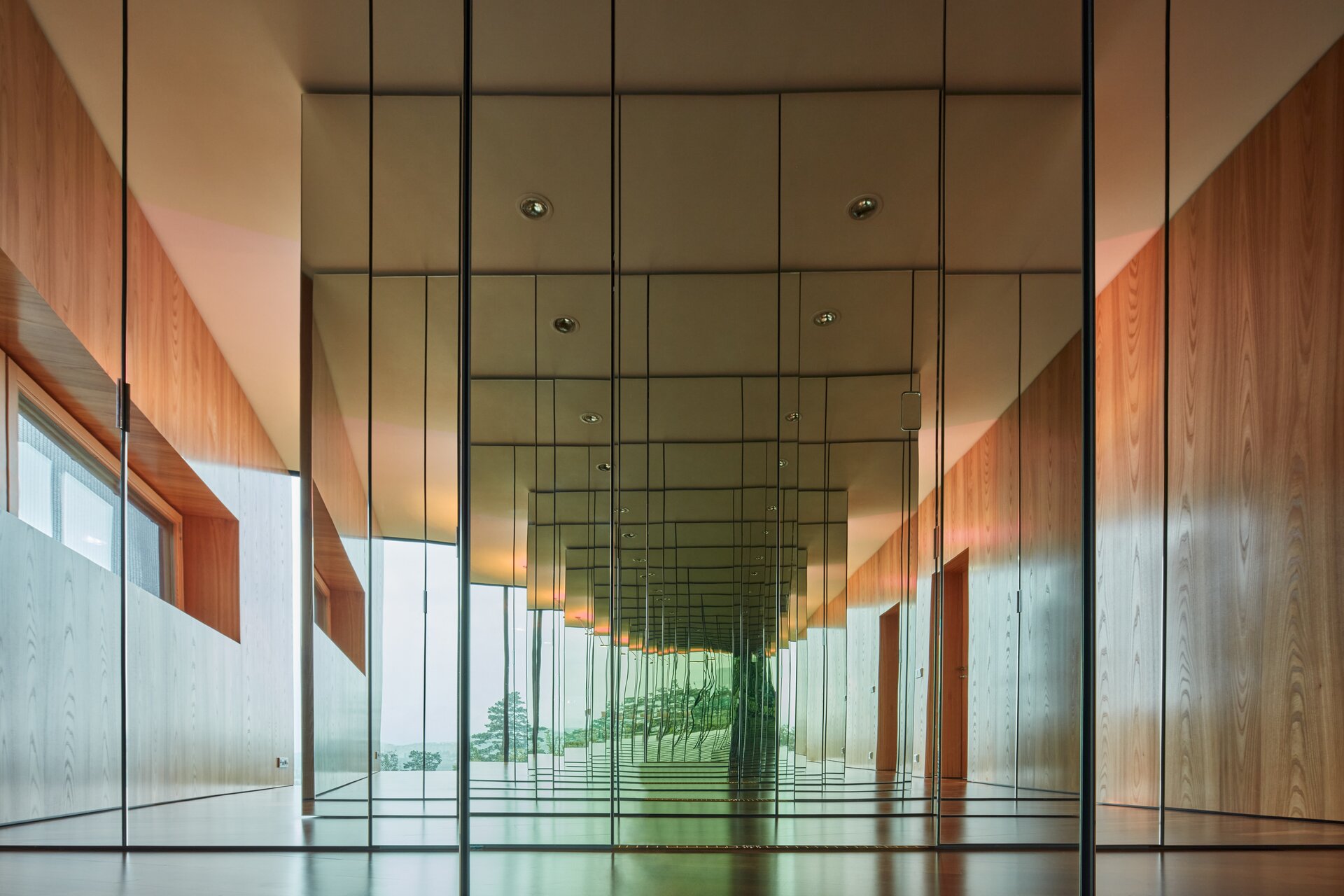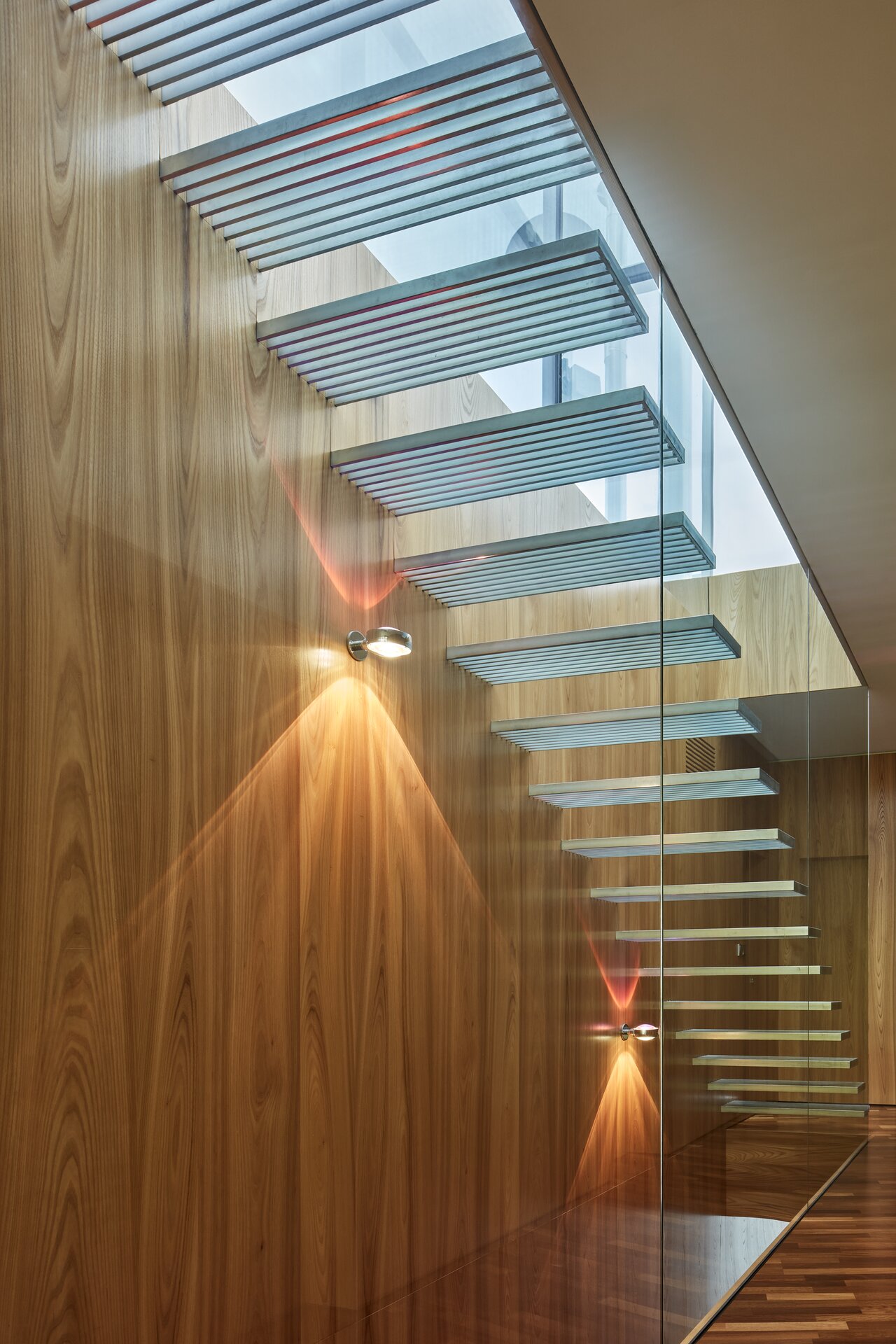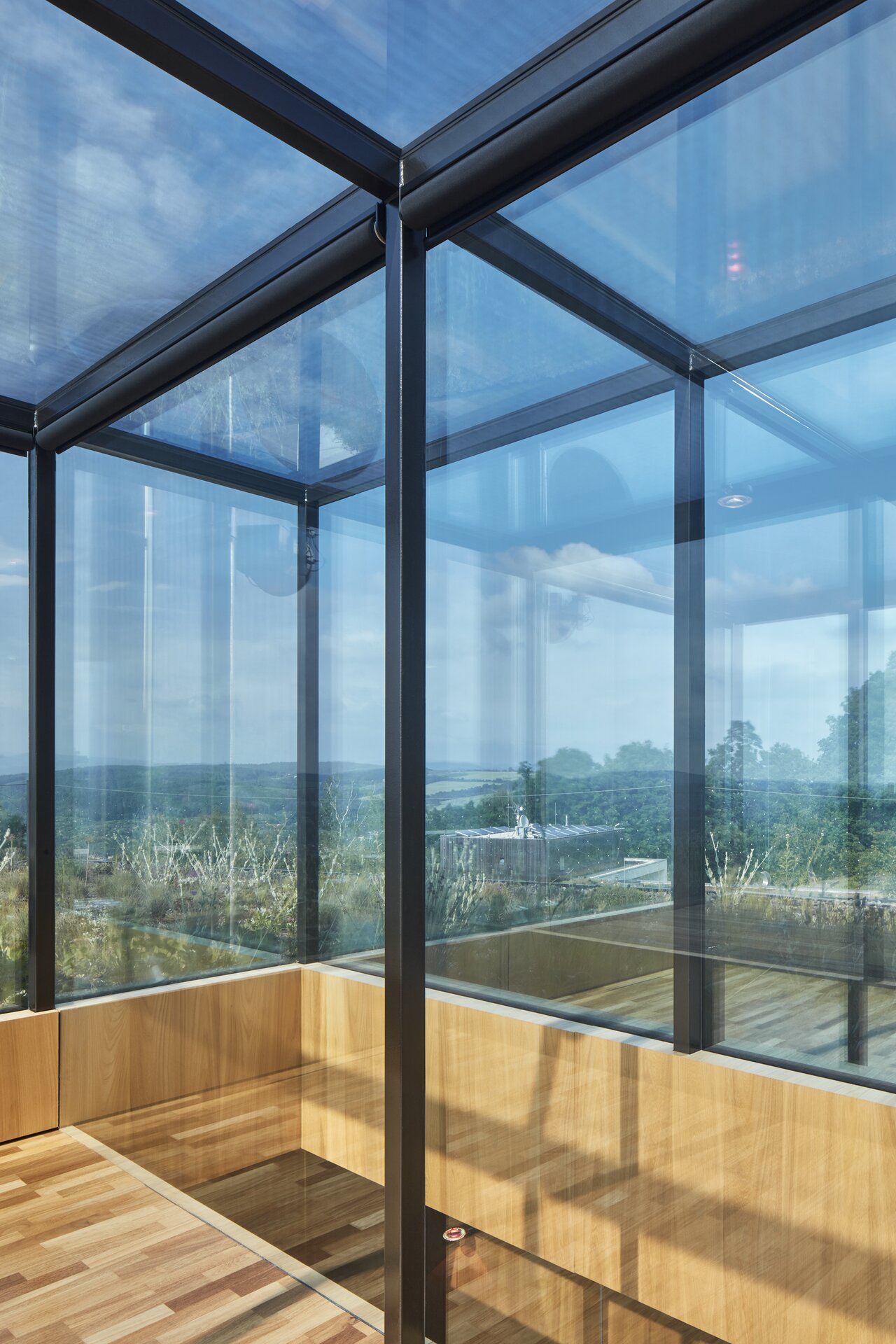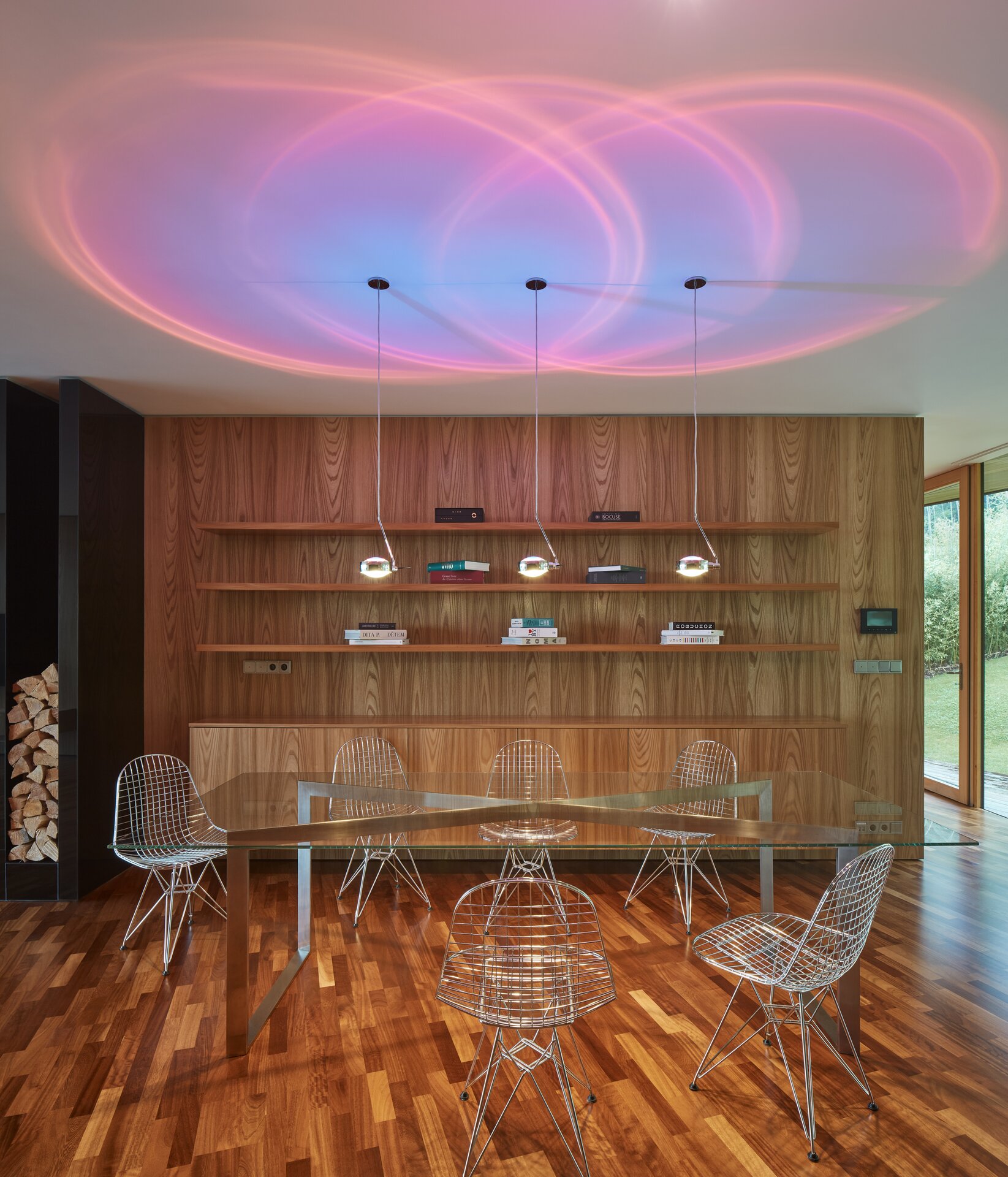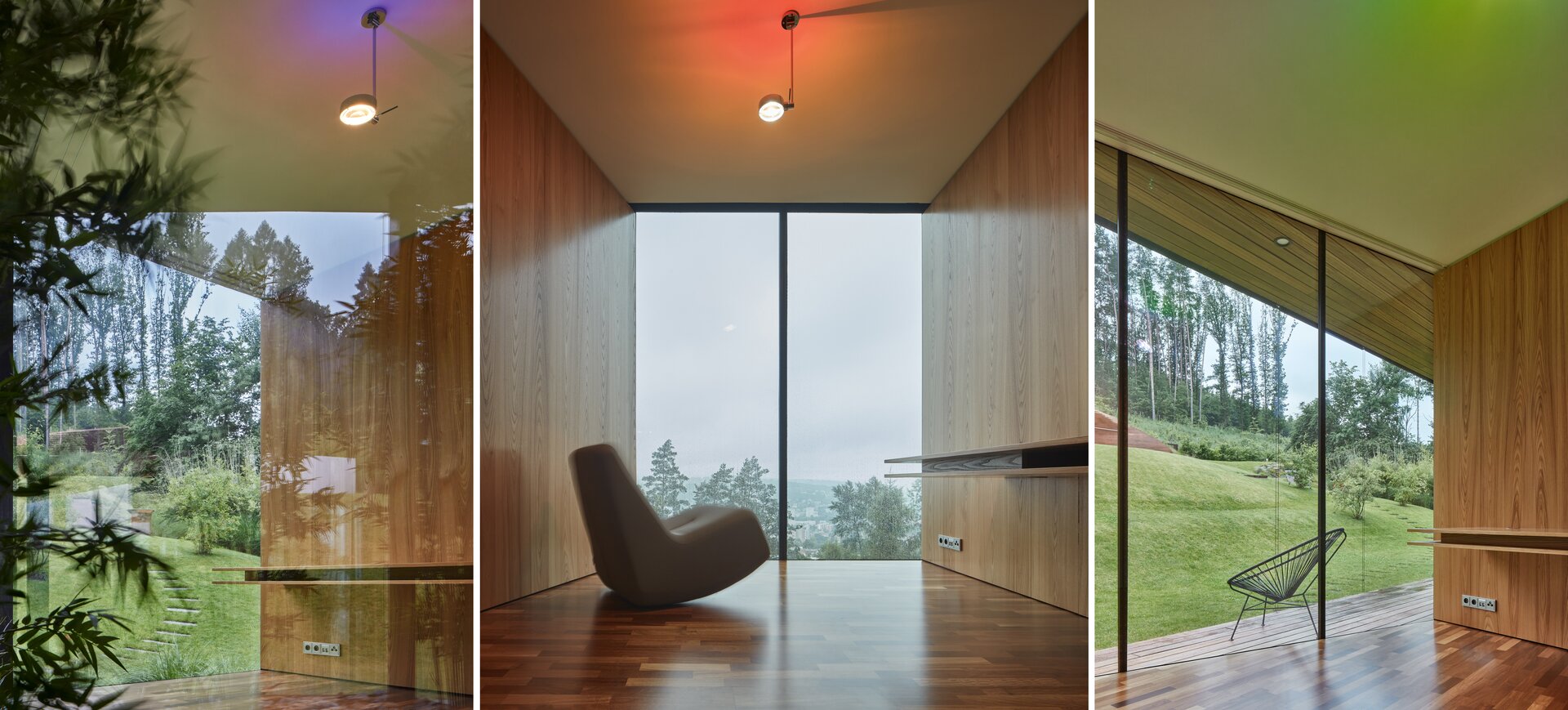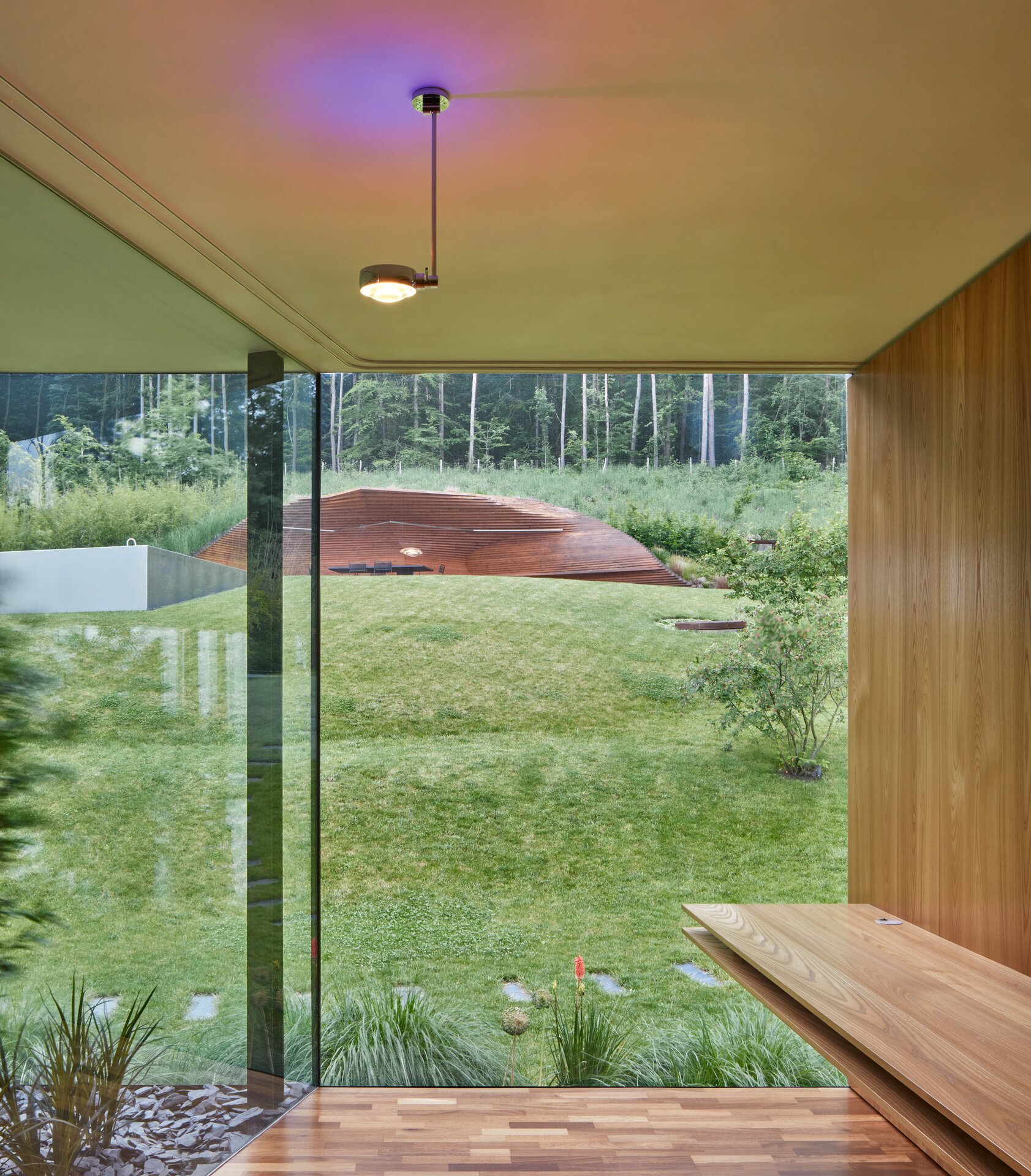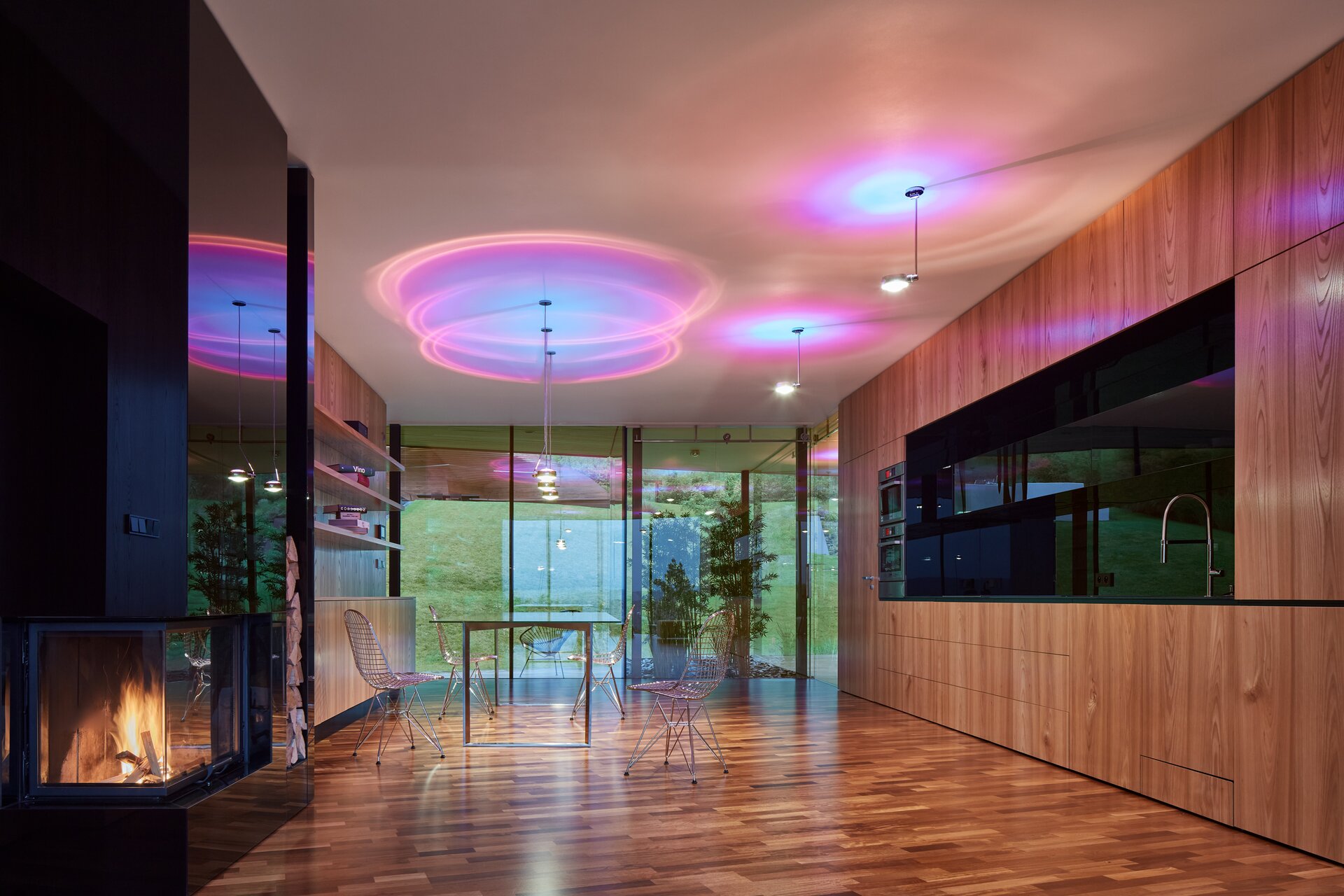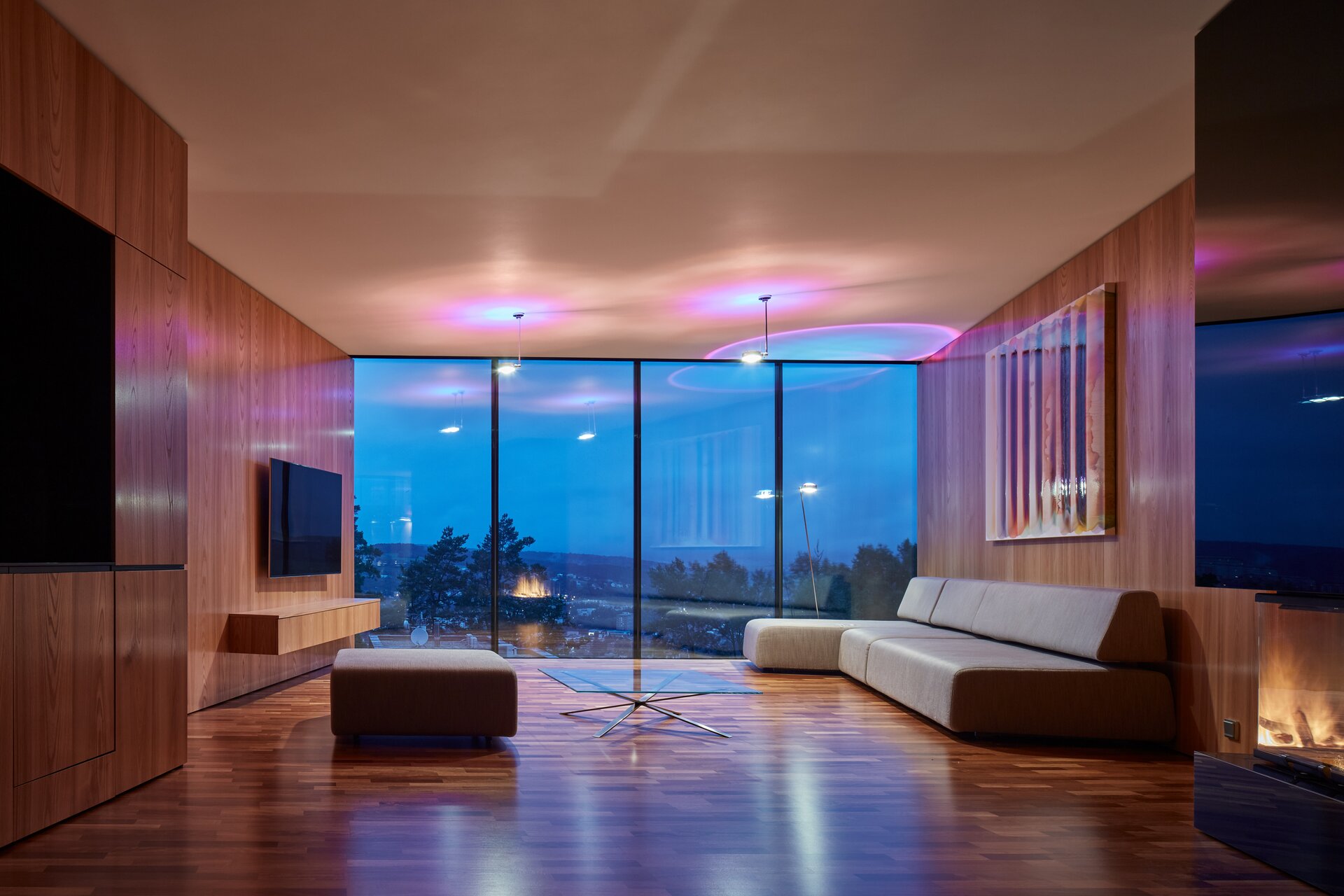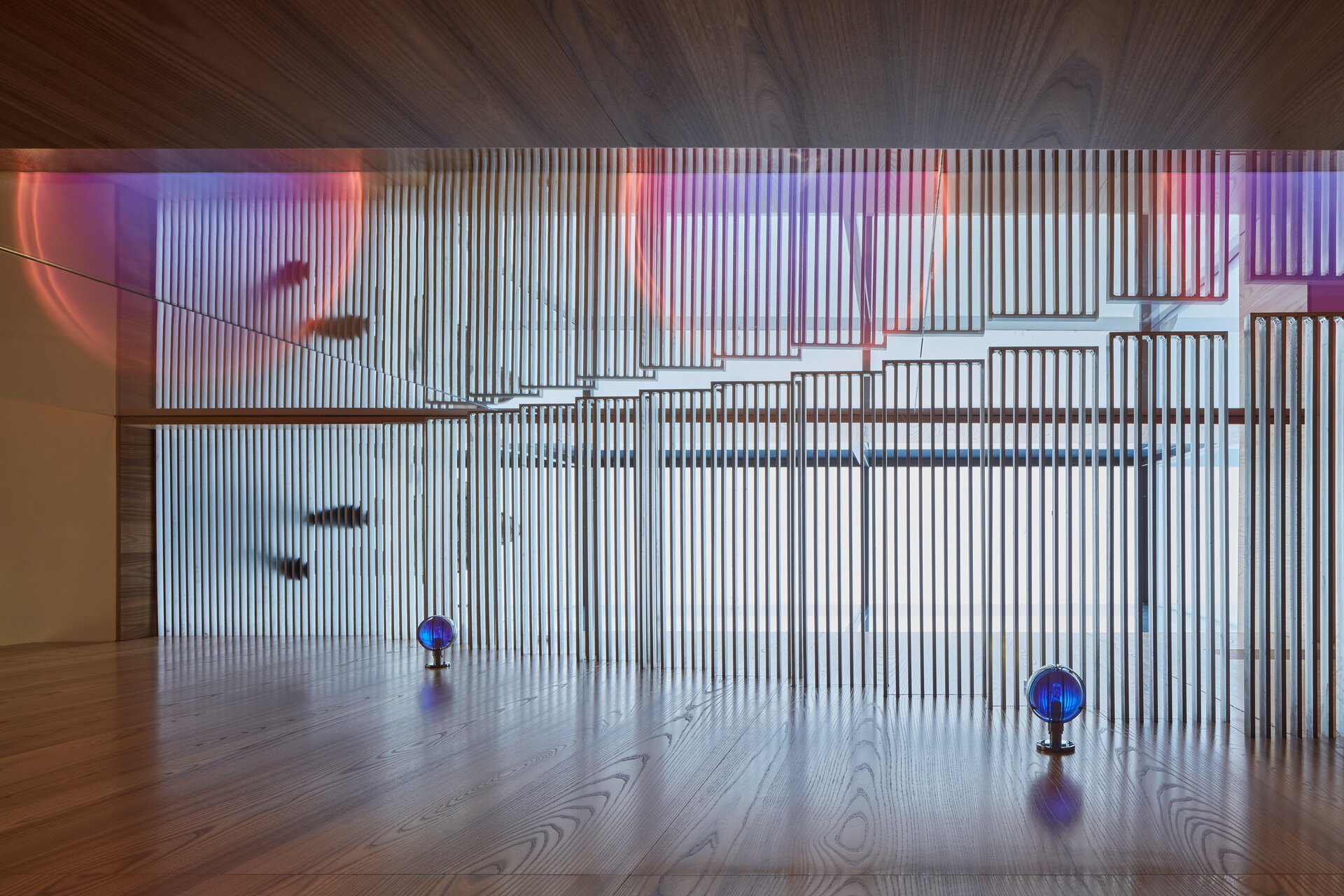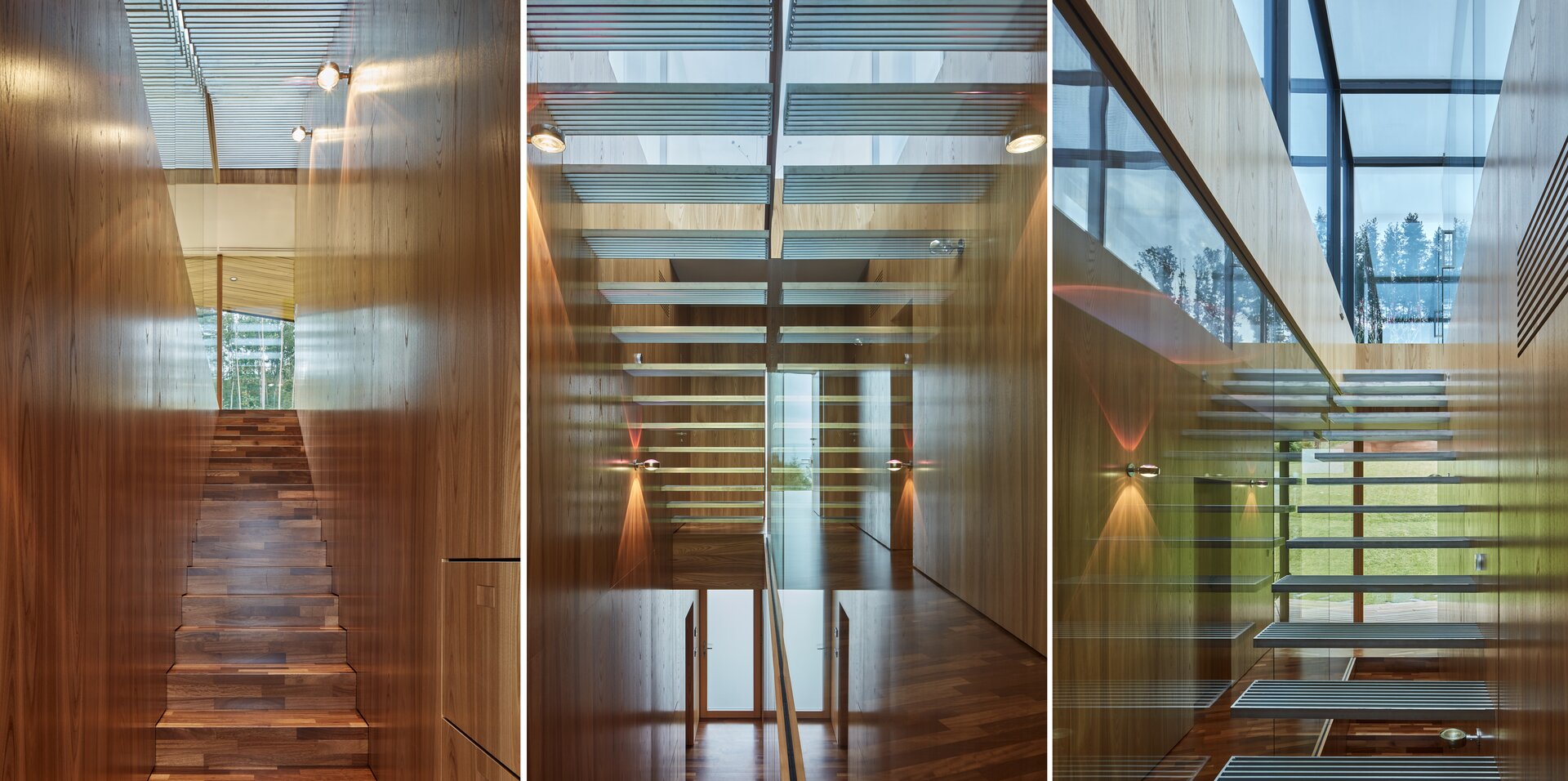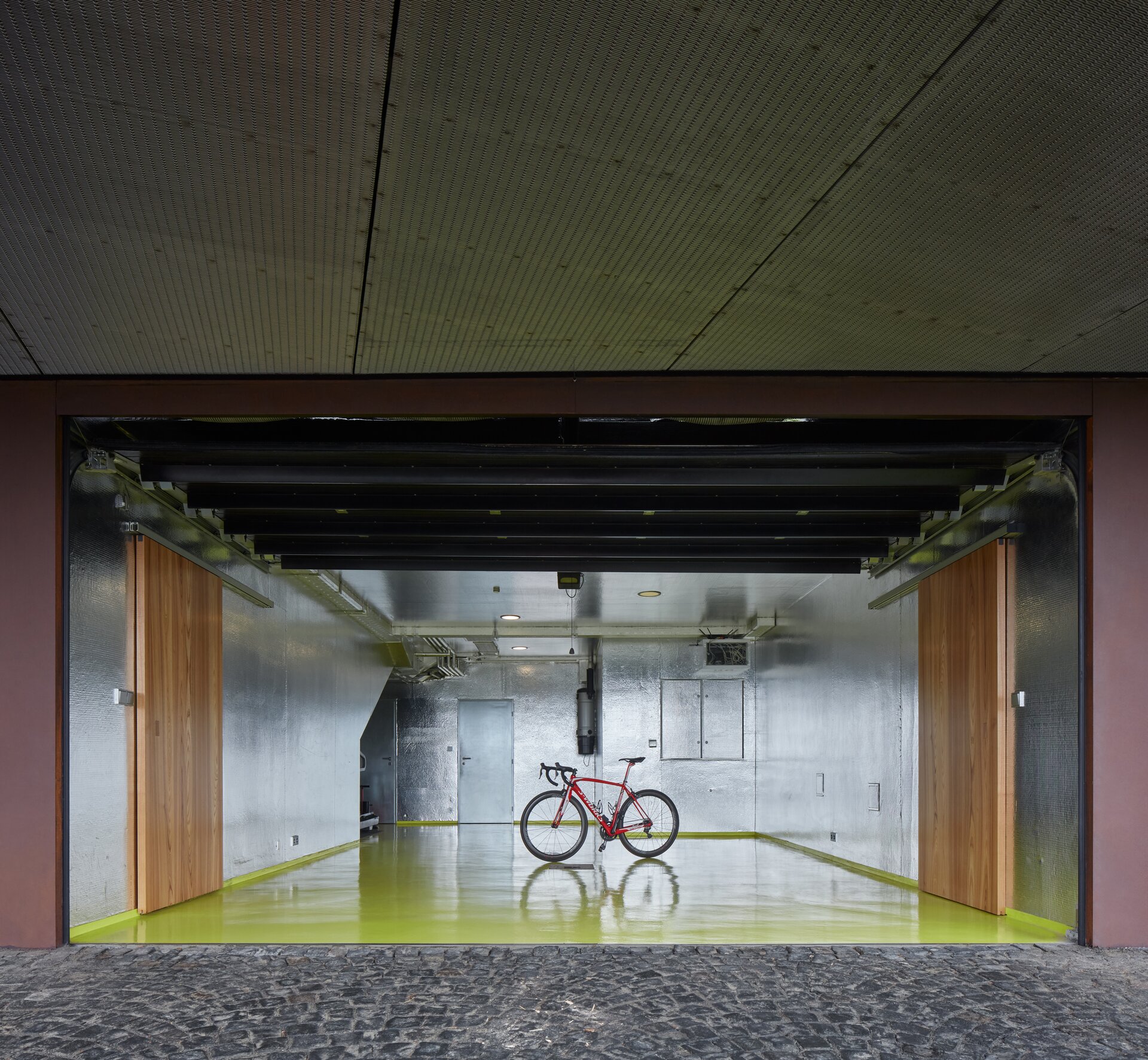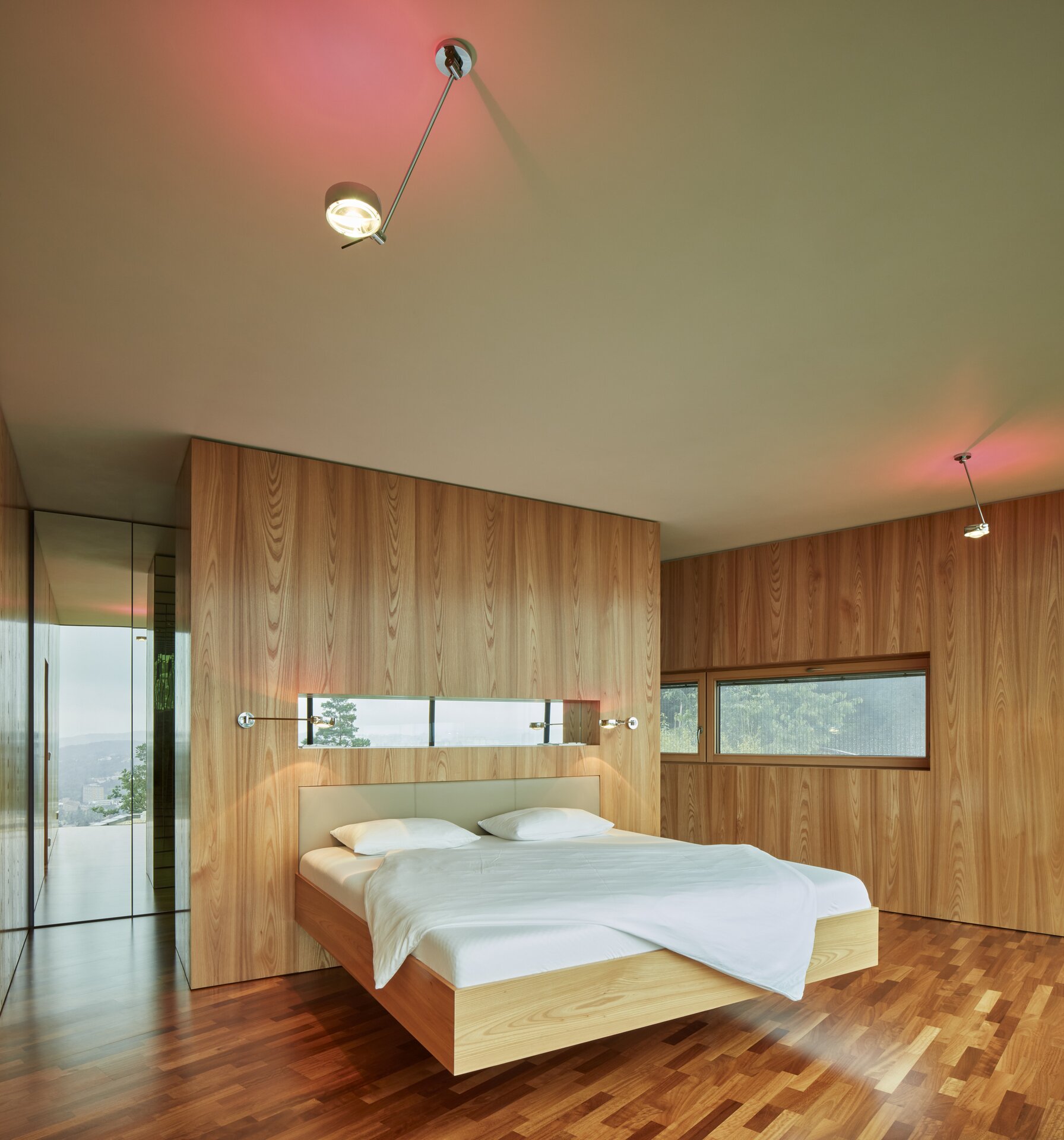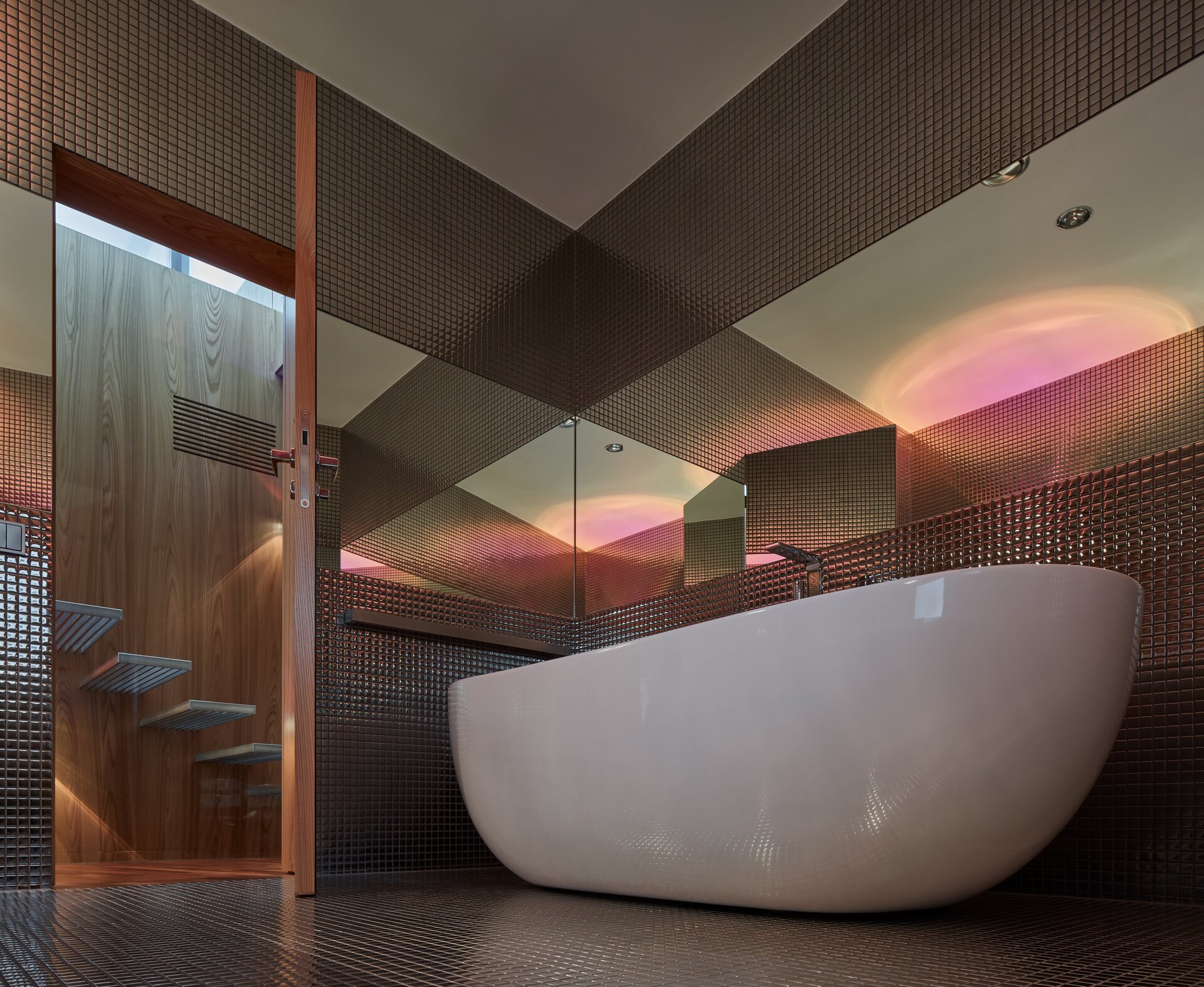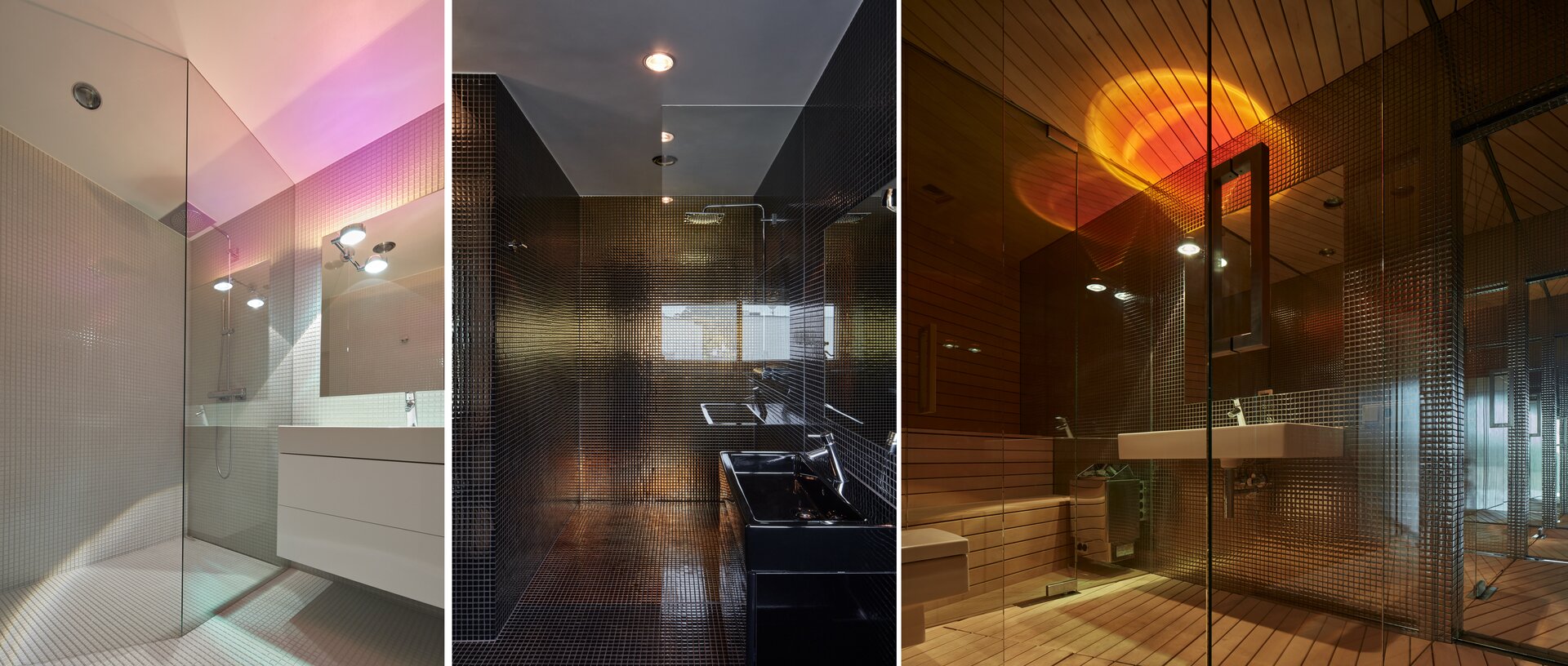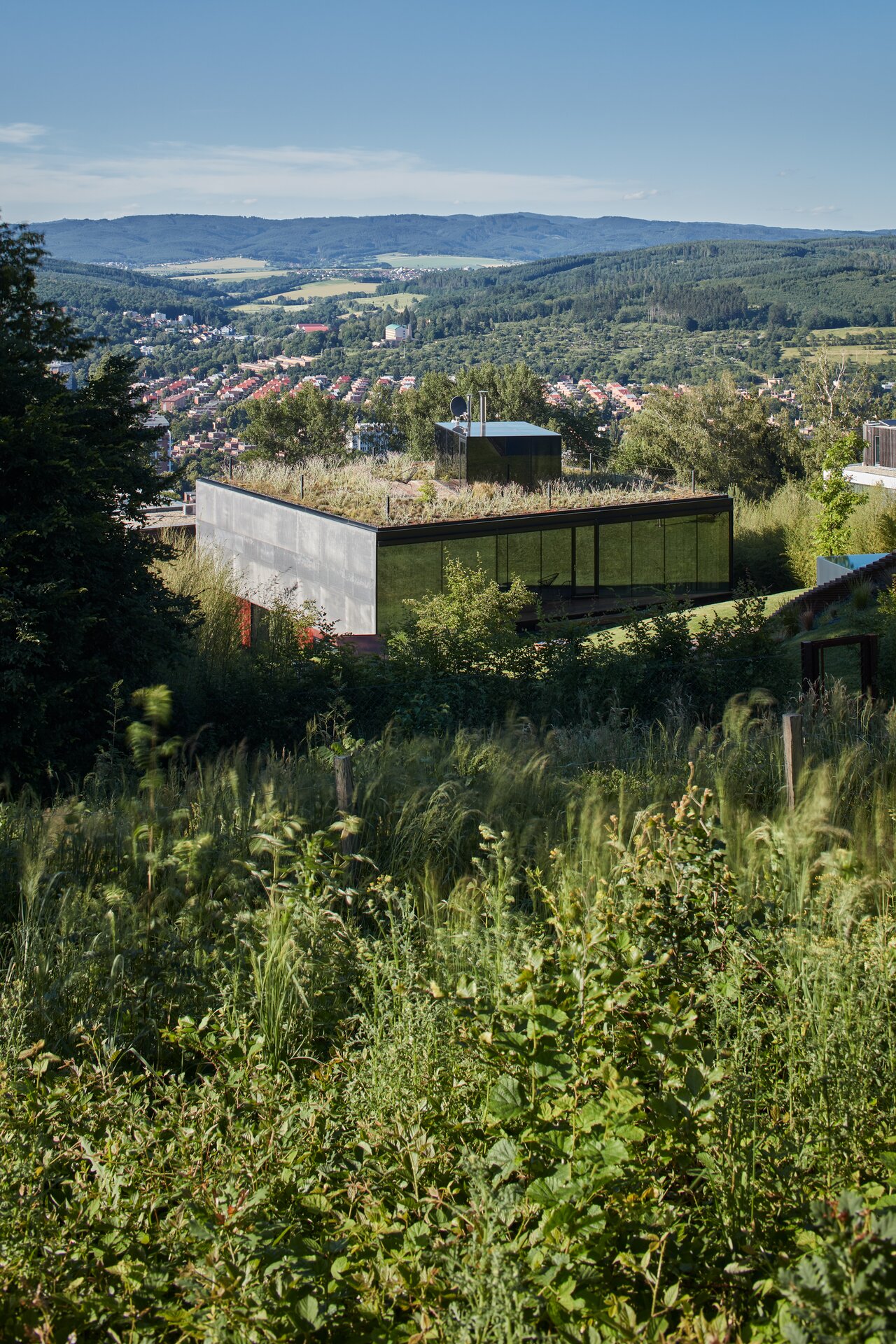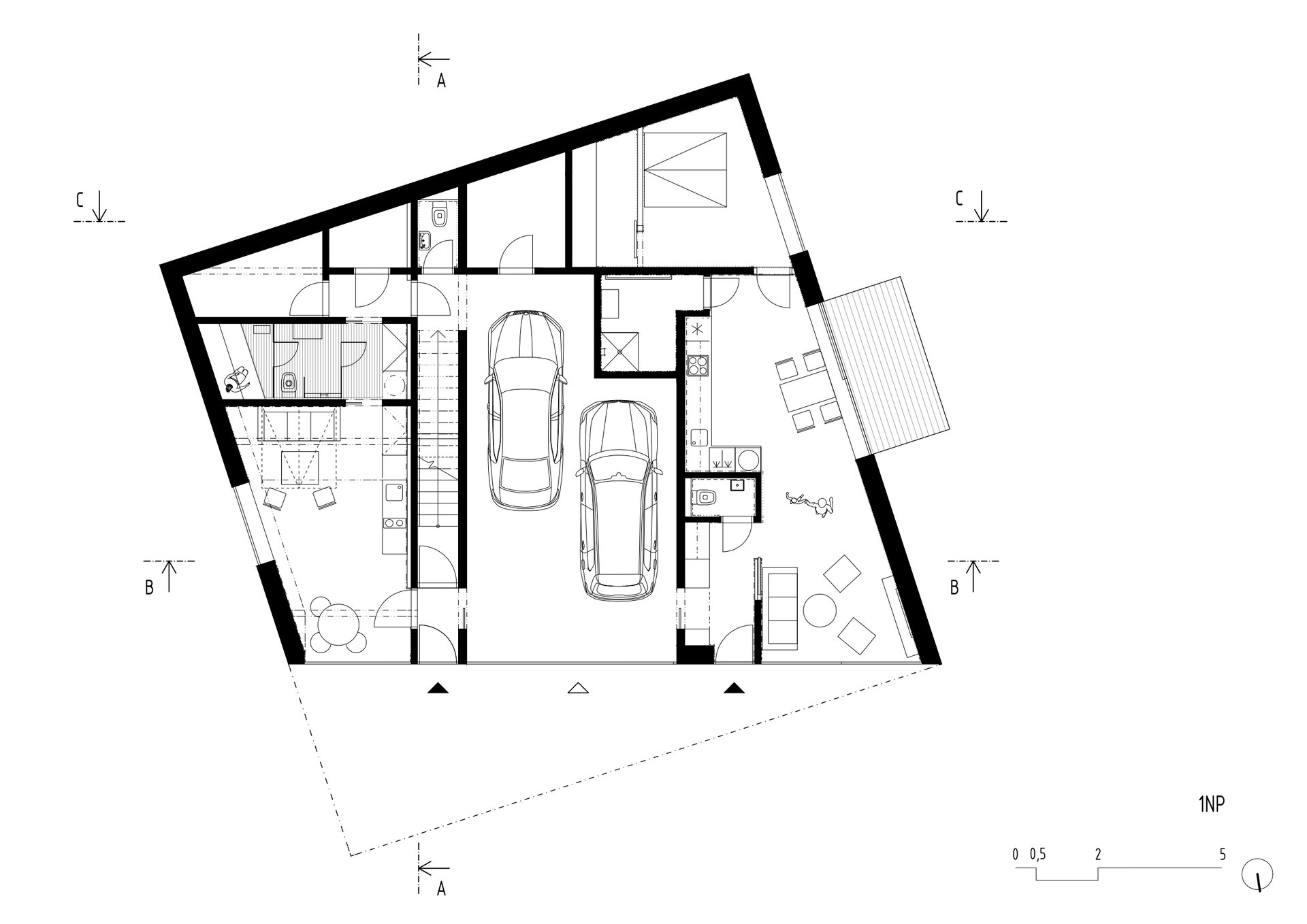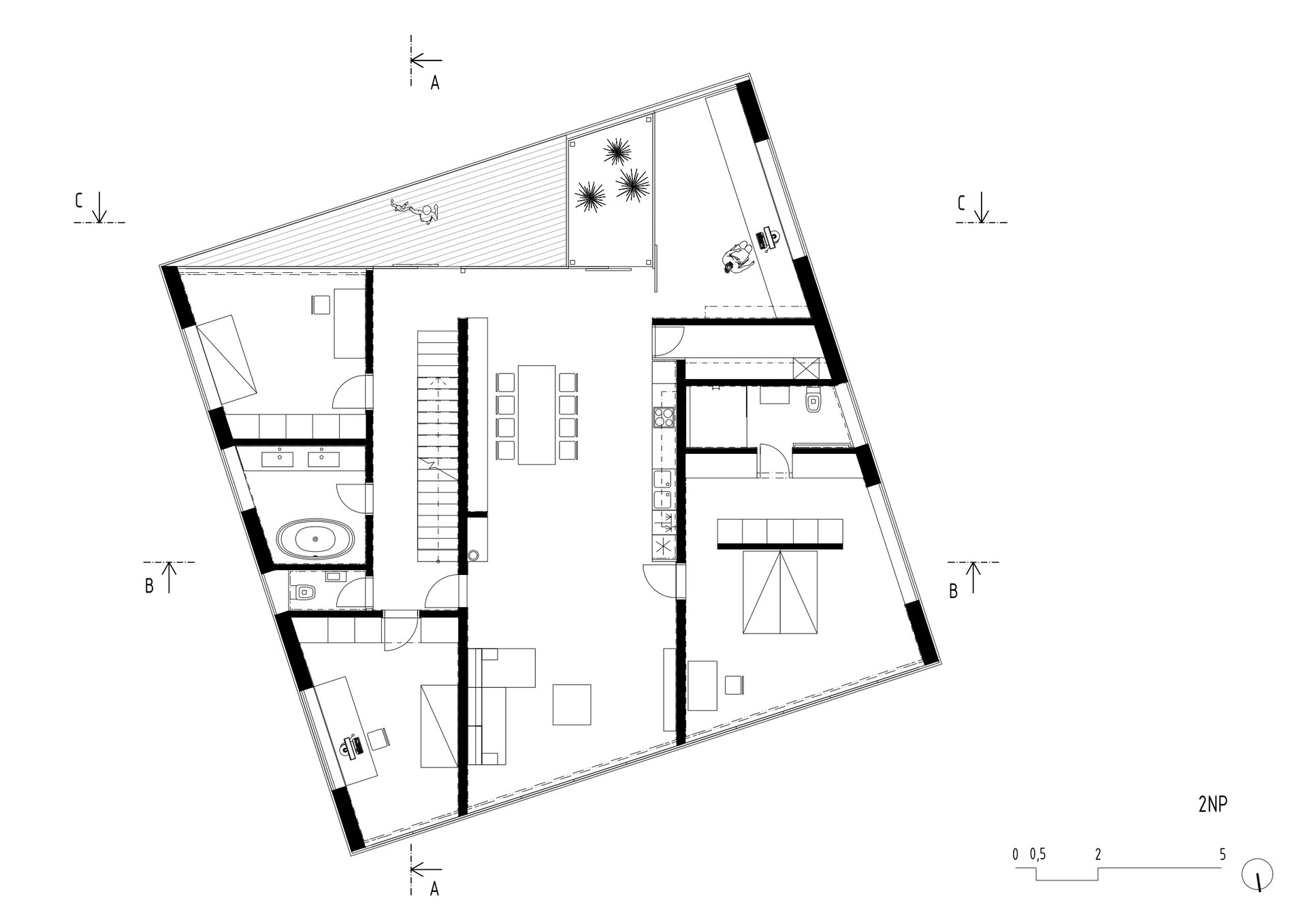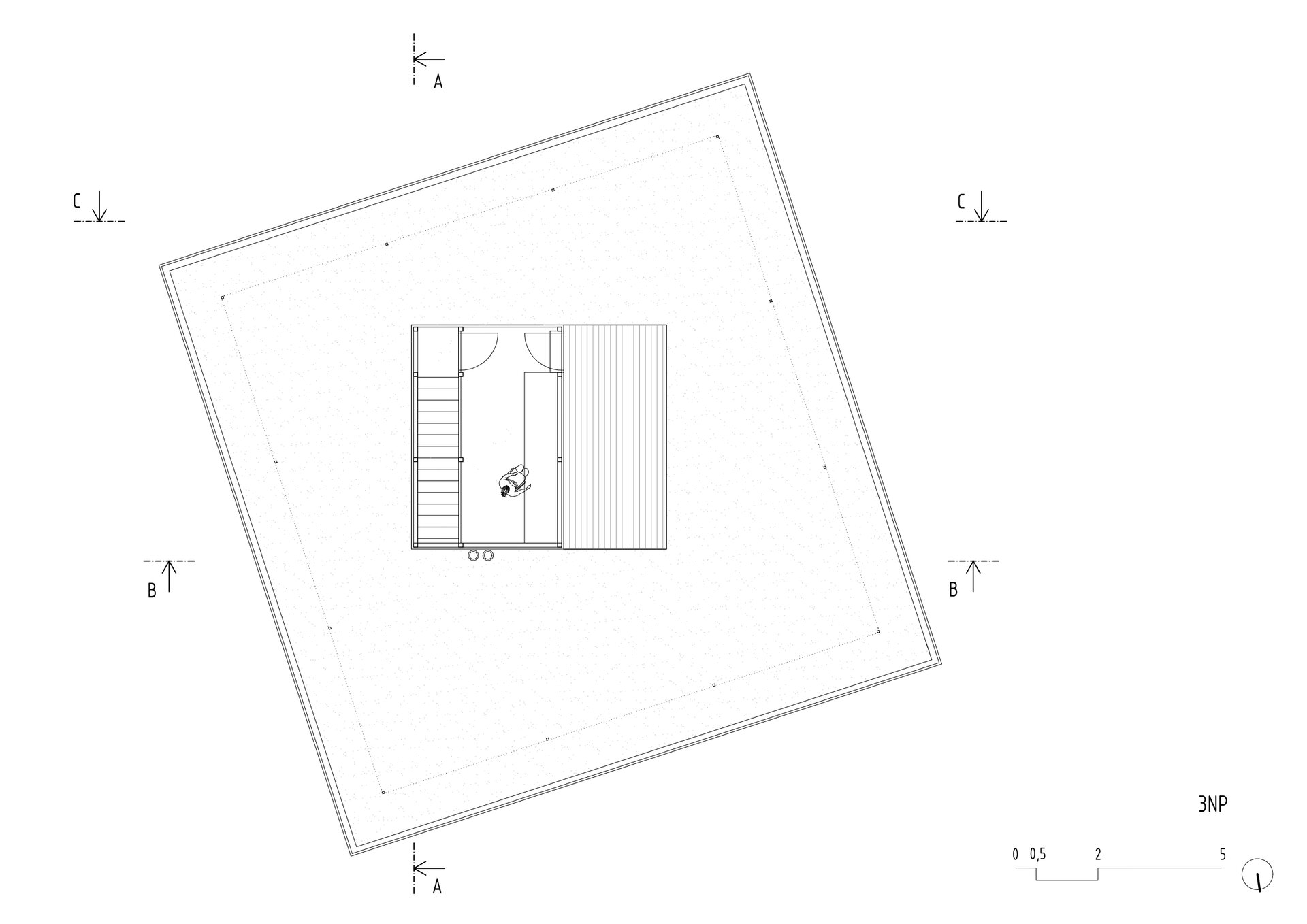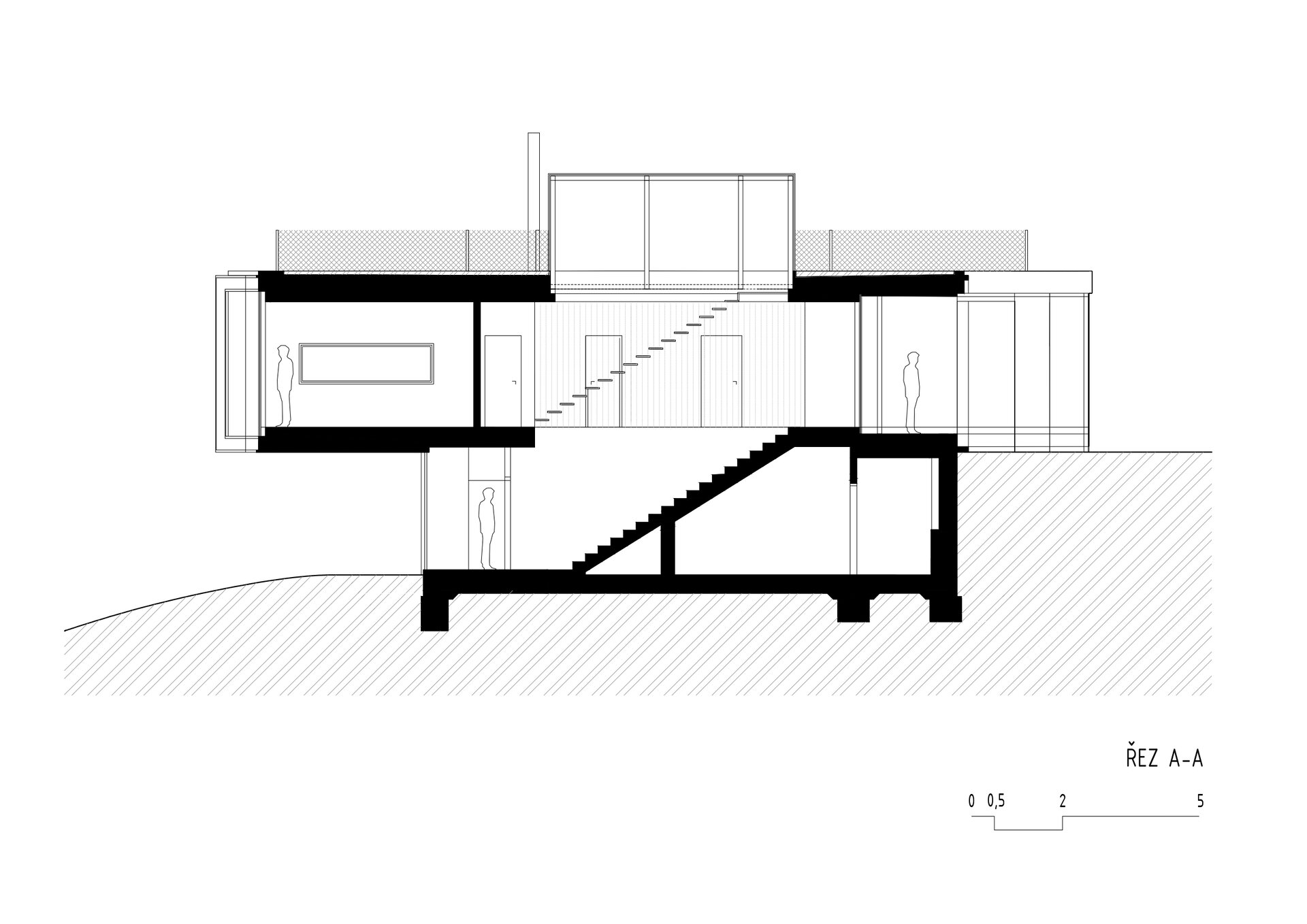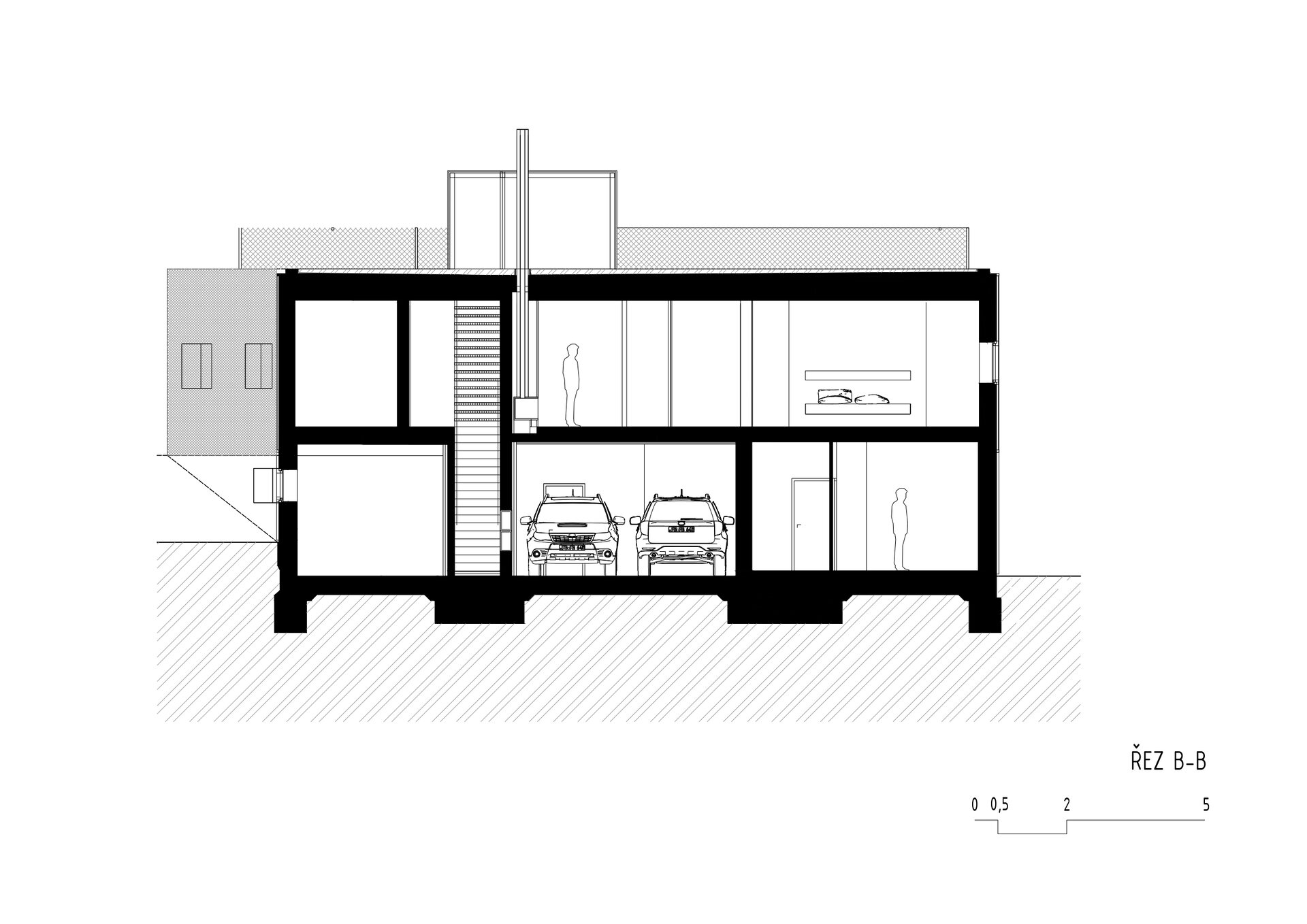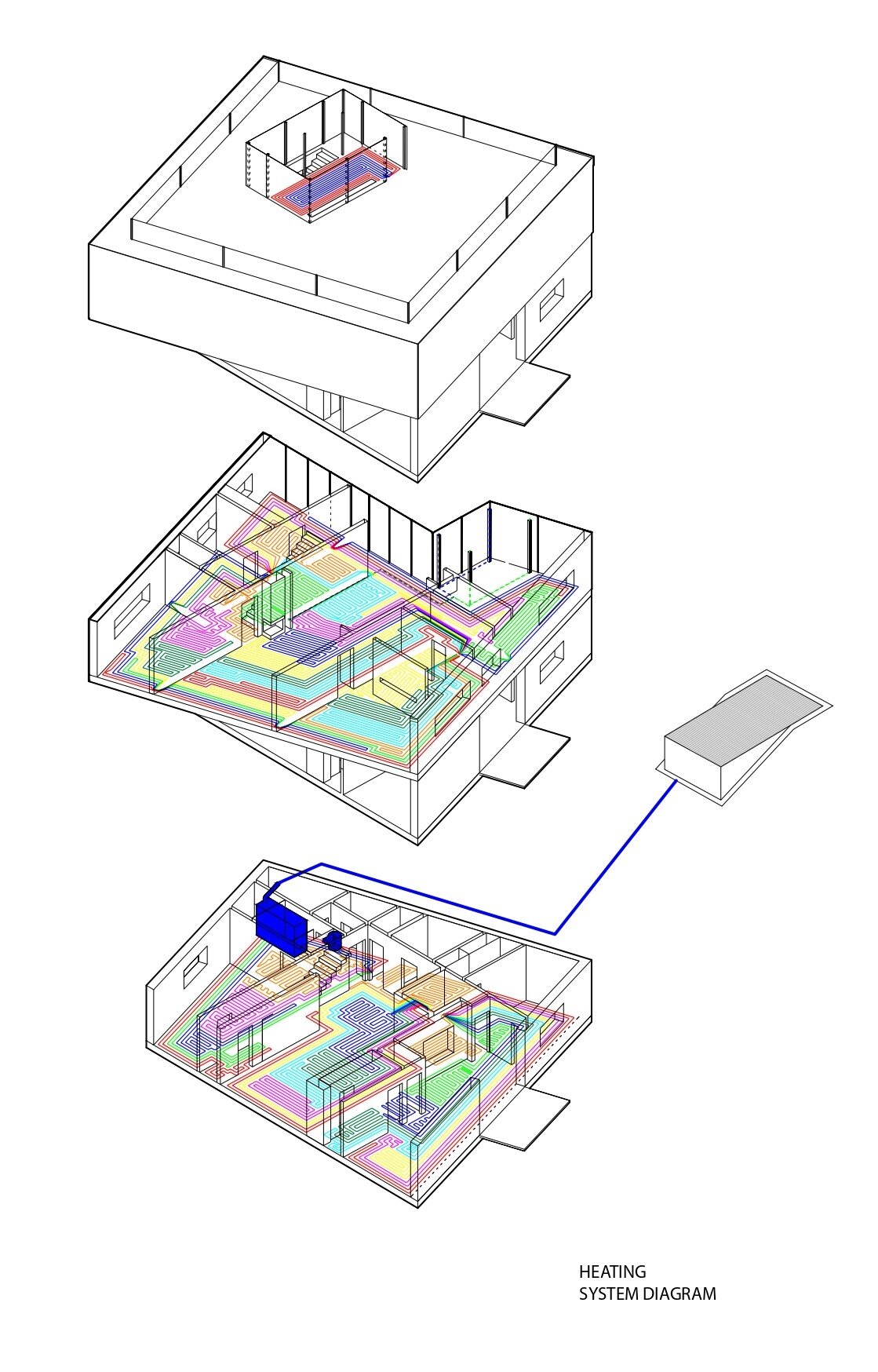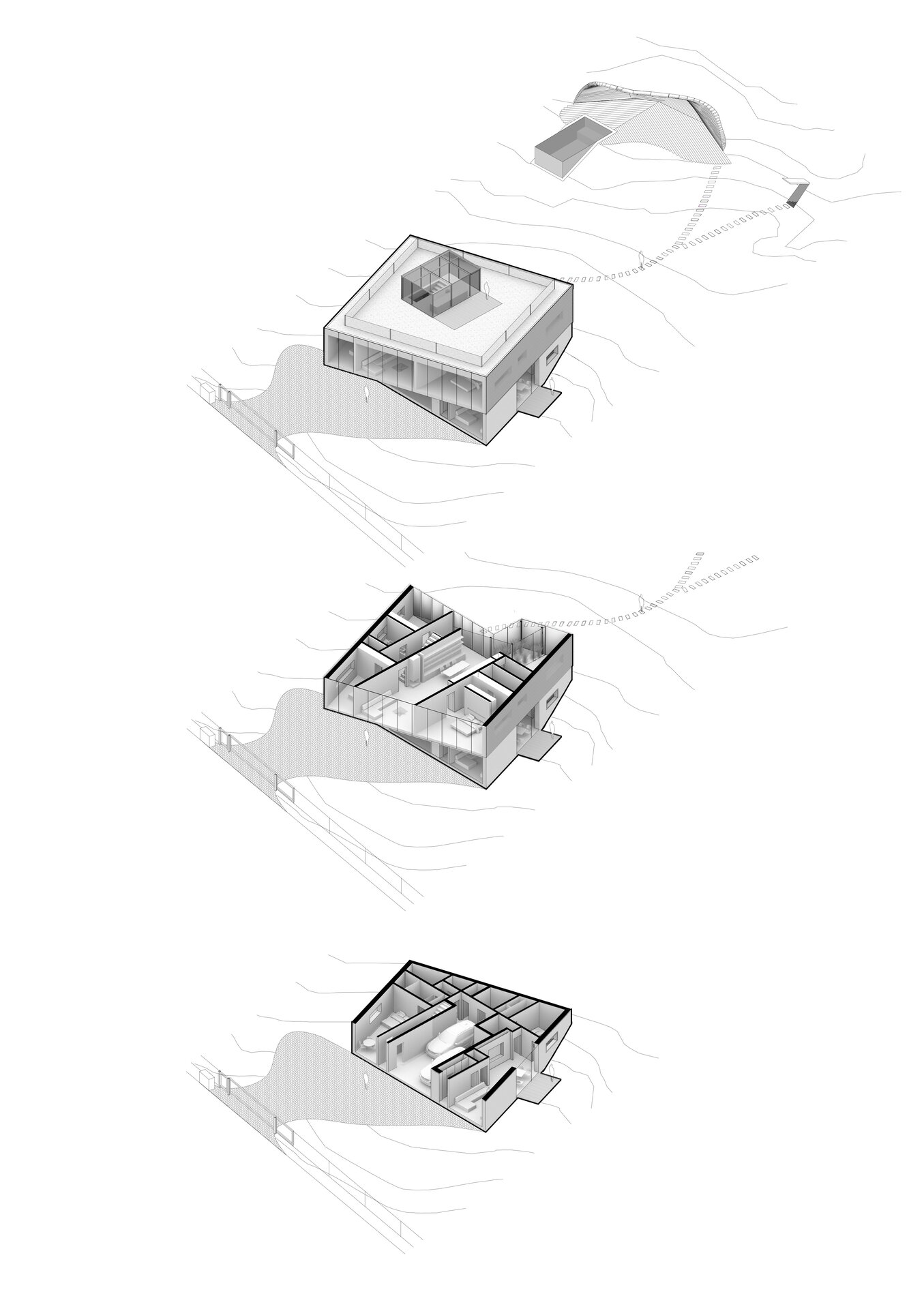 | | |
| --- | --- |
| Author | petrjanda / brainwork |
| Studio | |
| Location | Lazy VII 7121, 760 01 Zlín |
| Investor | neuvedeno |
| Supplier | neuvedeno |
| Date of project approval | January 2020 |
| Fotograf | |
The house is situated seemingly outside the context of Baťa's urbanism. However, the perception of Zlín defines the entire architectural concept through mutual visual contact. The composition is designed by a rotation of the interior layout; the exterior follows the contours of the surrounding houses, while the interior turns towards the city. The abstract metal exterior is balanced with the soft wooden interior with colourful accents of cast light that blend together. The living floor is visually connected to the sky by dematerialization through mirroring and moiré facades and "levitates" on the corten base set into the slope. The house is visually permeable (from the inside out) through its north and south facades, the east and west facades protect the privacy of the house from contact with neighbours and allow the view out and the sun in through the windows covered with stainless steel membrane. From above, the green roof with the glass-walled studio merges with the garden city.
The main living space is concentrated on the upper floor and can be seen through from the garden to the city. Thanks to the layout rotation, it was possible to arrange the rooms around the perimeter while maintaining privacy and their own views. The structure of the house consists of a reinforced concrete monolith insulated with high-performance thermal insulation in a layer corresponding to low-energy or passive buildings, visually faced with materials that naturally support the composition of the house. The lower floor contains a garage, a guest apartment with terrace, sauna and technical equipment. The garden flows around the house, ascends to the cellar and culminates in a grotto sunk in the terrain above the terrace with a swimming pool. The technological solution uses heat pump with two earth boreholes and low-temperature heating and air conditioning with recuperation, distributed through almost invisible slits in the edges where the floors meet the floor-to-ceiling windows.
Green building
Environmental certification
| | |
| --- | --- |
| Type and level of certificate | - |
Water management
| | |
| --- | --- |
| Is rainwater used for irrigation? | |
| Is rainwater used for other purposes, e.g. toilet flushing ? | |
| Does the building have a green roof / facade ? | |
| Is reclaimed waste water used, e.g. from showers and sinks ? | |
The quality of the indoor environment
| | |
| --- | --- |
| Is clean air supply automated ? | |
| Is comfortable temperature during summer and winter automated? | |
| Is natural lighting guaranteed in all living areas? | |
| Is artificial lighting automated? | |
| Is acoustic comfort, specifically reverberation time, guaranteed? | |
| Does the layout solution include zoning and ergonomics elements? | |
Principles of circular economics
| | |
| --- | --- |
| Does the project use recycled materials? | |
| Does the project use recyclable materials? | |
| Are materials with a documented Environmental Product Declaration (EPD) promoted in the project? | |
| Are other sustainability certifications used for materials and elements? | |
Energy efficiency
| | |
| --- | --- |
| Energy performance class of the building according to the Energy Performance Certificate of the building | A |
| Is efficient energy management (measurement and regular analysis of consumption data) considered? | |
| Are renewable sources of energy used, e.g. solar system, photovoltaics? | |
Interconnection with surroundings
| | |
| --- | --- |
| Does the project enable the easy use of public transport? | |
| Does the project support the use of alternative modes of transport, e.g cycling, walking etc. ? | |
| Is there access to recreational natural areas, e.g. parks, in the immediate vicinity of the building? | |