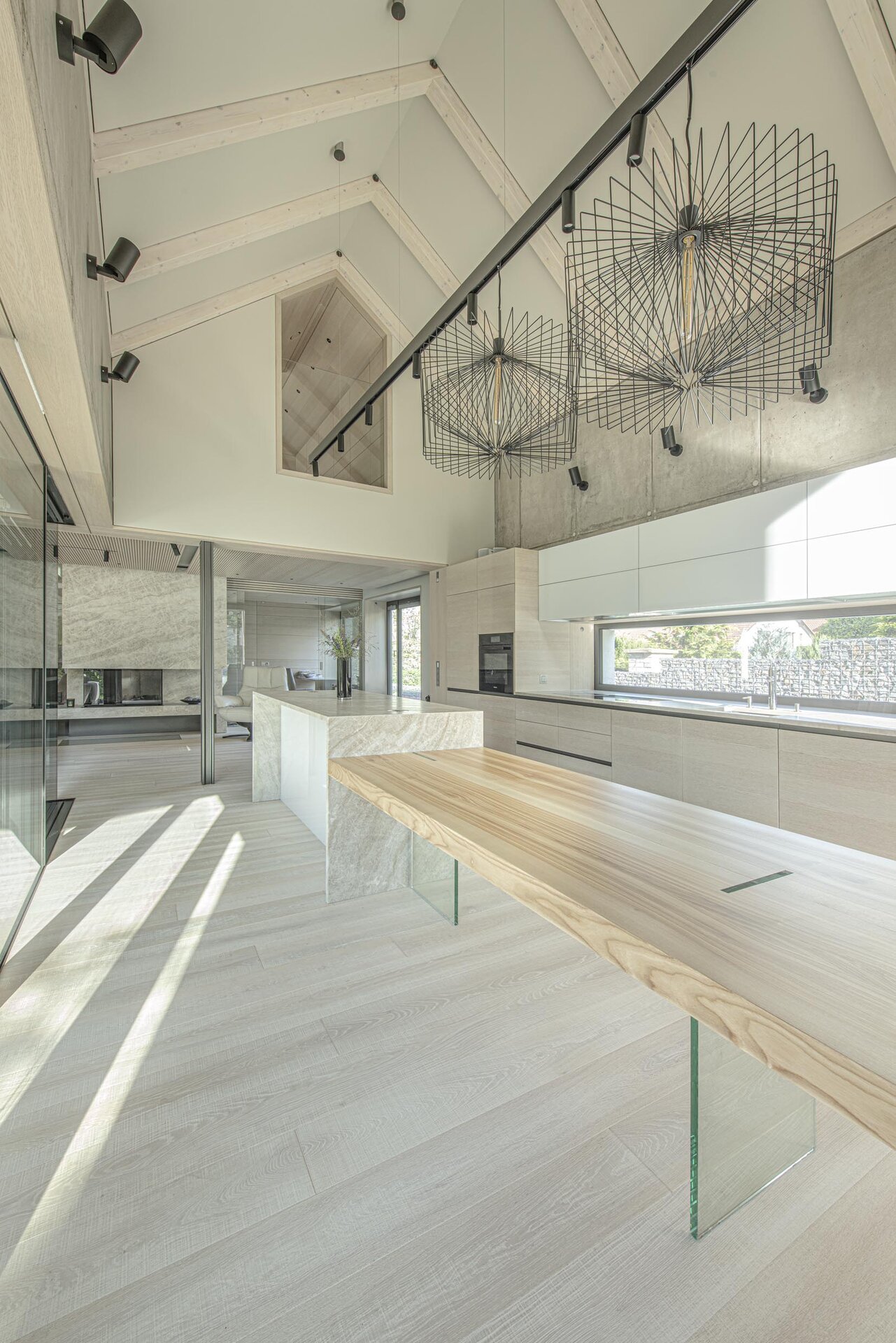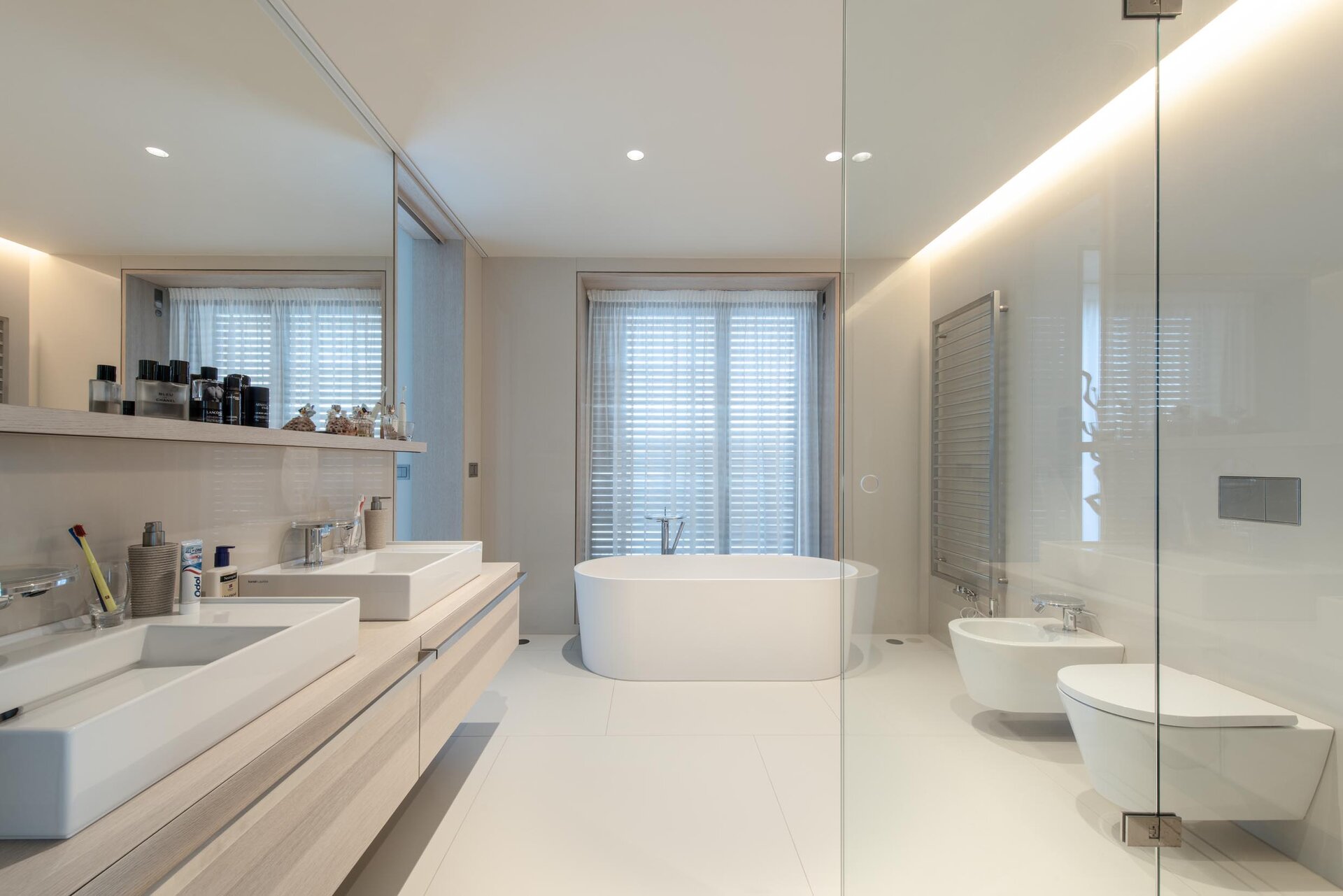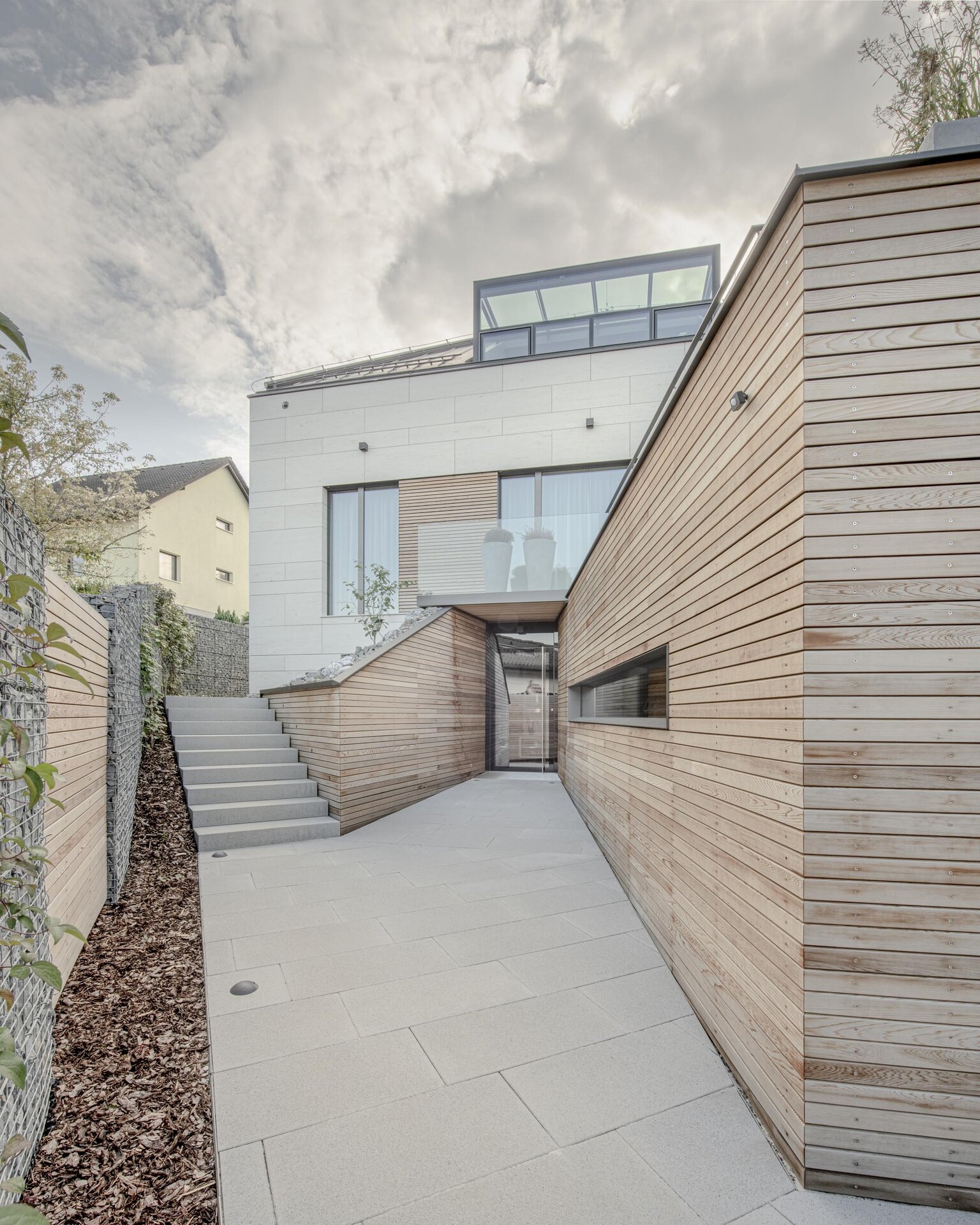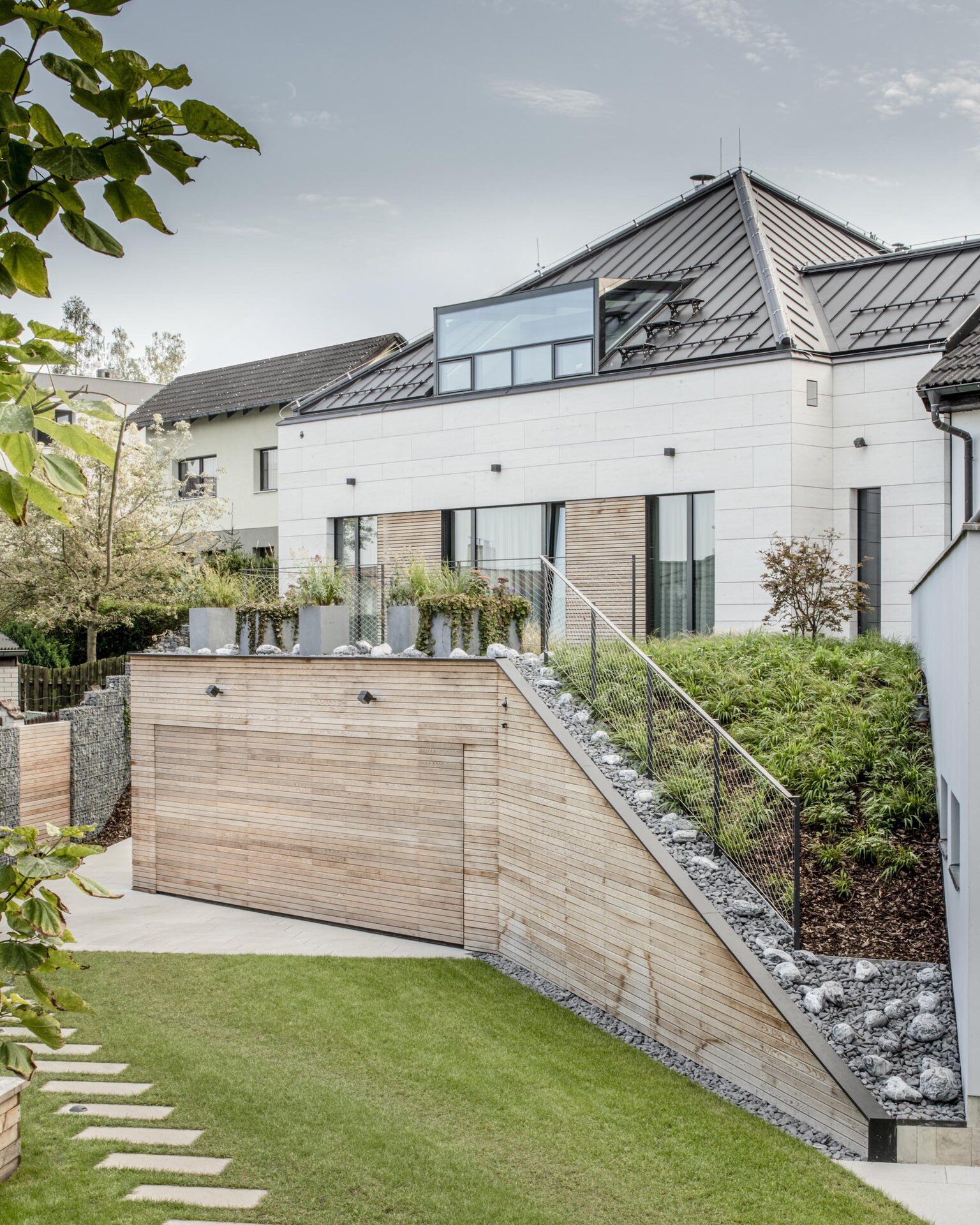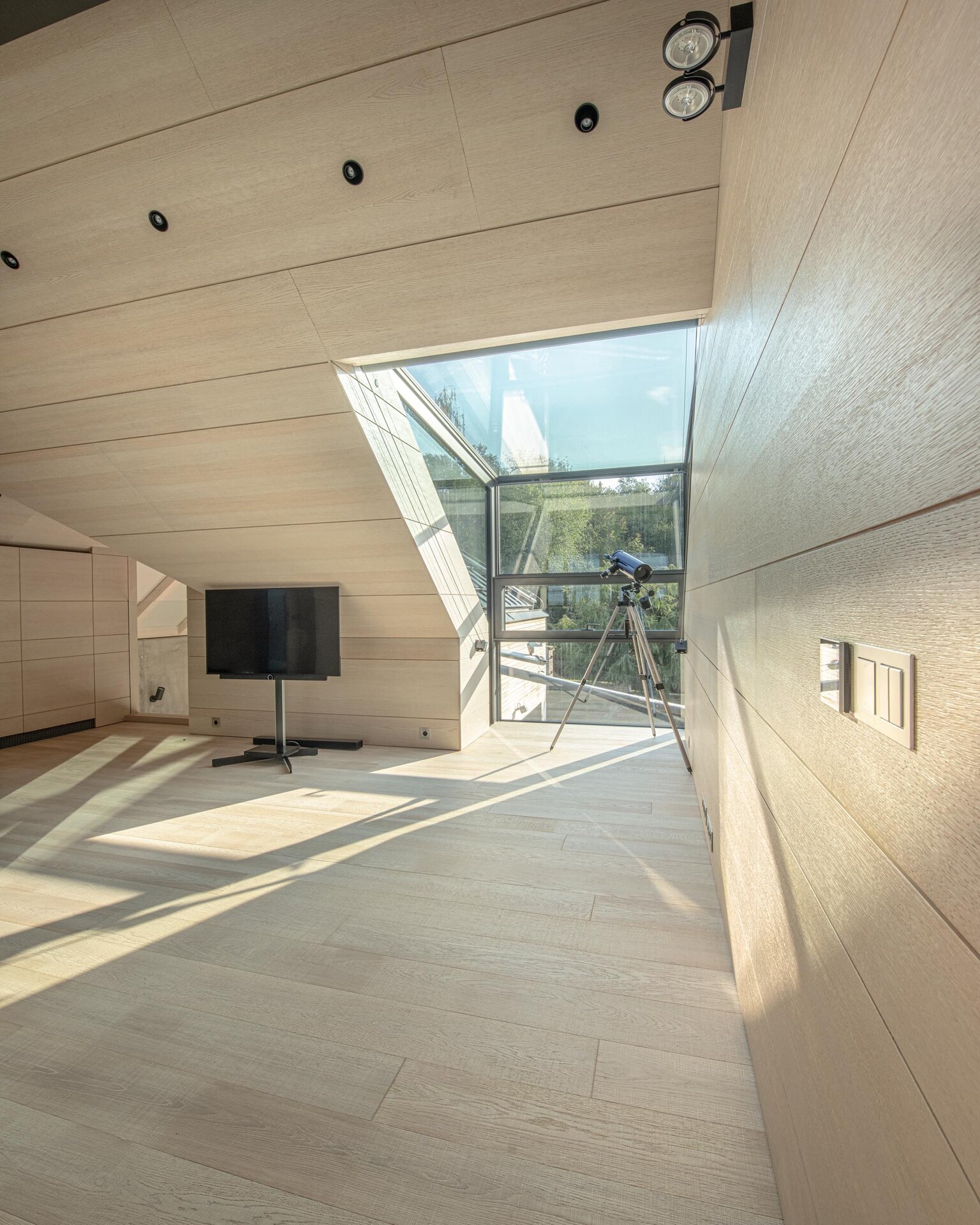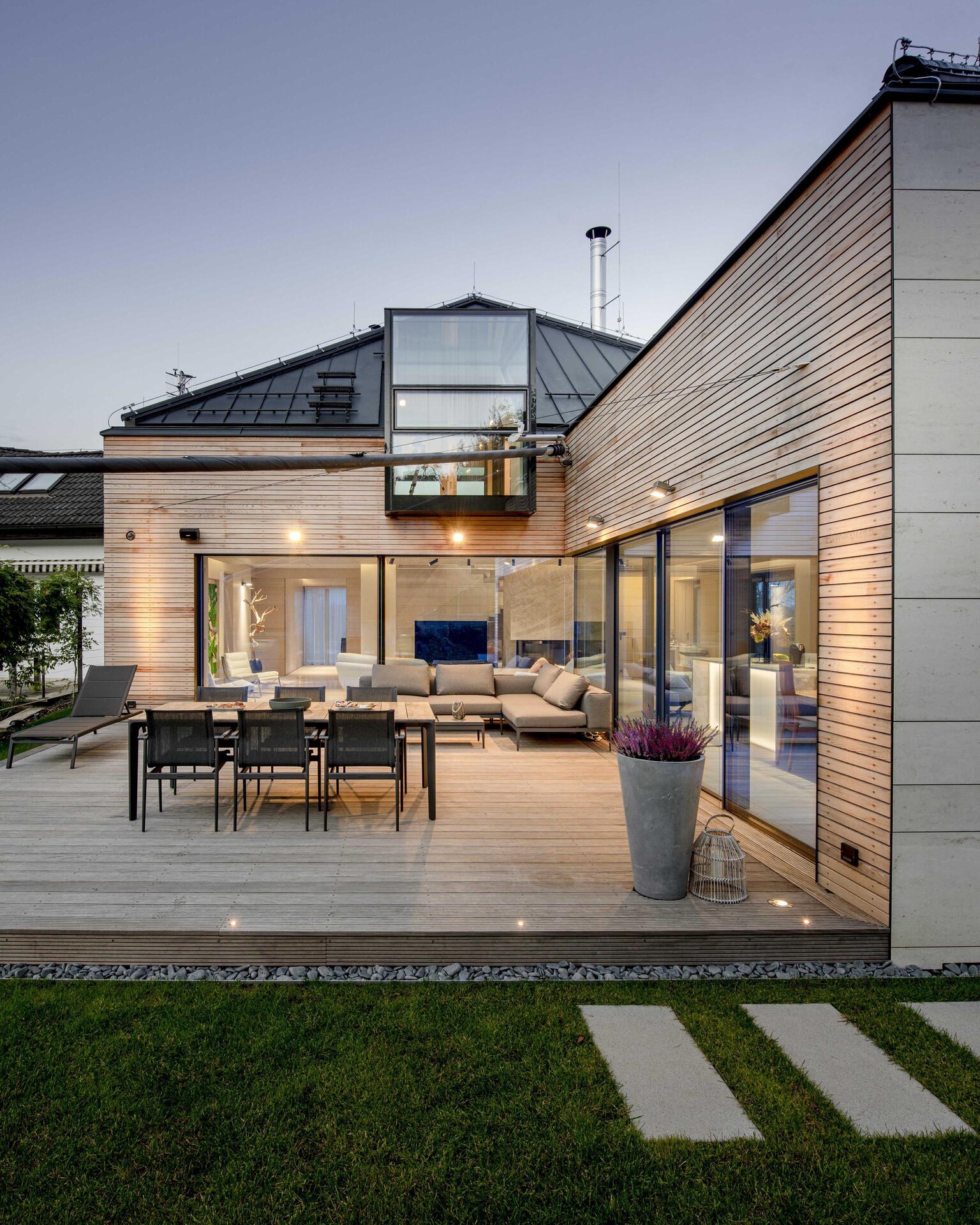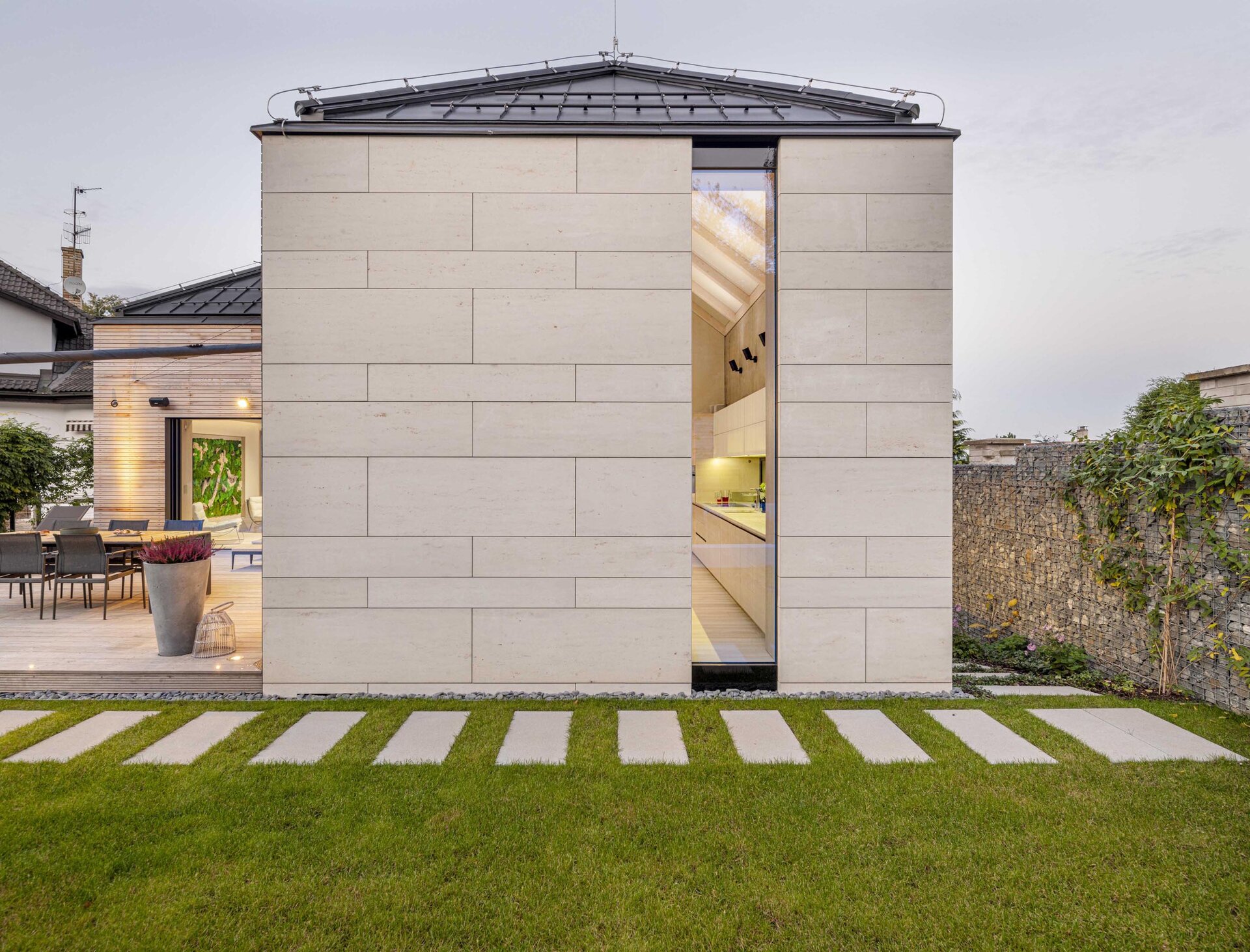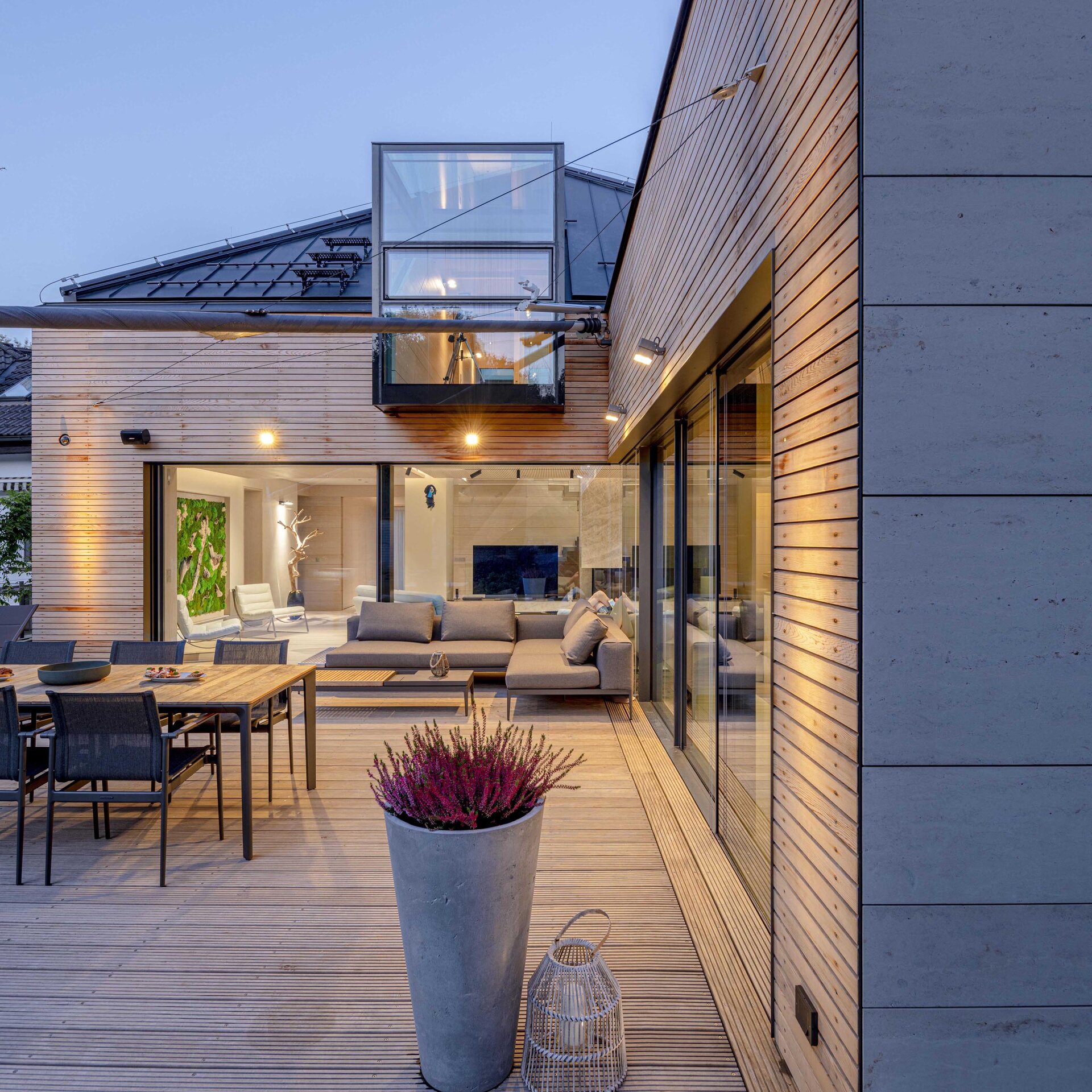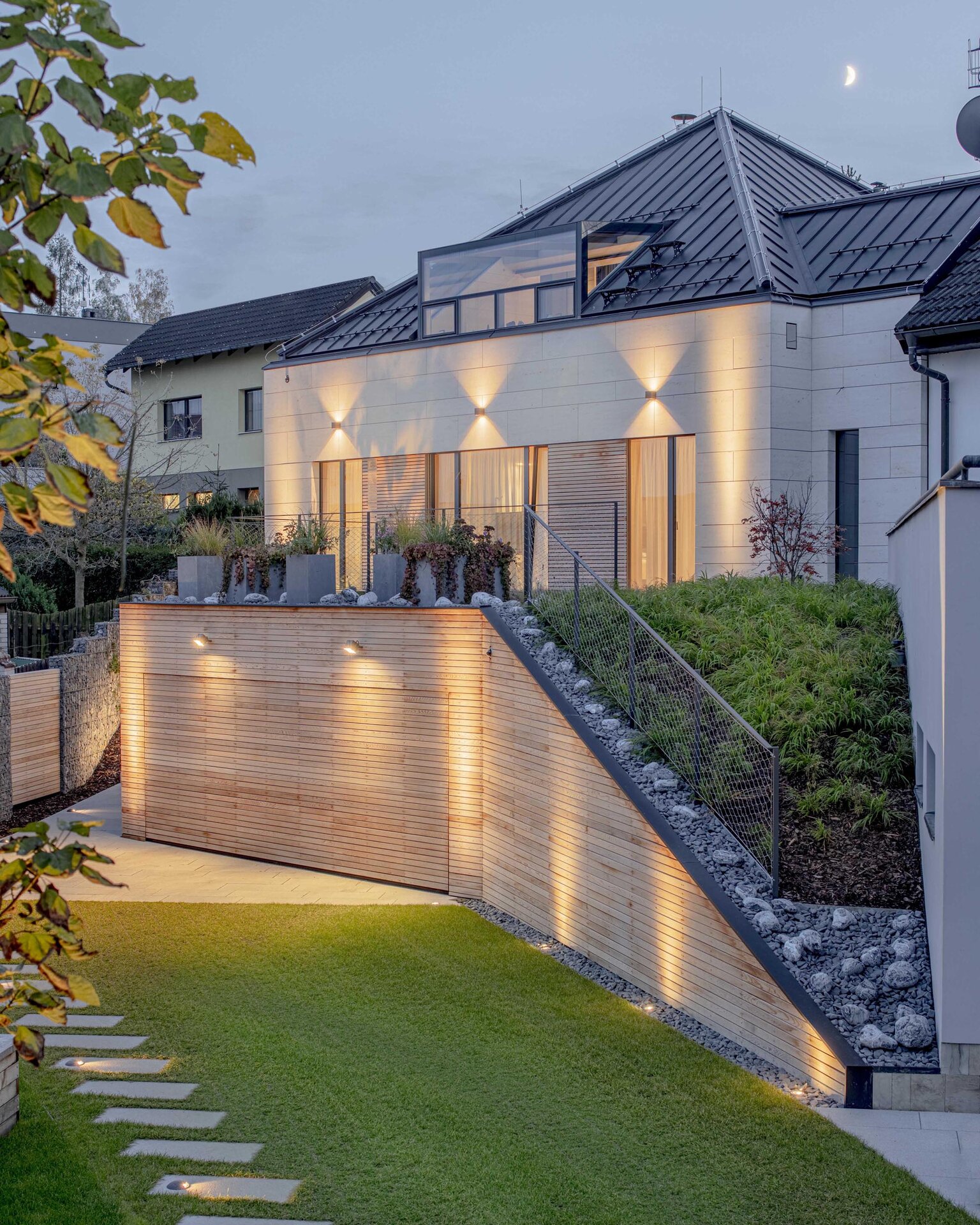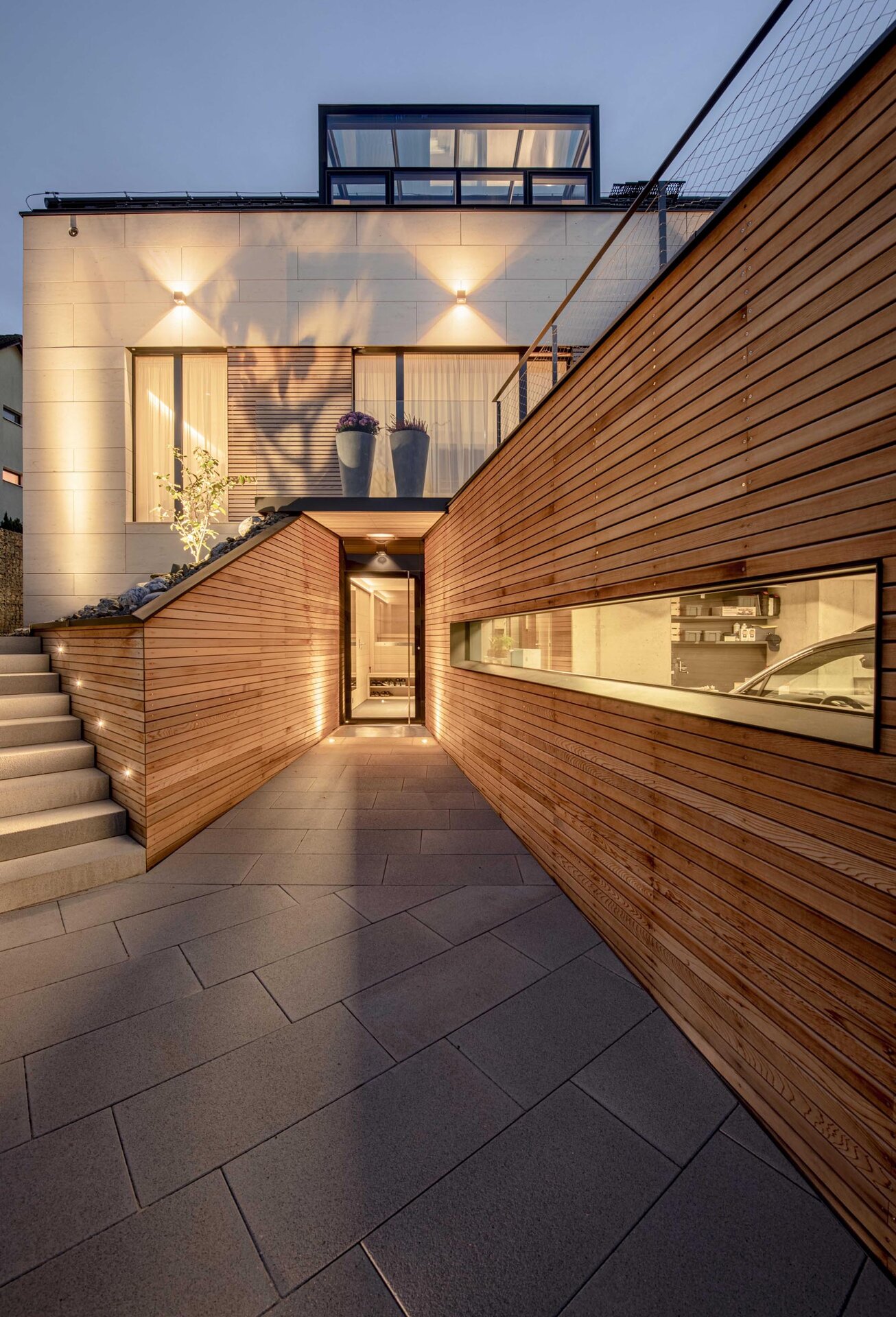 Author
ing. arch. Tadeáš Matoušek, ing. arch. Veronika Matoušek Müllerová / MXM ARCHITEKTI
Studio
Location
Lokalita v blízkosti Prahy
Dle přání klienta přesná adresa není uvedena
Investor
Jméno investora dle jeho přání není uvedeno
Supplier
Redrock s.r.o
Date of project approval
September 2020
Fotograf
The original building limited by its unsatisfactory layout, clear floor heights, and window sizes. Additions have an open dining room and a double garage with wood facade and a green roof. The new staircase in the center of the building and the lightening of the garden facade of the living space with glass brought a great impulse to the disposition. Steel columns, concrete and adorn truss cladding became part of the interior with integrated storage spaces and atypical doors. Lightened wood runs throughout the interior. A significant element of the roof are two all-glass dormers, thanks to daylight in the attic, create the atmosphere of the atelier, feeling of the exterior. The basement with technology and garage contains a living unit. On the ground floor, the main living area connected to the dining room is fully open to the garden. The master bedroom suite room uses a link to the green roof of the garage. The attic contains mainly a bright living area with a view of the dining room.
New technologies were used - a heat pump with ground drilling in combination with underfloor heating and cooled ceilings combined with an acoustic function. Heavy floating floors are covered with multi-layer floorboards. A screen system for shading glazed parts of facades is used in combination with sliding steel-wood panels. In the center of the house is a panoramic fireplace with a stone bench. The construction of the extensions is made of visible monolithic reinforced concrete, steel columns, beams and part of the ceilings allowed for extensive layout modifications and opening with glazed facades to the garden.The new surface of the facades used wood in combination with a suspended cladding made of blasted light natural stone. The insulated roof structure is covered with a black - gray Al - sheet metal. Areas of the garden with a concrete water feature and a new street monolithic fencing have also been revitalized. The existing fence of the neighboring land was covered with gabion.
Green building
Environmental certification
| | |
| --- | --- |
| Type and level of certificate | - |
Water management
| | |
| --- | --- |
| Is rainwater used for irrigation? | |
| Is rainwater used for other purposes, e.g. toilet flushing ? | |
| Does the building have a green roof / facade ? | |
| Is reclaimed waste water used, e.g. from showers and sinks ? | |
The quality of the indoor environment
| | |
| --- | --- |
| Is clean air supply automated ? | |
| Is comfortable temperature during summer and winter automated? | |
| Is natural lighting guaranteed in all living areas? | |
| Is artificial lighting automated? | |
| Is acoustic comfort, specifically reverberation time, guaranteed? | |
| Does the layout solution include zoning and ergonomics elements? | |
Principles of circular economics
| | |
| --- | --- |
| Does the project use recycled materials? | |
| Does the project use recyclable materials? | |
| Are materials with a documented Environmental Product Declaration (EPD) promoted in the project? | |
| Are other sustainability certifications used for materials and elements? | |
Energy efficiency
| | |
| --- | --- |
| Energy performance class of the building according to the Energy Performance Certificate of the building | B |
| Is efficient energy management (measurement and regular analysis of consumption data) considered? | |
| Are renewable sources of energy used, e.g. solar system, photovoltaics? | |
Interconnection with surroundings
| | |
| --- | --- |
| Does the project enable the easy use of public transport? | |
| Does the project support the use of alternative modes of transport, e.g cycling, walking etc. ? | |
| Is there access to recreational natural areas, e.g. parks, in the immediate vicinity of the building? | |