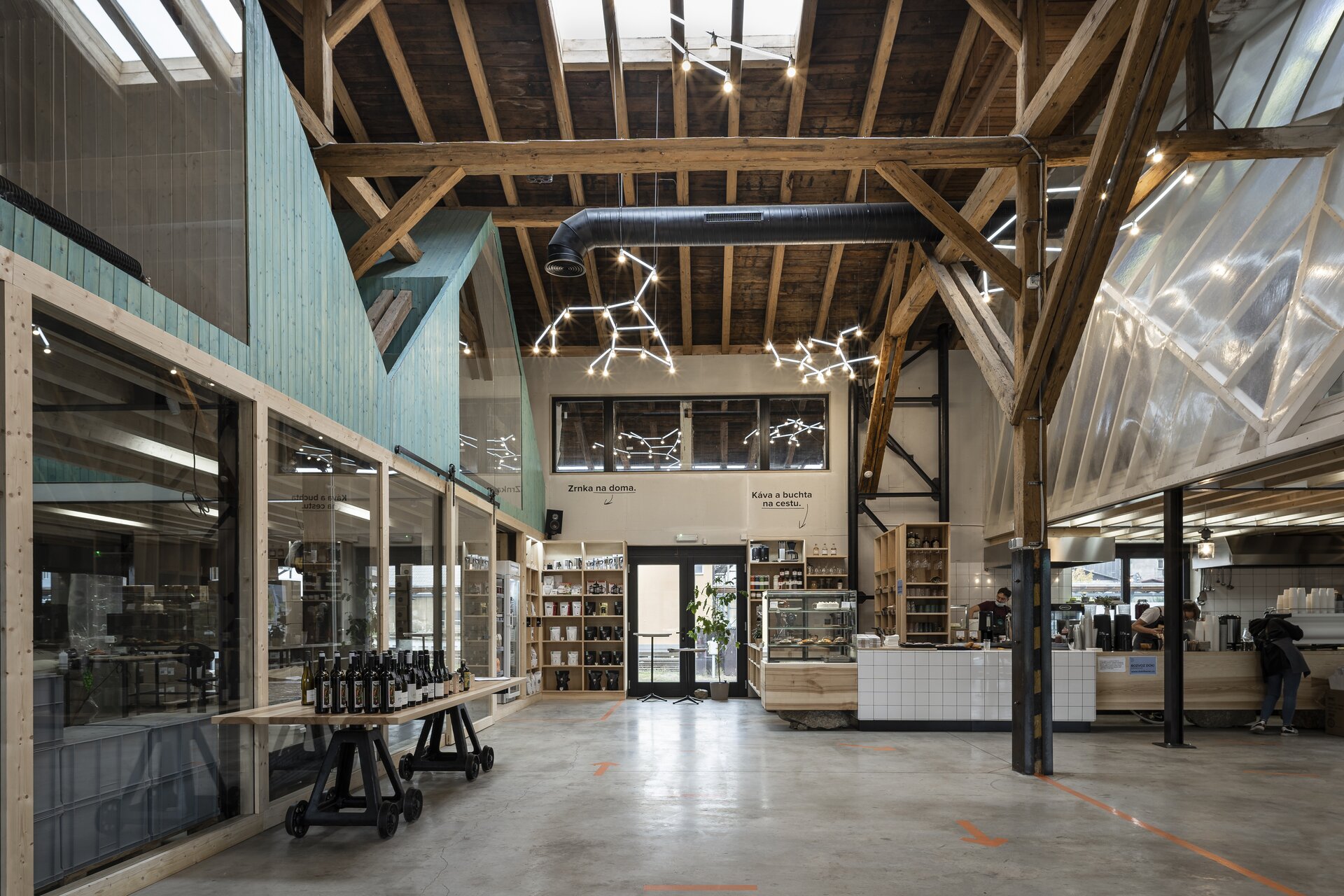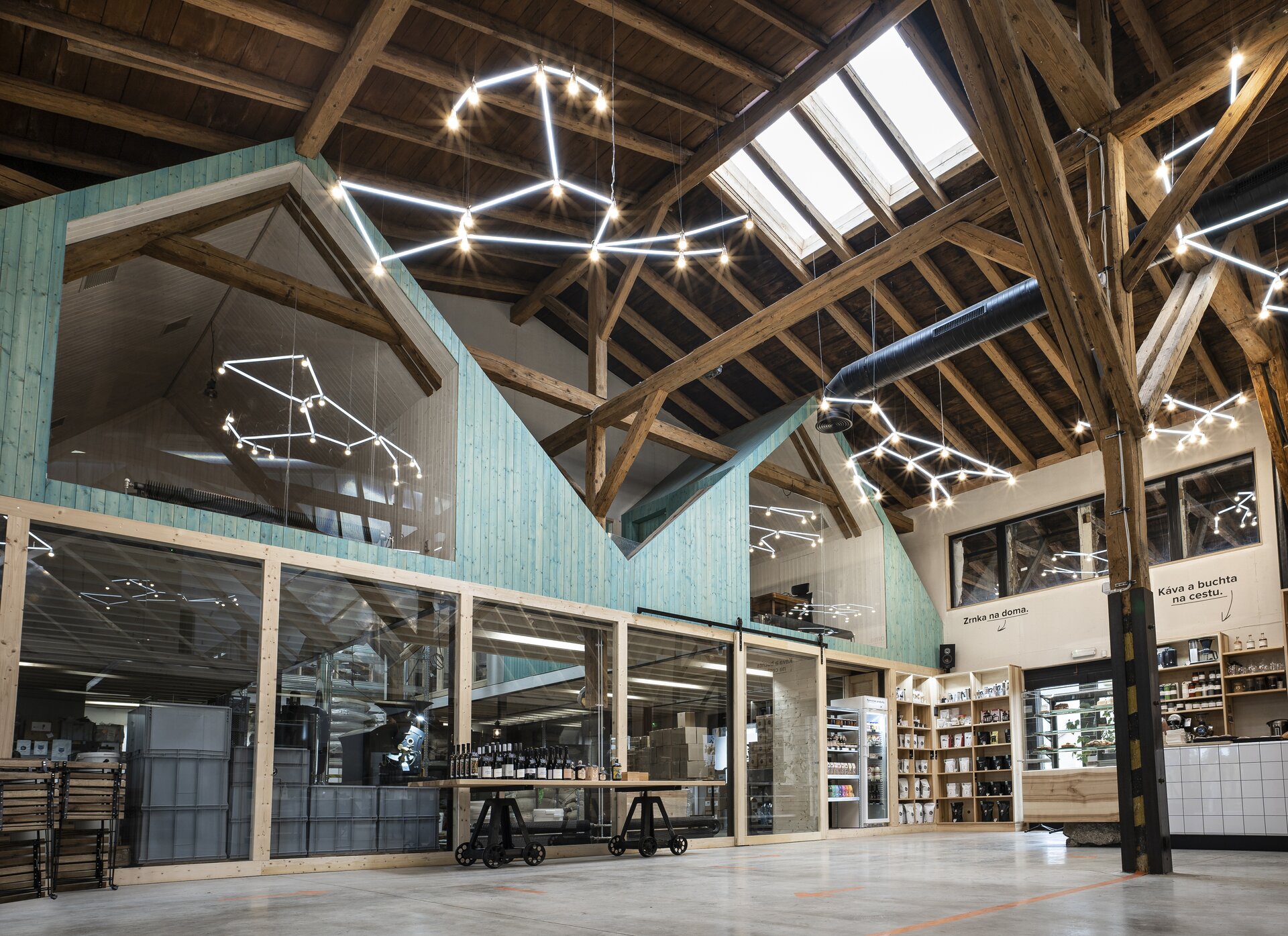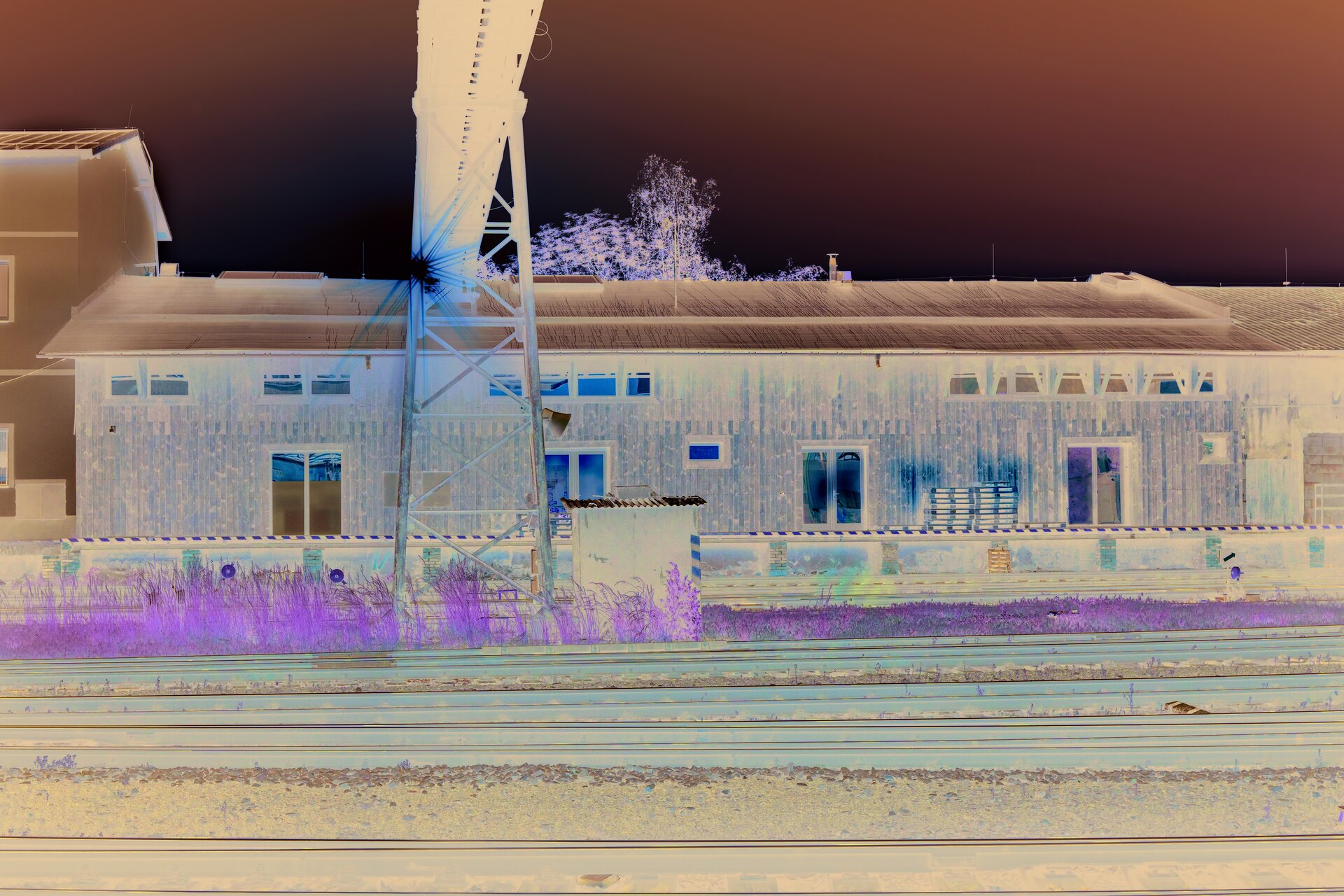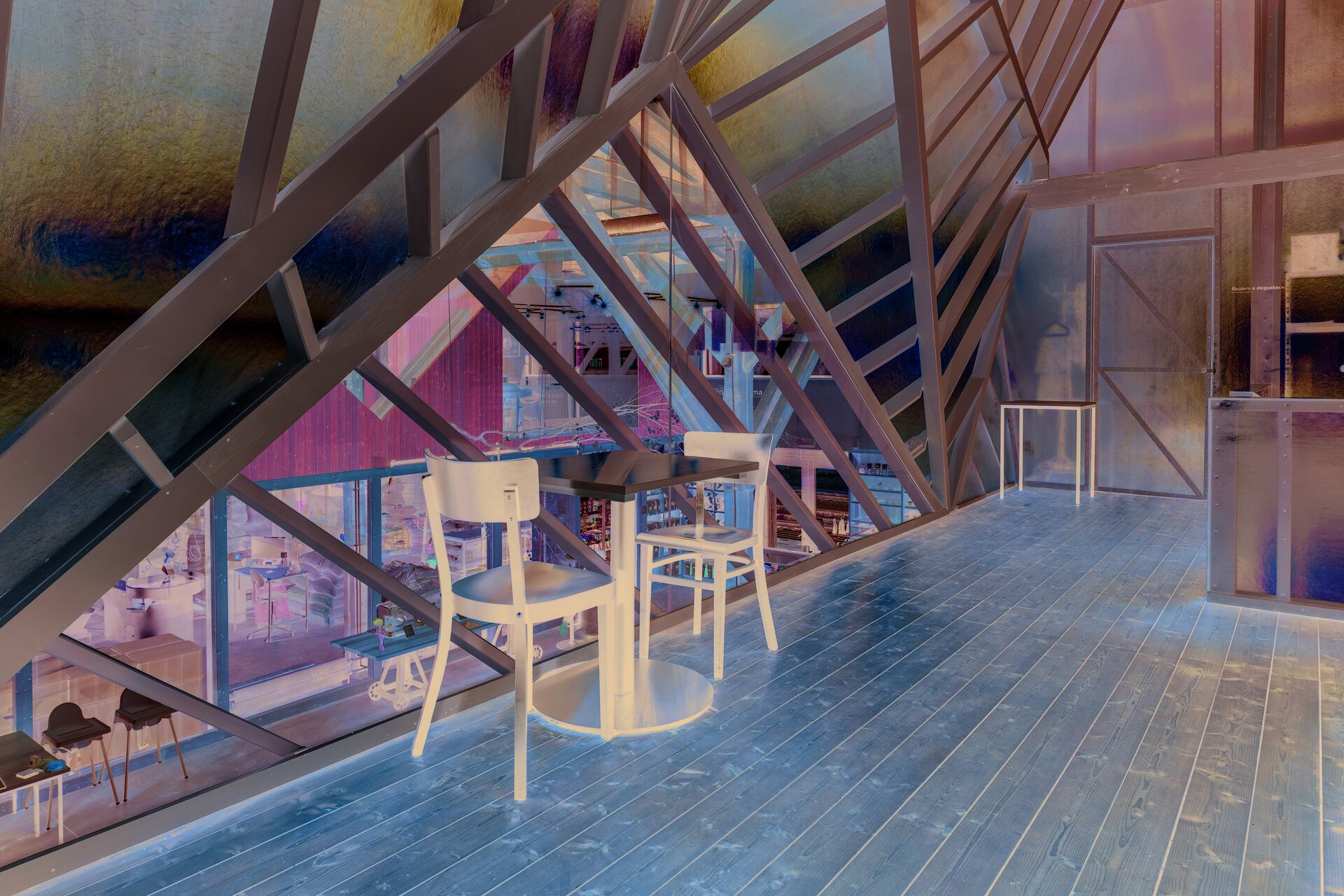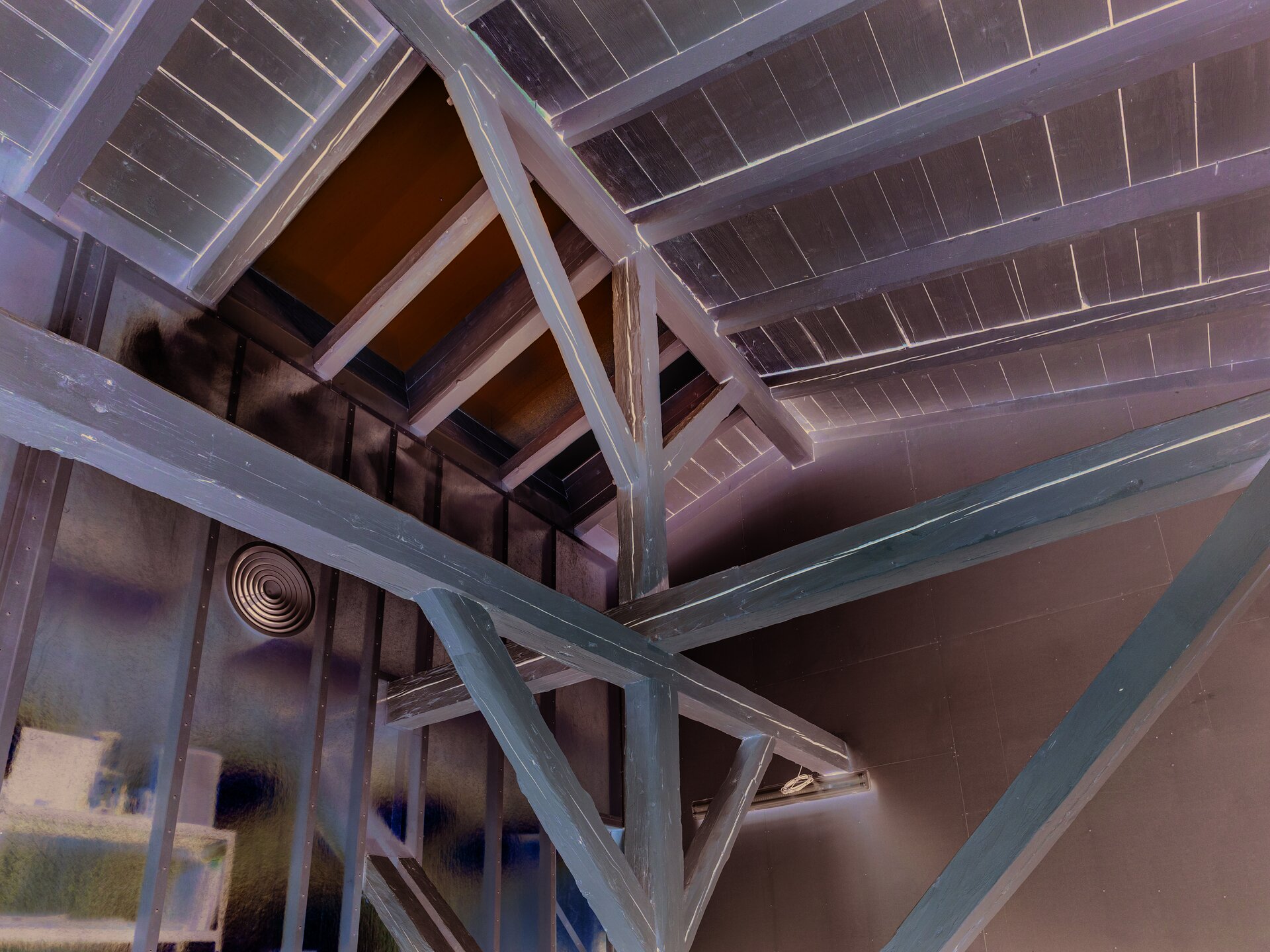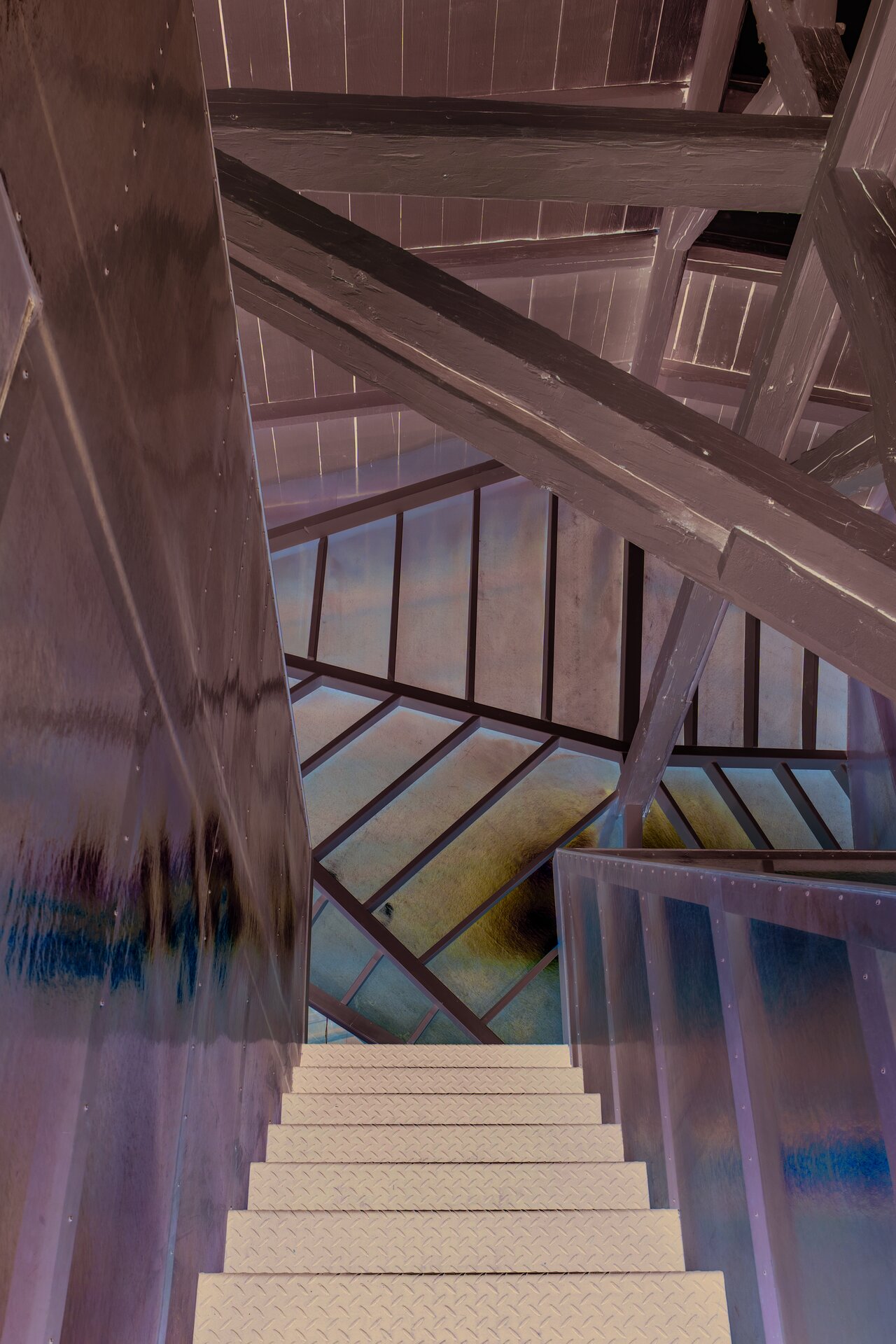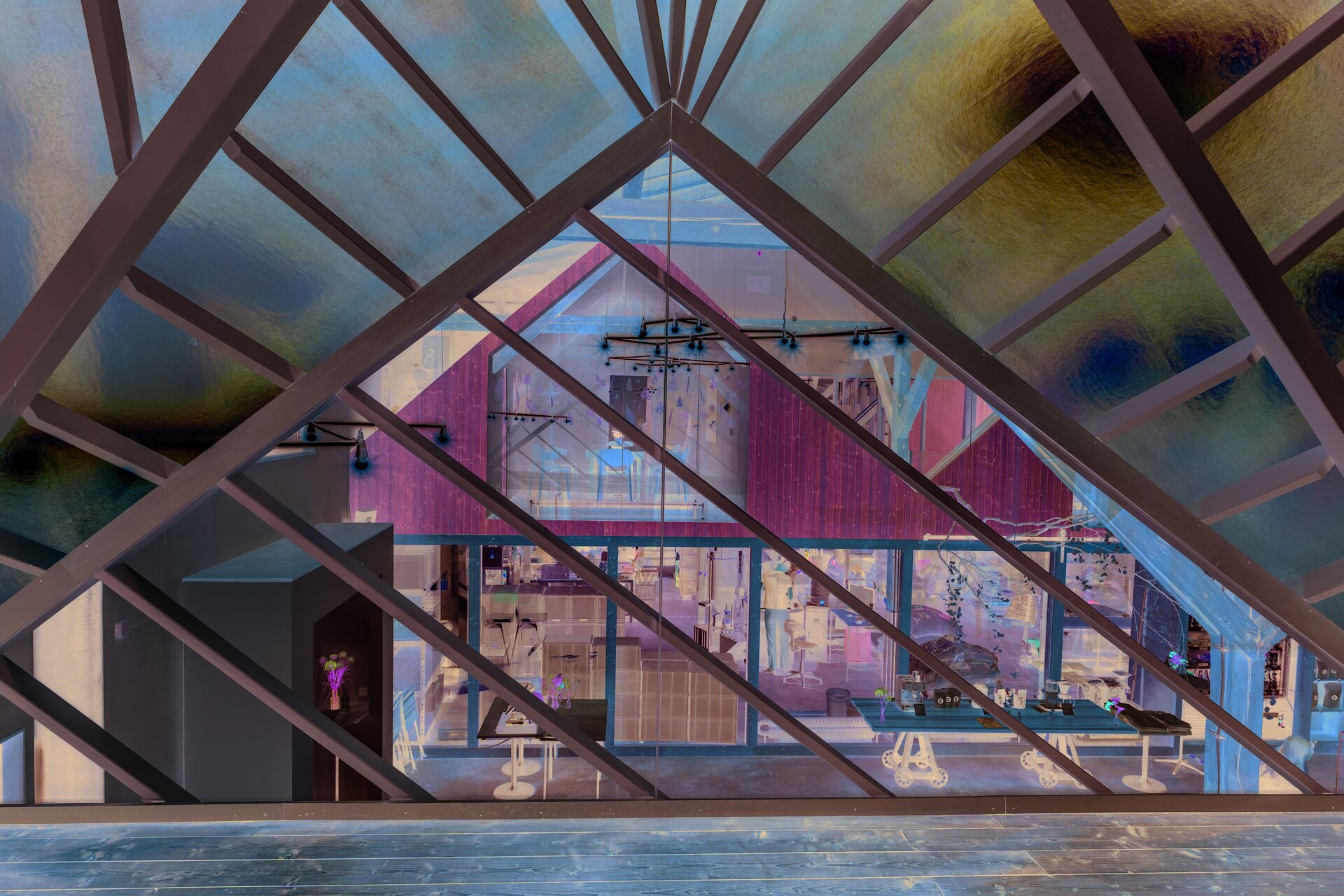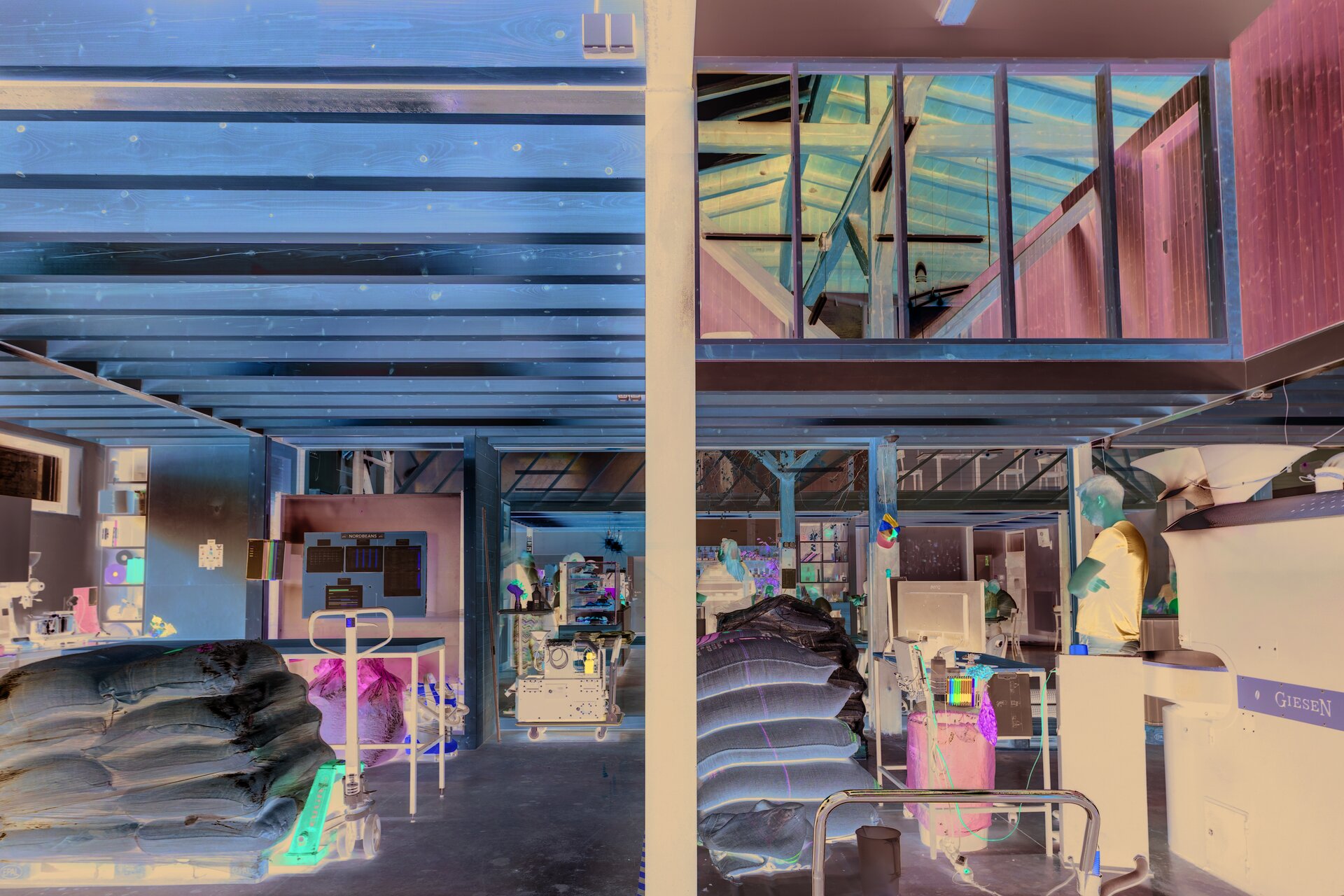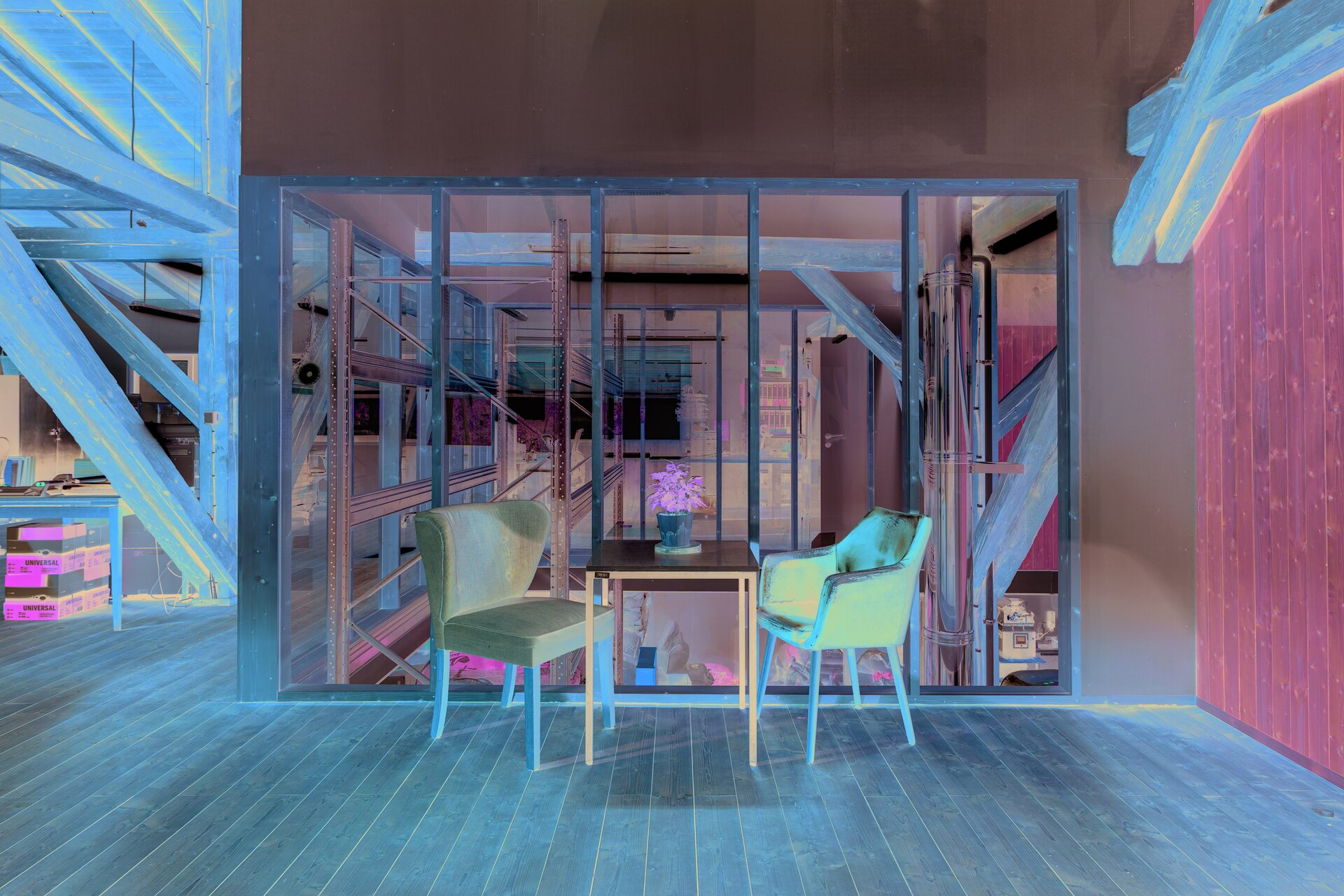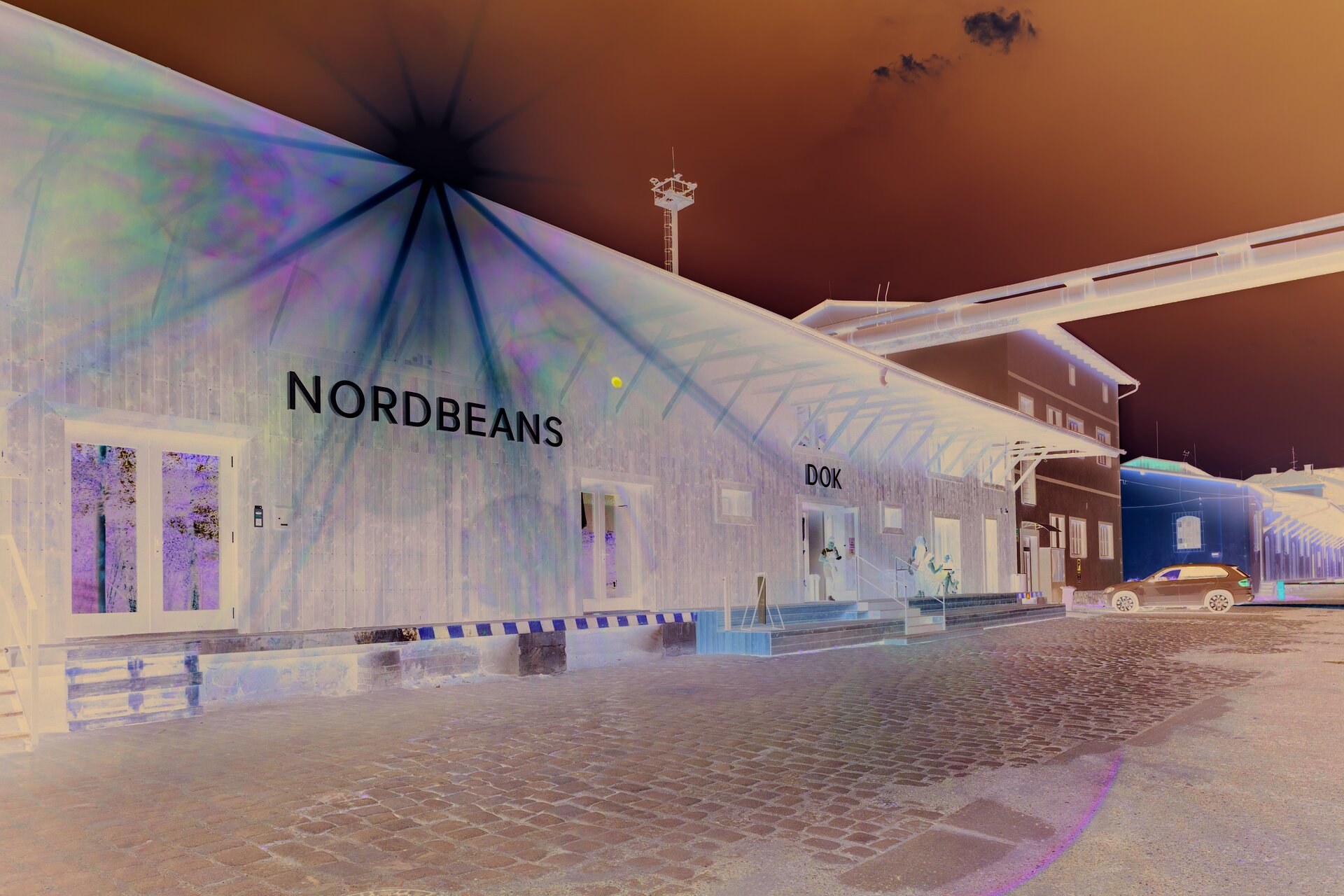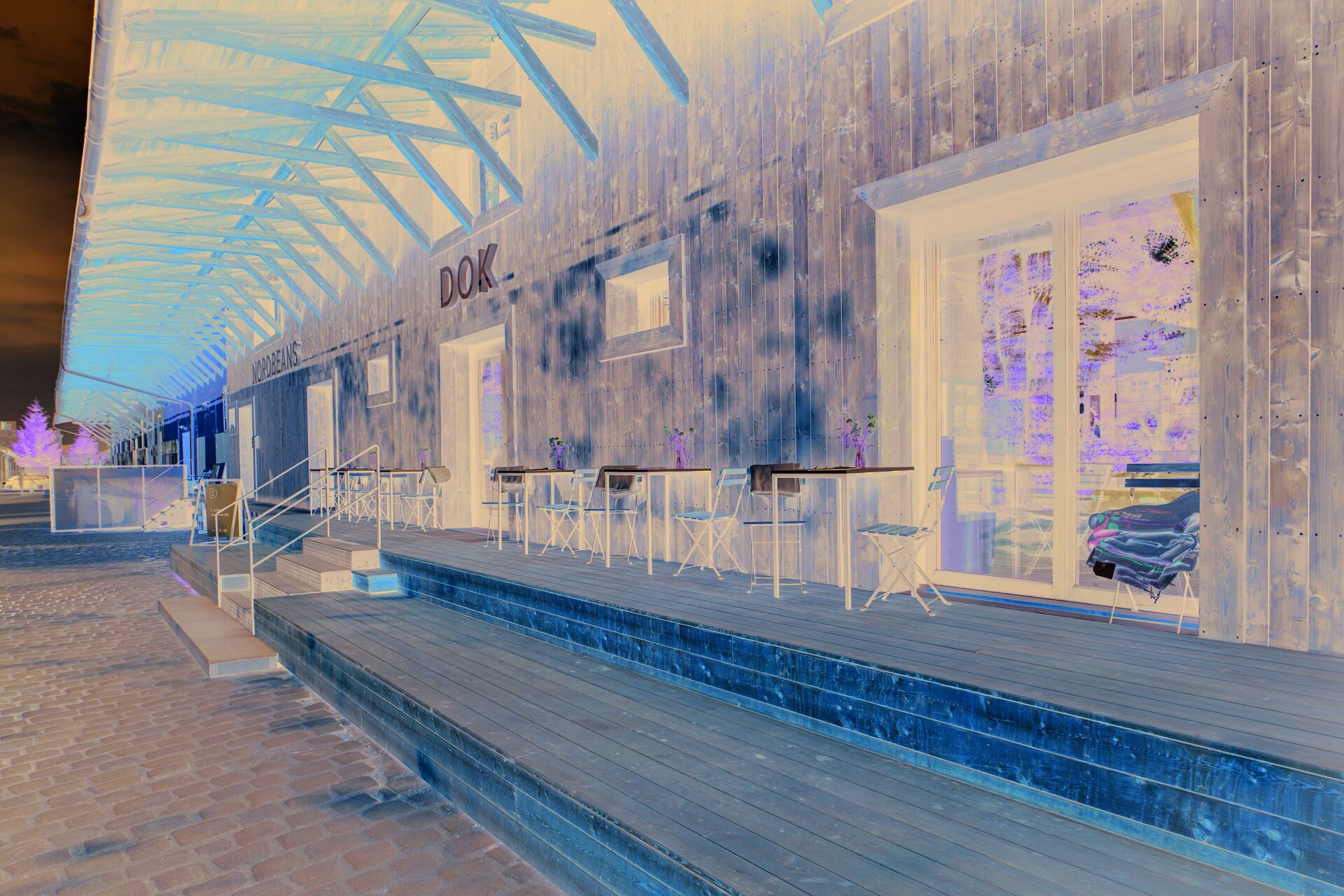 | | |
| --- | --- |
| Author | Ing. arch. Jakub Adamec, Ing. arch. Andrea Tůmová / ANUK architekti |
| Studio | |
| Location | Nákladní 431/15, 46007 Liberec III-Jeřáb |
| Investor | Nordbeans s.r.o. |
| Supplier | V-Produkt s.r.o. |
| Date of project approval | July 2020 |
| Fotograf | |
The original building was the storage hall of the Liberec railway station, the imaginary ridge that halves Liberec. The empty space looked monumental, the windows glazed with yellow panels in the summer twilight colored the summer air into a story. We were brought here by friends who had a roastery in Liberec, which in a soon became famous. The original design provided for several installations of various functions, roasting, baking, the hustle of the business, the desire to make yourself happy. During the design they grew until they filled the entire hall. This dynamic development is the leitmotif of the final solution. The inserted volumes define each other, but at the same time they look at each other. No matter where you look from, you usually see something inside and even further. This interior game also draws in the world around it, the tracks, the highway, the desire to go somewhere, the city, the mountains on the horizon. Rich views that are in the spirit composed of stories.
The visual identity of the client, NORDBEANS, is based on the motifs of the Nordic landscape. The architectural concept works with materials that match the the original building, with wood and fiberglass. The 14 m wide wooden building is part of a line of docks, divided into sections of about 35 m, which are gradually being repopulated and transformed. Clear height along the wall 5.5 m, in the ridge 7.6 m. Floor plan divided only by a grid of columns that support the gable roof. The lower structure of the building was in a state of disrepair. Wooden floor beams and foundations were replaced. The perimeter of the half-timbered masonry and the roof cladding have been preserved. The roof is superimposed. On one side there is a railway platform and a track, on the other side there is a road to Prague. Facade divided by sliding gates. The morphology adhered to the sloping struts of the truss structure, naming them blue-green mountains and glaciers, the two main landmarks.
Green building
Environmental certification
| | |
| --- | --- |
| Type and level of certificate | - |
Water management
| | |
| --- | --- |
| Is rainwater used for irrigation? | |
| Is rainwater used for other purposes, e.g. toilet flushing ? | |
| Does the building have a green roof / facade ? | |
| Is reclaimed waste water used, e.g. from showers and sinks ? | |
The quality of the indoor environment
| | |
| --- | --- |
| Is clean air supply automated ? | |
| Is comfortable temperature during summer and winter automated? | |
| Is natural lighting guaranteed in all living areas? | |
| Is artificial lighting automated? | |
| Is acoustic comfort, specifically reverberation time, guaranteed? | |
| Does the layout solution include zoning and ergonomics elements? | |
Principles of circular economics
| | |
| --- | --- |
| Does the project use recycled materials? | |
| Does the project use recyclable materials? | |
| Are materials with a documented Environmental Product Declaration (EPD) promoted in the project? | |
| Are other sustainability certifications used for materials and elements? | |
Energy efficiency
| | |
| --- | --- |
| Energy performance class of the building according to the Energy Performance Certificate of the building | D |
| Is efficient energy management (measurement and regular analysis of consumption data) considered? | |
| Are renewable sources of energy used, e.g. solar system, photovoltaics? | |
Interconnection with surroundings
| | |
| --- | --- |
| Does the project enable the easy use of public transport? | |
| Does the project support the use of alternative modes of transport, e.g cycling, walking etc. ? | |
| Is there access to recreational natural areas, e.g. parks, in the immediate vicinity of the building? | |