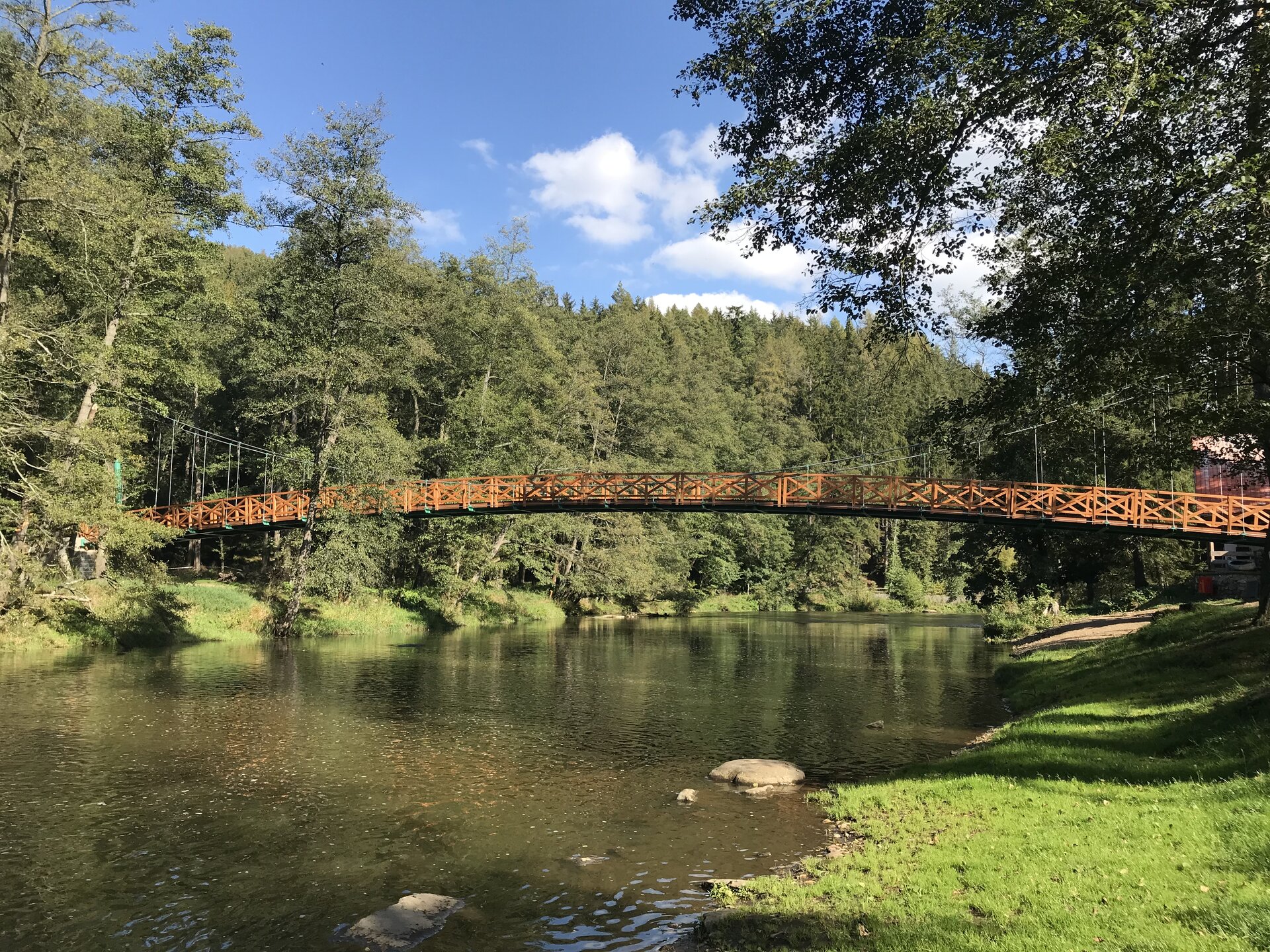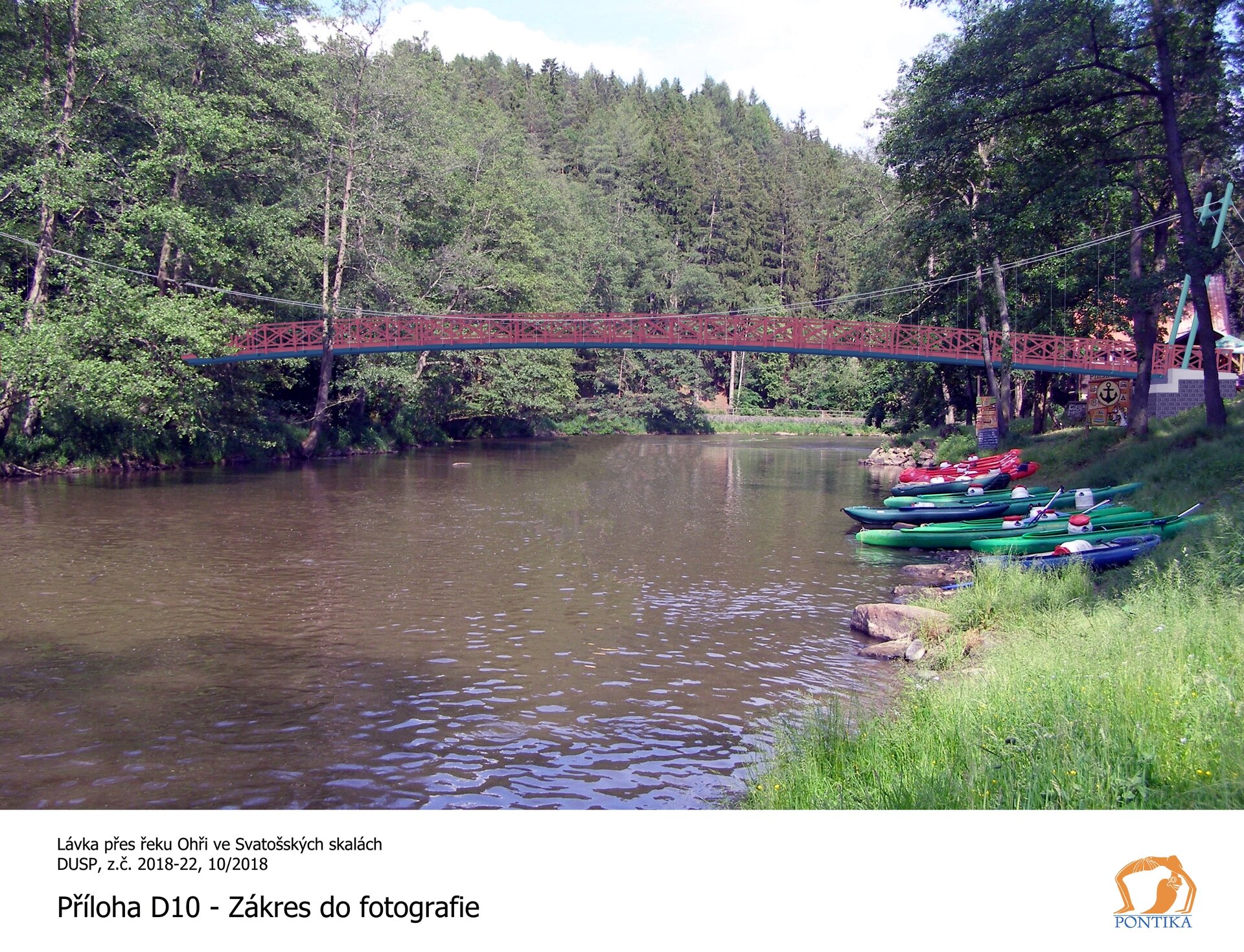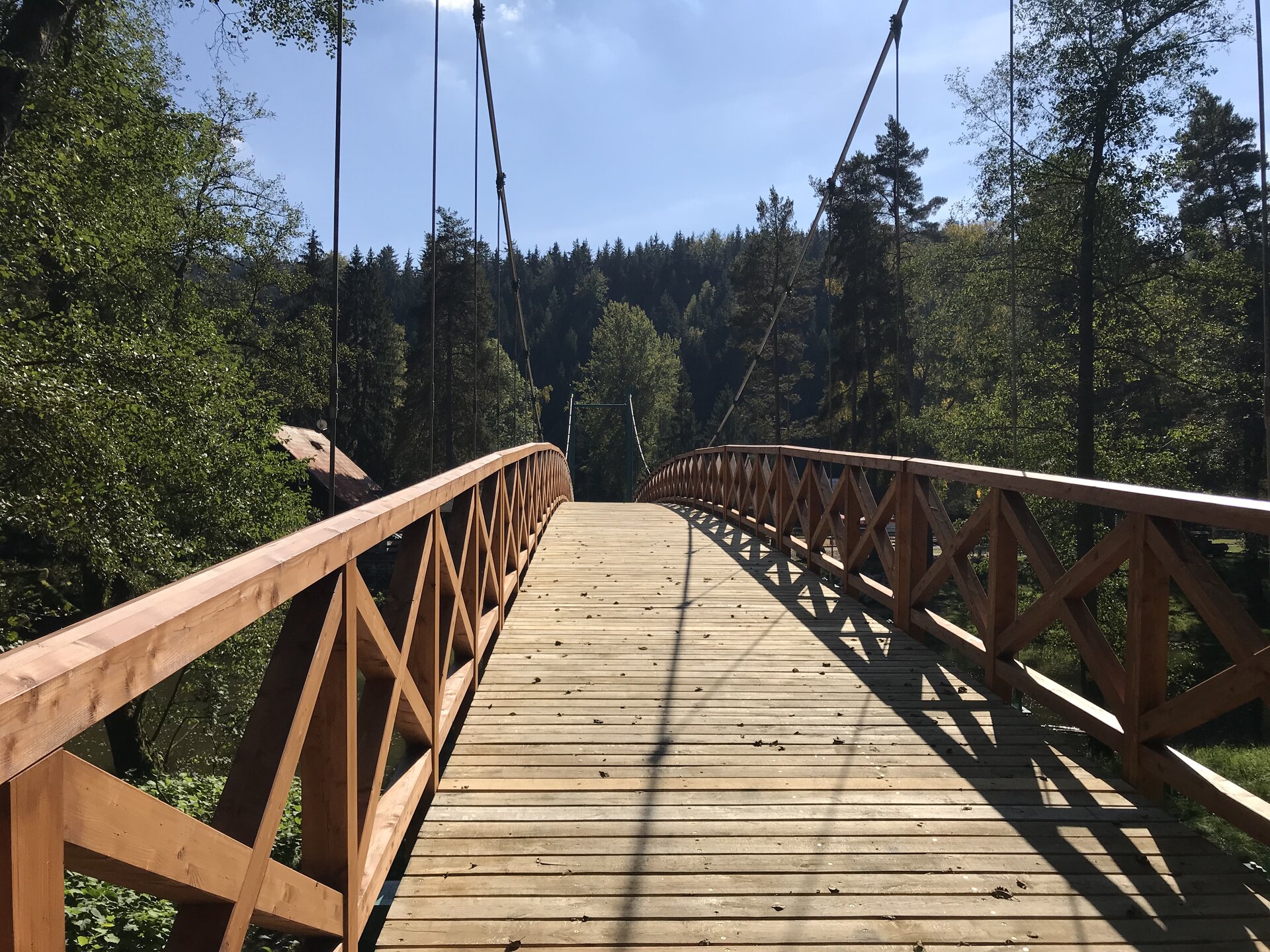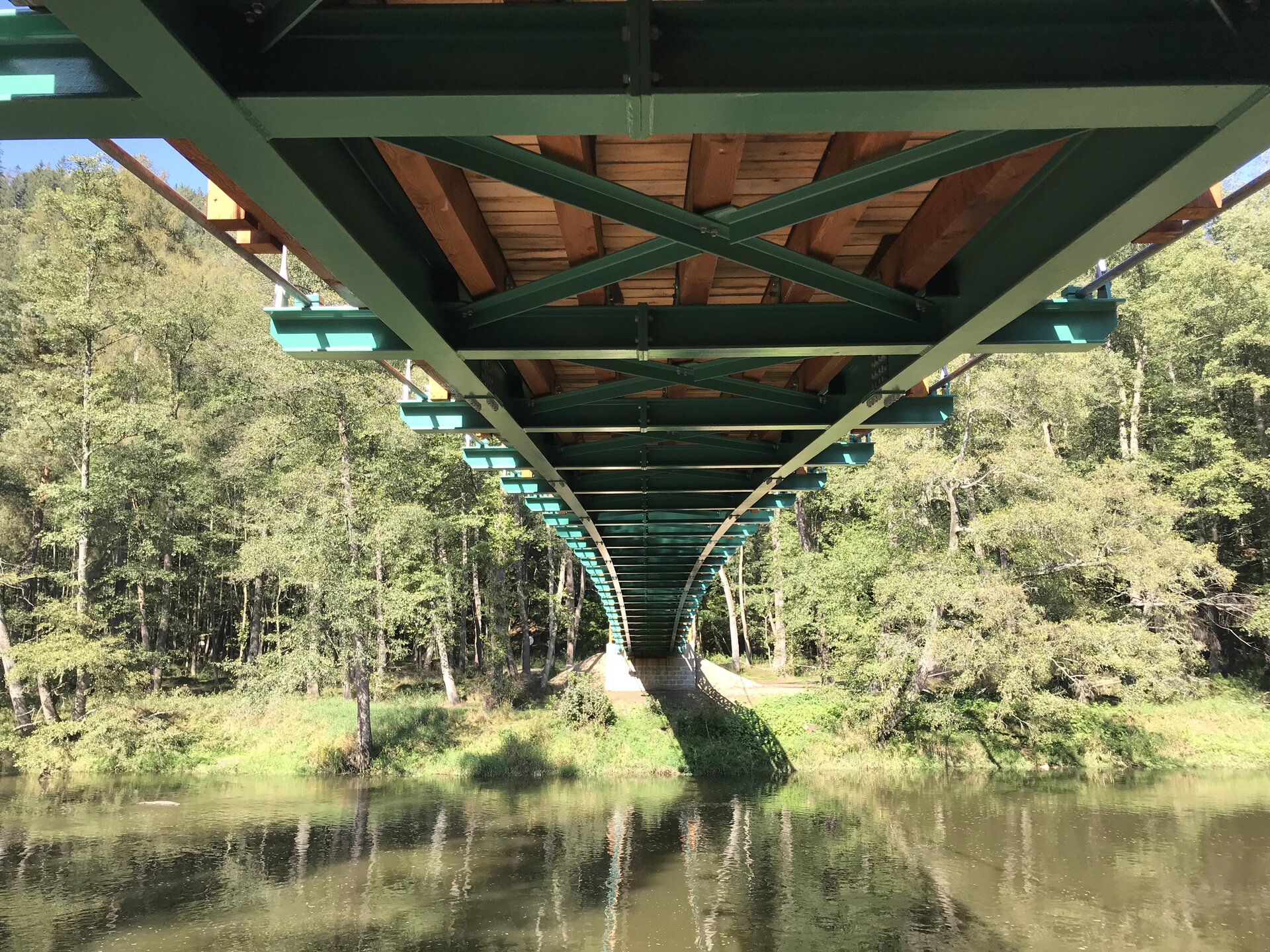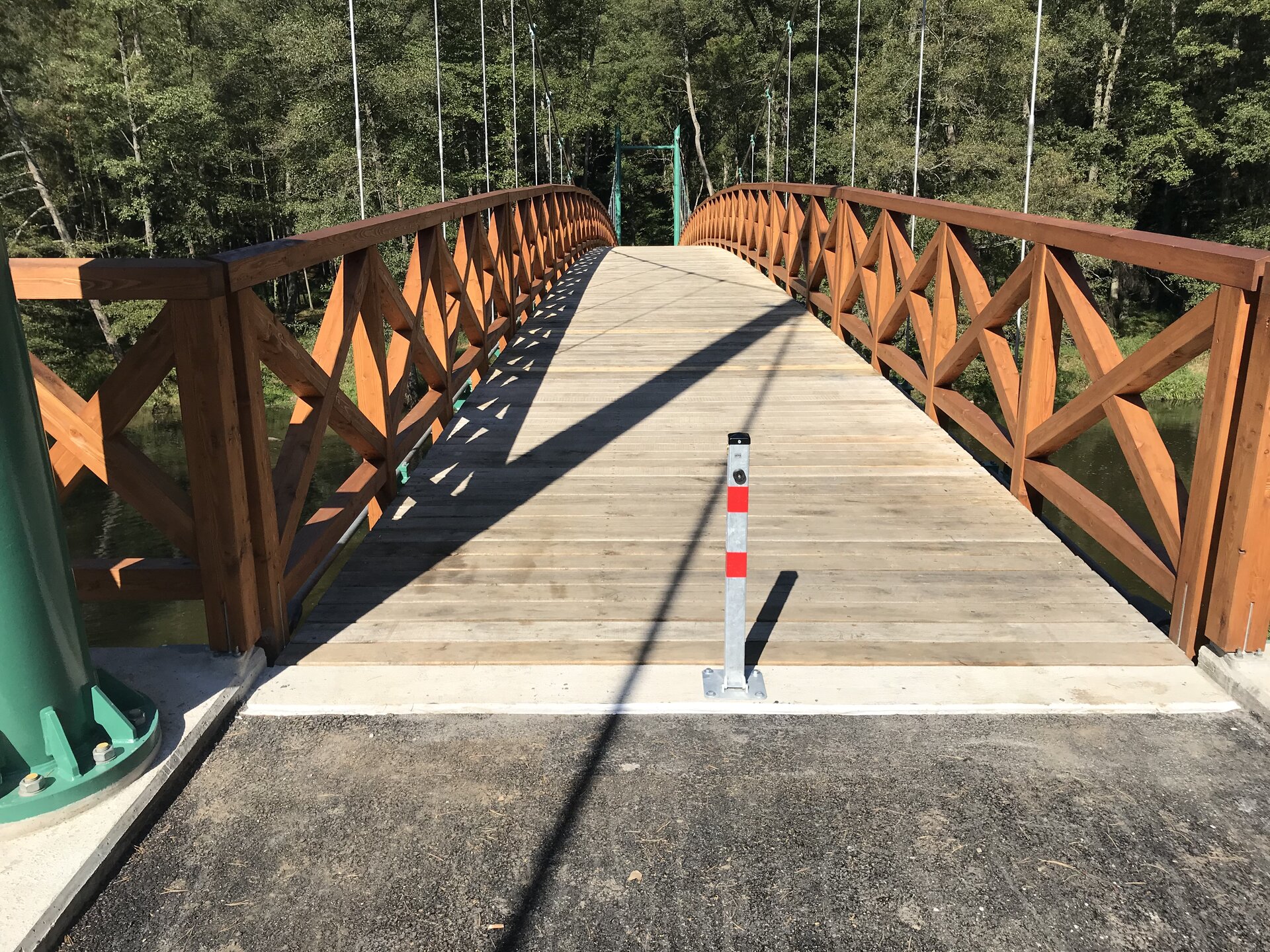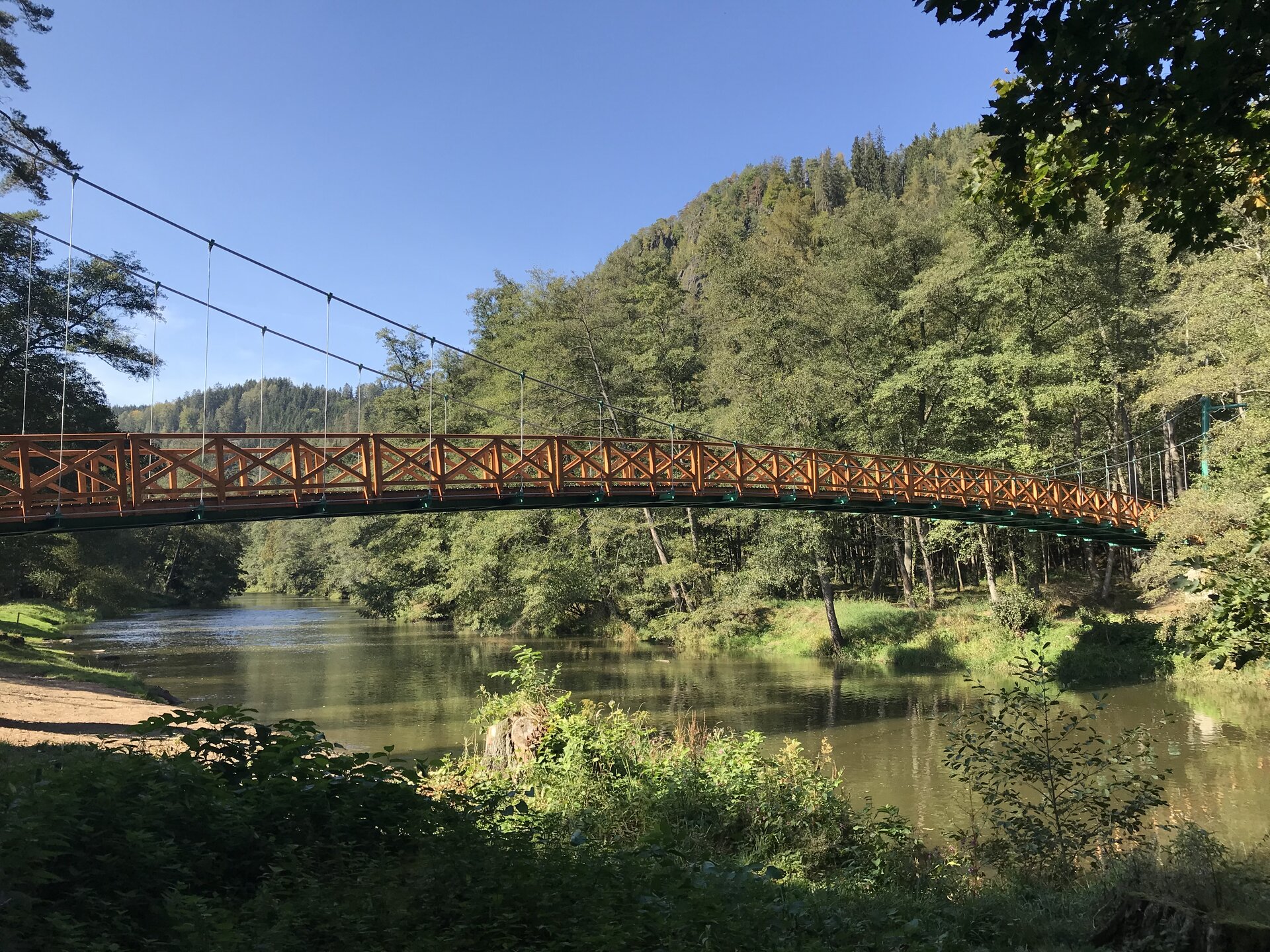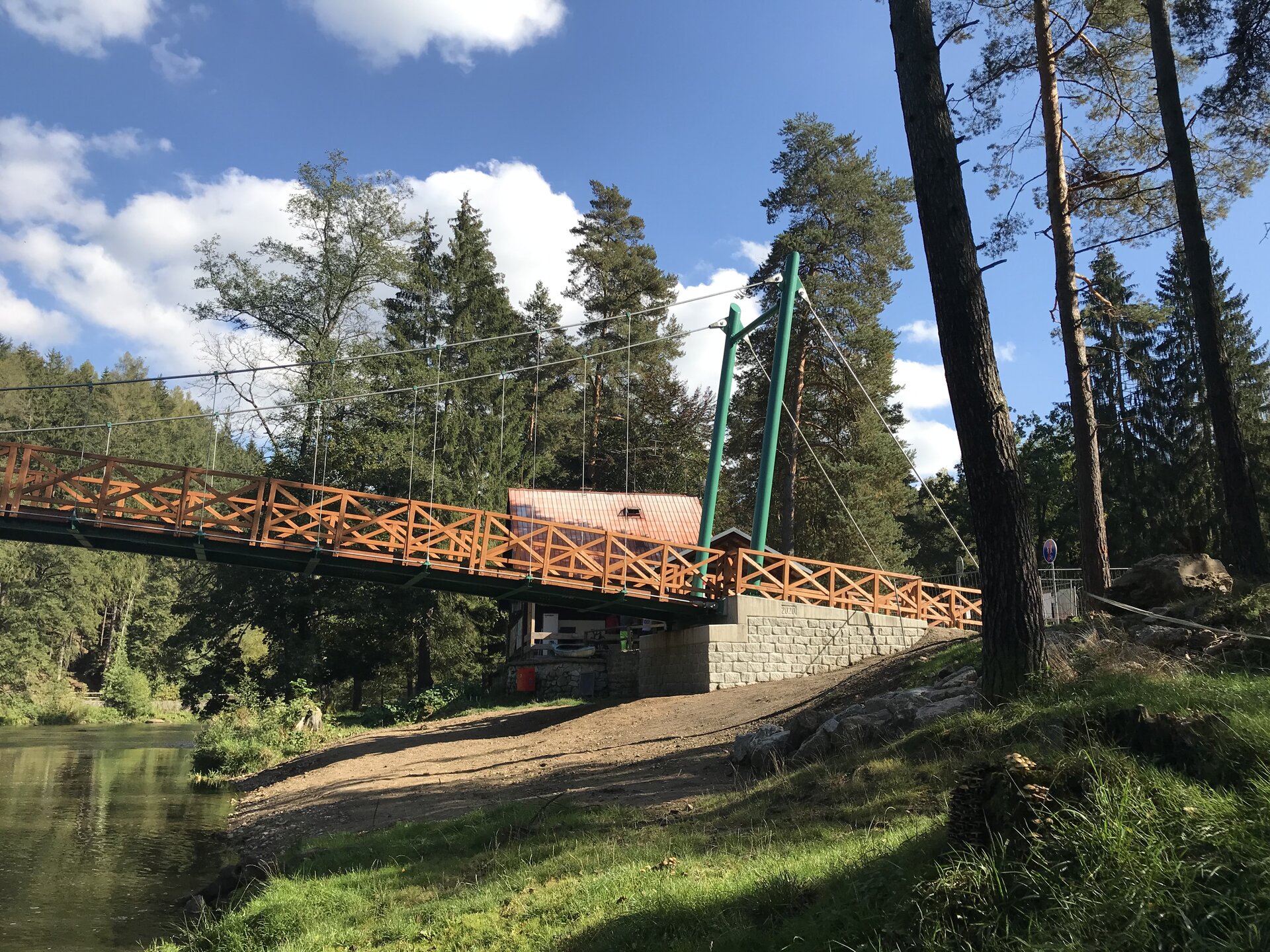 | | |
| --- | --- |
| Author | Ing. Luděk Oberhofner, Ing. Jan Procházka, PONTIKA s.r.o Štúrova 352/15, 360 04 Karlovy Vary |
| Studio | |
| Location | Cyklostezka č.6 z Karlových Varů do Lokte v hlubokém údolí Ohře poblíž Svatošských skal na rozhraní dvou katastrů (Hory u Jenišova a Údolí u Lokte) překračuje Ohři v místě Pionýrské nad Ohří. |
| Investor | Karlovarský kraj, Závodní 353/88, 360 06 Karlovy Vary |
| Supplier | Metrostav a.s., Divize 5, Koželušská 2450/4, Libeň, 188 00 Praha 8 |
| Date of project approval | October 2020 |
| Fotograf | |
The main part of footbridge structure is situated above the Q100 water level due to significant curvature in vertical plane , but at the same time the mass of the bridge approaches is minimized. The appearance of the bridge gives the impression of lightness . The superstructure is stabilized vertically by pretensioned cables following the curvature of the footbridge. Cabel induced radial forces increase the rigidity of the suspension system.
The construction is single span earth anchored suspension system with the span of 62,36m. The cable system comprises parabolic main cable and two short free cables anchored to the earth by anchor blocks and pretensioned rock anchers. The pylons are inclined, concrete abutments are founded on drilled micropiles and covered by stone. Steel superstructure was erected symetrically from pylons toward the centre of span from preassembled segments of 5,0m length. The wooden carriageway of 3,0m width is made of oak lumber. Railings in the shape of St.Andrew's cross is made of larch lumber.
Green building
Environmental certification
| | |
| --- | --- |
| Type and level of certificate | - |
Water management
| | |
| --- | --- |
| Is rainwater used for irrigation? | |
| Is rainwater used for other purposes, e.g. toilet flushing ? | |
| Does the building have a green roof / facade ? | |
| Is reclaimed waste water used, e.g. from showers and sinks ? | |
The quality of the indoor environment
| | |
| --- | --- |
| Is clean air supply automated ? | |
| Is comfortable temperature during summer and winter automated? | |
| Is natural lighting guaranteed in all living areas? | |
| Is artificial lighting automated? | |
| Is acoustic comfort, specifically reverberation time, guaranteed? | |
| Does the layout solution include zoning and ergonomics elements? | |
Principles of circular economics
| | |
| --- | --- |
| Does the project use recycled materials? | |
| Does the project use recyclable materials? | |
| Are materials with a documented Environmental Product Declaration (EPD) promoted in the project? | |
| Are other sustainability certifications used for materials and elements? | |
Energy efficiency
| | |
| --- | --- |
| Energy performance class of the building according to the Energy Performance Certificate of the building | |
| Is efficient energy management (measurement and regular analysis of consumption data) considered? | |
| Are renewable sources of energy used, e.g. solar system, photovoltaics? | |
Interconnection with surroundings
| | |
| --- | --- |
| Does the project enable the easy use of public transport? | |
| Does the project support the use of alternative modes of transport, e.g cycling, walking etc. ? | |
| Is there access to recreational natural areas, e.g. parks, in the immediate vicinity of the building? | |