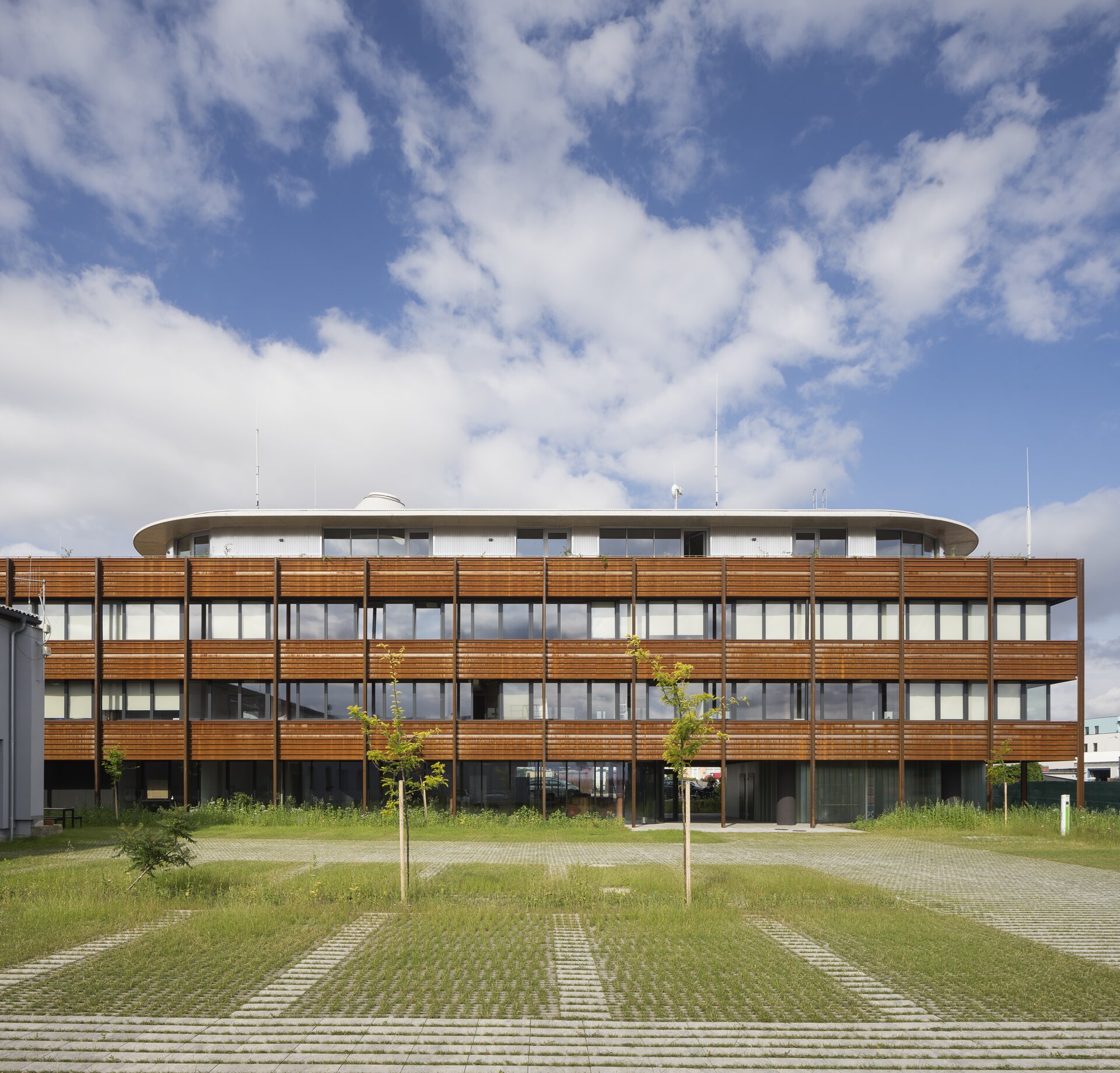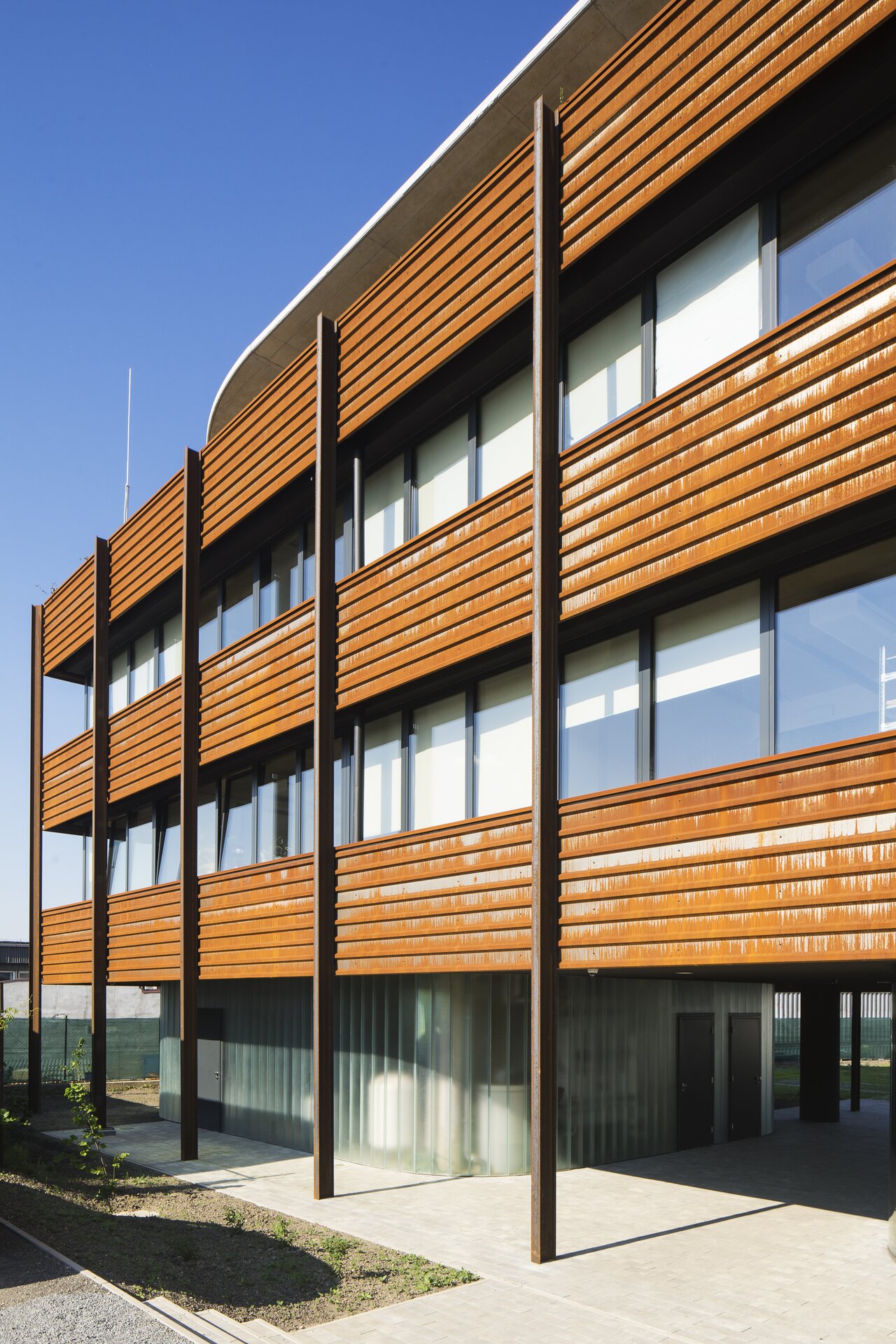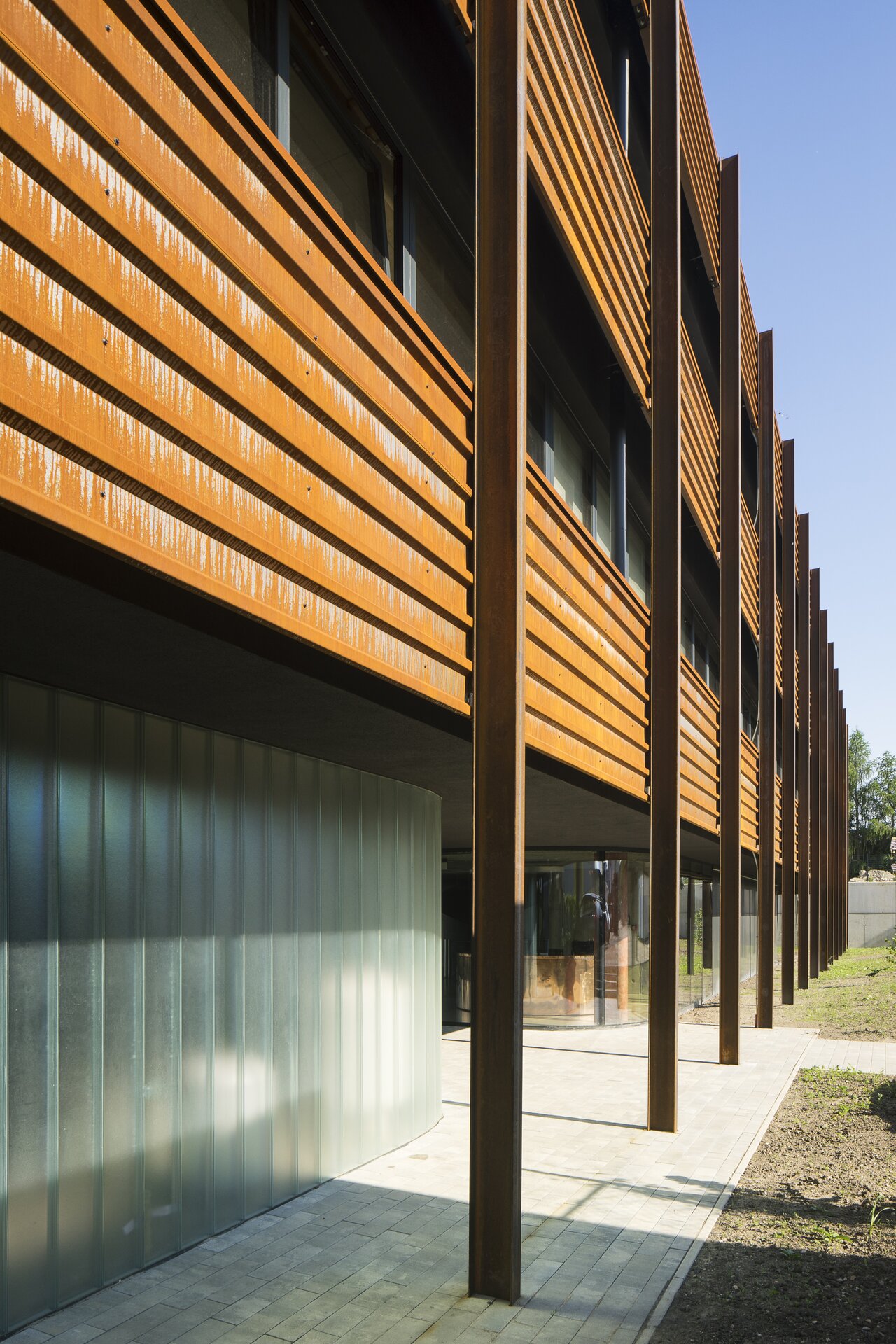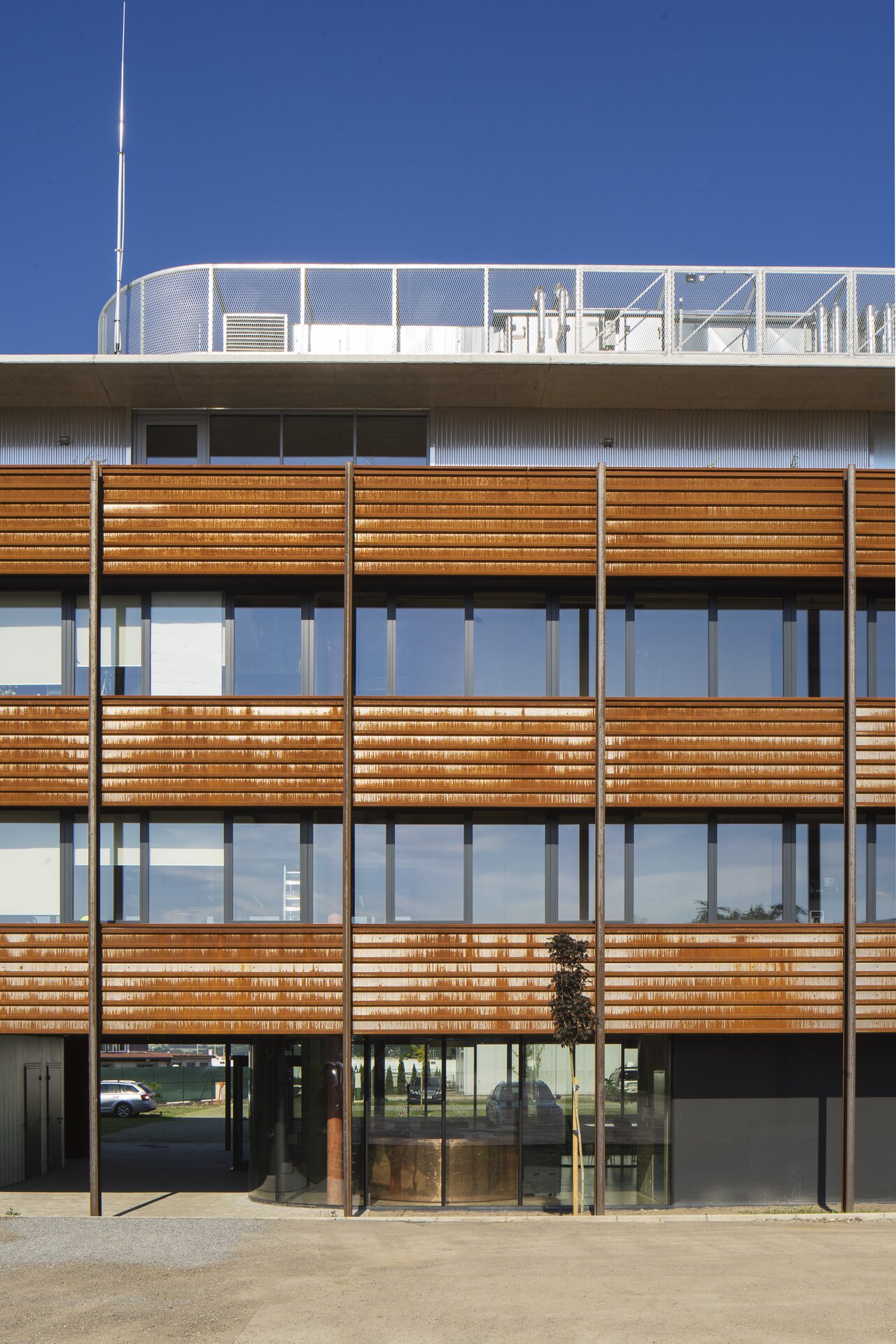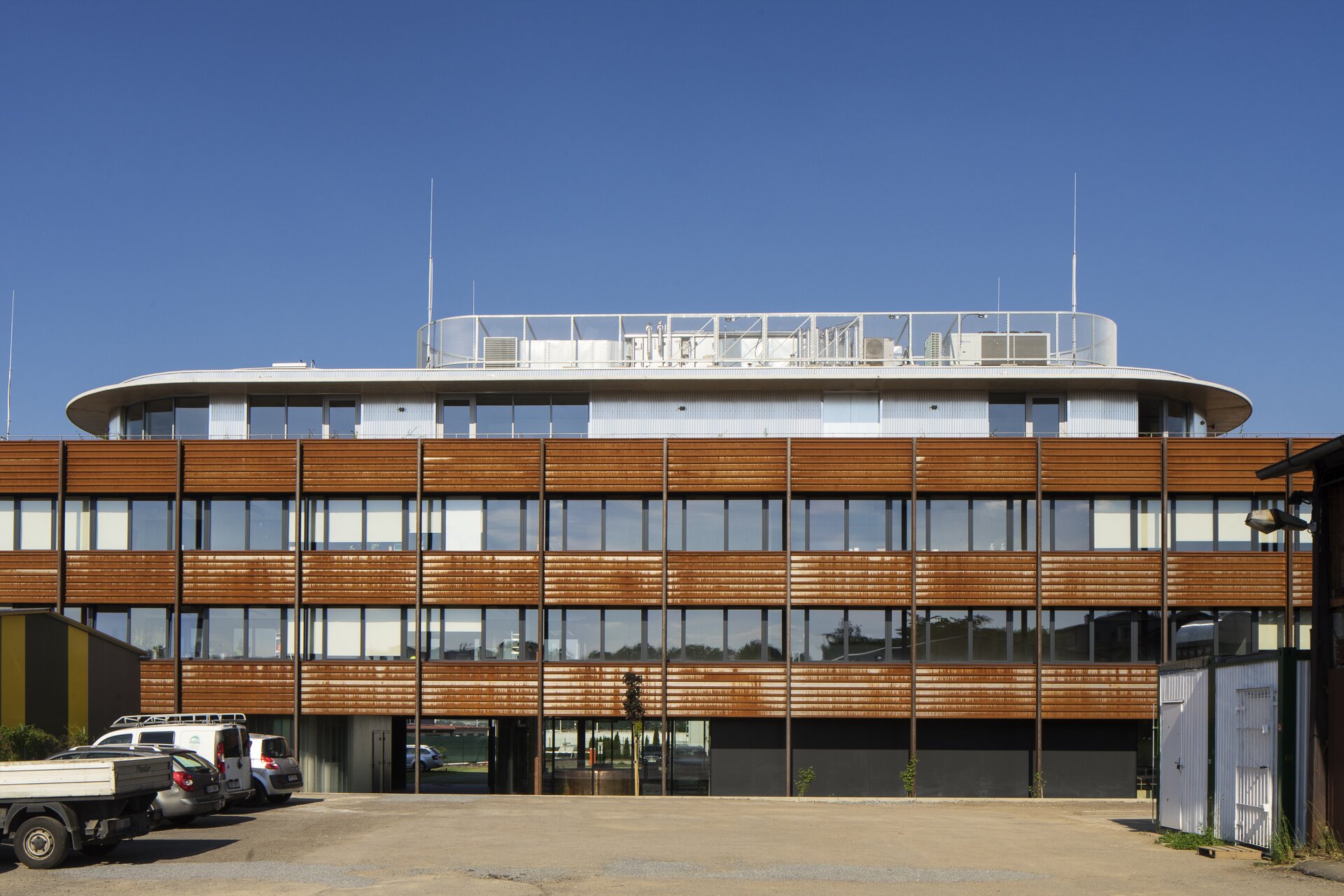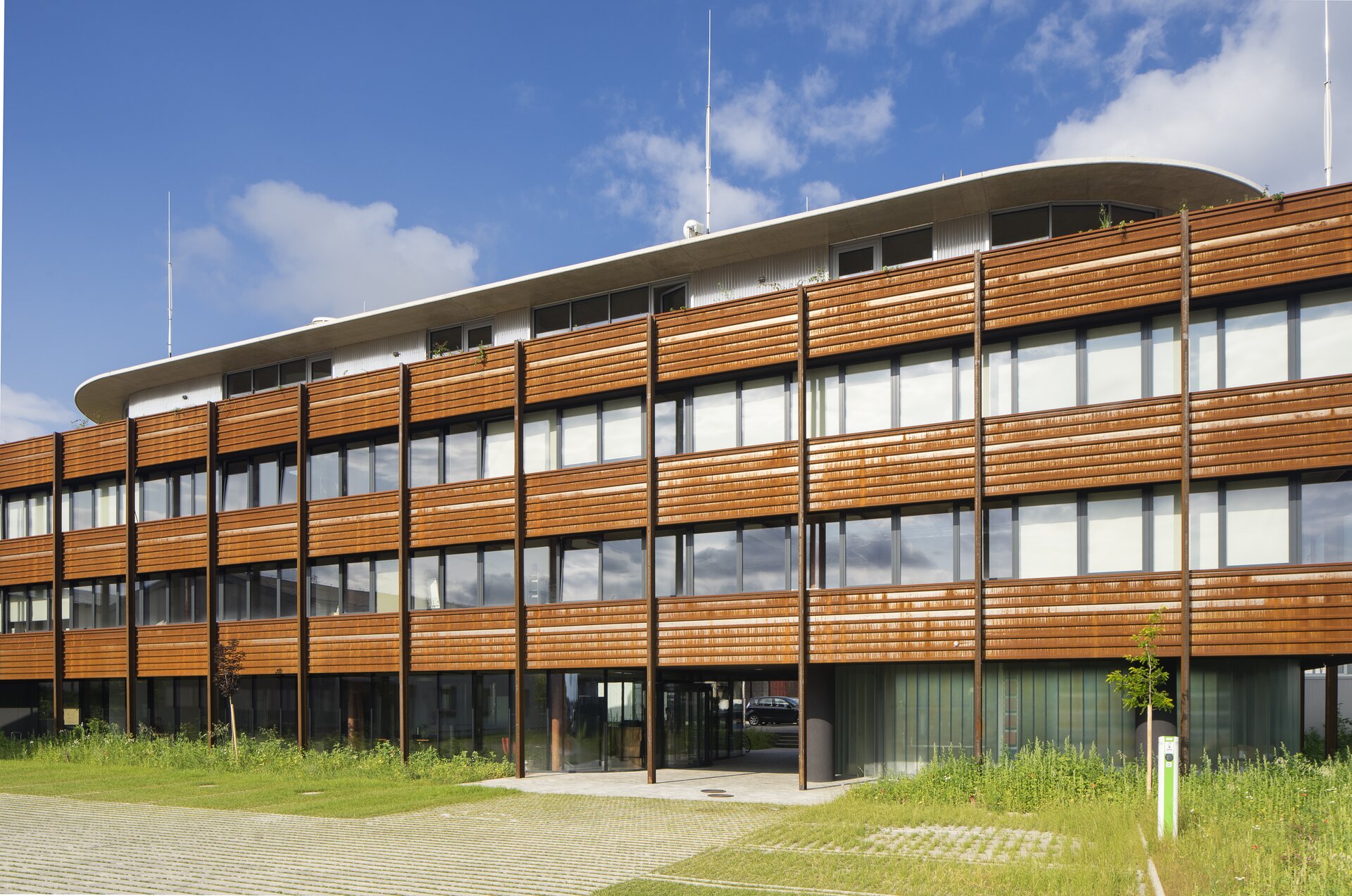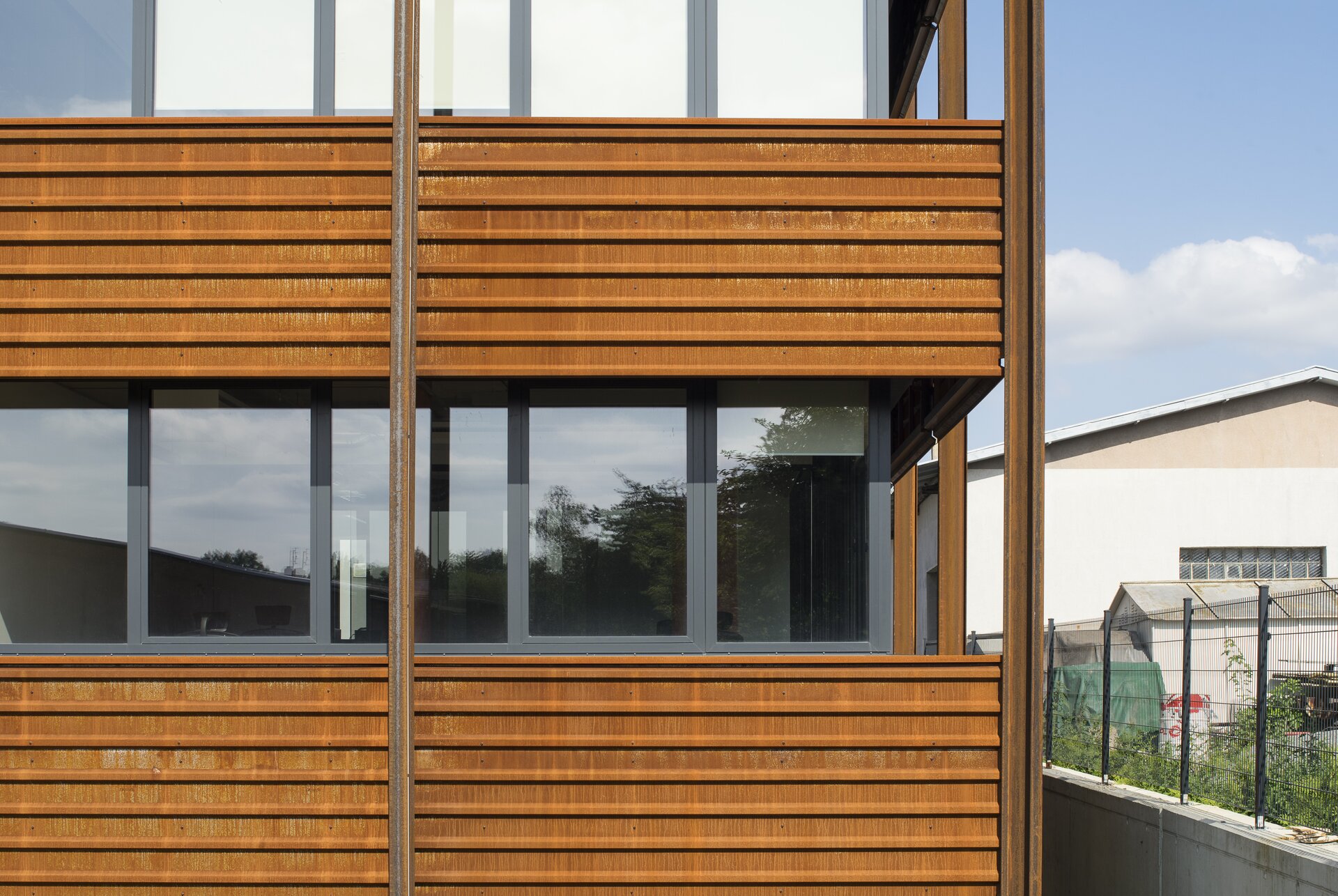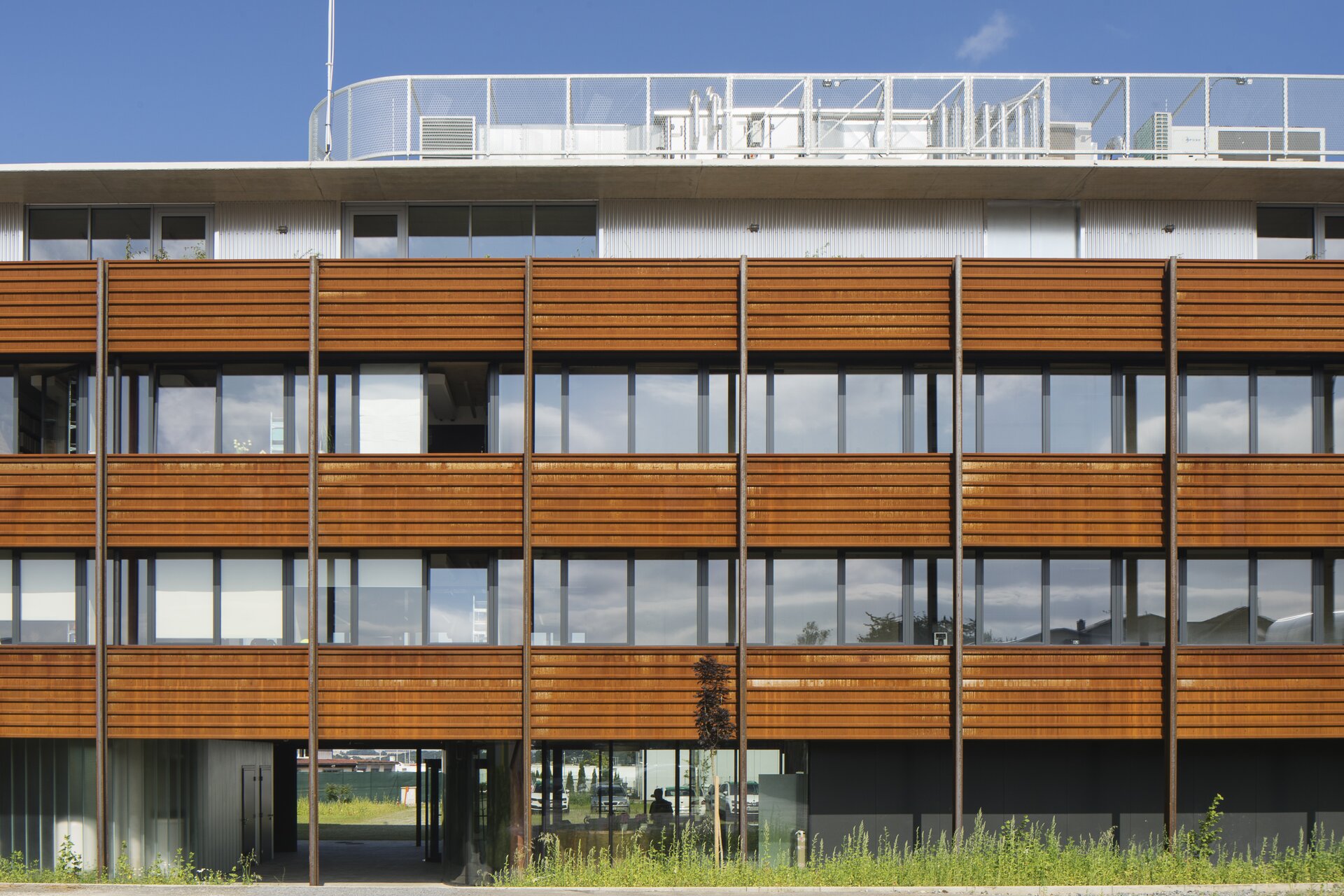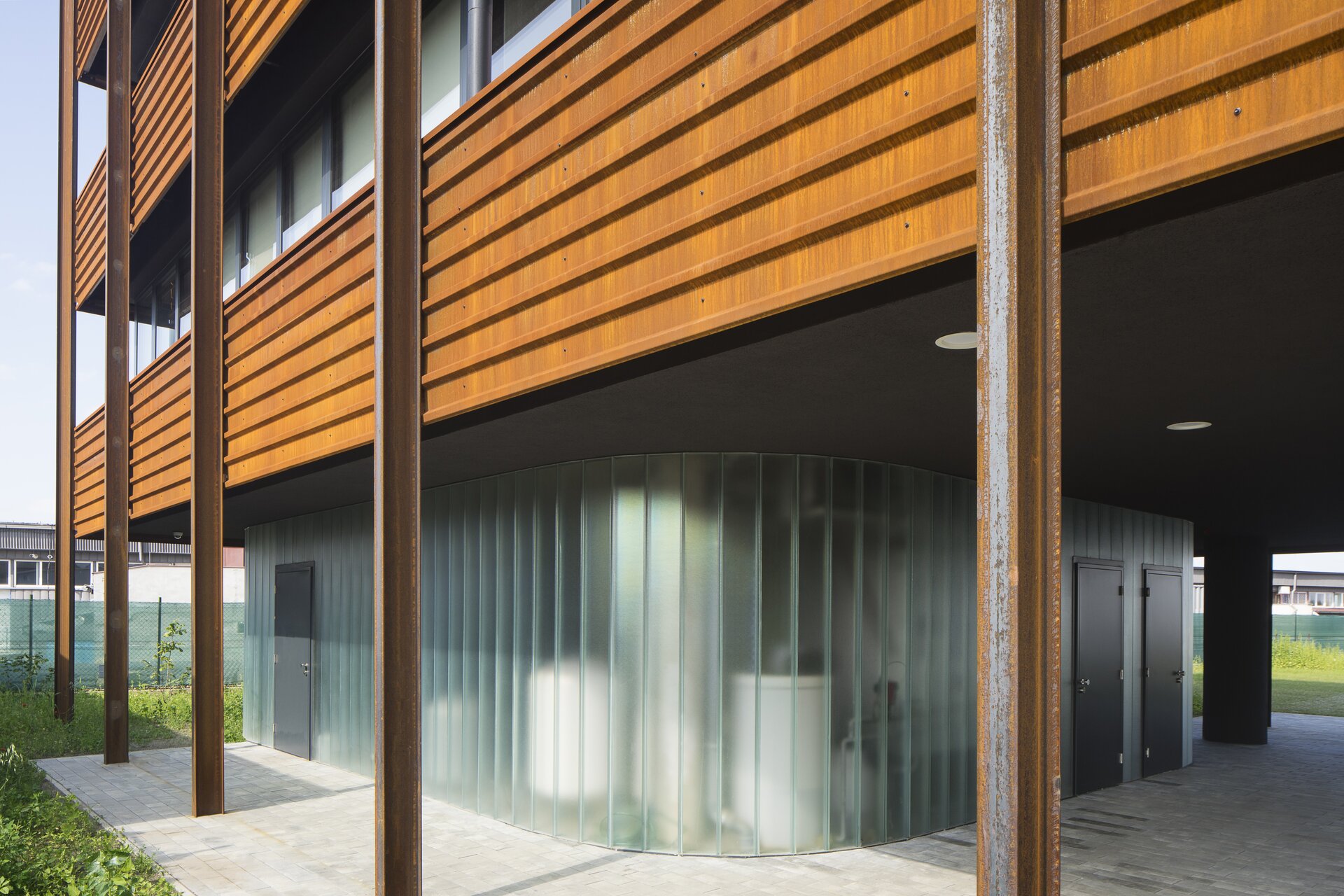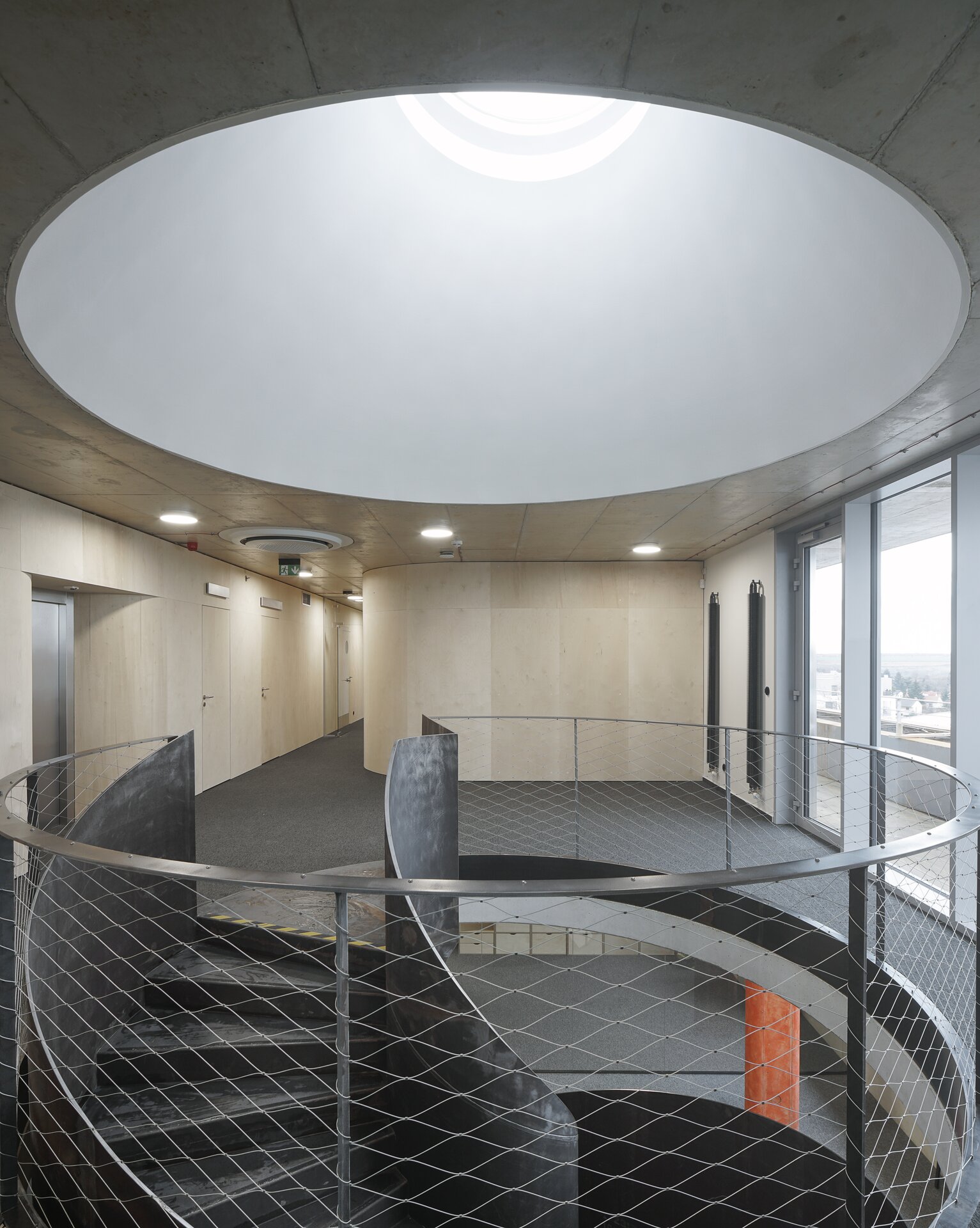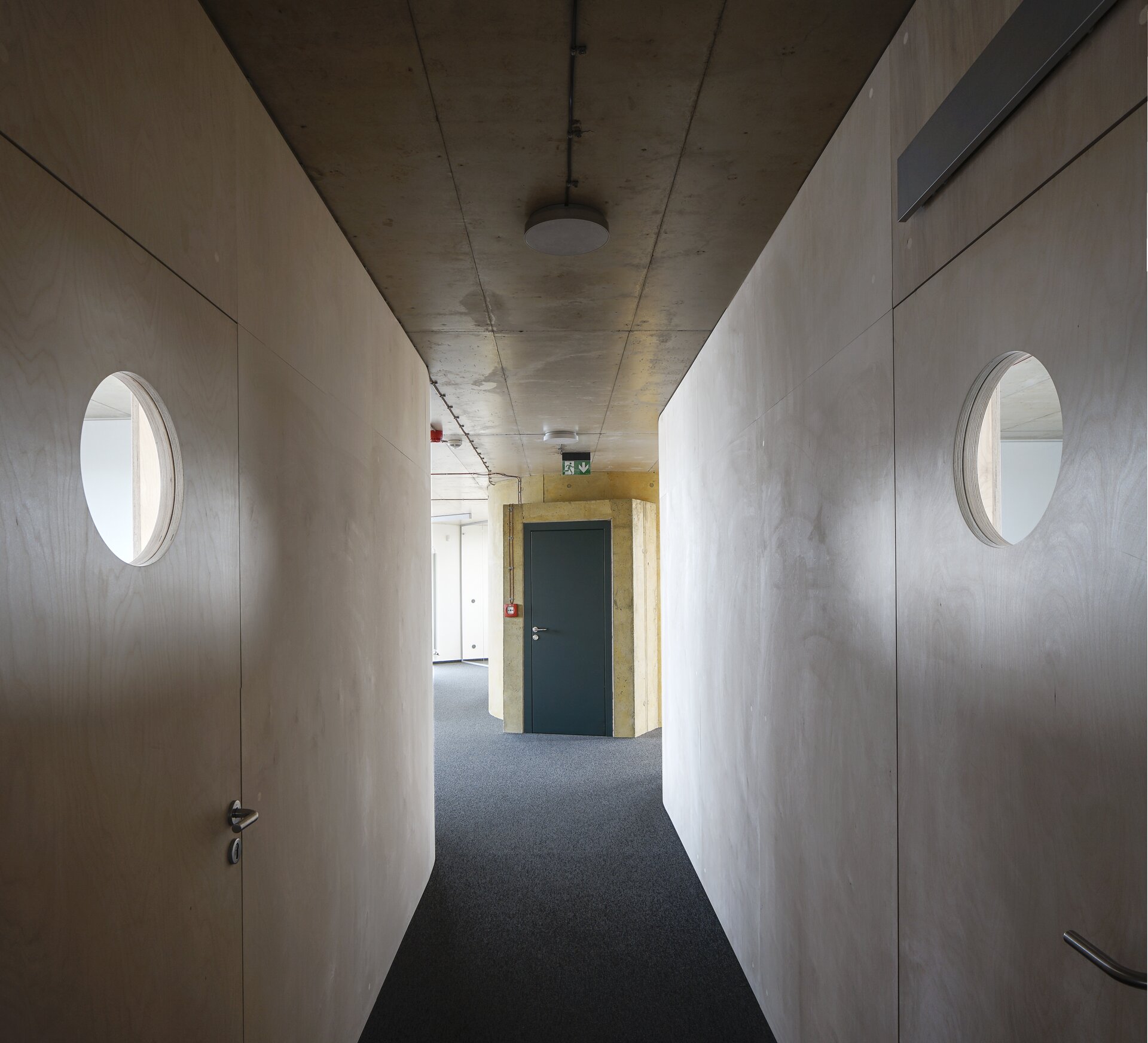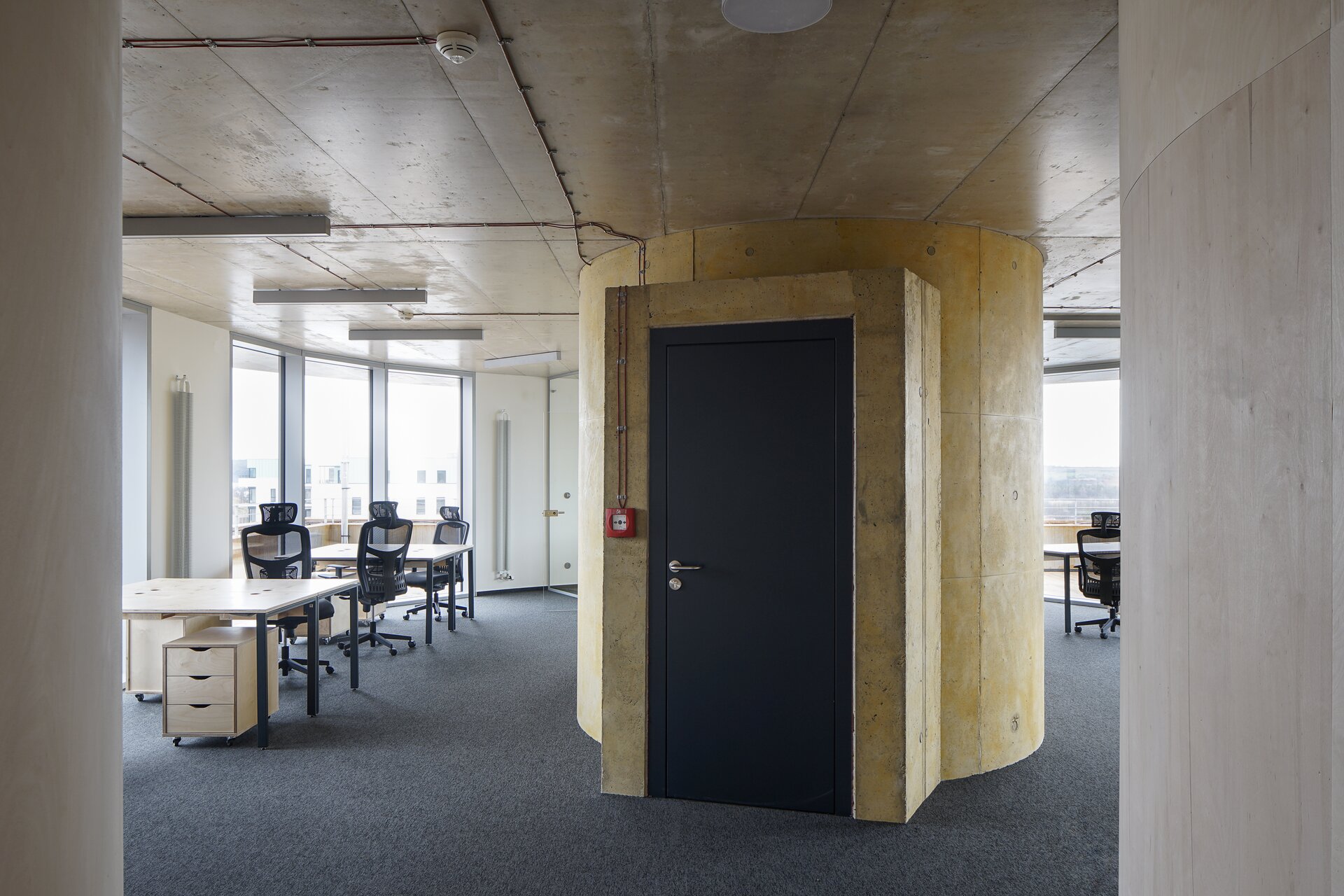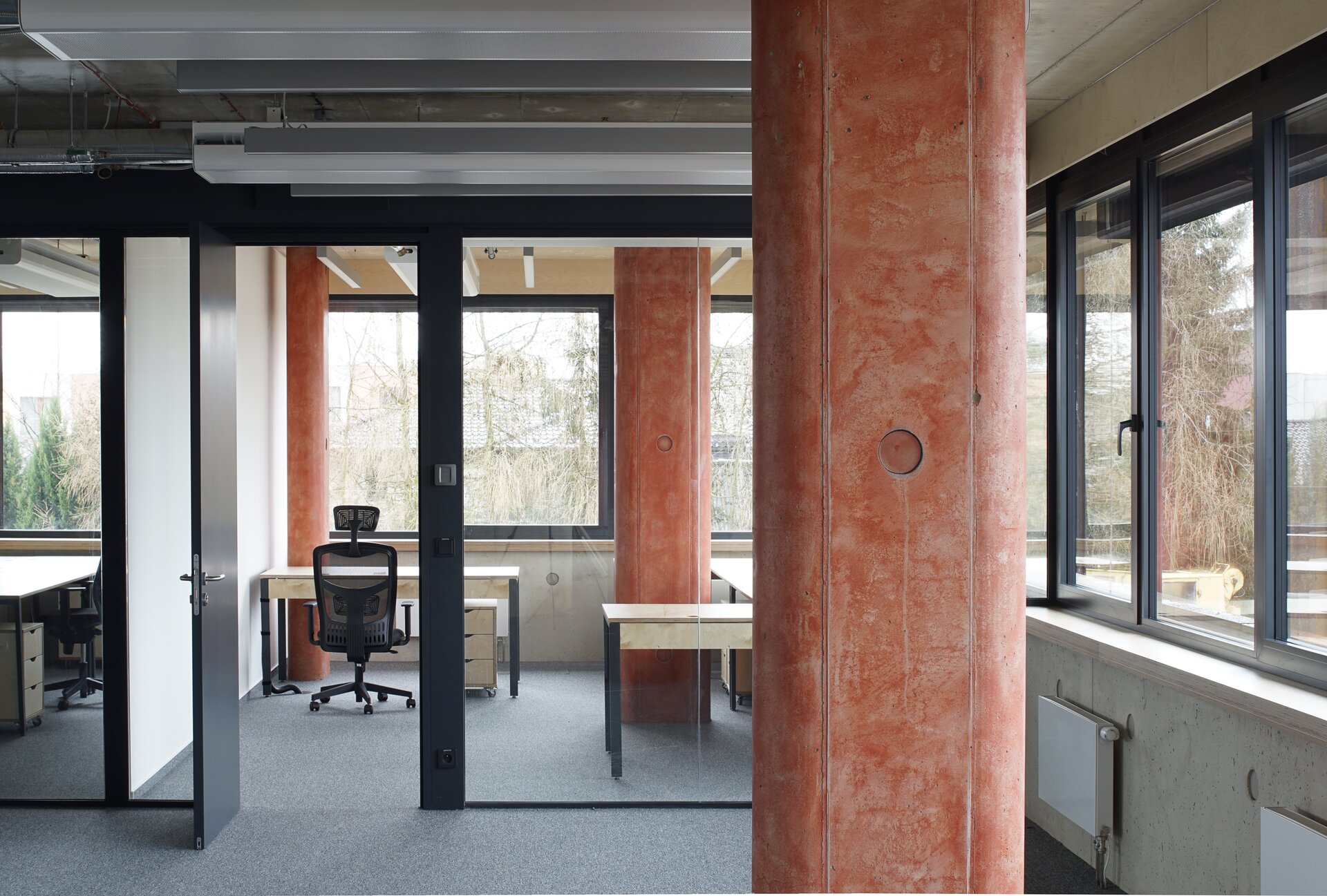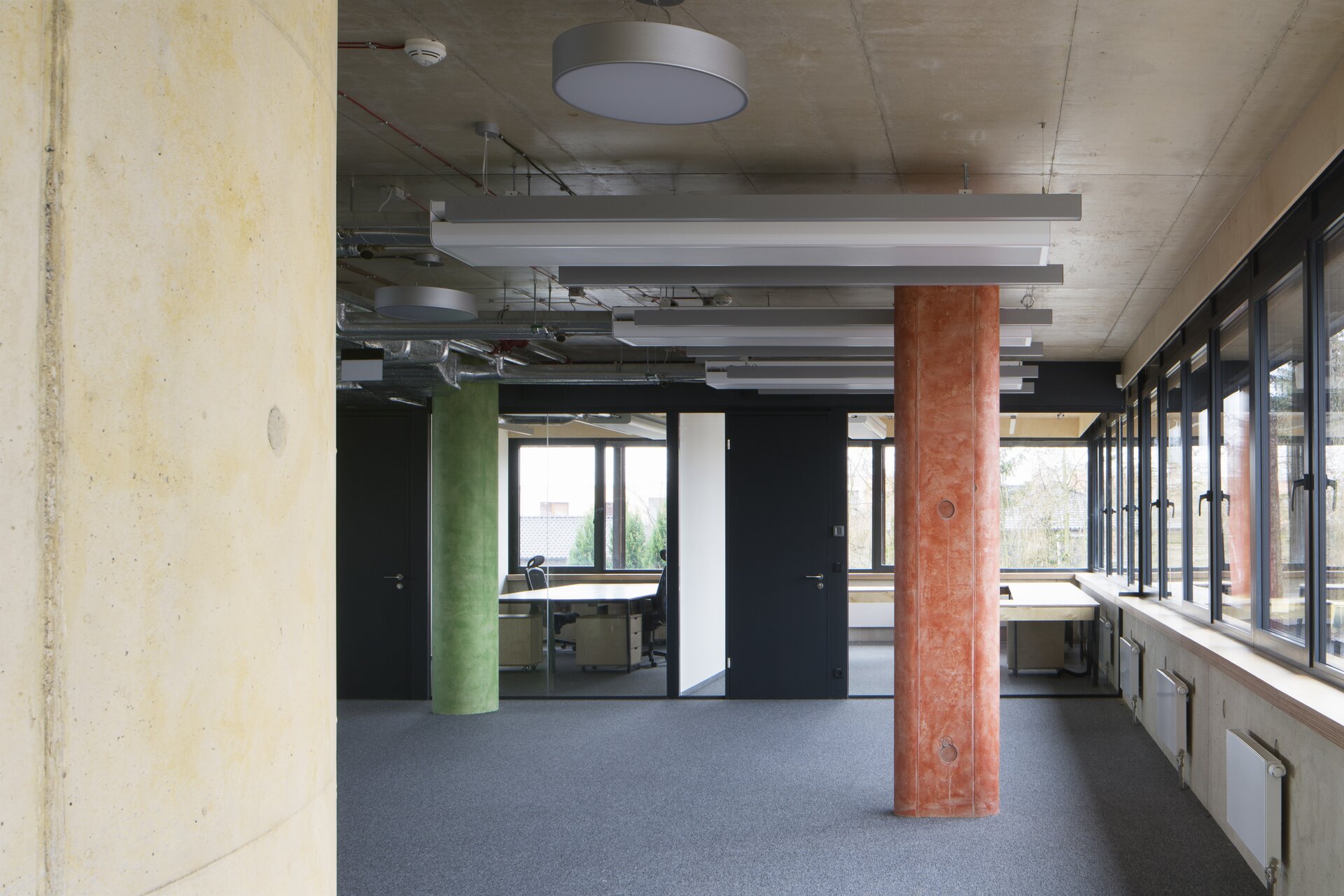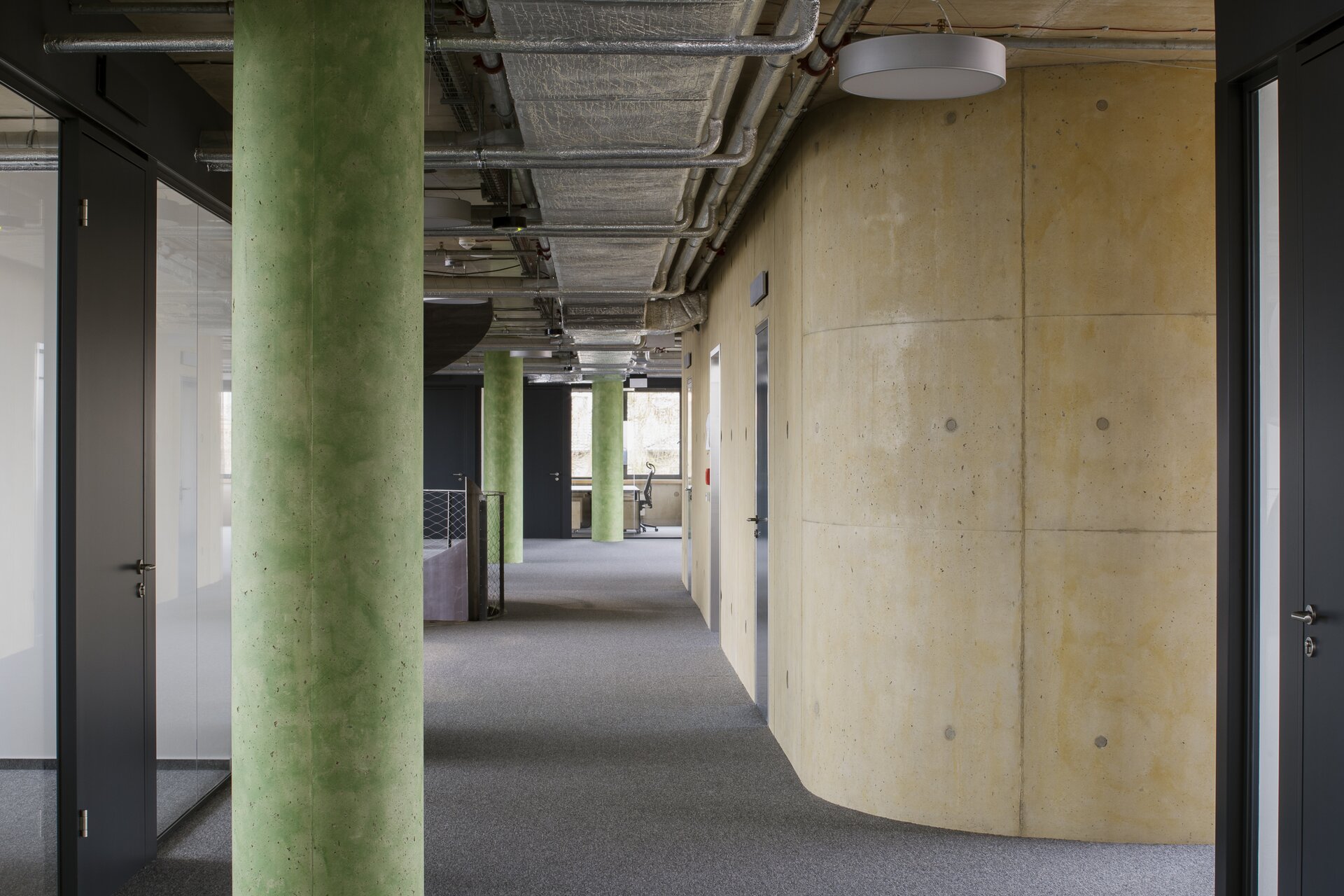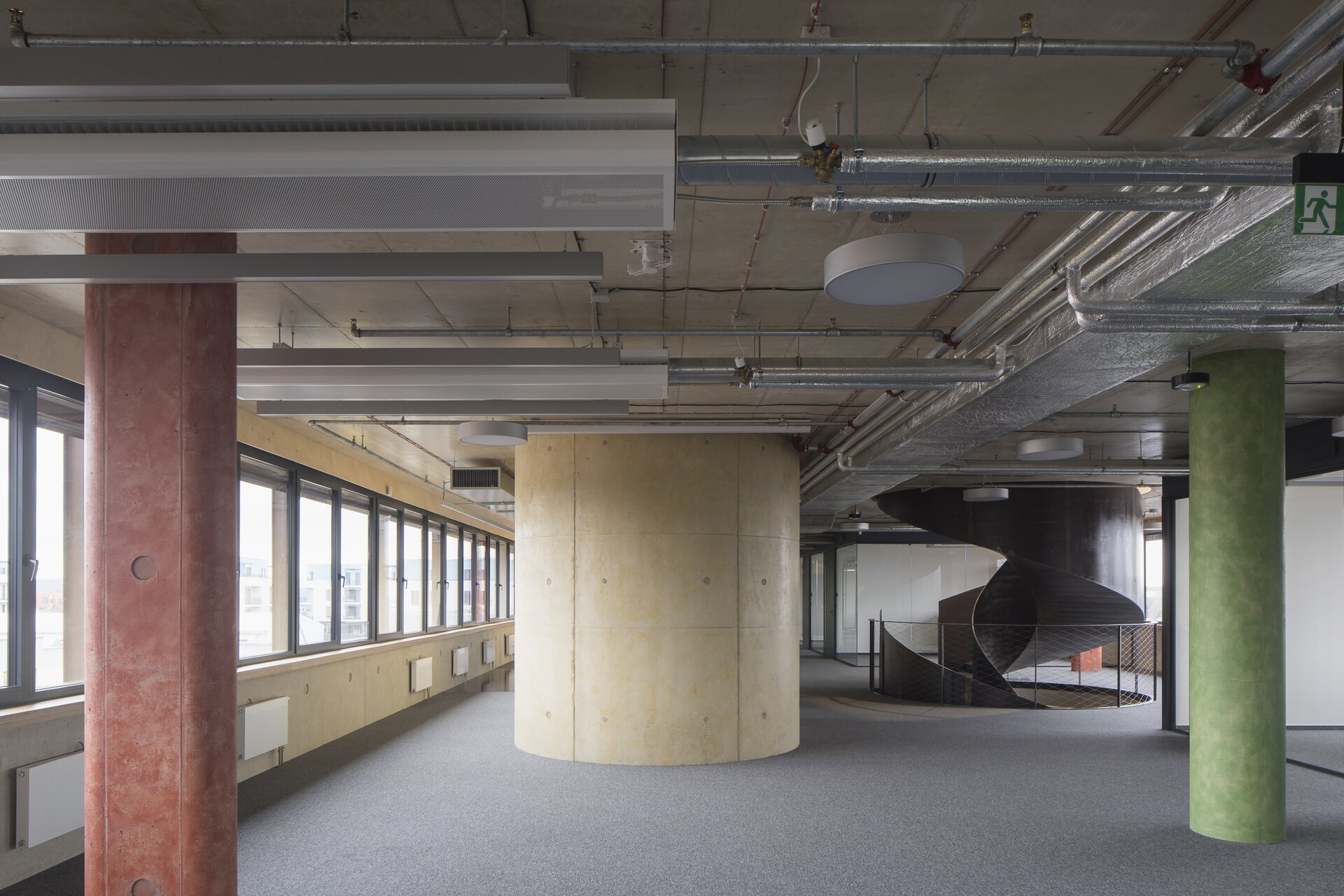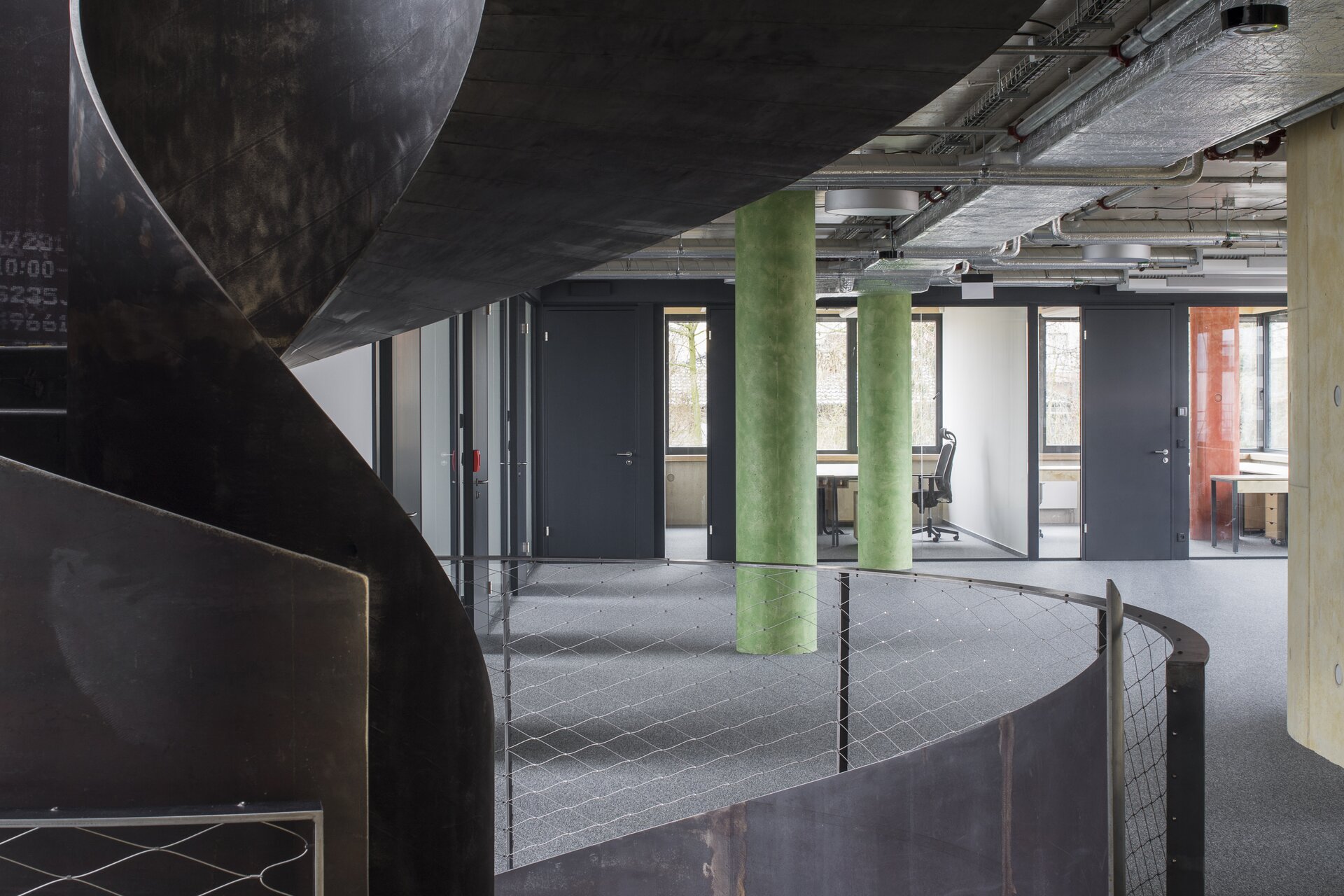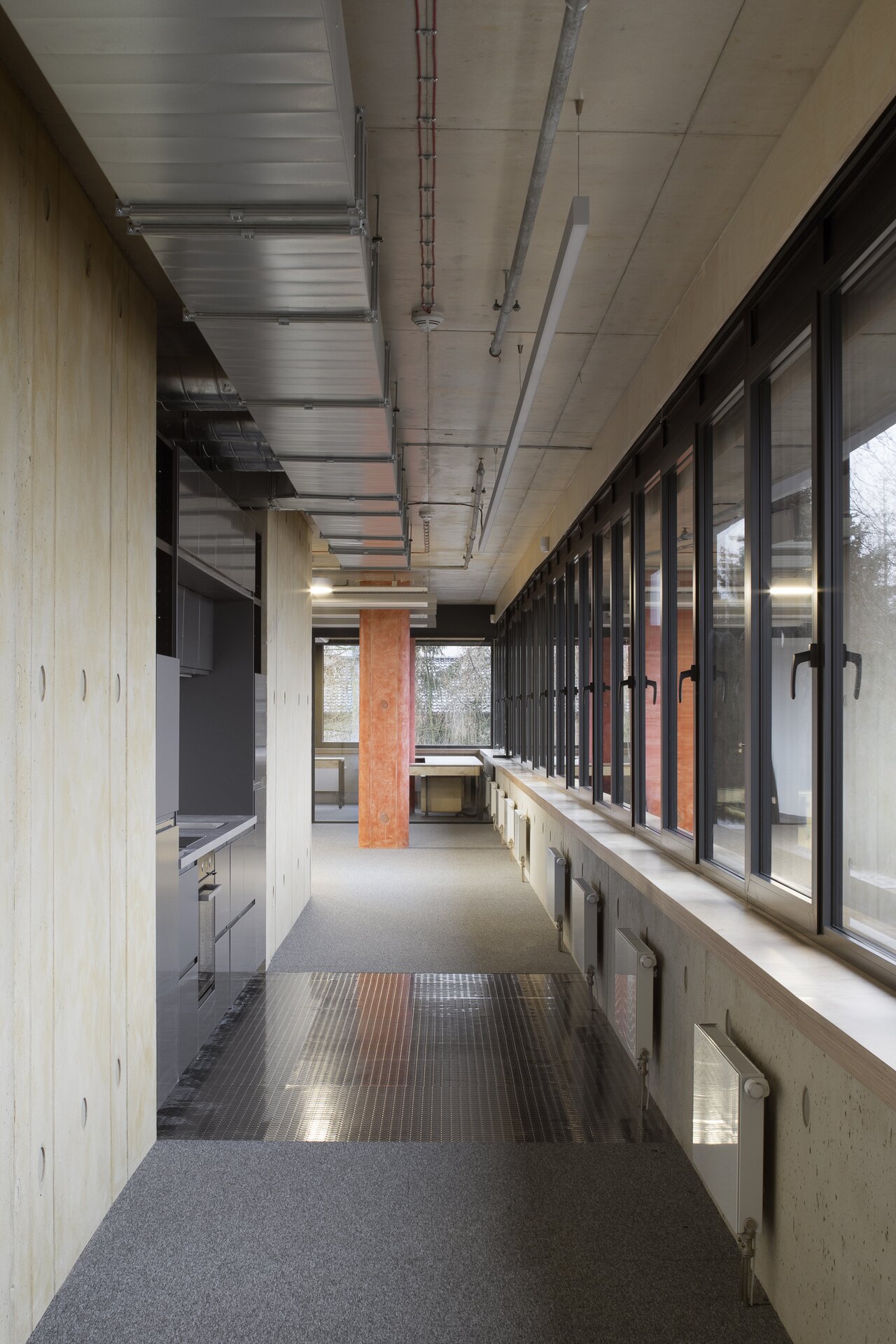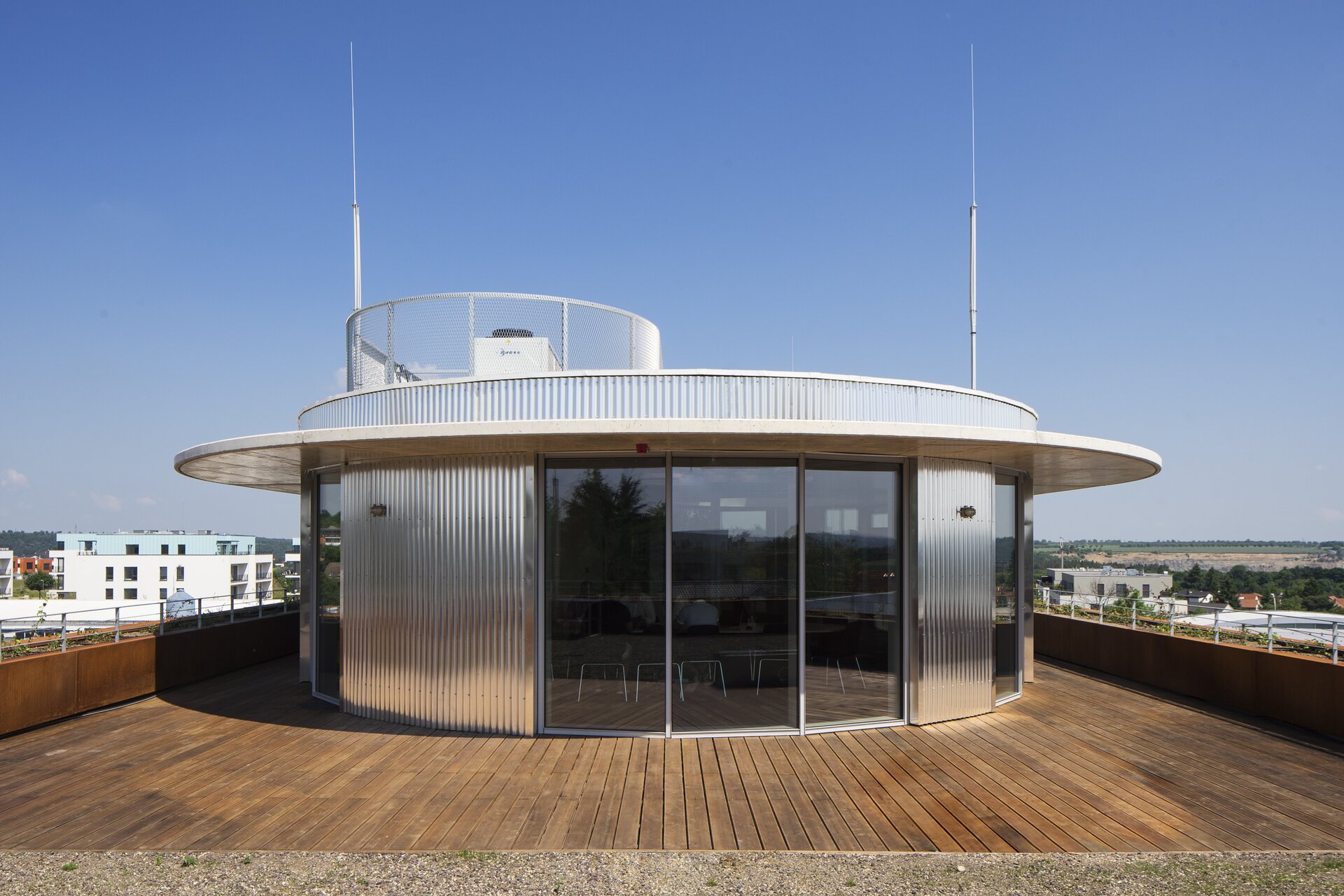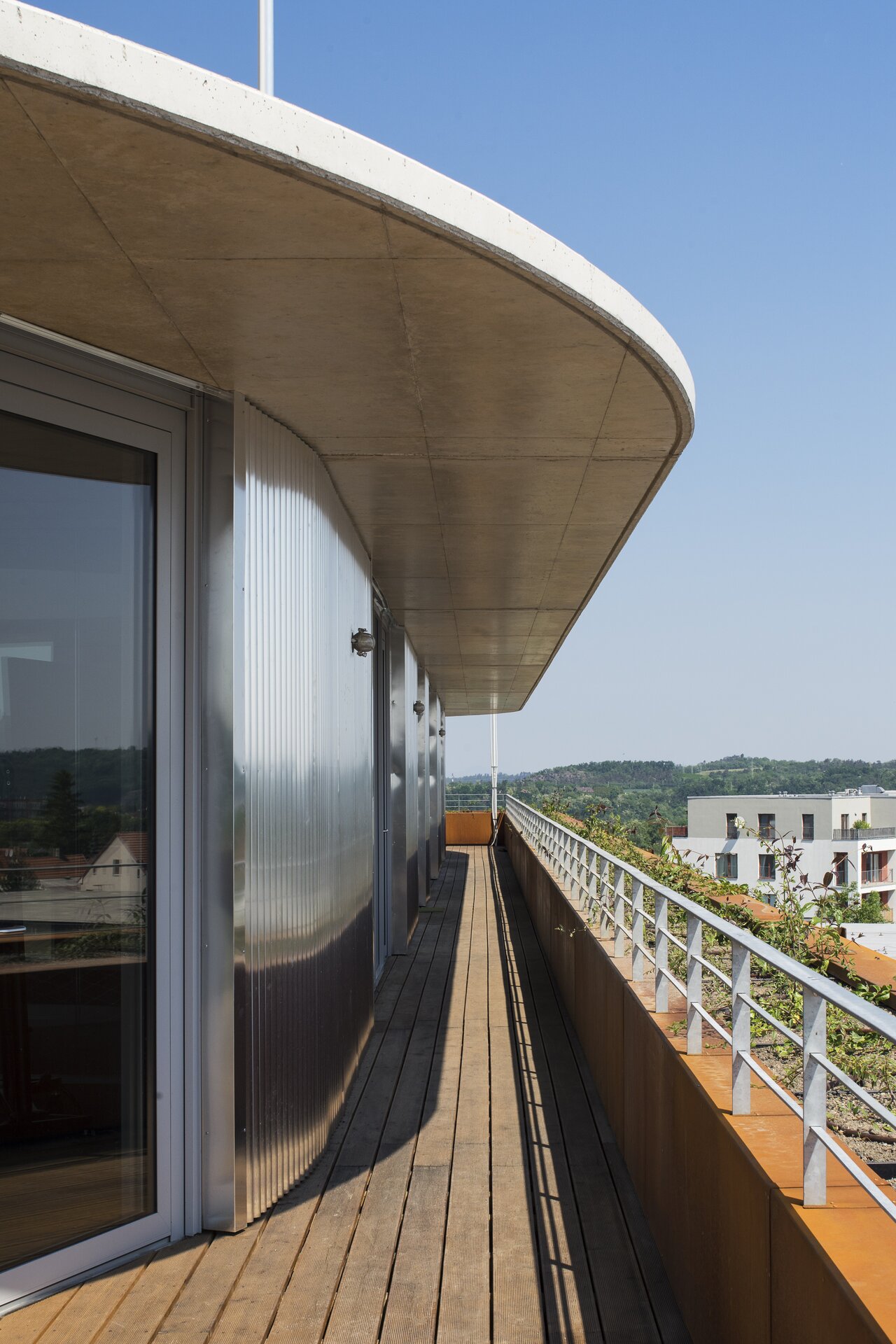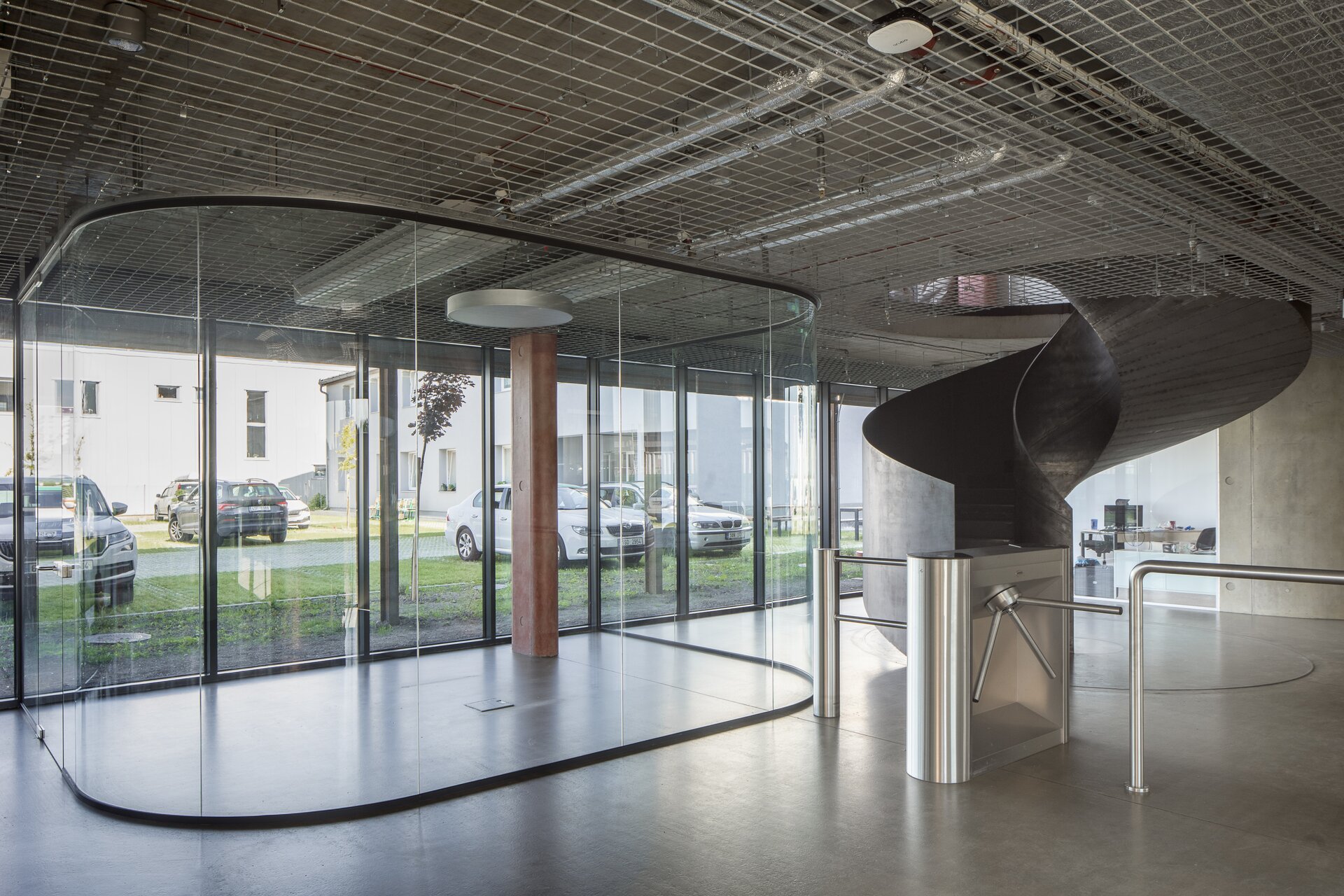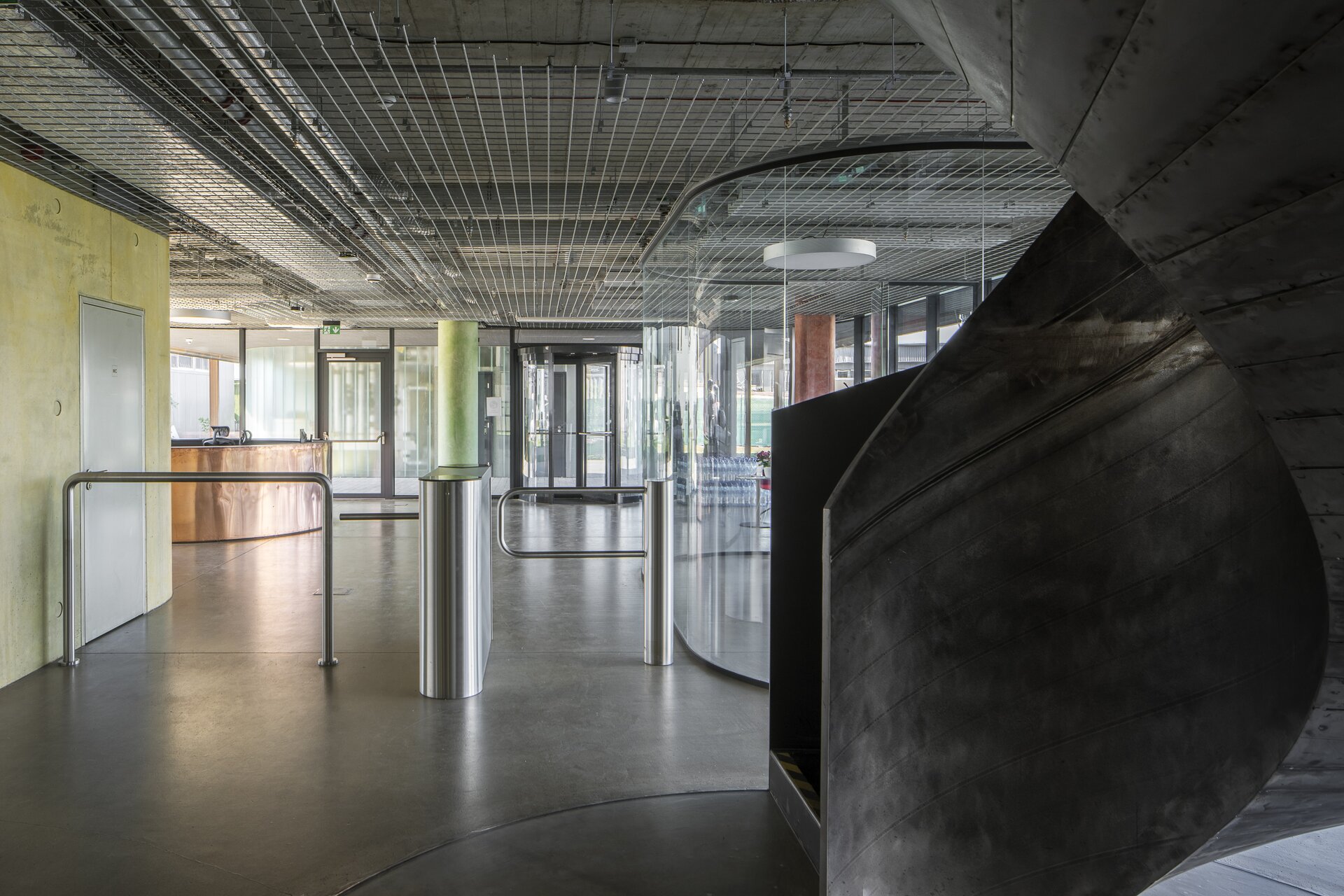 Author
Martin Rusina, Martin Frei, Markéta Poláčková / Rusina Frei architekti
Studio
Location
Na Pomezí 2483, 252 63 Roztoky
Investor
POHL cz, a.s.
Na Pomezí 2483, 252 63 Roztoky
Supplier
POHL cz, a.s.
Na Pomezí 2483, 252 63 Roztoky
Date of project approval
January 2021
Fotograf
Pohl's office building is their flagship. It combines the practical demands of administrative operations with the need for self-representation. The expression is influenced by its location in a suburban industrial area, the company's traditions and underground constructions. The ground floor allows permeability across the large site. The floors combine large and cellular offices. The strip windows, concrete skeleton and modular partition system allow for a flexible floor plan. The top floor with a terrace is designed for the management. The entire building is connected by a spiral staircase.

The façade is clad in corten sheets, referring to the sheet piles and the collectors. Even the rounded cores and facade cladding are reminders of technological equipment. The design of the internal installations is also inspired by technology and is acknowledged. The industrial character of the surroundings is also supported by the selection of new vegetation in contrast to the rusted façade.
This is a new building. It is based on piles and on a monolithic foundation slab. The construction system is variable according to the floor. The main structural system is columnar with reinforced concrete ceilings and cores. A monolithic reinforced concrete attic has been constructed around the perimeter of the ceiling slabs to act as a load-bearing lintel. The steel façade is anchored into this attic. Vertical load-bearing structures 4. NP are formed by steel columns filled with concrete. The internal columns and bearing walls are made of monolithic reinforced concrete.
There are two staircases in the building, the main one is monolithic reinforced concrete and the secondary one is steel.
The roof is flat reinforced concrete with green retention.
The façade consists of lightweight structural glazing in Nos. 1 and 4. The conventional office floors have strip windows and corten sheet cladding. The beams of the façade are made of steel columns in the shape of the letter 'I'.
Green building
Environmental certification
| | |
| --- | --- |
| Type and level of certificate | - |
Water management
| | |
| --- | --- |
| Is rainwater used for irrigation? | |
| Is rainwater used for other purposes, e.g. toilet flushing ? | |
| Does the building have a green roof / facade ? | |
| Is reclaimed waste water used, e.g. from showers and sinks ? | |
The quality of the indoor environment
| | |
| --- | --- |
| Is clean air supply automated ? | |
| Is comfortable temperature during summer and winter automated? | |
| Is natural lighting guaranteed in all living areas? | |
| Is artificial lighting automated? | |
| Is acoustic comfort, specifically reverberation time, guaranteed? | |
| Does the layout solution include zoning and ergonomics elements? | |
Principles of circular economics
| | |
| --- | --- |
| Does the project use recycled materials? | |
| Does the project use recyclable materials? | |
| Are materials with a documented Environmental Product Declaration (EPD) promoted in the project? | |
| Are other sustainability certifications used for materials and elements? | |
Energy efficiency
| | |
| --- | --- |
| Energy performance class of the building according to the Energy Performance Certificate of the building | B |
| Is efficient energy management (measurement and regular analysis of consumption data) considered? | |
| Are renewable sources of energy used, e.g. solar system, photovoltaics? | |
Interconnection with surroundings
| | |
| --- | --- |
| Does the project enable the easy use of public transport? | |
| Does the project support the use of alternative modes of transport, e.g cycling, walking etc. ? | |
| Is there access to recreational natural areas, e.g. parks, in the immediate vicinity of the building? | |