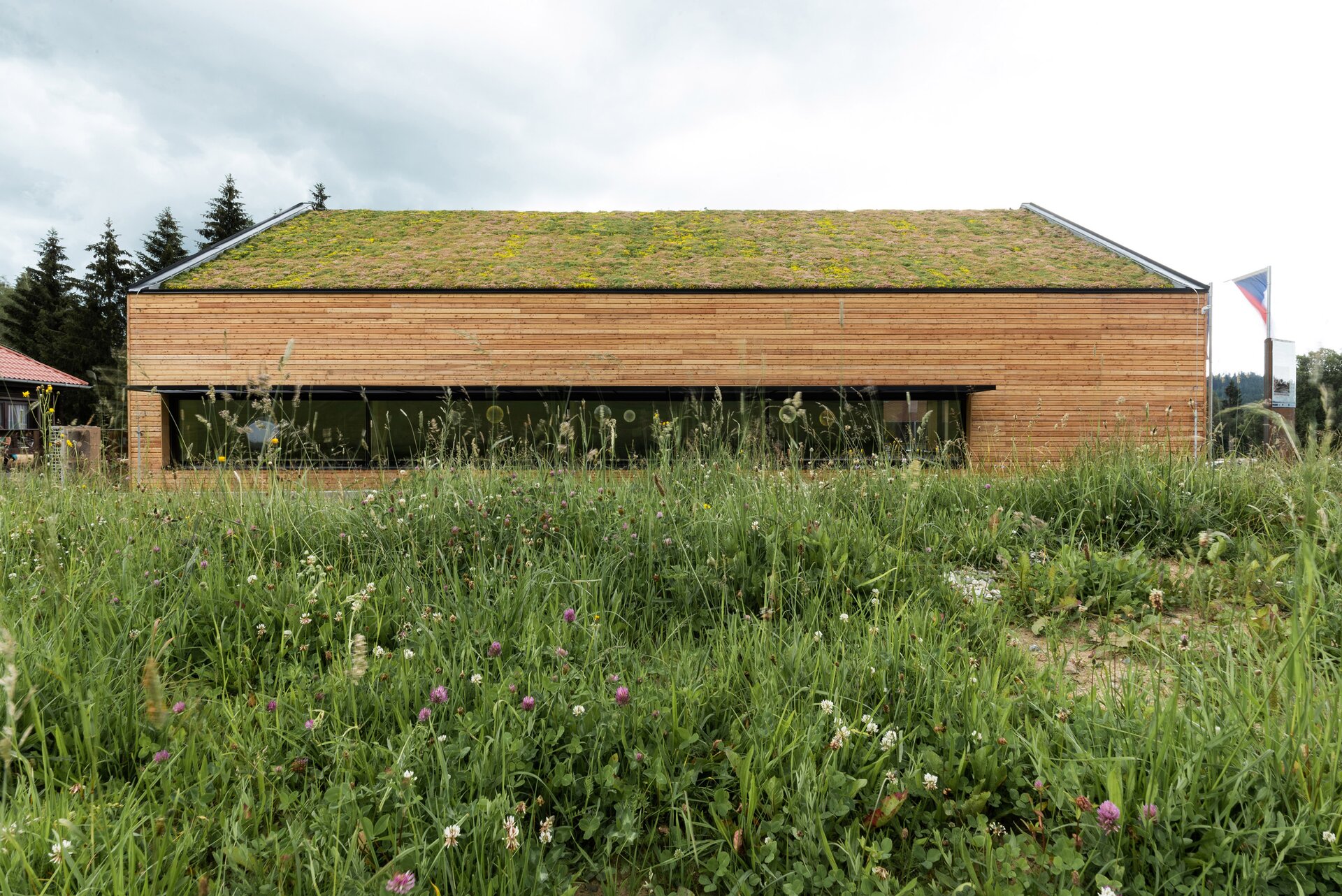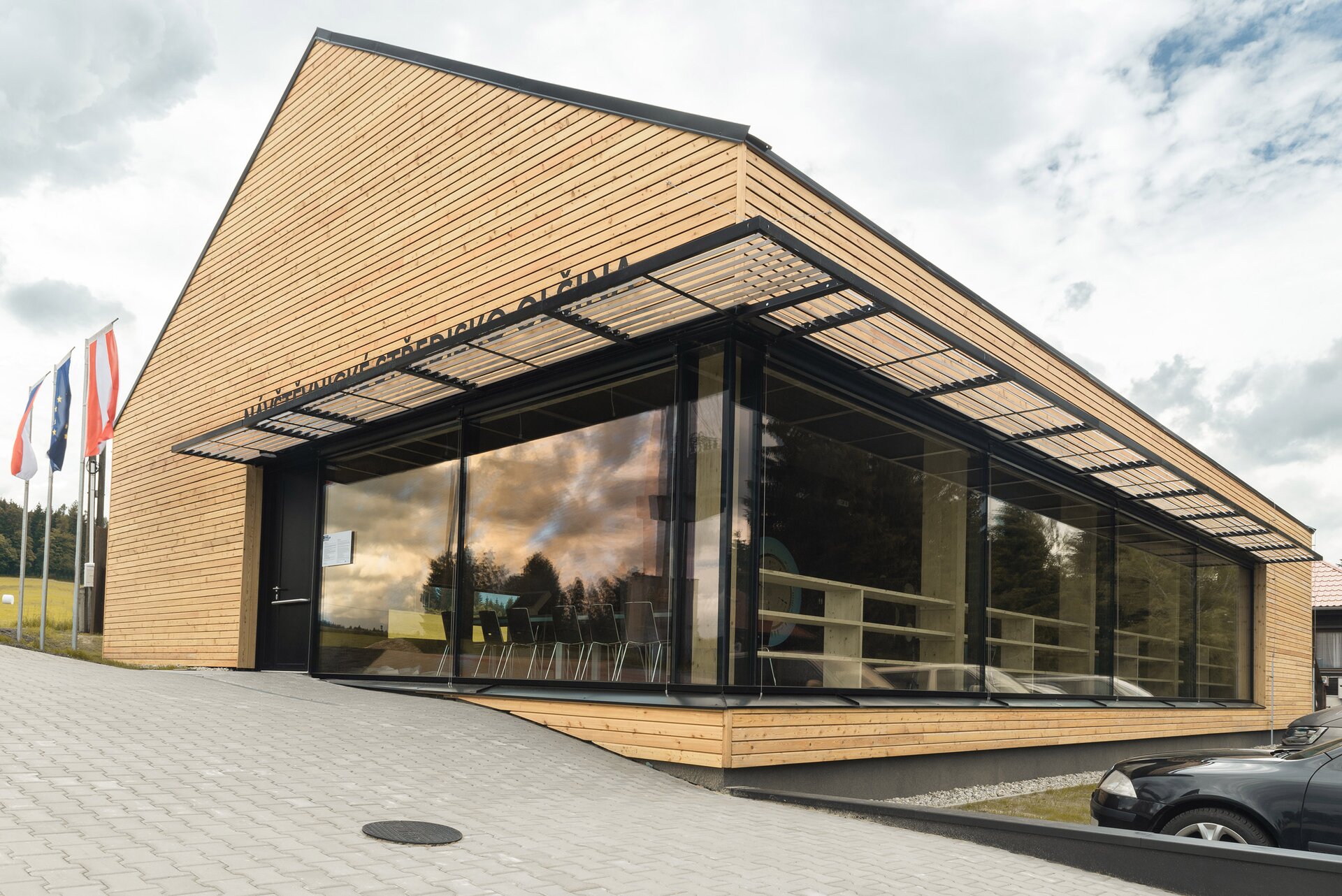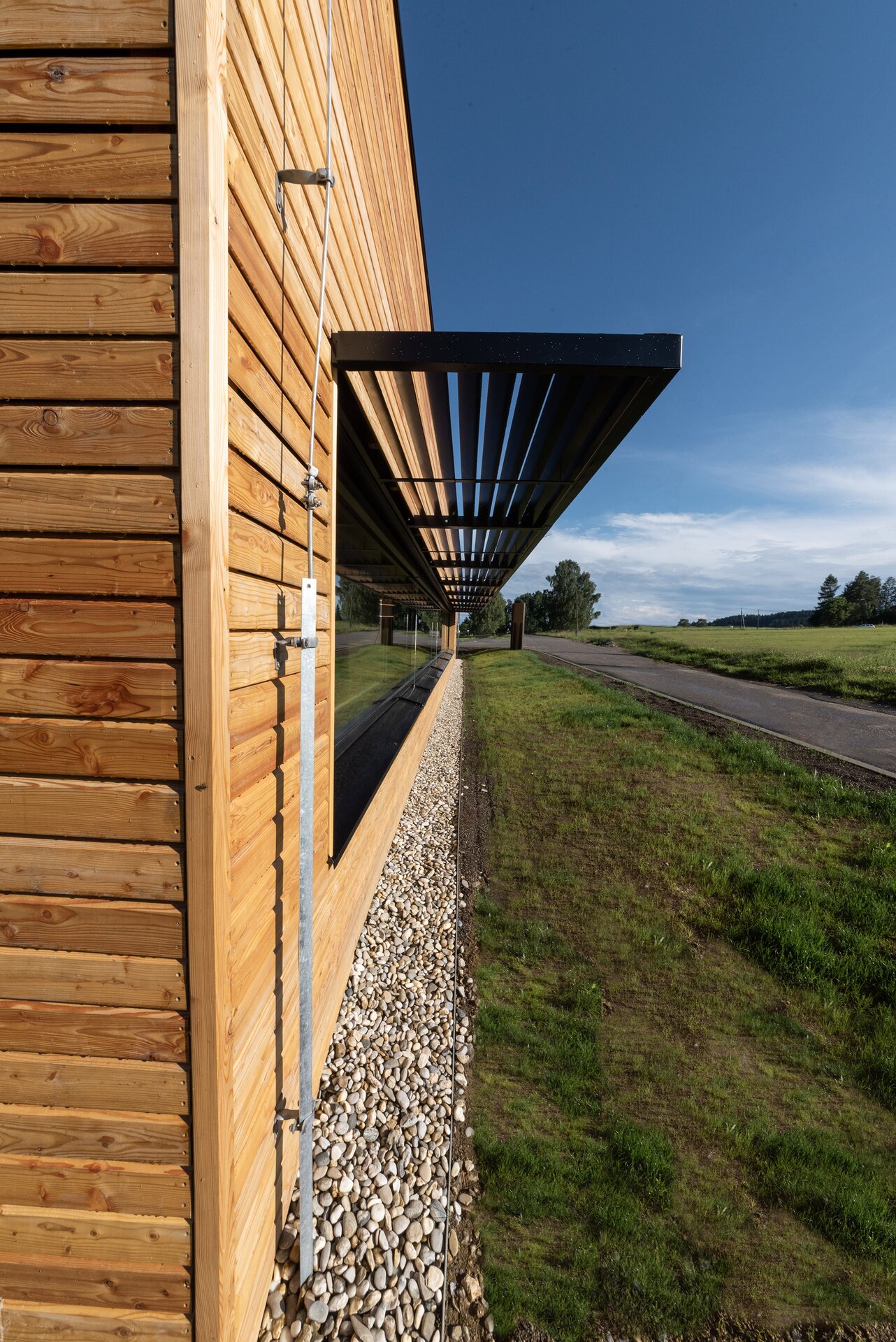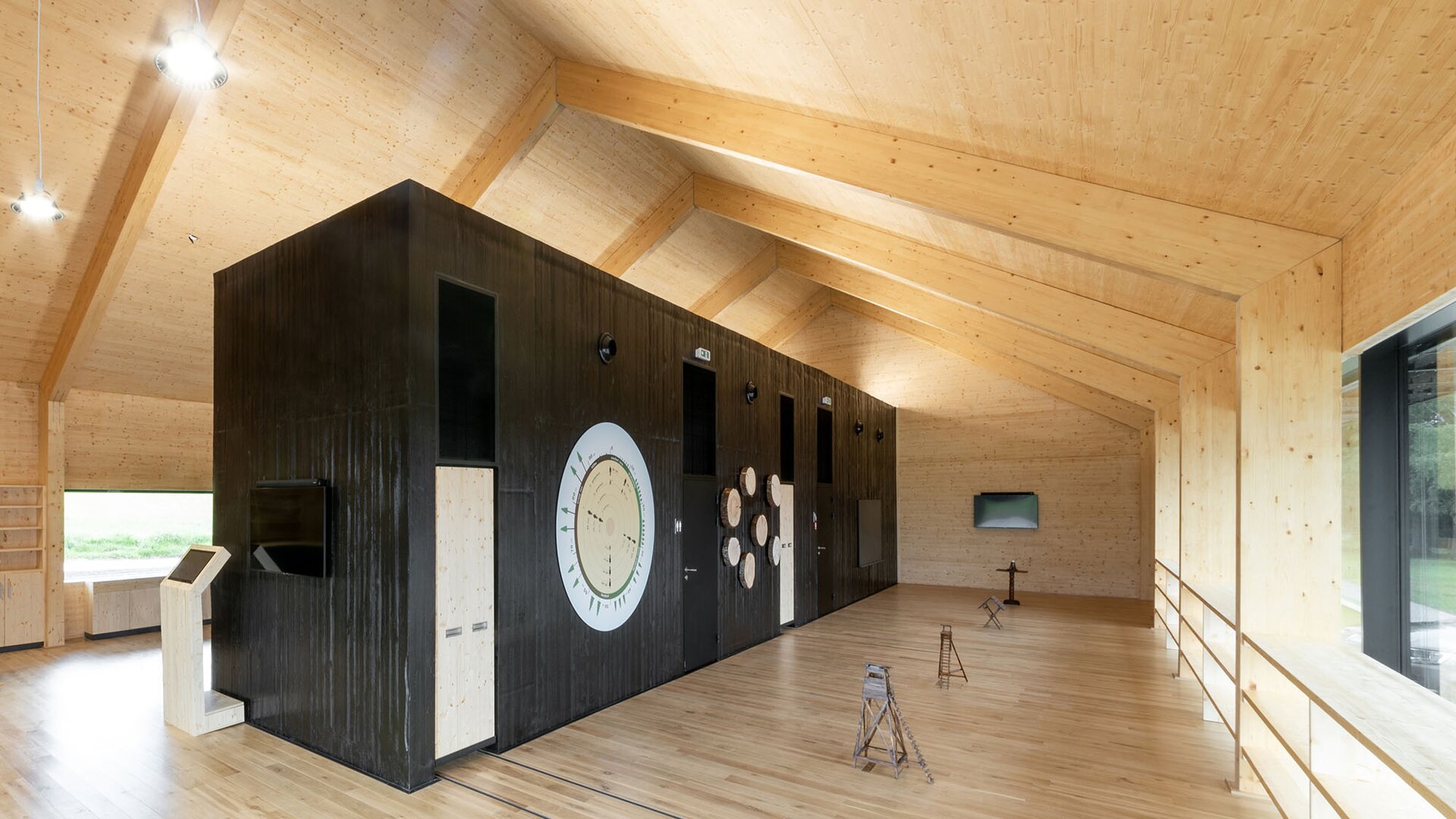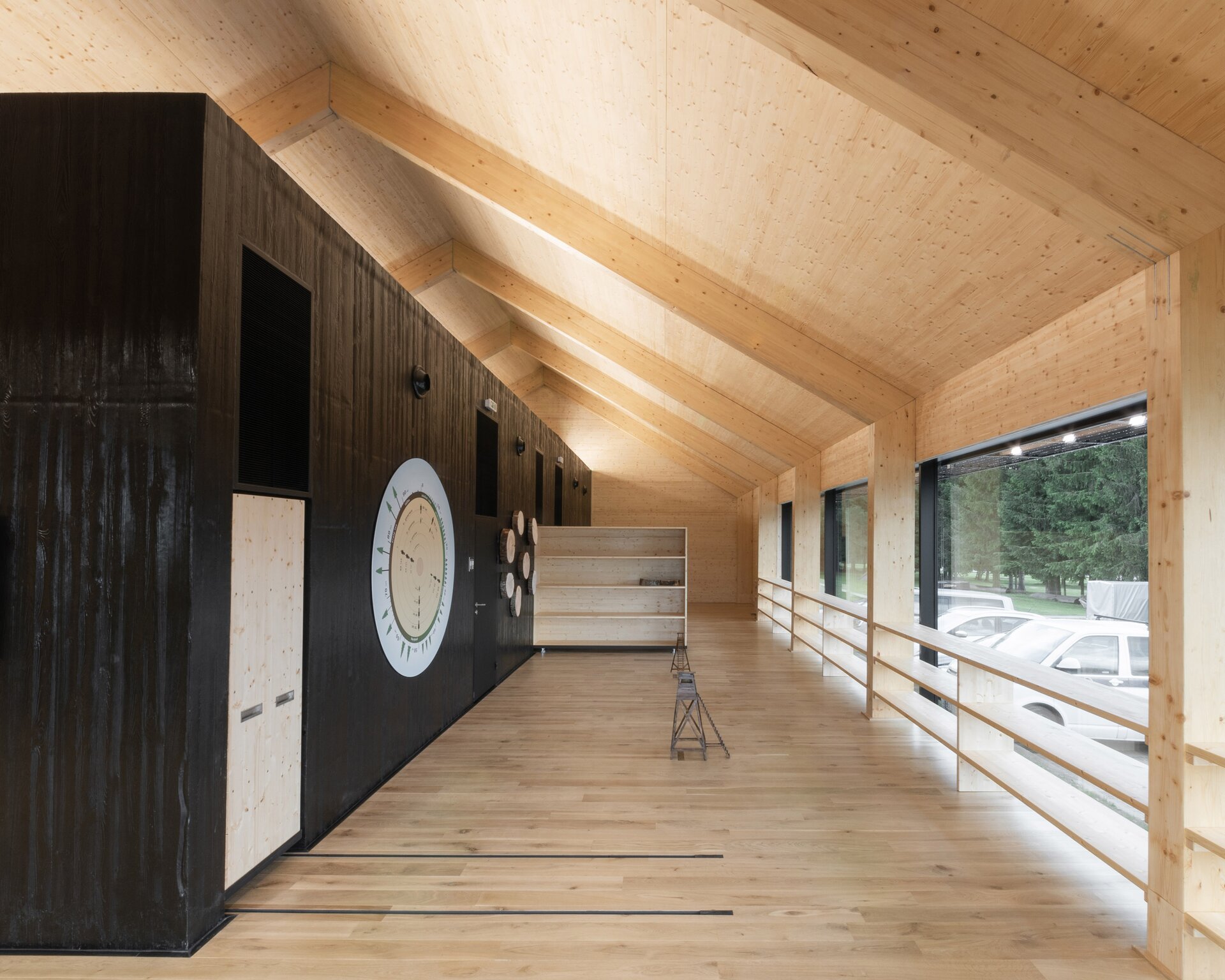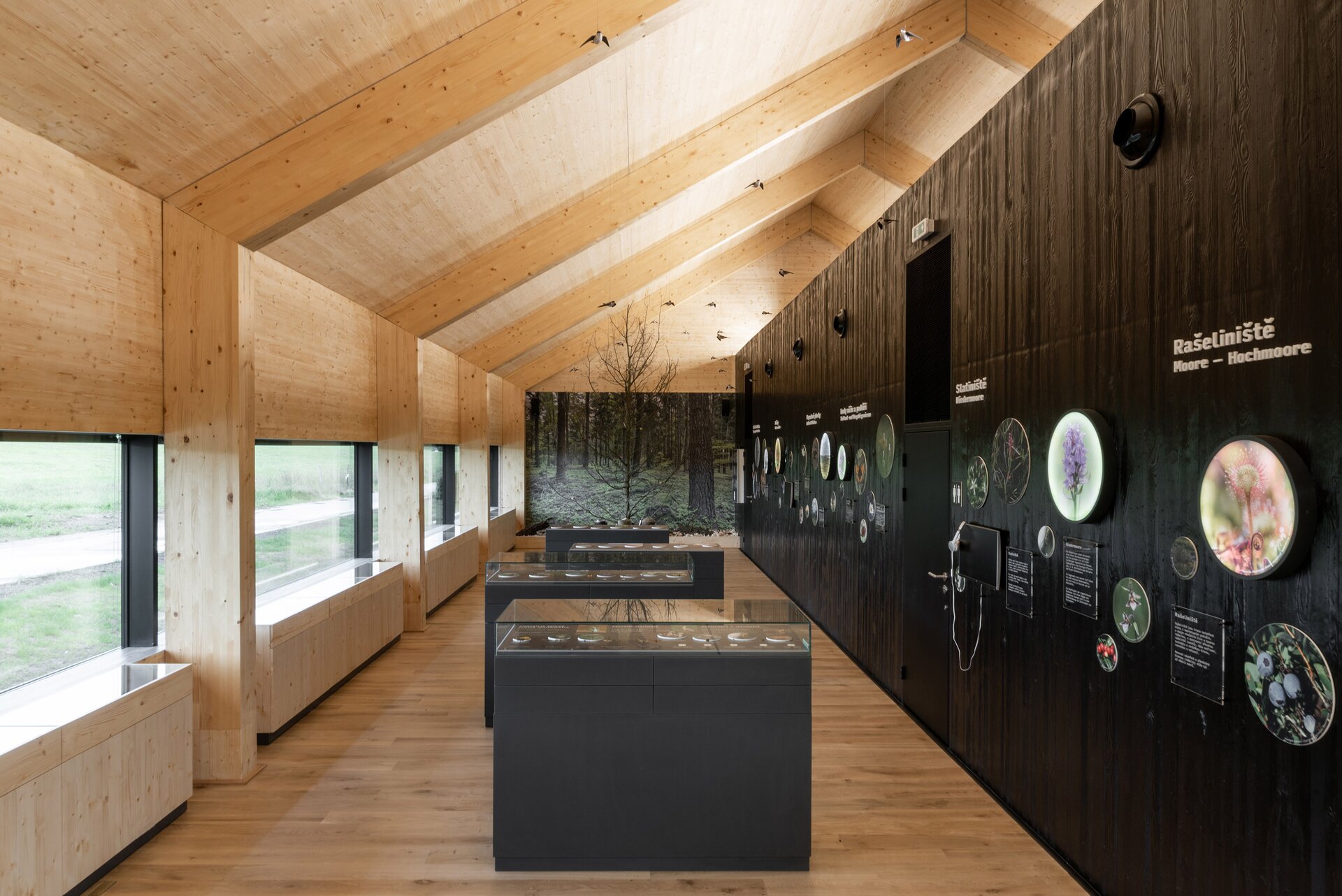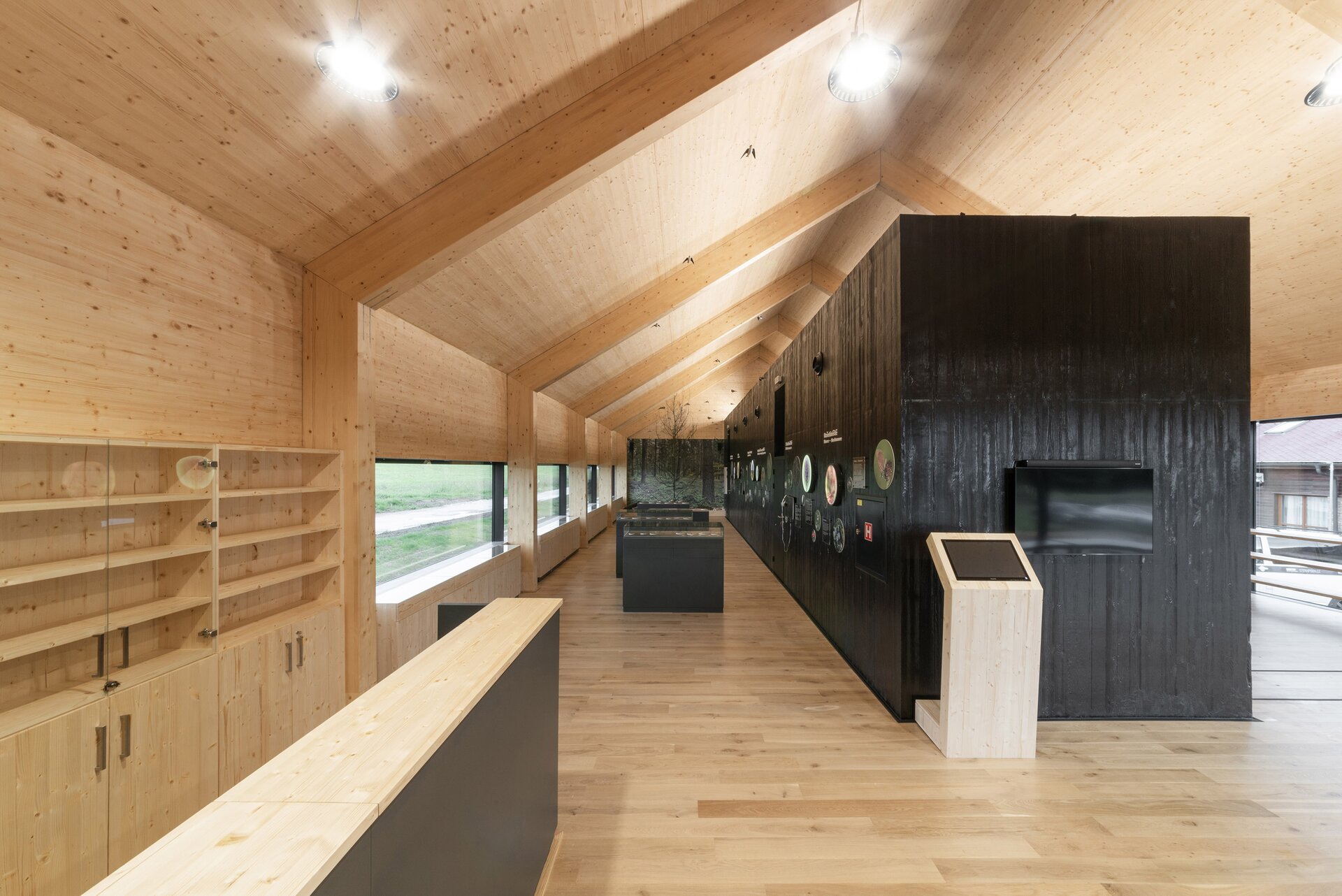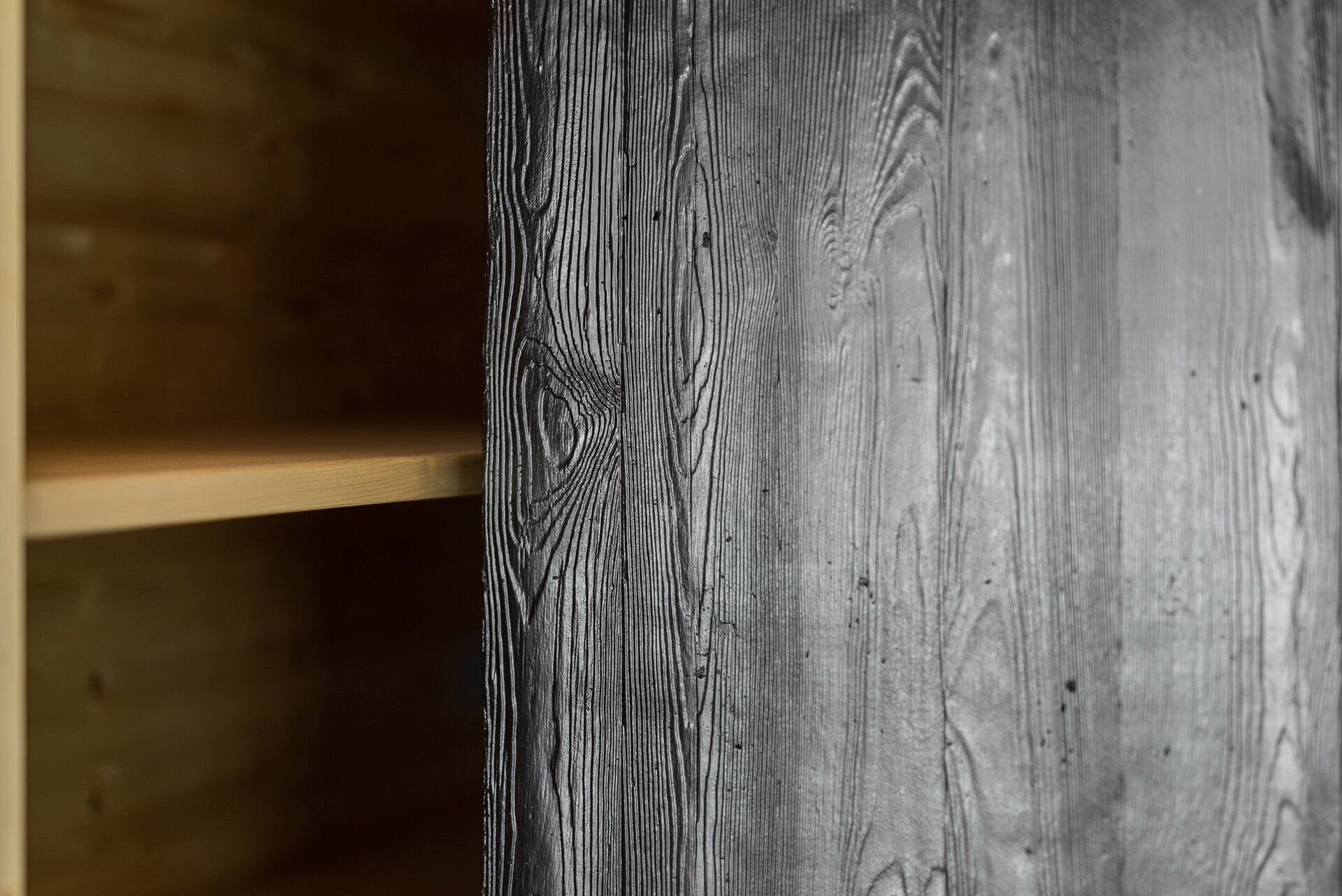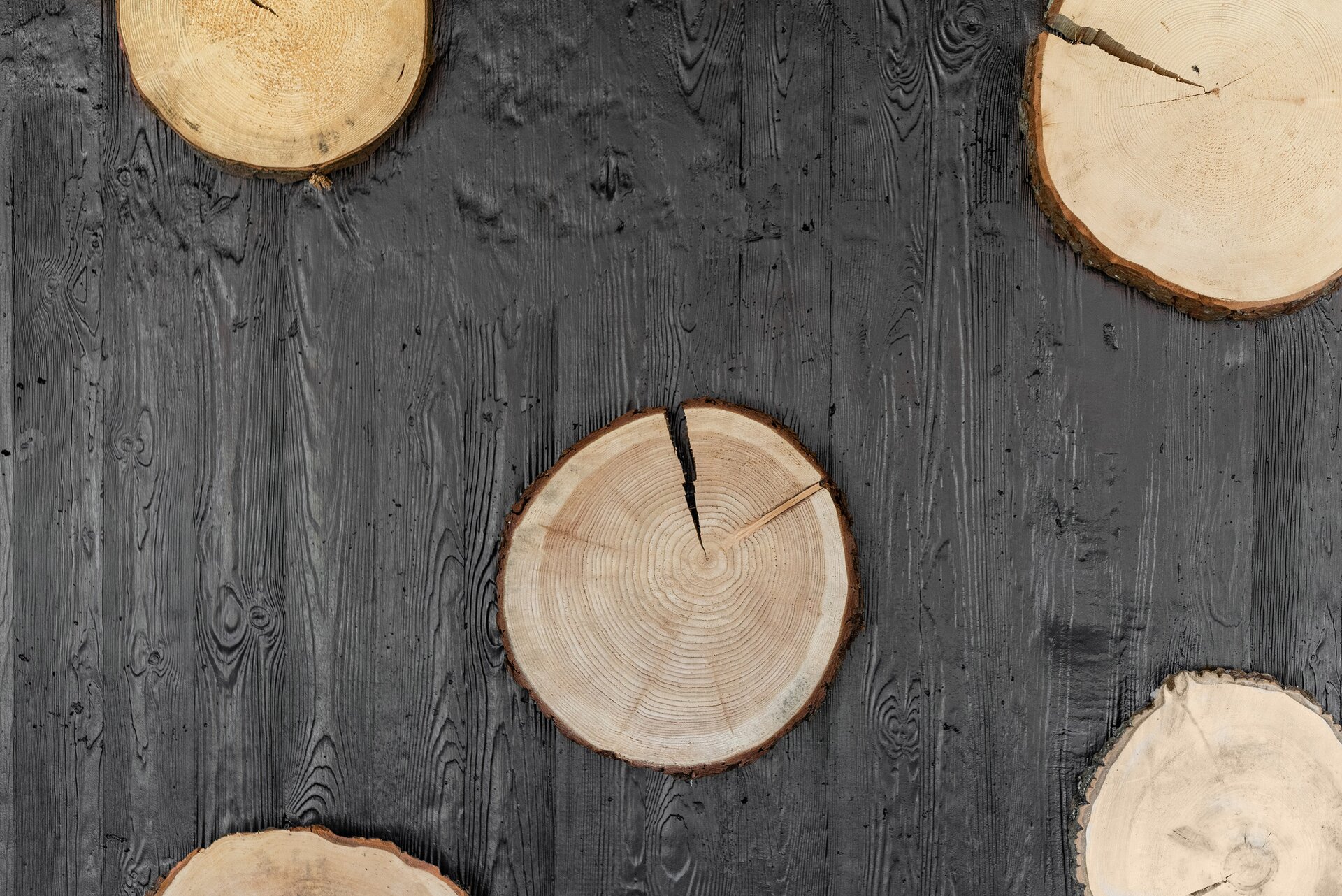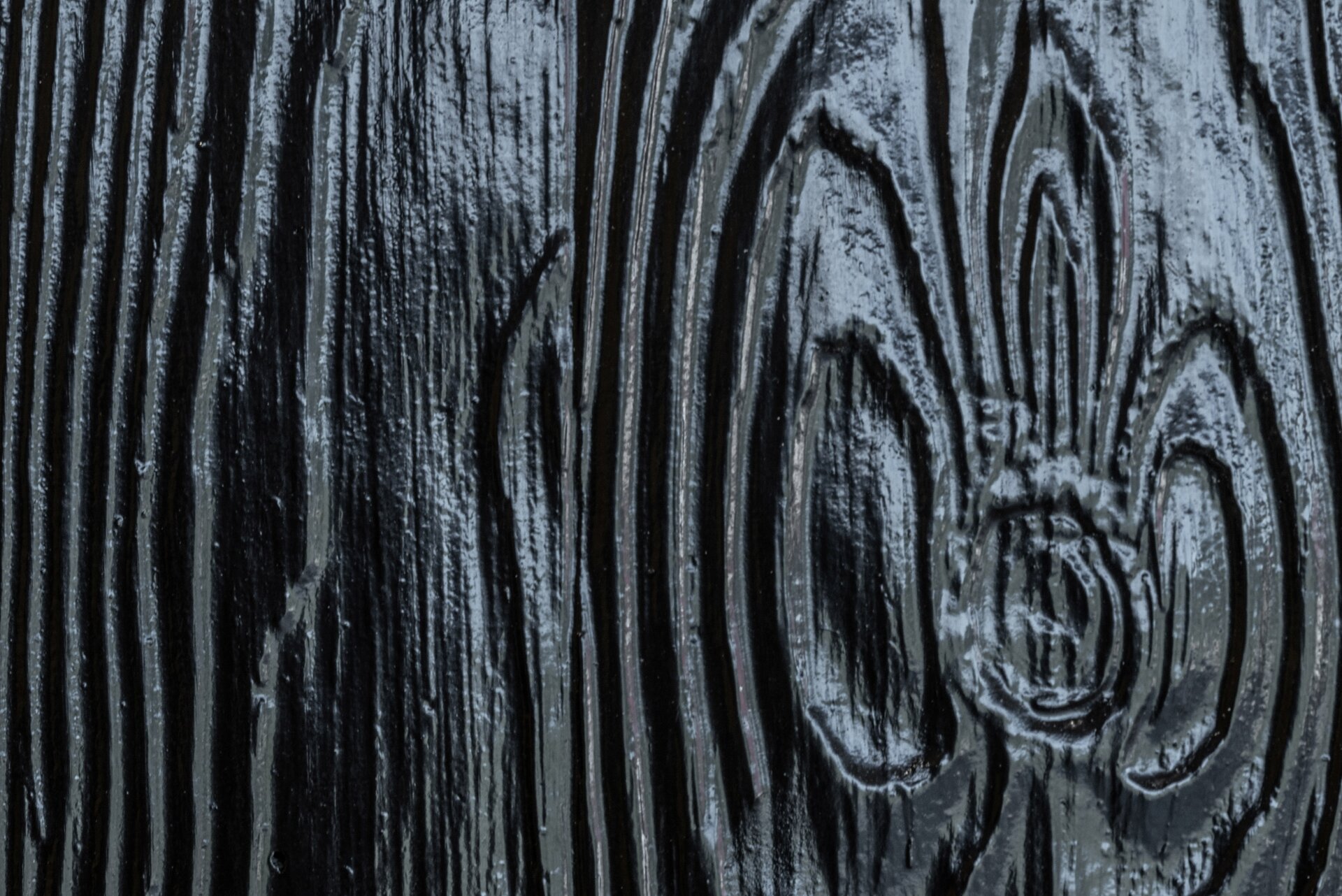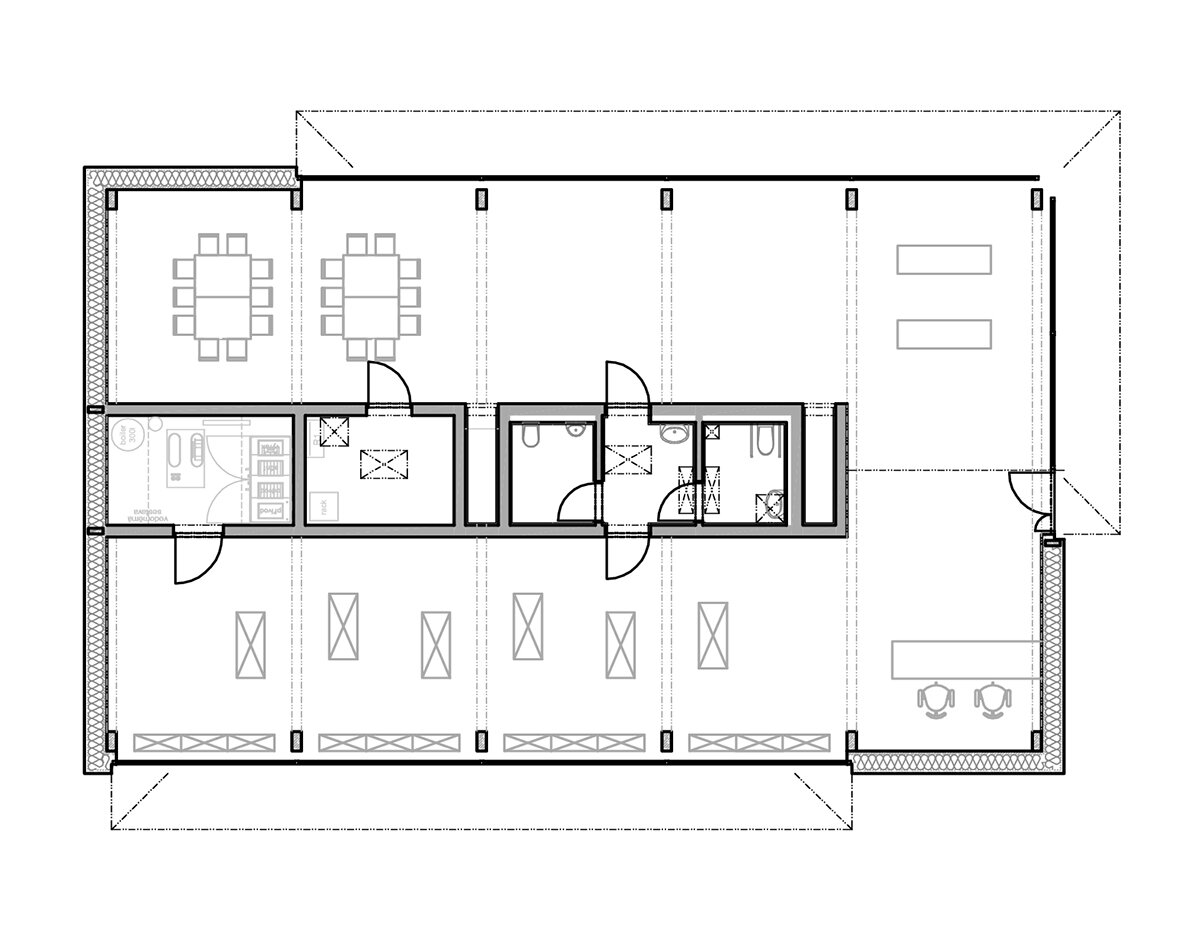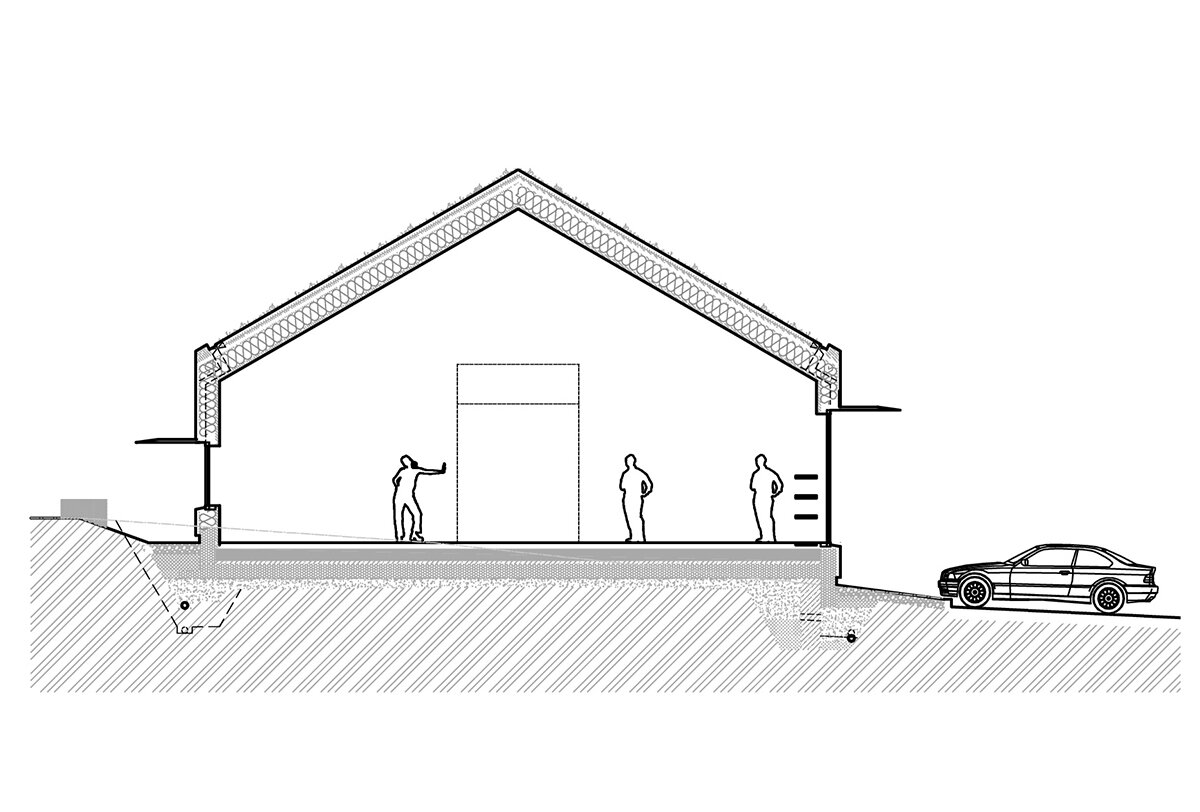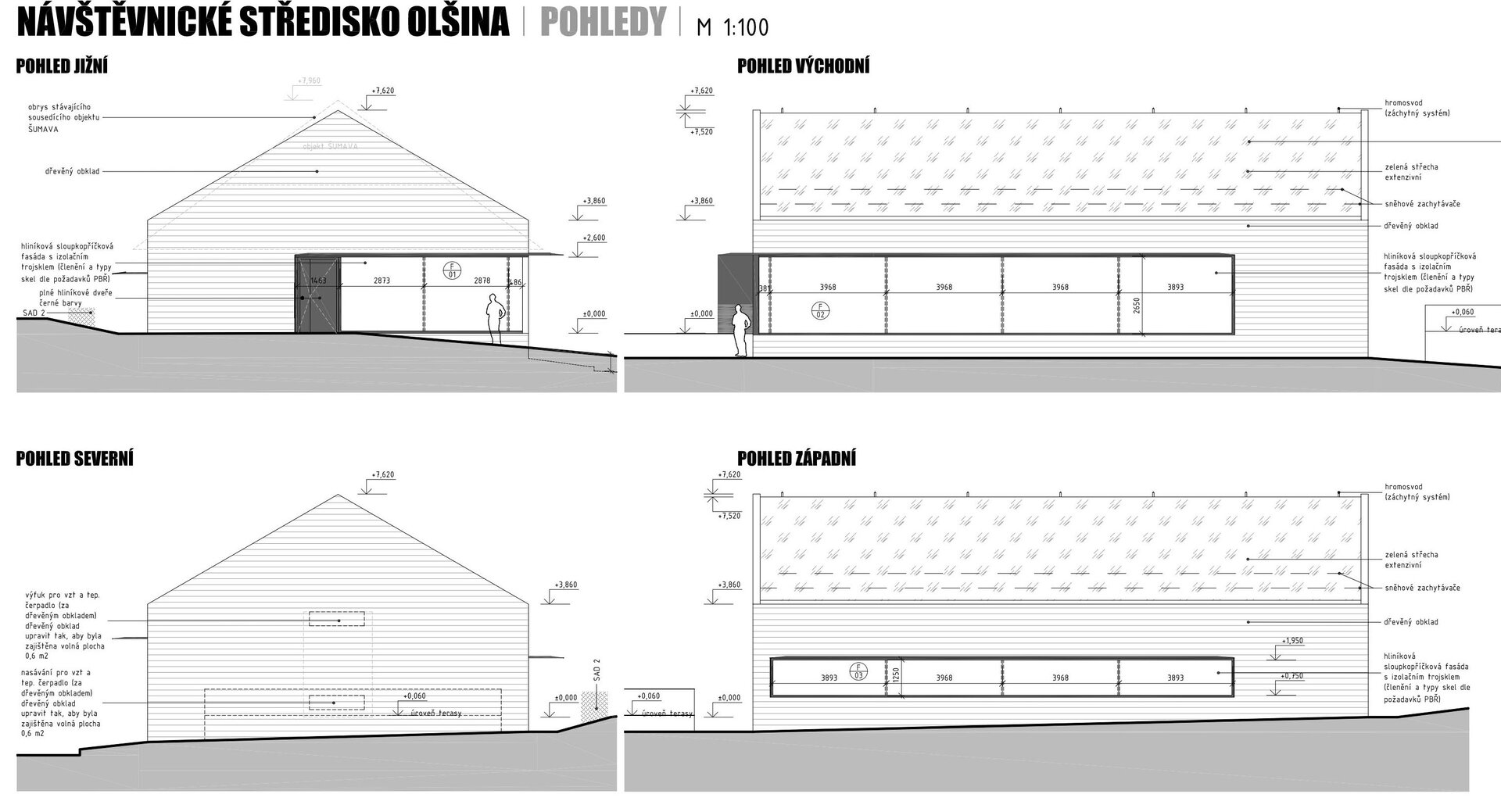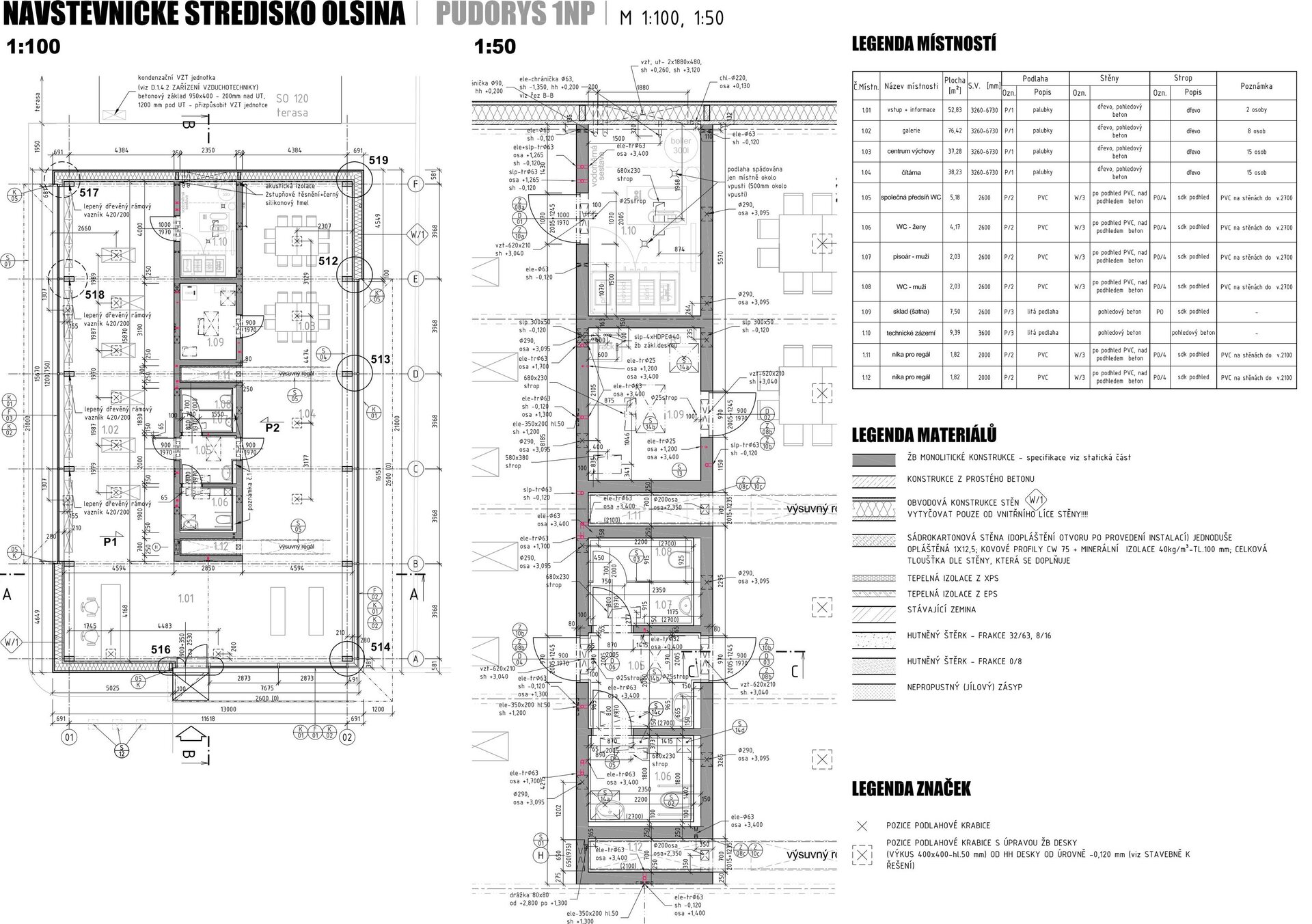 | | |
| --- | --- |
| Author | David Kudla, Miloš Ryšavý, Michal Šírek/Arch.Design |
| Studio | |
| Location | Olšina, 382 26 Boletice |
| Investor | Vojenské lesy a statky ČR, s.p. |
| Supplier | AURINKO - DV, s.r.o. |
| Date of project approval | June 2020 |
| Fotograf | |
The object of a visitor centre presenting the local uniqueness of Šumava nature cannot be otherwise designed than in a high ecological standard. Used wooden structure complemented by thermal insulation provides required thermophysical properties for the building envelope. However, a house designed in this way maintains a minimum accumulation capacity, leading to quick reactions to weather fluctuations. In order not to have to cool it down environmentally unfriendly, we placed a concrete black block in the middle of the building, far from the cooled perimeter cladding, which ensures thermal stability. The concrete block with an imprinted structure planks contains social facilities, storage space and all the necessary technologies emitting noise, which is very well shaded thanks to the concrete mass. Inserted structure divides the whole space into entrance, exhibition and educational areas. It becomes a kind of sarcophagus set into a temple space of a wooden perimeter frame.
The building is situated on a slight slope with an elevation in the construction area of up to 1m (diagonally). It is based on a reinforced concrete foundation slab, supported on the east side by a height-compensating wall. The sill plate is laid on thermal insulation made of extruded polystyrene. Waterproofing is placed under a reinforced concrete slab protected by a concrete screed. The perimeter walls are made of solid wood panels composed of multi-layer cross-laminated timber (CLT); thermal insulation is made of wood fibre flexible insulation boards of th. 320 mm with vertical grid made of wooden I-profiles; the sheathing of DHF boards. The façade is ventilated, formed by wooden horizontal cladding. Extensive vegetation covers the building's gable roof. The surface of concrete walls has been imprinted with wooden plank pattern. As a heat source, the building uses a reversible air-to-water heat pump in an internal compact design, with gradual steam injection for heating and cooling.
Green building
Environmental certification
| | |
| --- | --- |
| Type and level of certificate | - |
Water management
| | |
| --- | --- |
| Is rainwater used for irrigation? | |
| Is rainwater used for other purposes, e.g. toilet flushing ? | |
| Does the building have a green roof / facade ? | |
| Is reclaimed waste water used, e.g. from showers and sinks ? | |
The quality of the indoor environment
| | |
| --- | --- |
| Is clean air supply automated ? | |
| Is comfortable temperature during summer and winter automated? | |
| Is natural lighting guaranteed in all living areas? | |
| Is artificial lighting automated? | |
| Is acoustic comfort, specifically reverberation time, guaranteed? | |
| Does the layout solution include zoning and ergonomics elements? | |
Principles of circular economics
| | |
| --- | --- |
| Does the project use recycled materials? | |
| Does the project use recyclable materials? | |
| Are materials with a documented Environmental Product Declaration (EPD) promoted in the project? | |
| Are other sustainability certifications used for materials and elements? | |
Energy efficiency
| | |
| --- | --- |
| Energy performance class of the building according to the Energy Performance Certificate of the building | A |
| Is efficient energy management (measurement and regular analysis of consumption data) considered? | |
| Are renewable sources of energy used, e.g. solar system, photovoltaics? | |
Interconnection with surroundings
| | |
| --- | --- |
| Does the project enable the easy use of public transport? | |
| Does the project support the use of alternative modes of transport, e.g cycling, walking etc. ? | |
| Is there access to recreational natural areas, e.g. parks, in the immediate vicinity of the building? | |