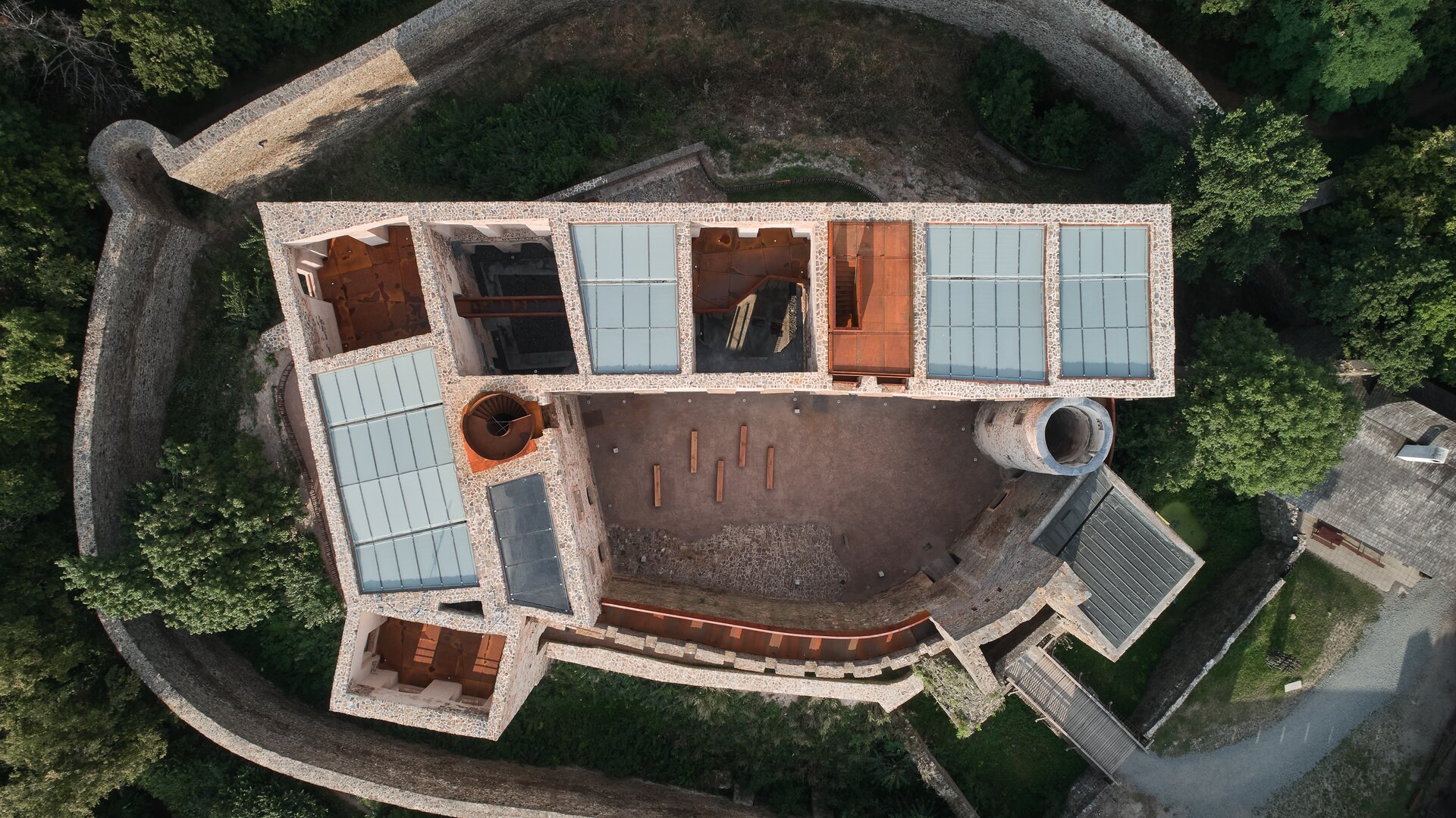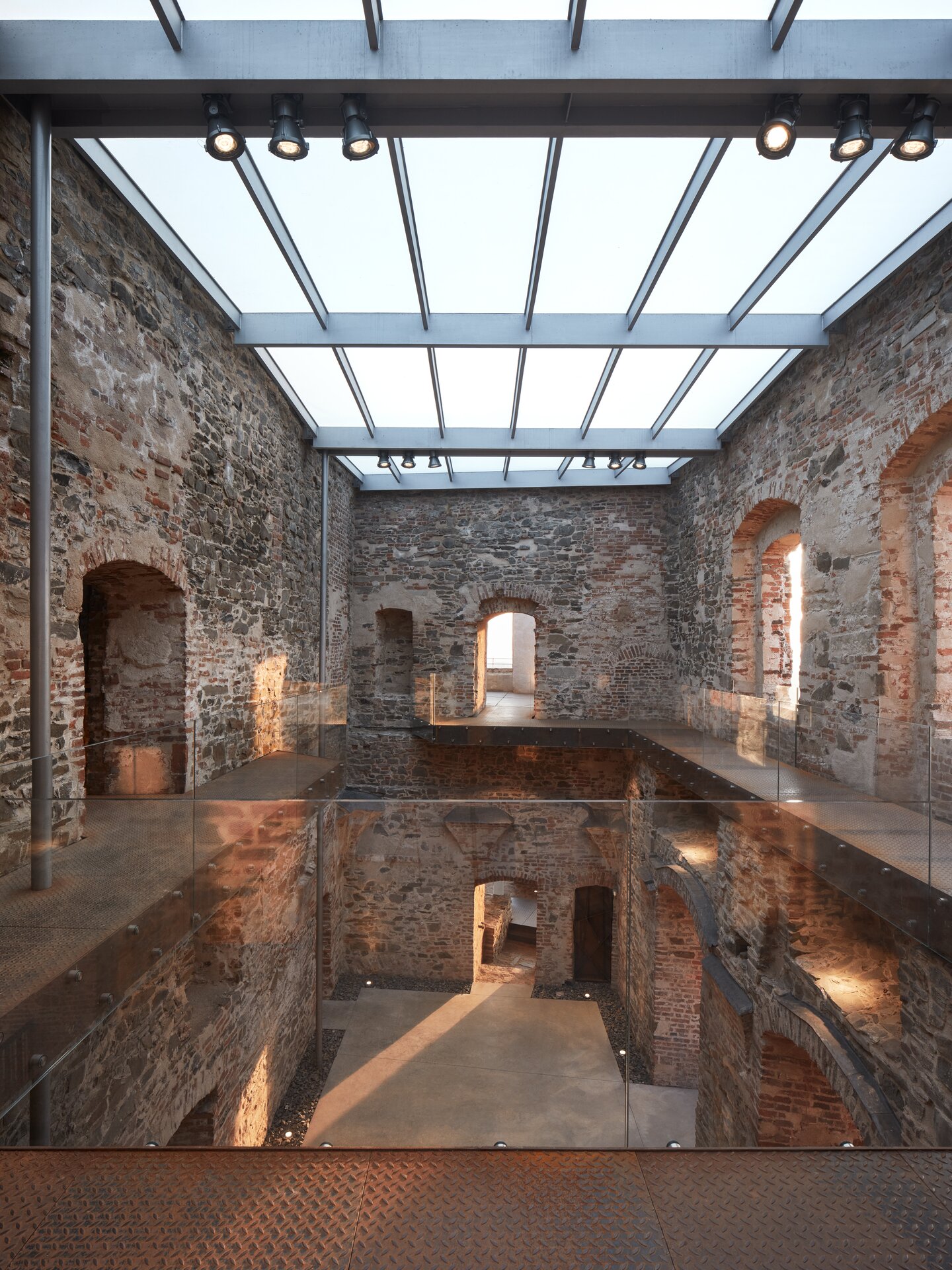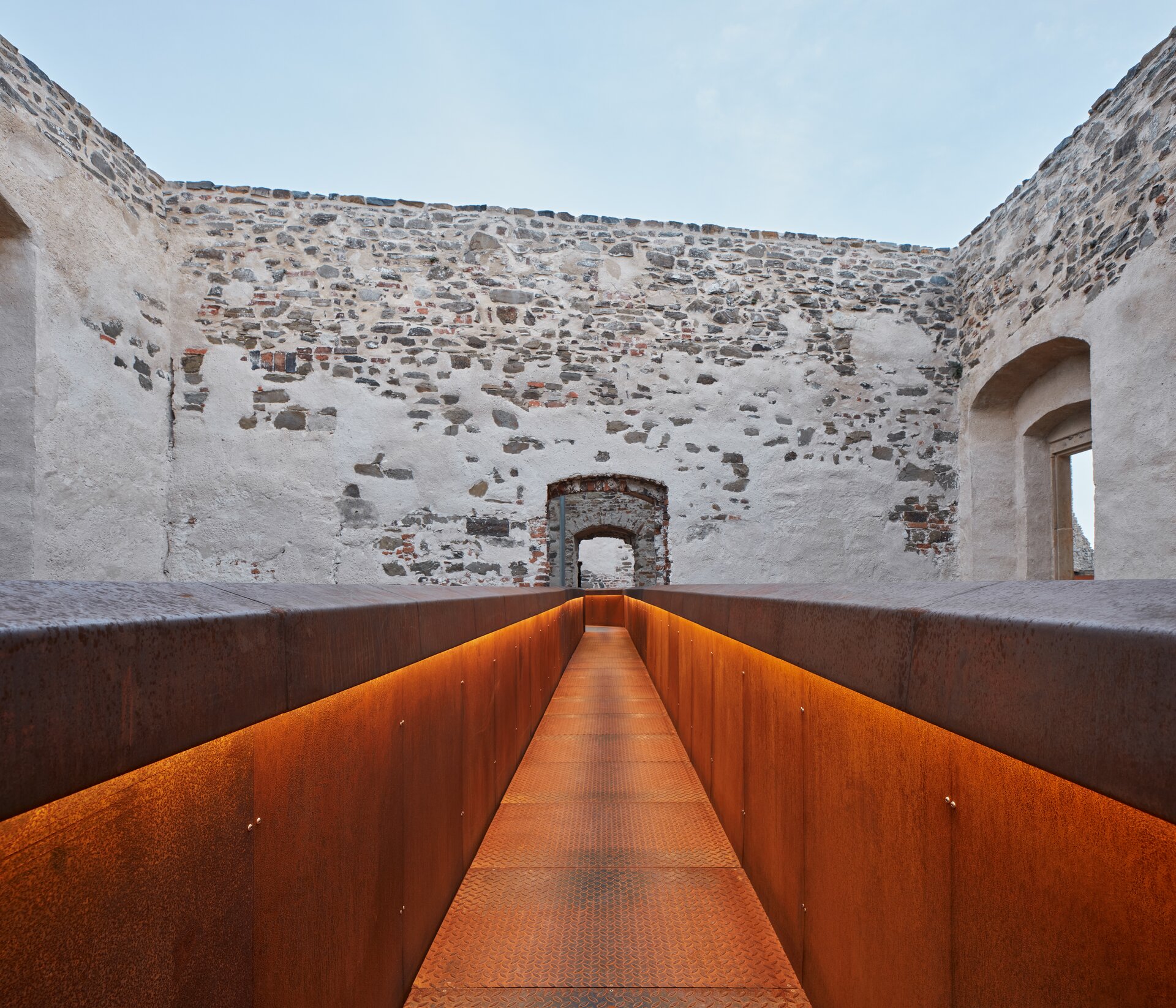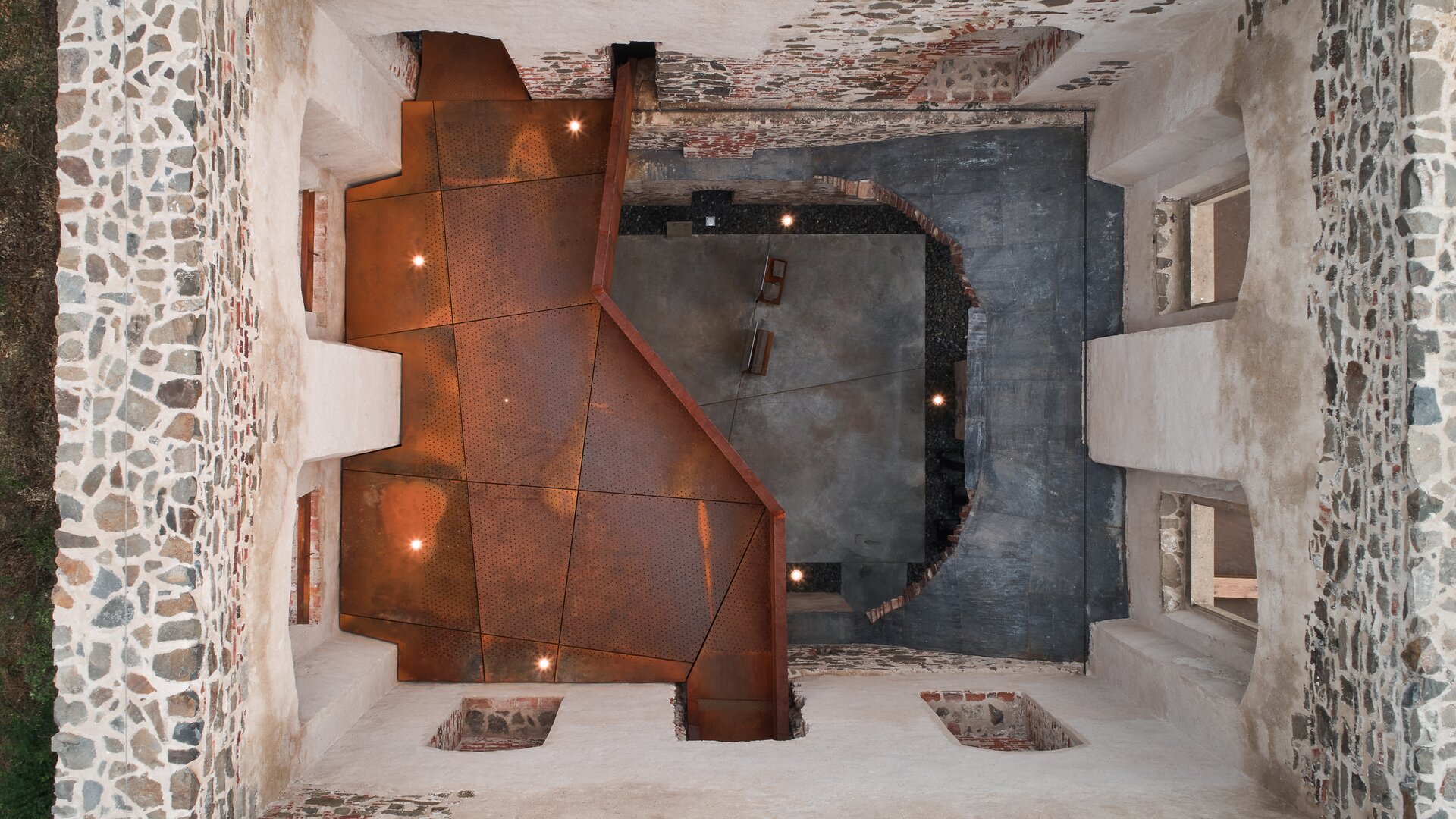 | | |
| --- | --- |
| Author | Miroslav Pospíšil / atelier-r, s.r.o. |
| Studio | |
| Location | hrad Helfštýn, Týn nad Bečvou, GPS 49.5186031N, 17.6287803E |
| Investor | Olomoucký kraj |
| Supplier | sdružení firem HOCHTIEF CZ a.s. a ARCHATT PAMÁTKY spol. s r.o. |
| Date of project approval | July 2020 |
| Fotograf | |
In order to address the static safety issues the castle owner made a decision to renovate the palace along with a construction of a new roof.

The past attempts to build the palace roof were not well-received by the National Heritage Institute experts. The Institute insisted on the preservation of the building in the state of a ruin. If the roof was to be put on, it could only be done without increasing the overall mass of the structure and it could only go as high as the level of the peripheral walls.

We aspired to go beyond the assignment task of creating just a suitable roof solution, because we wanted to involve the guests in the historical development of the palace. This intention sparked a great idea of incorporating the contemporary architectural elements into the historical building and connecting the existing ground floor with the newly accessible higher levels of the palace.
Our concept is based on the respect towards the historical building and it makes major effort to preserve the castle's authentic character. We have chosen to work with glass on steel beams on the roof. Staircases and footbridges have been made of corten steel, a special iron alloy that undergoes a controlled corrosion, which gradually stabilizes. The rusty modern architecture elements compliment the character of the original structure.

As a result, the castle palace acquired a new attractive sightseeing route that allows the visitors to learn about the palace. Additionally, the public can enjoy the sheer views from the previously collapsed ceilings, the walls and even from the roof level. They can discover the surroundings of the castle as well as understand and appreciate the modern architecture.
Green building
Environmental certification
| | |
| --- | --- |
| Type and level of certificate | - |
Water management
| | |
| --- | --- |
| Is rainwater used for irrigation? | |
| Is rainwater used for other purposes, e.g. toilet flushing ? | |
| Does the building have a green roof / facade ? | |
| Is reclaimed waste water used, e.g. from showers and sinks ? | |
The quality of the indoor environment
| | |
| --- | --- |
| Is clean air supply automated ? | |
| Is comfortable temperature during summer and winter automated? | |
| Is natural lighting guaranteed in all living areas? | |
| Is artificial lighting automated? | |
| Is acoustic comfort, specifically reverberation time, guaranteed? | |
| Does the layout solution include zoning and ergonomics elements? | |
Principles of circular economics
| | |
| --- | --- |
| Does the project use recycled materials? | |
| Does the project use recyclable materials? | |
| Are materials with a documented Environmental Product Declaration (EPD) promoted in the project? | |
| Are other sustainability certifications used for materials and elements? | |
Energy efficiency
| | |
| --- | --- |
| Energy performance class of the building according to the Energy Performance Certificate of the building | |
| Is efficient energy management (measurement and regular analysis of consumption data) considered? | |
| Are renewable sources of energy used, e.g. solar system, photovoltaics? | |
Interconnection with surroundings
| | |
| --- | --- |
| Does the project enable the easy use of public transport? | |
| Does the project support the use of alternative modes of transport, e.g cycling, walking etc. ? | |
| Is there access to recreational natural areas, e.g. parks, in the immediate vicinity of the building? | |