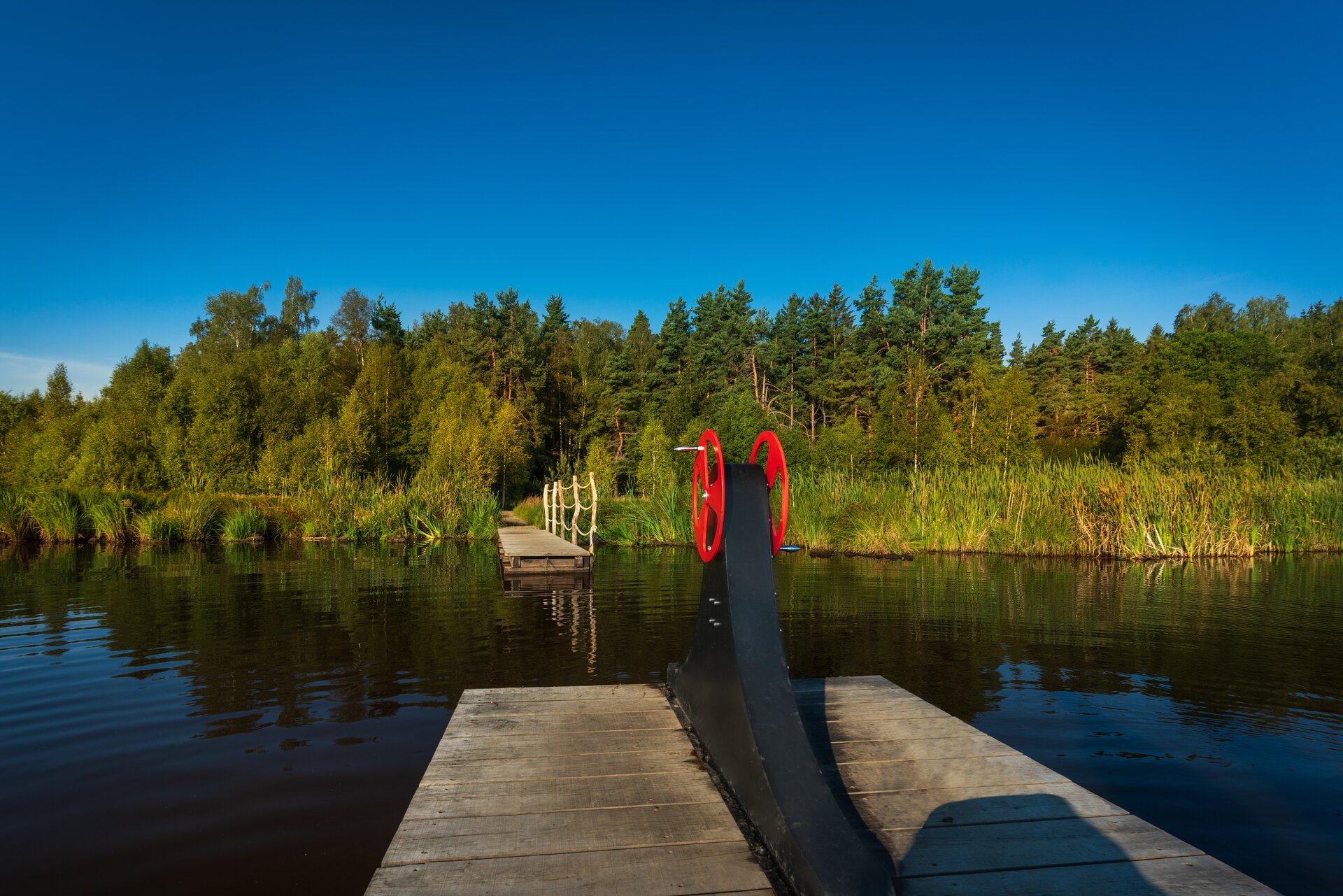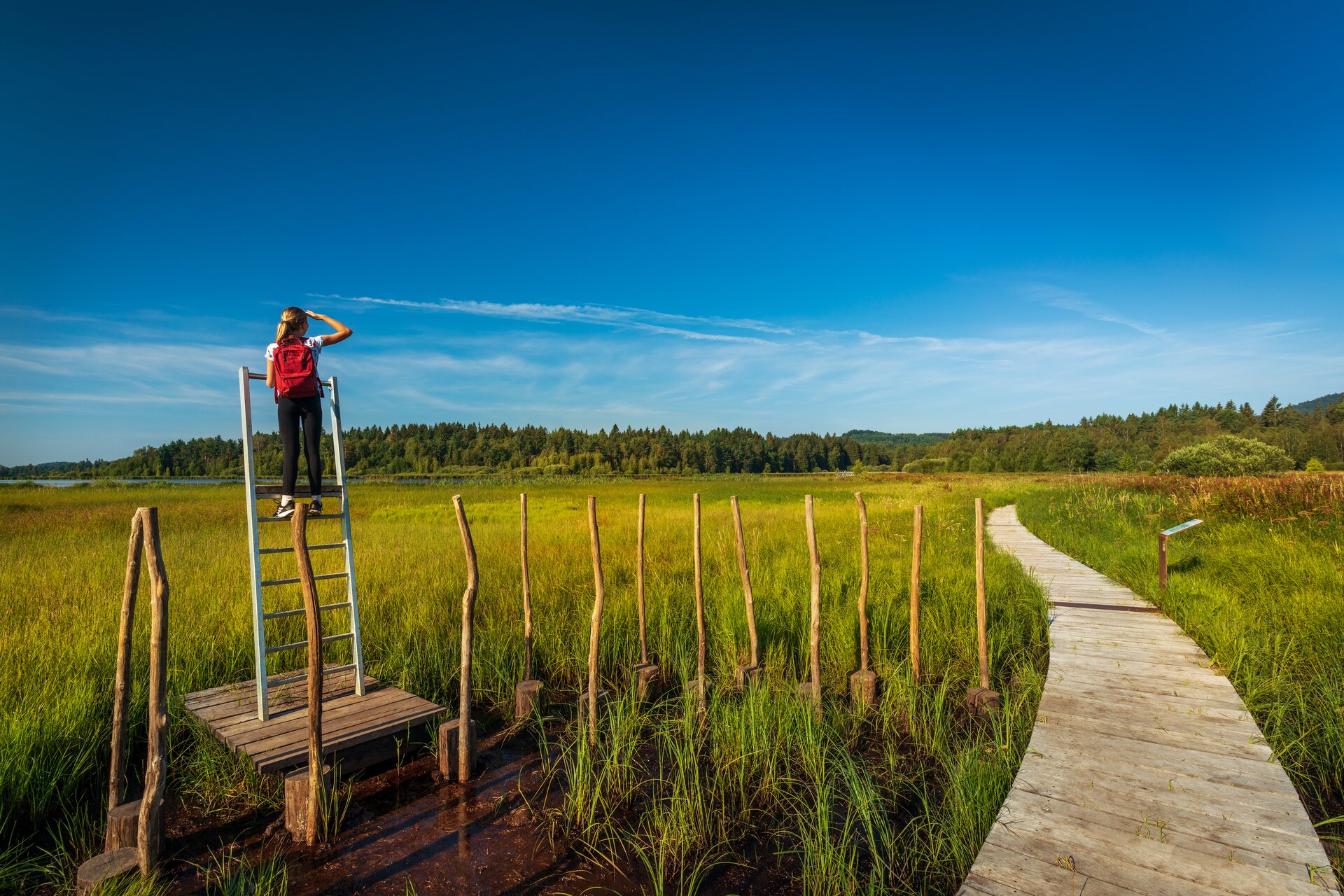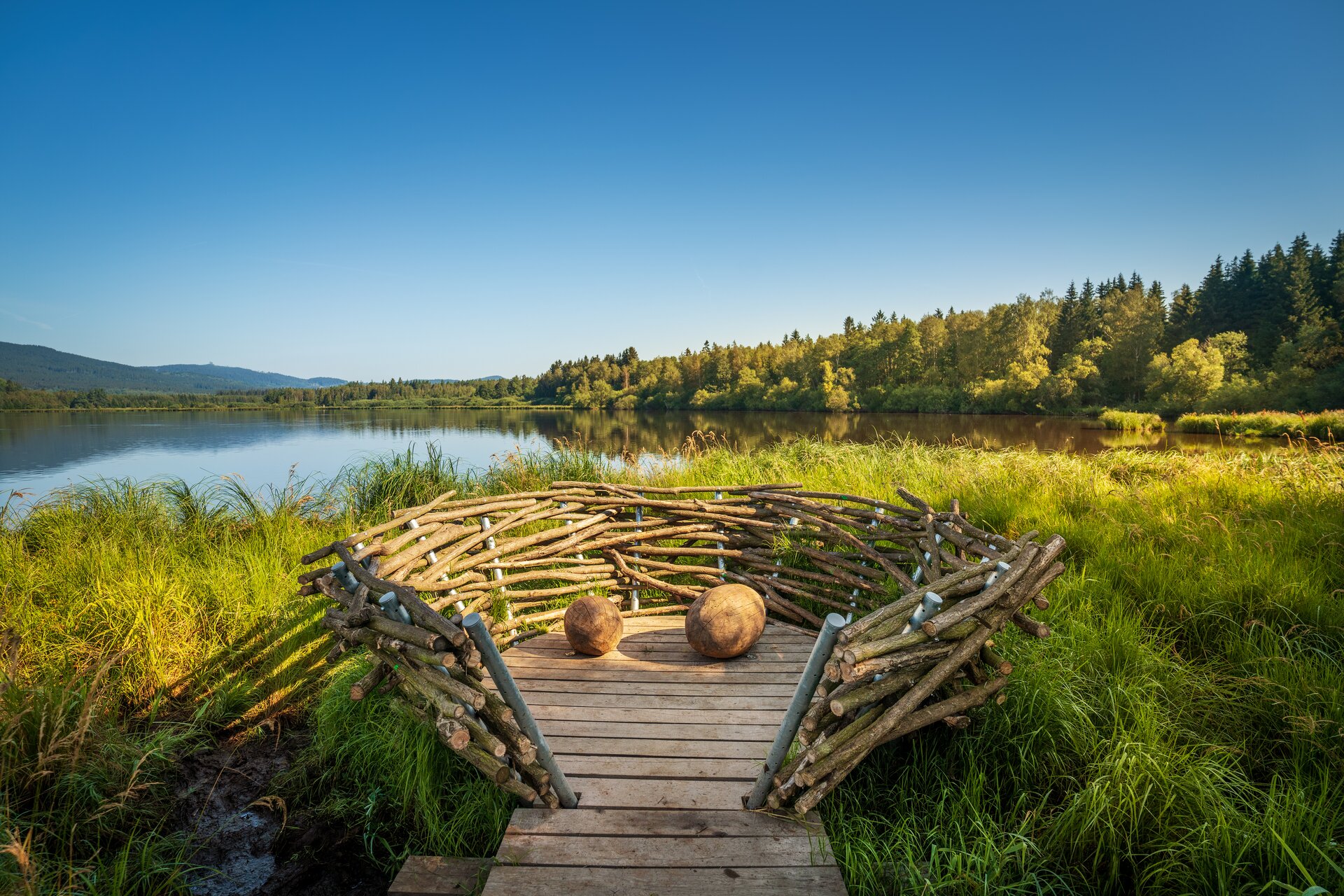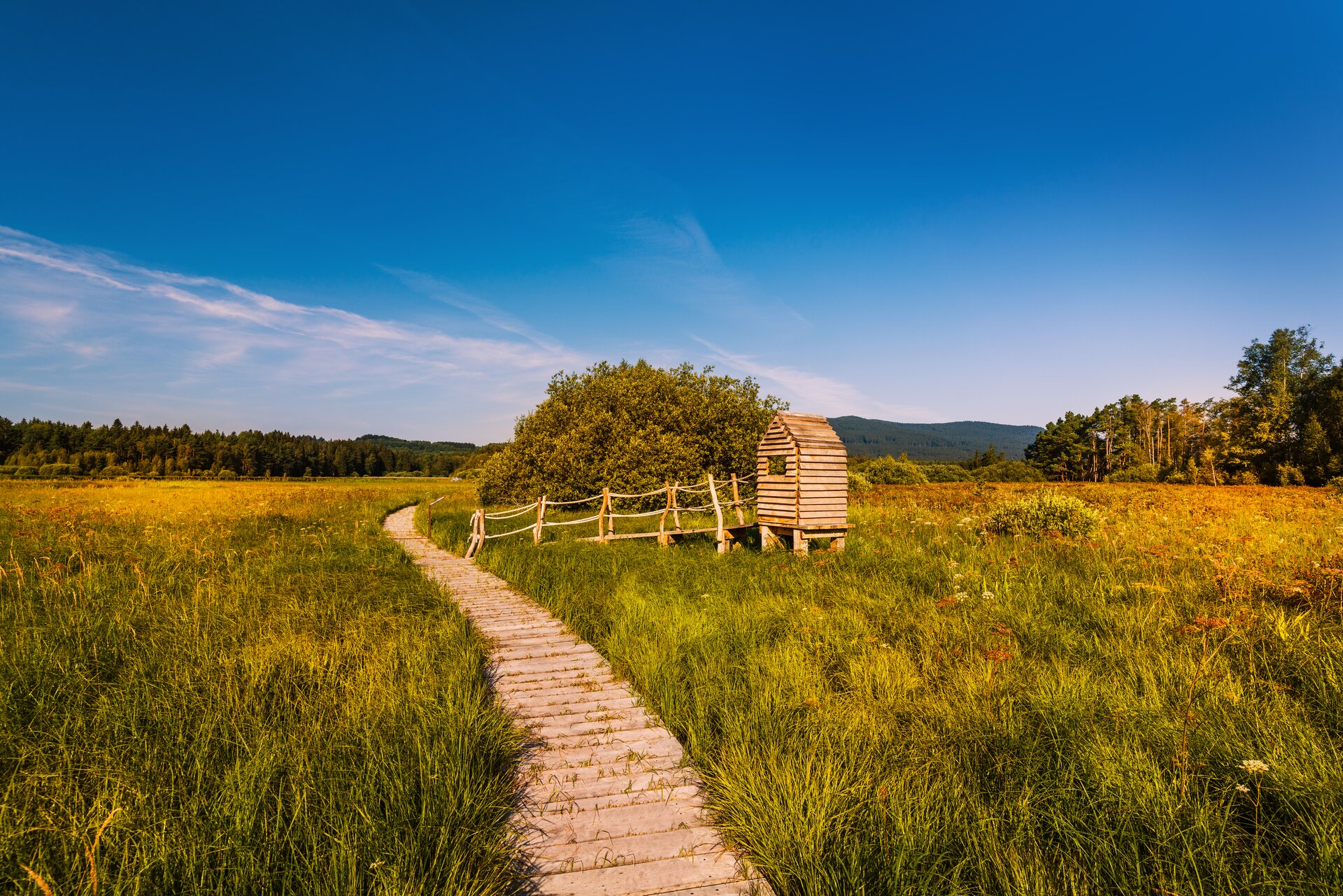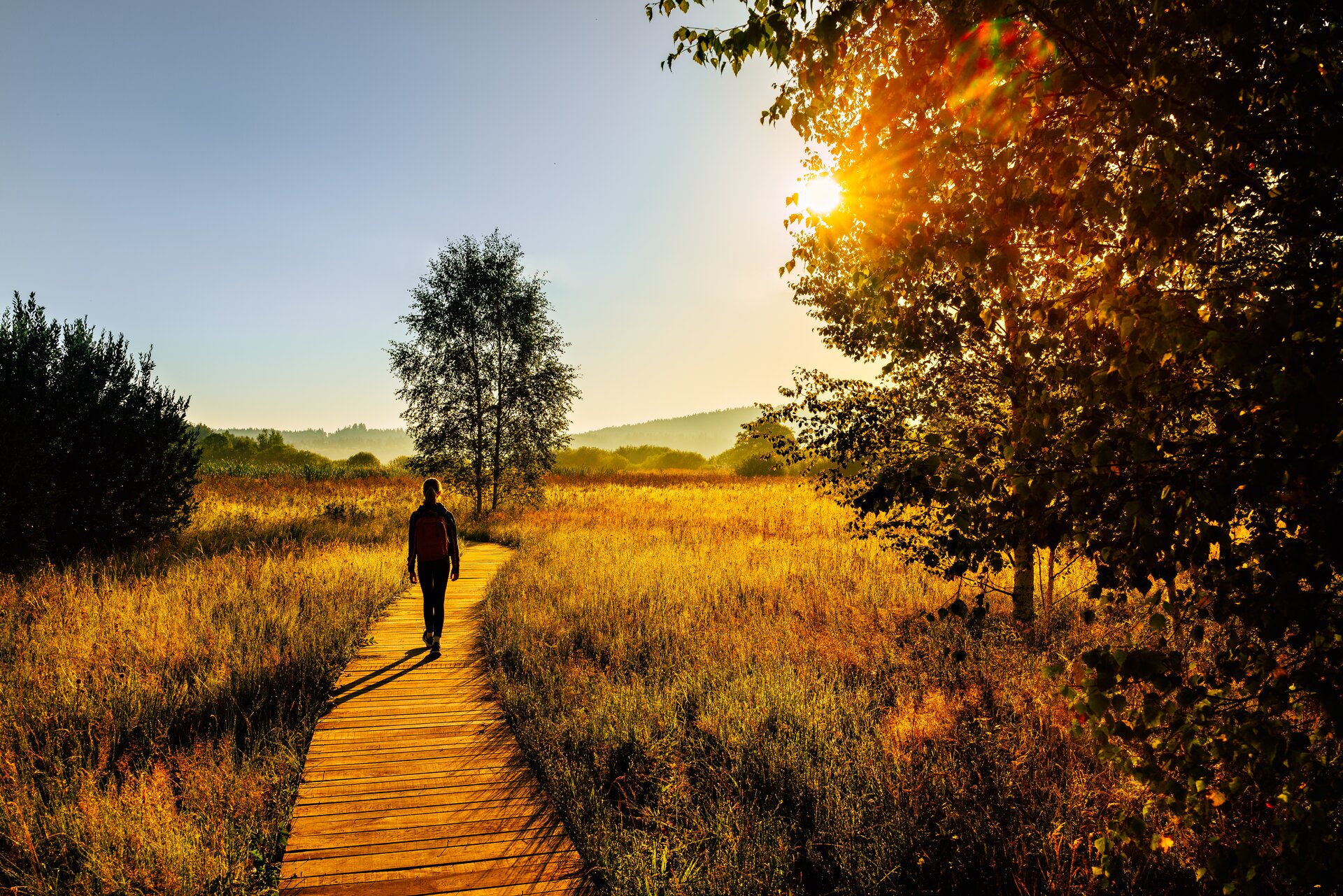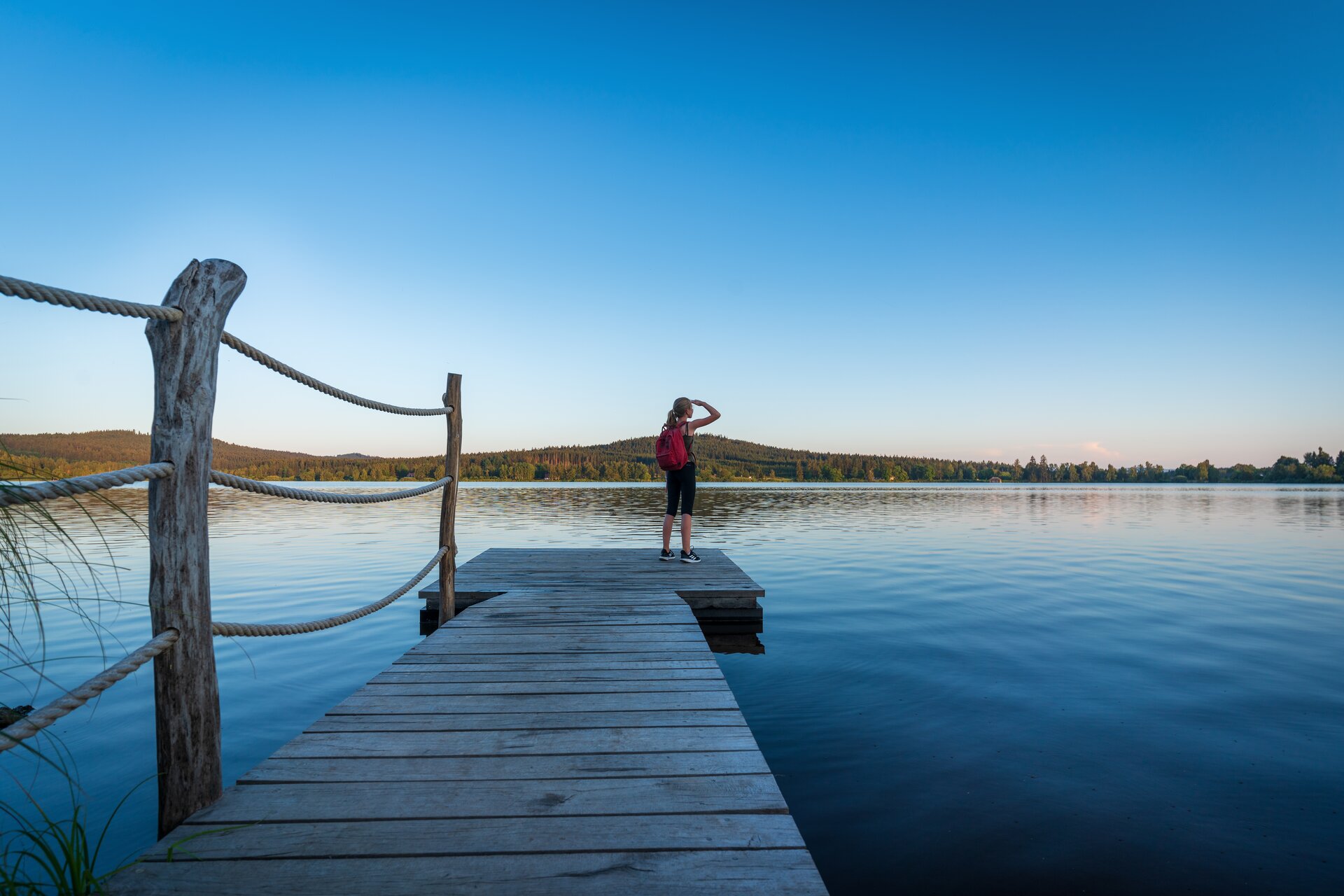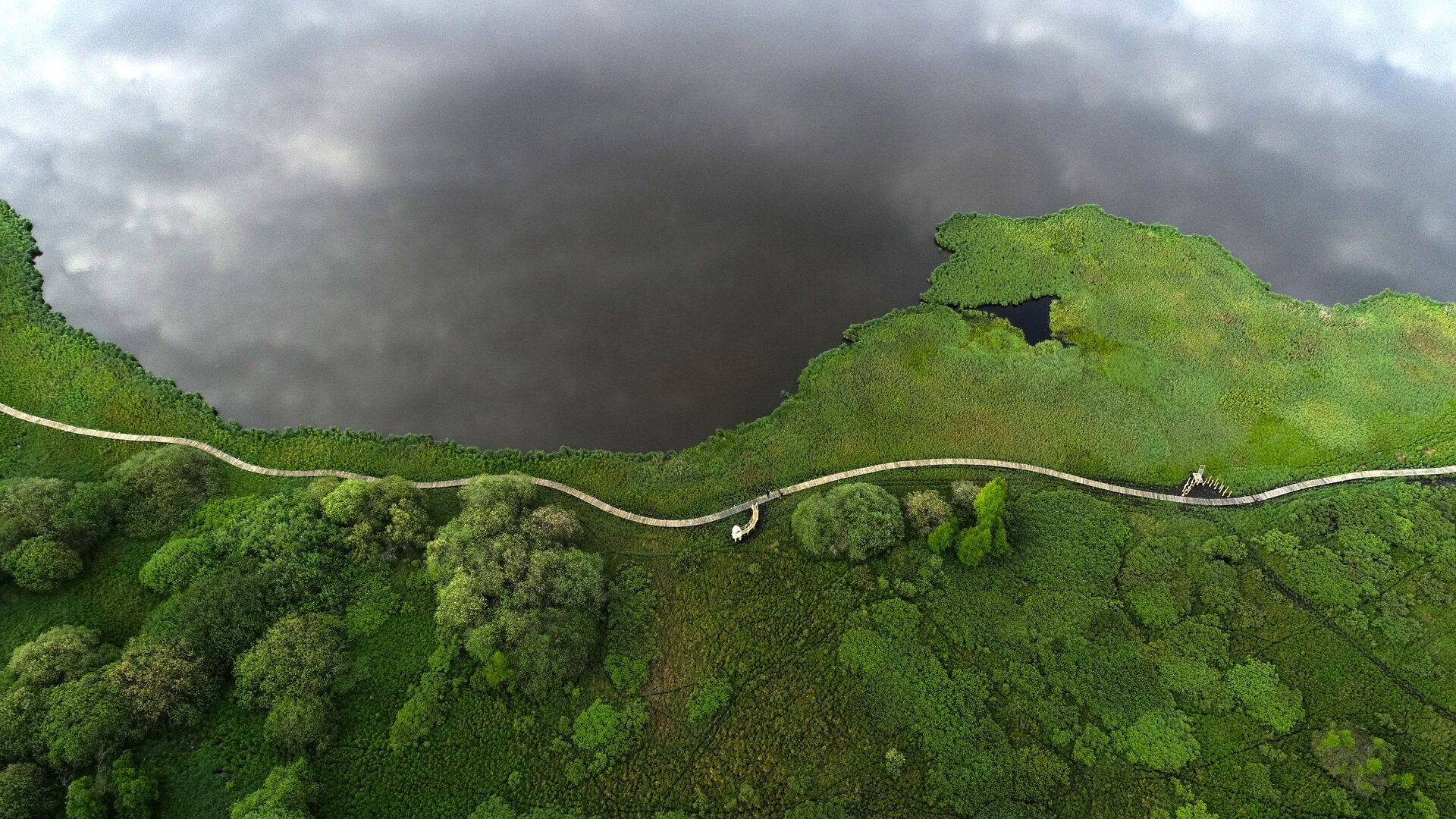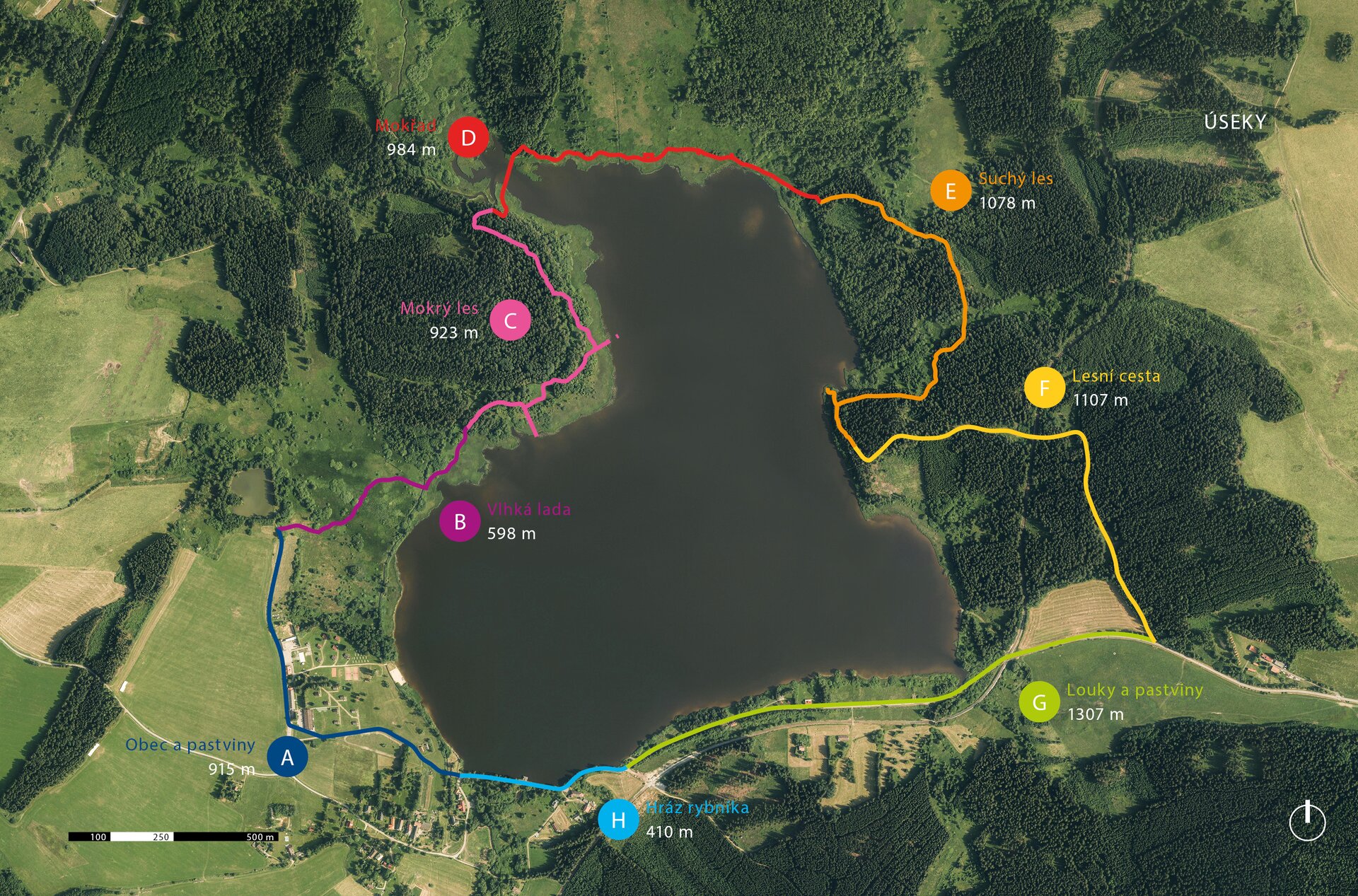 Author
studio reaktor s.r.o.
Studio
Location
Horní Planá-Olšina, 382 26
Investor
Vojenské lesy a statky ČR, s.p.
www.vls.cz
Supplier
TAXUS, spol. s r.o.
www.taxus.eu
Date of project approval
July 2020
Fotograf
Olšina Educational Trail is located in a former military training area now open for public, Olšina Pond is like a silver eye that merges all diverse landscape types that surround it. Not far from Cesky Krumlov and Lipno water reservoir, Olšina to this day remains a bit hidden. Nature around the pond is protected by being located in Šumava Landscape park. The landscape consists of the pond that gradually transitions into wetland, marshes, bogs or floodplain forests. The water element is omnipresent. Intact environment rich with water attracts a wide array of animals, most notably birds, as well as many different plant species.
Being unacessible to visitors for some 60 years has helped to preserve nature in a unique way. That is why from the very beginning we approached the project with an utmost sensitivity as not to disrupt the precious environment that has been only explored recently. Portraying the unique atmosphere and connecting with nature was key for us.
Portraying the unique atmosphere and connecting with nature was key for us.
All the drafts and designs follow this idea. The wetland sections of the trail are crossed by a wooden boardwalk that is not visible in the reeds and tall grass. One can enjoy the openness and vastness in midst of a boggy marsh, accompanied only by dragonflies. At some points, the trail takes inspiration from environment that is natural to animals, such as a beaver dam-resembling bridge or enlarged bird's nest that serves as a seating. While passing through patches of forest, the trail surface consists of unobtrusive wood chips, allowing visitors to focus their attention on the waterlogged meadows with fallen tree logs on the water surface sparkling through the trees.
Green building
Environmental certification
| | |
| --- | --- |
| Type and level of certificate | - |
Water management
| | |
| --- | --- |
| Is rainwater used for irrigation? | |
| Is rainwater used for other purposes, e.g. toilet flushing ? | |
| Does the building have a green roof / facade ? | |
| Is reclaimed waste water used, e.g. from showers and sinks ? | |
The quality of the indoor environment
| | |
| --- | --- |
| Is clean air supply automated ? | |
| Is comfortable temperature during summer and winter automated? | |
| Is natural lighting guaranteed in all living areas? | |
| Is artificial lighting automated? | |
| Is acoustic comfort, specifically reverberation time, guaranteed? | |
| Does the layout solution include zoning and ergonomics elements? | |
Principles of circular economics
| | |
| --- | --- |
| Does the project use recycled materials? | |
| Does the project use recyclable materials? | |
| Are materials with a documented Environmental Product Declaration (EPD) promoted in the project? | |
| Are other sustainability certifications used for materials and elements? | |
Energy efficiency
| | |
| --- | --- |
| Energy performance class of the building according to the Energy Performance Certificate of the building | |
| Is efficient energy management (measurement and regular analysis of consumption data) considered? | |
| Are renewable sources of energy used, e.g. solar system, photovoltaics? | |
Interconnection with surroundings
| | |
| --- | --- |
| Does the project enable the easy use of public transport? | |
| Does the project support the use of alternative modes of transport, e.g cycling, walking etc. ? | |
| Is there access to recreational natural areas, e.g. parks, in the immediate vicinity of the building? | |