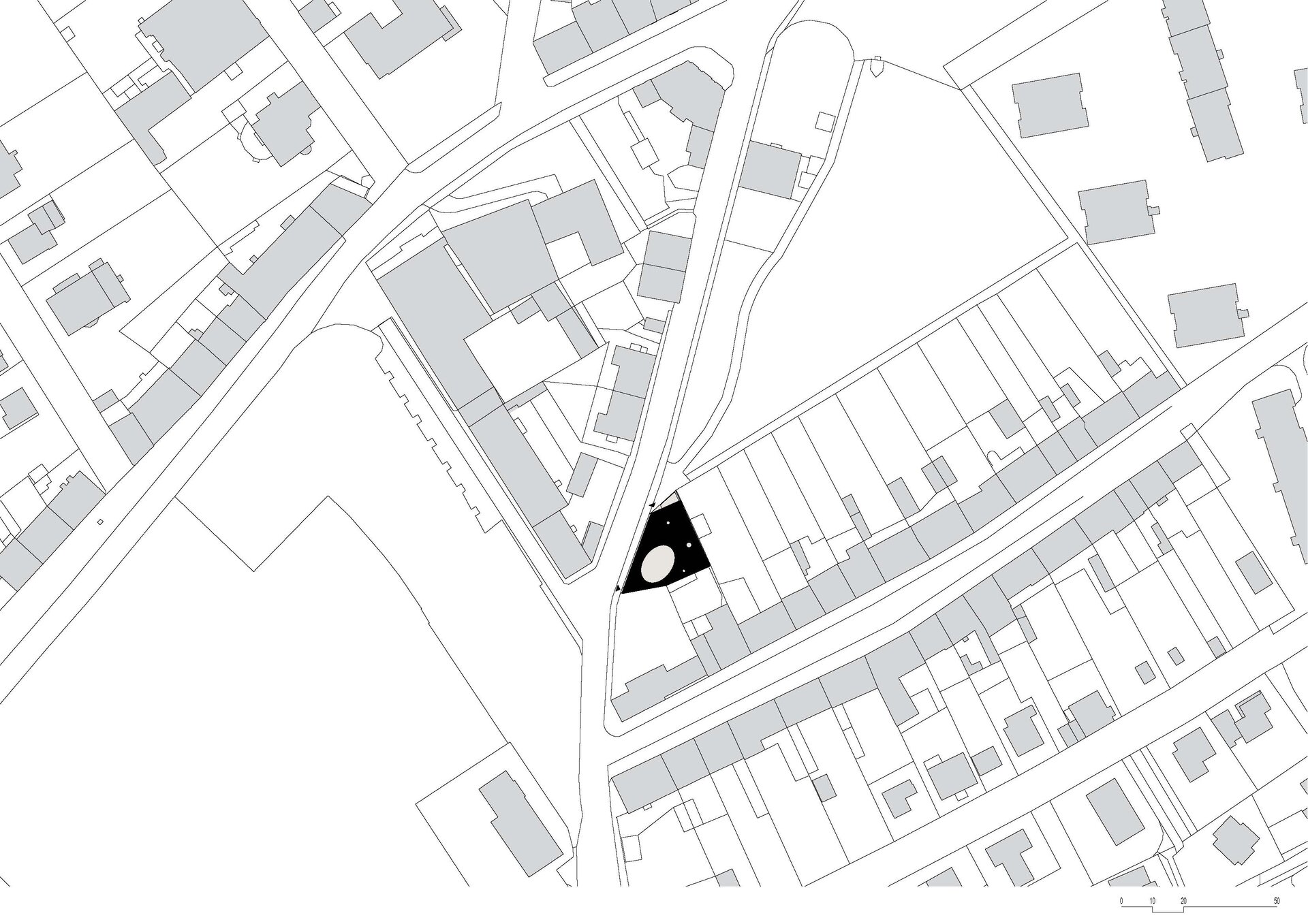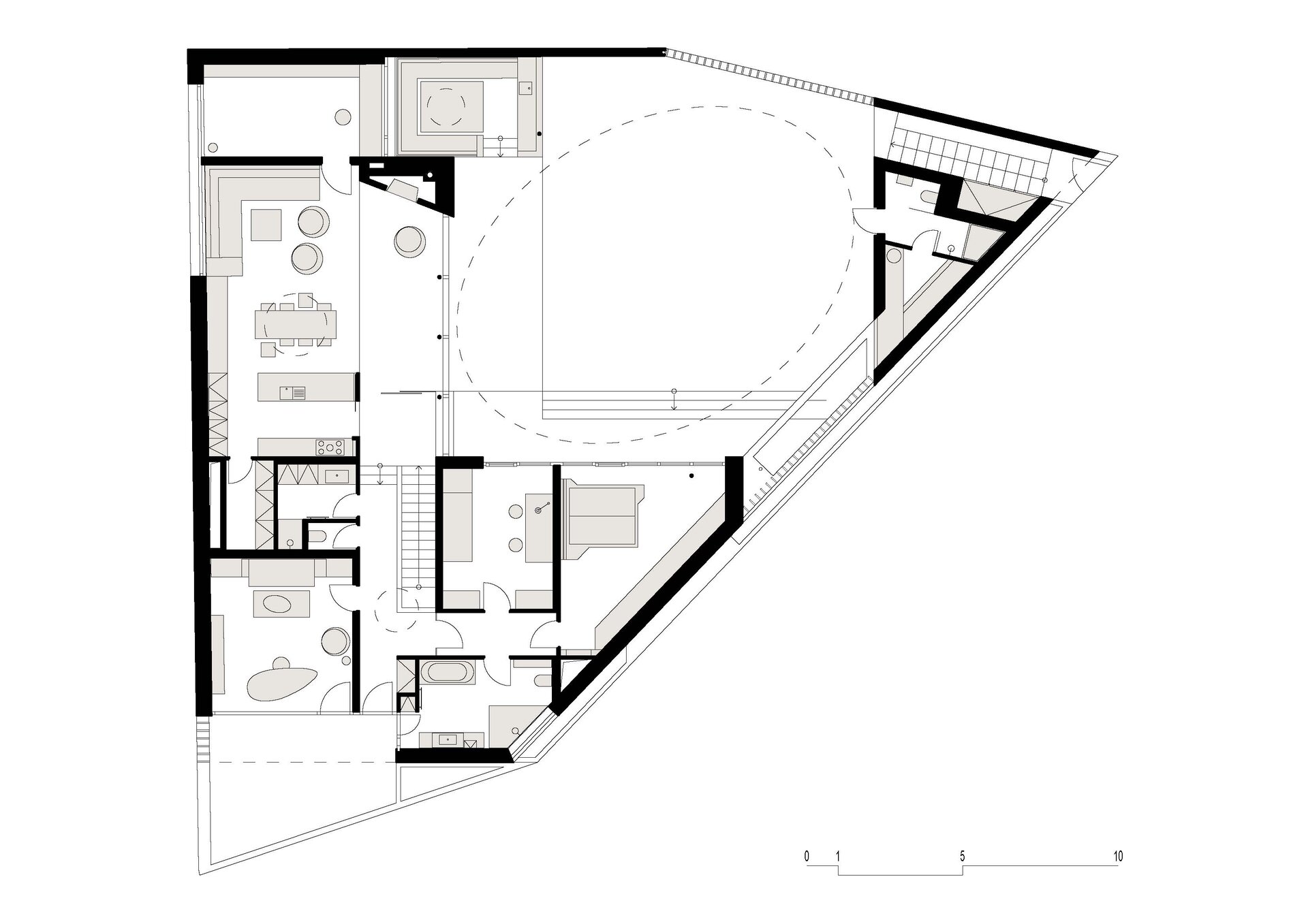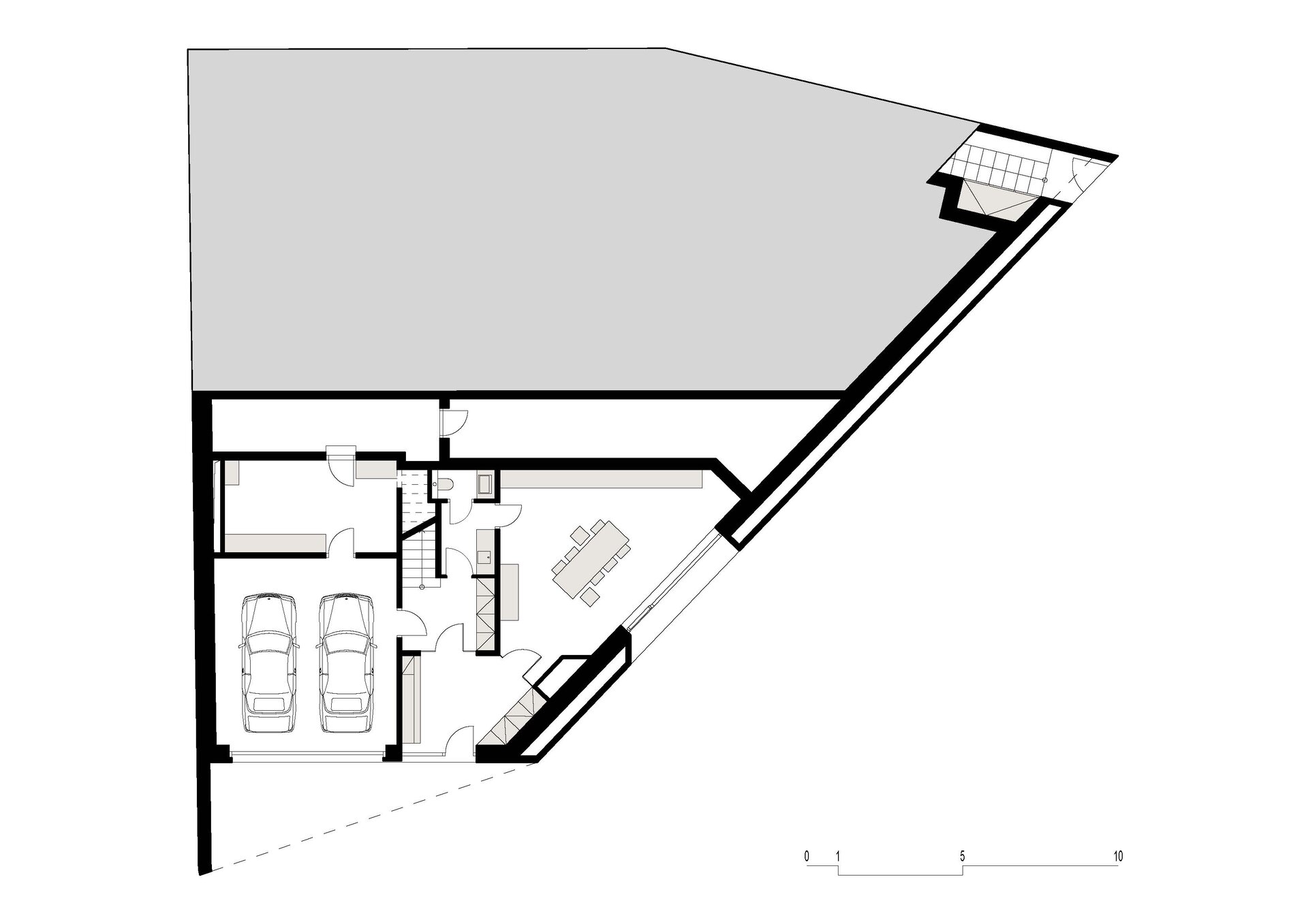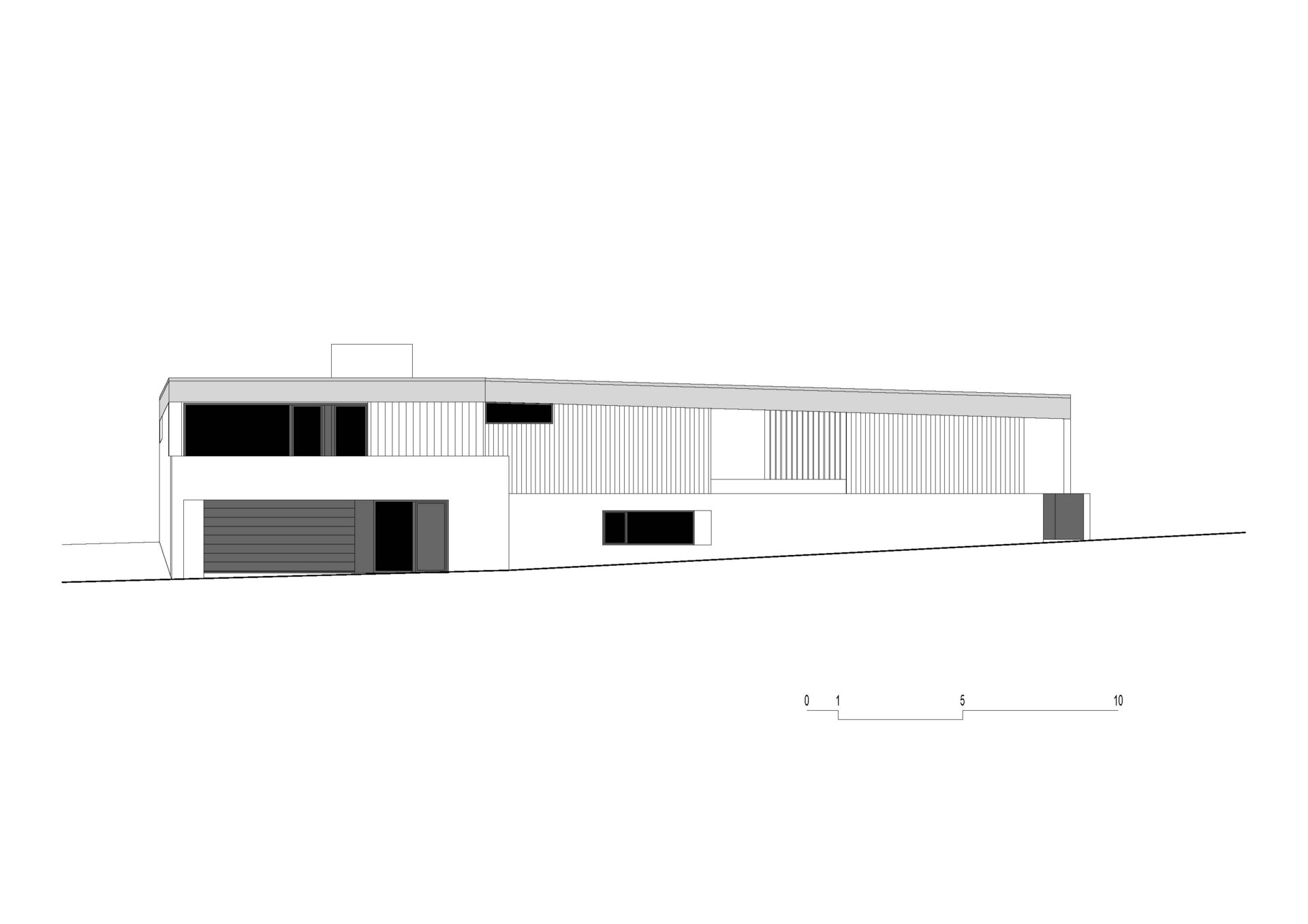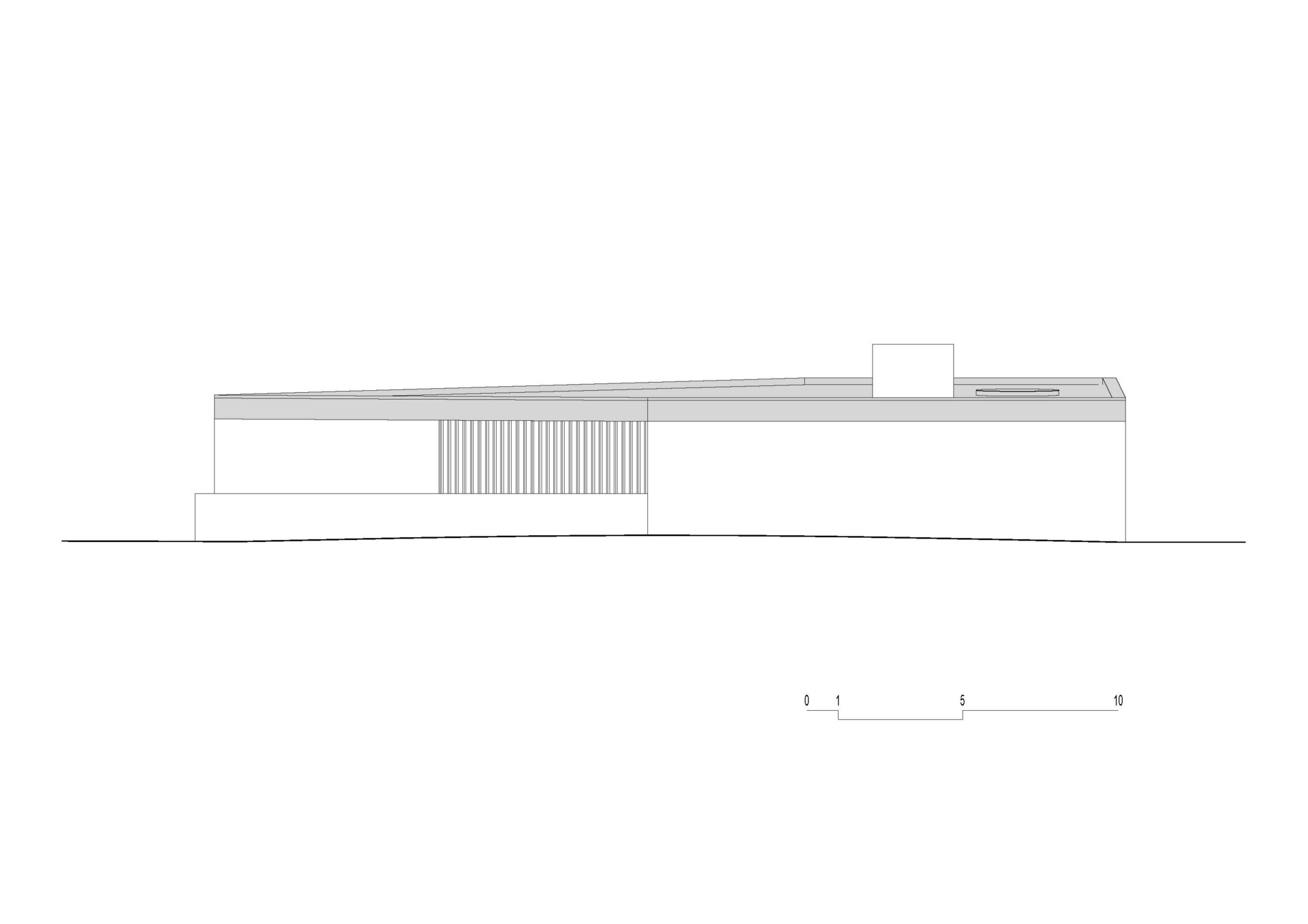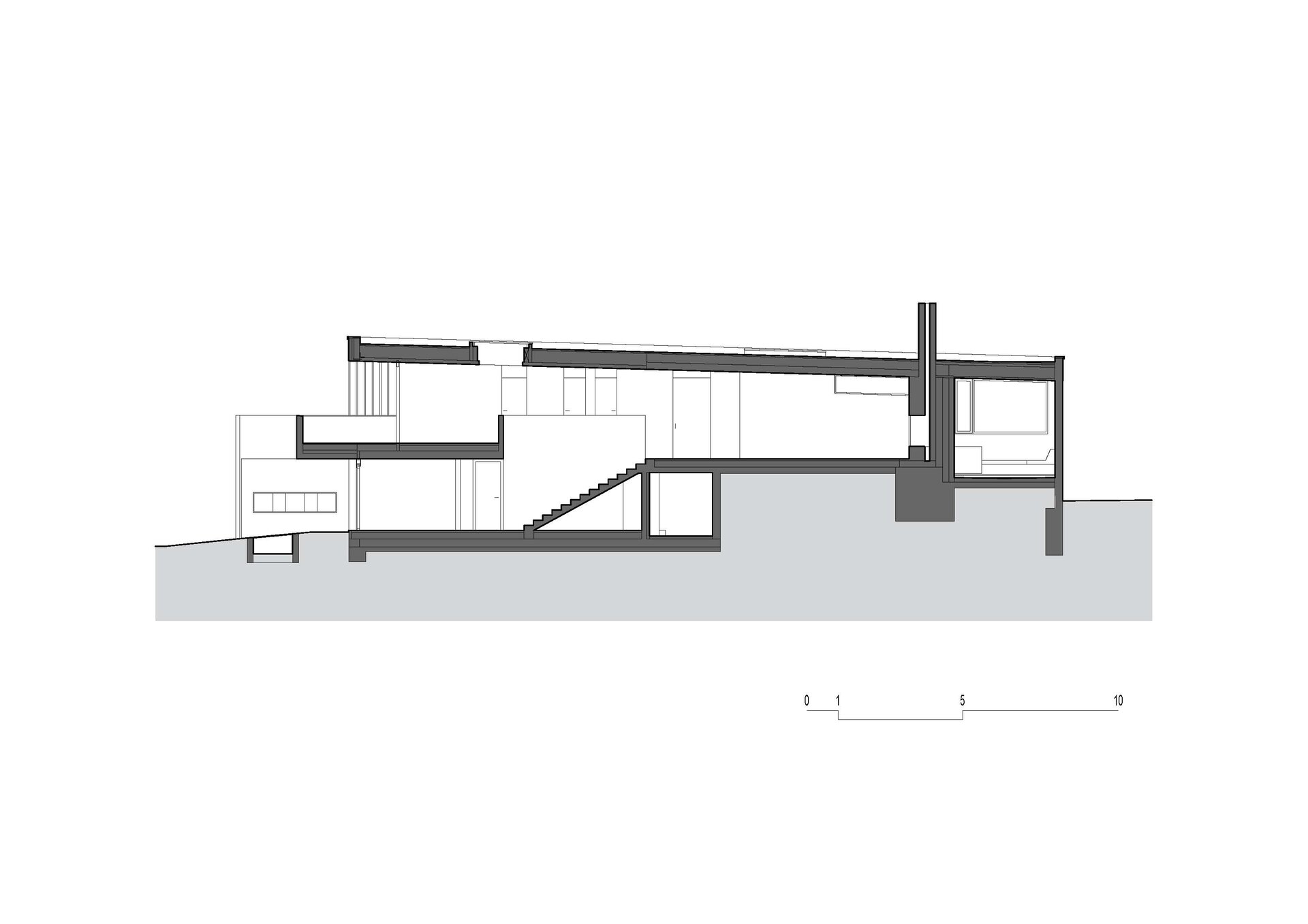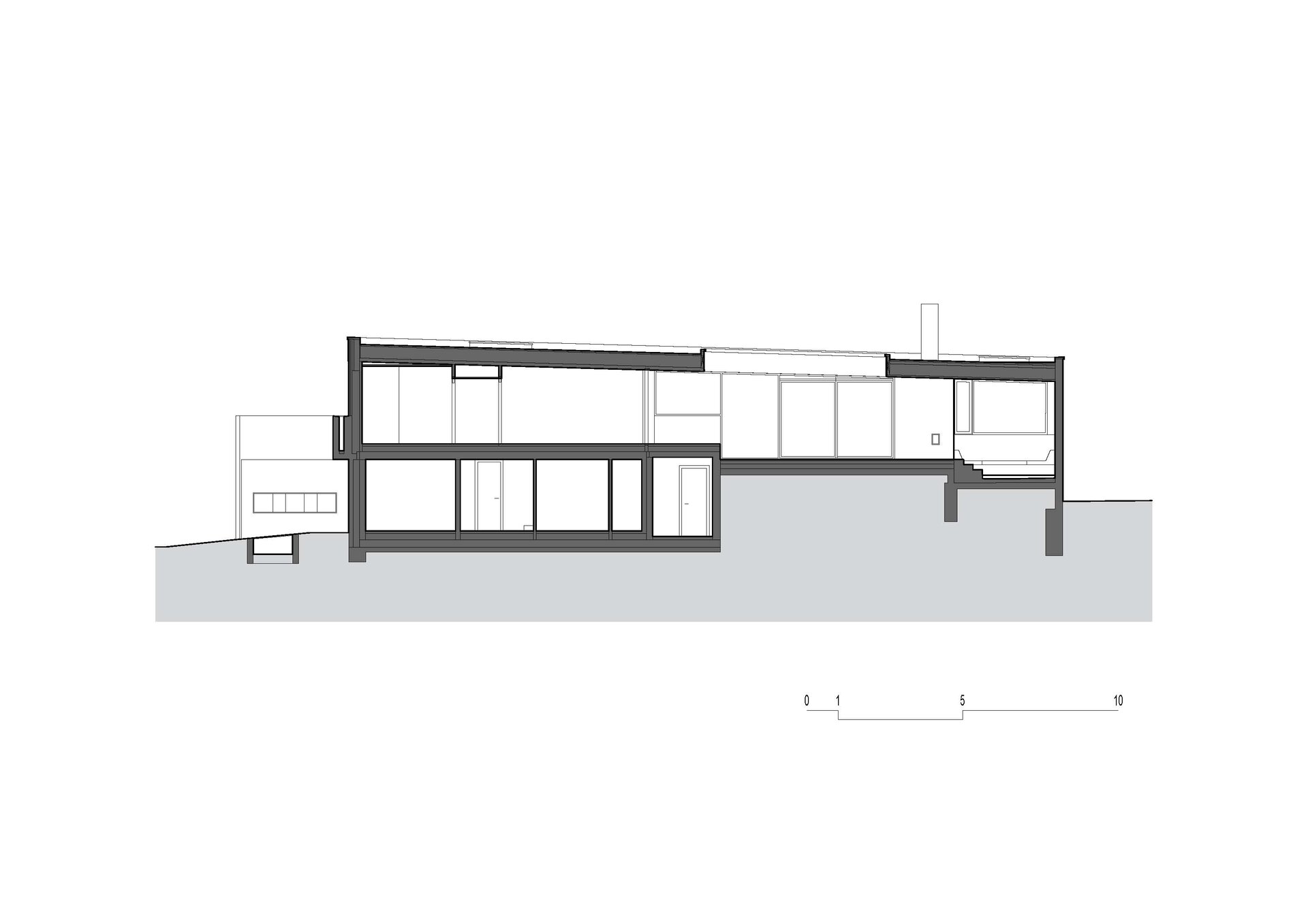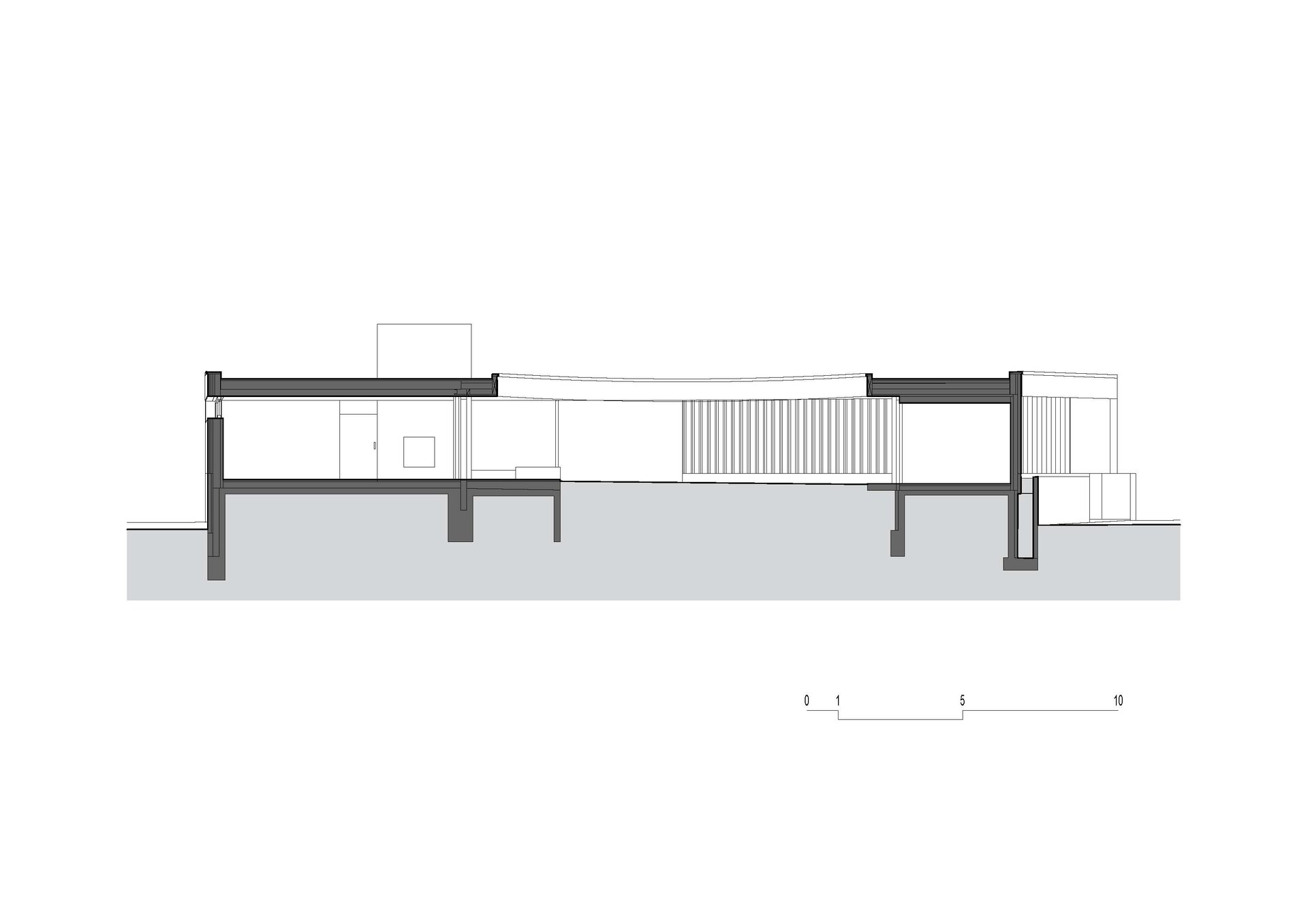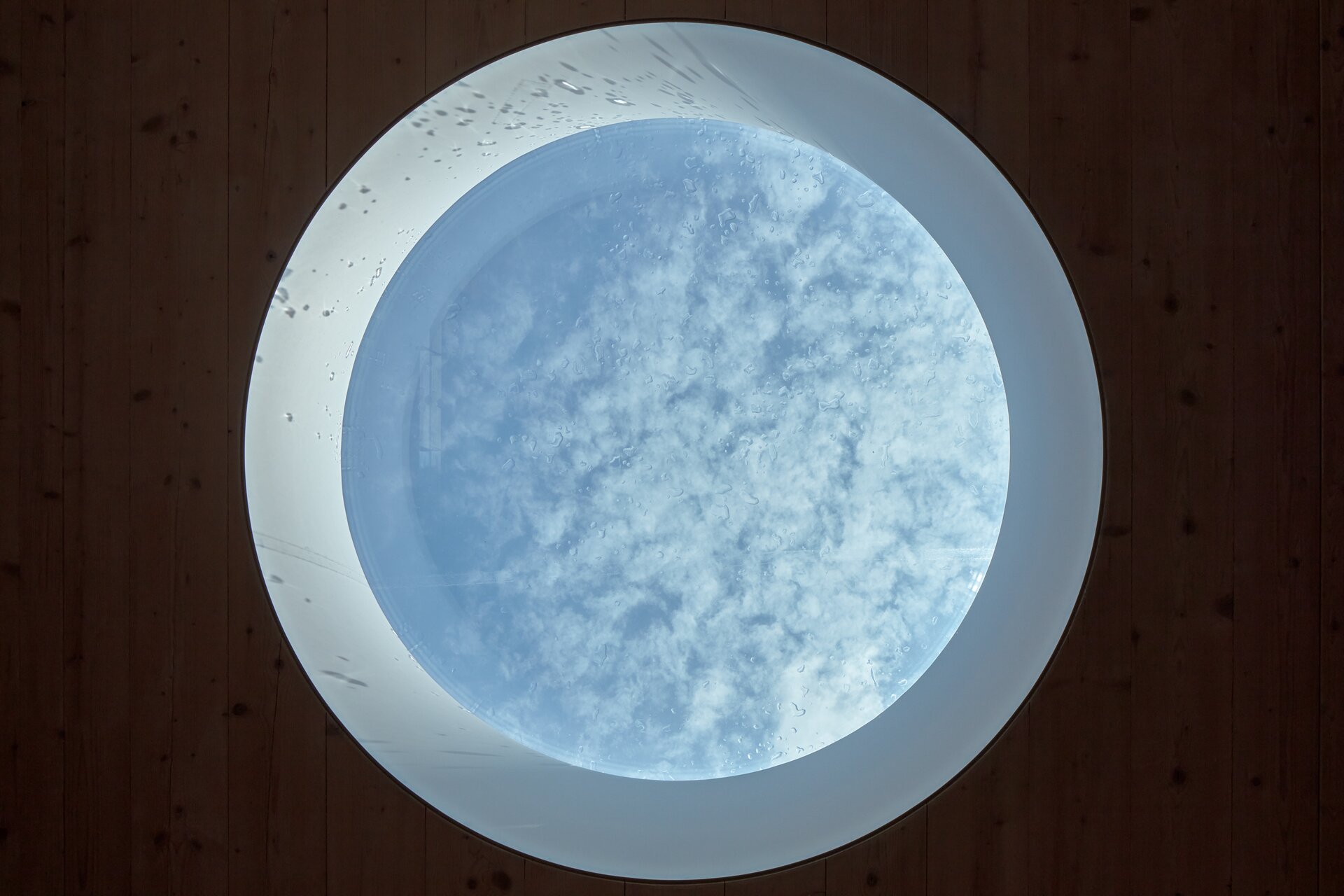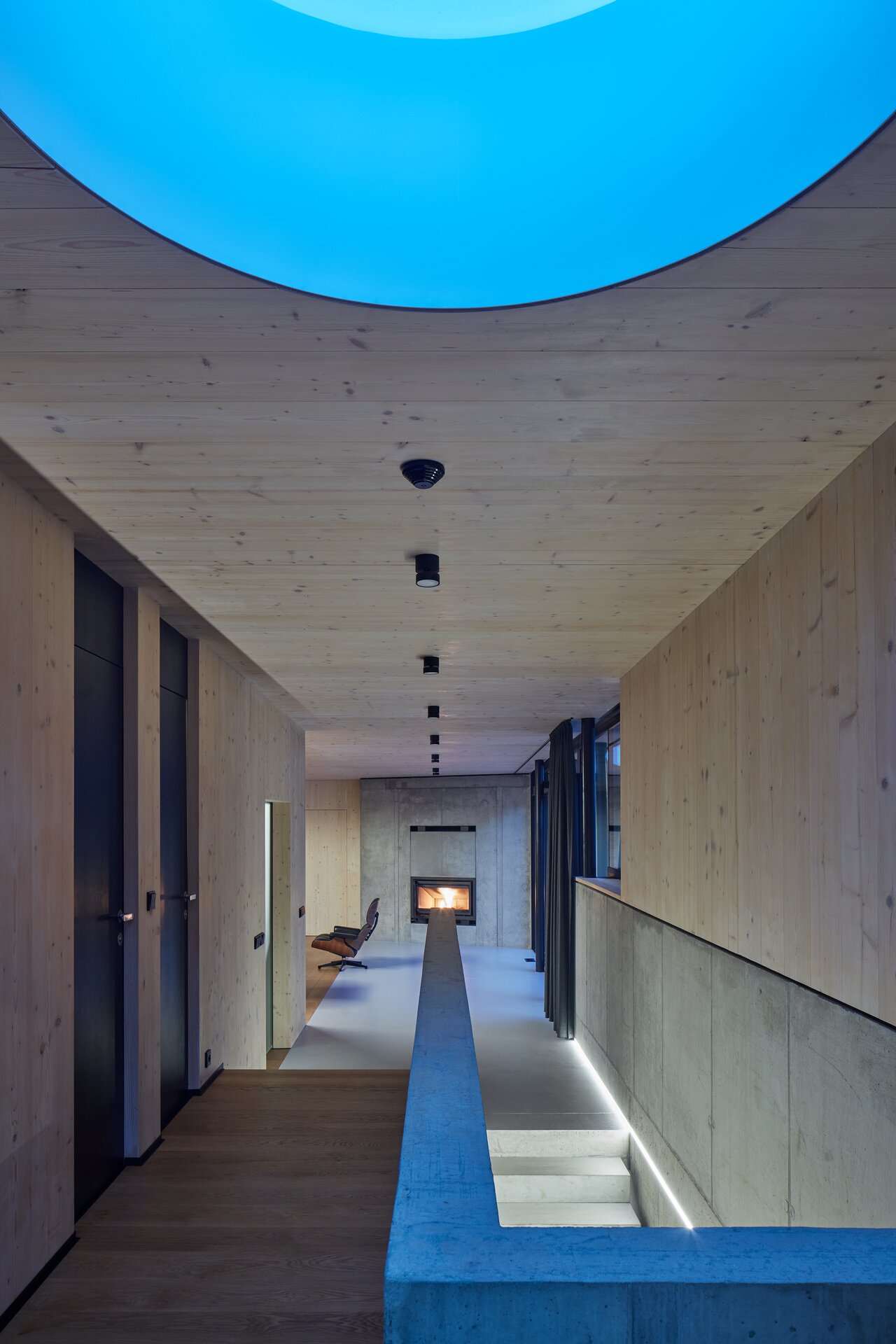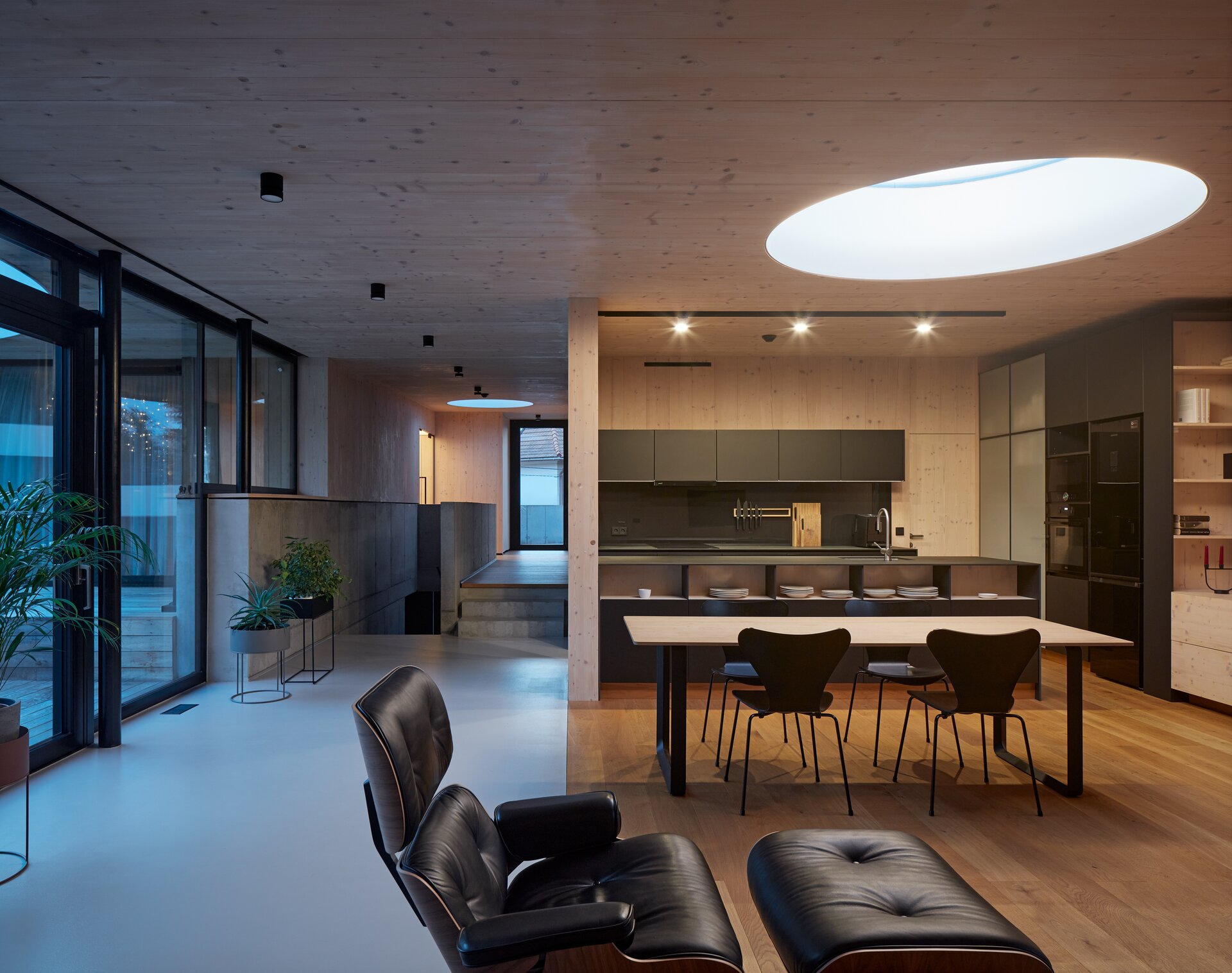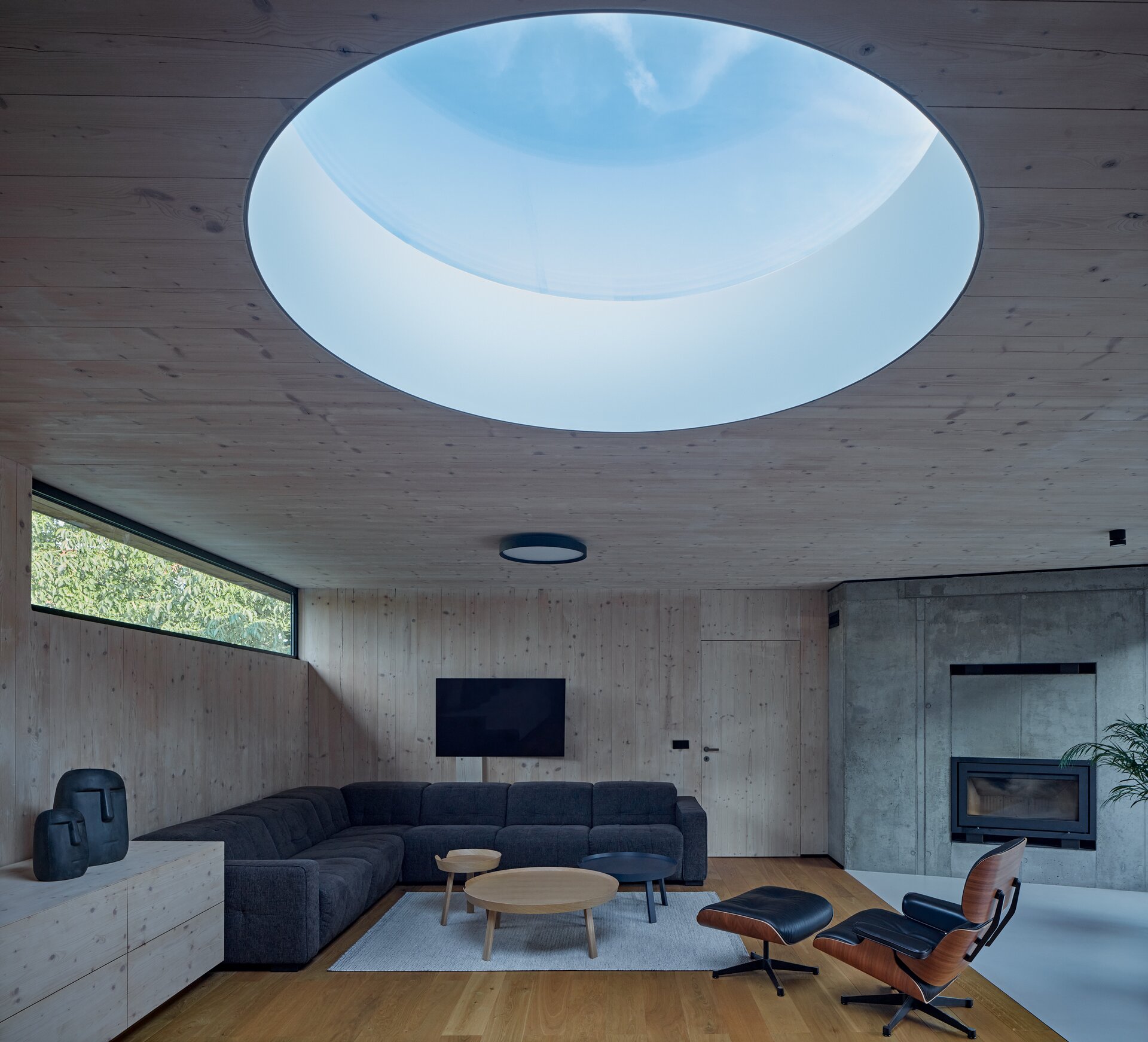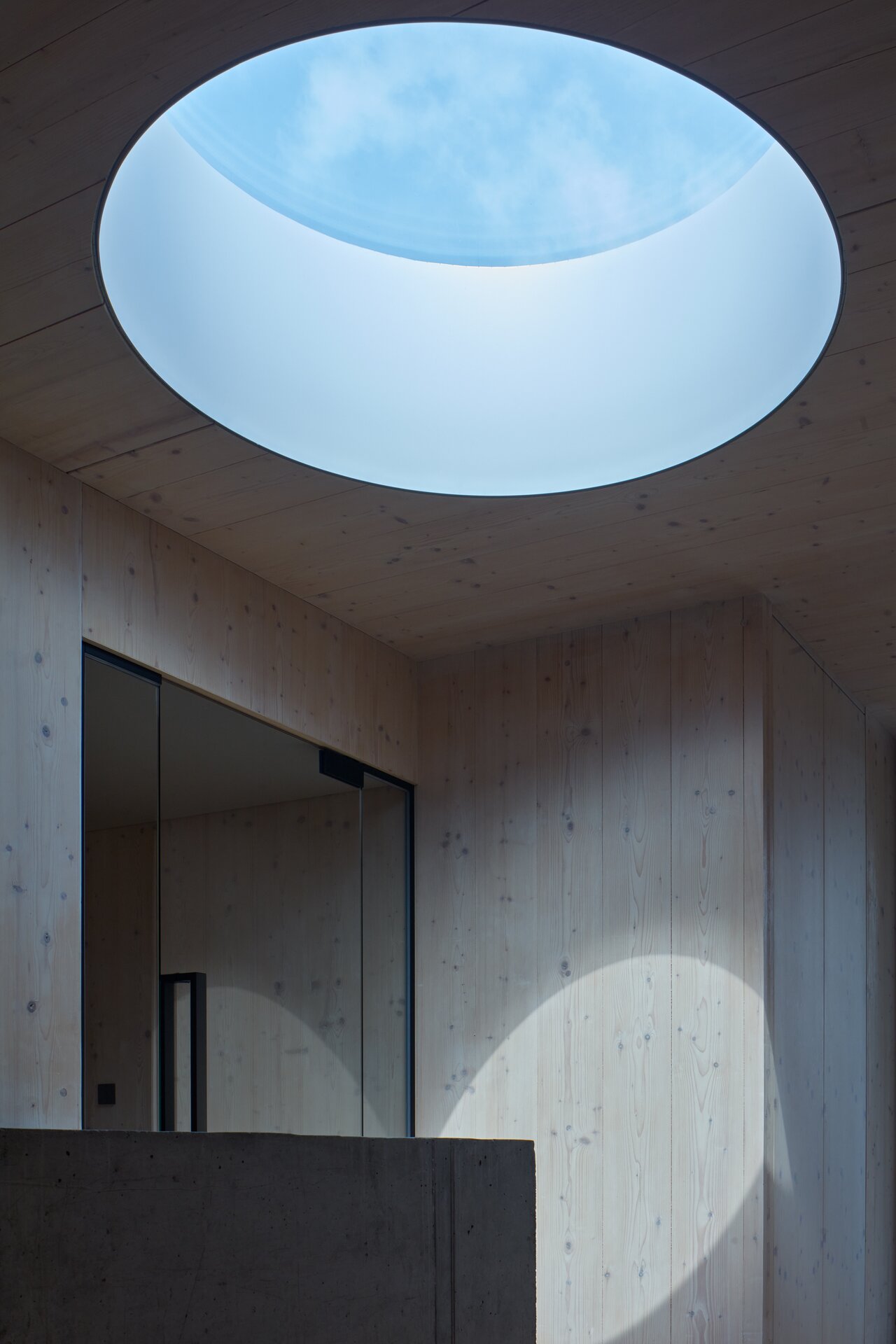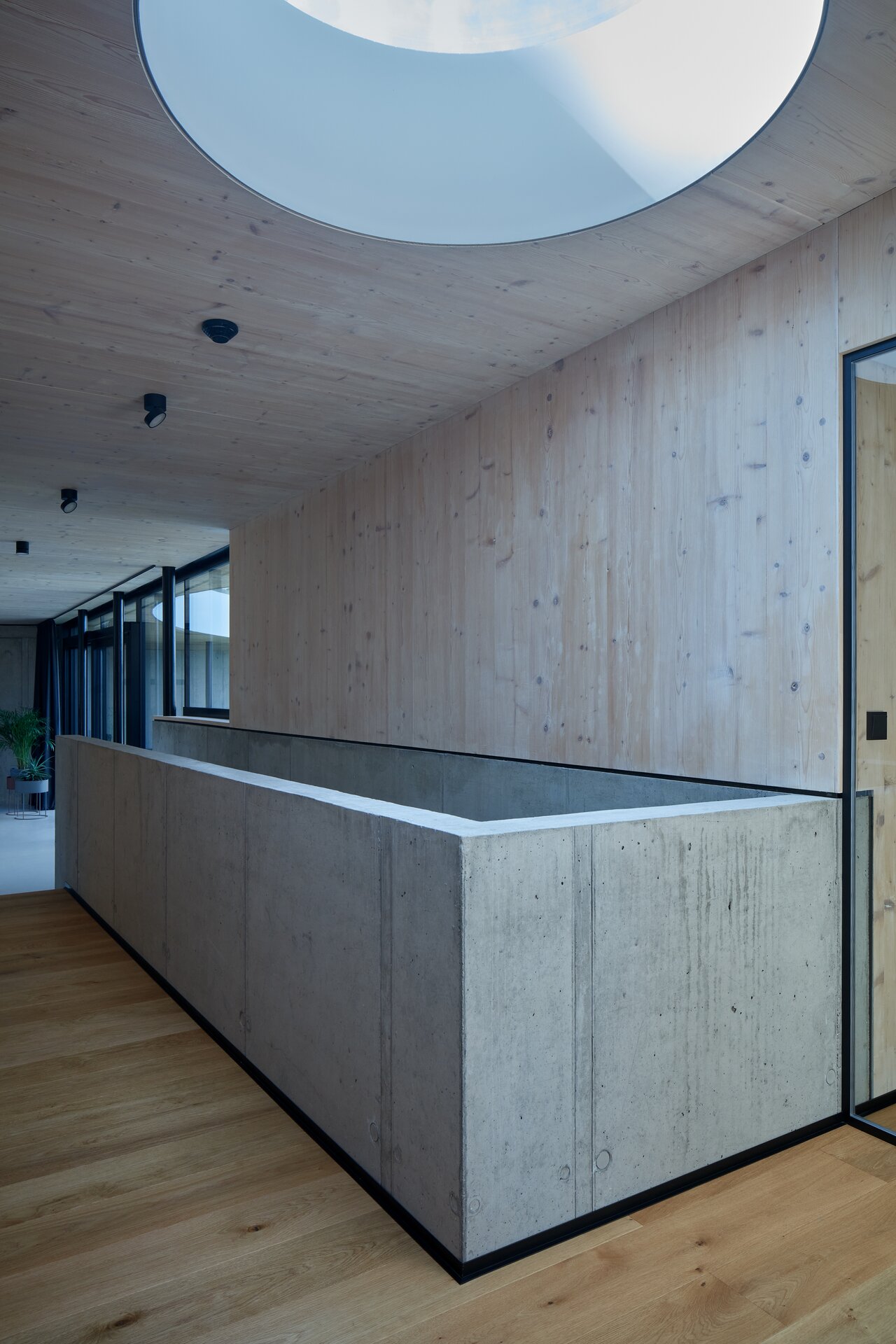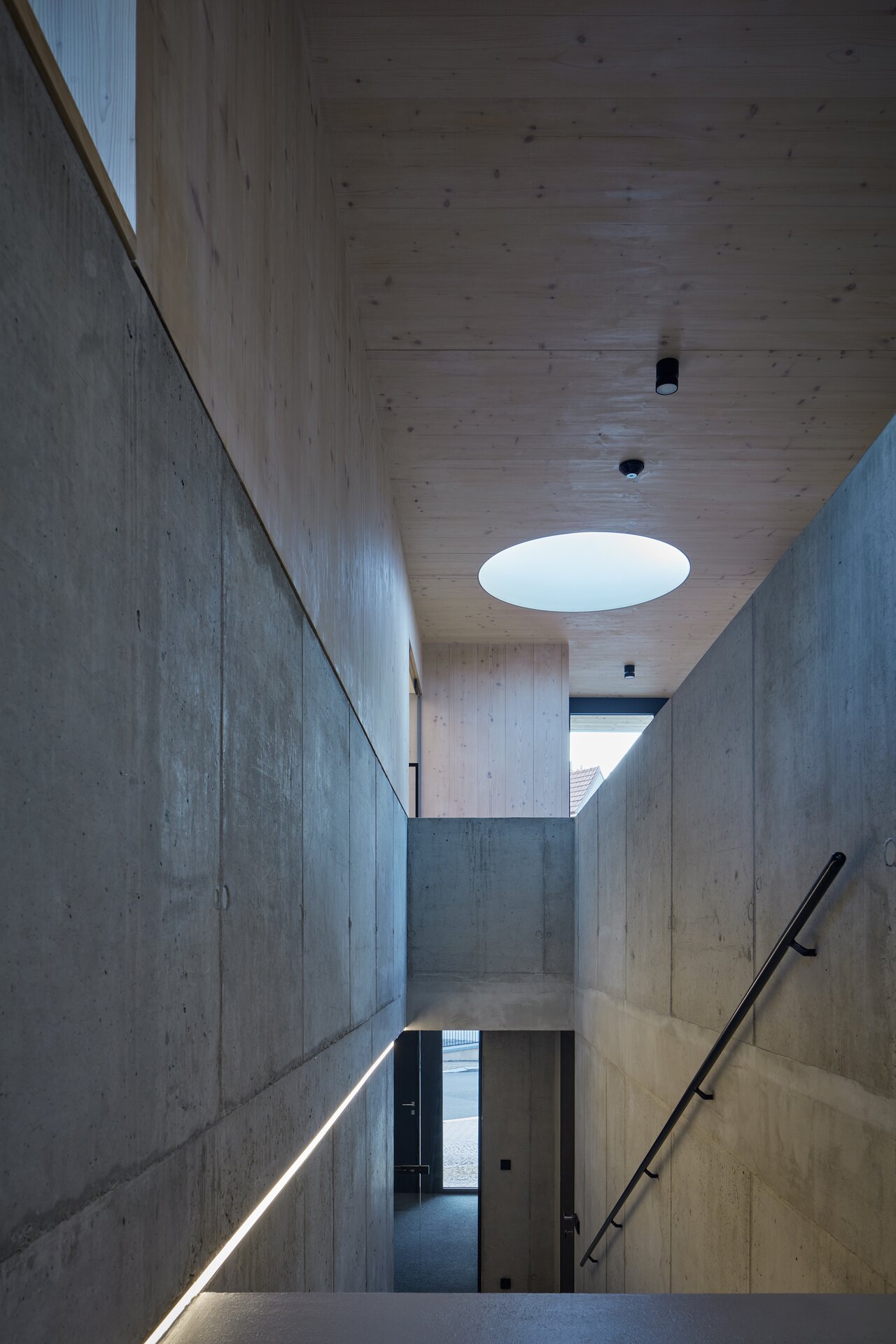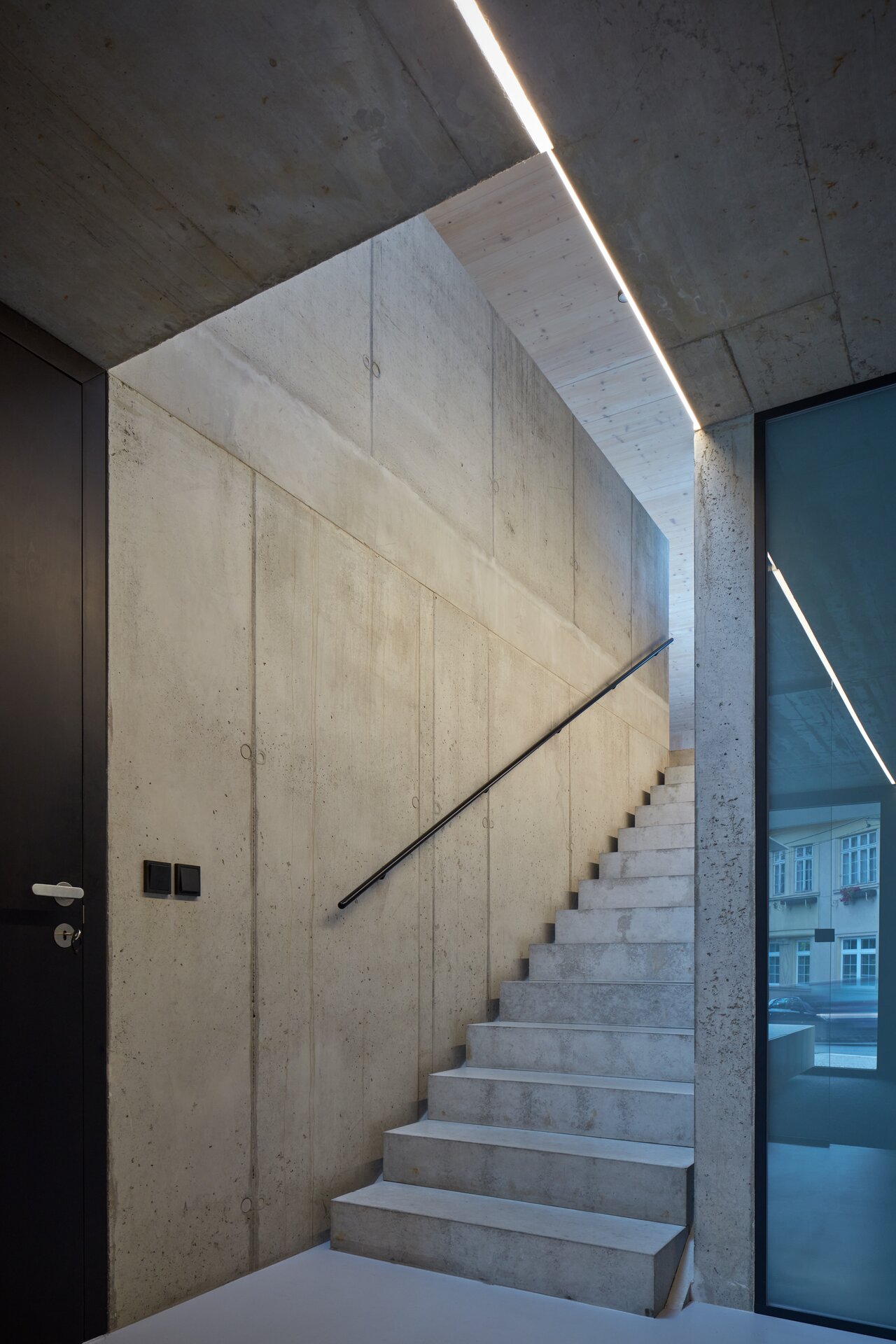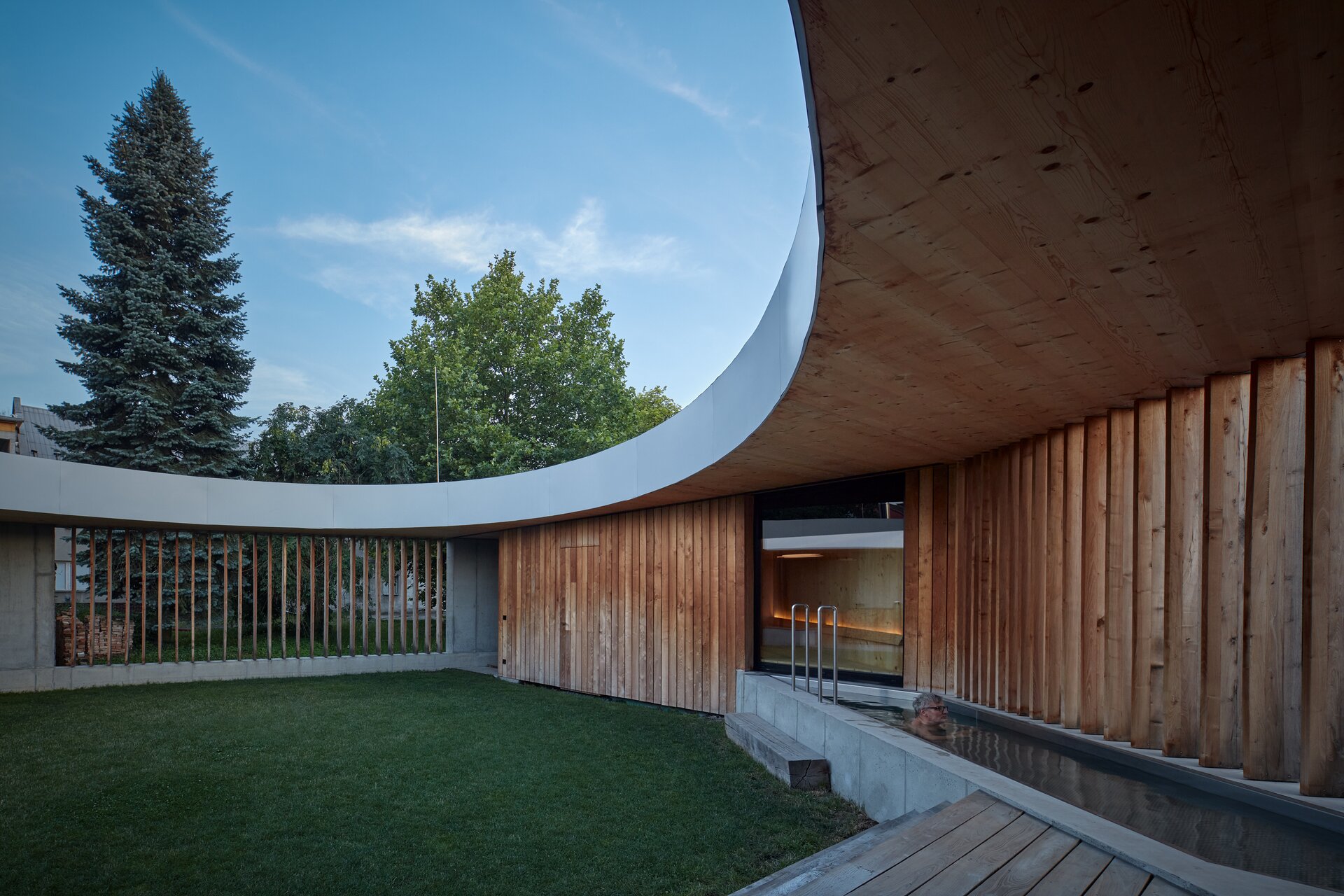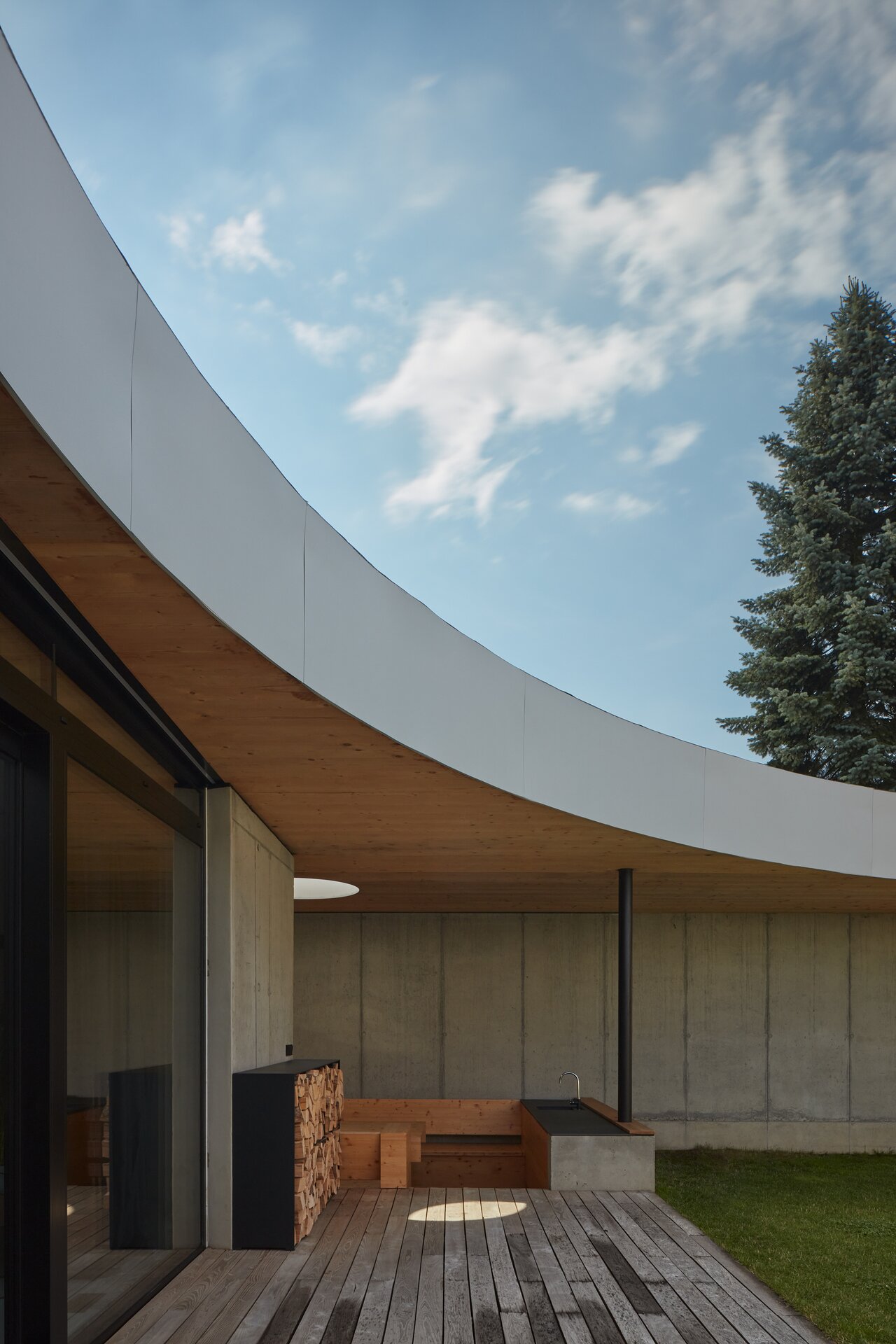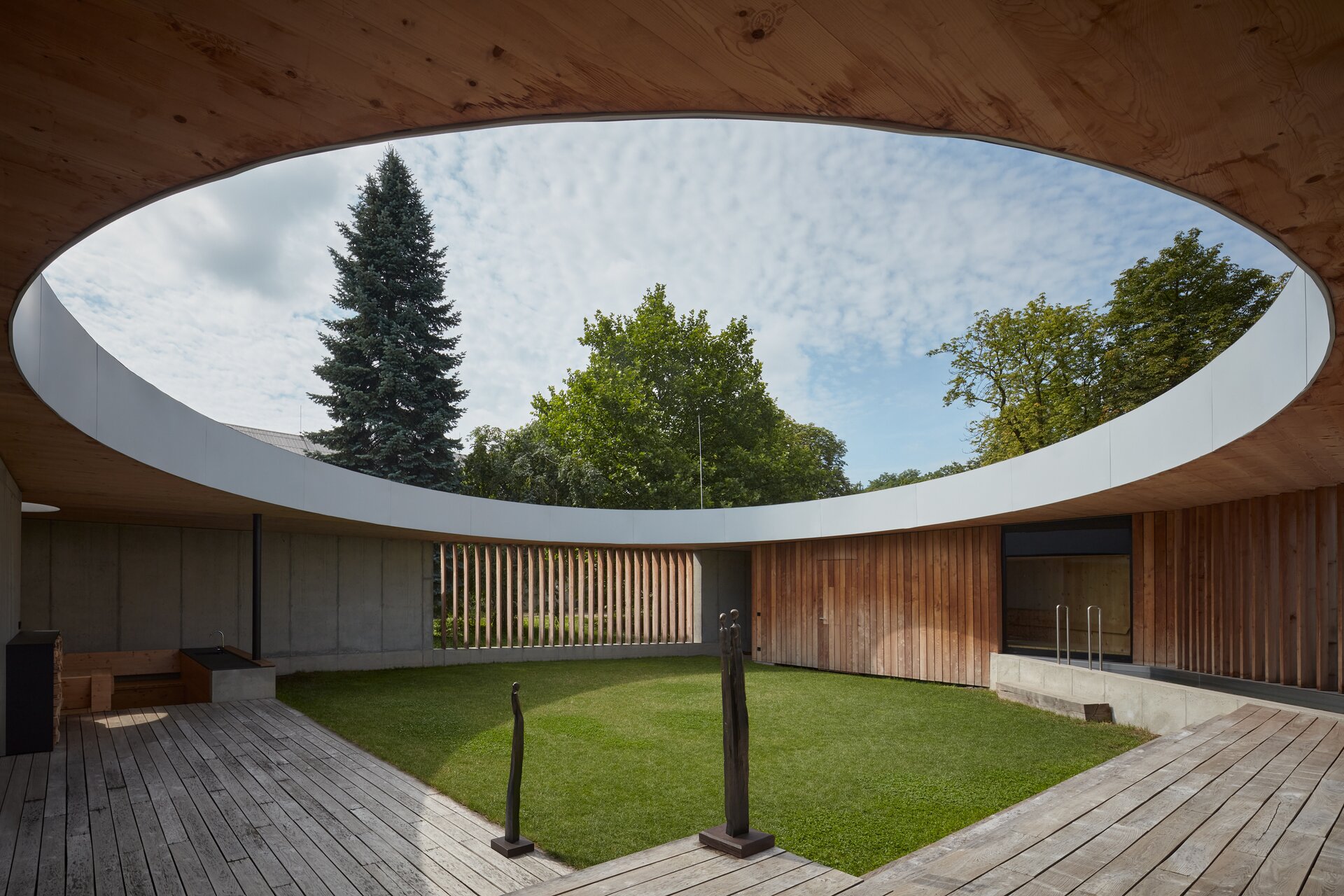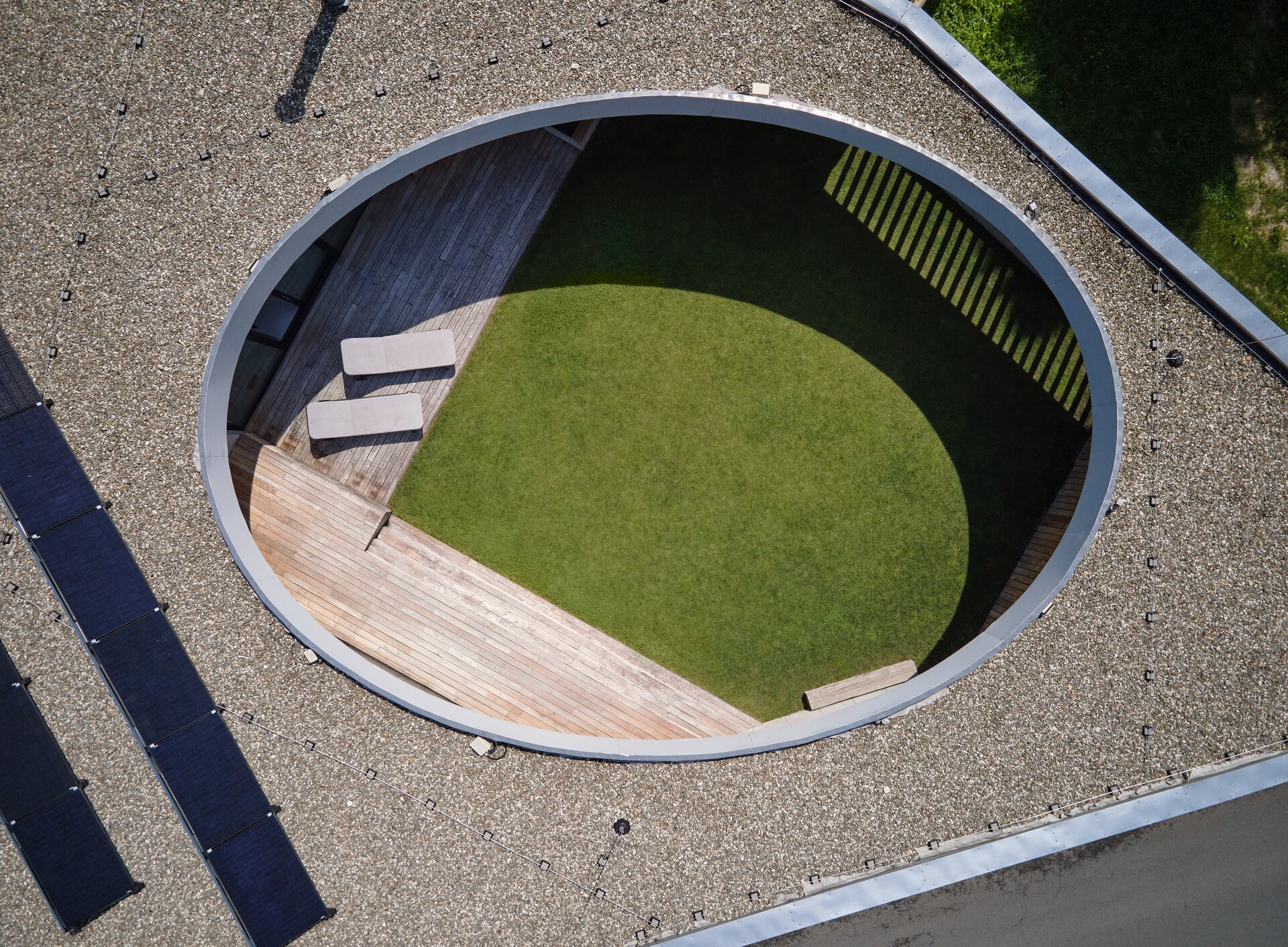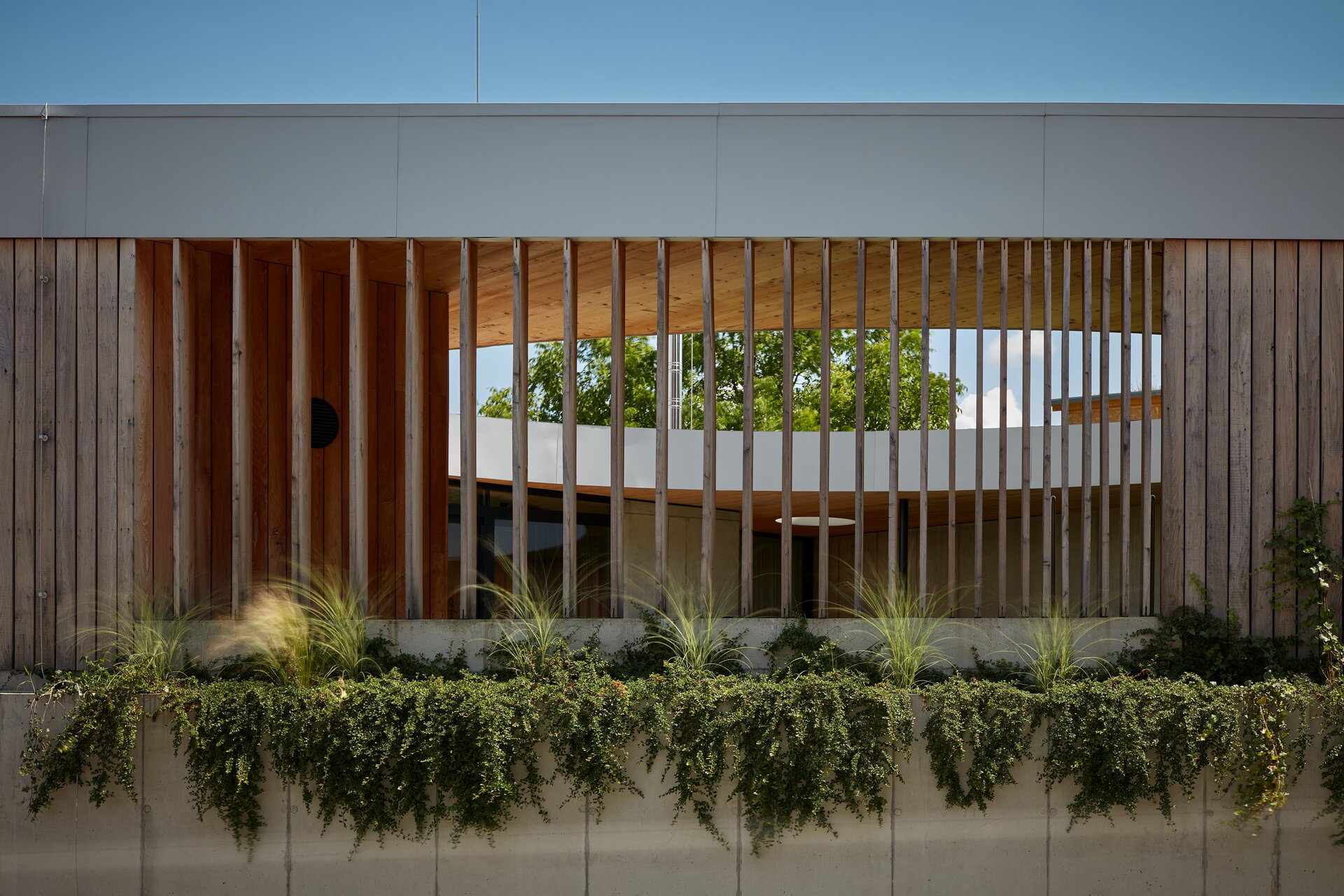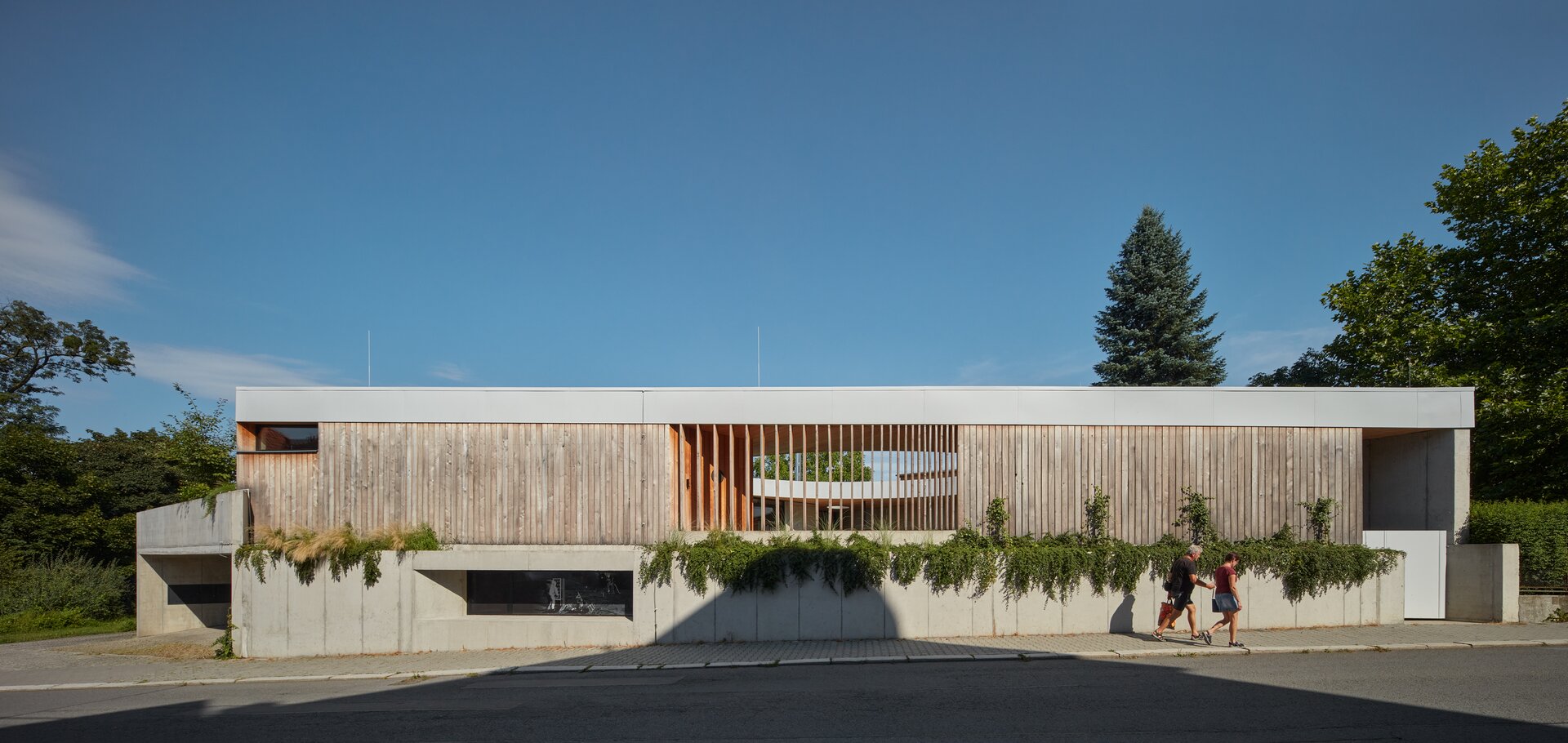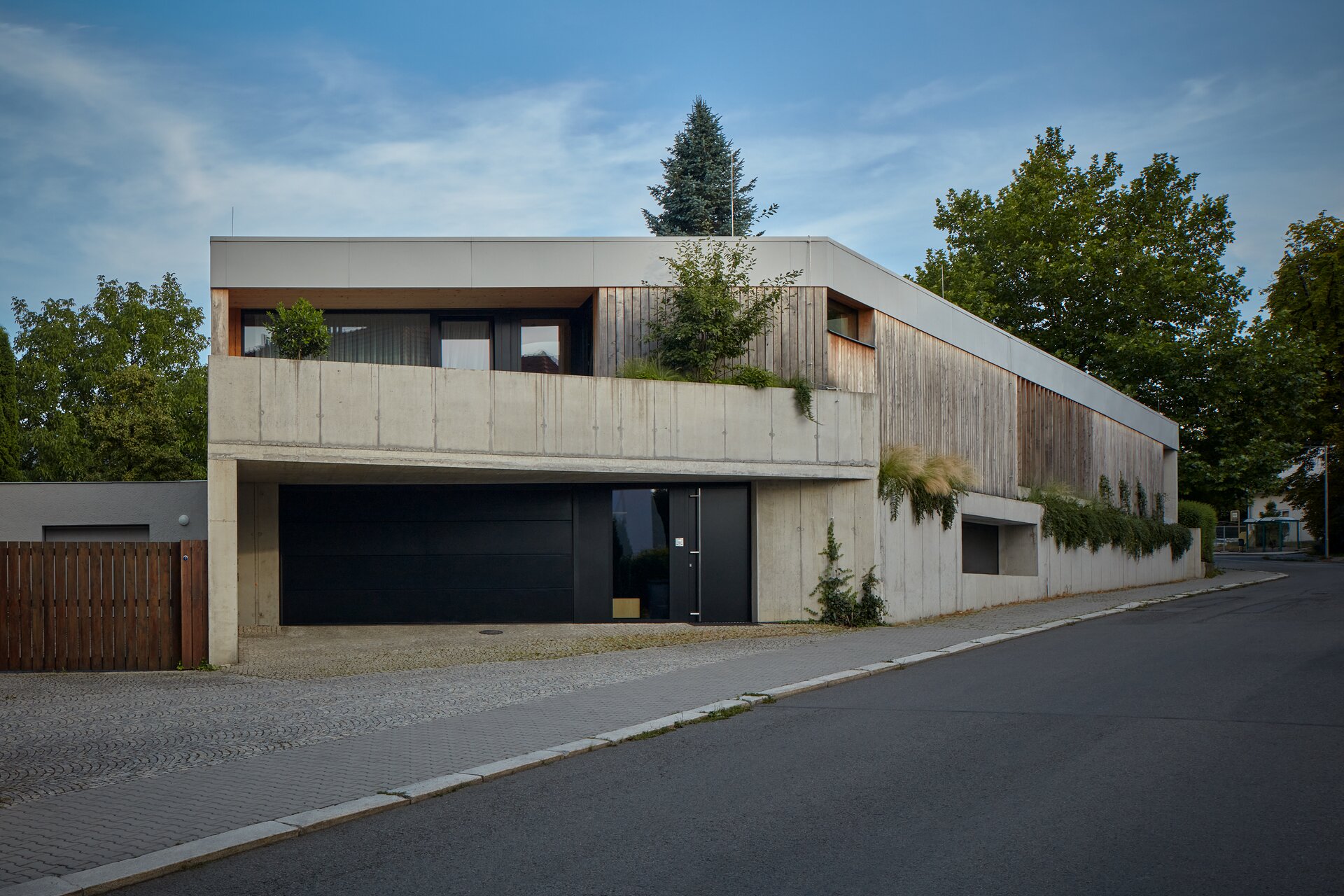 | | |
| --- | --- |
| Author | Atelier Štěpán s.r.o. / autor: Marek Jan Štěpán / spolupráce: František Brychta, Lukáš Svoboda, Tomáš Jurák, Hana Arletová, Hana Myšková |
| Studio | |
| Location | Janáčkovy sady 2295/3, 741 01 Nový Jičín |
| Investor | Mgr. Miroslav Mixa |
| Supplier | Tomáš STRAUB s.r.o. |
| Date of project approval | February 2020 |
| Fotograf | |
The two-storey house is set in a slightly sloping terrain and creates an inner living landscape, which is directed more towards itself, into a kind of inner introvertedness. Same time it allows views into the surrounding world and the neighbouring garden and street. The platform of the house is raised above street level and thus finds itself more optically and acoustically private. The dominant of the house is the atrium, from which the height-layered platforms of the house are accessible (background - living zone - quiet zone - outdoor seating). The living zone is on the same level as the atrium, the bedroom zone is elevated above. In the living area with a fireplace and a terrace, the centre of the house is a dining room lit by a circular skylight. The bedrooms with facilities are separated from the living zone by the guest room. The main entrance is to the basement with facilities and office. From the west side there is an entrance to the atrium from the street next to the sauna.
The whole basement floor (perimeter walls, internal walls and the ceiling slab) are made from monolithic water impermeable concrete. The above-ground floor, including the slightly sloped roof, is designed as wooden made from solid cross-glued CLT panels. The external cladding of the walls is from accacia wooden boards.
The interior floors are from oak wood and polished concrete, outdoor terraces are made from accacia wooden boards. The windows frames are black aluminum, glazed with insulating triple glazing.
The house is designed in a low energy standard, the indoor climate is supported by forced ventilation with recuperation. Heating is designed as underfloor water heating system in combination with wall heating units, water heated by a gas condensing boiler and solar panel located on the roof. An air space is made around the basement due to the heigh level of the groundwater. Under the atrium there is also a rainwater tank for watering the garden.
Green building
Environmental certification
| | |
| --- | --- |
| Type and level of certificate | - |
Water management
| | |
| --- | --- |
| Is rainwater used for irrigation? | |
| Is rainwater used for other purposes, e.g. toilet flushing ? | |
| Does the building have a green roof / facade ? | |
| Is reclaimed waste water used, e.g. from showers and sinks ? | |
The quality of the indoor environment
| | |
| --- | --- |
| Is clean air supply automated ? | |
| Is comfortable temperature during summer and winter automated? | |
| Is natural lighting guaranteed in all living areas? | |
| Is artificial lighting automated? | |
| Is acoustic comfort, specifically reverberation time, guaranteed? | |
| Does the layout solution include zoning and ergonomics elements? | |
Principles of circular economics
| | |
| --- | --- |
| Does the project use recycled materials? | |
| Does the project use recyclable materials? | |
| Are materials with a documented Environmental Product Declaration (EPD) promoted in the project? | |
| Are other sustainability certifications used for materials and elements? | |
Energy efficiency
| | |
| --- | --- |
| Energy performance class of the building according to the Energy Performance Certificate of the building | B |
| Is efficient energy management (measurement and regular analysis of consumption data) considered? | |
| Are renewable sources of energy used, e.g. solar system, photovoltaics? | |
Interconnection with surroundings
| | |
| --- | --- |
| Does the project enable the easy use of public transport? | |
| Does the project support the use of alternative modes of transport, e.g cycling, walking etc. ? | |
| Is there access to recreational natural areas, e.g. parks, in the immediate vicinity of the building? | |