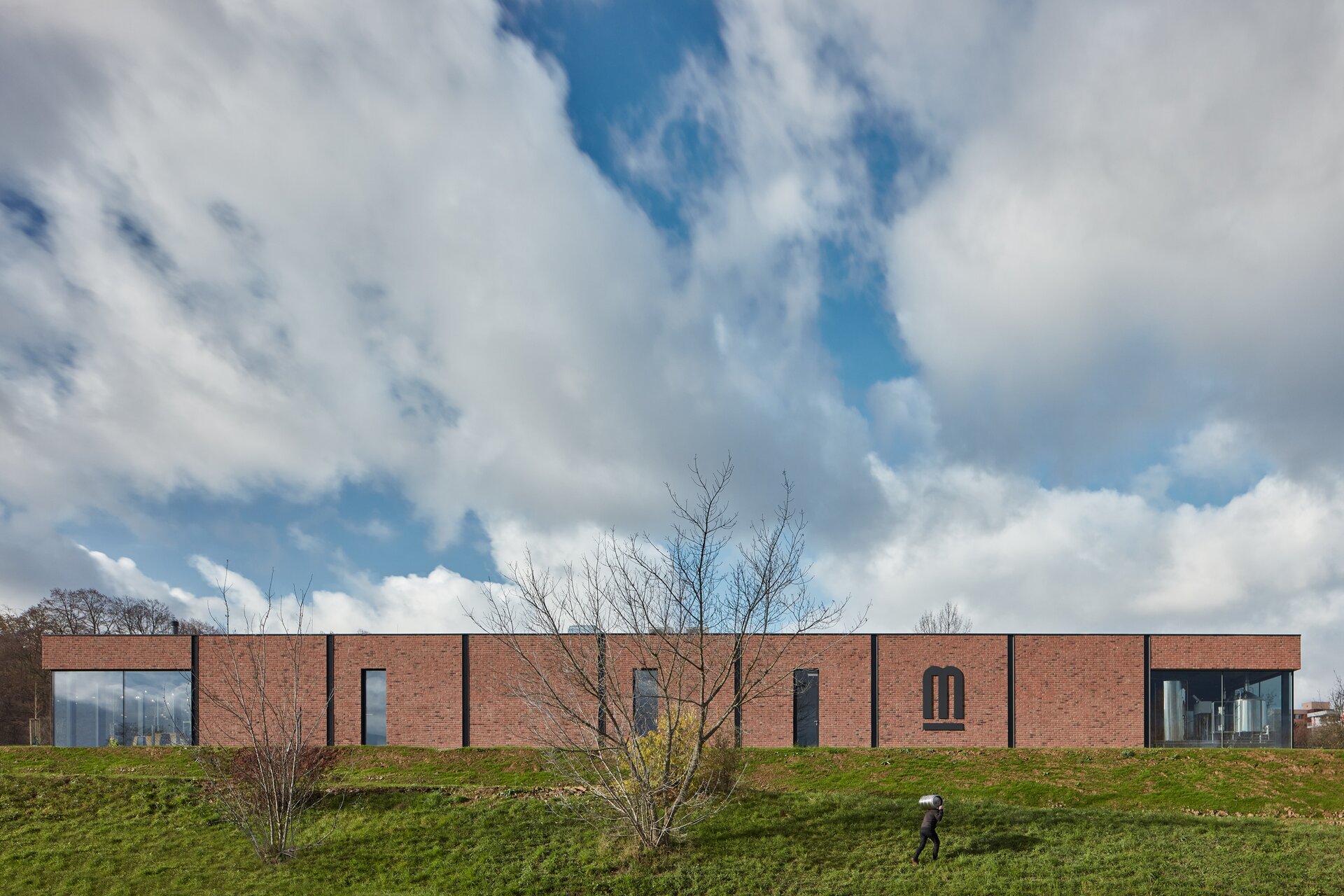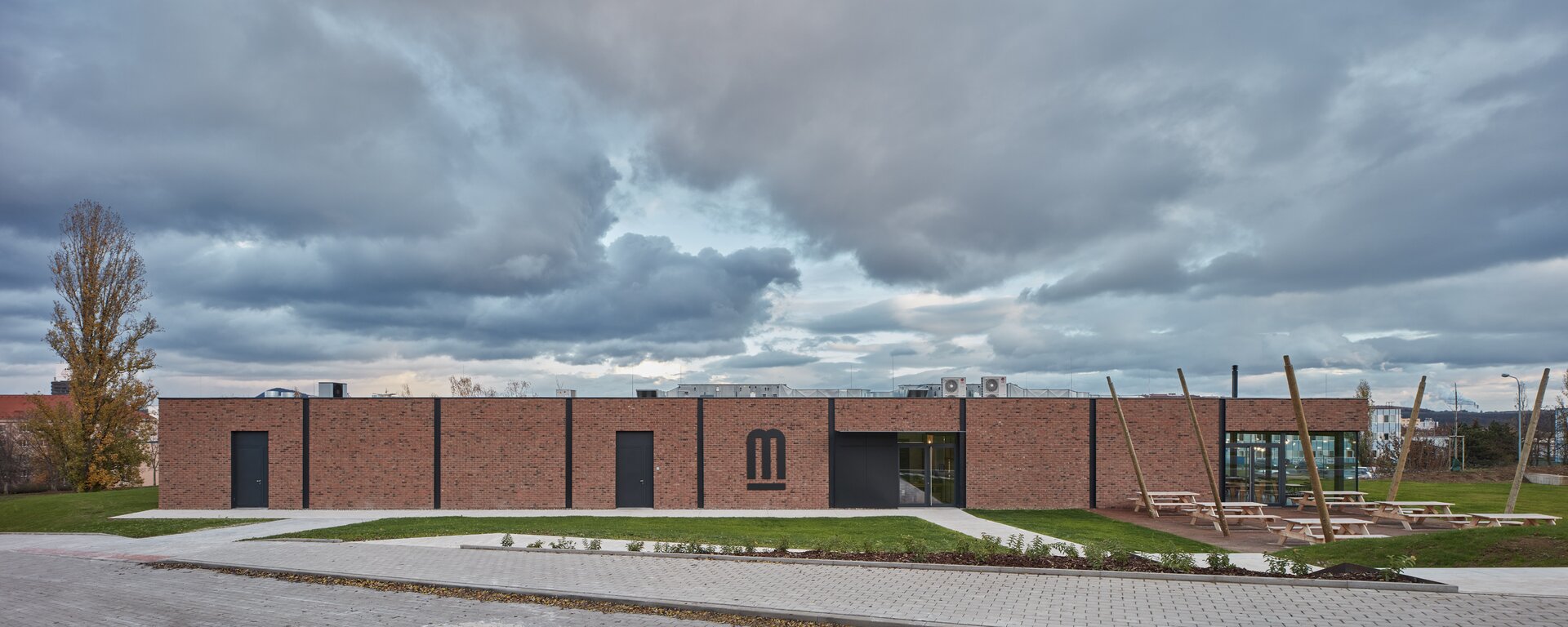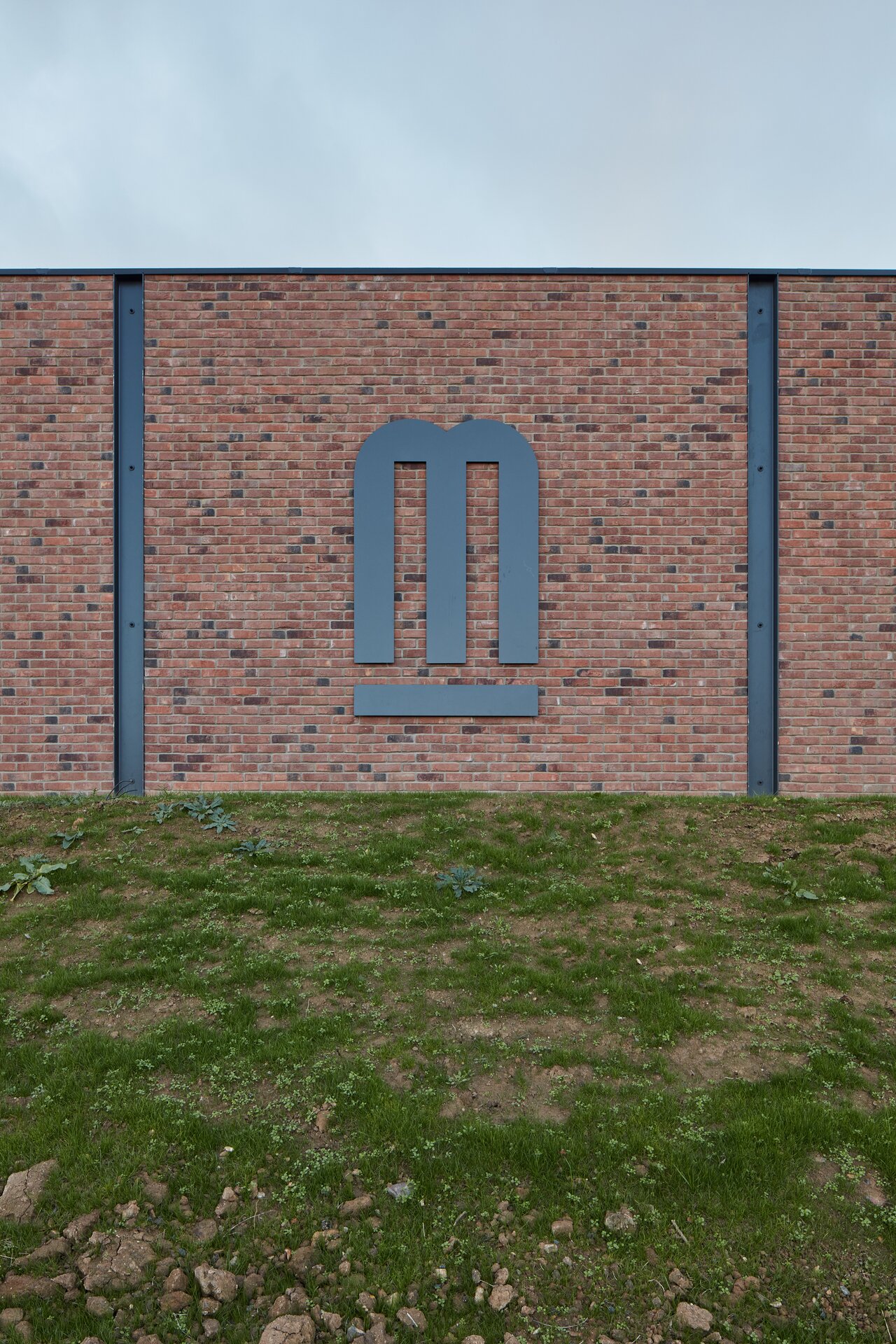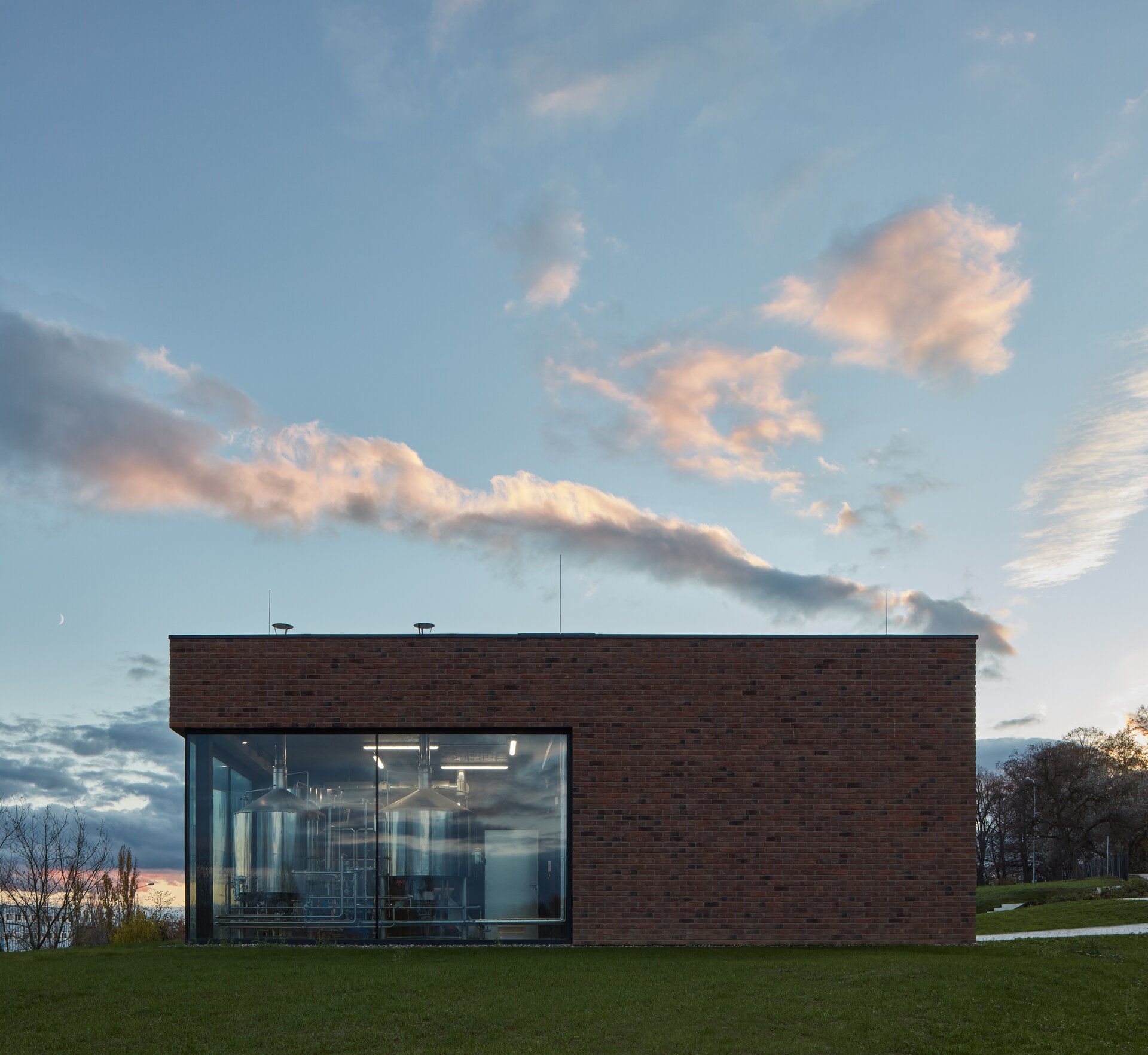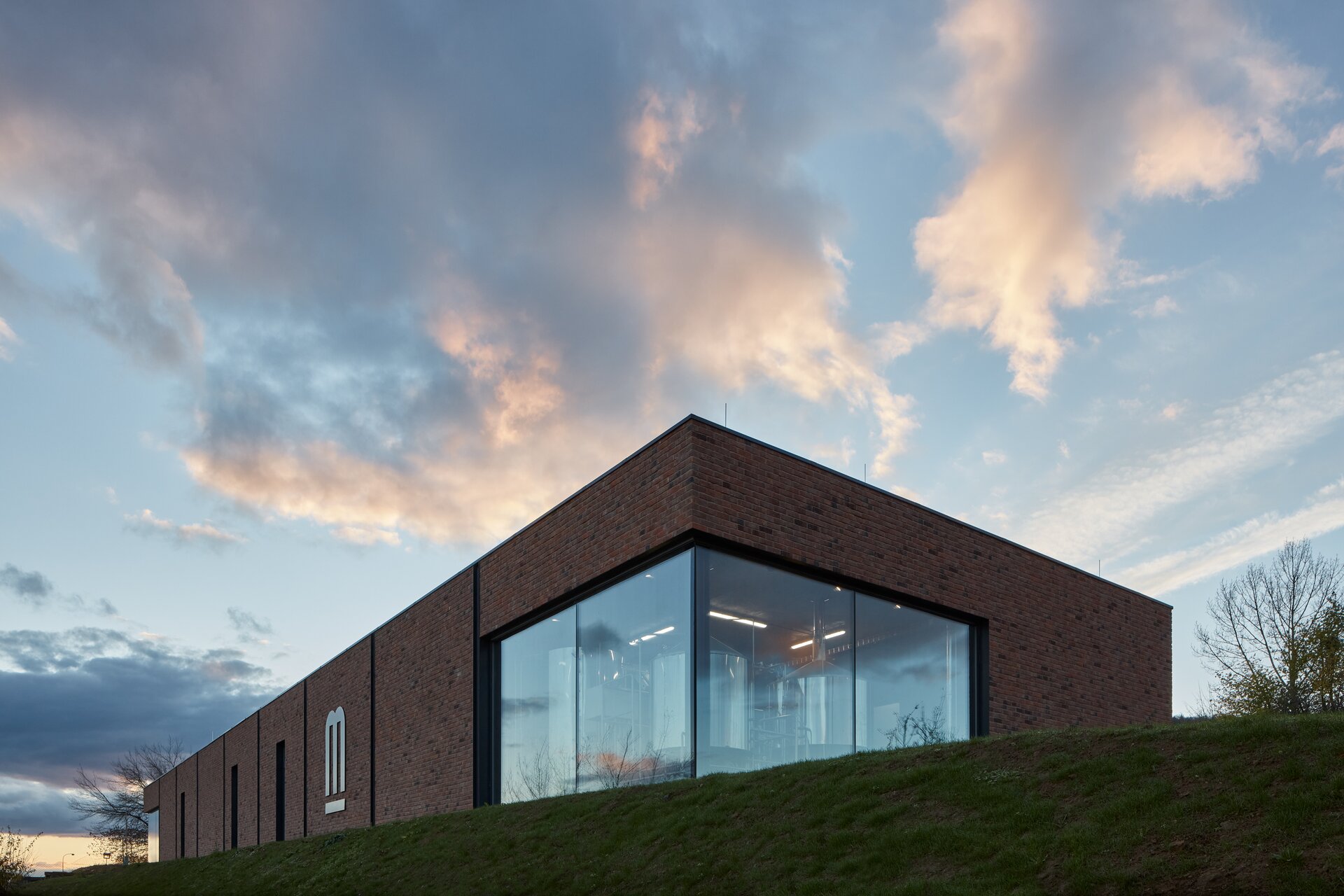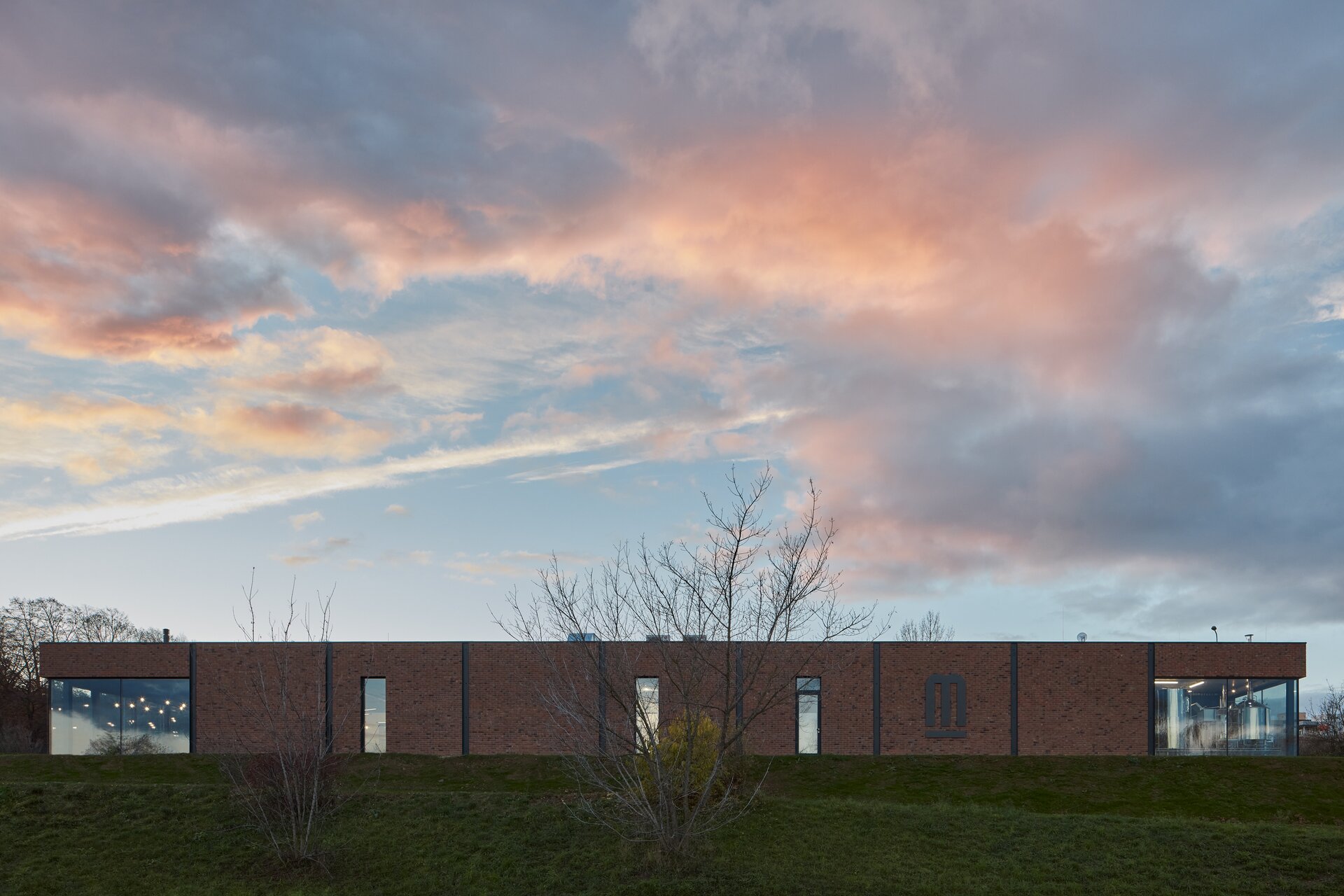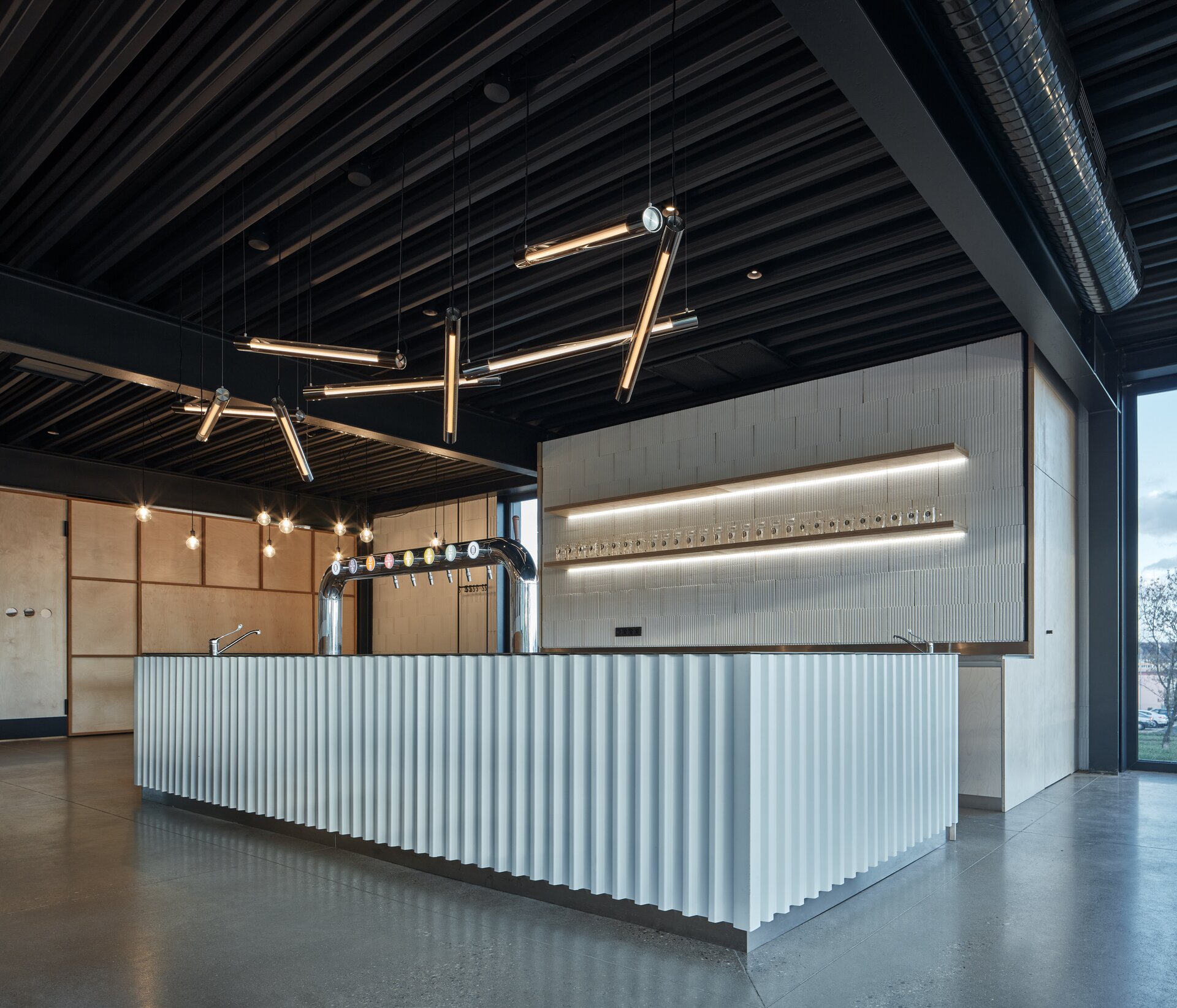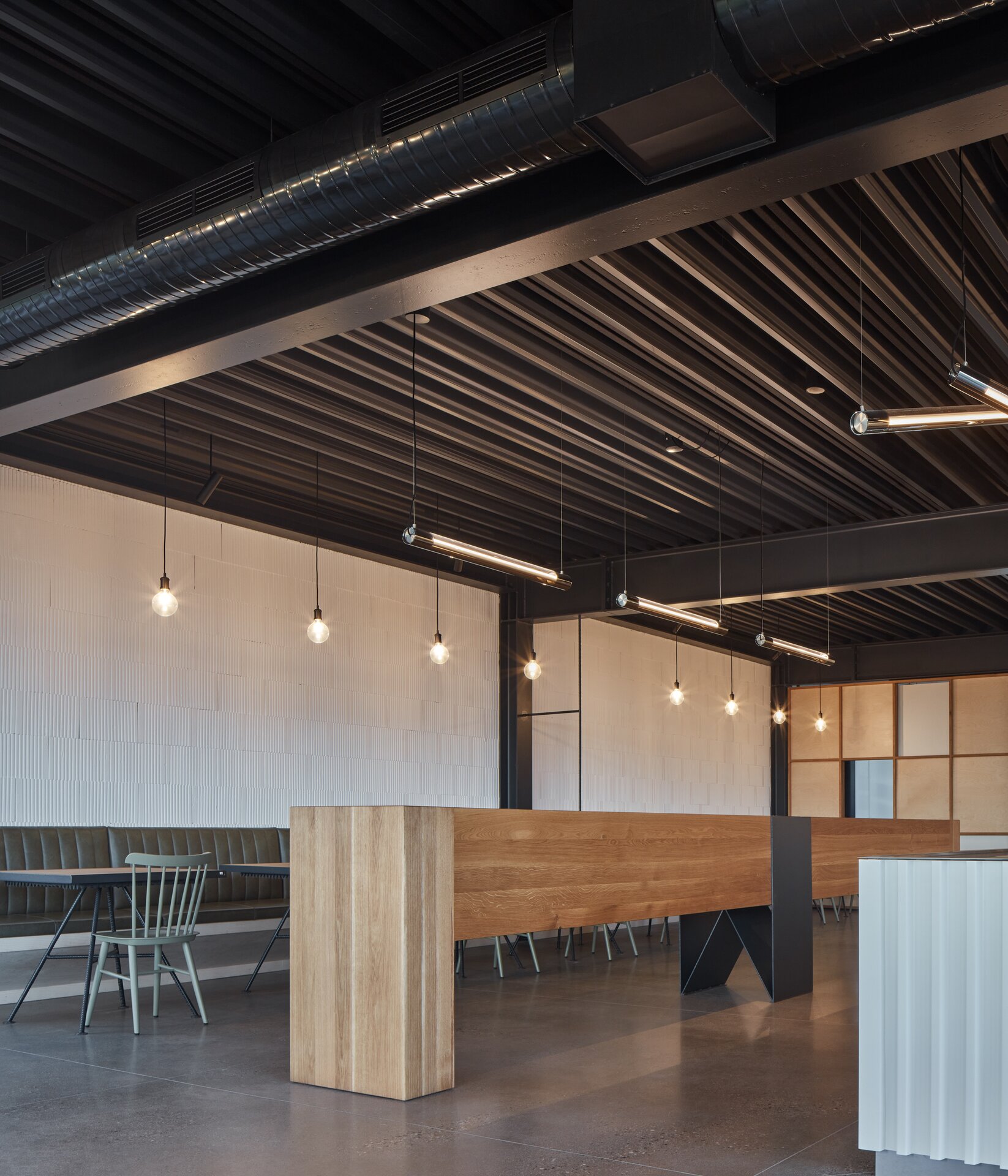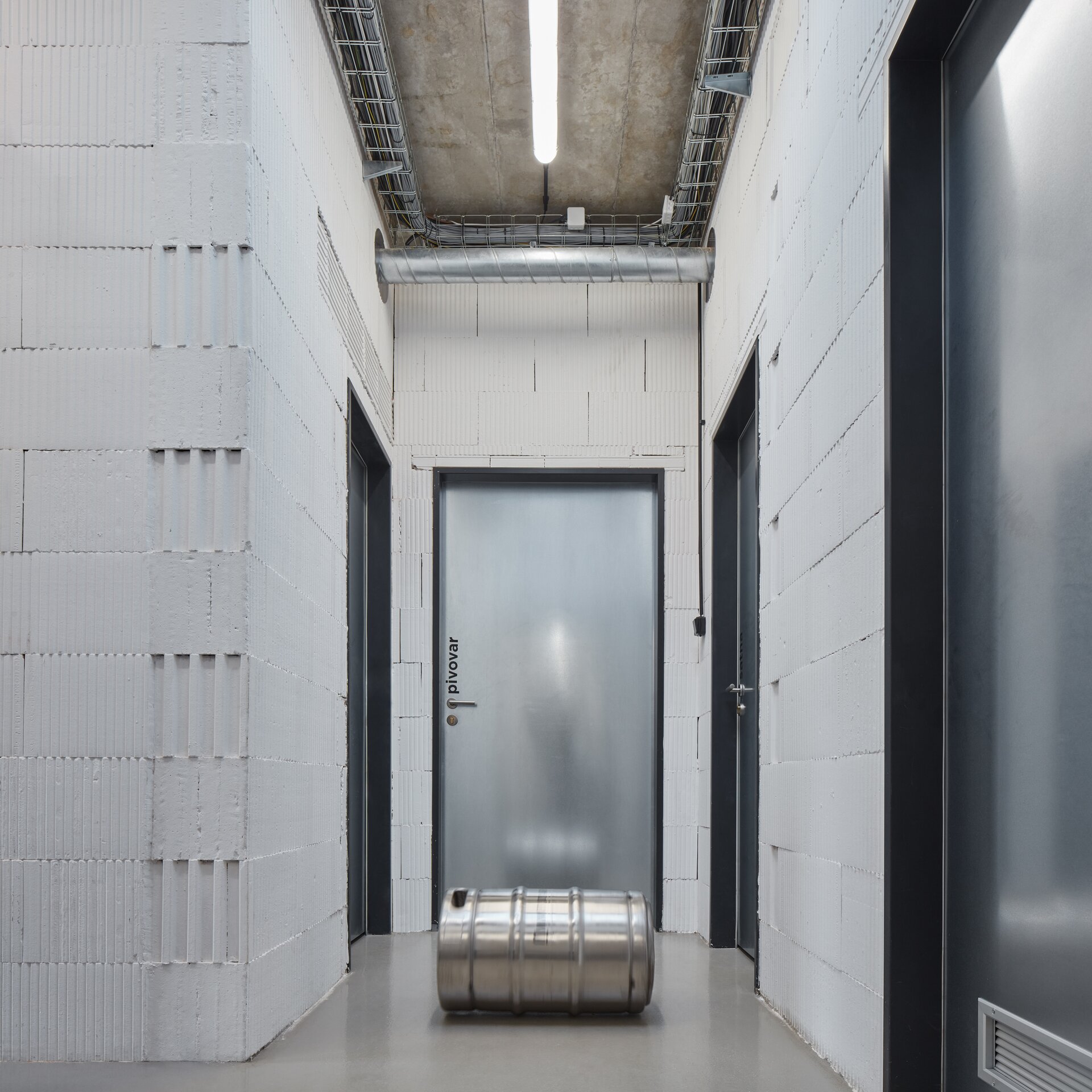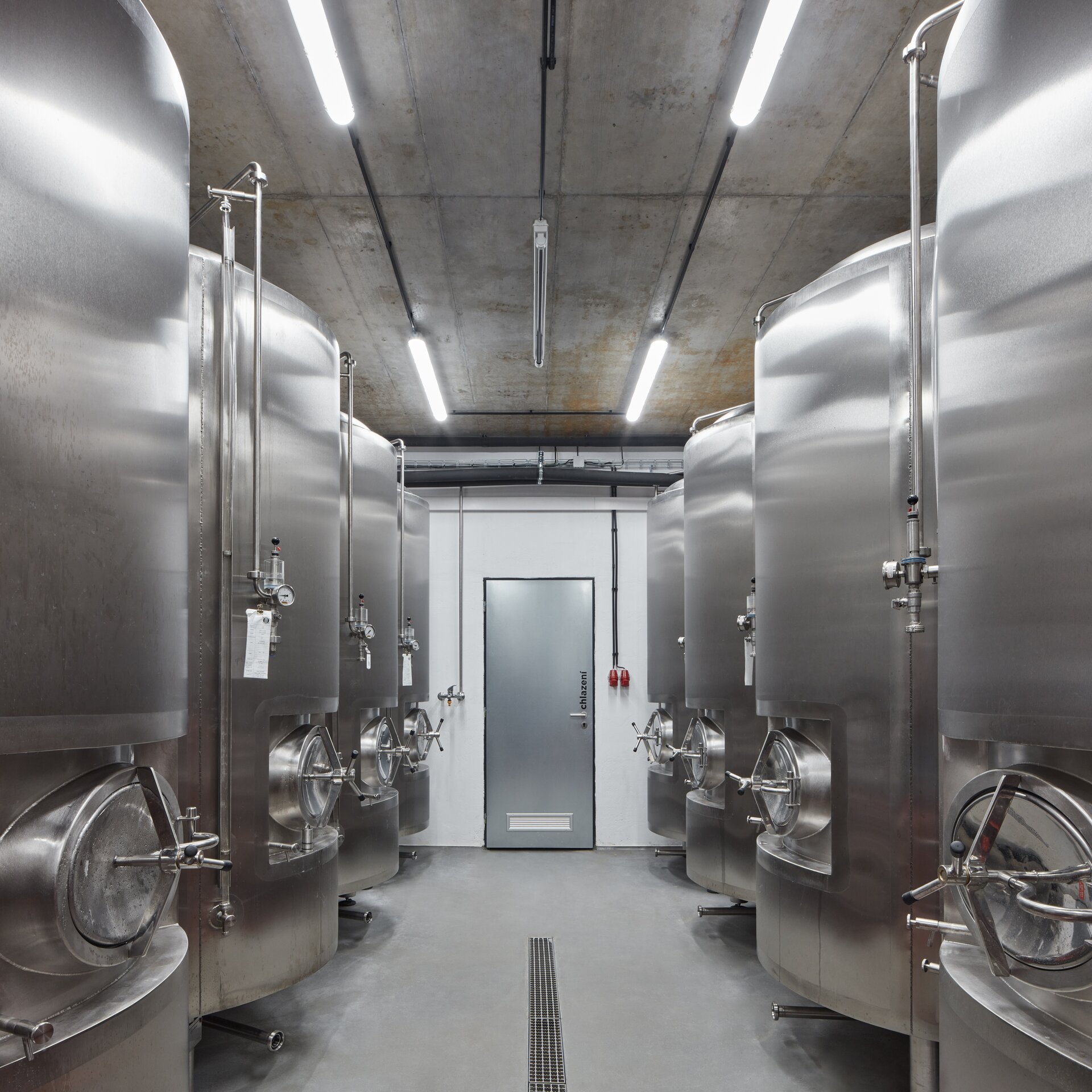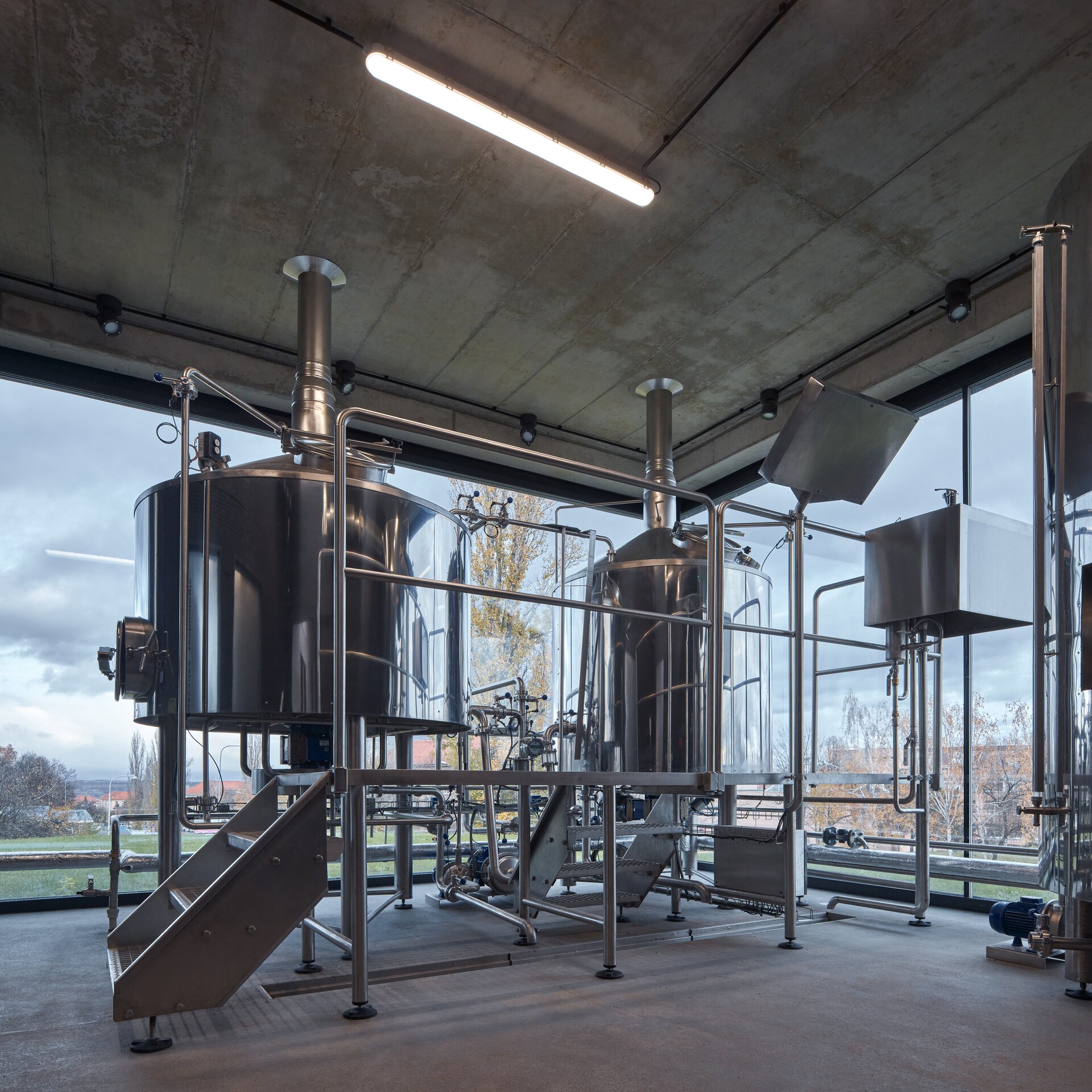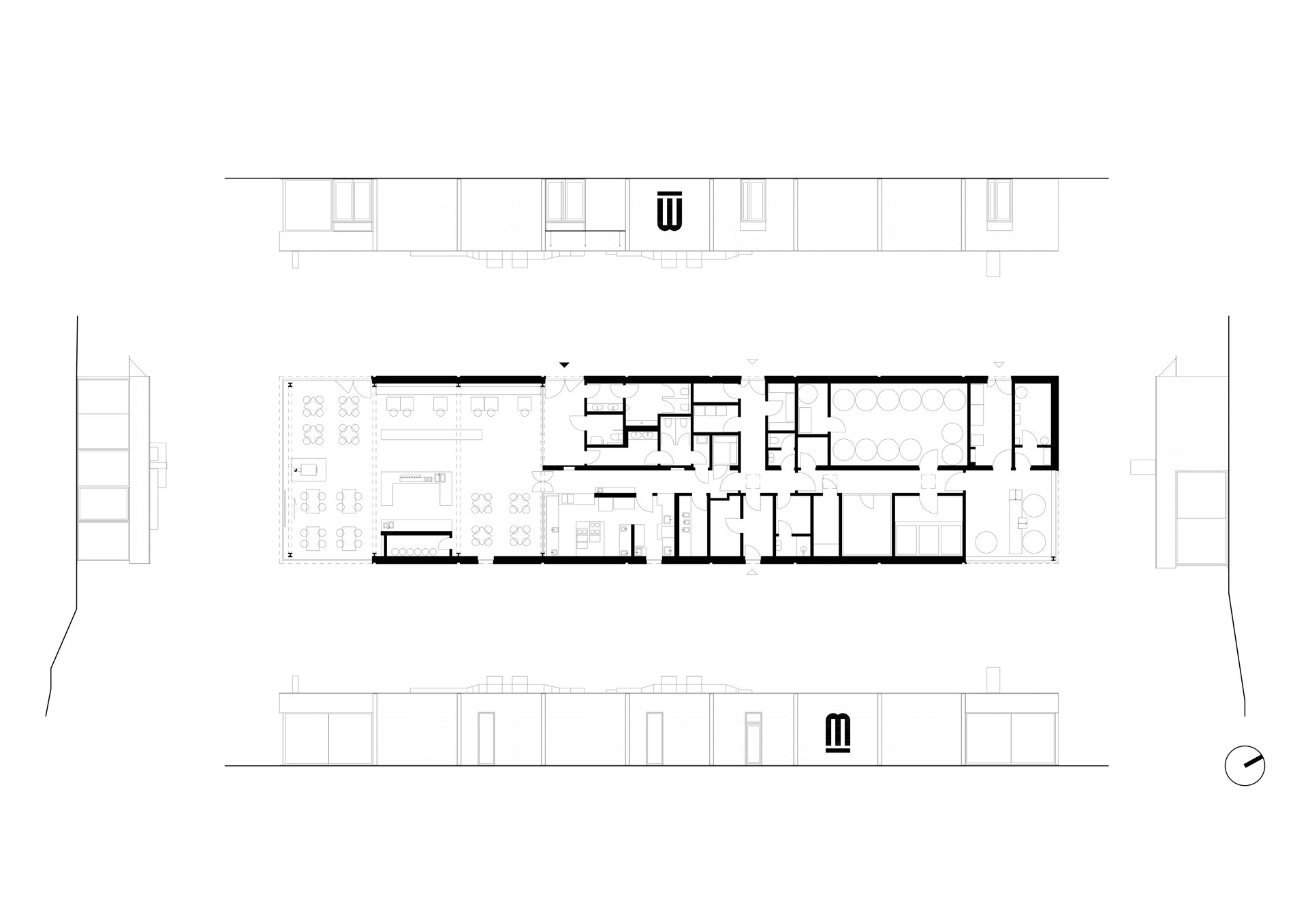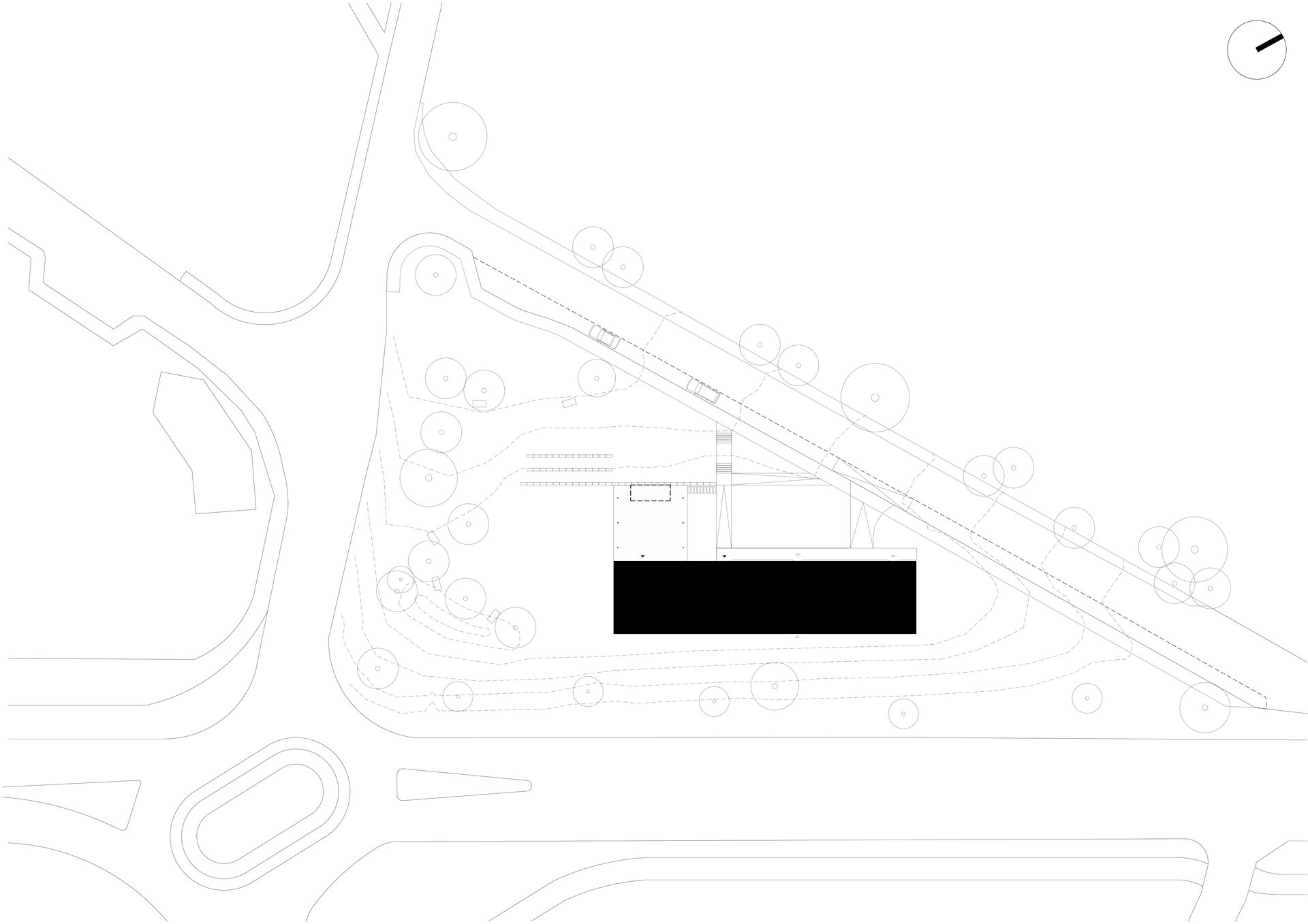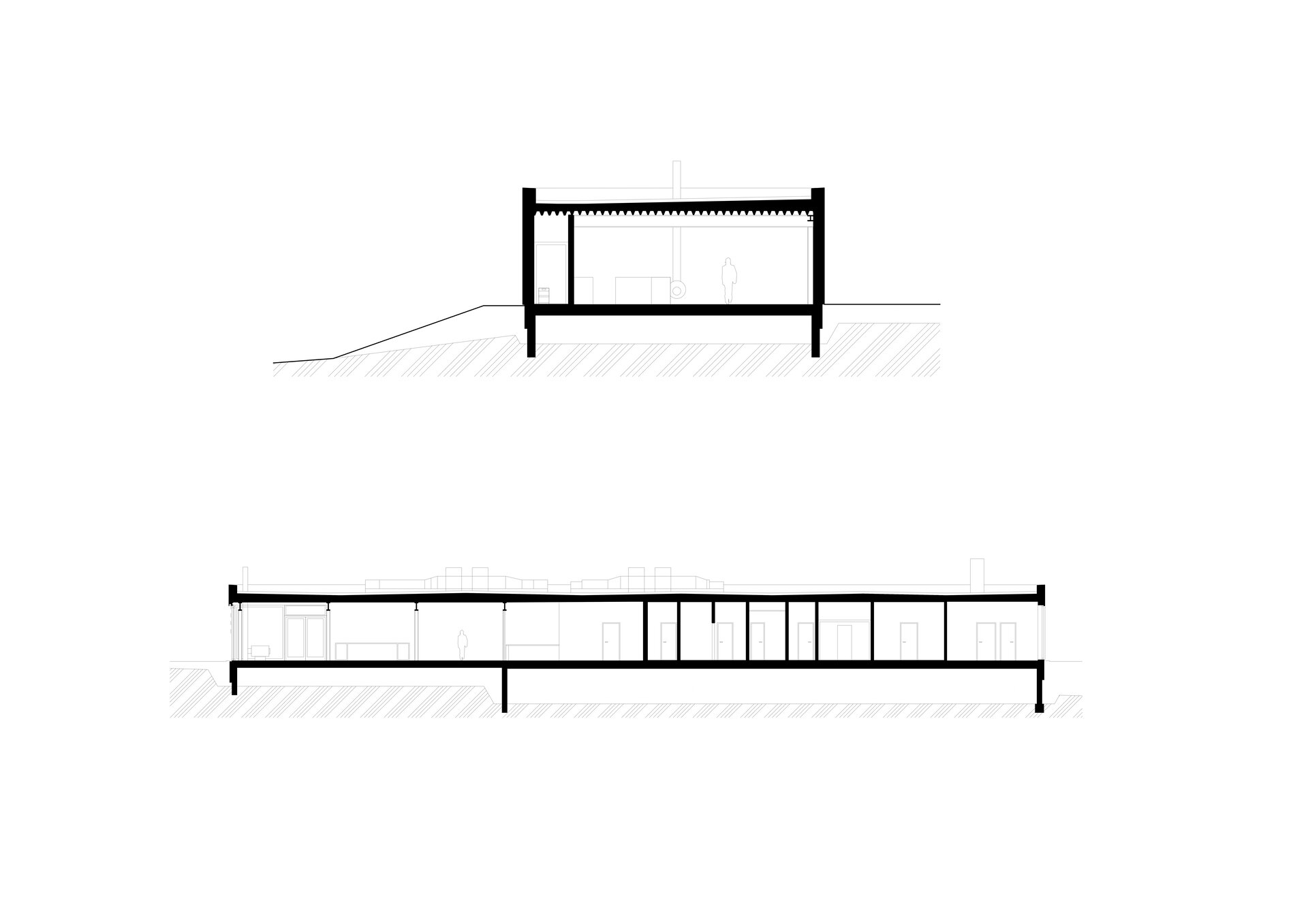 Author
ADR s.r.o. / Aleš Lapka, Petr Kolář, spoluautor Ing. Pavel Čermák
Studio
Location
Pod Koňským vrchem 3450, Most
Investor
Pivovar M3, a.s.
Supplier
Židle: Ton
Osvětlení: Penocze
Truhlářské výrobky, stoly, pulty: Truhlářství Kelner, Truhlářství Plein
Obklady, dlažby: Rako
Sanitární vybavení: Laufen, Sanela
Gastro: GAST-PRO
Kamna: Kanuk
Pivovarská technologie: Strojtep
Date of project approval
January 2020
Fotograf
The Most Micro-brewery follows on from our existing micro-brewery projects of Hostivar 1 and 2, Trautenberk and Spojovna. These were designed by the studio for a network of shareholder owners. This time, the micro-brewery is located on the outskirts of Most – a town in the Ustí nad Labem region in northwest Bohemia.
The building, utilising a minimalist design, is built on a rectangular ground plan on Pod Koňským vrchem Street. The town's complexity and the relatively complicated plot has led us to a solution using a simple shape. The brick façade features two significant glass areas at both ends. One side offers an open view to the interior; the other side allows a view of the brewery. Between these large windows, the façade consists of pale brickwork.
Designed according to the functional needs, the elongated building contains two main operational units. The northern part includes the brewery producing the key item – beer. The opposite side of the building houses the restaurant with a tap room and a kitchen.
The interior's design is also minimalistic. Most of the walls were finished with rough plaster and painted white. In various places, for example in the toilets and kitchen area, the brick walls are complemented with ceramic wall tiles. The main public space of the building – the restaurant – combines wooden furniture with metal details, steel construction components and brush finished concrete floors.
Green building
Environmental certification
| | |
| --- | --- |
| Type and level of certificate | - |
Water management
| | |
| --- | --- |
| Is rainwater used for irrigation? | |
| Is rainwater used for other purposes, e.g. toilet flushing ? | |
| Does the building have a green roof / facade ? | |
| Is reclaimed waste water used, e.g. from showers and sinks ? | |
The quality of the indoor environment
| | |
| --- | --- |
| Is clean air supply automated ? | |
| Is comfortable temperature during summer and winter automated? | |
| Is natural lighting guaranteed in all living areas? | |
| Is artificial lighting automated? | |
| Is acoustic comfort, specifically reverberation time, guaranteed? | |
| Does the layout solution include zoning and ergonomics elements? | |
Principles of circular economics
| | |
| --- | --- |
| Does the project use recycled materials? | |
| Does the project use recyclable materials? | |
| Are materials with a documented Environmental Product Declaration (EPD) promoted in the project? | |
| Are other sustainability certifications used for materials and elements? | |
Energy efficiency
| | |
| --- | --- |
| Energy performance class of the building according to the Energy Performance Certificate of the building | B |
| Is efficient energy management (measurement and regular analysis of consumption data) considered? | |
| Are renewable sources of energy used, e.g. solar system, photovoltaics? | |
Interconnection with surroundings
| | |
| --- | --- |
| Does the project enable the easy use of public transport? | |
| Does the project support the use of alternative modes of transport, e.g cycling, walking etc. ? | |
| Is there access to recreational natural areas, e.g. parks, in the immediate vicinity of the building? | |