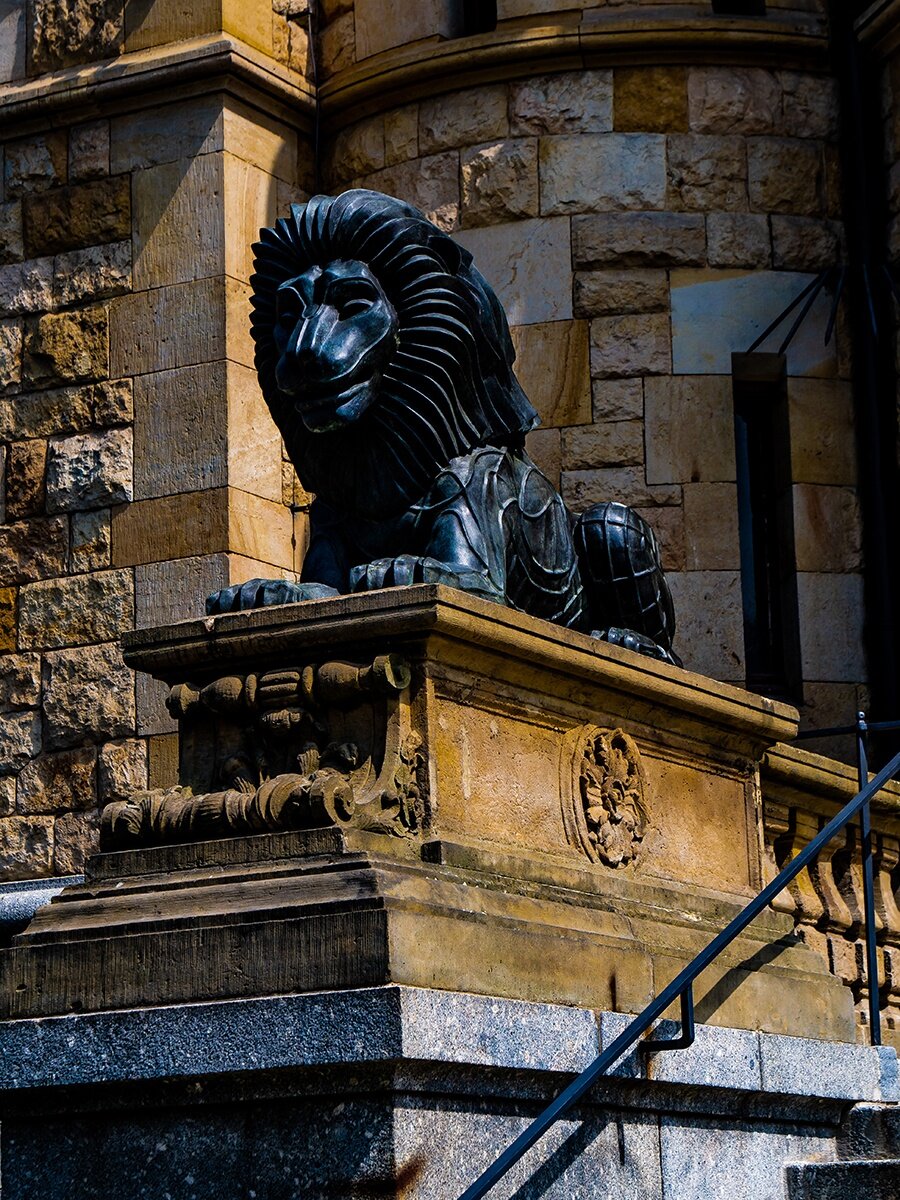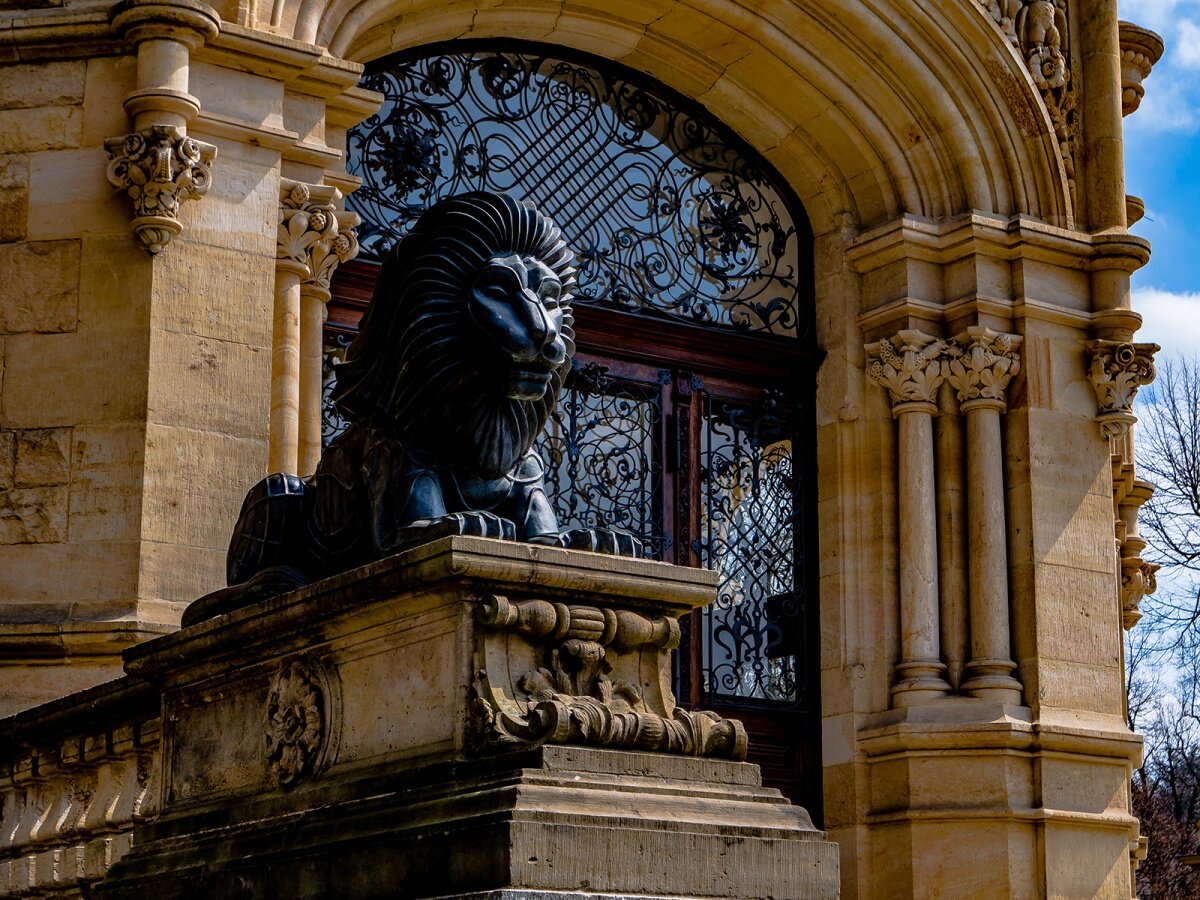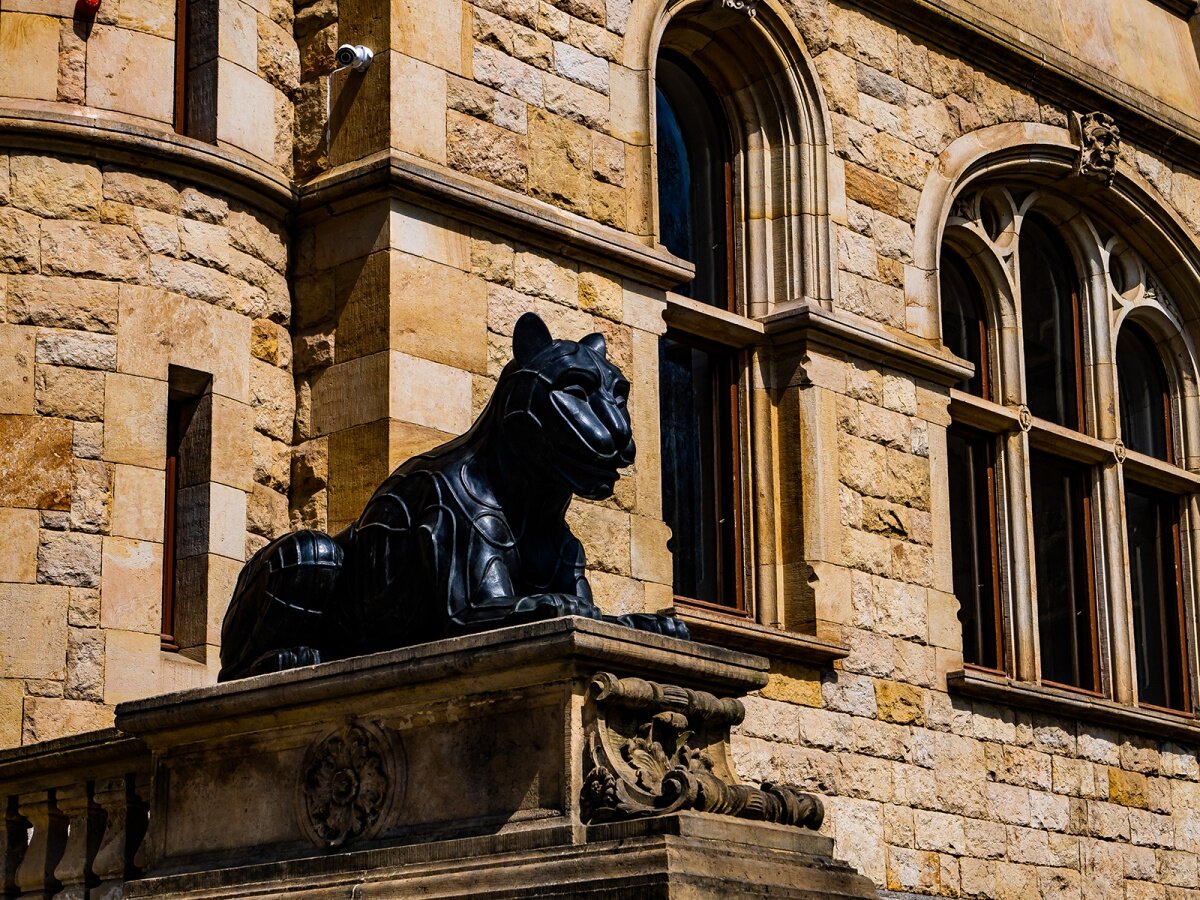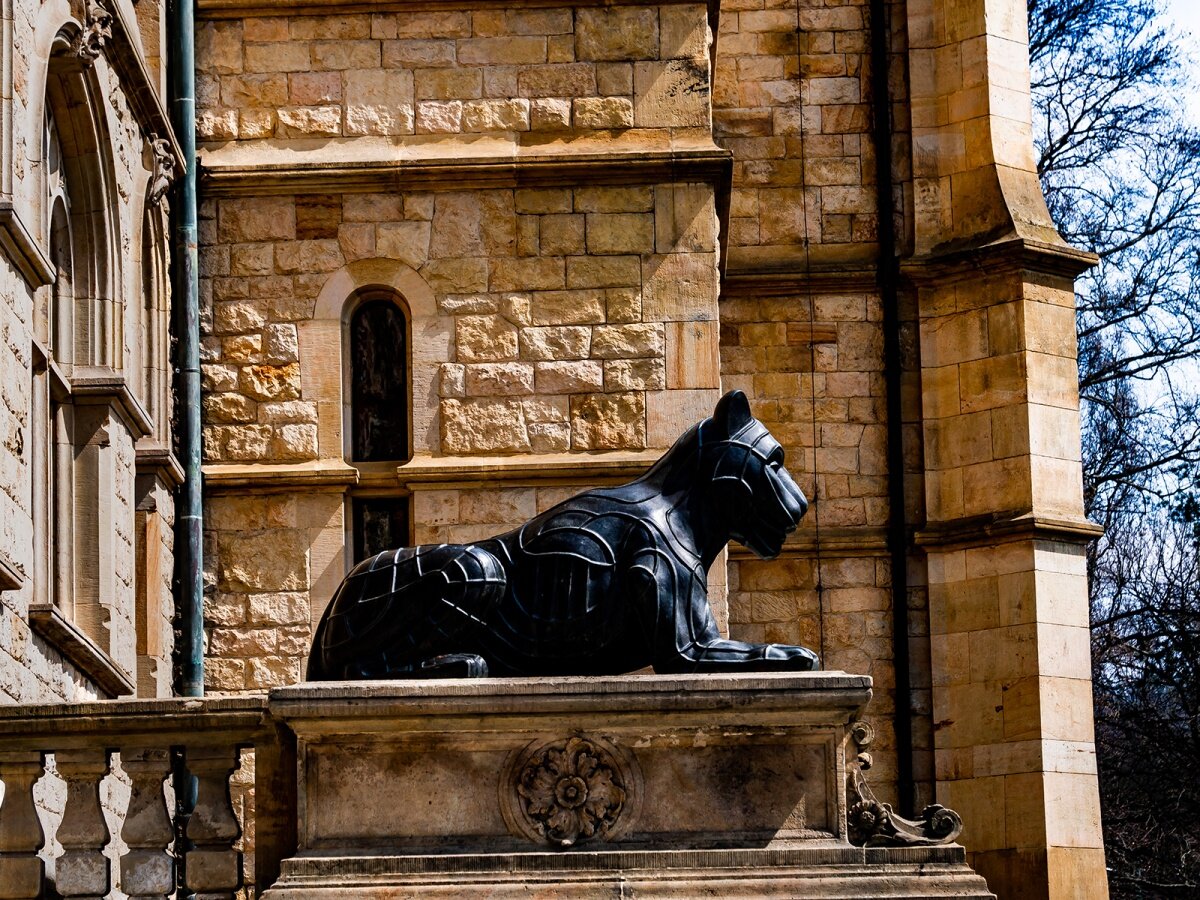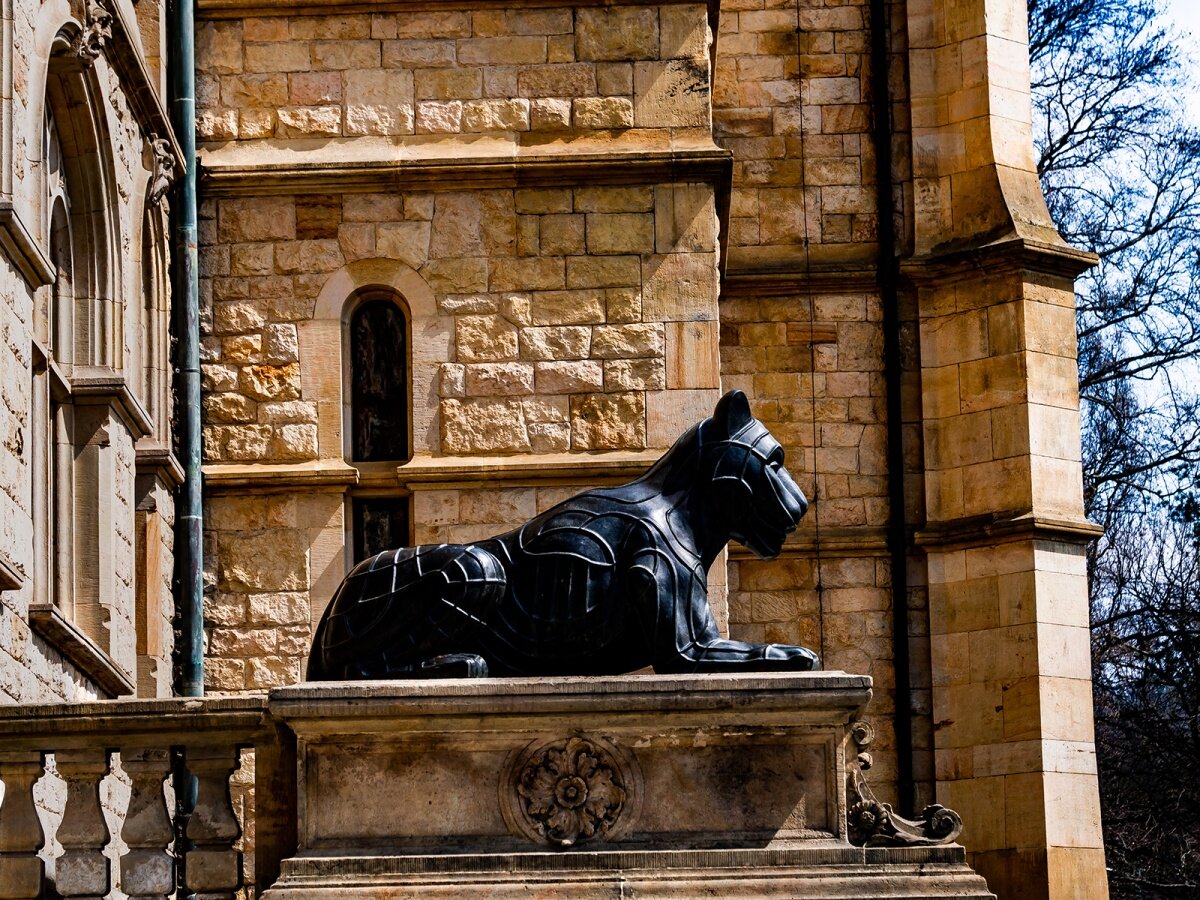 | | |
| --- | --- |
| Author | Jaroslav Róna |
| Studio | |
| Location | Severočeské muzeum, Masarykova ulice 437/11, Liberec |
| Investor | Hejtmanství Libereckého kraje, Město Liberec, ministerstvo Kultury ČR |
| Supplier | Jaroslav Róna |
| Date of project approval | December 2020 |
| Fotograf | |
From the original design of the museum,in the style of arch. F.Ohmann,it was clear that a pair of lions were to be mounted on the plinths at the entrance, but for financial reasons this did not happen for 122years.
In the design,I took into account that the building is historic. I wanted it not to be clear at first glance at what time the Lions were created and to form a harmonious whole with the building. I decided to do something that was not done at the time the museum was built. I created a pair of lions as a pair-the Lion and the Liones. I placed the lion on the corner,in a more exposed place,so that the mane could be applied from a distant view. I attributed to the lion a more intimate side of the staircase, where the viewer can enjoy the line of her body. The bronze material creates a contrast to the limestone plinths.
I created the bodies of Lions stylized. I designed a relief for the surface, which dynamizes the anatomy and gives them an exciting decorative expression.
Dimensions of both statues (individually): Height 100 cm, width 50 cm, length 160 m
Material: patinated bronze on limestone plinths
Green building
Environmental certification
| | |
| --- | --- |
| Type and level of certificate | - |
Water management
| | |
| --- | --- |
| Is rainwater used for irrigation? | |
| Is rainwater used for other purposes, e.g. toilet flushing ? | |
| Does the building have a green roof / facade ? | |
| Is reclaimed waste water used, e.g. from showers and sinks ? | |
The quality of the indoor environment
| | |
| --- | --- |
| Is clean air supply automated ? | |
| Is comfortable temperature during summer and winter automated? | |
| Is natural lighting guaranteed in all living areas? | |
| Is artificial lighting automated? | |
| Is acoustic comfort, specifically reverberation time, guaranteed? | |
| Does the layout solution include zoning and ergonomics elements? | |
Principles of circular economics
| | |
| --- | --- |
| Does the project use recycled materials? | |
| Does the project use recyclable materials? | |
| Are materials with a documented Environmental Product Declaration (EPD) promoted in the project? | |
| Are other sustainability certifications used for materials and elements? | |
Energy efficiency
| | |
| --- | --- |
| Energy performance class of the building according to the Energy Performance Certificate of the building | |
| Is efficient energy management (measurement and regular analysis of consumption data) considered? | |
| Are renewable sources of energy used, e.g. solar system, photovoltaics? | |
Interconnection with surroundings
| | |
| --- | --- |
| Does the project enable the easy use of public transport? | |
| Does the project support the use of alternative modes of transport, e.g cycling, walking etc. ? | |
| Is there access to recreational natural areas, e.g. parks, in the immediate vicinity of the building? | |