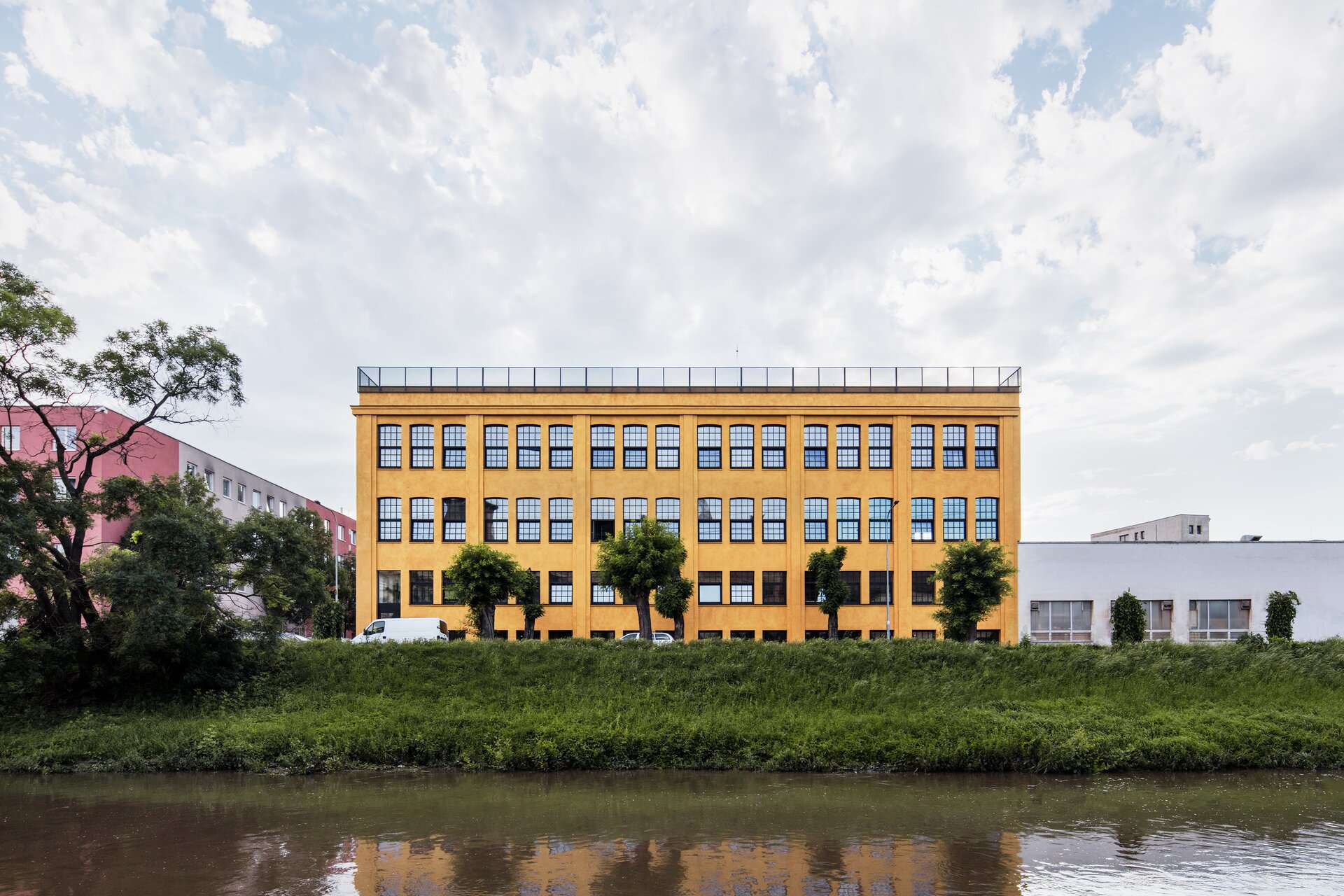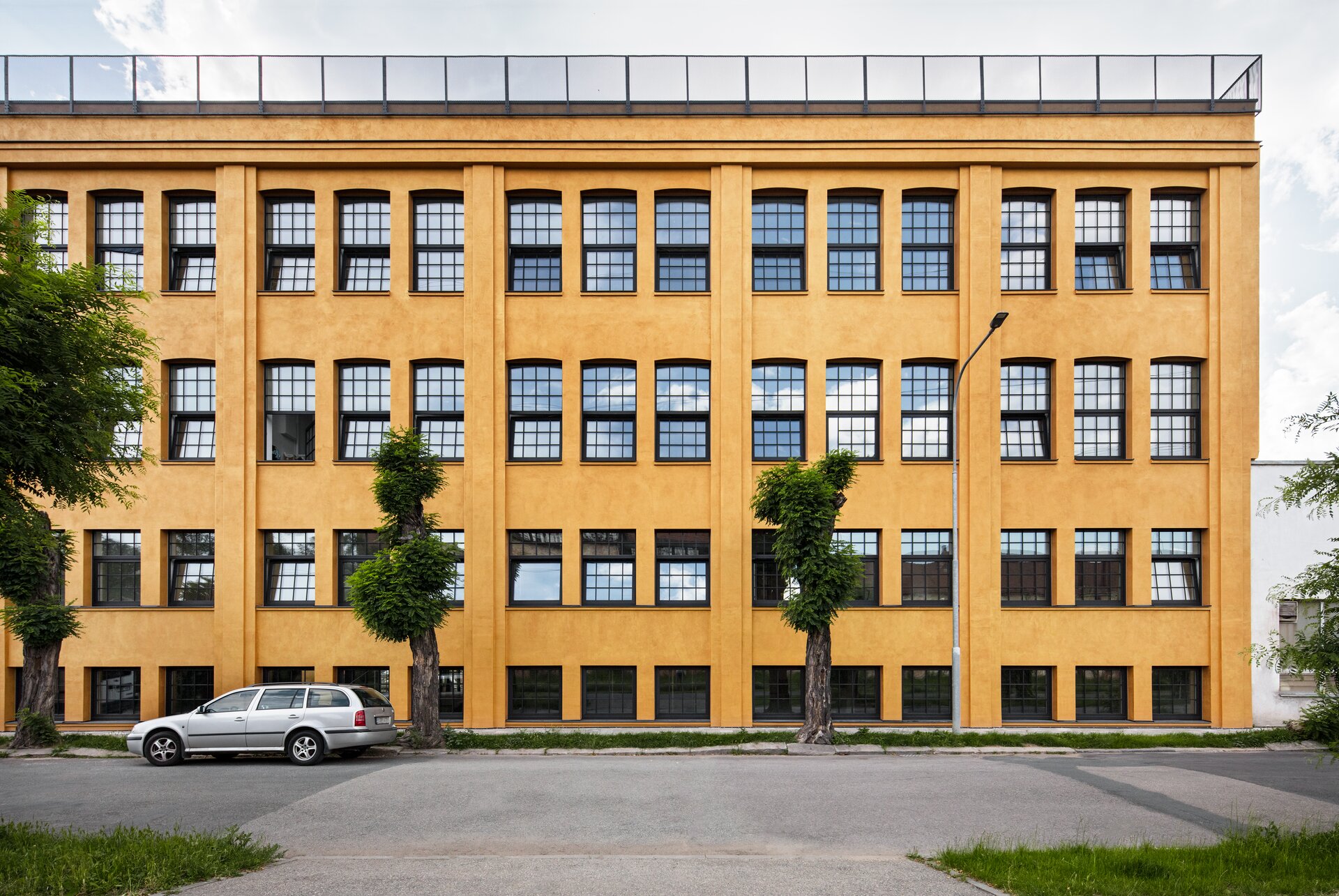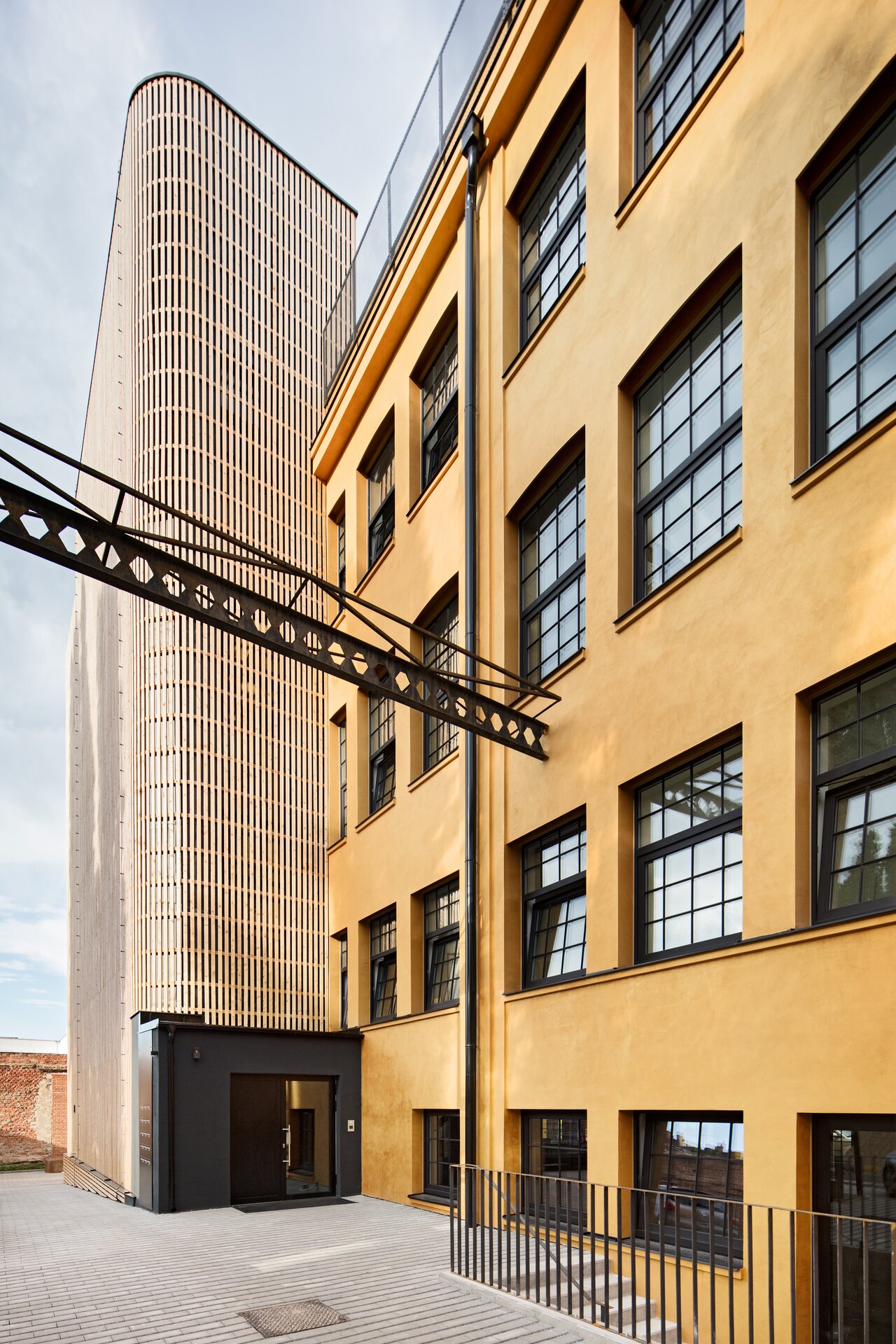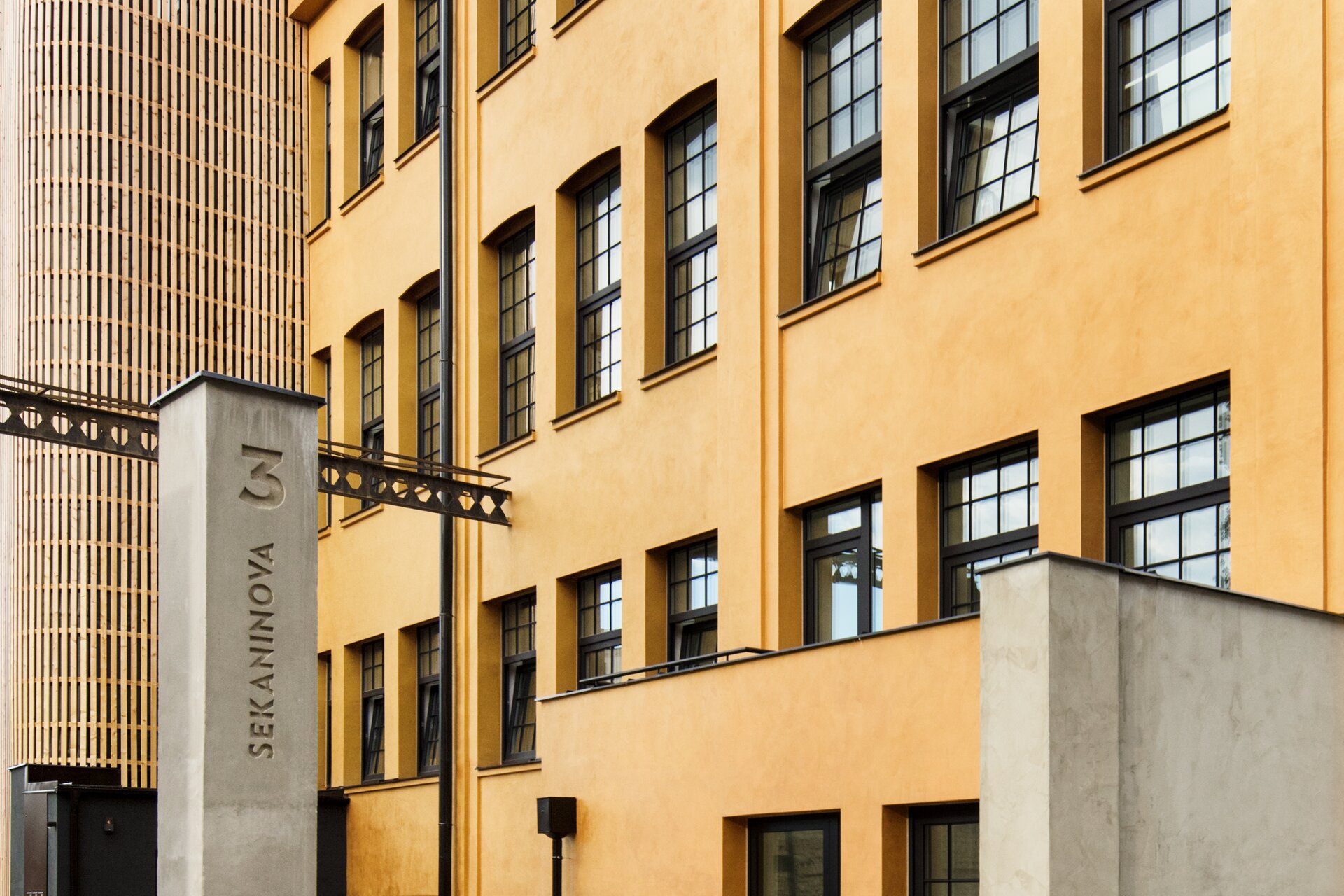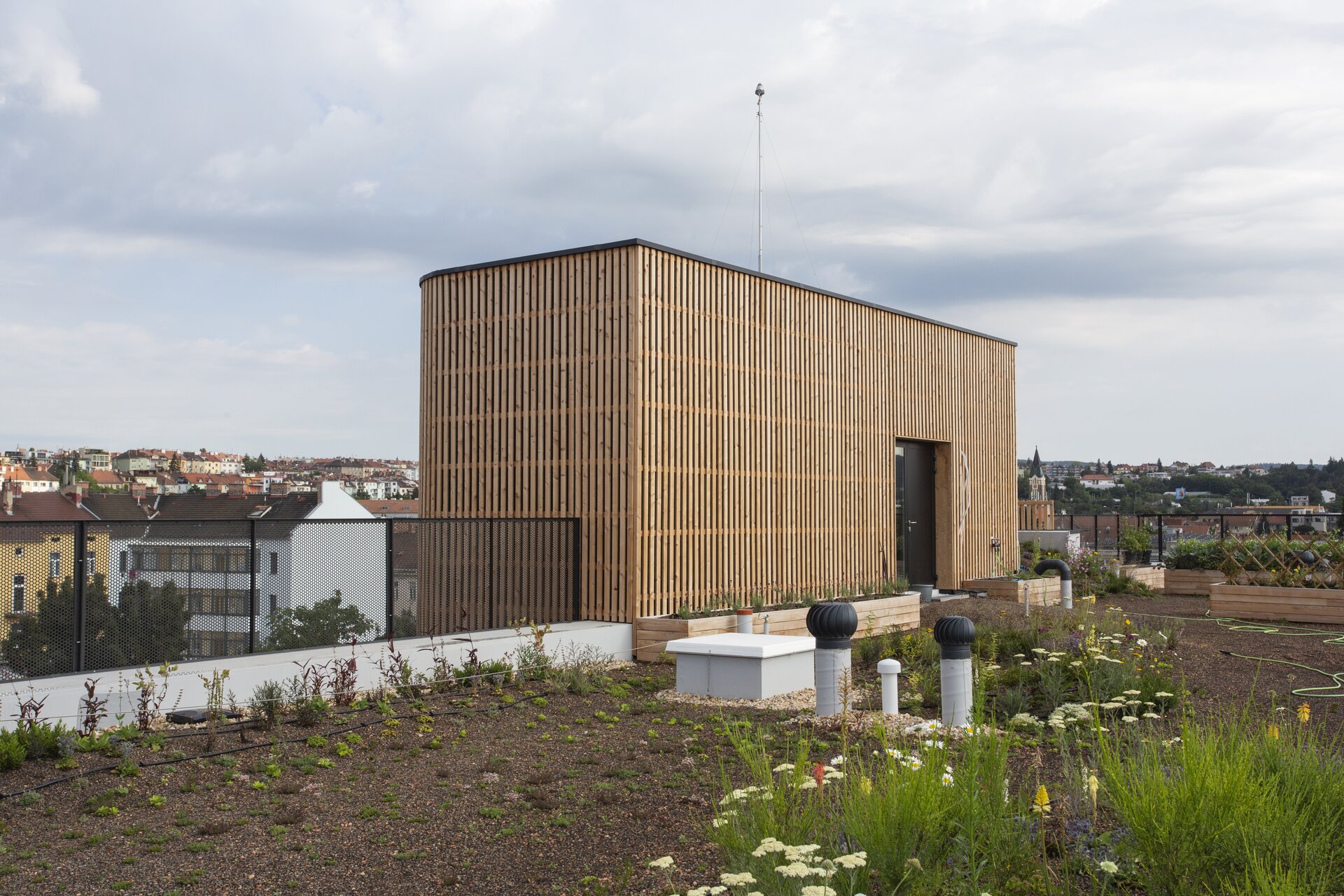 | | |
| --- | --- |
| Author | KOGAA |
| Studio | |
| Location | Sekaninova 869/3, 614 Brno, Czech Republic |
| Investor | DADA Distrikt |
| Supplier | Quali Bau |
| Date of project approval | January 2020 |
| Fotograf | |
The building is located adjacent to the brownfields of the historical industrial Zbrojovka area in Brno, facing the river Svitava which is now activated by just a bike lane, and bears the potential of becoming a mediating element to change the whole district. With this intention we designed a corner entrance to the building, transforming the intended residential function into a high-quality urban and urban-communicating multifunctional facility. To further connect the function to the street we planned at the ground level a generous open space plan for hosting commercial and office spaces.
The assignment itself, as well as the choice of the object, underlines its industrial aesthetics as an added value. Player's in today's real estate market are looking for elements that have an overlap. If this overlap also has a history and a certain degree of complexity, it is all the more attractive.
In the DADA district, we were the first to analyze the main supporting structure and tried to clean it to its most elementary and therefore strongest form. Subsequently, this process revealed the possibilities of its completion and lightening, which is the moment when we begin to shape the layout solution.
In the case of adaptation of an existing building, it is important to be guided by the object and adapt to its essence. The opposite procedure is redeemed by the disproportionate cost of reconstruction or reduced operability of the project.
Green building
Environmental certification
| | |
| --- | --- |
| Type and level of certificate | - |
Water management
| | |
| --- | --- |
| Is rainwater used for irrigation? | |
| Is rainwater used for other purposes, e.g. toilet flushing ? | |
| Does the building have a green roof / facade ? | |
| Is reclaimed waste water used, e.g. from showers and sinks ? | |
The quality of the indoor environment
| | |
| --- | --- |
| Is clean air supply automated ? | |
| Is comfortable temperature during summer and winter automated? | |
| Is natural lighting guaranteed in all living areas? | |
| Is artificial lighting automated? | |
| Is acoustic comfort, specifically reverberation time, guaranteed? | |
| Does the layout solution include zoning and ergonomics elements? | |
Principles of circular economics
| | |
| --- | --- |
| Does the project use recycled materials? | |
| Does the project use recyclable materials? | |
| Are materials with a documented Environmental Product Declaration (EPD) promoted in the project? | |
| Are other sustainability certifications used for materials and elements? | |
Energy efficiency
| | |
| --- | --- |
| Energy performance class of the building according to the Energy Performance Certificate of the building | B |
| Is efficient energy management (measurement and regular analysis of consumption data) considered? | |
| Are renewable sources of energy used, e.g. solar system, photovoltaics? | |
Interconnection with surroundings
| | |
| --- | --- |
| Does the project enable the easy use of public transport? | |
| Does the project support the use of alternative modes of transport, e.g cycling, walking etc. ? | |
| Is there access to recreational natural areas, e.g. parks, in the immediate vicinity of the building? | |