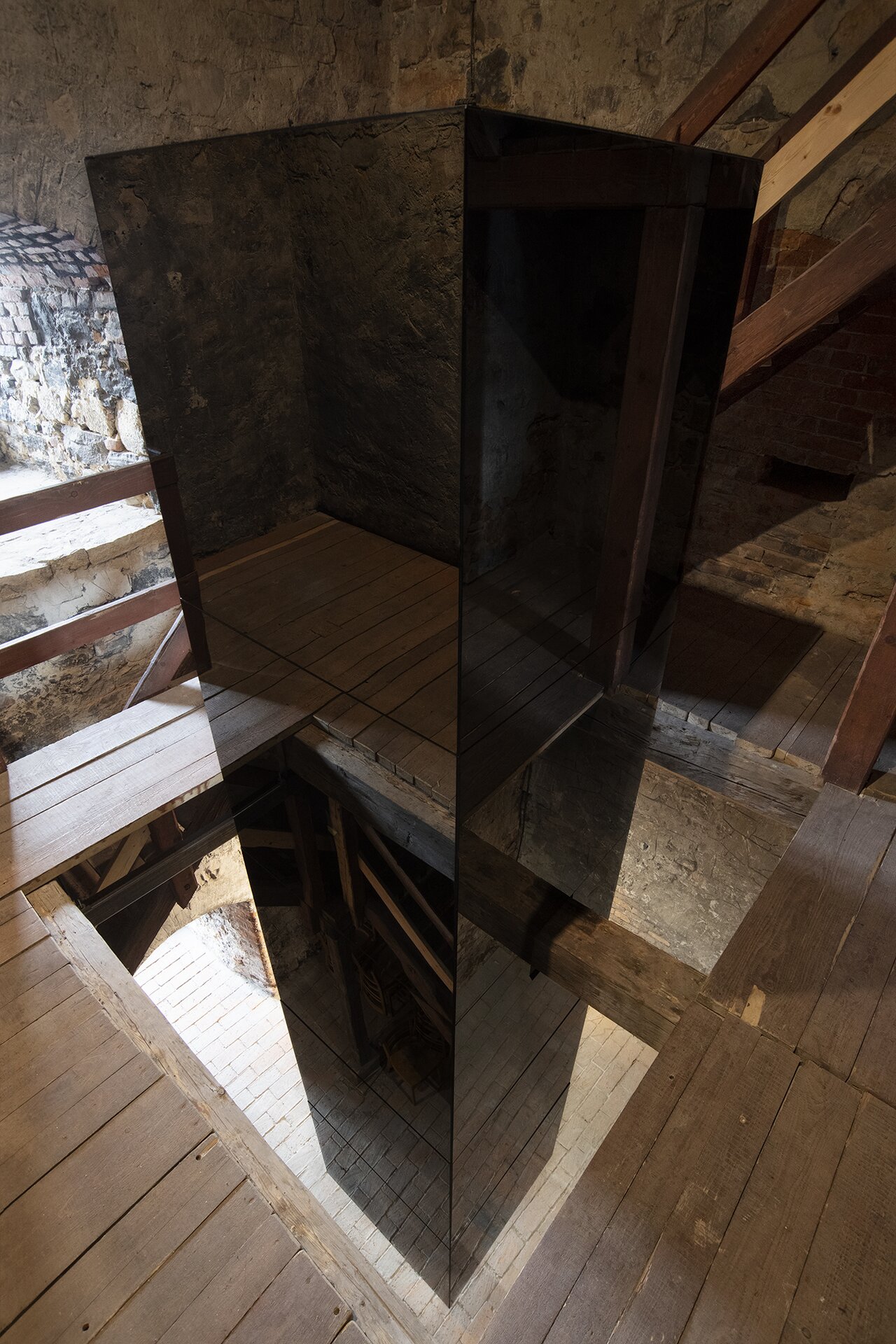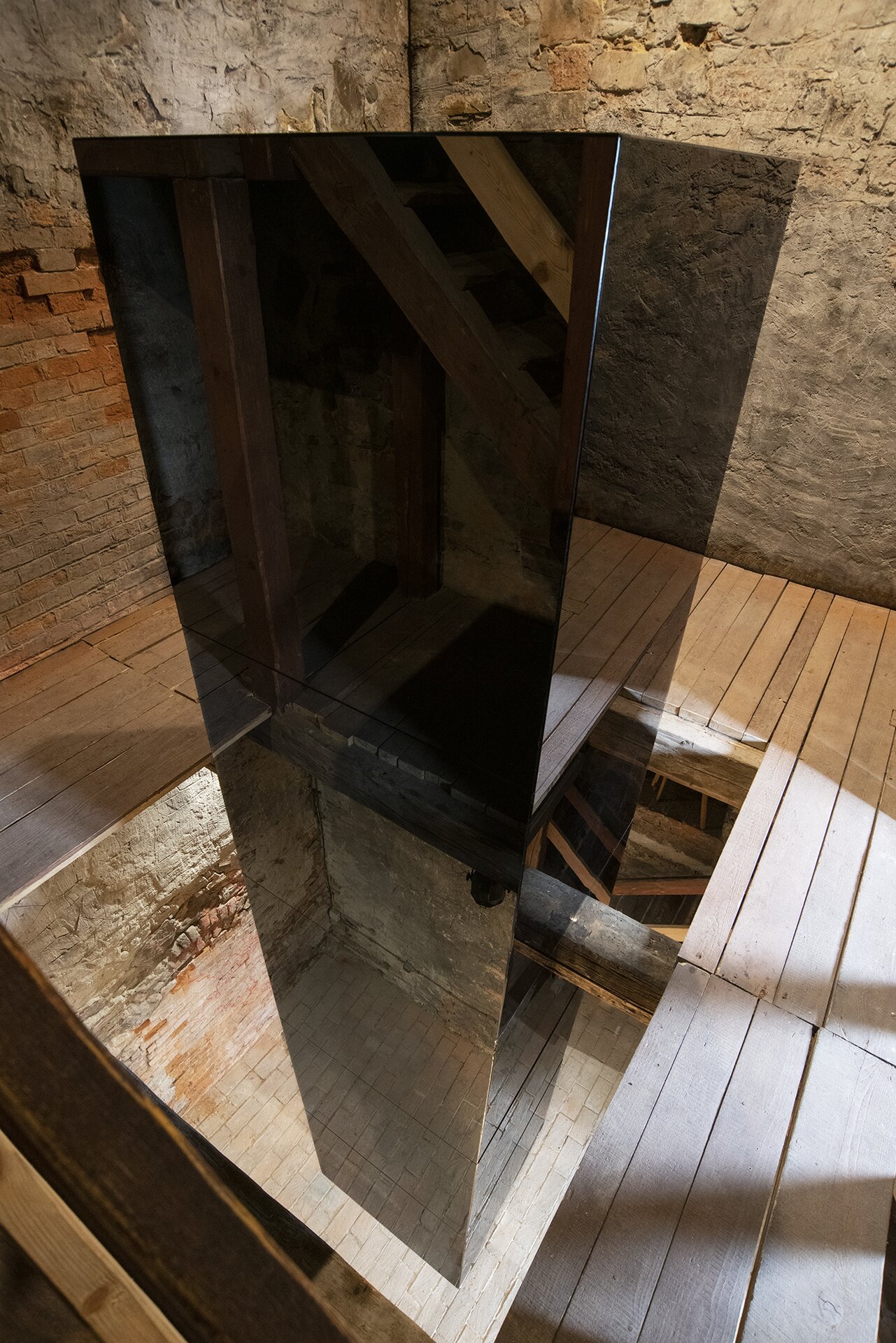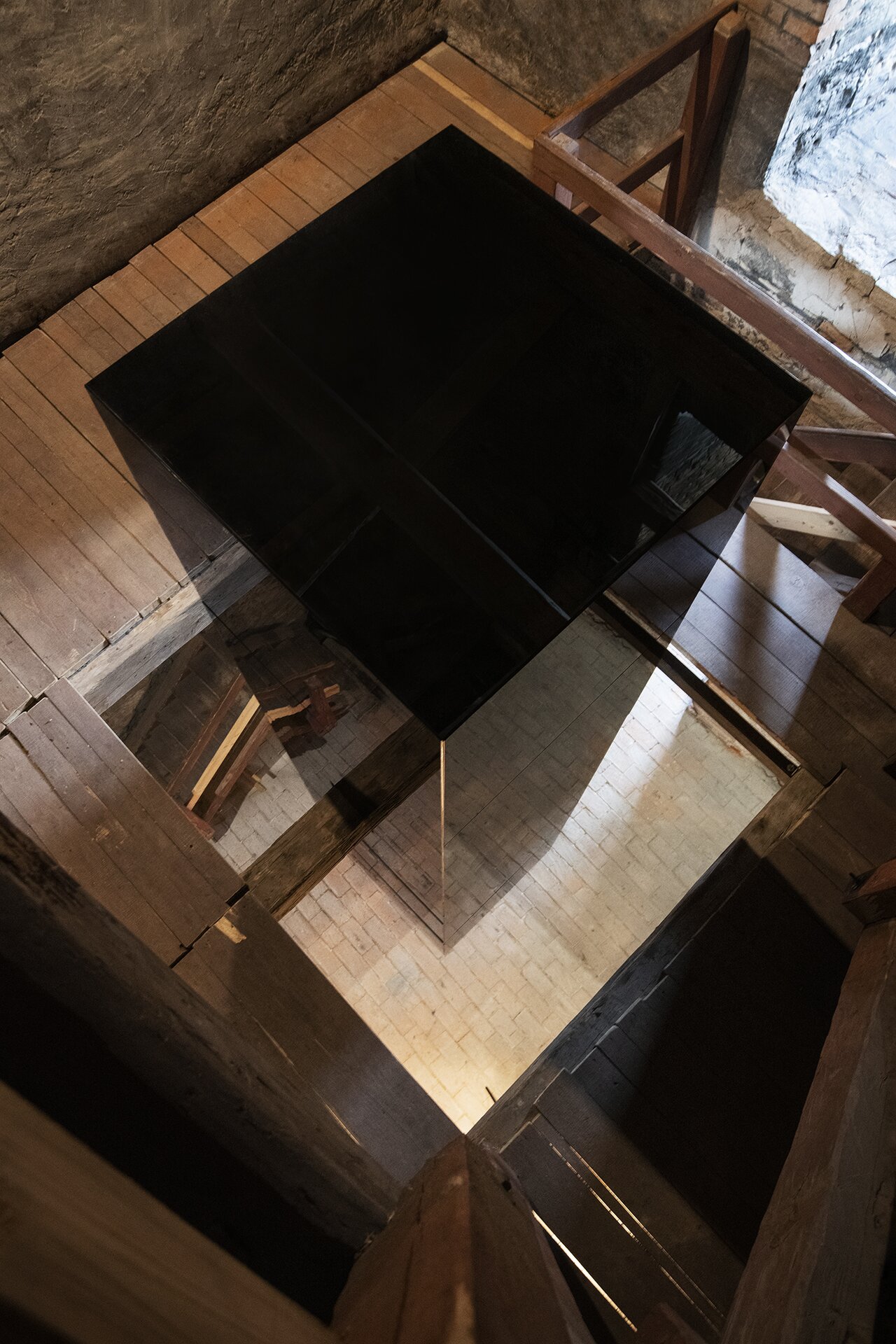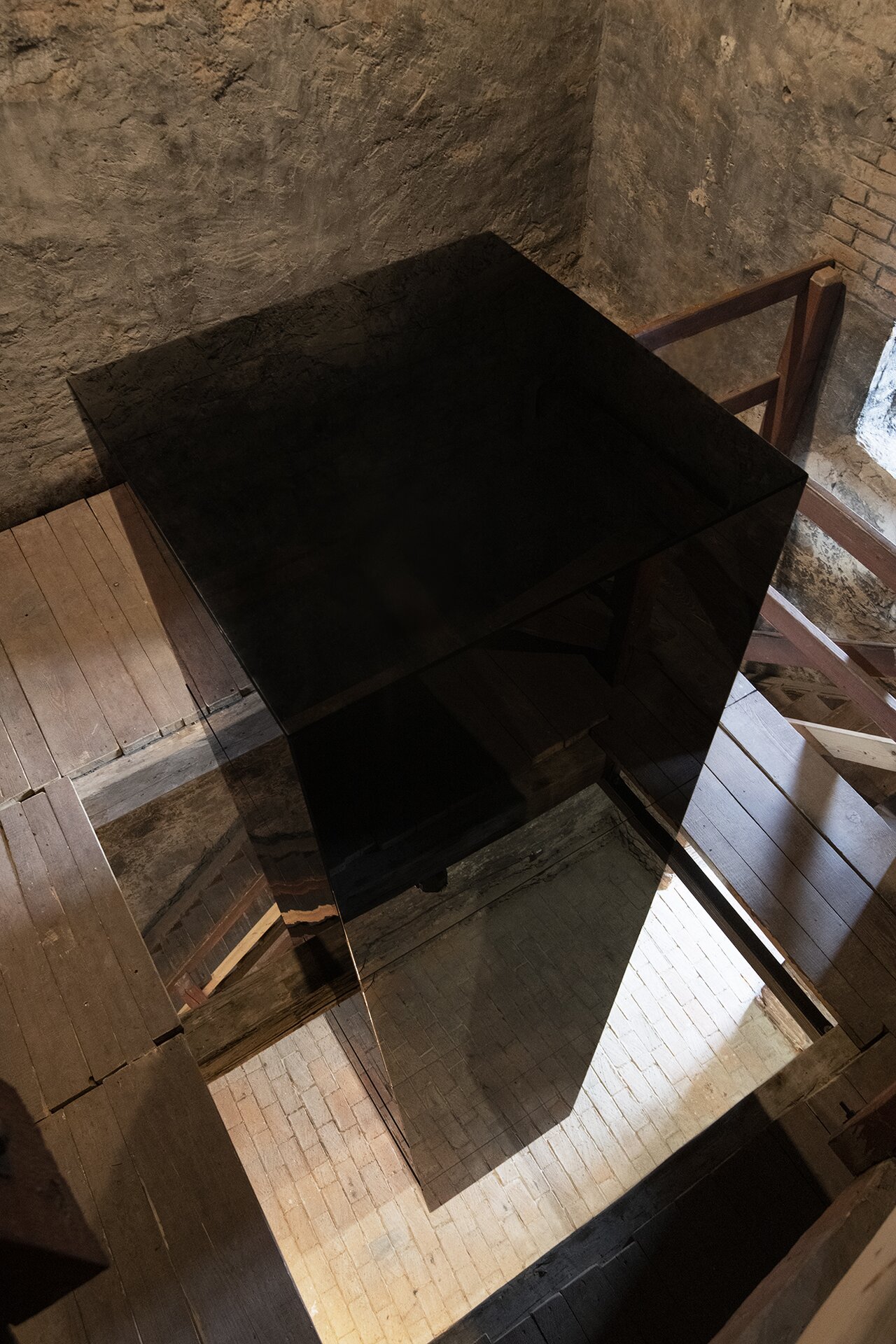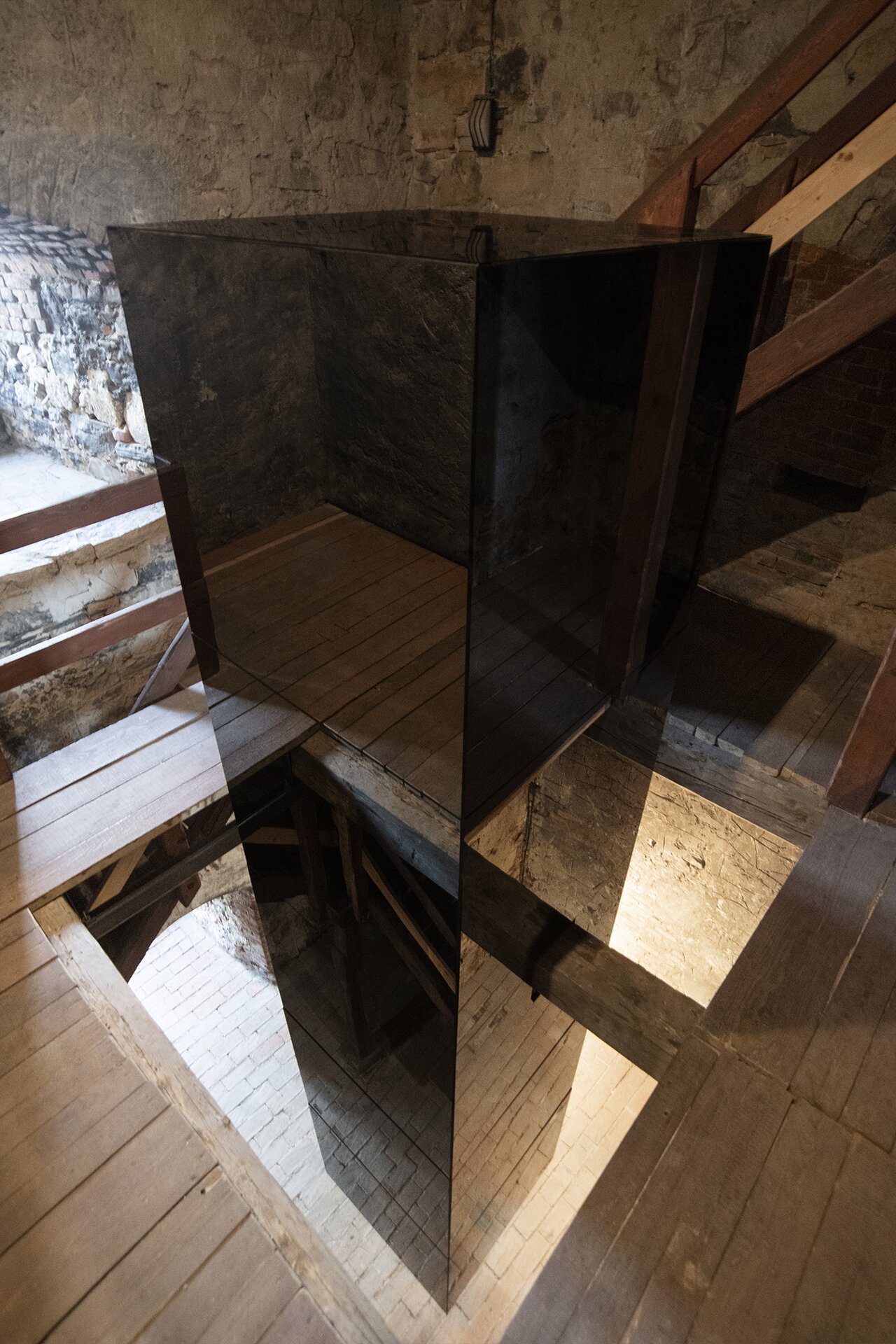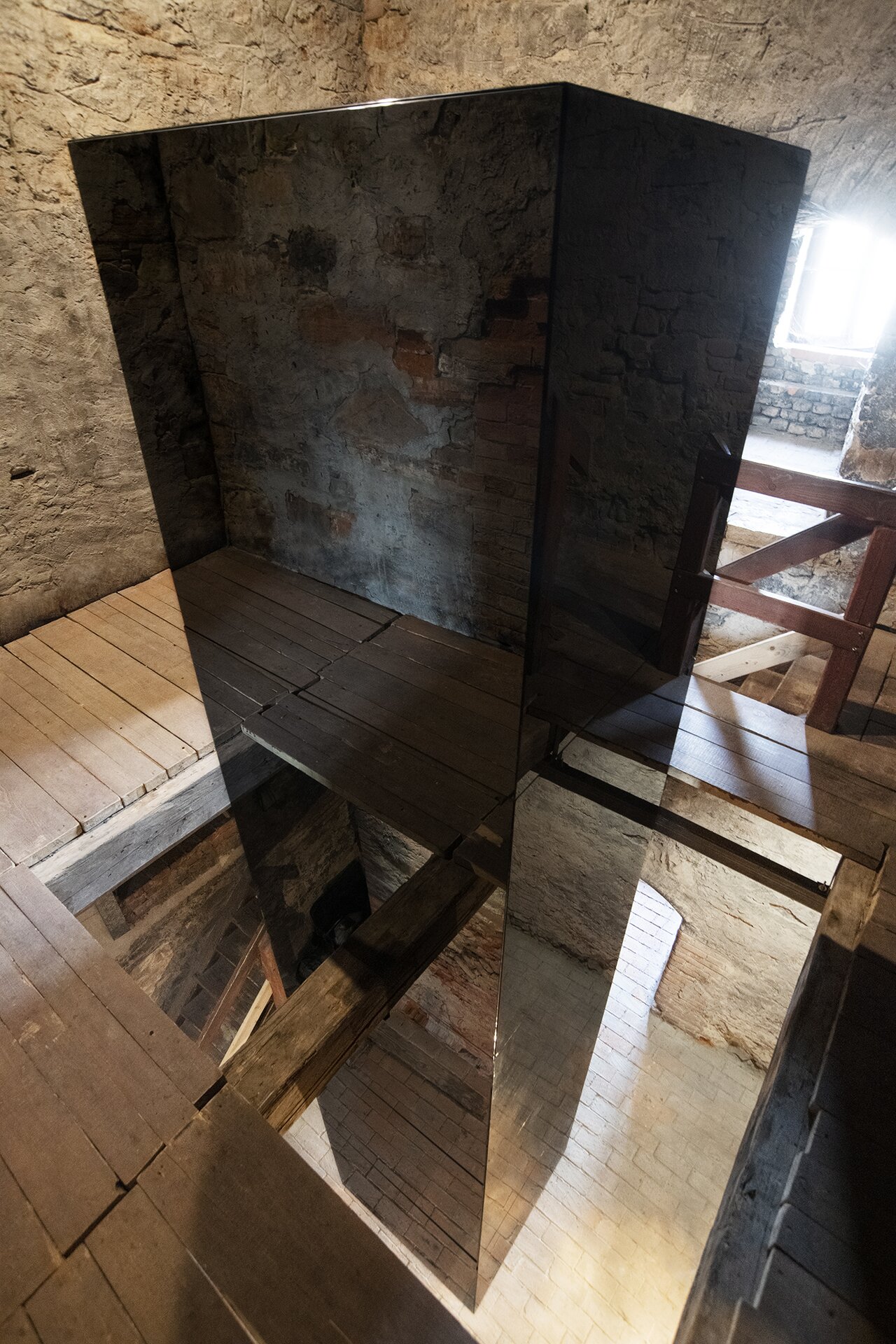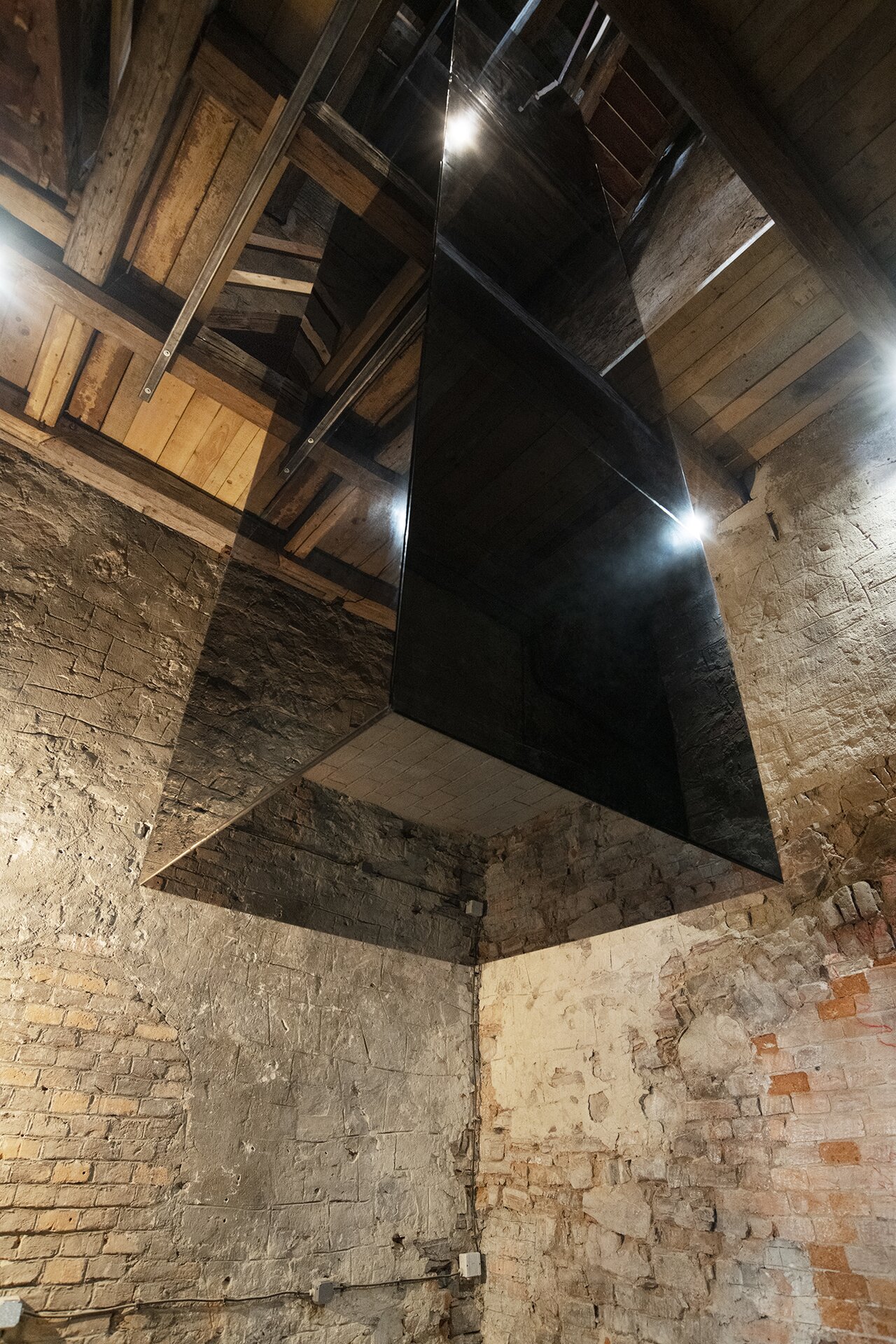 | | |
| --- | --- |
| Author | Michal Motyčka |
| Studio | |
| Location | Galerie Věž ve věži farního kostela sv. Jana Křtitele, Dolní ulice, Frýdek-Místek |
| Investor | Galerie Věž ve Frýdku-Místku, Michal Motyčka |
| Supplier | Michal Motyčka |
| Date of project approval | July 2020 |
| Fotograf | |
A prism is a lapidary shape that underlines the verticality of the space. It levitates in the space, it does not touch the tower. We could say that it hides a secret within itself. It is a tribute to the tower, a tangible reality which at the same time belies its weight and size. The viewer is the measure of its scale.
I also was looking for the best solution to the given spatial situation in terms of feasibility. We see beautiful dark glass, dyed right through. The viewer experiences the space through the prism of this unexpected oddity, grasping reality via the reflected image of both the surrounding environment and their self.
It's about taking in the feeling of a given location and putting something of yourself in it so that it doesn't harm the place, but makes it special, nudging it into another reality or occasion.
Michal Motyčka: Prism, 2020, black reflective glass, metal construction, 1 × 1 × 5 m
Green building
Environmental certification
| | |
| --- | --- |
| Type and level of certificate | - |
Water management
| | |
| --- | --- |
| Is rainwater used for irrigation? | |
| Is rainwater used for other purposes, e.g. toilet flushing ? | |
| Does the building have a green roof / facade ? | |
| Is reclaimed waste water used, e.g. from showers and sinks ? | |
The quality of the indoor environment
| | |
| --- | --- |
| Is clean air supply automated ? | |
| Is comfortable temperature during summer and winter automated? | |
| Is natural lighting guaranteed in all living areas? | |
| Is artificial lighting automated? | |
| Is acoustic comfort, specifically reverberation time, guaranteed? | |
| Does the layout solution include zoning and ergonomics elements? | |
Principles of circular economics
| | |
| --- | --- |
| Does the project use recycled materials? | |
| Does the project use recyclable materials? | |
| Are materials with a documented Environmental Product Declaration (EPD) promoted in the project? | |
| Are other sustainability certifications used for materials and elements? | |
Energy efficiency
| | |
| --- | --- |
| Energy performance class of the building according to the Energy Performance Certificate of the building | |
| Is efficient energy management (measurement and regular analysis of consumption data) considered? | |
| Are renewable sources of energy used, e.g. solar system, photovoltaics? | |
Interconnection with surroundings
| | |
| --- | --- |
| Does the project enable the easy use of public transport? | |
| Does the project support the use of alternative modes of transport, e.g cycling, walking etc. ? | |
| Is there access to recreational natural areas, e.g. parks, in the immediate vicinity of the building? | |