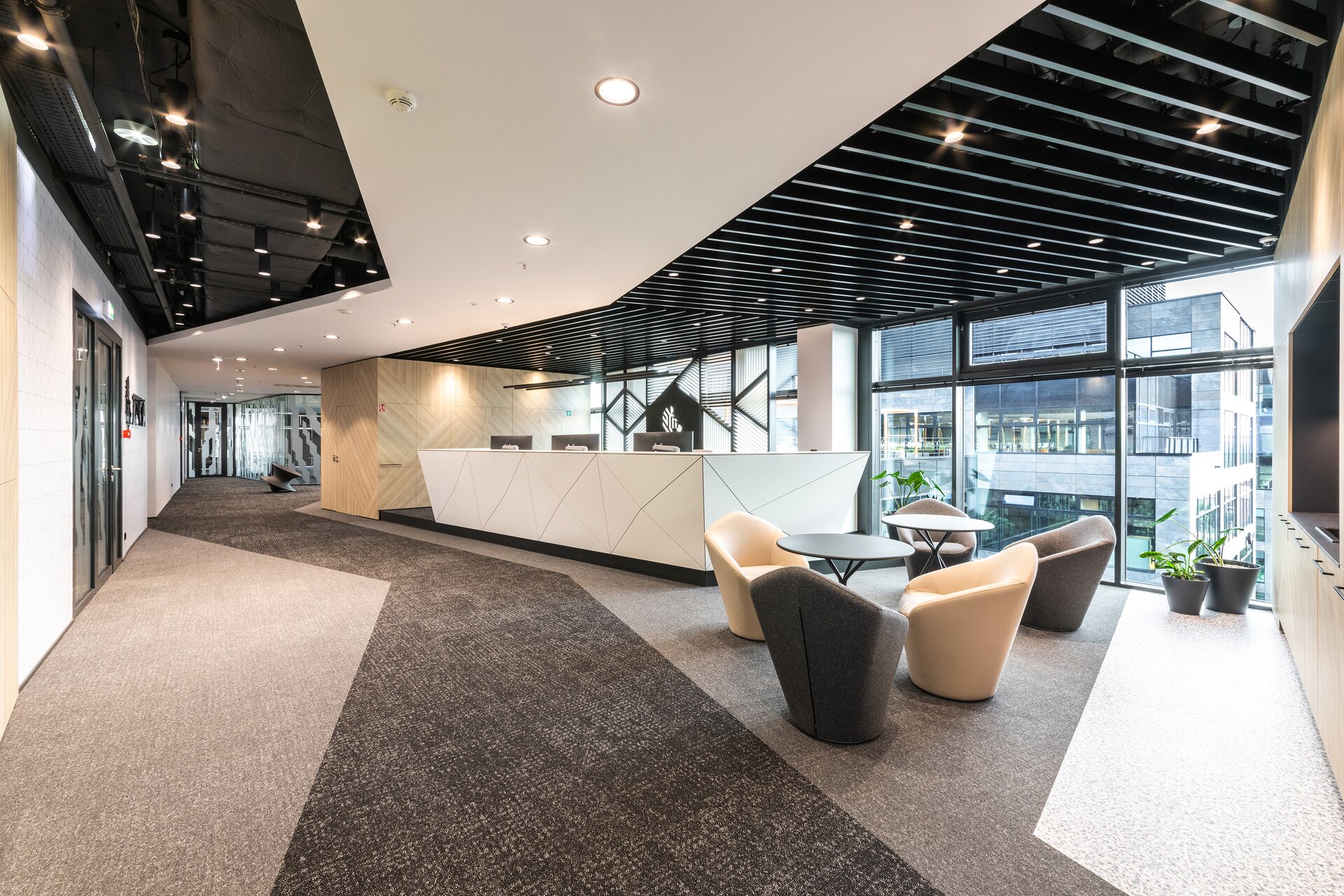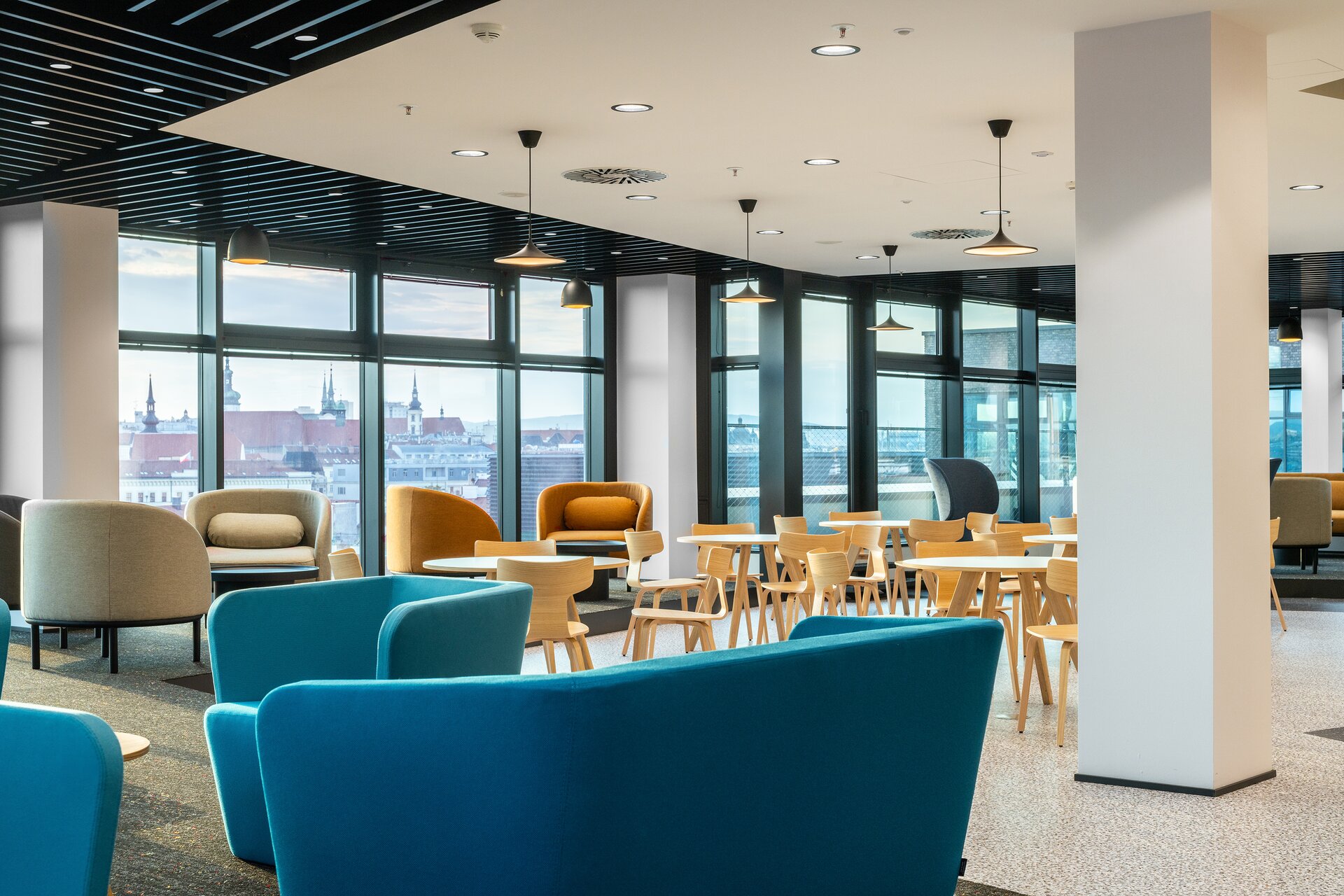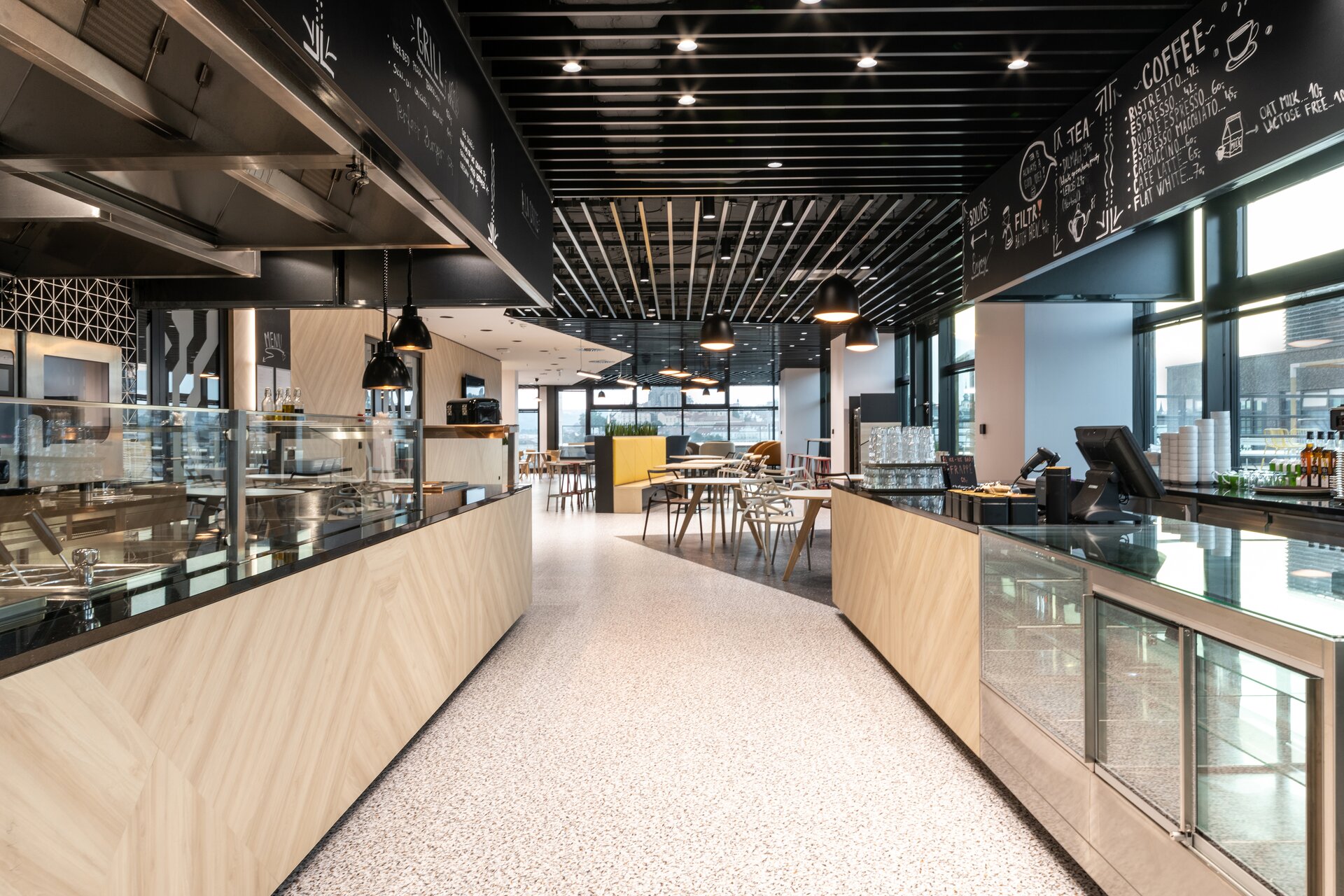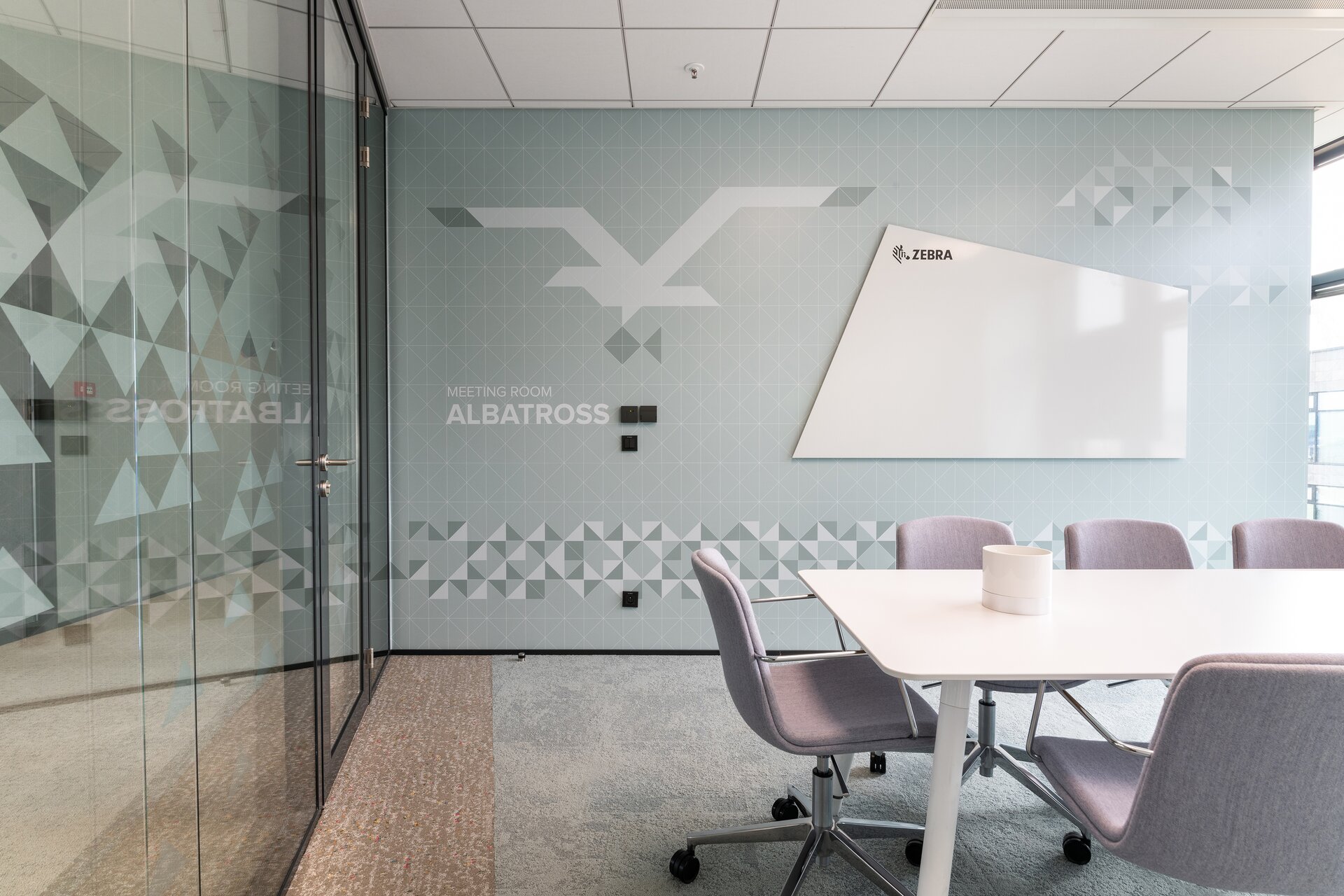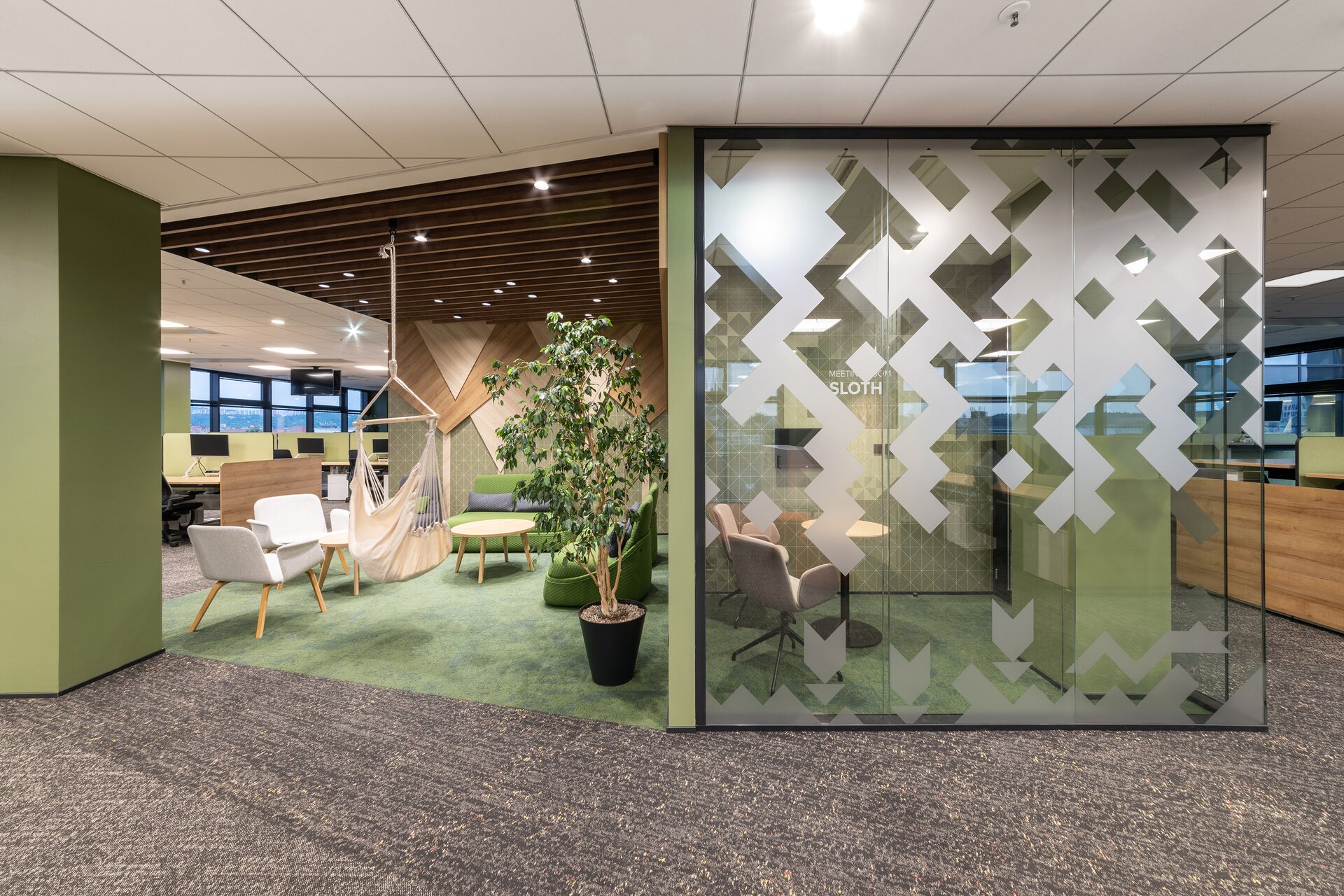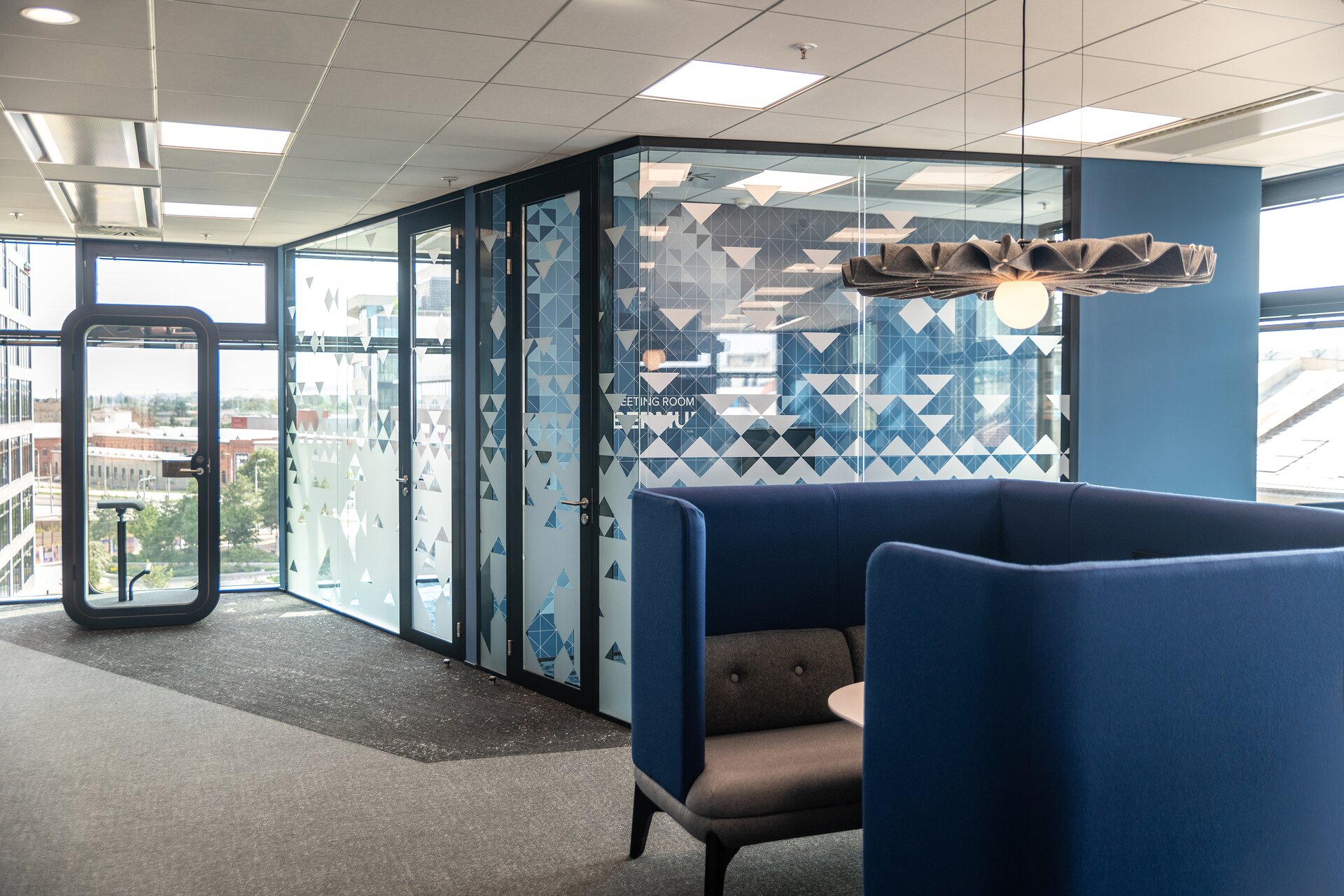 Author
KYZLINK ARCHITECTS (Jan Kyzlink, Zbyšek Sikora, Petr Pospíšil, Lenka Pitoňáková, Yvetta Hrubá)
Studio
Location
Vlněna 526/7
602 00 Brno
Investor
Zebra Technologies CZ s.r.o.
Vlněna 526/7
602 00 Brno
Supplier
CTP/LINSTRAM/CRE8/MILT/PROINTERIER
Vlněna 526/7
602 00 Brno
Date of project approval
January 2021
Fotograf
The dynamic and rapid development of the ZEBRA TECHNOLOGIES brought the need for change. With the help of the architectural team they are now in more than 4 floors of the new office building Vlněna. The complex architectural work is based on the layering of individual levels of tropical and subtropical climates with carefully chosen themes. A guiding botanical and zoological theme permeates all architectural applications - from the first "testfits" and floor plans, through the choices of furniture, decors, surfaces, greenery, to the details of graphic navigation or the nomenclature of the departments. The marine level floor mirror the lines of the sea currents, the jungle floor evokes the atmosphere of a natural wilderness thanks to its swings and greenery, while the savannah level is dominated by the dark woods and light arid landscape tones. The whole concept is dominated by the Zebra element carefully concealed in the form of graphics, plants, textures, iconic furniture or patterns.
The company's floor combined over four floors of two different towers made higher demands on spatial quality spatial and navigation across the teams. Due to the orientation of the towers, the laoyut is even more complicated and therefore there are five differenet floor levels and themes created inside. Three terraces of different capacity are an integral part of the design, which have been furnished and equipped in the spirit of the uniqe moods. A separate element of the design is the canteen area and following "WorkCafé" dining area, which increases the capacity of the workplaces during the non-lunch hours. The total floor area of the project is more than 8800 sqm. The high standard of the office space is complemented by dozens of acoustic elements and walls, double-layer glass partitions or acoustic ceiling slats. Working with the post-covid office layout and all current trends is an integral part of the project.
Green building
Environmental certification
| | |
| --- | --- |
| Type and level of certificate | - |
Water management
| | |
| --- | --- |
| Is rainwater used for irrigation? | |
| Is rainwater used for other purposes, e.g. toilet flushing ? | |
| Does the building have a green roof / facade ? | |
| Is reclaimed waste water used, e.g. from showers and sinks ? | |
The quality of the indoor environment
| | |
| --- | --- |
| Is clean air supply automated ? | |
| Is comfortable temperature during summer and winter automated? | |
| Is natural lighting guaranteed in all living areas? | |
| Is artificial lighting automated? | |
| Is acoustic comfort, specifically reverberation time, guaranteed? | |
| Does the layout solution include zoning and ergonomics elements? | |
Principles of circular economics
| | |
| --- | --- |
| Does the project use recycled materials? | |
| Does the project use recyclable materials? | |
| Are materials with a documented Environmental Product Declaration (EPD) promoted in the project? | |
| Are other sustainability certifications used for materials and elements? | |
Energy efficiency
| | |
| --- | --- |
| Energy performance class of the building according to the Energy Performance Certificate of the building | |
| Is efficient energy management (measurement and regular analysis of consumption data) considered? | |
| Are renewable sources of energy used, e.g. solar system, photovoltaics? | |
Interconnection with surroundings
| | |
| --- | --- |
| Does the project enable the easy use of public transport? | |
| Does the project support the use of alternative modes of transport, e.g cycling, walking etc. ? | |
| Is there access to recreational natural areas, e.g. parks, in the immediate vicinity of the building? | |