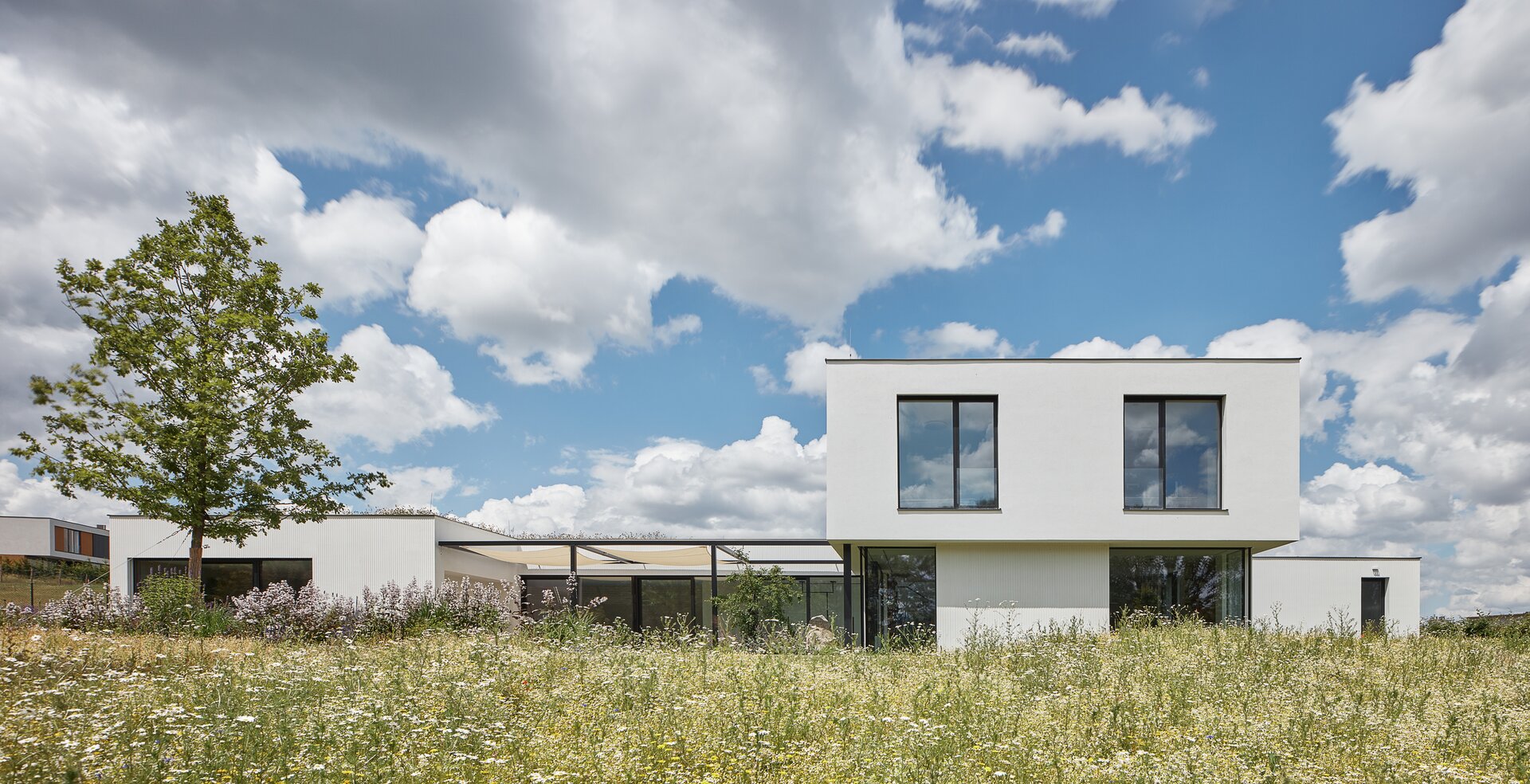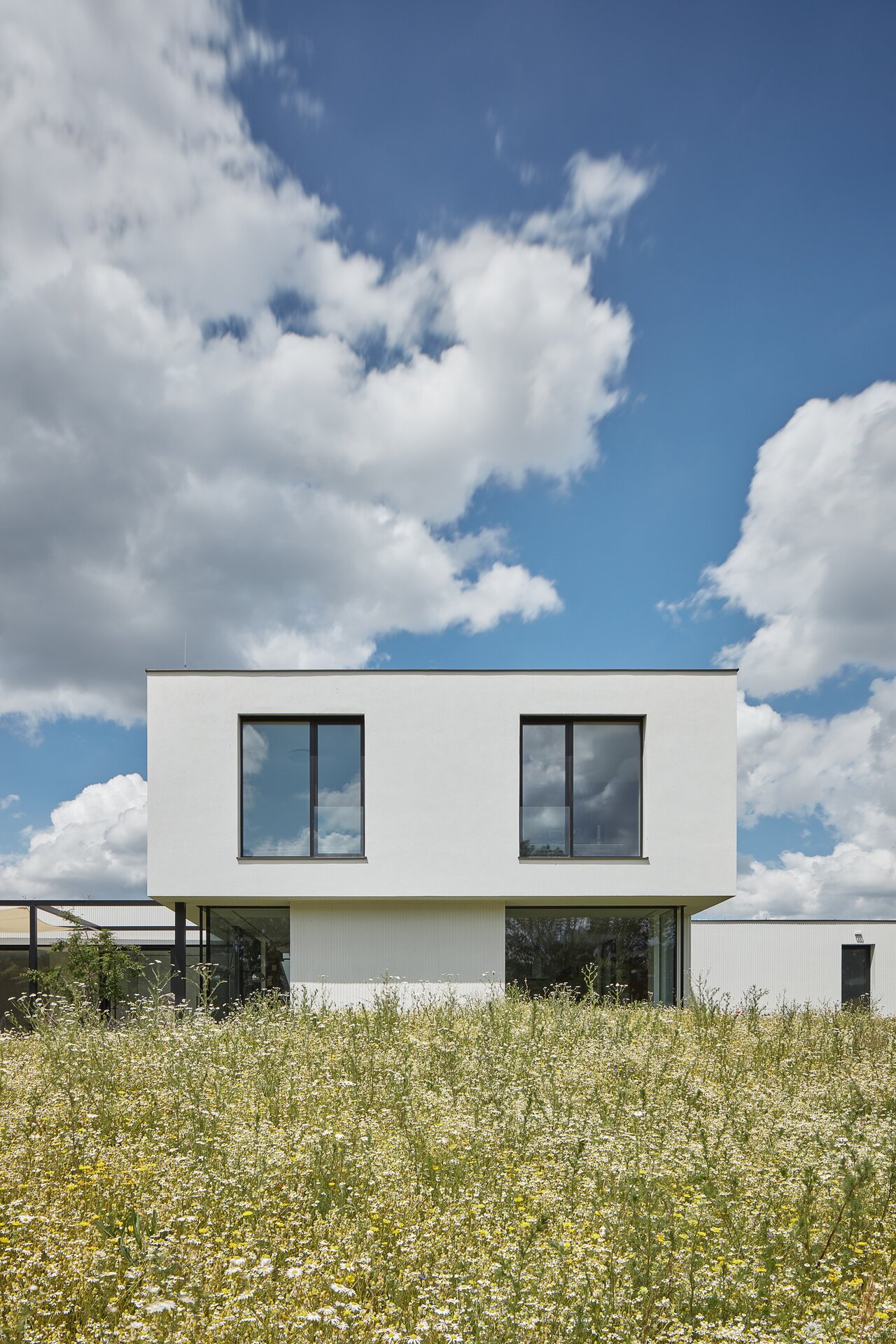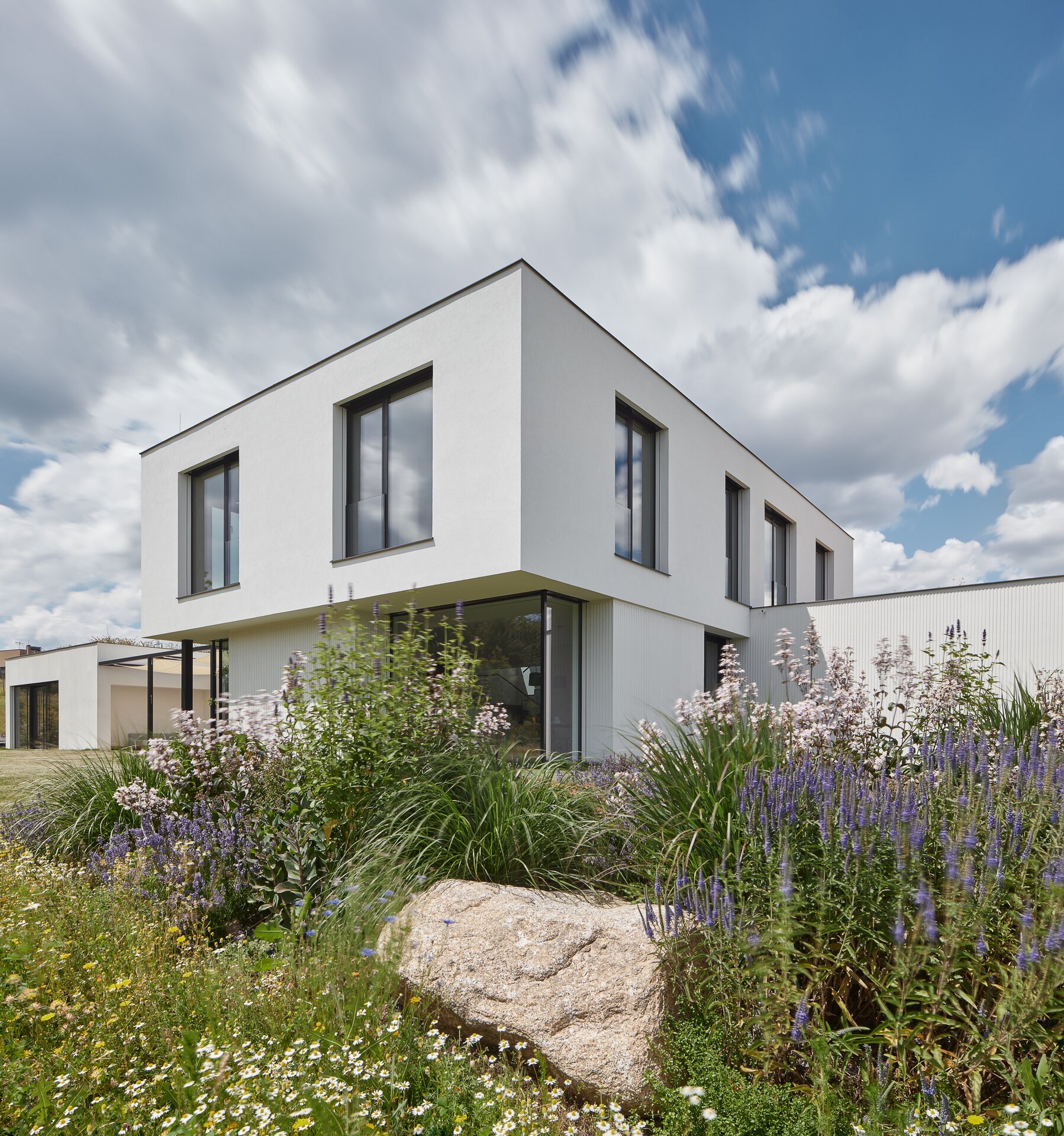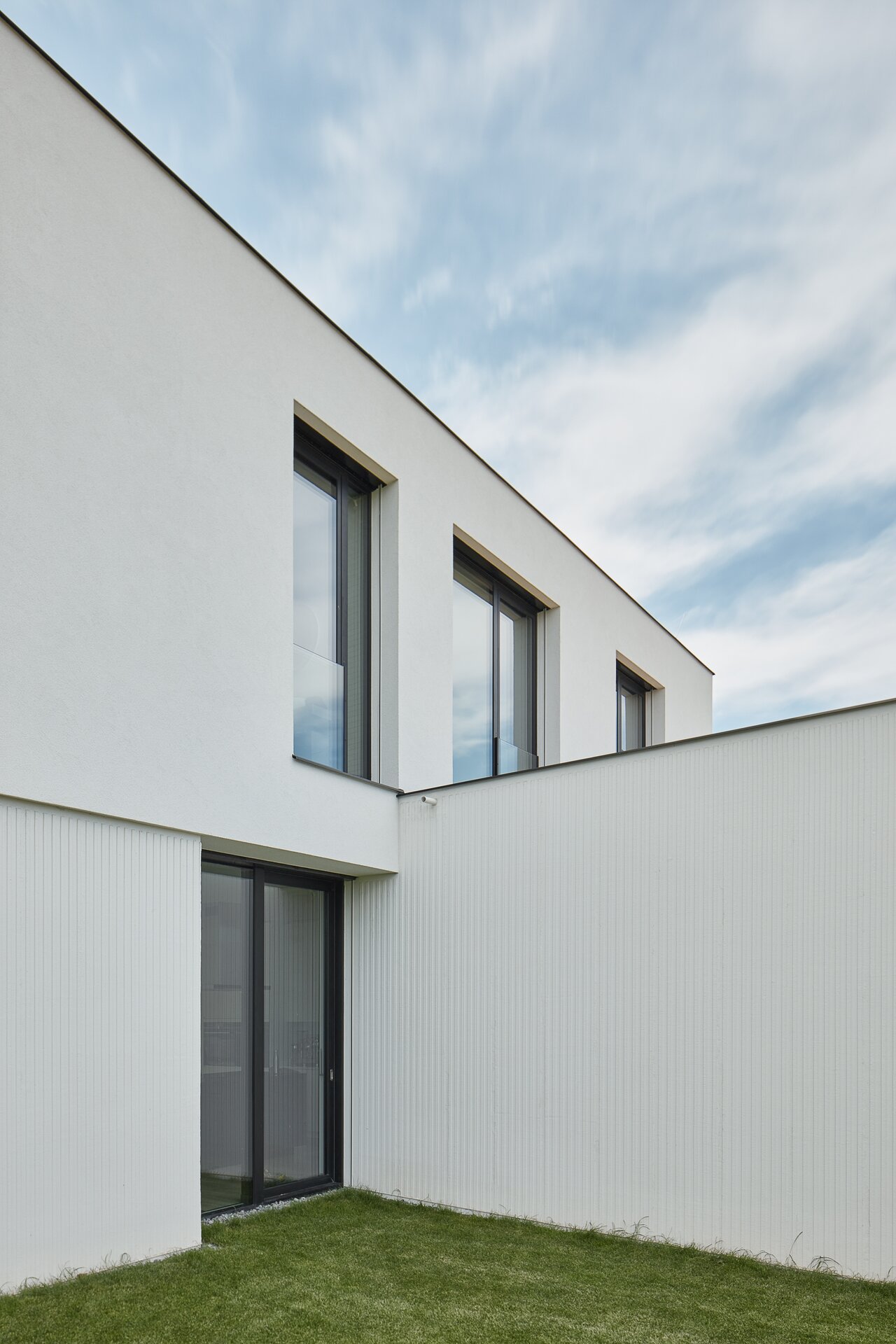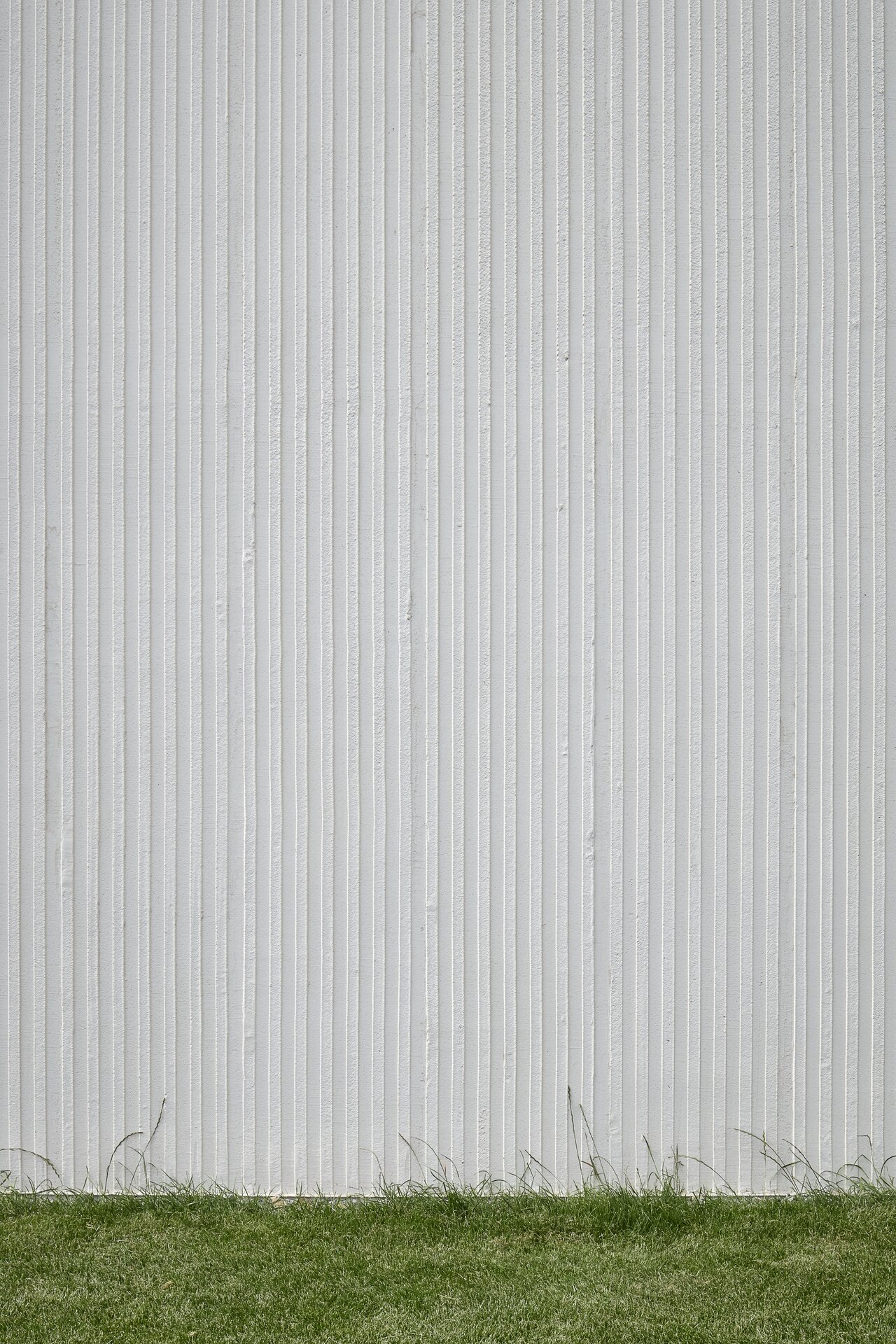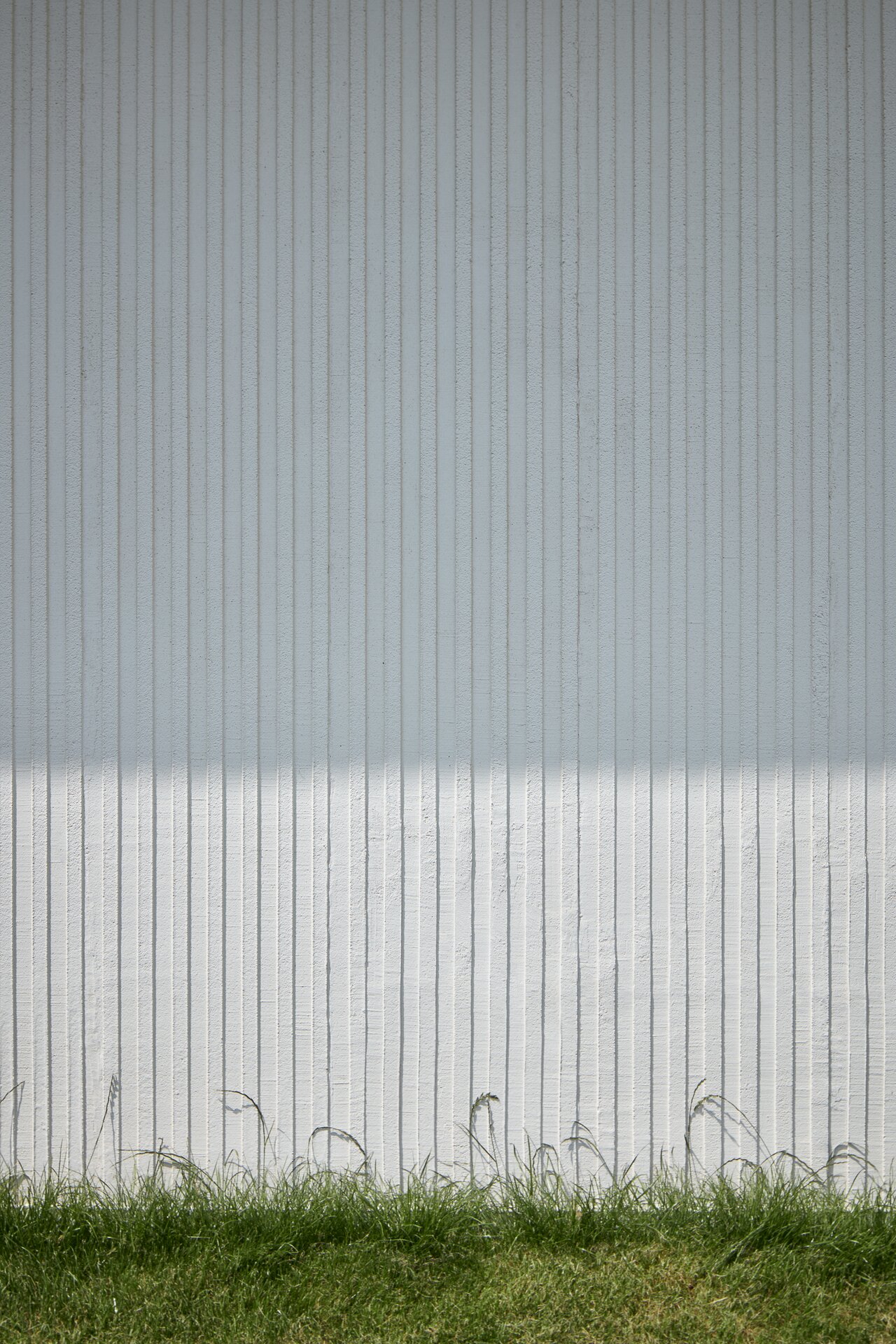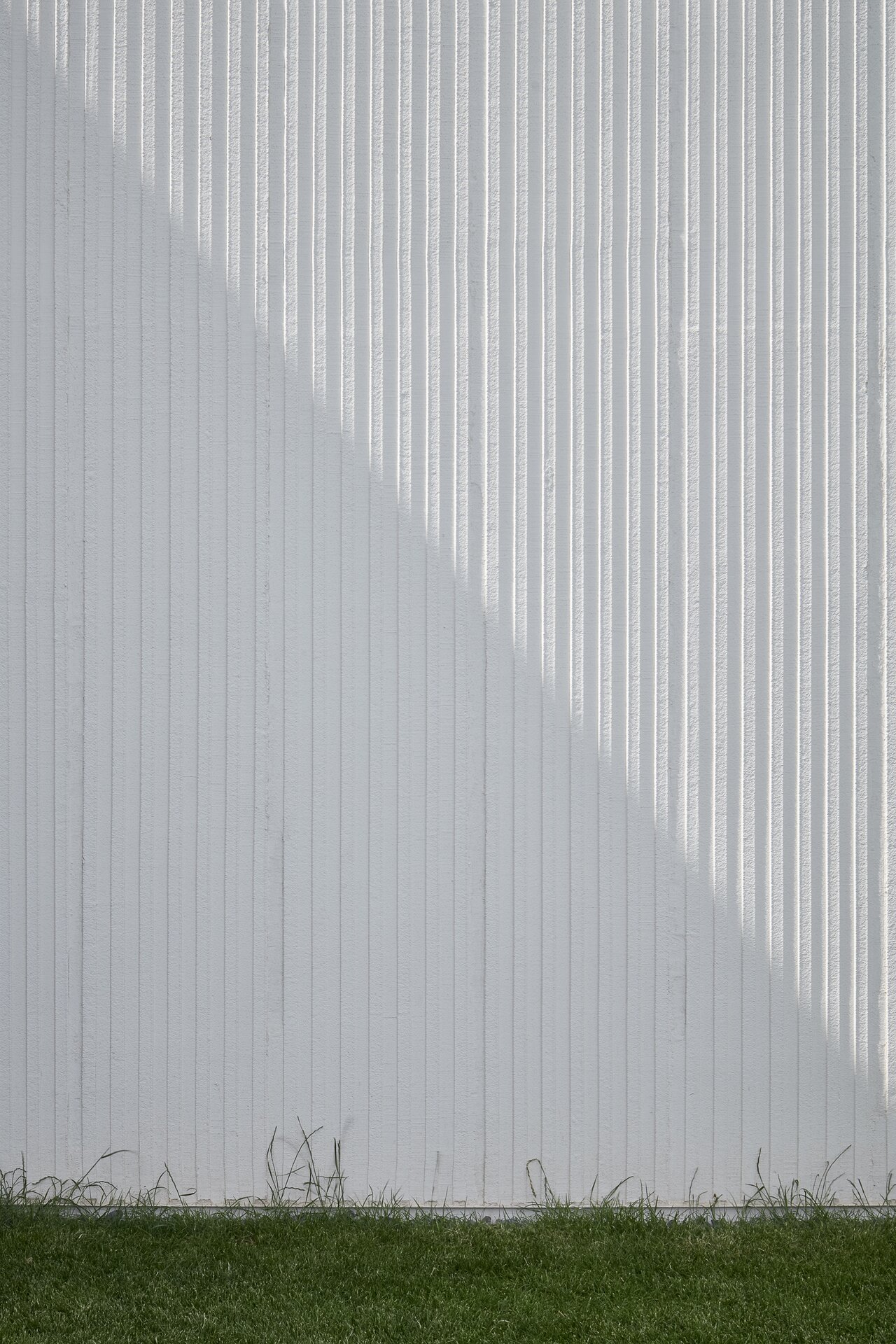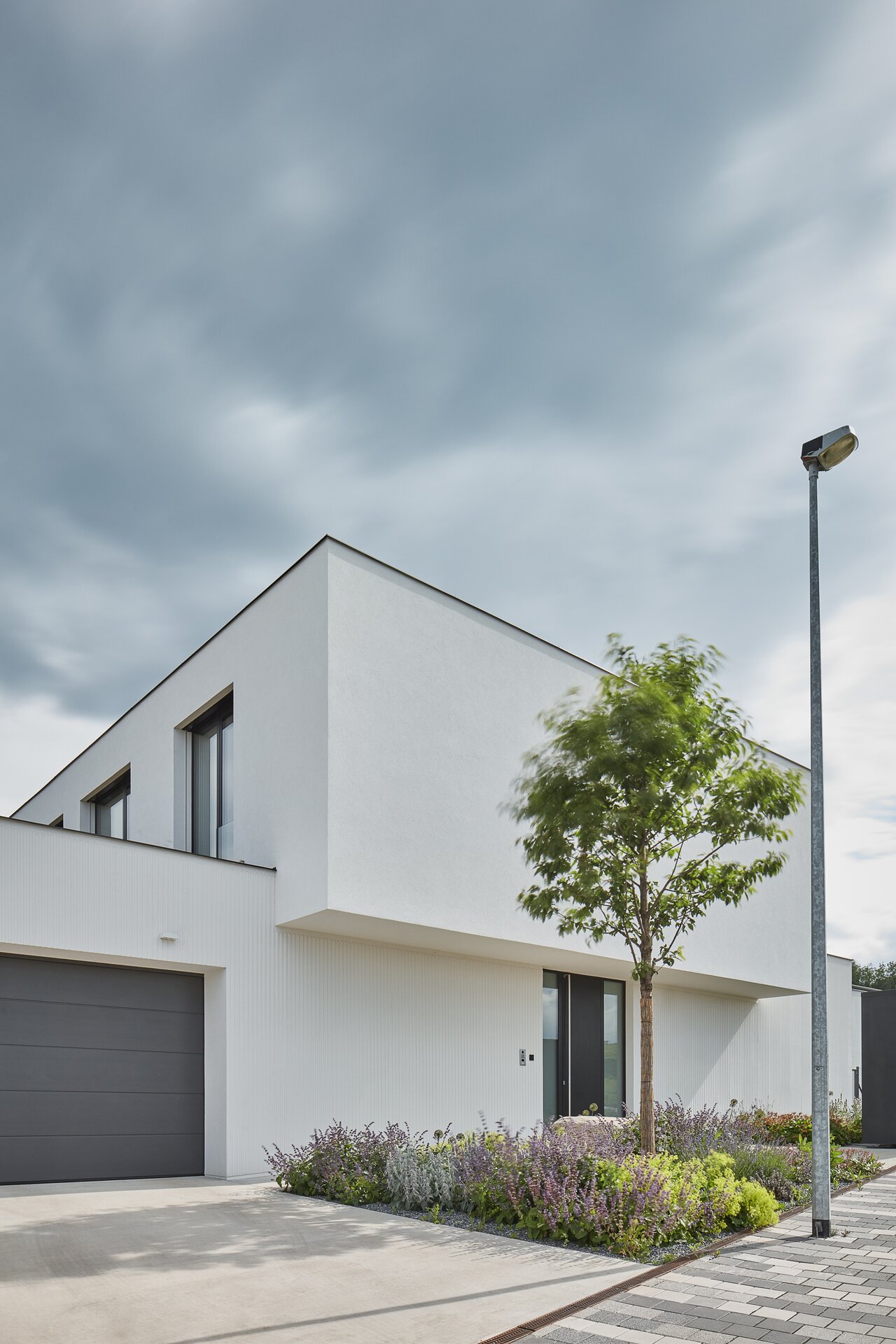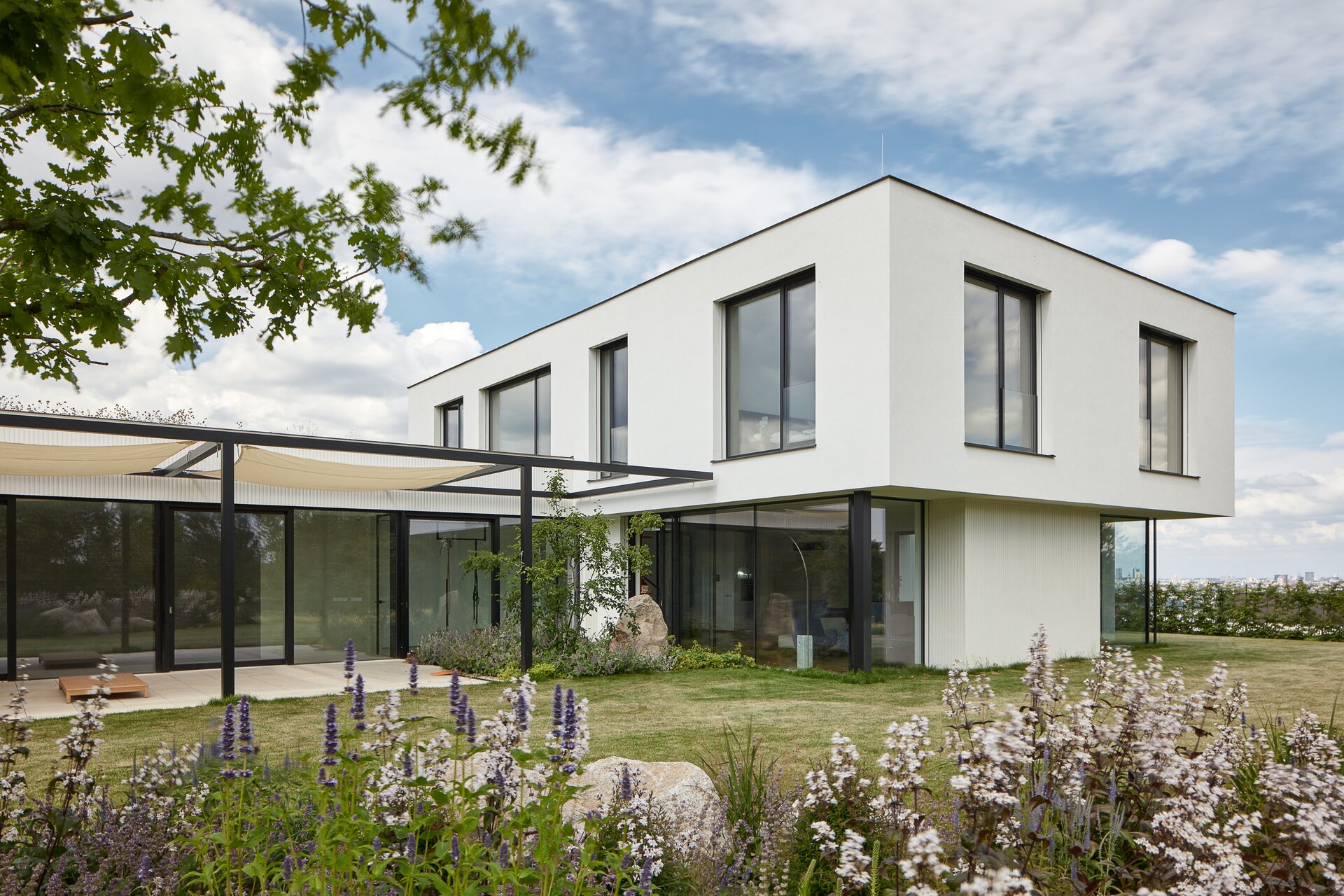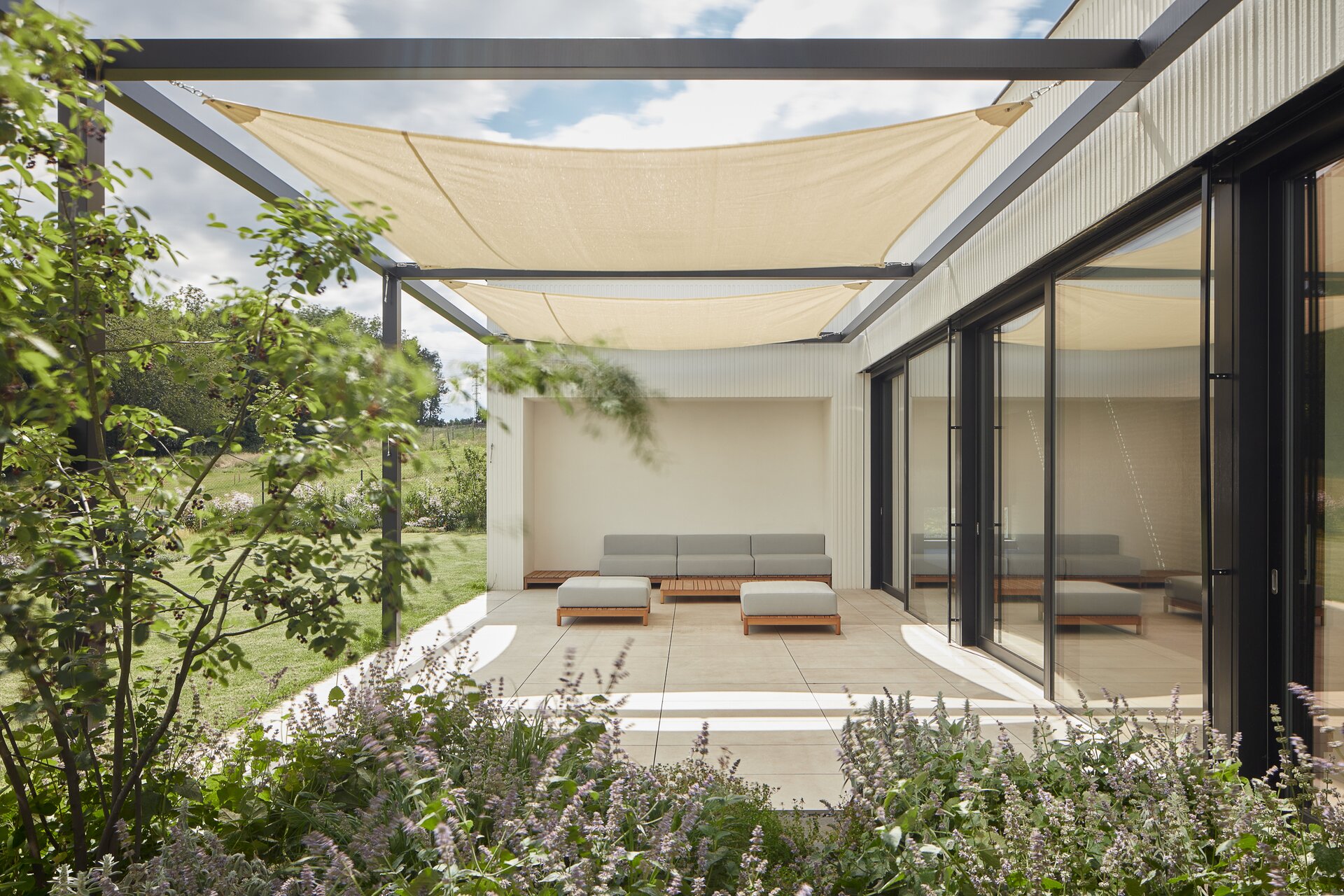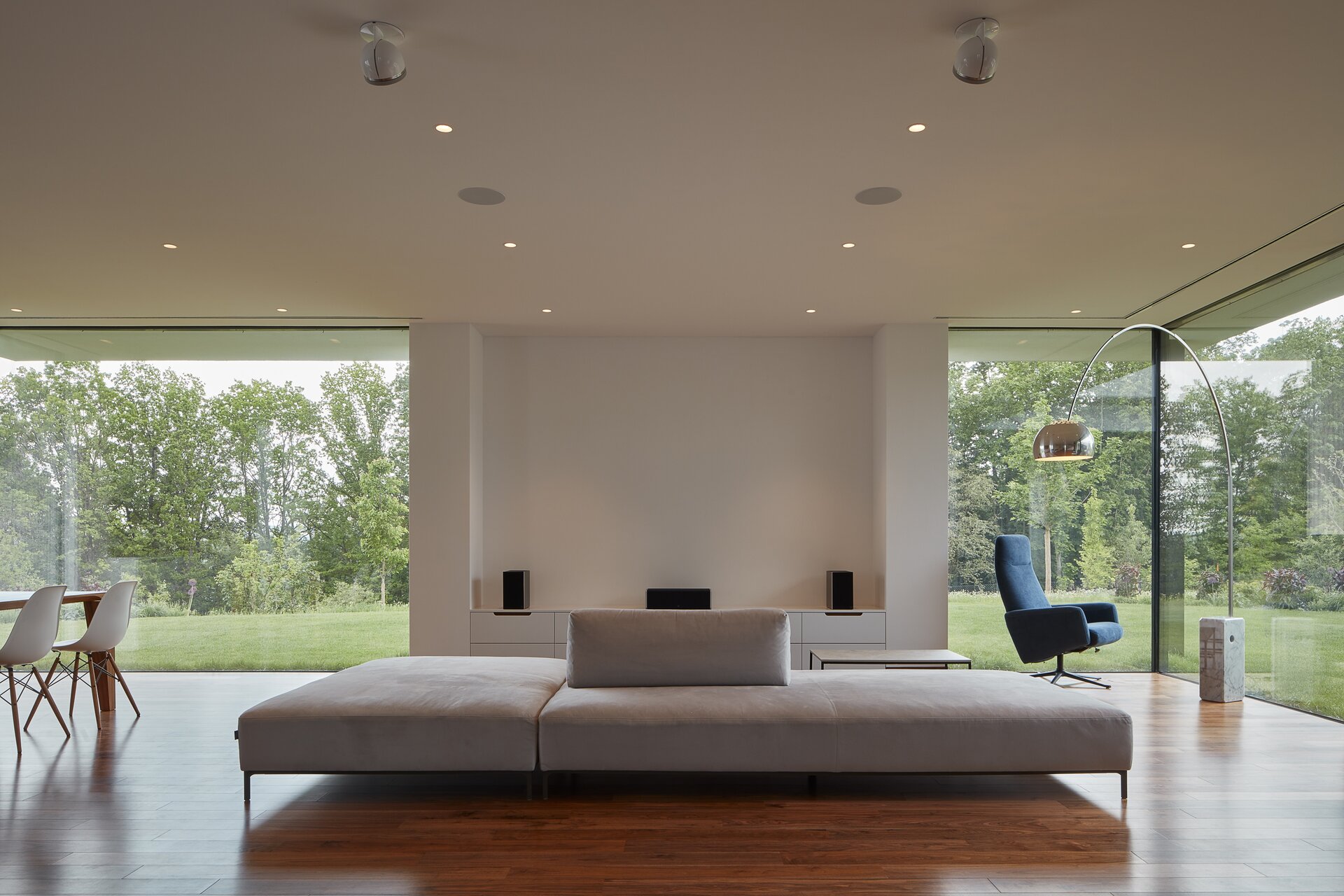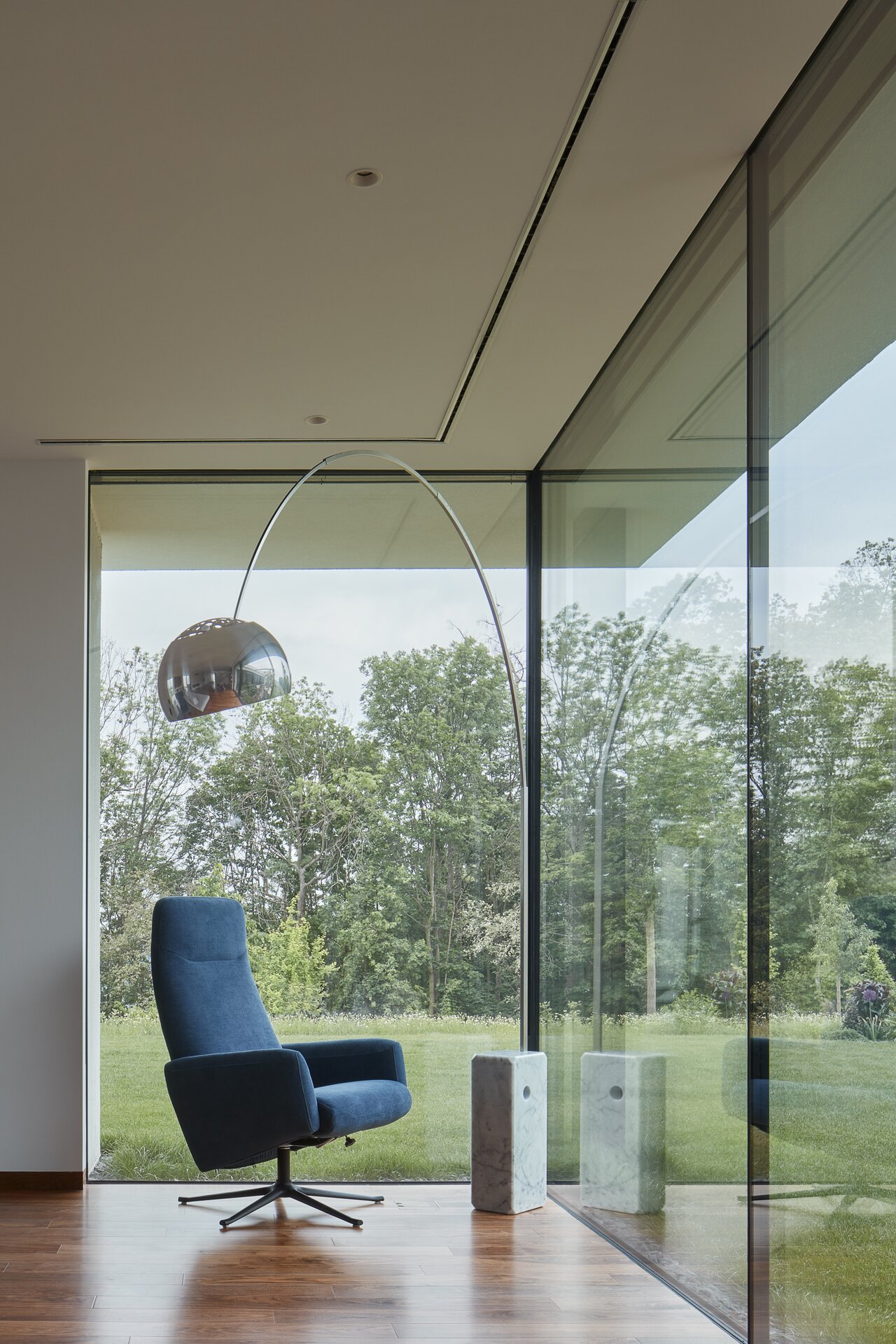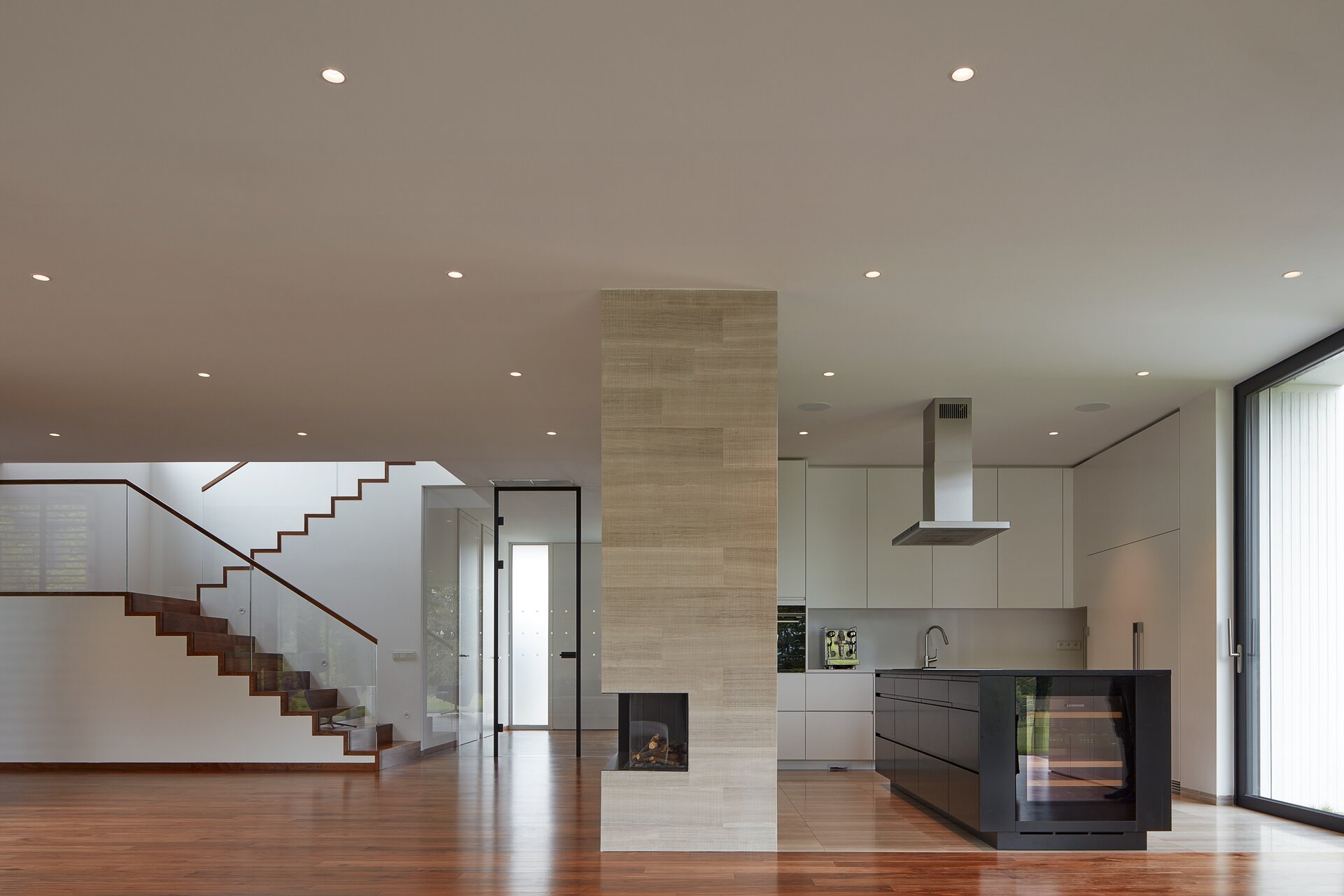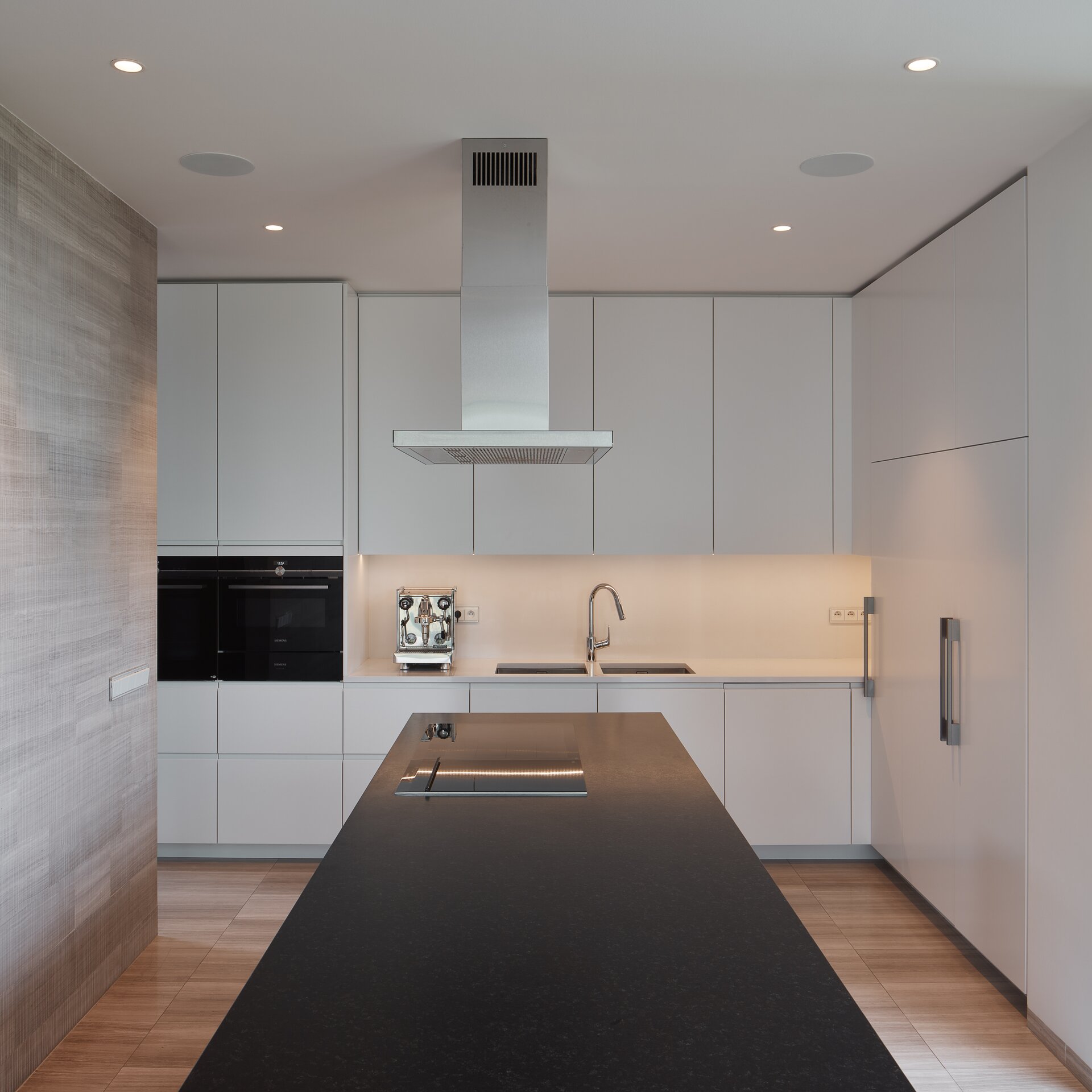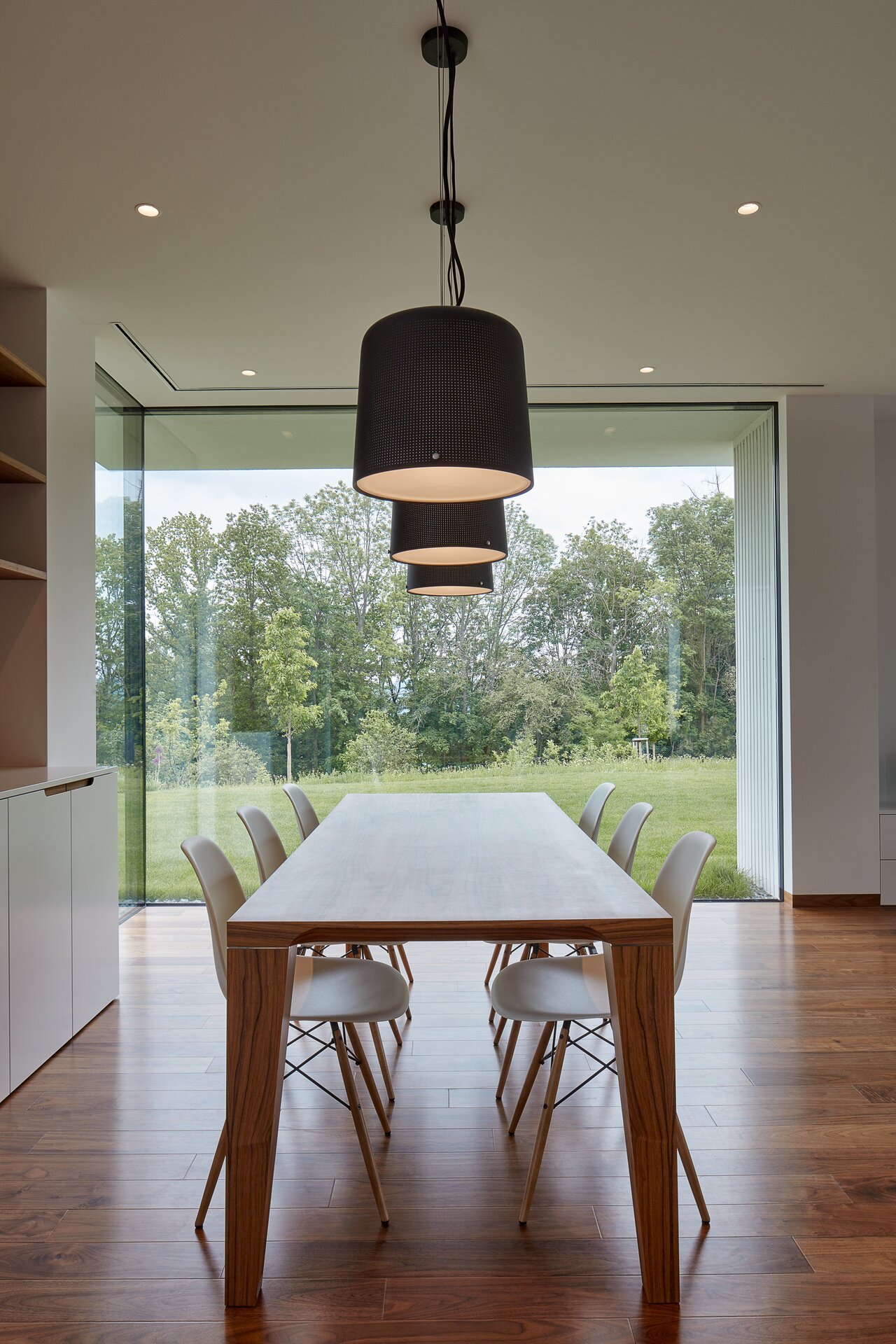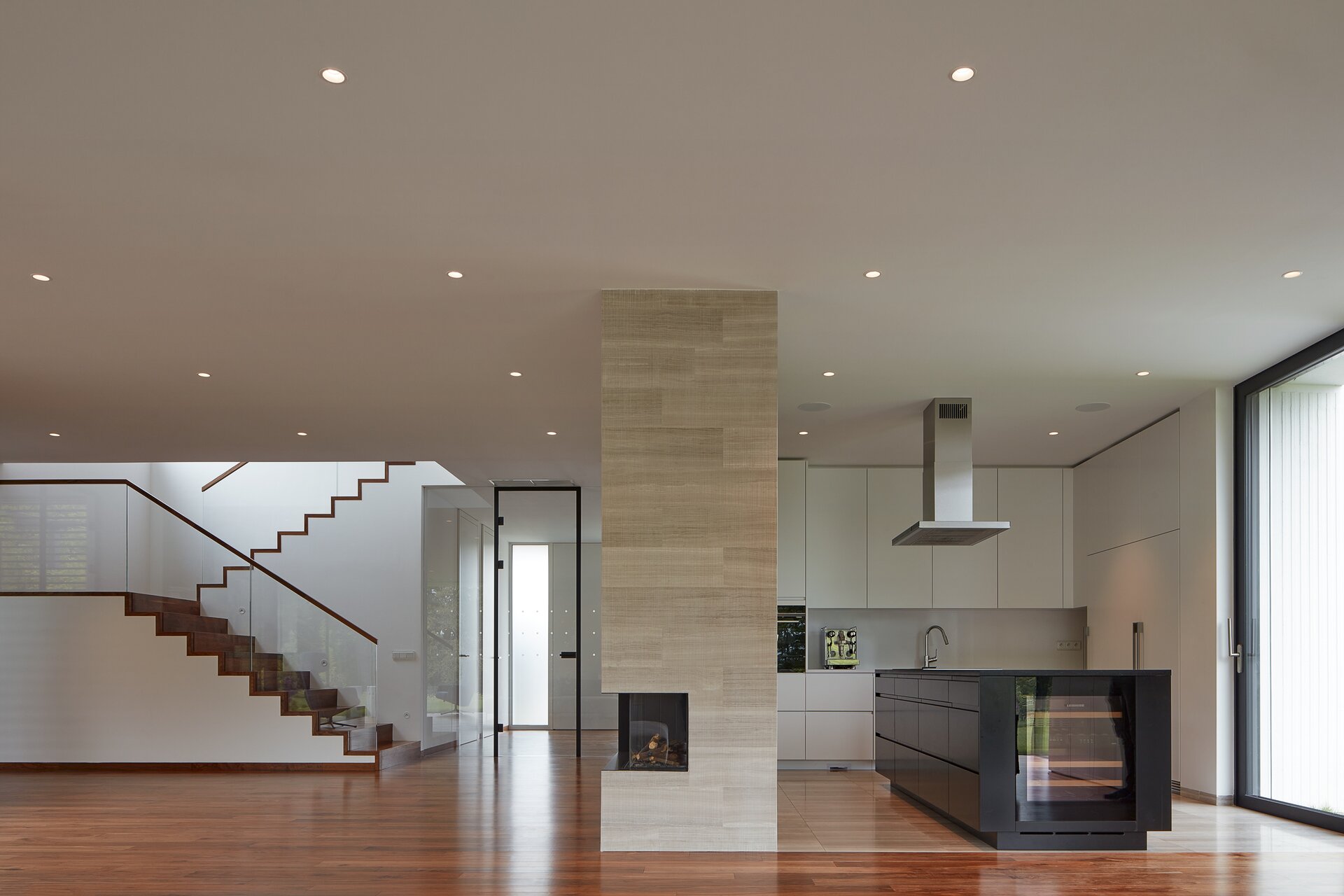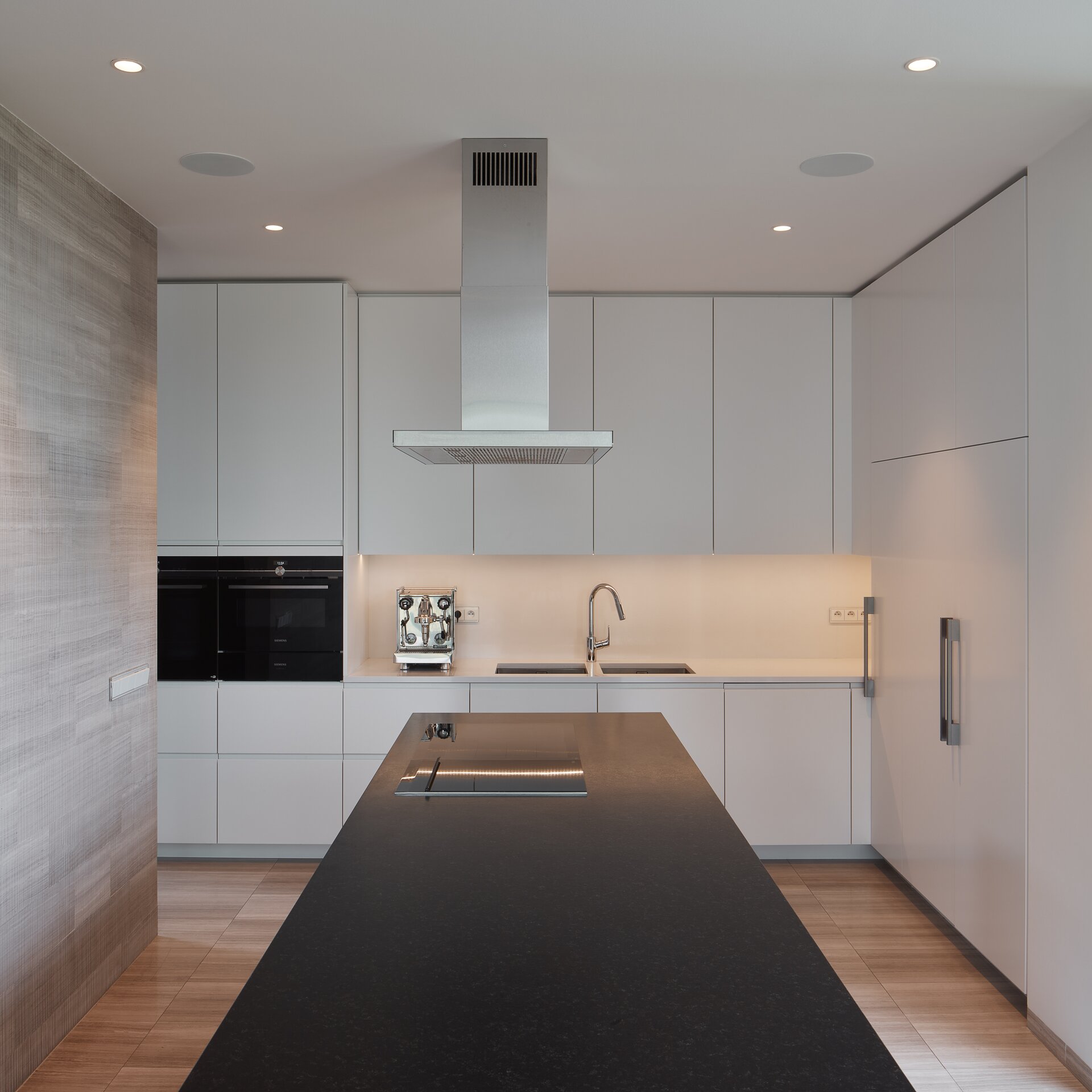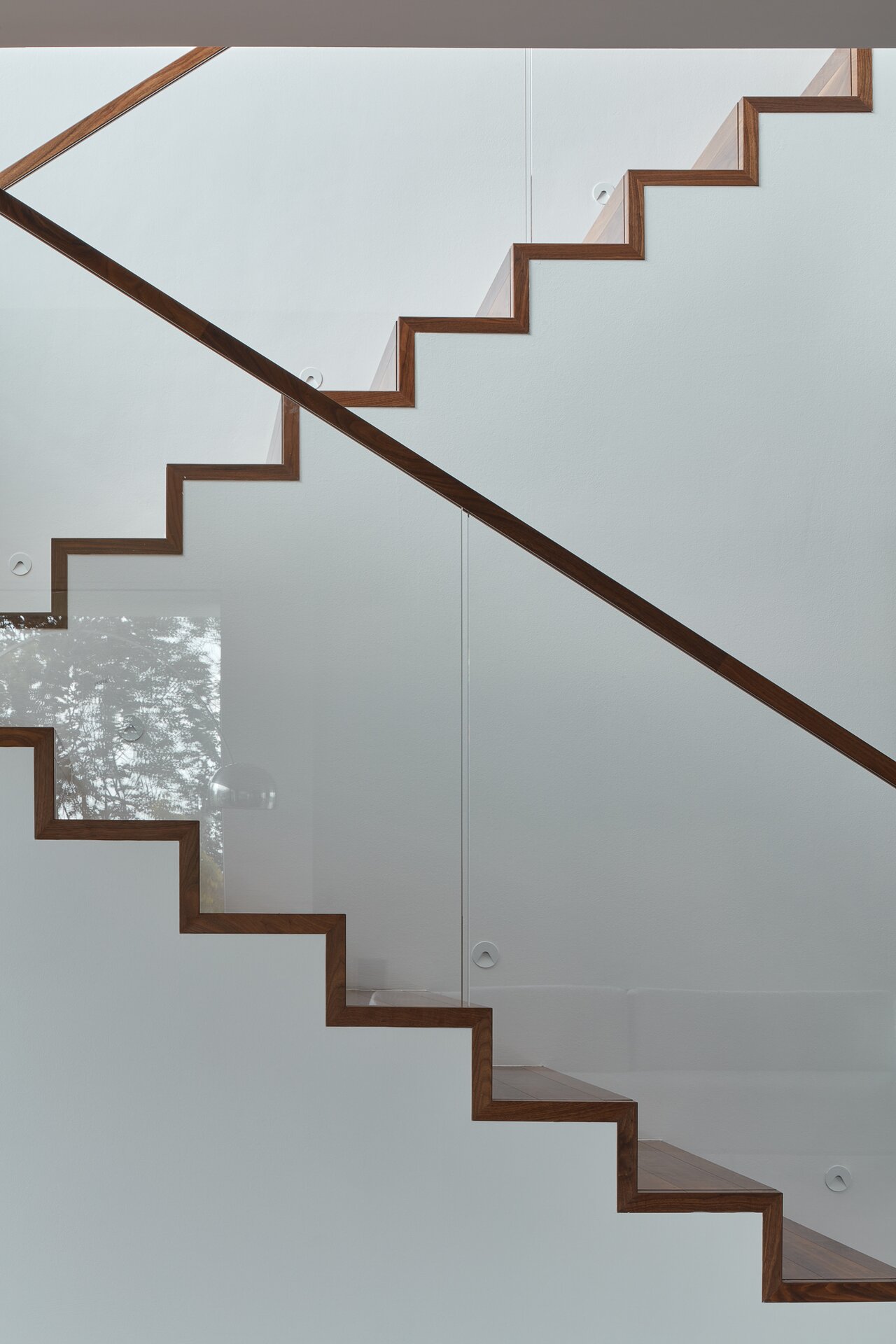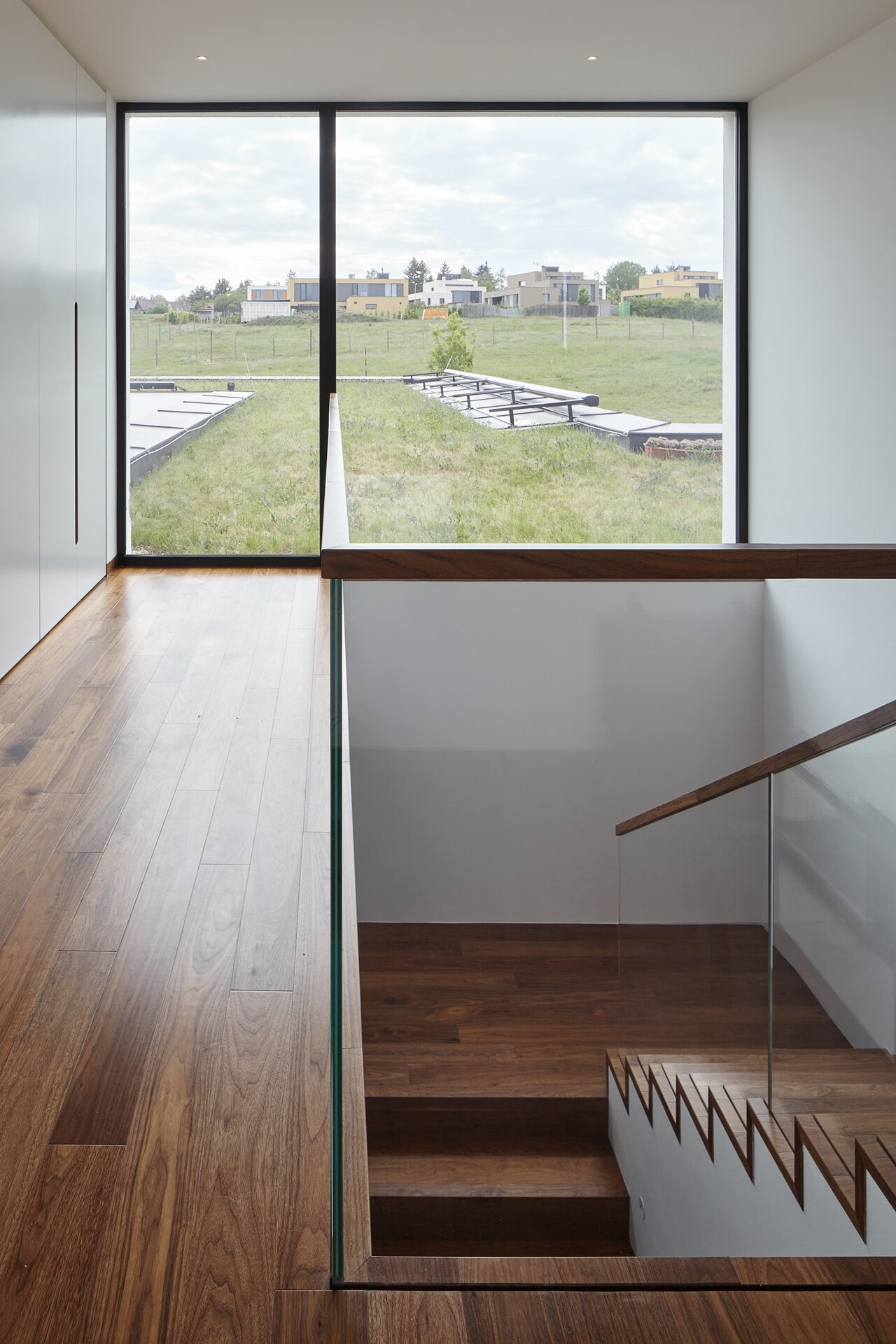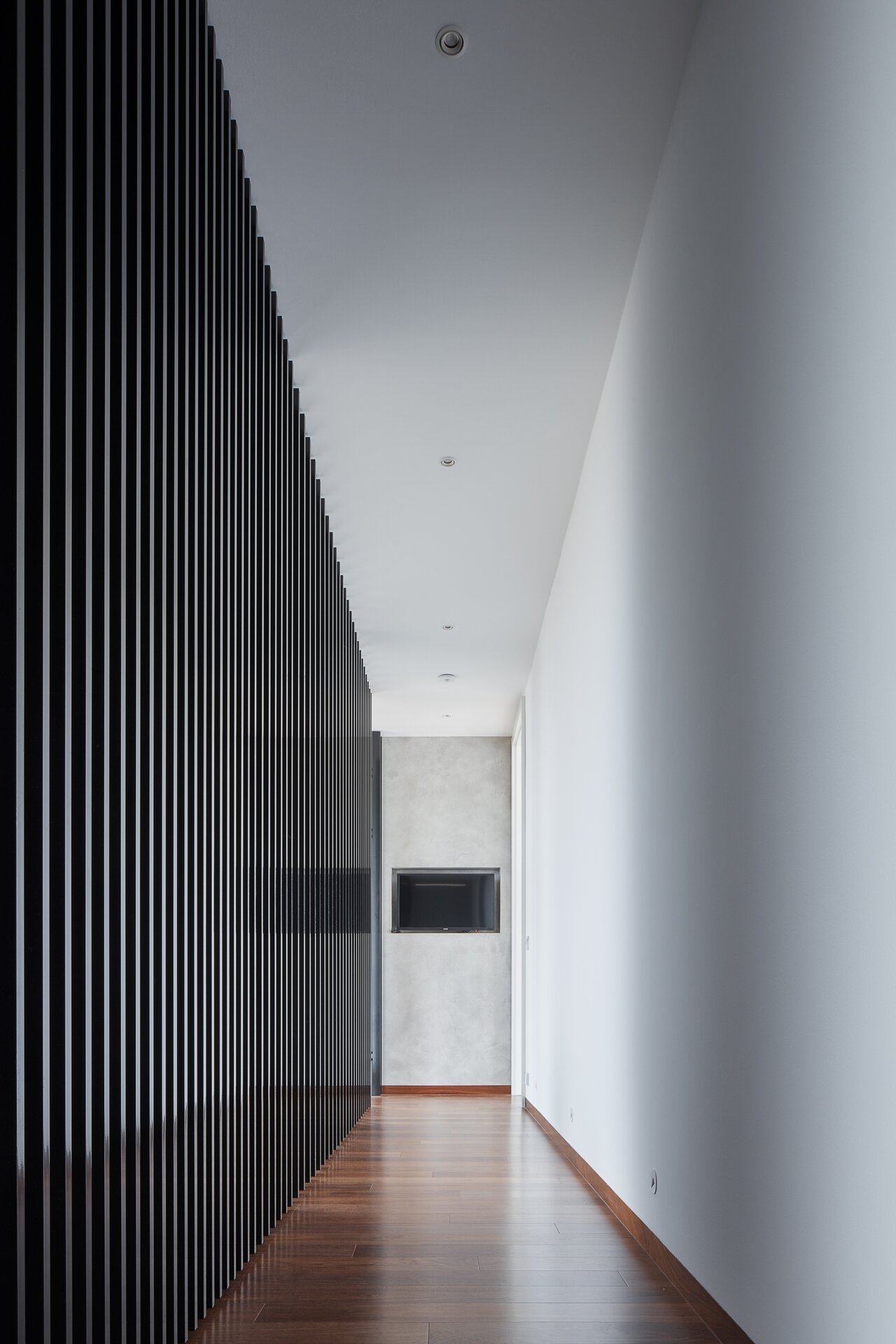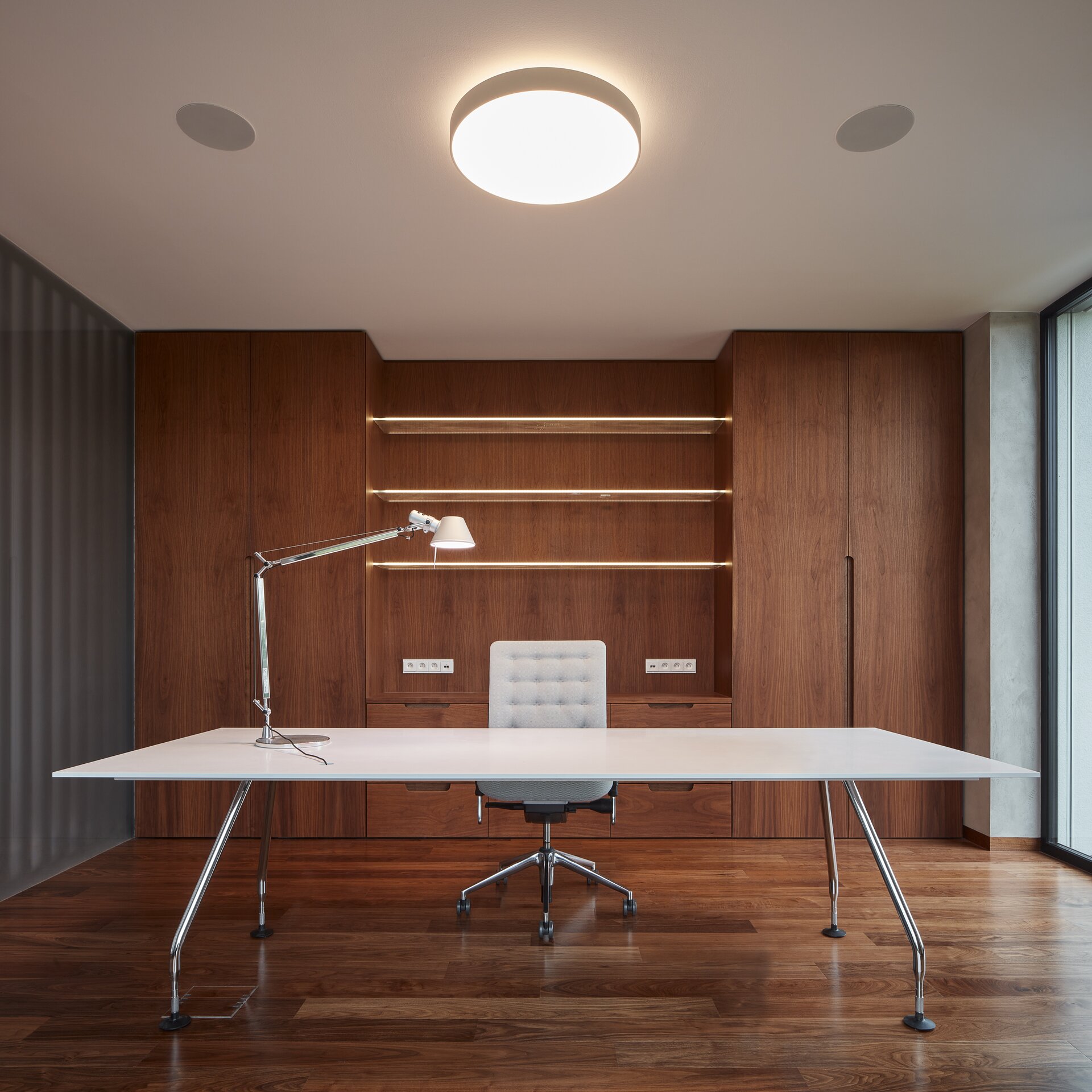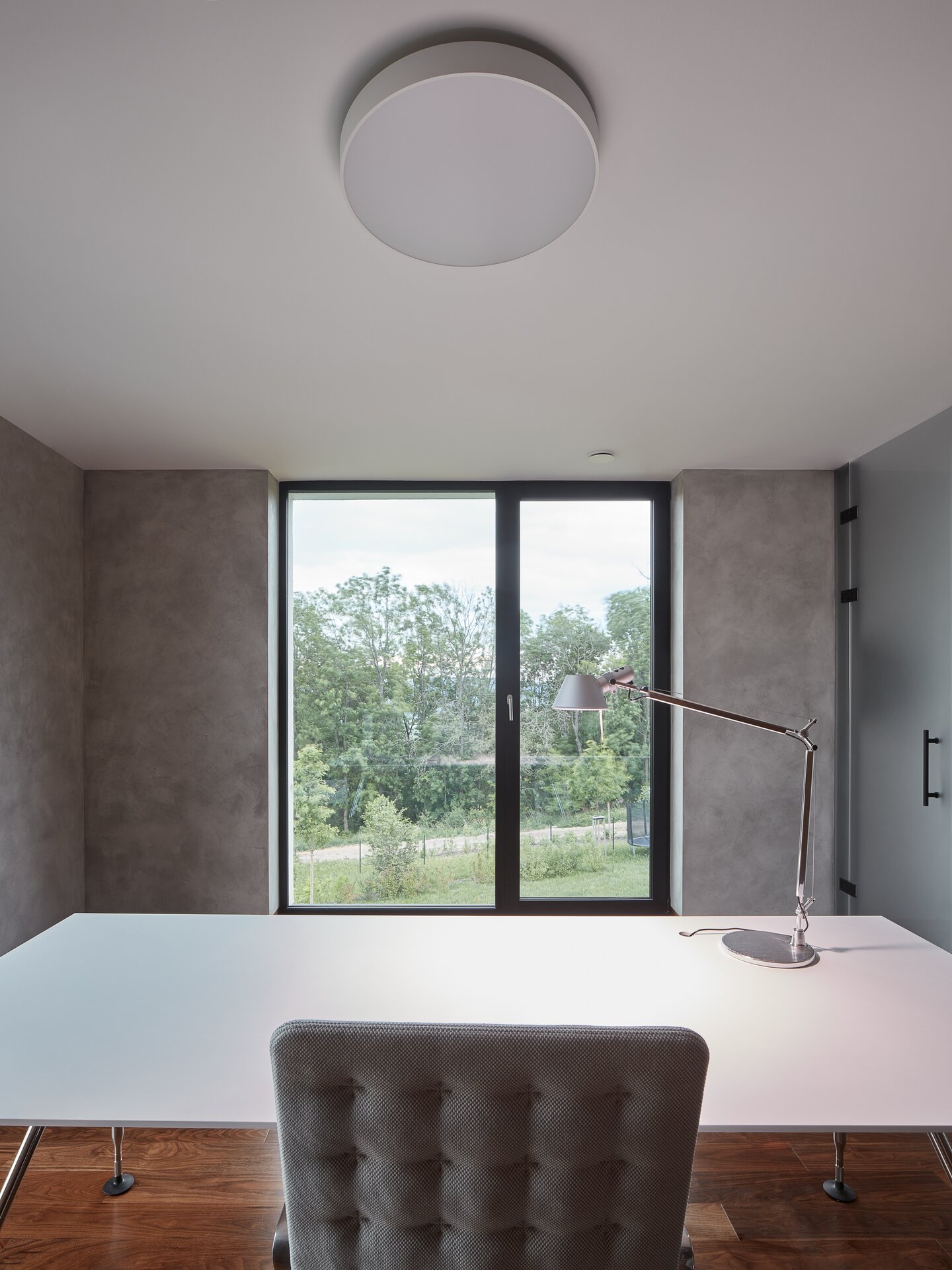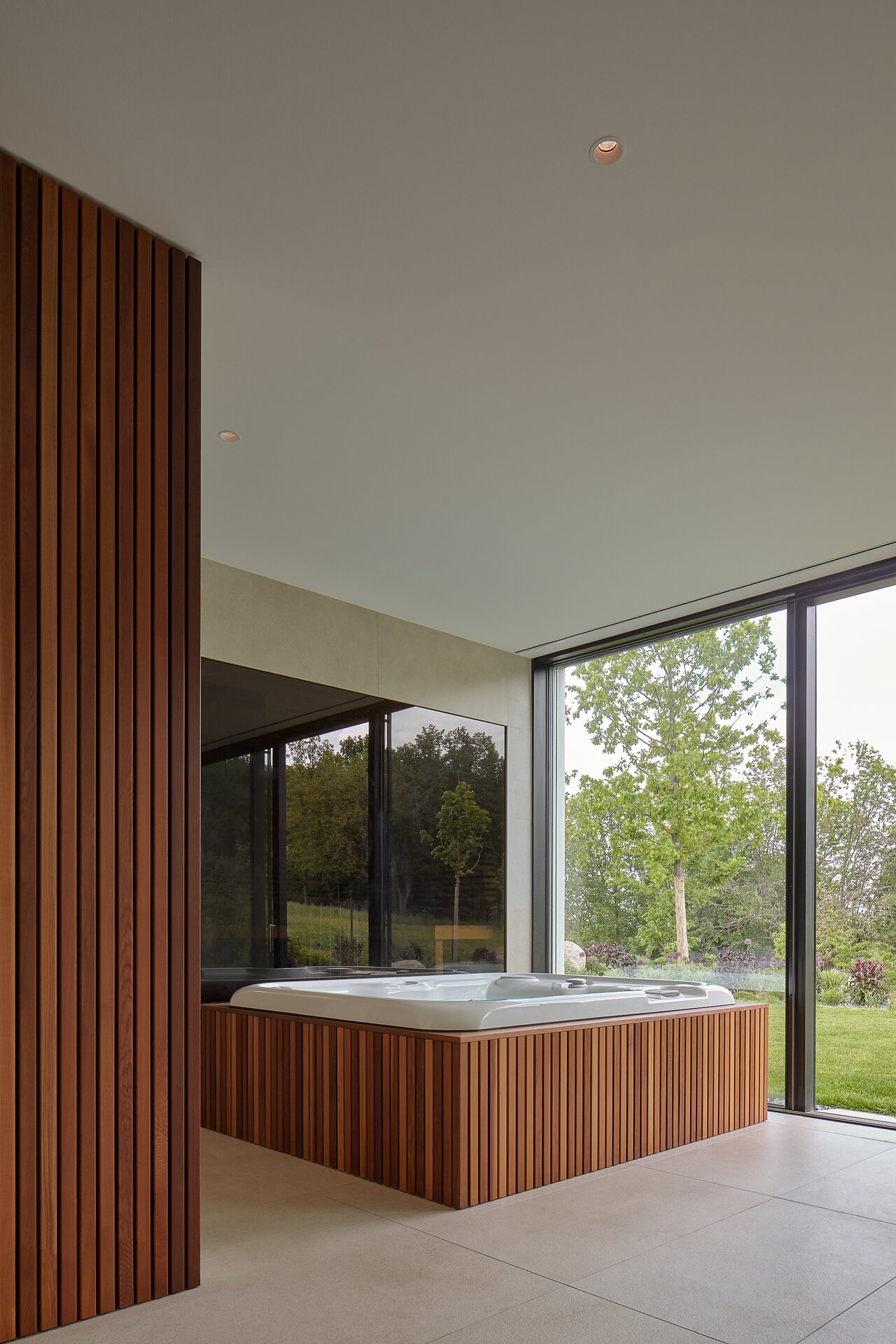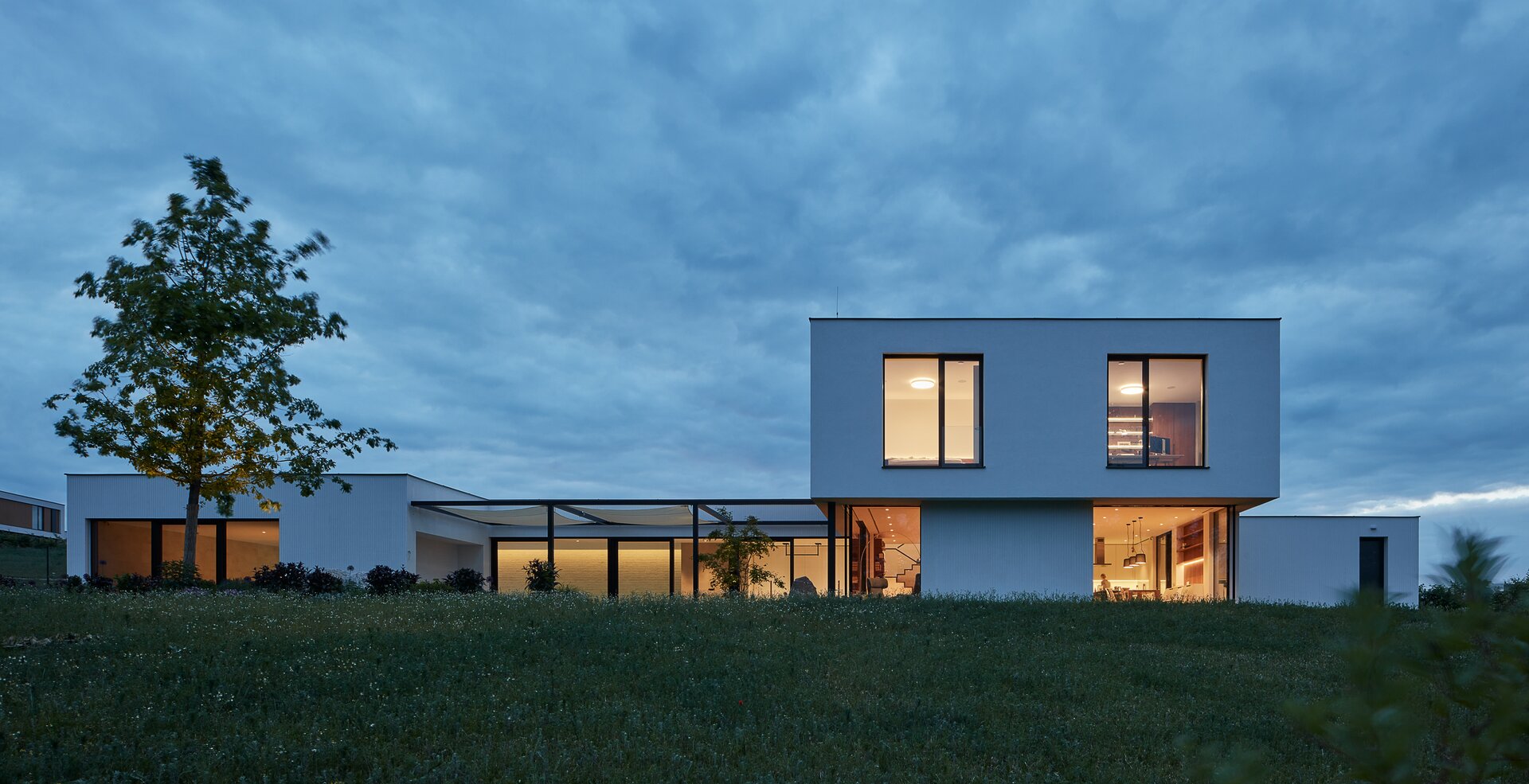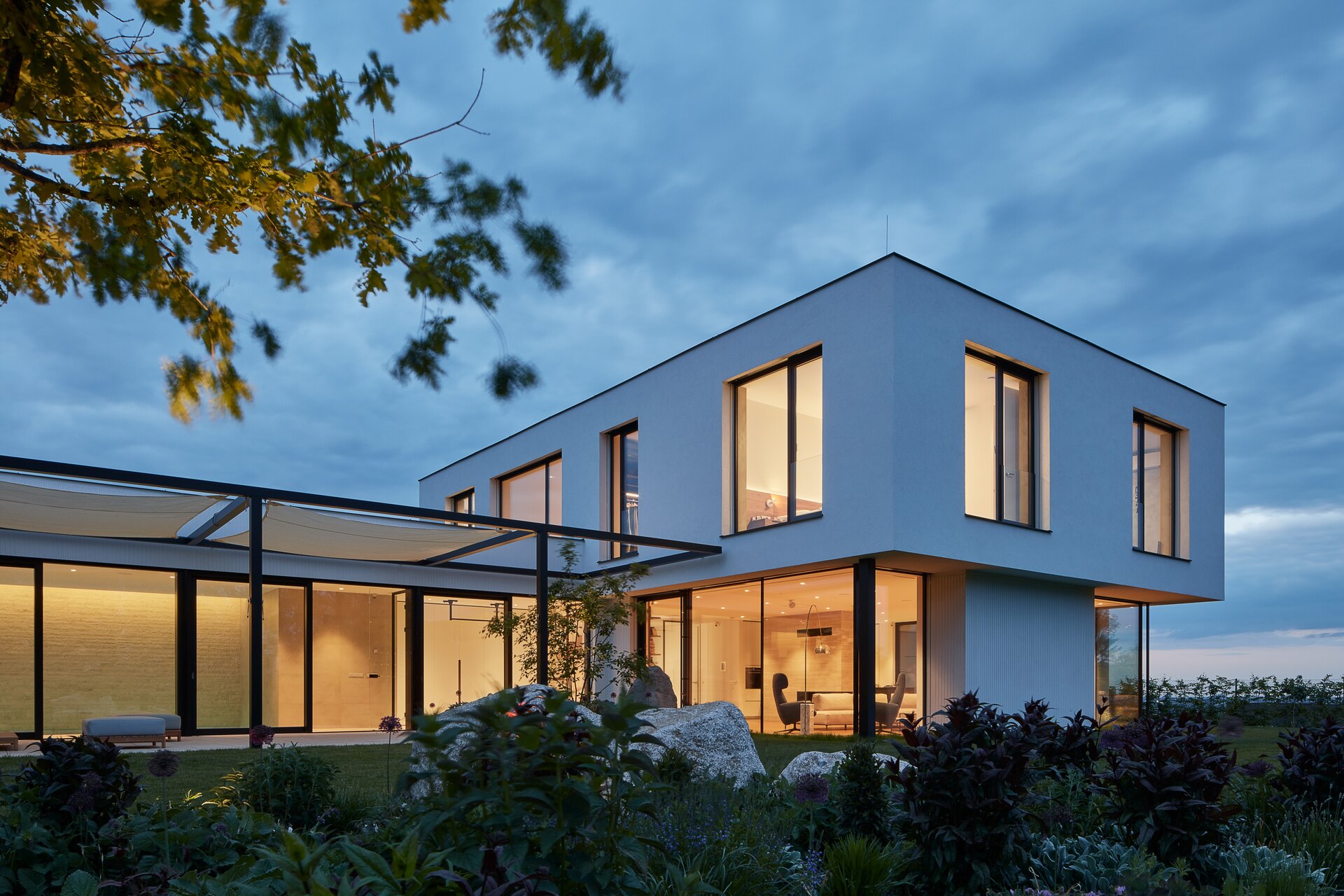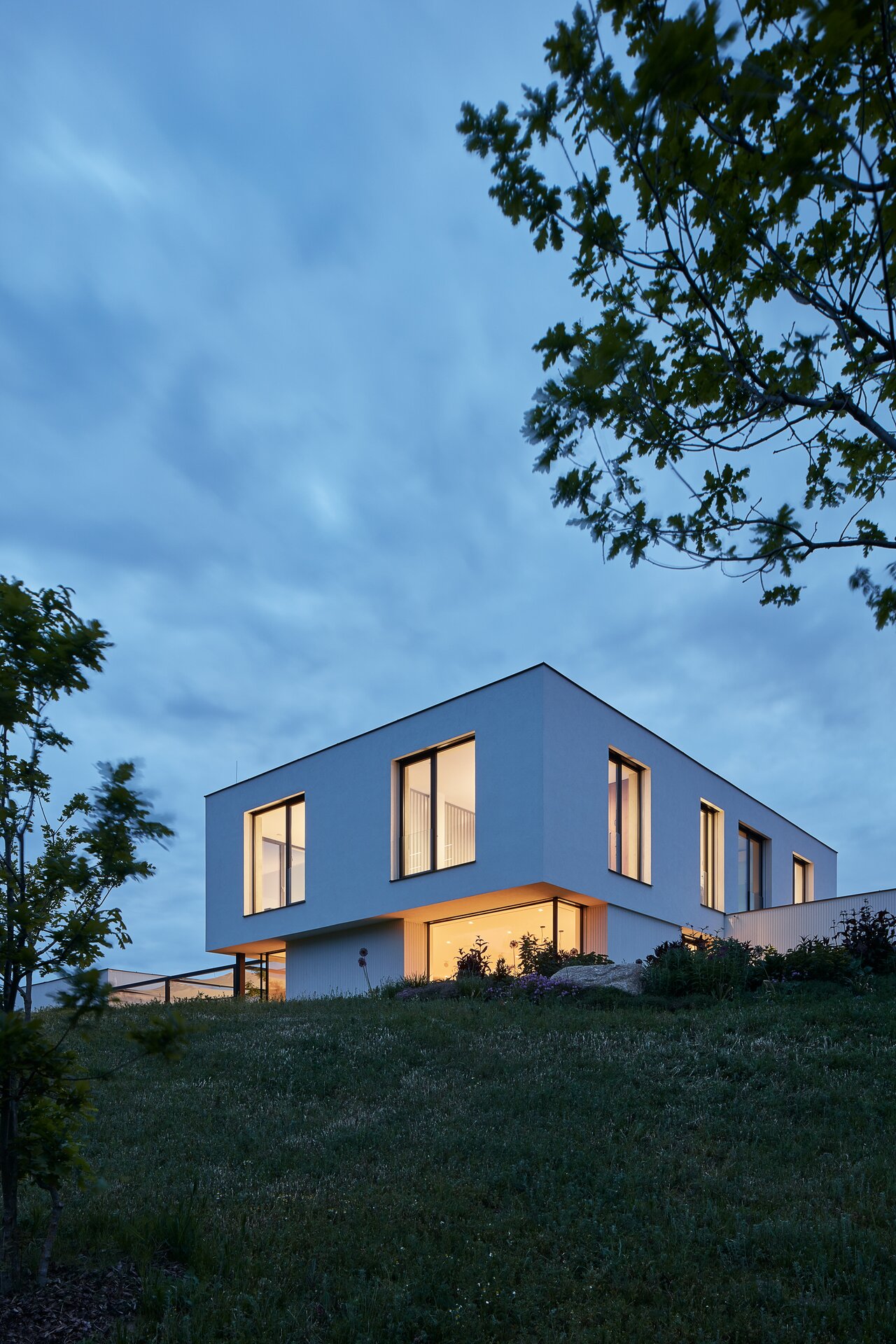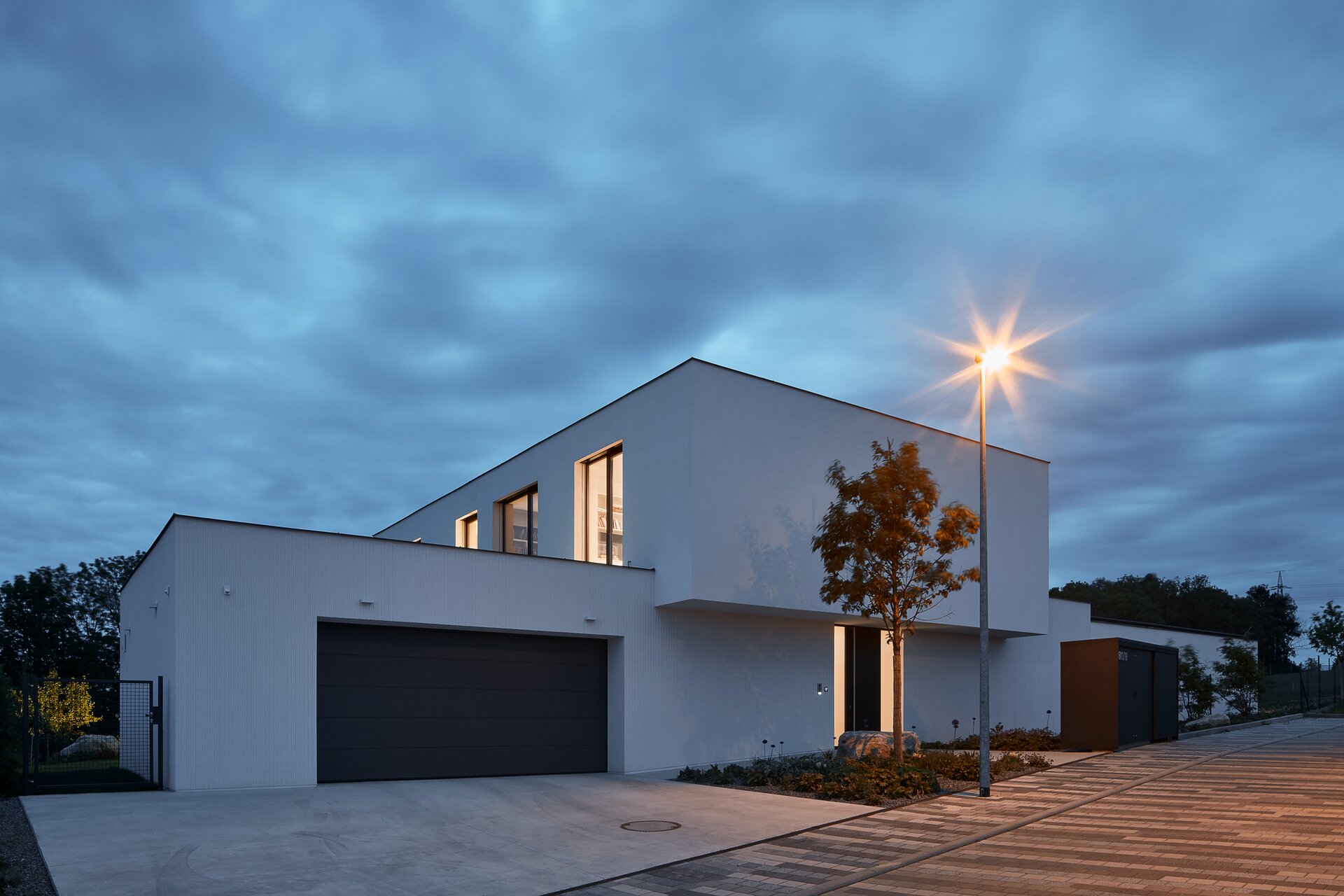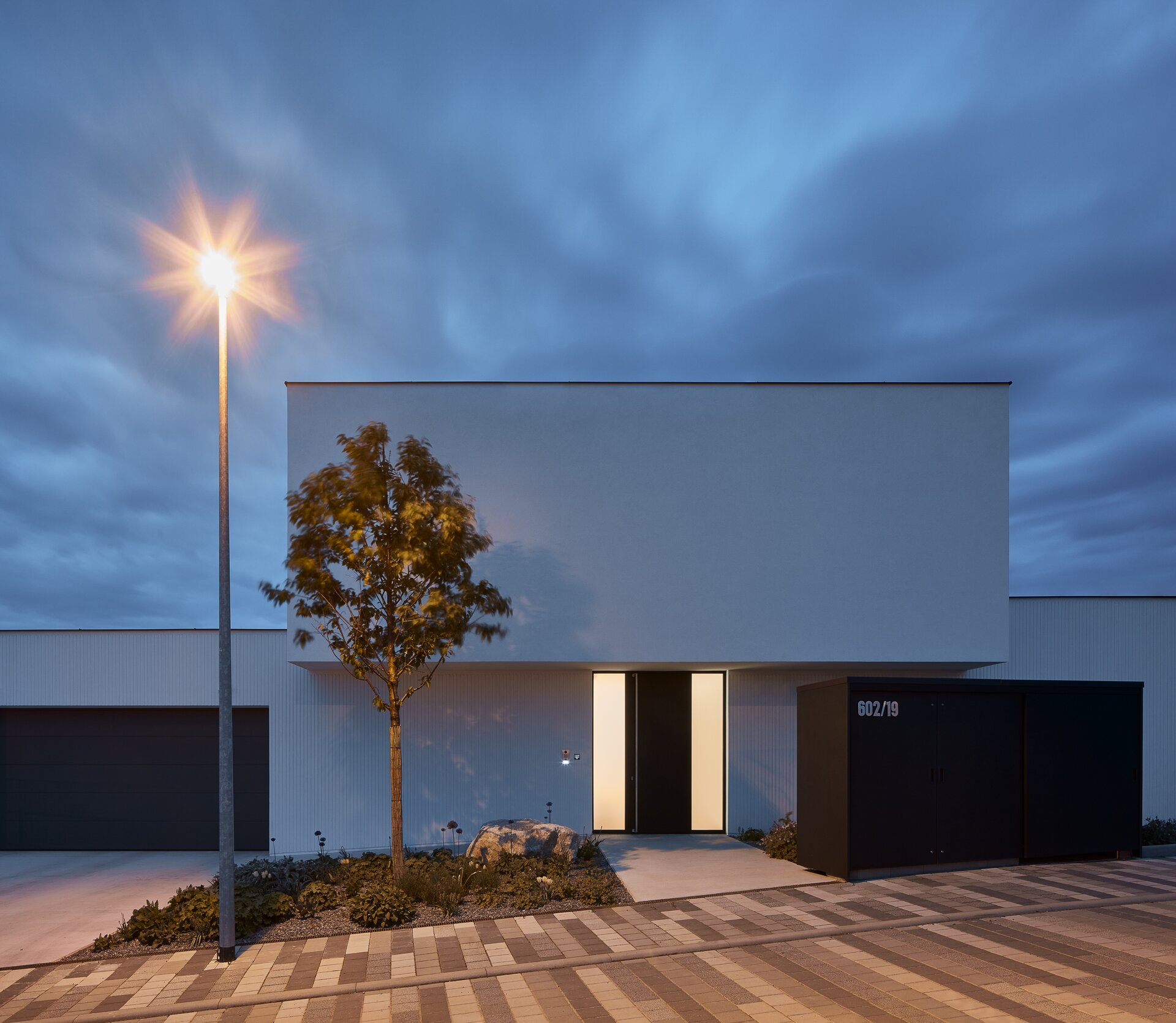 Author
dh architekti / Dalibor Hlaváček, Ludvík Holub, Zuzana Kučerová
Studio
Location
Velká Chuchle, Praha 5
Investor
soukromý investor
Supplier
W-KOMPLET spol. s r. o.
Na viničních horách 499/21
160 00 Praha 6
Date of project approval
January 2020
Fotograf
House on the edge of a new development adjacent to the forest was created by modifying and expanding an unfinished shell & core building. It consists of a two-storey living area and a ground floor extension with a swimming pool and wellness. The mutual configuration of both volumes creates space for an outdoor terrace, that can be shaded with a light pergola. The aim of the proposal was to take advantage of the unique location overlooking the Prague skyline and the nearby natural monument. The house has two faces. Towards the street it is closed, inaccessible, protects the privacy of its inhabitants. To the south it opens towards the garden and uses sunlight in winter months. The façade uses subtle contrast of structures between the bottom and the top mass, this principle is reflected also in the interior design. An important part of the design is the garden concept, which blends into the forest on the boundary of the plot and is in natural symbiosis with architecure of the house.
"The sun never knew how great it was until it hit the side of a building". Louis Kahn
The key to the interior design is the dialogue of space, light, materials and textures. The windows of the main volume blur the interface between the interior and exterior and offer attractive views of the surroundings.The extension can be optically and physically connected to the exterior using large sliding windows, the surrounding landscape becomes an integral part of the interior. The main motif of the pool is zenital lighting. The light falls along a wall lined with natural stone, emphasizing its structure and shimmering on the water surface. Just above it, a low window faces the Zen garden at the northwest corner of the plot. Thanks to the terrain configuration, it offers outside views when swimming in the pool, but does not allow inward views. Emphasis is placed on natural materials - walnut veneer and Italian limestone, which are combined with silky white surfaces of built-in furniture.
Green building
Environmental certification
| | |
| --- | --- |
| Type and level of certificate | - |
Water management
| | |
| --- | --- |
| Is rainwater used for irrigation? | |
| Is rainwater used for other purposes, e.g. toilet flushing ? | |
| Does the building have a green roof / facade ? | |
| Is reclaimed waste water used, e.g. from showers and sinks ? | |
The quality of the indoor environment
| | |
| --- | --- |
| Is clean air supply automated ? | |
| Is comfortable temperature during summer and winter automated? | |
| Is natural lighting guaranteed in all living areas? | |
| Is artificial lighting automated? | |
| Is acoustic comfort, specifically reverberation time, guaranteed? | |
| Does the layout solution include zoning and ergonomics elements? | |
Principles of circular economics
| | |
| --- | --- |
| Does the project use recycled materials? | |
| Does the project use recyclable materials? | |
| Are materials with a documented Environmental Product Declaration (EPD) promoted in the project? | |
| Are other sustainability certifications used for materials and elements? | |
Energy efficiency
| | |
| --- | --- |
| Energy performance class of the building according to the Energy Performance Certificate of the building | A |
| Is efficient energy management (measurement and regular analysis of consumption data) considered? | |
| Are renewable sources of energy used, e.g. solar system, photovoltaics? | |
Interconnection with surroundings
| | |
| --- | --- |
| Does the project enable the easy use of public transport? | |
| Does the project support the use of alternative modes of transport, e.g cycling, walking etc. ? | |
| Is there access to recreational natural areas, e.g. parks, in the immediate vicinity of the building? | |