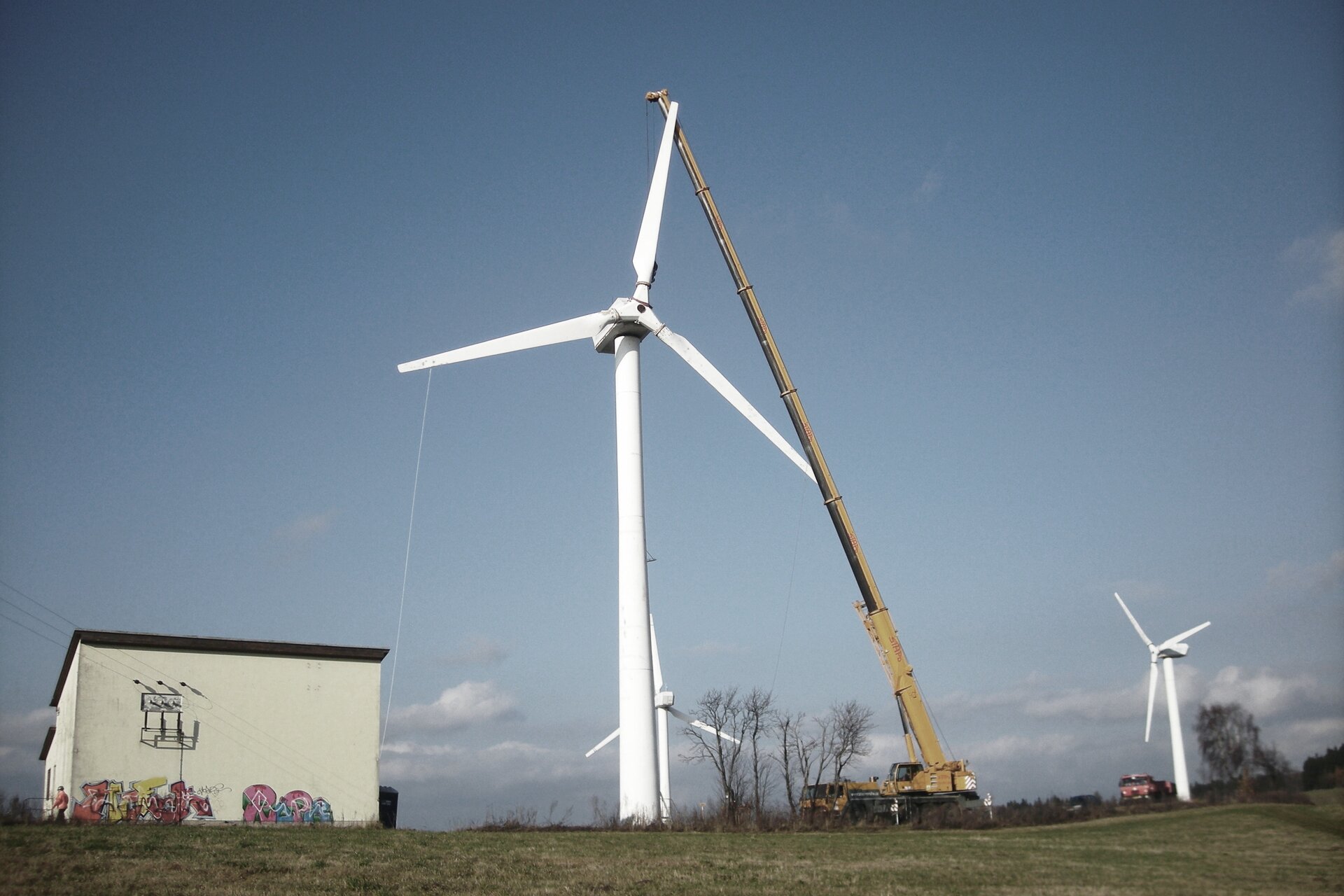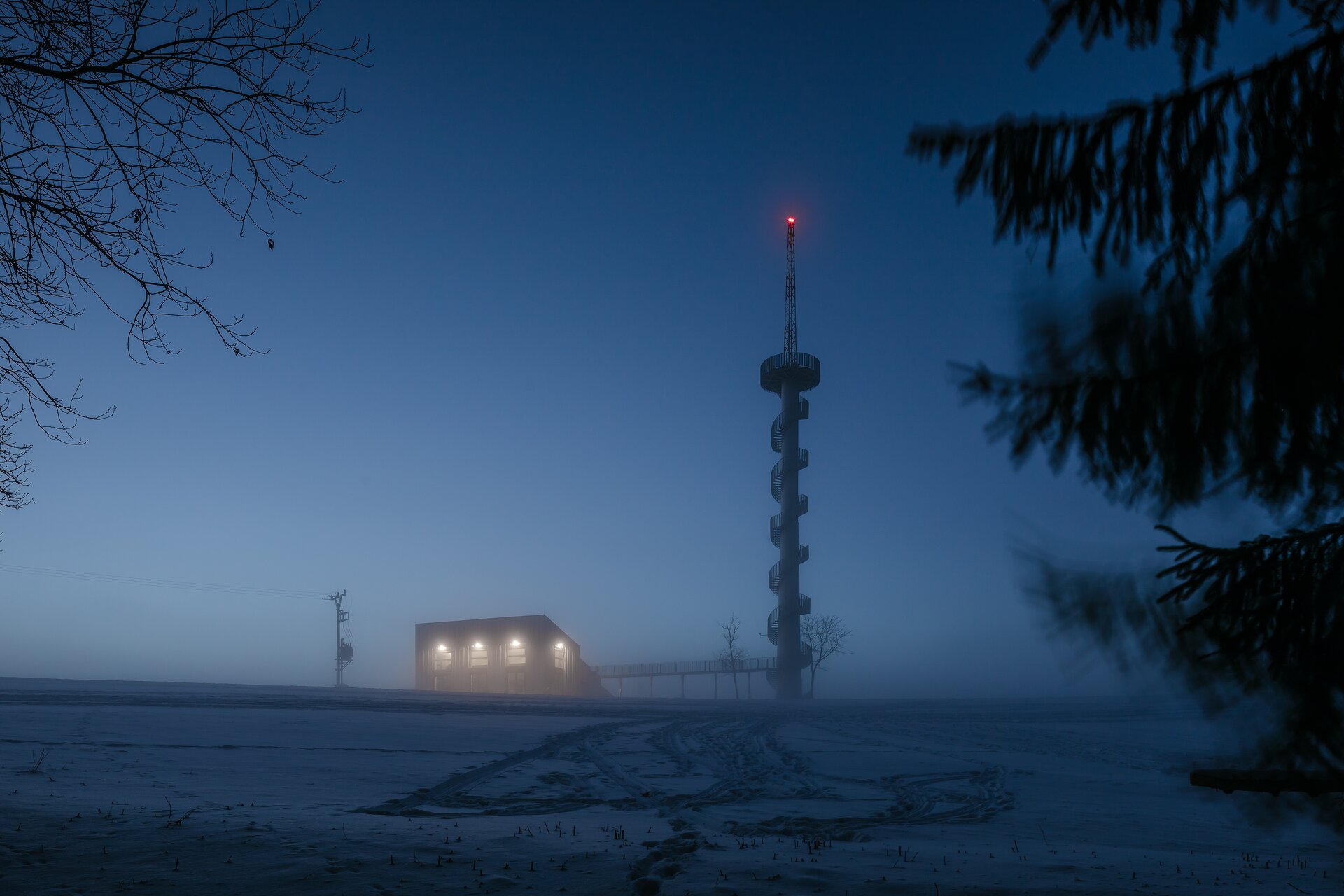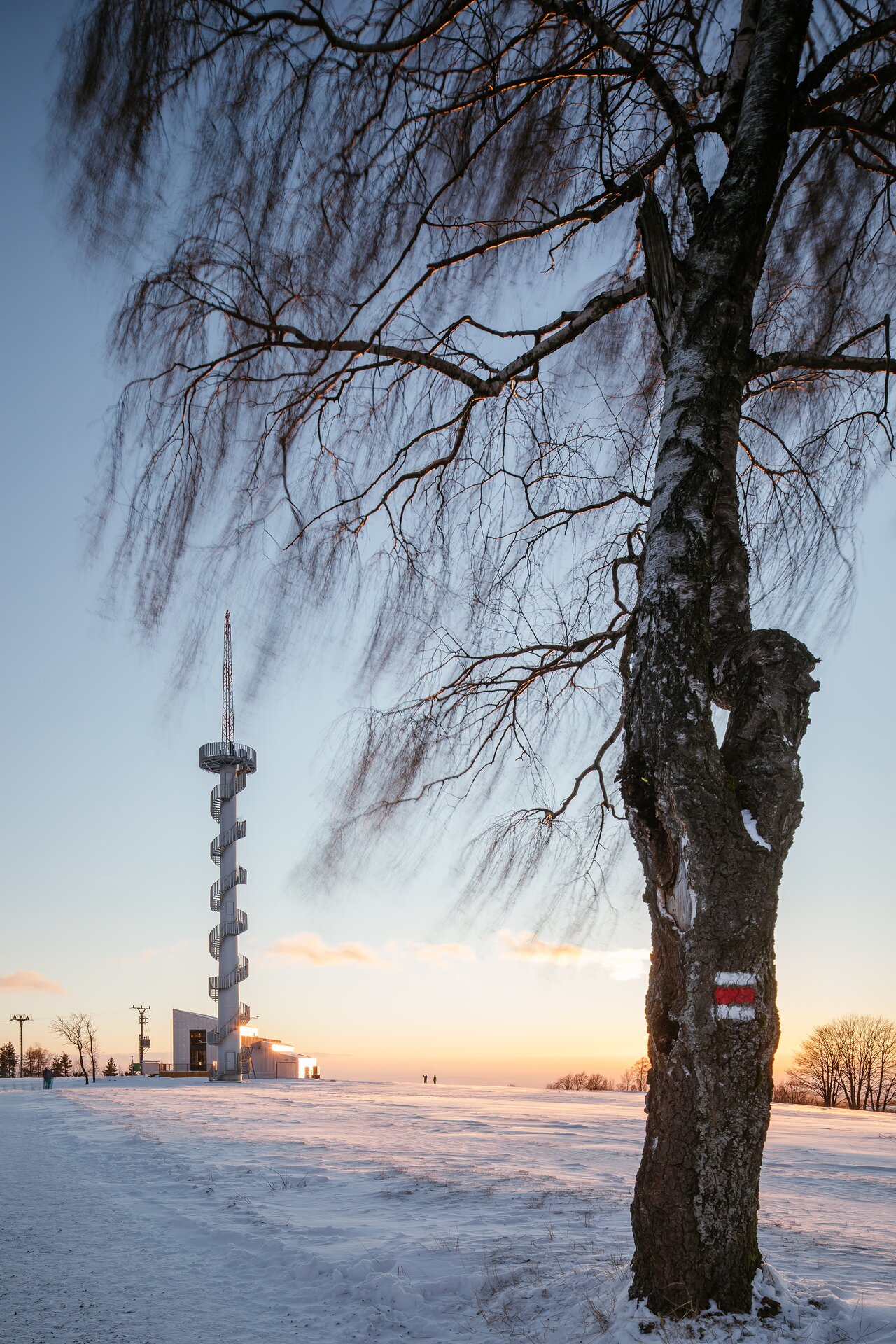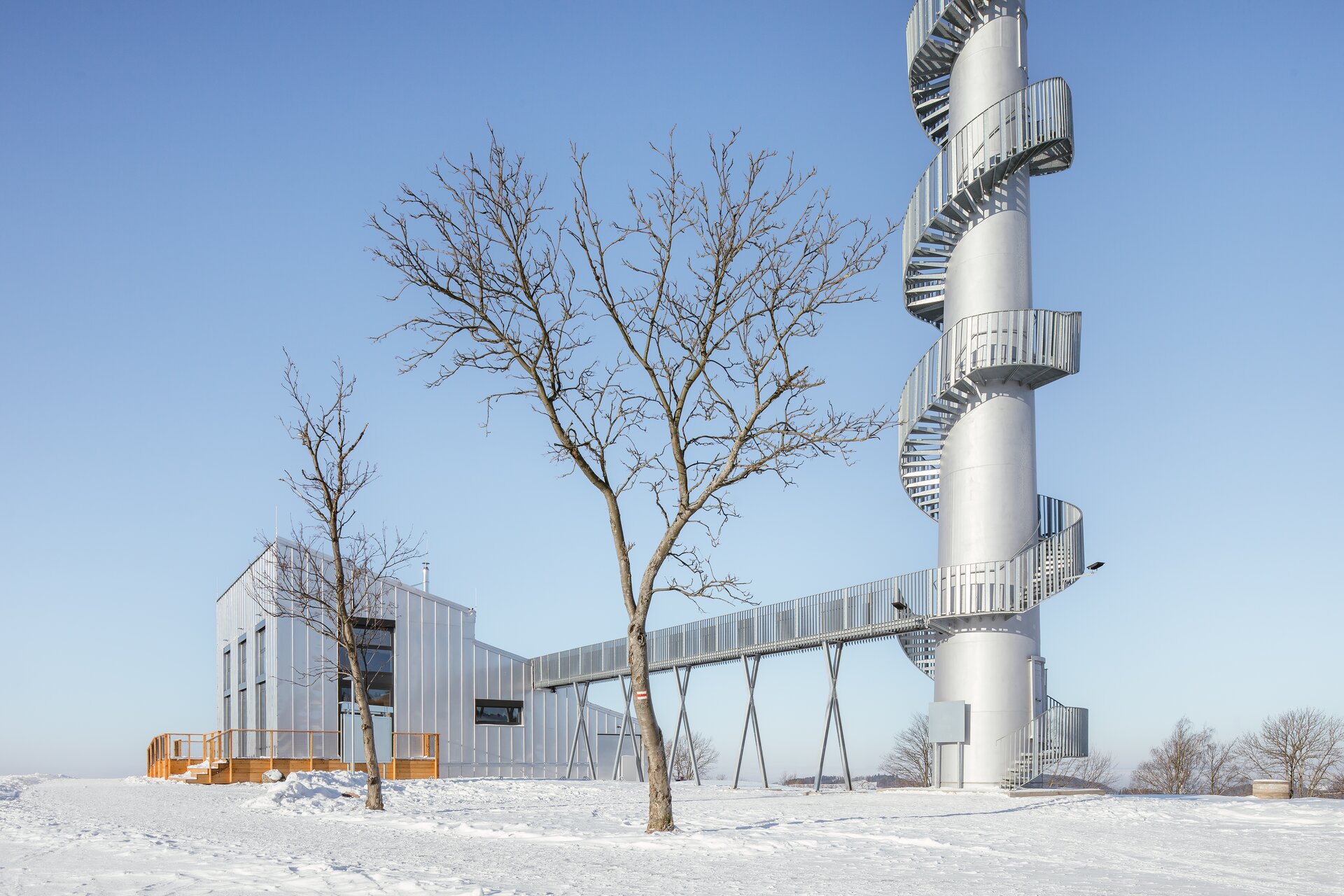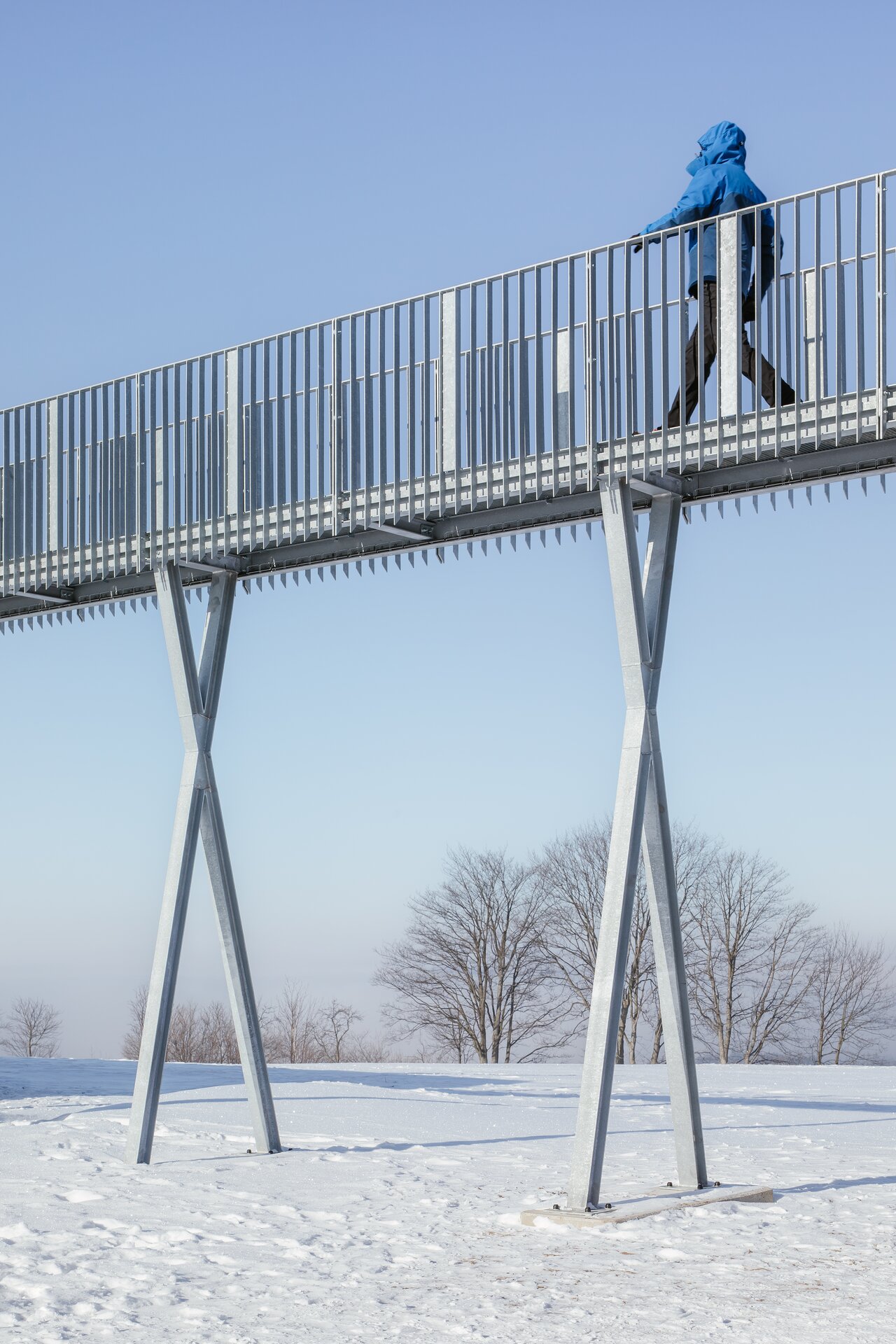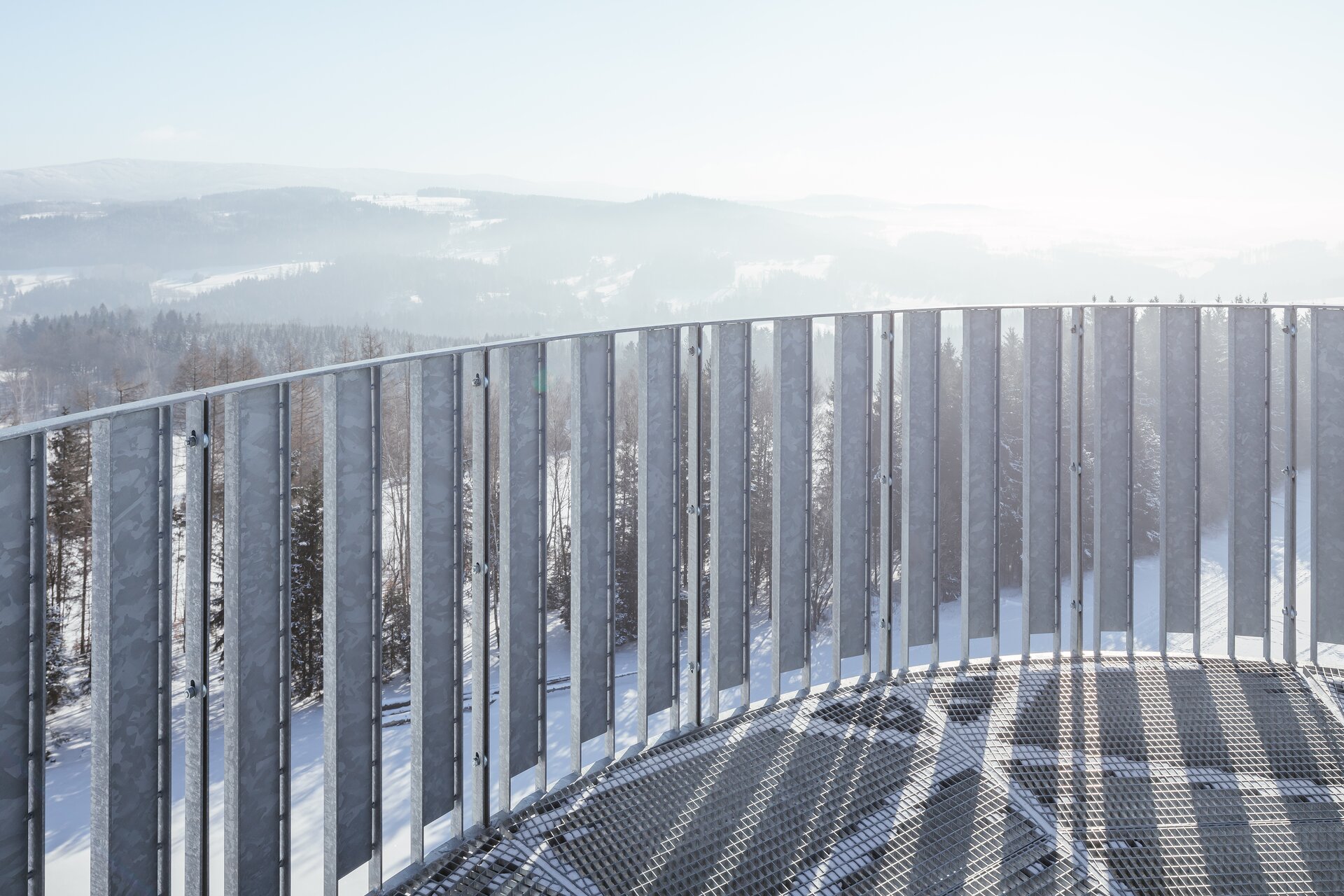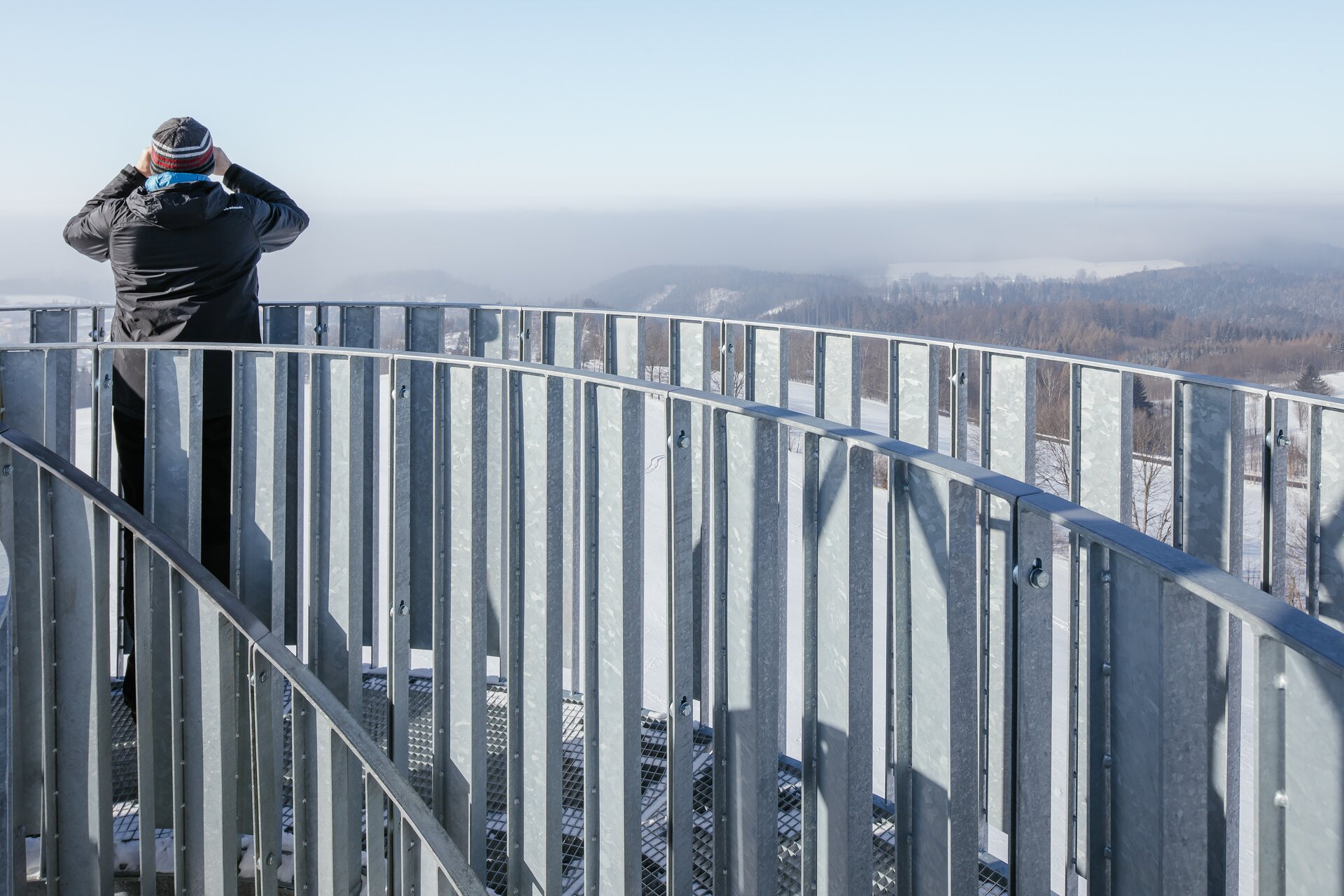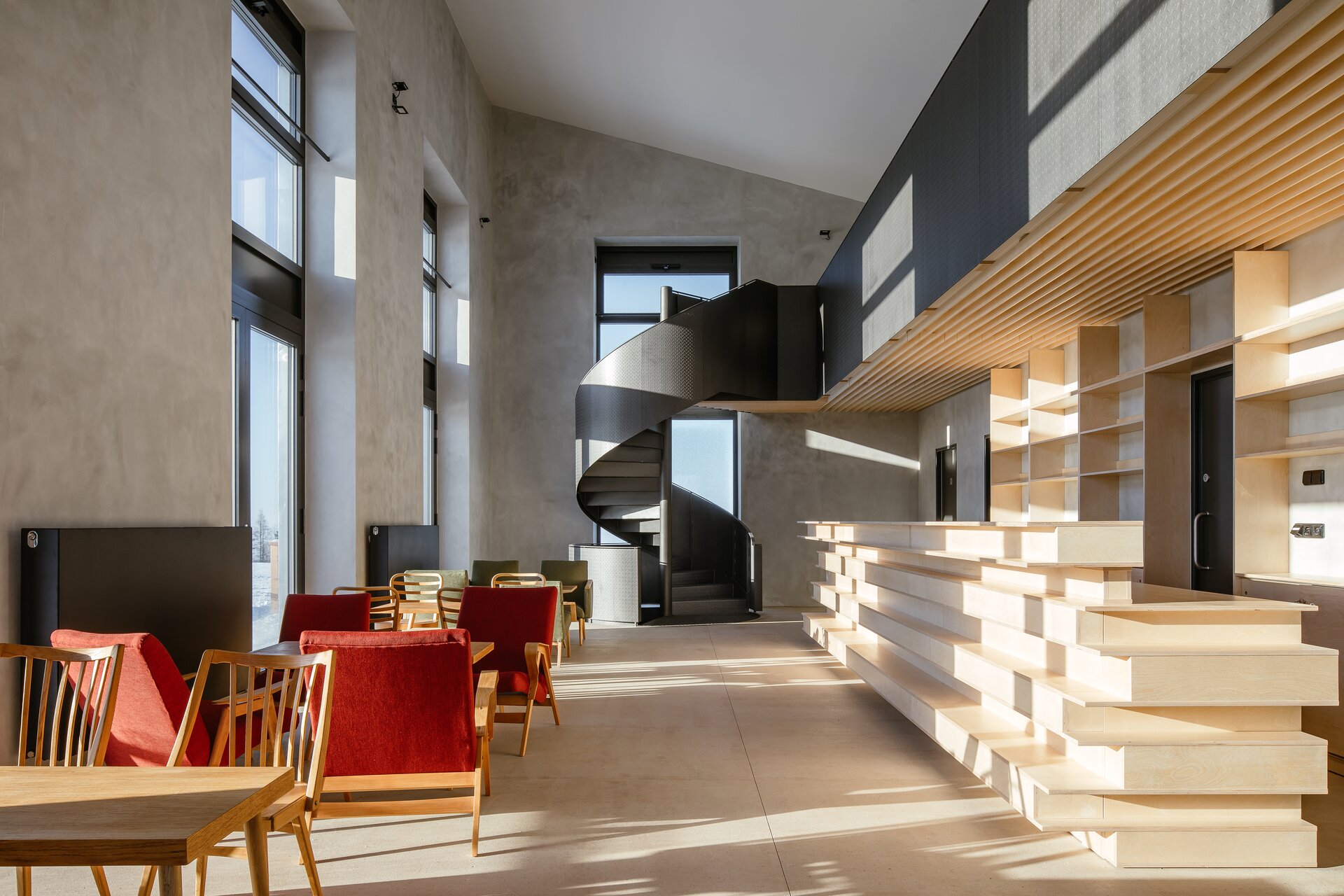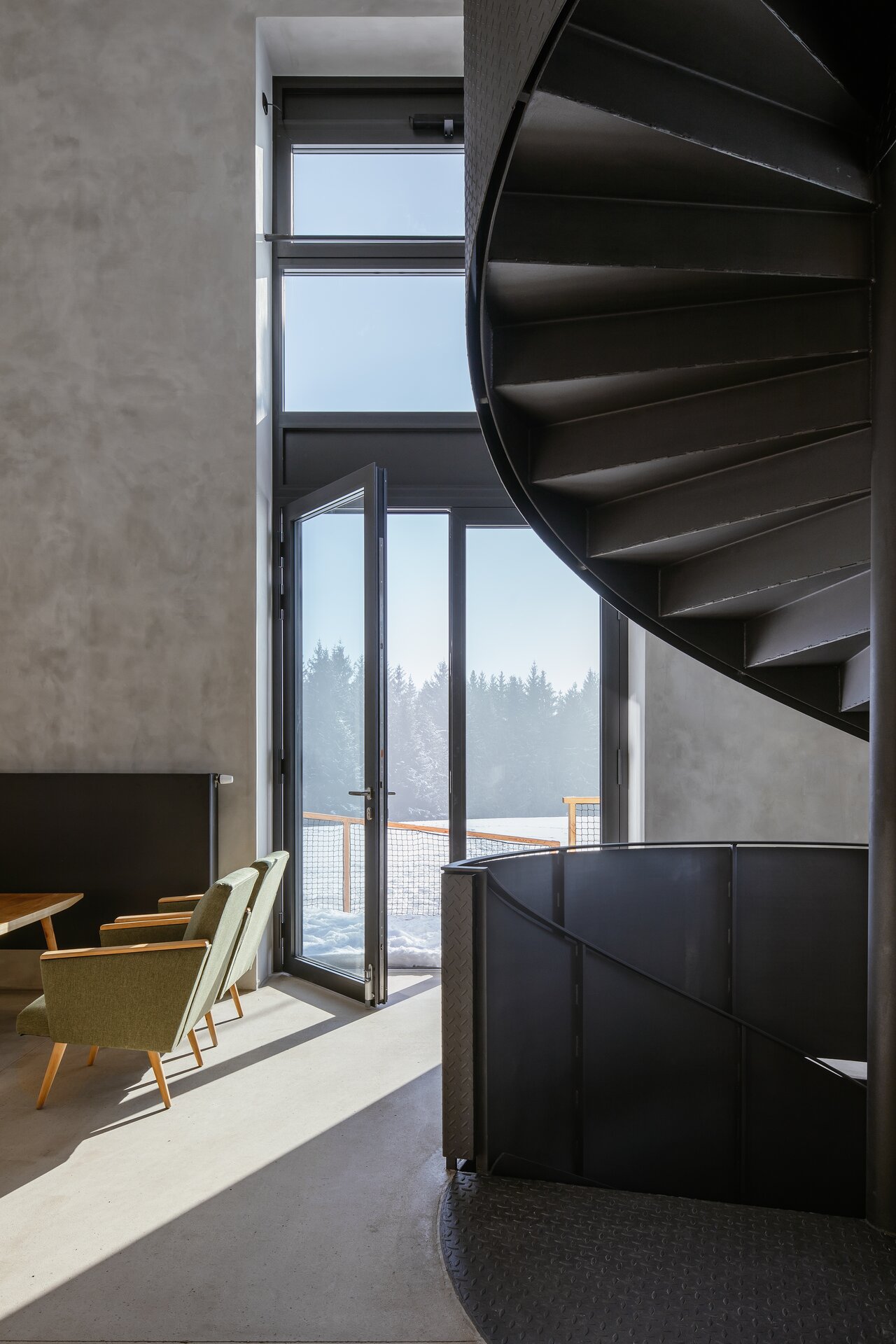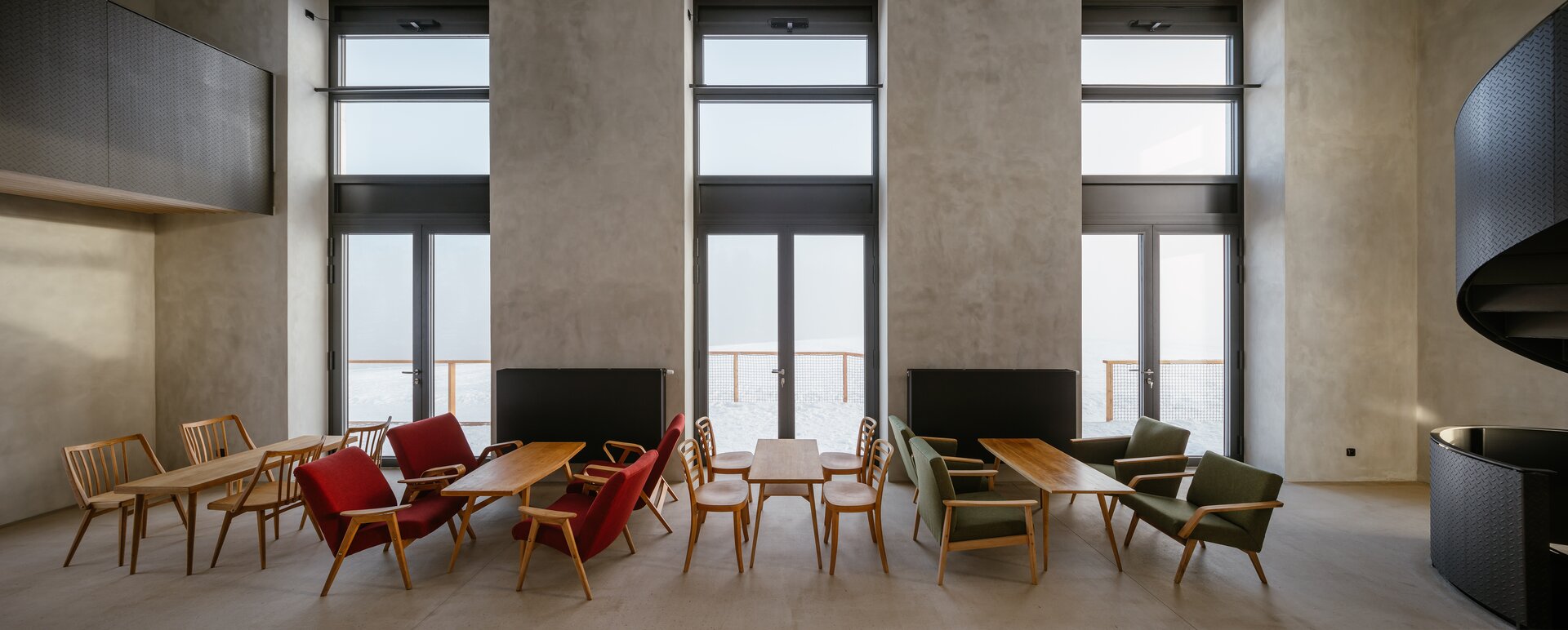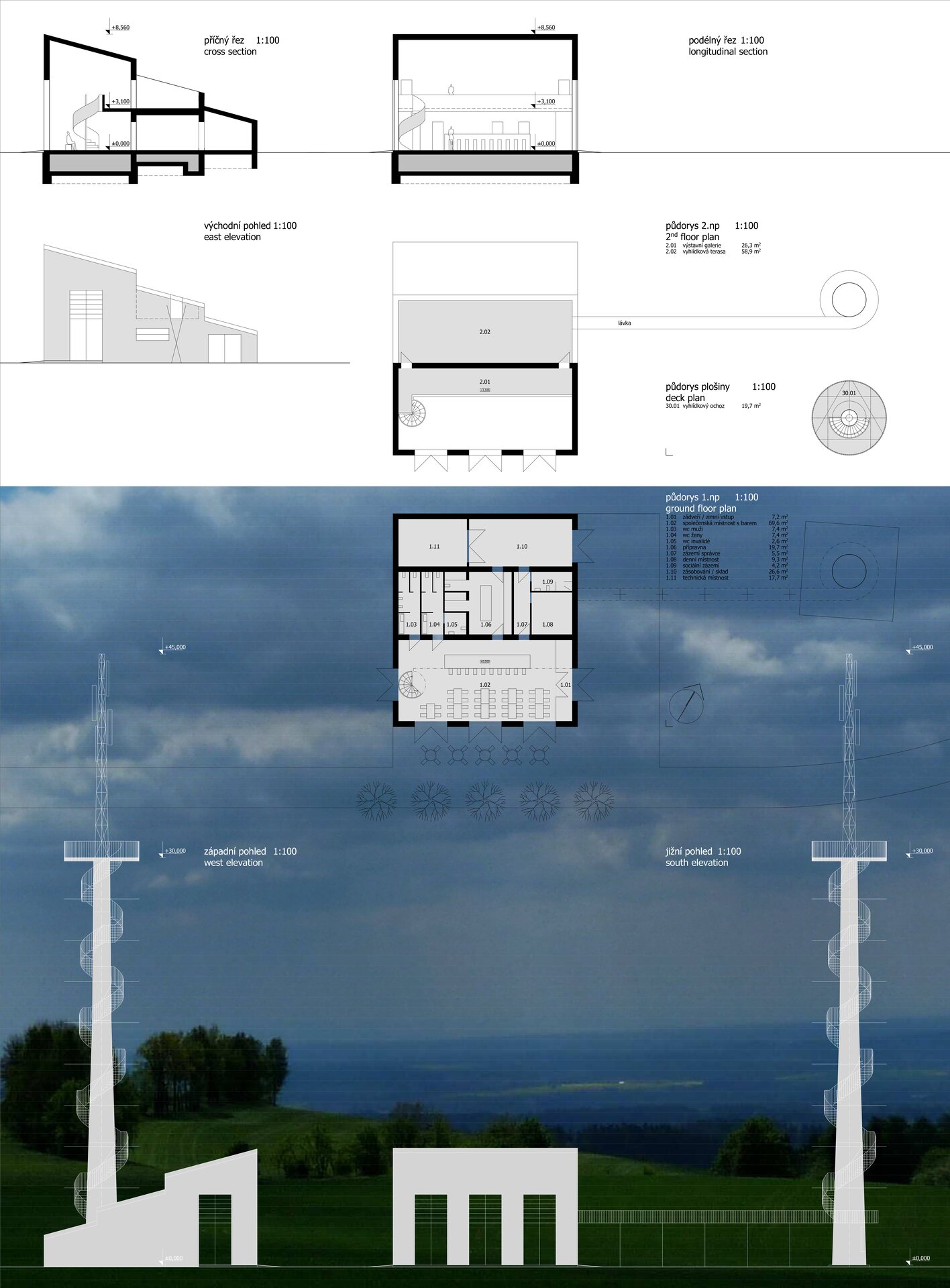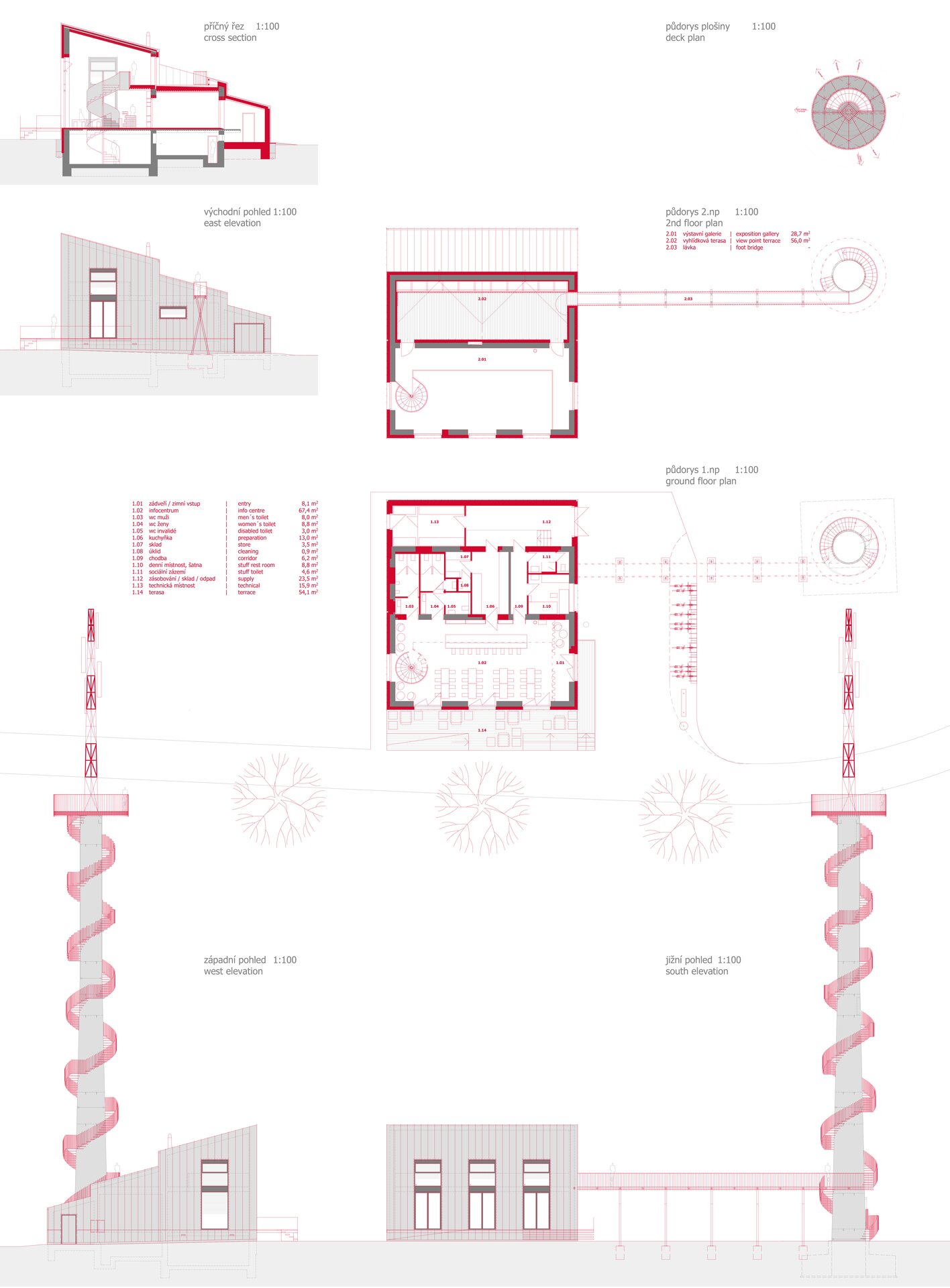 Author
Ing. arch. Pavel Suchý / ABM architekti
Studio
Location
vrch Šibeník, Nový Hrádek
Investor
Městys Nový Hrádek, Náměstí 28, 549 22 Nový Hrádek
Supplier
Průmstav Náchod s.r.o., Kaden-Holding, s.r.o.
Foto: Václav Novák | vaclavnovak.com
Date of project approval
December 2020
Fotograf
As the project counted on using the existing structure to the maximum, it met the low cost requirements of the Architectural competition. The winning design, transforming the non-functional torso into a one new expressive whole is, to the detail, based on the idea of reusing existing resources, e.g. the refurbishment of the furniture from the 60's.
The substation building / Info Centre has been increased in volume by a lowest supply section to invoke a jagged promontory. The visitor's path leads from the Info Centre through exposition gallery and terrace to the connecting footbridge that serves as a uniting element and a walkway to the watchtower.
For compositional reasons, the tube has a 15m extension for placing antennas.
Even with the new look, the original tube and the substation still clearly stand out. The vertical element of the watchtower will be married with the horizontal element of the alley that should be planted along the access path.
The basic description is in its title: The transformation of a tube of a wind powerstation with a substation into a watchtower with a tourist InfoCentre.
The substation underwent modifications, including new structures, cladding, surfaces, equipment, and furniture. Due to the exposition, the roofs and facades were made from zinc sheet. The design followed the unified expression of the new unit, in the surface of the substation and the galvanized structures of the watchtower.
The construction continues in the current state, new ceiling structures are made of coupled concrete steel, roof and facades are ventilated. The layout of the transformer station was divided into 3 sections: the main visitor section, background section, and the service section. The gallery of the main area and the terrace, which connects to the footbridge to the watchtower, were added. The watchtower and the bridge are made of galvanized elements. Protection of the tube has been restored with a zinc-like coating.
Green building
Environmental certification
| | |
| --- | --- |
| Type and level of certificate | - |
Water management
| | |
| --- | --- |
| Is rainwater used for irrigation? | |
| Is rainwater used for other purposes, e.g. toilet flushing ? | |
| Does the building have a green roof / facade ? | |
| Is reclaimed waste water used, e.g. from showers and sinks ? | |
The quality of the indoor environment
| | |
| --- | --- |
| Is clean air supply automated ? | |
| Is comfortable temperature during summer and winter automated? | |
| Is natural lighting guaranteed in all living areas? | |
| Is artificial lighting automated? | |
| Is acoustic comfort, specifically reverberation time, guaranteed? | |
| Does the layout solution include zoning and ergonomics elements? | |
Principles of circular economics
| | |
| --- | --- |
| Does the project use recycled materials? | |
| Does the project use recyclable materials? | |
| Are materials with a documented Environmental Product Declaration (EPD) promoted in the project? | |
| Are other sustainability certifications used for materials and elements? | |
Energy efficiency
| | |
| --- | --- |
| Energy performance class of the building according to the Energy Performance Certificate of the building | |
| Is efficient energy management (measurement and regular analysis of consumption data) considered? | |
| Are renewable sources of energy used, e.g. solar system, photovoltaics? | |
Interconnection with surroundings
| | |
| --- | --- |
| Does the project enable the easy use of public transport? | |
| Does the project support the use of alternative modes of transport, e.g cycling, walking etc. ? | |
| Is there access to recreational natural areas, e.g. parks, in the immediate vicinity of the building? | |