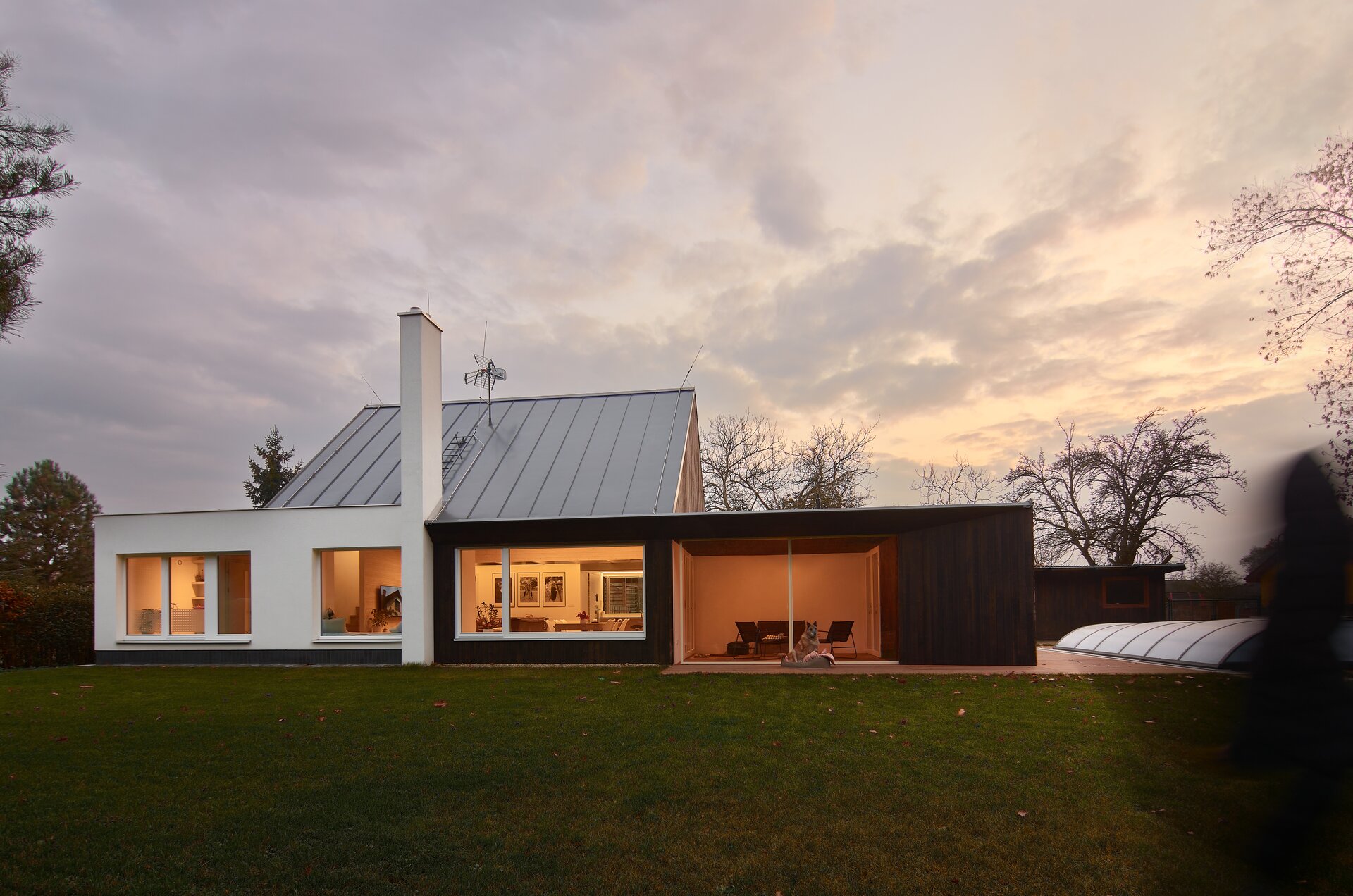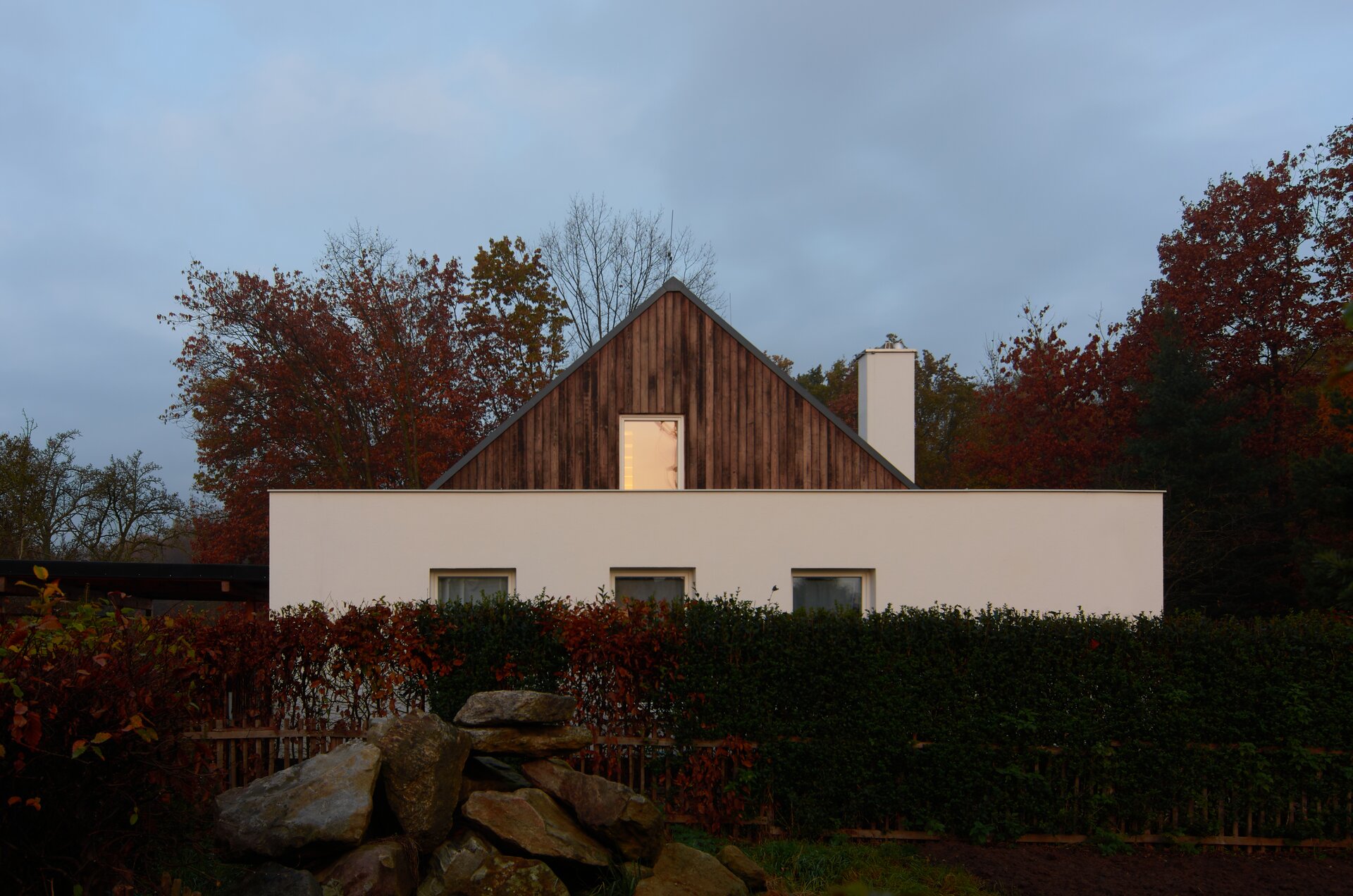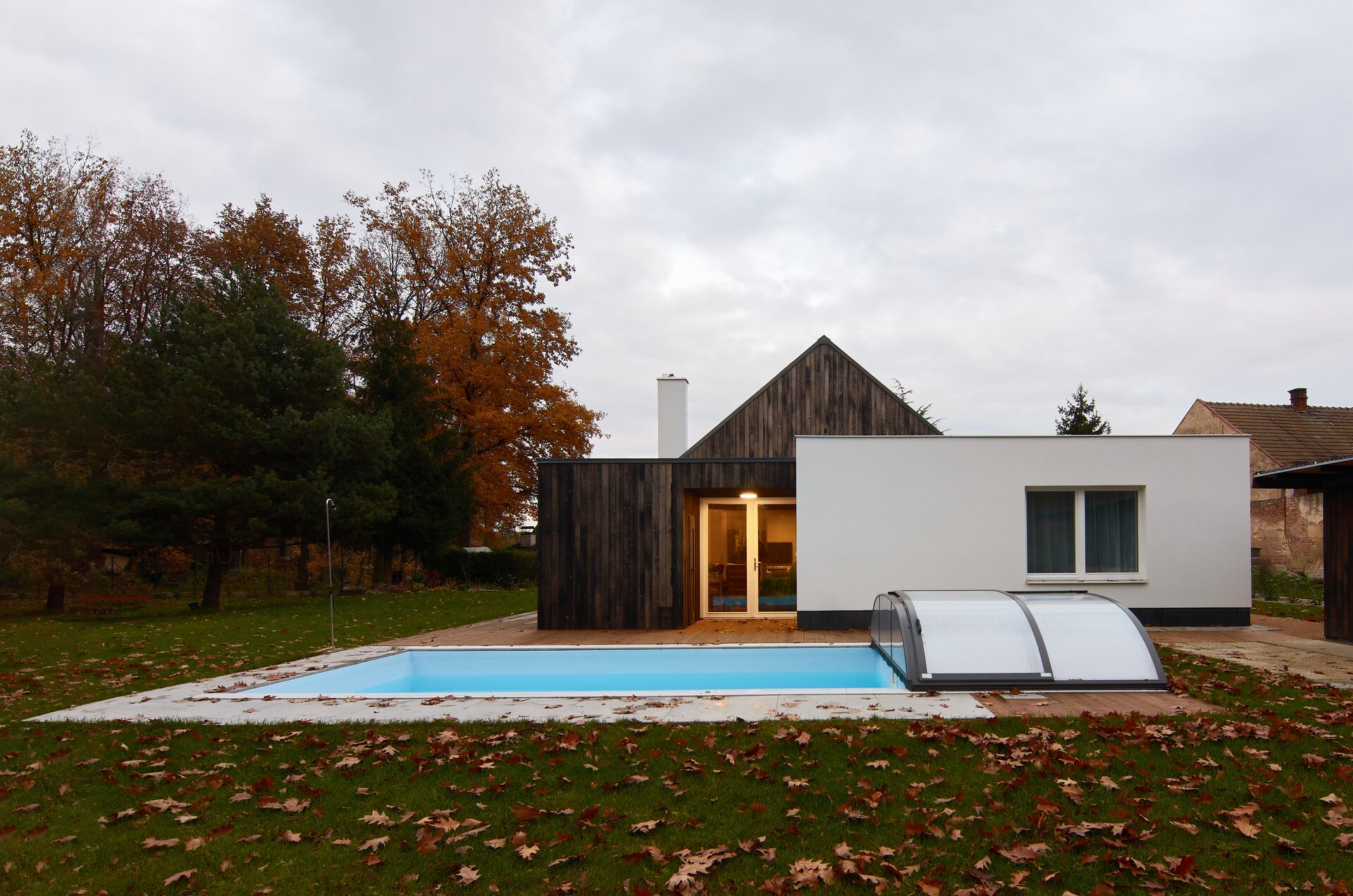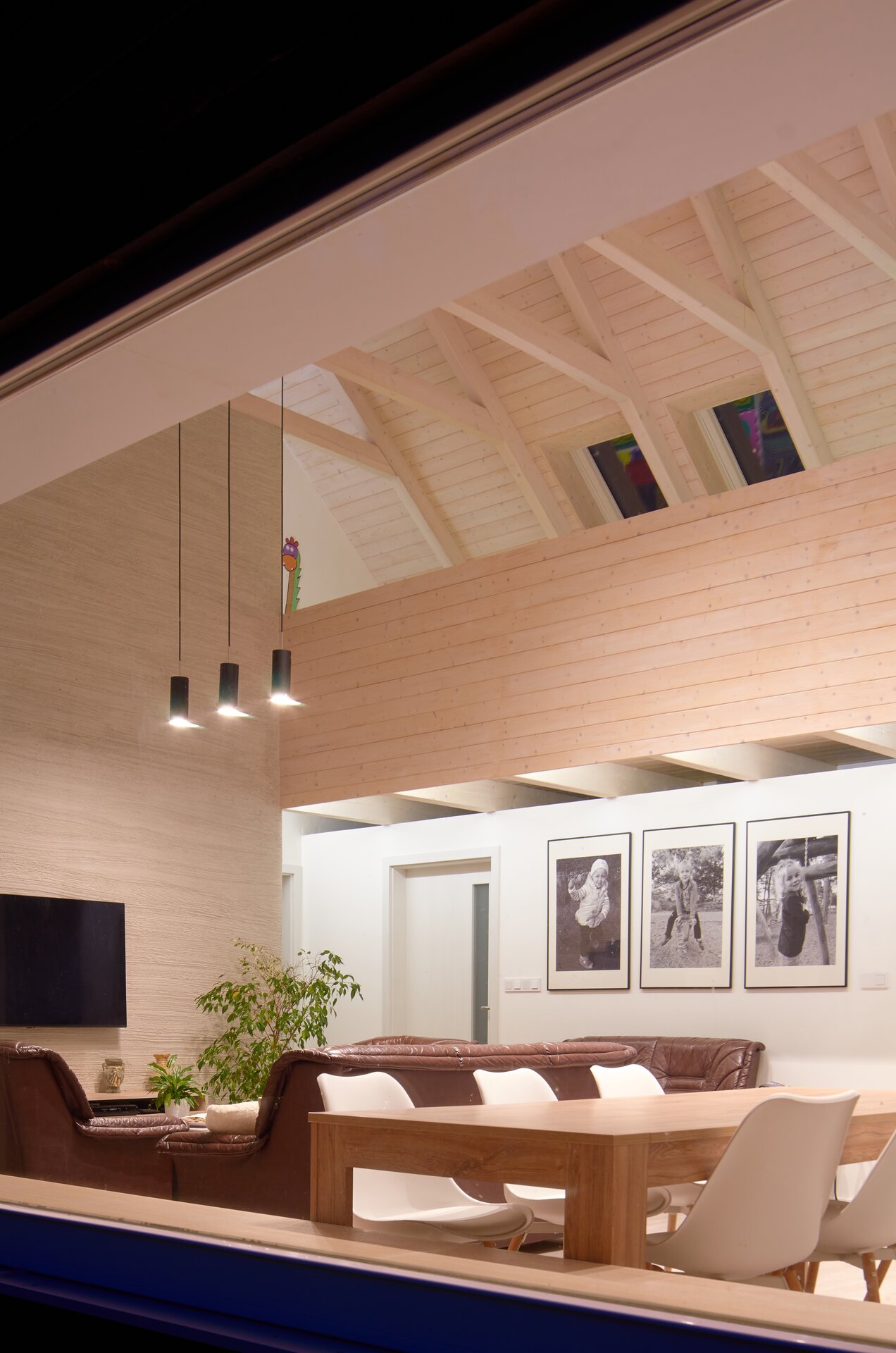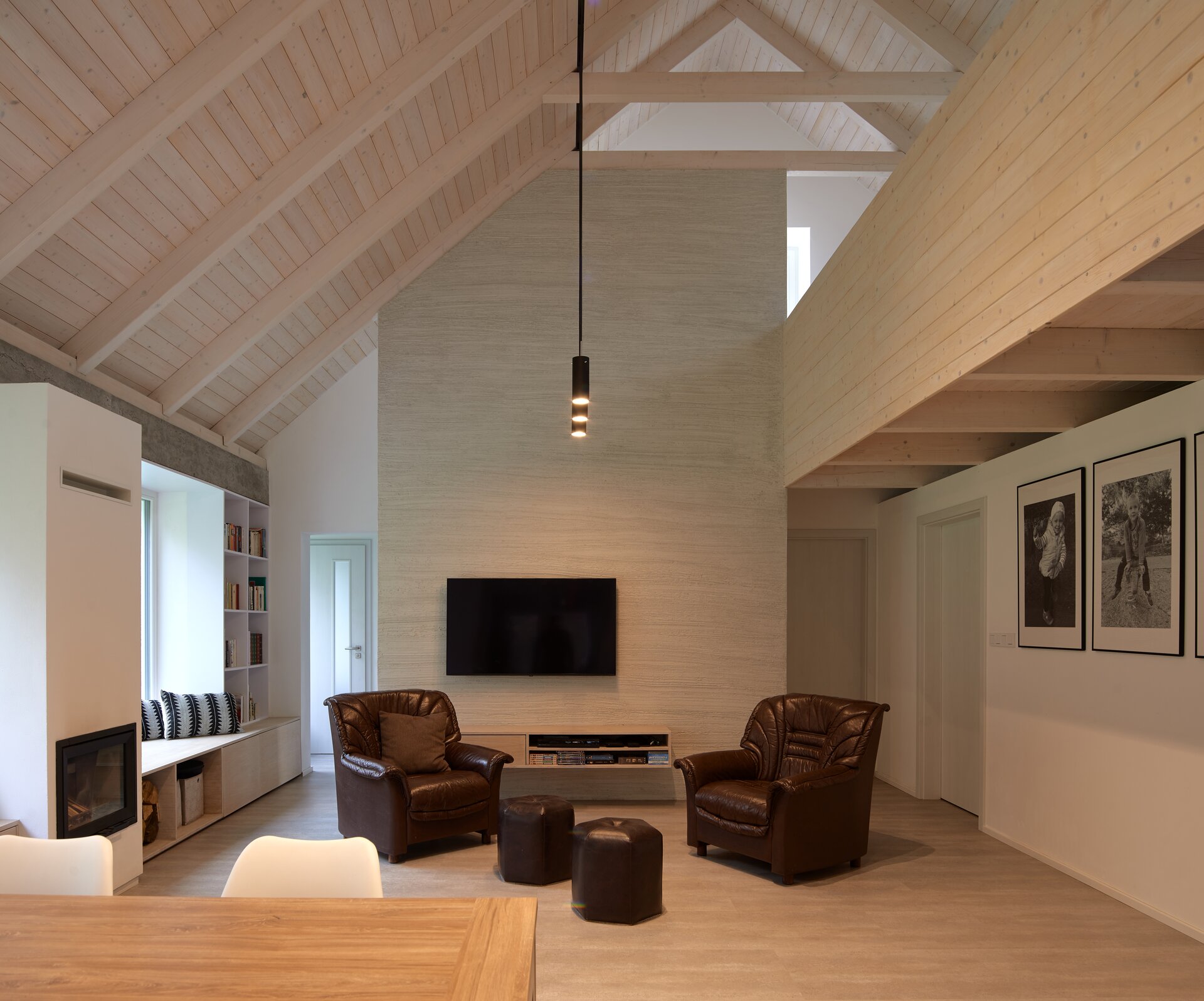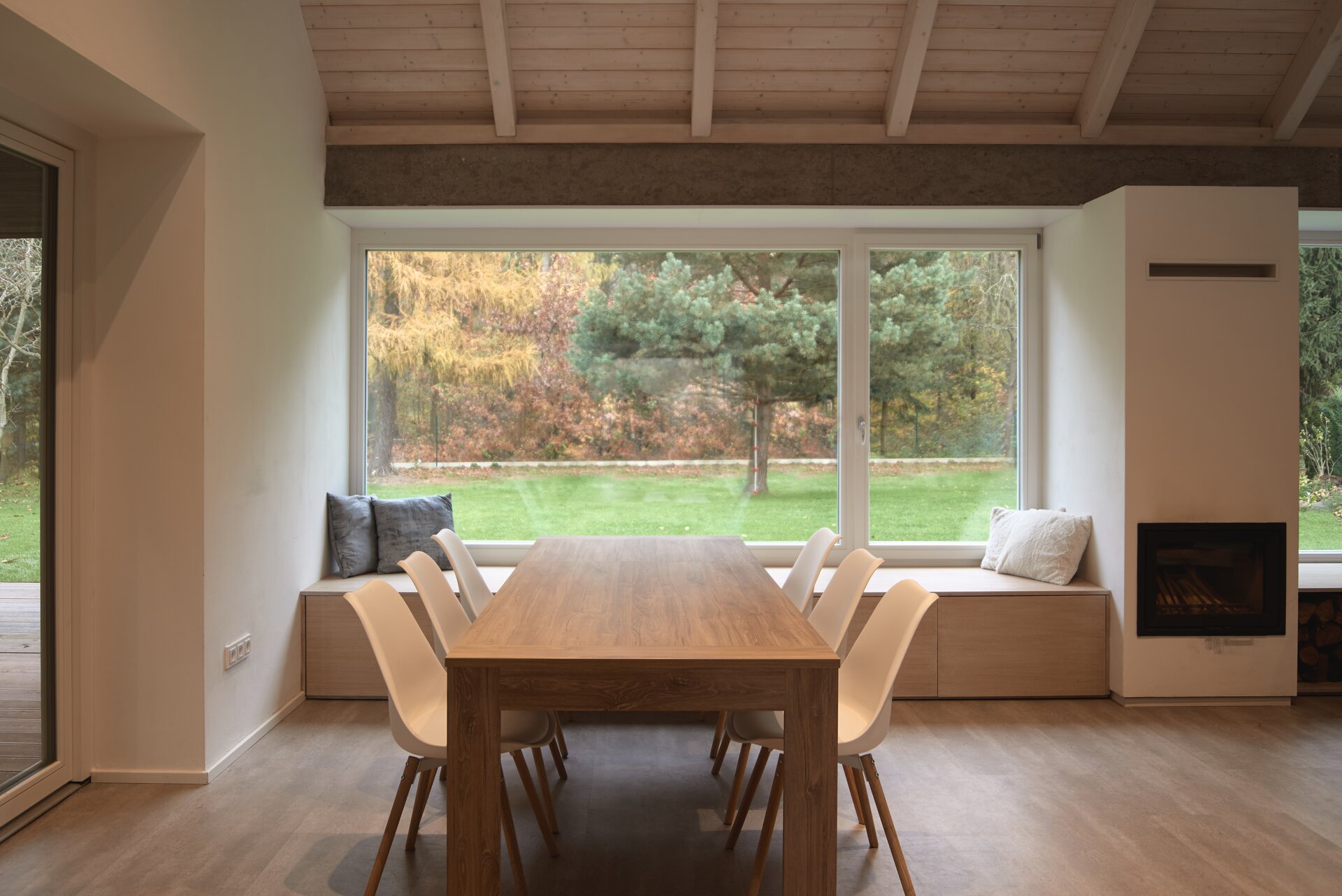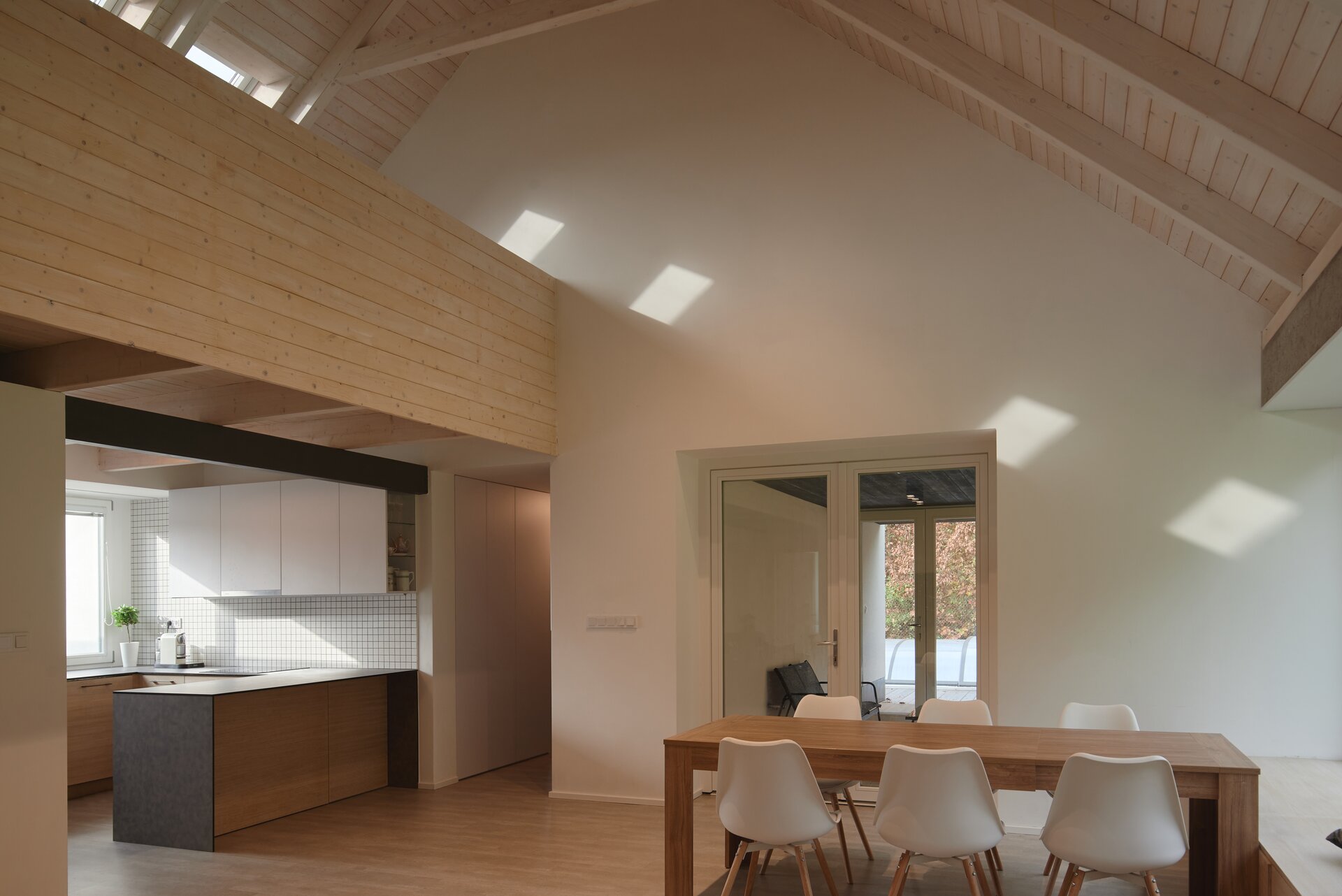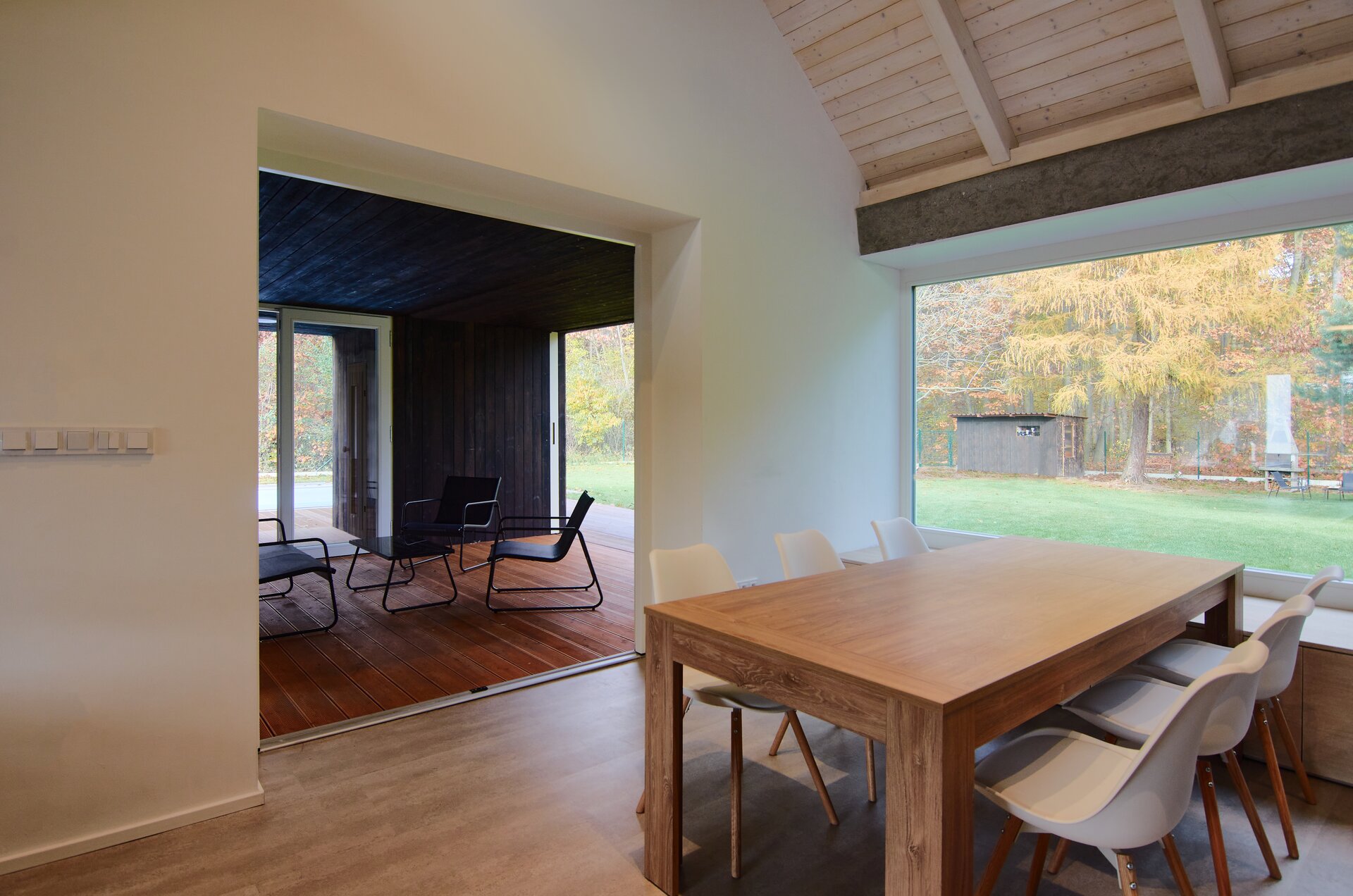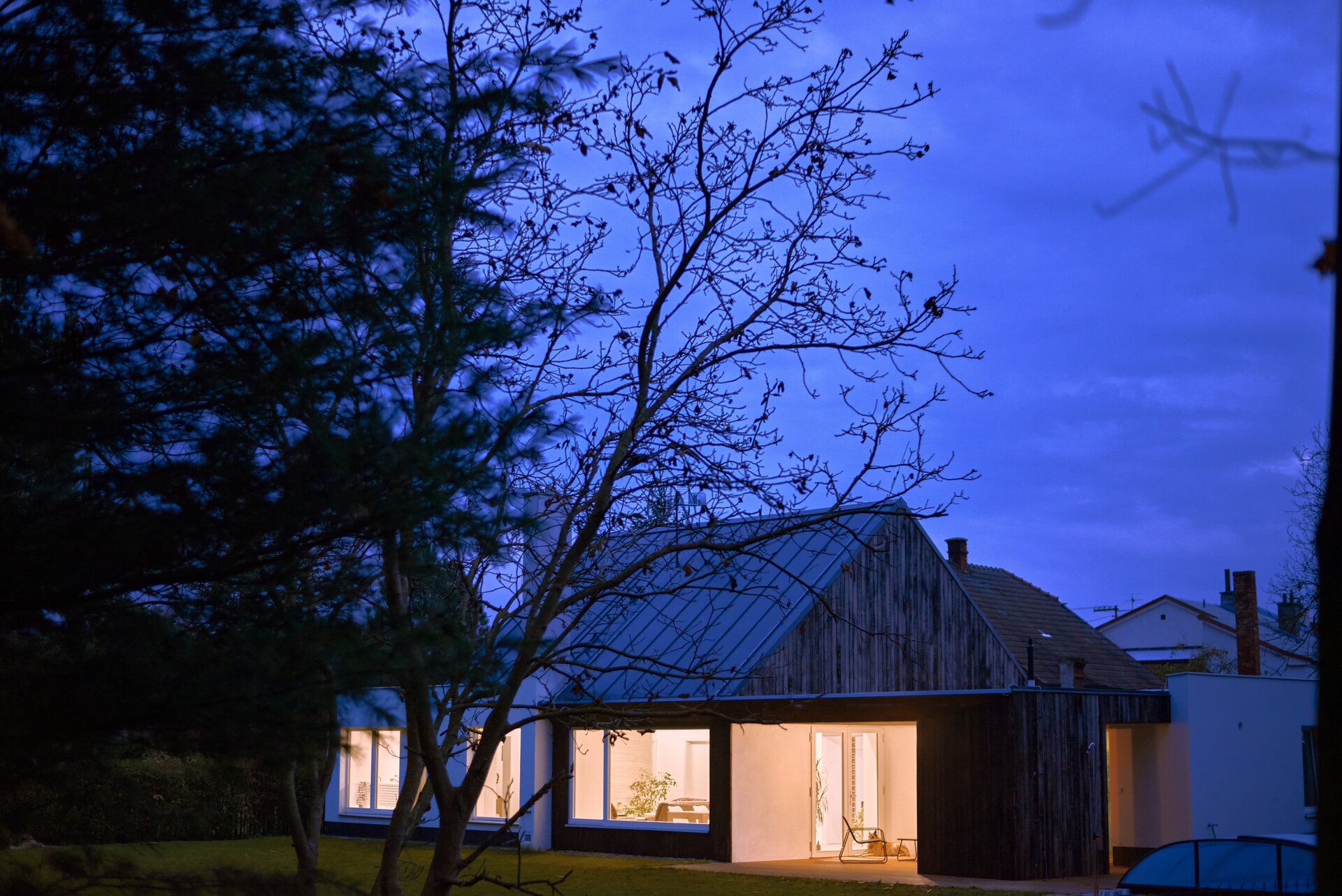 | | |
| --- | --- |
| Author | Aleš Jeřábek, Vítězslav Táborský / A I R ateliér |
| Studio | |
| Location | Fügnerova 776, Rosice nad Labem, Pardubice |
| Investor | Karel Jonáš, Fügnerova 776, Rosice nad Labem, Pardubice |
| Supplier | VIKTORSTAV s.r.o., Dašická 409, Chrudim IV |
| Date of project approval | January 2020 |
| Fotograf | |
The clients considered getting new house for their retirement. A lot at the edge of the city and forest finally convinced them. Despite the lot being relatively large, the construction was limited by zoning plan. However, after assessment of the risks we did recommend to buy the lot and we started to design a barrier-free, spacious house that would look more like a summer cottage to be happily visited by grandchildren.
The open living space is the heart of the house; facing the forest and illuminated through the skylights and gallery. The gallery serves as a hidden playroom for the grandchildren. The outdoor terrace extends the inner living space, forming a transition between living room and garden without obstructing the view, with a sliding glass wall allowing a year-round use. The eastern part of the house is designed for the guests in a rather informal spirit, its layout can be changed as needed. The western part is used by the owners with sauna accessible through outer terrace.
The house is built with ceramic blocks with mineral fibres. The roof frame, made of lightly bleached wood, is visible in the interior. The ceilings consist of beams, with a concrete slab cast into wooden boarding. The distinctive and low ceilings create the intimate space of the bedroom wings as a counterweight to the central open living room. White façade stucco alternating with charred spruce cladding creates an impression of temporality. The wooden elements, including the façade, were finished by the owners themselves so that they could participate in the final appearance of their house.
We also designed an interior that lightly enhances the natural character of the house and includes some pieces of furniture the owner brought from their previous home.
Green building
Environmental certification
| | |
| --- | --- |
| Type and level of certificate | - |
Water management
| | |
| --- | --- |
| Is rainwater used for irrigation? | |
| Is rainwater used for other purposes, e.g. toilet flushing ? | |
| Does the building have a green roof / facade ? | |
| Is reclaimed waste water used, e.g. from showers and sinks ? | |
The quality of the indoor environment
| | |
| --- | --- |
| Is clean air supply automated ? | |
| Is comfortable temperature during summer and winter automated? | |
| Is natural lighting guaranteed in all living areas? | |
| Is artificial lighting automated? | |
| Is acoustic comfort, specifically reverberation time, guaranteed? | |
| Does the layout solution include zoning and ergonomics elements? | |
Principles of circular economics
| | |
| --- | --- |
| Does the project use recycled materials? | |
| Does the project use recyclable materials? | |
| Are materials with a documented Environmental Product Declaration (EPD) promoted in the project? | |
| Are other sustainability certifications used for materials and elements? | |
Energy efficiency
| | |
| --- | --- |
| Energy performance class of the building according to the Energy Performance Certificate of the building | B |
| Is efficient energy management (measurement and regular analysis of consumption data) considered? | |
| Are renewable sources of energy used, e.g. solar system, photovoltaics? | |
Interconnection with surroundings
| | |
| --- | --- |
| Does the project enable the easy use of public transport? | |
| Does the project support the use of alternative modes of transport, e.g cycling, walking etc. ? | |
| Is there access to recreational natural areas, e.g. parks, in the immediate vicinity of the building? | |