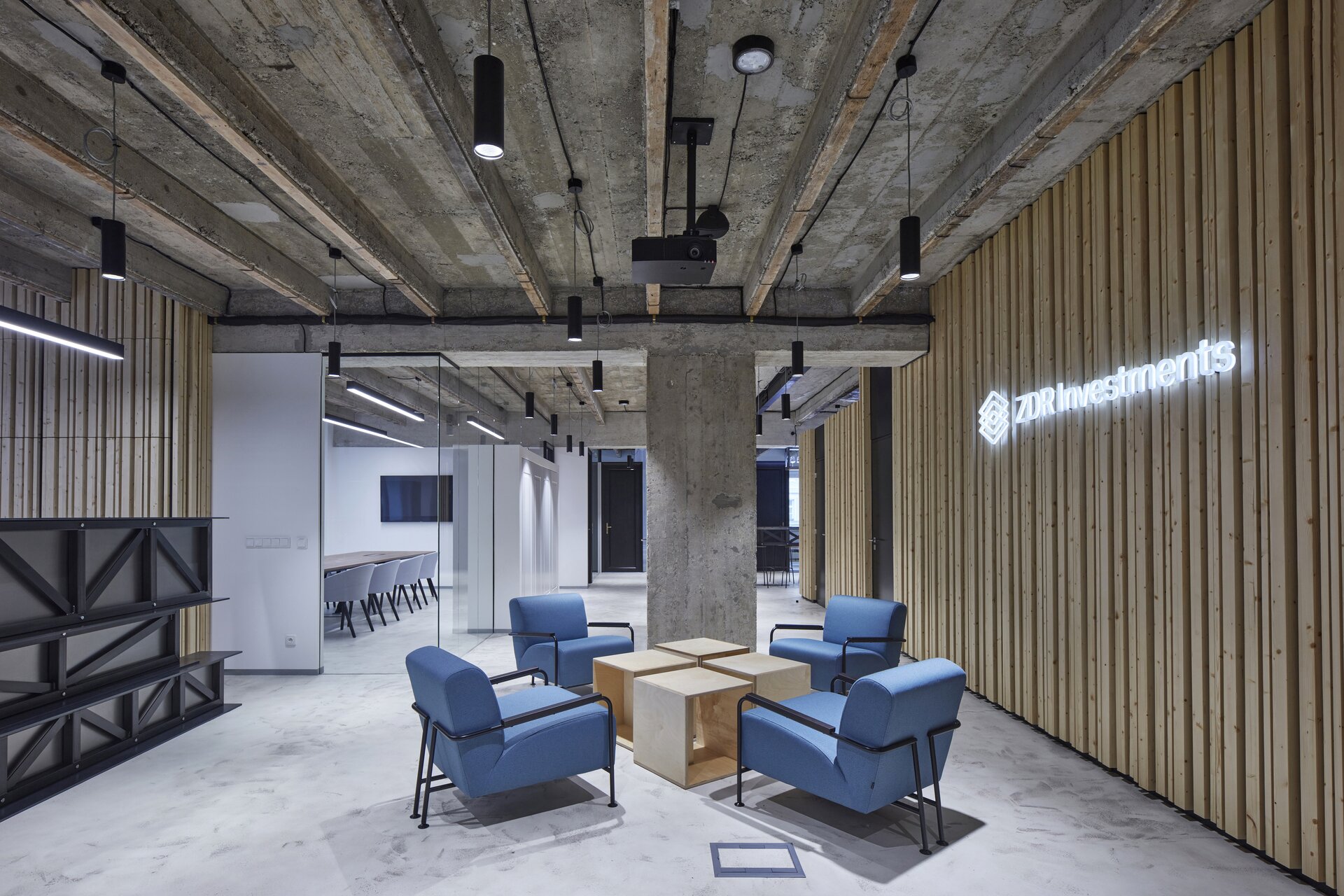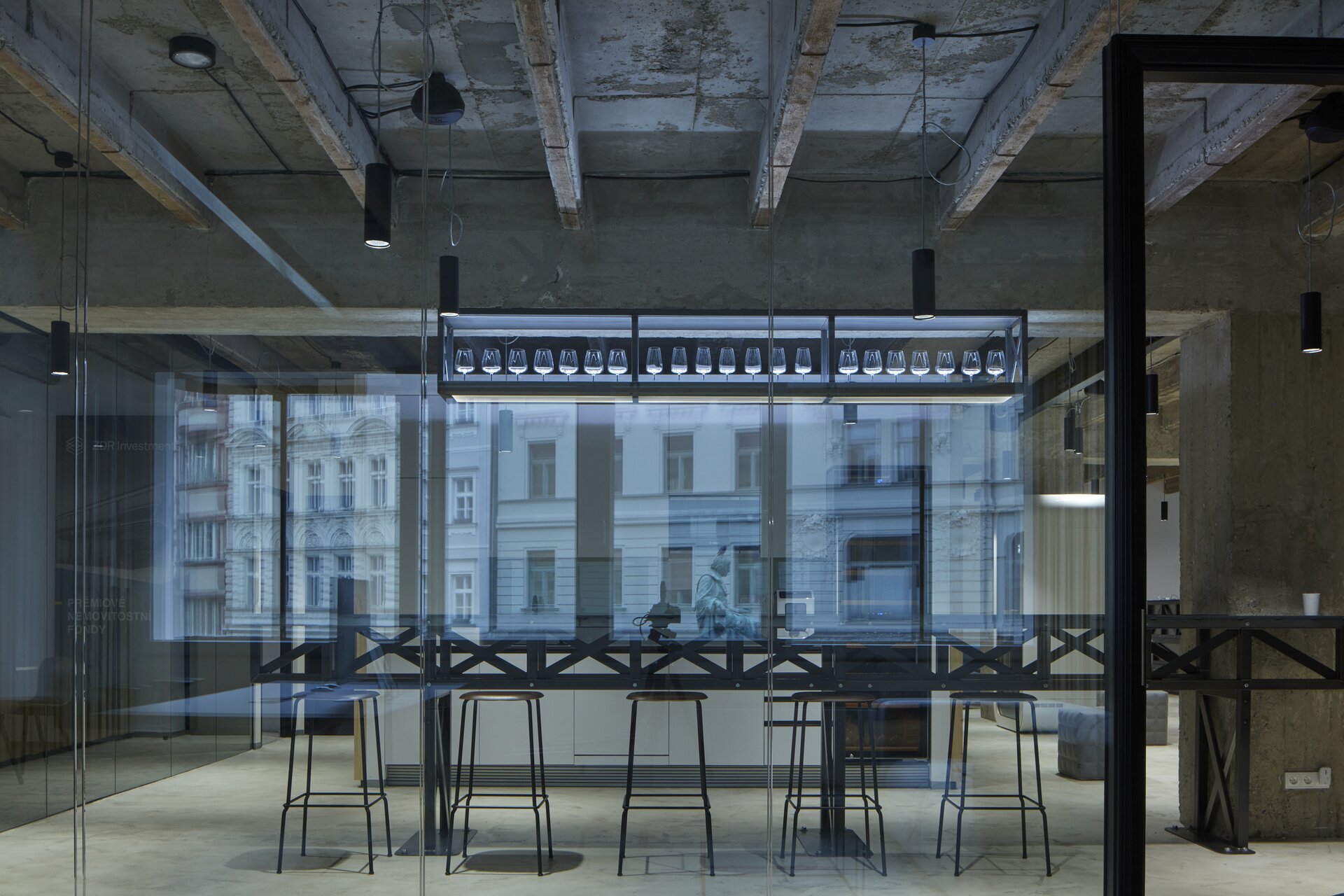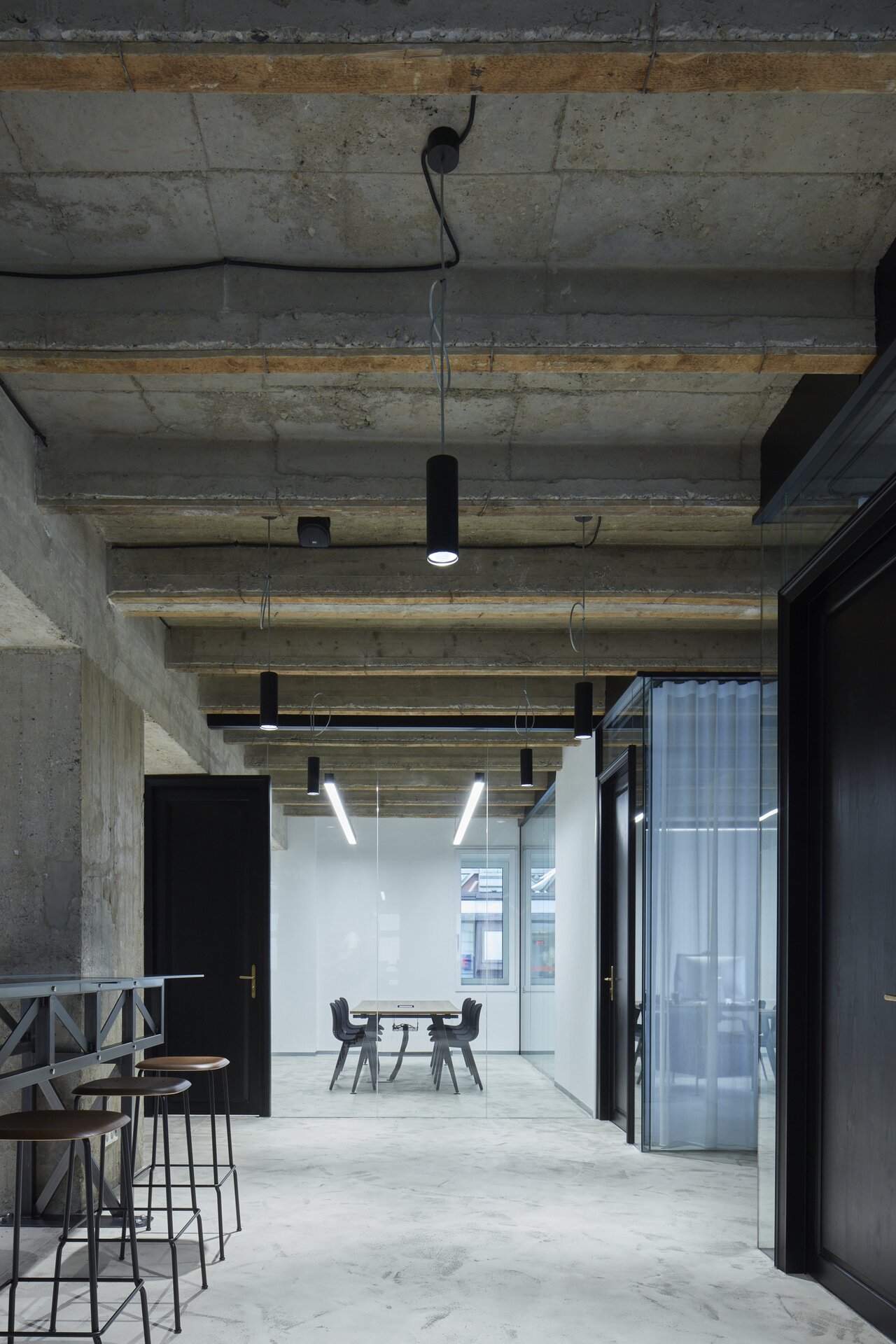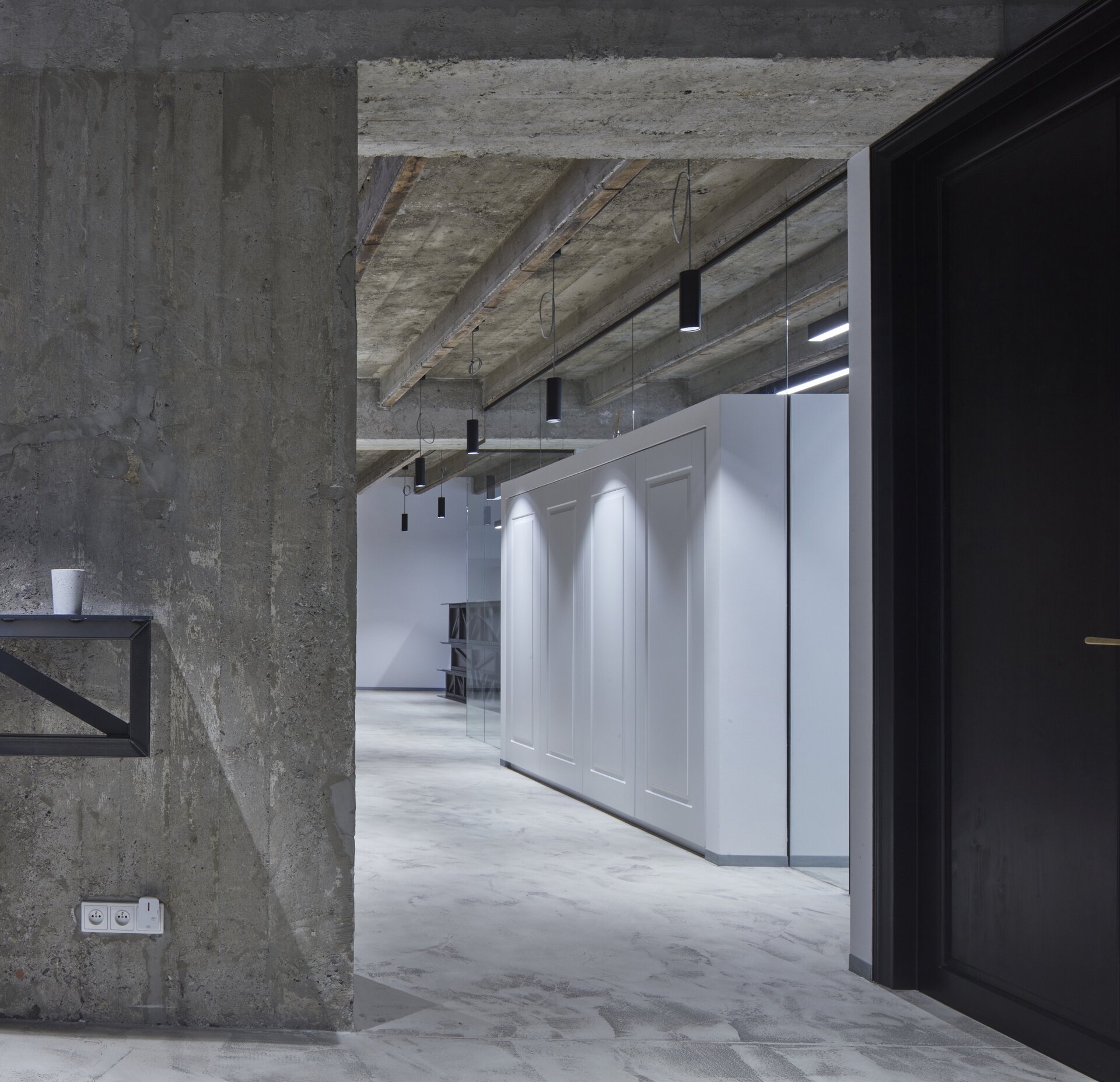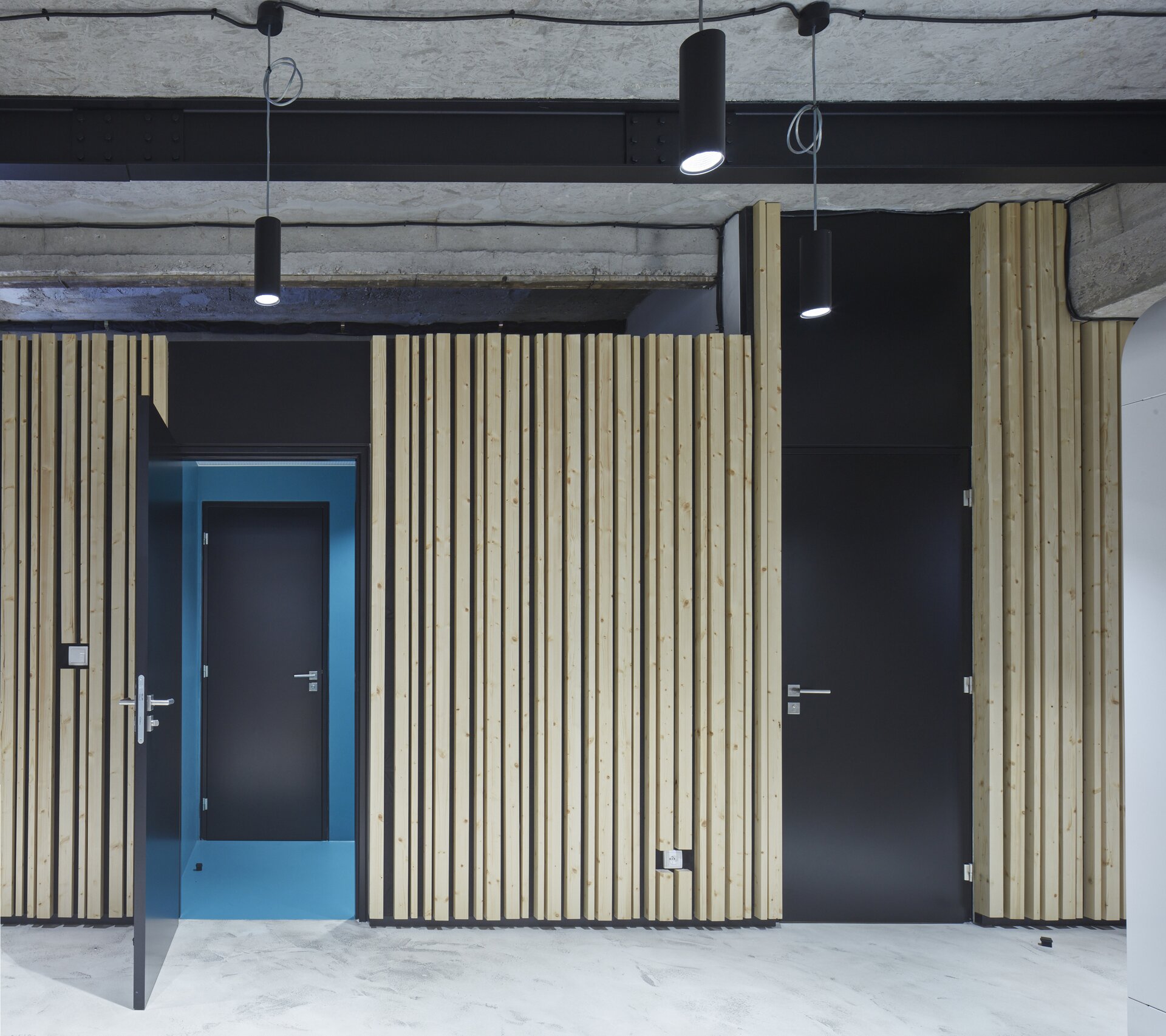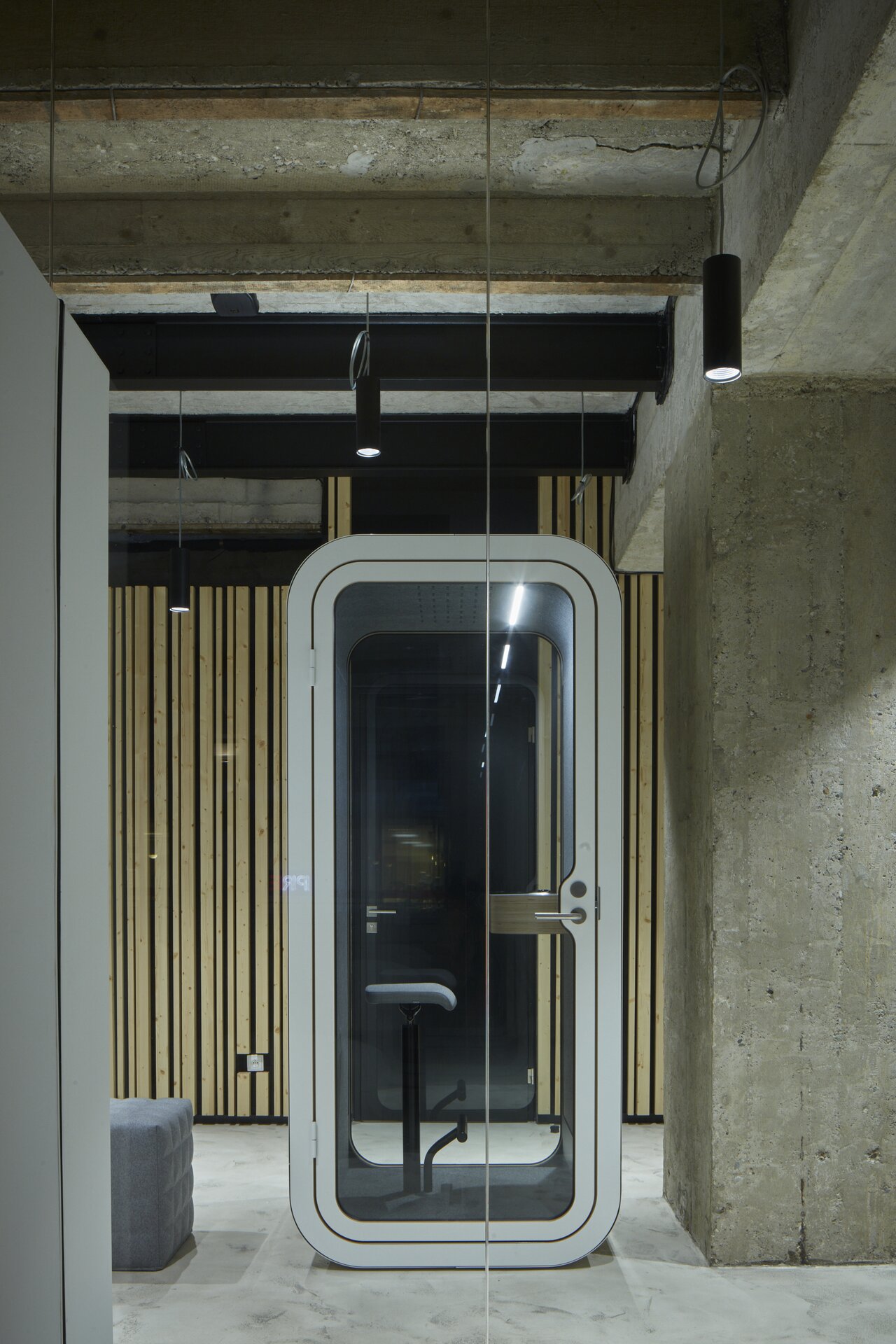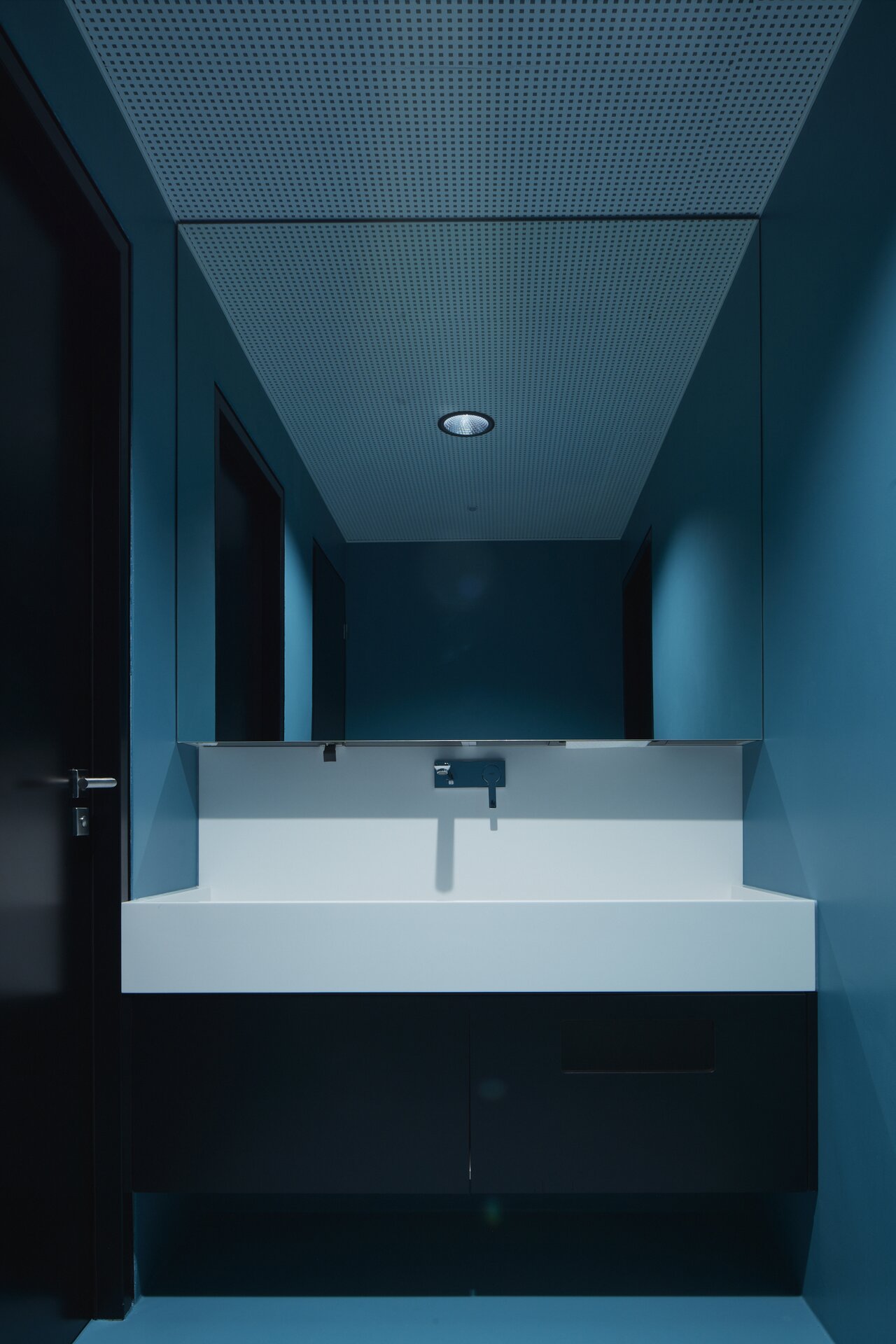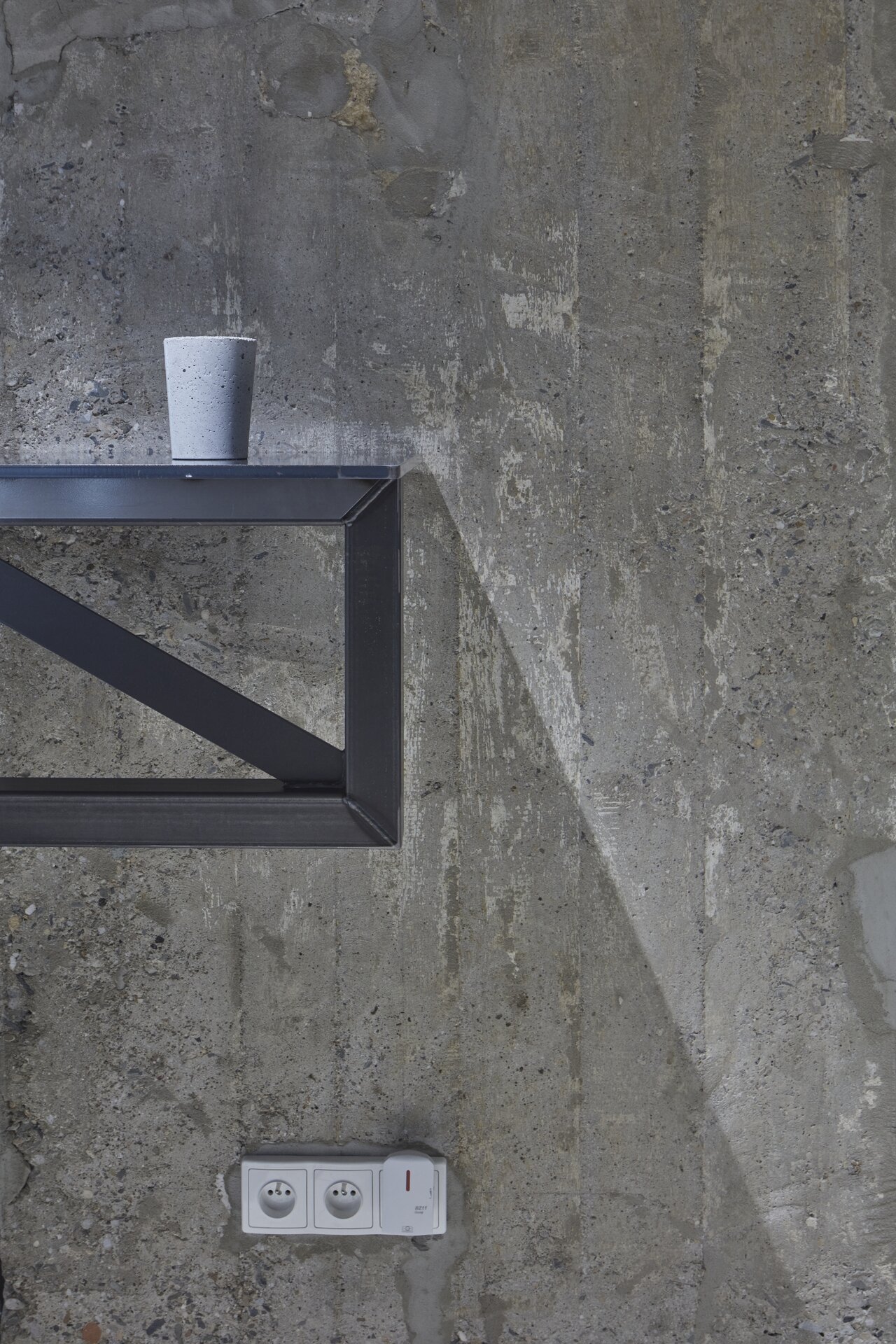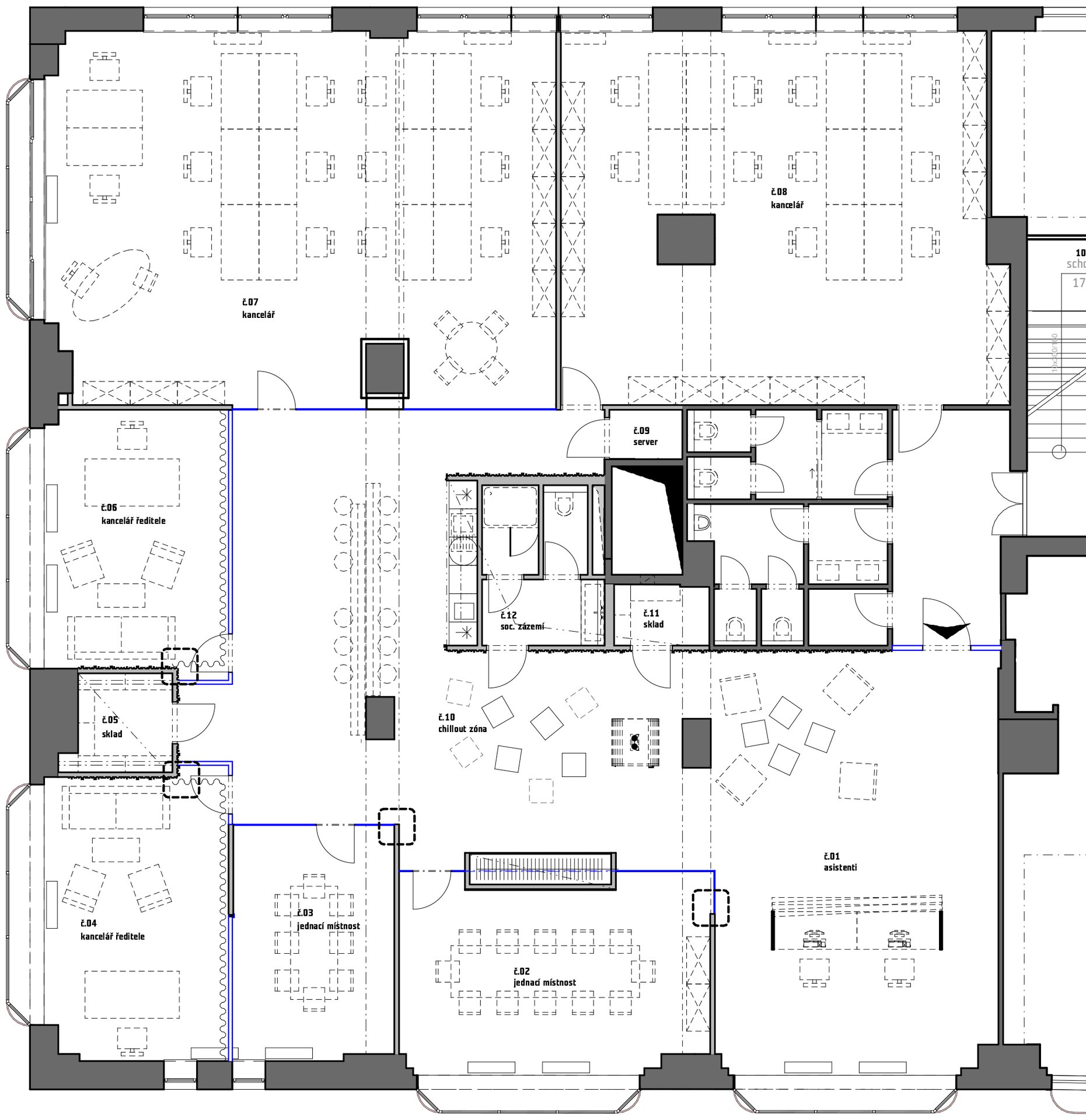 Author
Ing. arch. David Wittassek, Jiří Řezák, Ing. arch. Jakub Čížek | QARTA Architektura, s.r.o.
Studio
Location
Palác Zlatý Kříž
Jungmannova 750/34
110 00 Praha 1
Investor
ZDR Investments
Jungmannova 750/34
110 00 Praha 1
Supplier
Dodavatel atypického nábytku:
eTruhlárna s.r.o.
Přátelství 986/19, 10400 Praha, Uhříněves

Dodavatel nábytku:
CRE8
Květinková 2592/12a, 130 00 Praha 3 - Žižkov

Dodavatel skleněných příček:
Verti s.r.o.
Za Zastávkou 373, 111 01 Praha 10 - Dolní
Date of project approval
August 2020
Fotograf
ZDR Investments offices are located on the first floor of the Zlatý Kříž Palace at the corner of Jungmannova street and Jungmann Square in the center of Prague. Monumental building from 1931 by architect Fritz Lehmann, registered on the list of immovable cultural monuments, was built on a floor plan of the letter L. Thanks to this, the two main facades offer a view of the impressive Rondo Cubist palace Adria and Jungmann Square with a statue of Josef Jungmann, and from the east side to the entrance of Franciscan Gardens.
The company invests in premium real estate in the Czech Republic, Slovakia and Austria. The task was to design representative spaces for meetings with clients. The interior of about 400 m2 is divided into 3 functional zones, namely the entrance part with the reception and adjacent meeting rooms, then the zone
for informal meetings intertwined with the offices of executives, the remaining part is purely working environment.
The space was on 1st visit in the form of shell and core, without deposits of modern modifications. Just beams and the columns were partially clad. By removing these small deposits to pure materiality of reinforced concrete structures was created a clean and airy space. The roughness and rawness of the concrete is preserved, visible ceiling, a concrete putty is applied to the floor. The jewel are minimalist details glazed frame-less partitions in contrast with massive profiled doors. Acoustics is addressed by walls with wooden lamells with mineral wool filling.
The reception desk and bar, reminiscent of a steel lattice structure, refer to the company's workload, as a building block of halls. Even the authentic color of the selected materials looks very natural. Element of playfulness is brought to the offices by modular furniture. To the feeling of well-being contributes the bar atmosphere and transparency of the space, divided only visually by glass and light translucent curtains.
Green building
Environmental certification
| | |
| --- | --- |
| Type and level of certificate | - |
Water management
| | |
| --- | --- |
| Is rainwater used for irrigation? | |
| Is rainwater used for other purposes, e.g. toilet flushing ? | |
| Does the building have a green roof / facade ? | |
| Is reclaimed waste water used, e.g. from showers and sinks ? | |
The quality of the indoor environment
| | |
| --- | --- |
| Is clean air supply automated ? | |
| Is comfortable temperature during summer and winter automated? | |
| Is natural lighting guaranteed in all living areas? | |
| Is artificial lighting automated? | |
| Is acoustic comfort, specifically reverberation time, guaranteed? | |
| Does the layout solution include zoning and ergonomics elements? | |
Principles of circular economics
| | |
| --- | --- |
| Does the project use recycled materials? | |
| Does the project use recyclable materials? | |
| Are materials with a documented Environmental Product Declaration (EPD) promoted in the project? | |
| Are other sustainability certifications used for materials and elements? | |
Energy efficiency
| | |
| --- | --- |
| Energy performance class of the building according to the Energy Performance Certificate of the building | G |
| Is efficient energy management (measurement and regular analysis of consumption data) considered? | |
| Are renewable sources of energy used, e.g. solar system, photovoltaics? | |
Interconnection with surroundings
| | |
| --- | --- |
| Does the project enable the easy use of public transport? | |
| Does the project support the use of alternative modes of transport, e.g cycling, walking etc. ? | |
| Is there access to recreational natural areas, e.g. parks, in the immediate vicinity of the building? | |