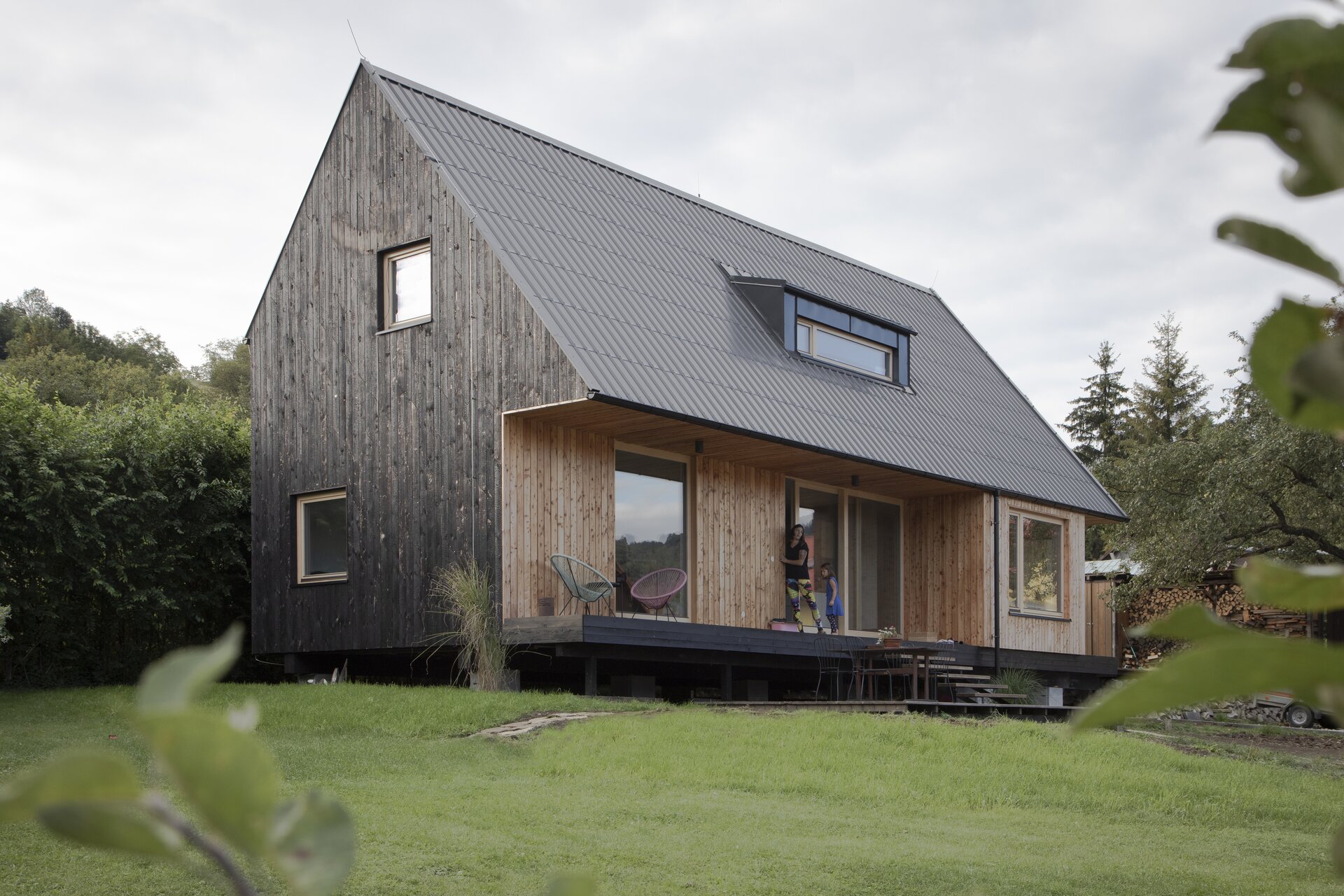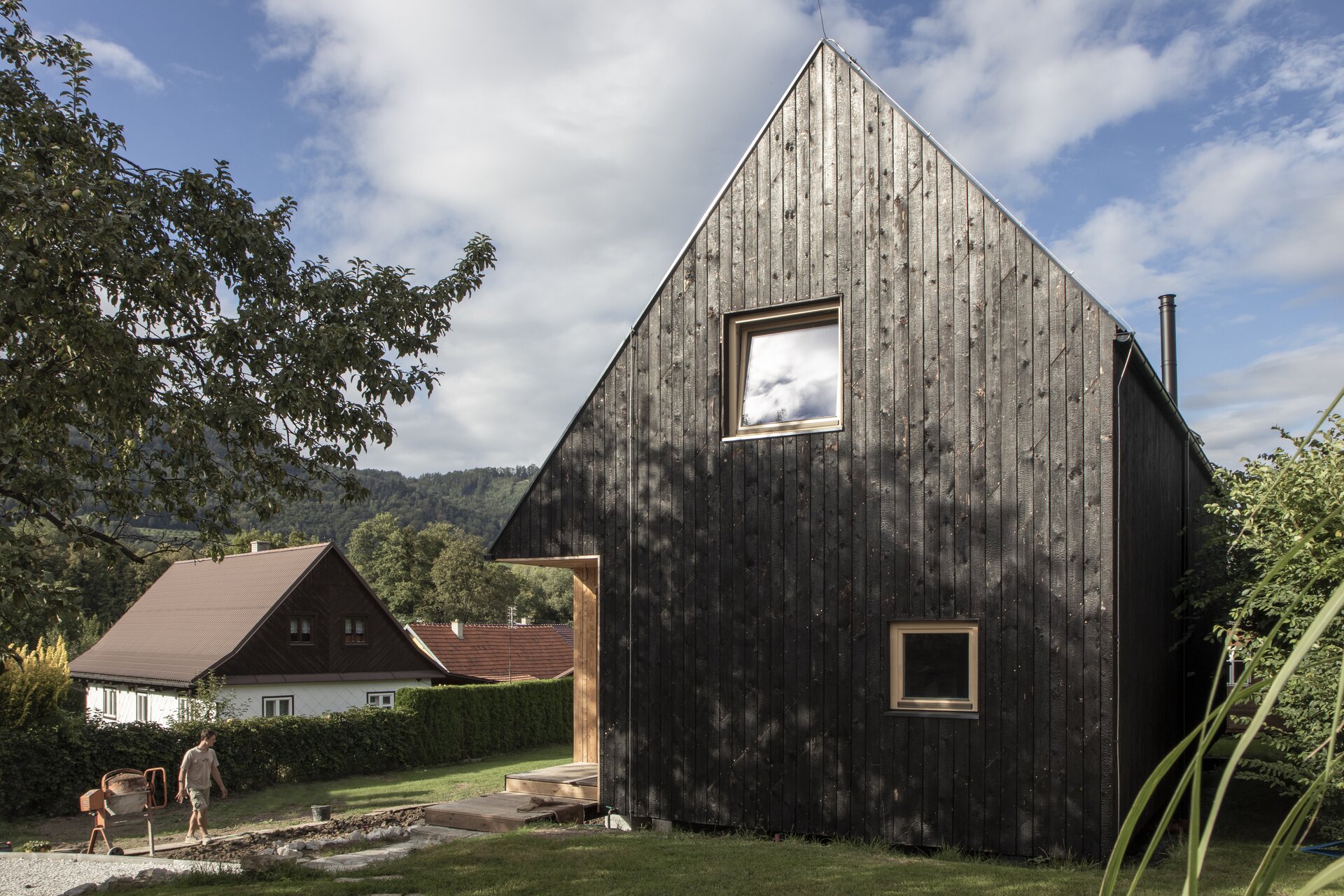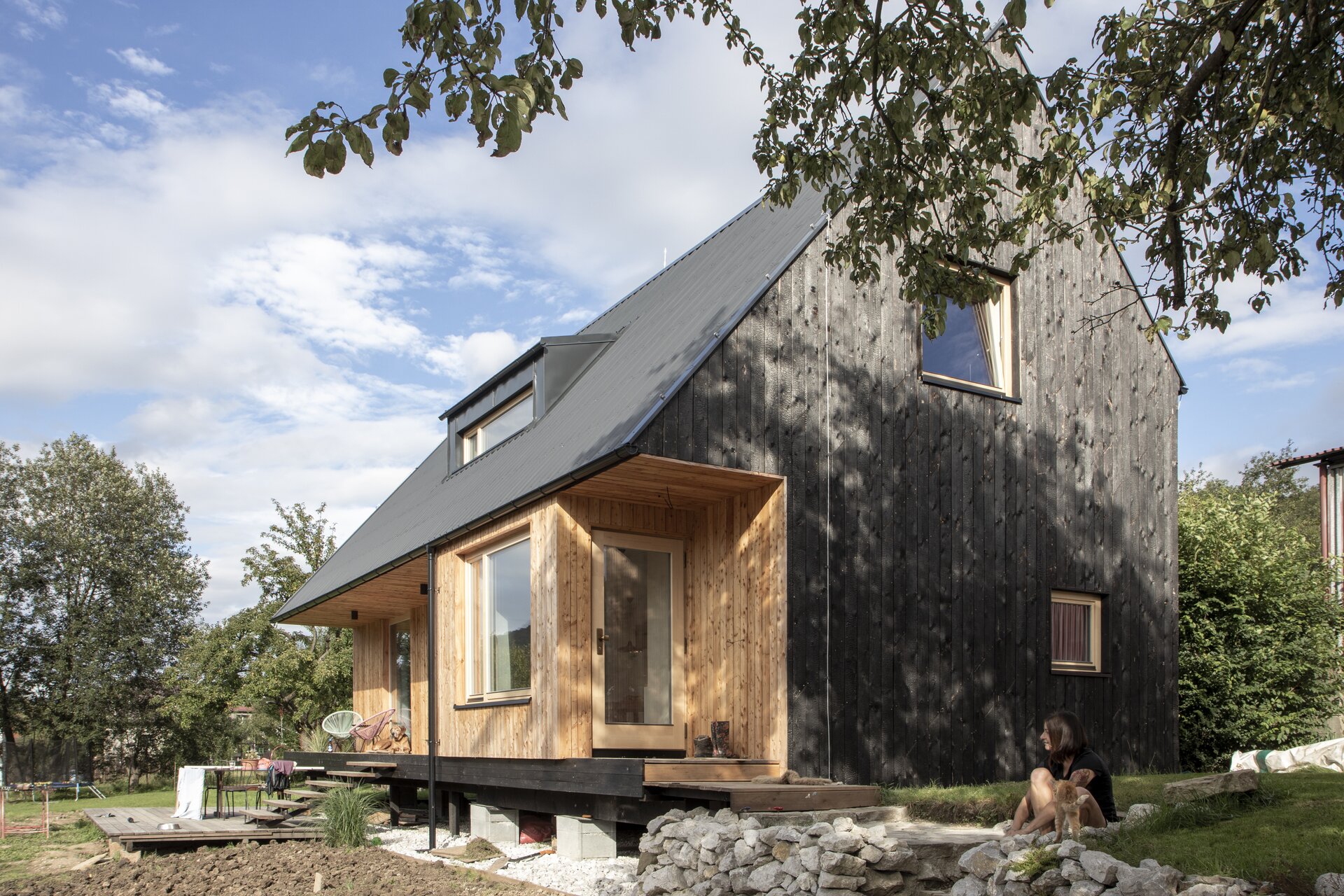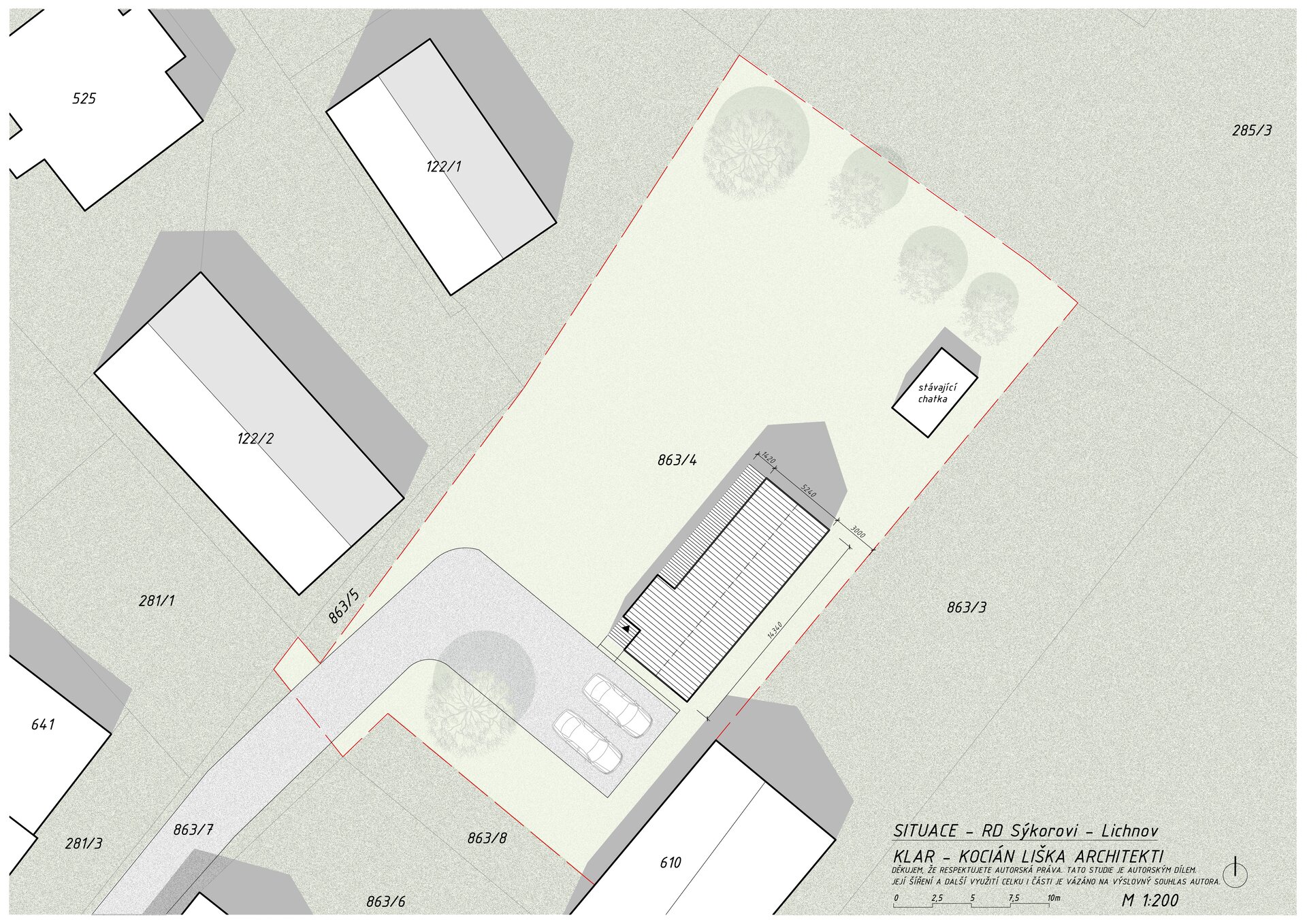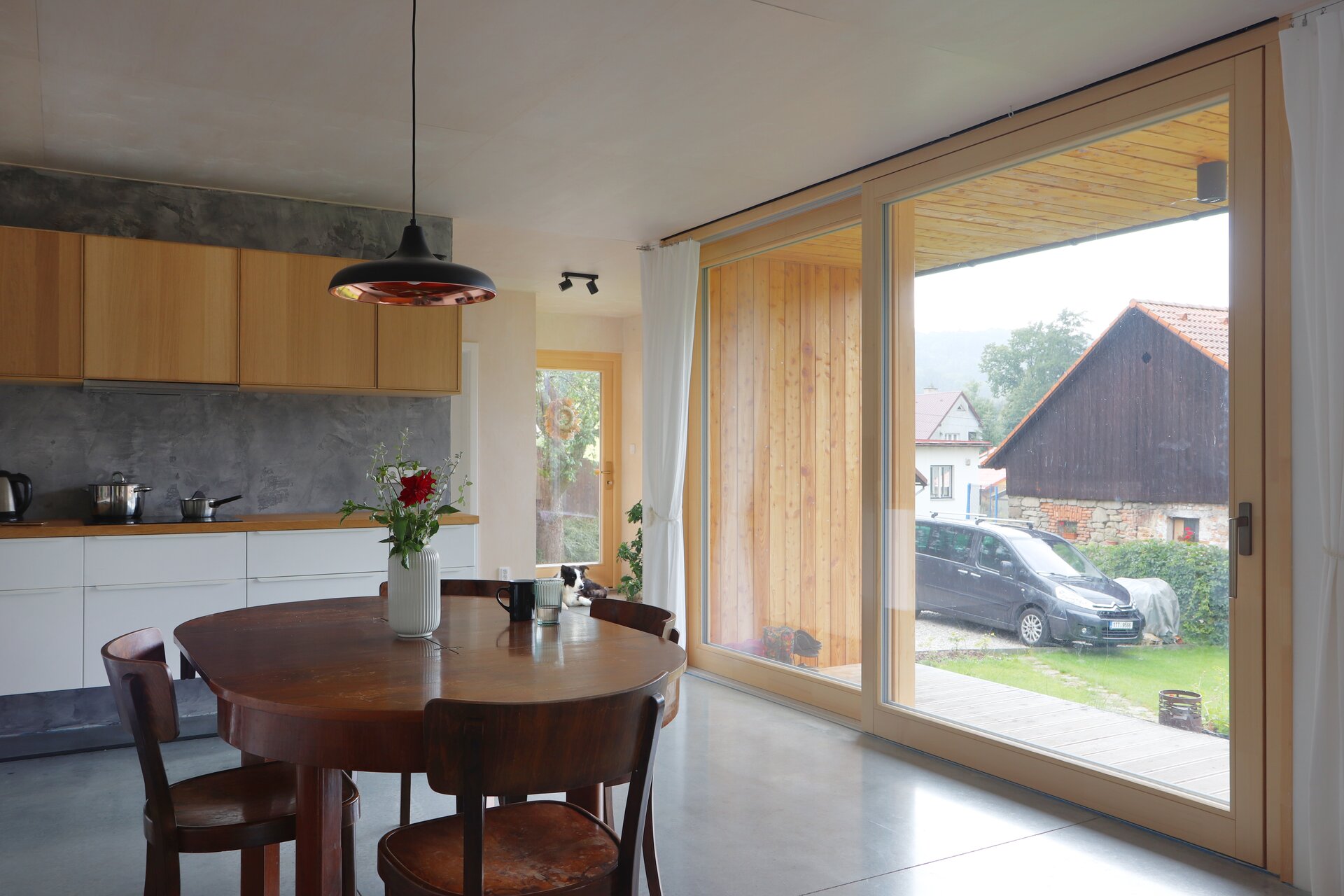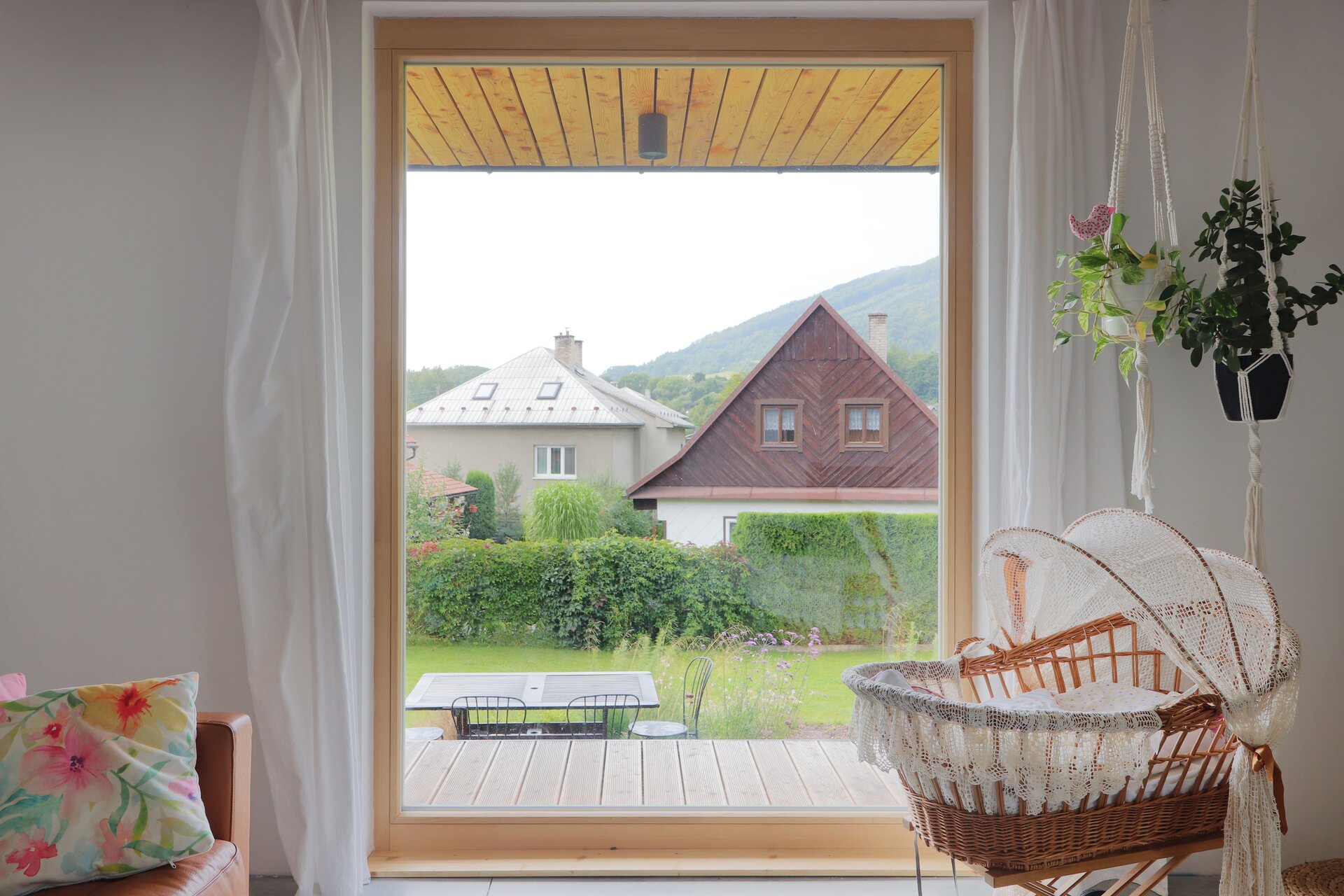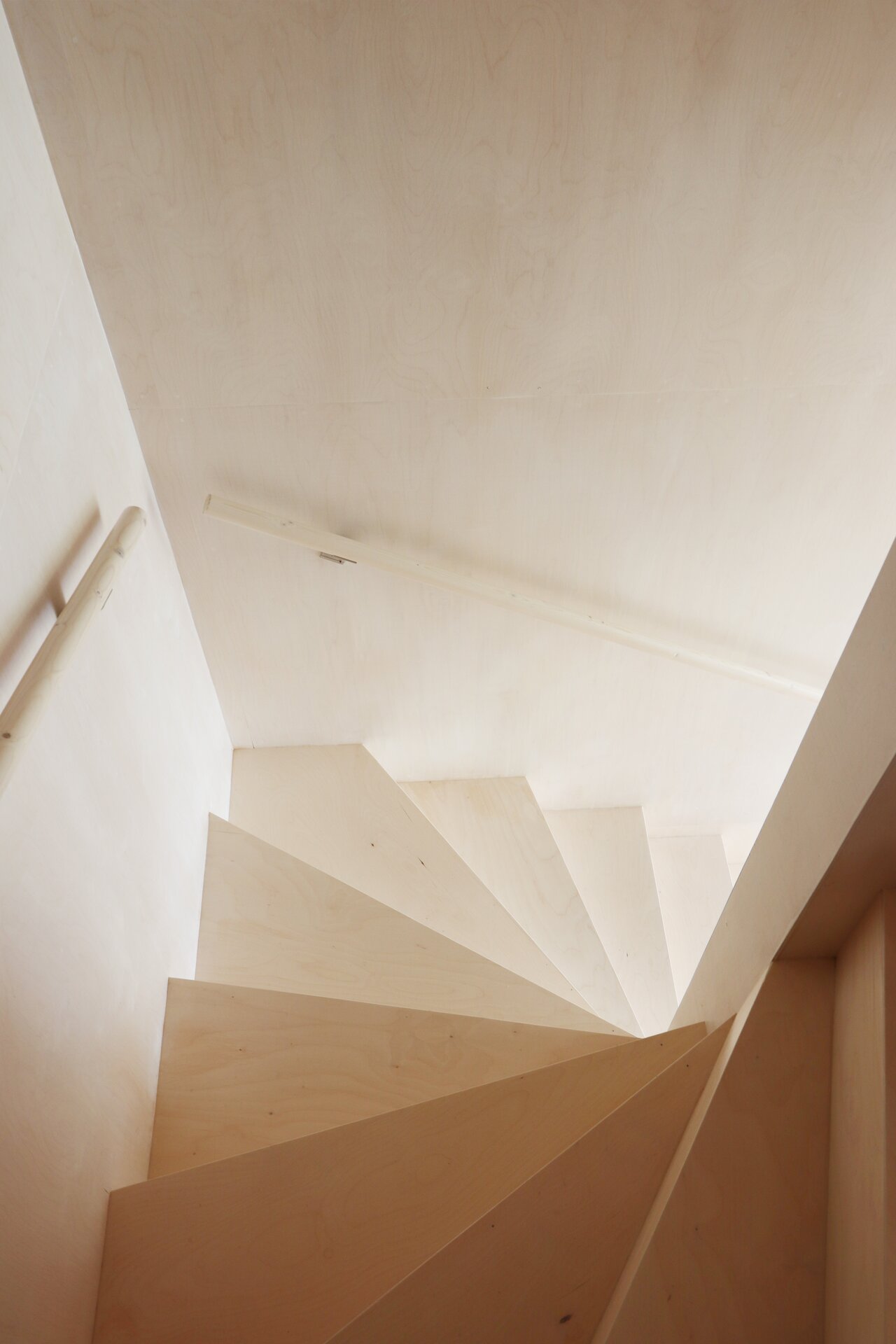 | | |
| --- | --- |
| Author | Ing.arch. Václav Kocián, MArch. Zdeněk Liška / KLAR |
| Studio | |
| Location | Lichnov (okr. Nový Jičín) |
| Investor | Soukromá osoba |
| Supplier | Tesařství Konva, Klempířství a pokrývačství Zdeněk Matúš, Okna s vůní dřeva |
| Date of project approval | May 2020 |
| Fotograf | |
Sýkorka is an evolution of previously designed Vila Rozárka. This house stands on concrete footings, above the ground, with respect to the soil underneath. Basic thoughts of this project were self-help building from common materials, speed and limited finances. No need to deeply describe the concept of this house, since it is obvious at the first sight. Small house, very sensitively set on site, racional construction with a focus on effective use of every centimeter, logic use of overlaping pitched roof and small built up area. Sustainability of this house is not determined by technologies and super hyper materials, but by its simplicity, price and size. House floor plan is a copy of Rozárka with two main modifications - larger entrance (veranda) and a corridor window at the 2nd floor. Owners needed a veranda, because they need to fit in with three children, two big dogs and a cat.
The floor plan of a one-storey house with a residential attic is 14 mx5.2 m. The volume fits in with the surrounding construction, the shape and color is based on the traditional installation of dark log cabins with gabled roofs and a narrow long form. It is a 2by4 wooden building, based on concrete footings. The construction is designed as ventilated. The ground floor contains a large living area with kitchen, rooms and bedrooms are "sleeping" and use the entire high attic space. The house is entered through a porch or terrace, which lines the northwest side and is covered by a roof overhang. At Sýkorka, the porch is interrupted by an entrance porch. The 2nd floor is reached by a mixed staircase, which continues through a corridor at the edge of the layout. It leads to the bedroom, bathroom and two children's rooms. The first of the rooms is larger with the possibility of future division into two and also uses the space above the bathroom and above the second room for sleeping.
Green building
Environmental certification
| | |
| --- | --- |
| Type and level of certificate | B |
Water management
| | |
| --- | --- |
| Is rainwater used for irrigation? | |
| Is rainwater used for other purposes, e.g. toilet flushing ? | |
| Does the building have a green roof / facade ? | |
| Is reclaimed waste water used, e.g. from showers and sinks ? | |
The quality of the indoor environment
| | |
| --- | --- |
| Is clean air supply automated ? | |
| Is comfortable temperature during summer and winter automated? | |
| Is natural lighting guaranteed in all living areas? | |
| Is artificial lighting automated? | |
| Is acoustic comfort, specifically reverberation time, guaranteed? | |
| Does the layout solution include zoning and ergonomics elements? | |
Principles of circular economics
| | |
| --- | --- |
| Does the project use recycled materials? | |
| Does the project use recyclable materials? | |
| Are materials with a documented Environmental Product Declaration (EPD) promoted in the project? | |
| Are other sustainability certifications used for materials and elements? | |
Energy efficiency
| | |
| --- | --- |
| Energy performance class of the building according to the Energy Performance Certificate of the building | B |
| Is efficient energy management (measurement and regular analysis of consumption data) considered? | |
| Are renewable sources of energy used, e.g. solar system, photovoltaics? | |
Interconnection with surroundings
| | |
| --- | --- |
| Does the project enable the easy use of public transport? | |
| Does the project support the use of alternative modes of transport, e.g cycling, walking etc. ? | |
| Is there access to recreational natural areas, e.g. parks, in the immediate vicinity of the building? | |