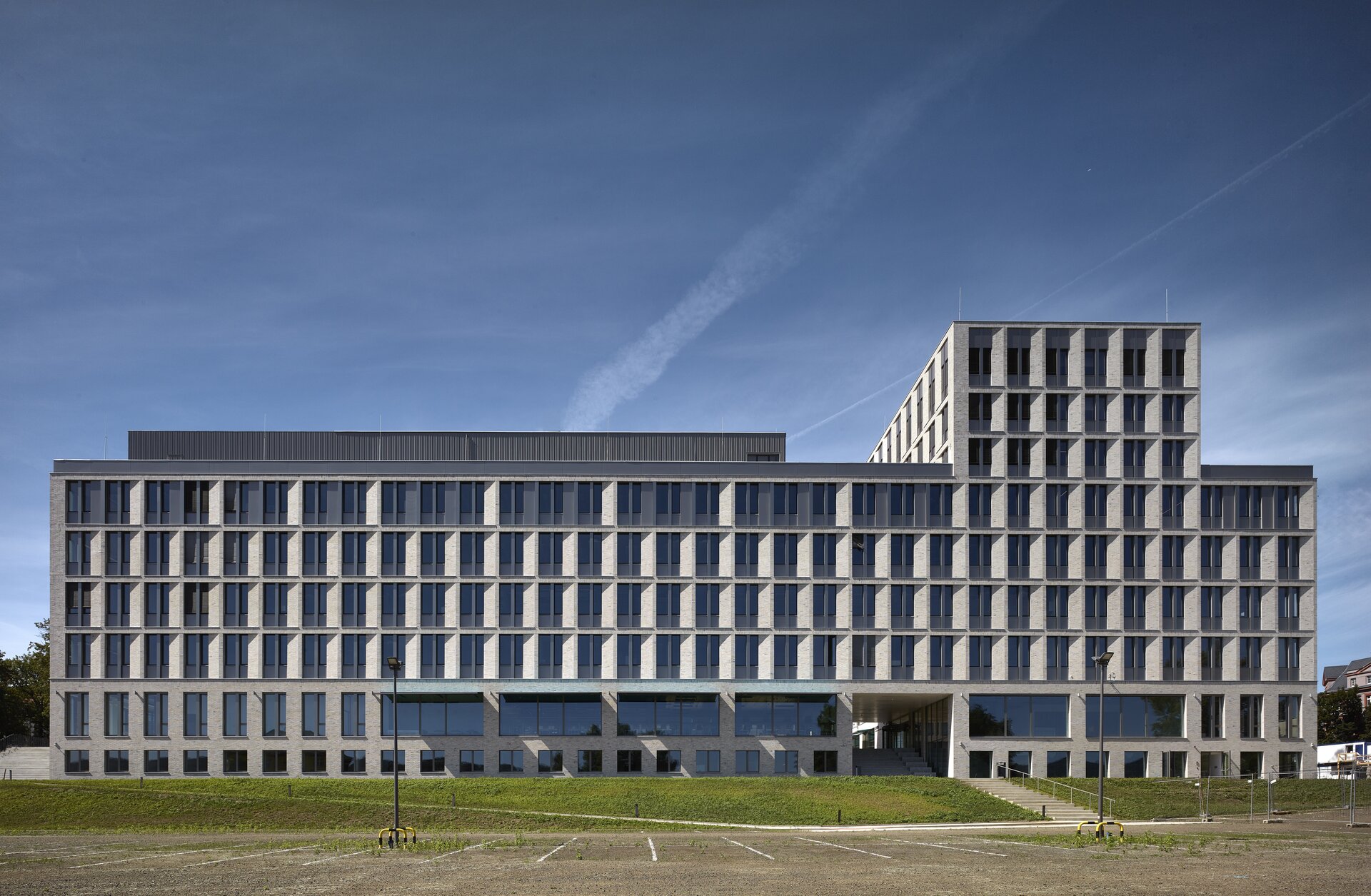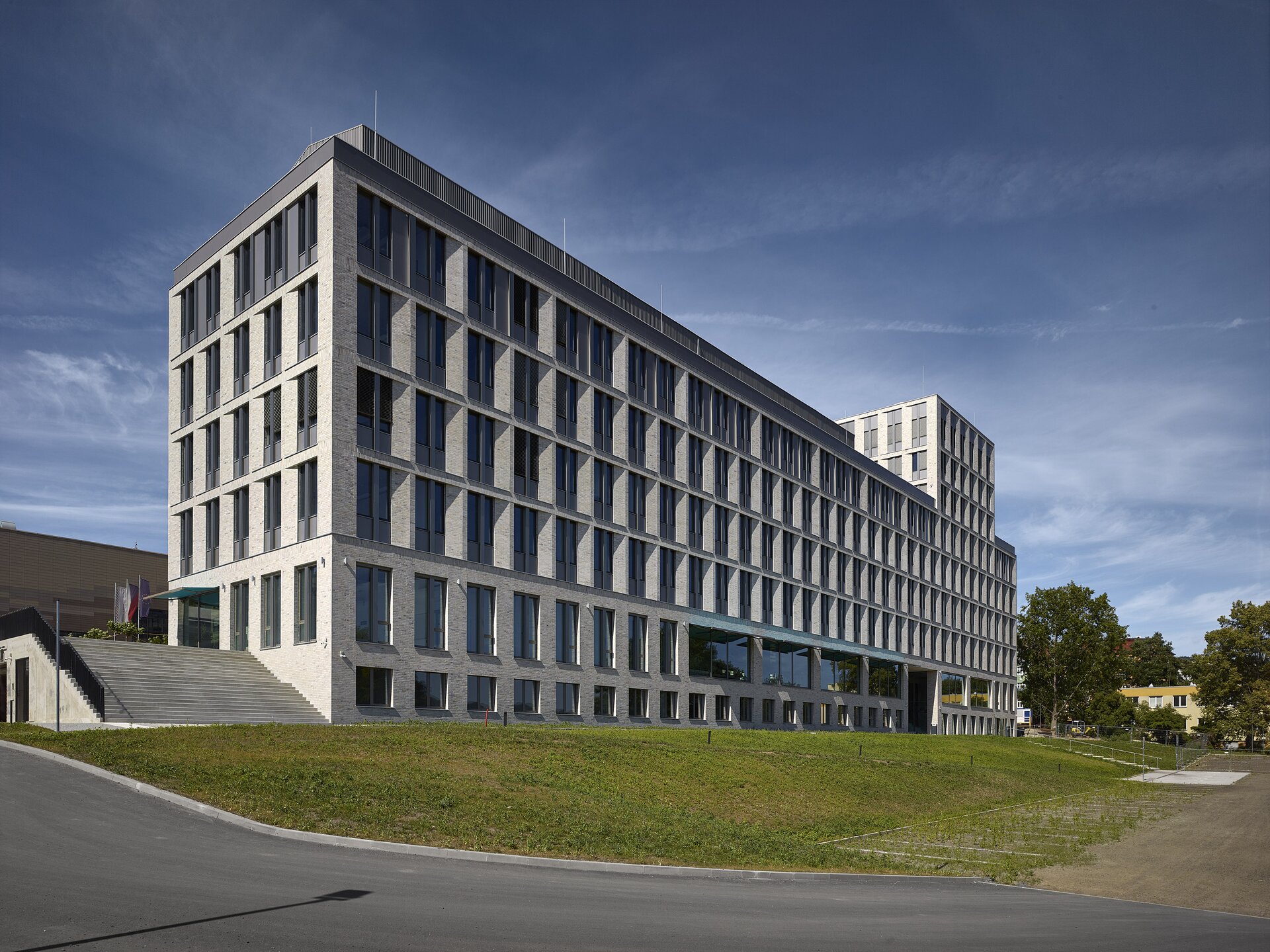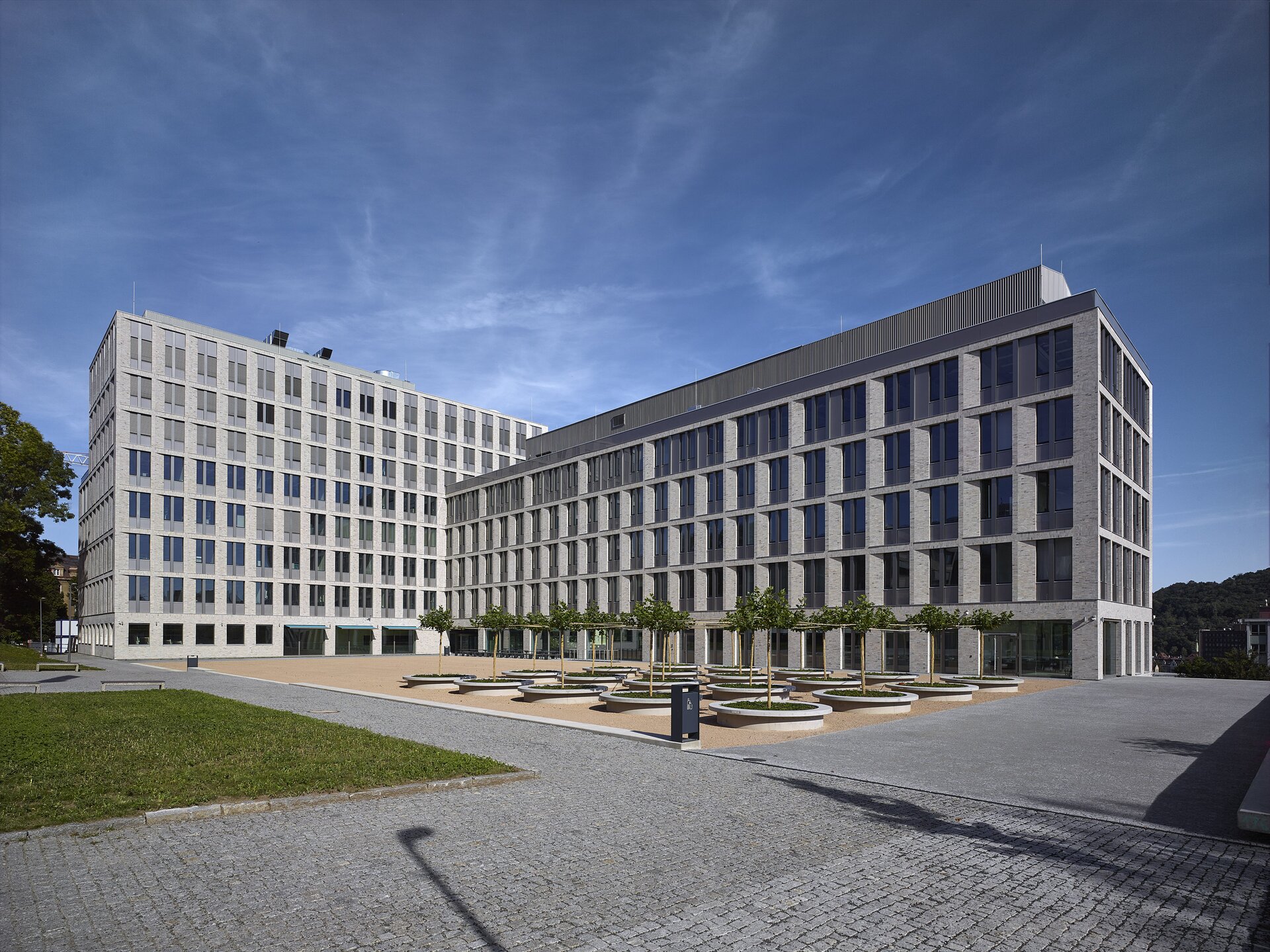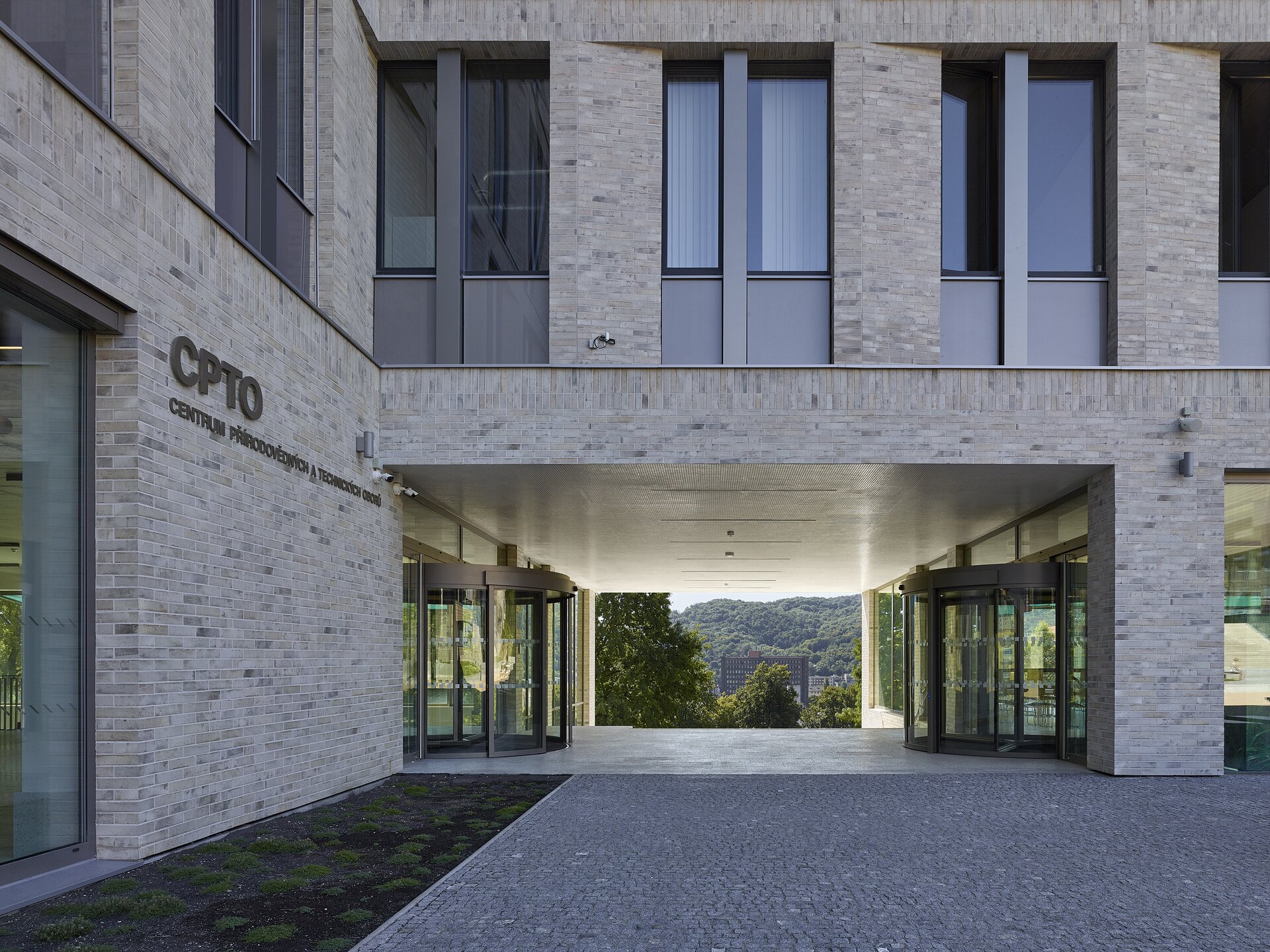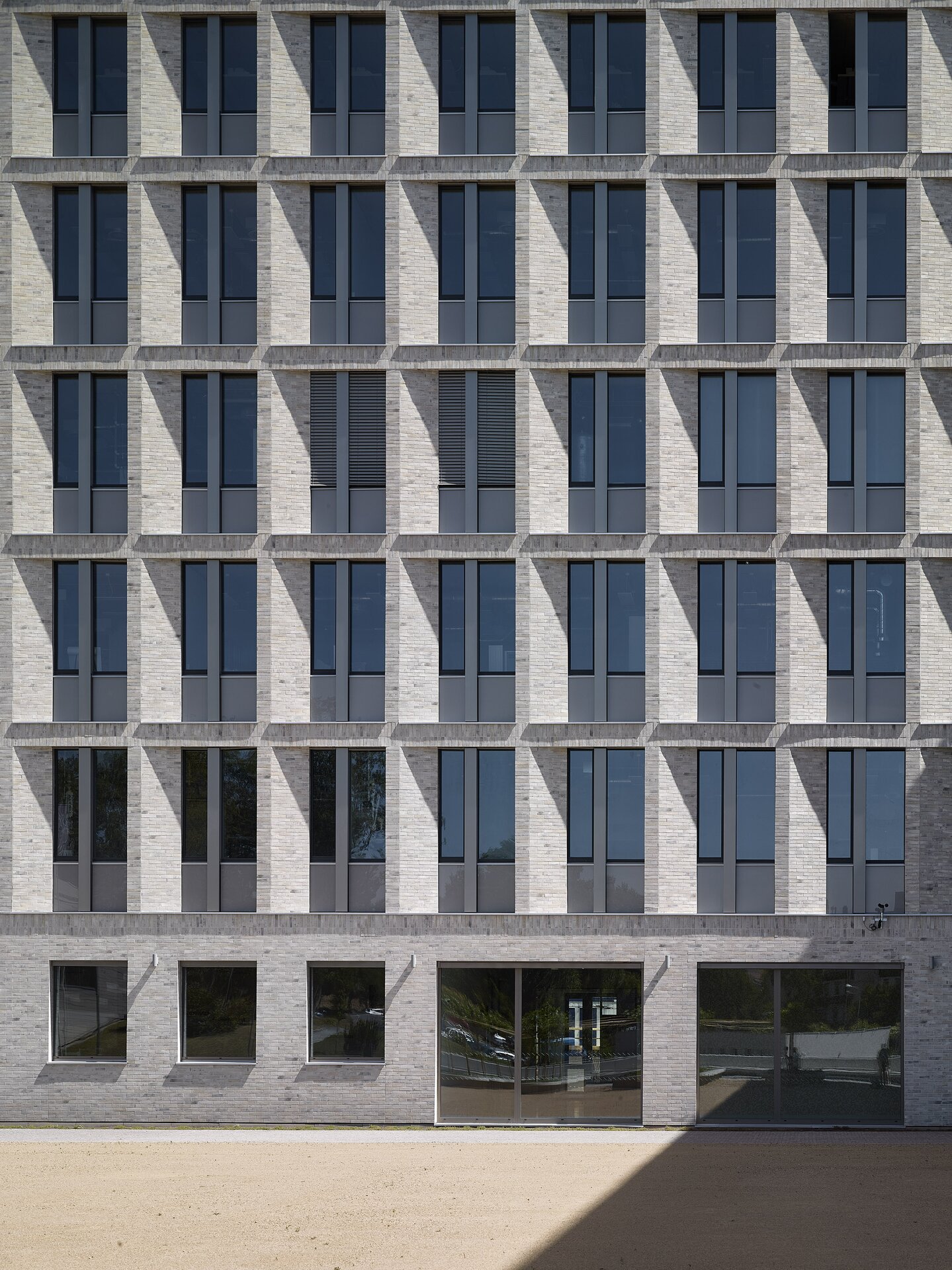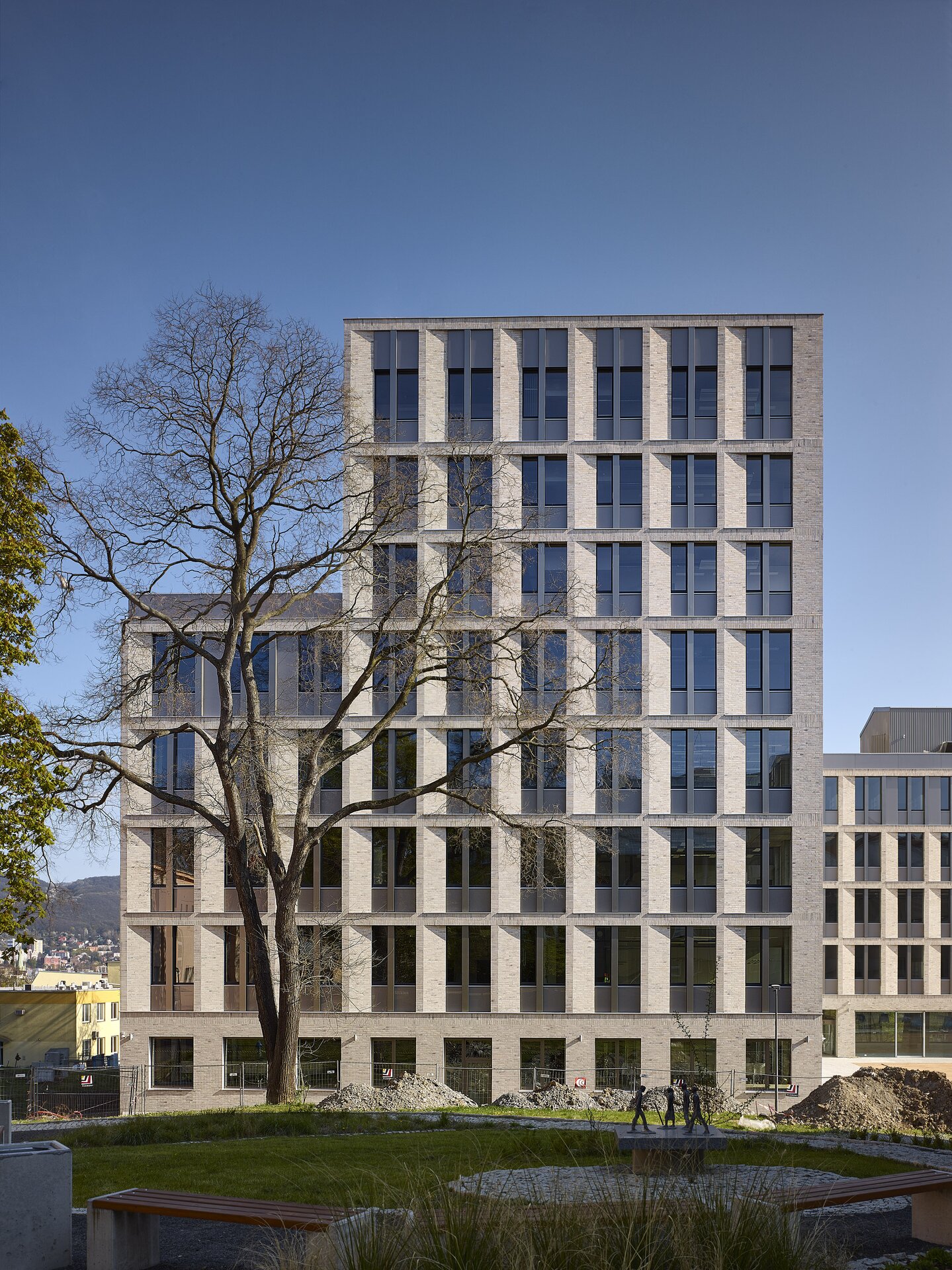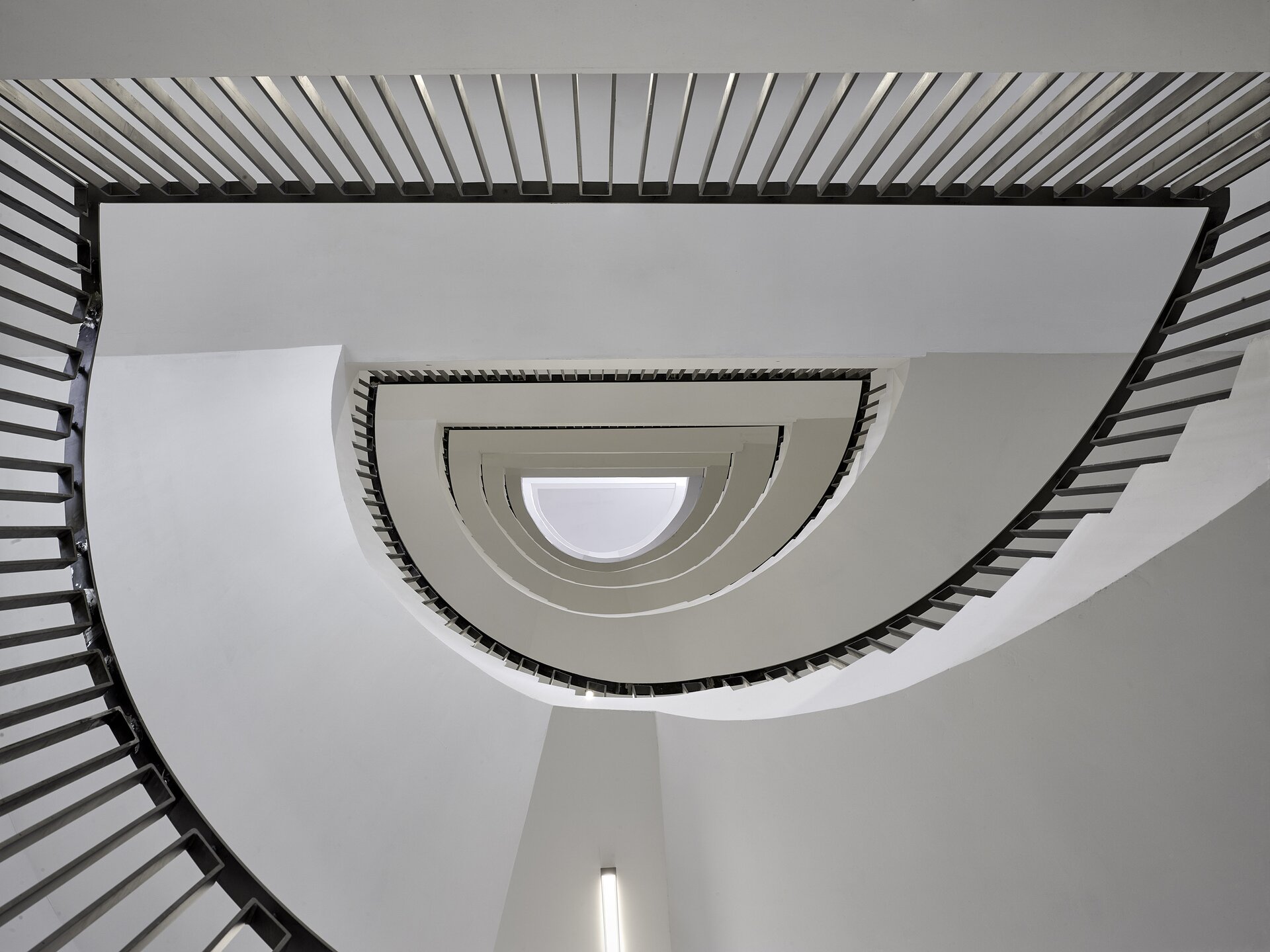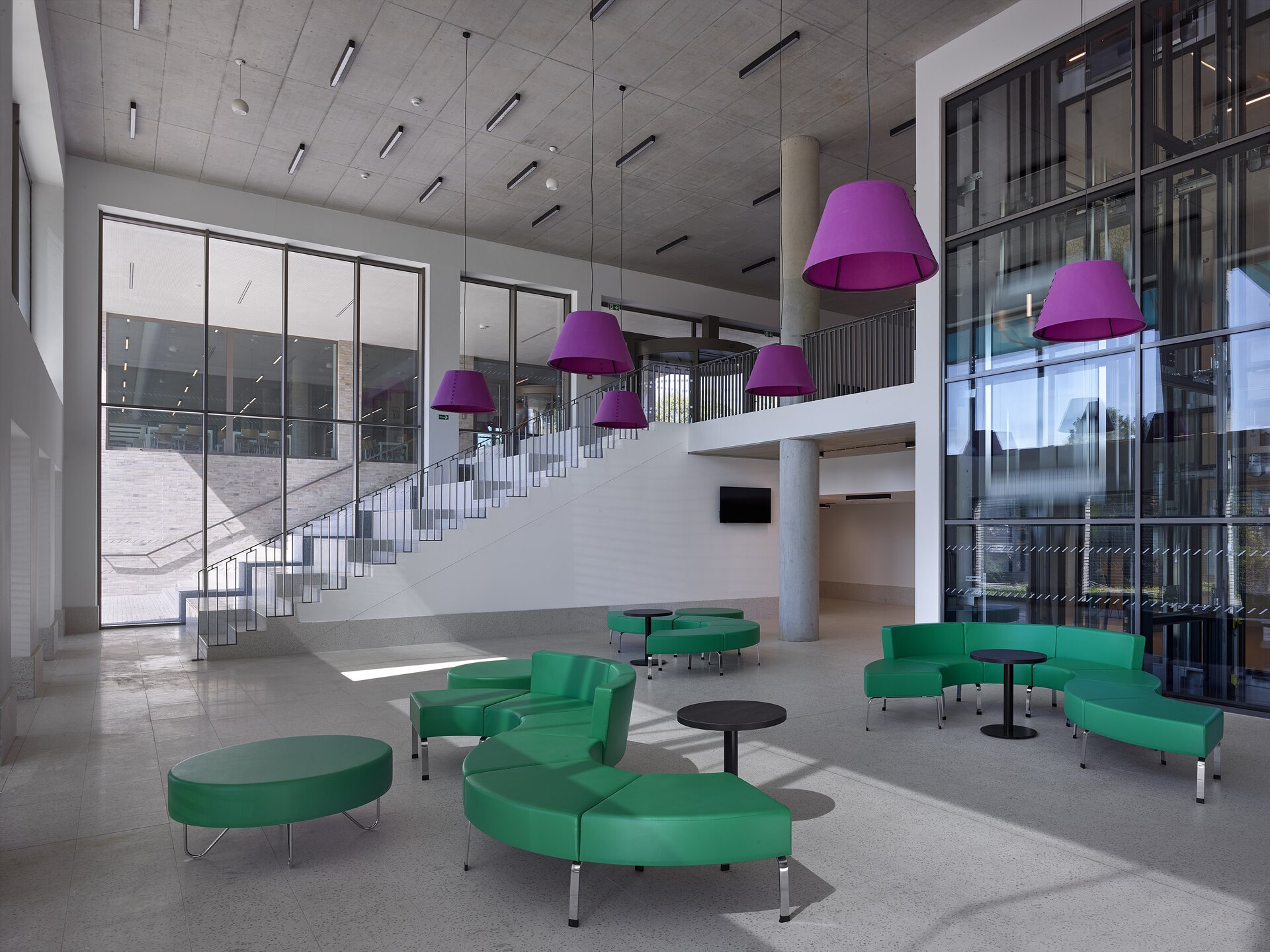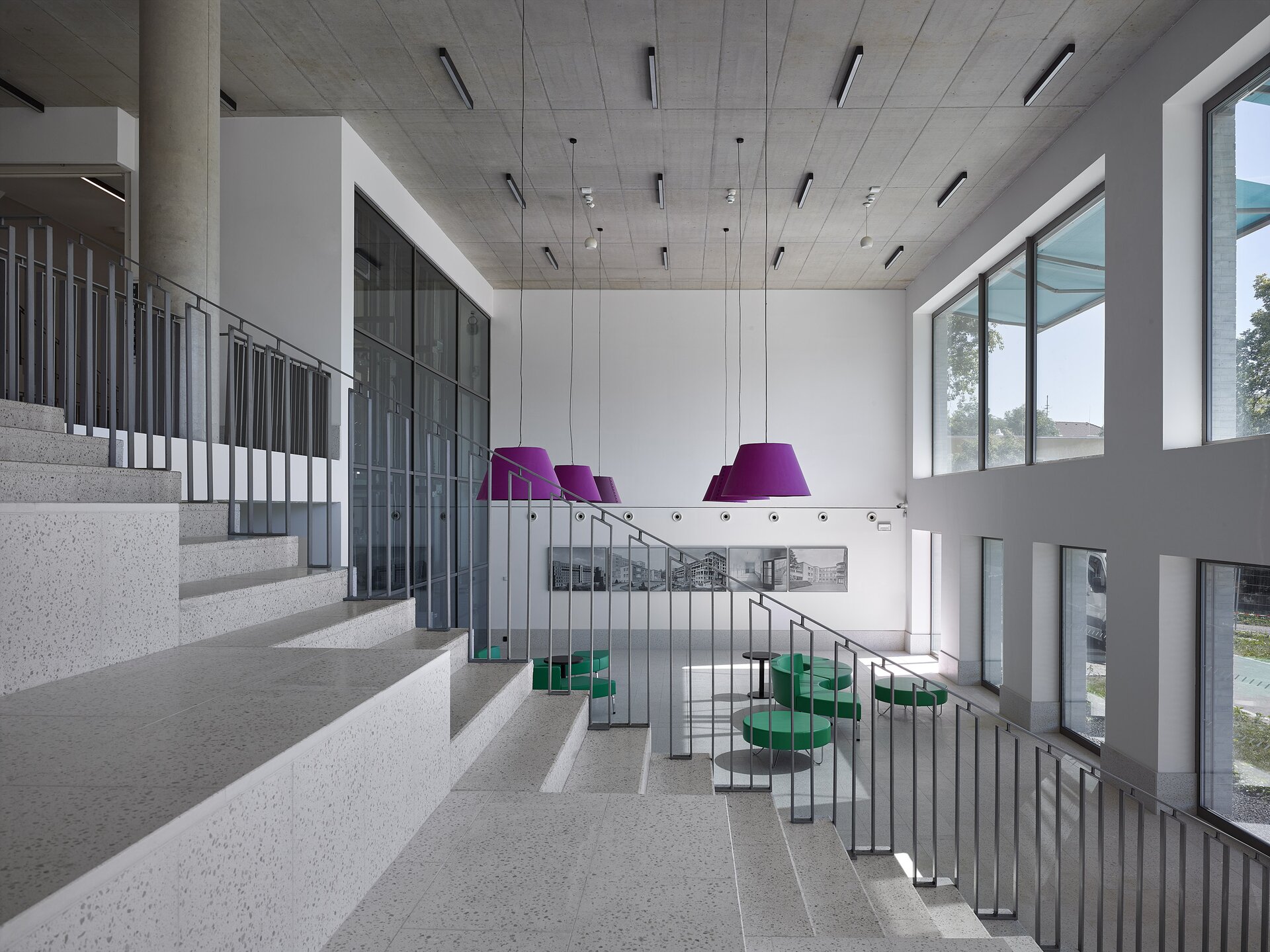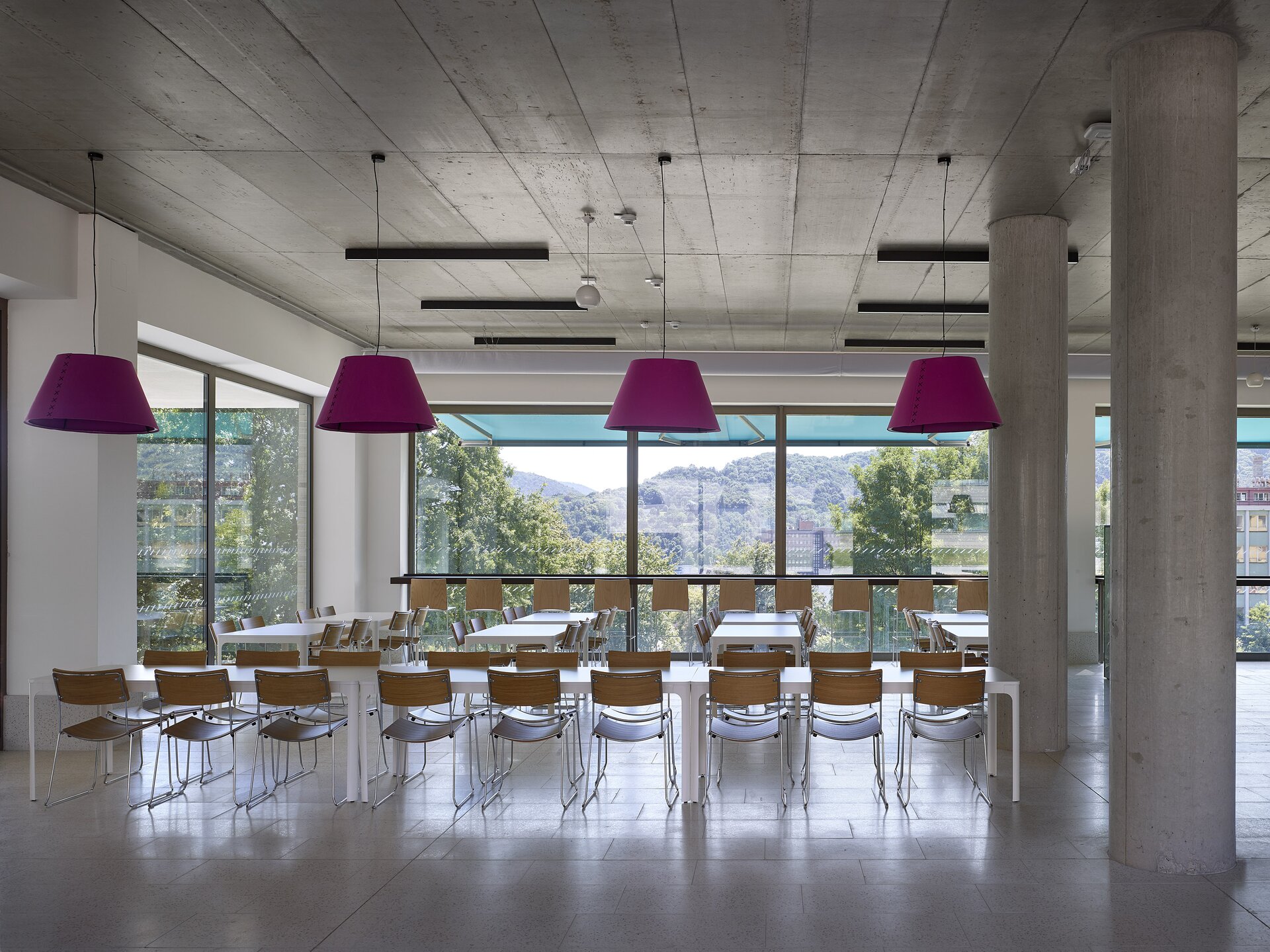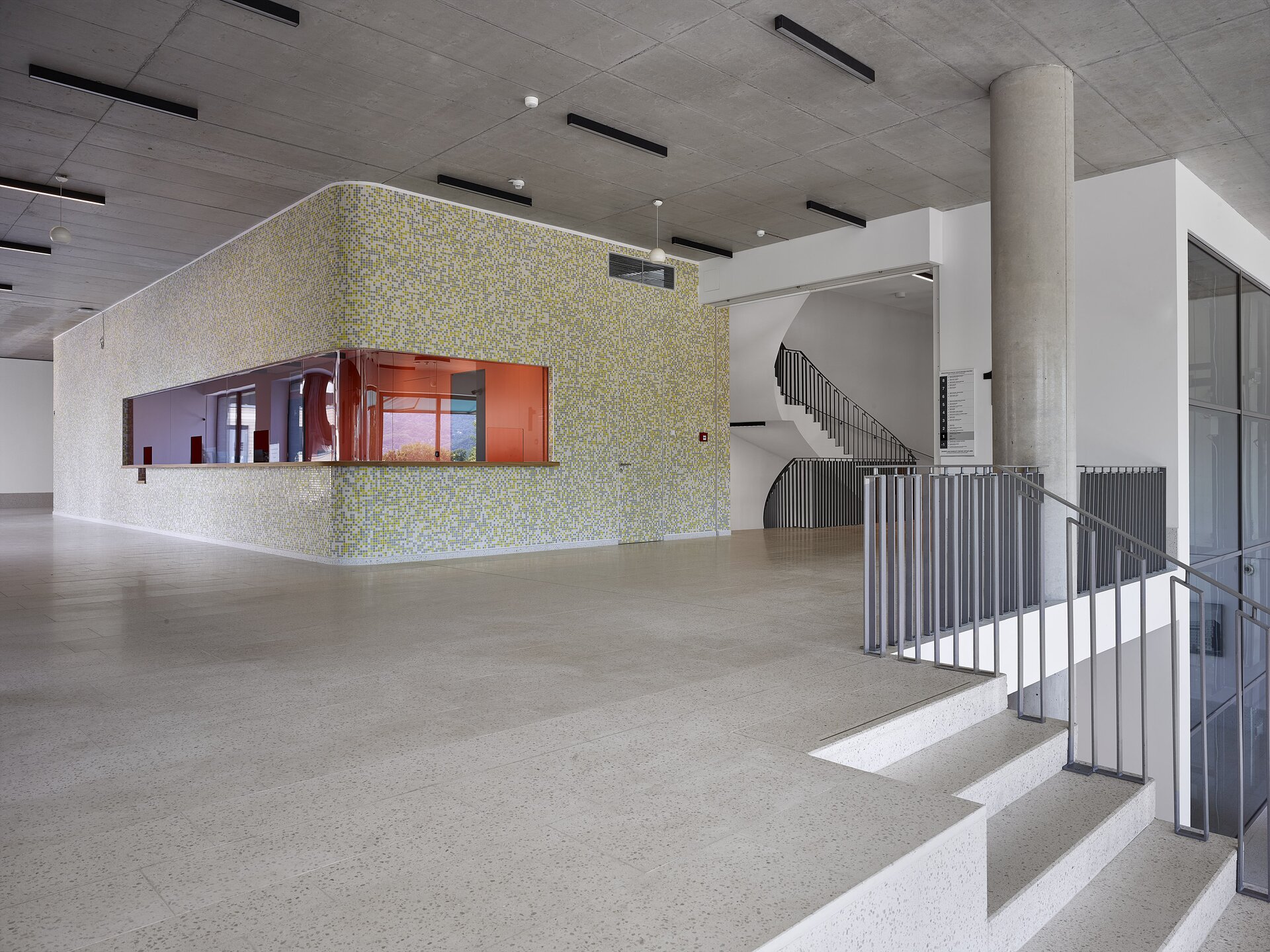 Author
Pelčák a partner architekti, s.r.o.
Studio
Location
Na Okraji 1001/7, Ústí nad Labem
Investor
Univerzita Jana Evangelisty Purkyně
Supplier
Společnost MTS - KLEMENT – UJEP – Novostavba budovy CPTO
Metrostav a.s., KLEMENT a.s.
Hlavní stavbyvedoucí - Tomáš Novotný
Date of project approval
June 2020
Fotograf
The design creates a unit out of the torso of the campus which is incorporated into the urban texture of the city. It makes use of a clear urban typology forming a space and links with a distinct character: a square, meadow, park, promenade, gate, city stairway, city terrace.
The square at the focal point of the campus is the only city articulated public space. One enters from there the CPTO building which forms the border on the east and the south. The view of the wooded slopes opposite does not enclose its volume, however, as it is on the level of the main floor through the gate with the steps to the park and the open space of the dining hall. The foyer in front of the lecture halls in the eastern wing also opens up toward the park. The space of the square is thereby visually linked on the level of the main floor with the "public" spaces of the building. The shape of its volume forming a figure which is clearly recognizable in the overall picture of the city.
The architecture of the design is concrete in terms of its form, materiality, spatial construction and this both outside and inside. The architecture of the design is also, however, made up of abstraction. The basic features of the facade are the windows, these being the scale of the anthropometric. Its abstracting multiplication in the geometric order, however, serves to allow the whole to emerge on the scale of the city and the landscape.It has an L-shaped ground plan with longer longitudinal wings situated on the east-west axis alongside its contemporaries. The staff offices are located in this wing, while the shorter, transverse spaces are used by students-classrooms and laboratories. It is expanded on each floor with the space of the rest area opened up on the southern facade with a view of the city and the Elbe river valley. The lecture halls are situated in the entrance floor while other large classrooms are located a floor lower.
Green building
Environmental certification
| | |
| --- | --- |
| Type and level of certificate | - |
Water management
| | |
| --- | --- |
| Is rainwater used for irrigation? | |
| Is rainwater used for other purposes, e.g. toilet flushing ? | |
| Does the building have a green roof / facade ? | |
| Is reclaimed waste water used, e.g. from showers and sinks ? | |
The quality of the indoor environment
| | |
| --- | --- |
| Is clean air supply automated ? | |
| Is comfortable temperature during summer and winter automated? | |
| Is natural lighting guaranteed in all living areas? | |
| Is artificial lighting automated? | |
| Is acoustic comfort, specifically reverberation time, guaranteed? | |
| Does the layout solution include zoning and ergonomics elements? | |
Principles of circular economics
| | |
| --- | --- |
| Does the project use recycled materials? | |
| Does the project use recyclable materials? | |
| Are materials with a documented Environmental Product Declaration (EPD) promoted in the project? | |
| Are other sustainability certifications used for materials and elements? | |
Energy efficiency
| | |
| --- | --- |
| Energy performance class of the building according to the Energy Performance Certificate of the building | B |
| Is efficient energy management (measurement and regular analysis of consumption data) considered? | |
| Are renewable sources of energy used, e.g. solar system, photovoltaics? | |
Interconnection with surroundings
| | |
| --- | --- |
| Does the project enable the easy use of public transport? | |
| Does the project support the use of alternative modes of transport, e.g cycling, walking etc. ? | |
| Is there access to recreational natural areas, e.g. parks, in the immediate vicinity of the building? | |