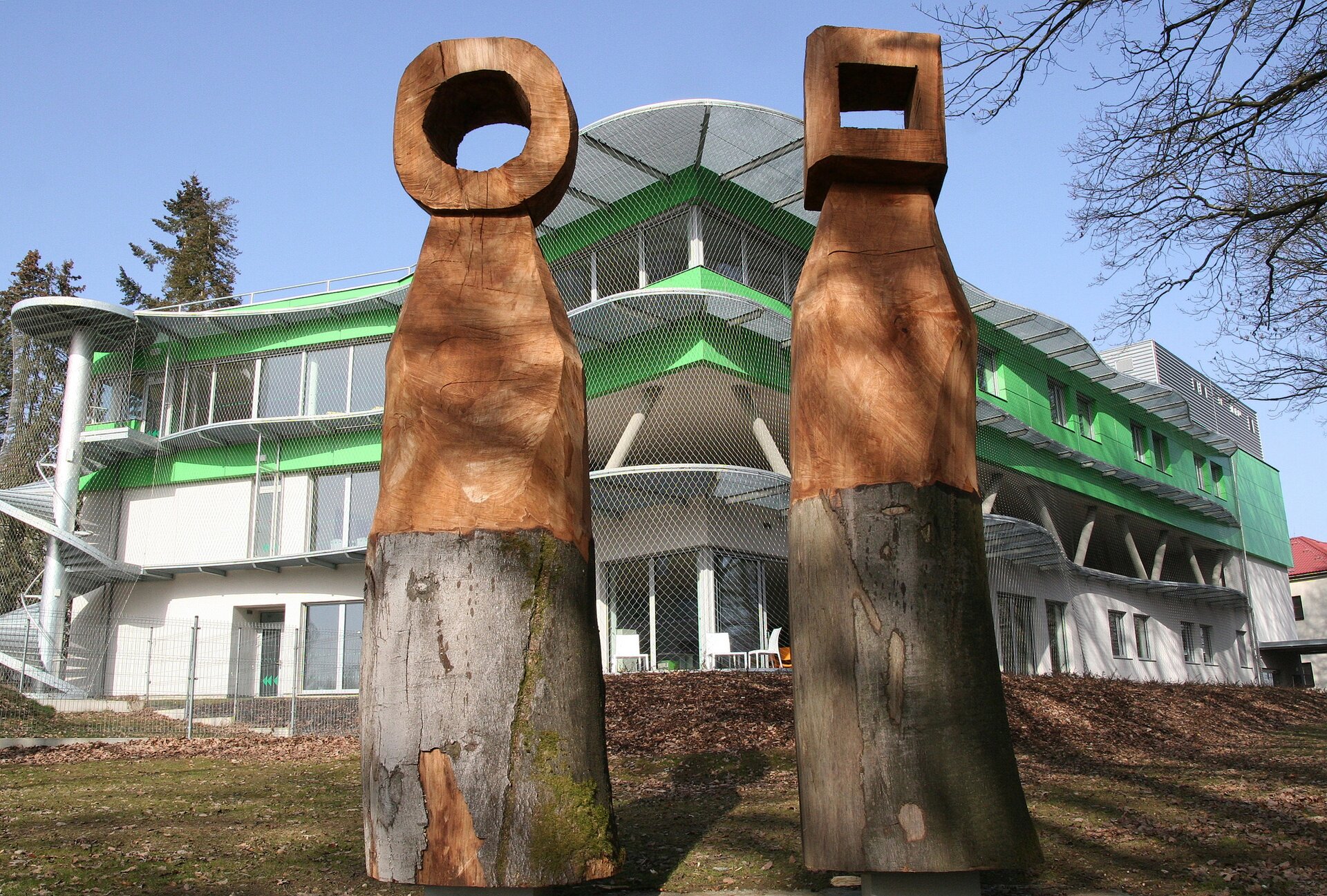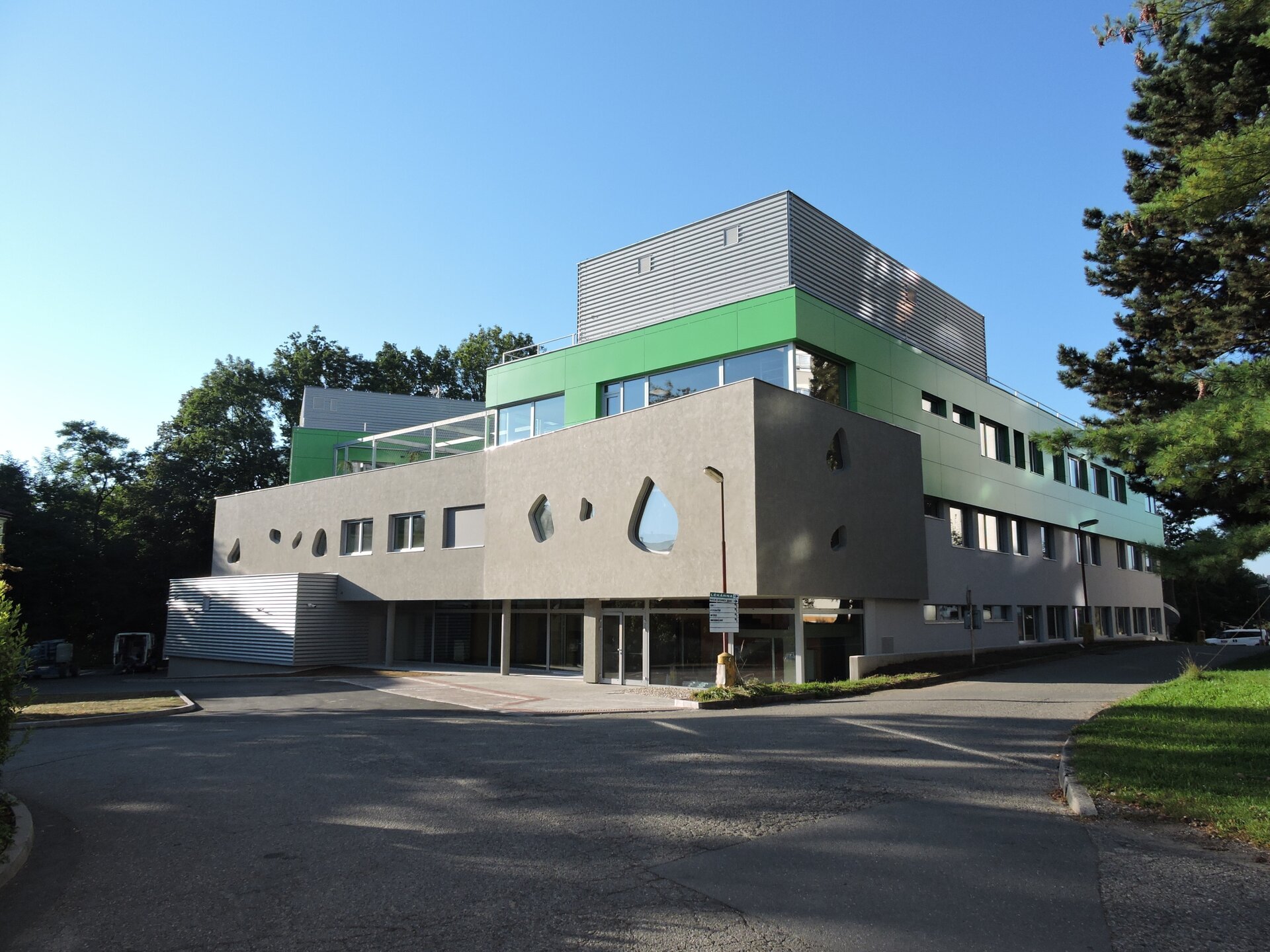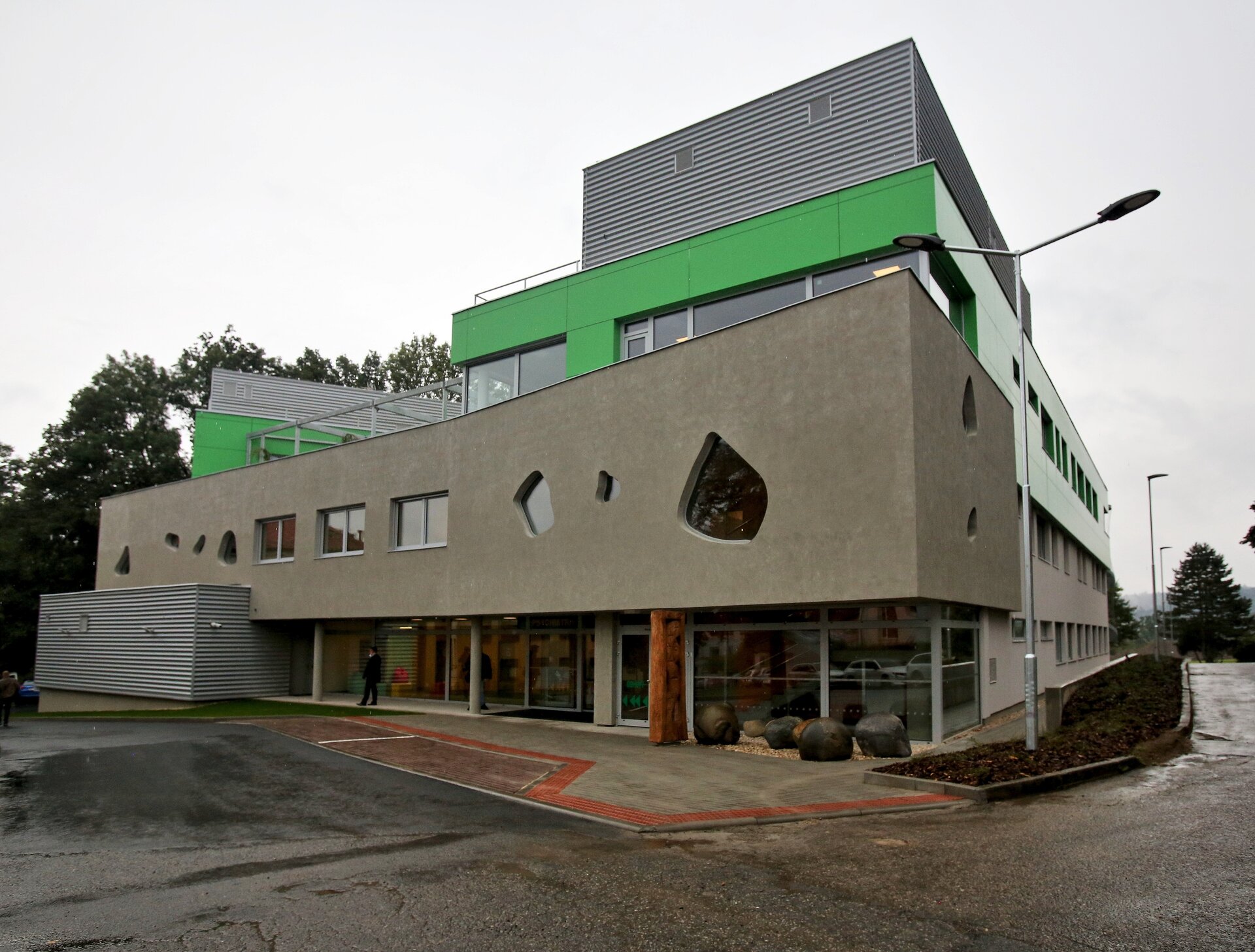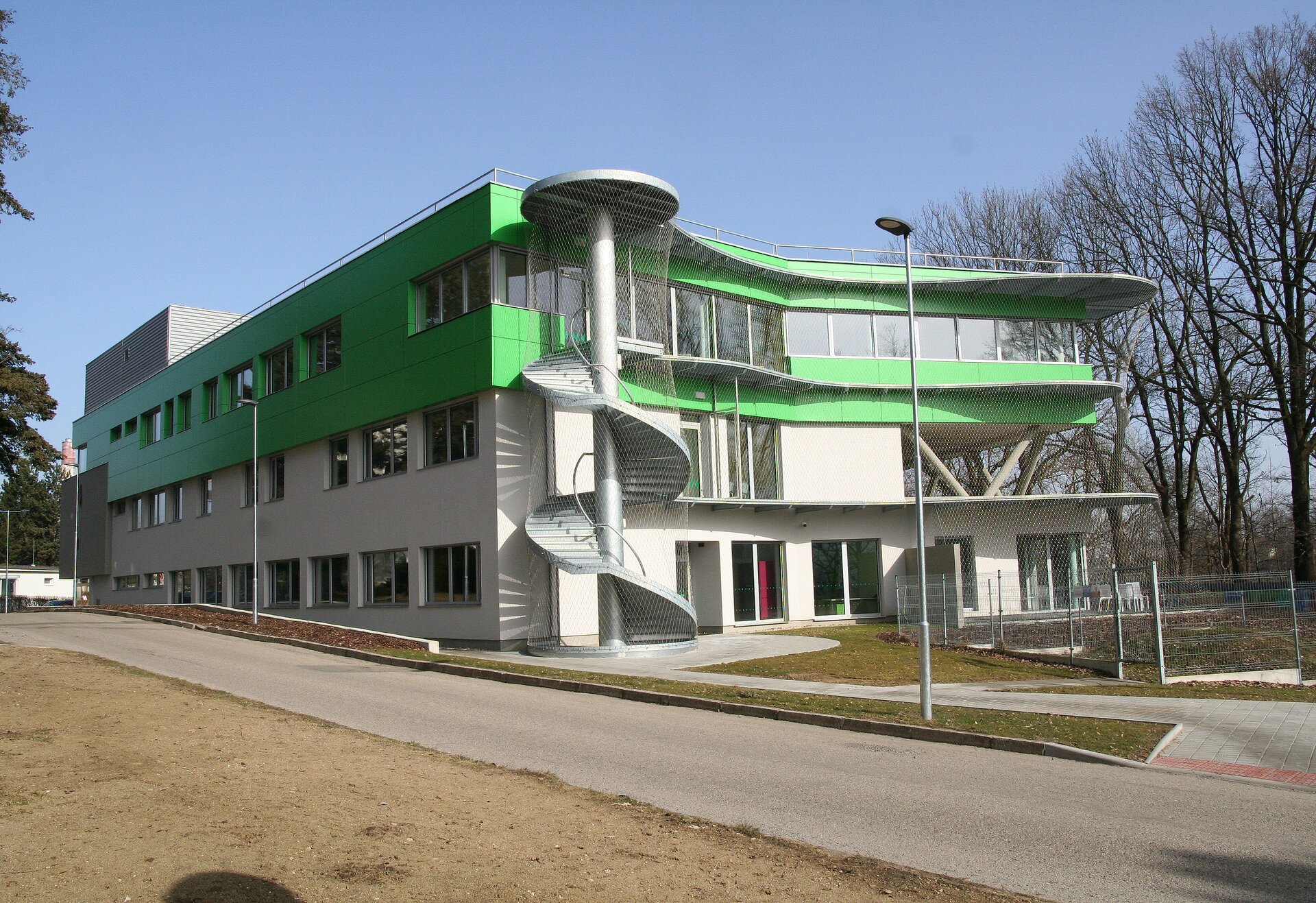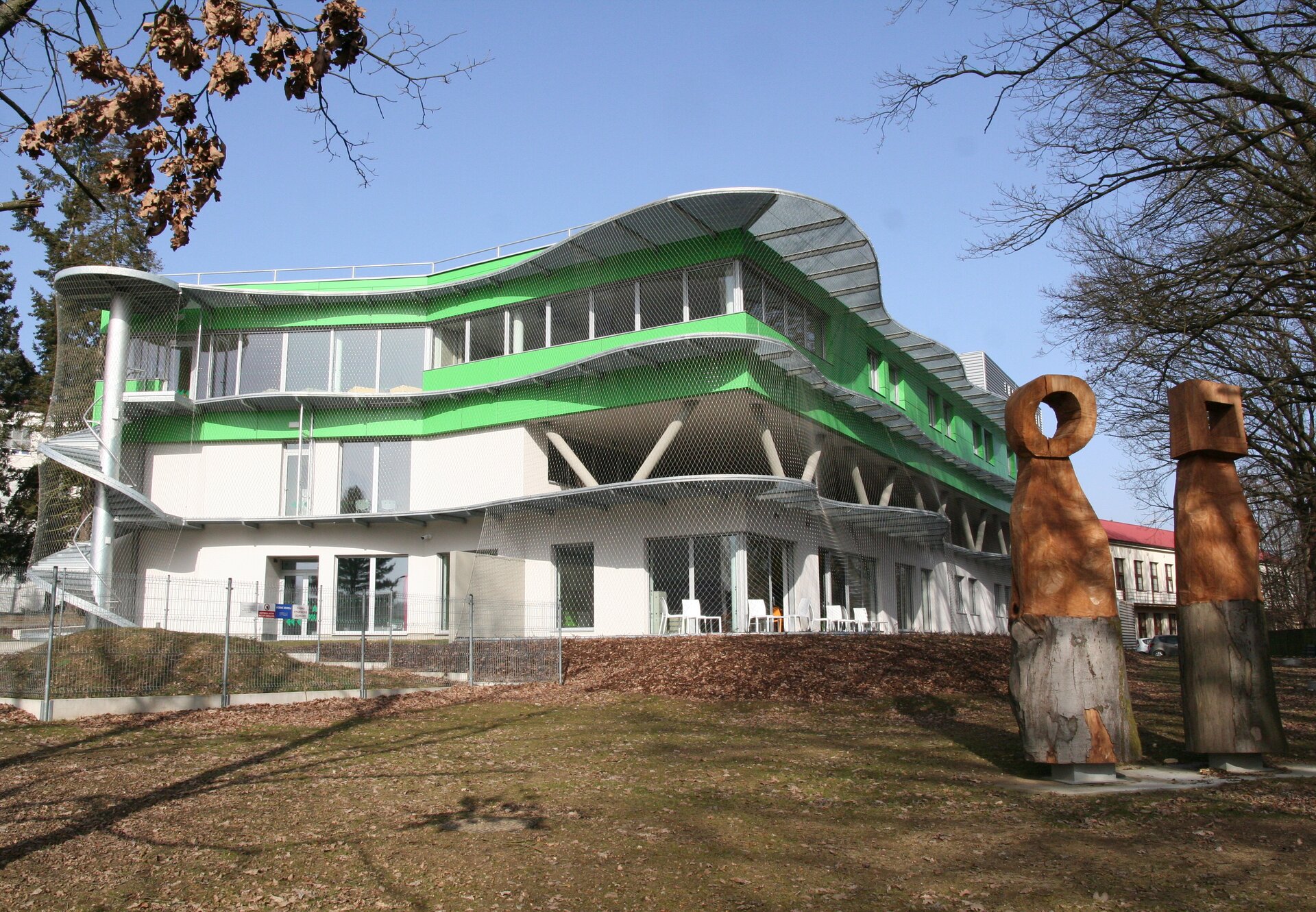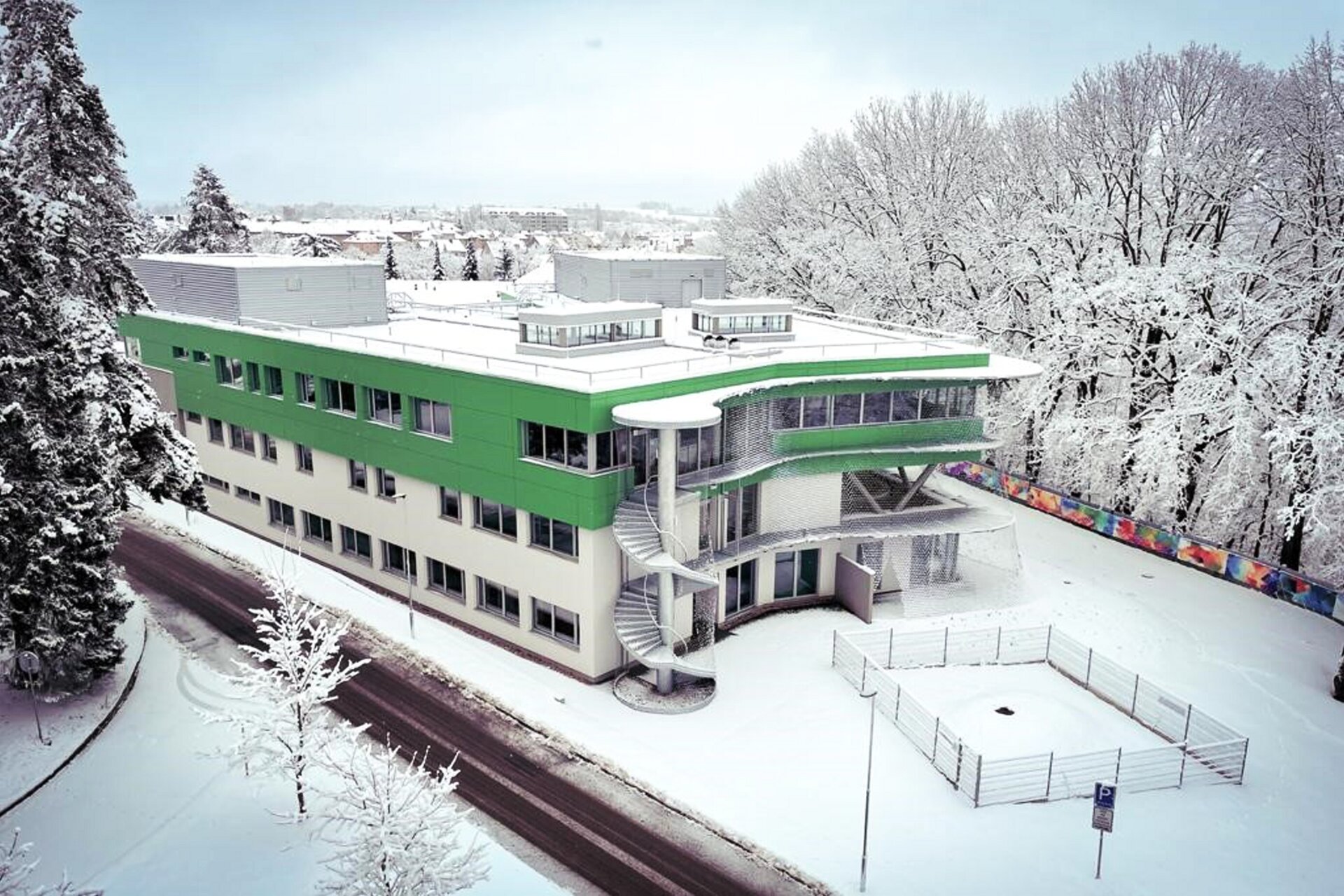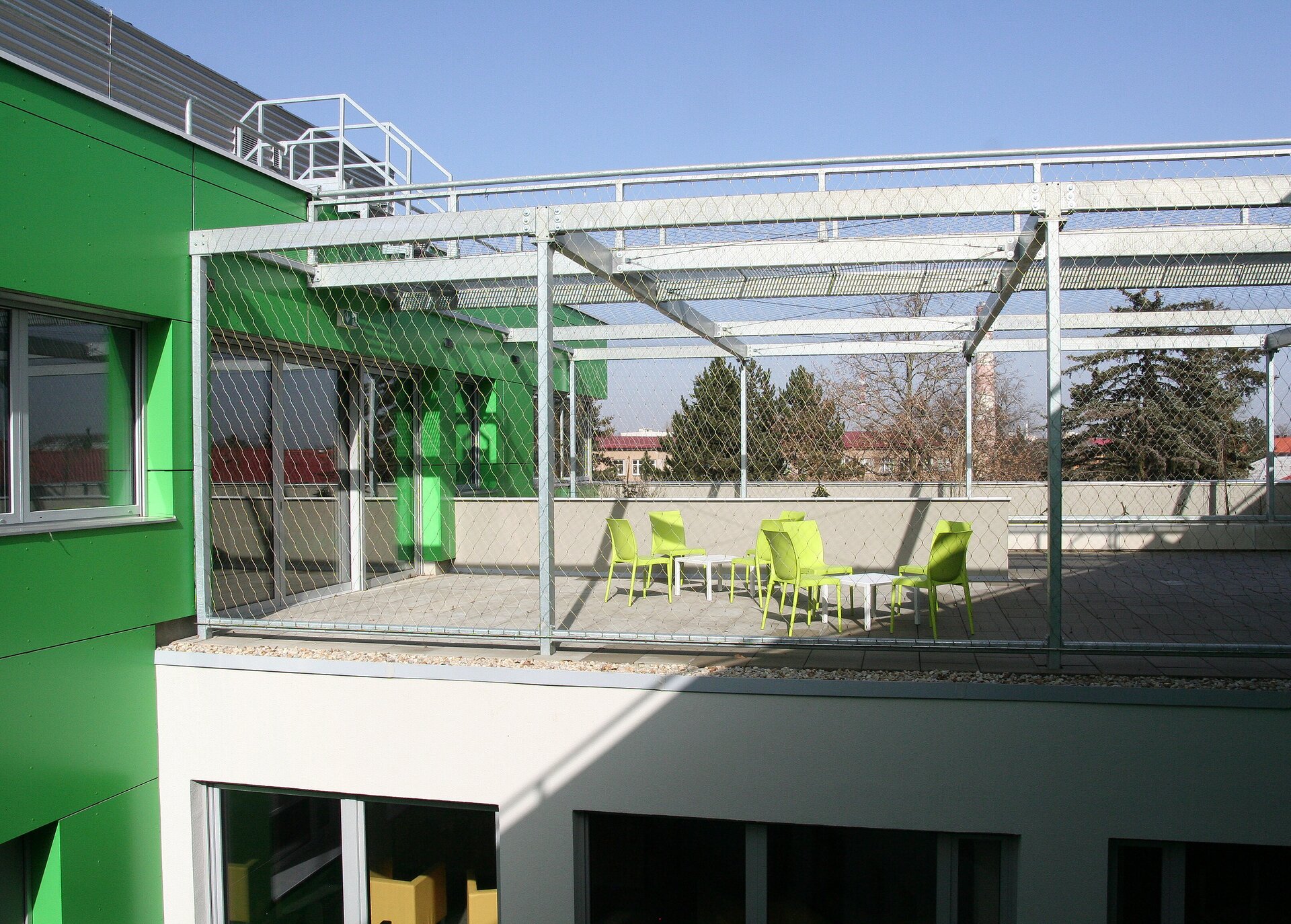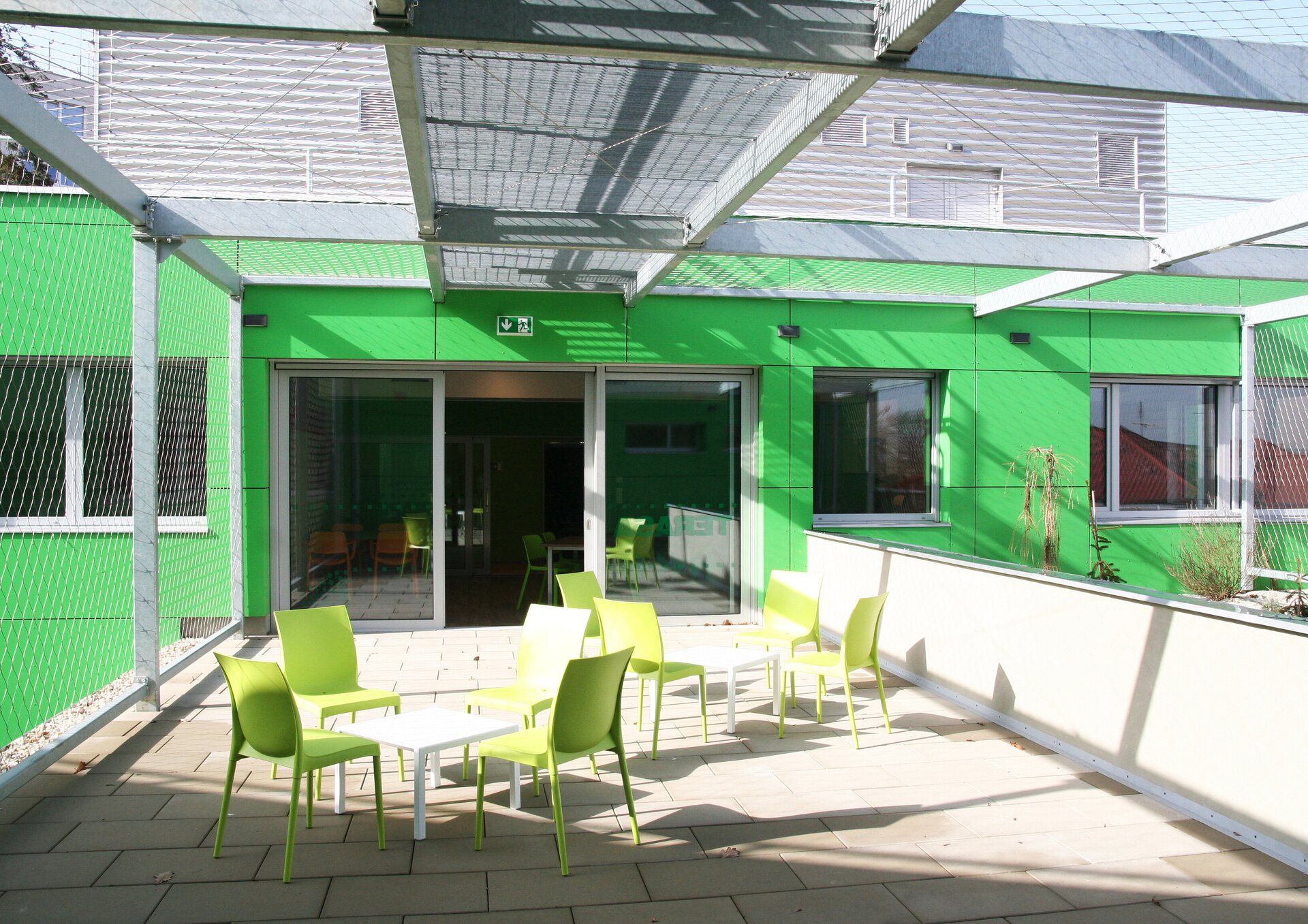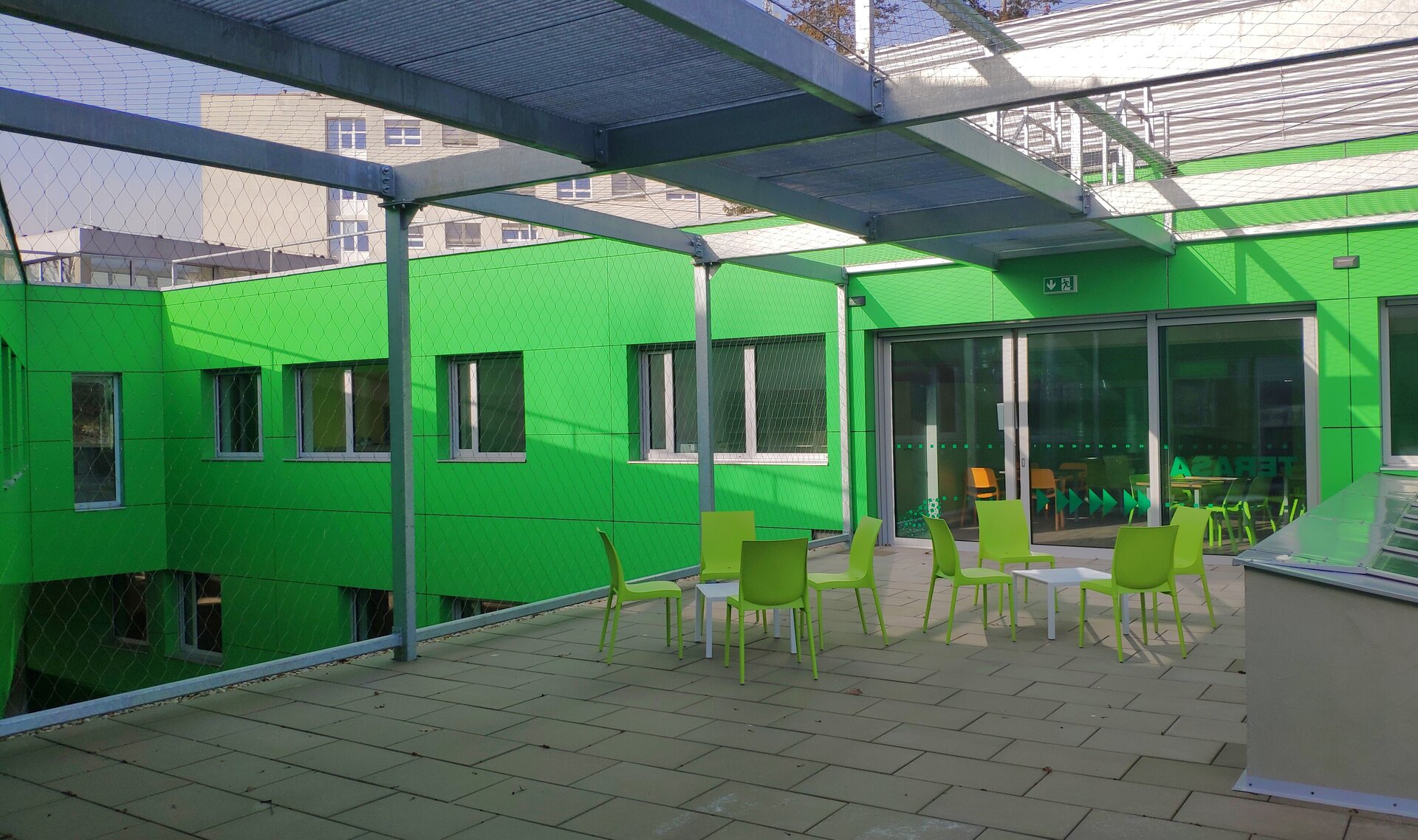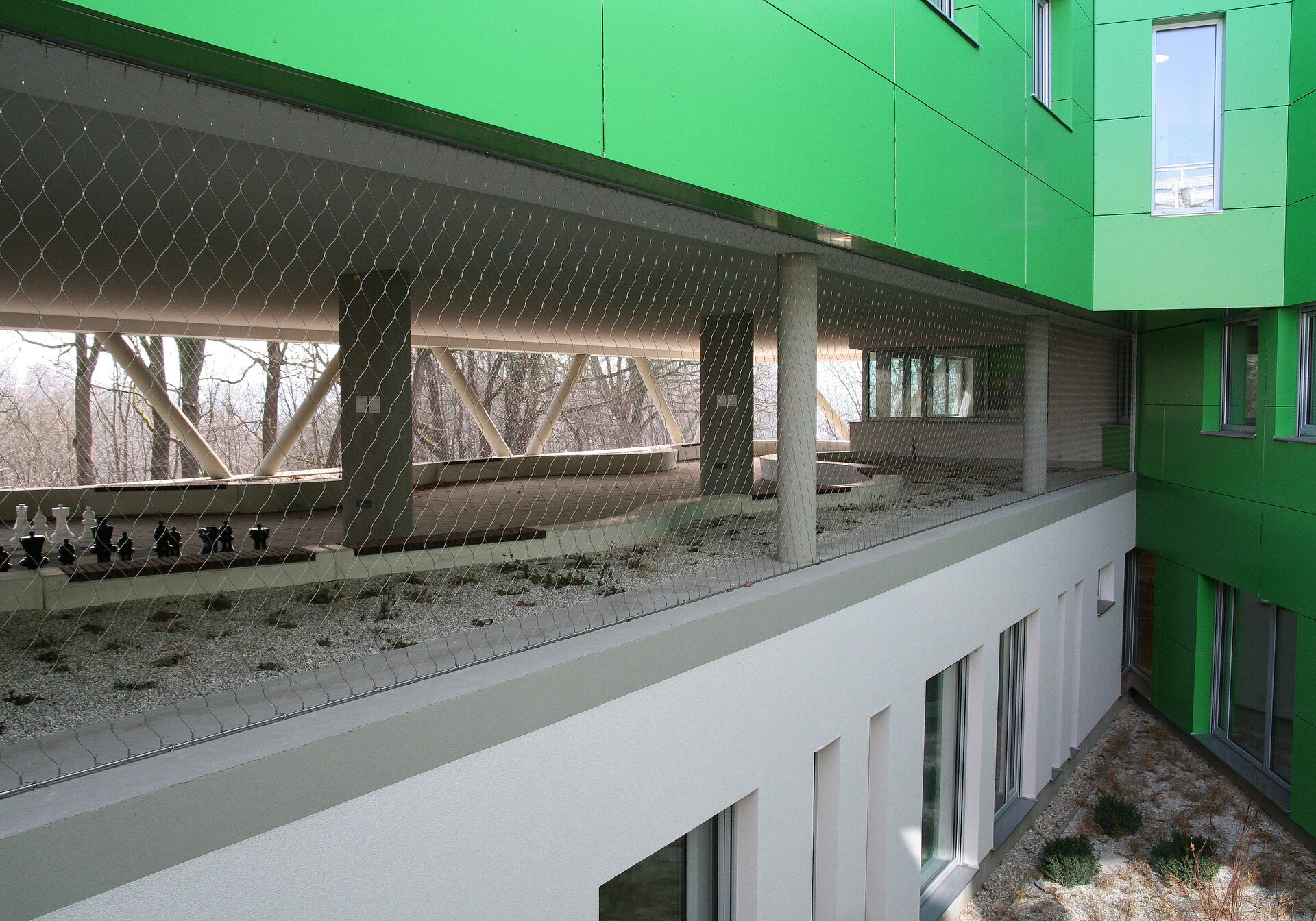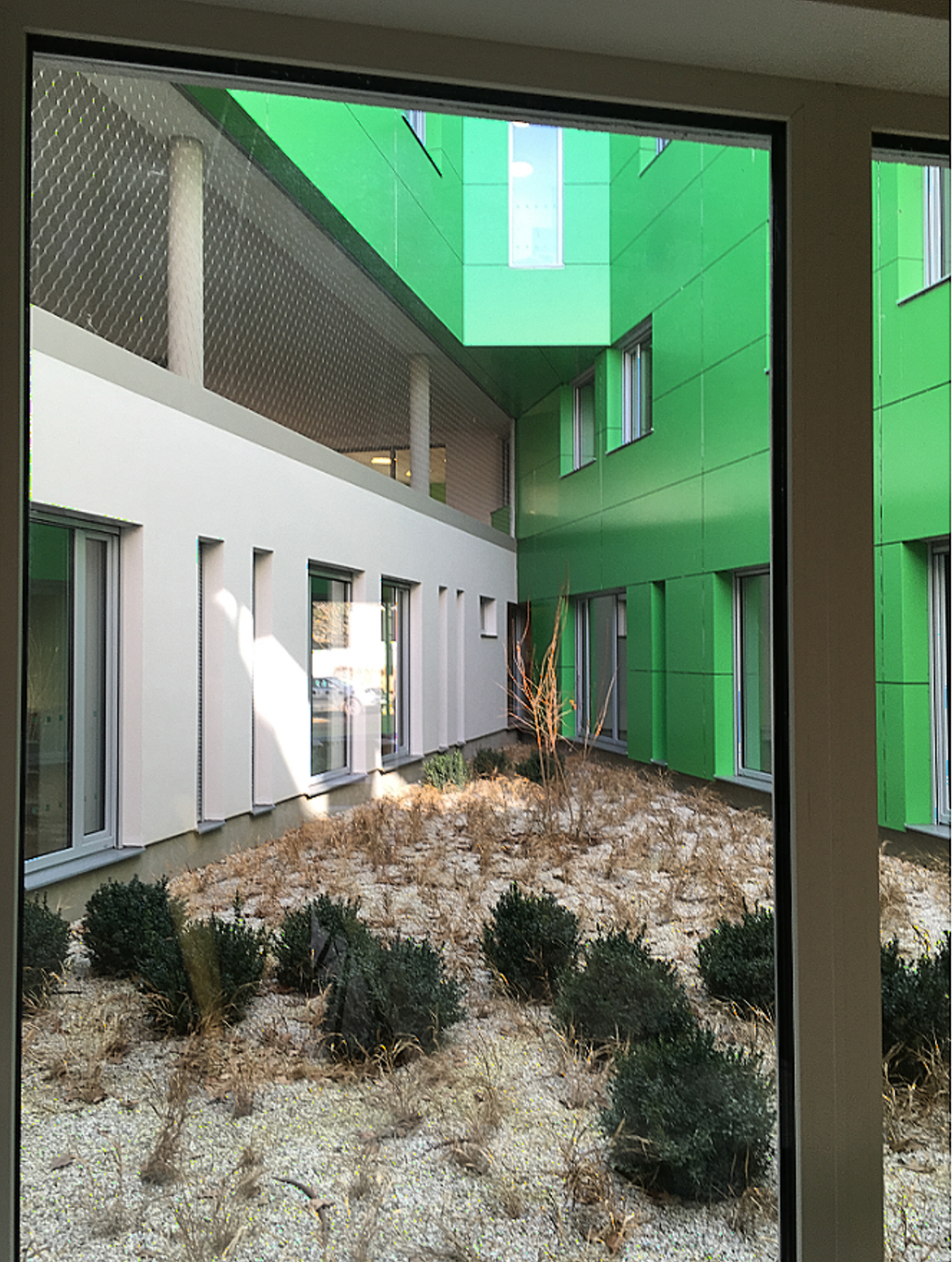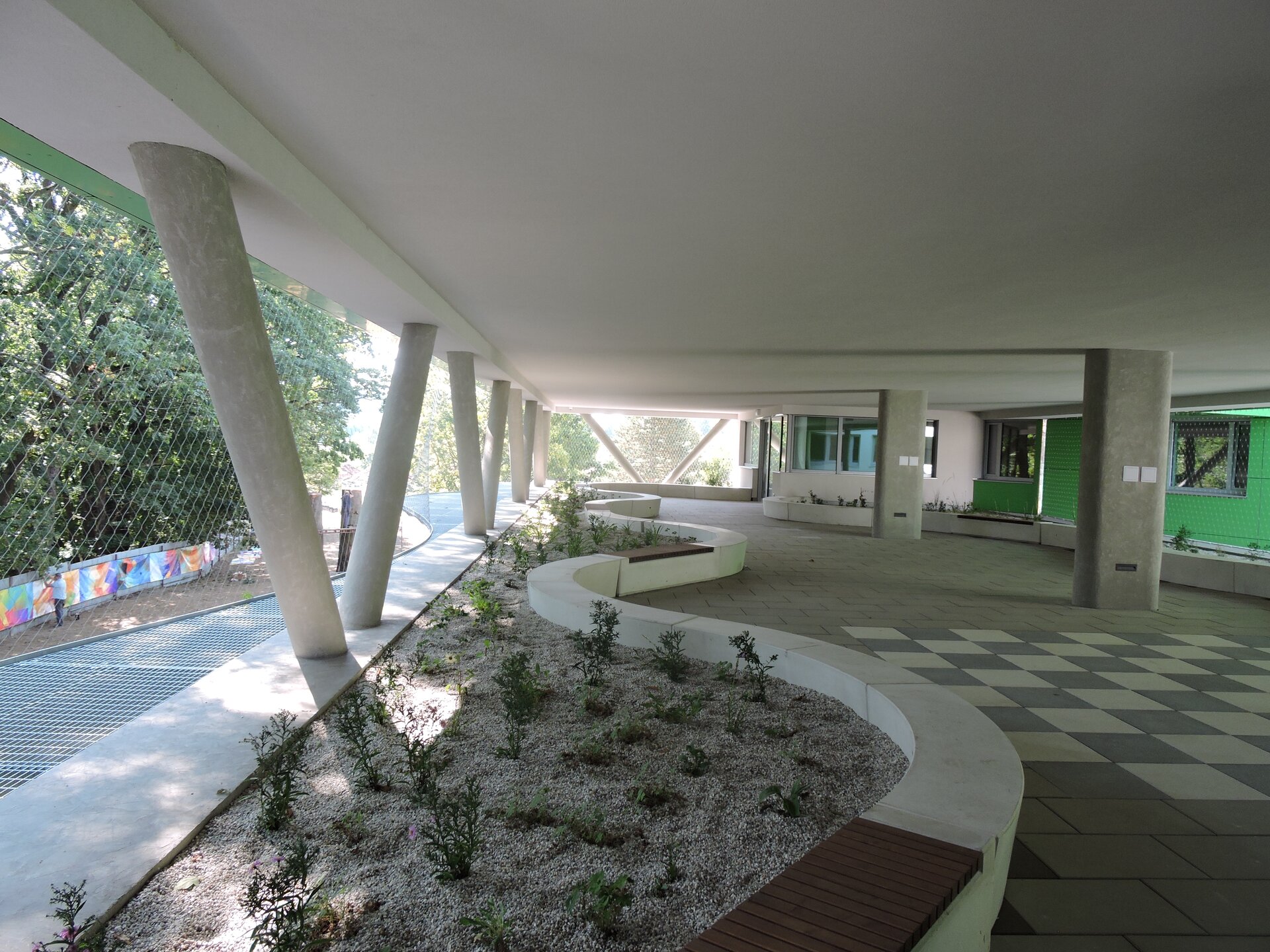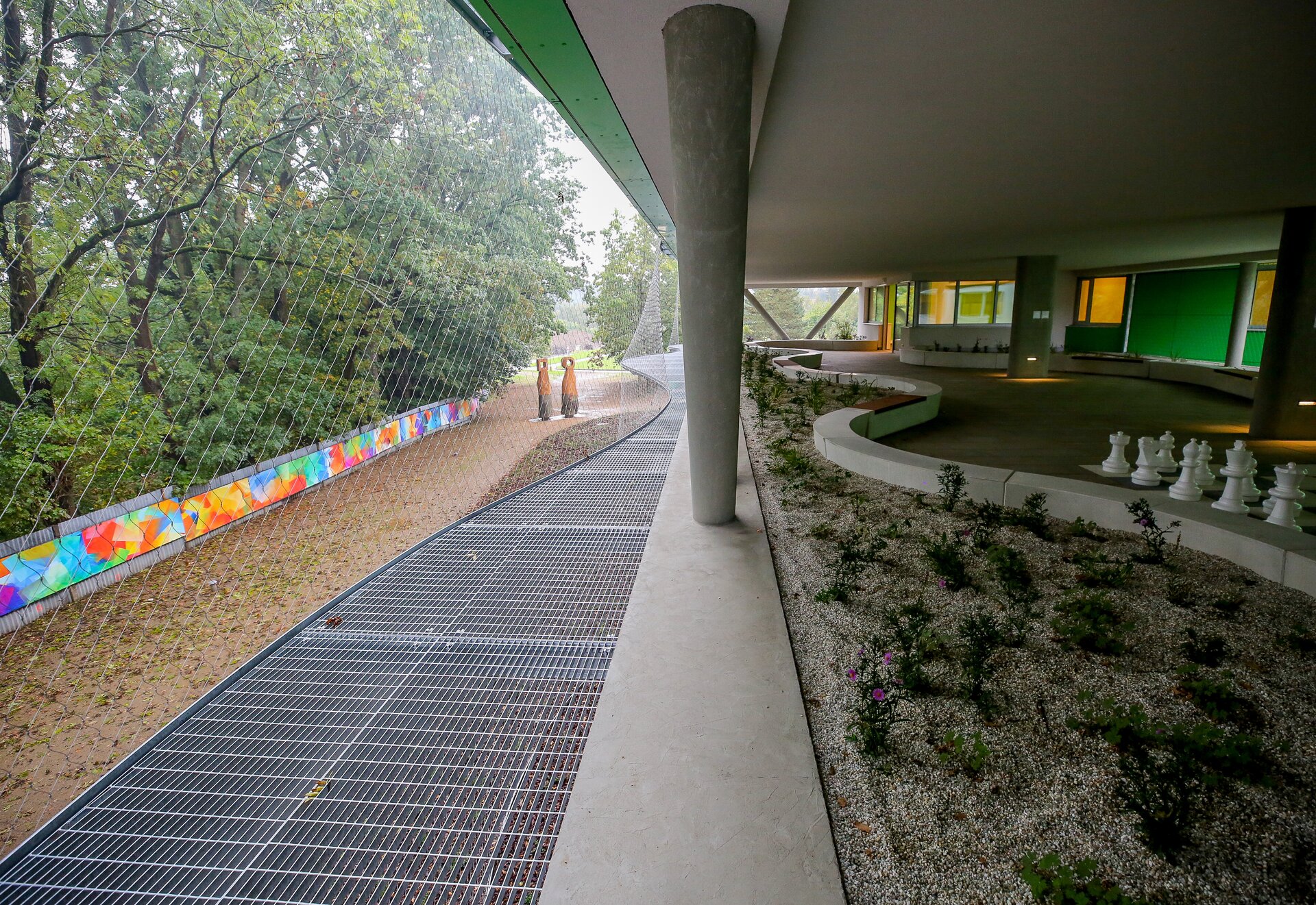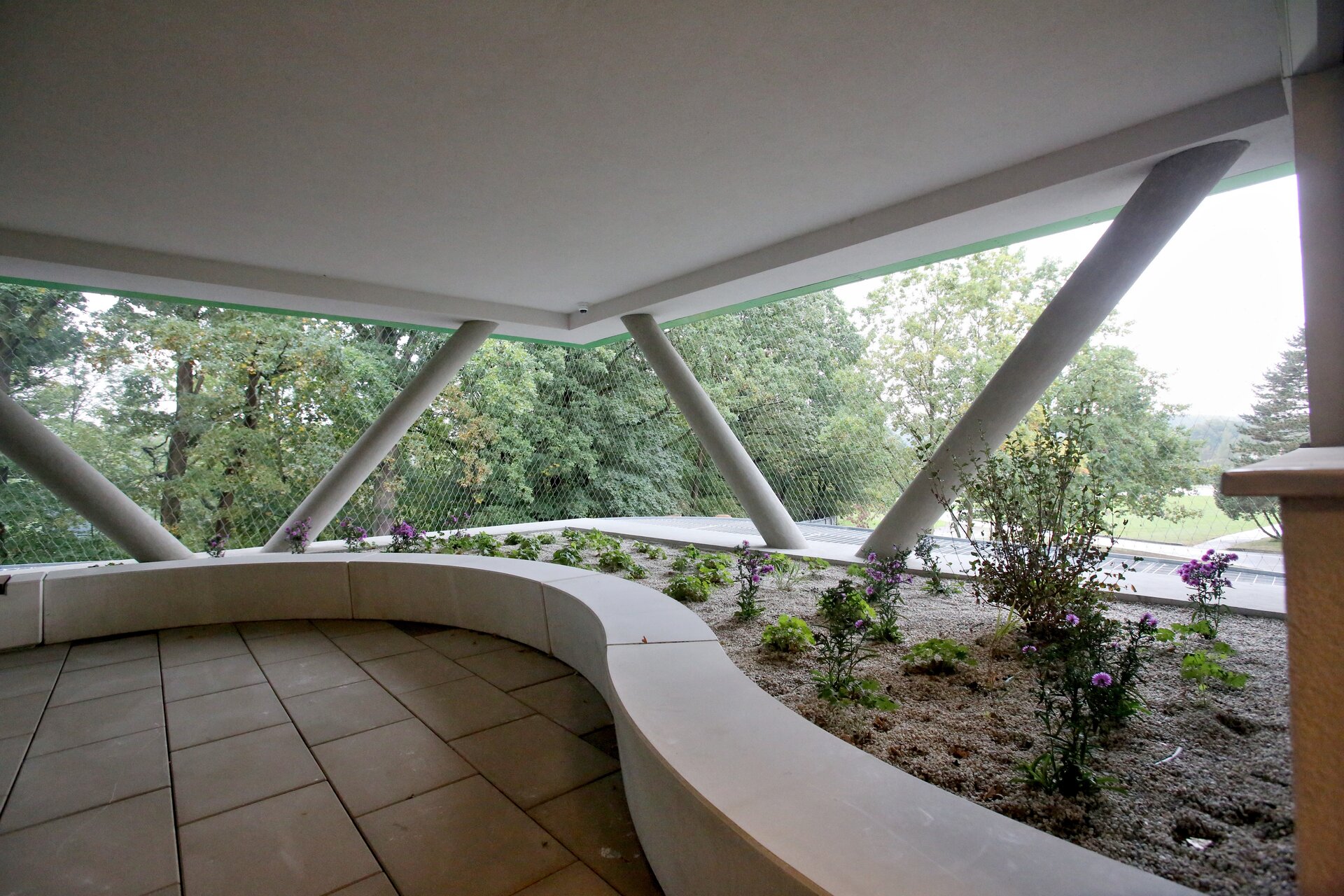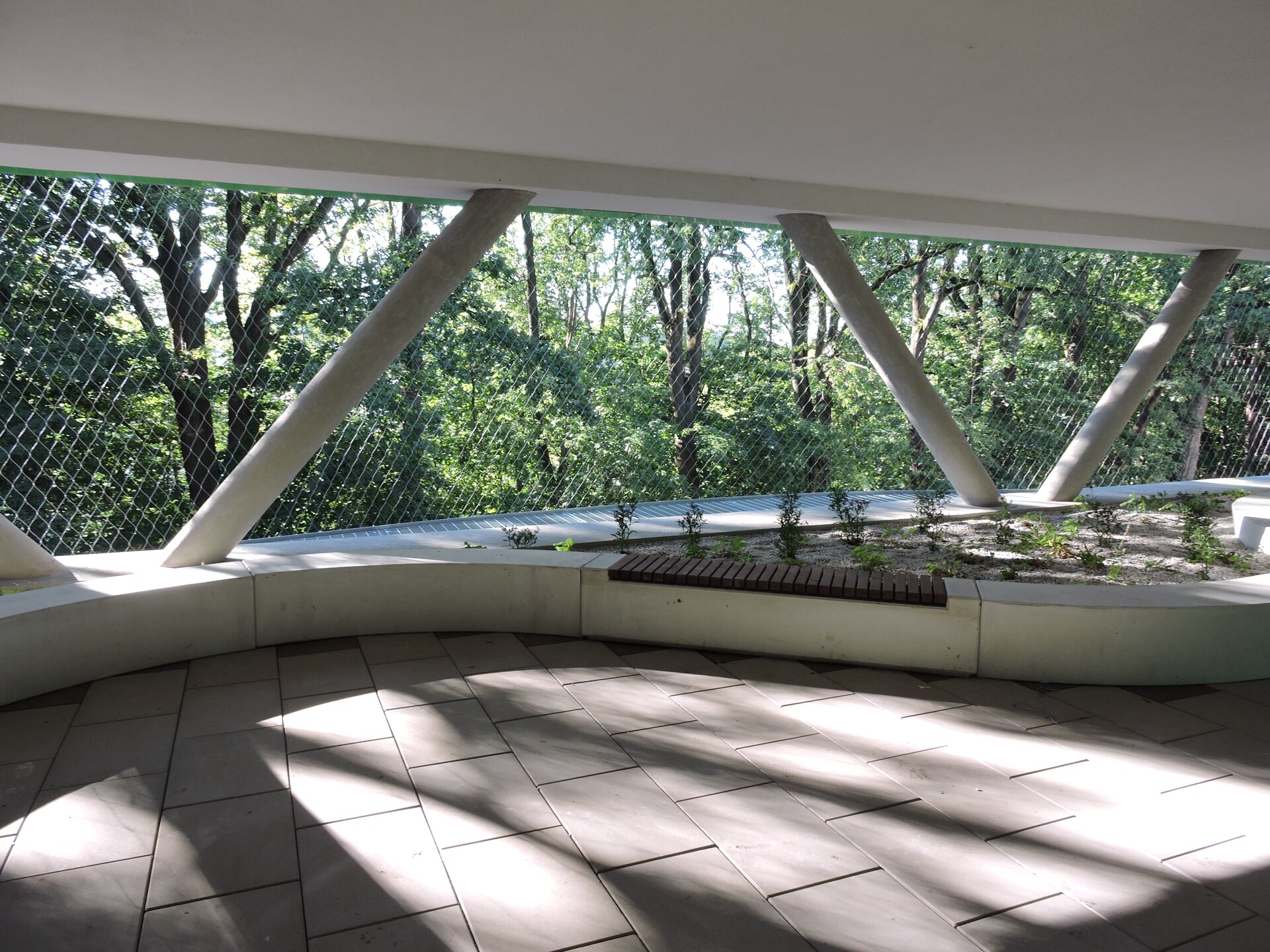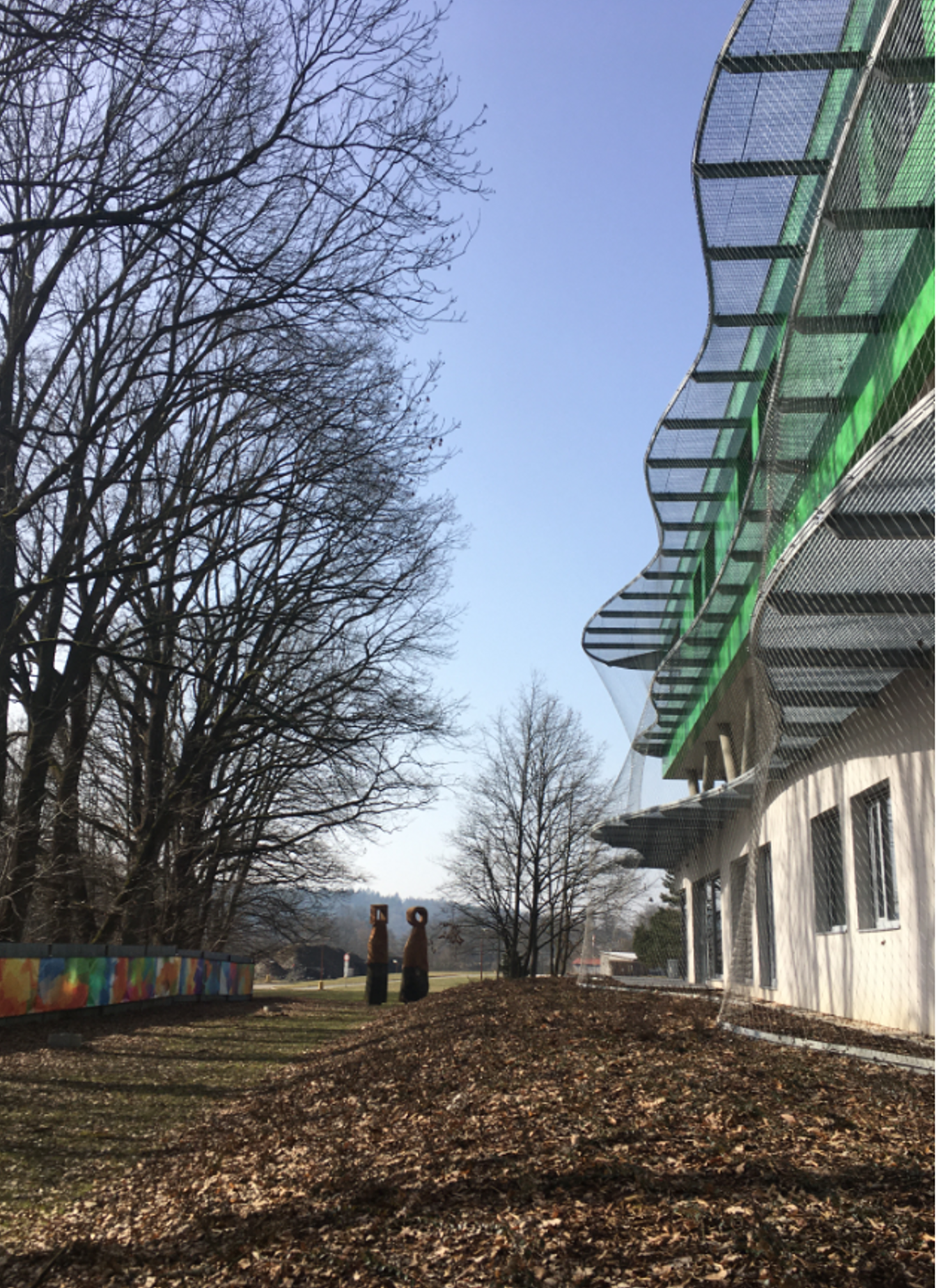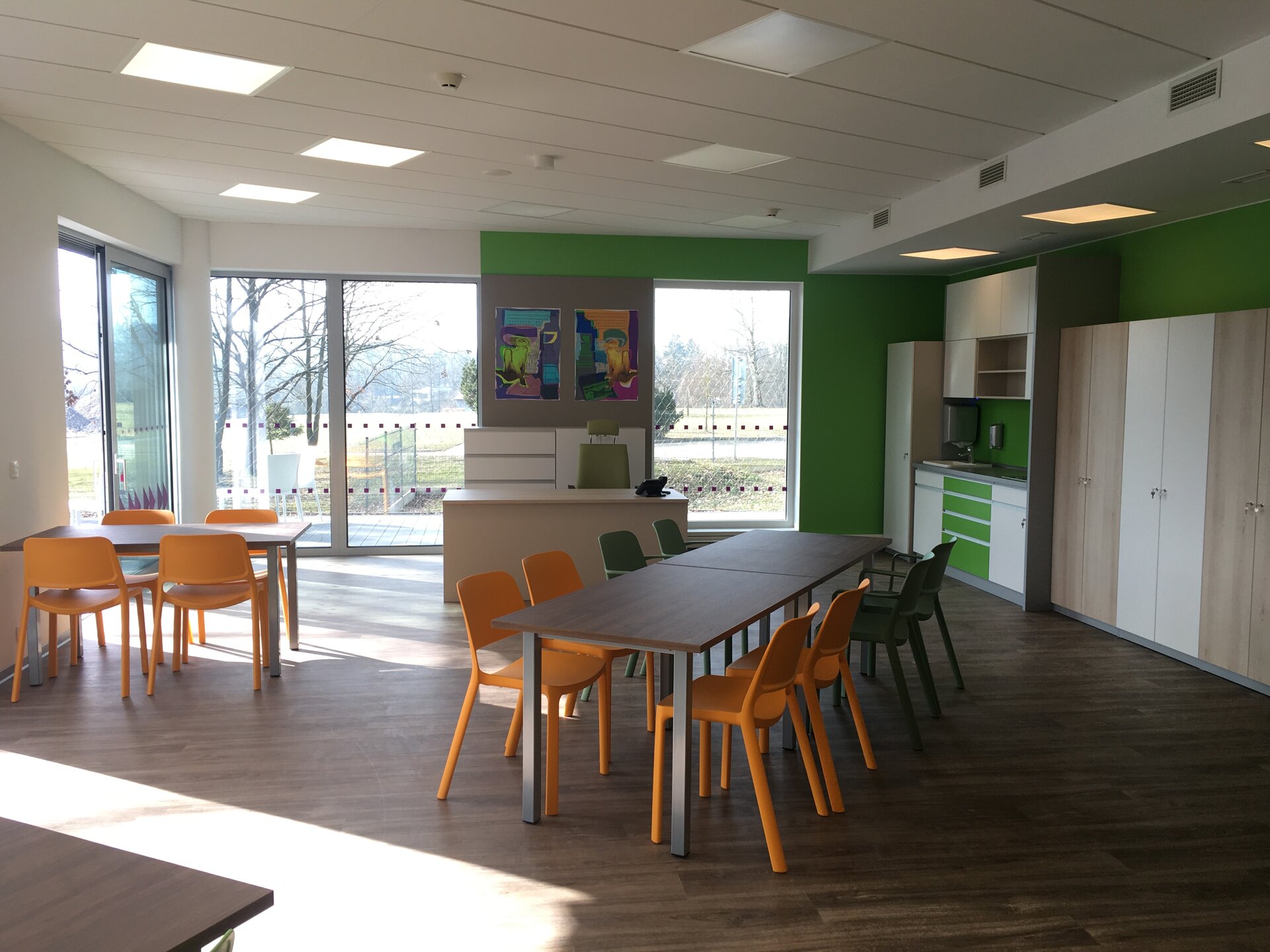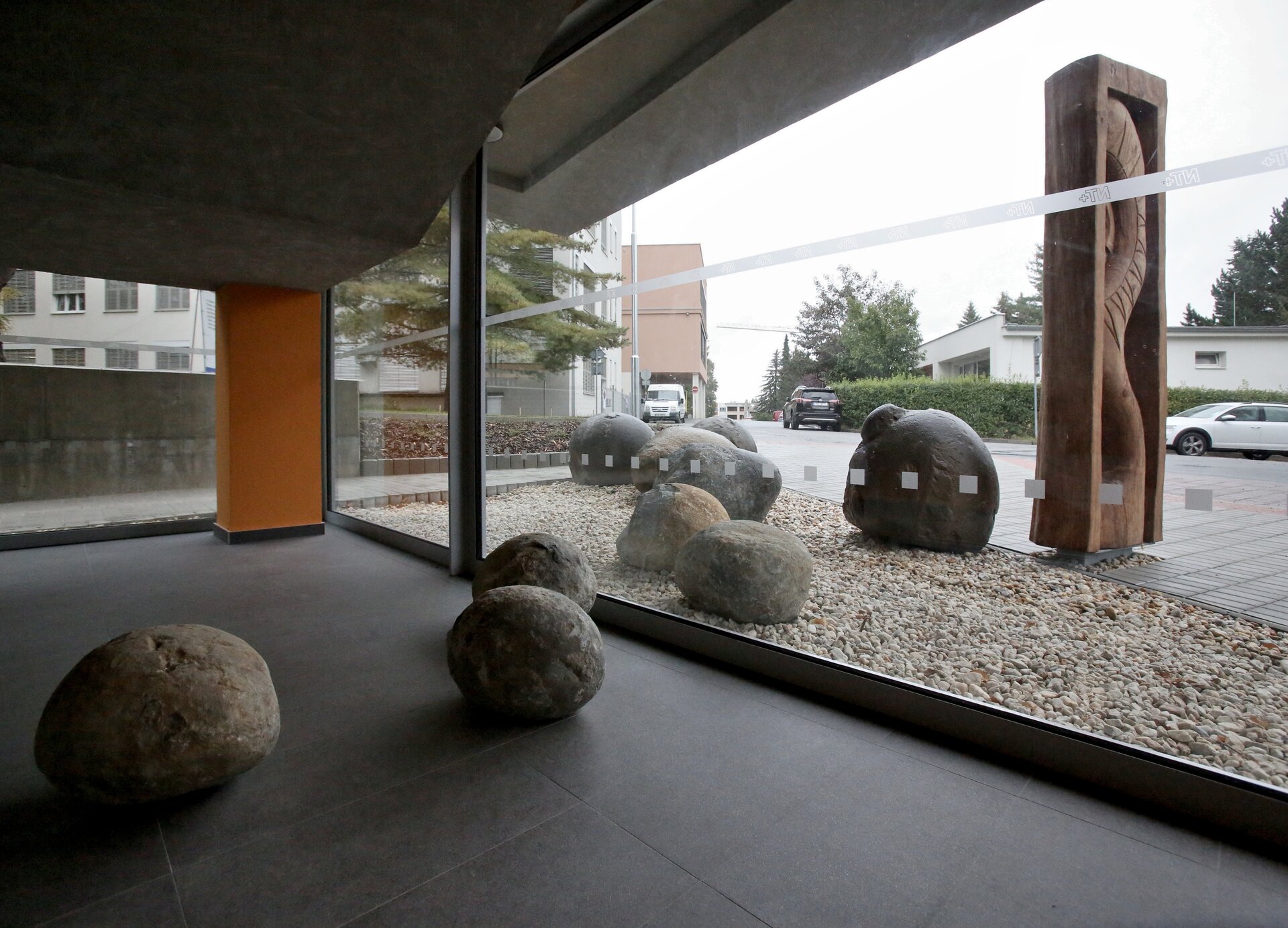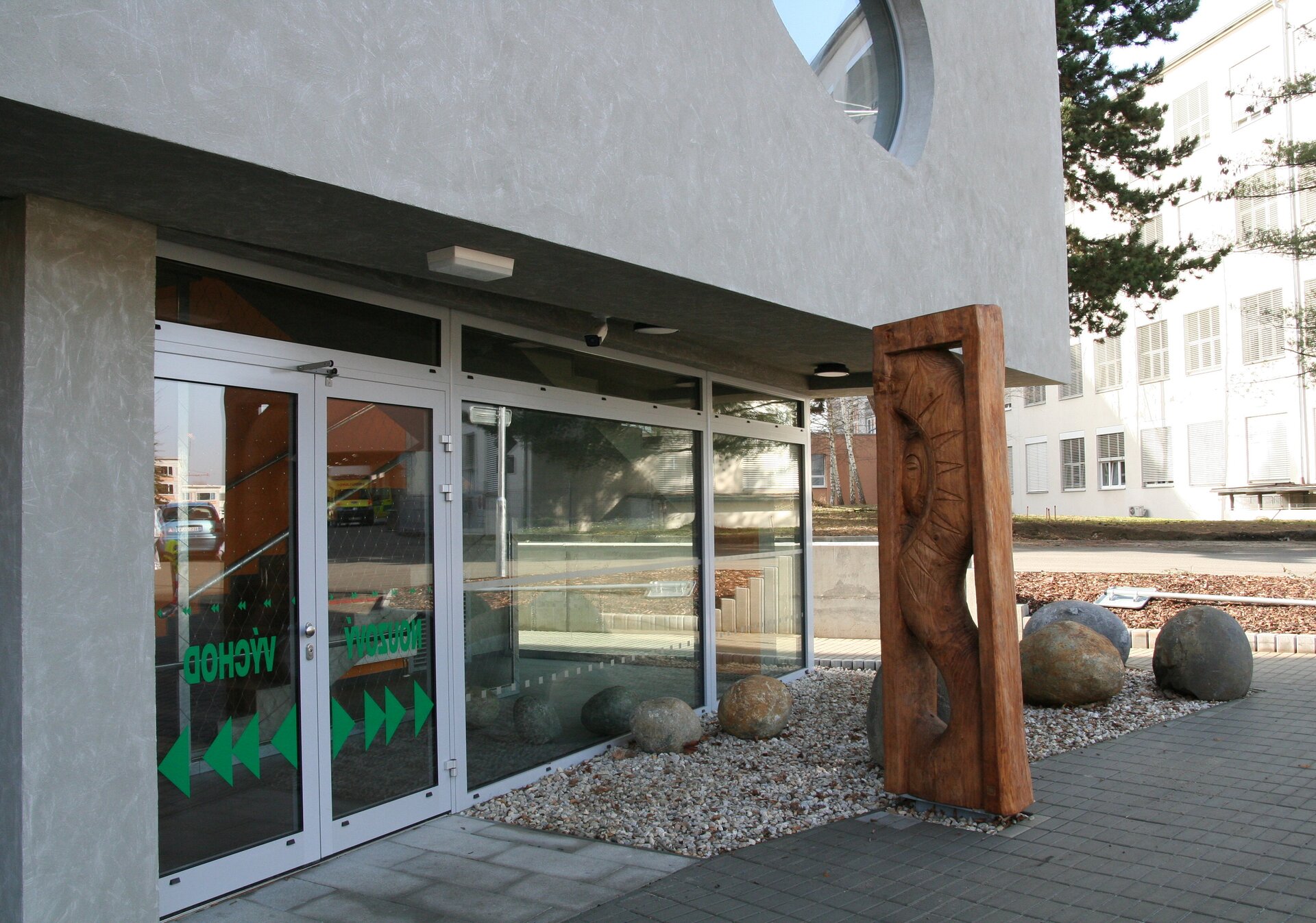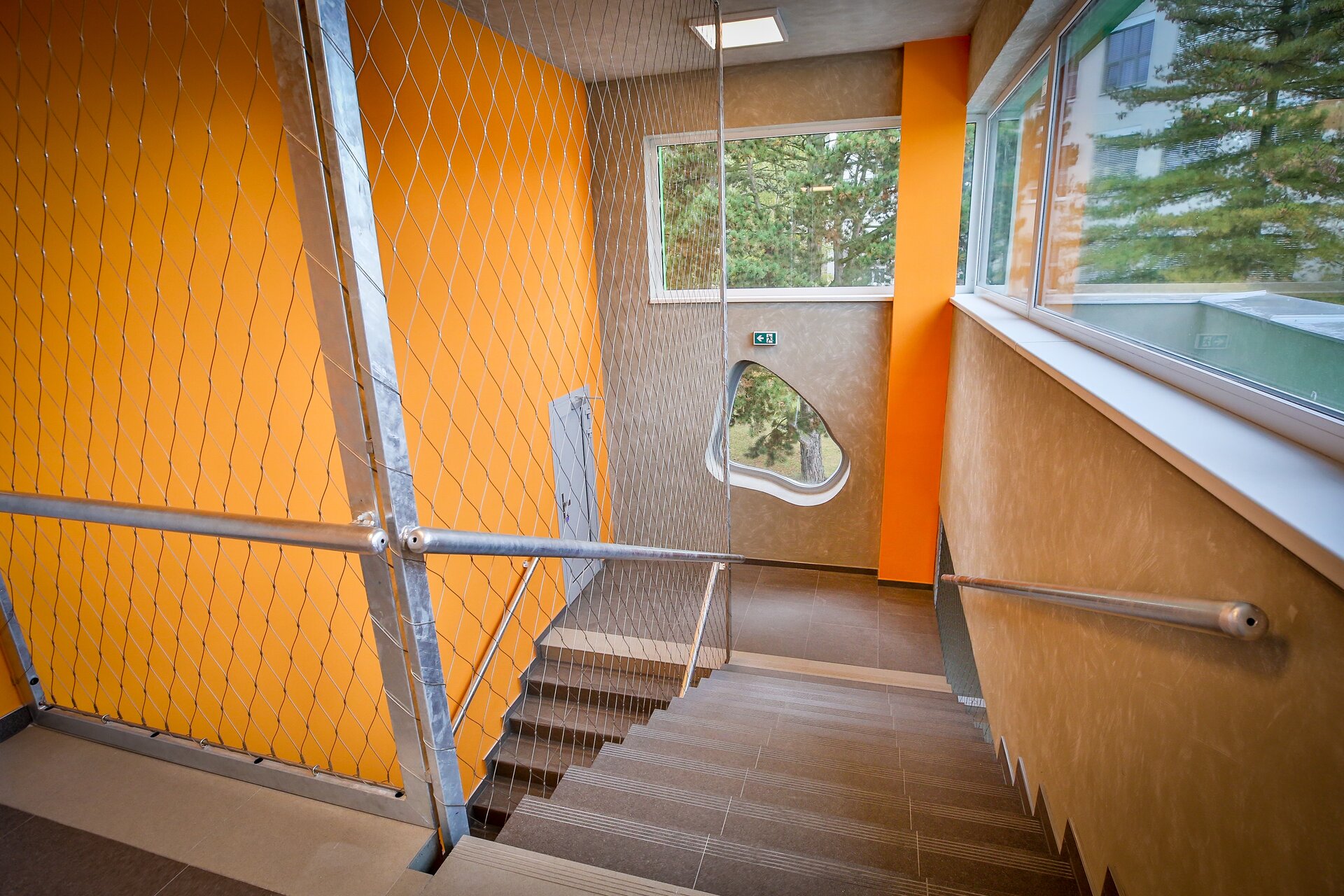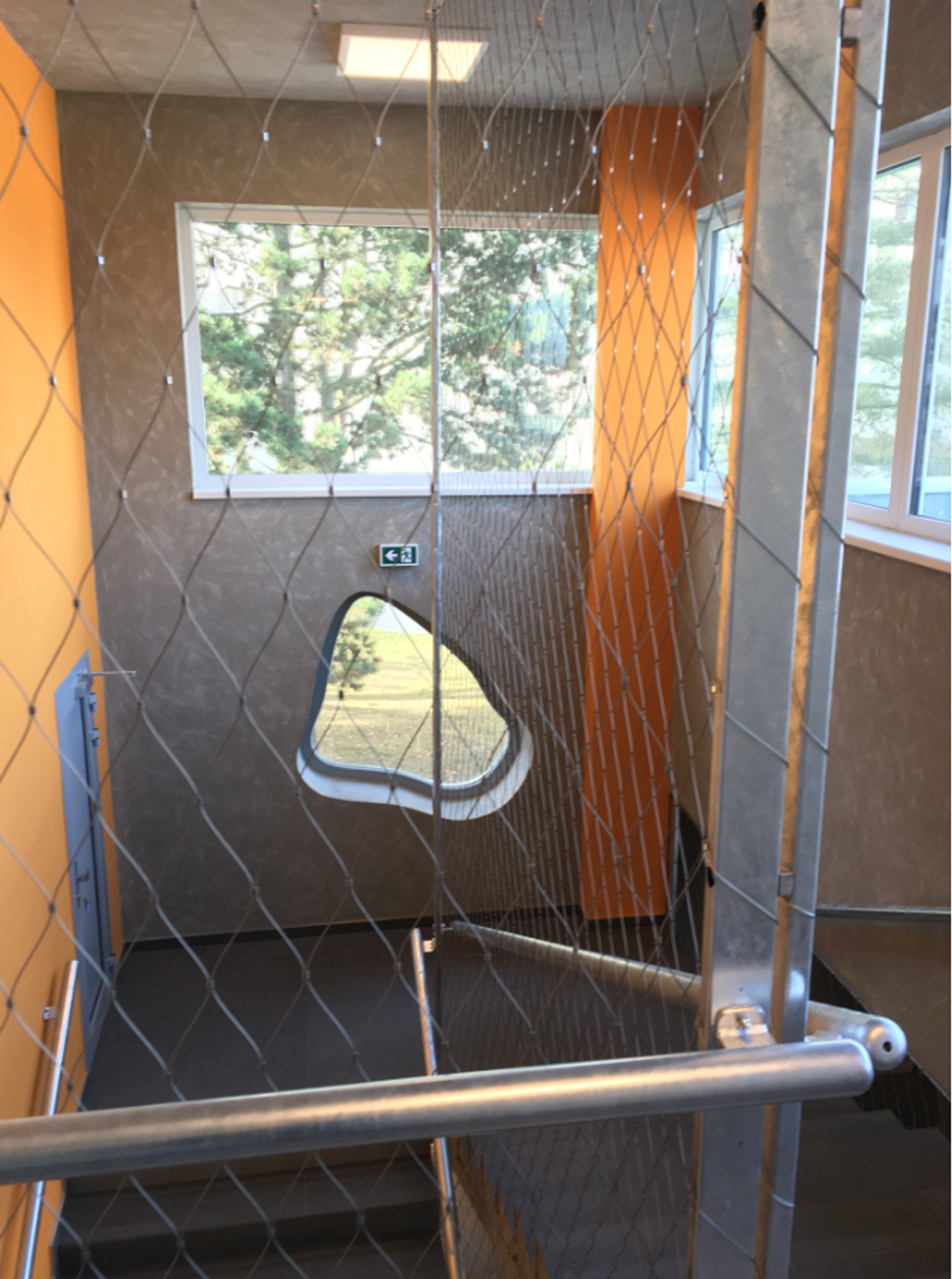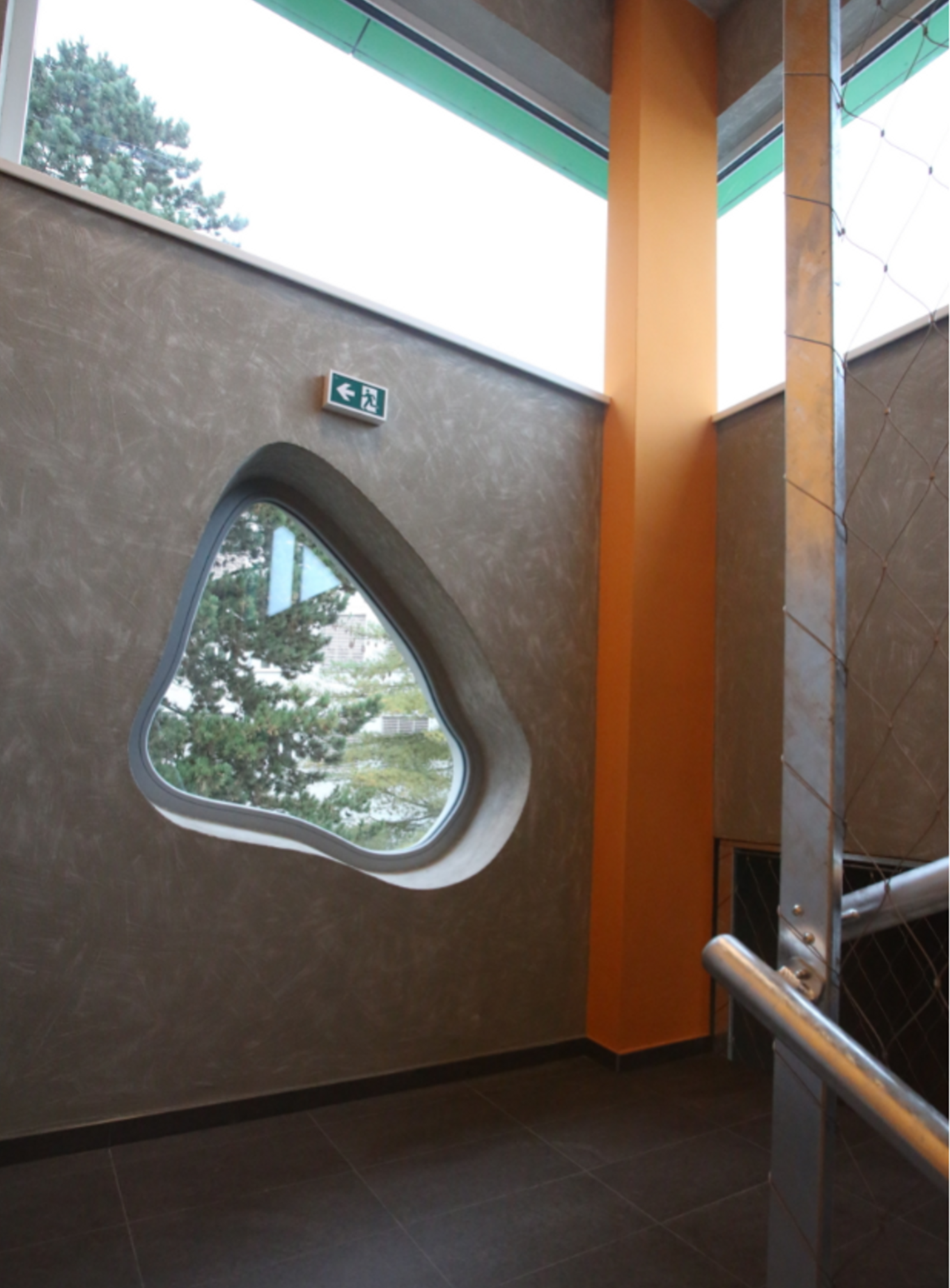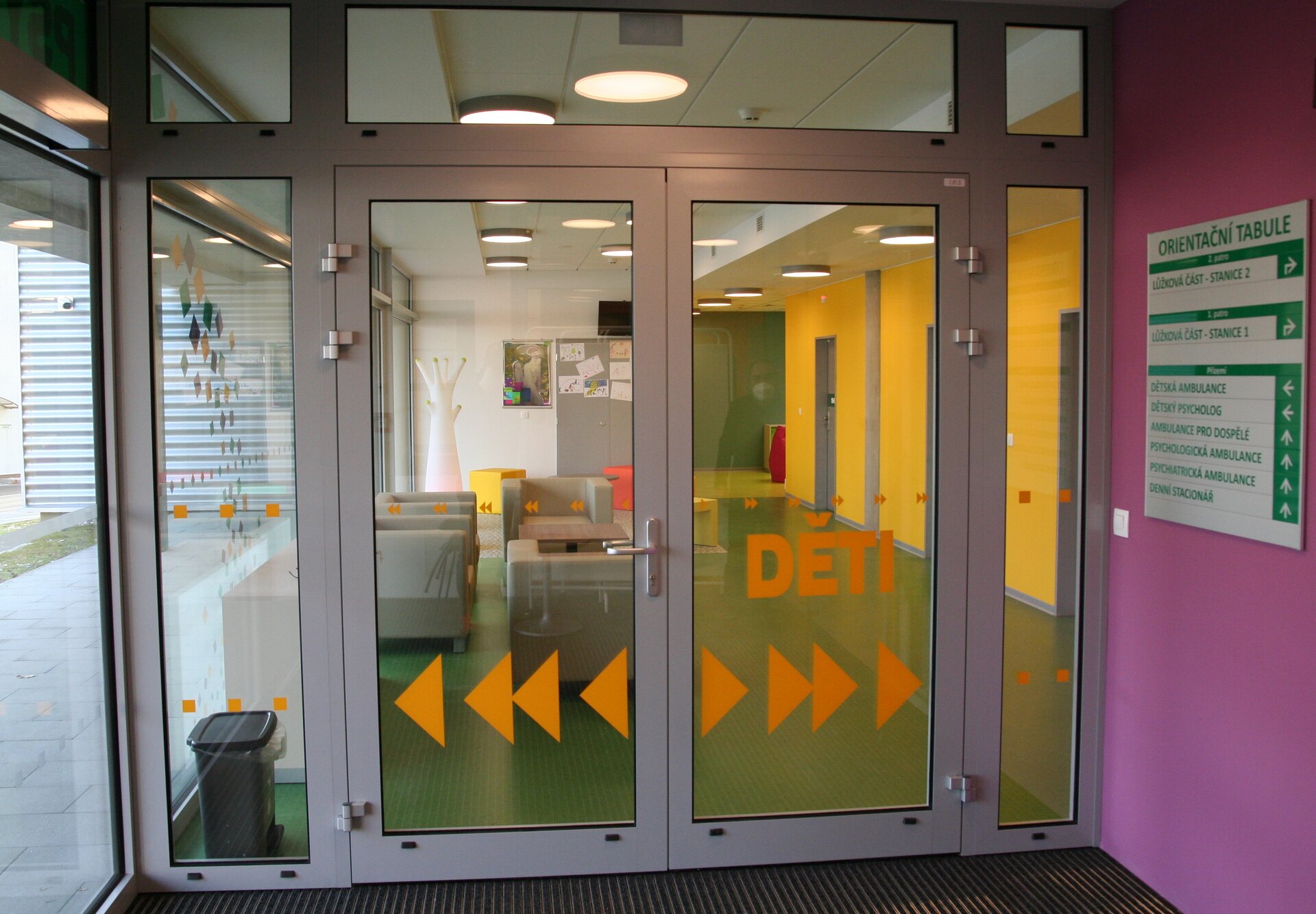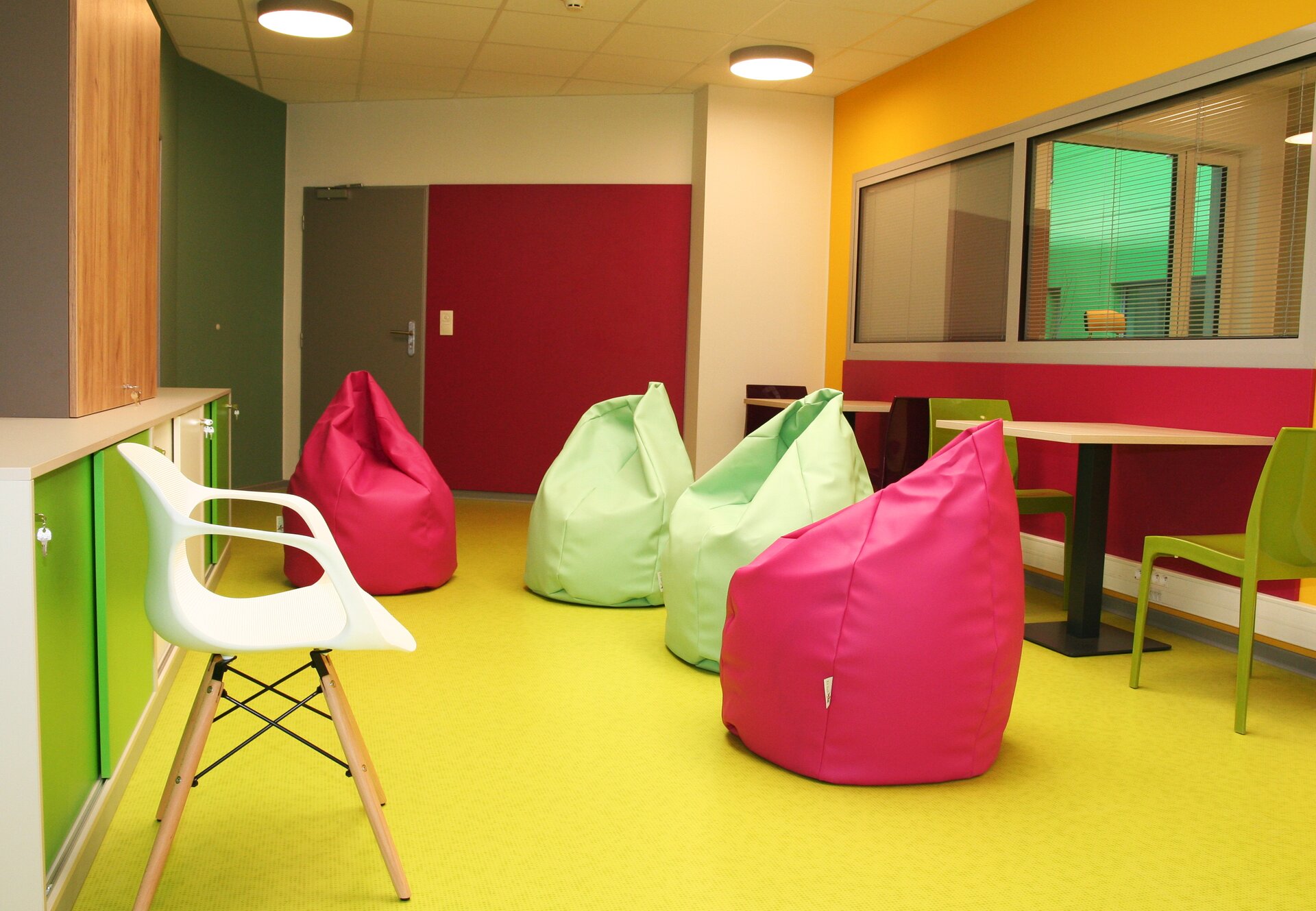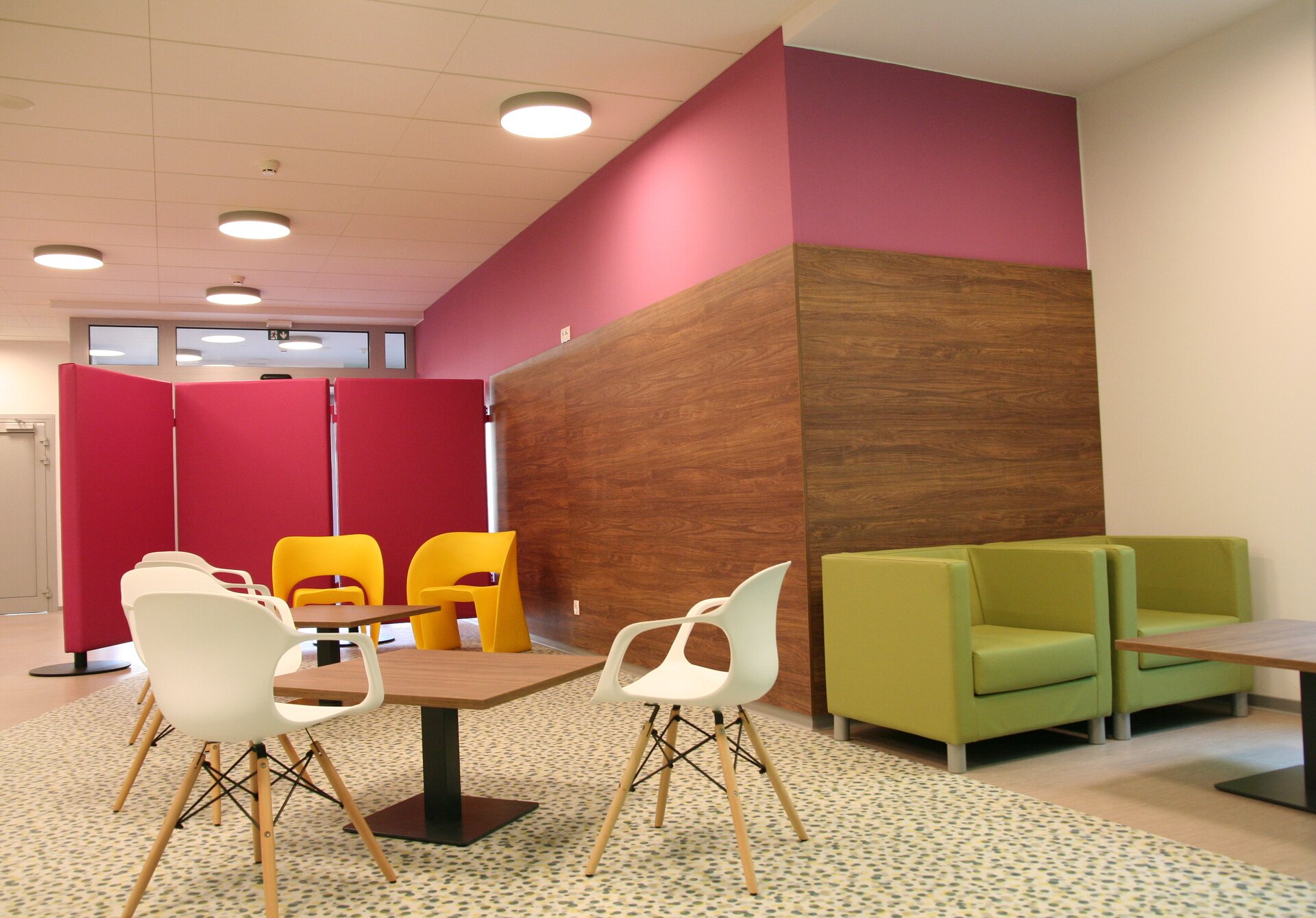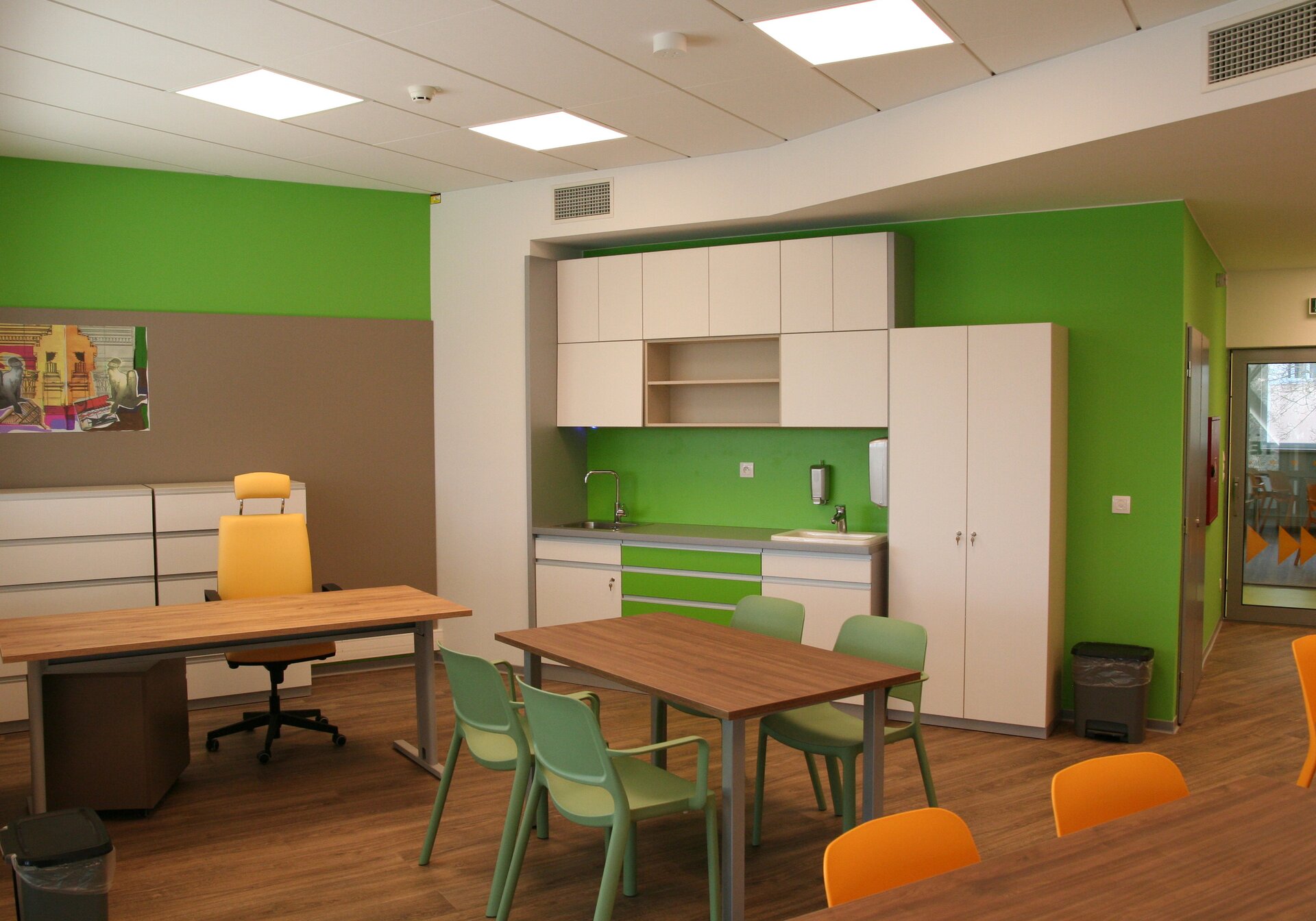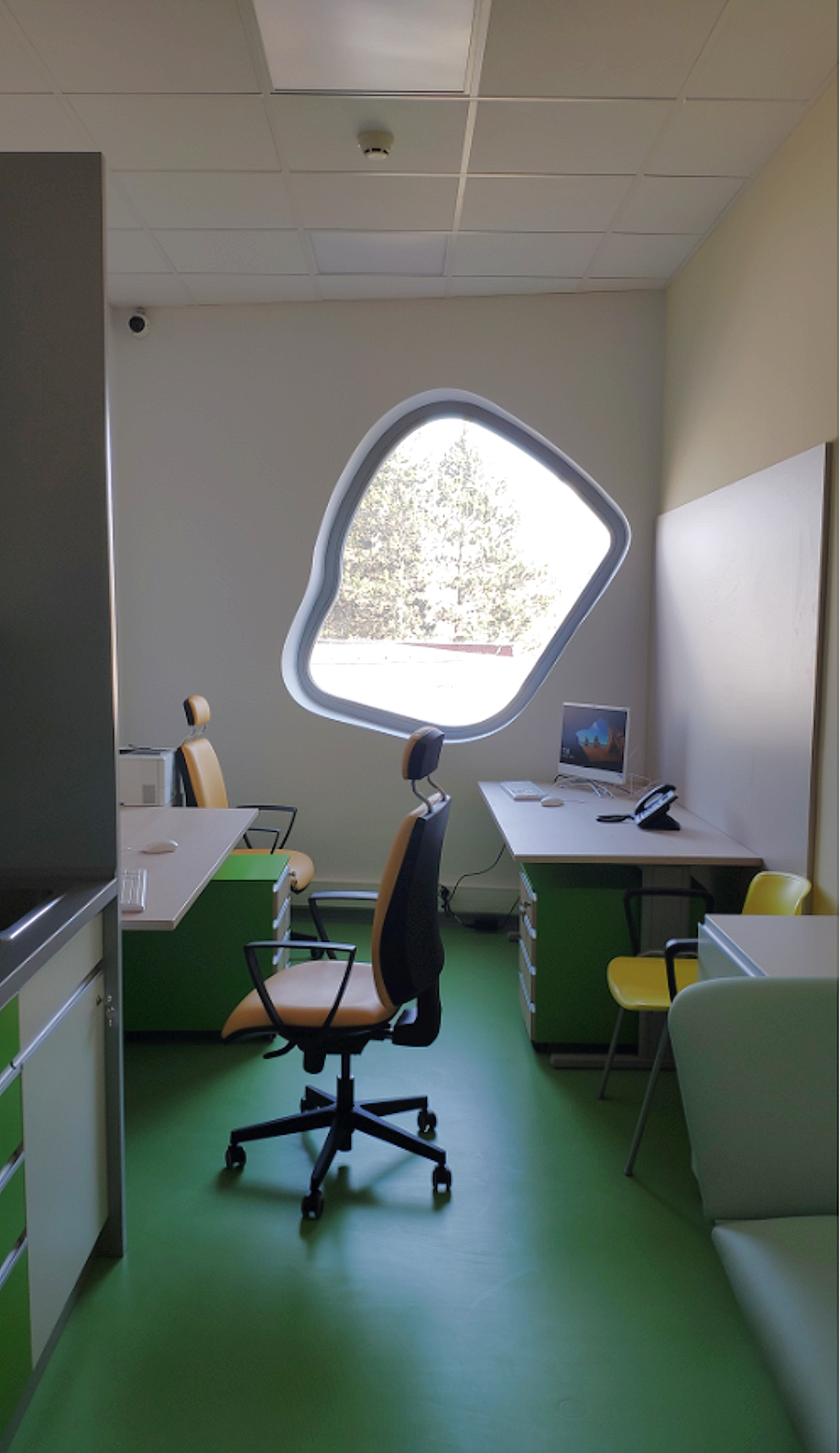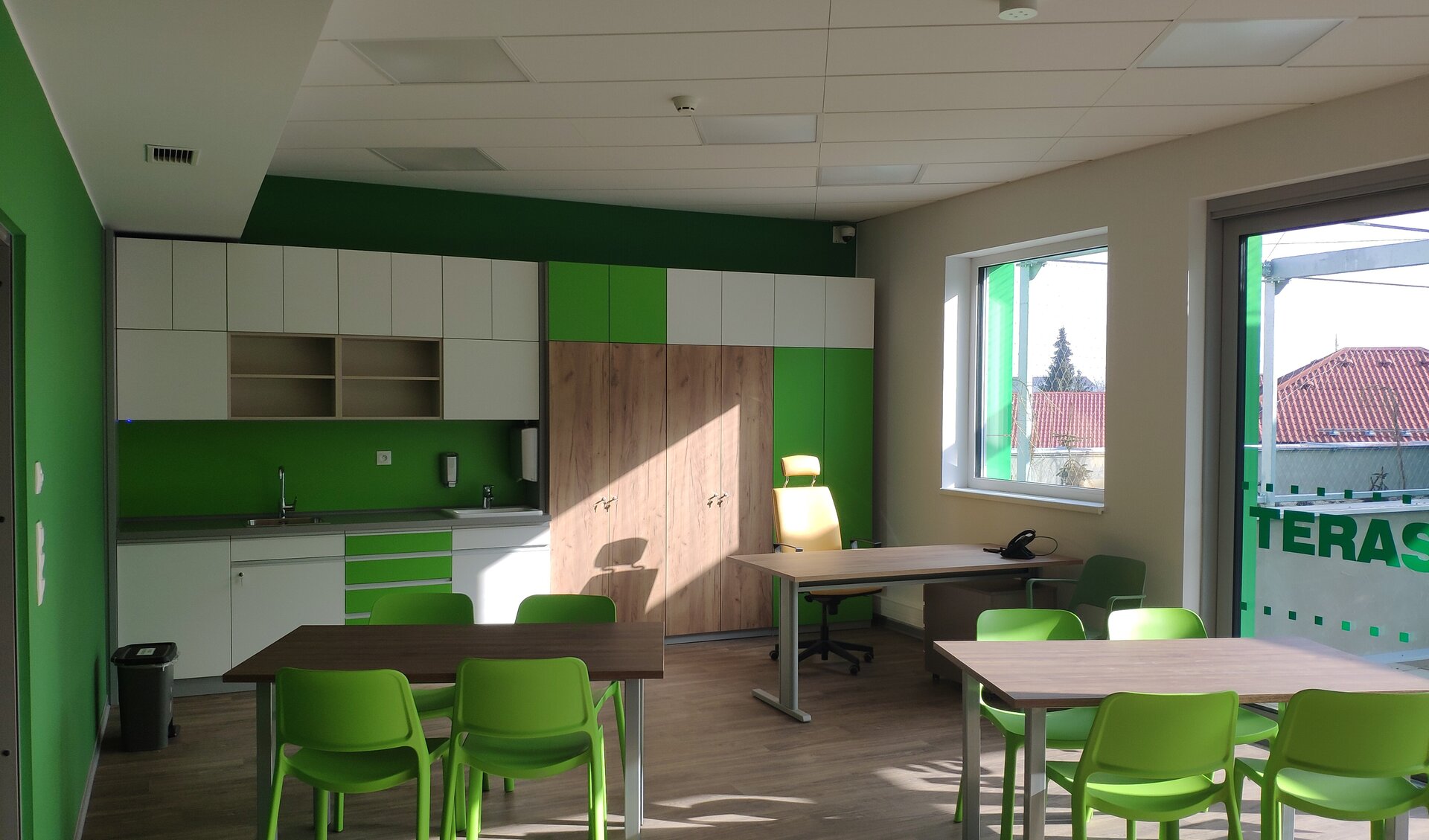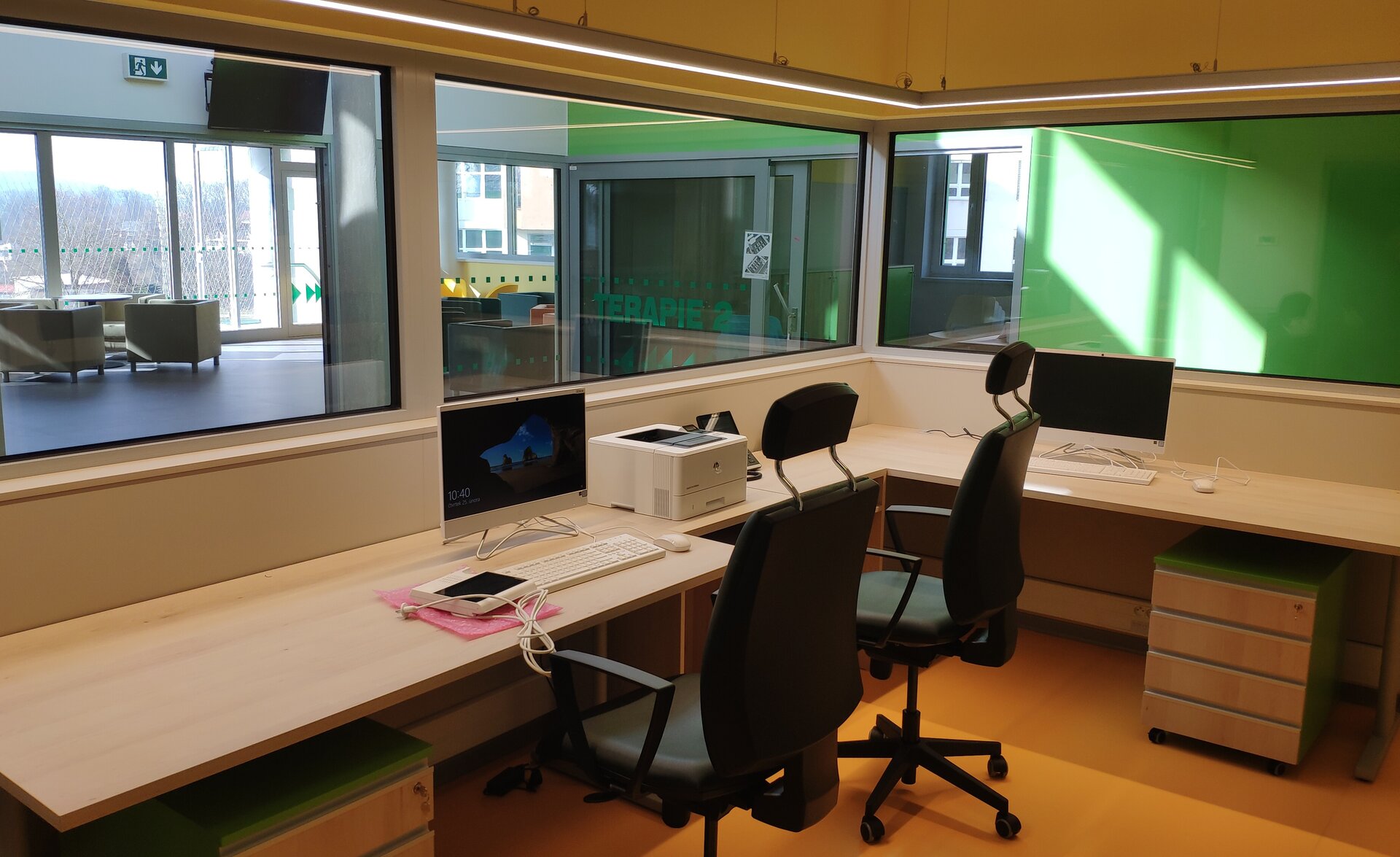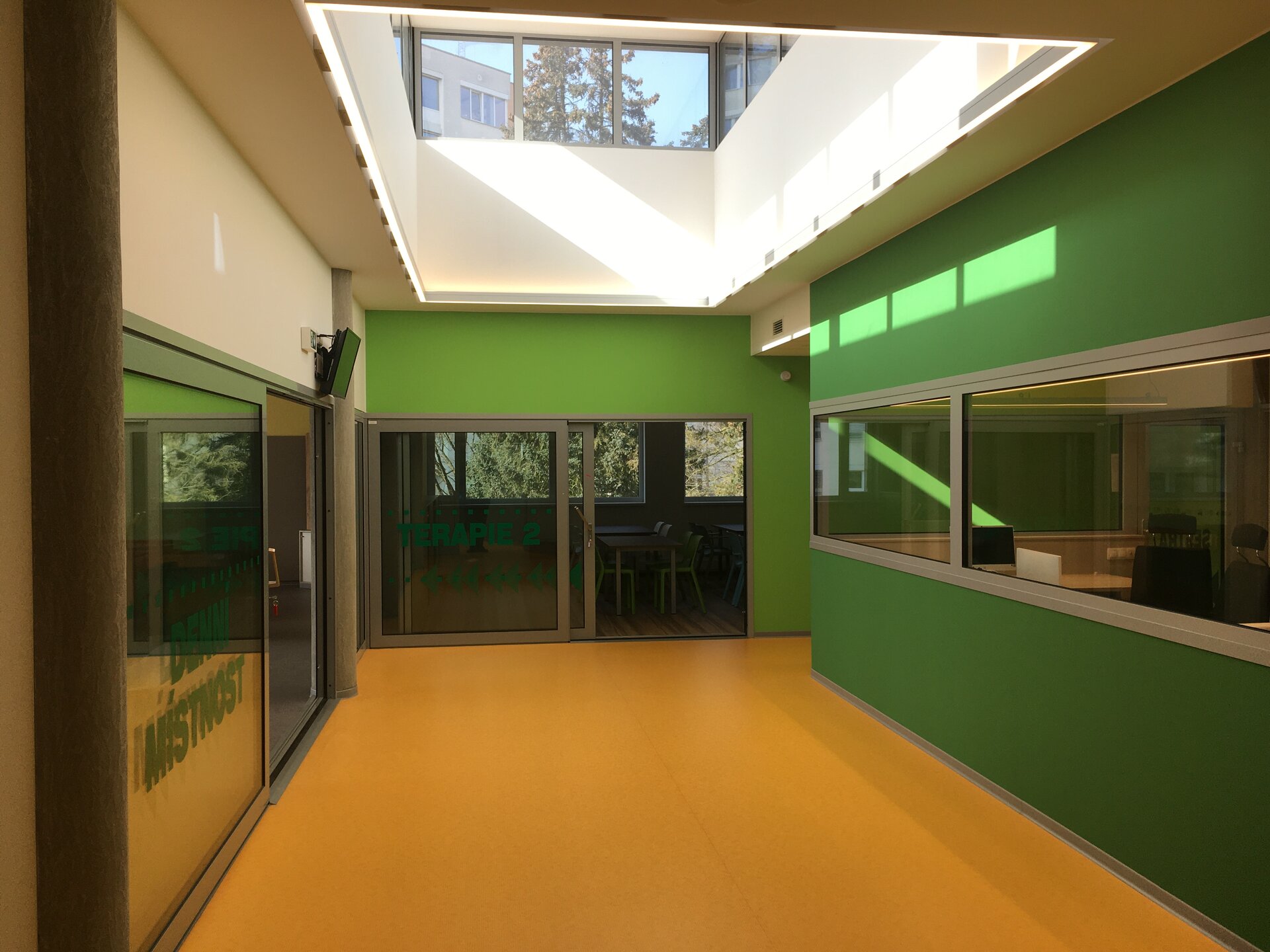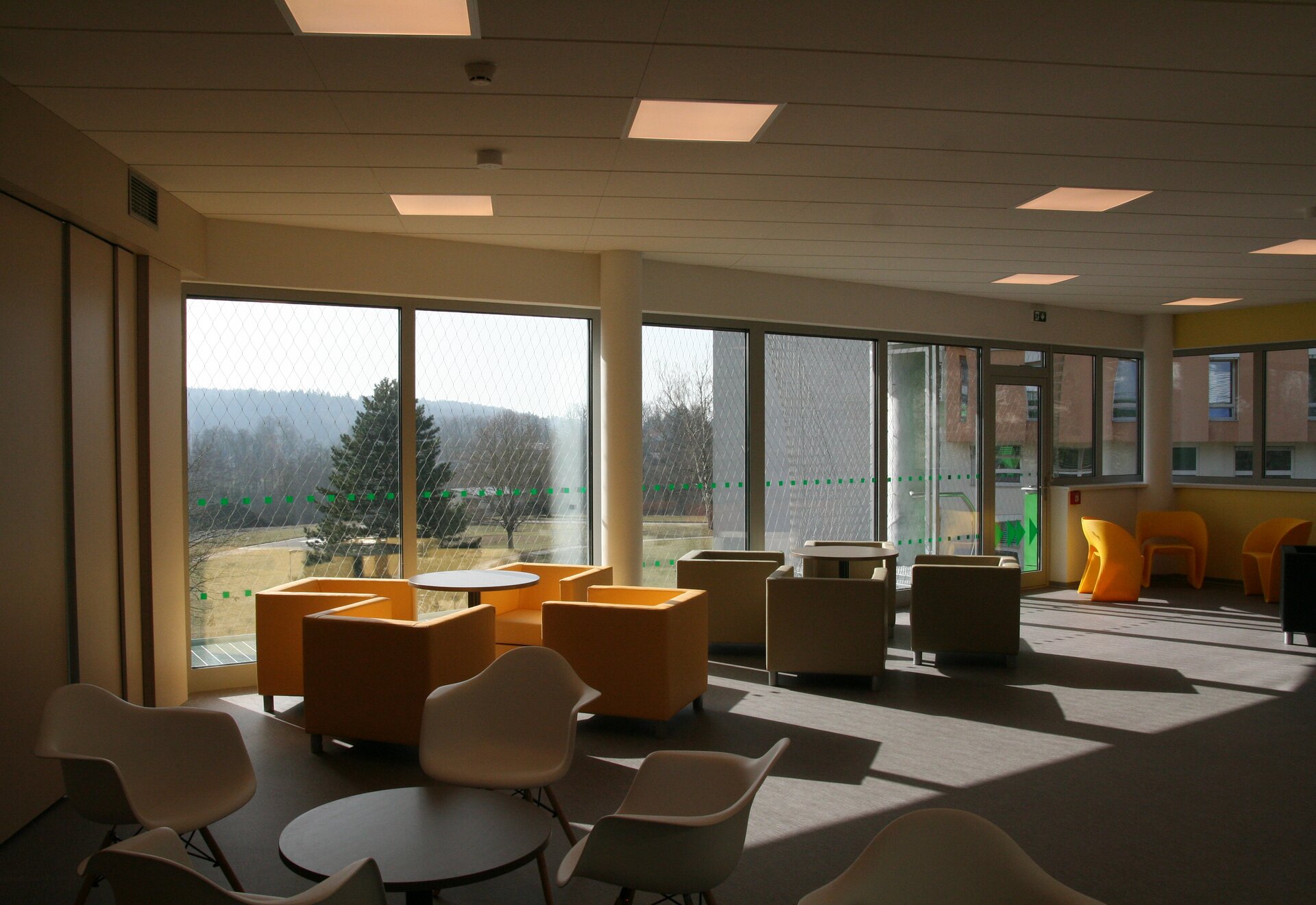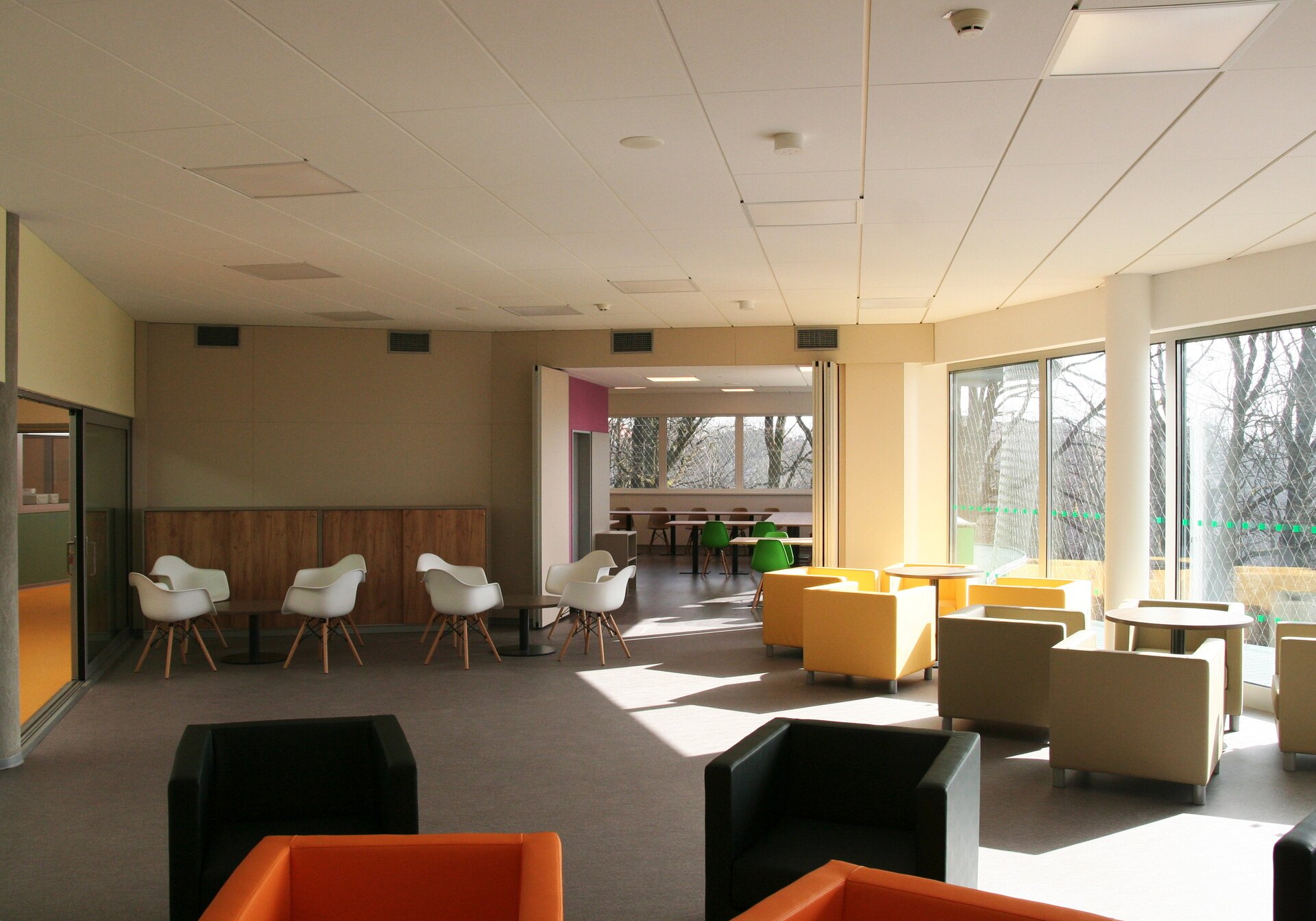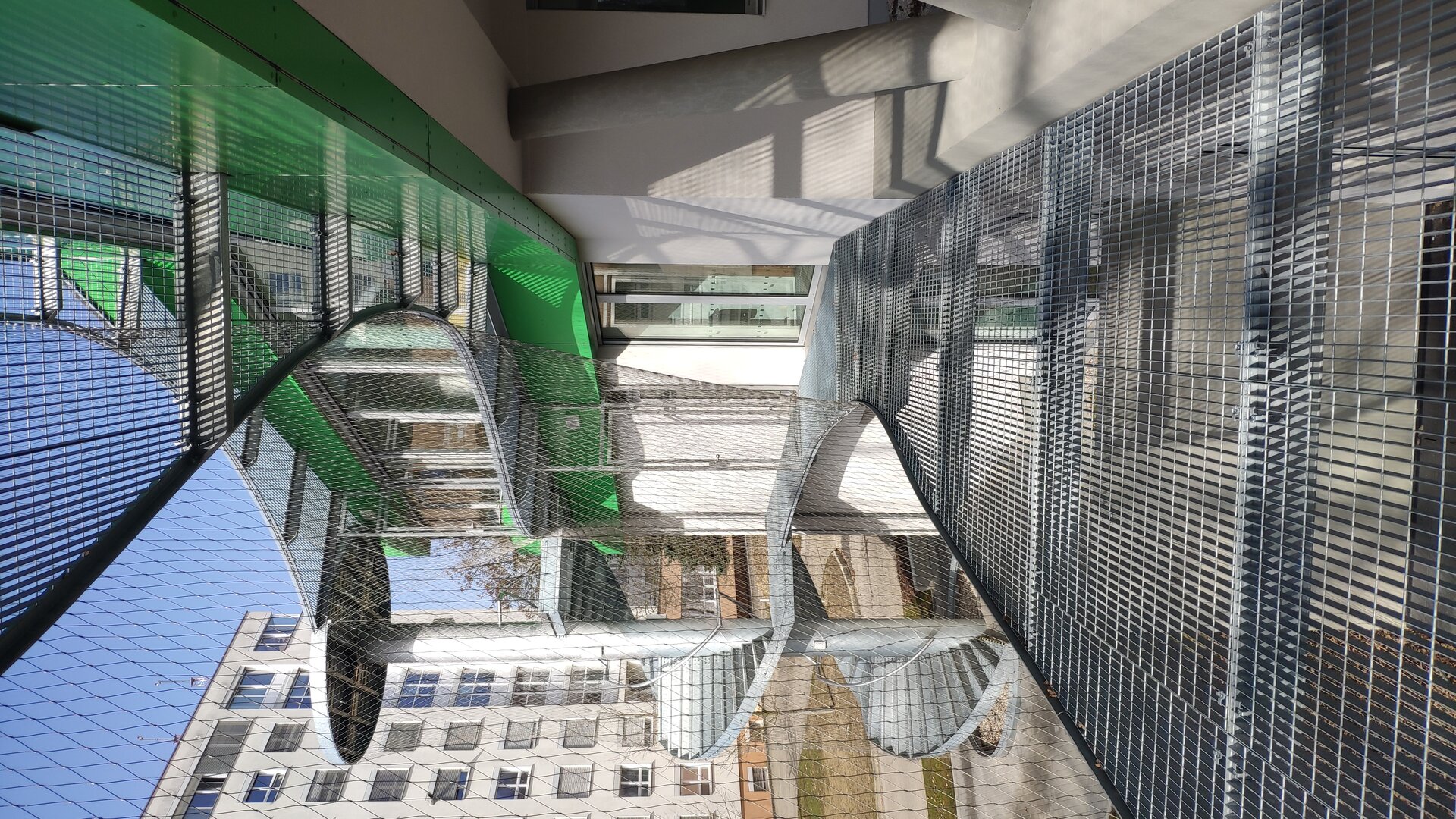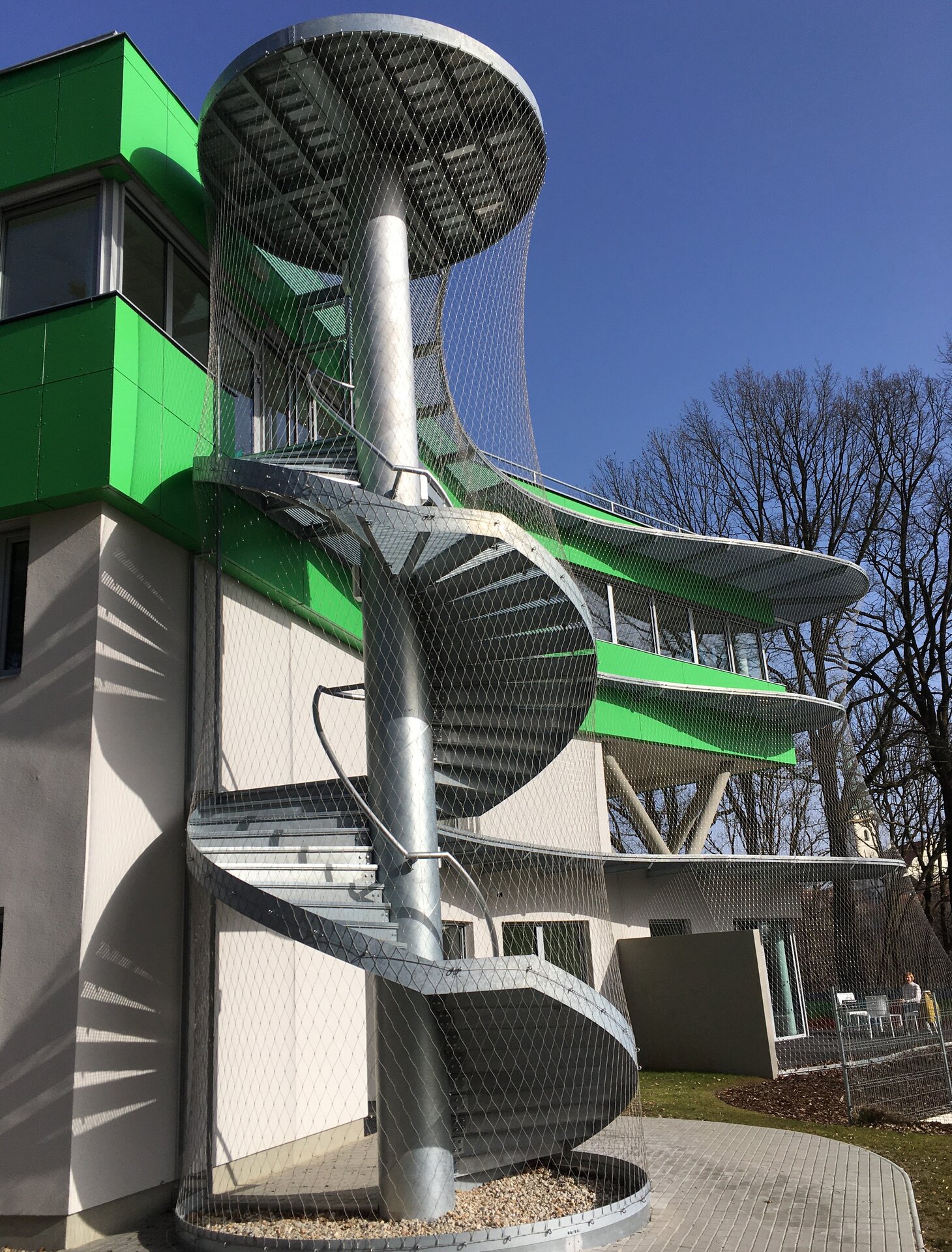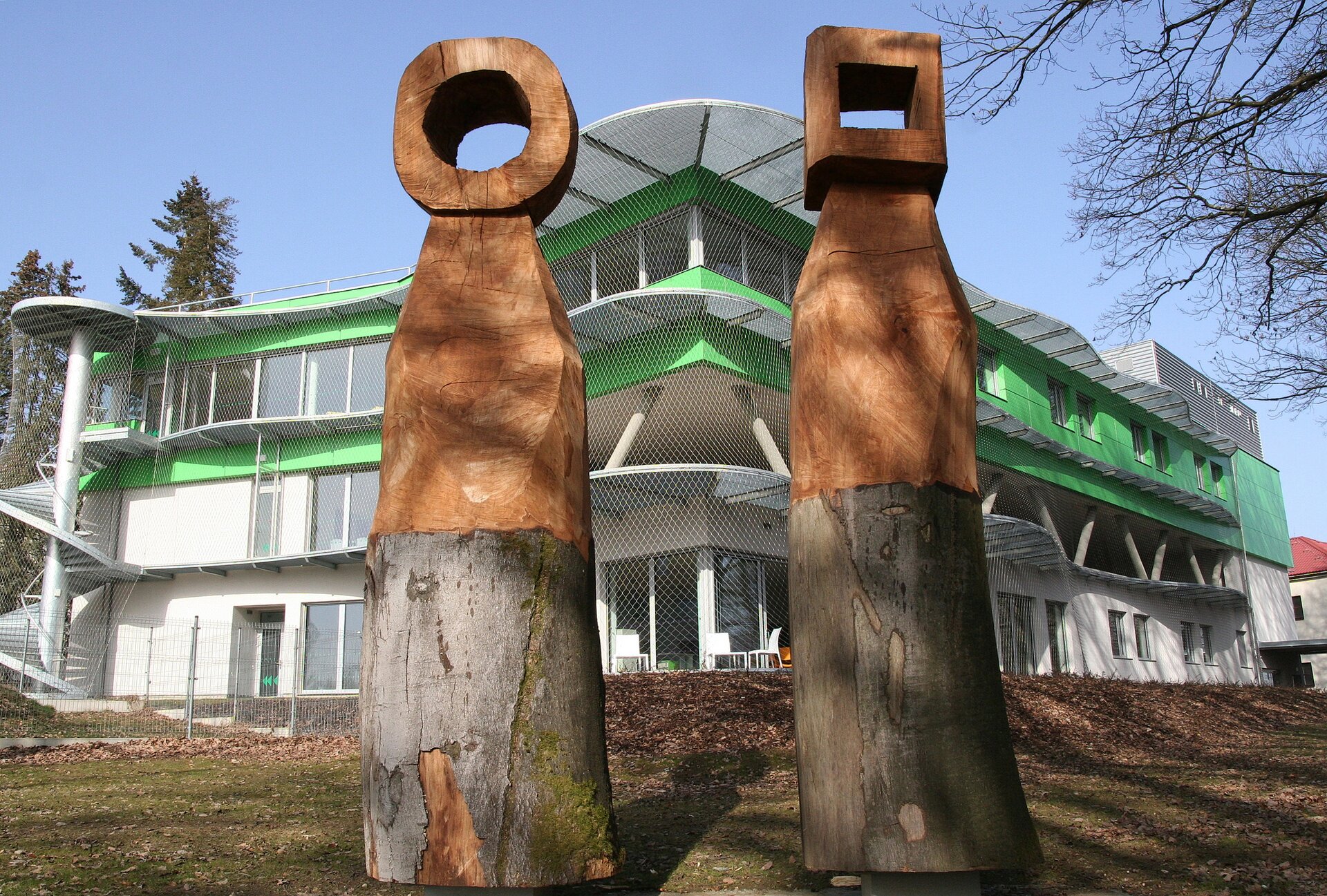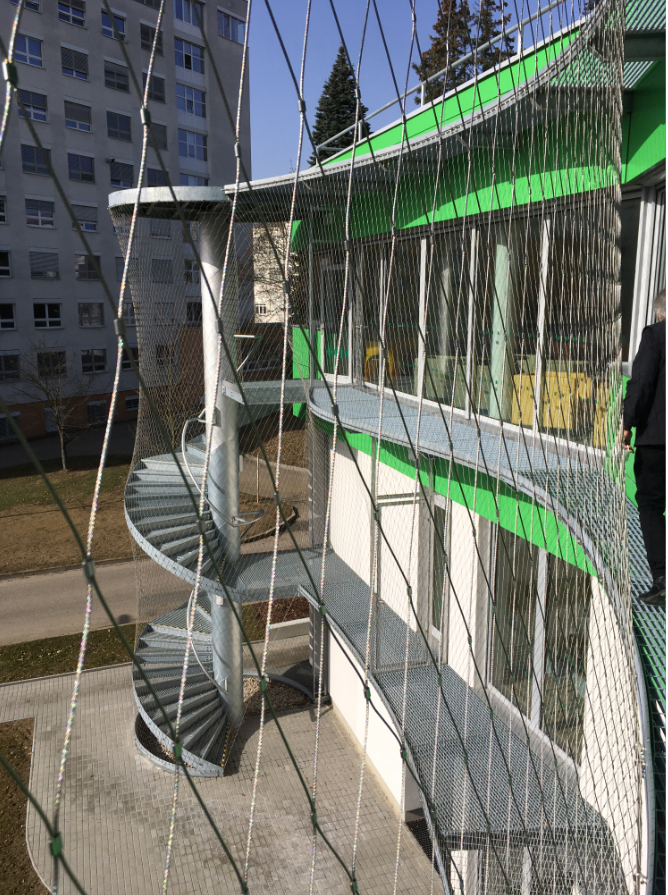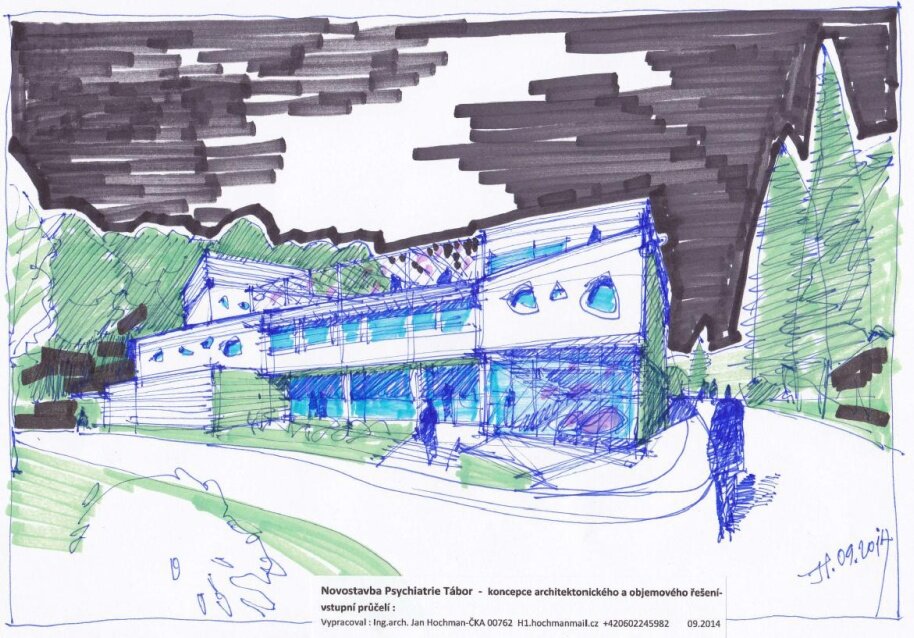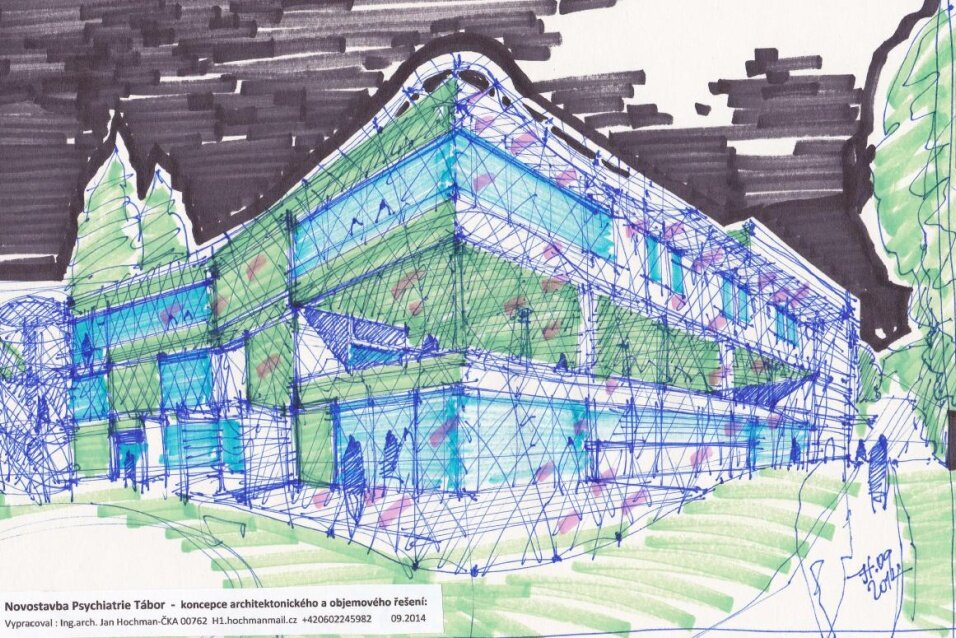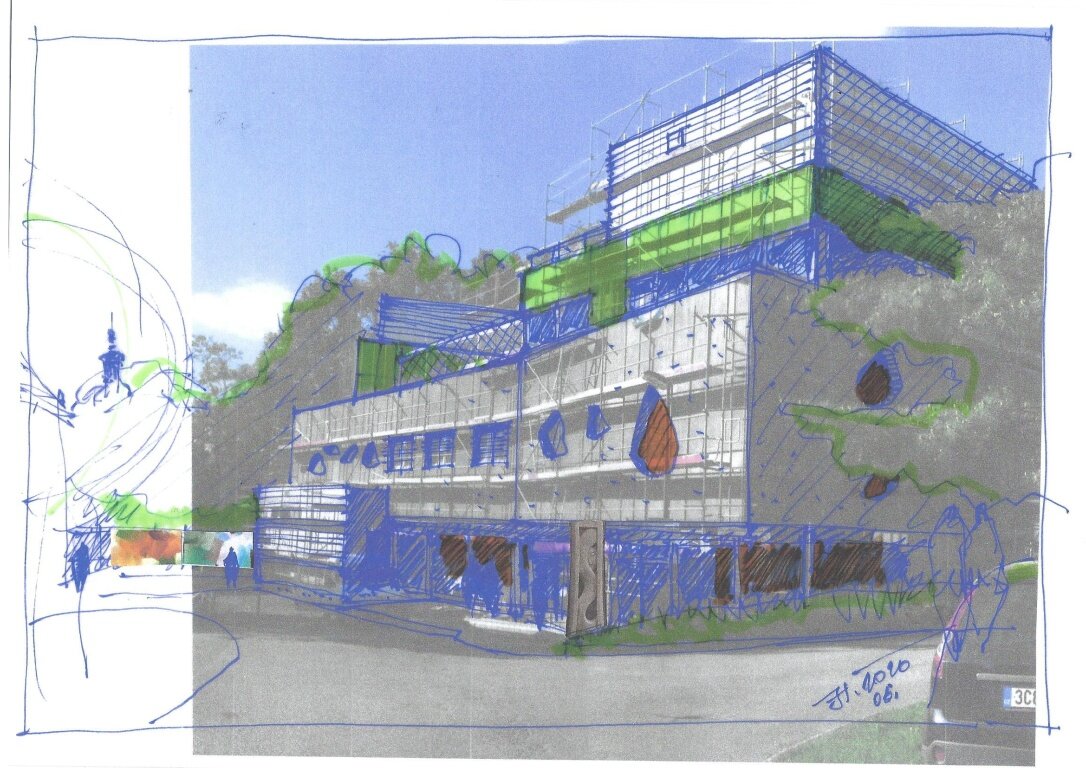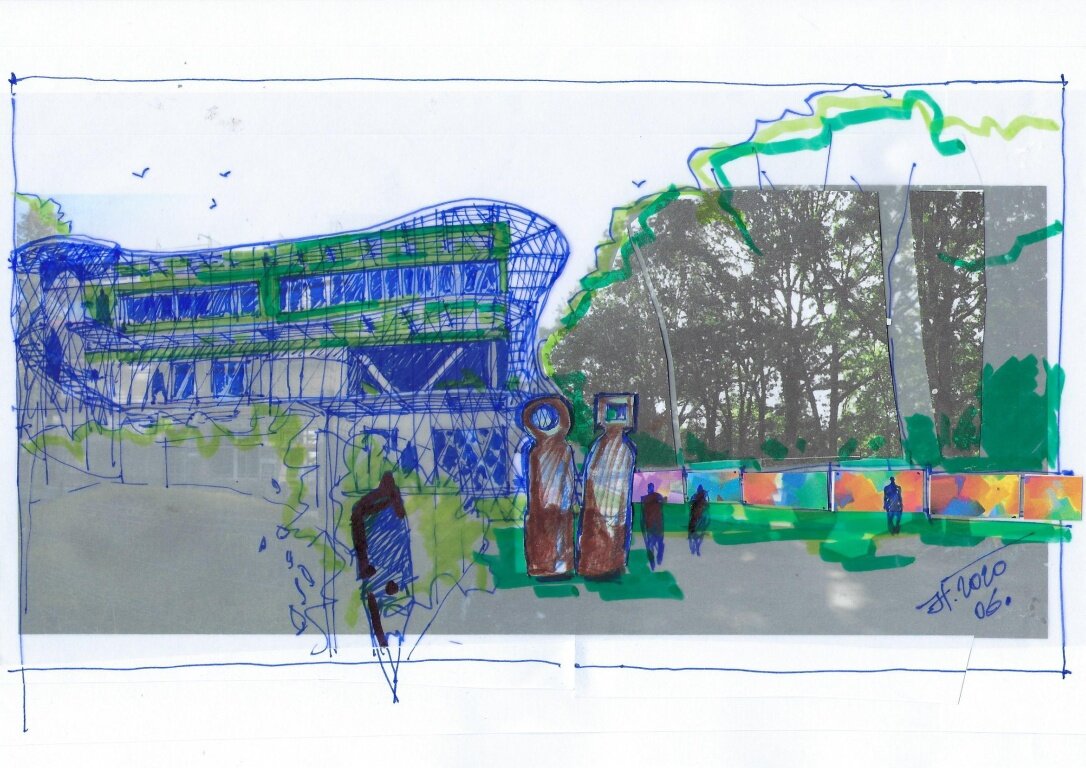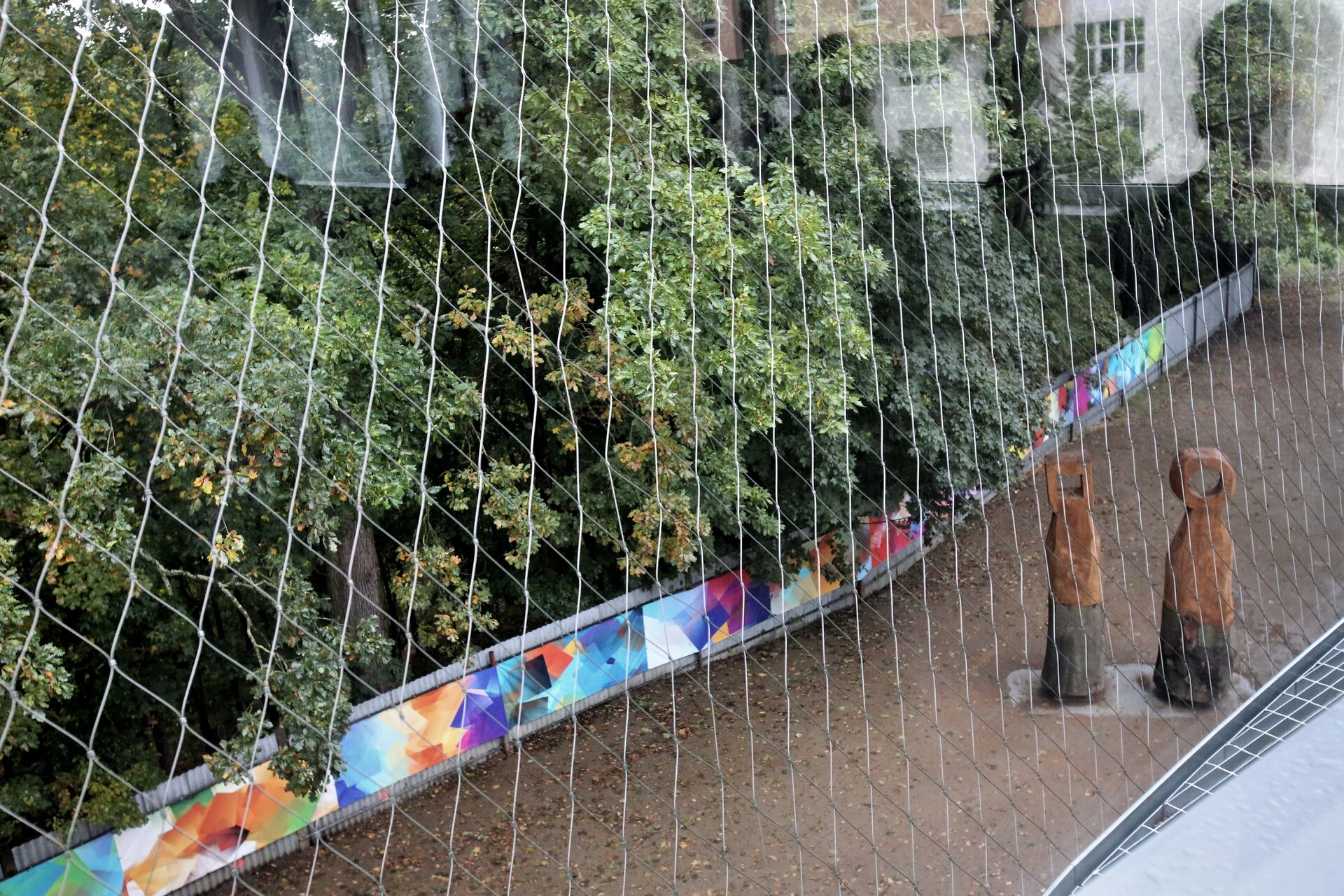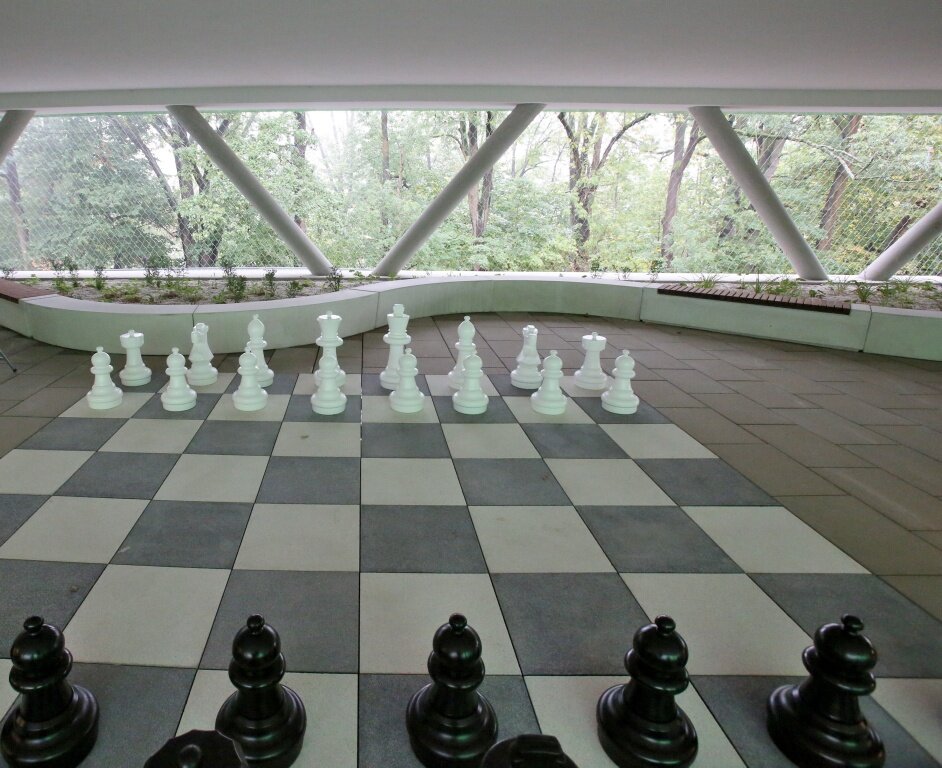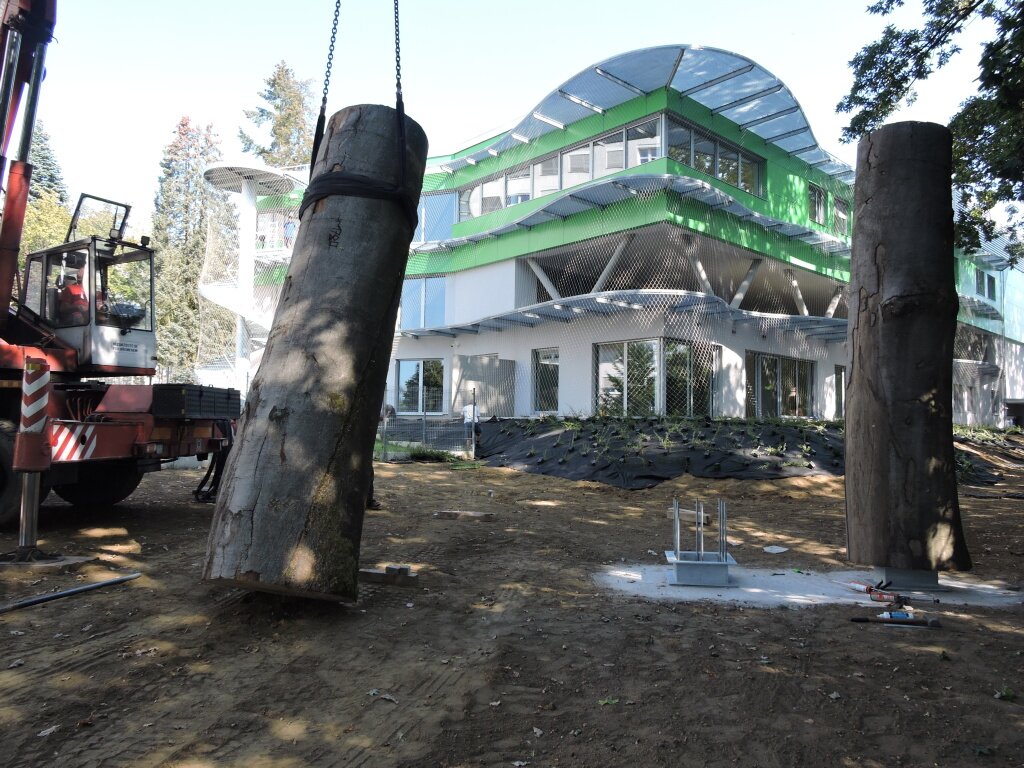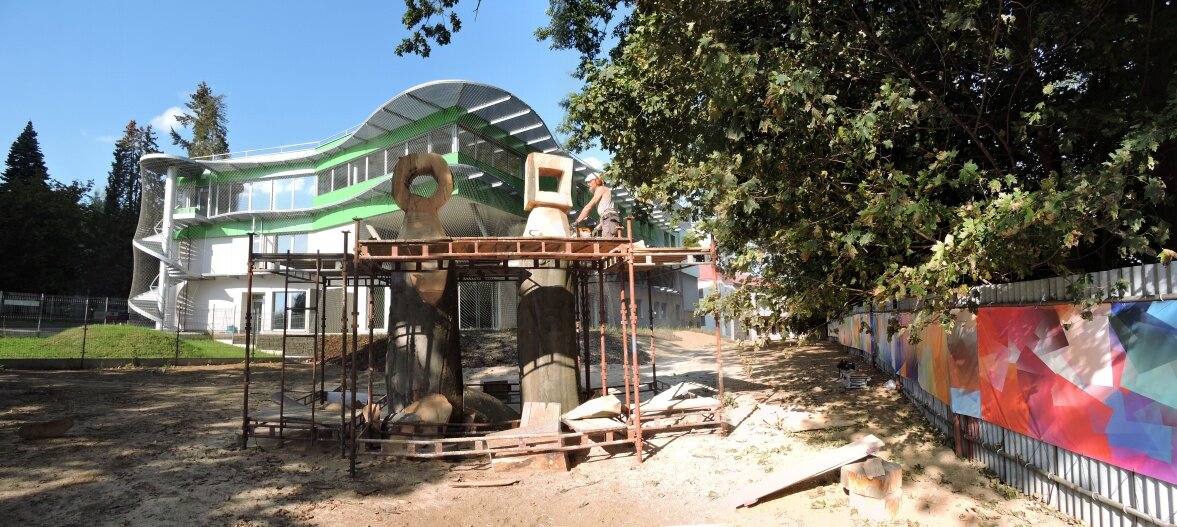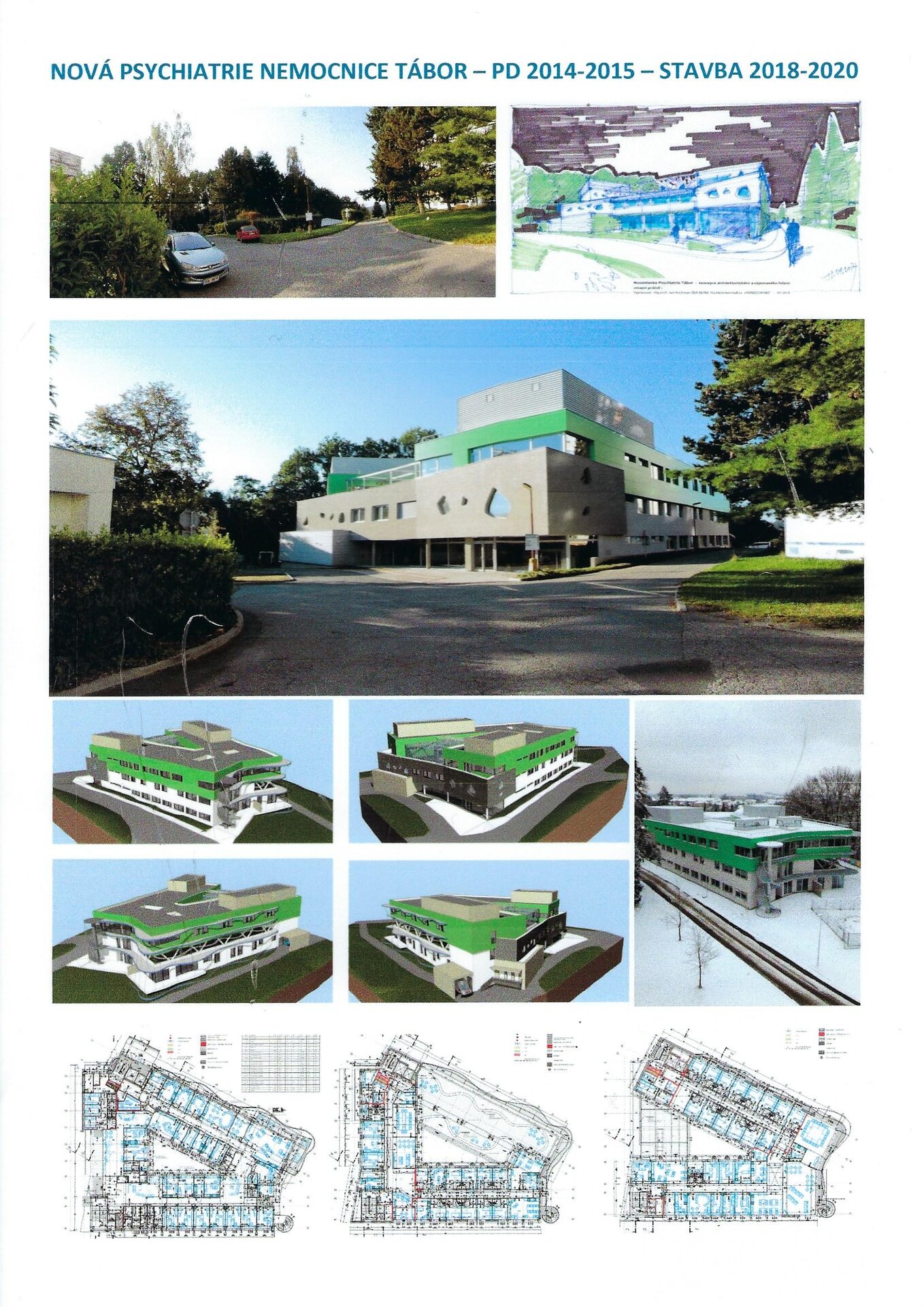 | | |
| --- | --- |
| Author | Ing. arch. Jan Hochman - Ateliér H1 - Autor celkového objemového, dispozičního, provozního řešení a stavební koncepce budovy a jejího interiéru včetně AD. zároveň také odpovědný projektant stavby – DUR,DSP, DPPS a podkladů pro realizaci stavby a jejího |
| Studio | |
| Location | Nemocnice Tábor a.s. - kpt. Jaroše 2000, 39003 Tábor |
| Investor | Ředitel nemocnice Tábor a.s. - Ing. Ivo Houška, MBA - mob.: 606494751 ivo.houska@nemta.cz |
| Supplier | Pradast spol. s.r.o - Nám. Přemysla Otakara II. 10/6 - Ing. Petr Steinbauer mob.: 602402160 |
| Date of project approval | January 2021 |
| Fotograf | |
An architecture for health care that has the ambition, its expression, its solution of spaces and atmosphere, to help heal. The specific requirements for the active and targeted return of psychiatric patients to lost stability, security and normal life are plotted both in the entrance facade - "holes in the head and stones on the soul..." are displayed in the heavy overhead transparent entrance to the examination area of the building. The openness of interior spaces, with the maximum possibility of contact between doctors, nurses and patients is clearly defined by the common and intimate spaces, the colours of floors, walls and equipment, surfaces as well as the maximum use of daylight, so that together with the art-therapy rooms and the possibility of staying on outdoor, sheltered terraces can help the possibilities of relaxation, regeneration and the acquisition of lost stability and internal certainties, which we currently call health.
A three-storey building with complete, technical and medical equipment and an active connection to the outdoors. The monolithic design enabled the solution of different volumes of individual floors to be sorted above each other, both rationally from the point of view of operation and individual technical and safety equipment, and in all floors to allow transparent link to parterre and sheltered residential terraces. The solution of protective nets and security ramps made it possible to place high-security accommodation on the upper floors. The choice of surfaces and colour of parts of the building responds to the specificity of the operations and separation as well as the specific burden of individual structures and interior details.
Green building
Environmental certification
| | |
| --- | --- |
| Type and level of certificate | - |
Water management
| | |
| --- | --- |
| Is rainwater used for irrigation? | |
| Is rainwater used for other purposes, e.g. toilet flushing ? | |
| Does the building have a green roof / facade ? | |
| Is reclaimed waste water used, e.g. from showers and sinks ? | |
The quality of the indoor environment
| | |
| --- | --- |
| Is clean air supply automated ? | |
| Is comfortable temperature during summer and winter automated? | |
| Is natural lighting guaranteed in all living areas? | |
| Is artificial lighting automated? | |
| Is acoustic comfort, specifically reverberation time, guaranteed? | |
| Does the layout solution include zoning and ergonomics elements? | |
Principles of circular economics
| | |
| --- | --- |
| Does the project use recycled materials? | |
| Does the project use recyclable materials? | |
| Are materials with a documented Environmental Product Declaration (EPD) promoted in the project? | |
| Are other sustainability certifications used for materials and elements? | |
Energy efficiency
| | |
| --- | --- |
| Energy performance class of the building according to the Energy Performance Certificate of the building | C |
| Is efficient energy management (measurement and regular analysis of consumption data) considered? | |
| Are renewable sources of energy used, e.g. solar system, photovoltaics? | |
Interconnection with surroundings
| | |
| --- | --- |
| Does the project enable the easy use of public transport? | |
| Does the project support the use of alternative modes of transport, e.g cycling, walking etc. ? | |
| Is there access to recreational natural areas, e.g. parks, in the immediate vicinity of the building? | |