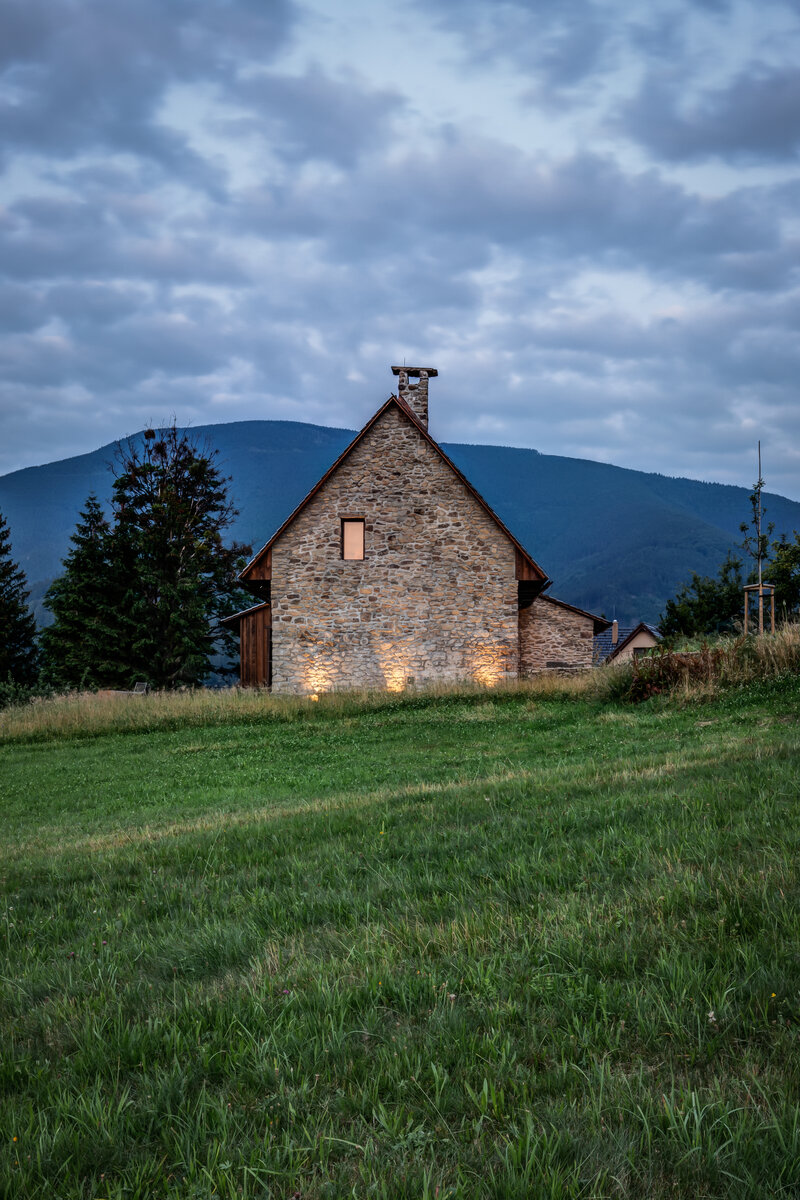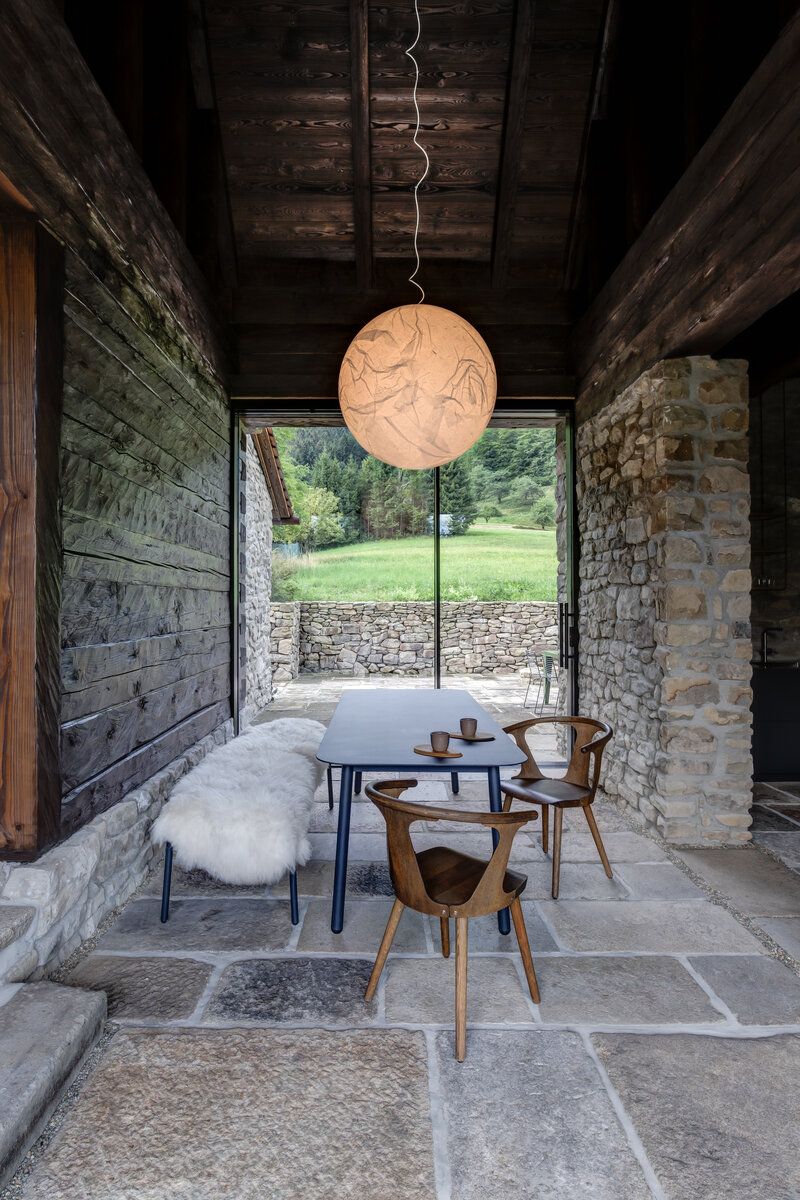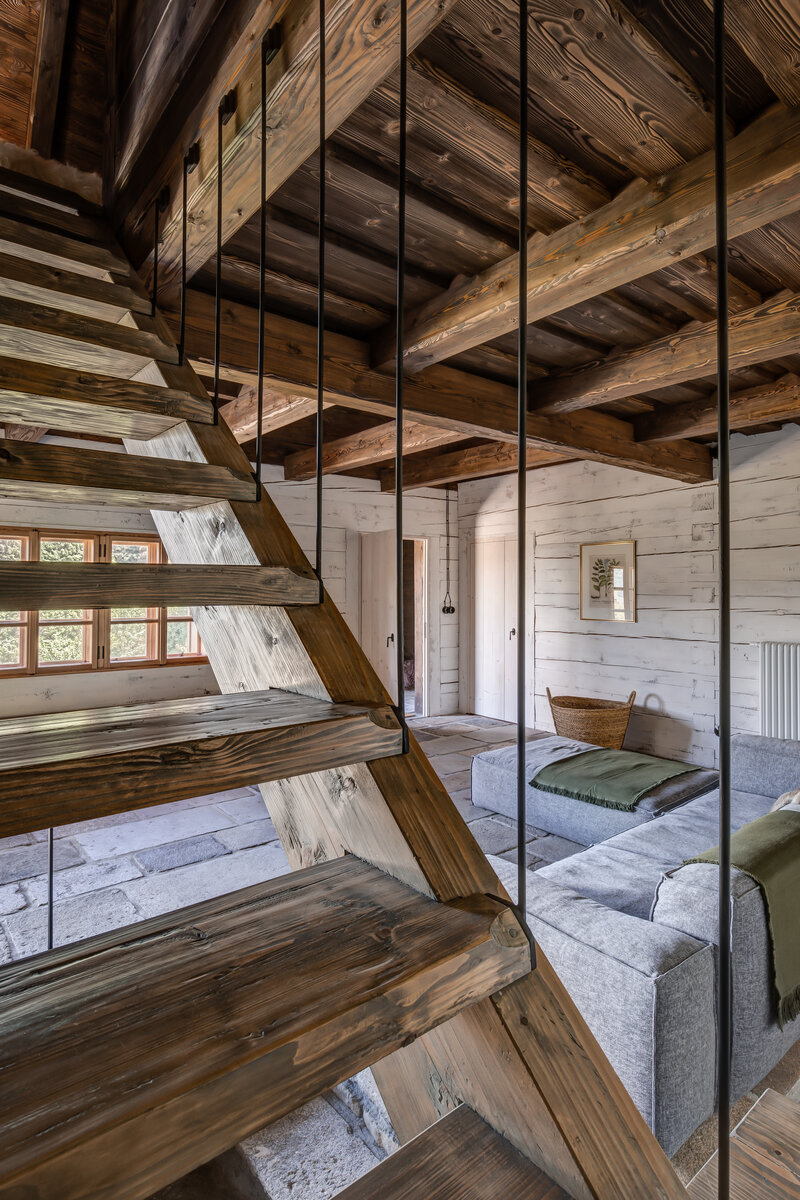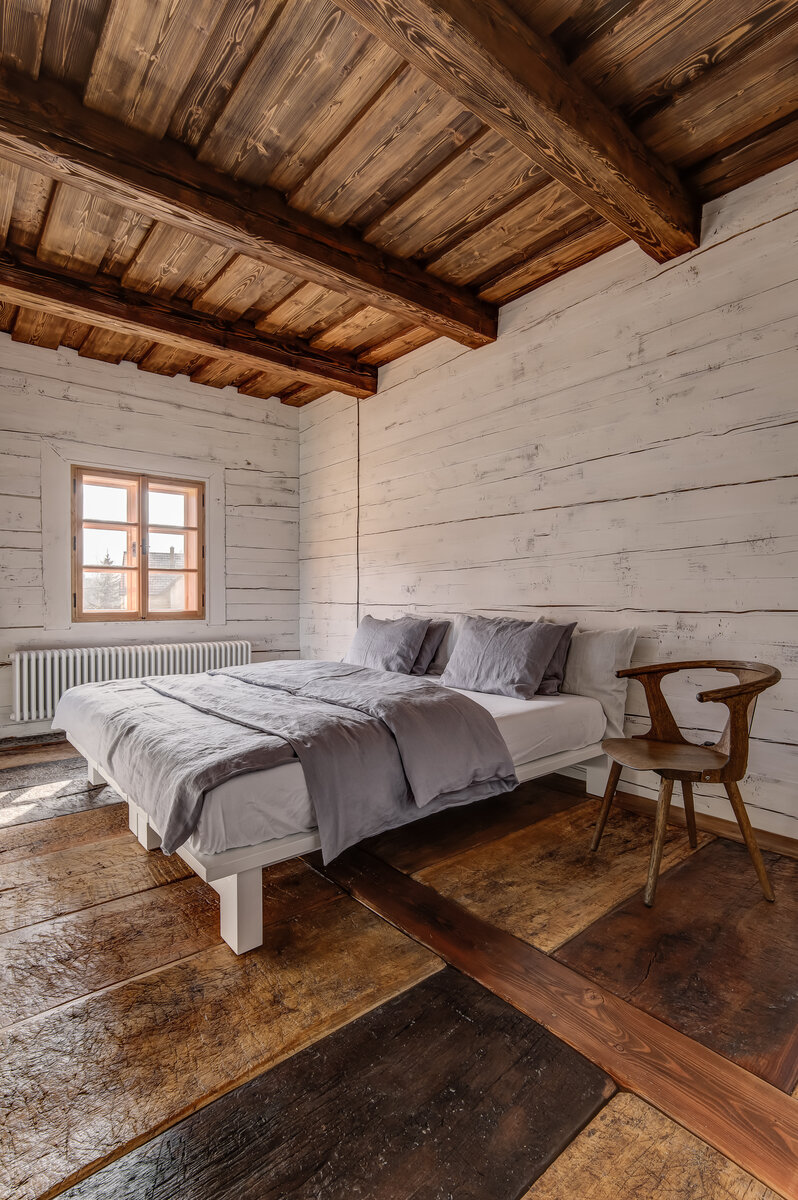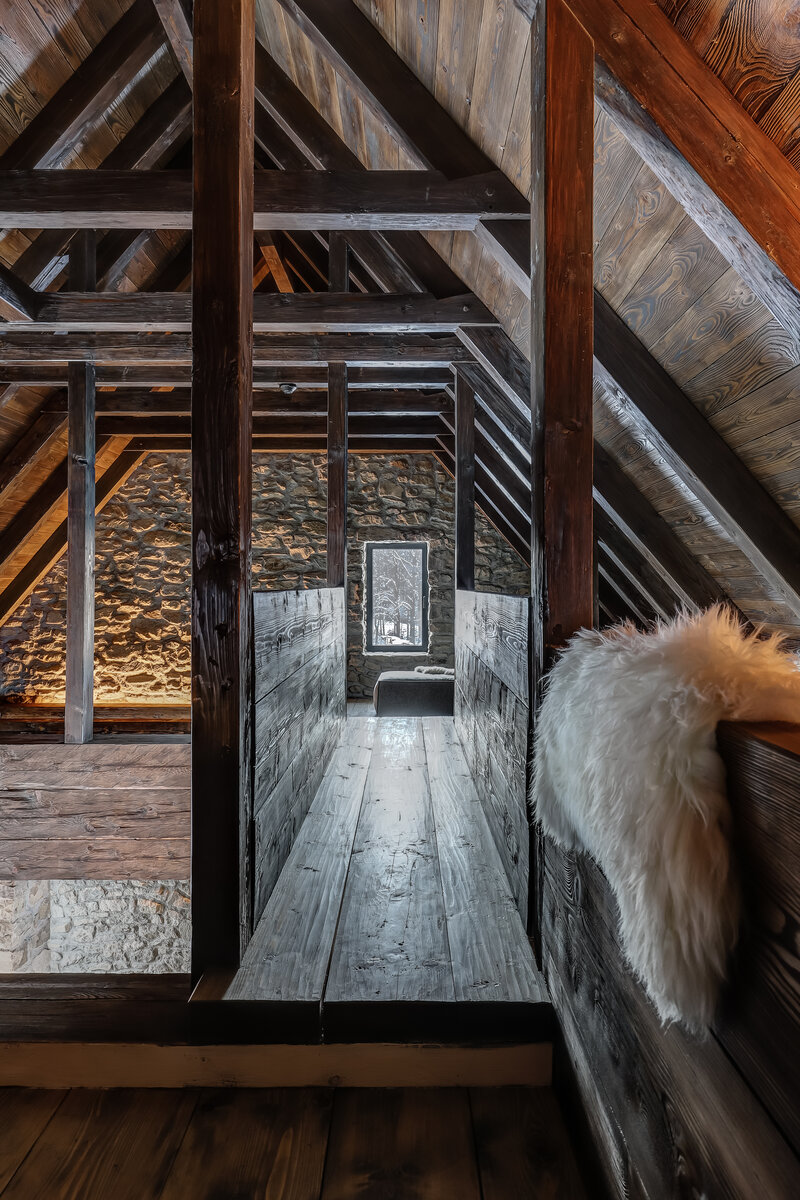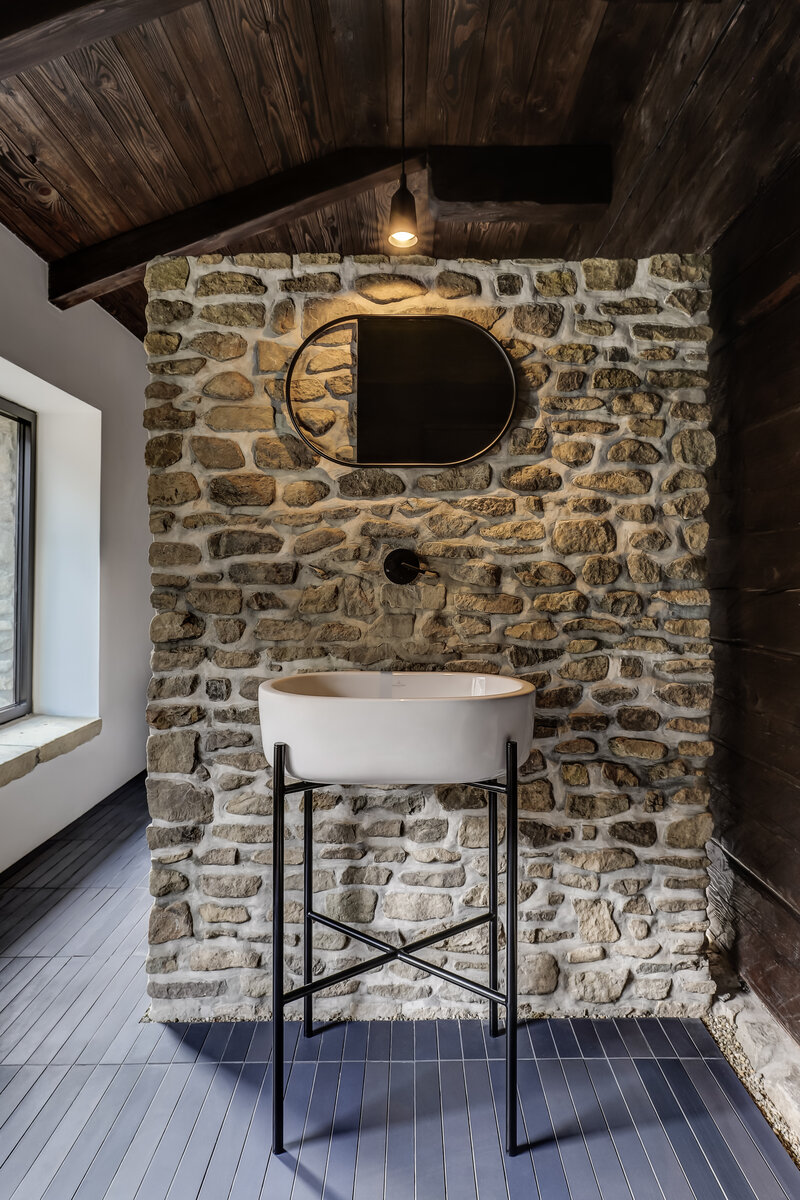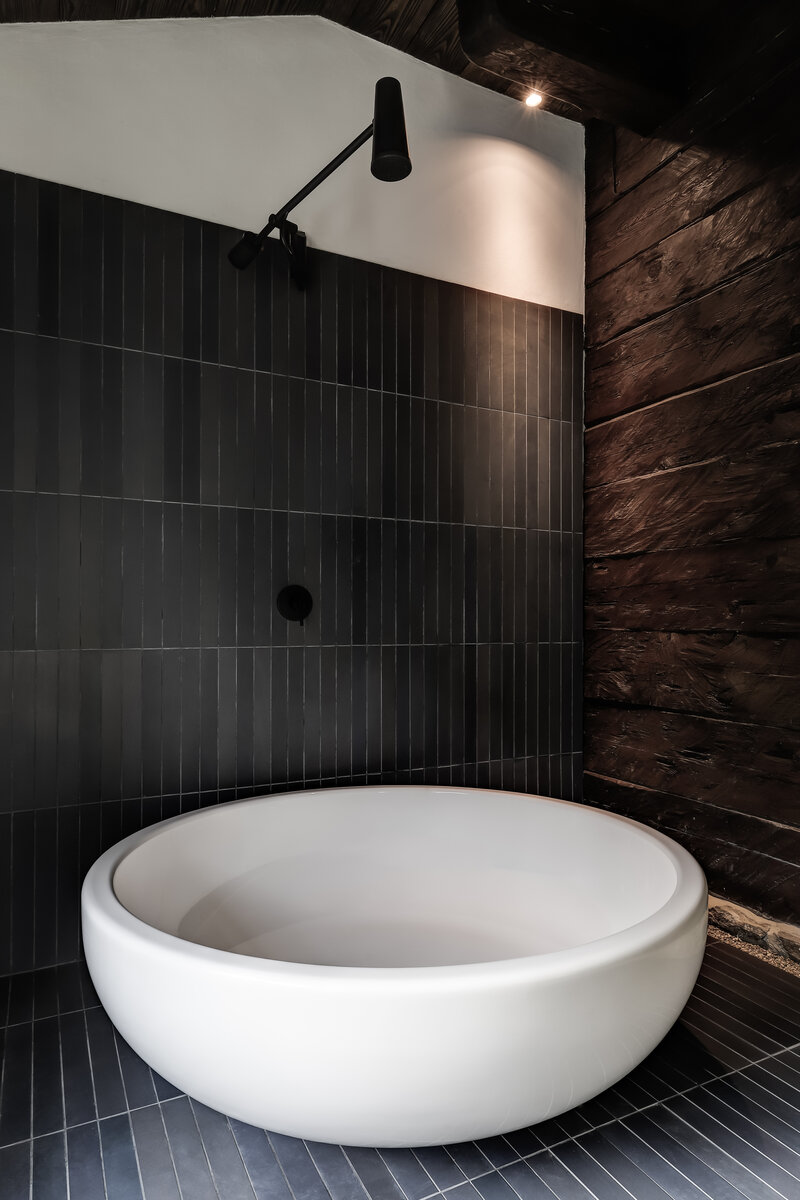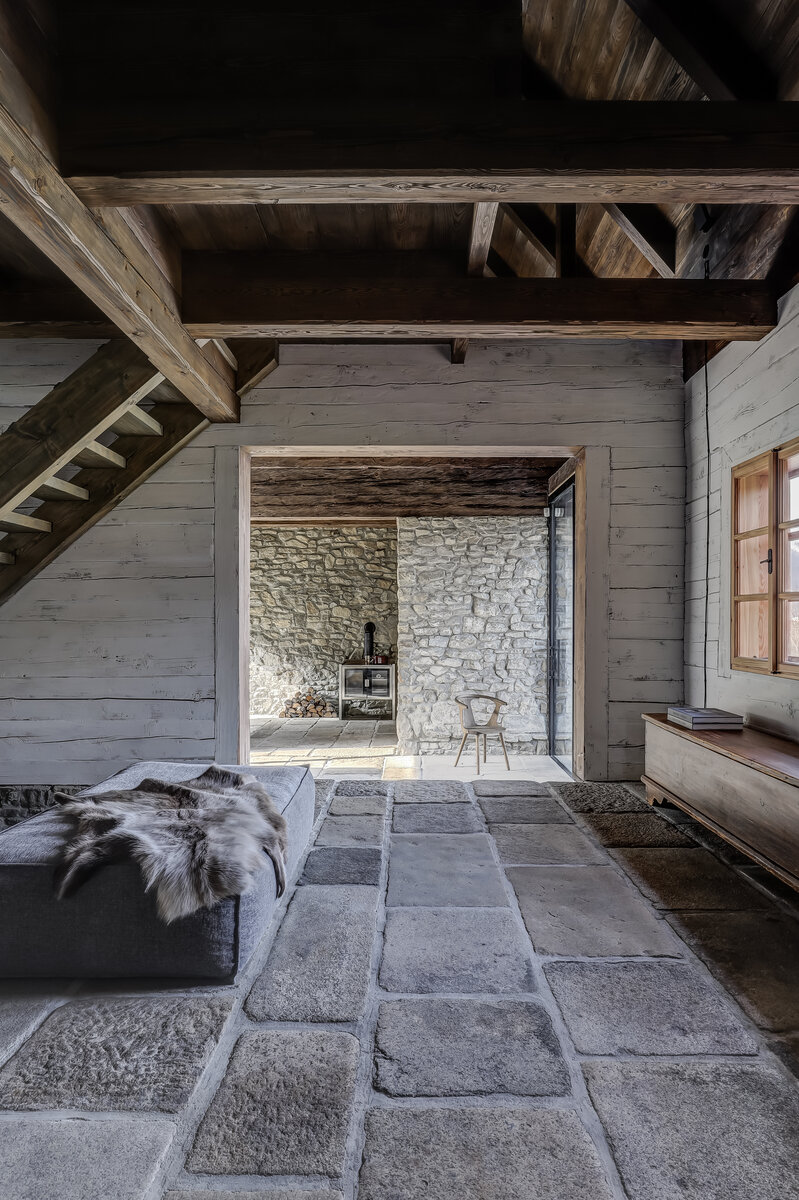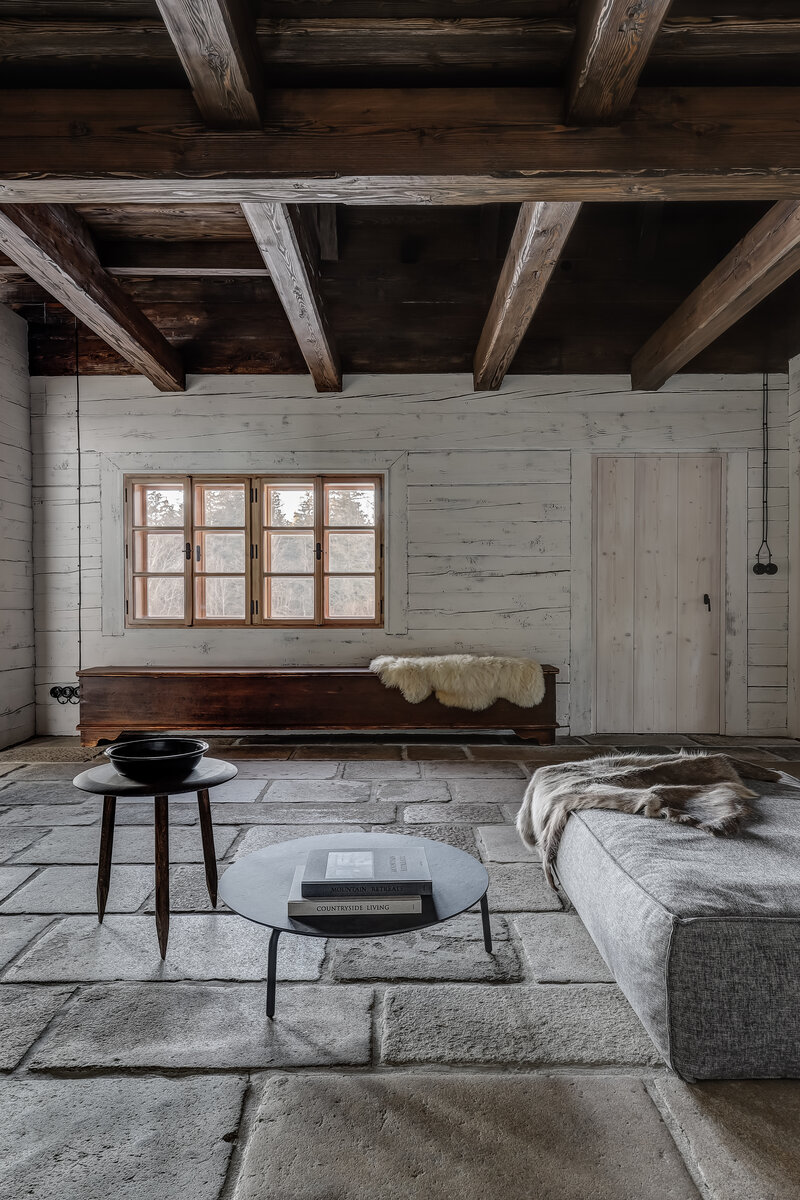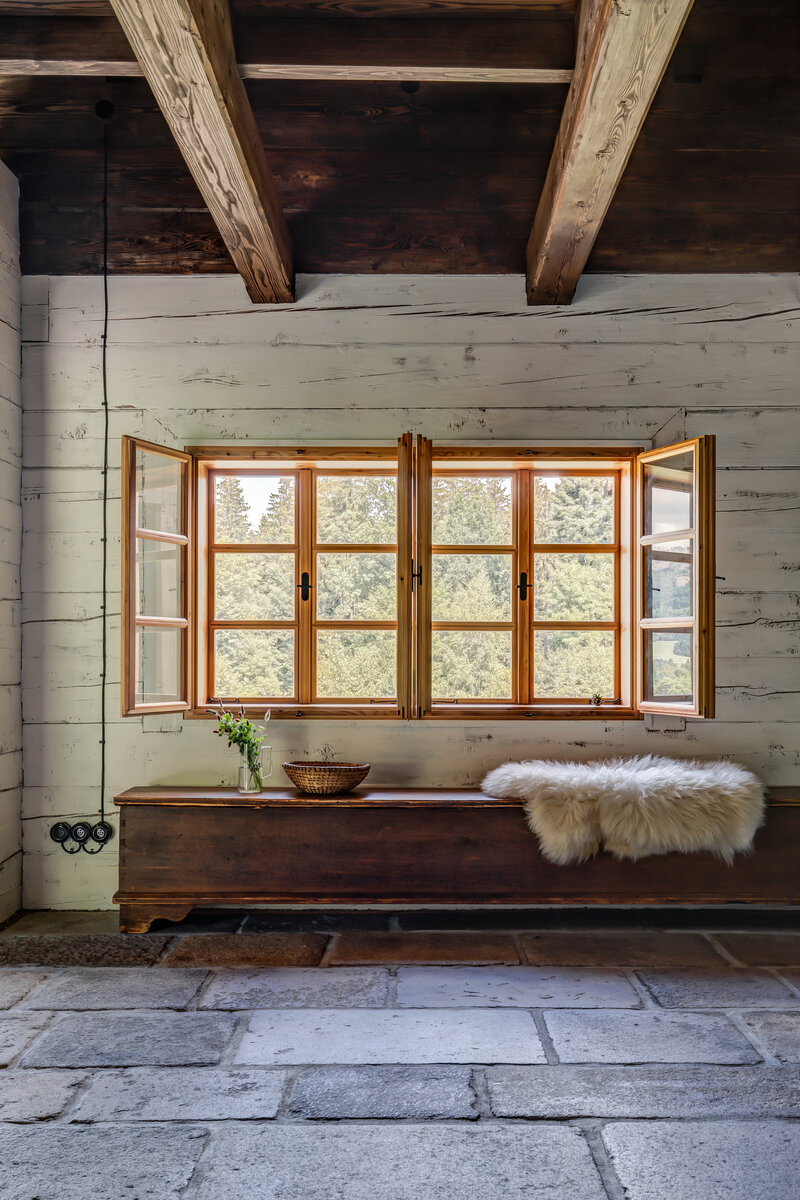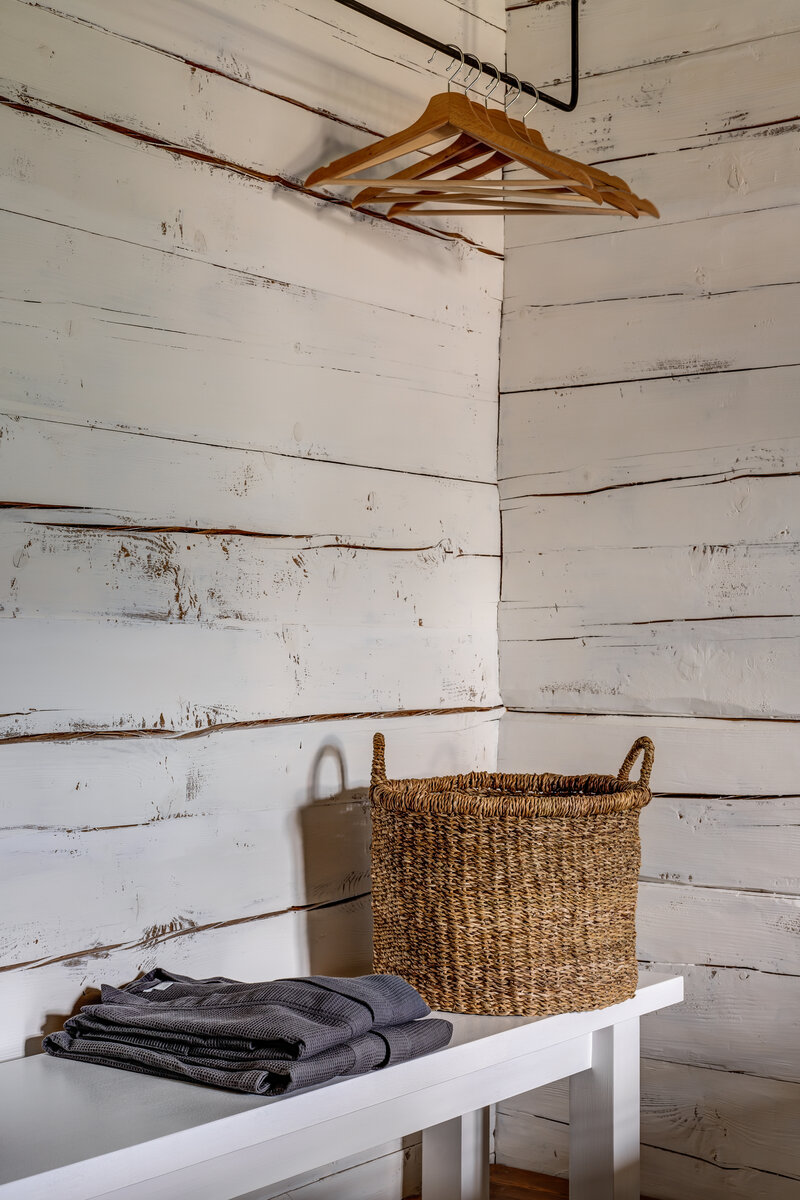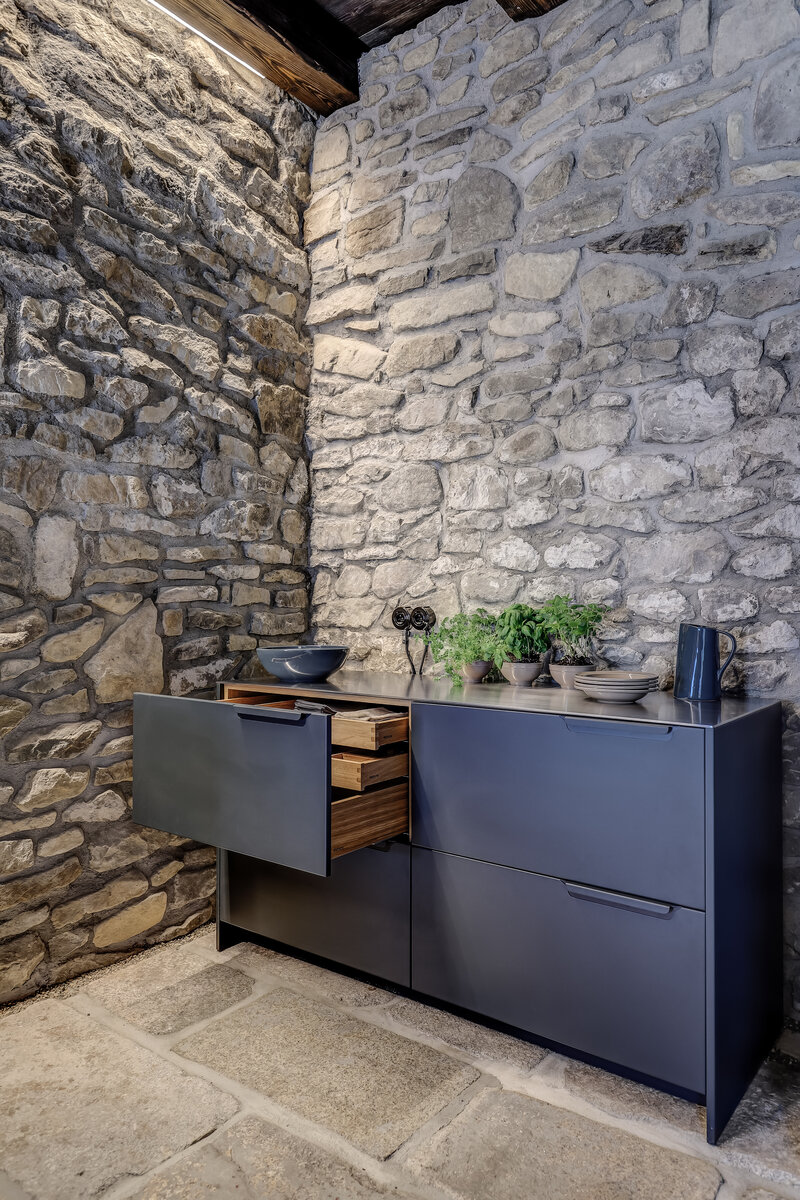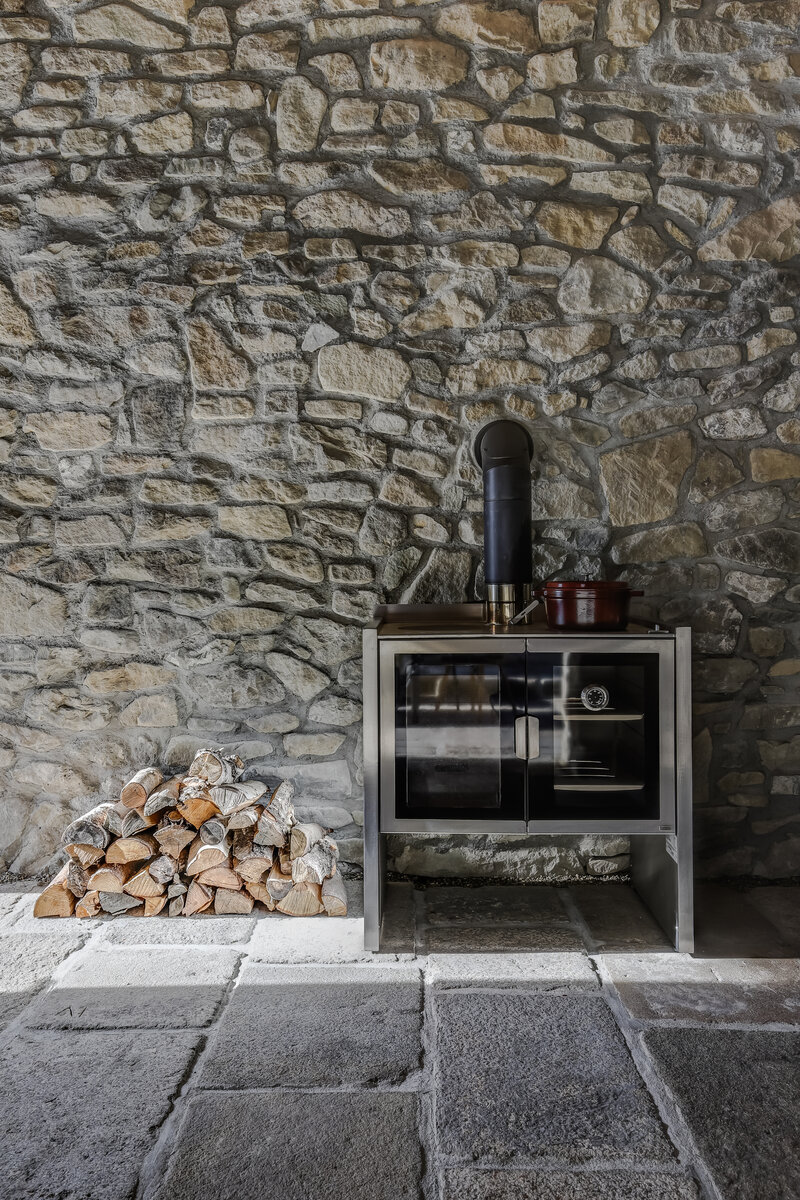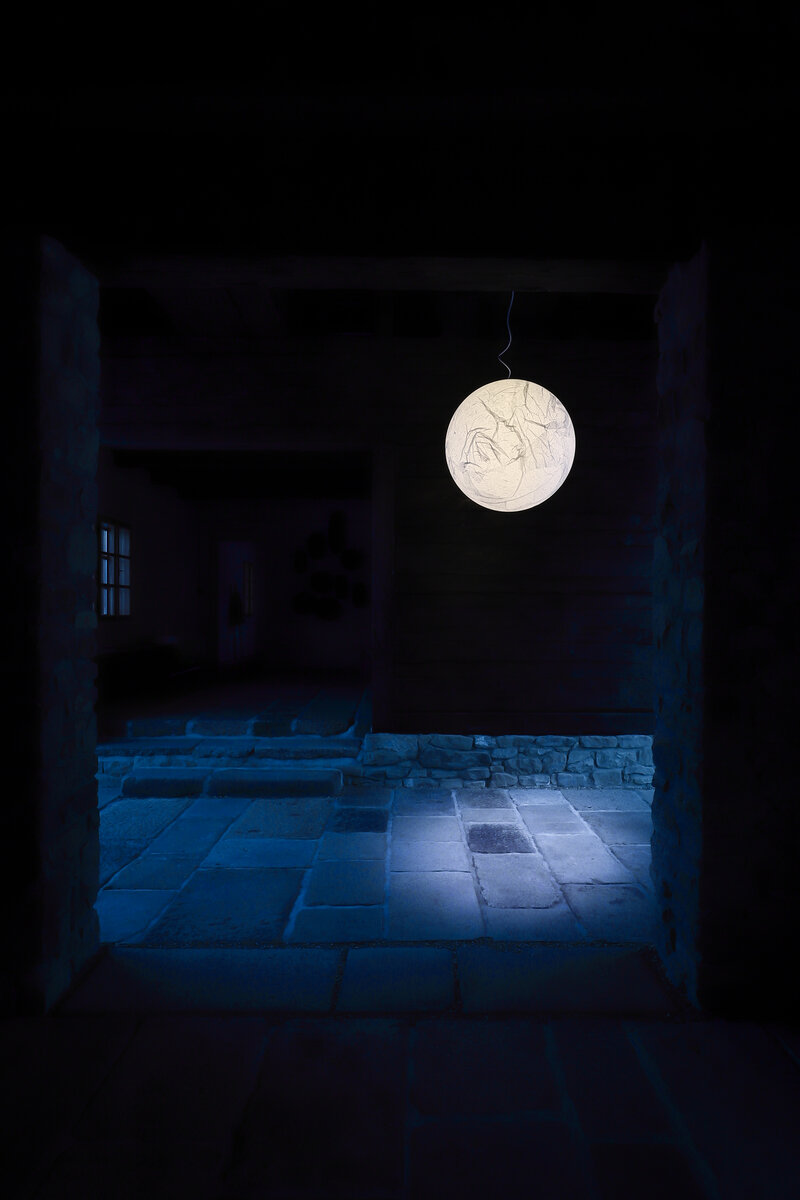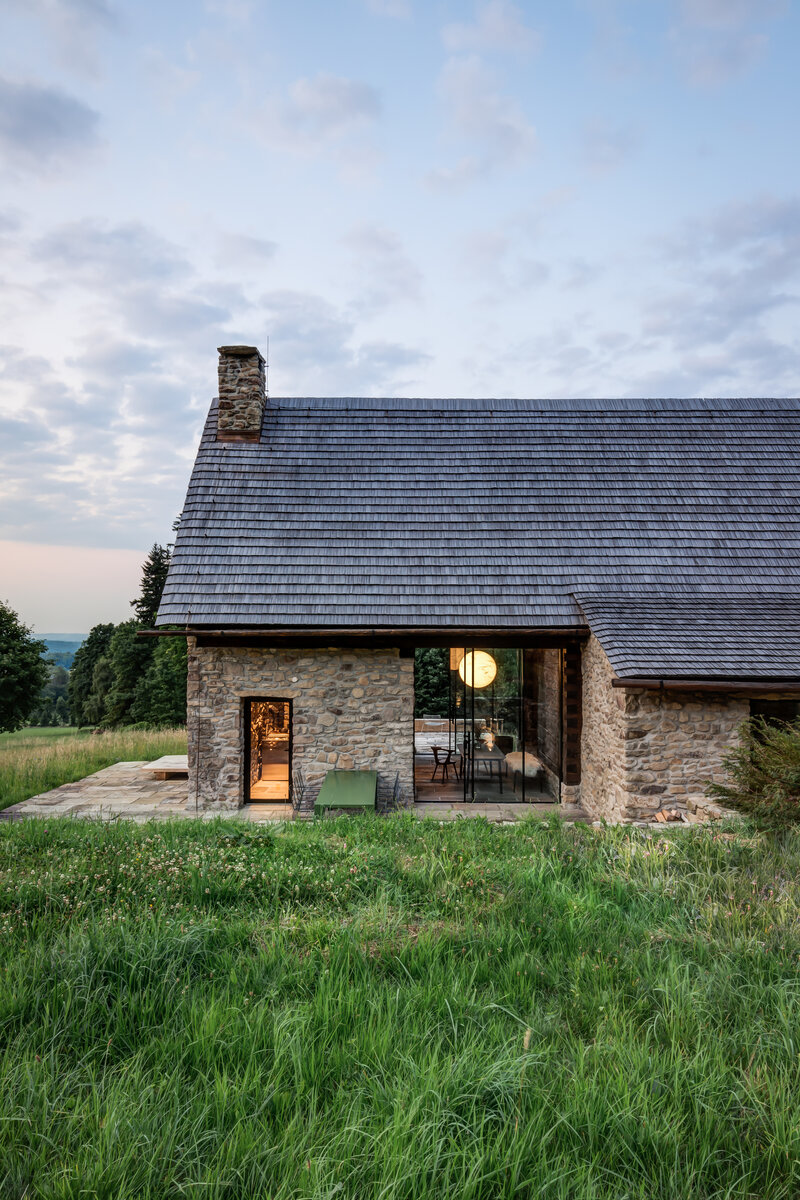 | | |
| --- | --- |
| Author | Daniela Hradilová |
| Studio | |
| Location | Čeladná 33, CHKO Beskydy, Západní Karpaty |
| Investor | Daniela a Petr Hradilovi |
| Supplier | Teslice CZ s.r.o. |
| Date of project approval | June 2021 |
| Fotograf | |
"Losing old assurances, old places are getting deeper,
their outlines are clearer and more important.
We see more of what remains,
our view narrows and intensifies -
AROUND is poured into a funnel.

The place remains.
Strong as what we put into it, what we look for in it.
And the people in it.

Carpenters caress beams with sharp handles. They don't speak.
With large chips, they radiate cold from the dried-out cracks.
The wood matures and dries and twists and straightens. And it smells.

Windows and doors are waiting for the wings. Bedroom for the floor underfoot. The stairs go on its tiptoes. The kitchen is no longer a barn, the passage will be a dining room and the table dreams of their evening. A century-old well looses drop after drop and the garden can't wait - for large pear trees with small sweet pears and plum alleys along the stony path to the house, home.

We found everything here.
We just stopped, just touched,
and as soon as we warm up,
we'll go again right away."
(Spring 2021)

The project is the restoration of a wooden timbered house from 1880 to the new place. The traditional building on the original stone foundation with a preserved cellar and barn was restored by using local fir wood, harvested in winter nearby, hand-carved on the outside as well on the inside, connected with wooden pegs and rods, sheep fleece and treated with natural oils. It is an example of the precise work of the Teslice company, dedicated to the restoration of wooden folk monuments.

The missing part of the stone barn was supplemented with material from the immediate vicinity of the house. The floors and outdoor terraces are laid from old granite slabs. The stone brings the chimney and the well back to life.

The interior presents natural elements in their purest form. Inconspicuous and strong. Hand-turned beams, floors in bedrooms from old tables. The place is simple - it focuses on materials and details, on handcraft, on bringing emotions. The attic of the house is conceived as one generous space for observation and perception.

The most impressive moment of the interior is its glass passageway. Stone and wood grow from the inside out and back. MOON shines from above. From behind the windows, the deers and does are peaking inside. The observer cannot recognize where he is, he only knows where he wants to be. BETWEEN THE MEADOWS.
Traditional timbered timbered house from 1880,
converted into a boutique place

The building consists of the original residential house -
wooden timbered building and stone barn.

The investor and the architect in one person removed all additional materials and structures and invited a company specializing in the reconstruction of folk monuments to cooperate.

The timbered part is converted into a living space open to the first floor and the bedrooms - this is adjacent to the entrance porch and a stone annex with a bathroom. It is partially basement.

The restored stone part houses a minimalist kitchen with traditional centers.

The element of the outdoor passageway is preserved thanks to the all-over glass panels, connecting the interior with the outdoor space, and stone paving, the same inside and outside. The passage serves as a dining room.

The attic of the house is conceived as a place for perceiving wood and working with it, it is used for relaxation. It is connected to the ground floor by a beam staircase.

The garden (4000 m2) is continuously connected to the surrounding meadows, it is unfenced, sown with Beskydy grass mixture and planted with old varieties of fruit trees. The well has been restored.

preserved:
floor plan of the house, stone foundation and cellar, mass, shapes and dimensions of windows and doors

restored:
roofing
hand-chipped larch shingles without surface treatment (insulation above and between the rafters)

load-bearing structure
beams according to original dimensions, connected by inserted planks and oak rods, without metal connecting elements, insulation with sheep fleece; material - fir wood from winter logging, locality, hand-carved both from the exterior as well as from the interior, natural oil finish

floors, footbridge, beam staircase
granite stone slabs, old workshop tables, spruce planks, all recycled material

windows
casement, larch

door
spruce, hand-carved

added
• large format windows - aluminum
• bathroom - Mutina, Catalano, Villeroy & Boch, Zucchetti
• kitchen - CPH Copenhagen, Firebelly Design
light - Davide Groppi, Fritz Hansen, Berker
furniture - DH, Todus, & Tradition, Bonaldo
outdoor terraces - granite slabs, recycled
• heating - floor water & bodies, ground source heat pump - air
• water - drilled well

architect: Daniela Hradilová
investor: Petr Hradil
wooden part: Teslice CZ s.r.o., Valašská Bystřice
stone part: S&B stone, Frenštát pod Radhoštěm
Green building
Environmental certification
| | |
| --- | --- |
| Type and level of certificate | - |
Water management
| | |
| --- | --- |
| Is rainwater used for irrigation? | |
| Is rainwater used for other purposes, e.g. toilet flushing ? | |
| Does the building have a green roof / facade ? | |
| Is reclaimed waste water used, e.g. from showers and sinks ? | |
The quality of the indoor environment
| | |
| --- | --- |
| Is clean air supply automated ? | |
| Is comfortable temperature during summer and winter automated? | |
| Is natural lighting guaranteed in all living areas? | |
| Is artificial lighting automated? | |
| Is acoustic comfort, specifically reverberation time, guaranteed? | |
| Does the layout solution include zoning and ergonomics elements? | |
Principles of circular economics
| | |
| --- | --- |
| Does the project use recycled materials? | |
| Does the project use recyclable materials? | |
| Are materials with a documented Environmental Product Declaration (EPD) promoted in the project? | |
| Are other sustainability certifications used for materials and elements? | |
Energy efficiency
| | |
| --- | --- |
| Energy performance class of the building according to the Energy Performance Certificate of the building | |
| Is efficient energy management (measurement and regular analysis of consumption data) considered? | |
| Are renewable sources of energy used, e.g. solar system, photovoltaics? | |
Interconnection with surroundings
| | |
| --- | --- |
| Does the project enable the easy use of public transport? | |
| Does the project support the use of alternative modes of transport, e.g cycling, walking etc. ? | |
| Is there access to recreational natural areas, e.g. parks, in the immediate vicinity of the building? | |