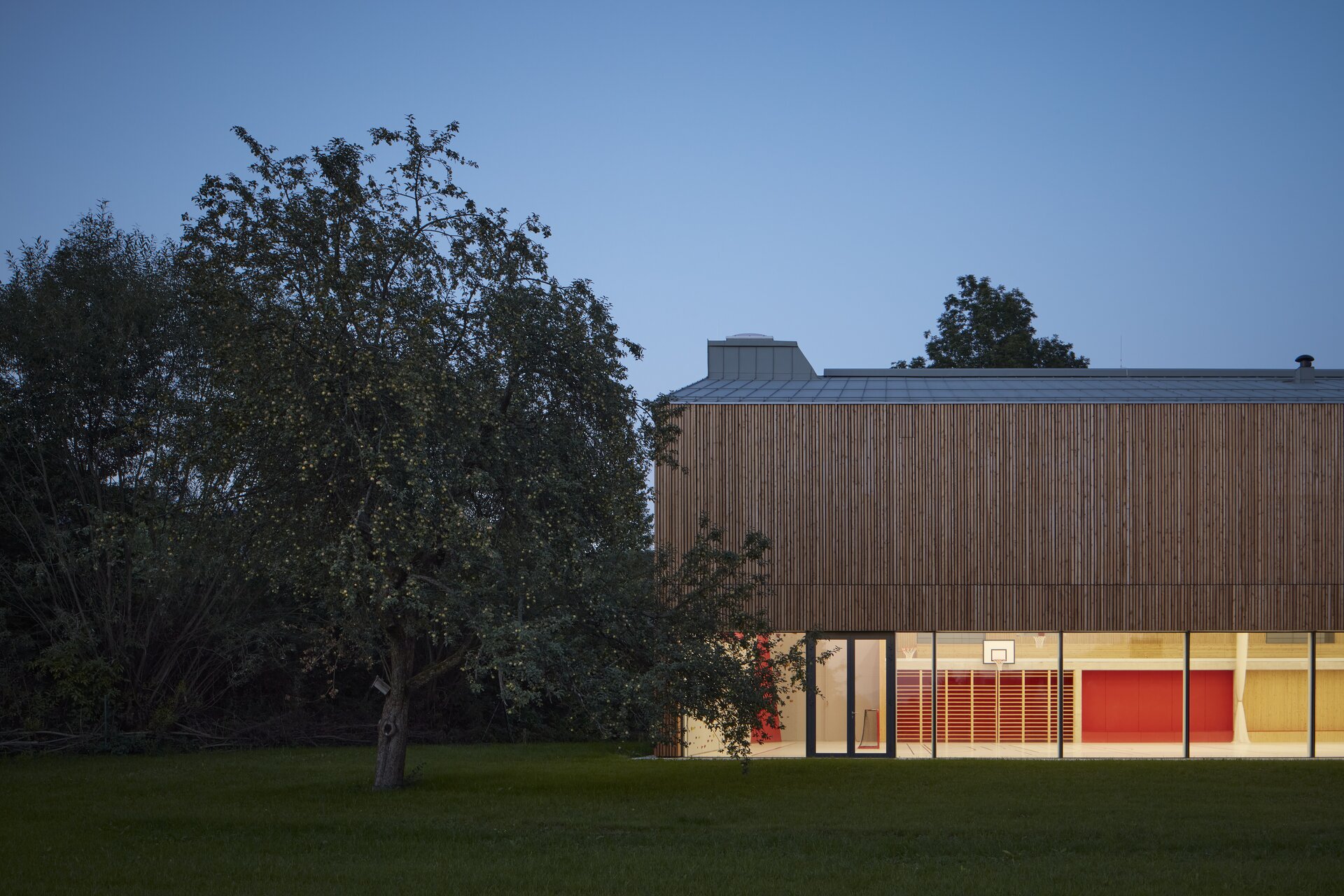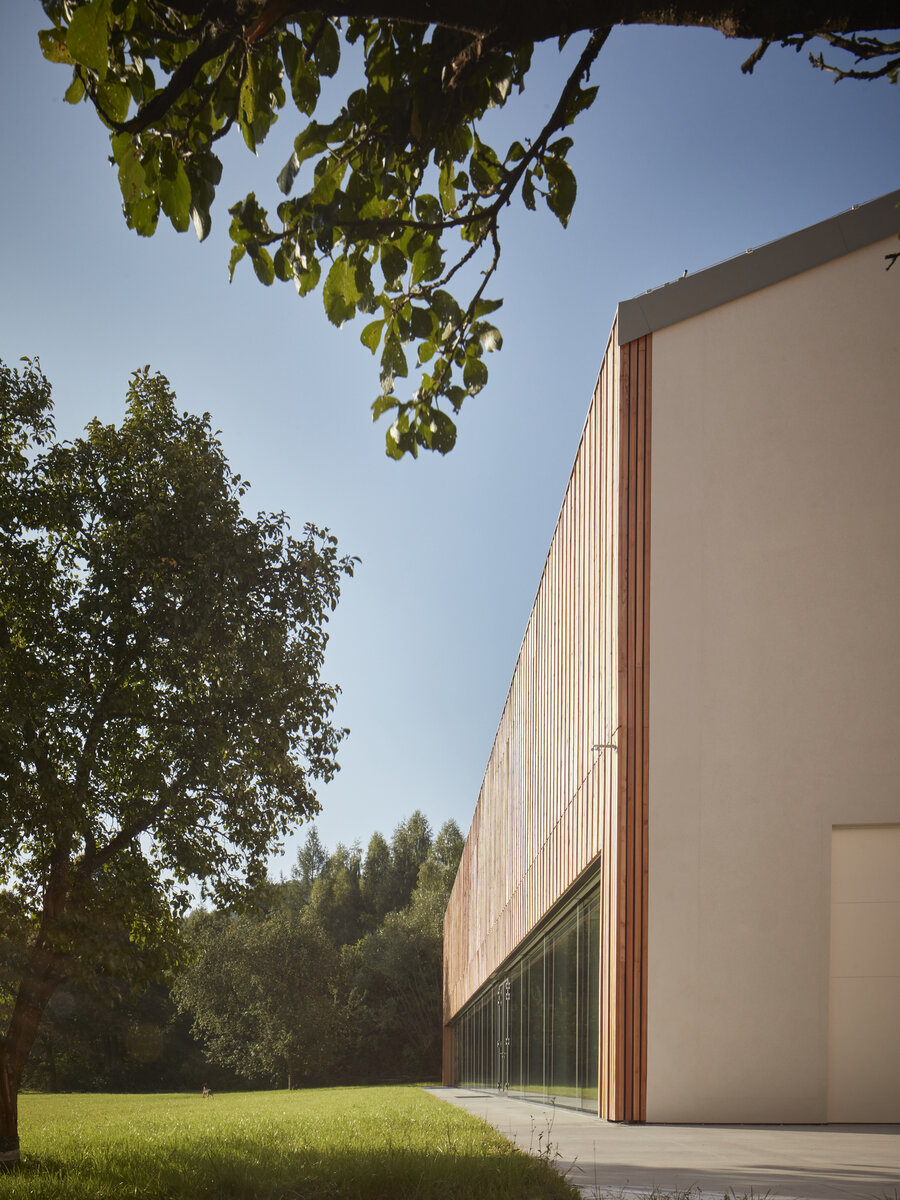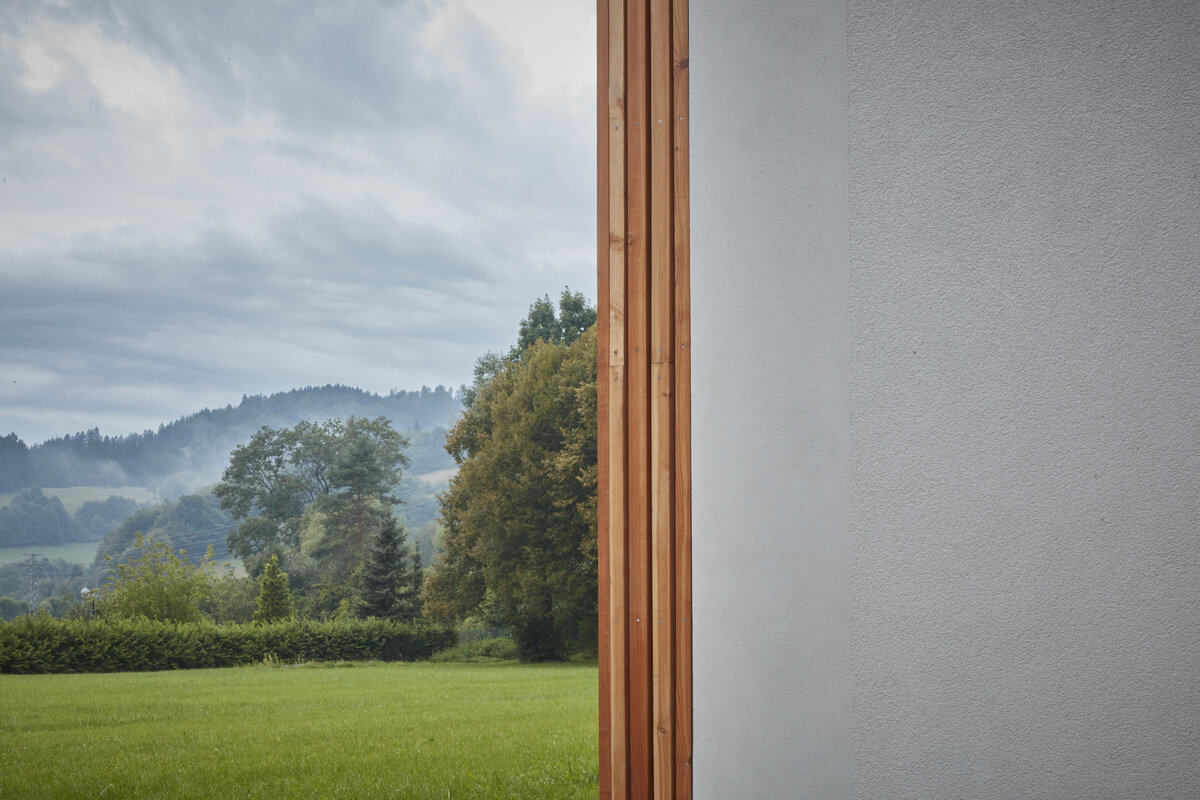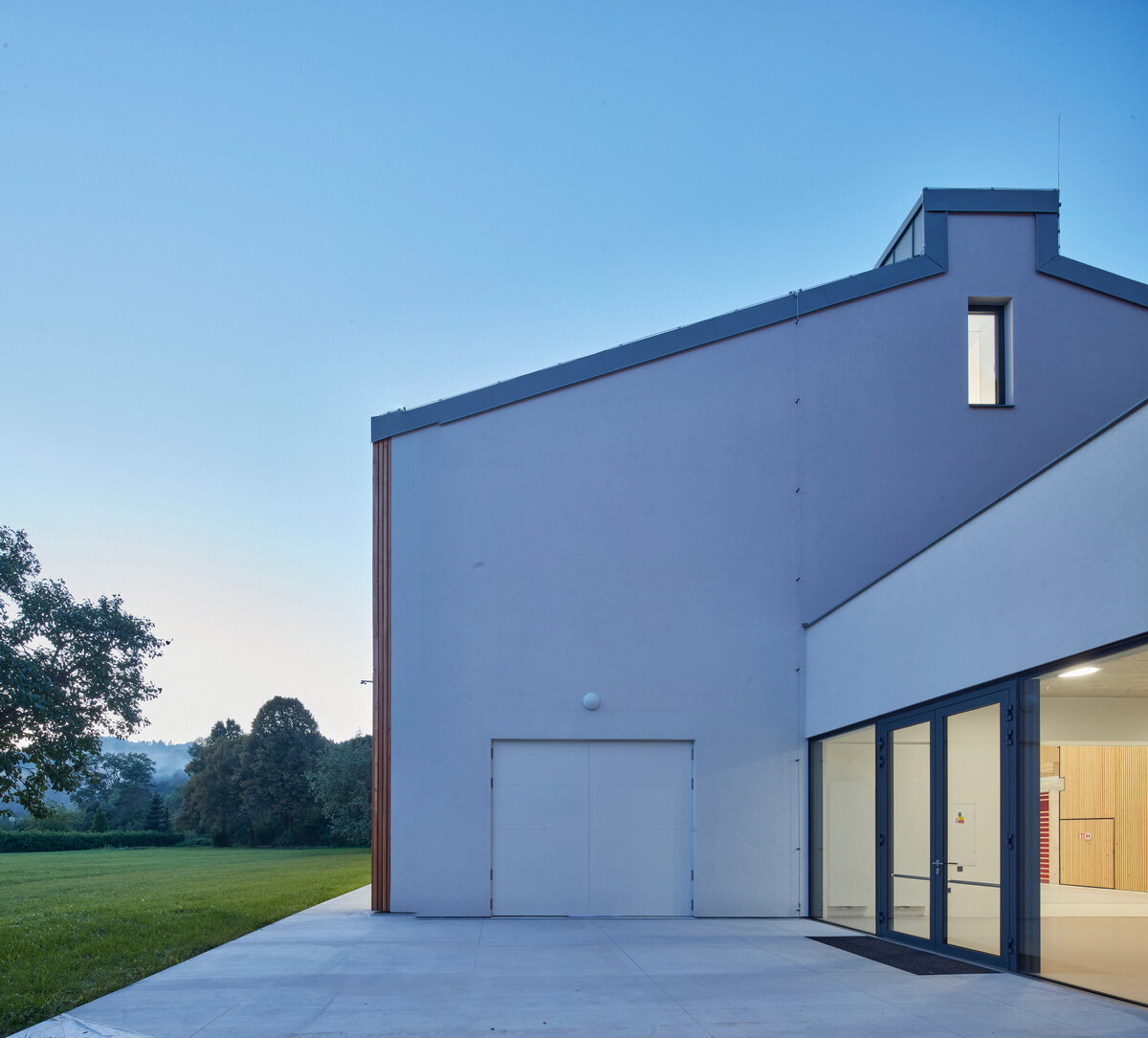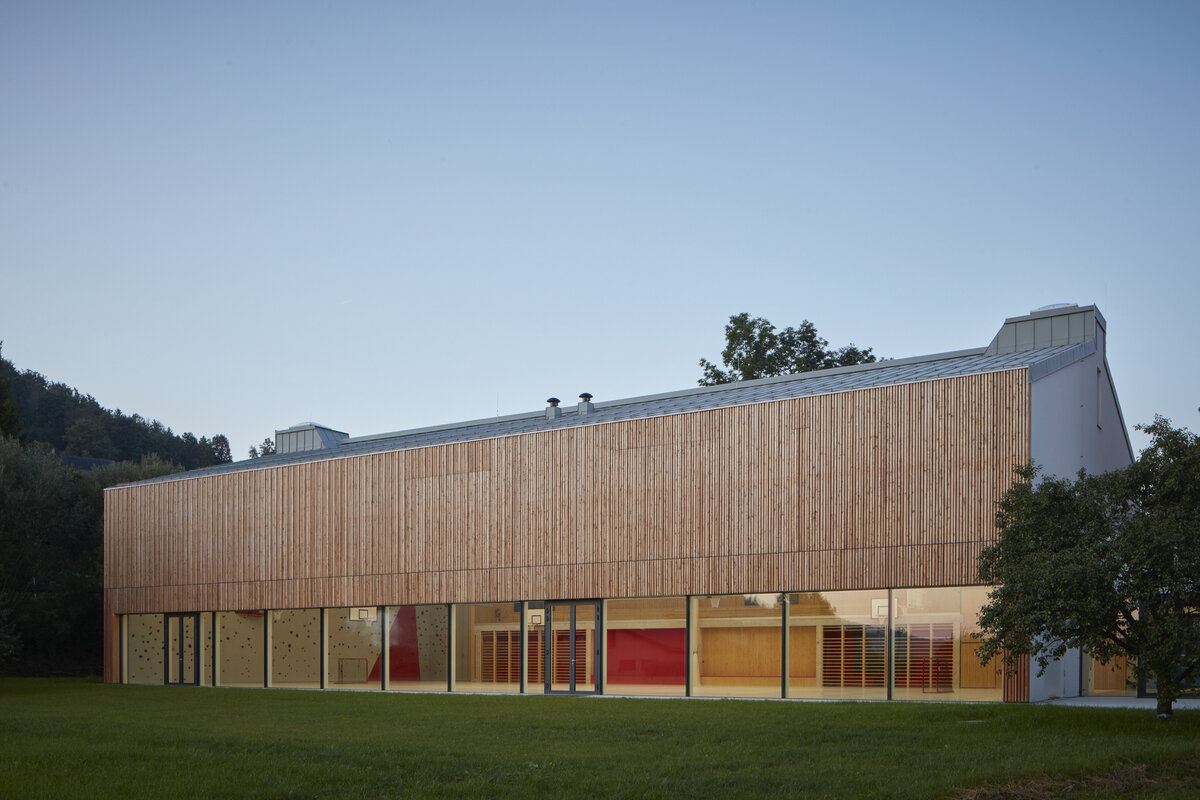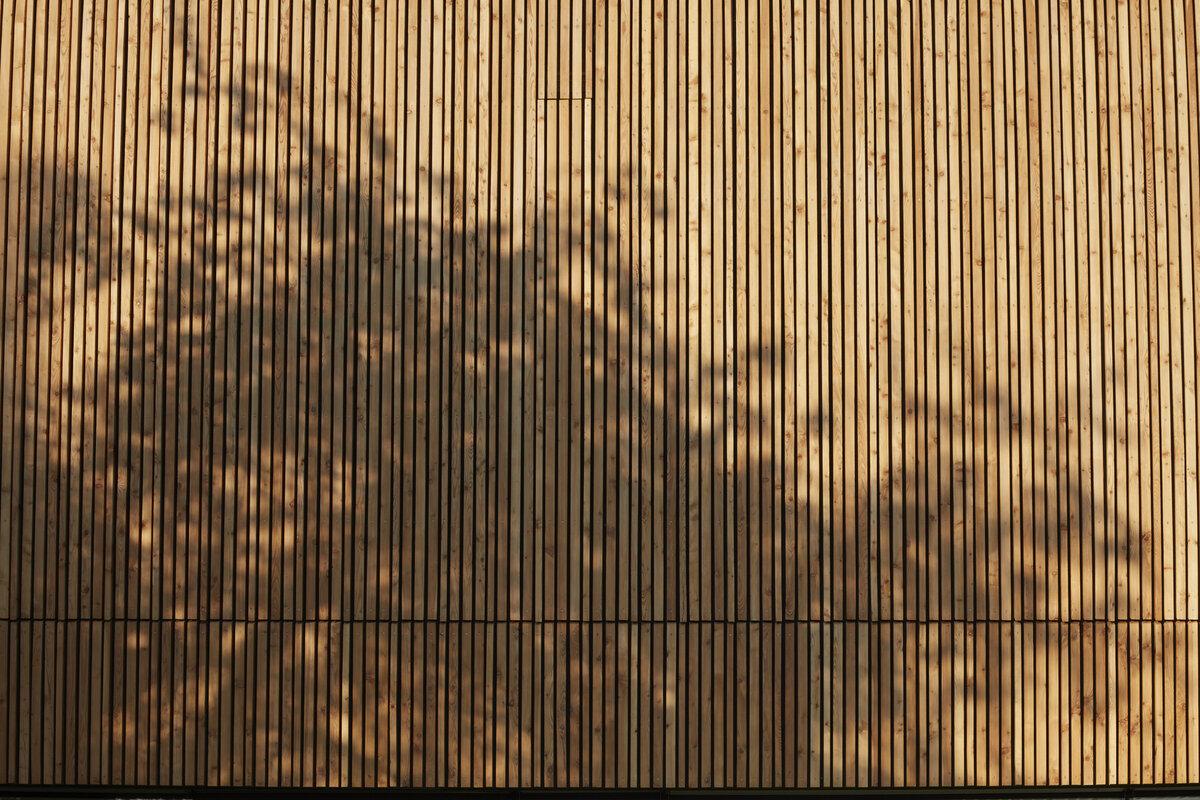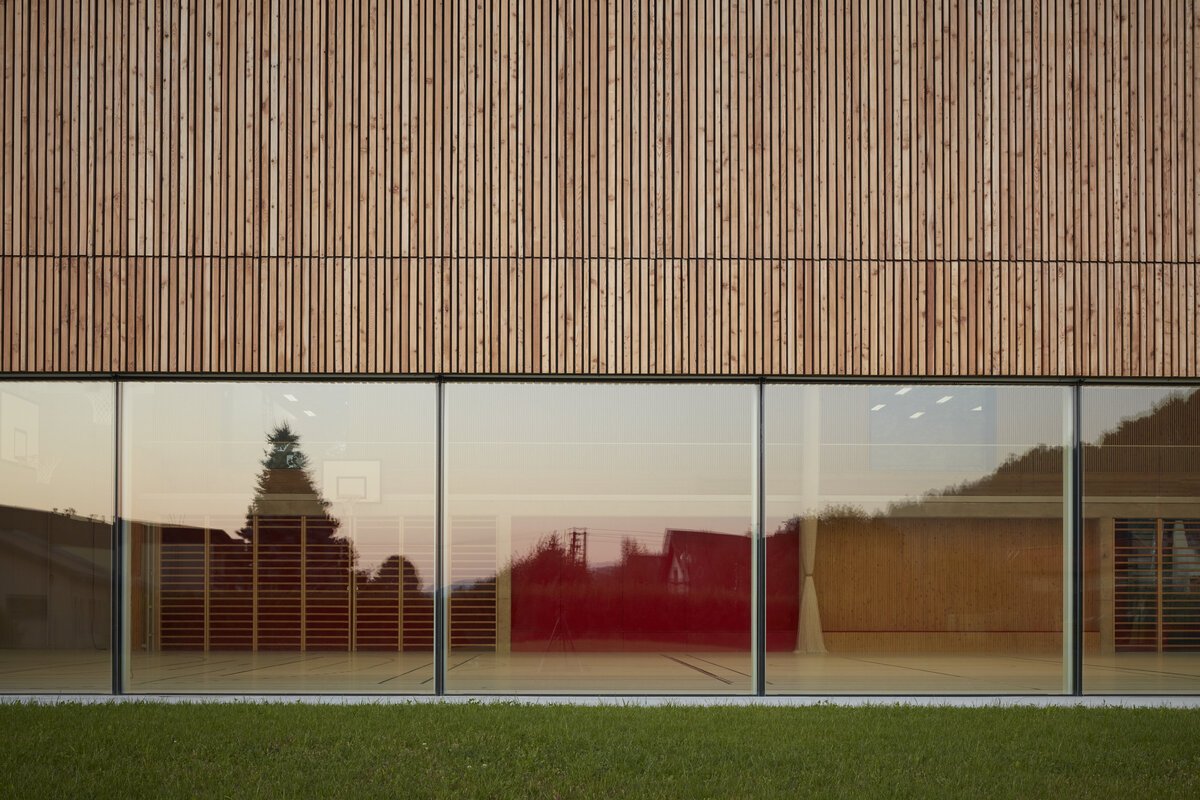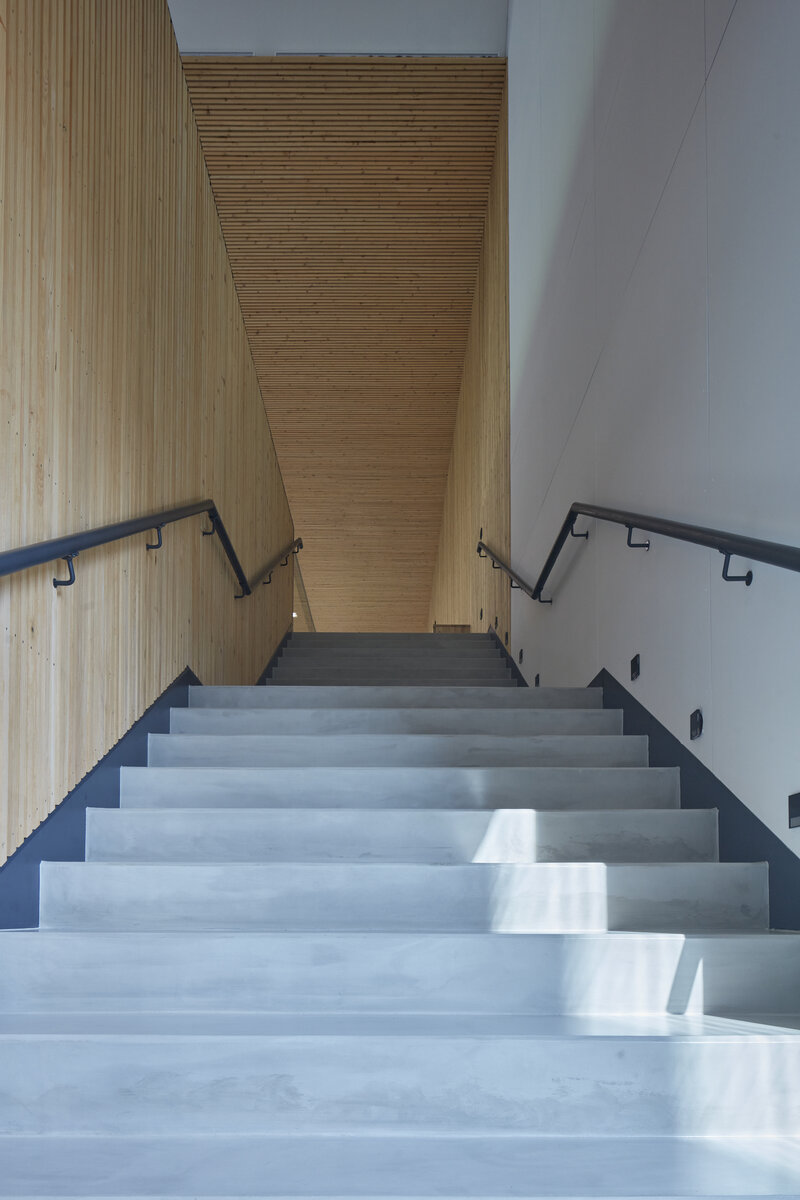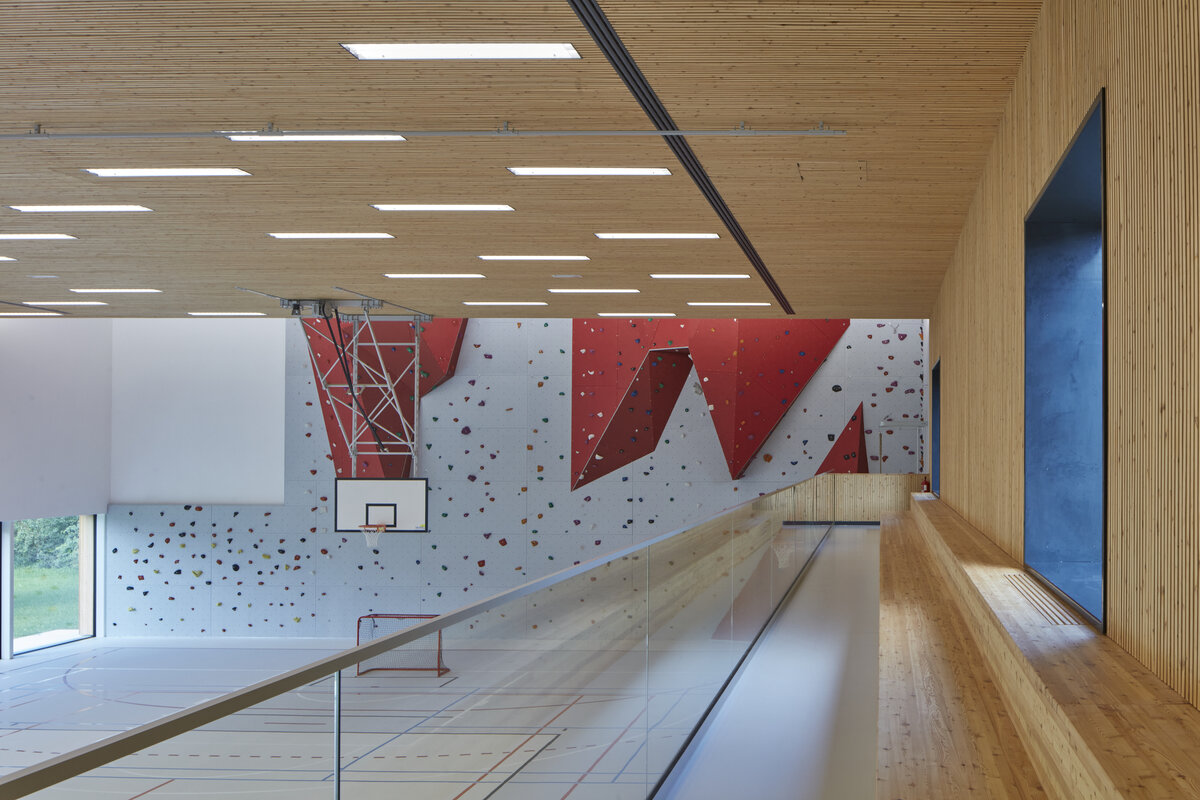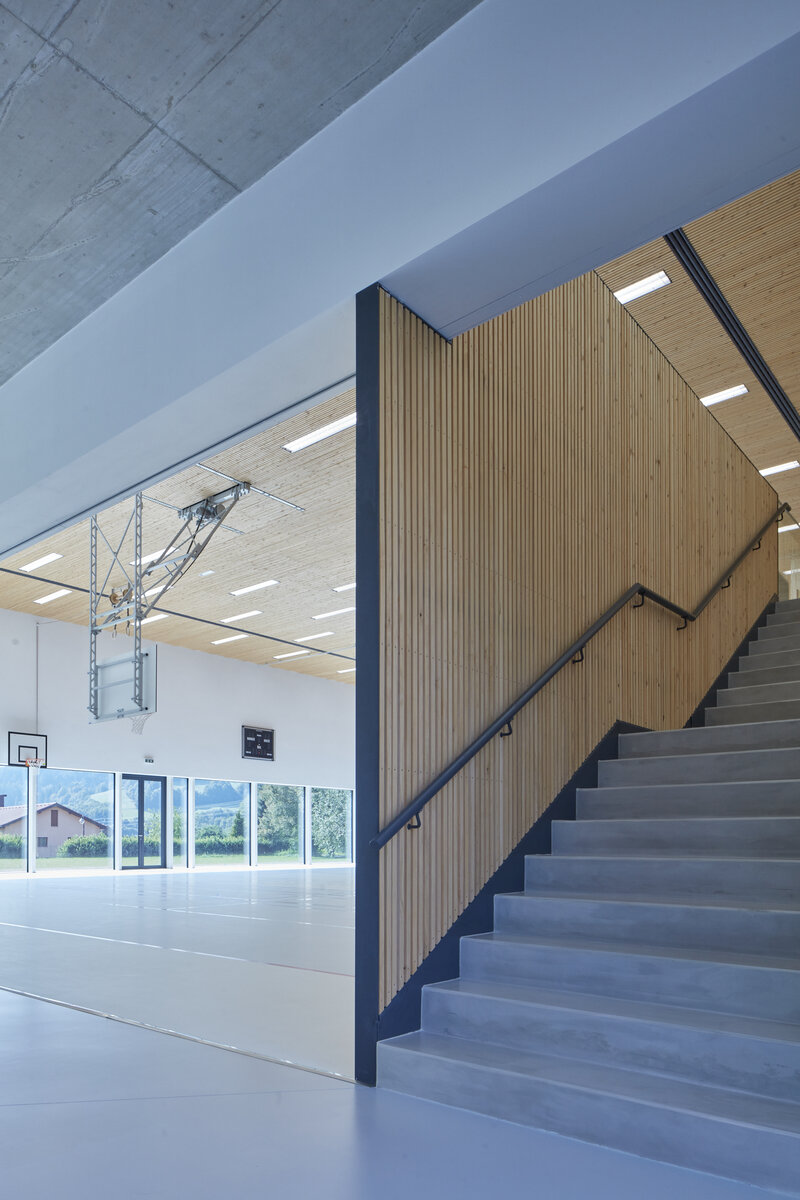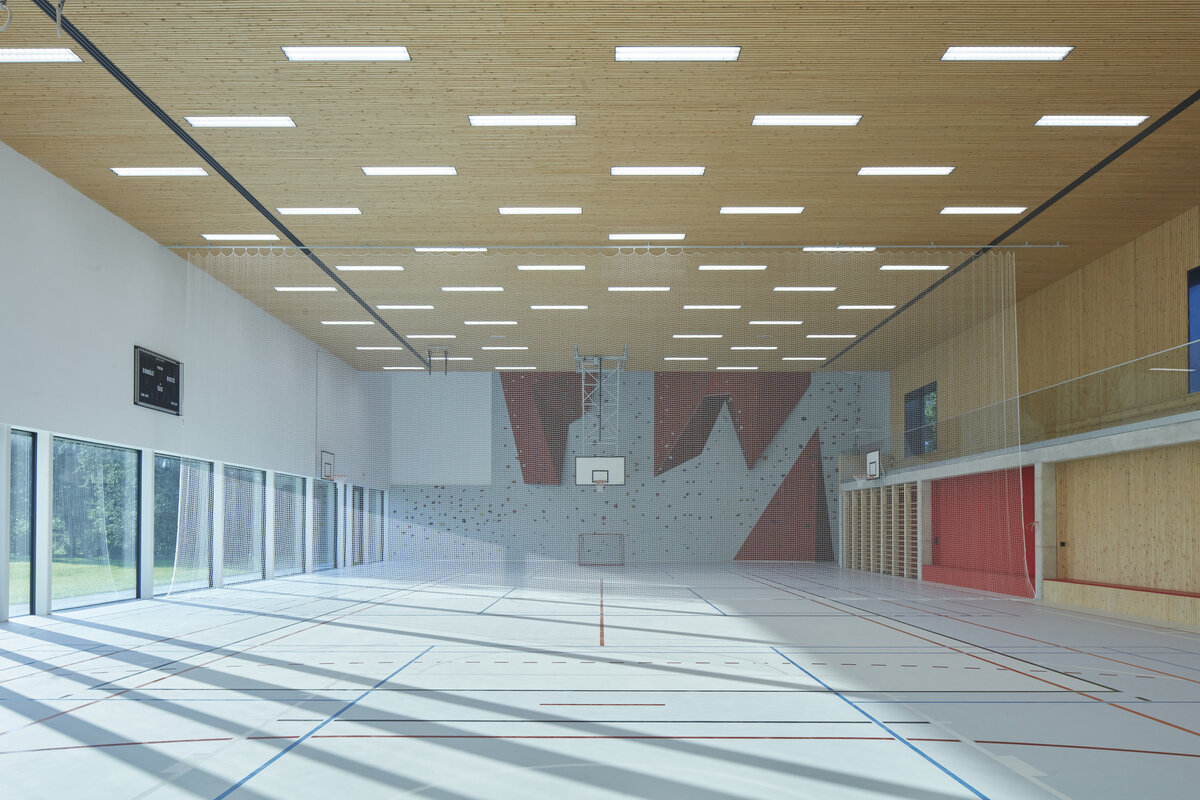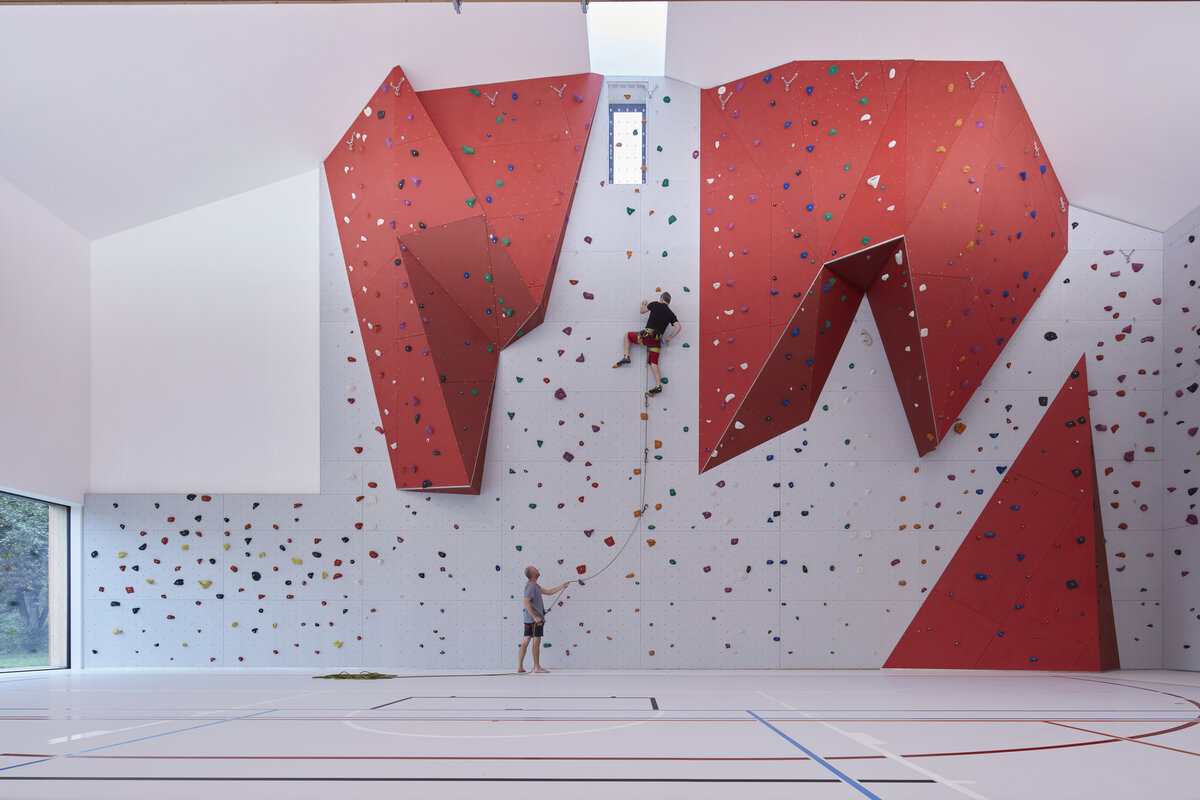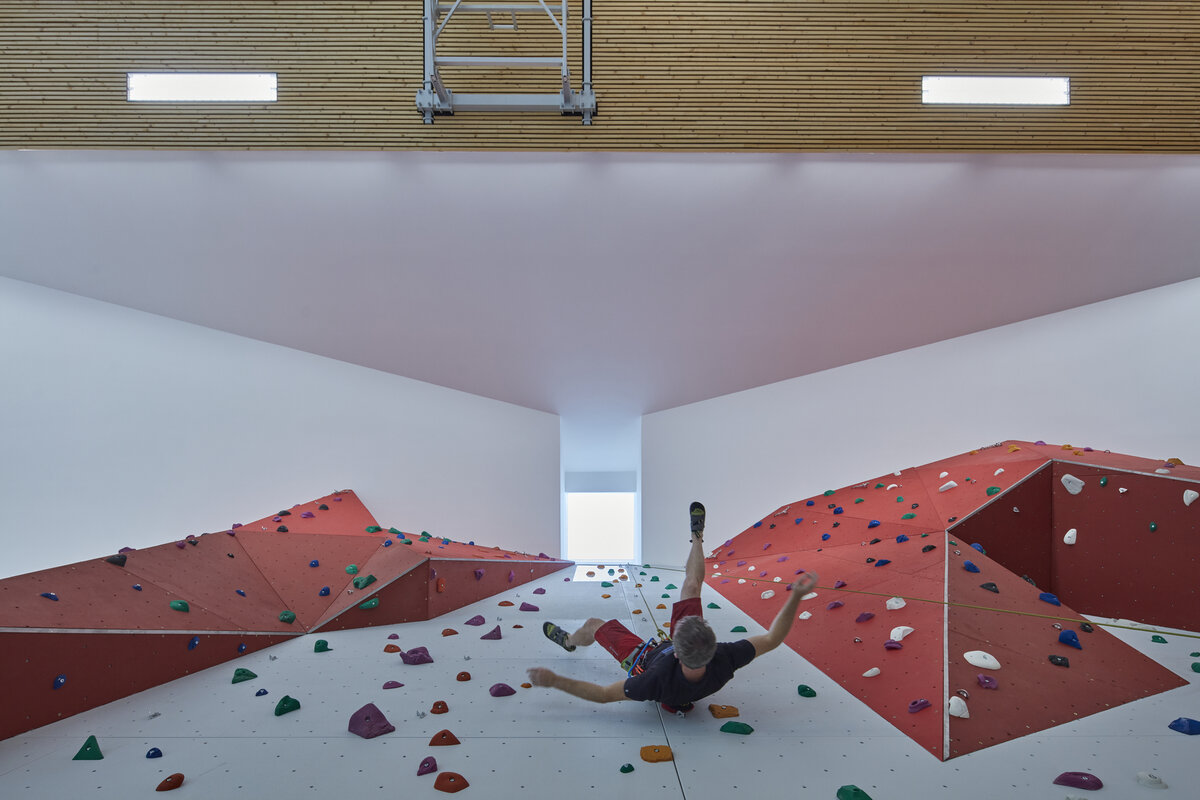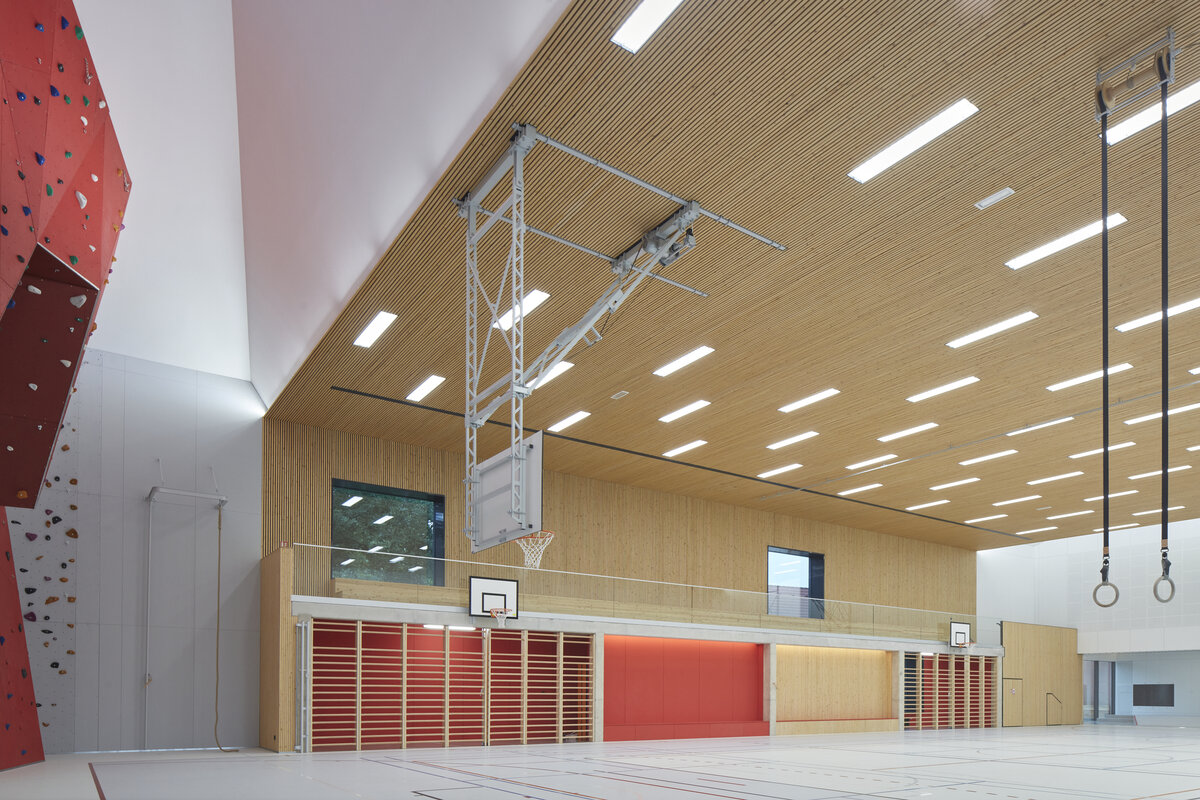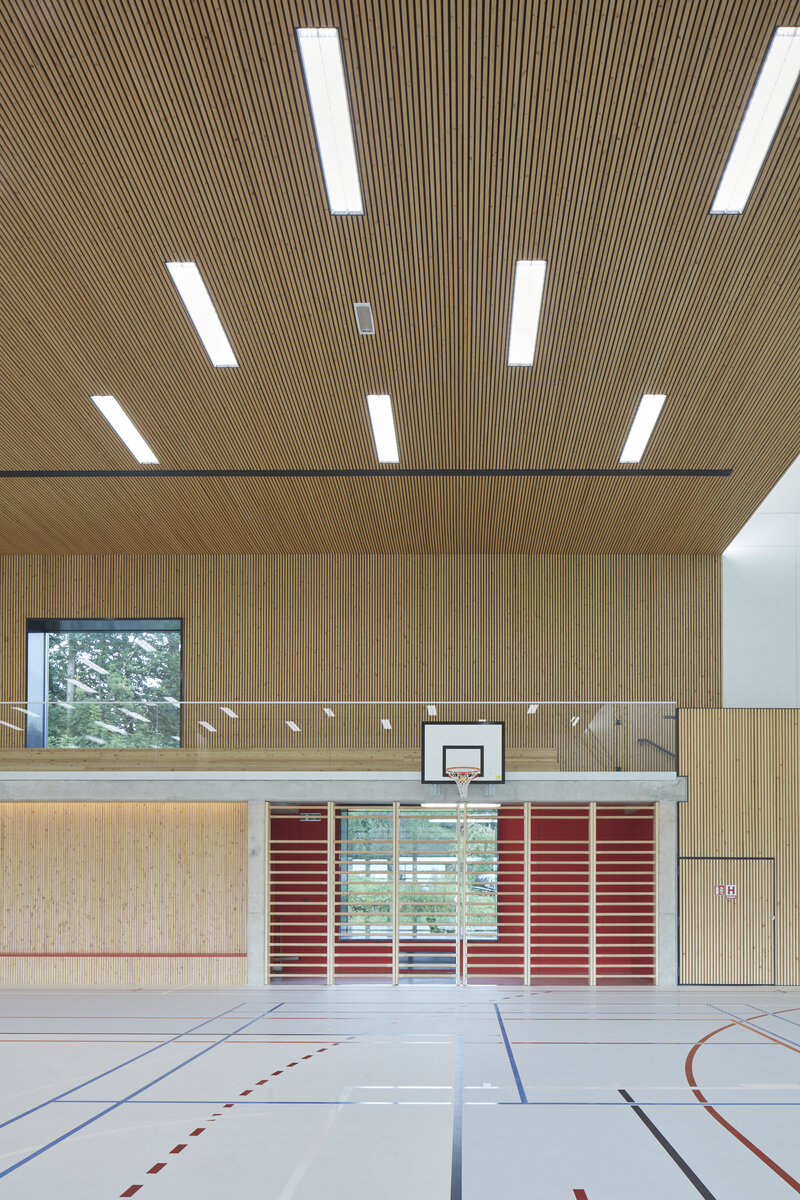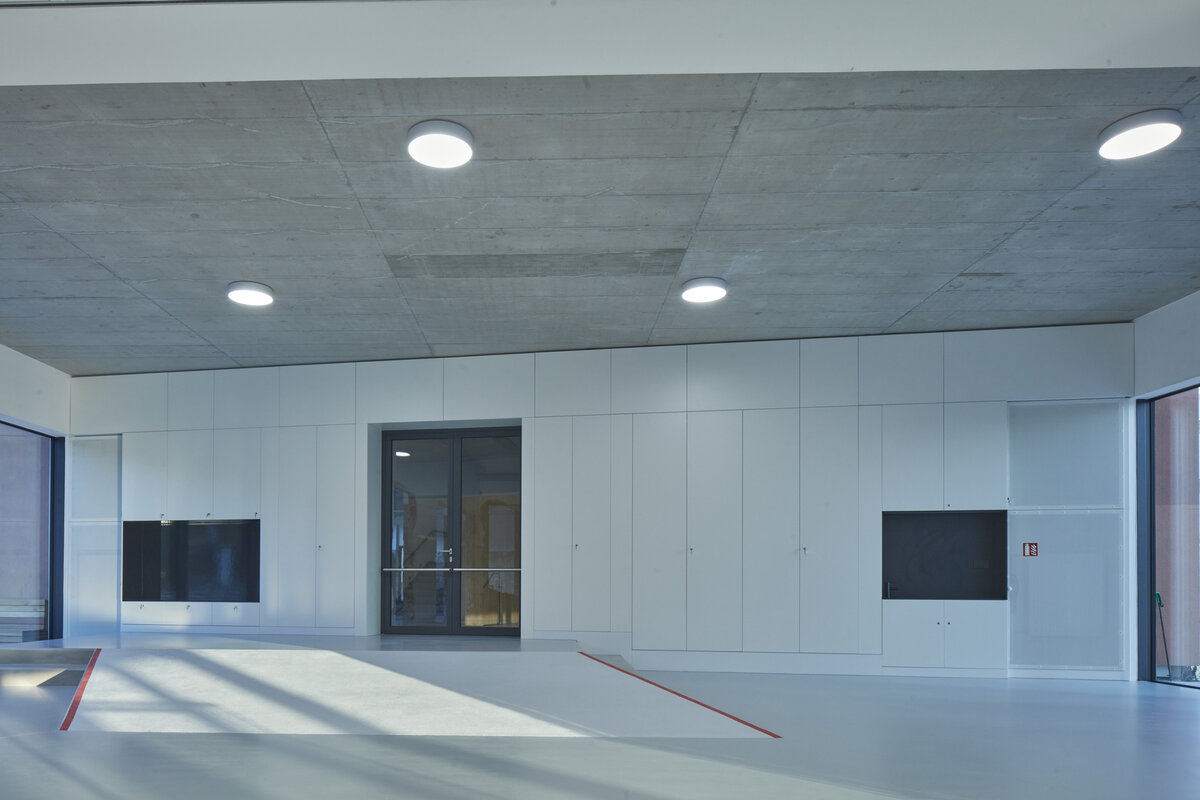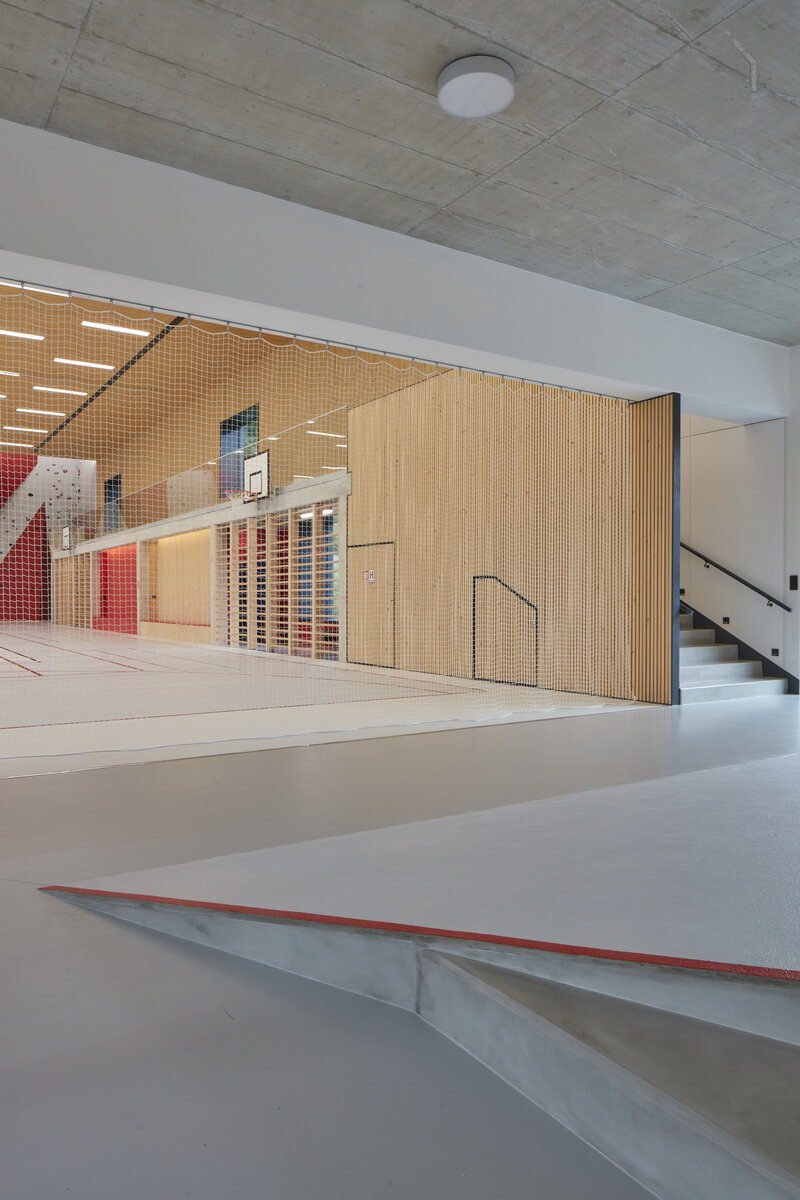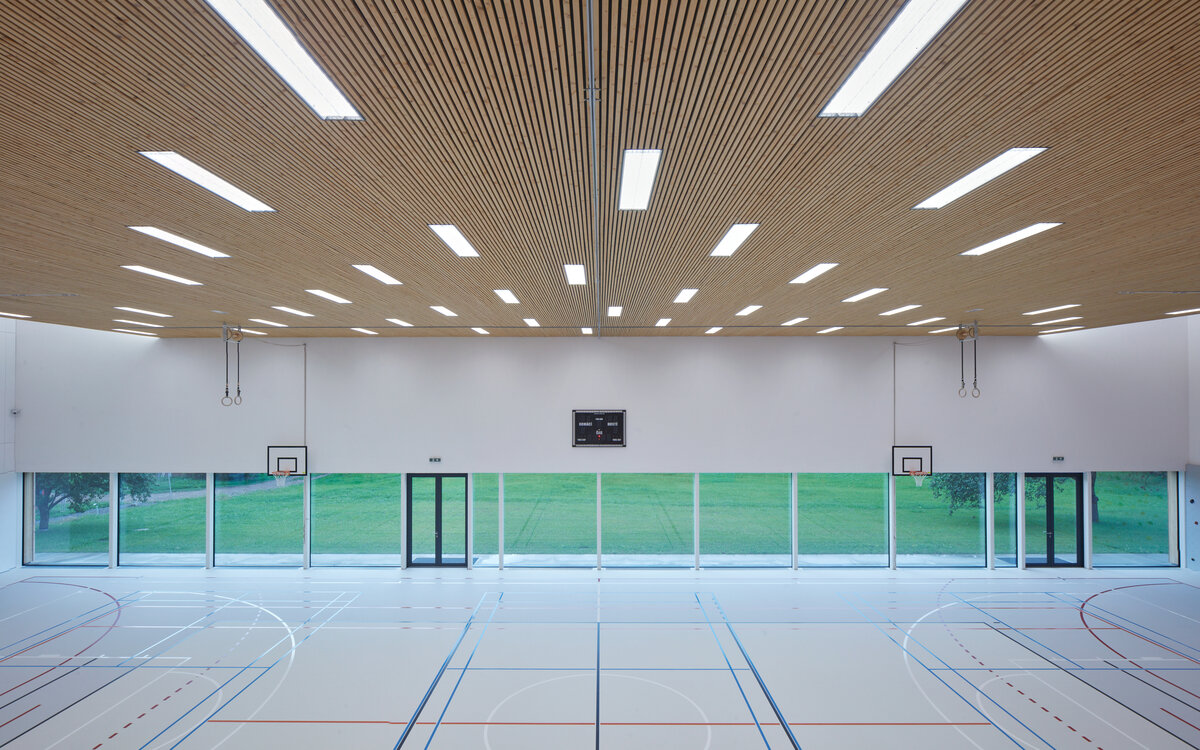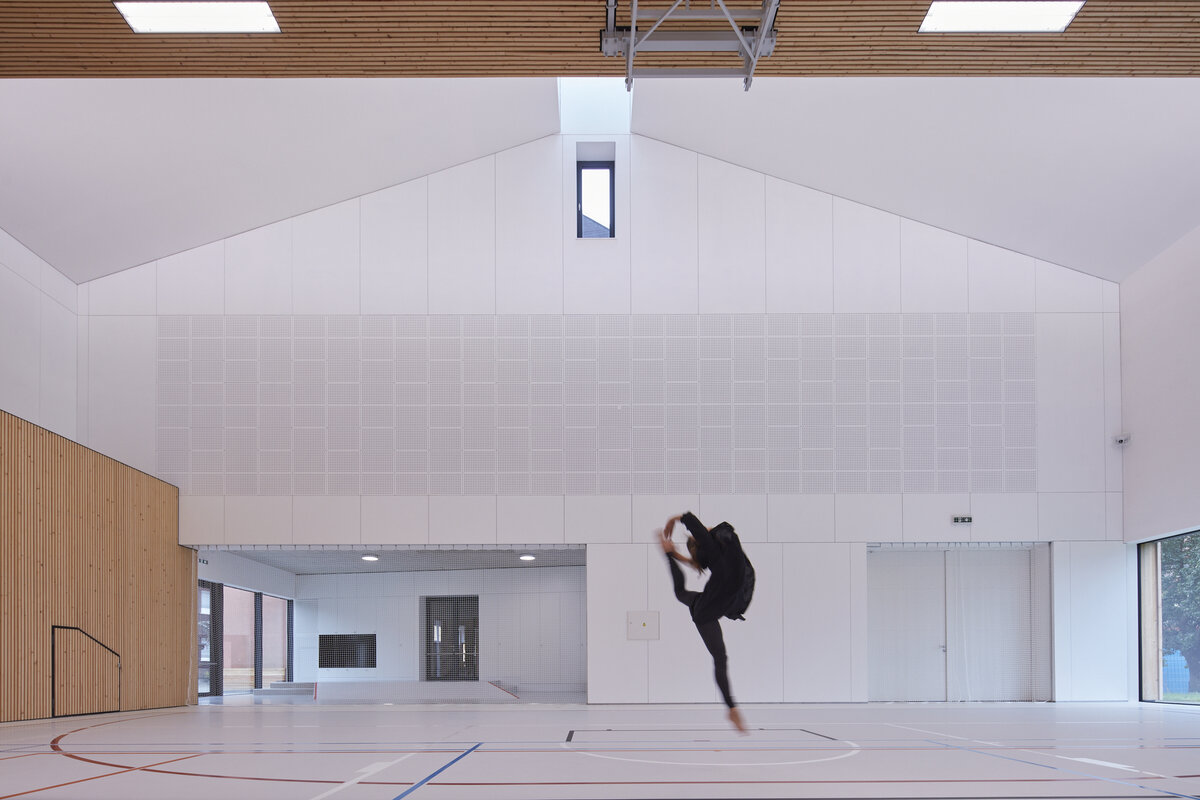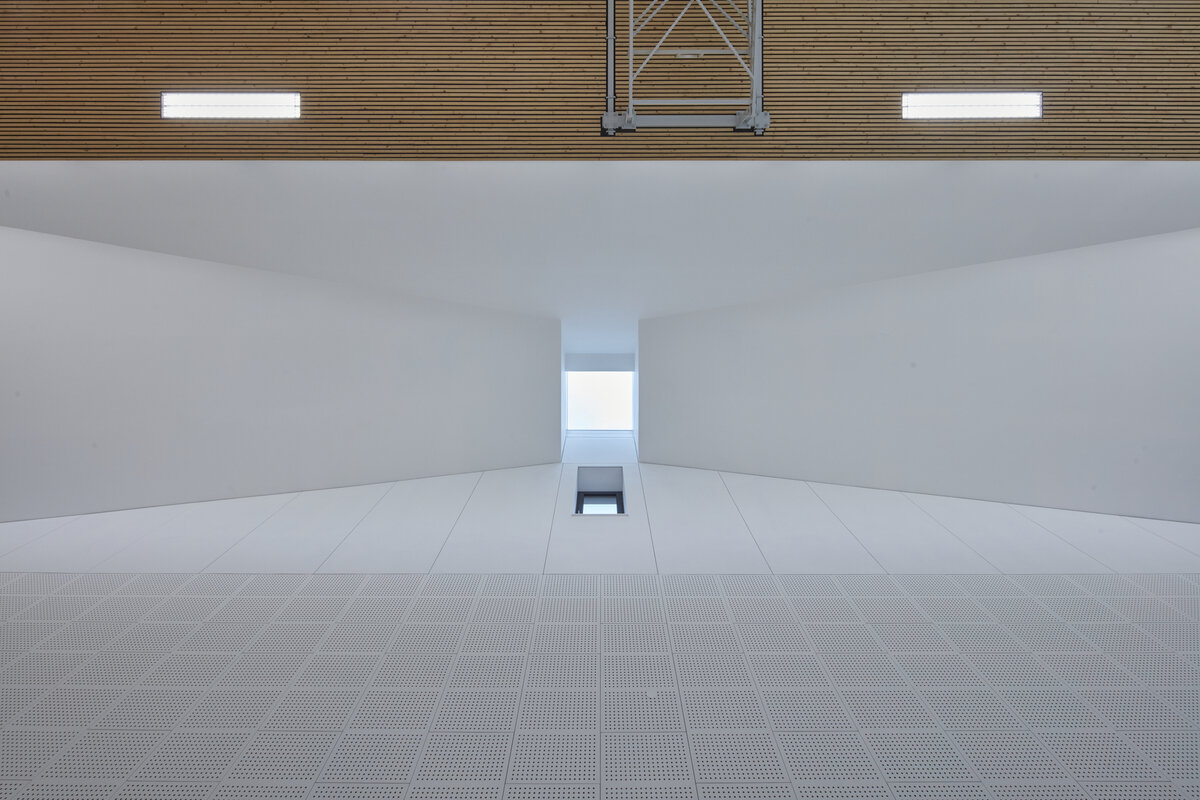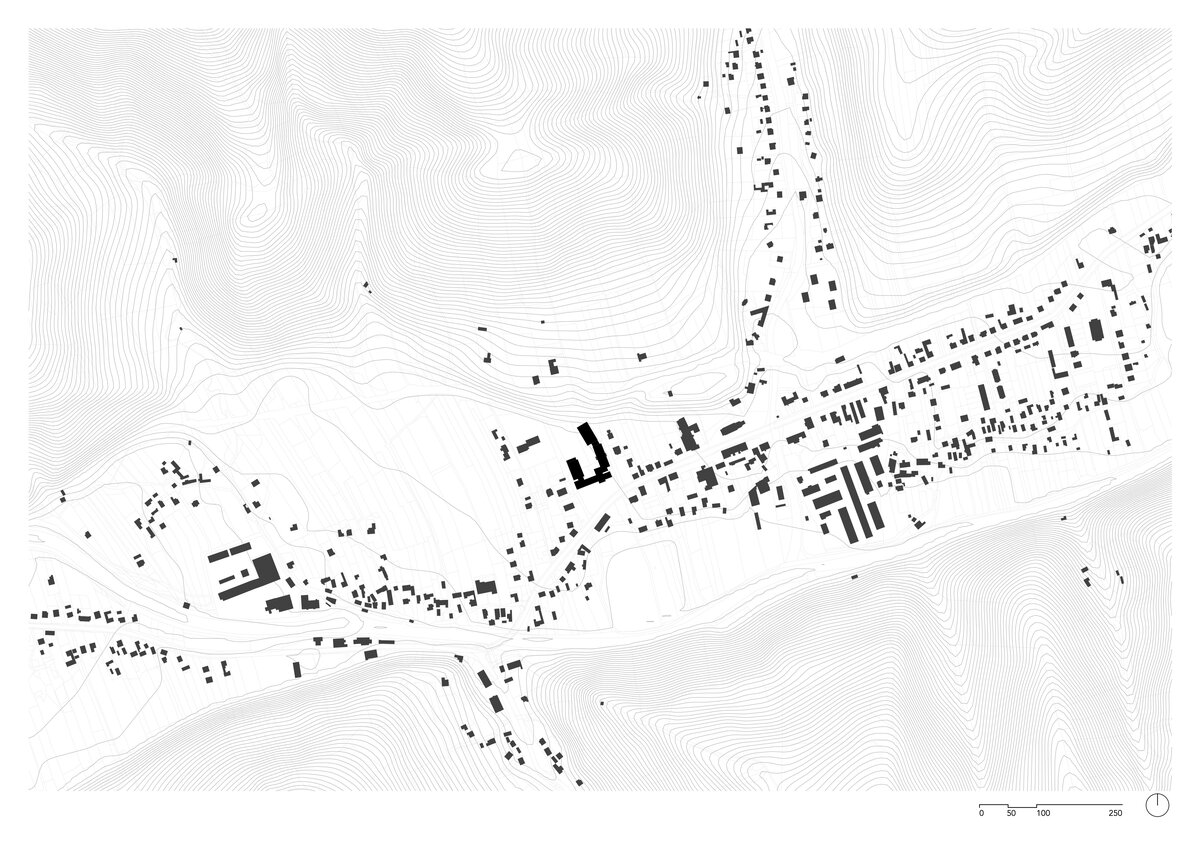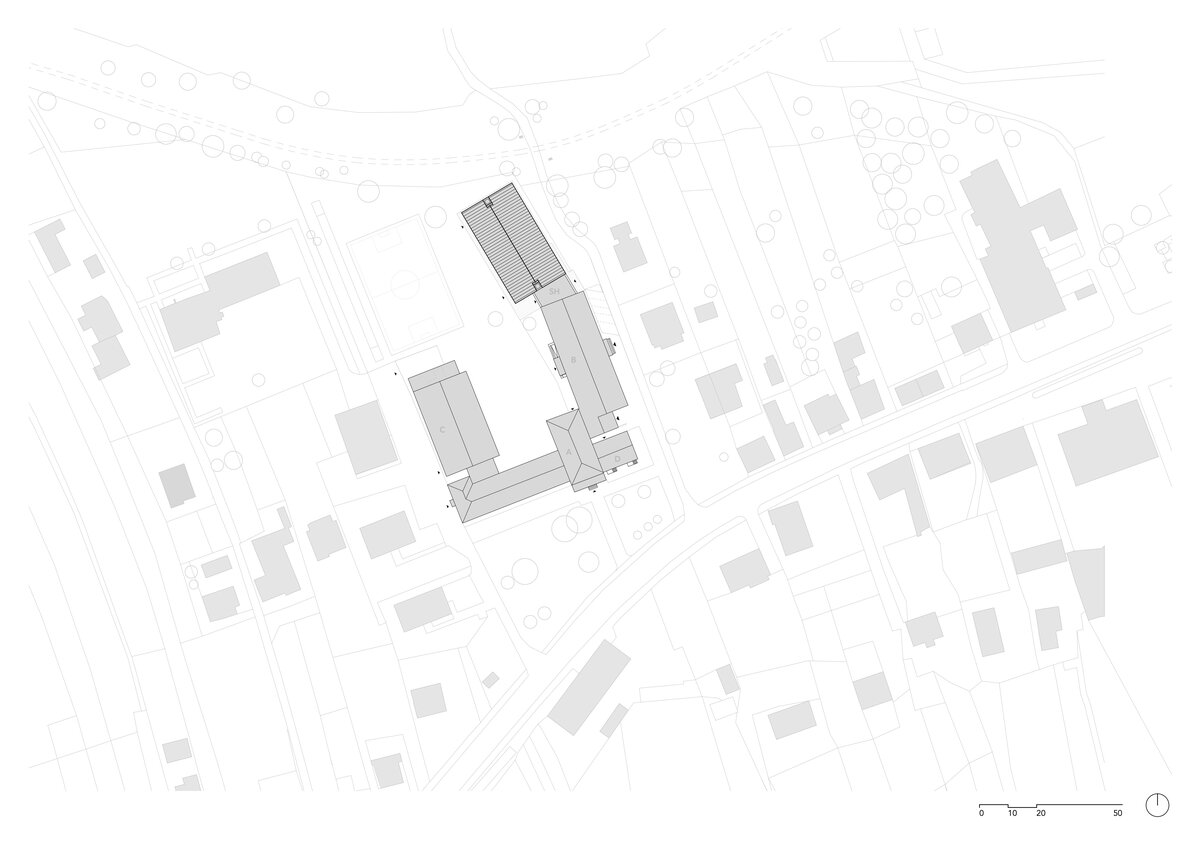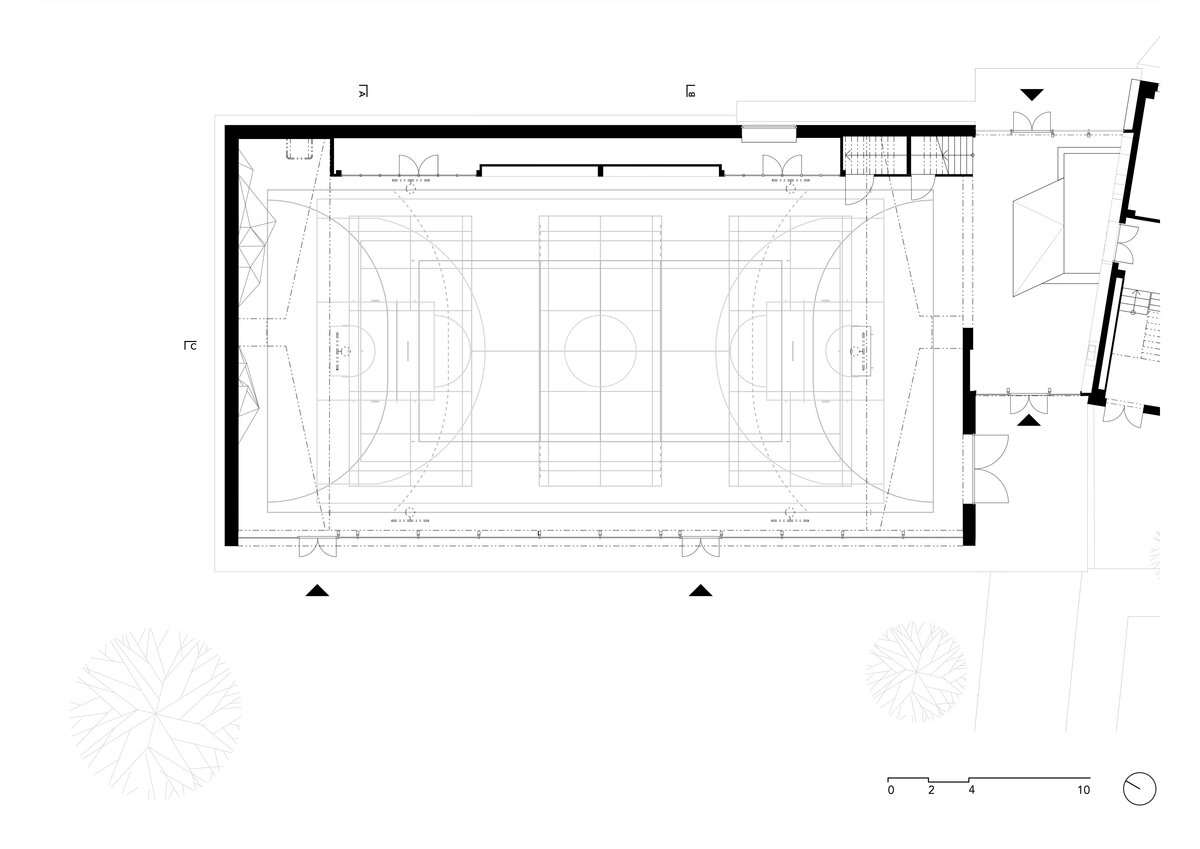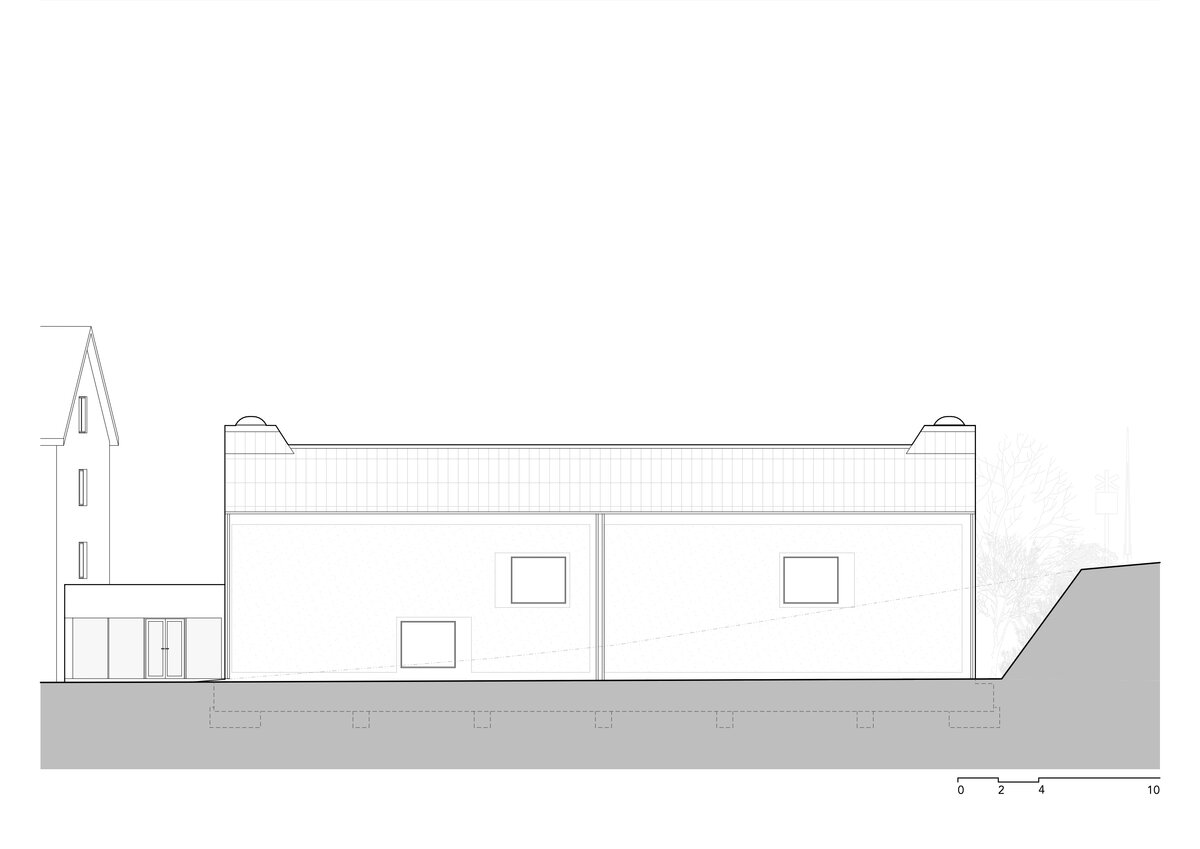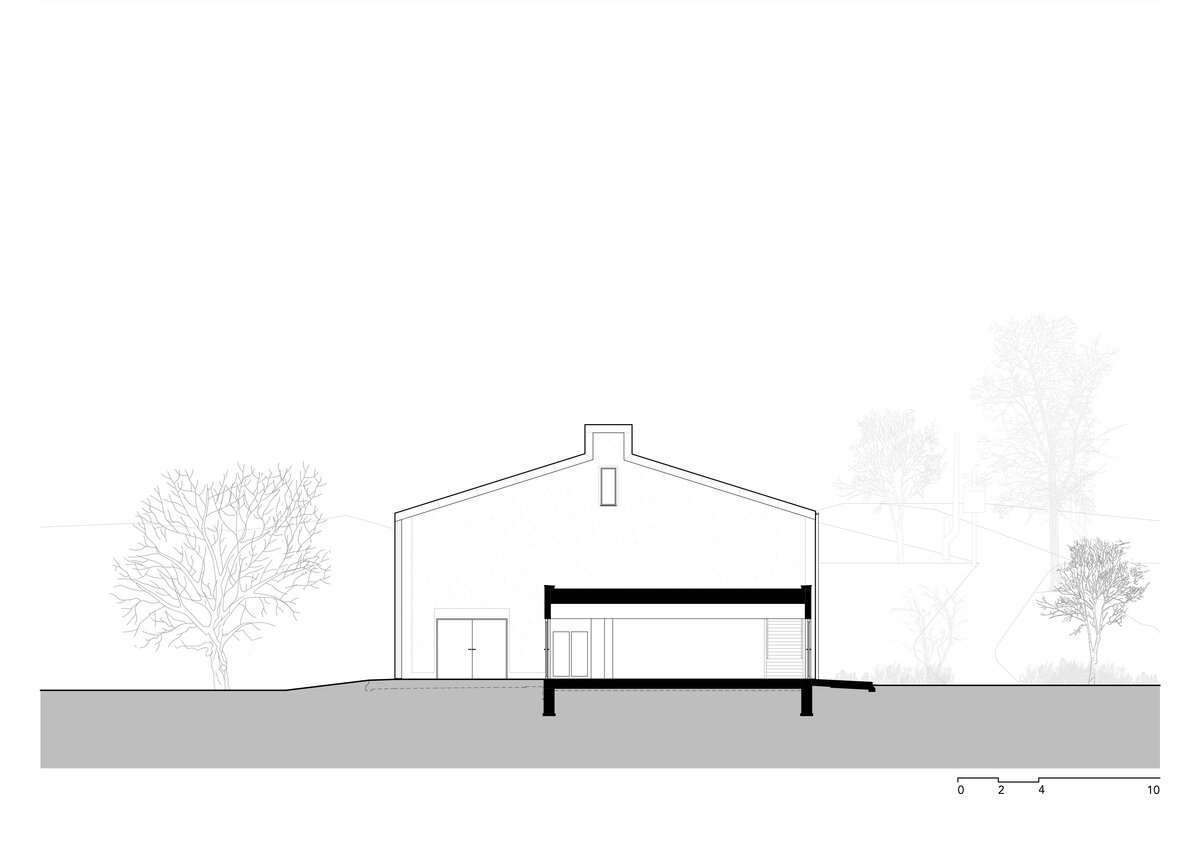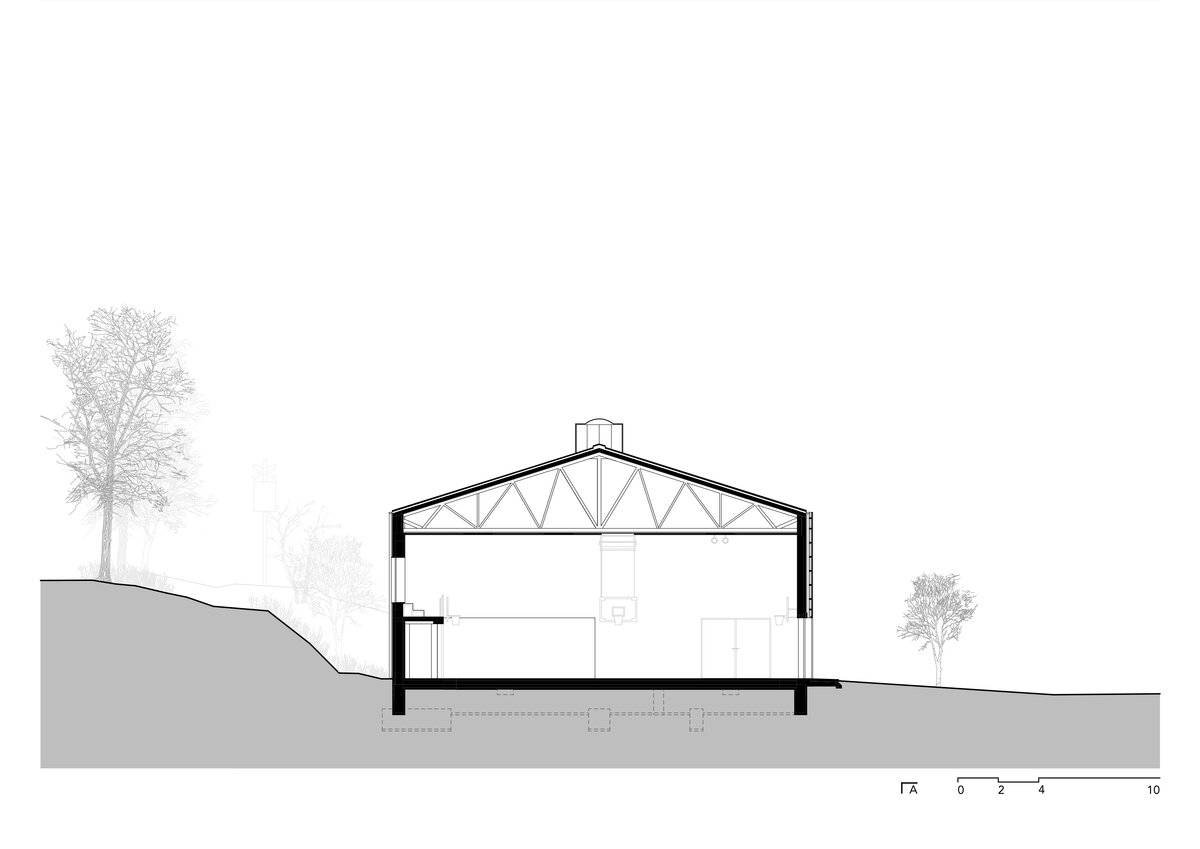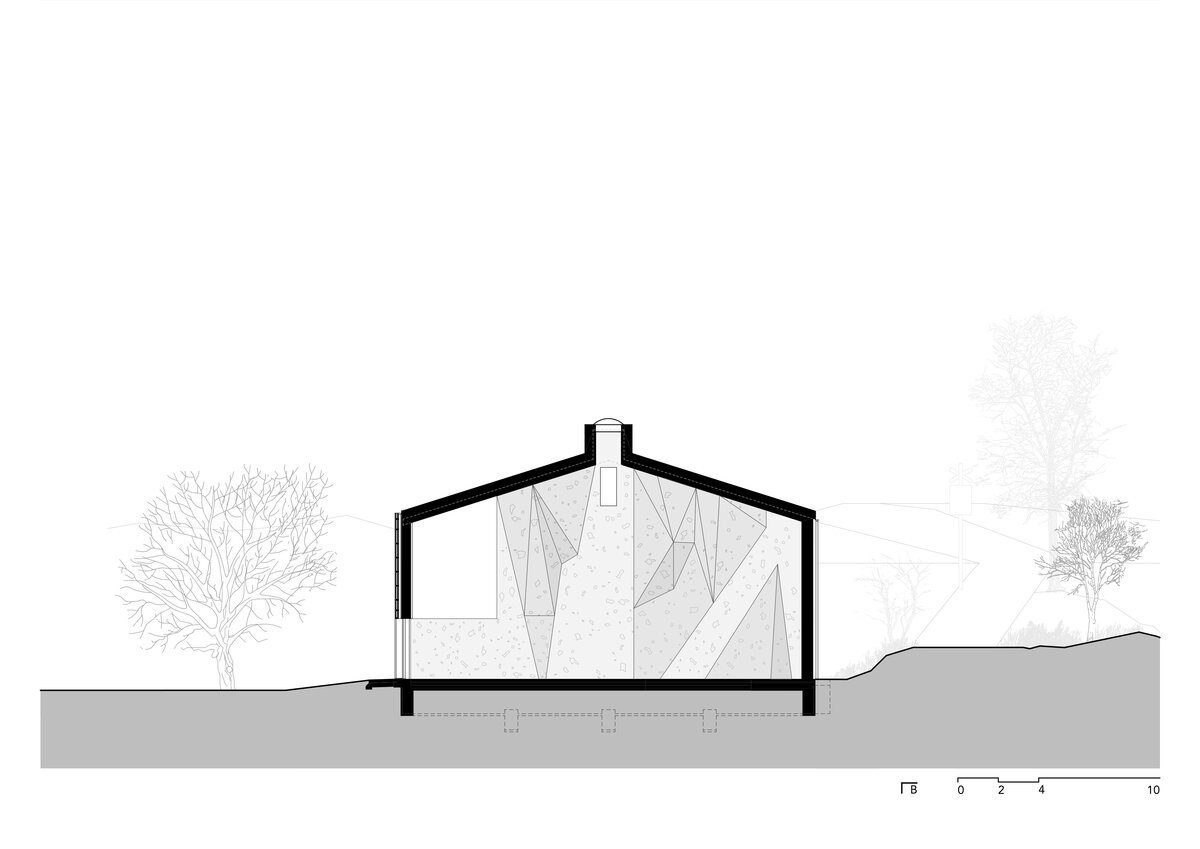 Author
Janica Šipulová, Martin Sládek / CONSEQUENCE FORMA architects
Studio
Location
Nový Hrozenkov 437, 75604 Nový Hrozenkov
Investor
Městys Nový Hrozenkov
Supplier
TM Stav, spol. s r. o.
Jasenice 729
755 01 Vsetín
Date of project approval
July 2021
Fotograf
The sports hall is located in the small town of Nový Hrozenkov, nested in the valley of the Bečva River, which flows through the Vallachian landscape in the eastern corner of Czechia. The architects wanted to bring to the town contemporary architecture that would fit in while introducing something fresh and original. There are more stages of the project; besides the sports hall, revitalisation concerned the main school building reconstruction, new entrances, technical equipment, changing rooms, sports hall facilities and a reconstruction of a famous gym located on the ground floor. In addition, plans include revitalising the surrounding public areas and schoolyard and outdoor school playing fields.
The sports hall serves two purposes - as a gymnasium of a local primary school and for hire to the public. The main concept of the building was to highlight the potential of the rural landscape and link it with a generous glass wall to the indoor play area. Another... The interior is primarily cladded with wood panelling making up the atmosphere and acoustic comfort. Another important aspect is an effective connection of the sports hall to the adjacent buildings and the garden. The building character is largely influenced by the indoor climbing wall rising above the ceiling of the playing field and forming a dominant roof light, which mirrors on the other side too.
The design is a reaction to contradictory requirements for a high climbing wall and an economical solution for roof construction. The most effective way was to use nailed roof trusses, which, combined with side roof lights, allows maximum use of the height for the climbing wall construction. The biggest challenge lay in a solution to the floor-to-ceiling panoramic façade with subtle metal columns. The frameless glazing used alongside the entire length of the building is impact-resistant and made of three-layered glass combined with a special film. The other part of the sports hall consists of concrete columns supporting a built construction on concrete footings. The indoor wood panelling provides acoustic conditions suitable for sports activities. Everything can be viewed from the grandstand, which is accessible from the corridor connecting the sports hall with the ground floor of the school. This building also houses the changing rooms and the sports hall's service facilities. The external façade of the sports hall features wood cladding profiles on one side and plastered surface with fine textures on the other side. There are storage spaces located under the grandstand and in the connecting corridor. The sports equipment is dominated by retractable basketball hoops and a resilient sports floor. This We drew the project in BIM software; it received funding and was completed in 2021.
Green building
Environmental certification
| | |
| --- | --- |
| Type and level of certificate | - |
Water management
| | |
| --- | --- |
| Is rainwater used for irrigation? | |
| Is rainwater used for other purposes, e.g. toilet flushing ? | |
| Does the building have a green roof / facade ? | |
| Is reclaimed waste water used, e.g. from showers and sinks ? | |
The quality of the indoor environment
| | |
| --- | --- |
| Is clean air supply automated ? | |
| Is comfortable temperature during summer and winter automated? | |
| Is natural lighting guaranteed in all living areas? | |
| Is artificial lighting automated? | |
| Is acoustic comfort, specifically reverberation time, guaranteed? | |
| Does the layout solution include zoning and ergonomics elements? | |
Principles of circular economics
| | |
| --- | --- |
| Does the project use recycled materials? | |
| Does the project use recyclable materials? | |
| Are materials with a documented Environmental Product Declaration (EPD) promoted in the project? | |
| Are other sustainability certifications used for materials and elements? | |
Energy efficiency
| | |
| --- | --- |
| Energy performance class of the building according to the Energy Performance Certificate of the building | B |
| Is efficient energy management (measurement and regular analysis of consumption data) considered? | |
| Are renewable sources of energy used, e.g. solar system, photovoltaics? | |
Interconnection with surroundings
| | |
| --- | --- |
| Does the project enable the easy use of public transport? | |
| Does the project support the use of alternative modes of transport, e.g cycling, walking etc. ? | |
| Is there access to recreational natural areas, e.g. parks, in the immediate vicinity of the building? | |