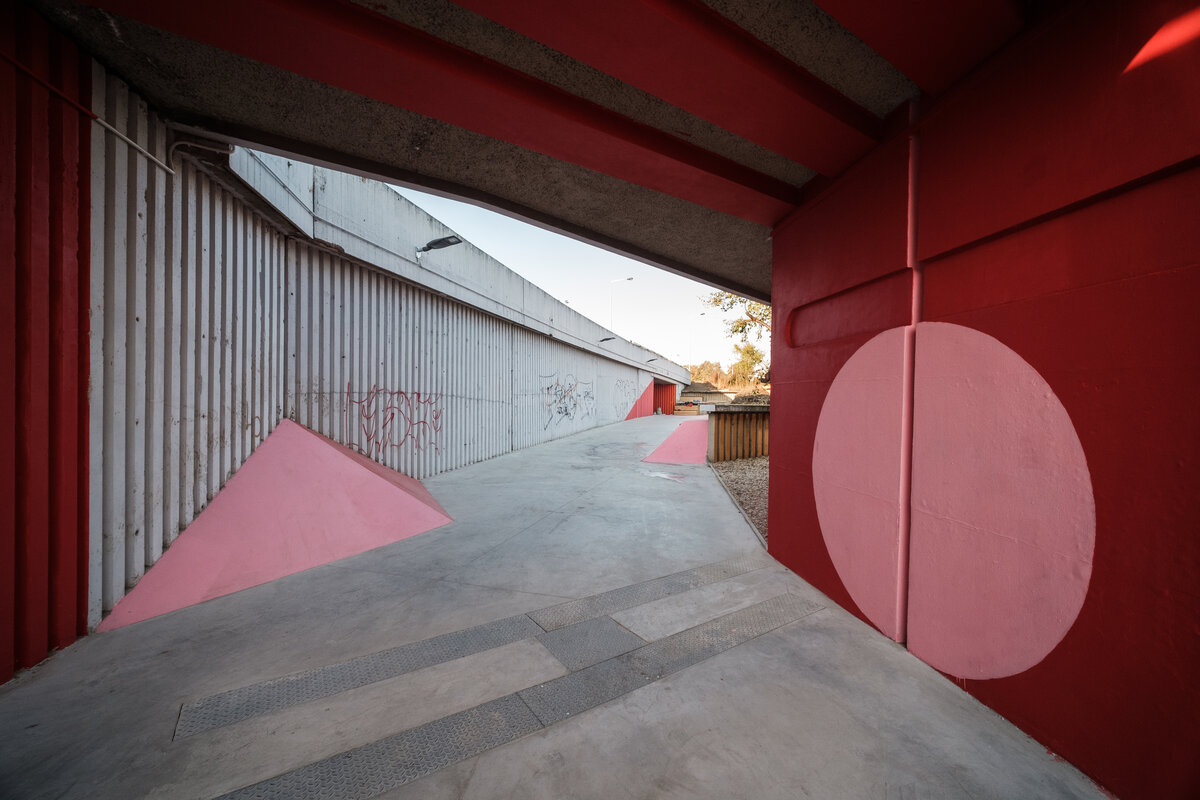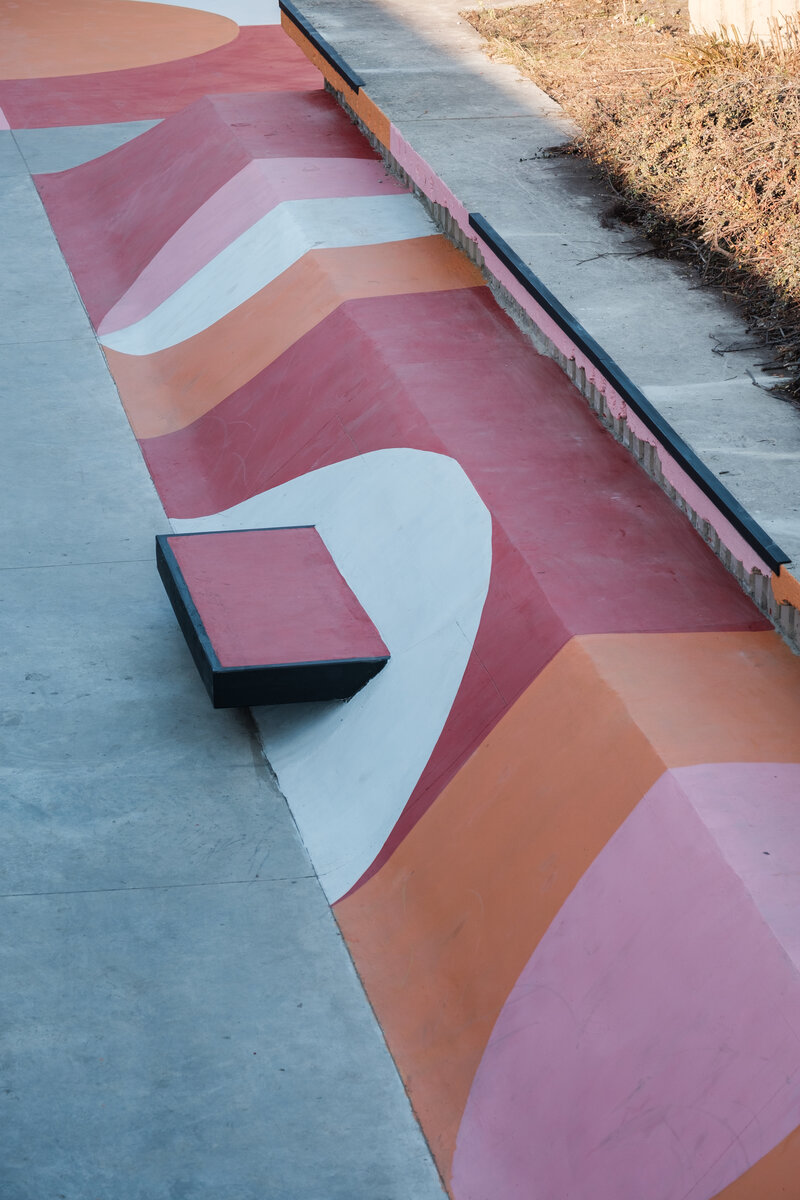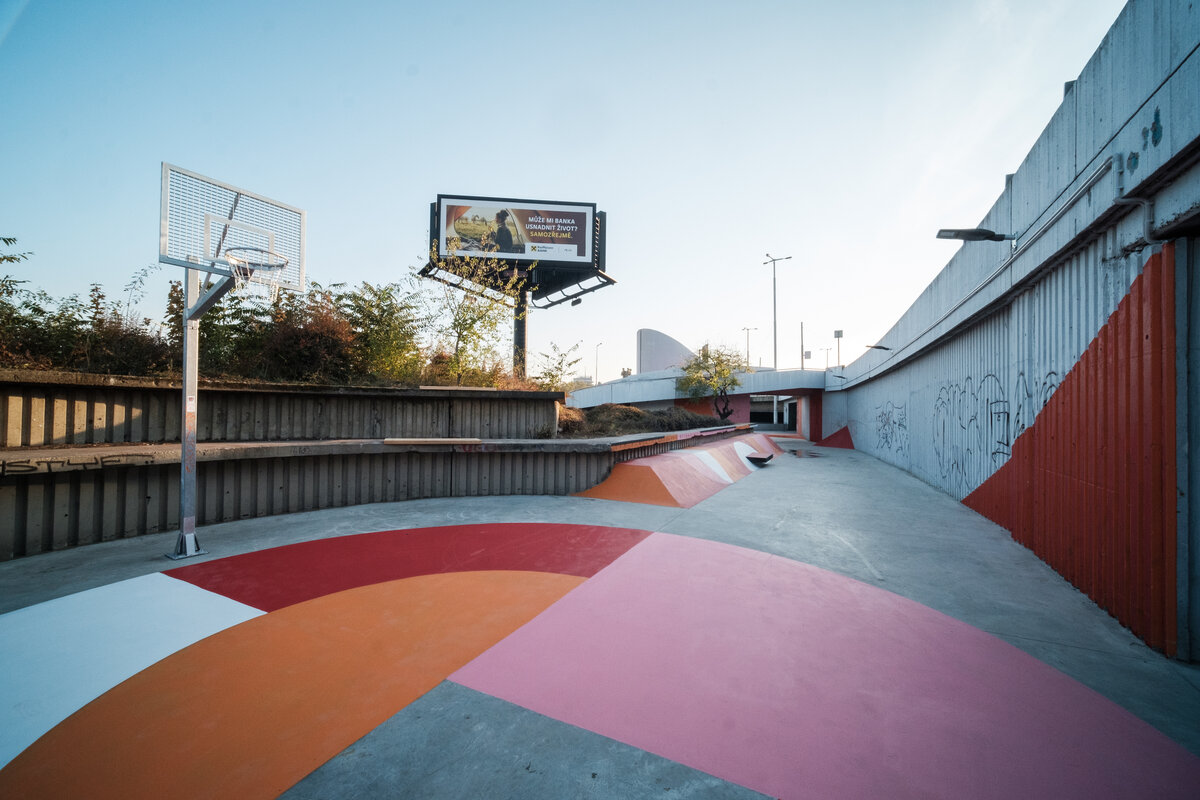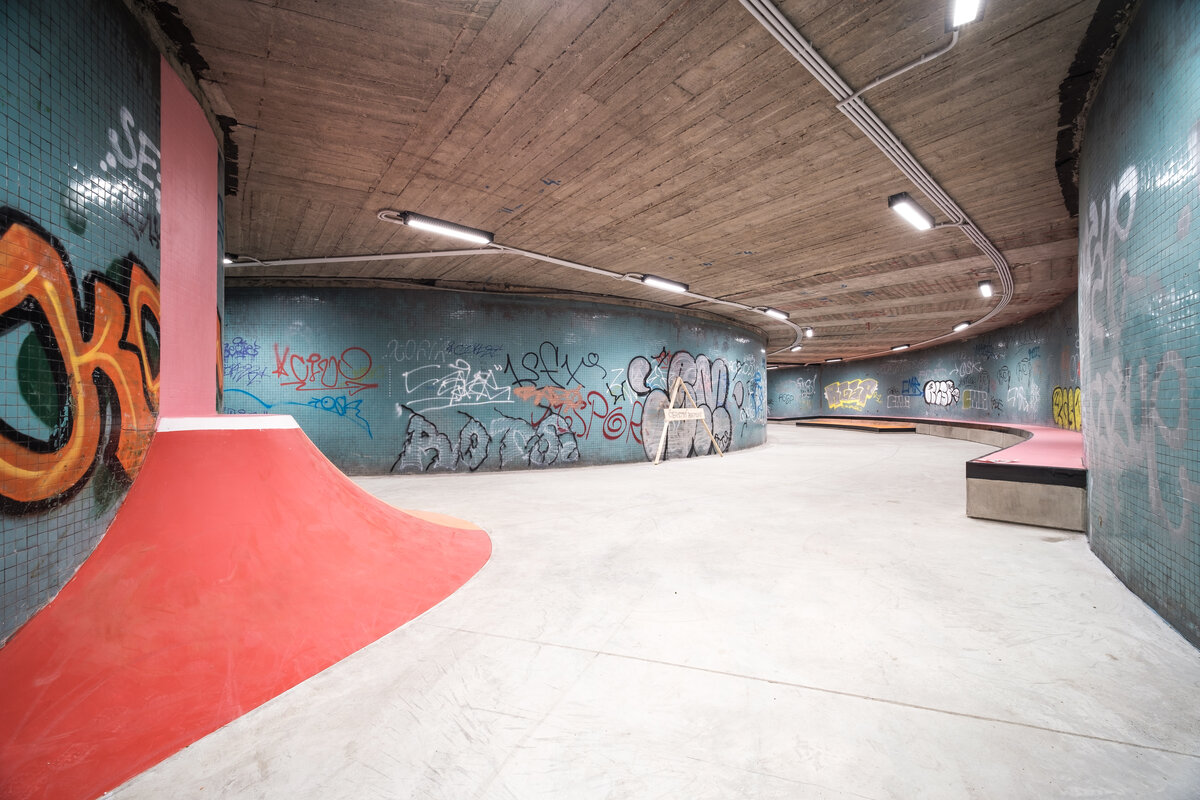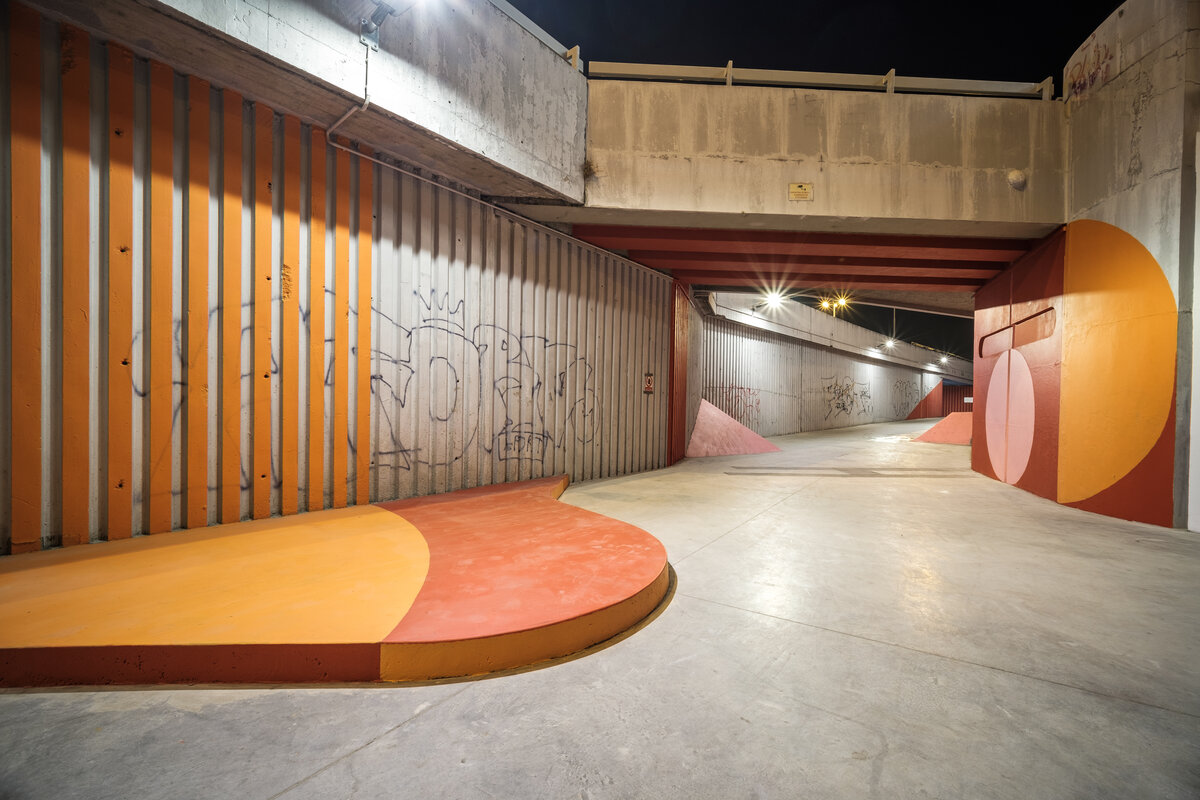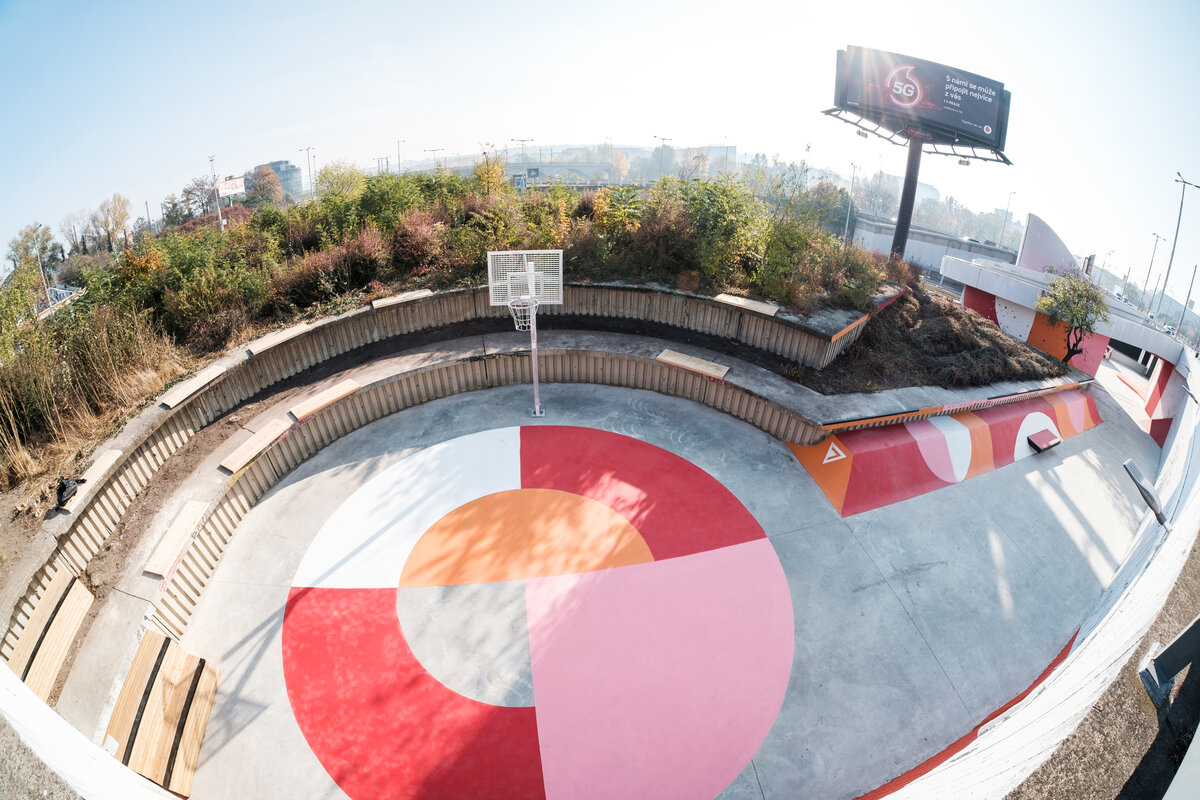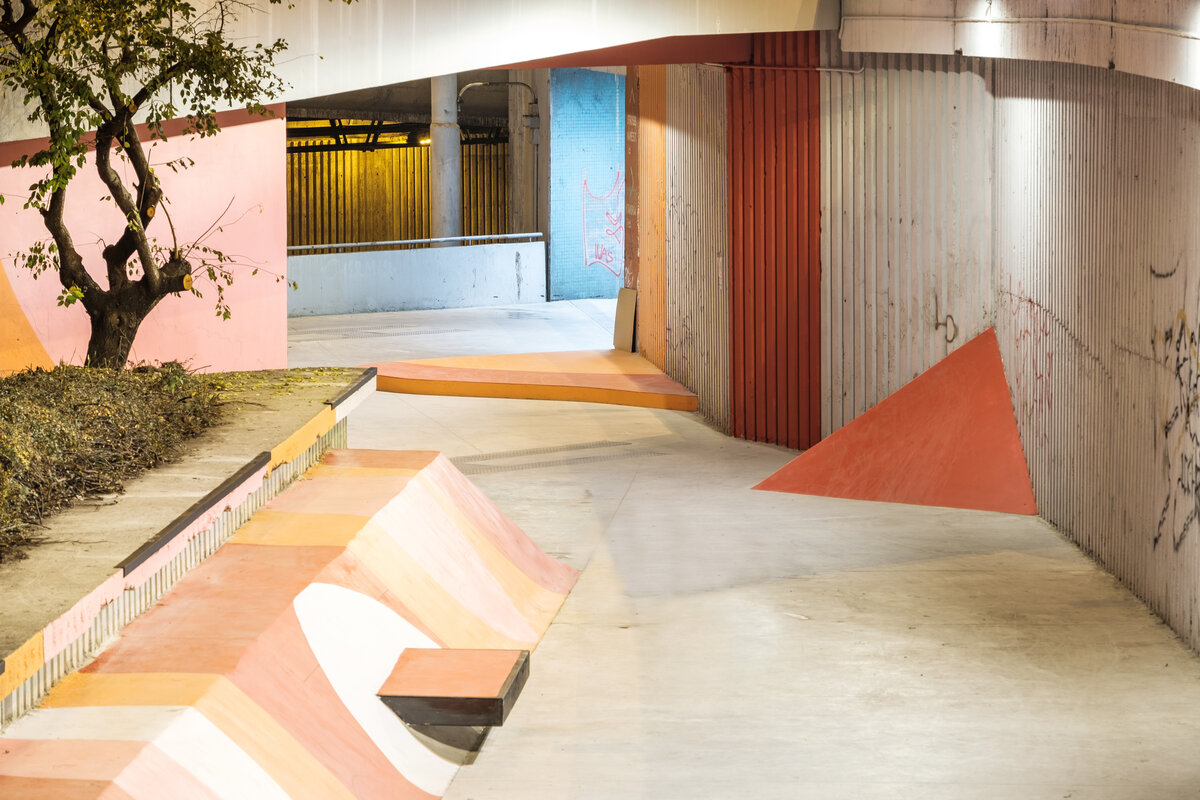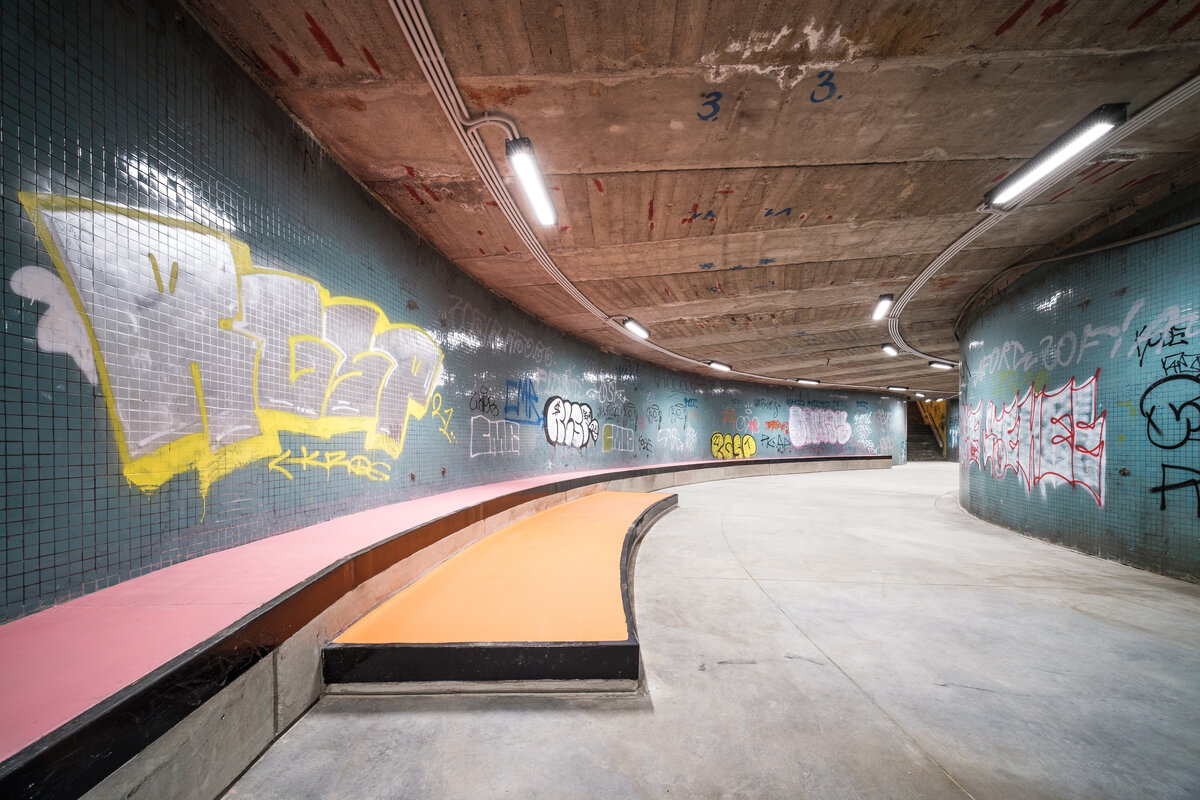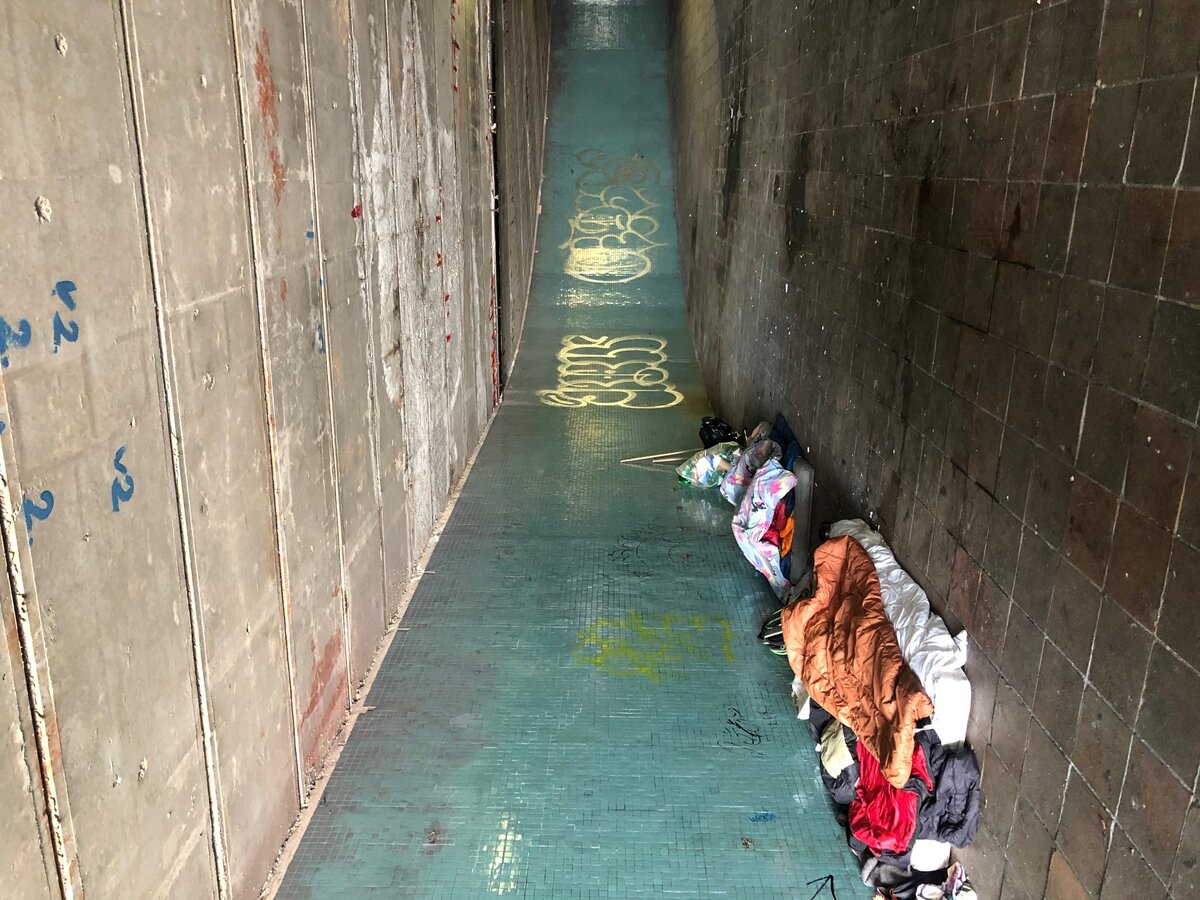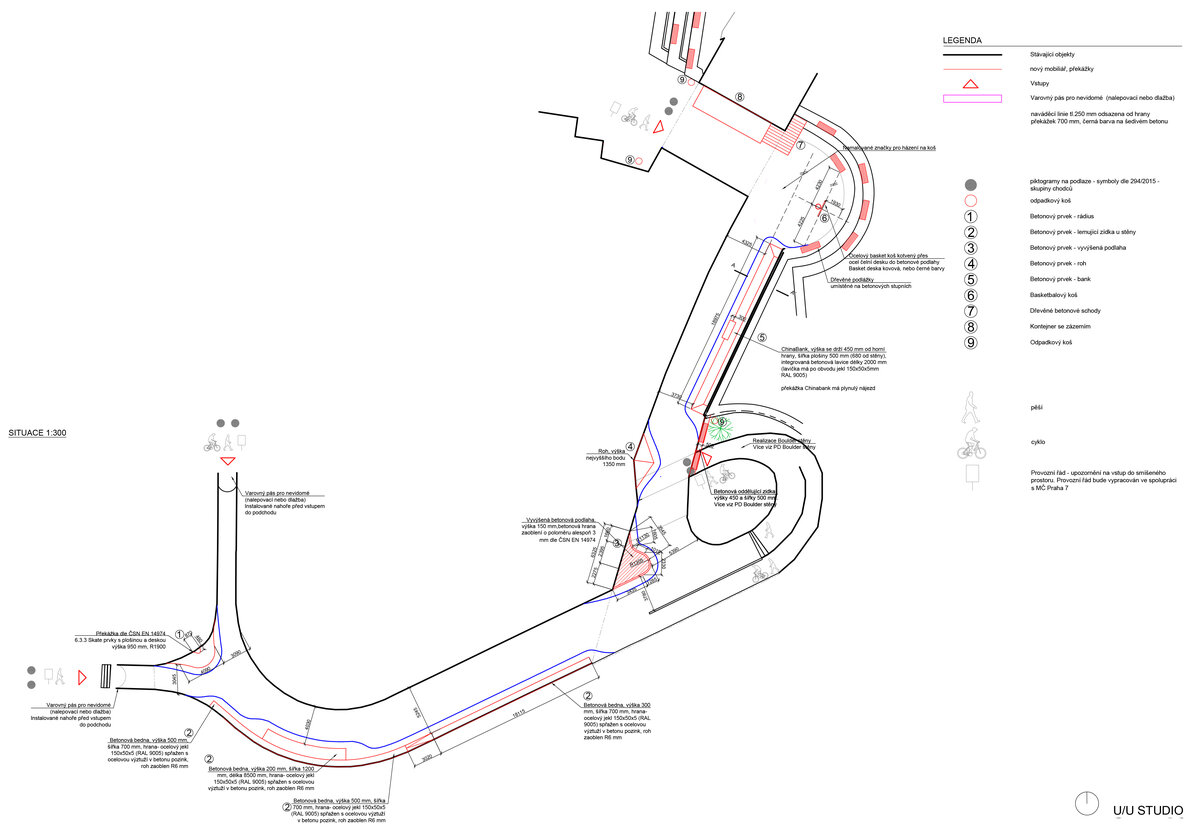 | | |
| --- | --- |
| Author | Re_place.cz (idea revitalizace a studie /richard@revolta.cz/), U / U studio s.r.o. (řešení povrchů, sportovních a dalších prvků) |
| Studio | |
| Location | podchody Hlávkův most, metro Vltavská, Praha 7, parcela č. 2269, 2484 v k.ú. Holešovice, |
| Investor | MČ Praha 7, TSK, THMP |
| Supplier | Bonidee MNG s.r.o. |
| Date of project approval | March 2022 |
| Fotograf | |
By the requirement of the Municipal Council of Prague 7 to revitalize the neglected subways at the Vltavská metro station in Prague, we proposed the transformation of a dark "no-go" zone into a shared streetsports area. The basic technical idea was to avoid reconstruction and to implement new elements into existing structures. The operating idea was not to separate the sports from the transport function of the subway, but on the contrary to contribute to the sharing of public space. Safe and "friendly" zone, accessible 24/7. Skateboard and BMX obstacles, boulder wall with overhang, basketball hoop, bistro, servis point and amphitheater. Permanently lit space under the roof. Browsing supplemented with meeting options.
We believe in the concept of a cohesive city, within which we try to blur the barriers between functions and individual groups of residents and visitors. The solution we propose has the ambition to promote freedom, openness, safety and sharing. And in accordance with the requirements of the hot present, we believe in the power of sport as a medium for personal development and intergenerational and intergender communication.
Similarly, there are countless "sleeping" places in Czech cities. You just have to want to change them.
A concrete floor (smooth for users of roller sports, but at the same time respecting the comfort of pedestrians and cyclists) and concrete obstacles were implemented in the place of the underpasses. A boulder was placed on the existing bridge structure (concrete overhang was used) and a workout trapeze. In place of a natural "amphitheatre", the existing concrete cascades were used as an auditorium and a basketball hoop was placed in the middle. In the part of the underpass near the amphitheater, a bistro in the form of a bus with service point has been located since spring 2021. The area is equipped with new lighting (outdoor and indoor), which allows riders to use the area in any weather and time of day.
Due to the nature of the building, the most durable materials are chosen - concrete and metal.
Green building
Environmental certification
| | |
| --- | --- |
| Type and level of certificate | - |
Water management
| | |
| --- | --- |
| Is rainwater used for irrigation? | |
| Is rainwater used for other purposes, e.g. toilet flushing ? | |
| Does the building have a green roof / facade ? | |
| Is reclaimed waste water used, e.g. from showers and sinks ? | |
The quality of the indoor environment
| | |
| --- | --- |
| Is clean air supply automated ? | |
| Is comfortable temperature during summer and winter automated? | |
| Is natural lighting guaranteed in all living areas? | |
| Is artificial lighting automated? | |
| Is acoustic comfort, specifically reverberation time, guaranteed? | |
| Does the layout solution include zoning and ergonomics elements? | |
Principles of circular economics
| | |
| --- | --- |
| Does the project use recycled materials? | |
| Does the project use recyclable materials? | |
| Are materials with a documented Environmental Product Declaration (EPD) promoted in the project? | |
| Are other sustainability certifications used for materials and elements? | |
Energy efficiency
| | |
| --- | --- |
| Energy performance class of the building according to the Energy Performance Certificate of the building | |
| Is efficient energy management (measurement and regular analysis of consumption data) considered? | |
| Are renewable sources of energy used, e.g. solar system, photovoltaics? | |
Interconnection with surroundings
| | |
| --- | --- |
| Does the project enable the easy use of public transport? | |
| Does the project support the use of alternative modes of transport, e.g cycling, walking etc. ? | |
| Is there access to recreational natural areas, e.g. parks, in the immediate vicinity of the building? | |