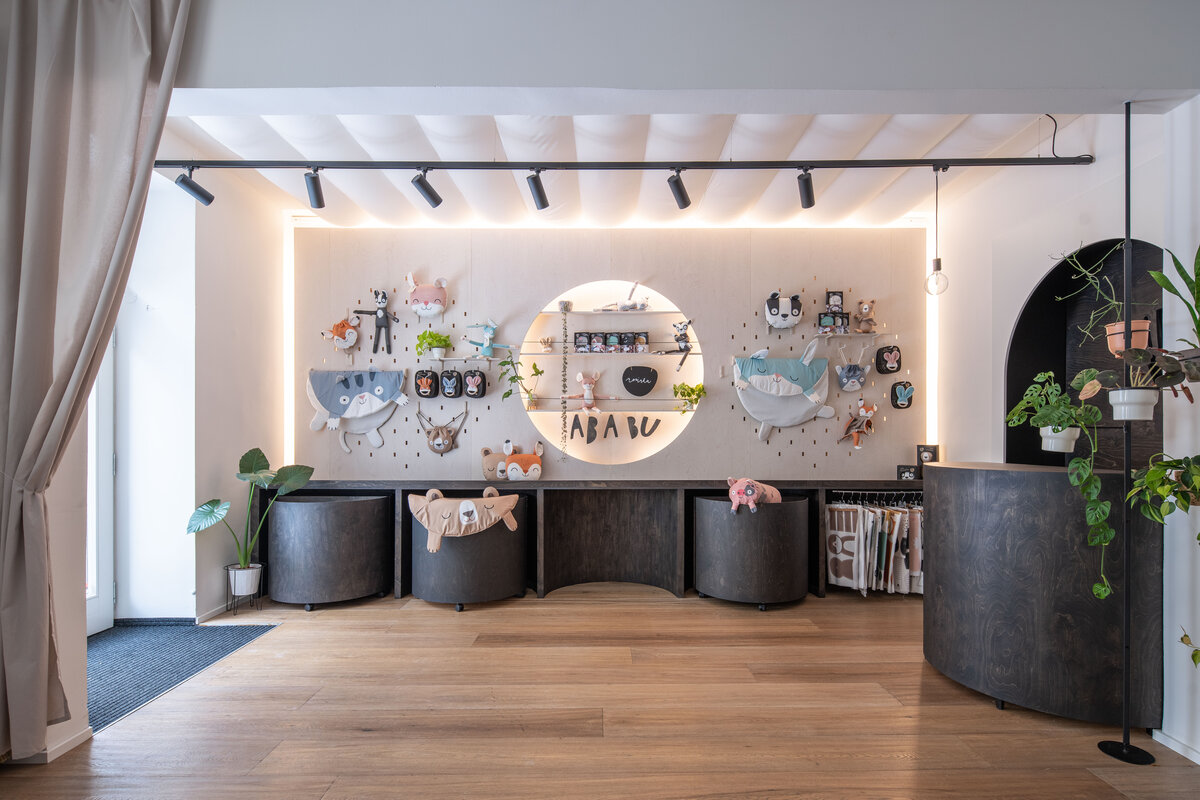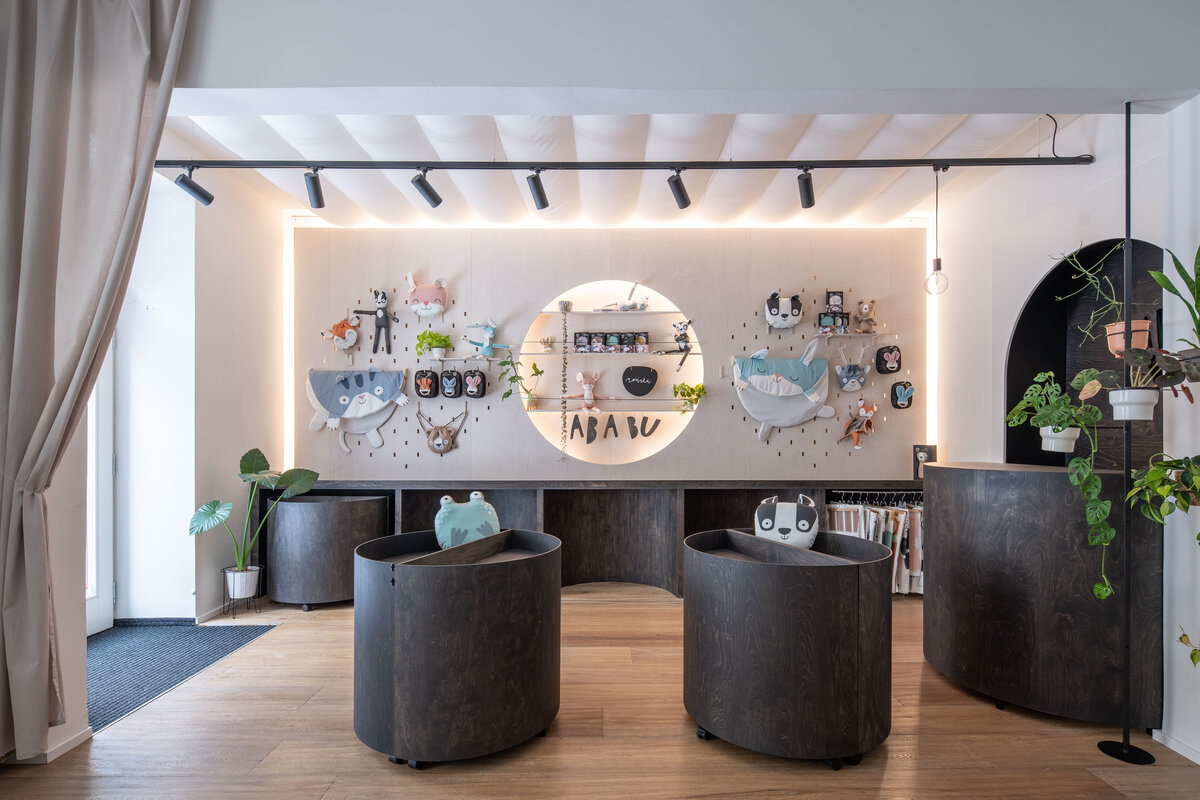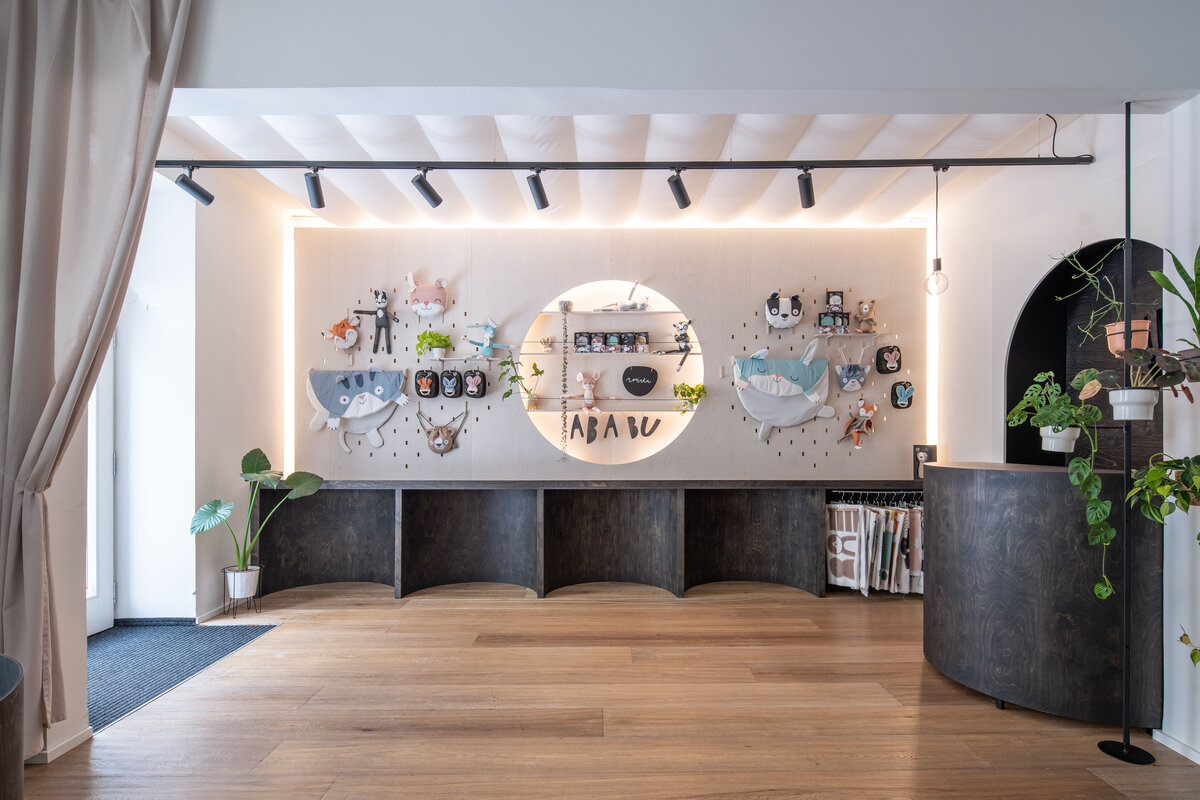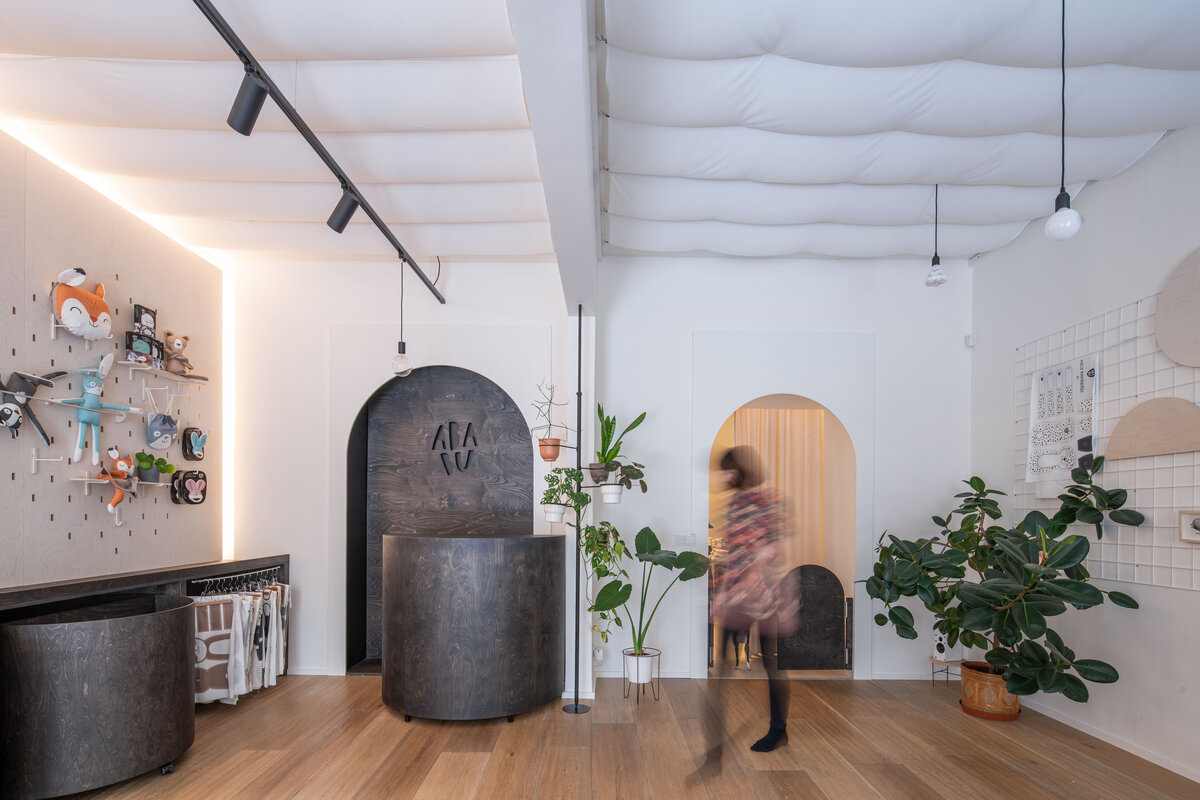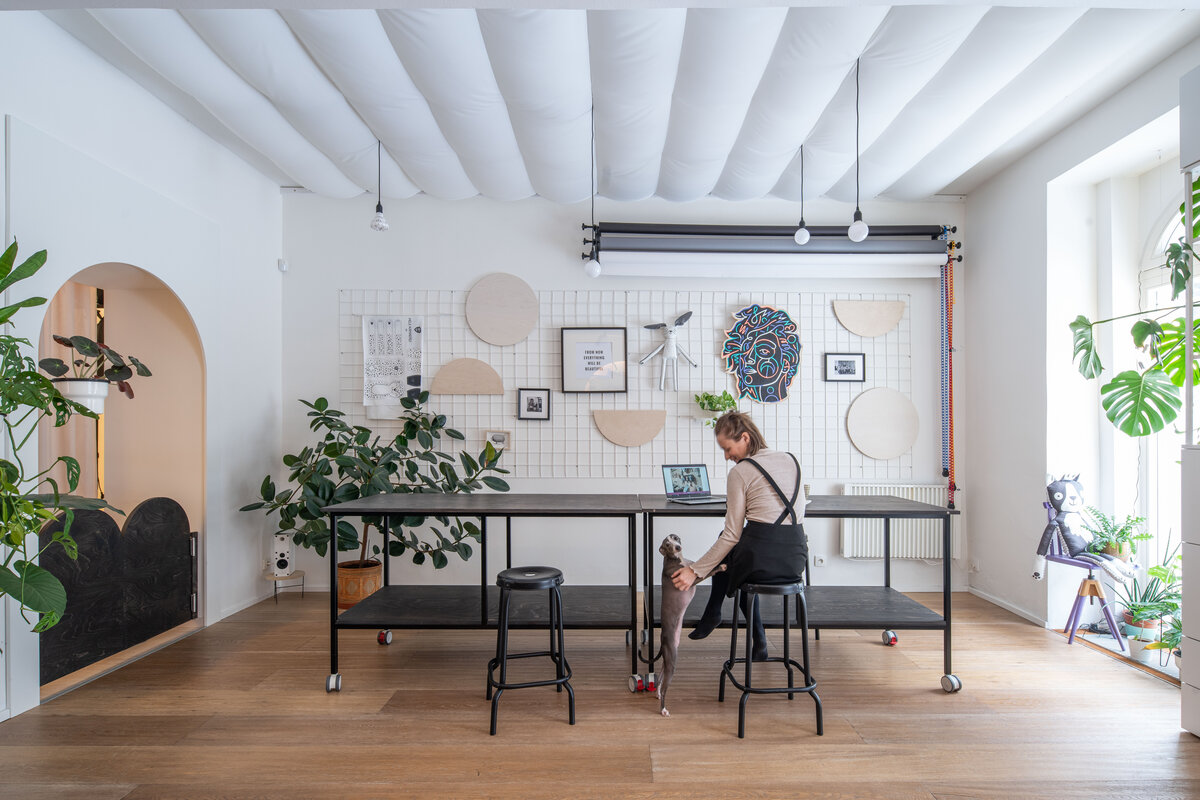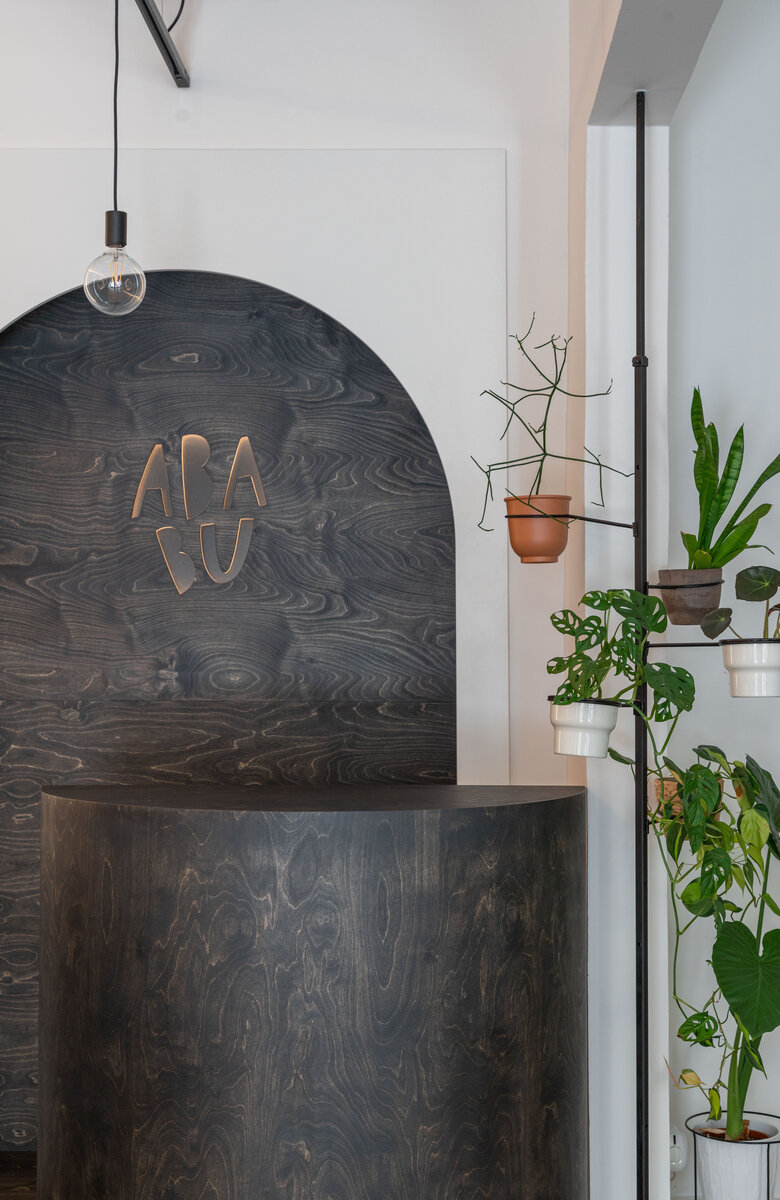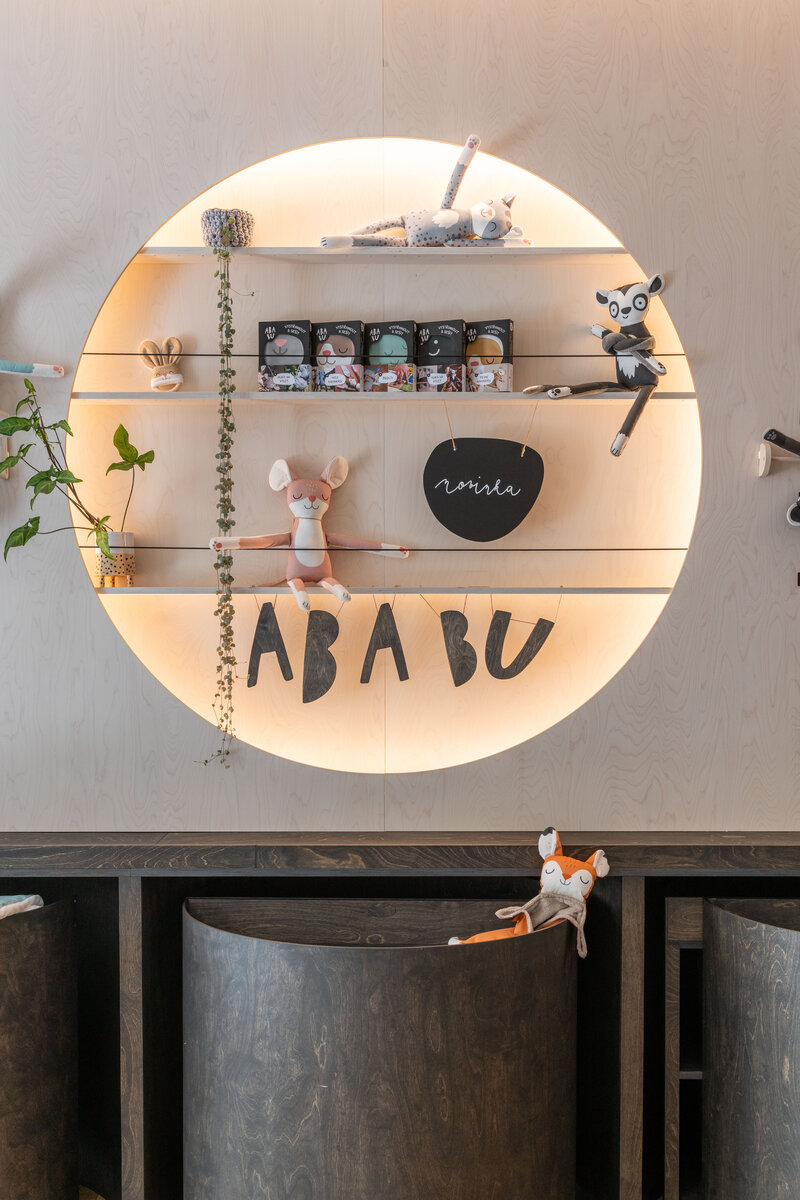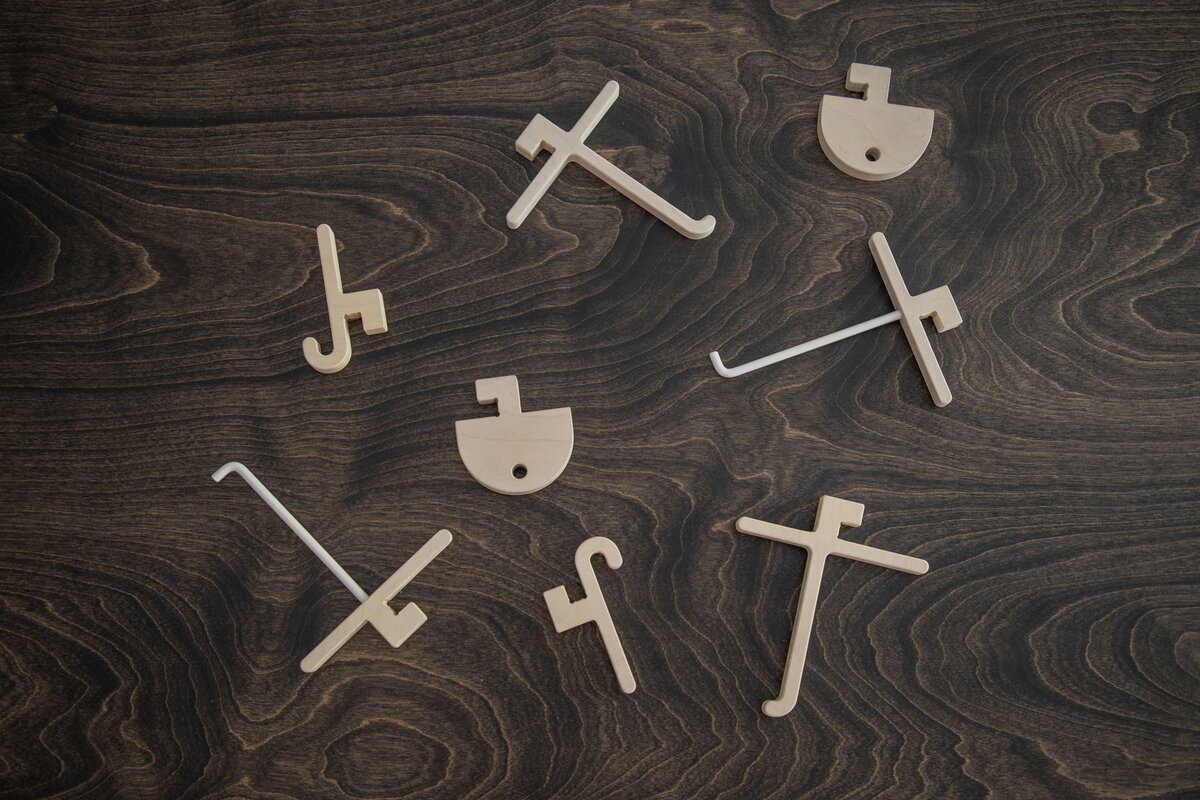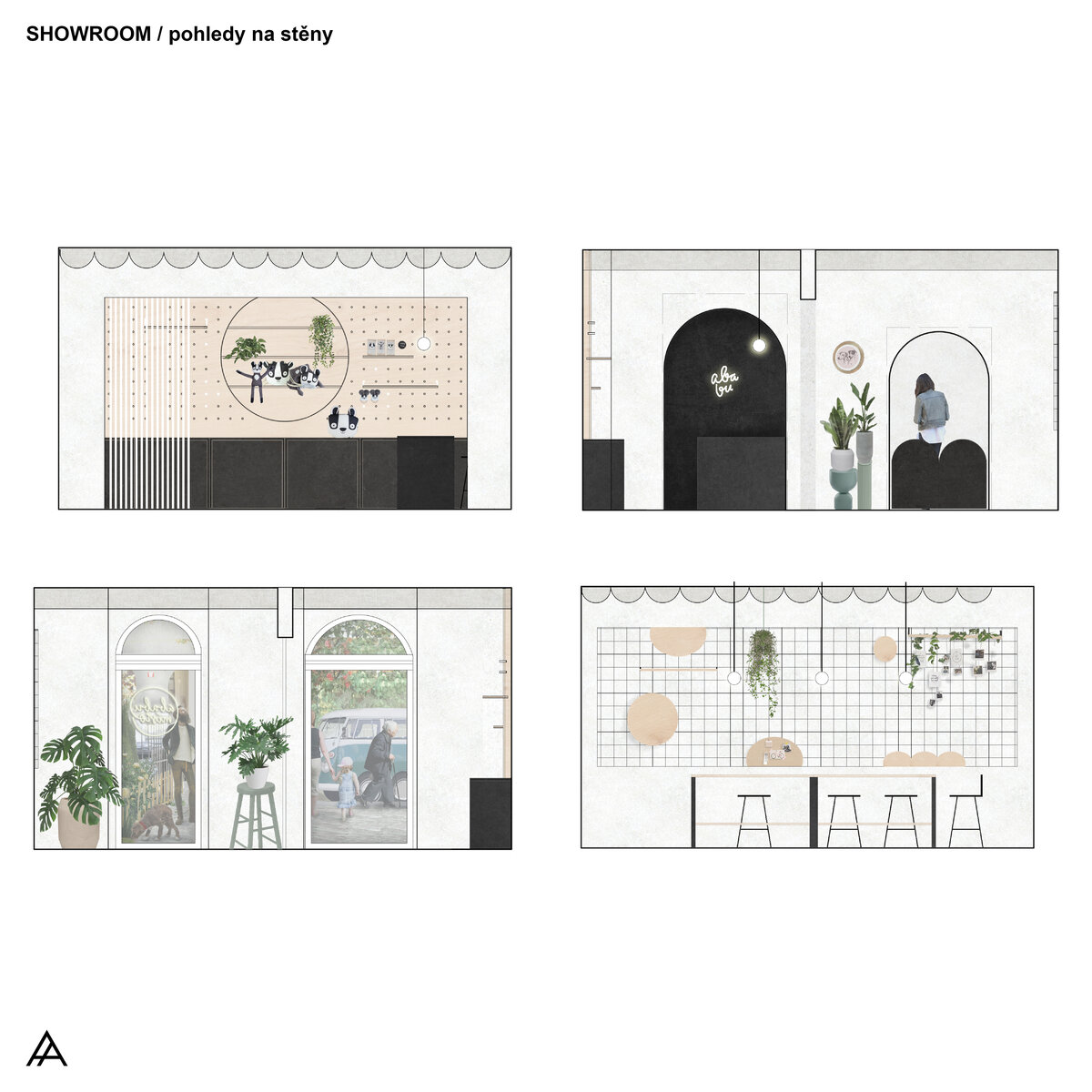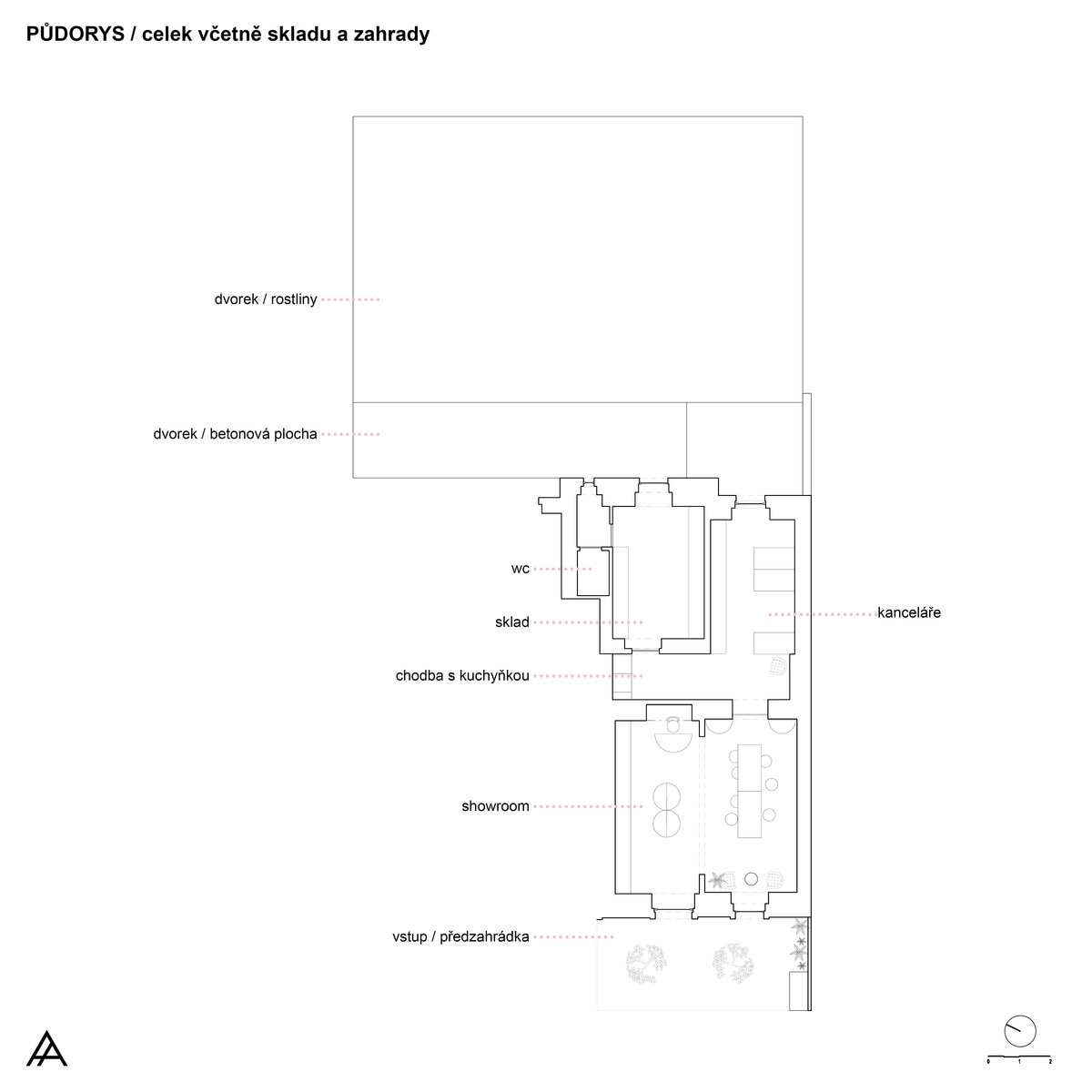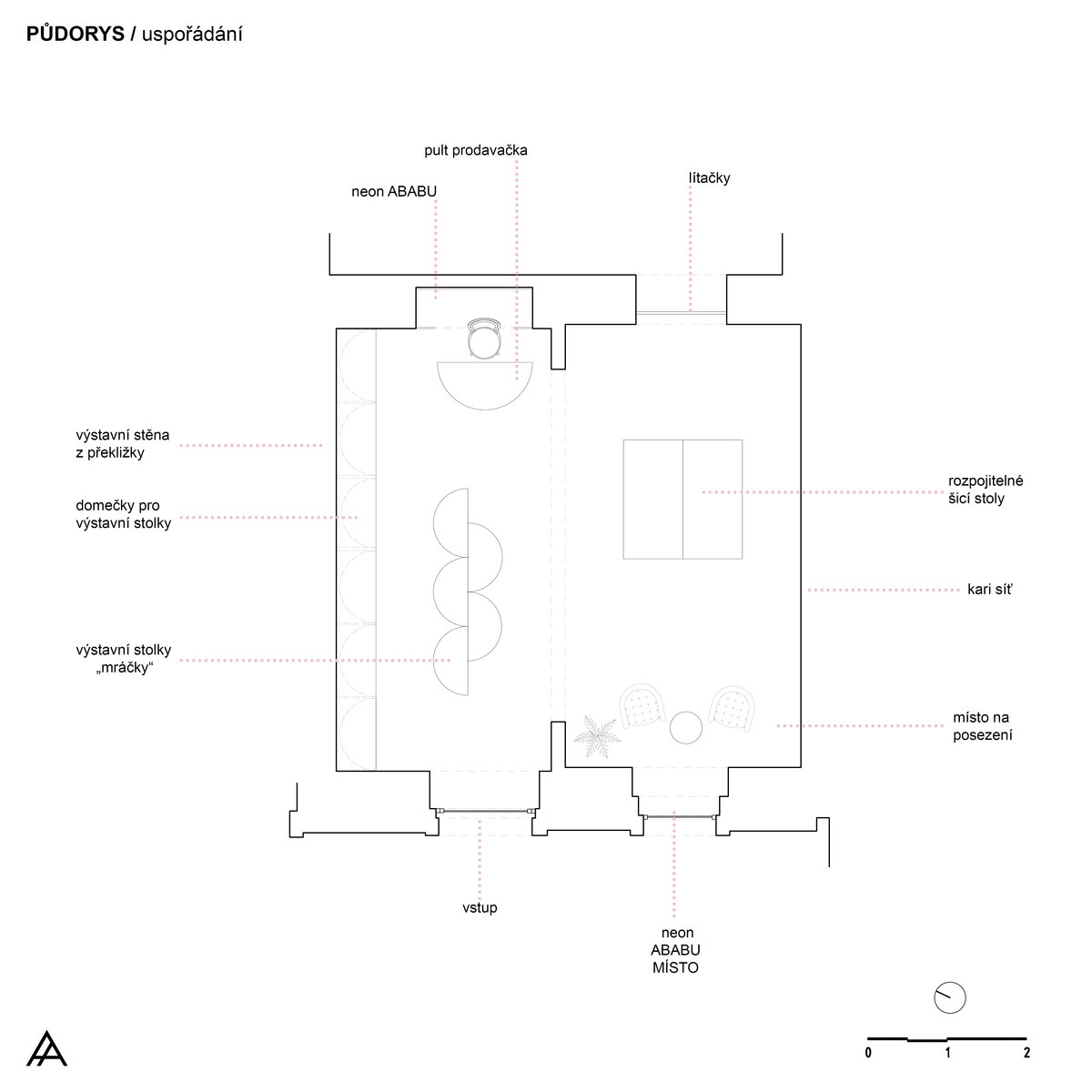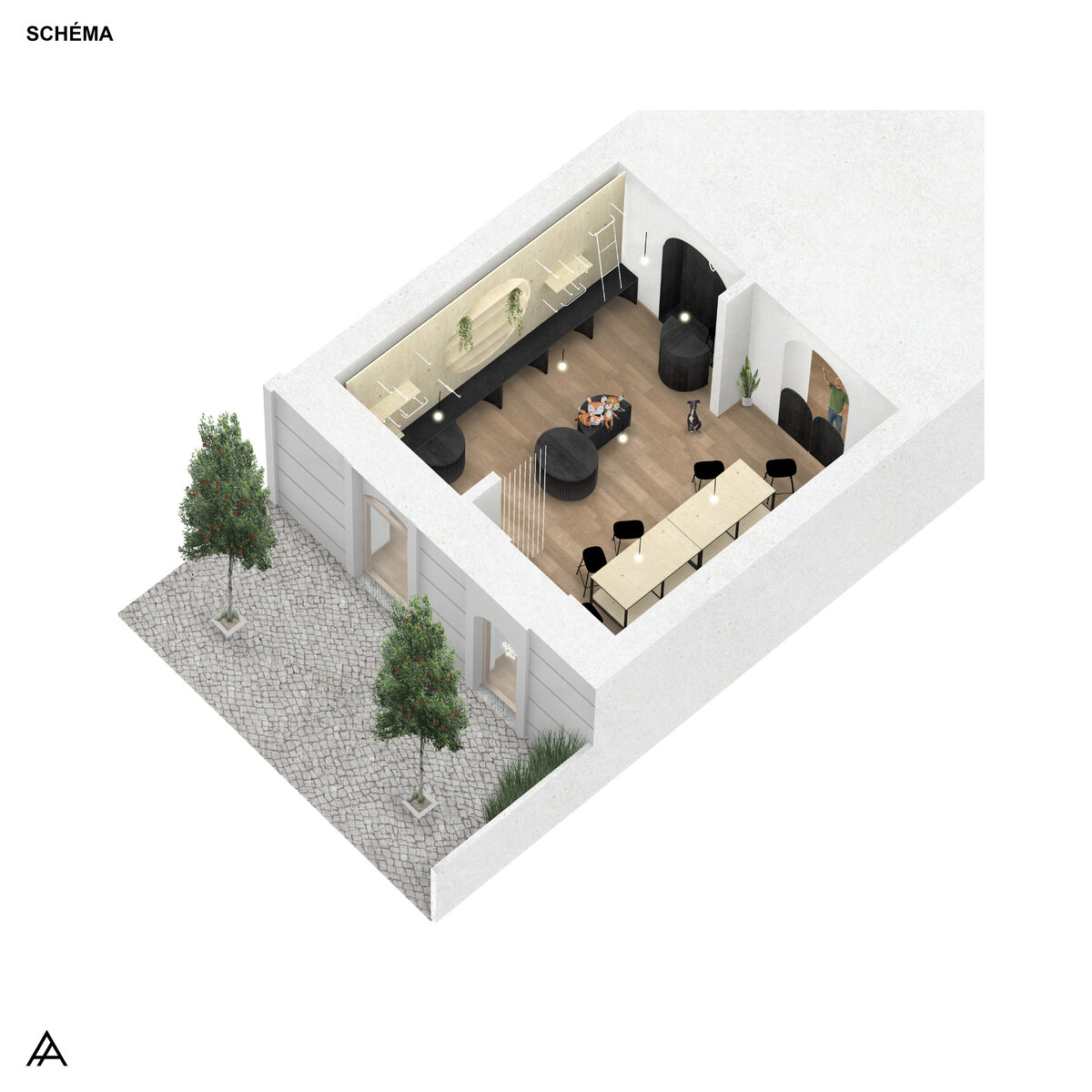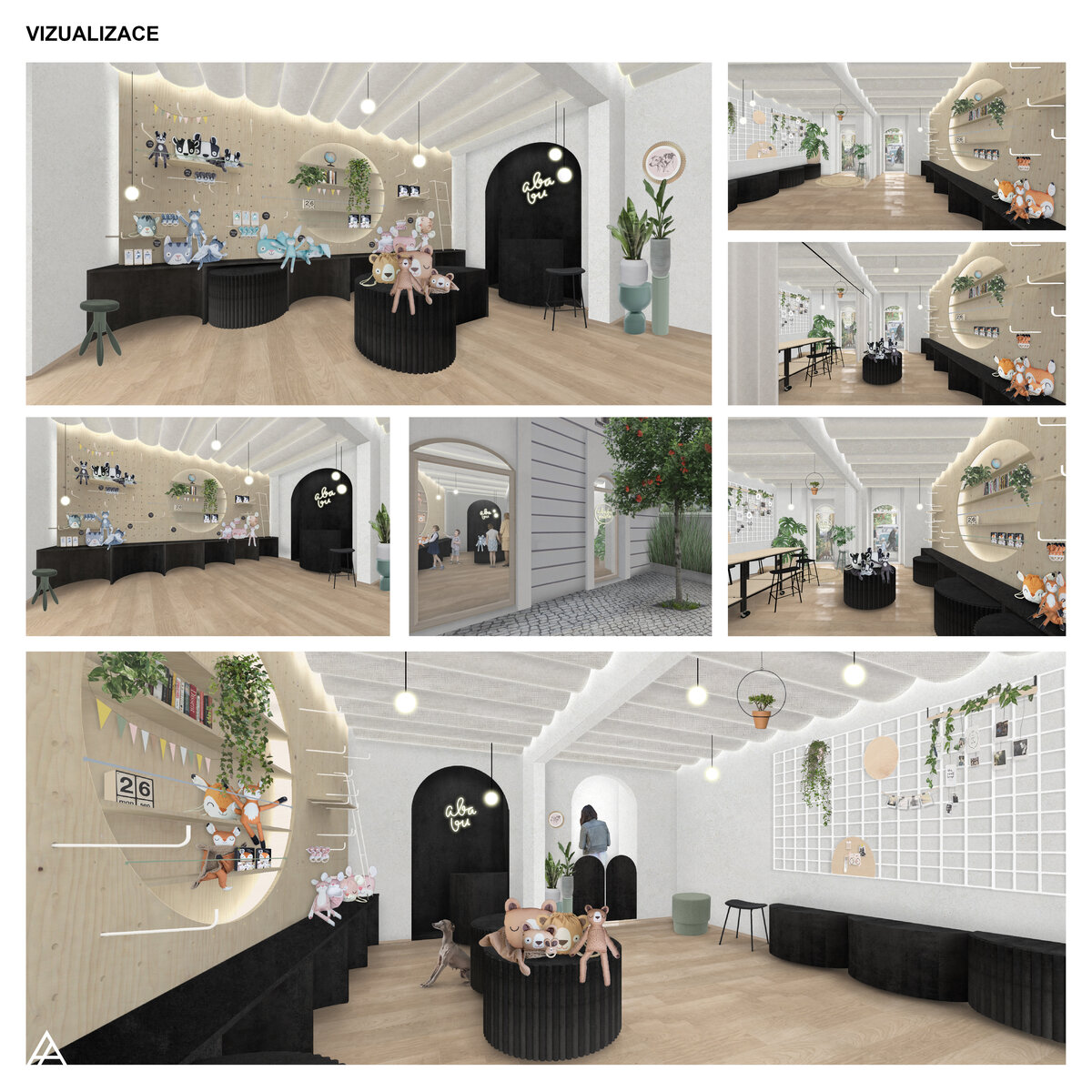 Author
ANNY architects / Bc. et Bc. Anna Nižňanská, Ing. arch. Anna Podroužková
Studio
Location
Šmeralova 146/6, 170 00 Praha 7-Bubeneč
Investor
Jitka Charvátová
Supplier
Studio - Fabrik8, V Korytech 816/24
100 00 Praha 10 - Strašnice
Date of project approval
January 2021
Fotograf
Our task was to design a showroom in combination with sewing workroom and place for workshops for a ground level space in the Letna neighborhood in Prague. The space consists of a front yard with two trees and the main space that is connected with the street.
The Ababu Showroom and store is a place which has multiple functions: representative, educational, and retail. Children can come here to pick toys, adults can attend sewing workshops, staff will use the work stations to cut fabrics, and owner will have their main office here. We designed the showroom to be able to change function according to the need and transform from an ordinary shop into sewing workshop, space for a small market, photo studio to take product photos, or a cozy second home for owner. Customers will be lured in by a custom made neon sign ABABU. We reinforced the homey feeling by creating ceiling textile installation suspended on steel cords. The fabric installation also hides the electrical wiring. The left side of the showroom is mainly a space for customers who can choose toys displayed on a table and a wall display, and buy them at a counter that is highlighted by a sign placed in a niche. The niche was originally rectangular. The shape of the niche was changed with the help of a white board to which we cut a round entrance and the round shape is further emphasized by black plywood.
The Ababu showroom requires high flexibility and multifunction in a relatively small space. For that reason, we came up with the design of small tables. Individual semi-circle shaped display tables, so called "clouds", can be arranged together into different shapes such as big clouds and circles, or they can be attached to the wall or put away so they don't get in the way. The display tables are made from black plywood and include cleverly hidden storage space. Work tables are a complete necessity for Ababu. They will function as storage for rolls of fabrics as to not waste scarce storage space. The tables are designed in a way so they can be combined together and create a large work space for cutting fabrics, but they can also be arranged into a line which is helpful for workshops or sales events. On the wall behind the tables, we placed welded wire mesh that was painted white on which notes, news, signs, and decorations can be hung. The swinging doors can be occasionally opened to public in order to let customers through the office space into the garden where summer workshops will take place.
The main theme here was the play with materials. Together with the carpenters, we used plywood - natural + black stained - as the central material.
We also worked together with locksmiths with metal in white and black powder coating / komaxit. We had the original wooden floor refinished. We also had custom-made neon signs for the shop window. Another topic was working with fabric, thanks to which we made a "cloudy" fabric soffit on the ceiling. An integral part was to invent the principle of lighting the entire space.
Green building
Environmental certification
| | |
| --- | --- |
| Type and level of certificate | - |
Water management
| | |
| --- | --- |
| Is rainwater used for irrigation? | |
| Is rainwater used for other purposes, e.g. toilet flushing ? | |
| Does the building have a green roof / facade ? | |
| Is reclaimed waste water used, e.g. from showers and sinks ? | |
The quality of the indoor environment
| | |
| --- | --- |
| Is clean air supply automated ? | |
| Is comfortable temperature during summer and winter automated? | |
| Is natural lighting guaranteed in all living areas? | |
| Is artificial lighting automated? | |
| Is acoustic comfort, specifically reverberation time, guaranteed? | |
| Does the layout solution include zoning and ergonomics elements? | |
Principles of circular economics
| | |
| --- | --- |
| Does the project use recycled materials? | |
| Does the project use recyclable materials? | |
| Are materials with a documented Environmental Product Declaration (EPD) promoted in the project? | |
| Are other sustainability certifications used for materials and elements? | |
Energy efficiency
| | |
| --- | --- |
| Energy performance class of the building according to the Energy Performance Certificate of the building | |
| Is efficient energy management (measurement and regular analysis of consumption data) considered? | |
| Are renewable sources of energy used, e.g. solar system, photovoltaics? | |
Interconnection with surroundings
| | |
| --- | --- |
| Does the project enable the easy use of public transport? | |
| Does the project support the use of alternative modes of transport, e.g cycling, walking etc. ? | |
| Is there access to recreational natural areas, e.g. parks, in the immediate vicinity of the building? | |