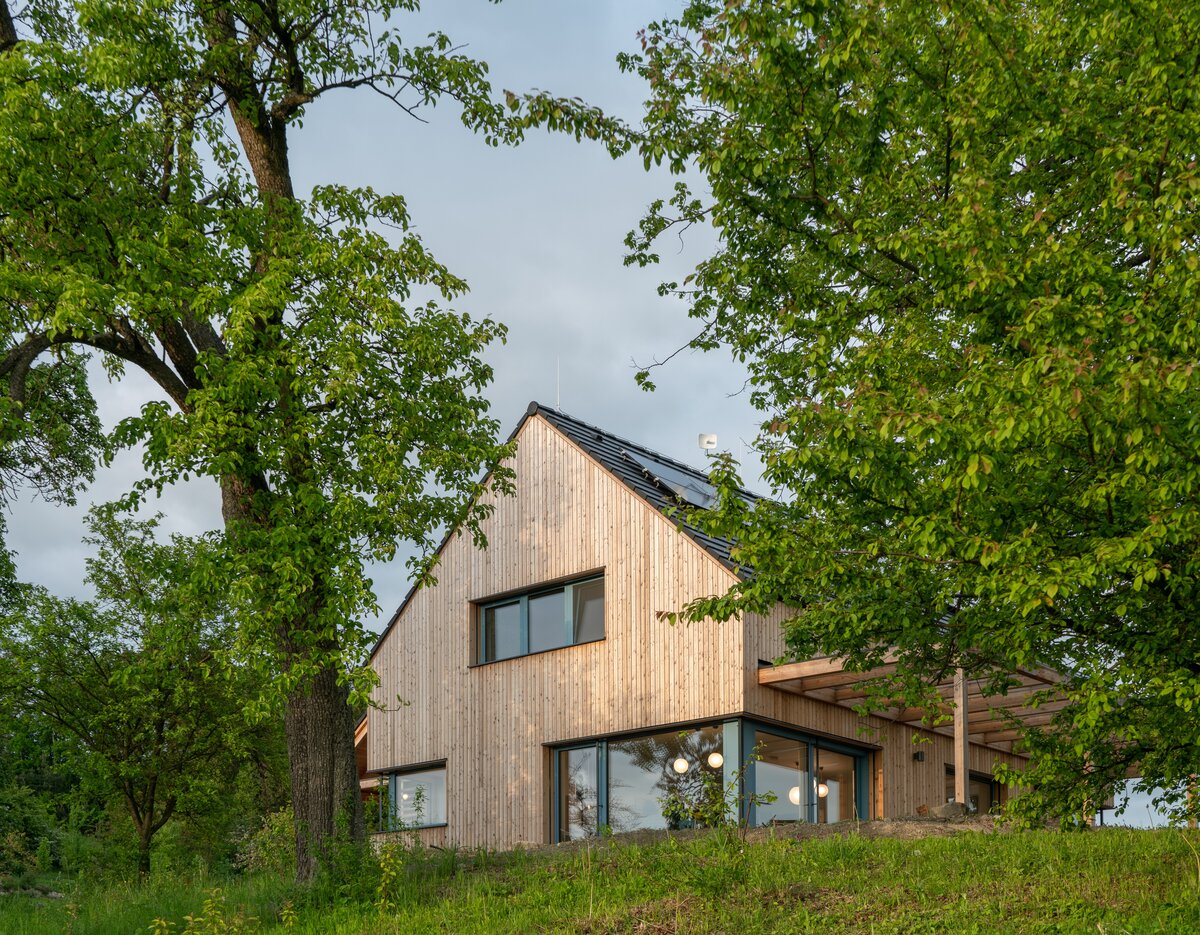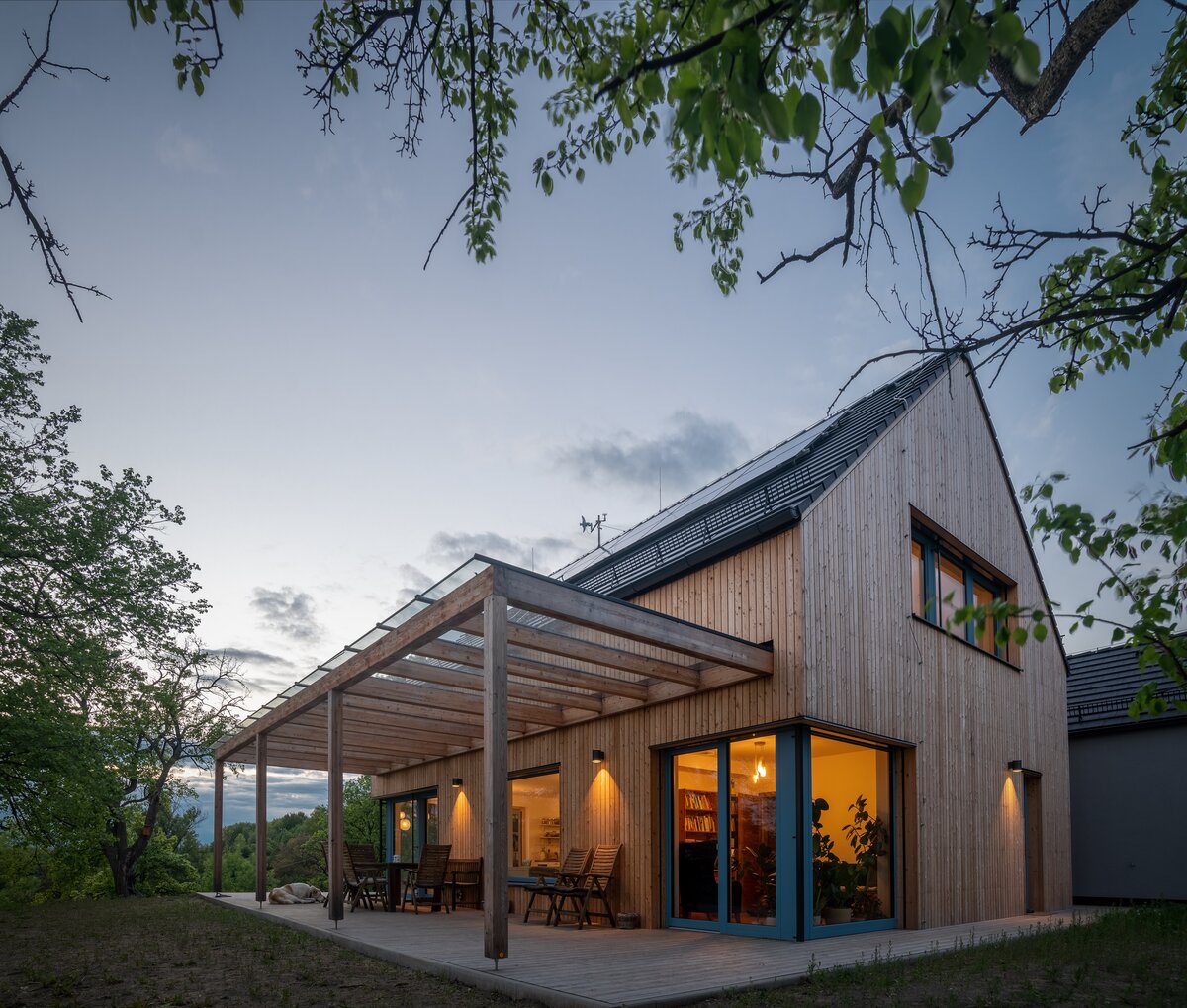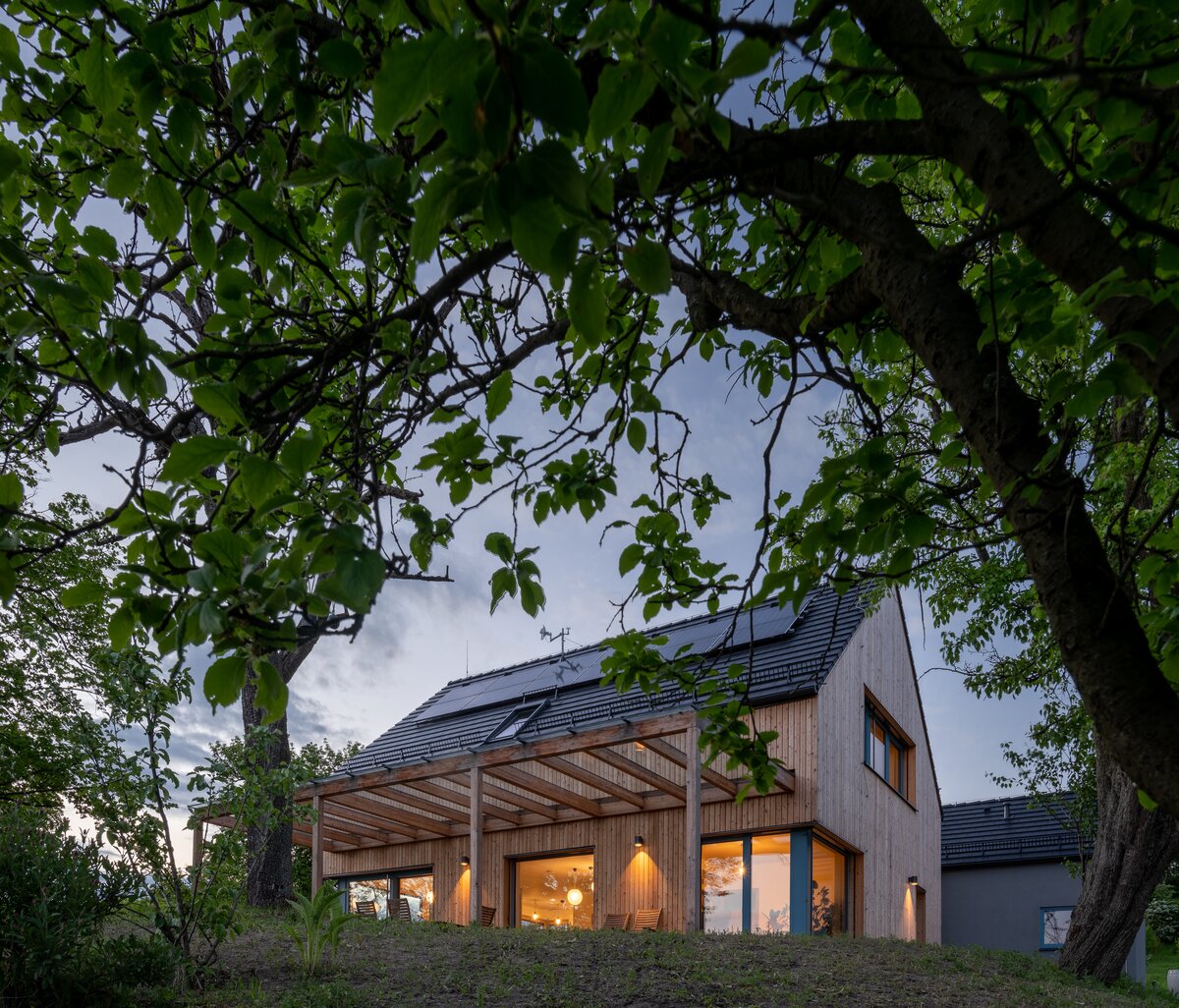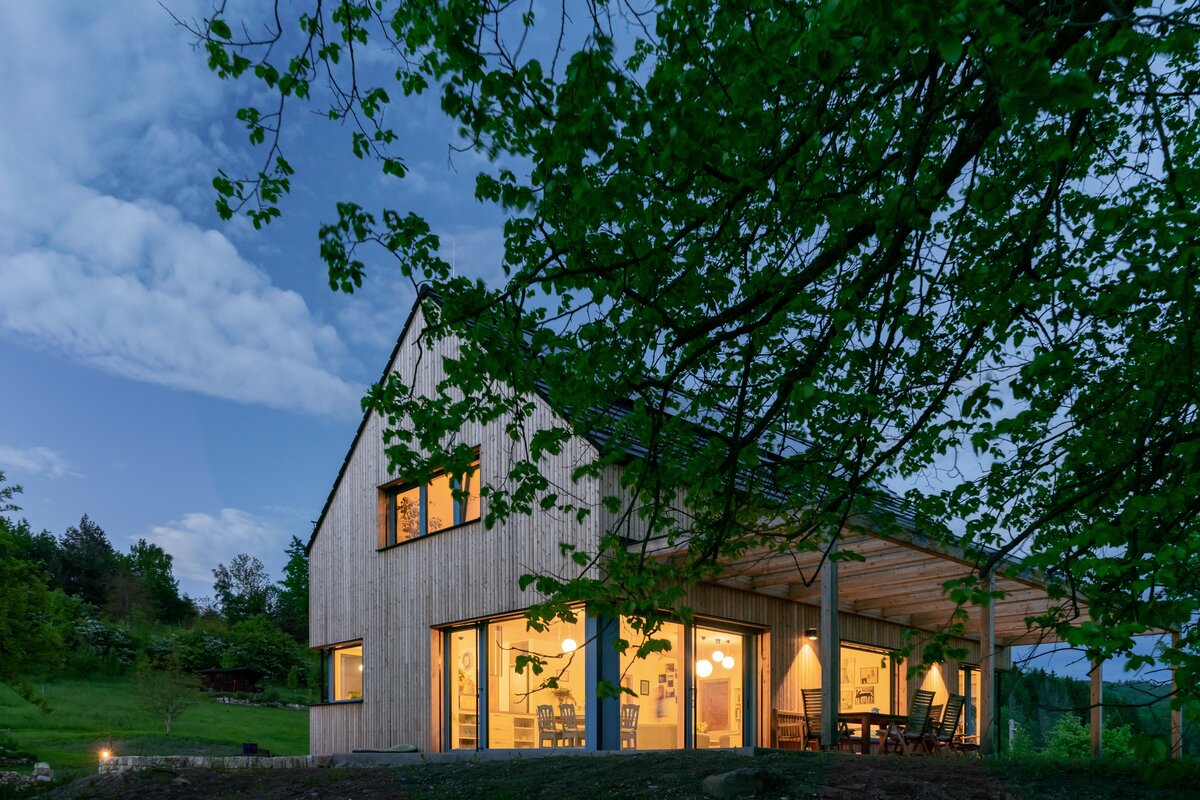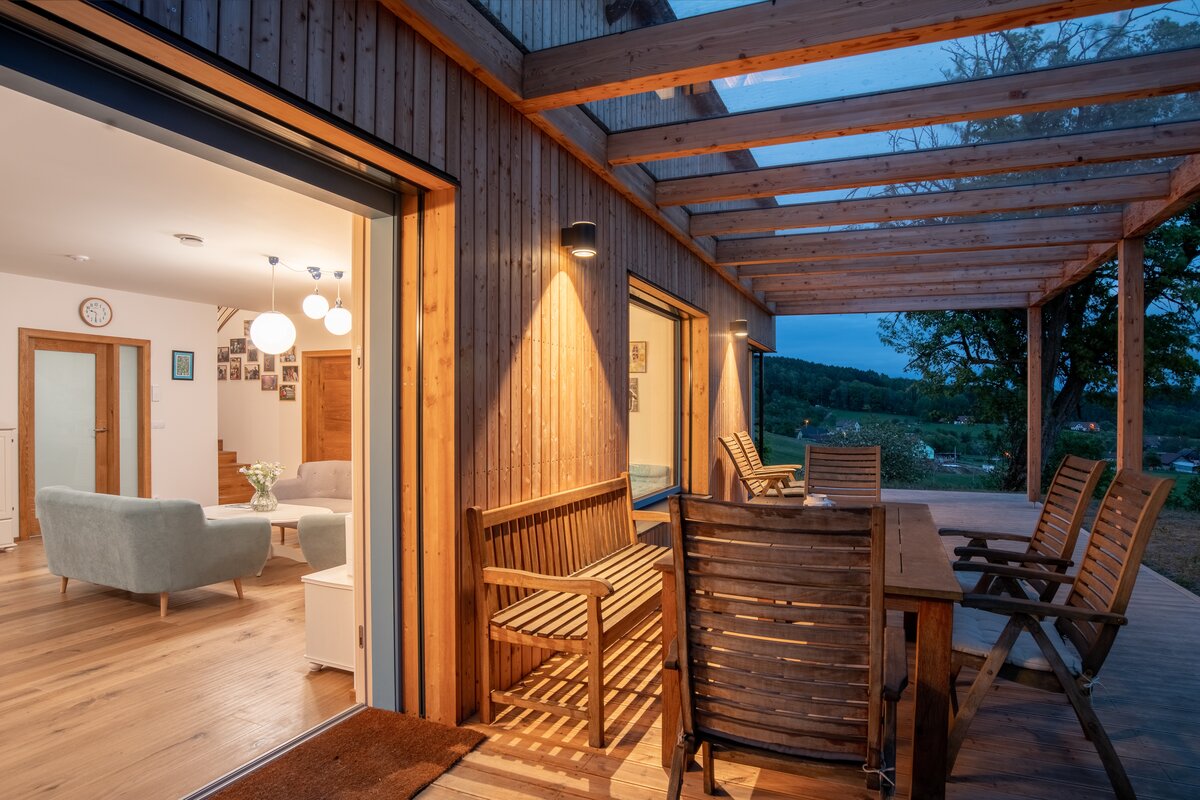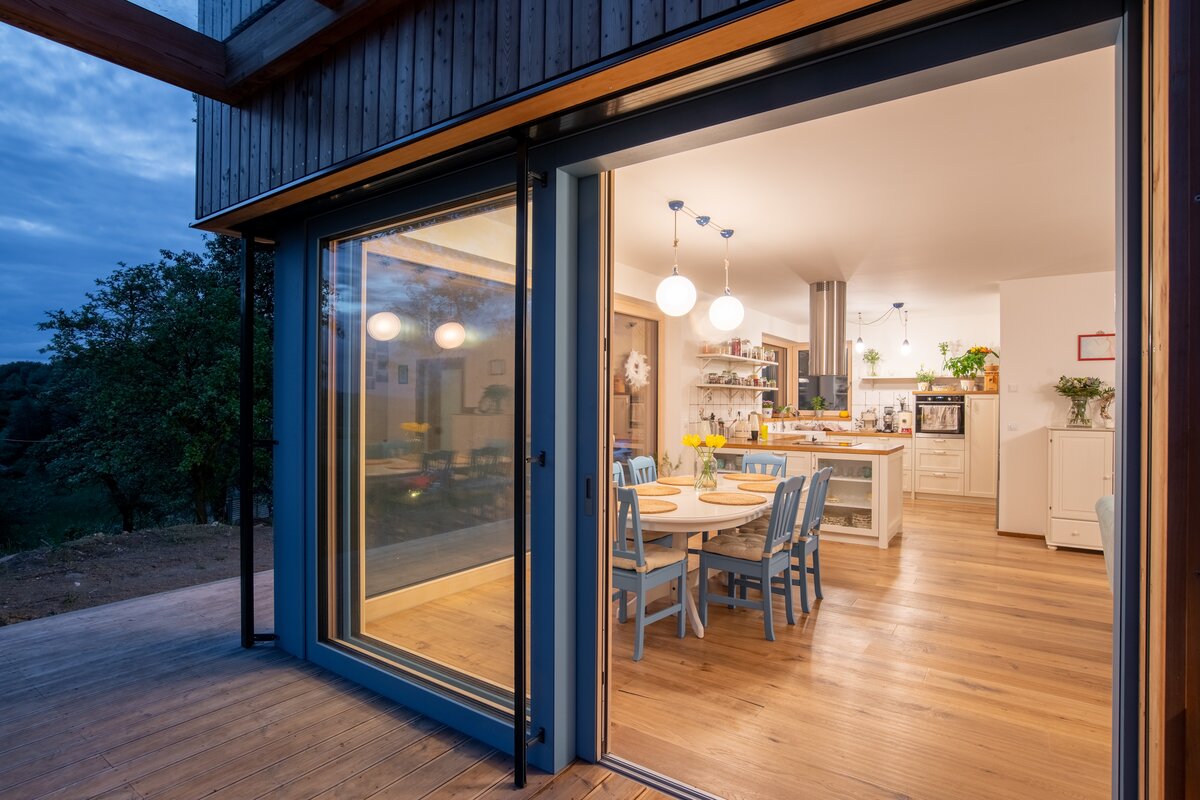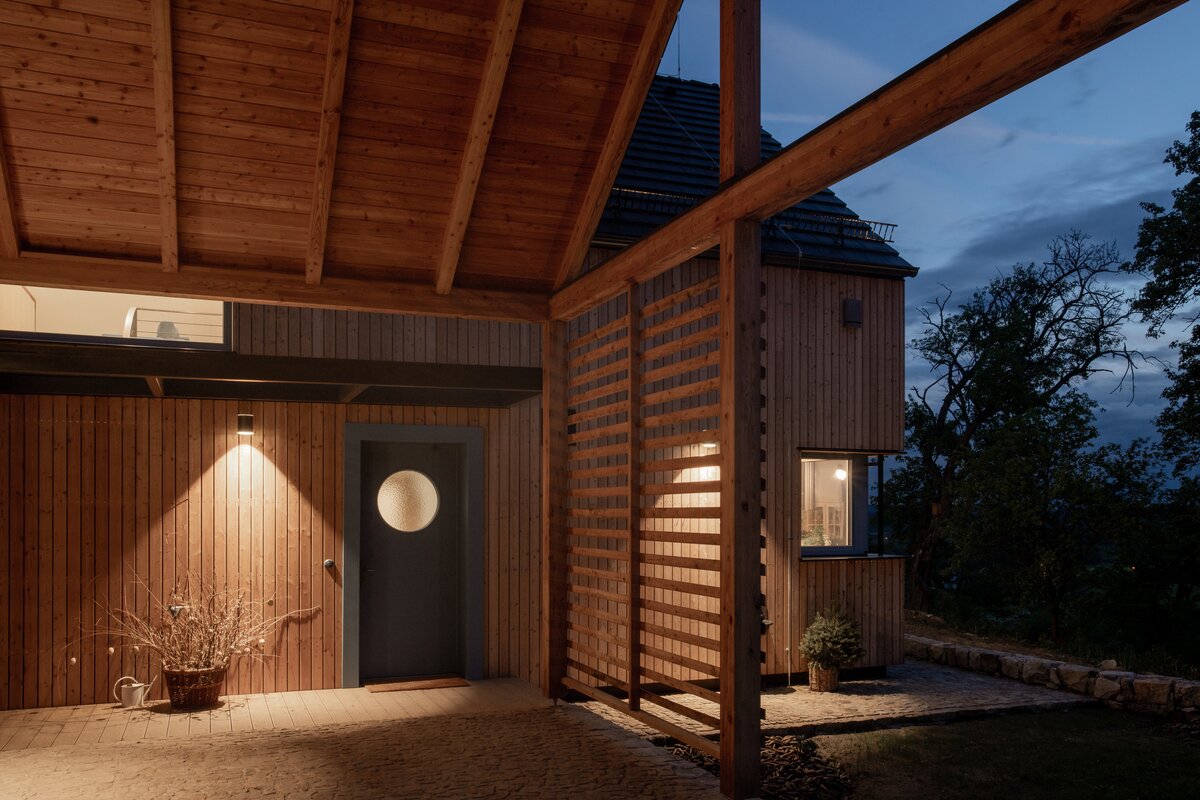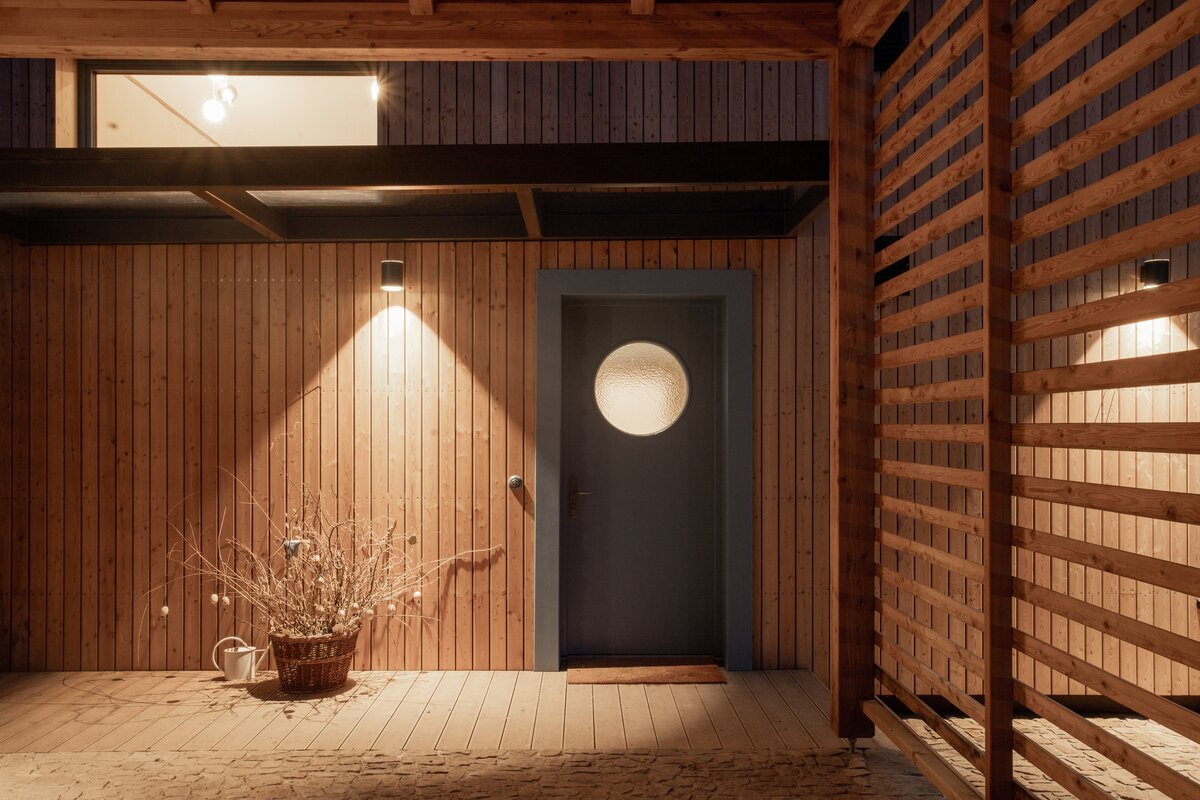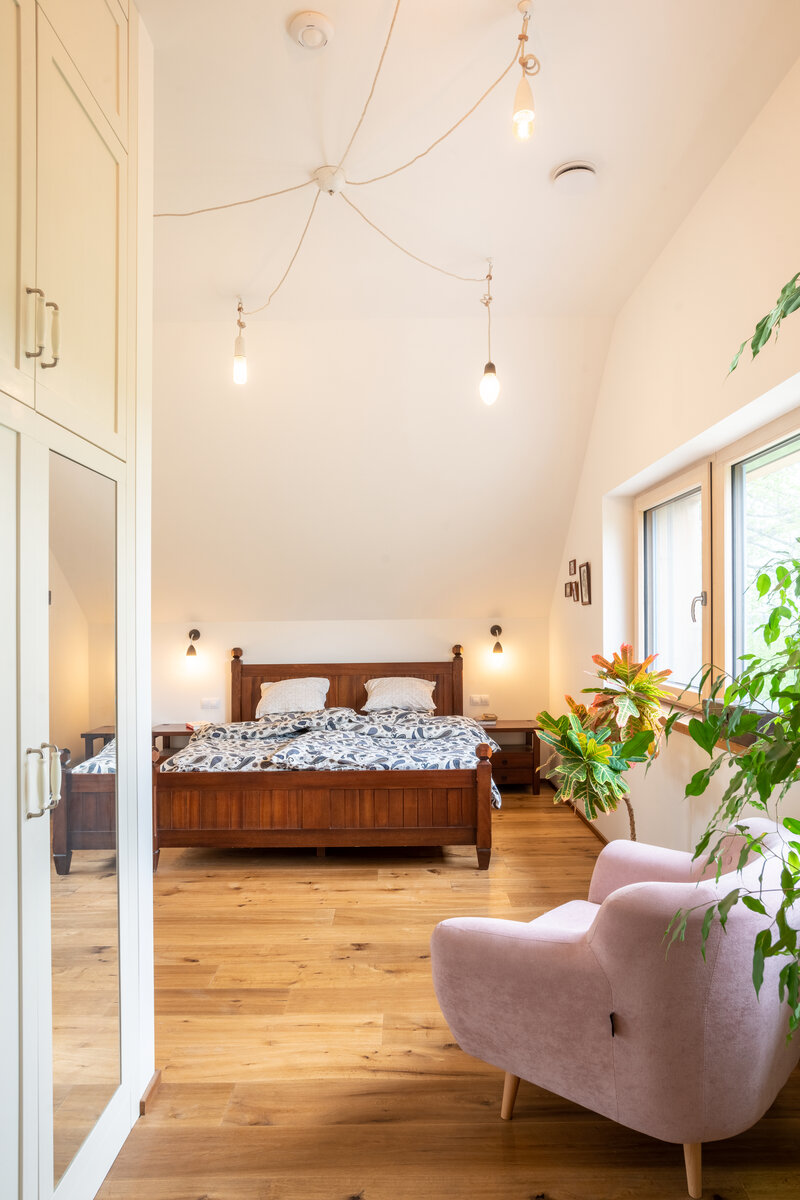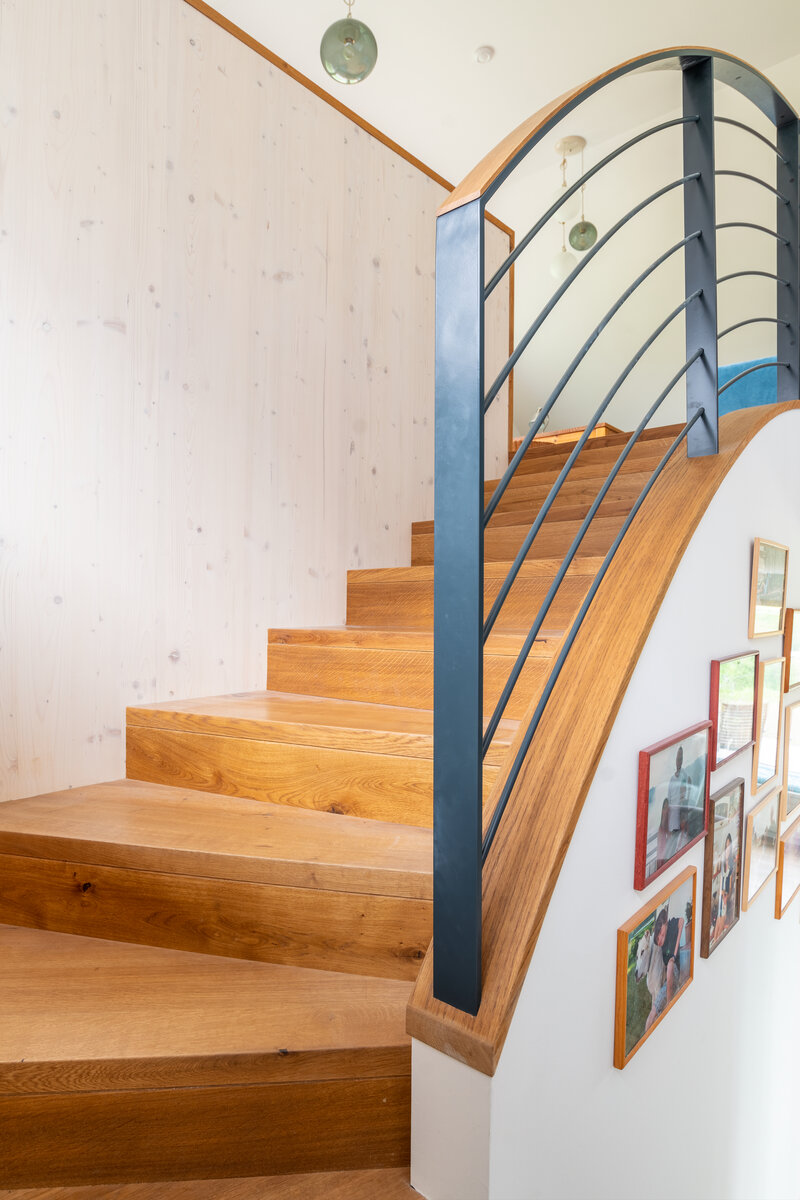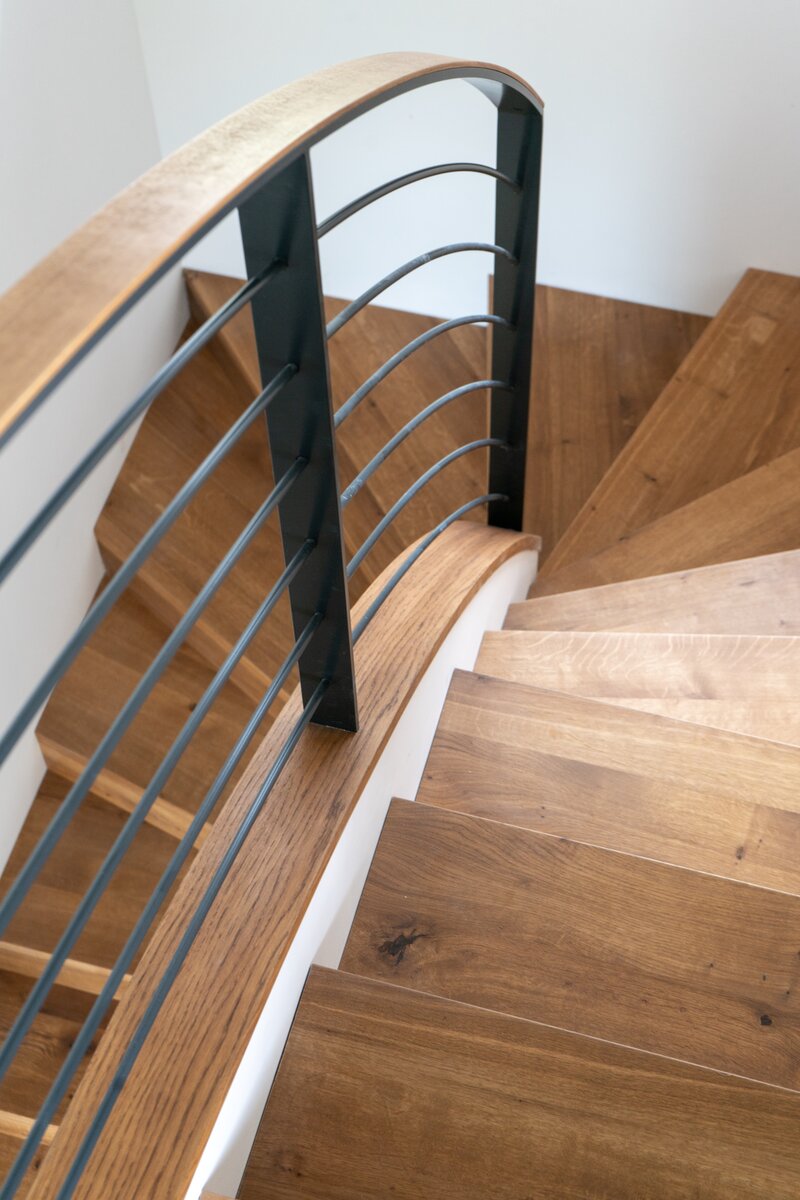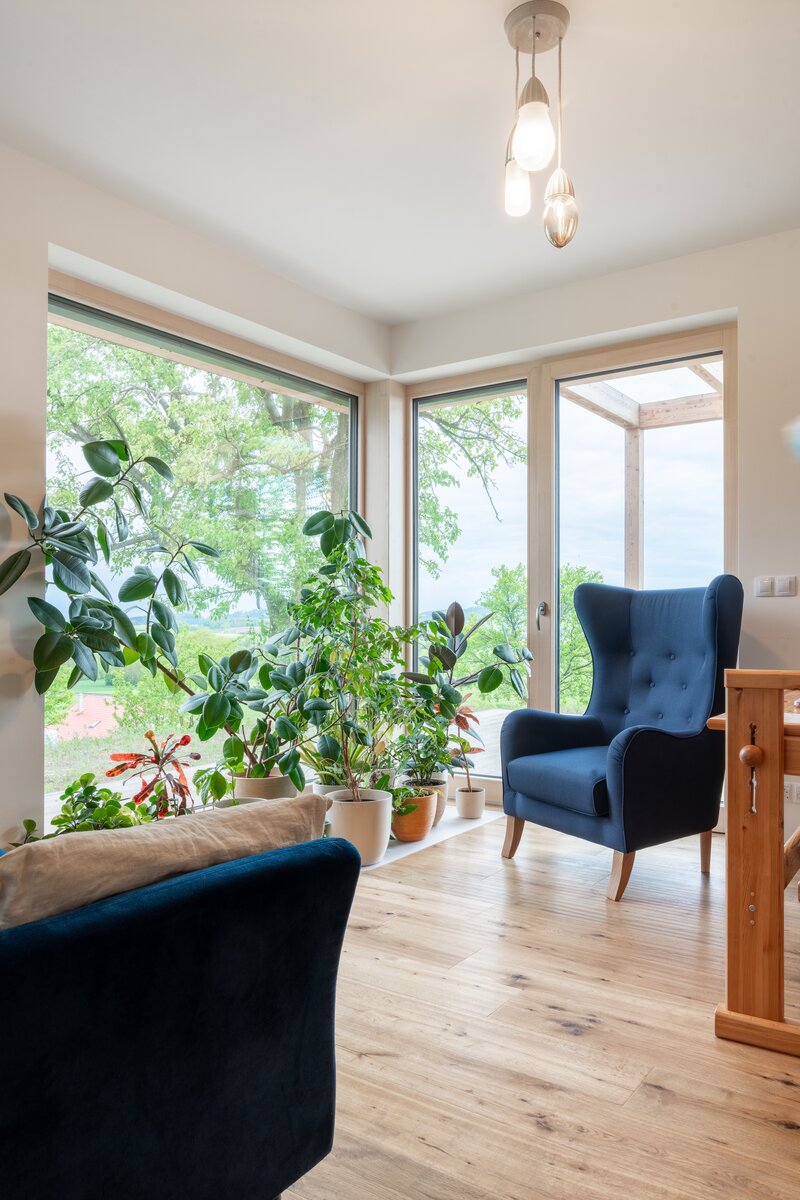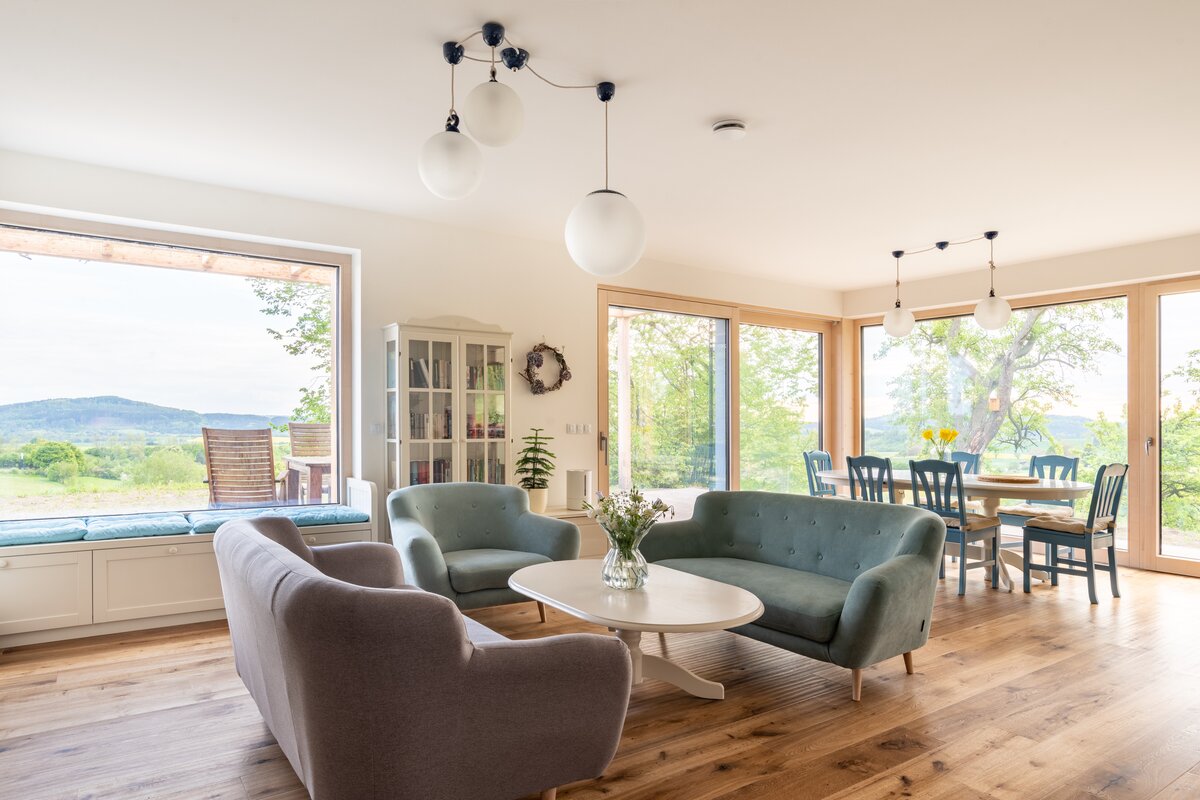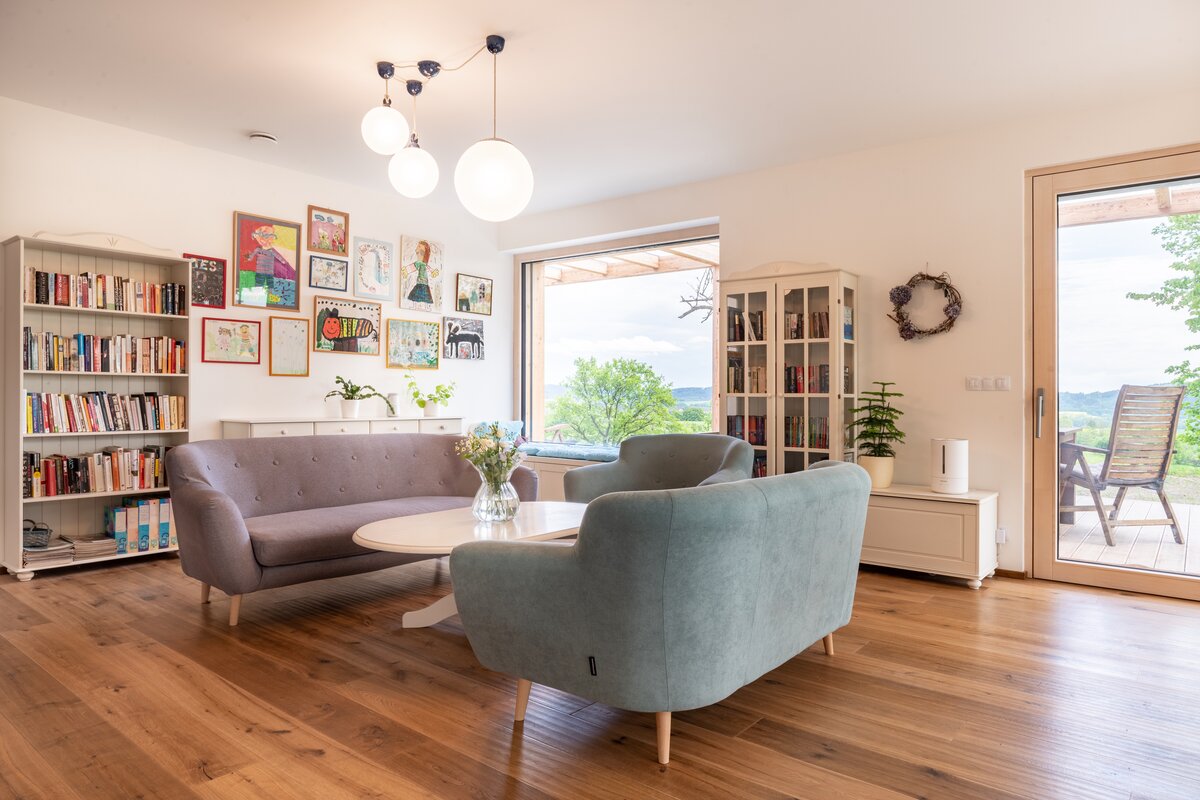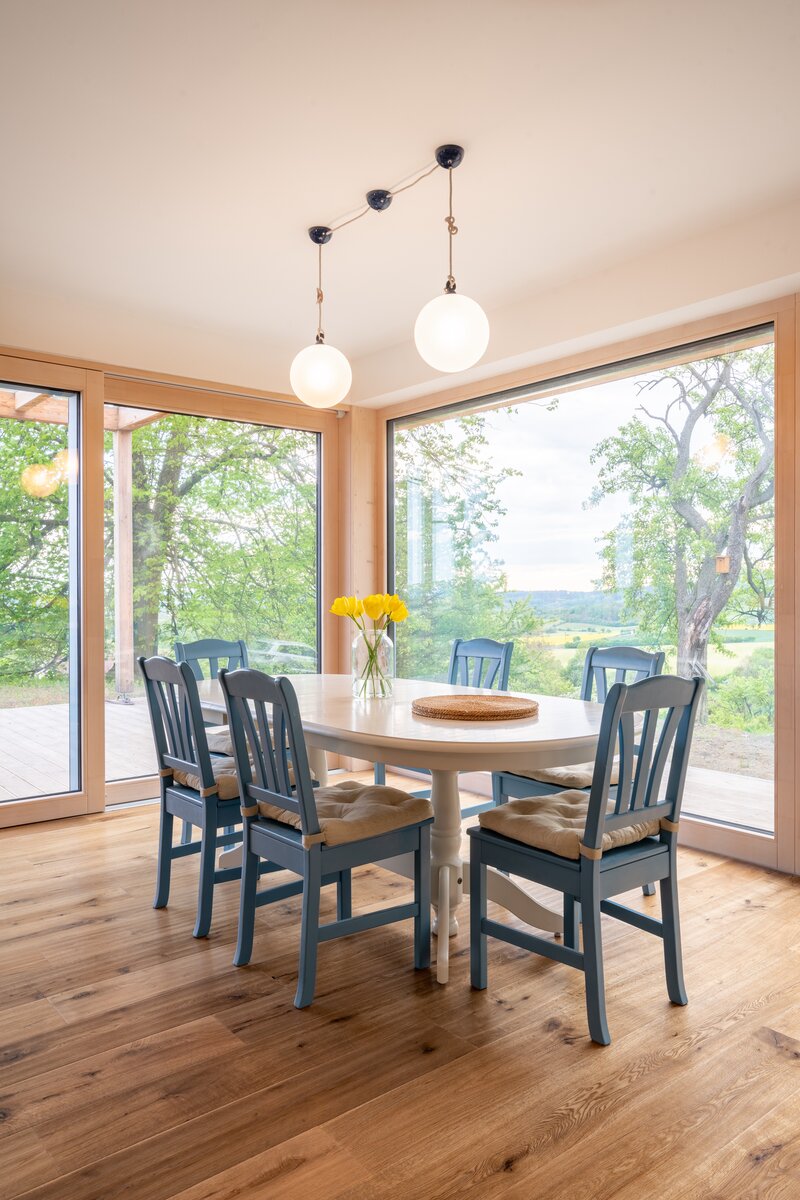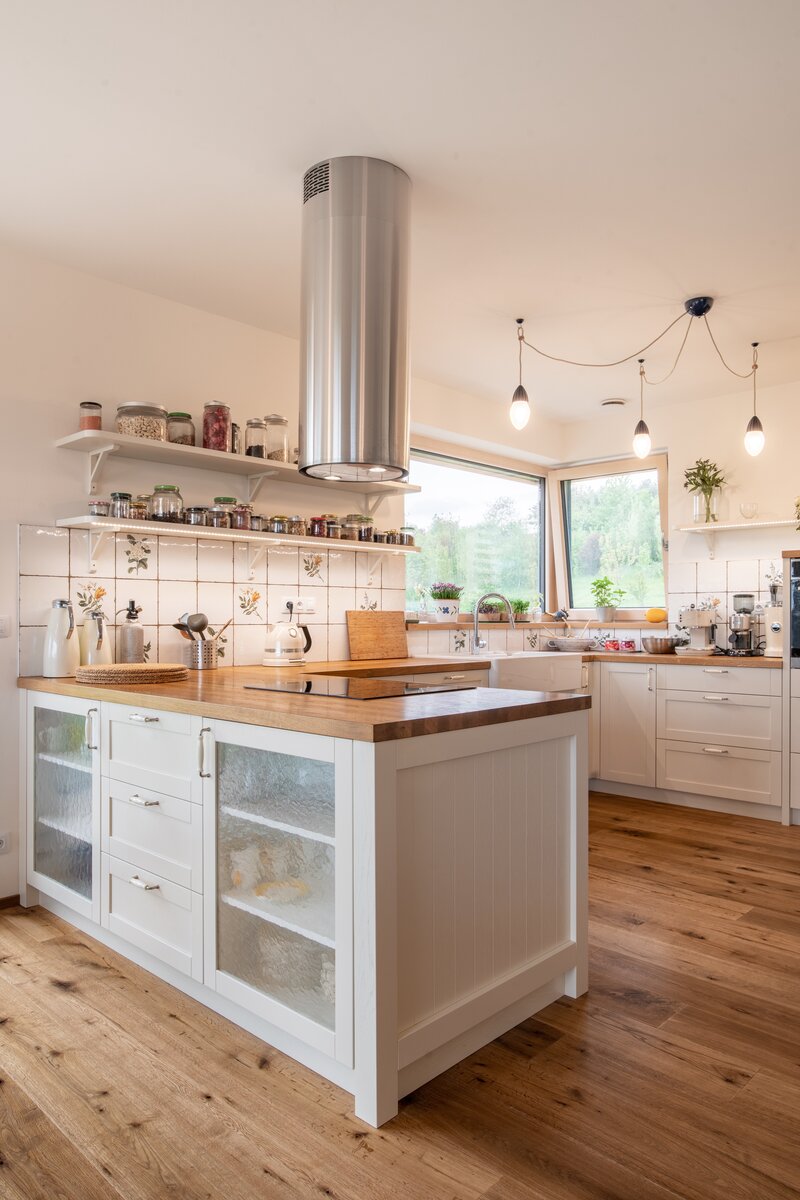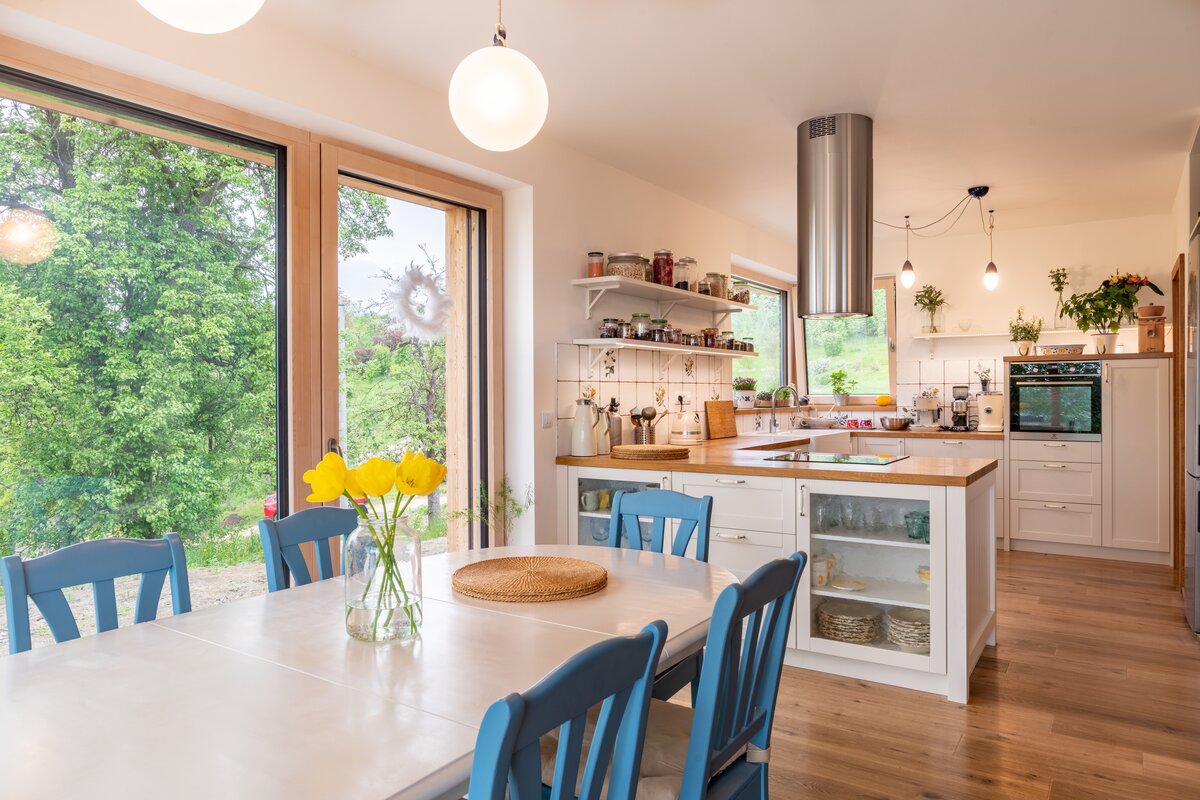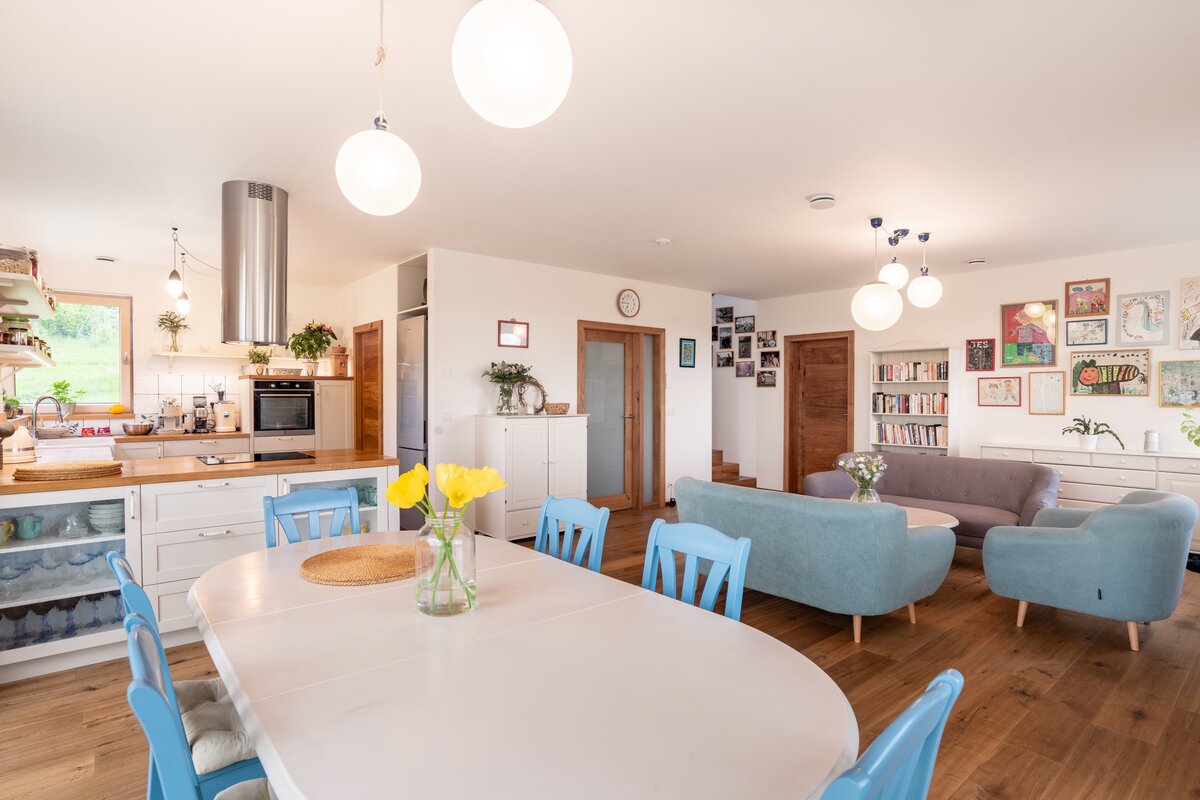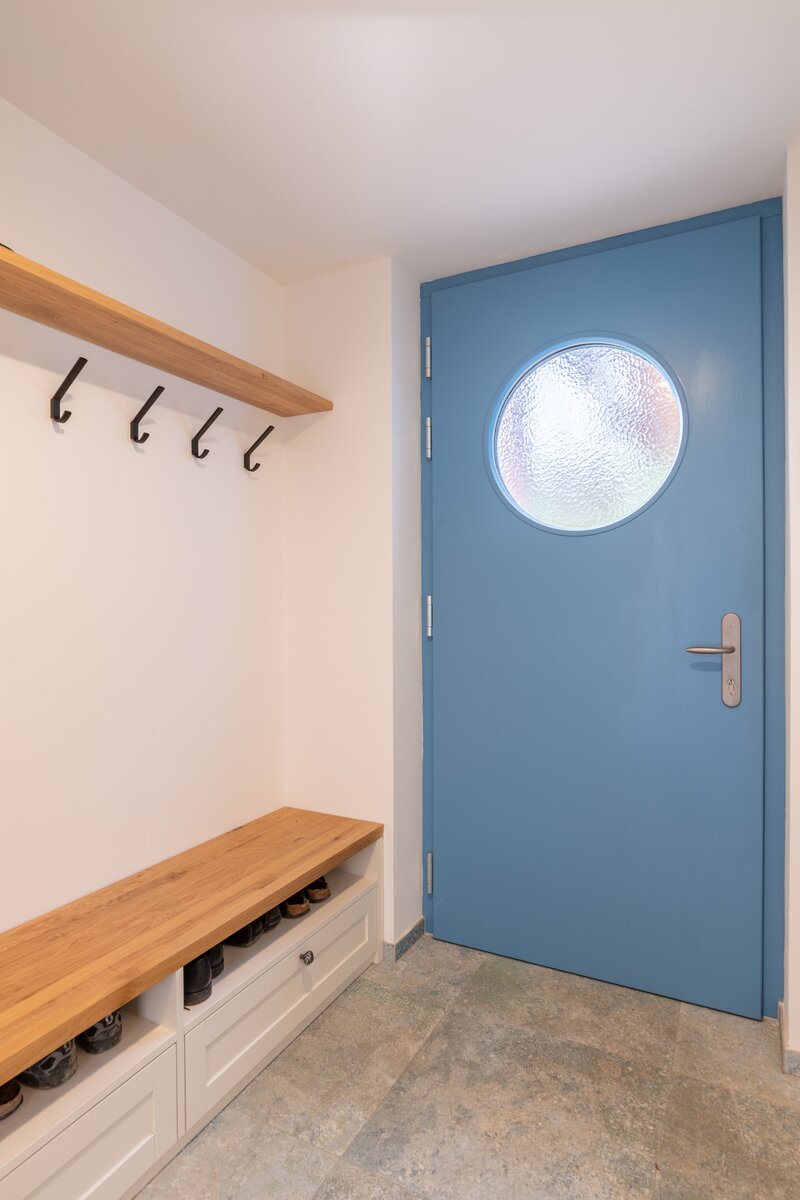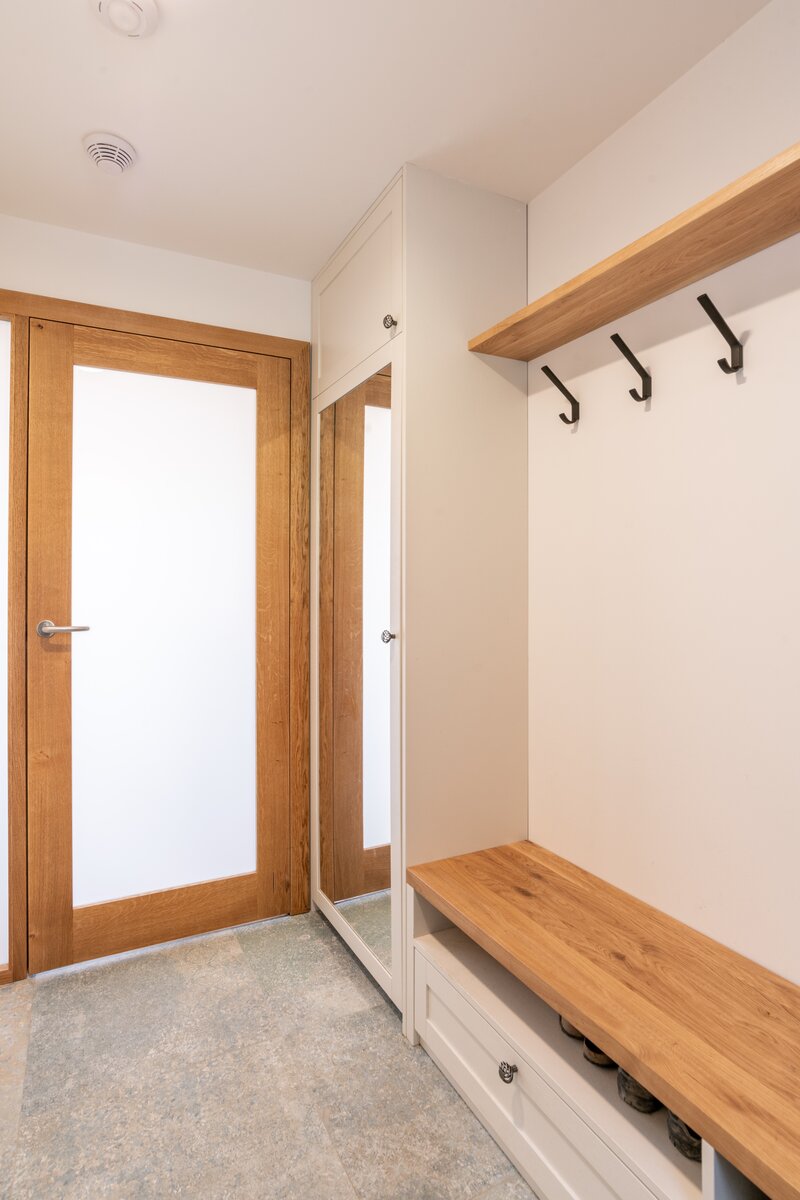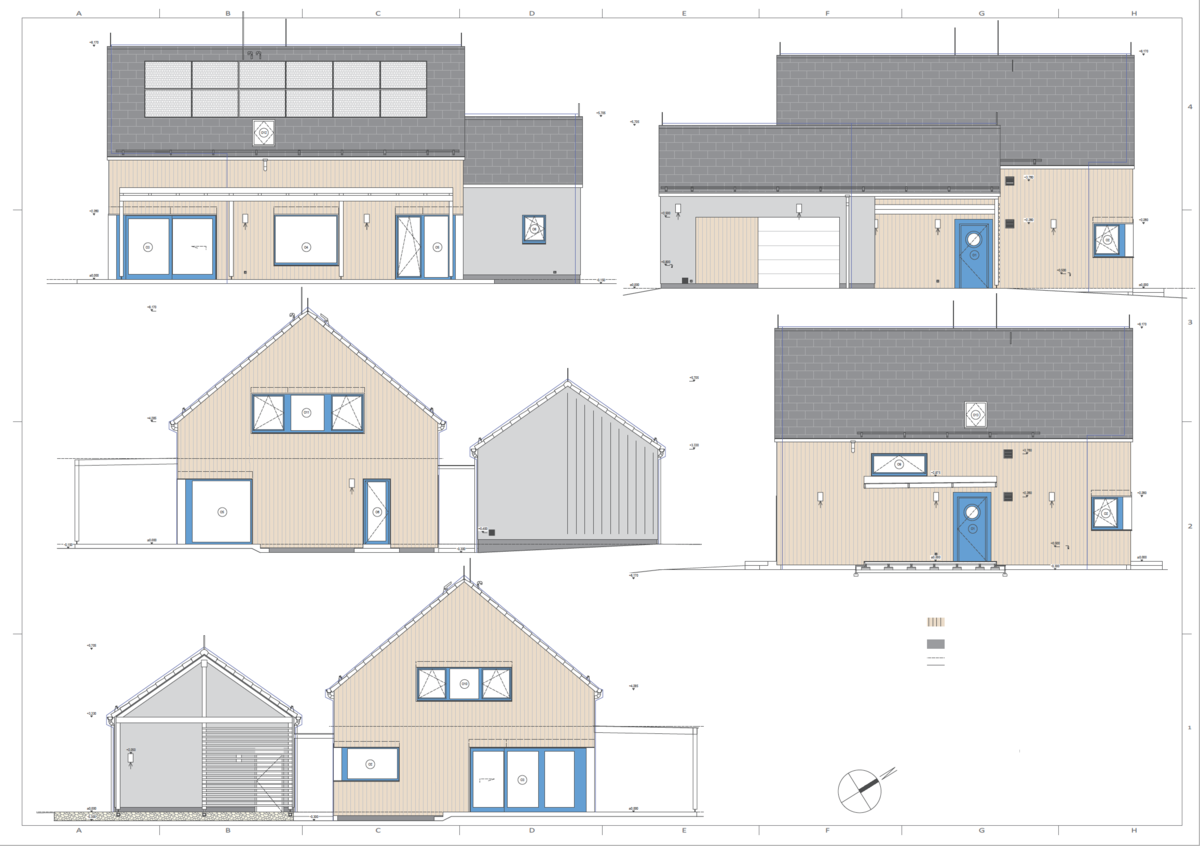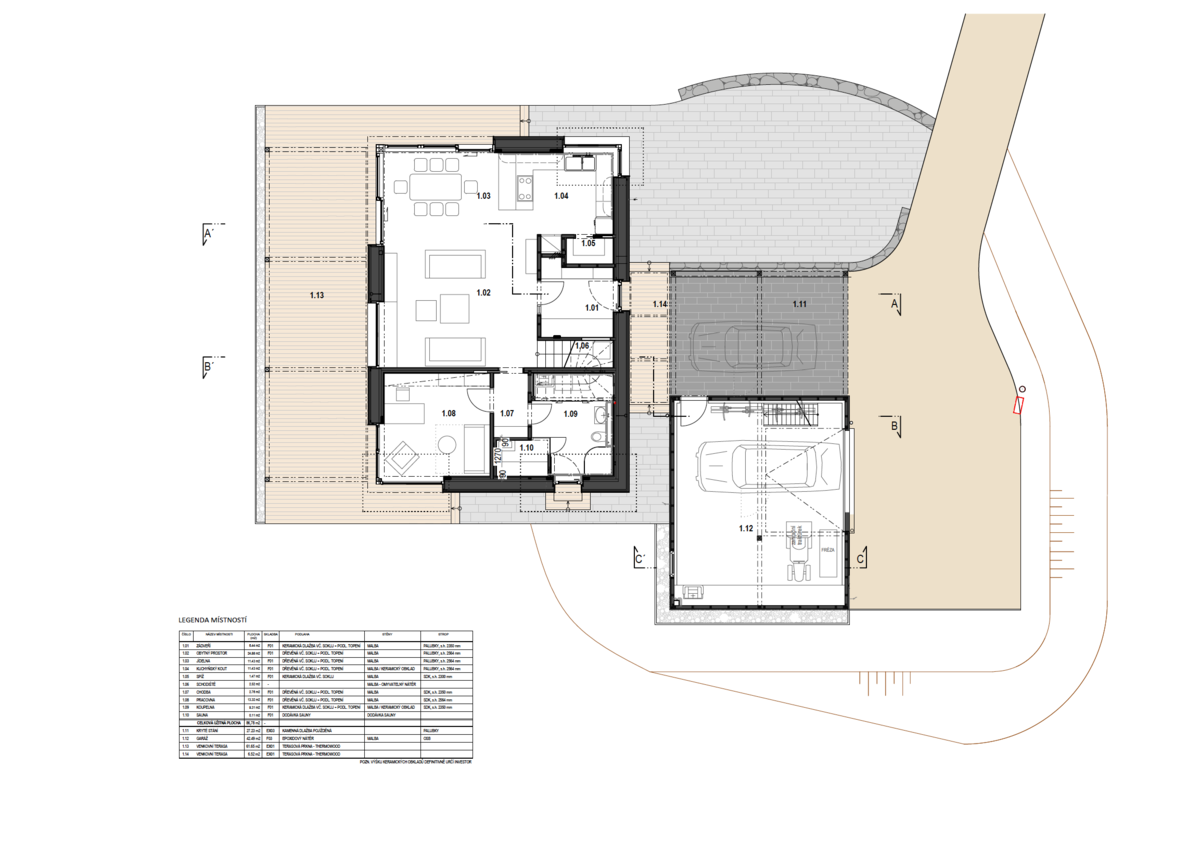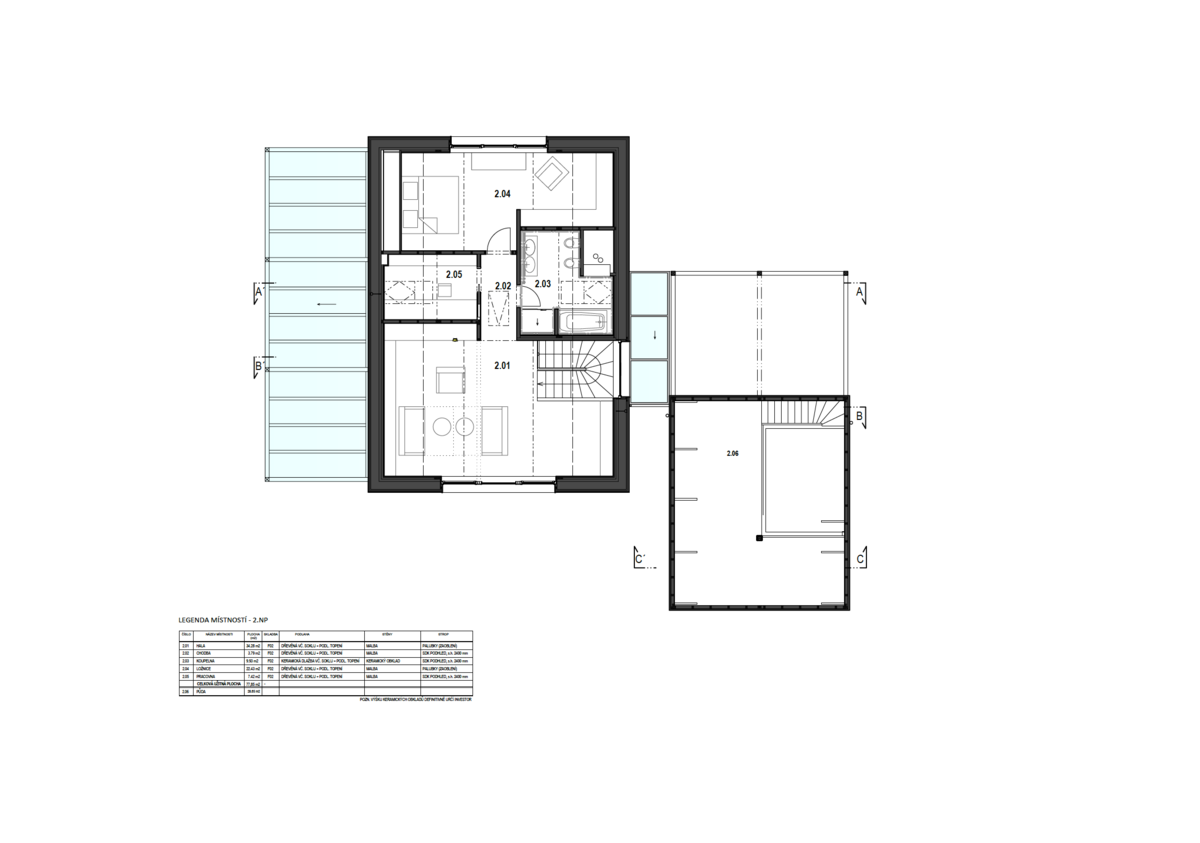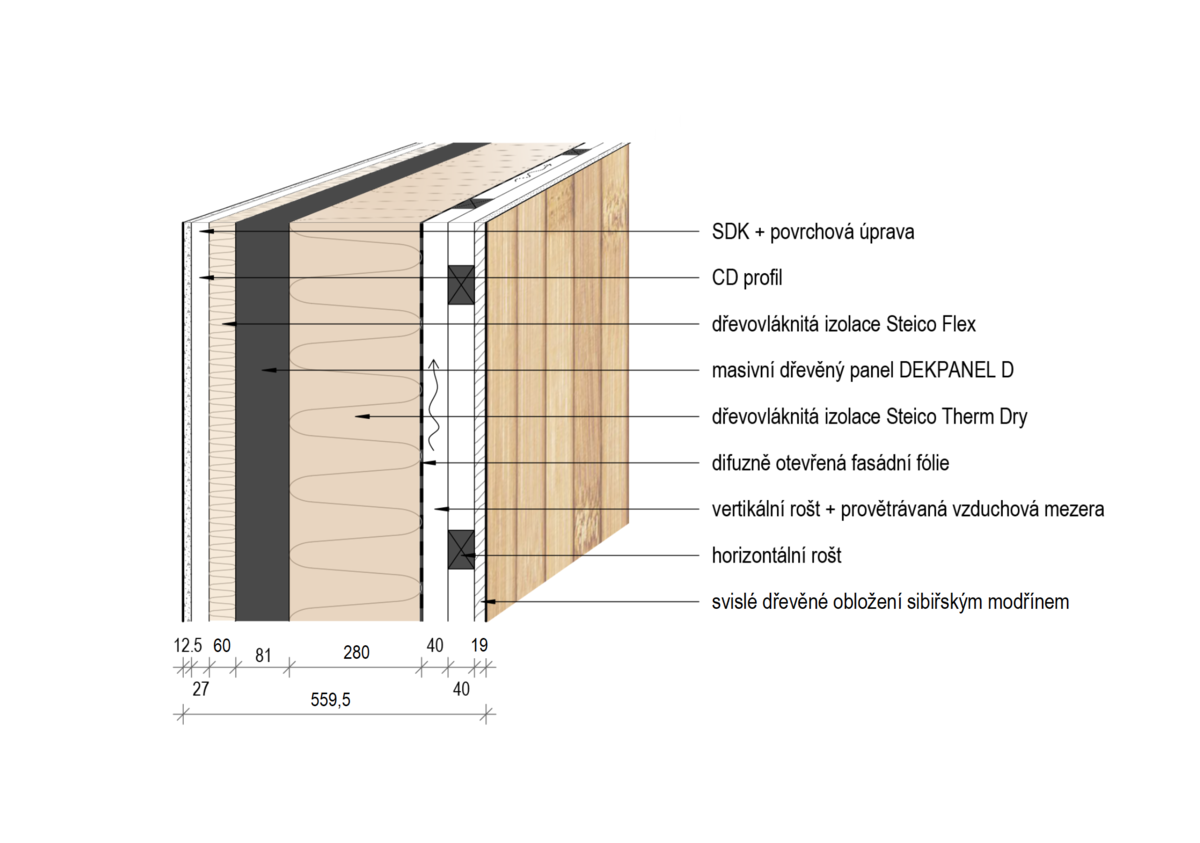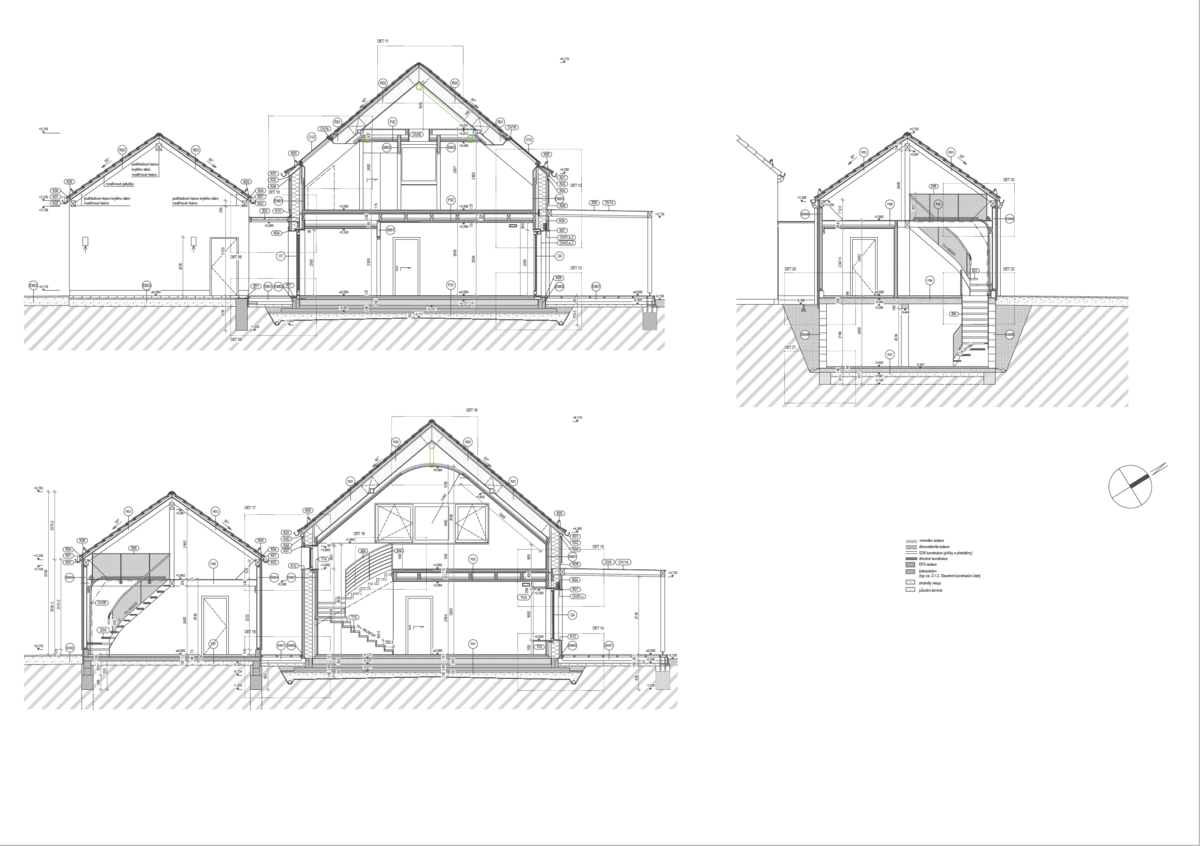 | | |
| --- | --- |
| Author | Ing. Irena Truhlářová, Ing. arch. Šárka Trousílková / ARCHCON ATELIER, s.r.o. |
| Studio | |
| Location | Královéhradecký kraj |
| Investor | neuvedeno |
| Supplier | DŘEVOSTAVBY BISKUP s.r.o., Studené 106, Jílové u Prahy 254 01 - hrubá stavba + střecha, carport, zahradní zázemí; dokončení svépomocí, 2020 |
| Date of project approval | January 2021 |
| Fotograf | |
Passive house with a stunning view of the dominant feature of the Bohemian Paradise Trosky.
On the land was originally located a building, of which only the cellar has been preserved. It was interesting that within such a huge plot of land, the house could only be built on one place - on the area of the original house that was once located there.

The foundation of the house was based on energy optimization on a floating board insulated on the bottom face with extruded polystyrene. The house consists of 2 simple, almost archetypal masses. A main single-storey building with a usable attic and a compact auxiliary building containing a garage, storage rooms, a covered parking space and a workshop. The main living space is maximally connected to the garden by a generous south-west living terrace with a larch pergola and large sliding windows. The original mature lime trees have been respected in the design.

The interior is clean, minimalist with wood elements. Colour is brought into the interior by the soft tones of the wall paint and the bolder colours of the accessories. On the ground floor there is a kitchen, a living room with dining room, a study of the lady of the house and a bathroom with sauna with direct access to the garden. The kitchen stands out with its open shelving, as the owner uses the concept of a no-frills kitchen. In the attic there is a large hall, which is designed both as a social space and a space for sports activities and relaxation. In addition, there is a bedroom, a study and a bathroom.
A distinctive feature of the house are the blue windows. Blue is a very popular colour for the owners.
The exterior uses a whole range of natural materials - larch facade, clay path or wall made of local sandstone.

The house is equipped with an intelligent system that allows control via a mobile app. It controls everything from pulling down the blinds, to heating, lighting, and refilling the water in the garden pond. The heat and ventilation is handled by electric heating mats (underfloor heating + bathroom tubes with electric cartridge).
The house is surrounded by a large plot with a swimming pond, permaculture garden and orchard.
Type of house: passive house
Built-up area: house 113,2 m2 (other areas 74 m2)
Usable area: house 164 m2 (other areas 98,4 m2)
Layout: 5+kk
Construction system: massive screwed panels - DEKPANEL D, diffuse open construction
Energy, heat: electric underfloor heating + bathroom tubes with electric cartridge), photovoltaics
Ventilation: air handling unit with passive heat recovery enthalpy exchanger
Wall heat transfer coefficient U: 0.116 W/m2K
Volume of wood consumed for construction: 32,60 m3
Green building
Environmental certification
| | |
| --- | --- |
| Type and level of certificate | - |
Water management
| | |
| --- | --- |
| Is rainwater used for irrigation? | |
| Is rainwater used for other purposes, e.g. toilet flushing ? | |
| Does the building have a green roof / facade ? | |
| Is reclaimed waste water used, e.g. from showers and sinks ? | |
The quality of the indoor environment
| | |
| --- | --- |
| Is clean air supply automated ? | |
| Is comfortable temperature during summer and winter automated? | |
| Is natural lighting guaranteed in all living areas? | |
| Is artificial lighting automated? | |
| Is acoustic comfort, specifically reverberation time, guaranteed? | |
| Does the layout solution include zoning and ergonomics elements? | |
Principles of circular economics
| | |
| --- | --- |
| Does the project use recycled materials? | |
| Does the project use recyclable materials? | |
| Are materials with a documented Environmental Product Declaration (EPD) promoted in the project? | |
| Are other sustainability certifications used for materials and elements? | |
Energy efficiency
| | |
| --- | --- |
| Energy performance class of the building according to the Energy Performance Certificate of the building | A |
| Is efficient energy management (measurement and regular analysis of consumption data) considered? | |
| Are renewable sources of energy used, e.g. solar system, photovoltaics? | |
Interconnection with surroundings
| | |
| --- | --- |
| Does the project enable the easy use of public transport? | |
| Does the project support the use of alternative modes of transport, e.g cycling, walking etc. ? | |
| Is there access to recreational natural areas, e.g. parks, in the immediate vicinity of the building? | |