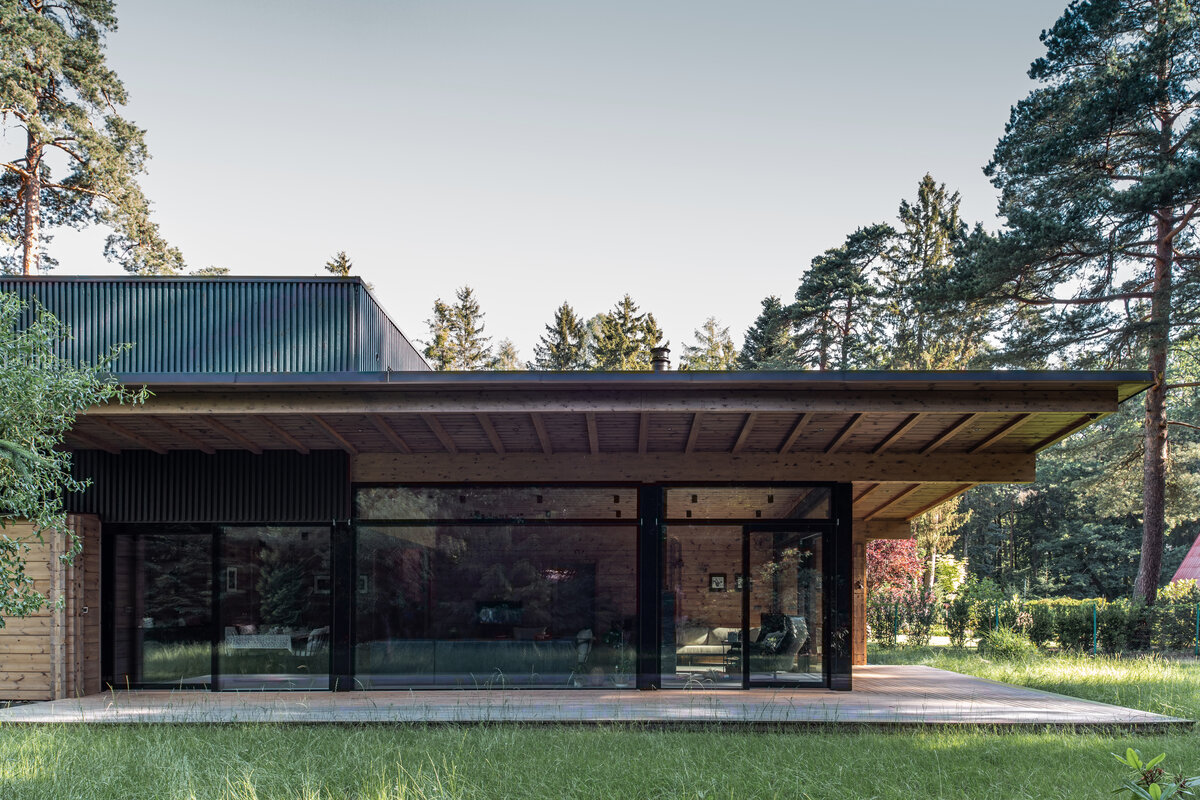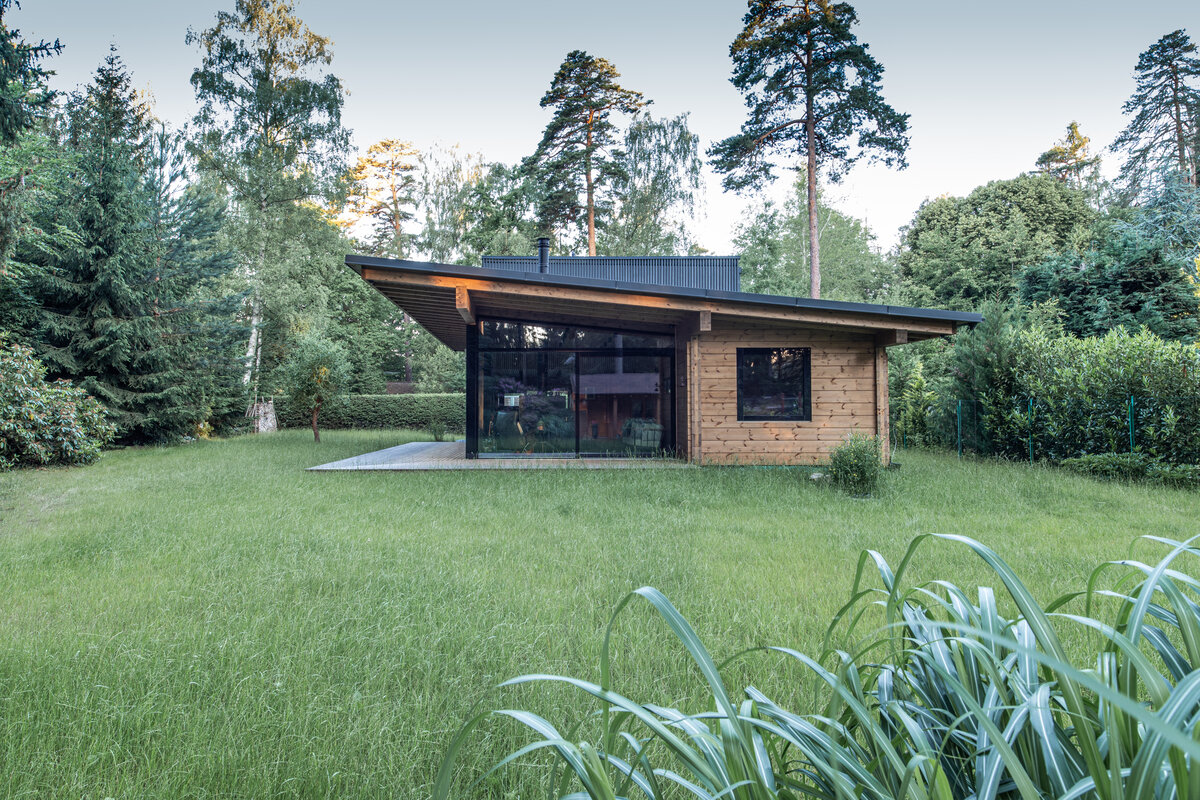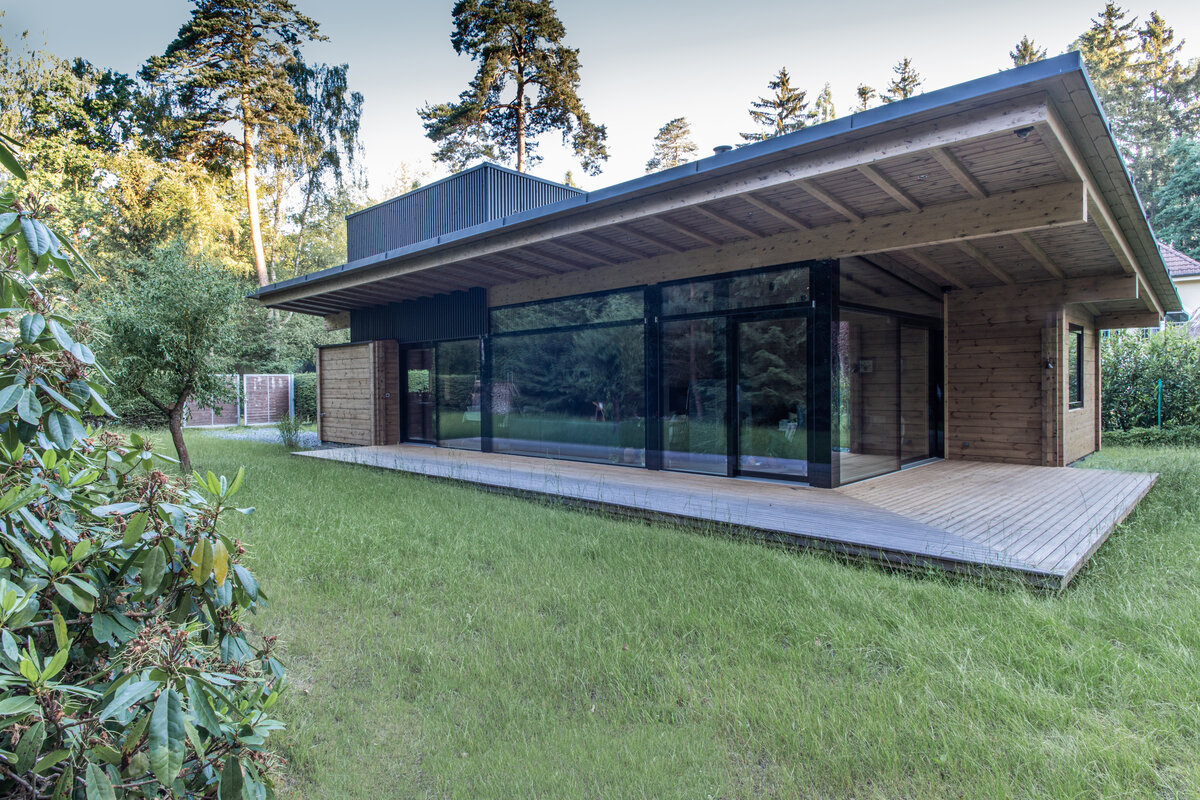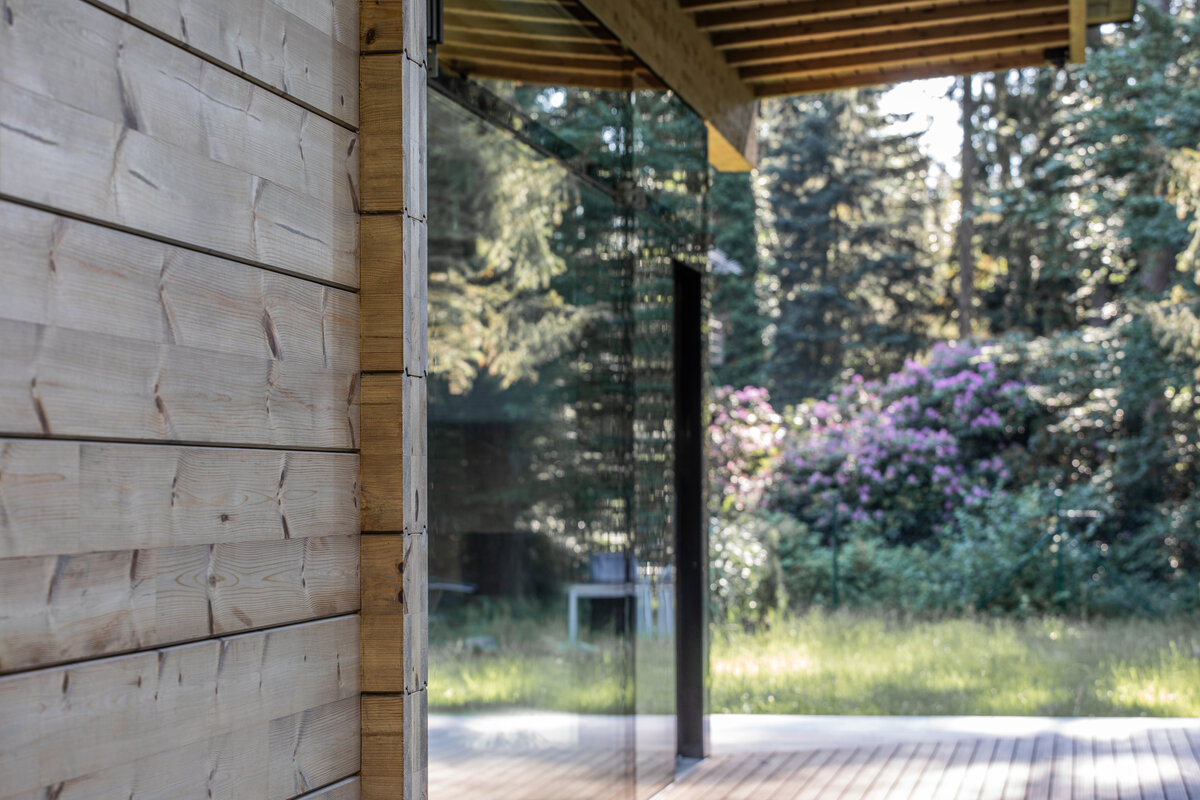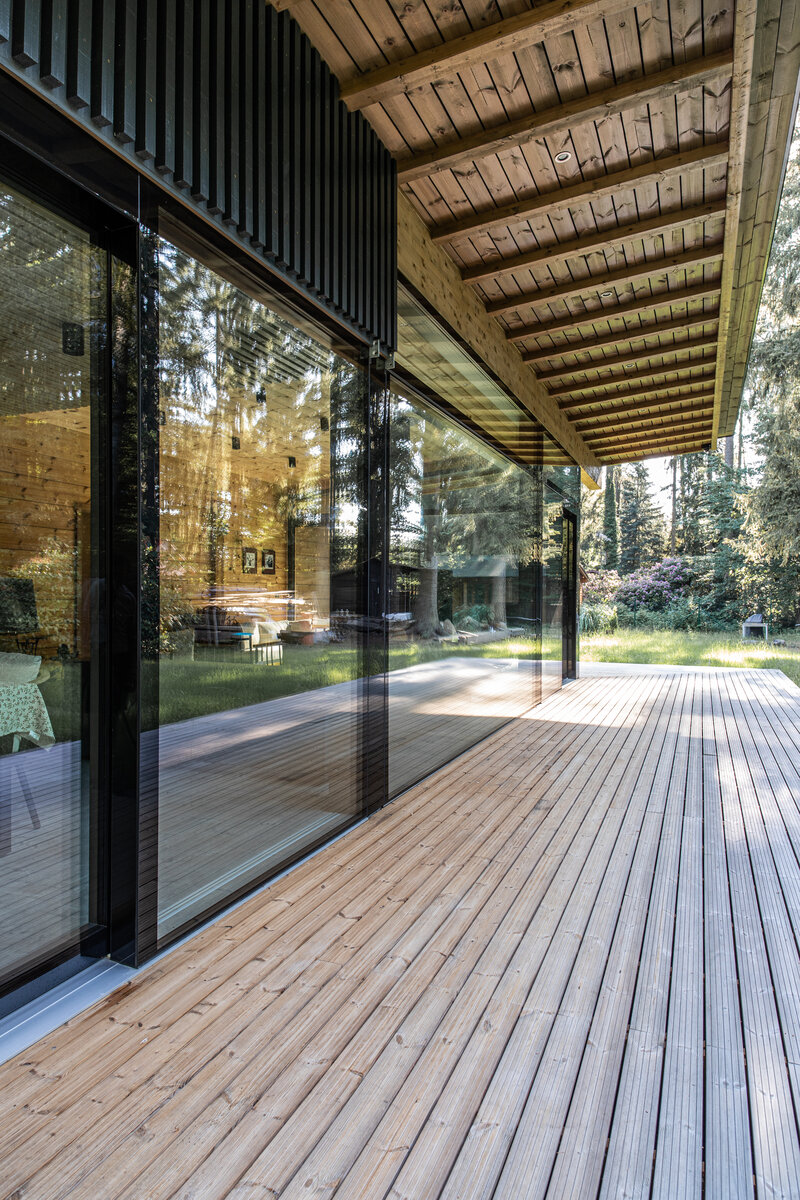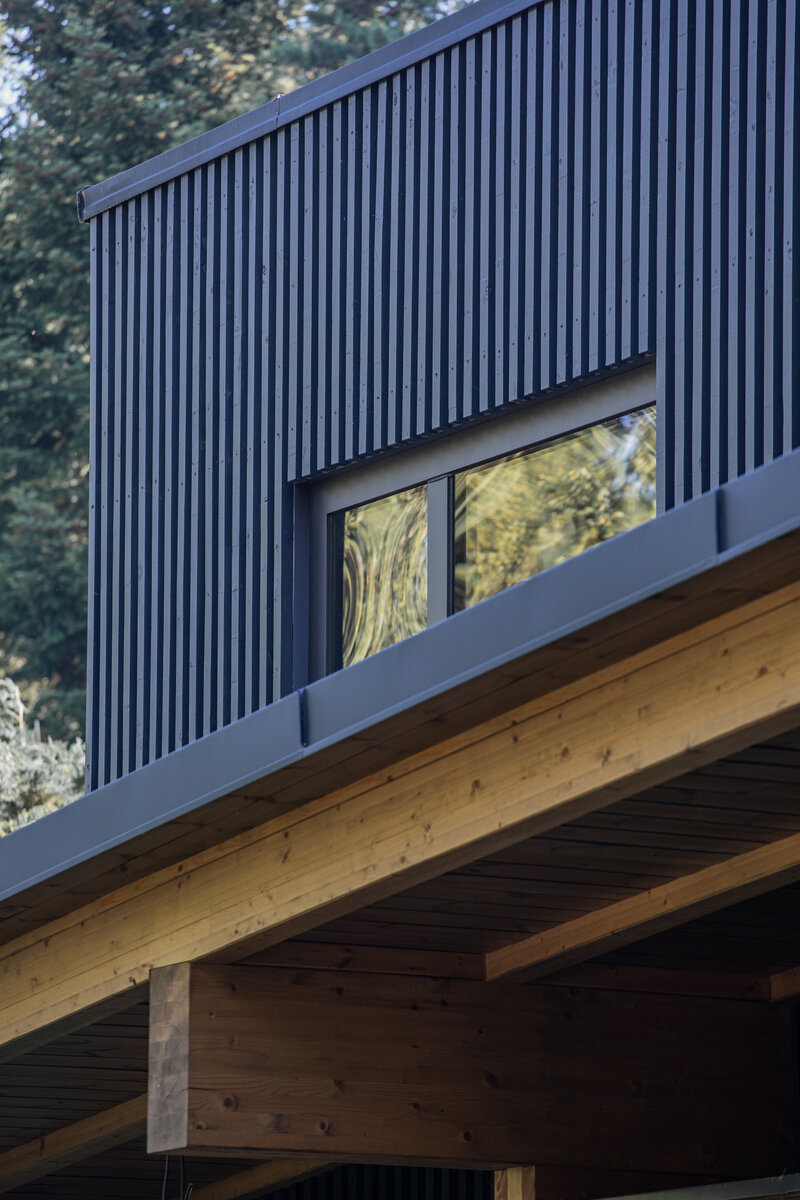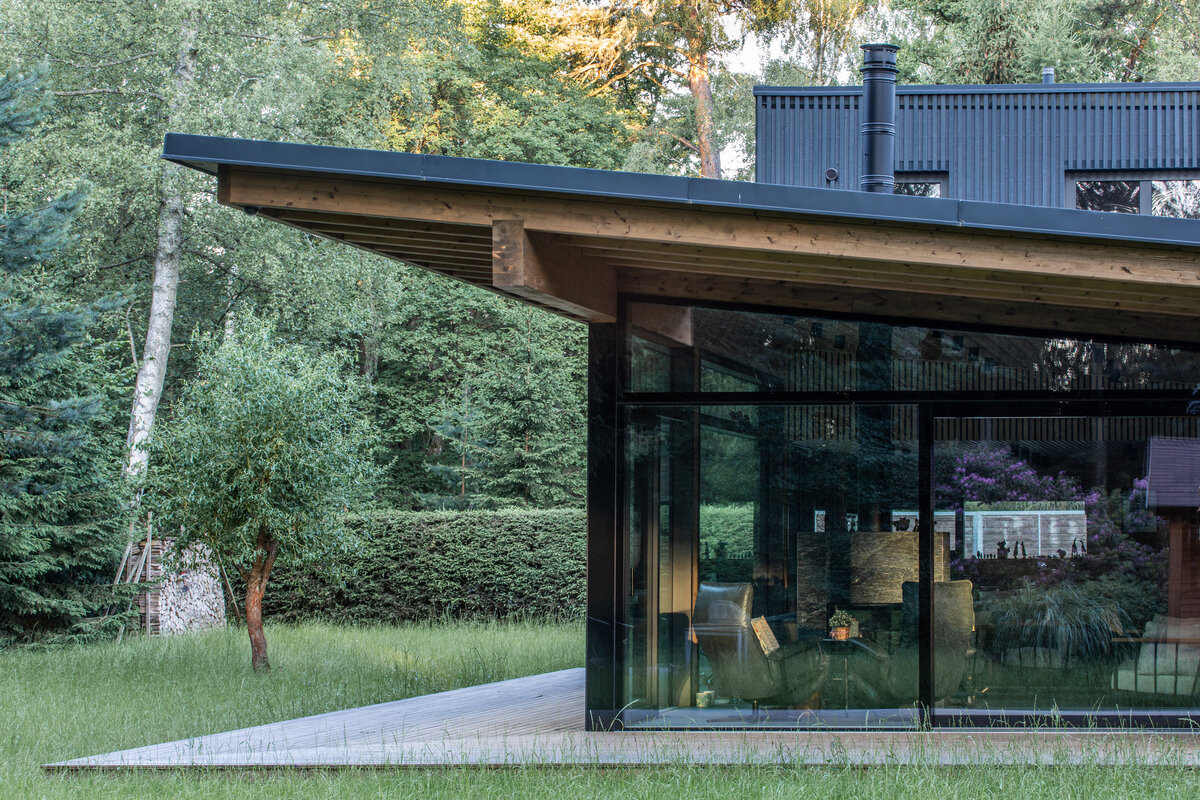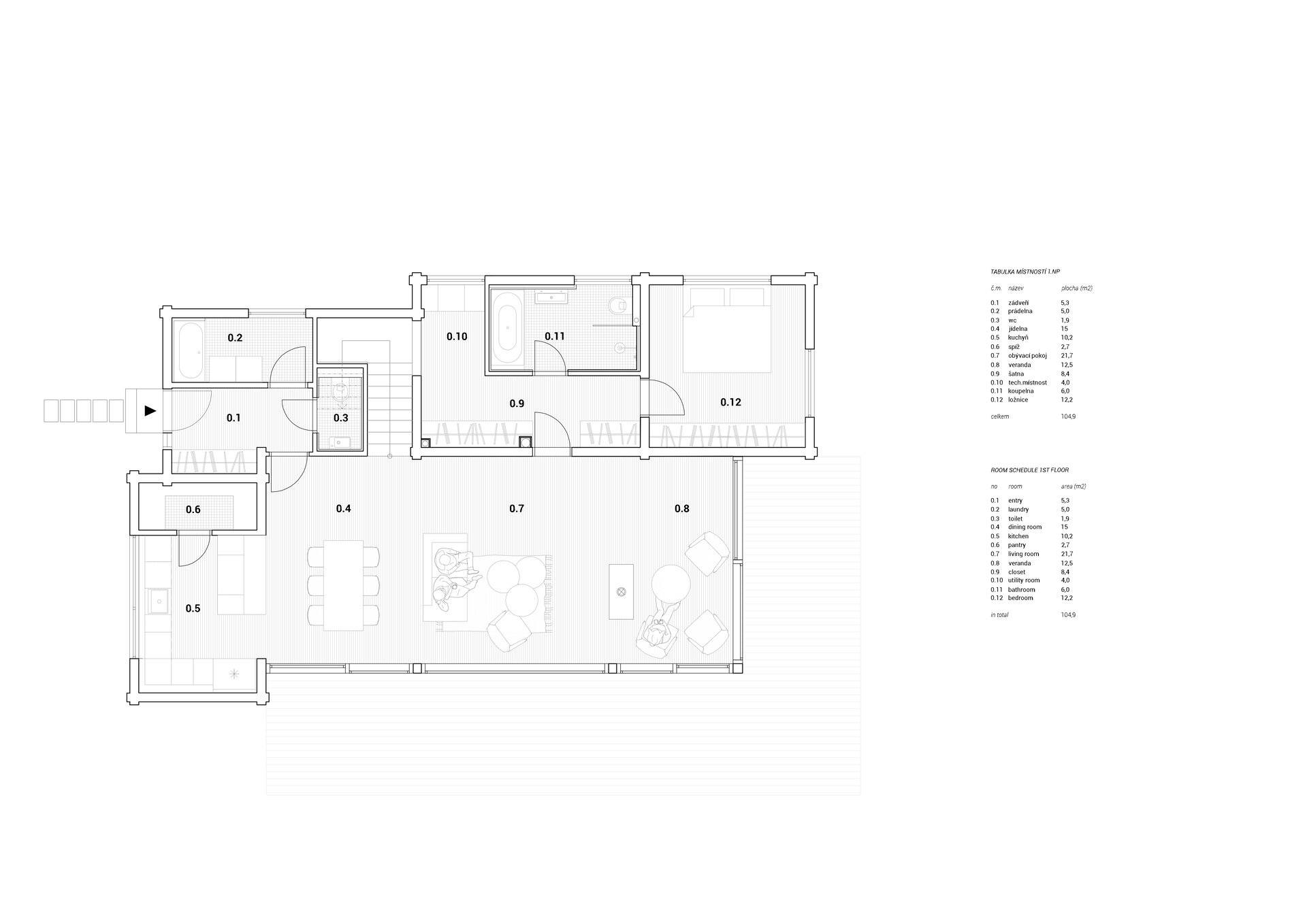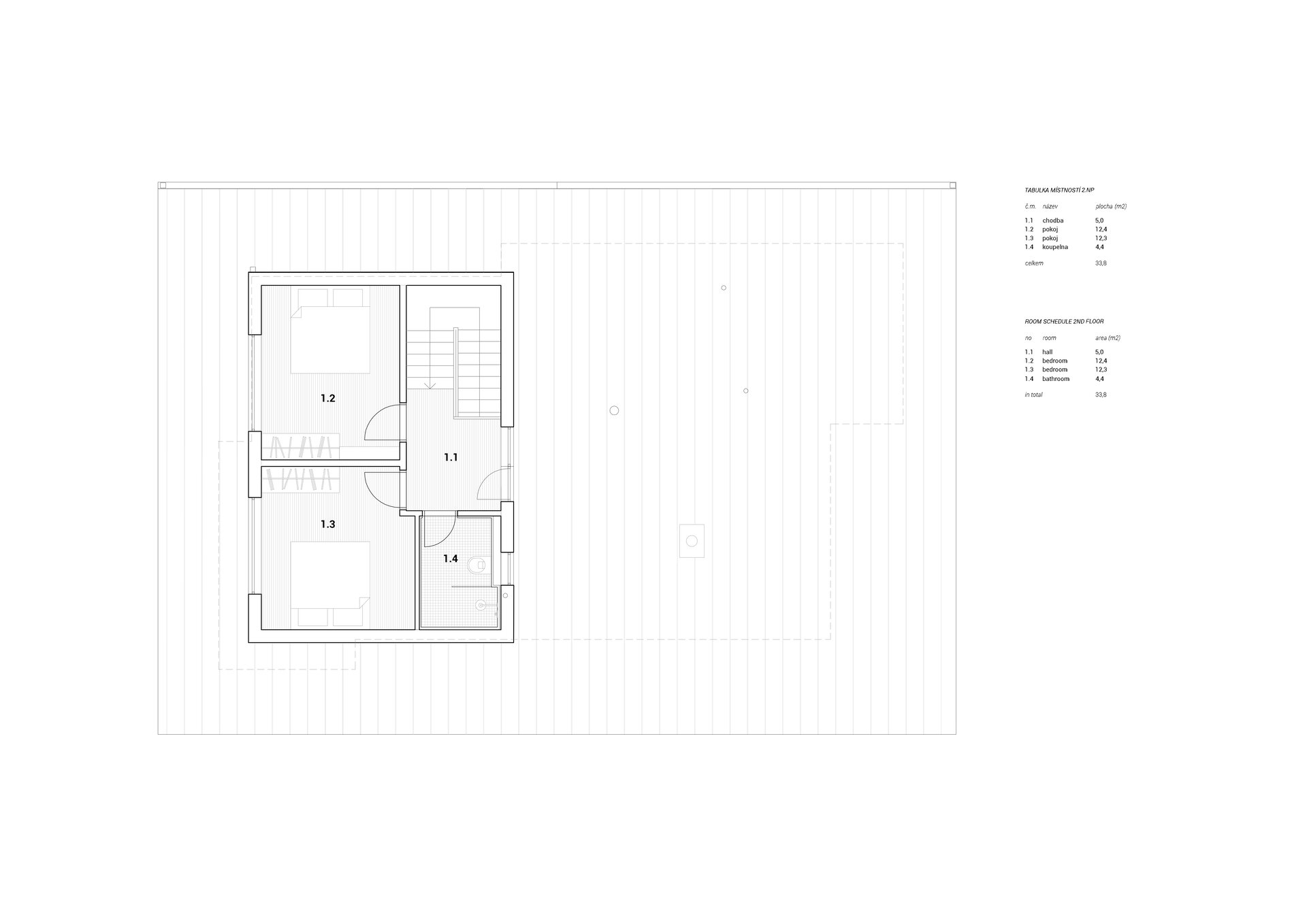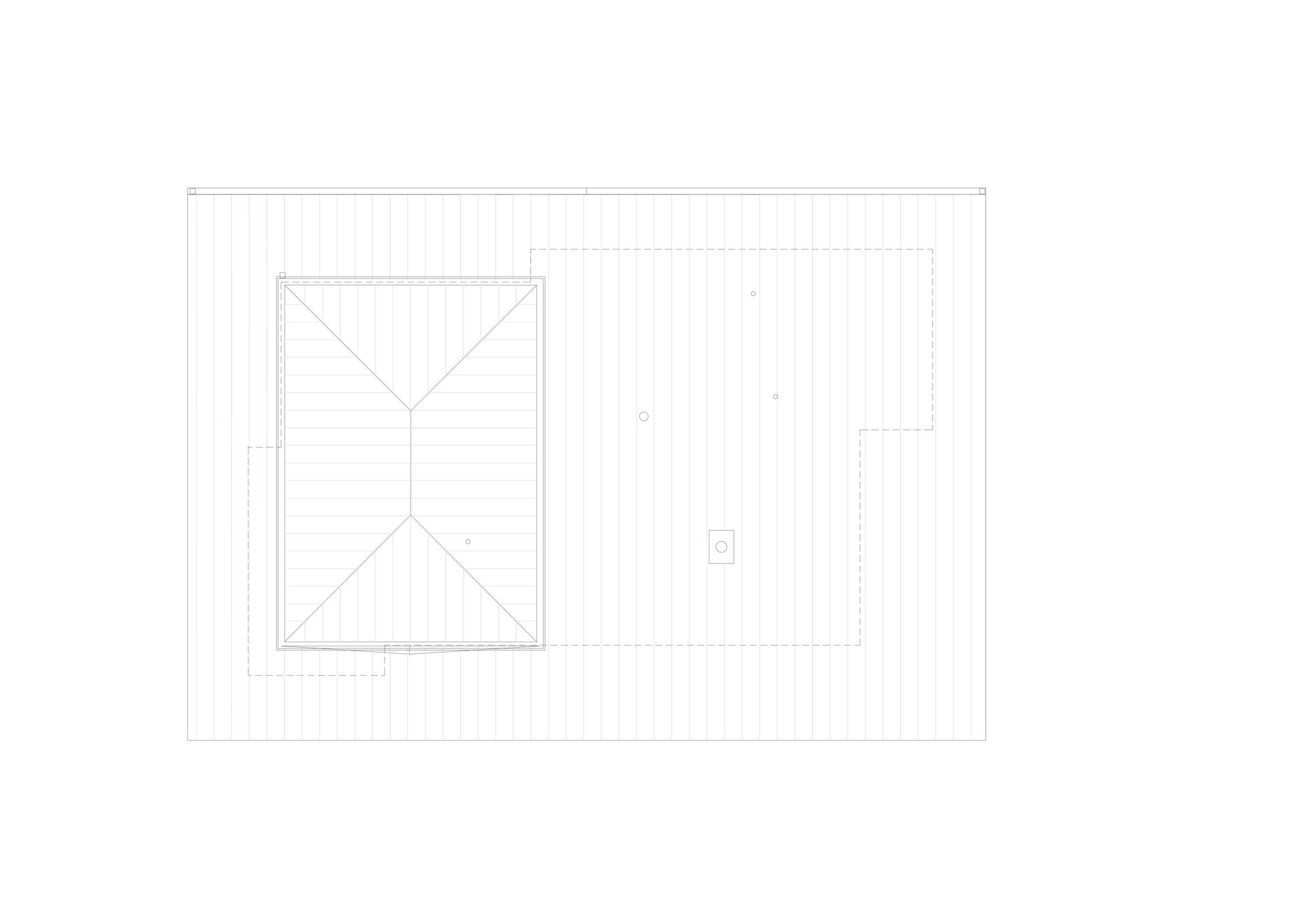 | | |
| --- | --- |
| Author | Michal Bernart, Igor Hobza, Veronika Výborná , Tomáš Vaněček, Anna Pospíchalová / monom |
| Studio | |
| Location | Jevany |
| Investor | Soukromý |
| Supplier | Honka |
| Date of project approval | March 2021 |
| Fotograf | |
A house and a grown up forest. A house made out of Finnish pine. A house hidden behind a stretch of spruces. Sitting among other cottage houses. A plot densely populated with greenery.

Nature sets a strong character to the place and the house reacts, communicates with it. The distinction between outside and inside is diminished.

A house for a couple from the Ostrava region. The house with a significantly overlapping roof and a black box sticking out. The house that smells of wood. The real centerpoint of the layout is the living space with a kitchen. The other adjacent spaces are of utilitarian character. The client's wish to visually and physically connect the house with the surrounding garden was fulfilled. The terrace with an overlapping roof becomes a shelter protecting from sun and rain, a place for breakfasts and evening drinks.

The black box. The weight. A refuge for visitors. A small independent unit taken out of the volume. Antipole to the roof and the generous glazing. It brings an accent to the composition and frees the architectonic lust towards the garden.
A house, simple in shape and volume, is made out of Honka log system. The traditional wooden house structure produced by hyper modern CNC machines together with the way it is built shifts the meaning of a wooden house towards the 21st century. The modern technology is combined with high quality Finnish timber. The system of cross lamination stabilizes the wood, which prevents from the usual problems of log houses. The entire wall structure was made and transported from Finland. Thanks to standardization assembly on site takes little time.
The house is heated with electric floor heating which can be flexibly controlled. The centerpoint of the living space is a Tulikivi stove made out of soapstone which can keep the heat for a very long time. The roof above the 1st floor can be populated with PV panels with no harm to the aesthetic appearance of the house.
Green building
Environmental certification
| | |
| --- | --- |
| Type and level of certificate | - |
Water management
| | |
| --- | --- |
| Is rainwater used for irrigation? | |
| Is rainwater used for other purposes, e.g. toilet flushing ? | |
| Does the building have a green roof / facade ? | |
| Is reclaimed waste water used, e.g. from showers and sinks ? | |
The quality of the indoor environment
| | |
| --- | --- |
| Is clean air supply automated ? | |
| Is comfortable temperature during summer and winter automated? | |
| Is natural lighting guaranteed in all living areas? | |
| Is artificial lighting automated? | |
| Is acoustic comfort, specifically reverberation time, guaranteed? | |
| Does the layout solution include zoning and ergonomics elements? | |
Principles of circular economics
| | |
| --- | --- |
| Does the project use recycled materials? | |
| Does the project use recyclable materials? | |
| Are materials with a documented Environmental Product Declaration (EPD) promoted in the project? | |
| Are other sustainability certifications used for materials and elements? | |
Energy efficiency
| | |
| --- | --- |
| Energy performance class of the building according to the Energy Performance Certificate of the building | B |
| Is efficient energy management (measurement and regular analysis of consumption data) considered? | |
| Are renewable sources of energy used, e.g. solar system, photovoltaics? | |
Interconnection with surroundings
| | |
| --- | --- |
| Does the project enable the easy use of public transport? | |
| Does the project support the use of alternative modes of transport, e.g cycling, walking etc. ? | |
| Is there access to recreational natural areas, e.g. parks, in the immediate vicinity of the building? | |