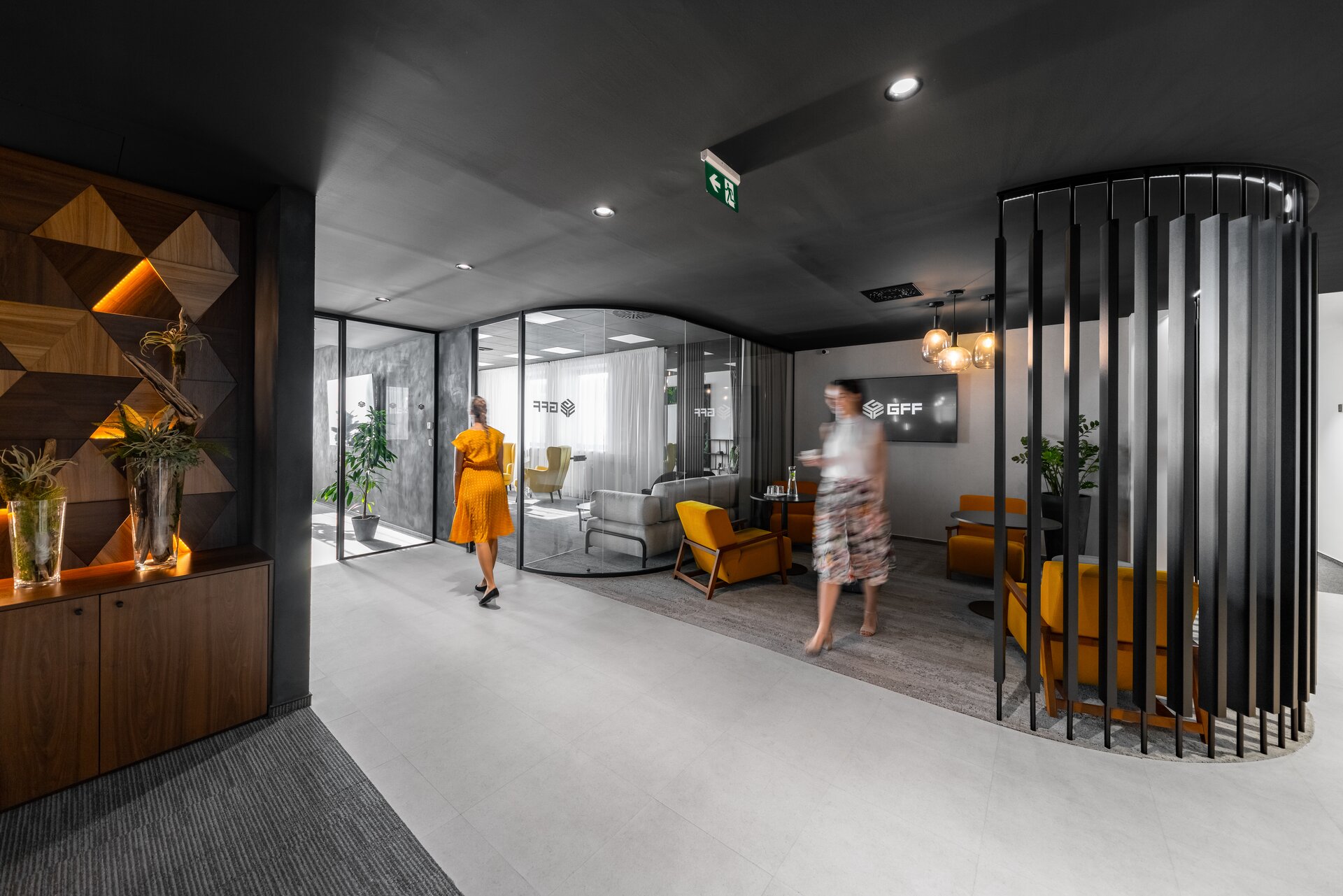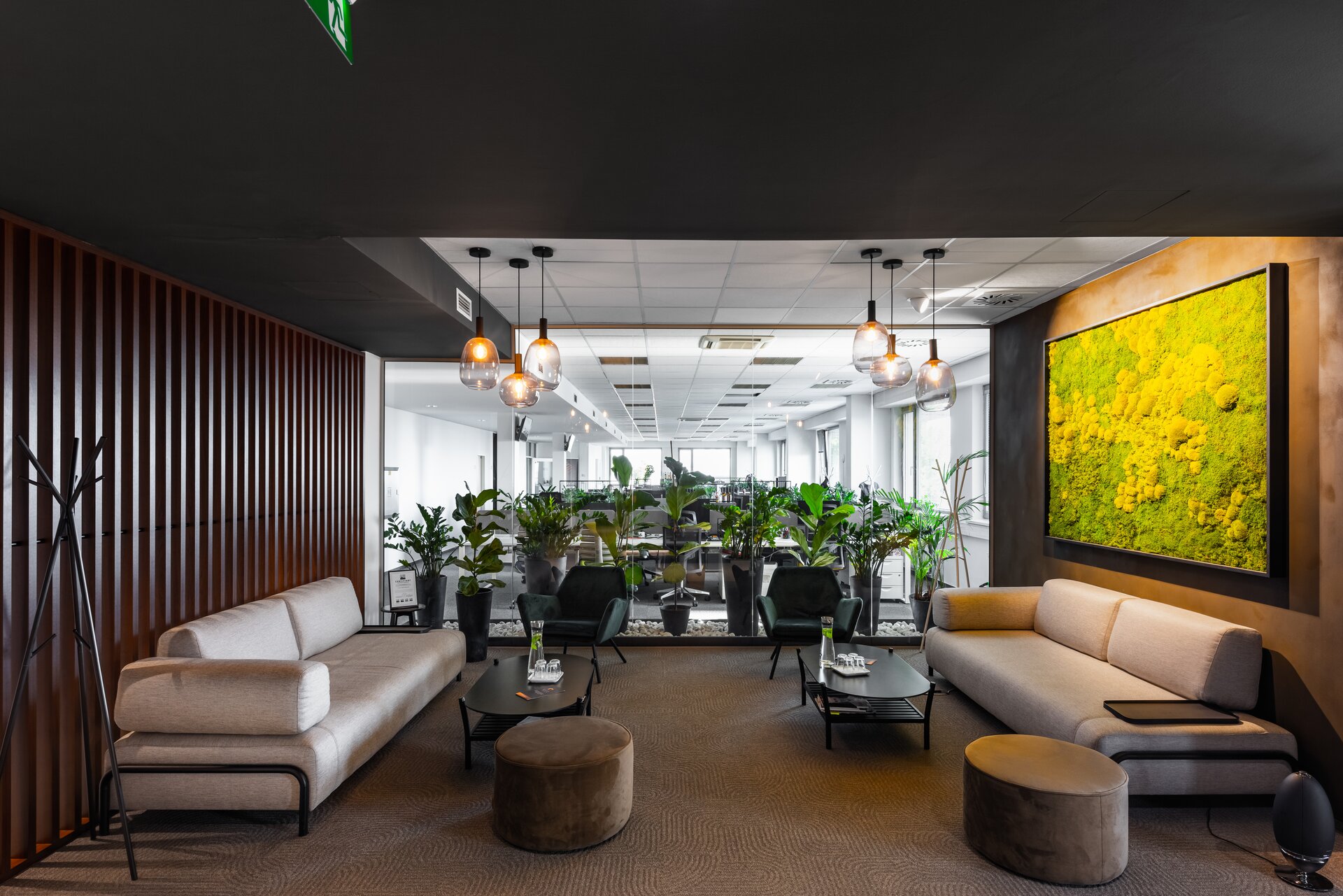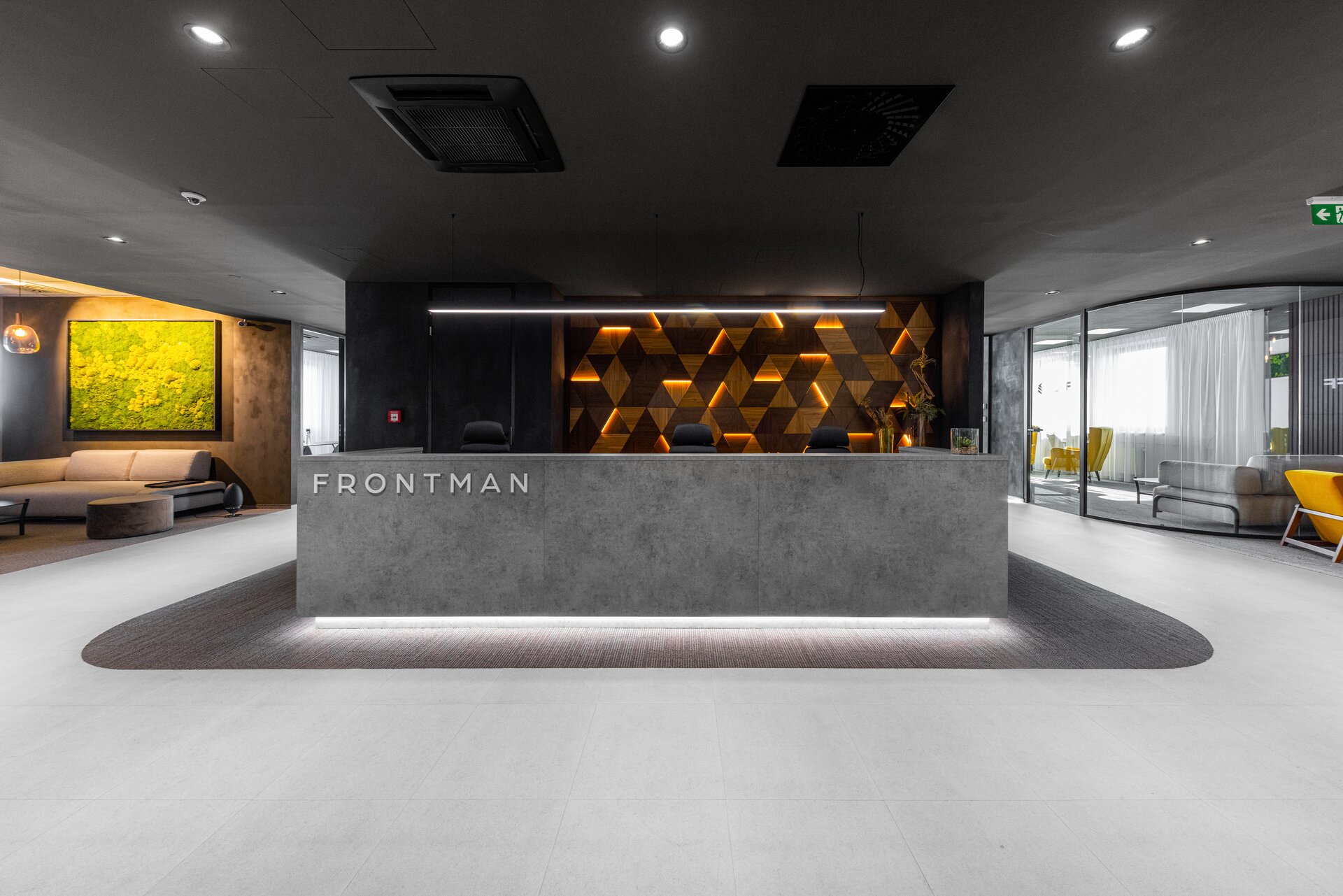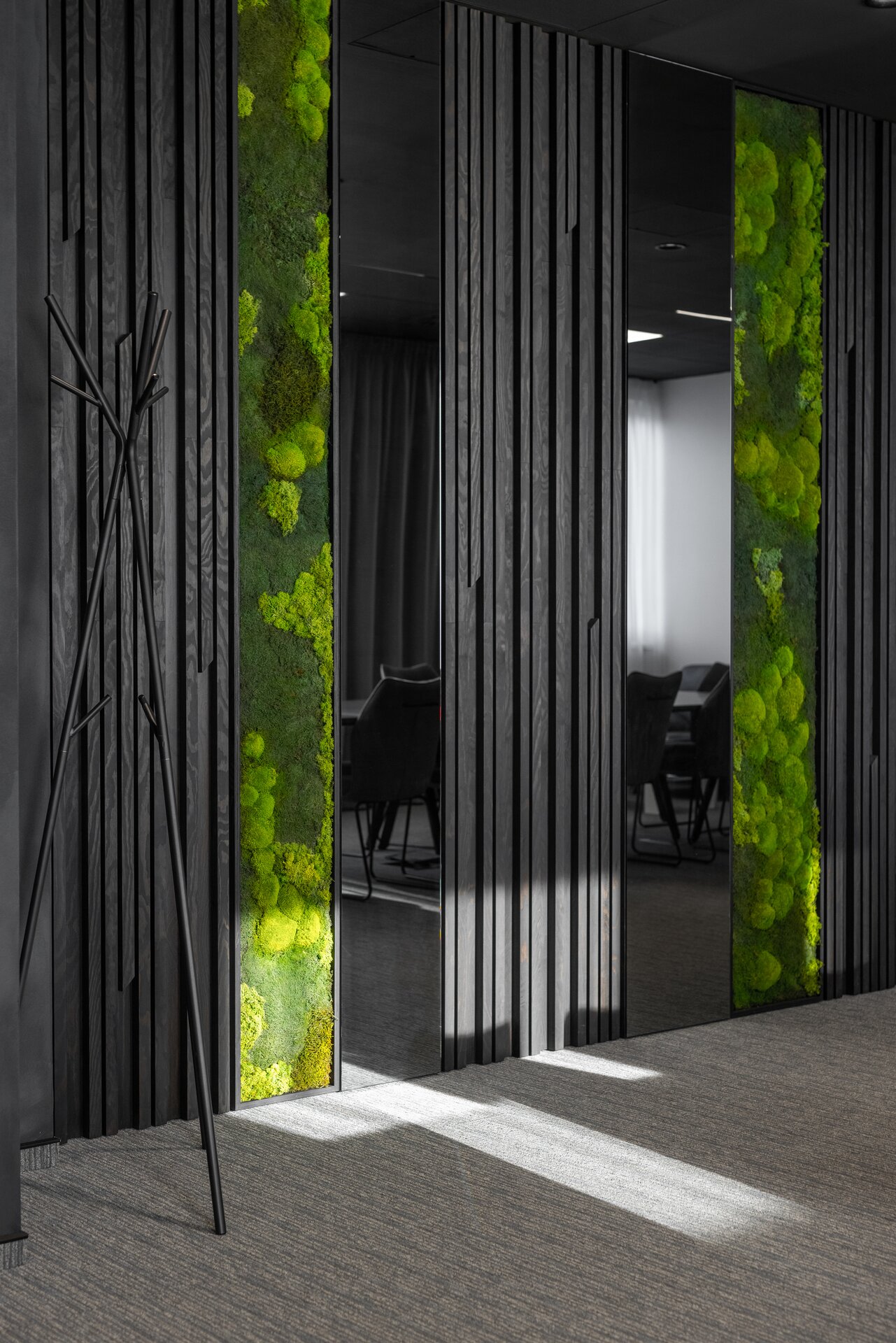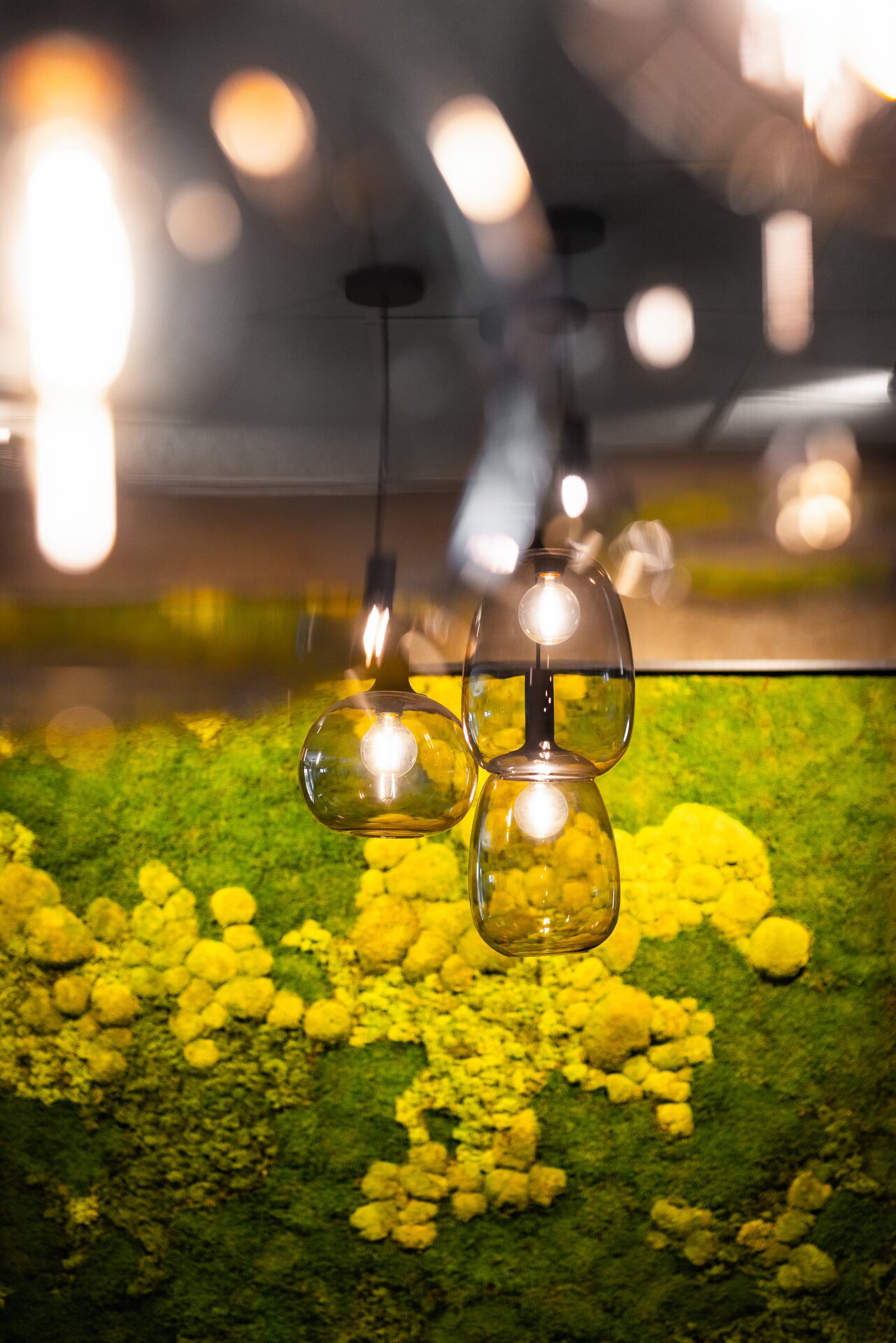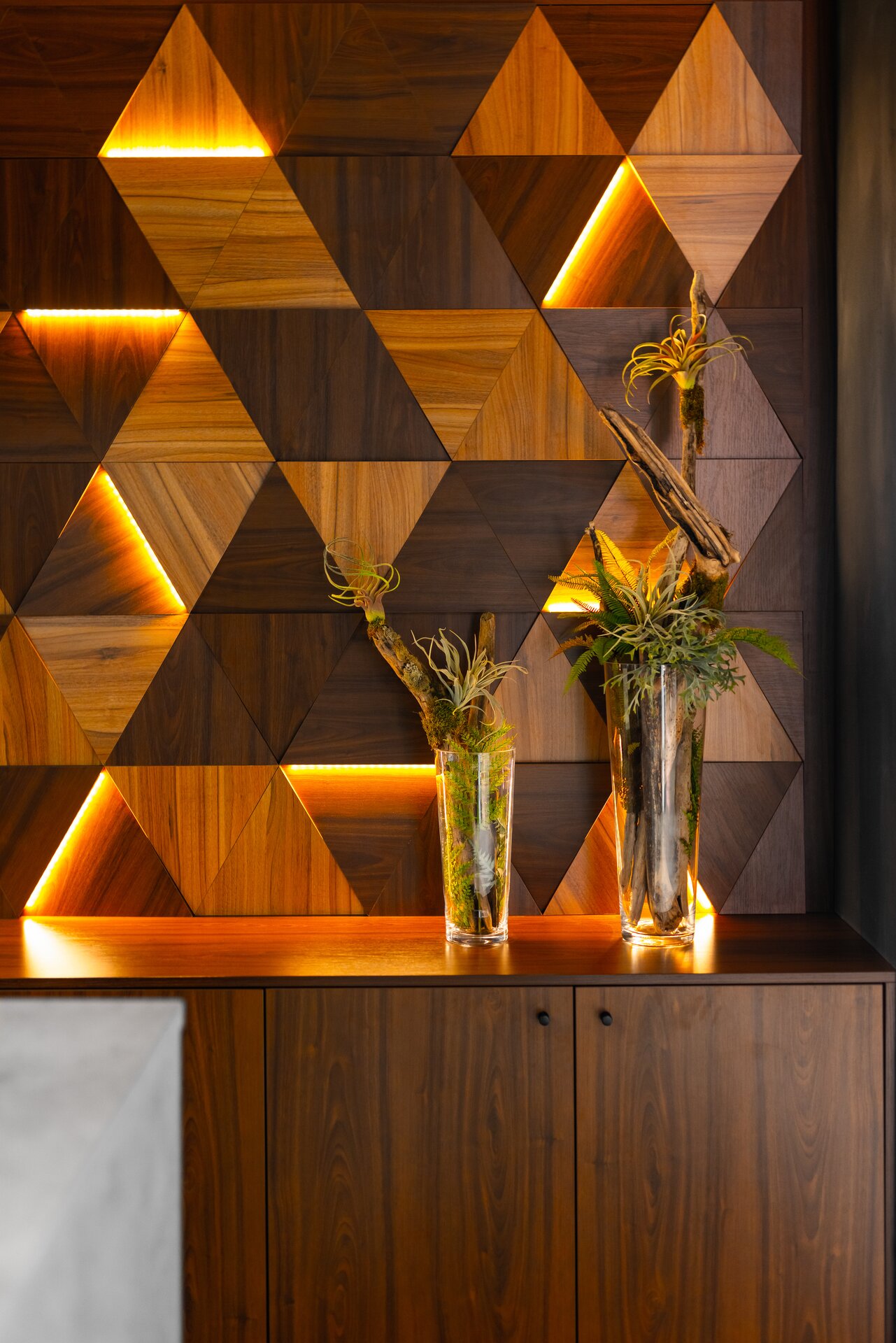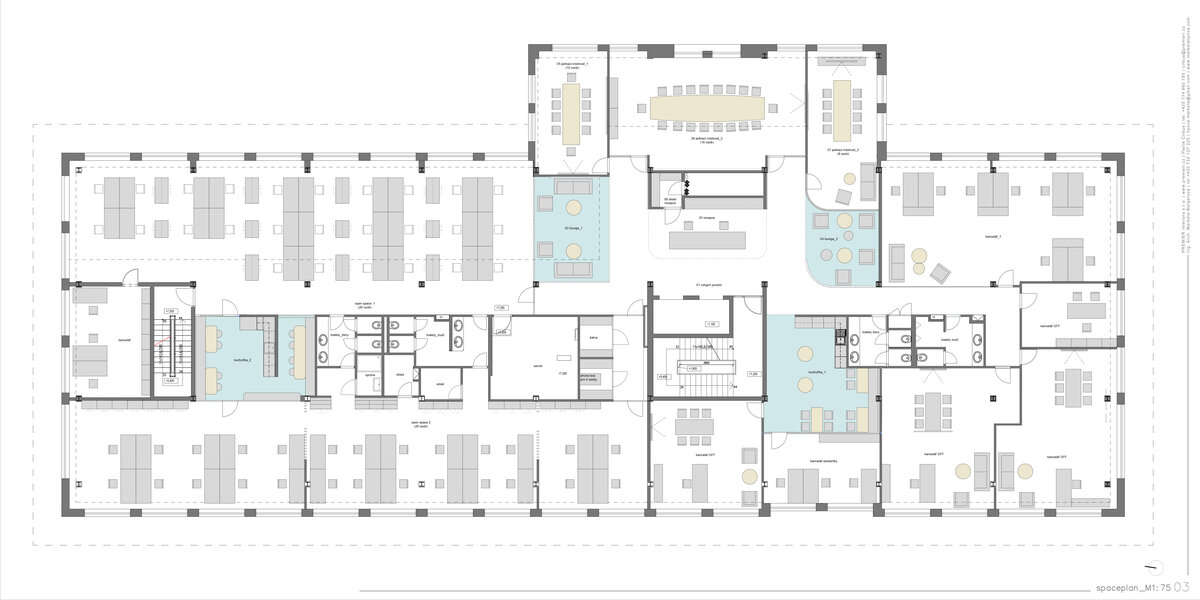 | | |
| --- | --- |
| Author | Ing. Arch. Markéta Bergerová |
| Studio | |
| Location | Vídeňská 101, 619 00 Brno-Jih, Horní Heršpice |
| Investor | Frontman s.r.o. |
| Supplier | PREMIER interiors s.r.o. |
| Date of project approval | August 2021 |
| Fotograf | |
Airiness and long-distance views of offices, this was the main requirement of the investor, which was to set the direction of the emerging proposal. Another important requirement was the incorporation of greenery, which the investor wants to support in his offices.
The current layout and implementation during full operation of the company somewhat determined the interventions in the layout of the interior. However, our main task was to get more daylight into the company's entrance areas, which would add airiness to the interior. We achieved this thanks to the glass partitions between the reception and the largest meeting room. The partitions are decent and we still have plenty of privacy left in the meeting room. Another important remote view from the reception is a view of the open space office, which is behind a glass partition, and the optical divide between these spaces consists only of mature flowers. At the same time, we wanted the air space to still have an intimate atmosphere in the reception area, lounge areas and meeting rooms, which is why we tinted the ceiling to a dark shade in this part.
The entire interior is designed in earthy neutral tones to make mossy walls, solitary flowers and furniture stand out. We divide the space into zones not only with glass partitions, but also with different types and decors of floor coverings.
In the current layout, we lacked the definition of lounge zones for clients. We have created two comfortable lounge zones on the sides of the reception, which we define with lamella elements that shield it from communication corridors. You can see from both zones at the reception and therefore we also wanted to use the reception area not only as a welcome space for clients, but also to have something interesting for the client waiting in the lounge zone. Behind the counter, a backlit pattern is designed, which forms the most distinctive element of the solved spaces.
Green building
Environmental certification
| | |
| --- | --- |
| Type and level of certificate | - |
Water management
| | |
| --- | --- |
| Is rainwater used for irrigation? | |
| Is rainwater used for other purposes, e.g. toilet flushing ? | |
| Does the building have a green roof / facade ? | |
| Is reclaimed waste water used, e.g. from showers and sinks ? | |
The quality of the indoor environment
| | |
| --- | --- |
| Is clean air supply automated ? | |
| Is comfortable temperature during summer and winter automated? | |
| Is natural lighting guaranteed in all living areas? | |
| Is artificial lighting automated? | |
| Is acoustic comfort, specifically reverberation time, guaranteed? | |
| Does the layout solution include zoning and ergonomics elements? | |
Principles of circular economics
| | |
| --- | --- |
| Does the project use recycled materials? | |
| Does the project use recyclable materials? | |
| Are materials with a documented Environmental Product Declaration (EPD) promoted in the project? | |
| Are other sustainability certifications used for materials and elements? | |
Energy efficiency
| | |
| --- | --- |
| Energy performance class of the building according to the Energy Performance Certificate of the building | |
| Is efficient energy management (measurement and regular analysis of consumption data) considered? | |
| Are renewable sources of energy used, e.g. solar system, photovoltaics? | |
Interconnection with surroundings
| | |
| --- | --- |
| Does the project enable the easy use of public transport? | |
| Does the project support the use of alternative modes of transport, e.g cycling, walking etc. ? | |
| Is there access to recreational natural areas, e.g. parks, in the immediate vicinity of the building? | |