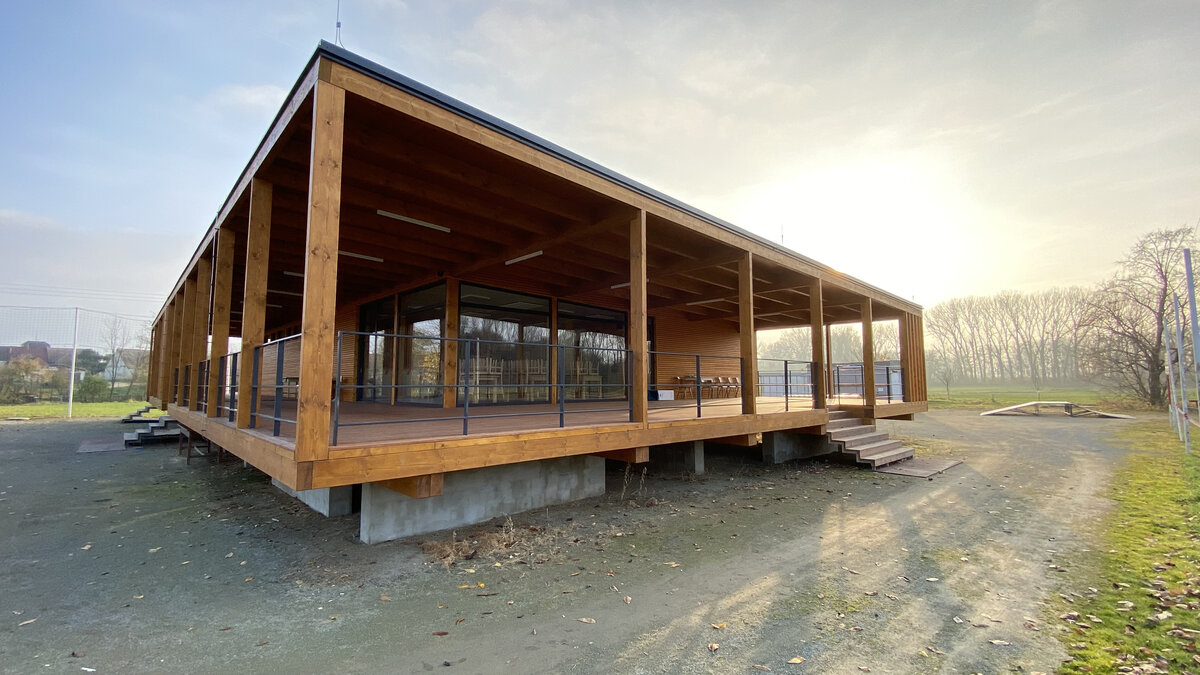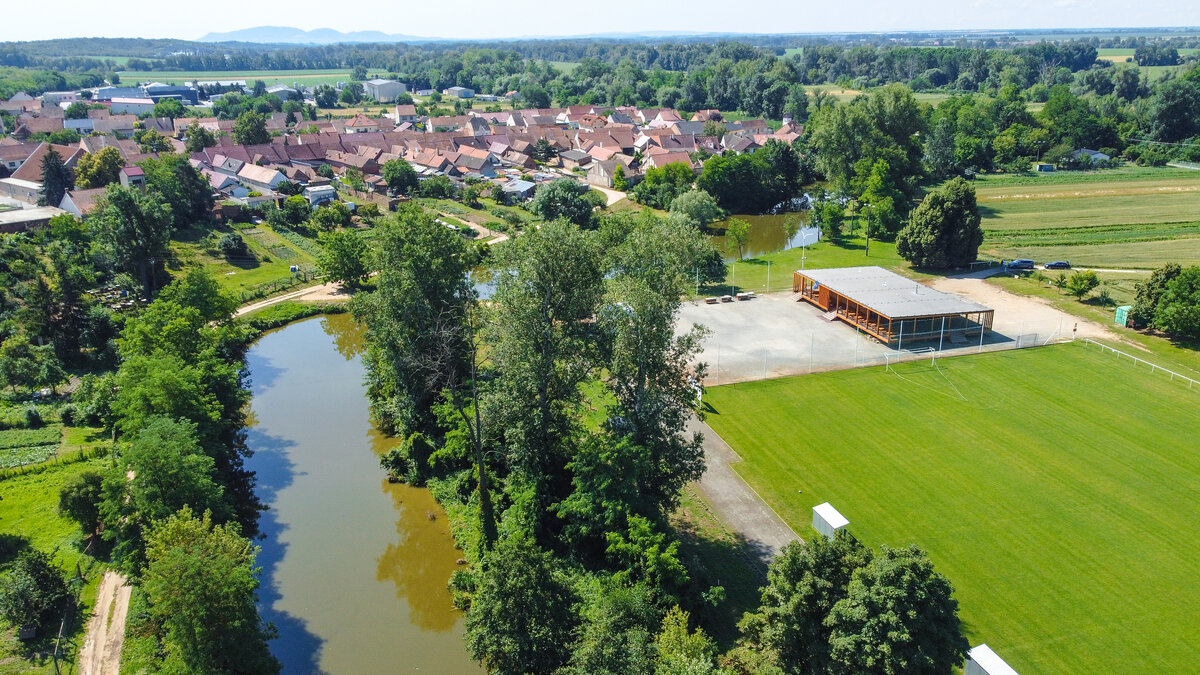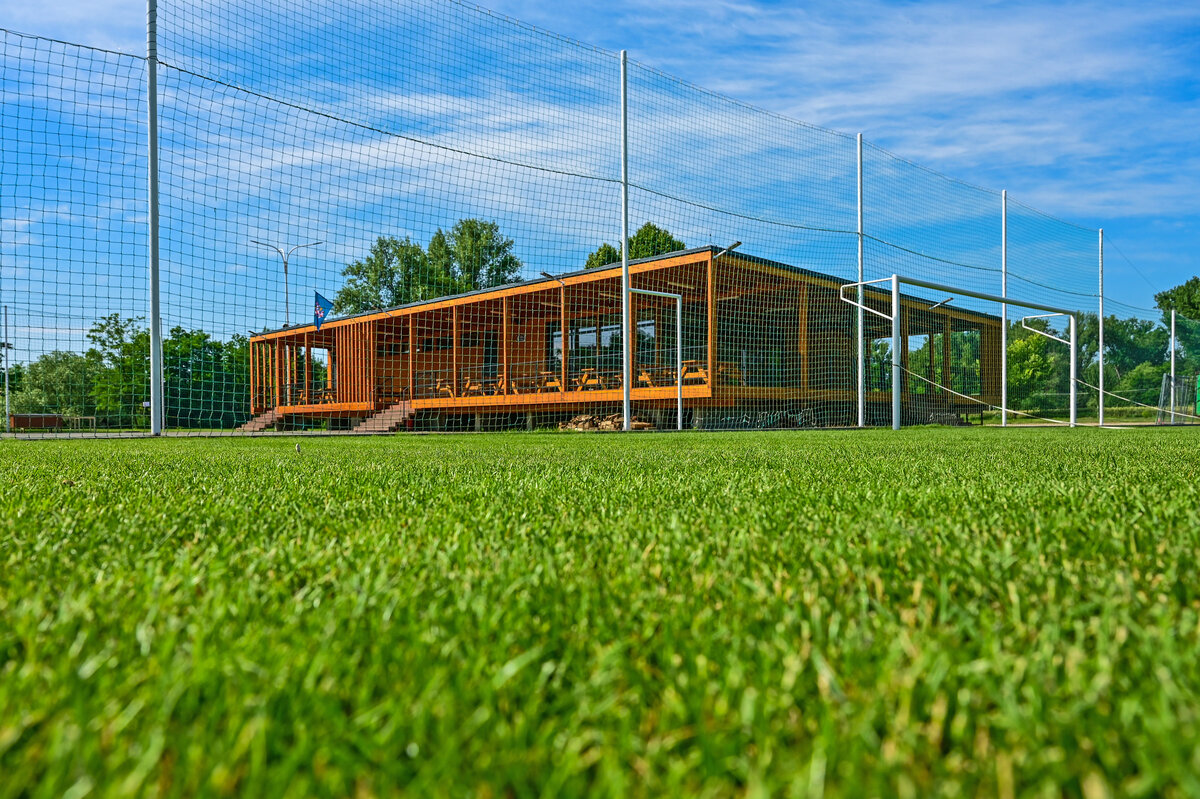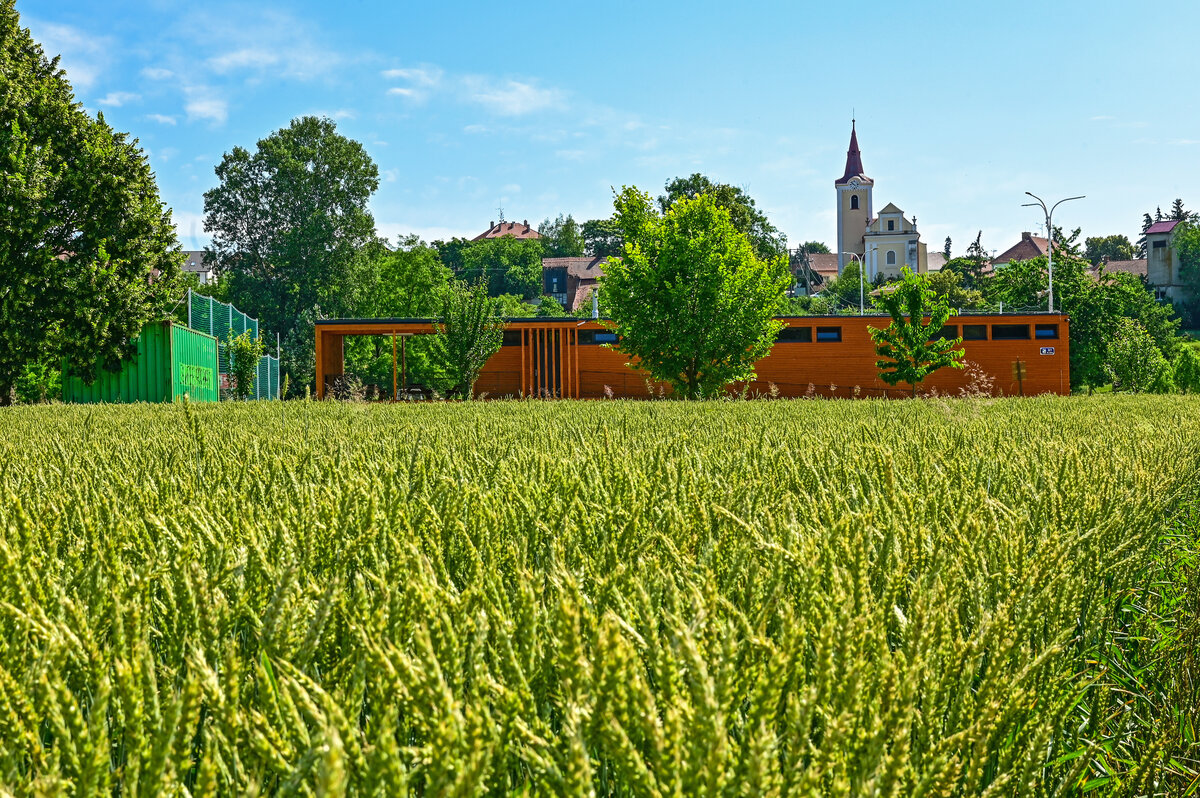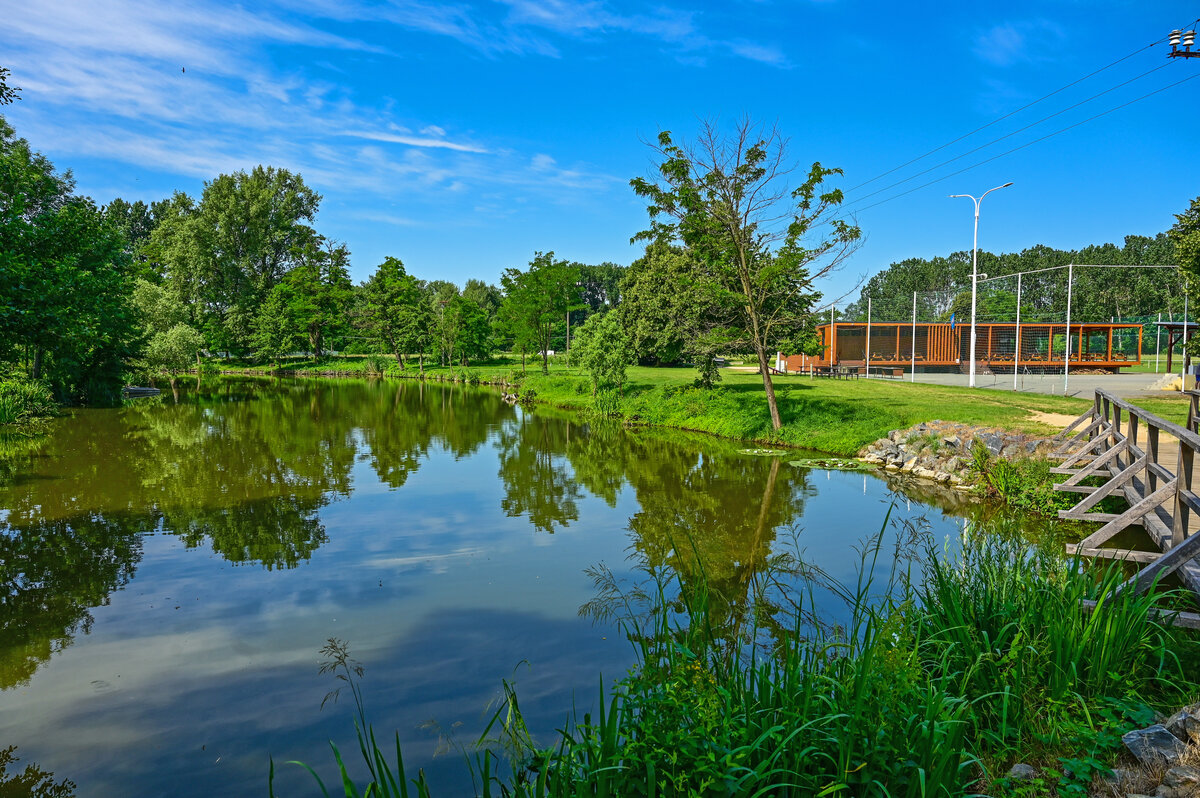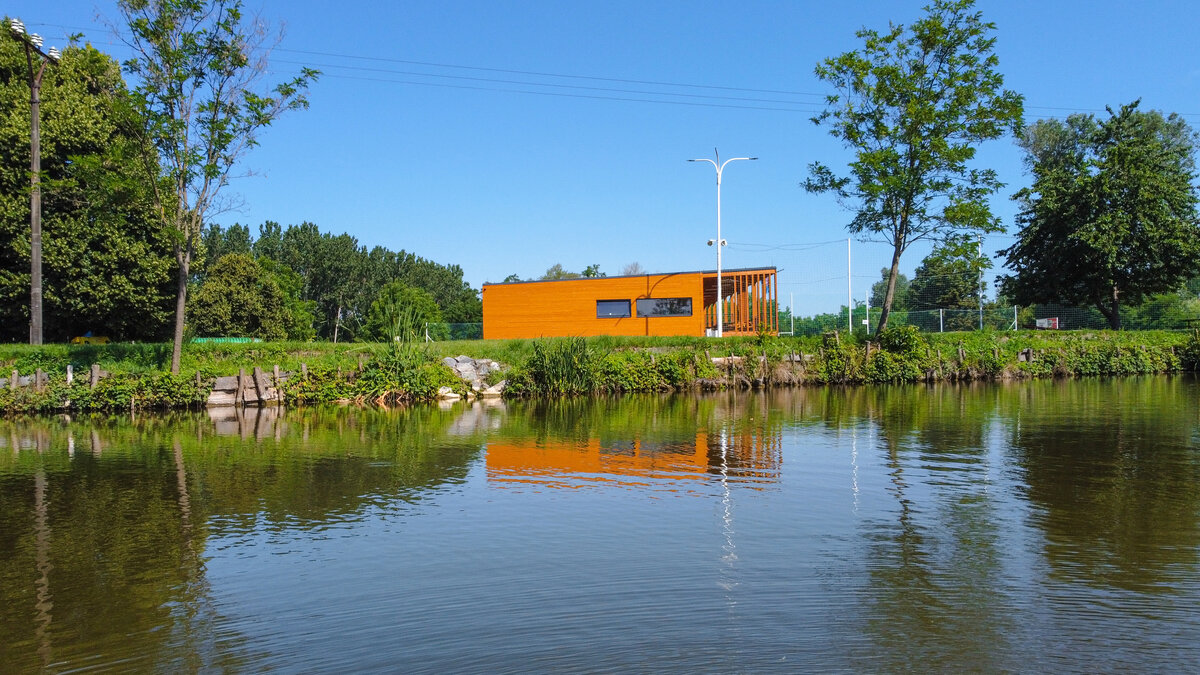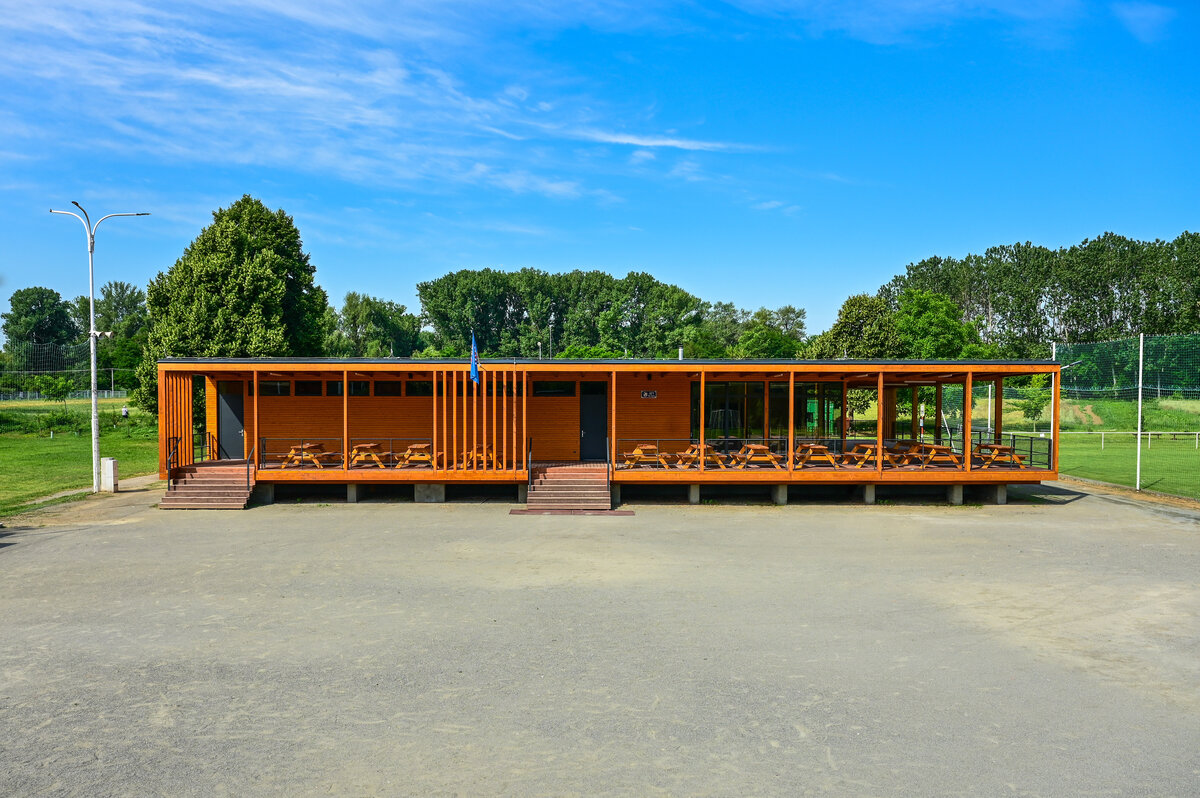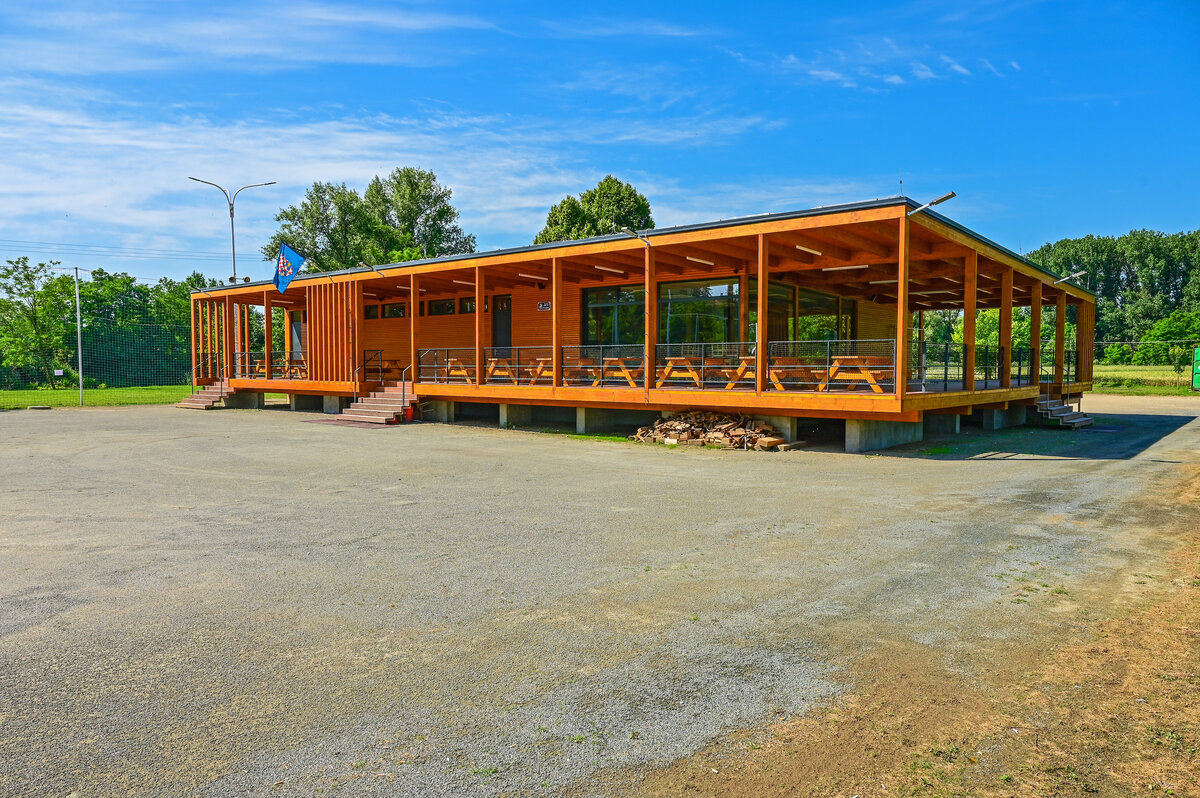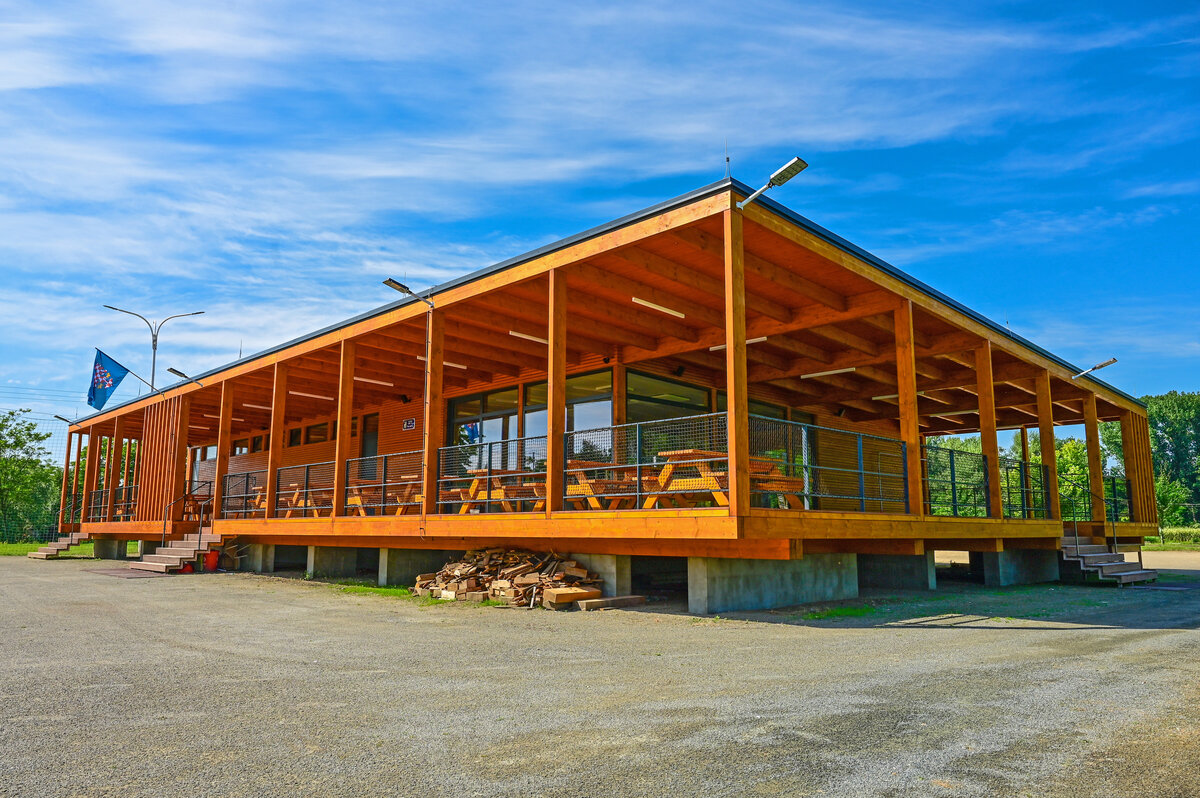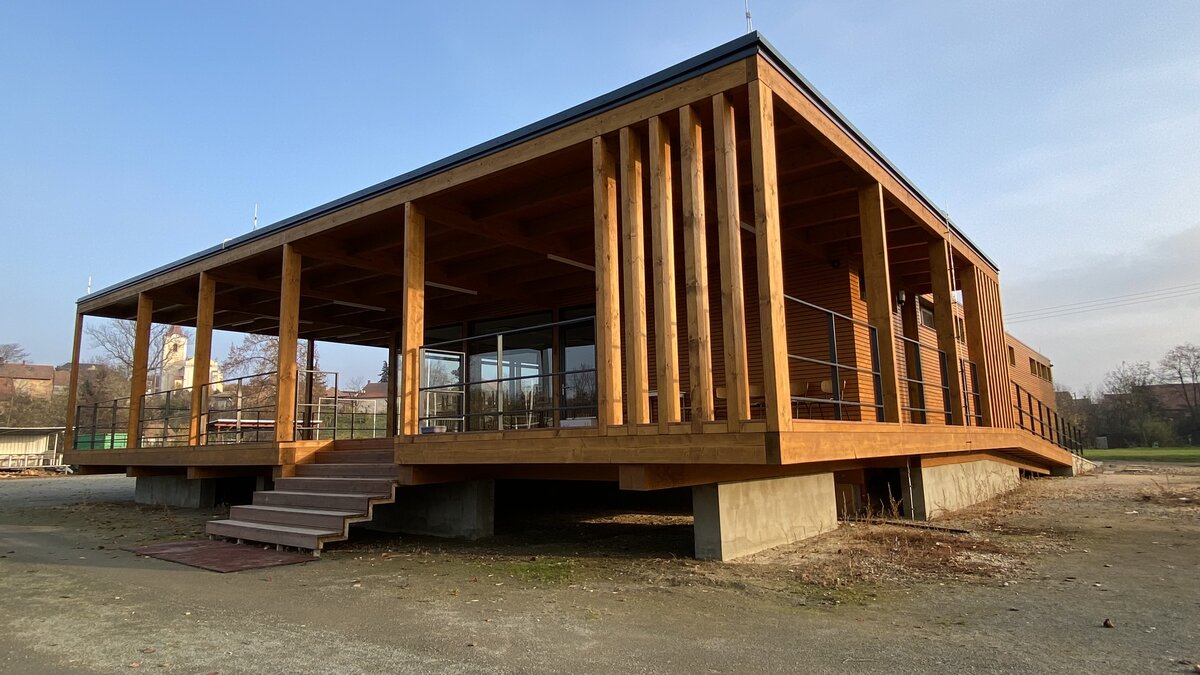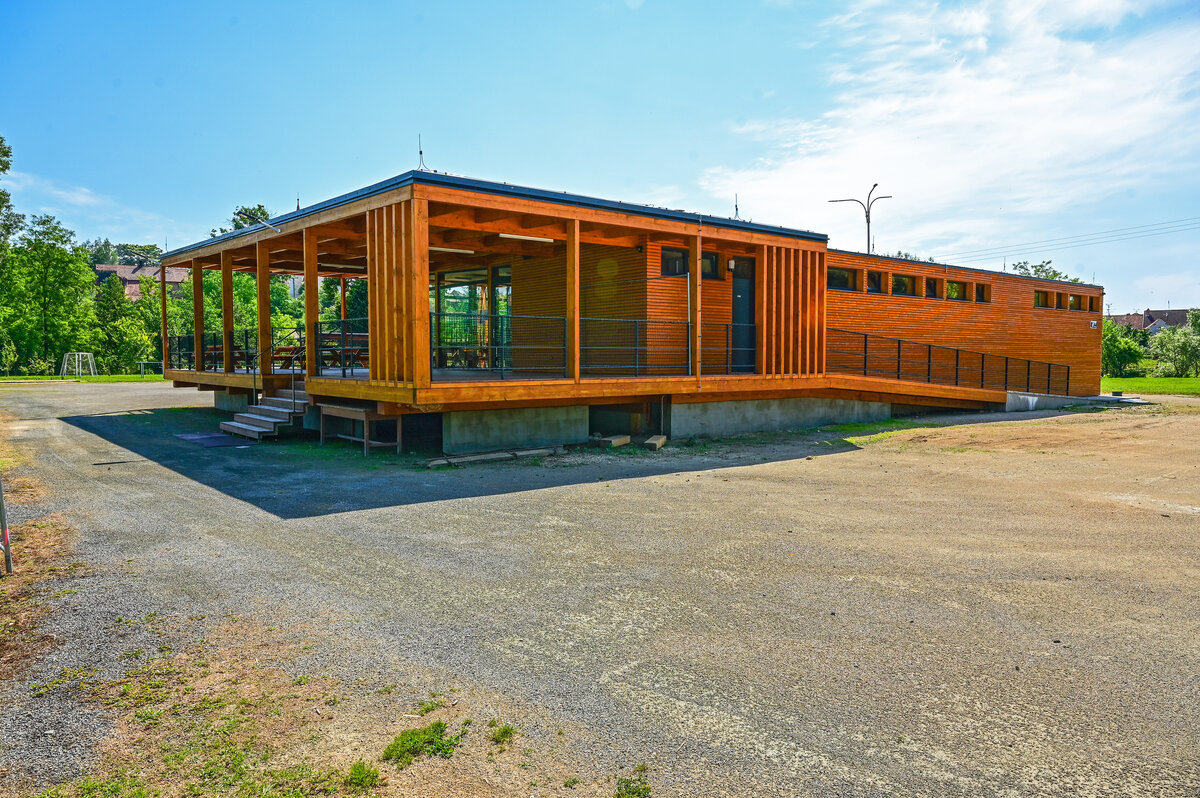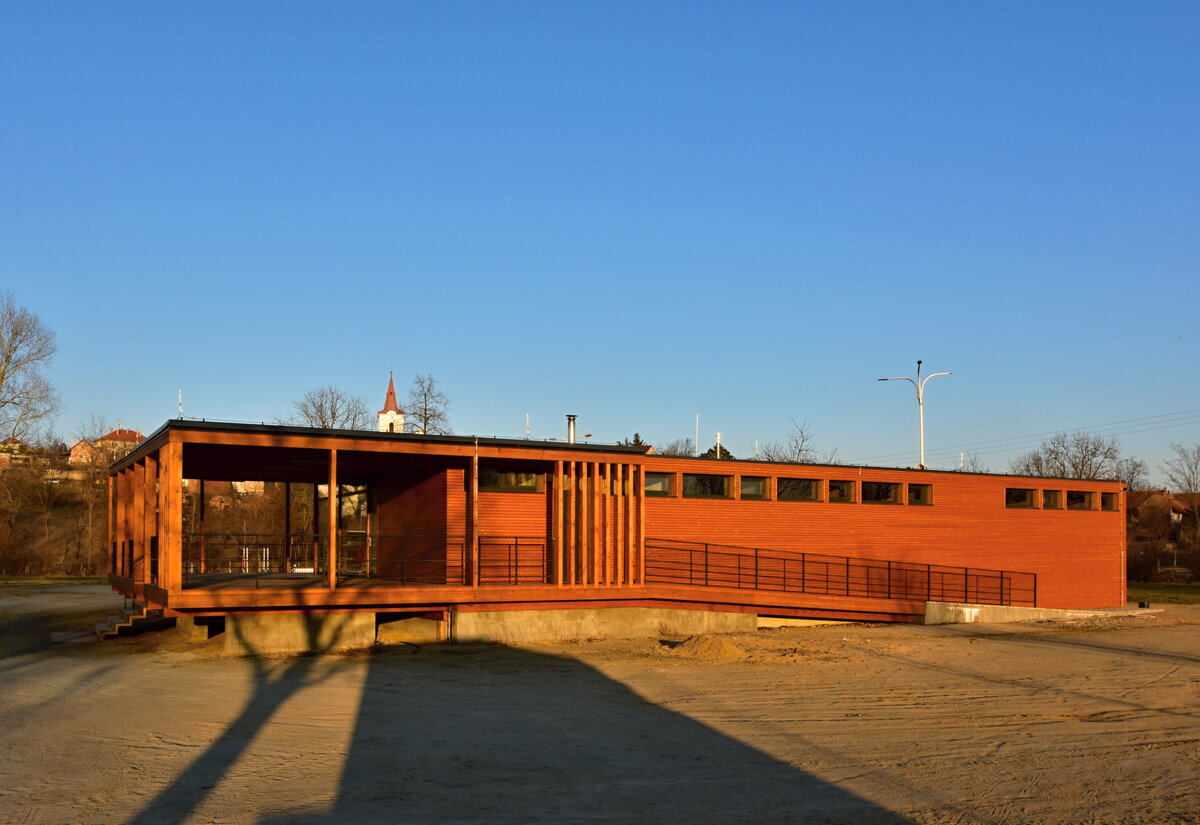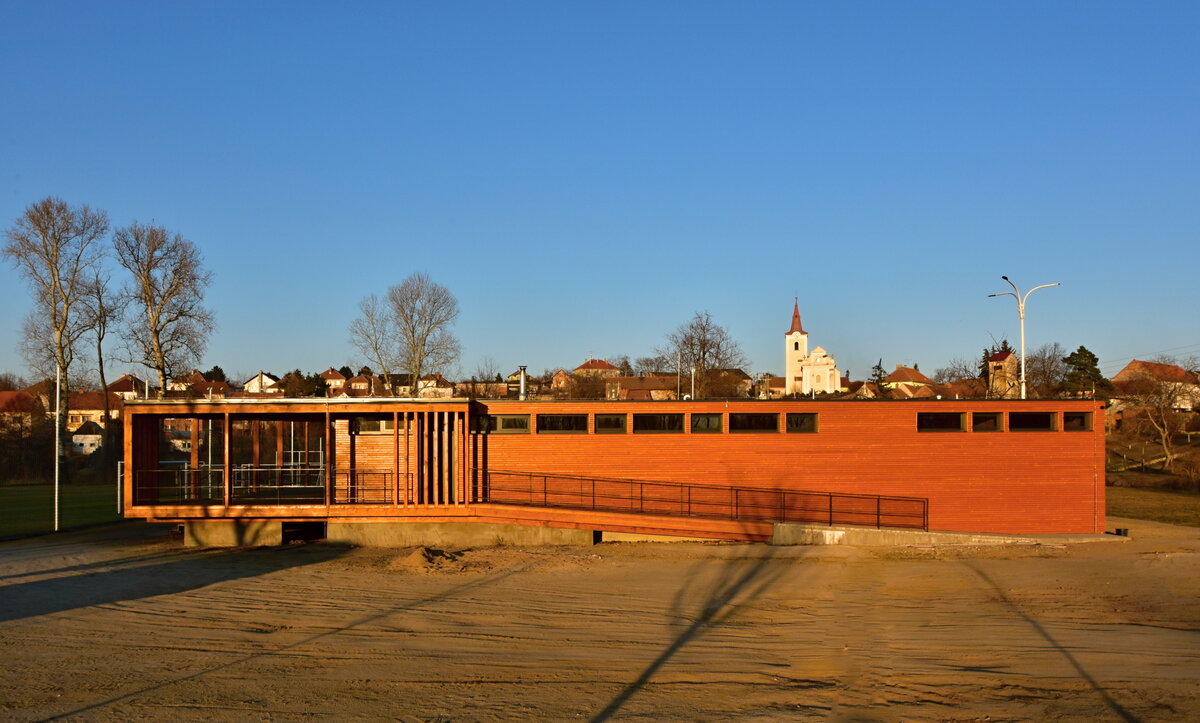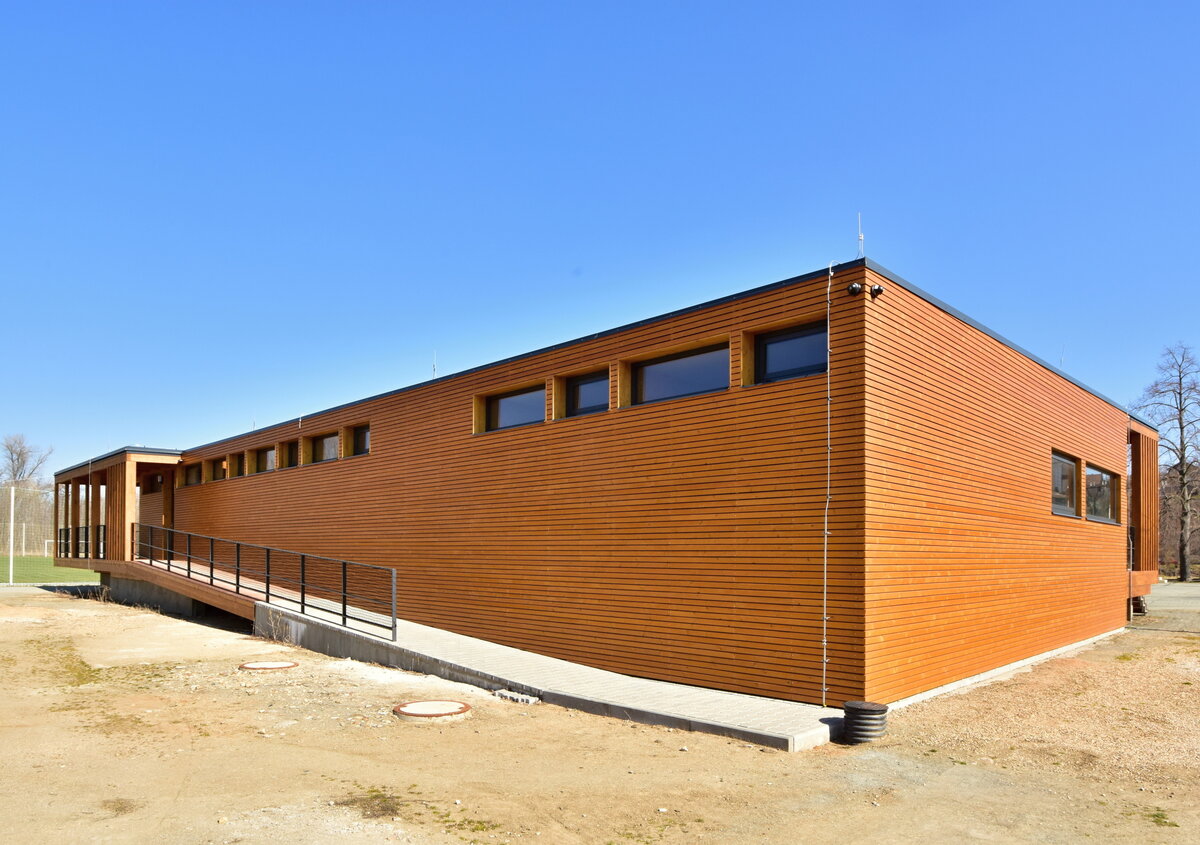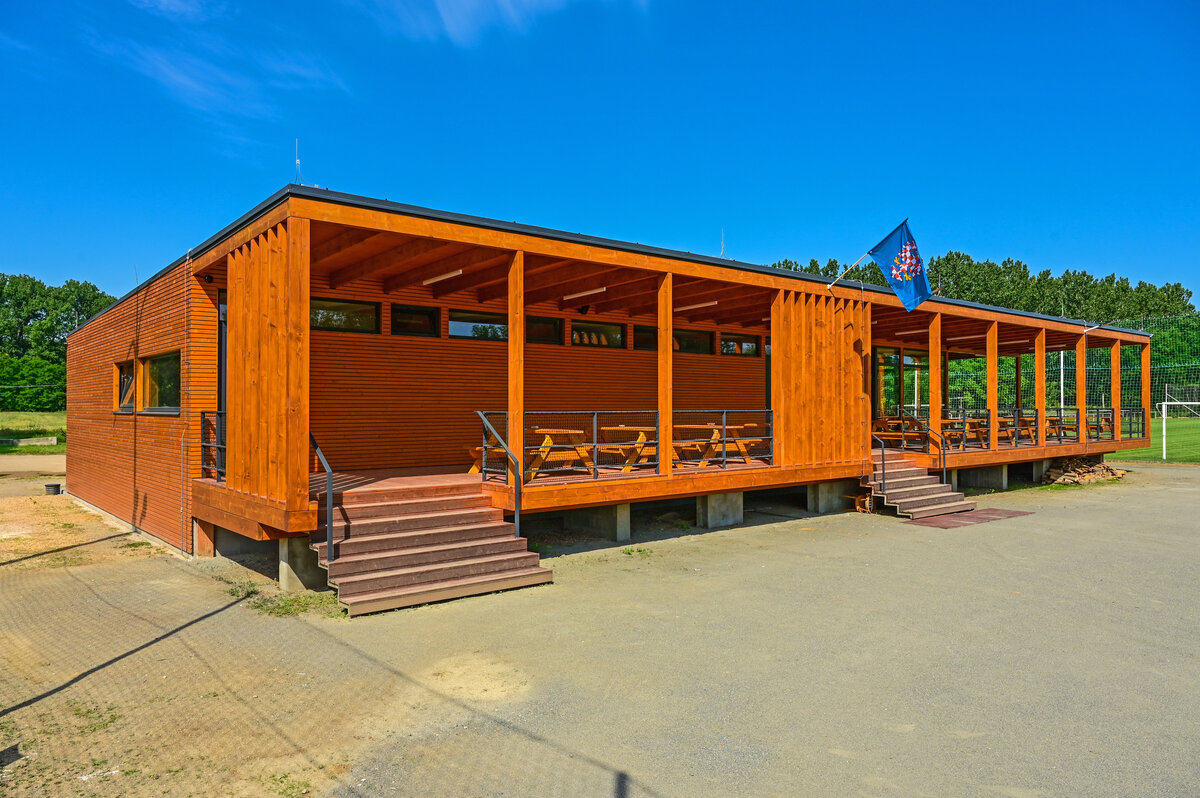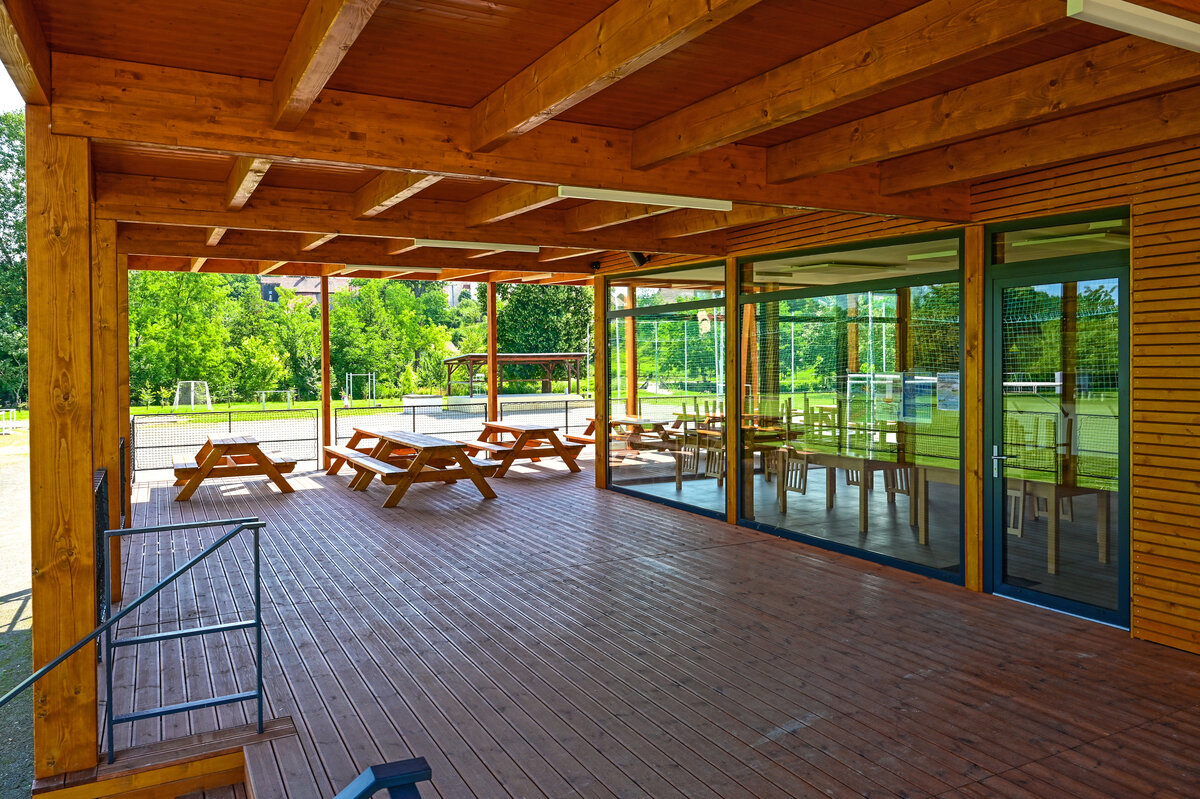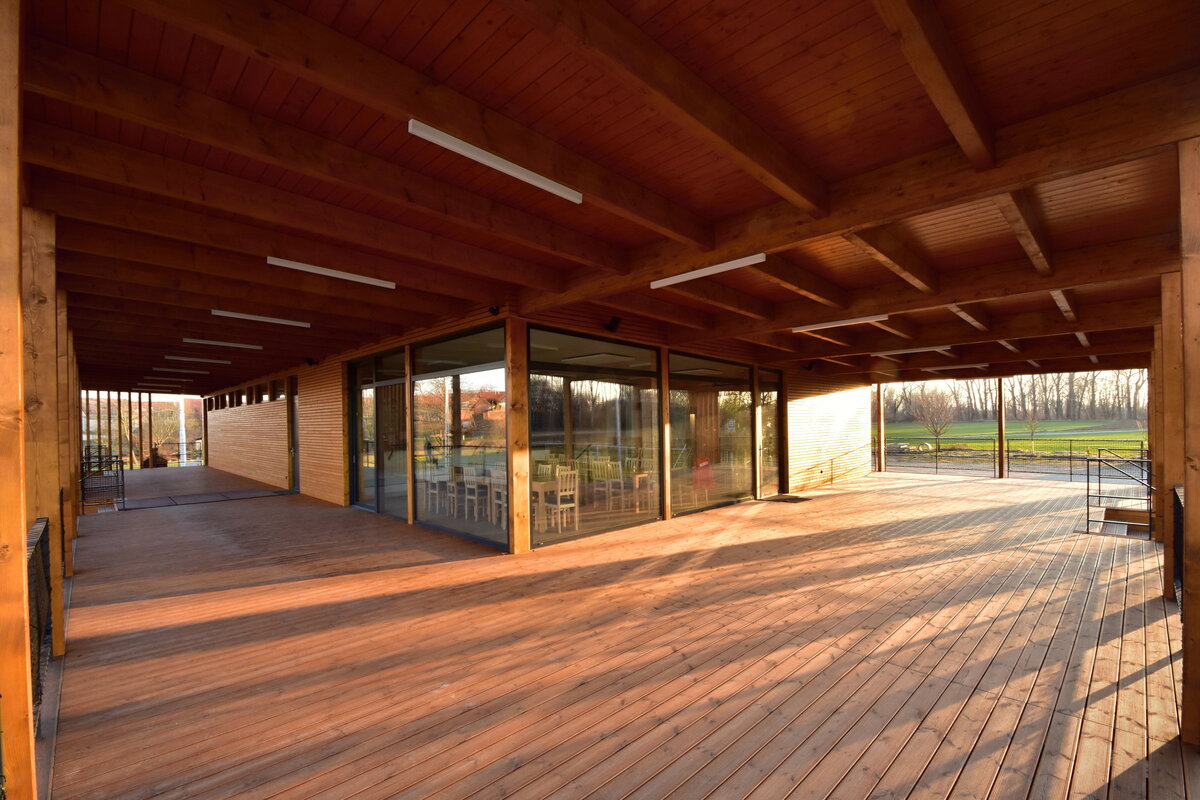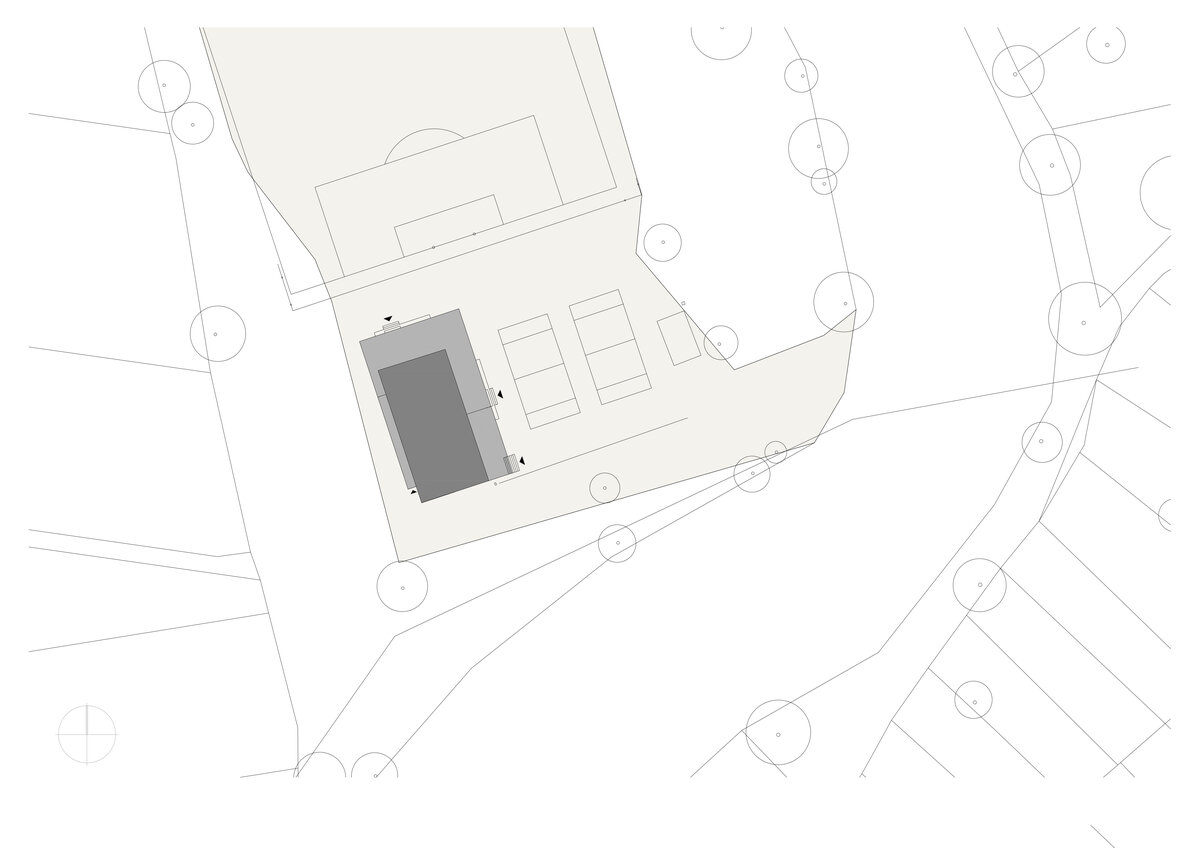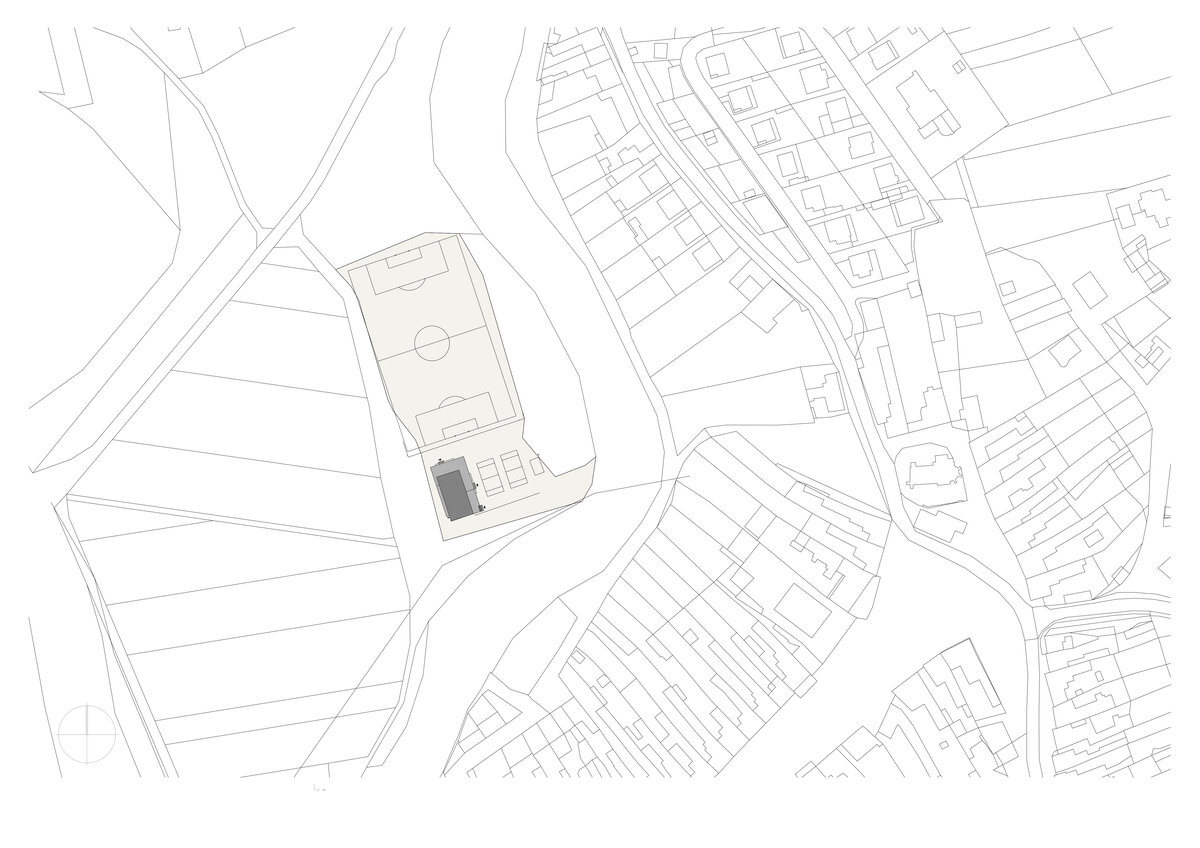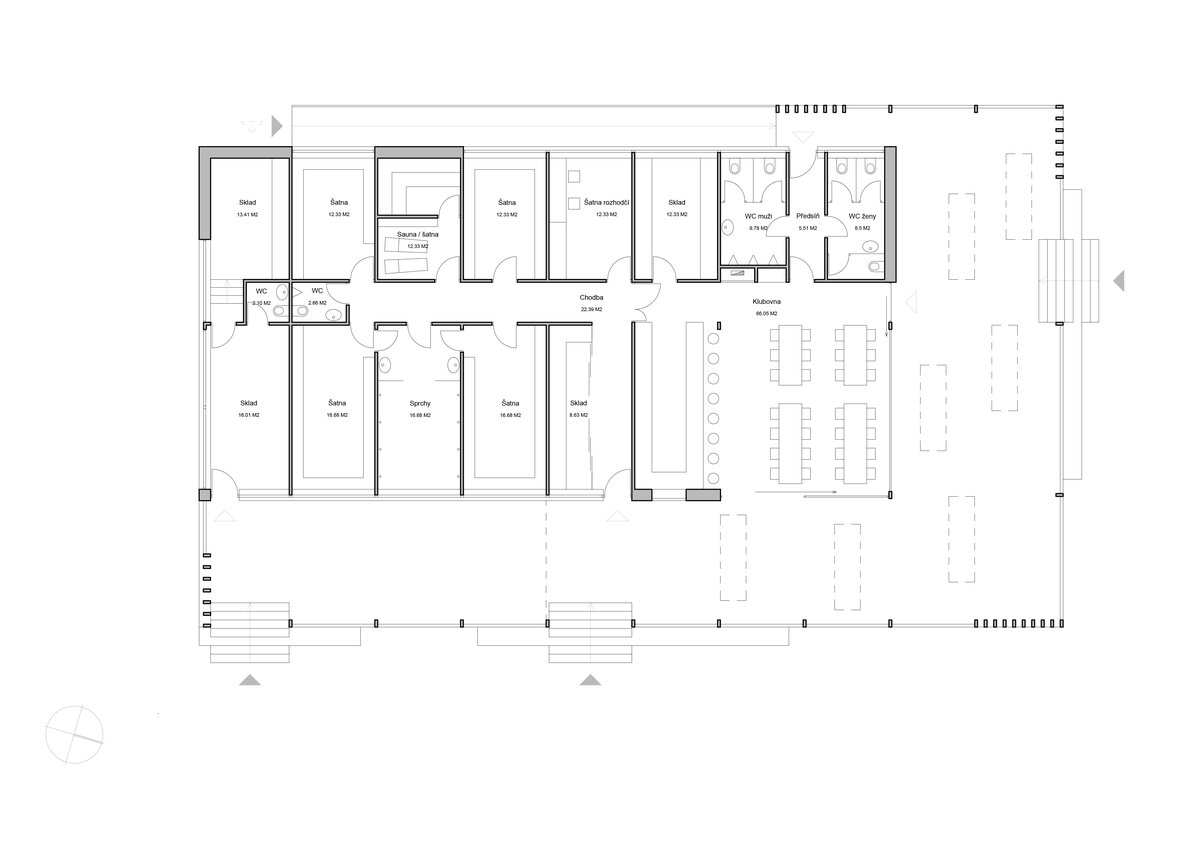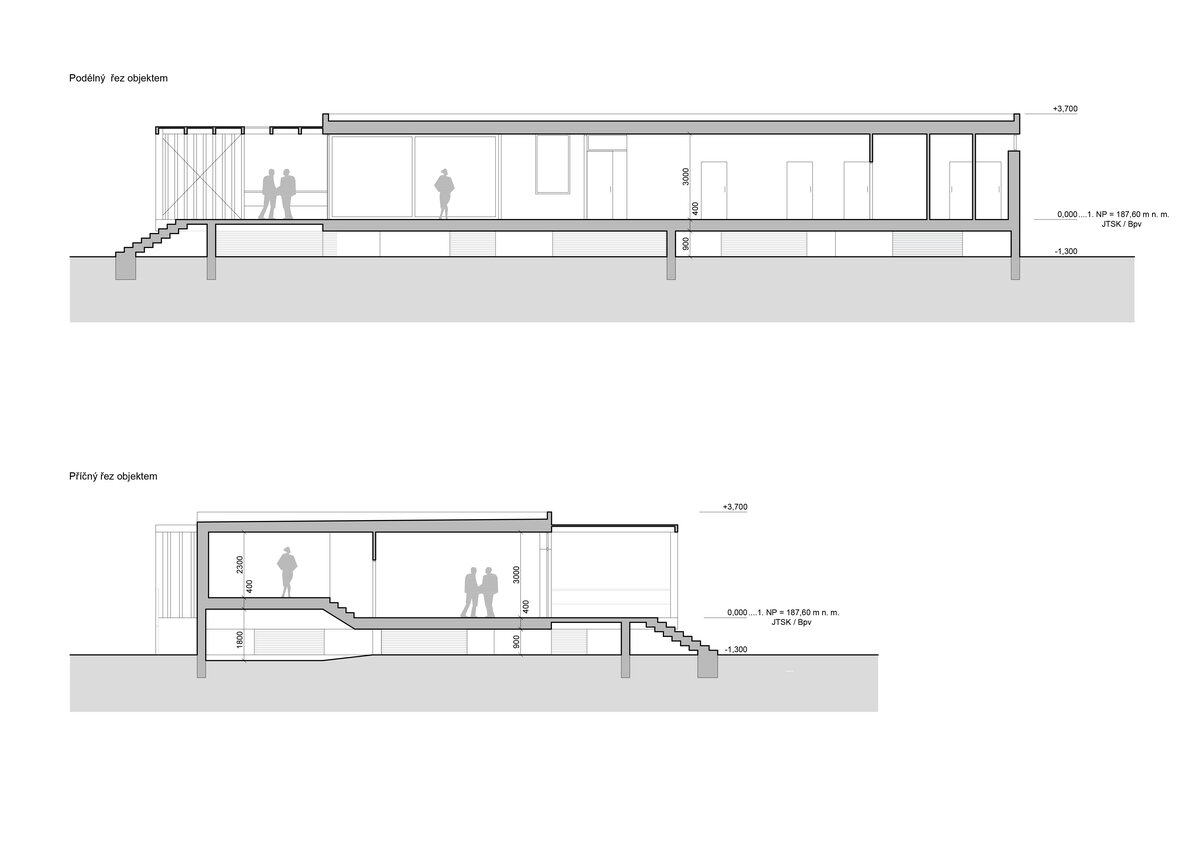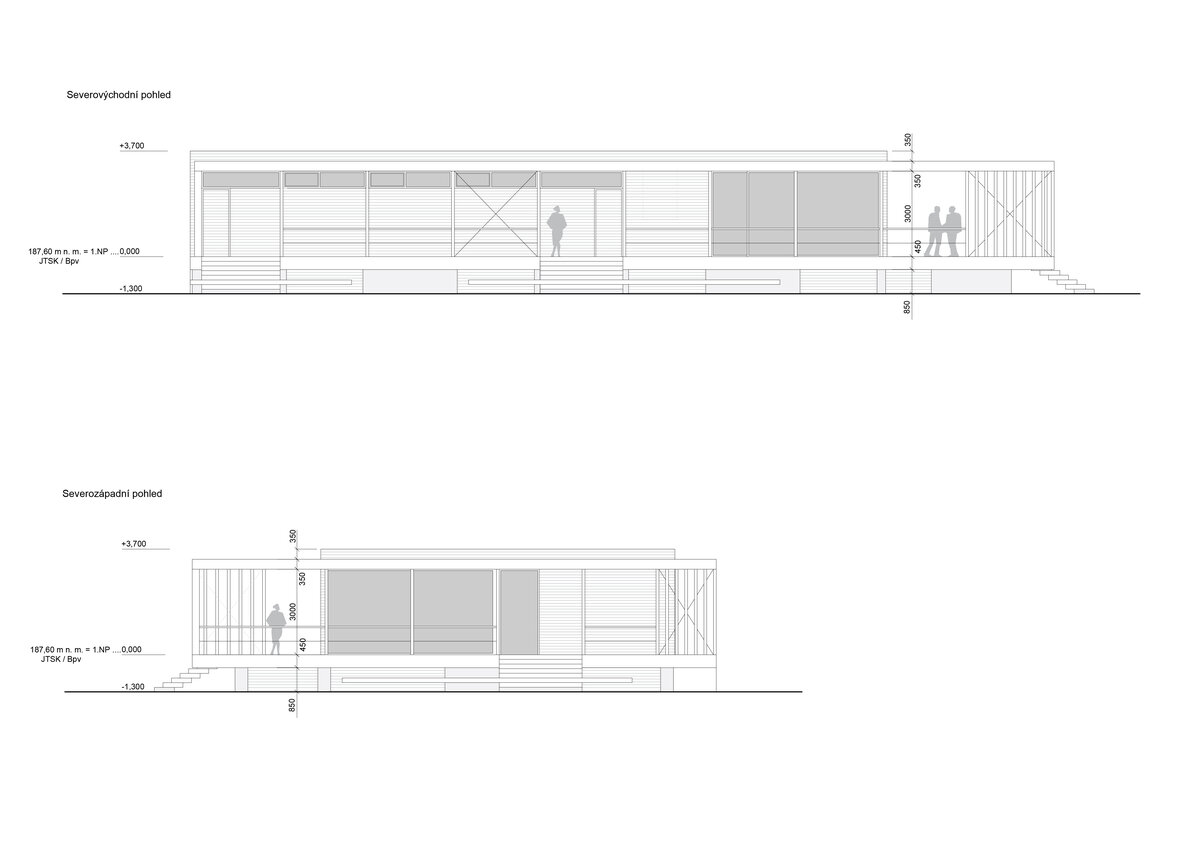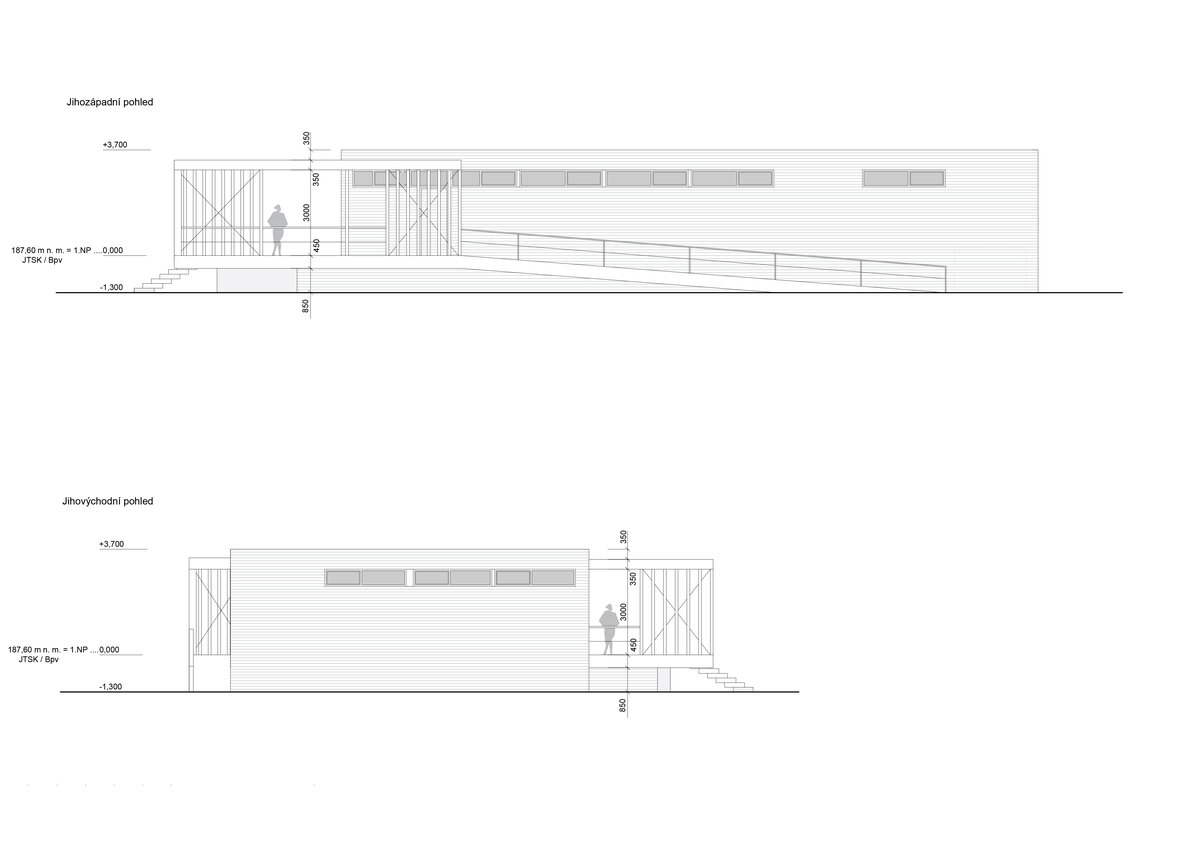 | | |
| --- | --- |
| Author | Ing. arch. Vladimír Kozumplík / atelier b9 s.r.o. |
| Studio | |
| Location | Medlov 321, 66466 Medlov |
| Investor | Městys Medlov, Medlov 52, 664 66 Medlov |
| Supplier | Robert Menšík, Medlov 177, 664 66 Medlov |
| Date of project approval | February 2022 |
| Fotograf | |
The building is situated in the territory of Medlov, west of the village, near a football field, between the Jihlava and its blind stream branch. The aim was to create a facility that would serve the needs of local athletes and residents who regularly gather for football matches.
The building is located at the southern end of the site, opens out onto the pitch and allows the possibility to host cultural events. It is designed as a single-storey cubic mass with a flat roof overhang and a covered outdoor terrace, elevated above the ground due to flood risk.
There are 3 operational parts, all of which can access the spacious terrace. The first part is overseeing the pitch and consists of the athletes' clubhouse with kitchen facilities and toilets accessible from both inside and outside. The central part accessible from the main corridor is used for athletes' changing rooms and includes showers, toilets, equipment storage and sauna. The last part consists of 2 storage rooms and a toilet.
The lounge area is connected to the outdoor terrace by tall windows. Sanitary facilities and storerooms are illuminated by narrow strip windows placed under the ceiling.
The design of the terrace roof helps to keep shade in the interior spaces. The terrace is flanked by a regular module of wooden columns. In several areas, it is enlivened by a thickened column grid and complemented by an unobtrusive steel railing.
The load-bearing structure of the building is designed as a heavy-framed wood construction. Wind bracing is formed by steel rods. Horizontal elements of the supporting structure are pulled out of the building and form the terrace. The structure is based on reinforced concrete footings and strips of lost formwork.
Roofing comprises of a flat single-skin roof. Predominant material is wood. It is used for the terrace as well as the cladding of the facade, which is made of larch battens.
A ramp at the western facade provides wheelchair access.
Green building
Environmental certification
| | |
| --- | --- |
| Type and level of certificate | - |
Water management
| | |
| --- | --- |
| Is rainwater used for irrigation? | |
| Is rainwater used for other purposes, e.g. toilet flushing ? | |
| Does the building have a green roof / facade ? | |
| Is reclaimed waste water used, e.g. from showers and sinks ? | |
The quality of the indoor environment
| | |
| --- | --- |
| Is clean air supply automated ? | |
| Is comfortable temperature during summer and winter automated? | |
| Is natural lighting guaranteed in all living areas? | |
| Is artificial lighting automated? | |
| Is acoustic comfort, specifically reverberation time, guaranteed? | |
| Does the layout solution include zoning and ergonomics elements? | |
Principles of circular economics
| | |
| --- | --- |
| Does the project use recycled materials? | |
| Does the project use recyclable materials? | |
| Are materials with a documented Environmental Product Declaration (EPD) promoted in the project? | |
| Are other sustainability certifications used for materials and elements? | |
Energy efficiency
| | |
| --- | --- |
| Energy performance class of the building according to the Energy Performance Certificate of the building | C |
| Is efficient energy management (measurement and regular analysis of consumption data) considered? | |
| Are renewable sources of energy used, e.g. solar system, photovoltaics? | |
Interconnection with surroundings
| | |
| --- | --- |
| Does the project enable the easy use of public transport? | |
| Does the project support the use of alternative modes of transport, e.g cycling, walking etc. ? | |
| Is there access to recreational natural areas, e.g. parks, in the immediate vicinity of the building? | |