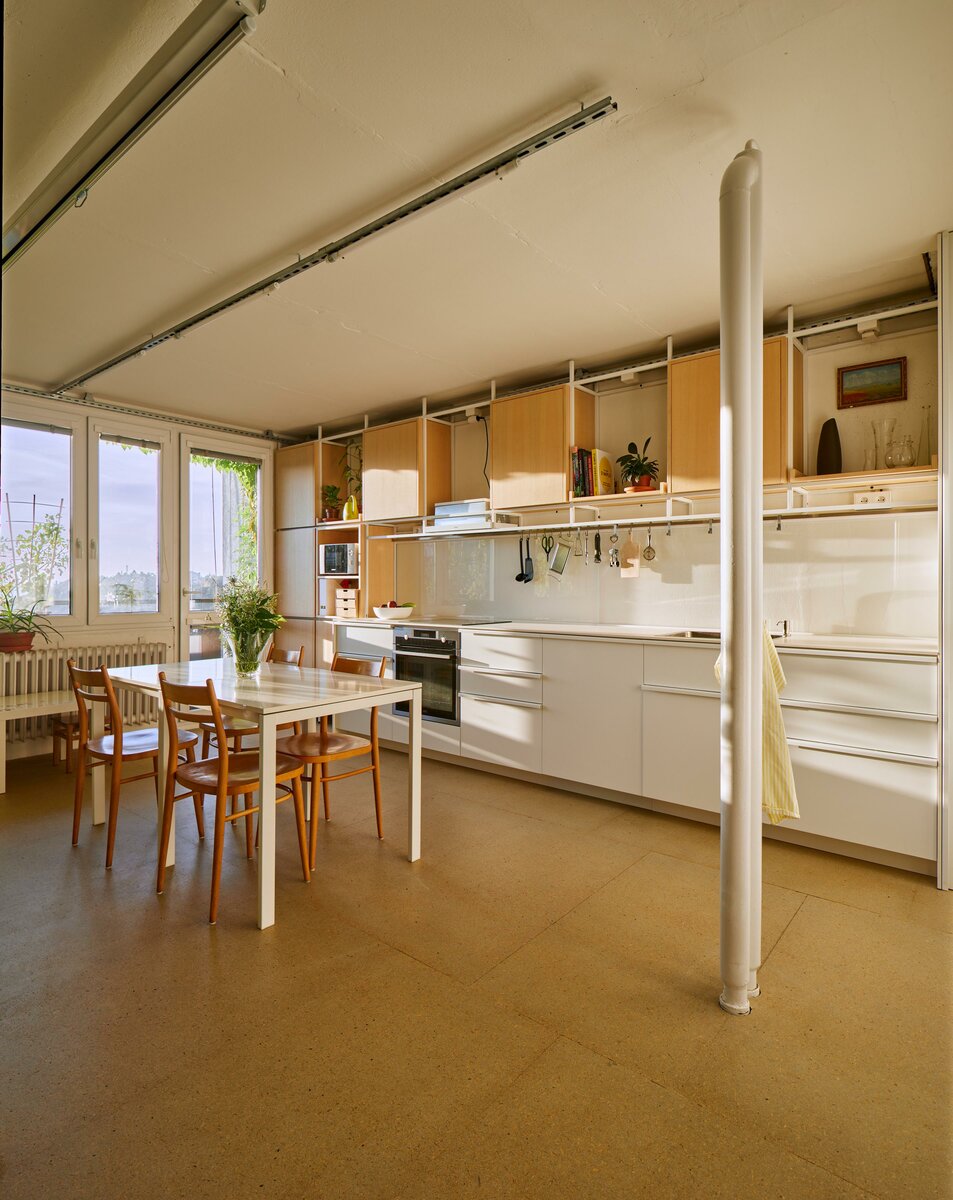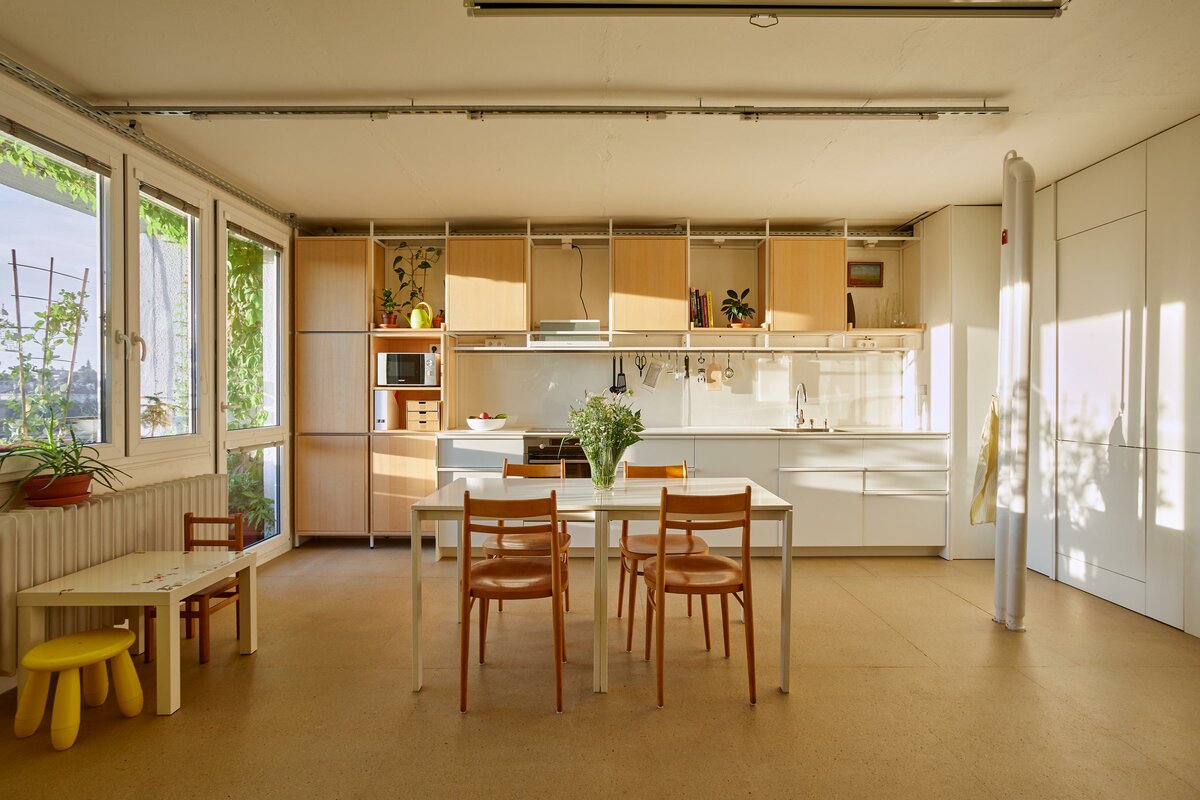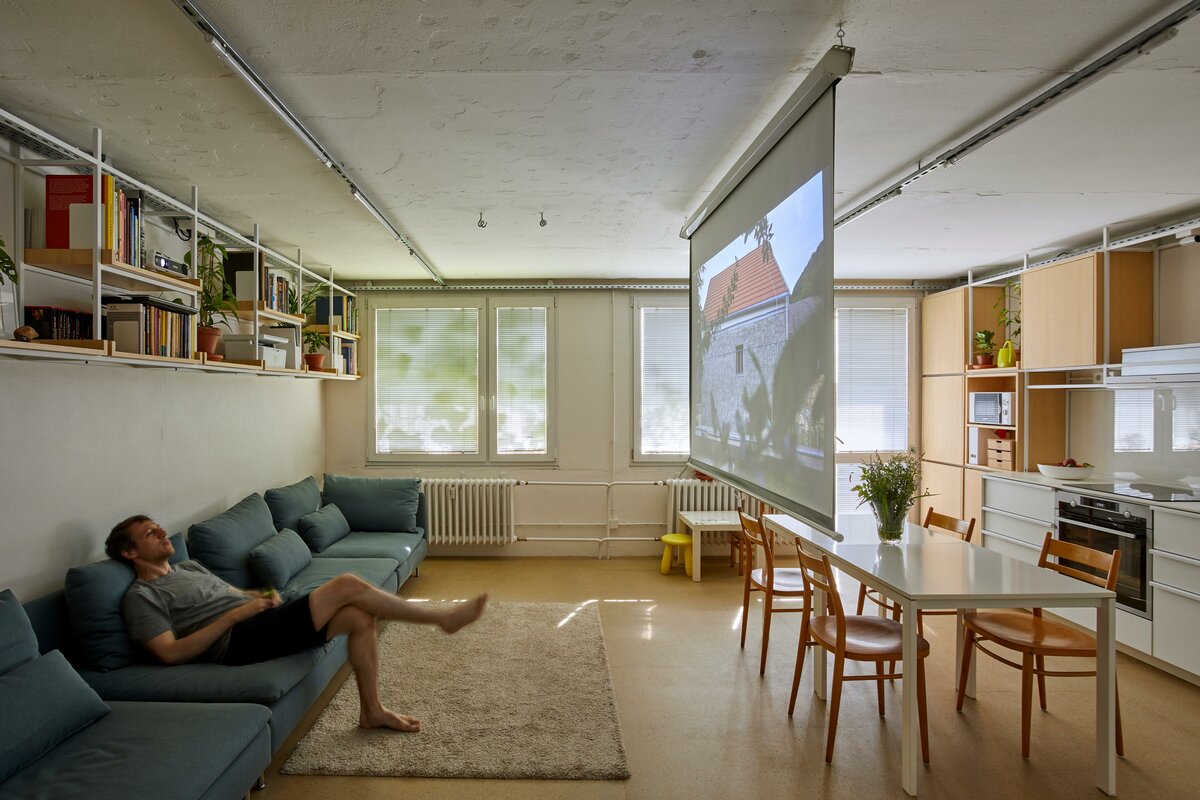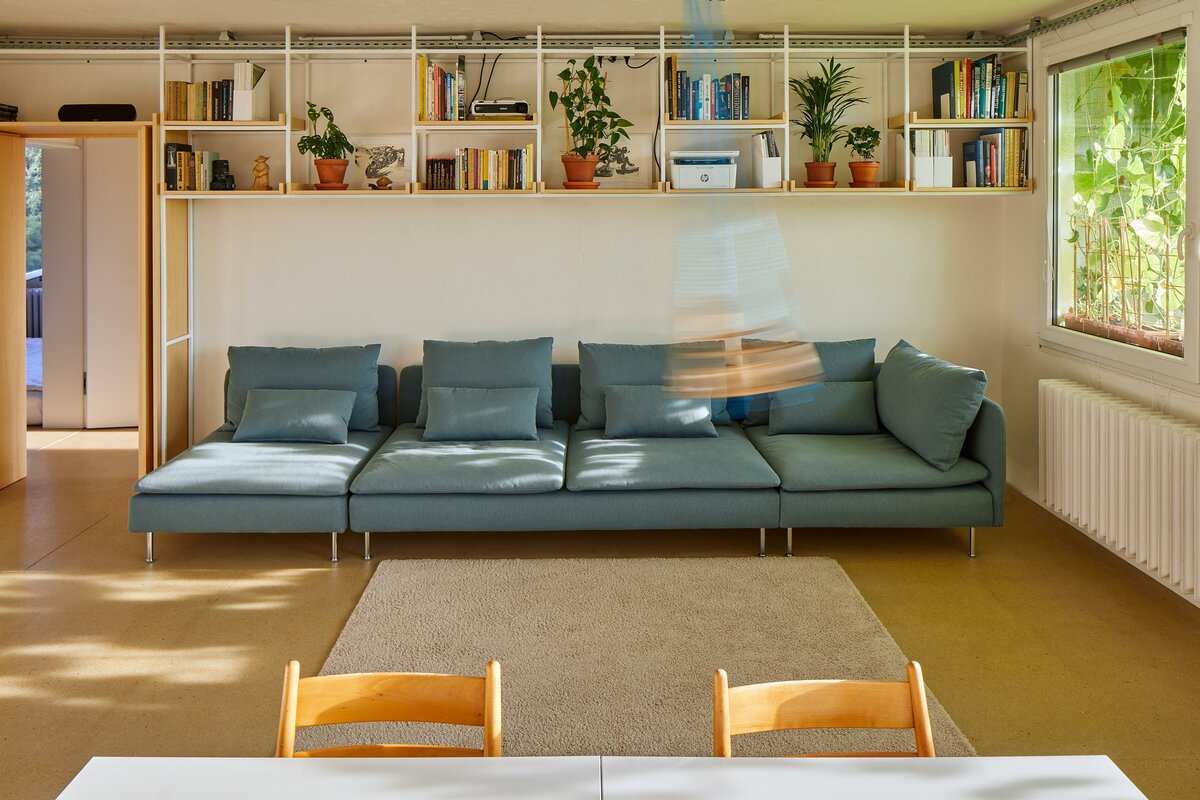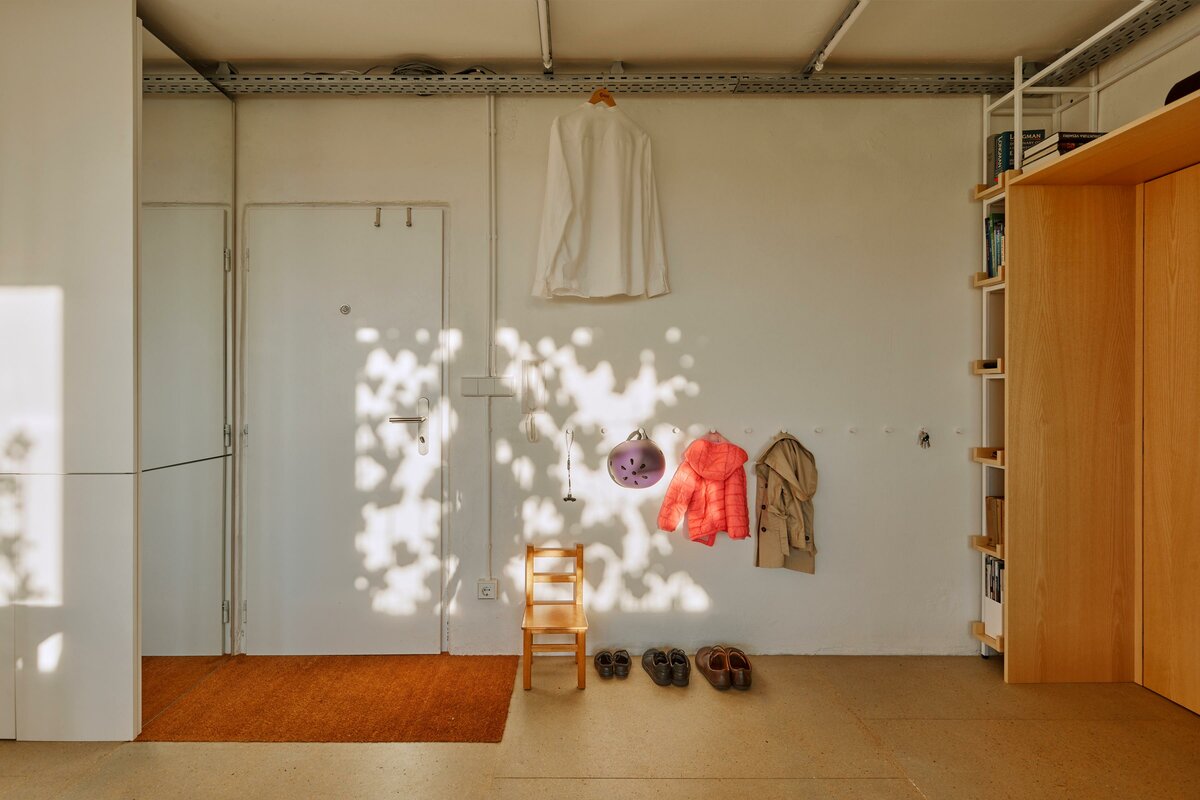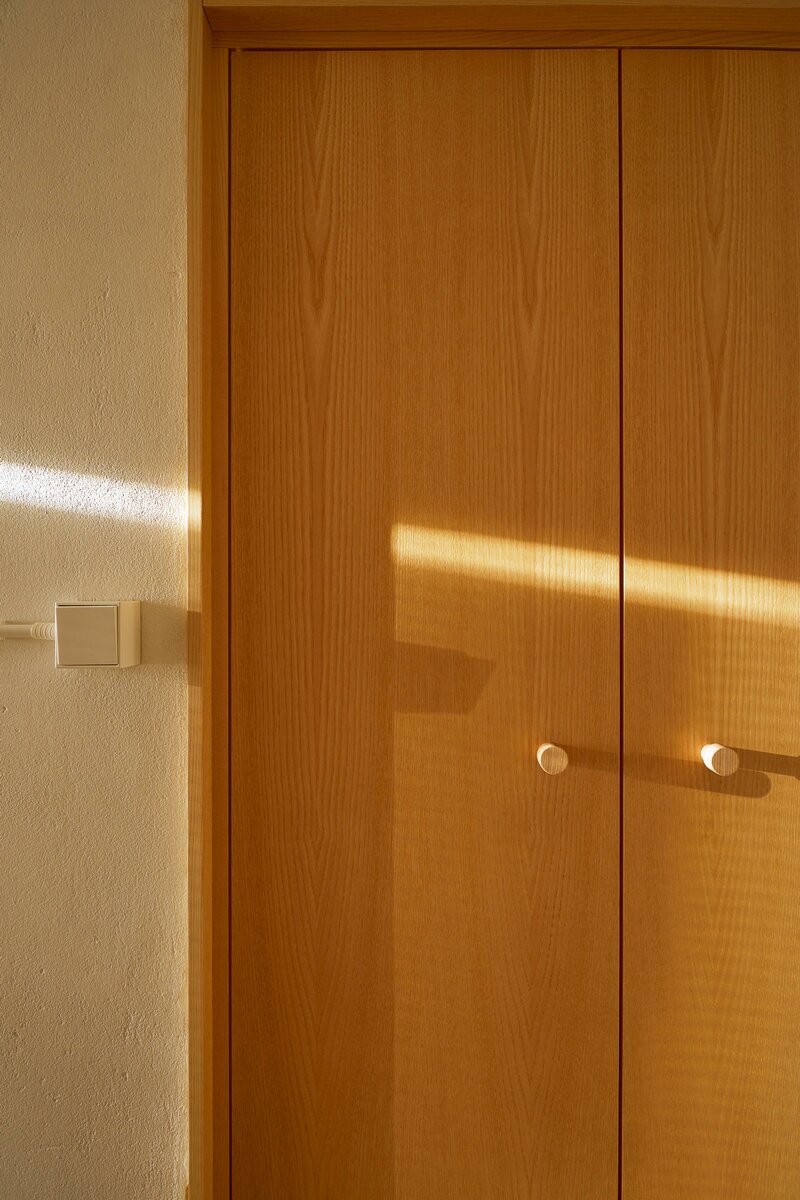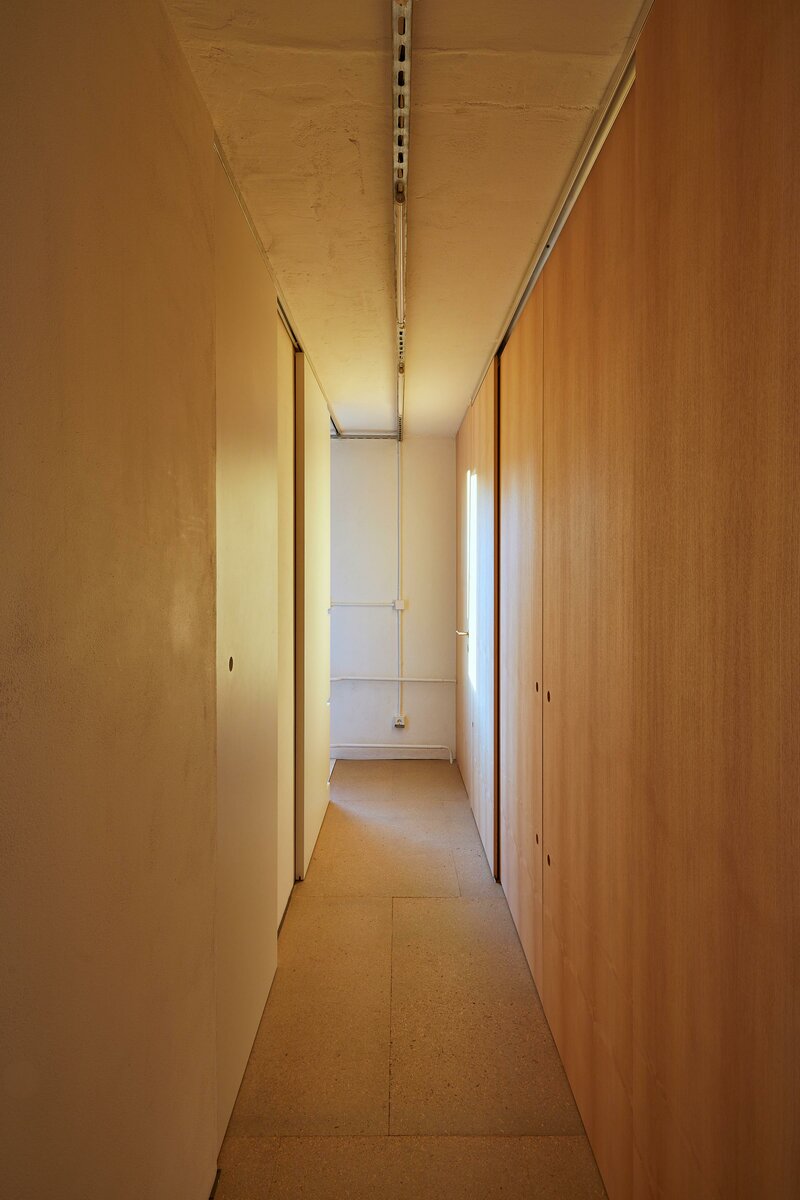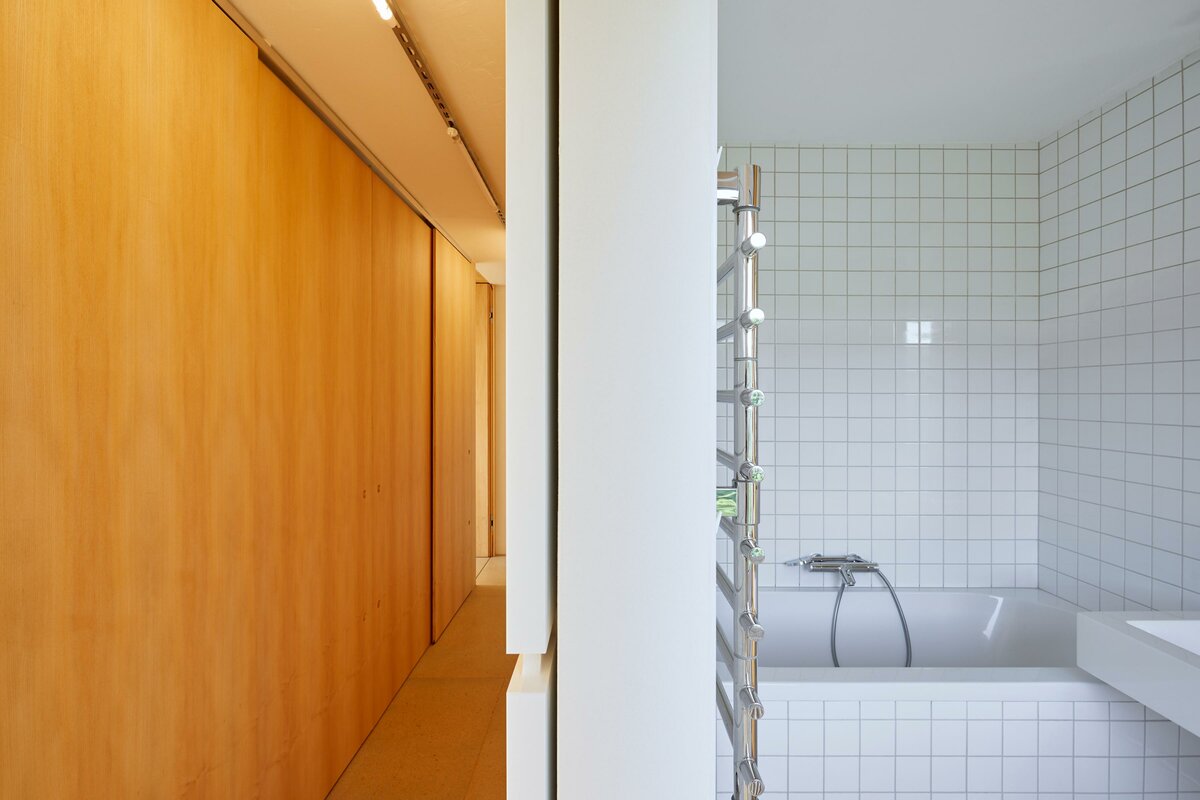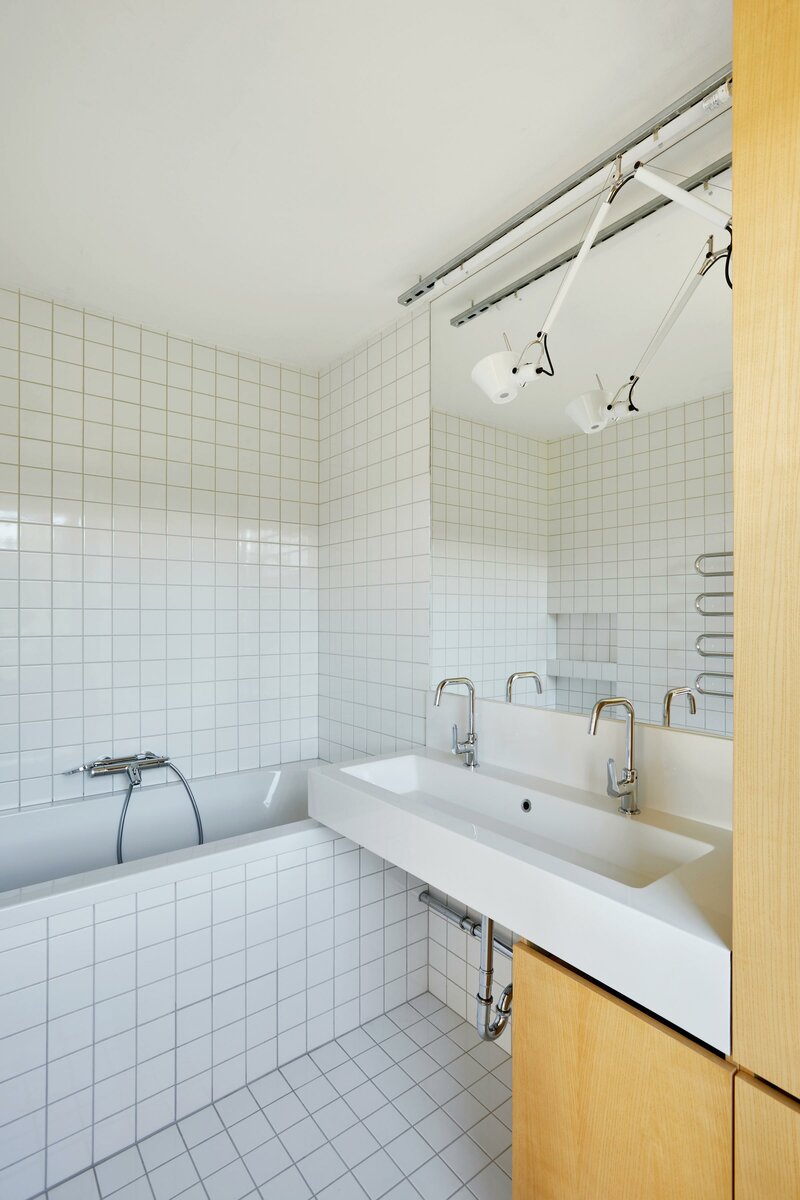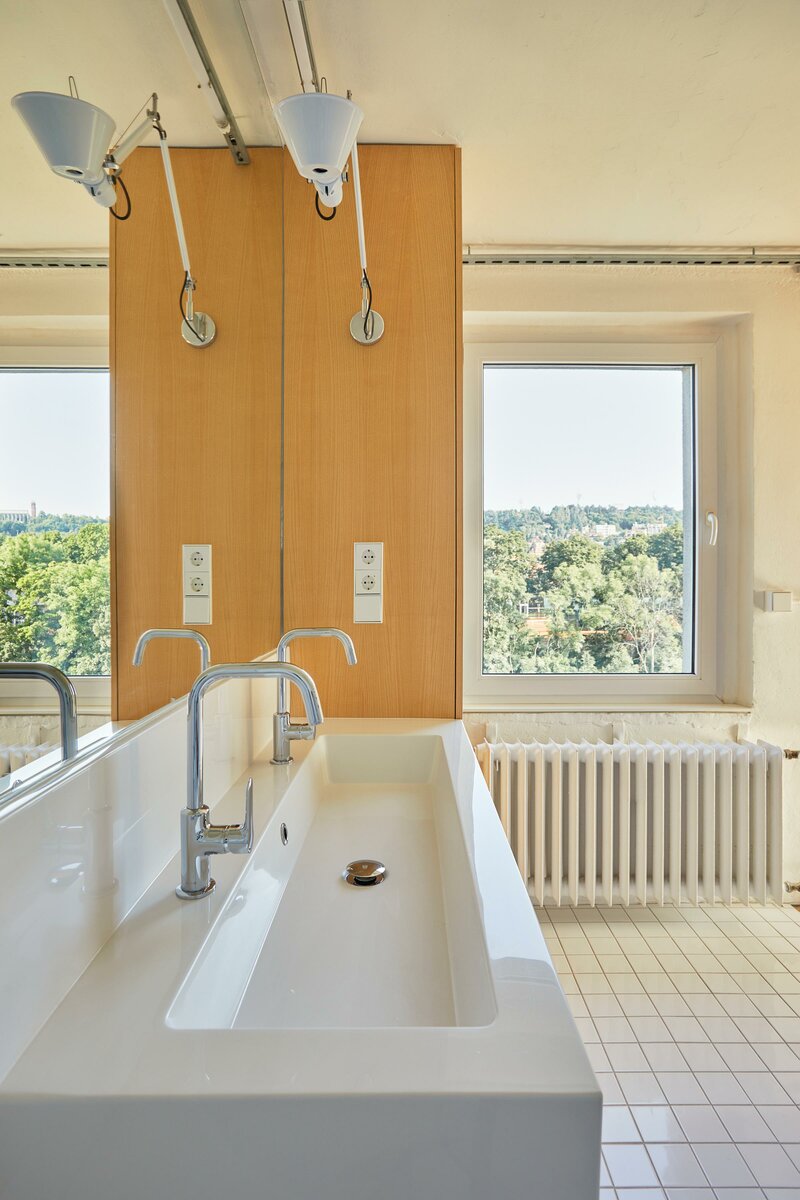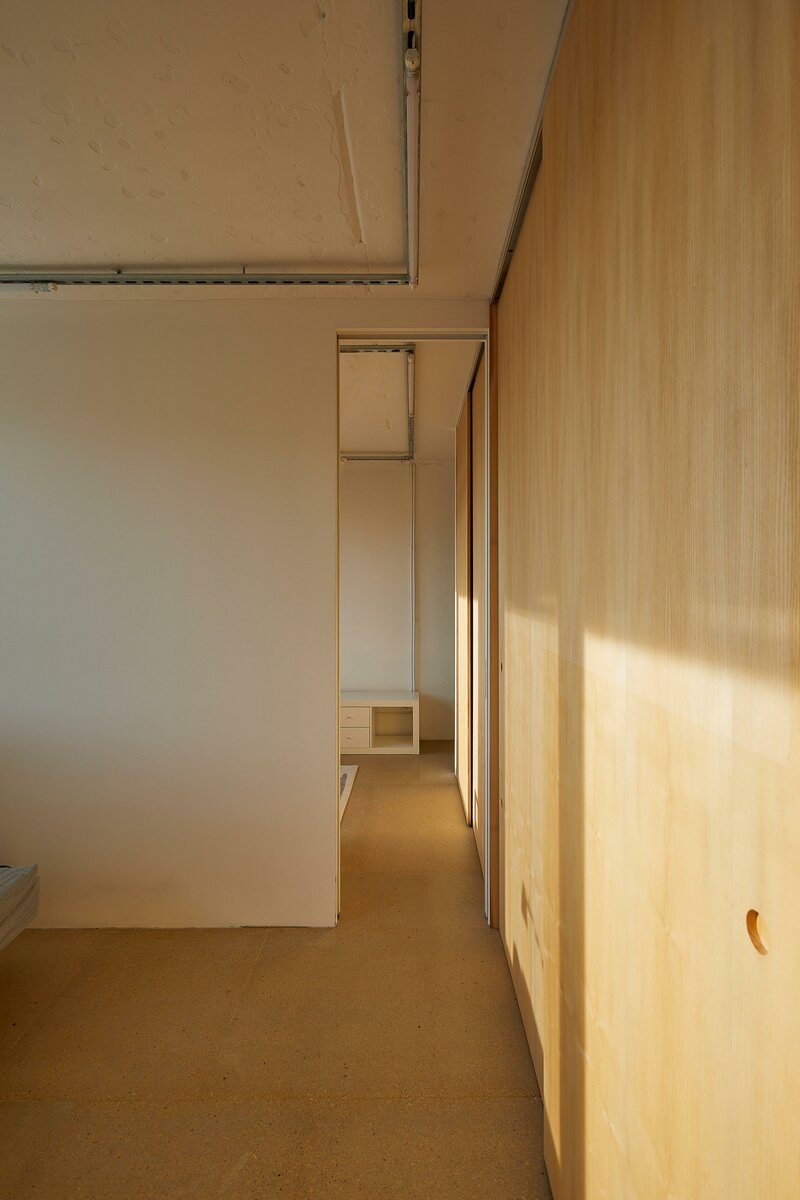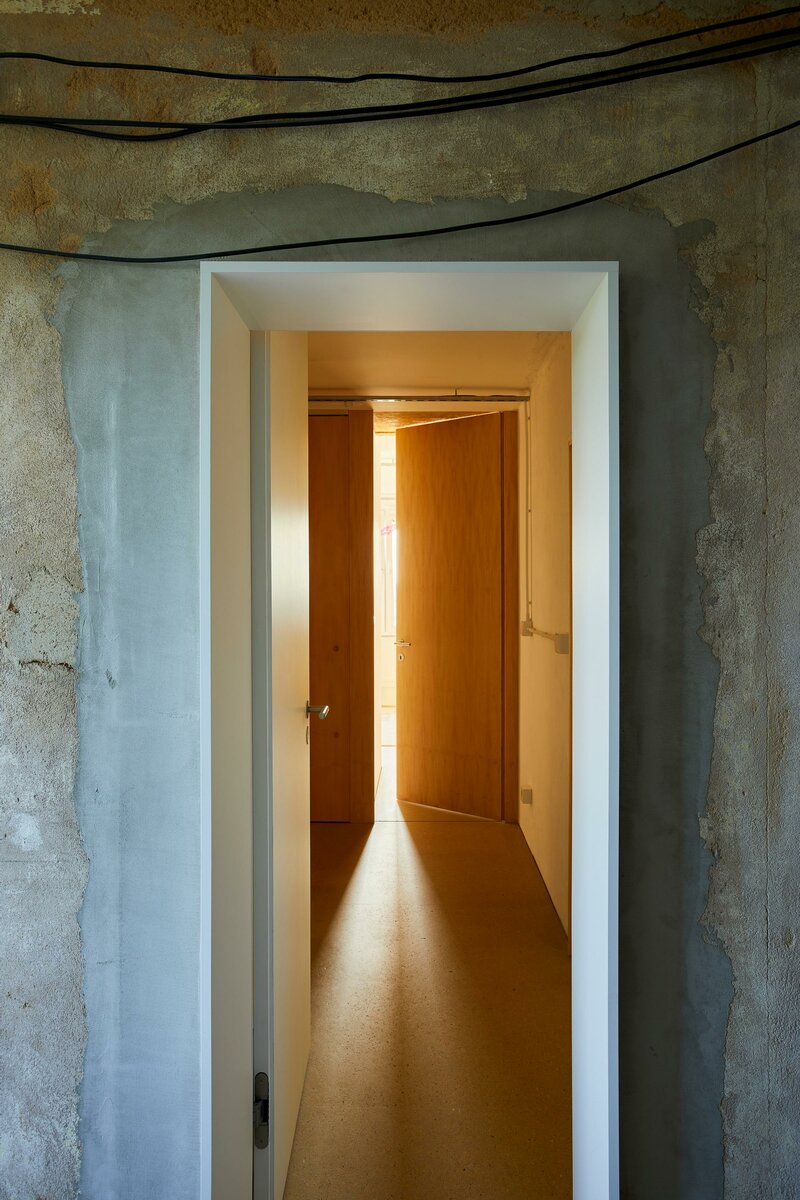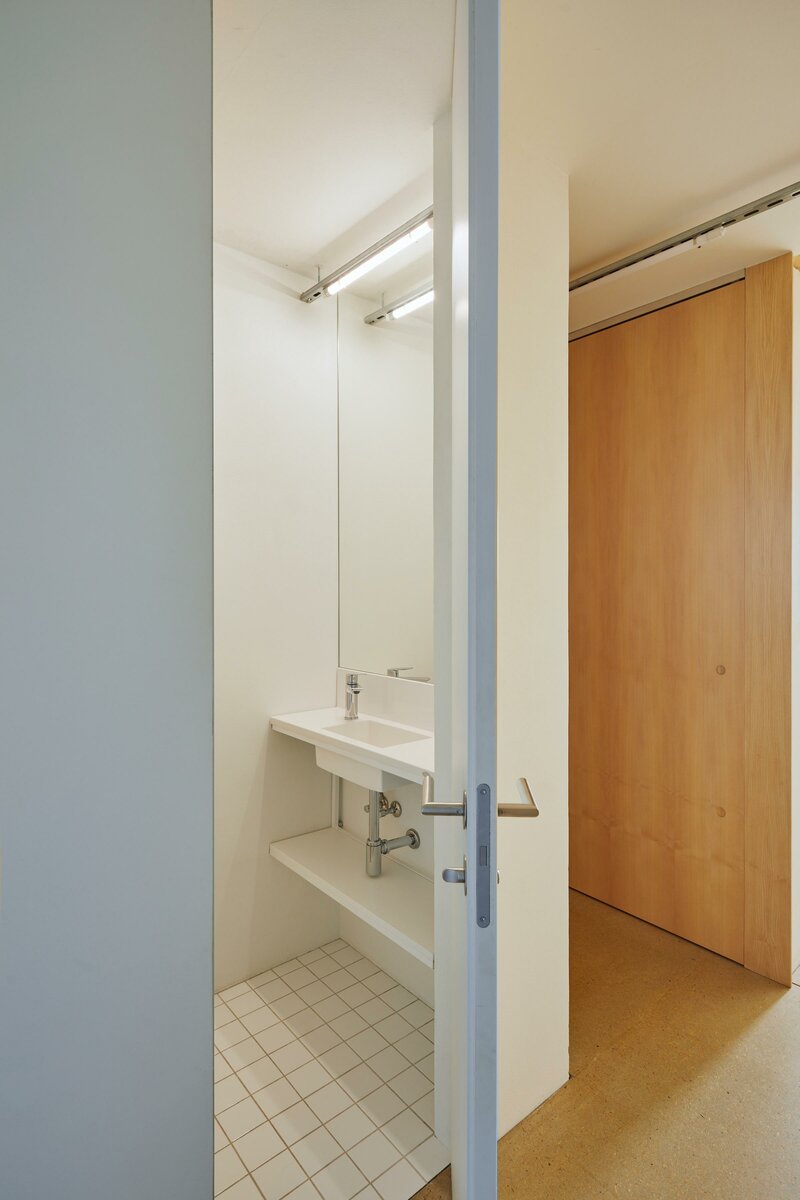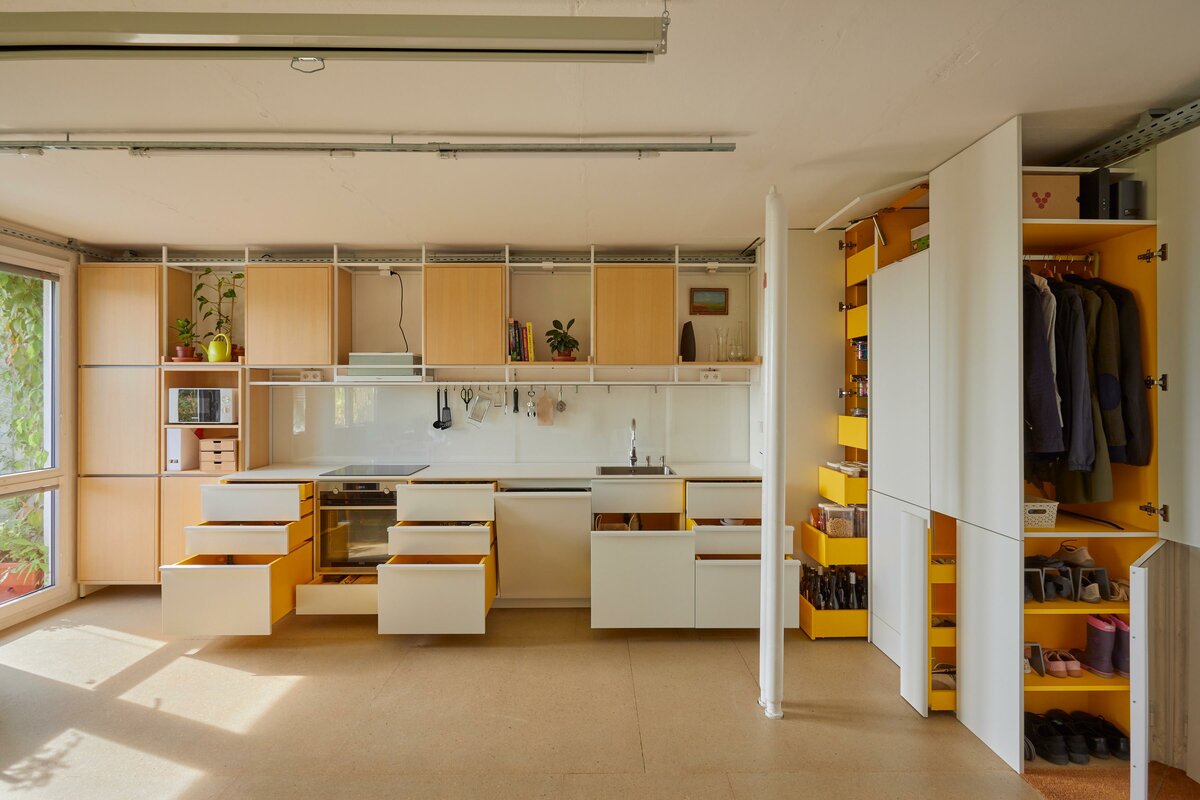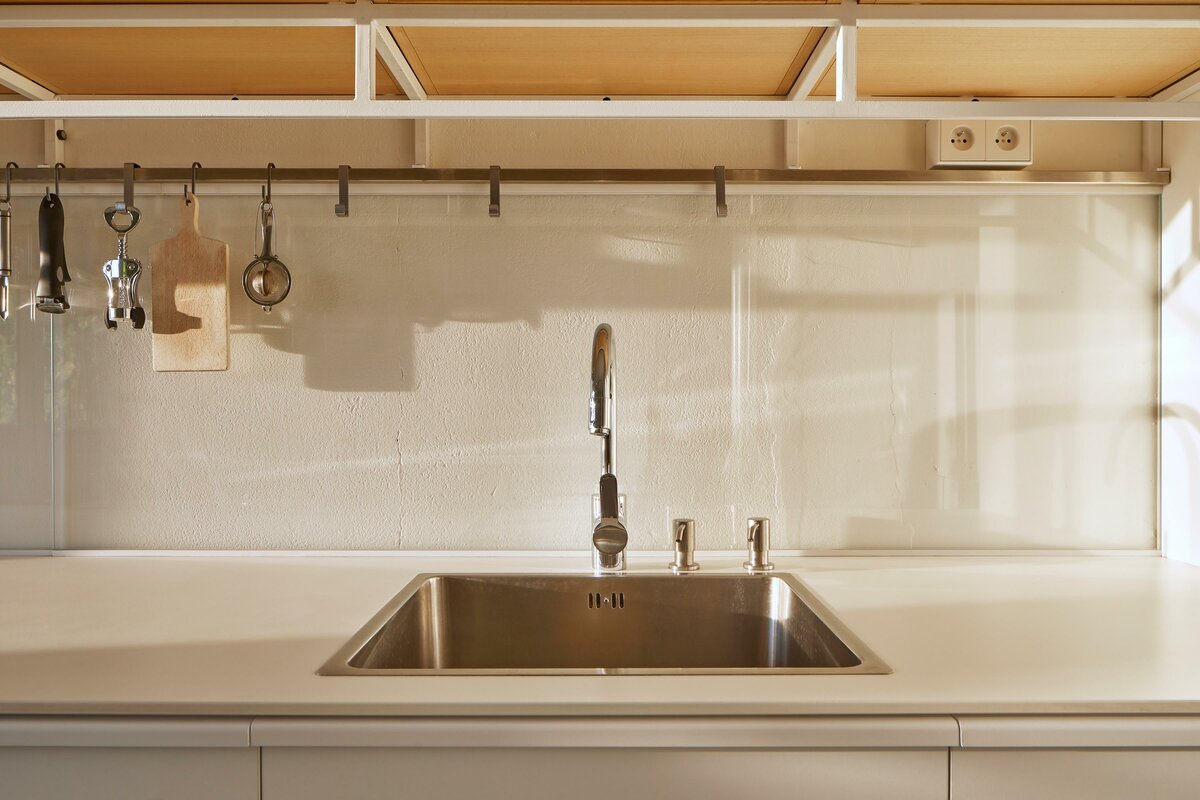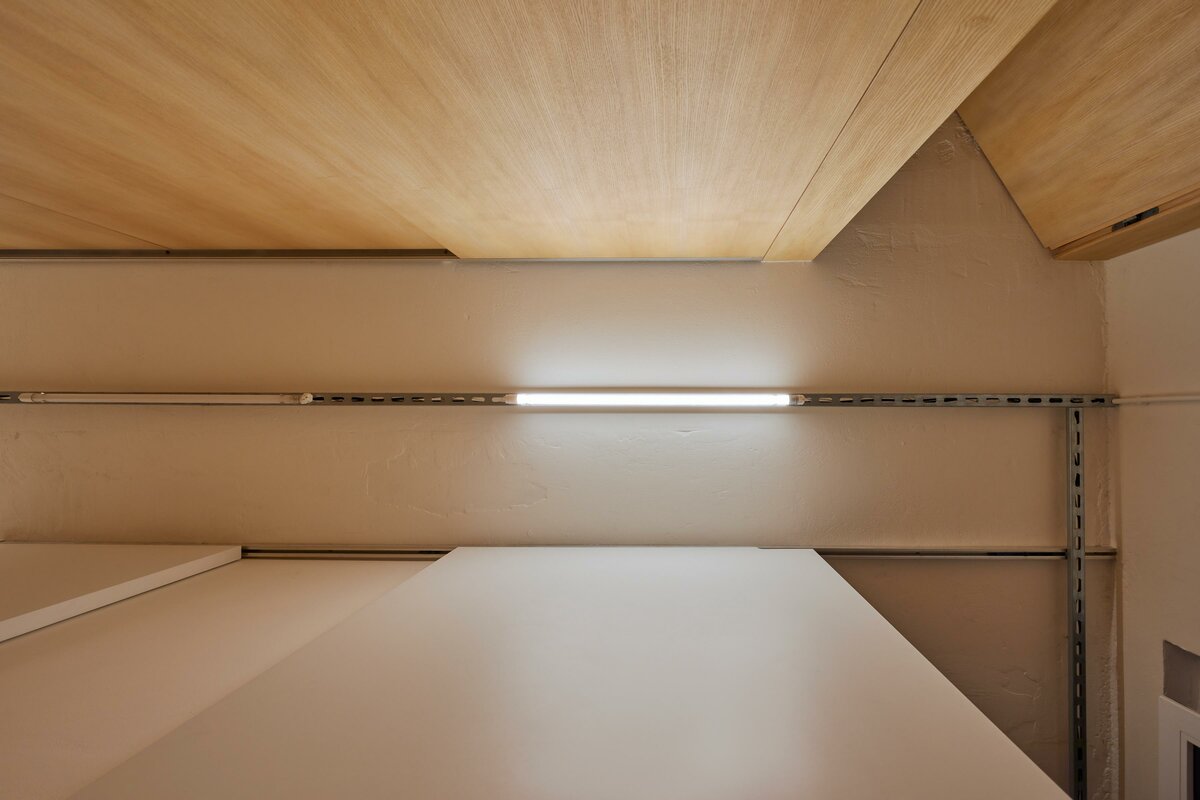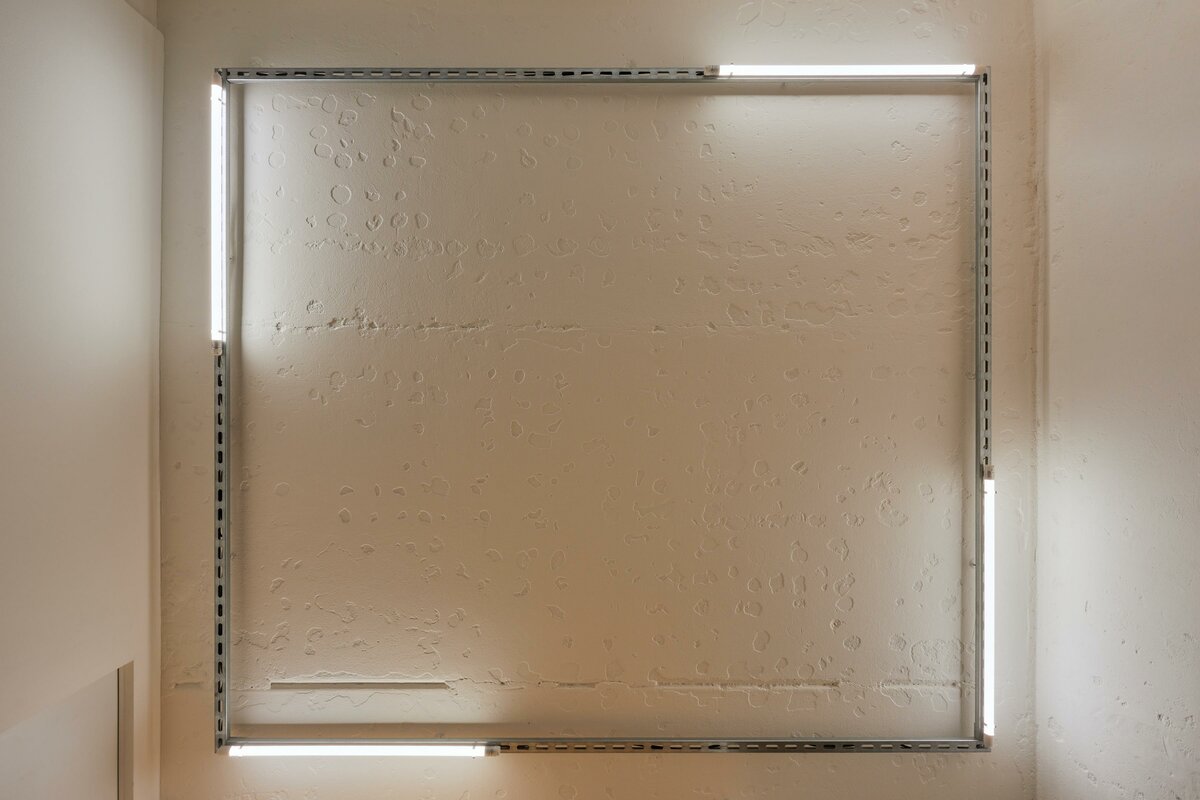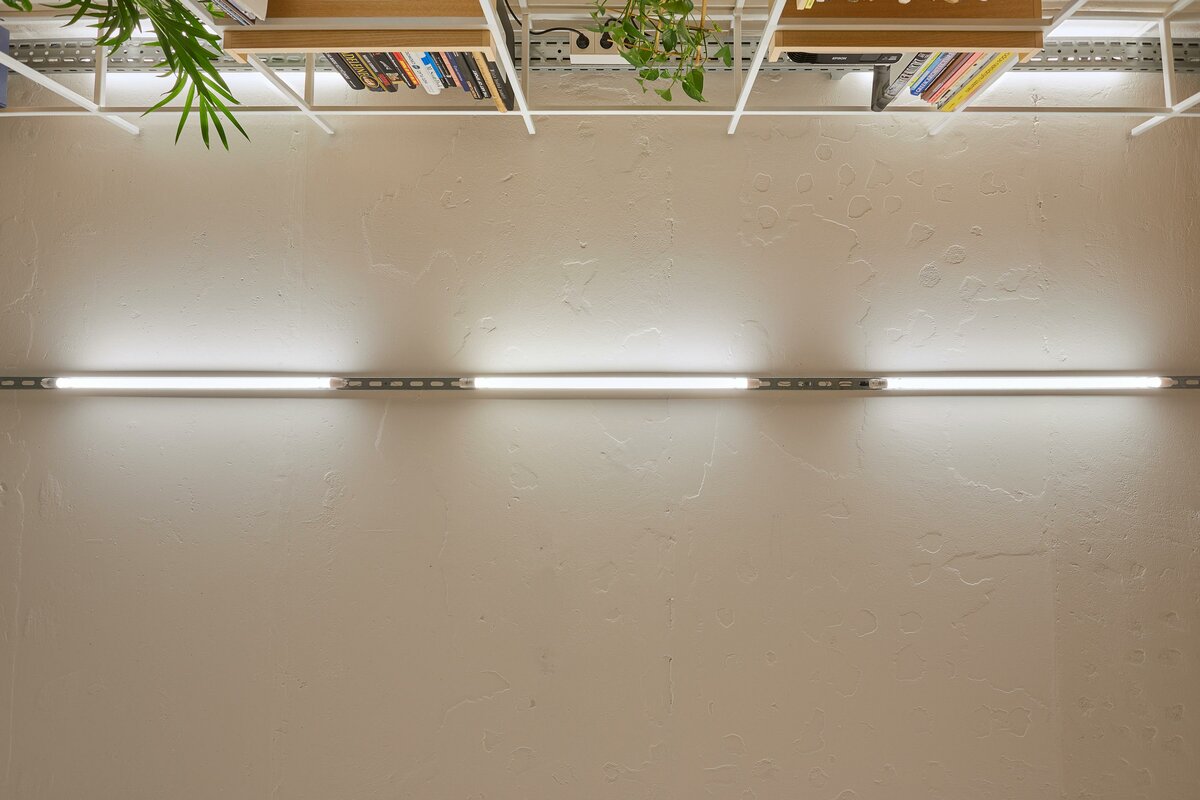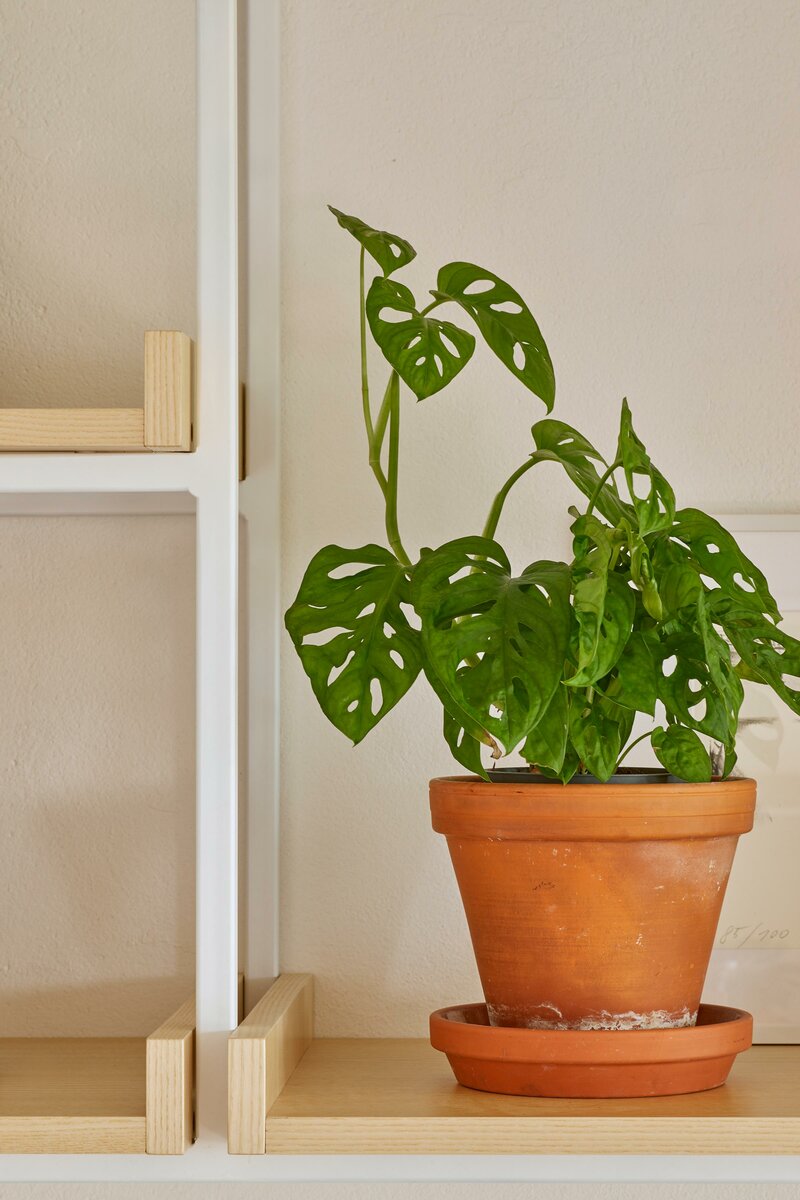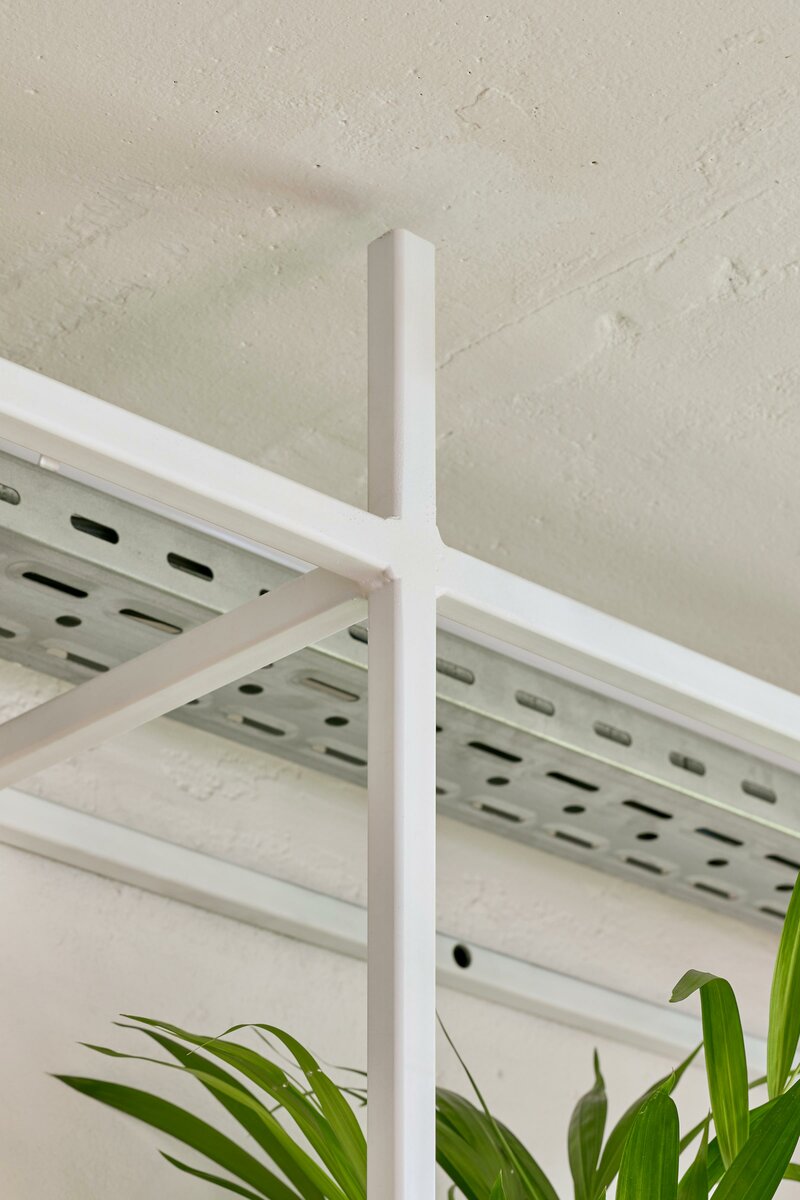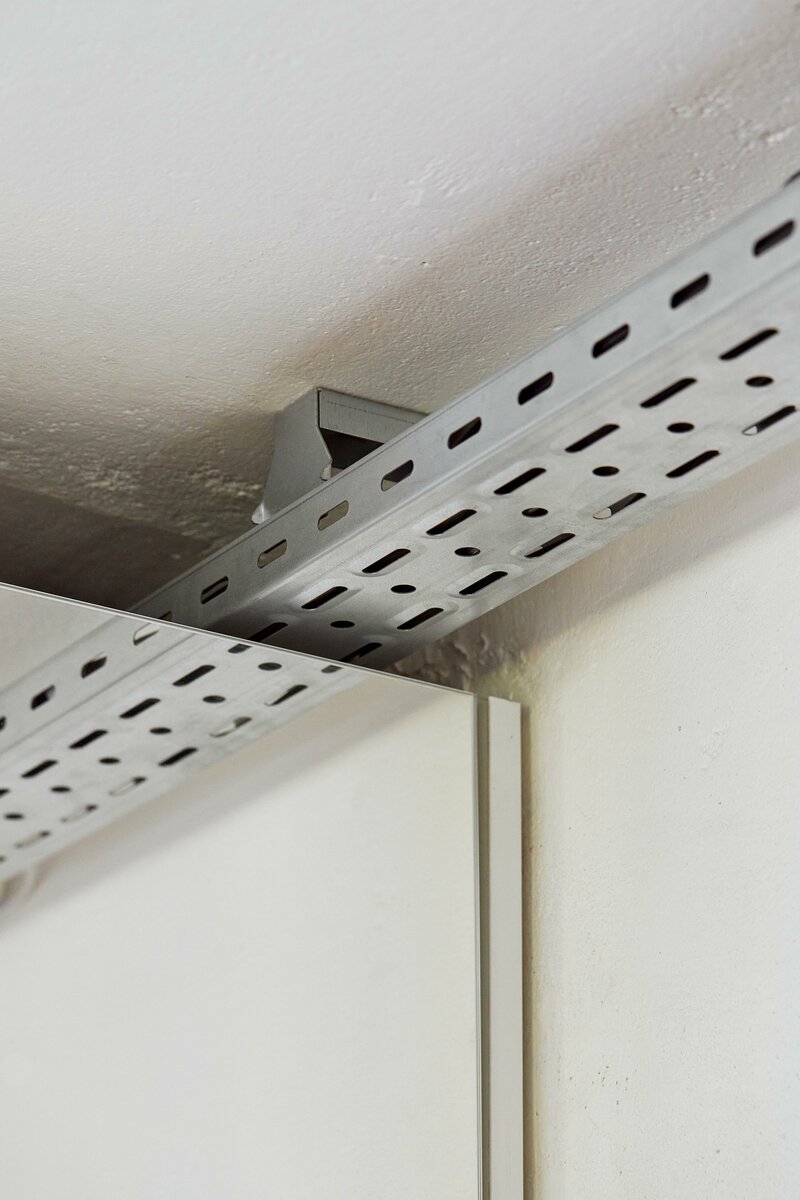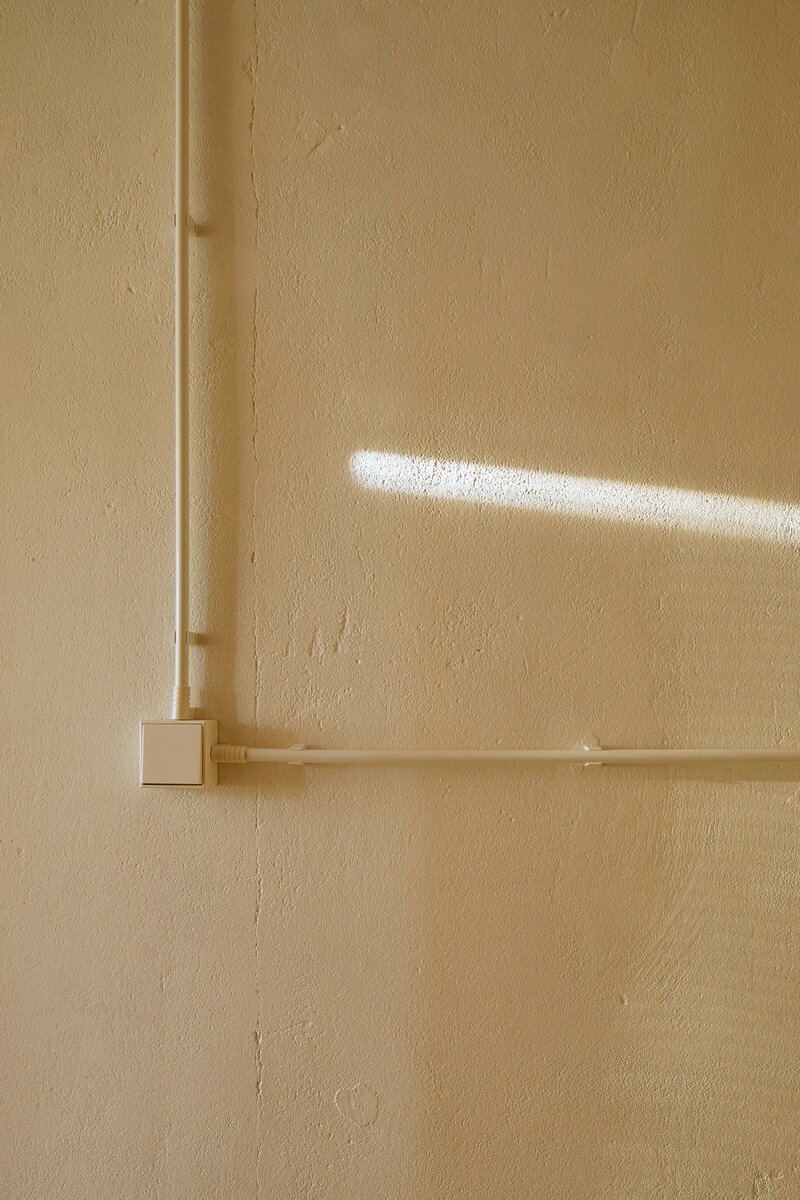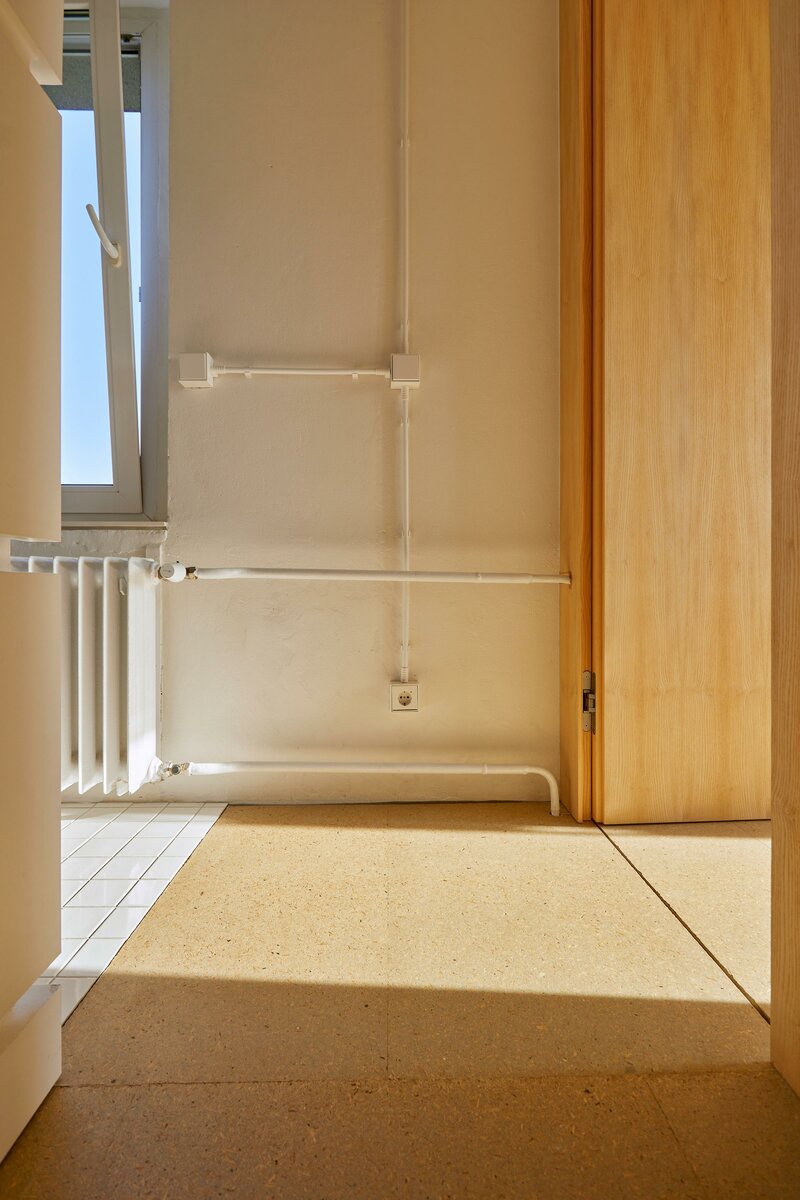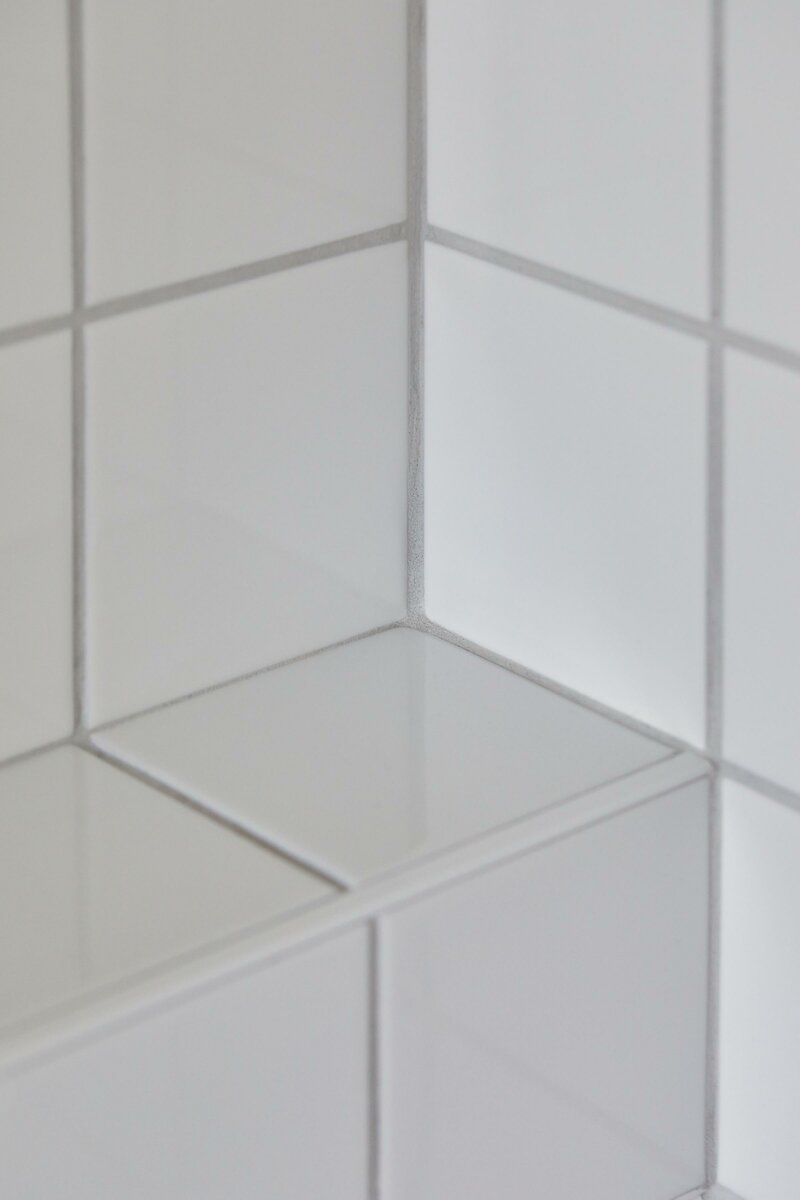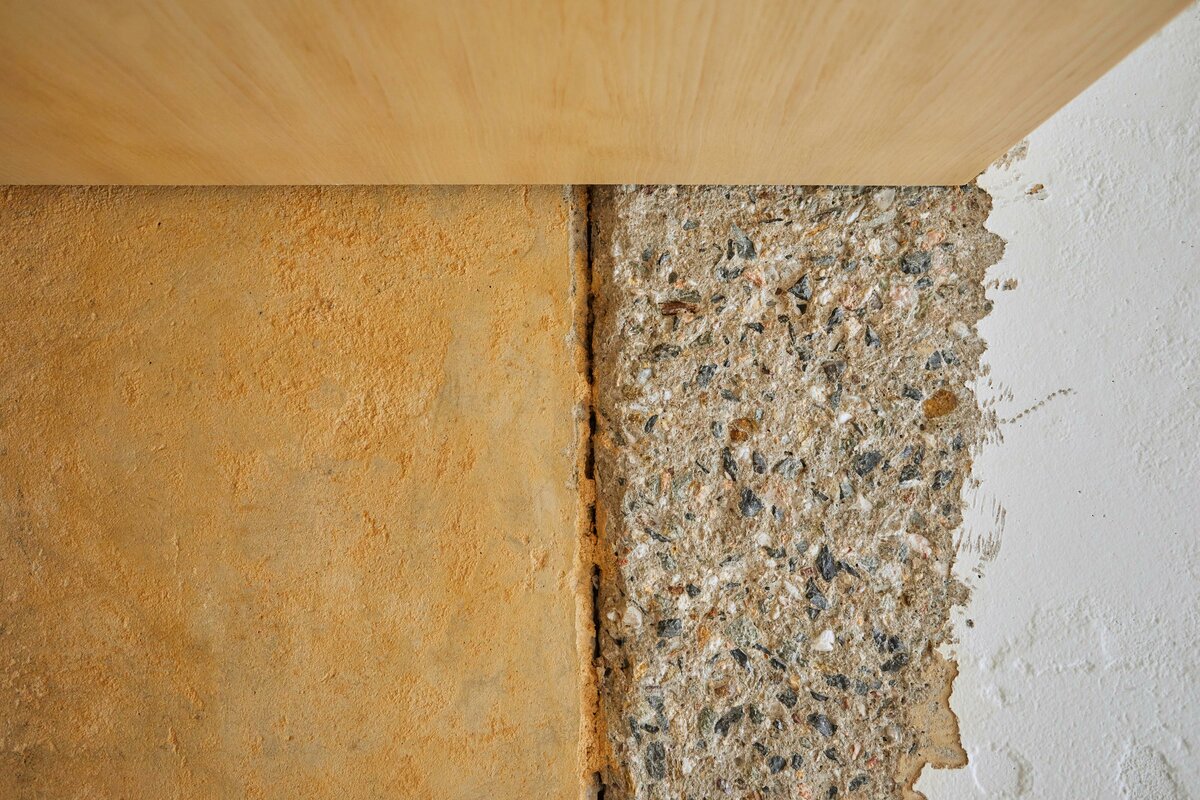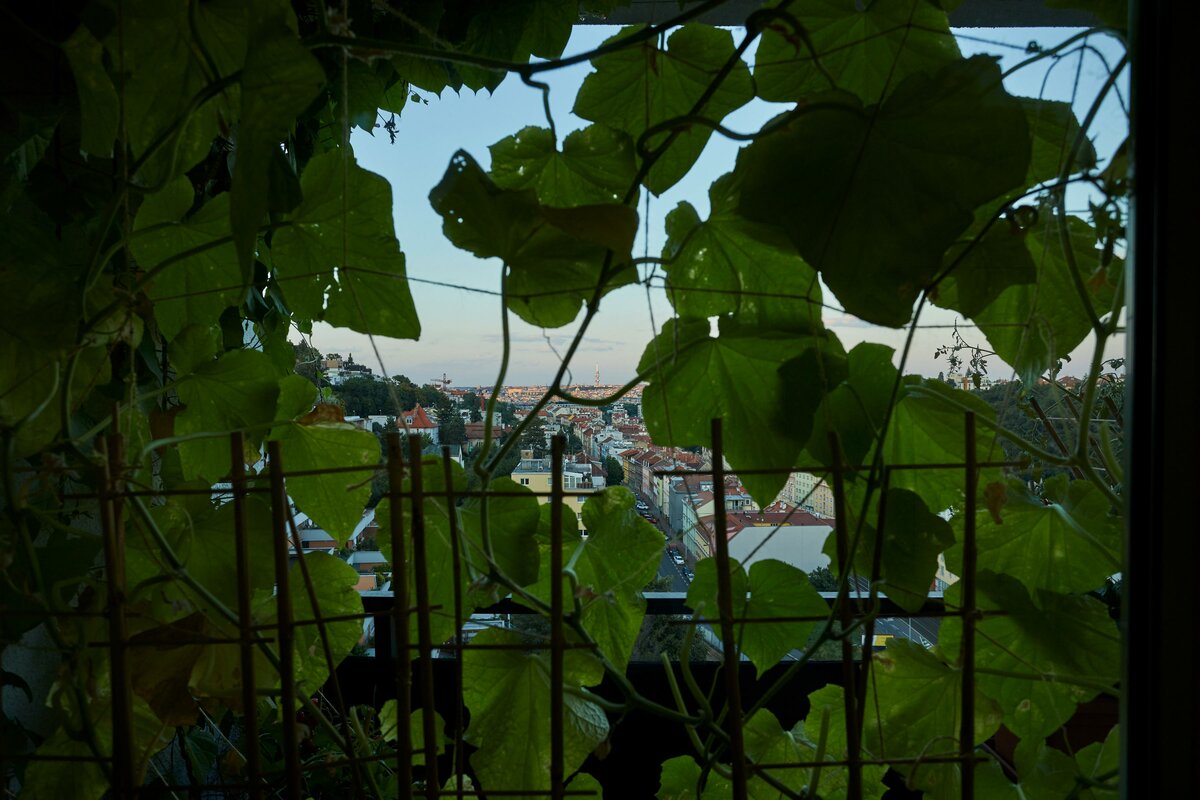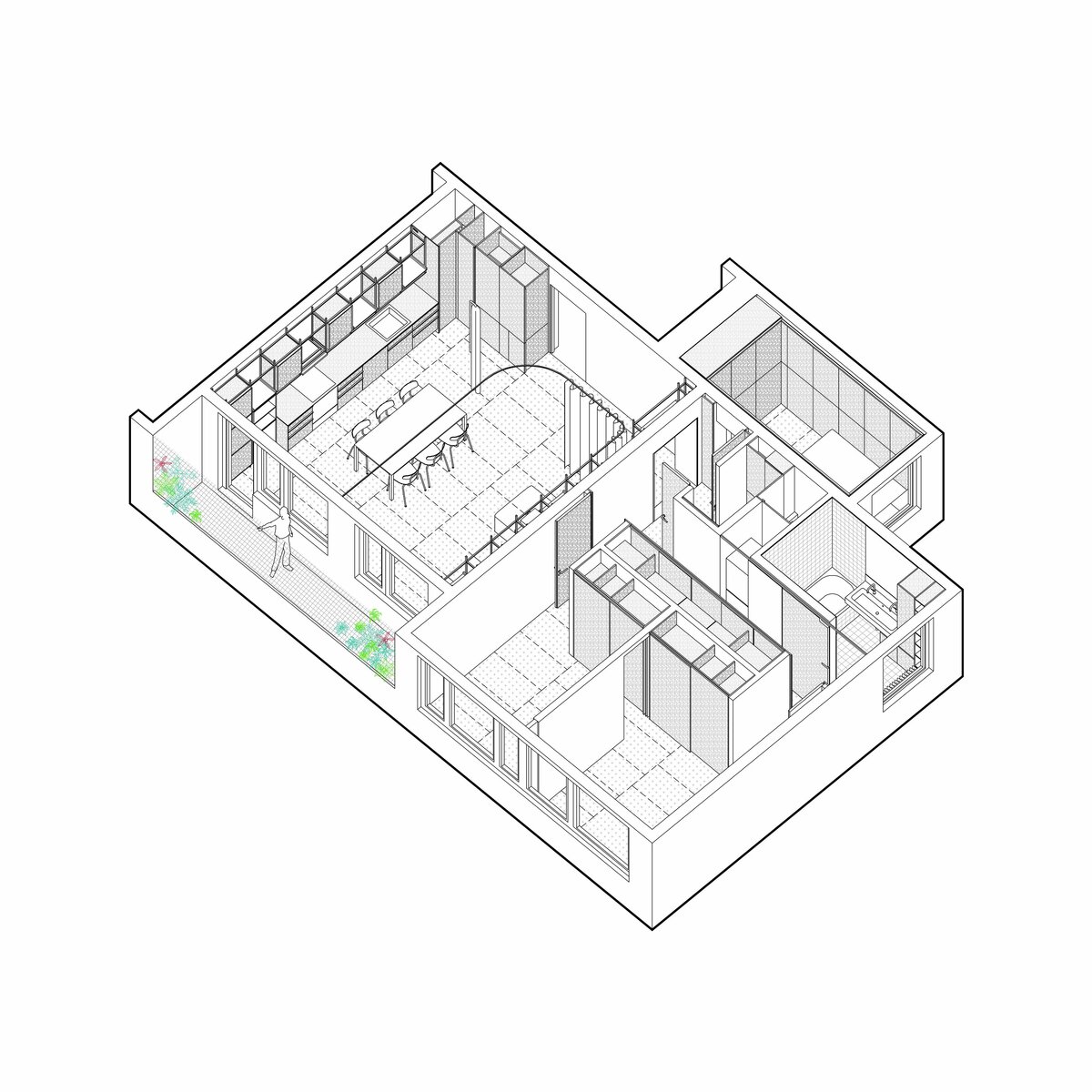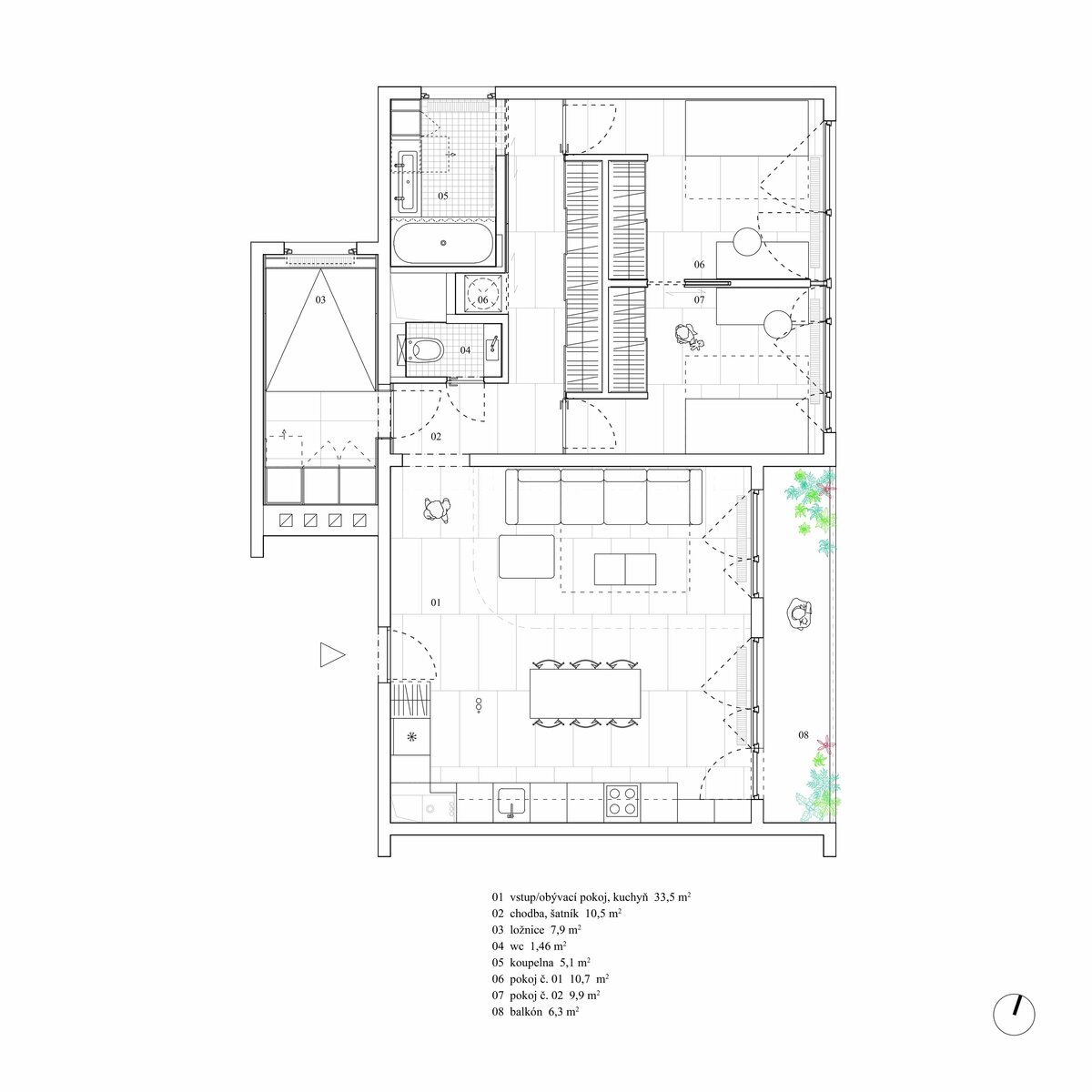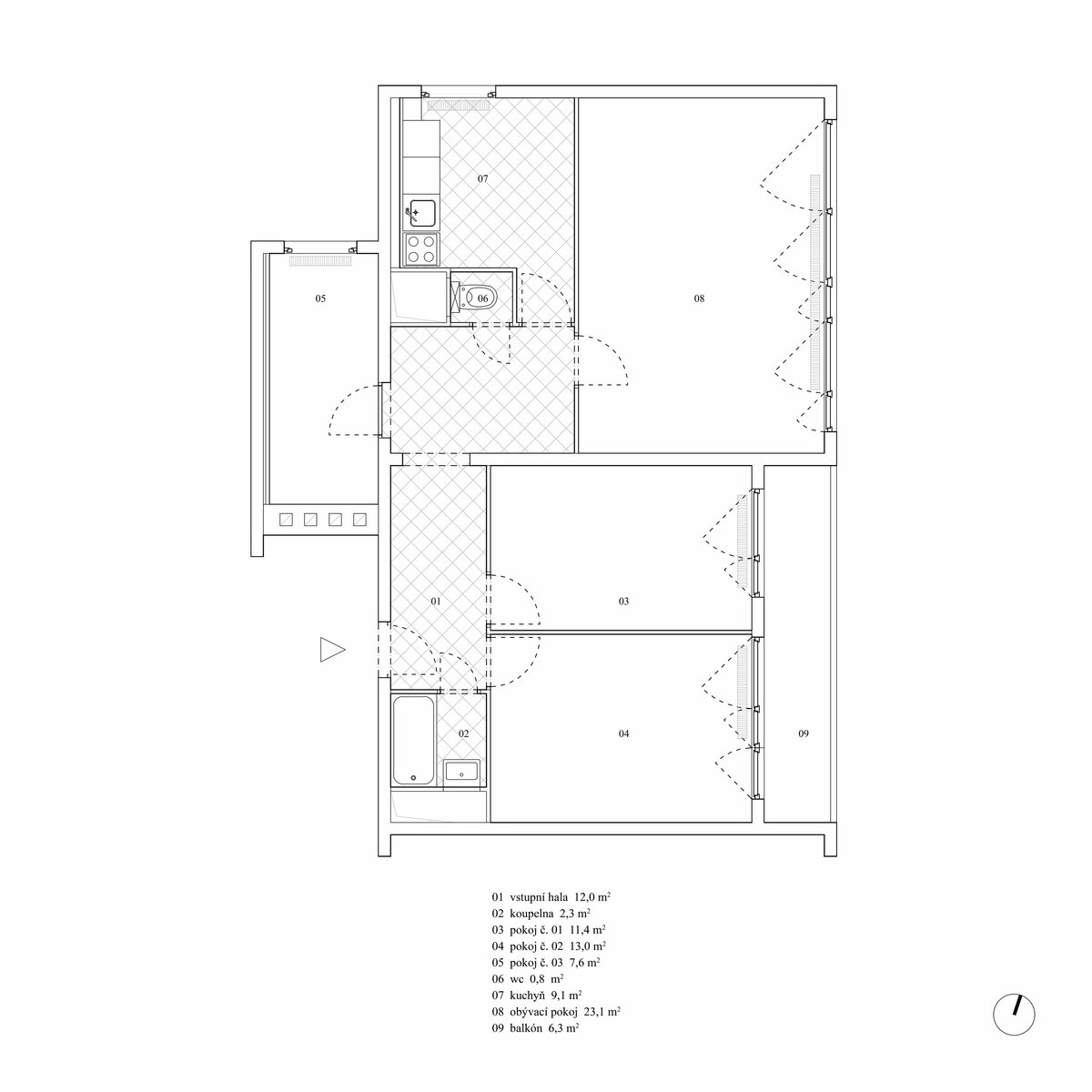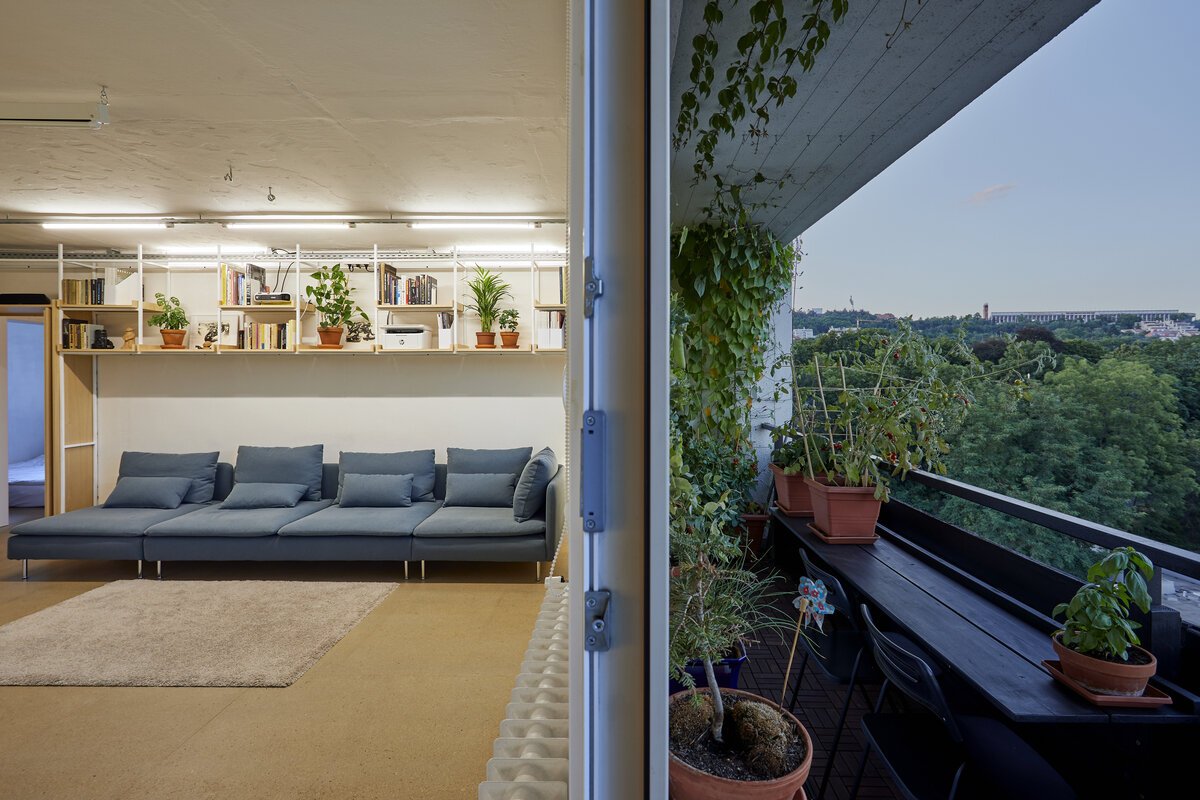 Author
Ing. arch. René Dlesk, Ing. arch. Tamara Kolaříková / RDTH architekti
Studio
Location
Holečkova 86, 150 00 Praha 5
Investor
soukromá osoba
Supplier
stavební práce: Obestav s.r.o., Vyšehradská 320/49, 128 00 Praha 2 - Nové Město
truhlářské práce: Truhlářství Stanislav Schuh, Cvrčkova 633, 198 00 Praha 9 - Kyje
Date of project approval
August 2021
Fotograf
I am an architect/perfectionist. I live with my family on the 11th floor of a block of flats in Prague 5. I like mechanisms and knowing how they work. I like naturalness, sincerity, the roughness of the materials.
The reconstructed apartment serves our family of three. The heart of it is a large living room with a kitchen, delimited by bearing walls and a loggia. There is no hall separating this space. I like gardening, so the windows, overlooking the whole of Prague, shade cucumbers in the summer. Tomatoes share their short life with perennial ivy and woodbine, pleasantly covering the walls and ceiling of the loggia.
In the second, private part of the apartment, there is a room for our daughter - almost a mirror image of the space next to it - a guest room with a study. Originally, they used to have a living area. It was accessed from only one privileged room, the bedroom.
In addition to these three rooms and built-in wardrobes, this part of the apartment accommodates a toilet, a niche for the washing machine and a comfortable bathroom with a bathtub and a wide window. Not only can it be easily ventilated, it also allows the natural light to shine in, which is a sort of luxury in these kind of flats.
Our APO is strict. Among other things, it prohibited even vertical jamming or wiring into the walls. Everything is therefore led on the surface. But I like meaningful limitations , making my decision easier, creating my own natural aesthetics. Craftsmen, who matched the axes of everything exactly, were less fond of these decisions. All new installations are led in precisely tuned geometry. I also did not want to repair the uneven plaster after removing the insulation of the ceilings and demolition of the partitions. These imperfections are honest (and cost-free) "decoration". The masons were surprised when I sanded them, e.g. for millimeters of deviations at the joints of the new floor. It is a contrast between the original building and the newly inserted elements, which is similar to a restoration process so there are traces of interventions from different periods of development, especially in a block of flats.
Our bedroom is narrow in width of the bed and one day it will be completely veneered like a cabin. Currently I enjoy the scratched plaster and the original panel with its imperfections. It was supposed to stay "gray", but it is painted white - I came a few minutes later and our 3-year-old daughter has already started painting...
Type of project - reconstruction + interior of an apartment in a block of flats from the 70s of the 20th century.
Floor area: 79 m2 + loggia 6 m2
Height of space: 2.6 m

Used construction materials and technologies:
- original panels (walls, ceilings): removed original painting, applied penetration + new layer of painting (primalex)
- new masonry, dividing structures: in the part with sanitary distributions – light-weight silicate blocks + plaster; in part of the rooms – construction from plasterboard
- floor: self-levelling screed+ fibre board impact insulation + sanded cement-bonded particleboards + colorless two-component polyurethane coating
- waterproof surfaces: ceramic tiles 10x10 cm; waterproof paint on the walls of the toilet
- electrical wiring: surface mounting; elements from the KOPOS and JUNG LS990 range
- visually acknowledged plumbing: stainless steel
Green building
Environmental certification
| | |
| --- | --- |
| Type and level of certificate | nebylo řešeno (interiér) |
Water management
| | |
| --- | --- |
| Is rainwater used for irrigation? | |
| Is rainwater used for other purposes, e.g. toilet flushing ? | |
| Does the building have a green roof / facade ? | |
| Is reclaimed waste water used, e.g. from showers and sinks ? | |
The quality of the indoor environment
| | |
| --- | --- |
| Is clean air supply automated ? | |
| Is comfortable temperature during summer and winter automated? | |
| Is natural lighting guaranteed in all living areas? | |
| Is artificial lighting automated? | |
| Is acoustic comfort, specifically reverberation time, guaranteed? | |
| Does the layout solution include zoning and ergonomics elements? | |
Principles of circular economics
| | |
| --- | --- |
| Does the project use recycled materials? | |
| Does the project use recyclable materials? | |
| Are materials with a documented Environmental Product Declaration (EPD) promoted in the project? | |
| Are other sustainability certifications used for materials and elements? | |
Energy efficiency
| | |
| --- | --- |
| Energy performance class of the building according to the Energy Performance Certificate of the building | |
| Is efficient energy management (measurement and regular analysis of consumption data) considered? | |
| Are renewable sources of energy used, e.g. solar system, photovoltaics? | |
Interconnection with surroundings
| | |
| --- | --- |
| Does the project enable the easy use of public transport? | |
| Does the project support the use of alternative modes of transport, e.g cycling, walking etc. ? | |
| Is there access to recreational natural areas, e.g. parks, in the immediate vicinity of the building? | |