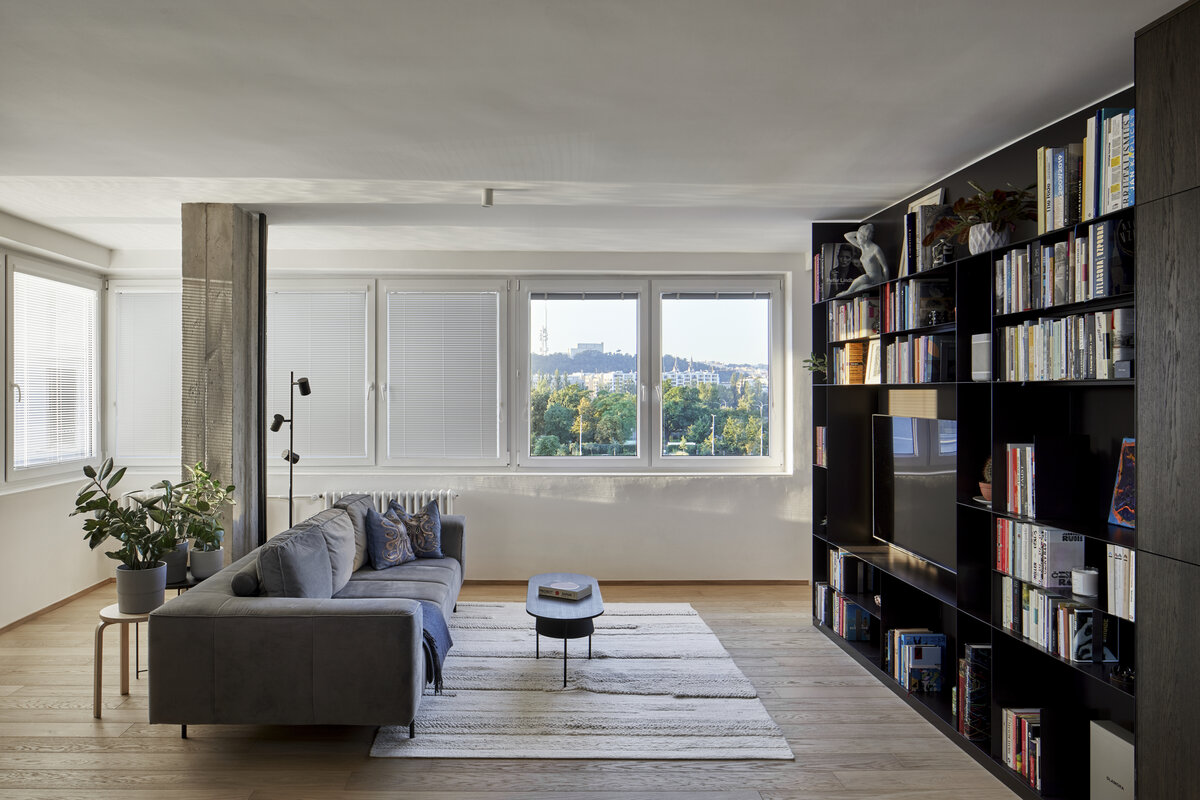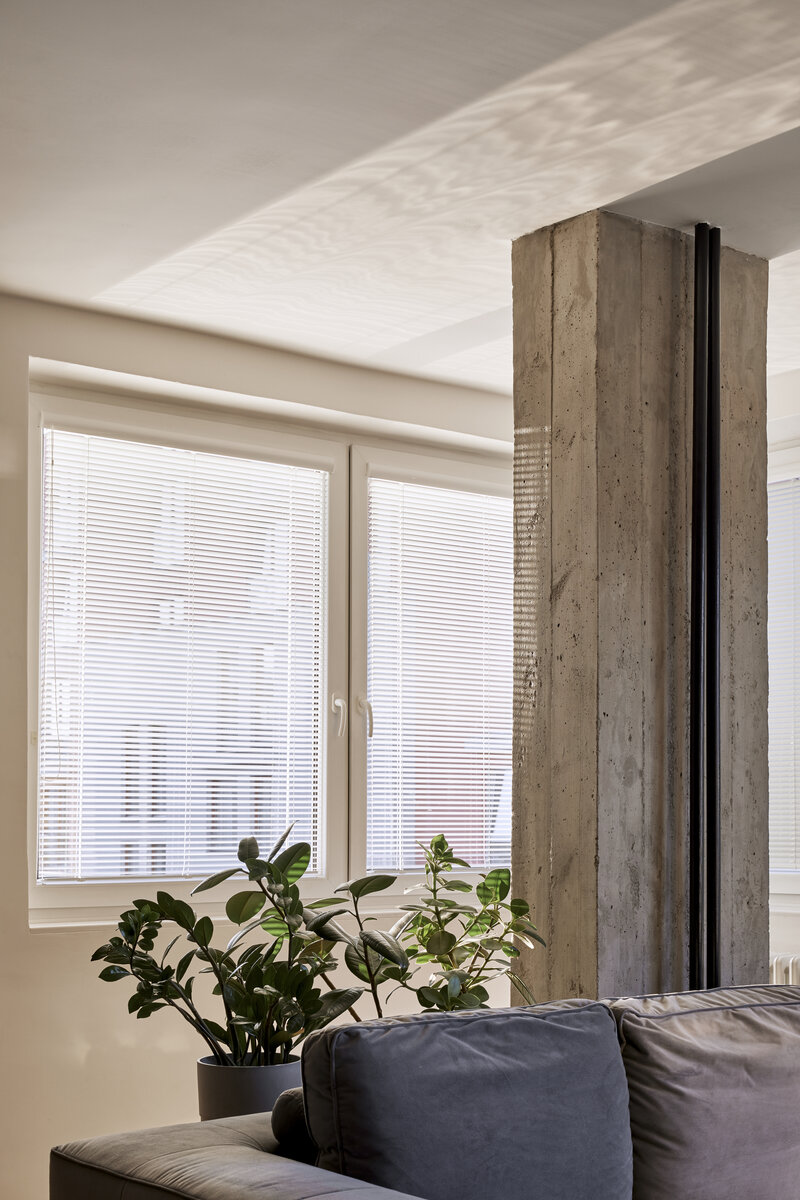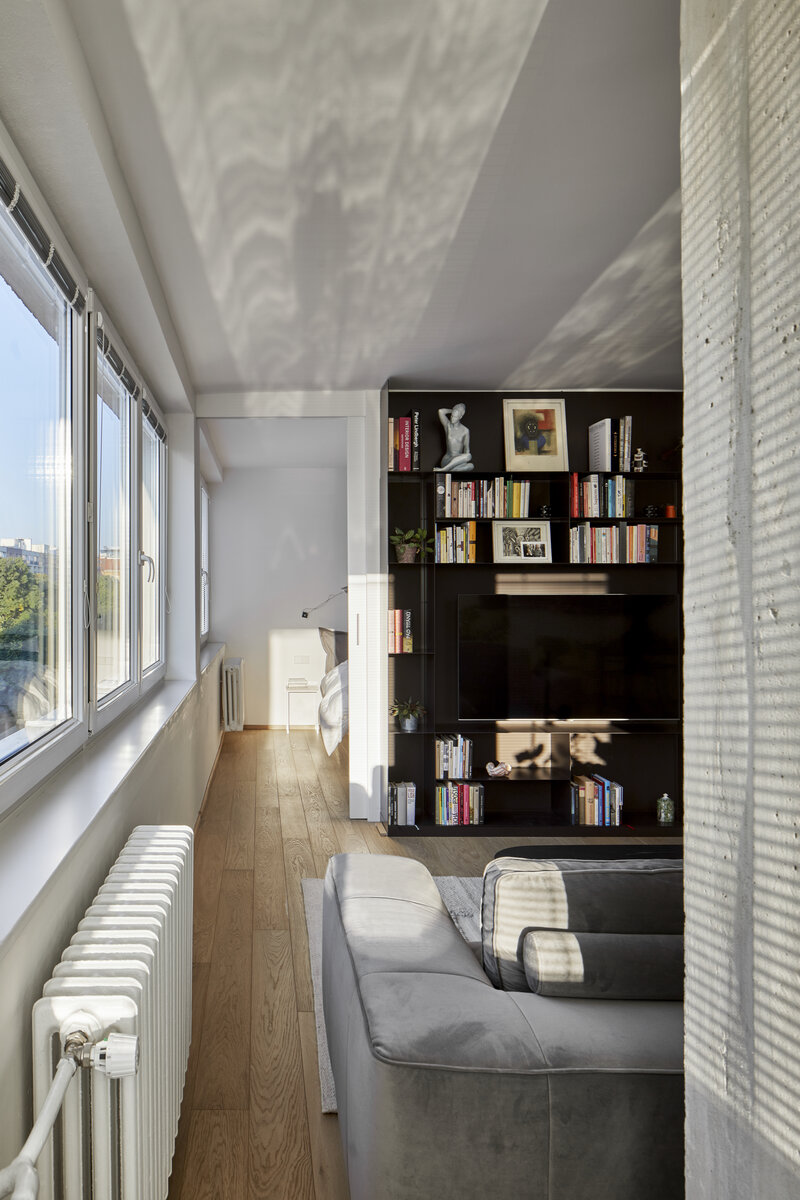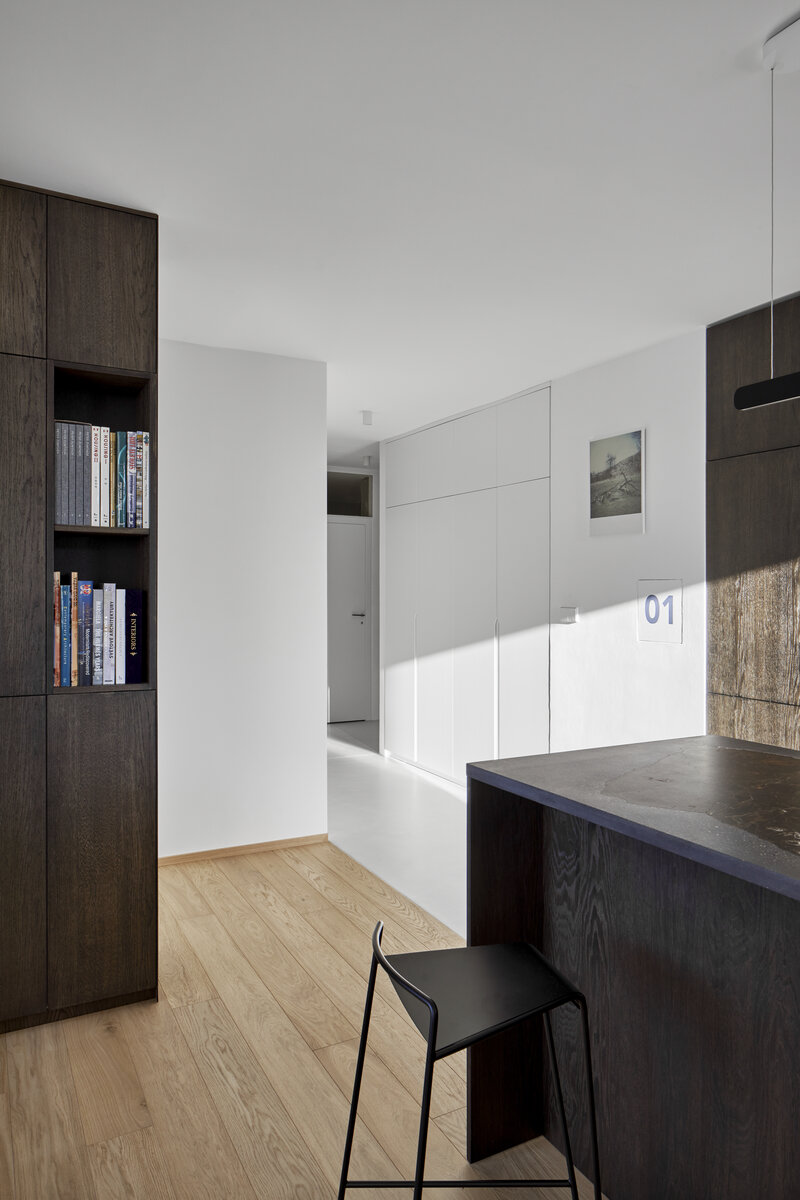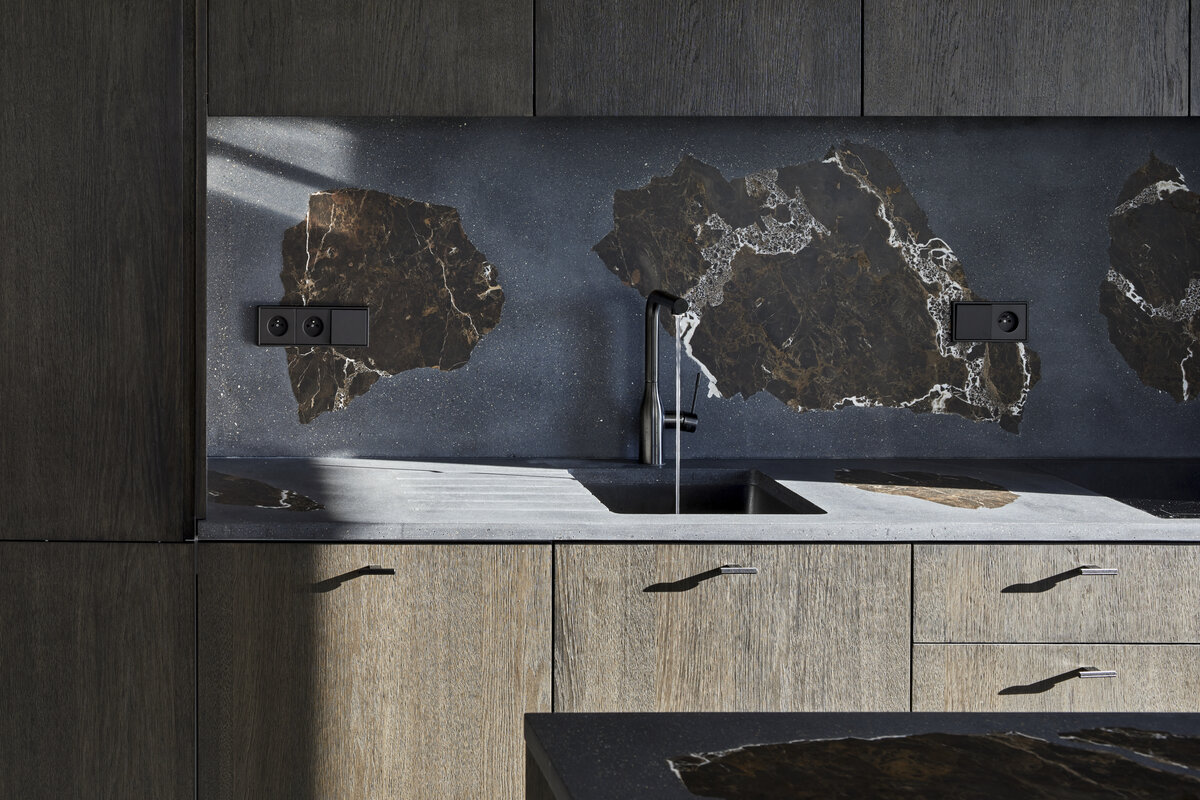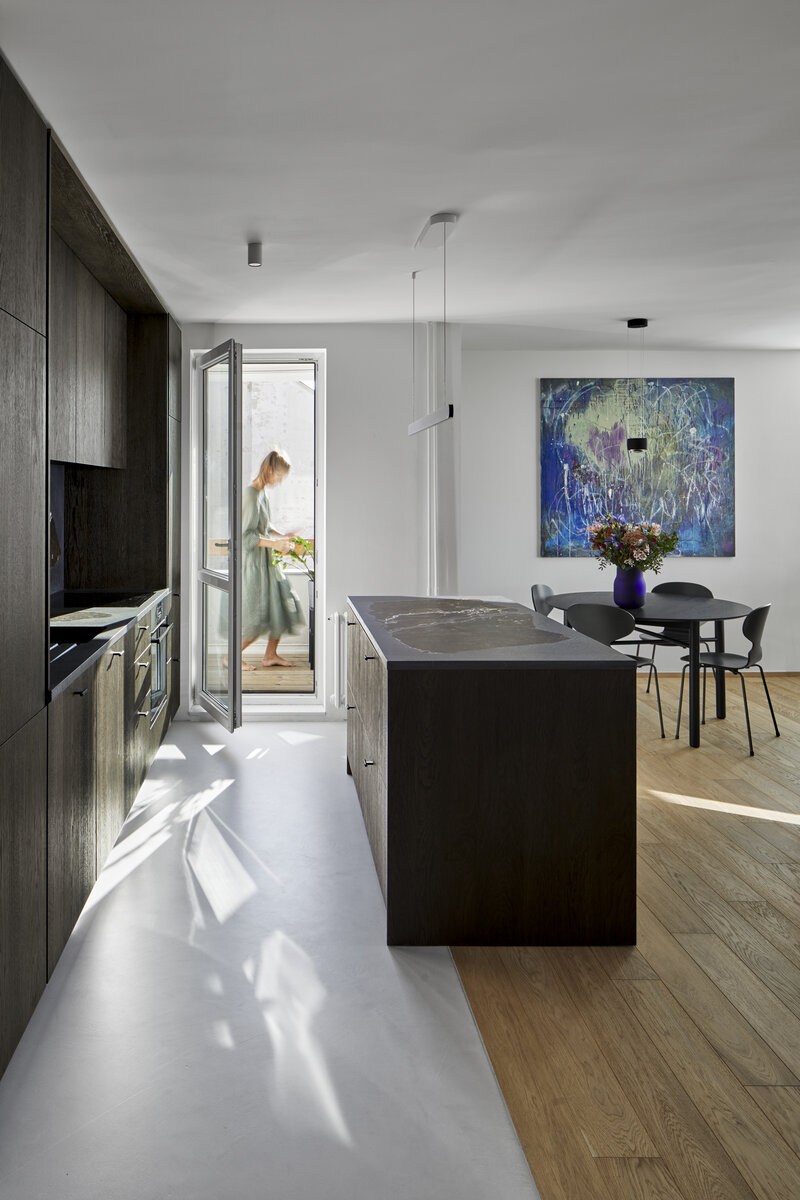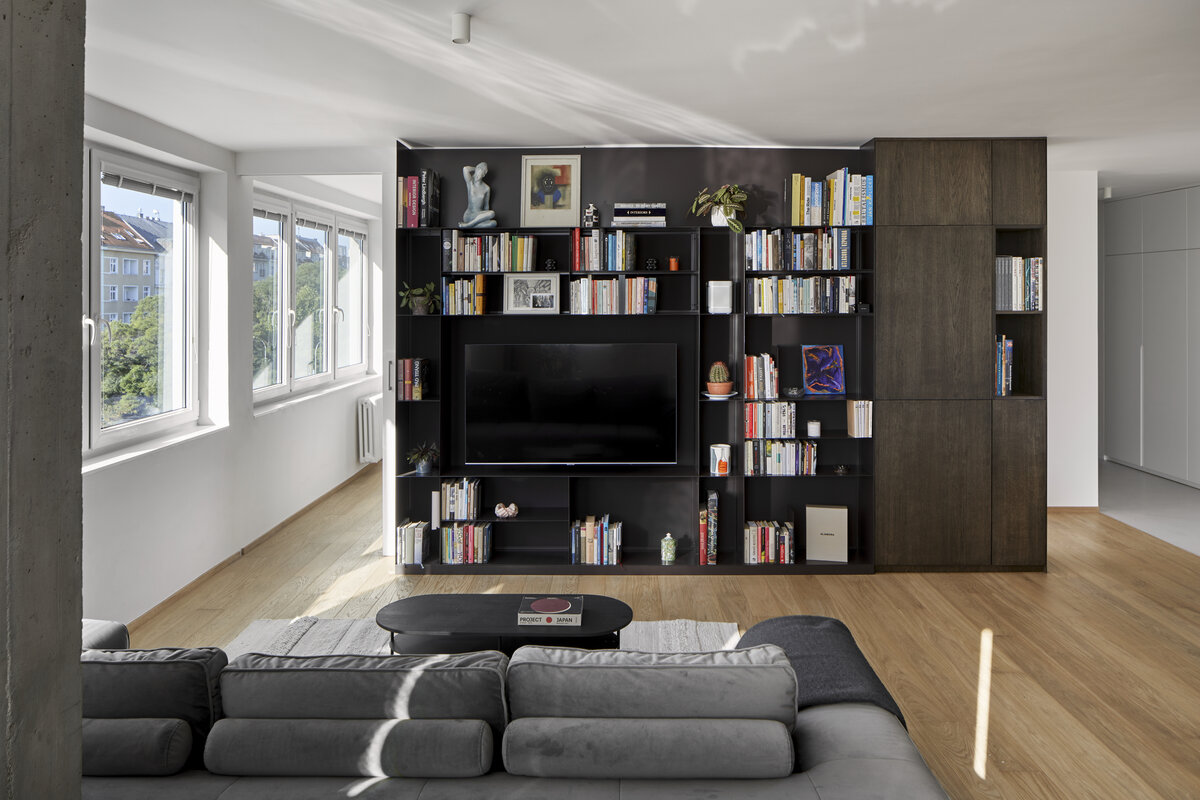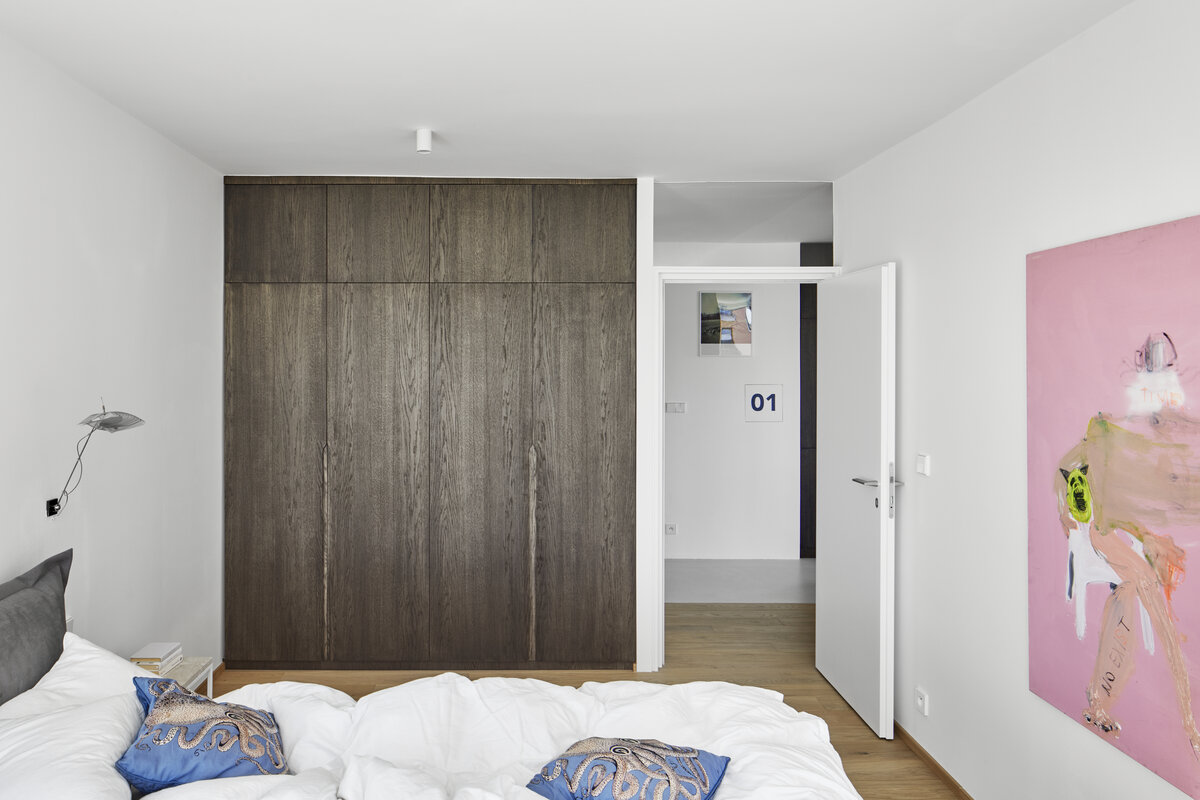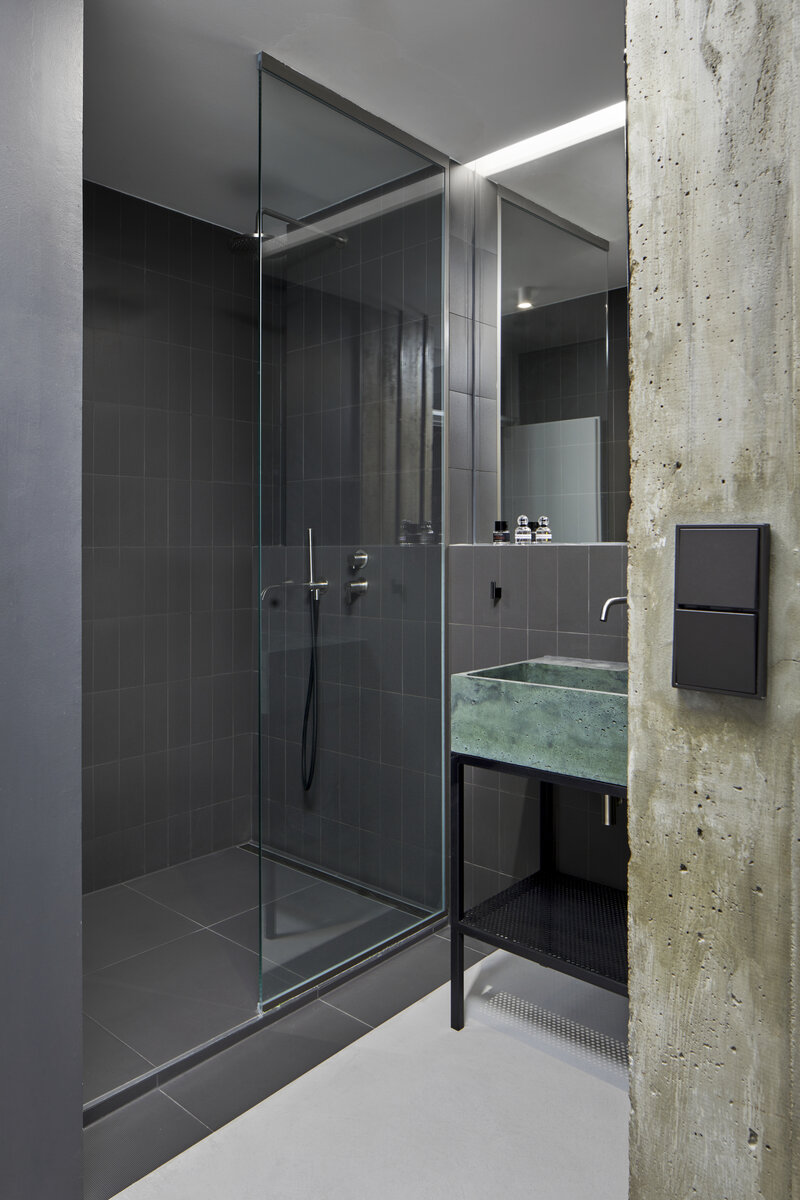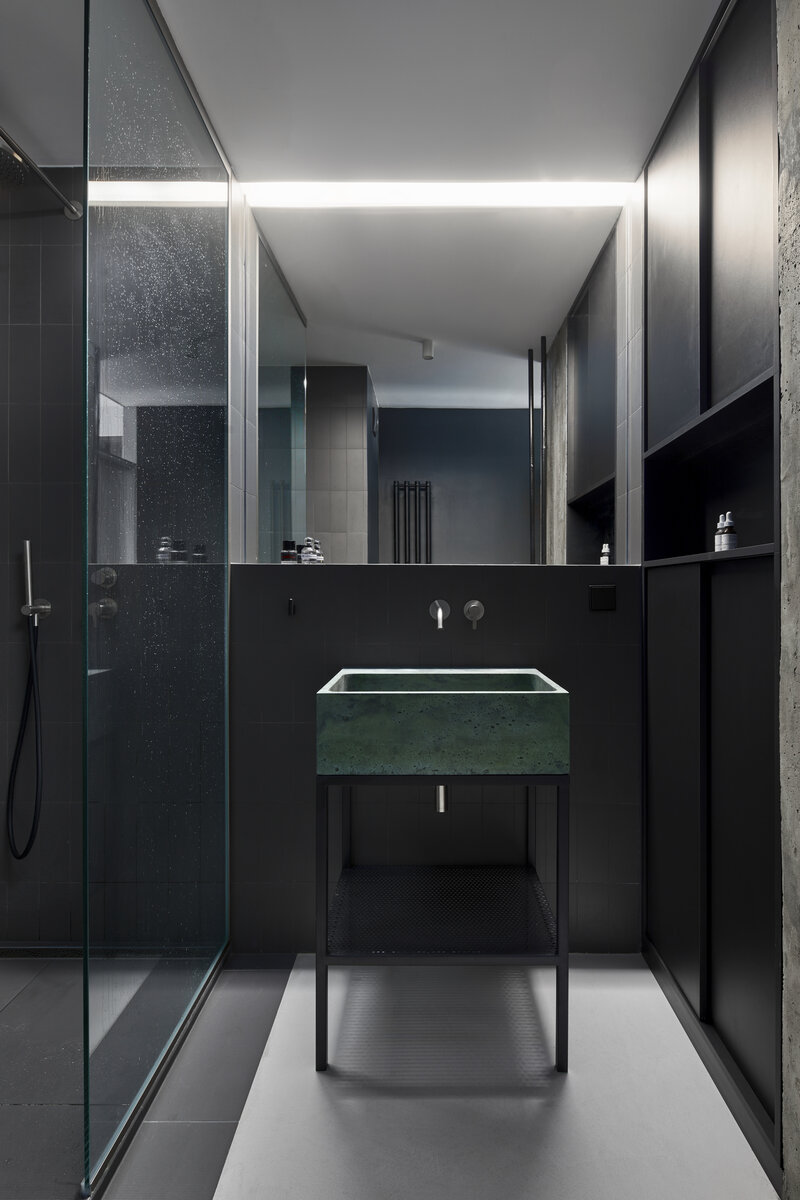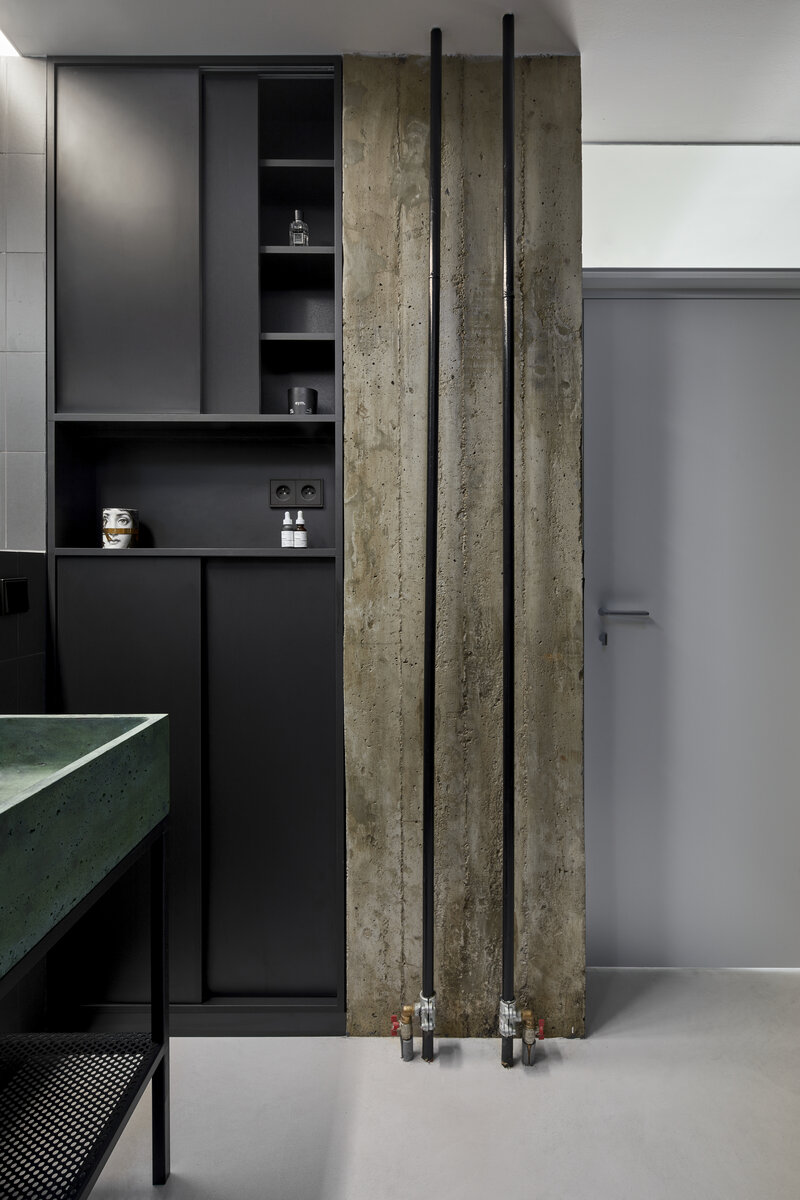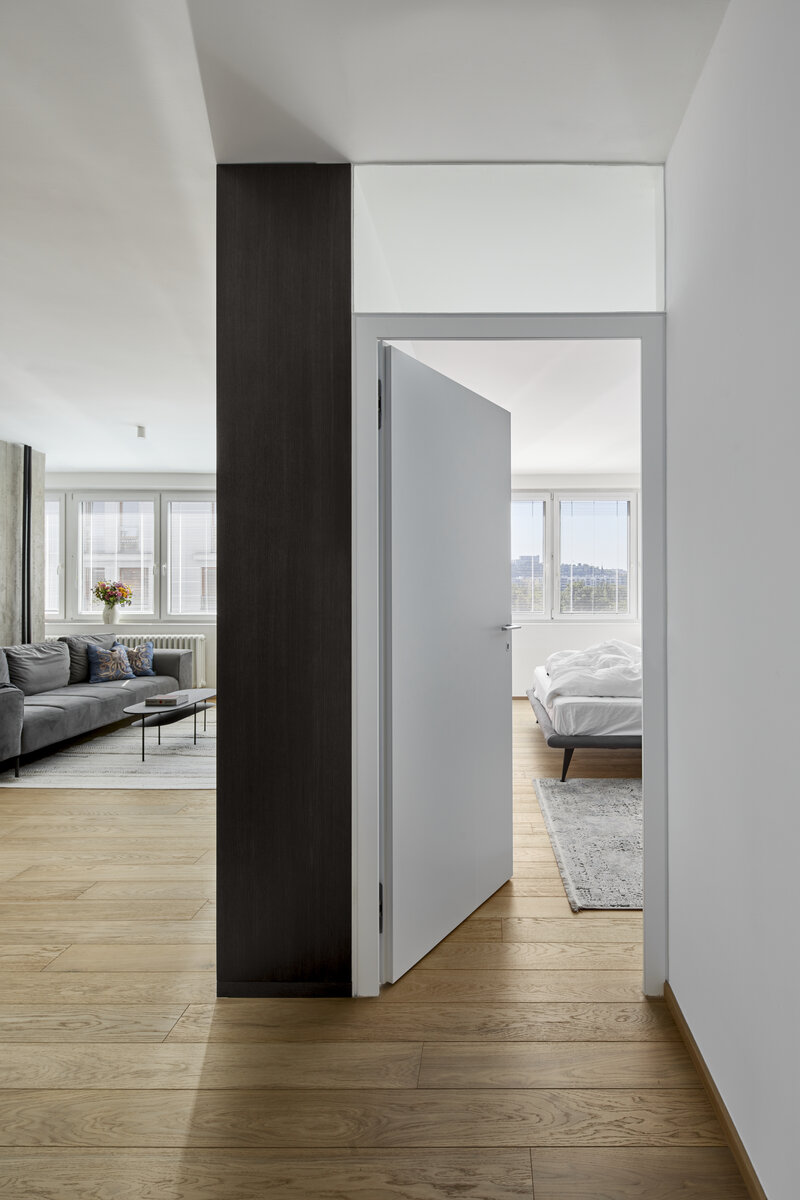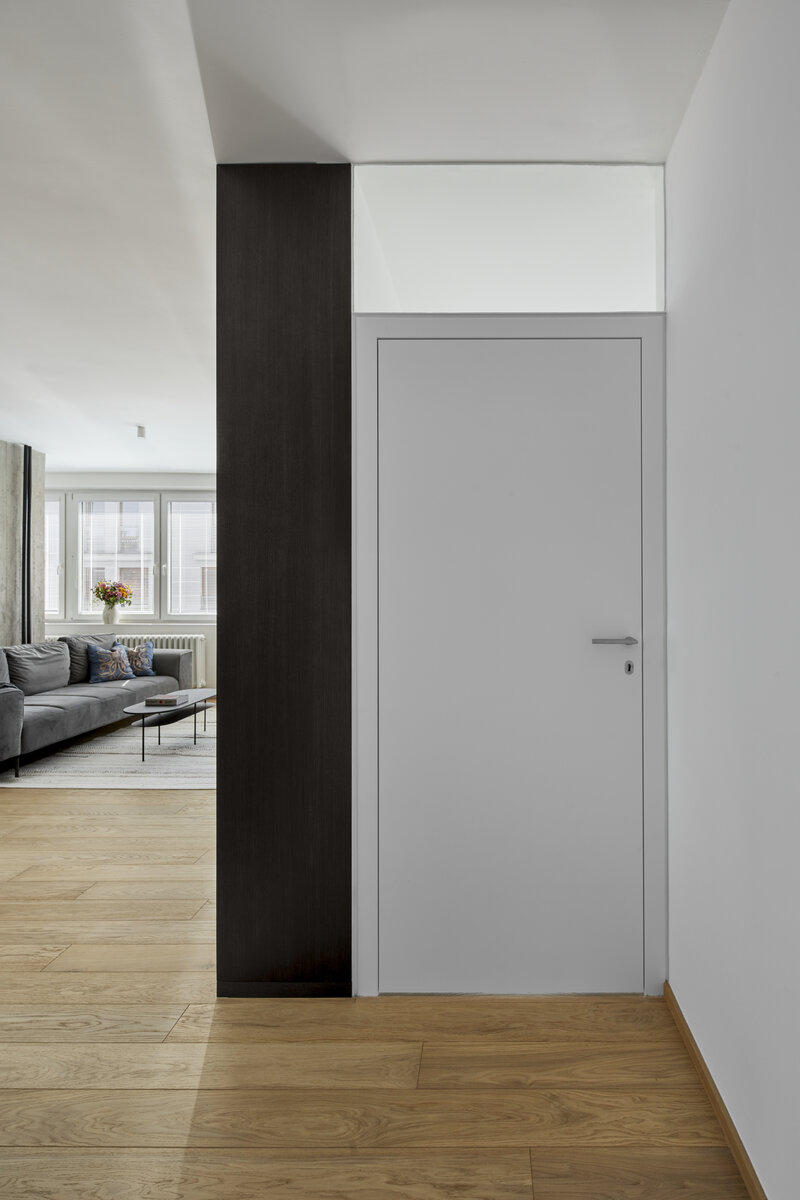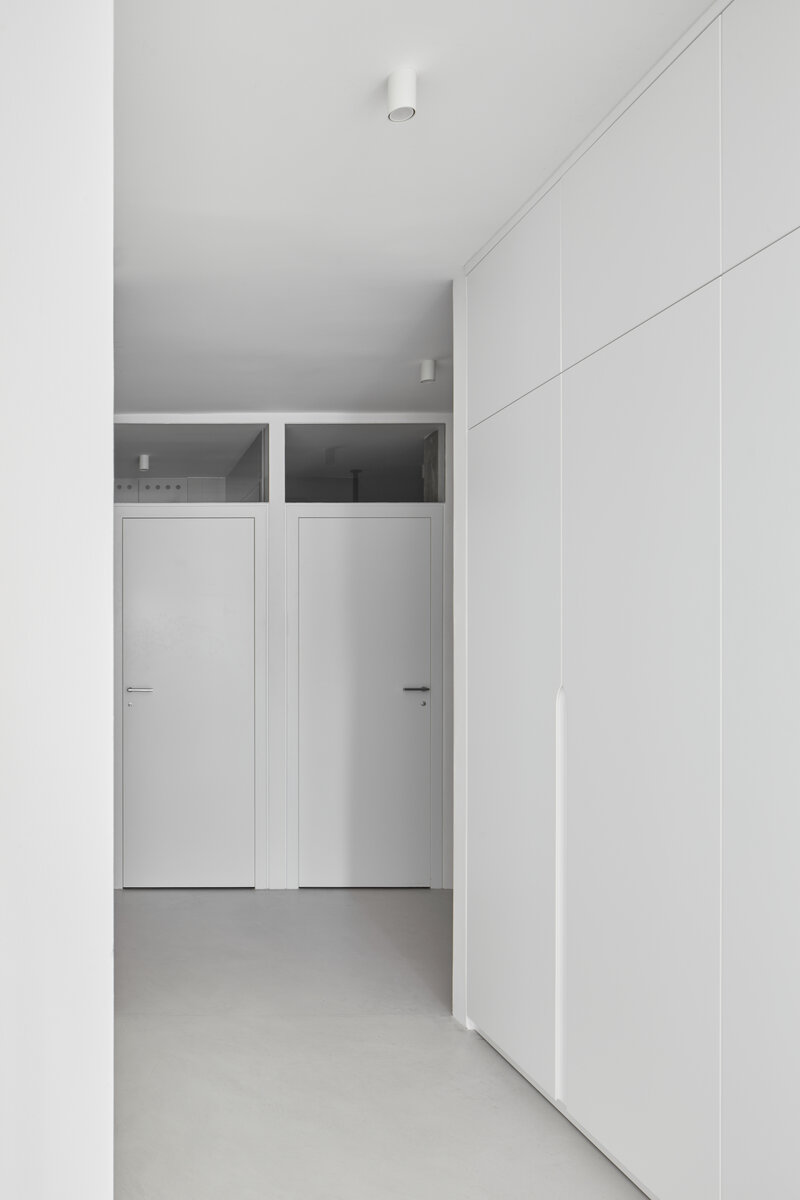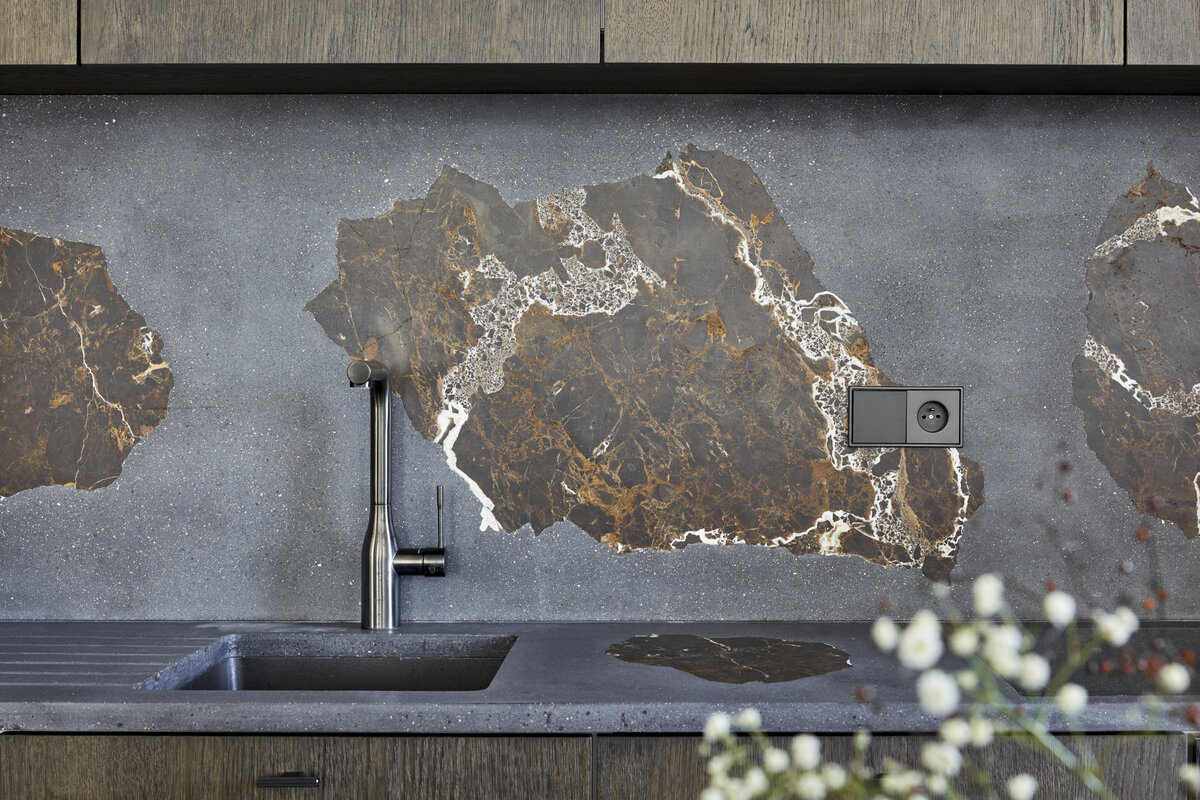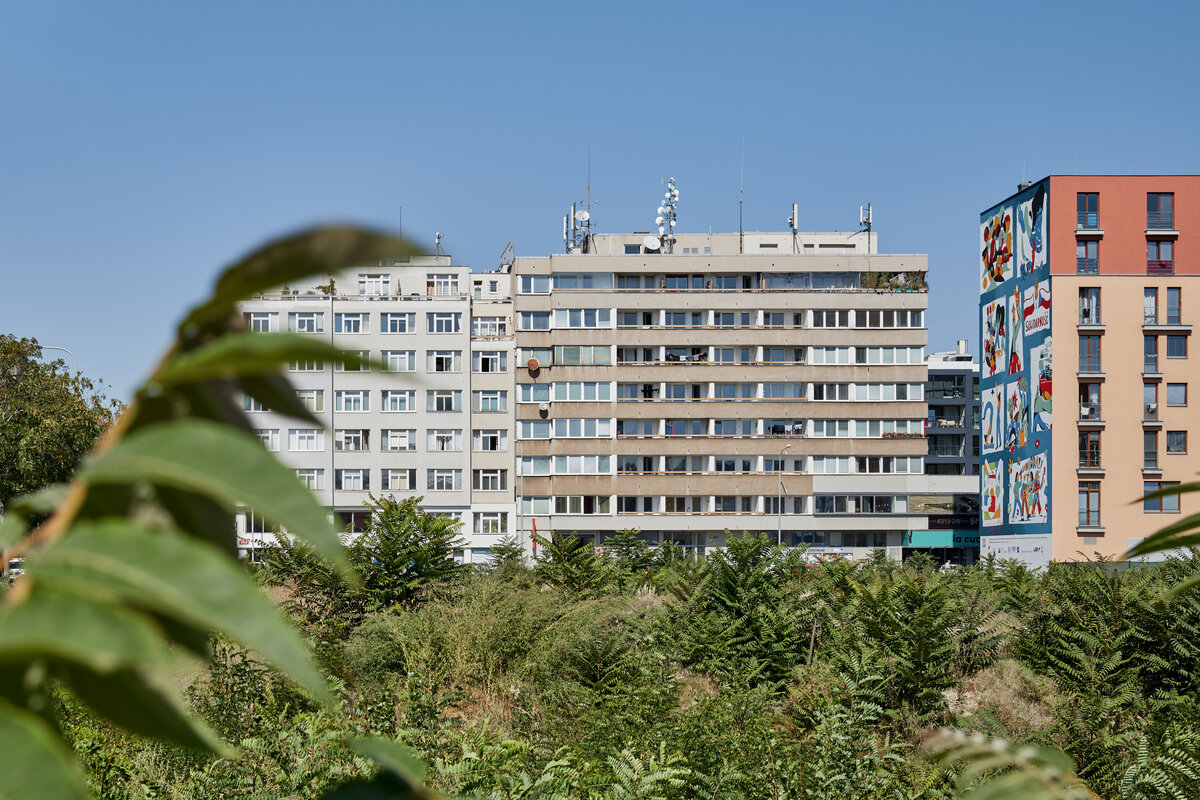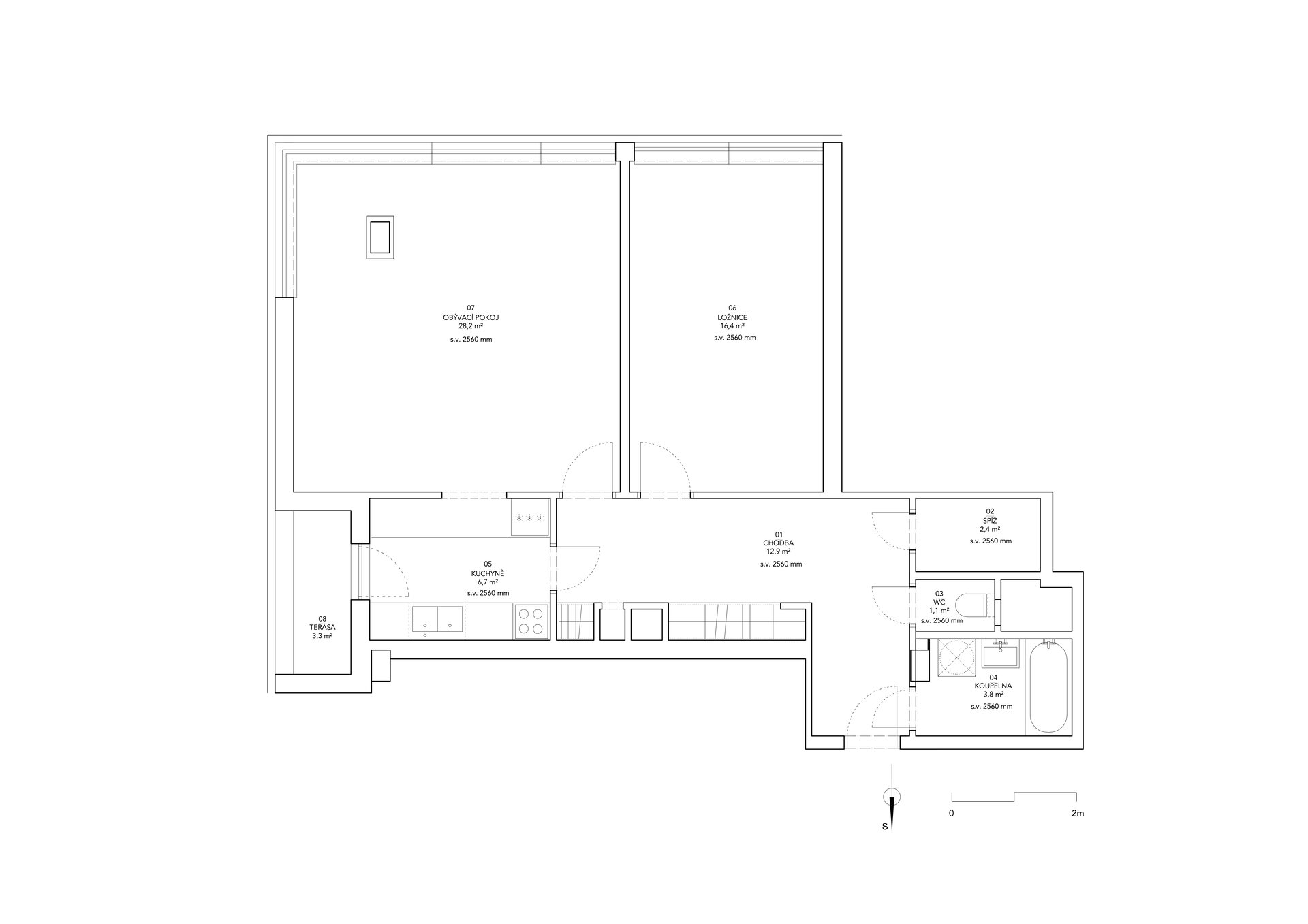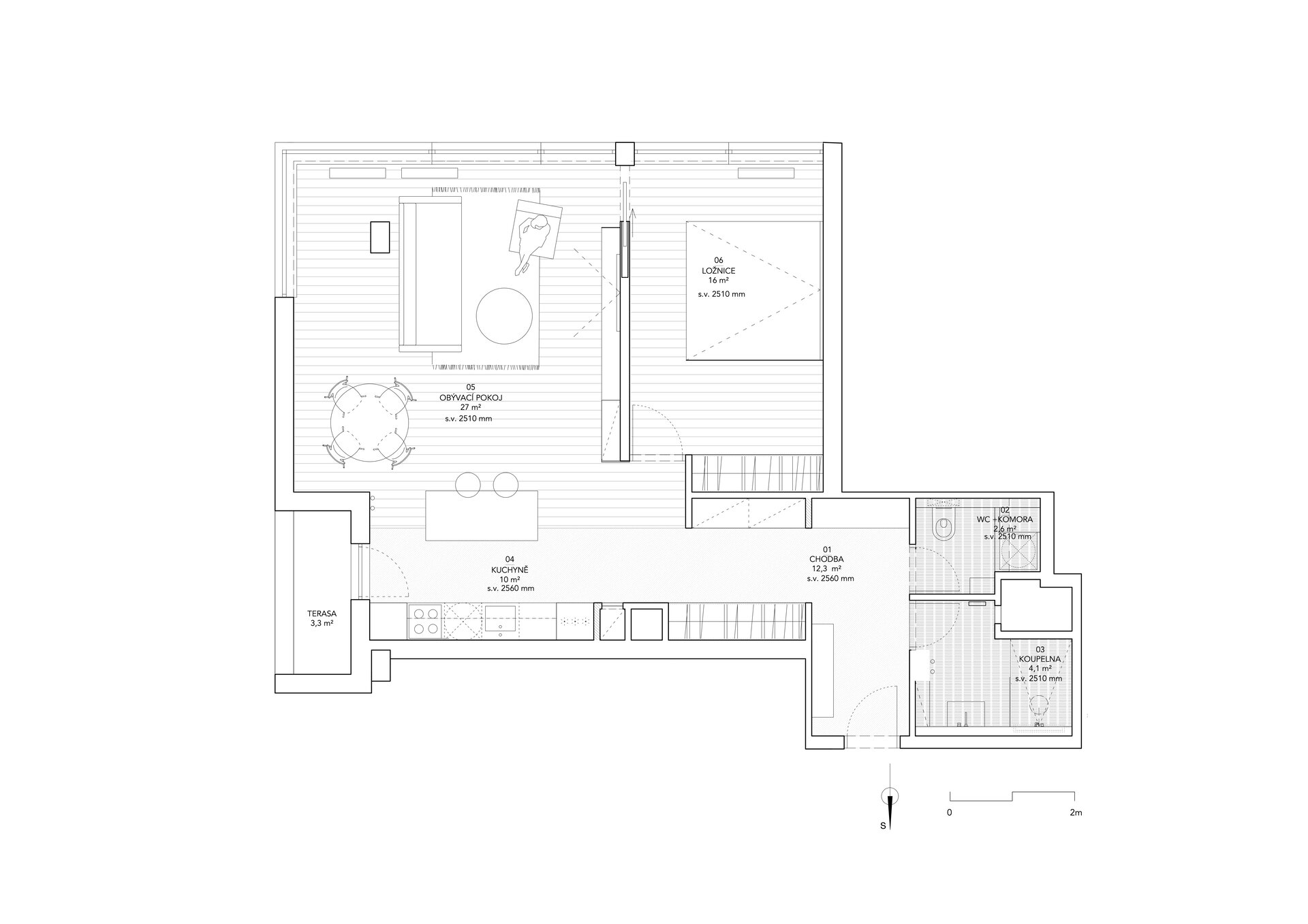 | | |
| --- | --- |
| Author | Ing.arch. Petra Ciencialová a Ing.arch. Kateřina Průchová / Plus One Architects s.r.o. |
| Studio | |
| Location | Holešovice, Praha |
| Investor | soukromá osoba |
| Supplier | svépomocí |
| Date of project approval | June 2021 |
| Fotograf | |
The apartment is located in a house from the 70s, which at first glance attracts with its brutalist architecture, designed by architect Karel Filsak, and rows of sash windows. The apartment is designed for a bachelor and a maximum of 2 people. The requirement was air space with a minimum of doors and austere materials. The investor wanted to approach the space and rooms in a minimalist way with plenty of storage space.
In the living room and bathroom, we exposed concrete columns, which form the supporting part of the house structure. Another dispositional change then came from the investor's request. He wanted a more generous bathroom. Therefore, we expanded it at the expense of the technical room / cloakroom. We replaced the storage spaces with a set of built-in cabinets in the hallway, and thus used the unnecessarily wide passage. The apartment is divided into a living area, where the emphasis is on openness and airiness. The passage of daylight and air ensures entry along the facade between the bedroom and the living room. And also glass panel above the doors - we used them above all too them and also placed them in the bathroom and toilet. The sanitary facilities are designed in darker colors and the intimacy of the space is supported with the dark green concrete bathroom sink. We connected both parts with an oak floor and a concrete floor. Wooden floors are also used in the bedroom and living room. The wood in the concrete floor passes under the kitchen island - this imaginatively separates the living part of the apartment from the technical and communication background. The whole space is equipped with custom furniture. Some inconspicuous white, elsewhere dark oak veneer dominates - especially in exposed areas. The most distinctive element in the living room is the kitchen, which enhances the core of the entire apartment. The kitchen unit is designed in an oak nozzle, which is complemented by a concrete slab with inserted, embedded stones in darker, brown shades. The kitchen island is in the same design. Another significant material is metal, which you will find in every room. Whether in the form of a library, bar stools, or pedestals for bedside tables. Neutral colors make the art on the walls stand out and complement the entire interior.
Green building
Environmental certification
| | |
| --- | --- |
| Type and level of certificate | - |
Water management
| | |
| --- | --- |
| Is rainwater used for irrigation? | |
| Is rainwater used for other purposes, e.g. toilet flushing ? | |
| Does the building have a green roof / facade ? | |
| Is reclaimed waste water used, e.g. from showers and sinks ? | |
The quality of the indoor environment
| | |
| --- | --- |
| Is clean air supply automated ? | |
| Is comfortable temperature during summer and winter automated? | |
| Is natural lighting guaranteed in all living areas? | |
| Is artificial lighting automated? | |
| Is acoustic comfort, specifically reverberation time, guaranteed? | |
| Does the layout solution include zoning and ergonomics elements? | |
Principles of circular economics
| | |
| --- | --- |
| Does the project use recycled materials? | |
| Does the project use recyclable materials? | |
| Are materials with a documented Environmental Product Declaration (EPD) promoted in the project? | |
| Are other sustainability certifications used for materials and elements? | |
Energy efficiency
| | |
| --- | --- |
| Energy performance class of the building according to the Energy Performance Certificate of the building | |
| Is efficient energy management (measurement and regular analysis of consumption data) considered? | |
| Are renewable sources of energy used, e.g. solar system, photovoltaics? | |
Interconnection with surroundings
| | |
| --- | --- |
| Does the project enable the easy use of public transport? | |
| Does the project support the use of alternative modes of transport, e.g cycling, walking etc. ? | |
| Is there access to recreational natural areas, e.g. parks, in the immediate vicinity of the building? | |