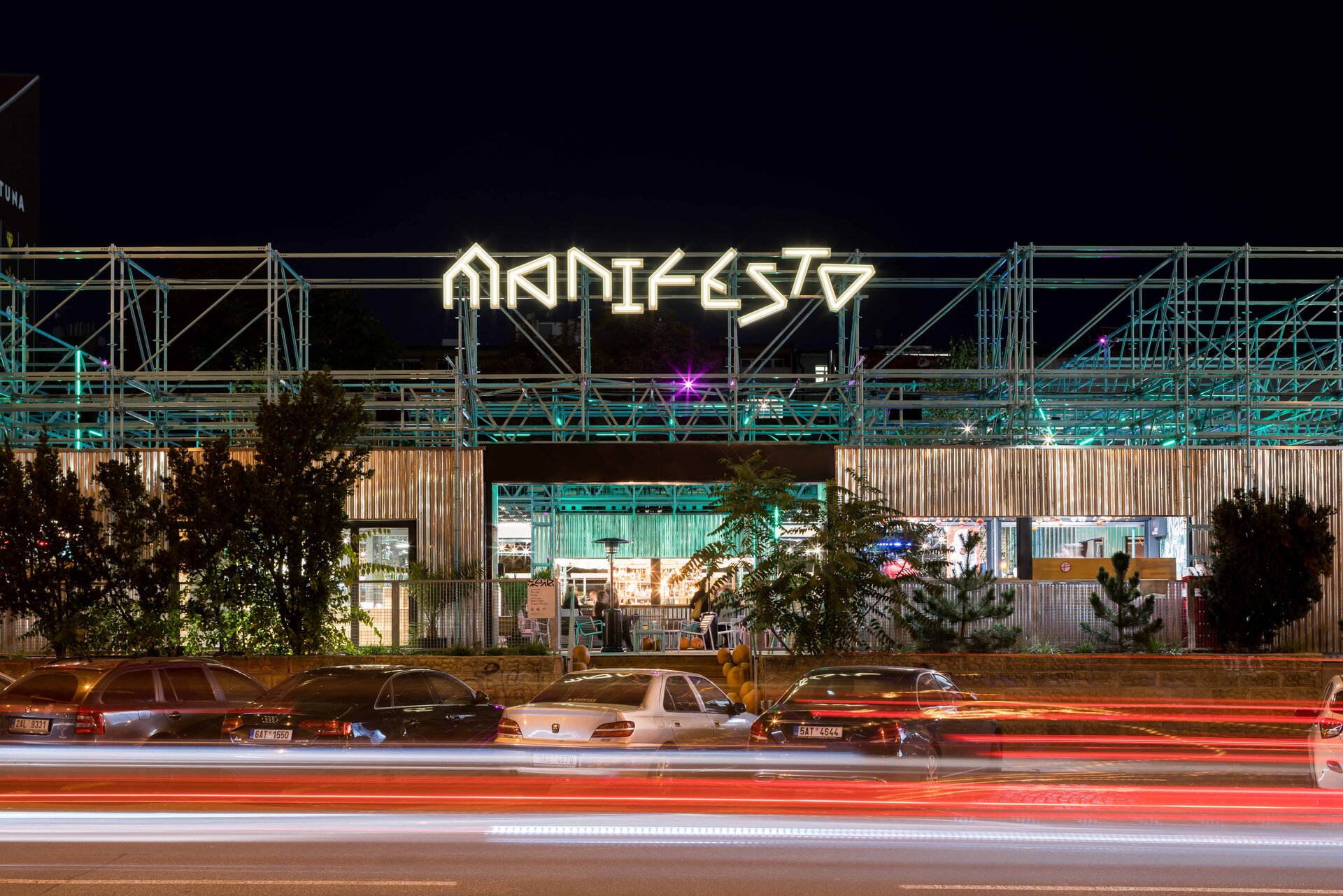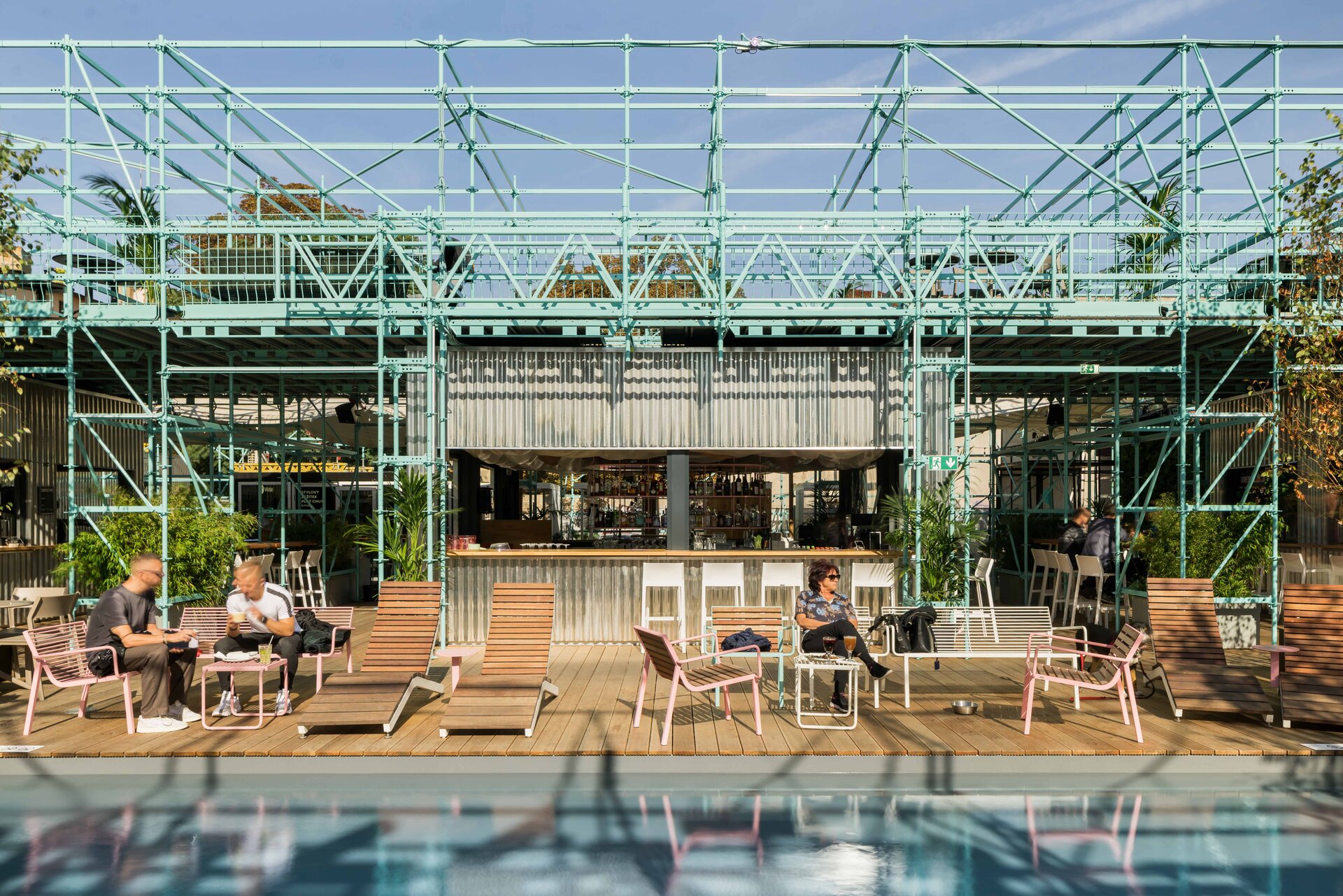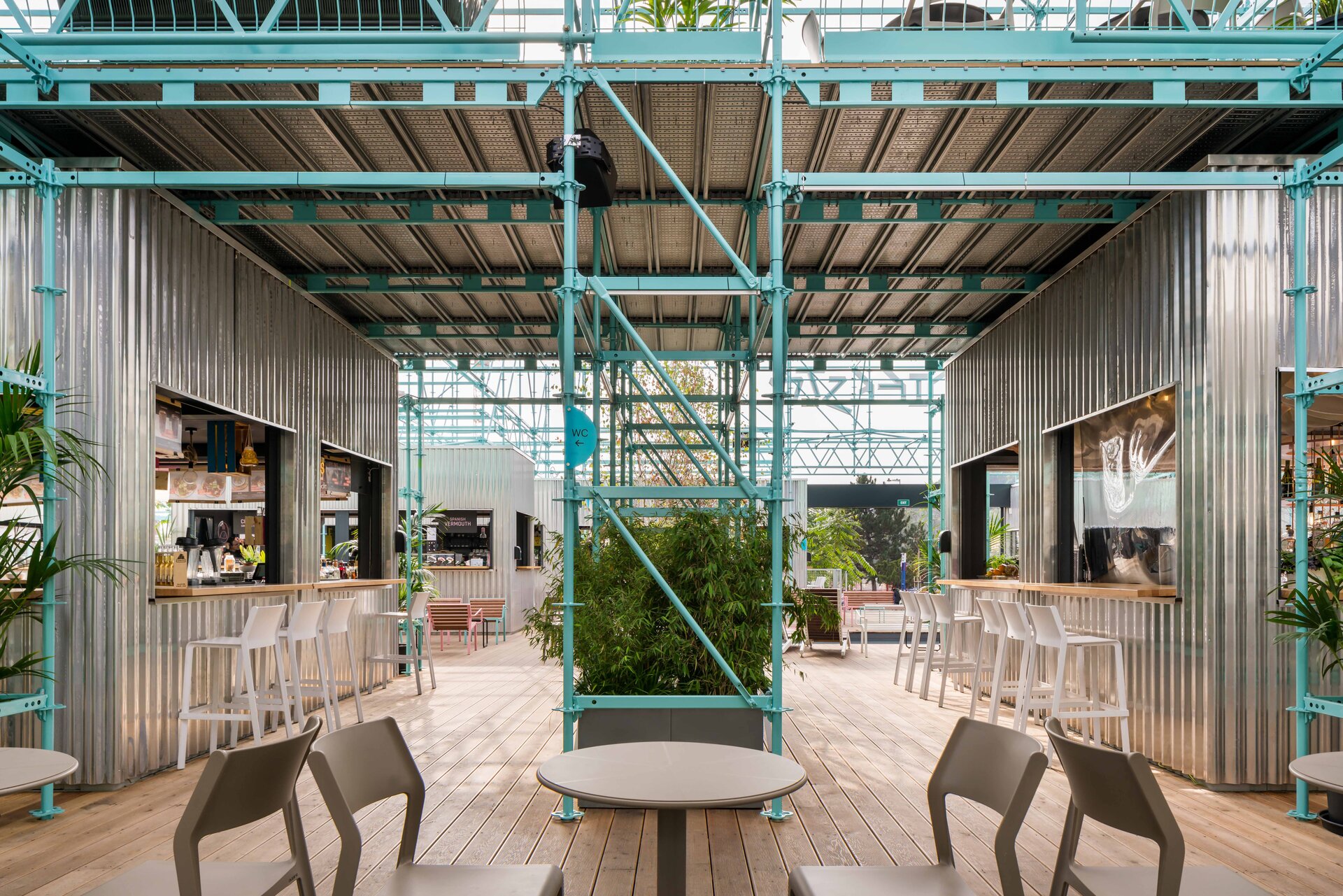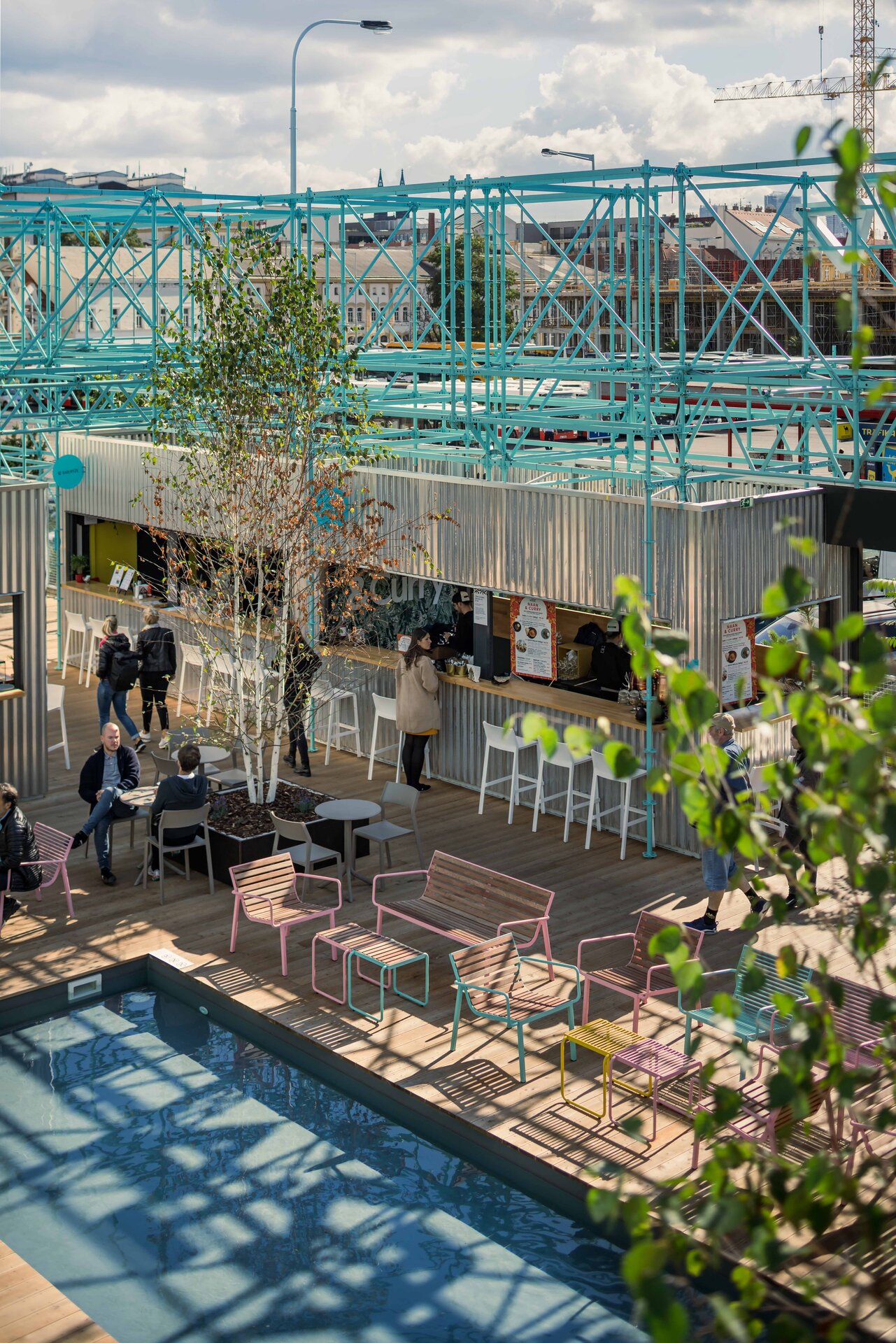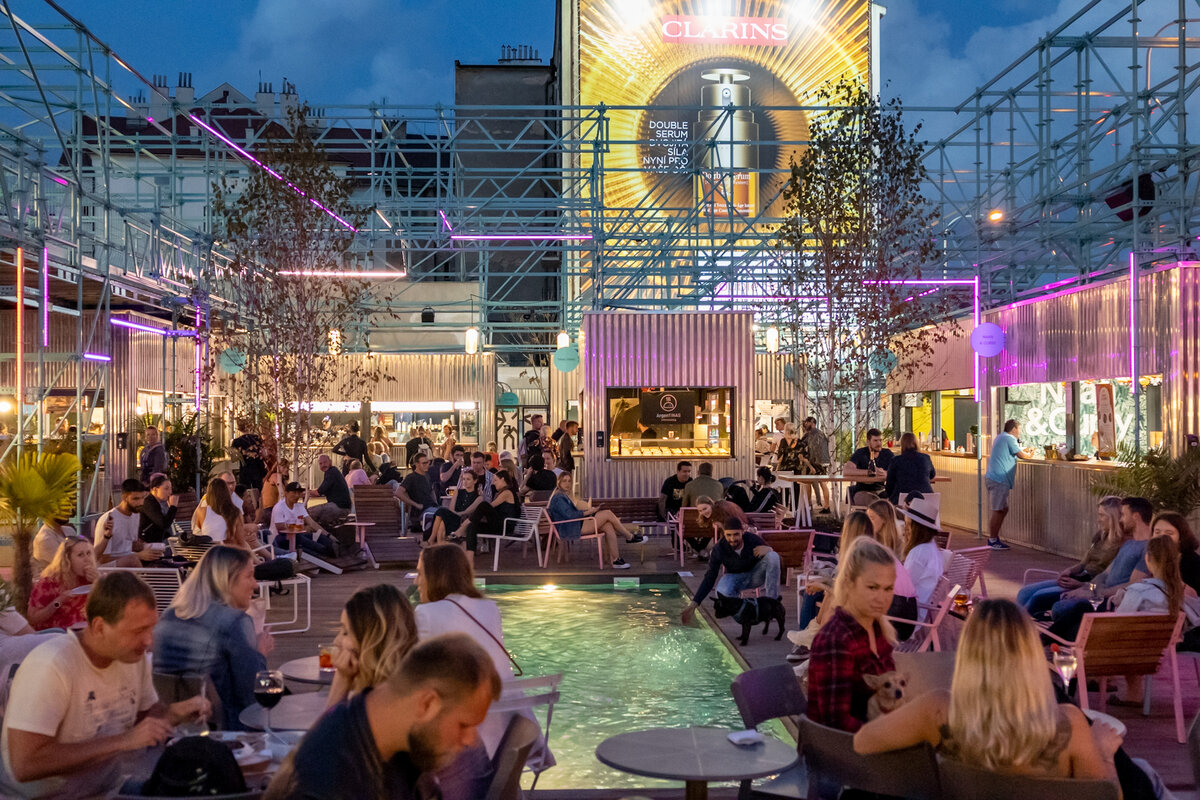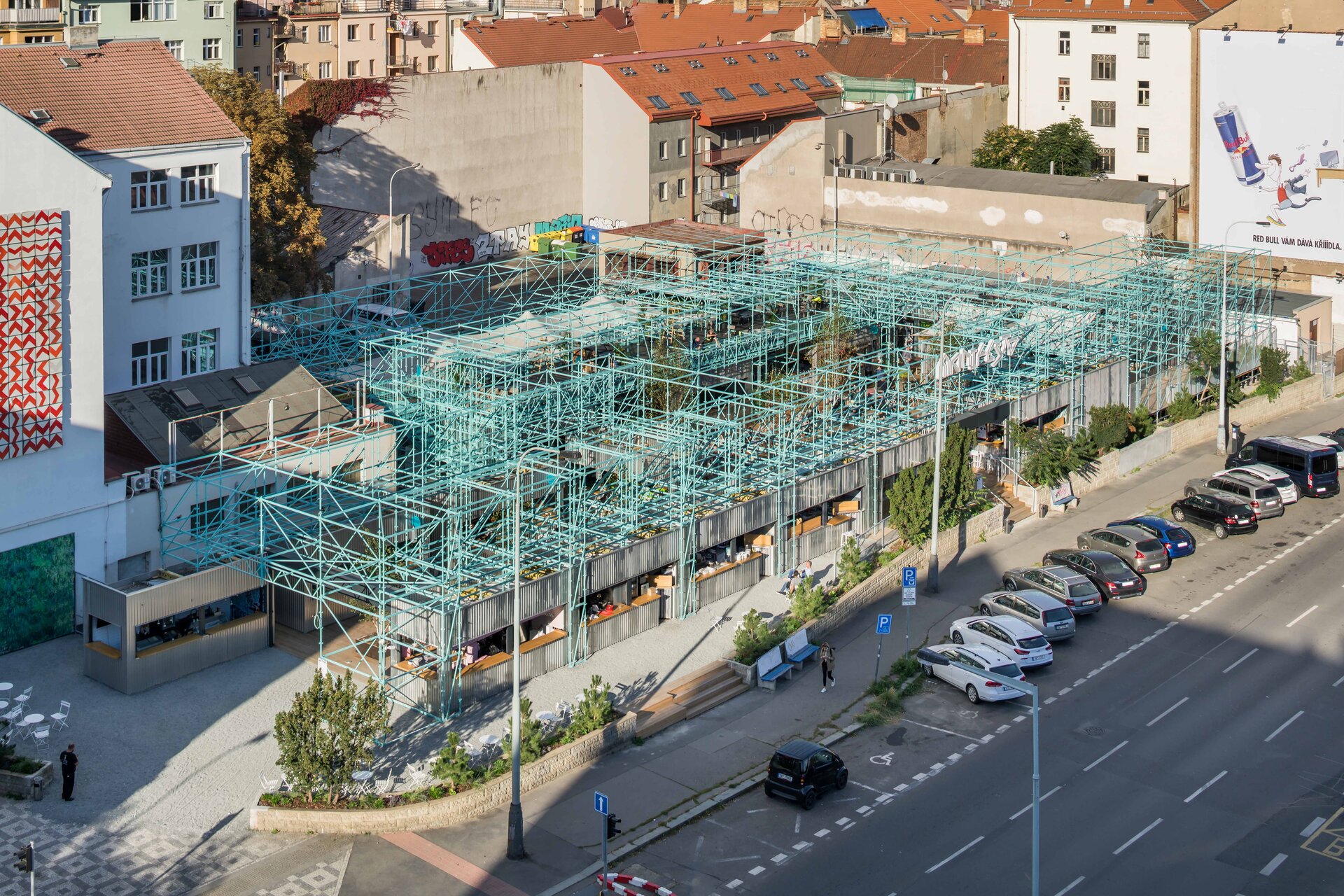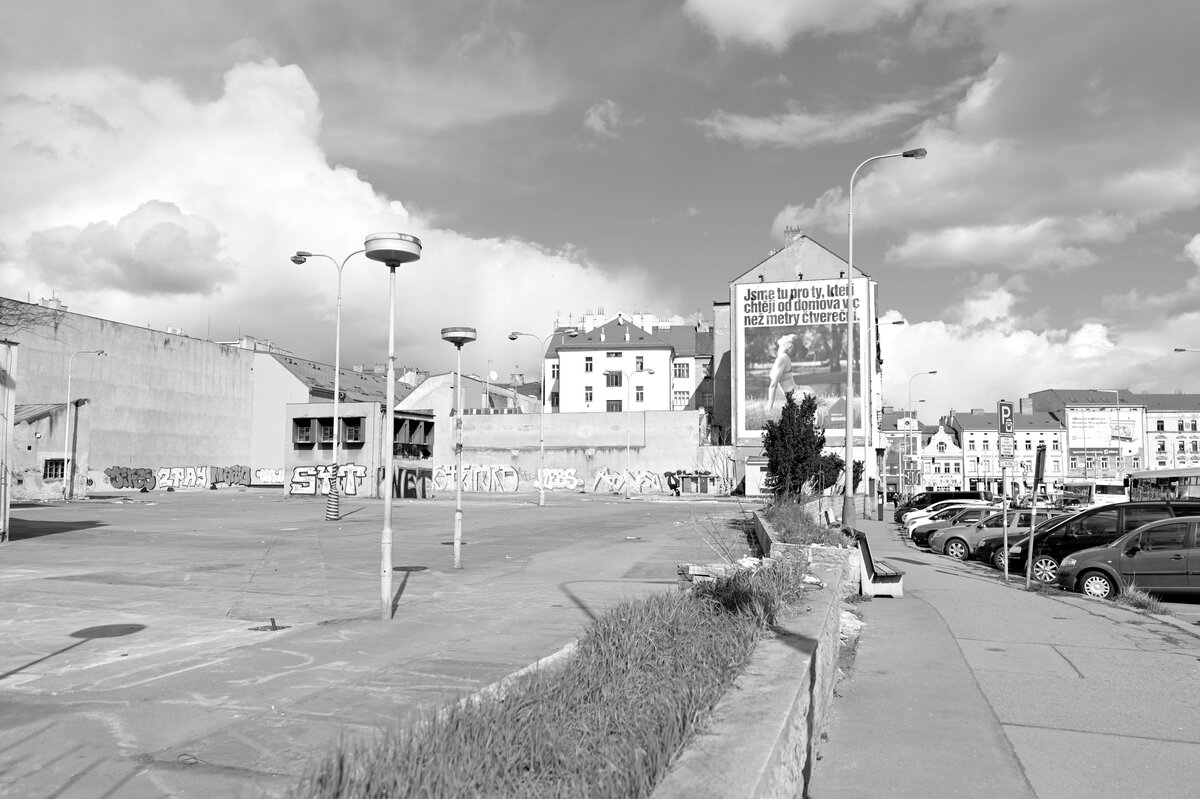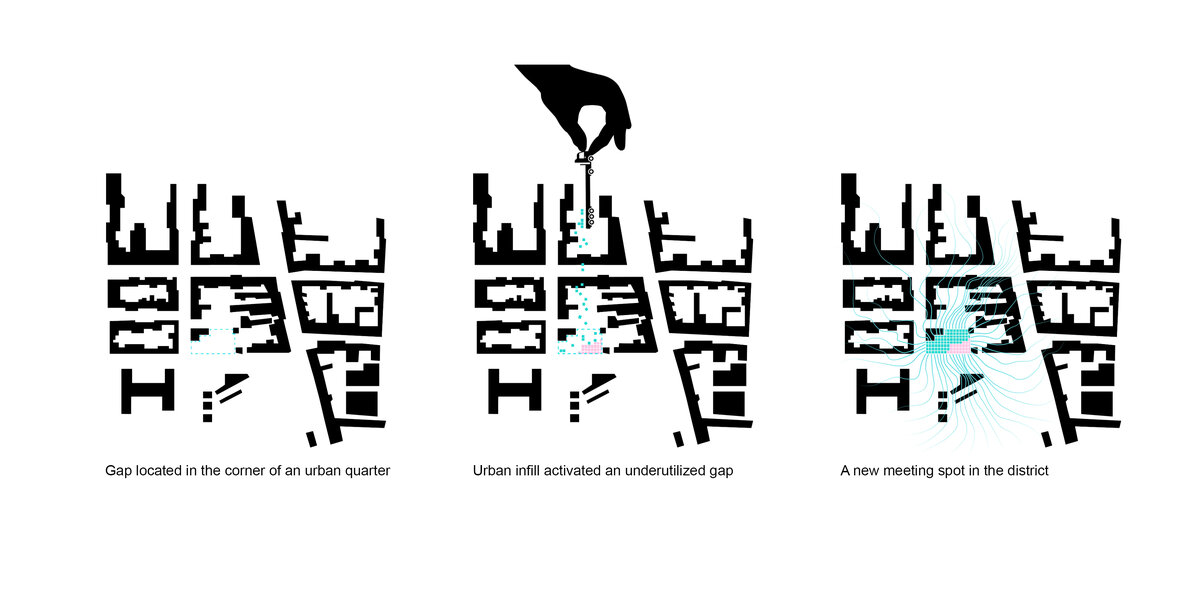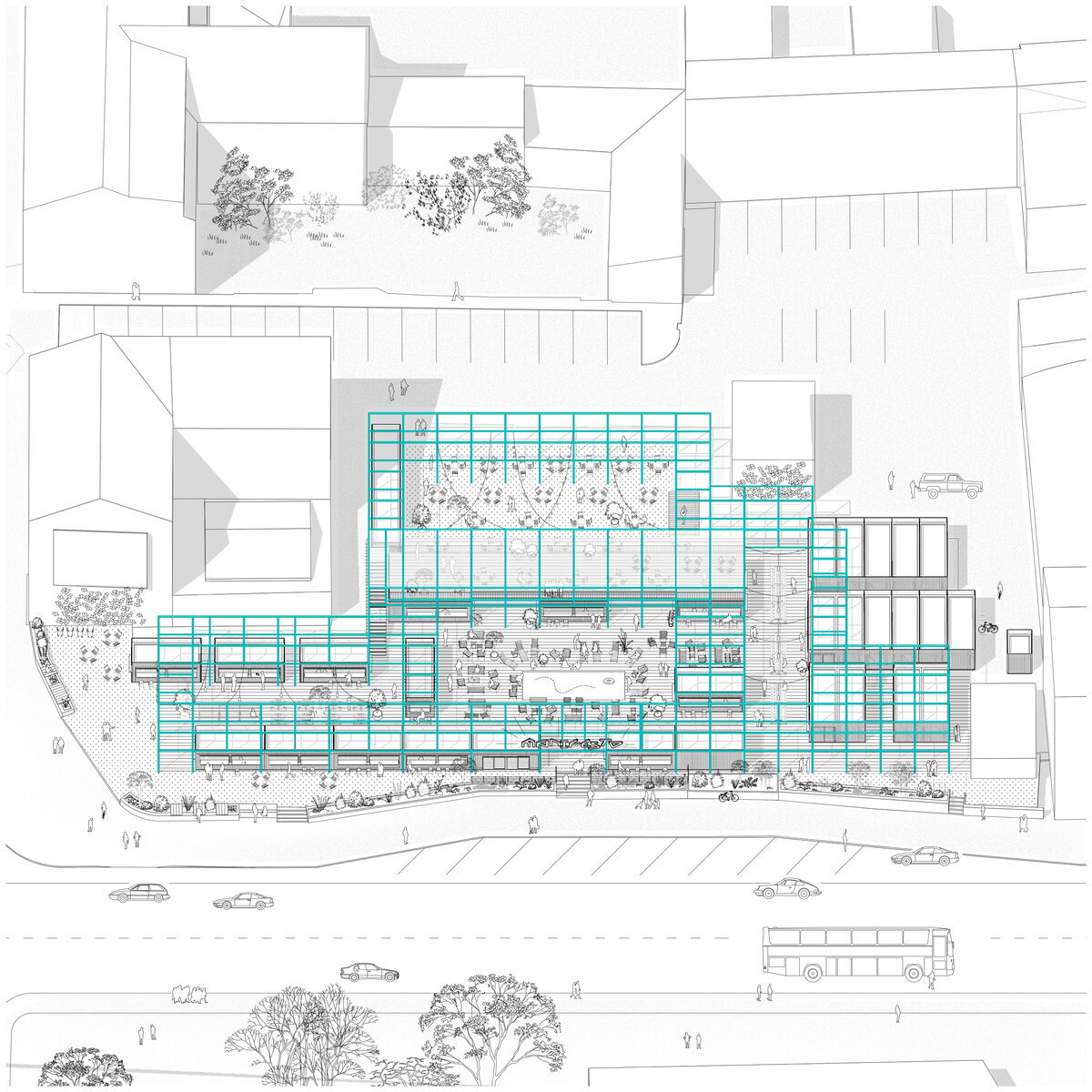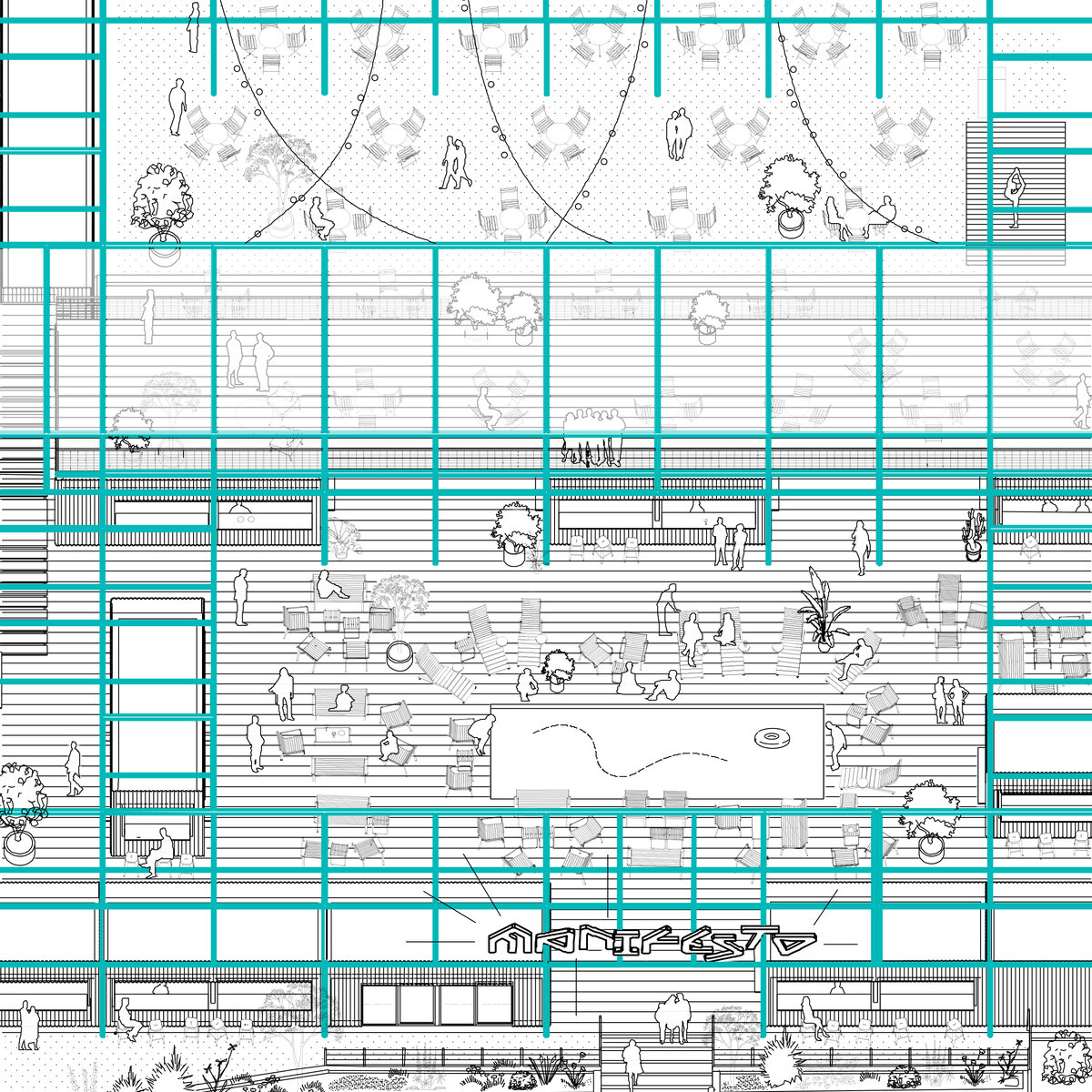 | | |
| --- | --- |
| Author | Ing. arch. Ondřej Chybík, Ing. arch. Michal Krištof / CHYBIK + KRISTOF |
| Studio | |
| Location | Ostrovského, 15000 Praha, Česko |
| Investor | Manifesto Anděl s.r.o. |
| Supplier | KOMA Modular, Partero, Peri, mmcité |
| Date of project approval | February 2021 |
| Fotograf | |
Manifesto Market is a hospitality brand with a focus on transforming neglected urban areas into vibrant neighborhoods. For its third location, Manifesto chose to regenerate a gap located in the corner of an urban quarter in Andel, a district of Prague. The site, well connected to the highly populated residential area, lies in the heart of the shopping, business, and entertainment of Andel district. This urban infill activated an underutilized gap in the urban tissue, becoming a new meeting spot.
The form draws from courtyard typology, specific to Prague's urban fabric. Each of the courtyards, characterized by unique components such as furniture, lighting, and greenery, provides meaningful experiences for visitors and the local community. The form completes the existing building line, creating a public space between the market and the streets. The active front facades impact the immediate surrounding, engaging passers-by without entering the food hub.
Manifesto Andel is an example of reversible design, and the philosophy of reuse is crucial to its concept. Modular units designed by Chybik + Kristof for the needs of the former Manifesto Market in Smichov fully responded to Manifesto's temporary space and sustainable daily operations concept. The building components such as units cladded with corrugated aluminum sheets, lighting, and furniture used in the previous location were given a second life within the frames of a new concept.
An elevated wooden platform enables barrier-free access to the units and hides the temporary technical infrastructure located underneath. This collection of old and new components is gathered underneath a tangle of blue scaffolding. In the heart of the market, the scaffolding serves as a terrace that floats above the containers, overlooking vibrant event spaces of the lower level.
The market operates the whole year and is powered by clean energy from renewable sources. The modular concept of Manifesto Market makes it compatible with various spaces allowing its reuse in future locations.
Green building
Environmental certification
| | |
| --- | --- |
| Type and level of certificate | - |
Water management
| | |
| --- | --- |
| Is rainwater used for irrigation? | |
| Is rainwater used for other purposes, e.g. toilet flushing ? | |
| Does the building have a green roof / facade ? | |
| Is reclaimed waste water used, e.g. from showers and sinks ? | |
The quality of the indoor environment
| | |
| --- | --- |
| Is clean air supply automated ? | |
| Is comfortable temperature during summer and winter automated? | |
| Is natural lighting guaranteed in all living areas? | |
| Is artificial lighting automated? | |
| Is acoustic comfort, specifically reverberation time, guaranteed? | |
| Does the layout solution include zoning and ergonomics elements? | |
Principles of circular economics
| | |
| --- | --- |
| Does the project use recycled materials? | |
| Does the project use recyclable materials? | |
| Are materials with a documented Environmental Product Declaration (EPD) promoted in the project? | |
| Are other sustainability certifications used for materials and elements? | |
Energy efficiency
| | |
| --- | --- |
| Energy performance class of the building according to the Energy Performance Certificate of the building | |
| Is efficient energy management (measurement and regular analysis of consumption data) considered? | |
| Are renewable sources of energy used, e.g. solar system, photovoltaics? | |
Interconnection with surroundings
| | |
| --- | --- |
| Does the project enable the easy use of public transport? | |
| Does the project support the use of alternative modes of transport, e.g cycling, walking etc. ? | |
| Is there access to recreational natural areas, e.g. parks, in the immediate vicinity of the building? | |